Latest Sports
The Dauphin Kings completed a trade last night.
Alonsa's Dustin Mozdzen, Coby Proctor and Matt Boren have been traded to the OCN Blizzard.
After being acquired from OCN last year, Mozdzen played 17 games in a Kings jersey and had two points.
Last year with the Kings, Boren had 14 points over 47 contests.
Proctor was limited to 10 games with the Kings last season due to injury.
Coming Back:
In return, the Kings received Matt Pitchenese, the MB rights to Dauphin's Andrew Liwiski and Future Considerations.
Photo Credit - Dauphin Kings.
Details

Contributed by

Darnell Duff
Kaitlyn Szewczyk had a night to remember on the soccer pitch earlier today.
She had two goals to lead the McCreary senior women's soccer team to a 2-1 win over Alonsa.
Remy Buchanan assisted on the teams first goal, while Gina Musgrave assisted on the second.
Alonsa's lone goal scorer was Beth Sherman.
Details

Contributed by

Darnell Duff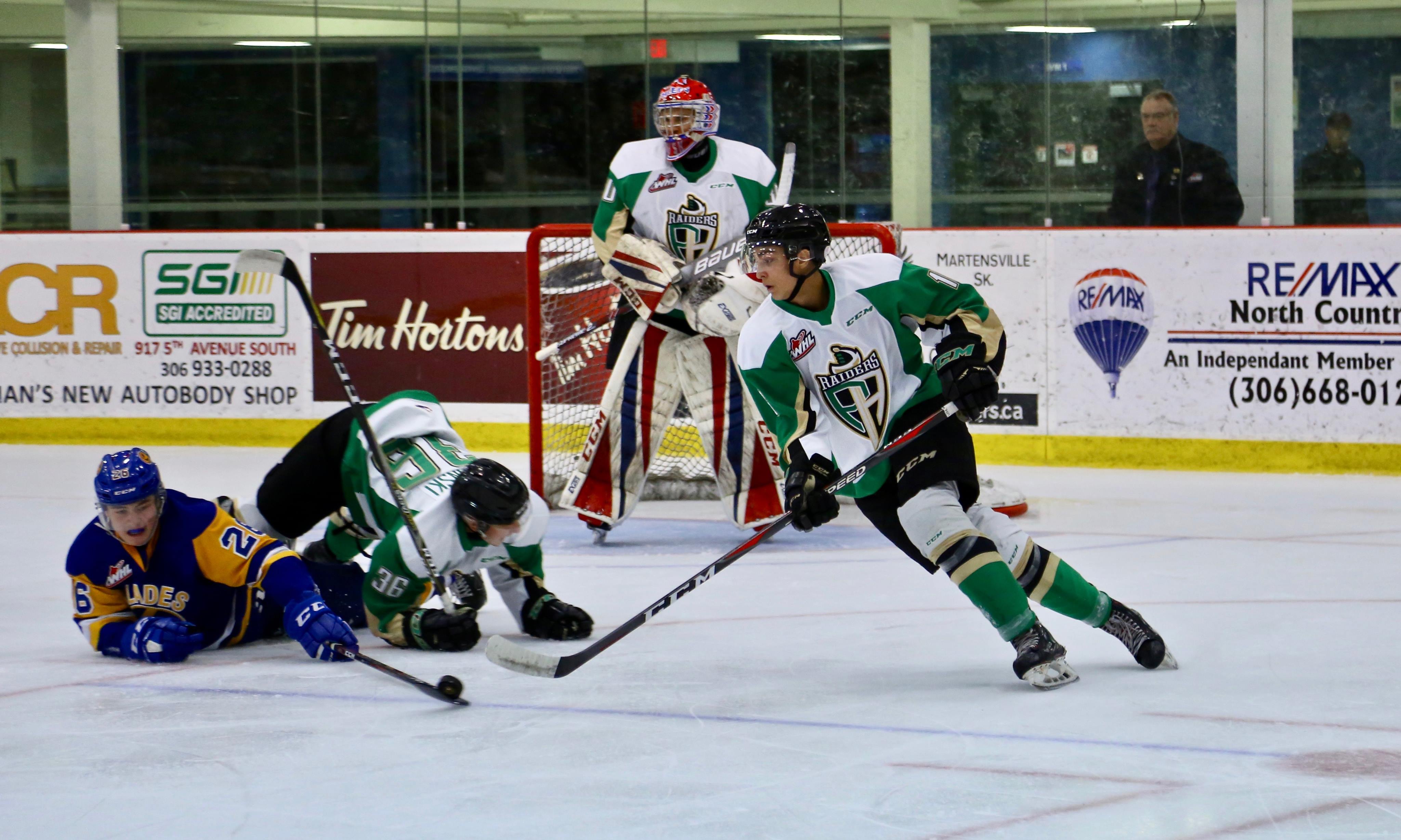 Jakob Brook isn't letting his age stop him from playing the game he loves at a super high level.
The 16-year-old from Roblin officially wrapped up his first pre-season with a WHL team over the weekend as the Prince Albert Raiders beat Saskatoon, 5-2.
Jakob suited up in five of the team's pre-season games.
"Things have been going absolutely awesome," said Brook. "The team's been great to me and they've really shown me what a day as a WHL player looks like."
"The school has more people in it then my hometown has people so that's been pretty cool," he added. "The training has been good and all the guys are great. It's been a great road so far."
Being just 16, Jakob will be one of the younger players in the entire league. But, he doesn't plan on letting that slow him down at all.
"The league is really fast and that's really my best asset," said Brook. "I'm always relying on my speed and winning races to pucks. Of course, it's been challenging at times, but I'm definitely getting used to it more every day."
Brook failed to pick up a point in his five tune-up games. But being 16, the Raiders aren't necessarily banking on him lighting up the scoreboard at this stage in his career on a game to game basis.
What they are looking for is hard work and determination at all times. That's something Jakob is ready to give.
"I'm going to work as hard as I can because that's what I love to do," said Brook. "I love to make myself better every day. I just need to keep improving so that I get as many chances as possible. It's all a process and I'm ready for it."
Now the Roblin native and the rest of the Raiders are back on the ice as they prepare for their home opener. They welcome the Regina Pats to the Art Hauser Centre on Friday evening.
"I'm insanely pumped up for that," said Brook. "It's going to be such an amazing experience. I really hope the town can come out and pack the rink. It's going to be a once in a lifetime for me, so I can't wait."
"It's just about keeping it simple," he added. "I just need to play how I always play and use my speed."
Last year the Raiders snuck into the post-season as a wild-card team. Jakob has a good feeling this year's squad is also a playoff team.
"The team should be really good," added Brook. "We have a lot of returning guys and some good young players. There is a lot of fuel to win games. The coaches are all ready to go and we're pumped. It should be a good season."
In case you're wondering, Brook and the Raiders will be in Brandon to take on the Wheat Kings on November 17.
Details

Contributed by

Darnell Duff
Apparently, the only thing the ACC Cougars needed to win a women's soccer game was Dauphin's Marley Quesnel.
Heading into this year's MCAC season, the Cougars women's program had never won a conference game. Now having Marley in the lineup, things changed quickly for the program.
They kicked off their season this past weekend on Saturday against the CMU Blazers. Last year the Blazers finished in second place and Marley and the rest of the Cougars tied them 3-3.
On Sunday, the Dauphinite and the rest of the Cougars made history. They won their first-ever game in team history as they beat the Brandon University Bobcats. Last year the Bobcats won the entire league.
"Things have been going really well," said Quesnel. "It was super exciting to beat Brandon that's for sure. Everyone was just so pumped up. And I think it was even more special because it came against last year's top team. It was just simply amazing."
Besides making history, Marley is also enjoying making some new friends and playing a sport she highly enjoys at a very competitive level.
"I've just been having a ton of fun out here," added Quesnel. "The whole team has bonded really well. It's almost like we've been playing for years, but it's only been two games."
Next up for the team is a game this Saturday on their home field against Red River. Coming into the game, Red River is 0-2 and is the only winless team in the league. Despite having a good chance to add to the win column and keep their mojo going, Marley isn't looking too far ahead.
"We're just going out there and giving it our all," said Quesnel. "It's a tough league and we know we can't take anytime off. Red River is going to be hungry for a win. It should be a fun one."
What's Next:
If the 18-year-old wasn't already busy enough, she's about to get a lot busier. Already attending classes and soccer practices, open hockey tryouts begin this week for the Cougars program.
She'll join the squad after committing to the team earlier this year.
"It's going to be great to get back on the ice," said Quesnel. "It's always really exciting at the beginning of the year because I get to meet some new people and make new friends. It's going to be fun for everyone involved."
Playing locally for years, the goaltender could be in for a little bit of a culture shock. The Cougars play in the American Collegiate Hockey Association. That means goal scorers on the other team's will be very talented and Marley will be tasked with making some big-time saves.
"I think it's going to be pretty tough," she added. "It's obviously a step up from what I've played in the past. With that being said, I'm not trying to put too much pressure on myself. I'm a smaller goalie so I'll have to make myself bigger, but I think I'll do fine."
The Cougars begin their hockey season on October 13 in North Dakota.
Details

Contributed by

Darnell Duff
The members windup went down at the Gilbert Plains Country Club earlier today.
Here are the results:
MEN'S:
1st Place: - Chad Facey – 77.
2nd Place – Christian Laughland - 79.
3rd Place – Brandon McKay – 81.
JUNIORS:
Hayden Shytkalo – 54.
Dalayna Tomlinson - 64.
Details

Contributed by

Darnell Duff
The Manitoba Bisons women's hockey team are heading back to Winnipeg after a clean sweep.
Jordyn Zacharias scored with just under four minutes left as the Bisons beat the Huskies, 1-0 earlier today at Credit Union Place.
Erin Fargey was a brick wall in net as she made 22 saves.
Manitoba won yesterday's game 3-1.
Details

Contributed by

Darnell Duff
A weekend full of hockey has wrapped up for both the Bantam and Midget Parkland Rangers.
Eight different Rangers scored this morning as the team snuck past Pembina Valley, 8-6.
The goal scorers were Steven Arp, Jayce Legaarden, Will Munro, Carter Zalischuk, Cohen Smigelski, Austyn Roos and Drake Pahl.
The team went 2-2 over the weekend.
Midget Rangers:
Leo Chartrand, Jordan Gray and Owen McIvor scored but it wasn't near enough.
The team lost to Brandon 10-3.
The squad went 1-2 in their action.
Details

Contributed by

Darnell Duff
If you're looking for a round of golf today, it can't be at the Dauphin Lake Golf Club.
Because of the poor weather conditions, the club has decided to close for the day.
More:
The ladies club meeting that was scheduled for 3:30 at the club has also been cancelled.
Details

Contributed by

Darnell Duff
Both the Bantam and Midget Parkland Rangers hit the ice on Saturday at the Portage and Souris tournament respectively.
Bantam Rangers:
Lost to Yellowhead, 4-3.
Steven Arp, Matthew Munro and Damian Tanner all scored one each for the Rangers.
Lost to Eastman, 7-0.
Midget Rangers:
Beat Interlake, 3-1.
Colby Cherneski, Landyn Brasch and DJ Taylor-Luke were the Ranger goal scorers.
Lost to Yellowhead, 6-2.
Both teams will resume their tournaments later today.
Details

Contributed by

Darnell Duff
The Manitoba Bisons women's hockey team are on the board in pre-season play.
Megan Neduzak led the way with two goals as the Bisons beat the Saskatchewan Huskies this evening, 3-1 at Credit Union Place.
The Bisons never trailed in the hockey game and outplayed the Huskies for the majority of the game.
The two teams wrap up their two-game mini set on Sunday afternoon.
Puck drop is set for 2:00 p.m. at Credit Union Place.
Details

Contributed by

Darnell Duff
A couple Parkland varsity girls volleyball teams finished out successful performances at the Gilbert Plains tournament which finished earlier today.
Although no team from the region finished on top, two of them finished on the podium.
The Major Pratt Trojans advanced to the final before falling to the Warren Wildcats in straight sets.
The host team GP Trojans finished in third place.
Details

Contributed by

Darnell Duff