Latest Sports
Their defence was solid, their offence did enough, and the Blue Bombers are Calgary bound!
The Blue & Gold beat the Riders earlier today, 23-18 in the Western Semifinal.
Drew Wolitarsky and Andrew Harris both scored a TD and Kevin Fogg had a massive interception in the win.
The Bombers never allowed more then six points in a quarter and their defence locked down late.
They'll now head to Calgary for the West Final next weekend.
Details

Contributed by

Darnell Duff
The Parkland Midget Rangers are rolling!
After beating the Winnipeg Thrashers last weekend, the Rangers dominated Pembina Valley today in Roblin, 5-1.
The Rangers opened up a 4-0 lead before the Hawks even scored.
Garrett Hrechka had a fantastic game. He scored three times. Jaegar Lapointe also continued his all star type of season.
He scored twice.
Zach Grouette was a brick wall for Parkland. He made 62 saves.
Parkland welcomes Yellowhead to town on Tuesday.
Details

Contributed by

Darnell Duff
For the second time in three games, the Dauphin Kings were shutout.
This time, 3-0 against the Virden Oil Capitals.
It just wasn't Dauphin's night as the Oil Caps played a very strong defensive game.
After a scoreless opening 20, Virden opened the scoring just 55 seconds into the second.
That score stood up heading into the third.
Just over four minutes in, Kolten Kanaski scored his second of the game to put the Oil Caps up 2-0.
Virden would score into an empty net to seal it late in the contest.
The Kings are now 10-10-1. They return to the ice on Wednesday against Winnipeg at Credit Union Place.
Photo Credit - Dauphin Kings.
Details

Contributed by

Darnell Duff
The Dauphin Clippers varsity girls volleyball team sure know how to defend their home court.
After placing first in the round-robin at their home tournament this weekend, the team made it through the playoffs undefeated to win the tournament.
The Clippers got a bye in quarterfinals before they dispatched of Hapnot 14-25, 25-15, and 16-14 in the semifinals.
In the finals, the Clippers beat Neelin 25-23, 25-19.
Details

Contributed by

Darnell Duff
The Bantam Women's Ice Dogs put forth one of their best efforts of the season earlier today, and they were rewarded for it.
They beat the Morden Hawks, 4-2.
Ashley Shiner scored in the first to put the team up 1-0. Jayselyn Nybo then added one for the Ice Dogs that saw the team go up 2-0.
The Hawks scored two in the third, but Hailey Hojnocki scored the game winner and one more as the team doubled up the Hawks.
Other scores:
Dauphin Clippers beat Souris Sabres, 6-5.
Riley Hammond continued his rock solid start to the season. He scored four goals. Keanu Woodhouse and Carson Sokolan scored one each for the Clippers.
They now play Hamiota in Birtle on Sunday.
Grand Plains Atom Ice Dogs crushed Elkhorn, 12-3.
Kenzey Garton and Kaylee Maguet both had hat tricks.
Elisha Caplan and Kiersten Vandekerckhoue both had two goals for the Ice Dogs while Maliya Malowski and Layne Minshull each scored one a piece in the huge win.
Dauphin Atom 3 beat Grand Plains Atom Hawks, 5-3.
Connor Morrisseau scored a pair of goals for Dauphin. Forest Karlson, Noah Hanneson and Quinten Fisk scored the teams other markers.
Nolan Ducheck, Kingston Stirling and Zak Fillion scored one each for the Hawks.
Colton Miner was great between the pipes for the Hawks while Joe Tabin was solid for Dauphin.
Swan River Novice 1 beat Dauphin Novice 1, 13-4.
Madden Atkinson led the way with five goals for Swan River while Dylan Anderson had three.
Jaxon Mykula also had a solid game with two goals as did Carter Paterson, while Jake Nykolaishen had one.
Brody Kaminski led the team with two goals for Dauphin. Weston Oversby and Garret Sahulka each had one.
Swan River Novice 2 beat Dauphin Novice 1, 16-4.
Ashton Dutkewich, Luke Hanness both had four goals each for Swan River.
Emmett Grandfield was just behind with three while Rhett Genaille and Joshua Weir had two. Chase Eisner scored a single goal.
For Dauphin, Kenzie Gardner, Londyn McCallum, Garret Sahulka and Weston Oversby scored one each.
Details

Contributed by

Darnell Duff
Getting points on a consistent basis has been something the Dauphin Kings haven't been able to do recently.
The club is 1-4-1 in their last six games.
Tonight, they can flip the script when they head to Virden.
It'll be the third meeting between the two clubs this season, and so far it's gone well for Dauphin. They won the first two contests.
Just six points separate the two clubs with Dauphin clinging on to the final playoff spot.
After getting out of his recent skid with two goals last night, George King will look to keep it going amongst a team that is full of guys that can score.
Things don't get any easier for Dauphin after tonight either. They'll welcome the Winnipeg Blues to Dauphin on Wednesday. That's followed by a weekend trip to Winkler to challenge the Flyers twice.
The Parkland Source for Sports pregame show hits the airwaves at 7:15 from Tundra Oil & Gas Place.
Photo Credit - Dauphin Kings/Pederson Photographic.
Details

Contributed by

Darnell Duff
The Grandview Comets dropped their second straight game tonight.
This time it was their home opener and ended up being a 5-2 final for Russell.
Grandview will now play two home games next weekend.
Friday's game is at 9:00 p.m. Sunday is set for 8:00p.m.
Details

Contributed by

Darnell Duff
The Dauphin Kings pushed about as hard as you can, but they ended up falling to the Steinbach Pistons, 4-3 tonight.
The Pistons opened the scoring 7:55 into the game and extended their lead just over 30 seconds later.
George King got the Kings back within one as the team trailed 2-1 after 20.
Avery Smith scored the only goal in the second to tie it up for Dauphin.
In the third, Steinbach fired it up with two goals to take a 4-2 lead.
George King brought the Kings back within one with a sick shot.
The Kings ended up having a 6-3 late in the game, but they couldn't find the back of the net in the tight loss.
Dauphin's back at it tomorrow. We'll have the broadcast beginning at 7:15.
Photo Credit - Dauphin Kings/Pederson Photographic.
Details

Contributed by

Darnell Duff
Darrin Chrisp played the past two seasons with the Parkland Midget Rangers.
After he graduated from the league, the now 18-year-old wanted to still play hockey. So he moved to Winnipeg to go to school and he joined the St. James Canucks who play in the Manitoba Major Junior Hockey League (MMJHL).
What a decision Darrin ended up making. The Canucks are off to a red-hot start at 9-2-1 and they've won seven straight games.
"Everything is going super well right now, I mean we're winning a lot of games," said Chrisp. "It's always fun to win. It's taken a bit off an adjustment to get used to the league, but I think I'm doing alright with it."
"The speed is definitely a lot faster than AAA hockey and it's much more physical," he added. "It's important to always keep my head up because these guys are big. I've also taken a few sticks to the face already and I'm wearing only a visor so that's been a change as well. It's just a different brand of hockey than I'm used to."
Last year the Canucks finished fourth in the league with a 25-16-4 record. It's safe to say Darrin is enjoying every second of playing with the best team in the league.
"We have a little bit of an older group, but everyone is great," said Chrisp. "We beat the defending league Champions the other night 10-2. That was pretty incredible and felt awesome. We're firing on all cylinders right now and it's really cool to be a part of this team."
"We're looking for anything over 30 wins because that will set us up nicely for the playoffs," he added. "We want home ice advantage. We feel we can get it done as well."
The Dauphinite has suited up in seven of the team's 12 games this season. He picked up his first ever MMJHL point on October 4. It was an assist, and it was an important one as Chrisp and the team beat Transcona, 5-4.
"Getting that assist was definitely a special moment for me," said Chrisp. "I probably got a little too excited. But, I'm not a guy who gets a lot of points, so it was pretty cool."
Darrin had another assist on October 28 in the team's 5-2 win.
"I have a little bit of an expectation this season for myself, and that's getting higher up in the lineup and playing consistently," added Chrisp. "It'll come with practice. All in all, I'm very happy with what I've done, and I'm very happy with the team."
Favourite moment so far? That's an easy choice for the 18-year-old.
"The first game I started was awesome," said Chrisp. "It was great standing with the guys on the blue line during O'Canada."
Chrisp and the rest of the Canucks will look to make it eight in a row tomorrow night against the tough Pembina Valley Twisters.
Details

Contributed by

Darnell Duff
The Dauphin Clippers hockey team got off to a tough start to the season. They lost two straight games, but have rebounded with three straight wins.
A big reason why is Sifton's Blake Zamrykut.
"The season's going pretty well right now," said Zamrykut. "We had a tough start, but we're working really hard and its paid off. Our chemistry is really strong and that always helps."
The 17-year-old has been very good between the pipes this season for the Clips. He's 2-1 with a solid 2.33 G.A.A.
"I mean I'm pretty happy with the way I'm playing right now," added Zamrykut. "It's been nice to get some wins. But at the same time, I know I can polish things up and get better."
"I definitely want to improve my rebound control and I need to get better at covering more of the net," he added.
Last year Blake played in eight games and he was undefeated. But, he didn't record a shutout. Seven days ago he finally did. That was when Zamrykut shutout the McCreary Mountaineers in the team's first win of the season.
"That was definitely a pretty special feeling," said Zamrykut. "It was a complete team effort. It felt really awesome and it's something I won't forget."
Going forward this season, Blake's already got two wins. He's got some high expectations. And if he continues to play the way he is right now, there is no reason he wouldn't be able to achieve them.
"I hope to just continue winning games," added Zamrykut. "I just want to help the team win games. It'd be nice if I can win 10 games and I'd like to get at least one more shutout."
Zamrykut and the Clippers are now set up for what is a busy weekend for the club. They'll play tomorrow in Souris. On Sunday, the team travels to Birtle to challenge Hamiota.
Blake's confident that if the team keeps working hard, it could be a special season.
"I think we're going to have a really good season if we keep at it here," added Zamrykut. "Obviously the goal is to make it to the finals and win it all. But, we're not worrying about that. We're just taking it game by game."
Details

Contributed by

Darnell Duff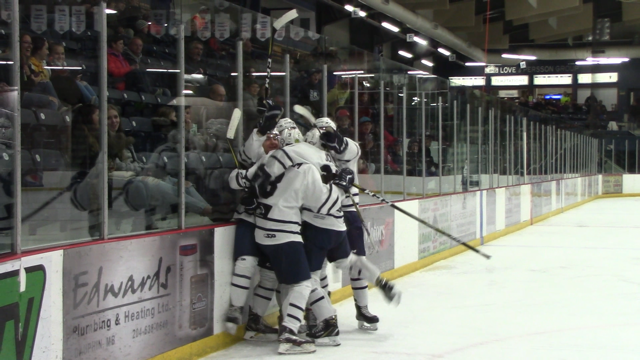 Home ice has been a friend to the Dauphin Kings this season.
Now the club will look to keep that going this evening, as they welcome the Steinbach Pistons to town.
The Kings are 5-1-1 at home this season which included a shootout win over the second place Stampeders last weekend.
Steinbach will come in to the game in third place but they're coming off a heartbreaker.
They were up 5-4 with three minutes left a couple nights ago, then they gave up two goals to lose 6-5.
The last time these two teams met, Steinbach won 6-2.
Another Dauphin Kings Powerplay Show is coming your way this afternoon.
It's after the 4:00 p.m. news, weather, and sports.
Photo Credit - Dauphin Kings/Pederson Photographic.
Details

Contributed by

Darnell Duff