Latest Sports
The Dauphin Rangers FC soccer team did what they had to do on the road on Sunday afternoon, and in dominant fashion.
They beat Deloraine, 4-0 which improved their record to 3-2 on the season.
Johnny Kohan led the team with two goals, while CKDM's James Blake and Junior Davila each netted one in the blowout win.
Charles Wesselius picked up the shutout in net.
Next up for the squad is a date against Oldcastle United on August 12, once again on the road.
Details

Contributed by

Darnell Duff
It's not even August yet, but that's not stopping Dauphin's Breken Brezden from shredding up her competition on the ice.
She was in Winnipeg this weekend for the Manitoba Summer "Figure Skating" Open and she's already skating like she's in mid-season form.
Competing in the U16 division, the 12-year-old won a silver medal yesterday in the short competition.
Then, she bested that by picking up a gold medal this morning in the long competition.
Details

Contributed by

Darnell Duff
The Ladies Open took went down at the Gilbert Plains Country Club yesterday.
Here are the winners:
CHAMPIONSHIP FLIGHT:
1st – Joan Miller - 88.
2nd – Stephanie Remniak - 92.
3rd - Linda Kitching - 95.
4th - Pearl Maksymetz – 96 c/b.
FIRST FLIGHT:
1st – Jean Sydor – 101 c/b.
2nd – Ulize Smith – 101 c/b.
3rd – Deannie Boryskevich - 102.
4th - Dona-Leigh Davis – 104 c/b.
SECOND FLIGHT:
1st – Martha Messinbird – 113 c/b.
2nd – Jan Paziuk – 113 c/b.
3rd – Donna Campbell – 114 c/b.
4th - Nettie Tycholes – 114 c/b.
THIRD FLIGHT:
1st - Verna Miller - 119.
2nd - Jennifer Knutson – 123 c/b.
3rd - Barb Hrehirchuk - 123 c/b.
4th - Joyce Boyechko - 128.
CLOSEST TO THE LINE #5 – Jennifer Knutson
CLOSEST TO THE HOLE #4 – Stephanie Remniak 10'4"
CLOSEST TO THE HOLE #14 – Linda Hamilton 27'10"
CLOSEST TO THE HOLE #9 – Linda Johnston 8'10"
CLOSEST TO THE HOLE #17 - Pearl Maksymetz – 6'5"
LONGEST DRIVE #6 – Stephanie Remniak
Details

Contributed by

Darnell Duff
Dauphin's Rueben Houle dominated Manitoba, and now he's showing all of Western Canada how good he is.
The 17-year-old is in Sherwood Park, Alberta with team Manitoba as they compete in the Western Canadian Tri-Prov Track and Field Championships.
And... earlier today, he picked up a gold medal in the Youth Shotput event.
The competition wraps up tomorrow.
Details

Contributed by

Darnell Duff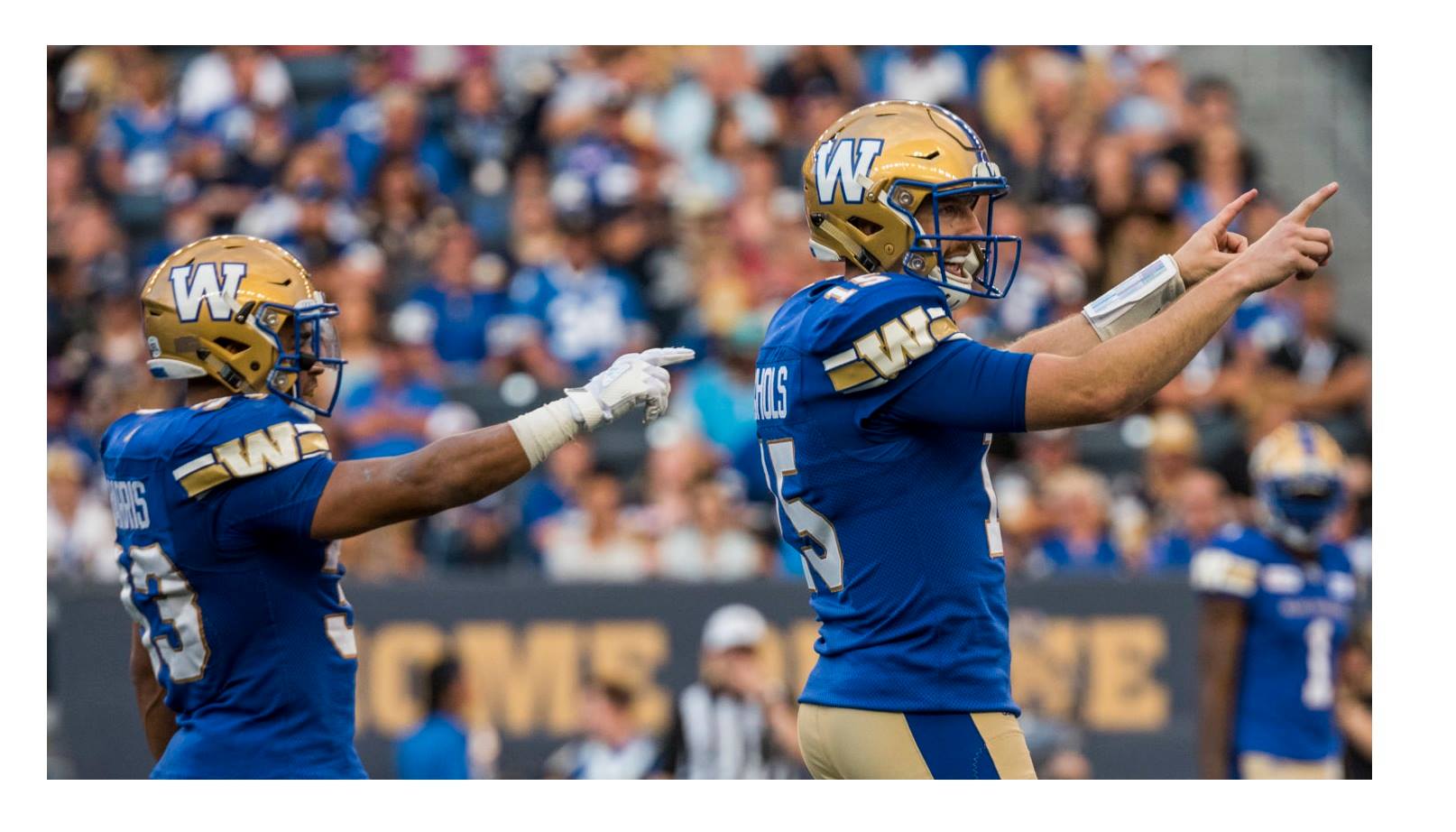 For the second week in a row, the Winnipeg Blue Bombers made the Toronto Argonauts look like an amateur team, as they smashed them last night at IGF, 40-14.
In the home and home with the Argos, the Blue & Gold put up a massive 78 points as they enter their bye week.
The game was never close as the Bombers quickly jumped out to a 13-0 lead and never looked back, increasing that to a 23-8 lead at halftime, and a 26-8 lead after three quarters.
Last week it was Winnipegger Andrew Harris who lit it up, and this week was fellow Winnipegger Nic Demski. He rushed for 34 yards on three carries, and caught five passes for 82 yards.
In his debut, Kenbrell Thompkins was extremely efficient when he was called upon. The former NFLer caught three passes for 81 yards.
Matt Nichols had another pretty good game at pivot. He completed 19 of 28 passes for a completion percentage of 67.9 percent.
The Bombers now get several days off, before returning to IGF as they welcome the Hamilton Tiger Cats on August 10.
Details

Contributed by

Darnell Duff
Dauphin's Kalee Dyck has only been playing rugby for a few years, but, her progression has been incredible and because of it, she's heading to Acadia University to play for their women's rugby team.
She'll begin her playing days and post-secondary studies in the fall.
"I'm so pumped about getting the chance to play at Acadia," said Dyck. "When I first started playing, I definitely didn't think this was going to happen. I'm just so excited. It's going to be such a great opportunity to get better at rugby, and it's going to be fun living out there and making new friends."
Kalee headed to Brandon earlier this year to take part in a camp in which several universities attended, and the 17-year-old knew Acadia was the place to be.
"The coach from Acadia was just so nice, and welcoming," added Dyck. "Her attitude towards the camp was great, and she is so knowledgeable about the game. I just loved the way they welcomed me, and it wasn't even in Nova Scotia. I can't wait to play in Acadia."
Dyck prides herself in her hard work and determination whenever she hits the field. That's backed up with this photo, as Kalee put her body on the line in order to help her Dauphin Clippers team succeed.
Being a veteran this past season allowed Dyck the opportunity to mentor the younger players, but now, she'll be a team rookie in the fall and she knows it'll be a challenge playing against older ladies, but she's ready for it.
"It'll be tough for sure, but I'll be able to learn from all of the players," said Dyck. "They're all really talented and earned their spot on the team for a reason. It'll be a great learning experience."
Kalee doesn't only shine on the rugby field. She grew up playing hockey and continued playing until grade 11. But, in grade nine is when everything changed and rugby was the sport that Kalee was dedicating herself to.
"I just went to a team practice at high school and just thought it was another sport to play," added Dyck. "It was so confusing because rugby is pretty confusing if you're not familiar with it. But, I just absolutely loved everything about it."
"Now that I've had four years of practice, and I get to play at Acadia... it's honestly a dream come true for me," said Dyck.
Although Dyck chose rugby in the end, she feels she could have chosen hockey and made it to the next level as well.
"I probably could have played hockey at the next level... but I didn't have the drive nor did I really want too," said Dyck. "I knew from day one, I wanted to go further with rugby. I honestly just love this game, and I know I made the right choice."
Playing at Acadia means Kalee will continue her studies... and all in all, her life will become a lot busier with the course load that'll come from the university. On top of her studies though, she'll have to also stay in great shape and prepare for each and every practice, and game.
"It's going to be a huge jump from high school to university for sure," said Dyck. "Just in classes alone, everyone always says the gap between HS and Uni is huge."
"And of course I have to play rugby at the same time and keep up," she added. "But, in the end, I'm there to play rugby and go to school, so hopefully I can get it all done and do great at both."
It's going to be an exciting year for the 17-year-old Dauphinite. Not only will she be playing with some of the best rugby players in all of Canada, but she is guaranteed to take part in the National Championships this year as Acadia will play host to the "Big Dance".
"The last couple of years the team hasn't won the Nationals, but they've gotten into them," said Dyck. "Hopefully this year we can have a chance to win it all in our hometown. That would be absolutely incredible."
Dyck wrapped up her high school rugby career earlier this year, but she'll never forget everyone that helped her succeed and the great moments she was a part of.
"Playing in Dauphin was absolutely amazing," said Dyck. "Rodney Carberry has been my coach since I started playing, and he brought the team so high. Before there was barely even a team for girls, and now we almost have too many. There are so many programs now, and so many more people want to play the game. Rugby in Dauphin truly is incredible, and it's not stopping anytime soon."
"I'm very proud to say I was able to represent the Clippers on the field these past few years," said Dyck. "And now, I can't wait to represent the Axewomen.
Interview with Kalee Dyck:
Details

Contributed by

Darnell Duff
Andrew Harris is coming off a career game, Matt Nichols made smart decisions, and the Winnipeg Blue Bombers won 38-20 against Toronto last week.
Now, the Blue & Gold will once again take on the Toronto Argonauts, this time at Investors Group Field and it's a chance to get above the .500 mark heading into the team's "Bye Week".
Coach's Comments:
An addition to the Bombers starting lineup tonight will be receiver Kenbrell Thompkins. The 29-year-old played 26 games in the NFL and picked up 728 yards in those games.
"I like his physicality, and he's strong handed," said Coach Mike O'Shea. "He goes up for a lot and can come down with a lot of them. He can block, run and he's been in big games before. There's a lot to like about him."
With today's game being the final one until August 10 for the Bombers, the Bombers aren't worried about having some time off because they know they have business to do tonight.
"We try not to change the message too much week-to-week," said O'Shea. "I mean obviously when you're playing a game before a bye week, you let them know their plans should be made well in advance. Everyone is focused, and ready to battle tonight."
Heading into tonight's back end of a home and home with the Argos, the Bombers know the Argos might change things up a little bit tonight, as they look to win just their second game of the season.
"We're expecting their best," said O'Shea. "We've been preparing to see the best from the Argos. We're prepared for it, so I think we'll be just fine."
Although Harris rushed for a career-high 161 yards last week, O'Shea doesn't really worry about those numbers as the team prepares for another game.
"I don't know that I look at those stats and put much stock into it," he added. "I thought we played a good three-phase football game. We made some mistakes that we're going to learn from, and we had some success that we're going to learn from."
"Overall, those type of stats have really no bearing on a future contest like tonight," said O'Shea.
Gametime:
Perhaps the most impressive number from the Bombers last week was... they allowed no offensive touchdowns. Both of Toronto's scores came off fumble recoveries, and if the Bombers can duplicate what happened last week without fumbling the ball, they're in good shape.
Matt Nichols is 5-1 in his career against the Argos, and overall the Bombers have owned the Argos in their last five games against each other, going 4-1.
Sitting at 3-3, with Calgary simply dominating every one of their games, Edmonton picking up stride and Saskatchewan playing good football, you would think tonight's game is an almost must-win affair, especially with the team's next game not being until August 10.
Whatever happens, you can hear it all here on 730CKDM, with kickoff set for 7:30 as we're a proud member of the Blue Bomber Radio Network.
Details

Contributed by

Darnell Duff
Dauphin's Rueben Houle is officially a part of the Team Manitoba Track & Field team.
The 17-year-old was in Winnipeg on June 22-23 trying out for the team, and he did extremely well. He ended up winning gold in discus, and silver in shot put, and those results locked him a spot on the roster.
Now, he's off to Sherwood Park, Alberta with the rest of the team as they get set to take part in the Western Canadian Tri-Prov Challenge, that kicks off tomorrow and runs through Sunday.
Houle will look to once again dominate the competition as he competes in the Youth discus and shot put events.
We'll have Rueben's results throughout the weekend, so stay tuned.
Details

Contributed by

Darnell Duff
The weekend schedule for the Dauphin Lake Golf Club this weekend has been altered
The 1st Annual Coed Long Ball Challenge that was slated for tomorrow and Saturday has been cancelled due to a lack of entries.
"We've only really had a few entries for it," said Ray Karlson, General Manager. "So, we just thought we would set it aside for now. Maybe we'll do it later this season, or next year... whenever we can garner more interest for it."
The Men's Club Championship that was set up for Saturday and Sunday has also been postponed until later in the season.
"We were looking for a chair from the membership, but we were unable to find one," said Karlson. "We're thinking it's going to be in mid-September so that we can let people go on holidays all summer, and then hopefully we can find a chairperson at that point."
Because of the changes, the DLGC has a special going on starting tomorrow, through Sunday.
"Our course is wide open," said Karlson. "So we're going to be offering a 2-for-1 rate, with the rental of a power cart. We're looking forward to this weekend."
As far as course condition, Karlson notes it's in good shape.
"We just aerated and sanded the front nine greens which makes them a little tougher, but we're hoping for some rain," said Karlson. "Our back nine greens are looking great, and we've fixed the three worst ones. The rest of the course is in tip-top condition thanks to our crew out there. We're ready for the golfers."
If you want to book a tee time, call the DLGC at 638-9400.
Details

Contributed by

Darnell Duff
The Parkland Jr. Golf League wrapped up the league portion of their schedule last night at the Gilbert Plains Country Club.
The league kicked off on July 4 and offered kids aged 9-17 a chance to get out on the course four times this month to learn the game, and most importantly have a great time while doing so.
"It was an overwhelming success," said Ryan Rauliuk. "With the parents bringing the kids out... and them having a great time, it was just a fantastic experience."
"We had some great reviews, and the comradery on the golf course was fantastic," he added. "The kids who just began playing golf progressed so much throughout the four weeks because they just kept coming out and they worked hard to get better. There was no rain throughout the four weeks, so it couldn't have gone much better."
28 kids took part in the league this year. That number is much higher then Ryan was expecting for the first year, so it's very safe to say golf in the Parkland has a bright future.
"Golf in the Parkland is very strong," said Rauliuk. "I think it's a hidden gem within the sports field in the Parkland. I encourage every kid in the Parkland to head down to the course because there's someone that can show you how to improve your game."
"I think we've proven how strong it is with this league," added Rauliuk. "The future of golf in the Parkland area is going to be strong, and we want to continue to build it to be strong."
With the overwhelming success of the league this year, it will be back next summer once again.
"It'll definitely be back," said Rauliuk. "We're looking at creating a board within the parents that are there so we can figure out if we need to change anything. But, we're also going to include the kids so they can have their say on what they think should happen. We kept it pretty simple overall this year."
"Just looking forward to next year, it's only going to get bigger and better," Rauliuk added.
Details

Contributed by

Darnell Duff
After a very successful Jr. hockey career, Landyn Cochrane will be continuing his competitive hockey career at the next level.
The 20-year-old from Russell has committed to play for the Minot State Beavers of the American Collegiate Hockey Association (ACHA) in the fall.
"It's a really good feeling that I'm going to get the chance to continue my competitive career at the next level, and further my education," said Cochrane. "Minot is a really good organization. It's a really exciting opportunity."
Landyn began last season with the Minot Minotauros who play in the NAHL, and that's how the chance to play for the Beavers came about.
"When I left to play for Virden, they just kept a close tab on me all season long," said Cochrane. "So, I'm really familiar with the area. It's just a good situation."
When Landyn left to play for the Oil Capitals, the forward had nothing but success. In 34 games with the team, he chipped in 39 points (15 G). He also added another three points in 11 playoff games as the Oil Caps advanced to the Turnbull Cup Final, before falling to Steinbach.
"It was a really fun season with Virden," said Cochrane. "Obviously we didn't end the season the way we wanted, but still. I had lots of fun there, and success. It was a great year."
Now as he gets set to play in the ACHA, Landyn knows it will take some adjusting as he'll play against all grown men, some of which are several years older than him, but he's prepared to put the work in that's needed to succeed.
"It'll probably take a few weeks to adjust realistically," he added. "But with my hockey sense and heads up type of play, I don't think it should be too hard."
Camp for the Beavers is still a month away, but the Russell native is already really looking forward to playing at the college level, and everything that comes with it.
"It's really exciting," said Cochrane. "We're going to Vegas for a weekend and Arizona. Then, the National Championships are in Dallas, so it's going to be a ton of fun."
"Since I started playing hockey, it was always my goal to make it to college," said Cochrane. "Now I've achieved that, and I couldn't be any more excited."
There's no hiding the fact that Landon will be a rookie next season, but he does know a fair share about the Beavers program heading in, especially with the fact he started last season playing in Minot.
"I've been following them the last few years because I have some friends that play there," said Cochrane. "They've been really competitive and I know that's the goal this year. We're hoping to win the National Championship."
When Landon takes a look back at his Jr. career which included stints with Waywayseecappo and of course most recently the Virden Oil Capitals, he has nothing but good things to say about the MJHL. He also shares some of his favourite moments.
"My favourite moment was definitely just being with the guys every day... I've built so many lifetime friendships," said Cochrane. "The MJHL is a great league. I came in at 17, and I've progressed so much now that I'm 20. It's a fantastic league for opportunity."
Landyn and the Beavers play their first league game on September 14 against Briercrest. The Nationals are March 21-26 in Dallas.
Details

Contributed by

Darnell Duff