News Now
Five youths that escaped from the Agassiz Youth Centre late last week were successfully located by Portage la Prairie RCMP.
On Friday, May 29th, police responded to reports of six young offenders attempting to escape the facility.
Five of the youths were successful in escaping under the fence and running off — but were located and arrested shortly after with the help of a drone and canine unit.
Five male youths, between the ages of 15 and 18, are charged with Escape Lawful Custody and Prison Breach.
The investigation is ongoing.
Details

Contributed by

730 CKDM
Public health officials have identified no new cases of COVID-19 on Monday.
There are 10 active cases in Manitoba, and no individuals in hospital because of the novel coronavirus.
A total of 295 confirmed and probable cases have been identified in Manitoba over the course of the pandemic.
Monday, June 1st is the official launch of Phase Two of reopening Manitoba's economy.
For a detailed look at the new measures part of Phase Two — and what that means for those of us in the Parkland — click here.
Details

Contributed by

Matt Hamel
Some commercial fishers on Lake Winnipeg are having a difficult time getting their hands on the right fishing nets.
The province has introduced legislation requiring commercial fishers on Lake Winnipeg to use nets with mesh spaced 3.5 inches apart — compared to the old nets spaced 3 inches apart.
The provincial government explains the wider nets will help increase fish stock, by allowing smaller fish to avoid being caught and having greater opportunity to breed.
With the global supply chain interrupted by the COVID-19 crisis, some commercial fishers have reported difficulties obtaining the new fishing nets — and some local sellers have either run out or are running low.
On top of that, the closure of restaurants to slow the spread of the virus has caused the demand for Lake Winnipeg fish to plummet.
Details

Contributed by

730 CKDM
Today is the 2019 income tax return deadline.
The coronavirus extended the deadline from the normal date at the end of April.
Those that are self-employed have two more weeks, as the deadline is June 15th.
Penalties and interest on amounts owing won't be charged if the payments are made by September 1st.
For those receiving COVID-19 benefits, they won't be factored into this year's return.
Benefits including the Canada Emergency Response Benefit and the Canada Emergency Wage Subsidy are taxable income and will be a part of the 2021 return for individuals and businesses receiving those benefits.
Details

Contributed by

Isaac Wihak
Today marks the beginning of Phase Two of reopening Manitoba's economy, and there's a lot of changes coming our way.
While no businesses are obligated to reopen at this time, more non-essential businesses now have the go-ahead to welcome customers.
The services that can now be restored include:
increasing child-care centre occupancy to up to 24 children plus staffing;
increasing day camp group sizes to 24;
resuming sports, arts and cultural activities for children and adults;
lifting occupancy limits at outdoor recreation facilities and golf courses outdoors, as long as physical distancing can be maintained and allowing limited access to indoor spaces;
allowing direct travel to northern parks, campgrounds, cabins, lodges and resorts while ensuring physical distancing;
allowing public/private swimming pools, spas, fitness clubs, gyms and community/service centres to reopen with some limitations;
allowing religious or other organizations to hold outdoor services or events without limitation on numbers if people stay in their vehicles;
reopening manicurists and pedicurists, tattoo parlours, estheticians, cosmetologists, electrologists and tanning parlours at 50 per cent capacity;
allowing restaurants to reopen indoor spaces at 50 per cent capacity and continue to offer patio services at that capacity level; and
allowing bars, beverage rooms, micro-brewers and similar businesses to operate patio service at 50 per cent of site capacity and to reopen indoor spaces at 50 per cent capacity.
What does this mean for the Parkland?
Recreation Services
Dauphin Recreation Services has reopened their parks, playgrounds, as well as skate park as of June 1st.
We'll still have to wait a bit longer for the opening of the Kinsmen Aquatic Centre, Dauphin Clinic Walking Track, Vermillion Sportsplex, and the Parkland Recreation Complex. More information is expected in the following weeks.
National Park Access
Riding Mountain National Park is also partially reopening for business June 1st: allowing the use of trails, picnic areas, beaches, and green spaces. However, you're still not allowed to do any boating; that includes canoes, kayaks, and paddleboards.
All camping facilities will remain closed until at least June 21 — when Parks Canada will assess whether it's safe to allow camping services to resume.
Schools
Beginning June 1st, students will be able to go back to school on an appointment basis for 1-on-1 or small group sessions for assessment purposes. Mountain View School Division (MVSD) Superintendent Dan Ward tells CKDM that schools are embracing the partial reopening to ensure a smooth transition back to normalcy in September.
Church Service
Church service and other faith-based gatherings are still required to adhere to the 25 person limit for indoor gatherings.
Details

Contributed by

730 CKDM
As the province lifts the travel ban to Manitoba's north on Monday, June 1st — at least one northern fishing lodge feels that it's too little, too late.
Carol MacLellan owns the Paradise Lodge in Flin Flon, alongside her husband Ken.
"Our first week that we're open is usually 90% guests from Saskatchewan — we got zero because the travel ban was on."
Carol tells CKDM her lodge has lost their most profitable part of the year, saying "May and June is the busiest time. Whatever you get [as a fishing lodge] in July and August is a bonus."
With Manitobans now cleared to visit campgrounds, lodges and resorts in the province's north — Carol says people still need time to make travel arrangements, and worries her lodge might not see any business for another 2 or 3 weeks.
"Wait and see. That's all we can do, is wait and see what happens."
The co-owner of the Flin Flon fishing lodge also feels the government fell short in communicating important information to their business during the travel ban, saying "we haven't received any information from the government," adding, "we have to find it ourselves. There's been no written communication to us."
As part of Phase Two of Manitoba's reopening plan, travel north of the 53rd parallel from within Manitoba will be allowed. Anyone showing symptoms of COVID-19, such as cold and flu symptoms, is advised to stay home.
"Basically what they've done is taken away our business for this year. We may get some — but at this point, who knows?"
Details

Contributed by

Matt Hamel
It's June, which means it's time to celebrate National Indigenous History Month.
The annual tradition gives Canadians an opportunity to honour the history, heritage, and diversity of indigenous peoples.
The current crisis has put a damper on the celebrations we typically see throughout the month — the federal government is encouraging Canadians to celebrate at home this year to help limit the spread of COVID-19.
National Indigenous Peoples Day is on June 21st.
Details

Contributed by

730 CKDM
On Sunday, public health officials identified one new case of COVID-19.
The total number of confirmed and probable cases in the province is now up to 295. There are 10 active cases, and nobody is in hospital in Manitoba because of the virus.
The number of deaths due to COVID-19 remains at seven.
On Monday, June 1st, Manitoba enters Phase Two of restoring the economy. For more information on this next wave of restoring businesses and services, click here.
Details

Contributed by

Matt Hamel
Public Health officials have identified no new cases of COVID-19 on Saturday.
There are 9 active cases in the province, and 278 people have recovered from the virus.
A total of 294 cases have been identified in Manitoba over the course of the outbreak. There have been 7 deaths attributed to the virus.
There have been a total of 26 cases in the Prairie Mountain Health region.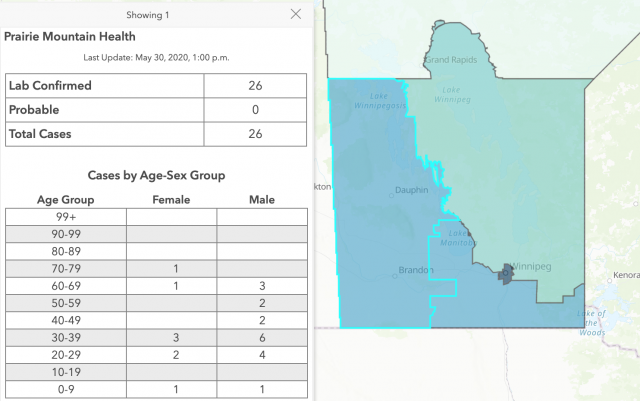 On Monday, June 1st, Manitoba enters Phase Two of restoring the economy. For more information on this next wave of restoring businesses and services, click here.
Details

Contributed by

Matt Hamel
A business in Swan River has been ticketed for violating a provincial health order.
The Westwood Inn in Swan River was issued a $2,542 fine on Thursday, May 28th.
Provincial officials say the business was operating their dining room, in violation of the measures issued by the Chief Public Health Officer.
Beginning Monday, Manitoba restaurants will be allowed to open indoor dining spaces at 50% capacity.
Details

Contributed by

Matt Hamel
Manitoba is expanding measures to help residents and businesses affected by the COVID-19 situation.
Finance Minister Scott Fielding made the announcement today, saying "Manitoba's small- and medium-sized businesses continue to face a challenging economic situation caused by the COVID-19 pandemic and we want to help them further by giving them more time to submit provincial taxes."
The province is now extending the April and May filing deadlines for small and medium-sized businesses to June.
Businesses will now have up to three additional months to remit retail sales taxes and the payroll tax.
The province is also continuing to postpone non-urgent eviction hearings and suspending any rent increases scheduled to take effect in June.
Details

Contributed by

Tess Kovach