NewsNow
An ongoing investigation has led to the arrest in a drug trafficking case.
On September 20, 2023, as a result of an ongoing investigation into the trafficking of a controlled substance, officers with the Ste Rose du Lac RCMP executed a search warrant at a residence located on the Ebb and Flow First Nation.
As a result of this search, officers seized methamphetamine, cocaine, cash, an unsecured firearm, and drug-related paraphernalia.
Officers arrested 35-year-old Christine Mancheese, of the Ebb and Flow First Nation, who was taken into custody and remanded into custody on charges including two counts of Possession for the Purpose of Trafficking, Possession of Proceeds of Crime, two counts of Failure to Comply with an Undertaking, and several firearm-related offenses.
A 15-year-old male youth was also arrested on scene and found to have two outstanding warrants out for his arrest, one from Oakbank RCMP and the other from the Winnipeg Police Service. He will be remanded into custody.
Ste Rose du Lac RCMP continues to investigate.
Details

Contributed by

Michael Brossart
Dauphin has become the latest Canadian municipality to become a partner in the "Look, Listen, Live" Community Safety Partnership Program overseen by Operation Lifesaver Canada.
The program sees special decals installed at key railway locations, in order to remind people to be situationally aware around crossings.
In Dauphin, the decals - which are yellow and feature a black silhouette of a train as well as the words "Look, Listen, Live" - have been installed on the sidewalks leading up to the railway crossing on Main Street.
The goal of the program and the signs is to prevent tragic crossing incidents by making pedestrians, cyclists, and drivers more aware of the need to be vigilant around railway crossings.
There were 159 collisions at railway crossings across Canada in 2022, resulting in 14 deaths and 27 more being seriously injured.
A total of 100 Canadian municipalities are taking part in the Community Safety Partnership Program since it launched in 2018.
In a news release, Dauphin Mayor Dave Bosiak said the installation of rail safety decals at Dauphin's busiest rail crossing is a small but meaningful change that could potentially prevent needless tragedies.
Details

Contributed by

Jeff Henson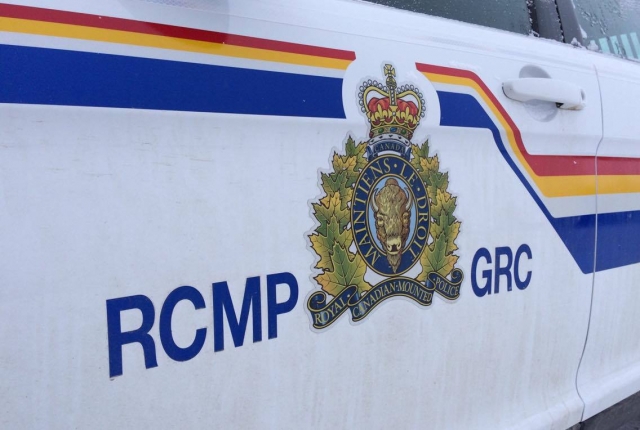 The Pas RCMP made an arrest after a patient was taken into the hospital with apparent stab wounds.
On September 19, at approximately 7:00 pm, The Pas RCMP received a report from the hospital that there was a stabbing victim currently being treated.
Officers attended the hospital and spoke with the 40-year-old victim, who had been stabbed by a male known to her. She sustained non-life-threatening injuries.
Officers located the 37-year-old male and he was arrested without incident.
He has been charged with Assault with a Weapon, Assault Causing Bodily Harm, and two counts of Failure to Comply.
He was remanded into custody.
Details

Contributed by

Michael Brossart
As flu season approaches, the leaders of two Manitoba political parties are promising no more lockdowns, no matter what public health situation emerges in the future.
During a party leaders' debate on Wednesday organized by the Winnipeg Chamber of Commerce, PC Leader Heather Stefanson promised no more lockdowns.
Liberal Leader Dougald Lamont called the PC leader's stance irresponsible considering the PC government's handling of the pandemic.
Manitoba had Canada's highest per-capita COVID-19 fatality rate during the second and third waves of COVID-19, from late 2021 and onward.
NDP Leader Wab Kinew, however, also promised no lockdowns, claiming if he becomes premier, hospital capacity will be improved to the point where Manitoba can handle more COVID-19 patients.
Details

Contributed by

Jeff Henson
A team of anthropologists are helping Mounties search an area near Killarney after a crew of workers discovered human remains while excavating gravel.
On Tuesday at 4:30 pm, Killarney RCMP went to a field off Highway 3 and Road 105 W, about 10 kilometres west of the community with a report that remains had been found.
Officers were told workers at the site were excavating gravel when the remains were discovered.
The identity of the remains is currently unknown.
Details

Contributed by

Jeff Henson
A conciliator is set to sit down with both sides in the Manitoba Public Insurance strike today.
The Manitoba Government and General Employees Union - which represents the 1,700 striking workers - says this week marks four years since its members last got a raise.
It is accusing M-P-I of disrespecting workers who have contributed to the corporation's ``success and prosperity.''
M-P-I board chair Ward Keith is blaming the union for the strike, which is in its fourth week.
with files from the Canadian Press
Details

Contributed by

Jeff Henson
A chance to meet the political candidates of the Swan River area is taking place tonight in Roblin.
The Roblin Chamber of Commerce will be hosting a political Forum that will have two of the three current candidates for the Swan River area.
Andy Maxwell of the NDP and Don Mckenna of the Keystone Party will be in attendance. The PC party's Rick Wowchuck is unable to attend due to personal reasons.
The night will feature several pre-submitted questions as well as a 30-minute open floor segment for people who are asking questions after the fact.
If you're a constituent of the Swan River area and you wish to have your voice heard go down to the Roblin 50 and overclub for this event.
The doors will be open at 6:30 PM and the form kicks off for 7:00 PM.
Details

Contributed by

Michael Brossart
With less than two weeks until the provincial election, a new popular opinion survey conducted by the non-profit Angus Reid Institute shows Manitoba New Democrats opening up a lead over the Progressive Conservatives.
A survey of 900 Manitoba adults conducted between September 13 and 19 showed the NDP with 47 per cent support, 41 per cent for the PCs and nine per cent for the Manitoba Liberals.
Within Winnipeg, home to a majority of the seats in the Manitoba Legislature, the NDP has a 22-percentage-point lead over the PCs, 53 to 31 per cent. Outside Winnipeg, the Tories have a 15-point advantage over the NDP, 53 to 38 per cent.
The survey suggests a majority of voters in this election intend to vote against a party rather than for it. Angus Reid said 43 per cent of the Manitobans surveyed intend to cast a vote for a party or leader they really like, while 57 per cent intend to vote against another party or leader.
The poll suggests Manitoba voters are not overly enamoured with PC Leader Heather Stefanson — but have a more favourable view of Wab Kinew.
The NDP leader is viewed favourably by 48 per cent of survey respondents, while Stefanson's favourability is 17 per cent.
Asked who would be the best premier, 34 per cent of survey respondents chose Kinew, 23 per cent selected Stefanson and 11 per cent said Liberal Leader Dougald Lamont would be optimal. Significantly, 21 per cent said none of the leaders would make the best premier.
The polling industry's professional body, the Canadian Research Insights Council, says online surveys cannot be assigned a margin of error because they do not randomly sample the population.
Details

Contributed by

Jeff Henson
The Woodland Art and Culture Experience wrapped up yesterday after a week of success
Patrick Paul, a Local artist and Event Organizer was amazed at the community support for the event.
"The response for all of it has been remarkable. I could not have asked for a better outcome for this show. All of the full circle connections that we have had here and the display of art as prolific as this inside of Dauphin at the Watson Arts Centre is incredible. So I am very grateful for all of this and it has been very well received."
Paul adds he is already looking forward to bringing more art to the Watson Arts Centre
"They have invited us back already. And I am excited to do this again next year."
The artists that attended also had big things to say about this art show.
Mishiikenh Kwe, an artist invited to the show was also blown away by this event's success
"We had a really good turnout. We had people here every single day, and we almost sold everything that we have. We really did not expect to sell this much art here this week but we did."
Guest artist Thomas Sinclair was also very excited to see the amount of people that wanted to come out to this woodland art experience.
"The response has been overwhelming from the community. Everyone has been so welcoming and supportive and so grateful that we are here. And it has been a wonderful opportunity to share these types of stories that have not been shared before."
Patrick says next year could include digital artists, Sculptors, oil painters, and more to the talented artists coming to Dauphin.
Details

Contributed by

Jeff Henson
The Manitoba government says new COVID-19 vaccines will be available to the general public in early to mid-October.
The first shots will be given to higher-risk people including those living in personal care homes, people in hospital, First Nations communities, and healthcare workers.
Public health officials are recommending that all previously immunized people six months and older should receive an updated vaccine this fall, to be given six months after a person's last dose or infection, whichever is later.
The province says the annual flu shot will also be available and people are recommended to get that vaccine as well.
with files from the Canadian Press
Details

Contributed by

Jeff Henson
Local farmers continue to make progress towards completing the 2023 harvest.
Sixty-two per cent of this year's crop in the Northwest region is now in the bin.
Only farmers in the central region - where 77 per cent of crops are in the bin - are further along with harvesting than our region.
Manitoba Agriculture says despite the good progress that was made, most of the region did receive frost over the past week, with some damage evident in corn and soybean crops, depending on the stage of the crops and the degree of frost.
Spring wheat harvest is approximately 95 to 97 per cent complete across the region, except for The Pas, which is closer to 70 per cent in the bin. Yields overall range from 50 to 90 bushels per acre.
Canola harvest is about 40 to 45 per cent complete, with desicration and swathing continuing as crops reach appropriate stages. Yields are averaging 40 to 55 bushels an acre.
Field pea harvest is now complete while Soybeans are mostly in the R8 stage and moving towards maturity, with a few soybean crops being harvested in the Dauphin area.
According to the report, seeding of fall-seeded crops has also started within the past week.
Details

Contributed by

Jeff Henson