NewsNow
If you've recently purchased any Jif peanut butter products you might want to check the code on the back. Smucker Foods of Canada Corp. is recalling a number of its products due to possible salmonella contamination.
Jars with lot codes 1274425 through 2140425 should be disposed of immediately. You can find a full list of the recalled products on the Government of Canada's website here.
Details

Contributed by

Sam Brownell
The Manitoba Métis Federation election has come to an end, with every spot up for grabs claimed by acclimation according to Chief Electoral Officer David Gray. According to Gray, this was the first time an entire election cycle had been decided by acclamation.
David Chartrand was re-elected to his role as President and will serve his third straight term in the role. Chartrand has led the organization since 1997.
Francis Chartrand of Dauphin has been re-elected to her role as vice president for the Northwest Region. Richard Genaille, of Duck Bay, and Peter Fleming, of Minitonas, are the regional executive officers for the northwest region.
Details

Contributed by

Sam Brownell
The province of Manitoba has expanded the seeding deadline for AgriInsurance coverage in three of the four areas. The full coverage seeding deadlines for soybeans are now June 8 in Soybean Area 1 and June 4 in Soybean Areas 2 and 3.
Additionally, soybean growers in these areas will now be eligible for insurance if planting occurs in the five days following the full-coverage seeding deadline. However, coverage will be reduced by 20%.
The full-coverage seeding deadline for Soybean Area 4 continues to be May 30 with no extended seeding deadline coverage. These changes are permanent and will be part of the AgriInsurance contract going forward.
A map of the Soybean areas in the province can be seen here.
Details

Contributed by

Sam Brownell
The Parkland Ukrainian Family Fund has passed $170,000 in cash donations. The Fund received a $4000 donation from the Zirka Ukrainian Dance Ensemble last night after they picked the winner of their 50th Anniversary raffle.
President of Zirka, Leeann Bomak said the money was raised at their 50th Anniversary Zabava, which was held at the end of April.
Our club has been in Dauphin for 50 years and the community has always been a huge supporter of what we do so we wanted to support local and support some things happening in our community.
The Fund has officially welcomed its first few families to the Parkland, with more expected to be arriving later this month. You can get more information about the Fund, by calling Larry at 204-648-5904, or Karen at 204-648-3567.
Details

Contributed by

Sam Brownell
The Province of Manitoba has expanded eligibility for second COVID-19 booster shots. Chief Public Health Officer Dr. Brent Roussin made this announcement this afternoon. The following groups are now eligible;
Individuals aged 50 or older
First Nations, Inuit, and Métis people aged 30 or older, regardless of where they live
Individuals aged 18 to 49 years who are moderate to severely immunocompromised
Residents of any age of personal care homes and elderly person housing congregate living sites
The province is also shortening the intervals to be eligible for booster doses. The first booster can now be given four months after the person's second vaccine, and the second booster dose can now be given four months after the first booster.
Details

Contributed by

Sam Brownell
Southern Chiefs Organization Grand Chief Jerry Daniels and Peguis Chief Glenn Hudson are calling on both the Federal and Provincial governments to provide permanent flood protection for Peguis First Nation. The community originally lived on land in the Selkirk area but was forced to relocate in 1907 to the flood-prone area near the Fisher River.
"Due to chronic underfunding of infrastructure, including flood prevention measures by governments, flooding episodes never end for Peguis" said Chief Hudson today.
This spring, over 1800 people from the First Nation were forced to evacuate their homes because of flooding. The Southern Chiefs' Organization says the federal and provincial governments need to work together to build flood protection infrastructure.
Details

Contributed by

Sam Brownell
It was announced yesterday, that a number of provincial campgrounds had to postpone their opening this weekend. Today, the province announced even more postponements including a few local ones.
Rainbow Beach Provincial Park campground is closed until at least May 27 due to wet conditions and soft ground.
Manipogo Provincial Park announced partial closures yesterday but has officially closed all campgrounds until at least May 27 due to wet conditions and soft ground.
You can see the full updated list of provincial park campground closures here.
Details

Contributed by

Sam Brownell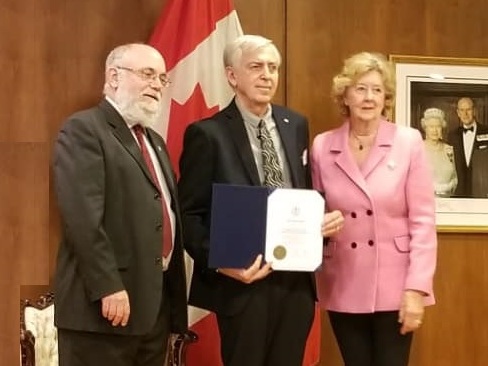 Two local historians have been awarded the Lieutenant Governors' Historical Preservation Award.
The Manitoba Historical Society receives award nominations from the public and recommends up to three people to receive awards each year. This year's recipients are Jo Bunka from Winnipegosis, Ed Stozek from Dauphin, and Elva Simundsson from Gimli.
Ed Stozek spent 33 years teaching in Dauphin at Smith Jackson, Barker Elementary, and the DRCSS. Although he retired as a teacher 15 years ago, Ed has remained extremely busy, publishing three books and submitting nearly 400 columns to local newspapers called "A Slice of the Parkland"
I've found out that many ordinary people live extraordinary lives and I have had the opportunity to share some amazing stories and experiences
Jo Bunka is the President of the Winnipegosis Historical Society, and she's been involved with the society since it was started in 1985. She says that preserving the history of the area has always been one of her passions.
I was absolutely humbled. I personally do not deserve this award. It truly belongs to the whole Winnipegosis historical society.
Both Jo and Ed had the opportunity to meet with the Lieutenant Governor while receiving their awards earlier this week.
Jo Burka receiving her award
Details

Contributed by

Sam Brownell
The Parkland Ukrainian Family Fund Support Team is looking for daycare spots for the children coming to the Parkland from Ukraine. They're searching for nine openings for children in the infant to 12-year-old age range.
Anyone with information can reach out to Rodney Juba at 204-648-6159, or This email address is being protected from spambots. You need JavaScript enabled to view it..
Details

Contributed by

Sam Brownell
The province has announced a number of campgrounds around Manitoba will be delaying the start of their season due to a number of reasons including flooding and washouts. Some of the local closures include;
Blue Lakes, Childs Lake, Singush Lake, and Wellman Lake campgrounds in Duck Mountain Provincial Park are closed until at least May 27 due to road washouts.
Manipogo Provincial Park campground has a partial closure of sites until at least May 27 due to overland flooding.
And Rivers Provincial Park campground has a partial closure of some sites in low-lying areas until at least June 2 due to overland flooding.
Provincial Park campgrounds around the province were supposed to open this weekend. Find the full this of closures on the province's website here.
Details

Contributed by

Sam Brownell
It has been a month since the first cases of Avian Influenza were found in Manitoba. Since then, there has only been one case in a Manitoba flock according to Wayne Hiltz, the Executive Director of Manitoba Chicken Producers.
Even before the outbreak of the one case, when it started getting noticed in wild bird foul, we increased to what we call our alert biosecurity which has certainly more restrictions on it than our regular biosecurity, and those farms that are within the control access zone of the infected site, those would have significant more biosecurity attached to them as well because they're in what we call the hot zone.
There are a number of provinces getting hit harder than Manitoba however.
There's certainly a wide range, and not all of these are commercial premises, some of these would be small flock included in these numbers. Alberta is I believe around 28, Ontario's at 25, and BC's at eight, but I believe only one is a commercial premise, the rest are all small flocks. The Maritimes I believe just has one, Quebec is around seven, and Saskatchewan has about a dozen as well.
Hiltz said the outbreak is the worst the country has seen since at least 2005 when he started in the industry.
Details

Contributed by

Sam Brownell