Latest Sports
The Grand Plains Atom Hawks are heading back home as Champions.
In the final of the Yorkton A tournament earlier today against Virden, the Atom Hawks played a great game in a 5-1 win.
Novice call-ups, Kenai Mouck and Rossi Puchailo both scored one each.
Landyn Garton, Tevin Code, and Zak Fillion also added one each.
In the team's semifinal, they easily got past Hudson Bay, 9-1.
Owen Sigvaldason had three goals in the game to steady the offence. Kenai Mouck had a great game with two goals while Kingston Stirling also had two.
Landyn Garton and Rossi Puchailo also scored for the team.
Details

Contributed by

Darnell Duff
The Dauphin Clippers hockey team continue to show teams from around the province how good they are.
The team beat Dryden, 4-1 earlier today to claim a bronze medal in the Championship bracket at the Vic Inn tournament in Brandon.
Austin and Logan Storey both had a goal in the game. Wade Kopytko and Carson Sokolan added the other Clippers goals in the game.
Between the pipes, Blake Zamrykut is settling in very nicely. He picked up another win.
Yesterday, the Clippers gave the Sturgeon Heights Huskies all they could handle. The Huskies are the third best team in a very competitive city league, and Dauphin lost 3-1.
Dauphin returns to Credit Union Place on Tuesday.
Details

Contributed by

Darnell Duff
A few different teams from the Parkland have officially booked their ticket to the U21 Canola Growers Junior Provincial Championships.
The first team is last year's Manitoba Games winners, Emma Jensen, and her rink. Emma, Gracey Gulak, Kaitlyn Szewczyk, and Jaycee Terrick defeated the Hadway rink to earn their spot.
Also earning their spot from the A-side was team Sagert from Swan River. Presley Sagert, Eden Betcher, Bryn Zamzow, and Madison Sagert beat the Jackson rink, 8-5.
The final berth in the women's event went to Dauphin's Makenna Hadway and her rink. After falling in their first game, Hadway, Cassidy Dundas, Zoe Terrick, and Tessa Terrick rebounded and beat the Jackson rink to earn their spot.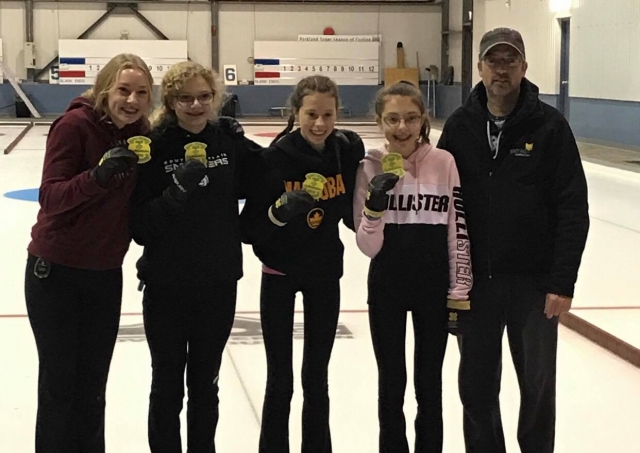 Men's Event:
Two teams are on their way to the big dance. Coming out of the A event was team Beyak. Tyson, Osten Sahulka, Garret Benson, and Eric Preston scored eight points in the first three ends to beat the Gawryluik rink.
After losing their first matchup with team Dundas, the Williamson rink got another shot at them. This time, they came out and put a bunch of points up en route to a 10-4 win to pick up the final berth from the event.
The Provincials are January 2-9 in Winnipeg.
Details

Contributed by

Darnell Duff
The day is called Tractor Lotto Sunday. That's because $100,000 will be given out among other prizes tonight.
Before that, there is an important game going down on the ice at Credit Union Place. It pits the red-hot Dauphin Kings against the Swan Valley Stampeders who are very good, but they have cooled off of late. They've lost four of their last five.
The Kings, meanwhile, are 5-0-2 in their last seven games and are coming off a 4-3 win against Wayway on Friday.
Swan Valley is coming off a win against OCN. In that game, Bradly Goethals went into pure beast mode. He scored four times.
One key deletion from today's game comes on the Stamps side. Matt Osadick will not play. He's with Team Canada West at the World JR. A Challenge.
After today, both teams will take part in the MJHL Showcase in Winnipeg.
It's an early puck drop this afternoon at 4:00 p.m.
Photo Credit - Dauphin Kings/Pederson Photographic.
Details

Contributed by

Darnell Duff
The Parkland Rangers put a pretty good effort forth tonight, but it wasn't enough in a 4-1 loss against the Wild.
Winnipeg opened the scoring. Garrett Hrechka then tied up the contest at one. From there, Winnipeg scored three straight to pick up two points.
Parkland heads to Portage tomorrow to challenge Central Plains.
More:
Caitlin Fillion picked up another shutout and the Grand Plains Peewee Ice Dogs scored twice in a 2-0 win against Neepawa.
Cadence Christensen and Tristyn Hanneson scored for the Ice Dogs in the win.
The team plays in Grandview tomorrow at 3:30.
Details

Contributed by

Darnell Duff
The Dauphin Clippers hockey team just continue to get better as they go on.
After winning both of their games in Brandon yesterday to advance to the Championship bracket, Dauphin kept it rolling today.
Seth Masson scored twice to lead the Clippers to a huge 7-1 win over Crocus Plains.
Logan Storey, Keanu Woodhouse, Carson Sokolan, Alex Iwanchysko, and Logan Conrad all added one in the huge win.
Dauphin now plays in the semifinals later today, against Sturgeon Heights.
More:
The Grand Plains Atom Hawks are also rolling.
They're in the Yorkton A tournament and the team is playing in the A-side semifinals.
In their first game, the Hawks beat the Melville Silver Knights, 9-0.
Kingston Stirling lit it up with four goals while Owen Sigvaldason had two.
Zak Fillion, Kenai Mouck, and Tevin Code also scored for the Hawks.
In their second game, they dominated the Yorkton Deneschuk Homes.
They play at 7:30 with a berth in the finals on the line.
Details

Contributed by

Darnell Duff
The Parkland Midgeat Rangers will be looking to halt the slide they've been on.
But, it sure won't be easy. They welcome the league best Winnipeg Thrashers to town this evening.
Parkland has lost seven games in a row to slip more than 10 points back of a playoff spot.
Tonight's game is the first of a weekend two-game set for Parkland.
They'll head to Portage tomorrow to battle Central Plains.
The puck drops at 7:30 at Credit Union Place tonight.
Details

Contributed by

Darnell Duff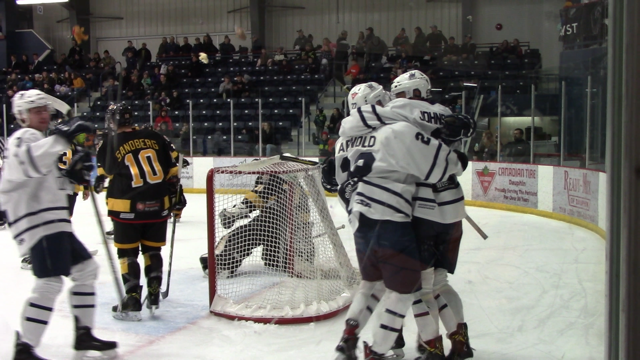 The Dauphin Kings are on fire! They beat the Waywayseecappo Wolverines tonight, 4-3 on Barry Trotz and Teddy Bear Toss night down at Credit Union Place.
10:37 into the game, the newest King, Kolby Johnson scored his first ever goal with the team. It was the reason Teddy Bears were flying all over the ice.
After some highlight reel saves from the Wolverines goalie, Wayway tied it up in the second as the clubs were tied after 40.
It was a goal fest in the final 20.
Wayway took a lead just 2:11 into the period. Leeam Tivers then scored for Dauphin on a sick spin around shot at the 8:12 mark. Wayway regained their lead at the 11:11 mark. But, 20 seconds later, Riley Shamray came up clutch for Dauphin as he tied it up.
Just over four minutes later, Johnson finished off a statement game for himself. He picked up his own rebound and potted it past the Wolverines goalie for the game-winner.
With the win, the Kings are now 17-12-1-2. They're 5-0-2 in their last seven games.
Dauphin welcomes Swan Valley to town on Sunday at 4:00 p.m.
Photo Credit - Dauphin Kings/Pederson Photographic.
Details

Contributed by

Darnell Duff
The Grandview Comets are on the board! They won their first game of the season last night.
The final score was 4-1 against Foxwarren. The win snapped Grandview's seven game losing skid.
The Atom A1/AA tournament kicked off yesterday with a busy first day in town.
Here are the scores:
McCreary over Roblin A1, 10-2.
Dauphin A1 over Swan Valley A1, 9-3.
Dauphin AA over Souris, 8-1.
Swan Valley AA over Lorette, 4-2.
The Pas A1 over Swan Valley A1, 5-4.
Souris and Thompson, 5-5.
Details

Contributed by

Darnell Duff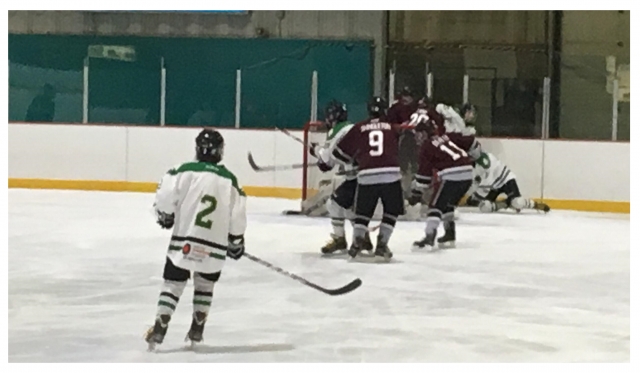 Game #2 - The Dauphin Clippers are Championship bracket bound.
They beat Prairie Mountain earlier today, 6-2 to win their pool.
Noah Wiens led the team with two goals. Keanu Woodhouse, Austin Storey, Logan Conrad, and Riley Hammond scored one each for Dauphin.
Ben Talbot earned the win in the crease.
Dauphin plays Crocus Plains in their next game.
Game #1 -
The Dauphin Clippers hockey team is in Brandon for the Vic Inn tournament and they're off to a solid start.
Riley Hammond scored twice, Blake Zamrykut shut the door and the Clippers beat Westwood, 5-0 earlier today.
Noah Wiens, Kayden Bodnar, and Wade Kopytko also scored one each for Dauphin.
The team is back on the ice tonight at 8:15 against Prairie Mountain.
Details

Contributed by

Darnell Duff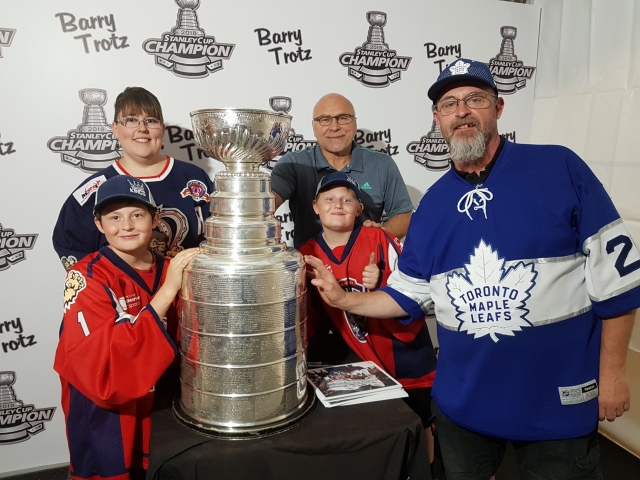 The Dauphin Kings are in their 51st season and it's been a successful one. But, the season wouldn't have gone on without the support of the community and the team's many billets.
Today, we take a look inside the Perih's house. They've been a Dauphin Kings billet for several years in the past decade. That means every season, they open their home to young aspiring junior hockey players who hope to call themselves National Champions.
"After the RBC Cup year, my wife and I were moving into a new home, and we wanted to give back," said Blaine Perih. "So, we brought in one player that year and it's sort of been history since."
Since that year, the Perih's have taken a couple years off as billets. But, for the most part, they've been all in with giving several players a home to call their own during the hockey season.
"It's just great watching the kids and seeing how they get better and we get to be a part of their journey to the next level," said Perih. "It's a very rewarding experience for us to share the memories they make with them. One day, maybe our kids will need a spot to stay and they'll be in a great home as well."
This season, Blaine, his wife, and two kids are the billet home of Bryan Landsberger and Landon Russell.
"We were only supposed to bring in Bryan, but we brought in Landon to just sort help the team out and then he fit in really well with the family," said Perih. "We decided as a family that we wanted him to stay. The guys play video games with my kids and they'll come out and help with hockey practice when they can."
"This whole thing really hits home after what happened in Humboldt," he added. "These kids are away from home and we want to provide a great place to stay. We want them to enjoy their experience in Dauphin."
From family dinners to video games with the kids and everything else, the Perih's open up their home to give the Kings a chance at bringing high-quality players to town in the hope of winning it all.
Of course, there are so many other great Dauphin Kings billets as well. Stay tuned all season long to get to know some of the other ones.
Details

Contributed by

Darnell Duff