Latest Sports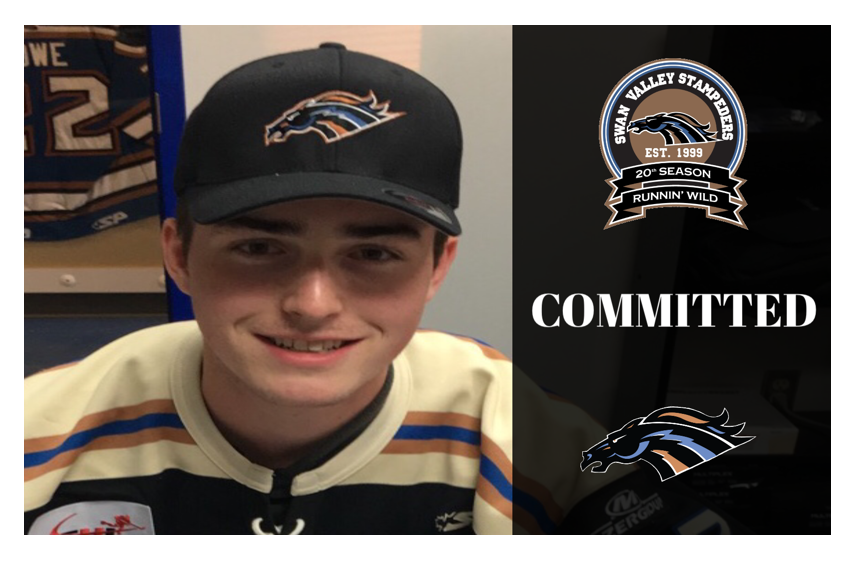 He's coming off a great season with the Midget Parkland Rangers, and was sure to sign with an MJHL team... the question just became when.
And, on August 3 that question was answered when 17-year-old Carter Cockburn signed with his hometown team, the Swan Valley Stampeders.
"It's pretty exciting for sure," said Cockburn. "I'm just really thankful for the opportunity they've given me, and I can't wait for the season to start."
In 48 games with the Rangers last year, the highly talented forward put up 35 goals and assisted on 26 others, which was 31 points more then he produced the season before.
Carter's already had the chance to suit up for the Stampeders, and he did quite well. Late last season, he played in four games and scored once while adding two helpers.
"I wasn't really sure what my expectations were heading into that game," said Cockburn. "But, with the year I had with the Rangers, and obviously having the chance to play with Swan Valley, I feel I have what it takes to play in the MJHL. I just have to keep working hard, and things will pay off."
Just because Carter signed on with the Stampeders, it doesn't necessarily mean that's where he'll end up this season. Later this month he'll head to Everett for the Silvertips Main Camp. He earned the right to try and crack that roster after being listed by the team last season.
"I'm just going to go and give it all I have," said Cockburn. "And, If I'm able to make the team, that's when I'll make my decision."
"It's obviously not going to be easy," he added. "All of the players there are super skilled, and I'm going to have to be at my best just to have a chance. I'm looking forward to the opportunity."
For now, as he prepares for Tips camp, the 17-year-old is playing in the Parkland Source for Sports 4 on 4 Summer Hockey League, and what a first game he had. He scored twice and added one assist last night as his Next Level ST Turbochargers edged their opponent.
"It's a great chance to just get on the ice before these camps start," said Cockburn. "There is a great skill level, and it lets you get your compete level up."
"It's really important to work on your speed during this camp," he added. "And, I'm always working on my shot."
Details

Contributed by

Darnell Duff
Daylin Smallchild played for the Swan Valley Stampeders for two years, and what happened after his playing days in the Parkland wasn't expected... at least yet.
The 21-year-old has signed on to play professionally with the Maddogs Mannheim who are based out of Germany.
"I'm so excited to head to Germany to continue playing hockey," said Smallchild. "When I first found out about it, I was probably the happiest guy around. I couldn't believe I was actually going to sign to play pro hockey."
It all started when Daylin was chatting with an agent, and the rest is history.
Daylin really made a name for himself on the backend last year for the Stampeders, but he knows the transition from Jr. A hockey in Canada, to professional hockey in Germany, will be a tough one.
"You bet, it'll be tough for sure," said Smallchild. "I just have to take it day-by-day, and game-by-game. I'll get used to it, it'll just take lots of work, and I'm prepared to put that in."
With the signing, Smallchild will become the first indigenous player from Beardy's and Okemasis Cree Nation to play pro hockey in any capacity.
"It's definitely a really special feeling," said Smallchild. "I take pride in my community. It's very special to come from this reserve and become the first player to play pro hockey. I've really been feeling the support from people texting me, and all of that. It's all been pretty overwhelming."
The Duck Lake native will leave for Germany at the end of the month, and it's taken quite some time for everything to sink it... but it seems like it finally has.
"It's really starting to hit me that I'm leaving home and going overseas," said Smallchild. "My parents are always reminding me too. It's just such a humbling feeling."
Daylin got a feel of living away from home when he played for the Stampeders, which was five hours away from his home, but he knows everything's about to change once again with Germany being so far, and him having to adopt a new culture and way of life.
"I'm pretty nervous to go over there and experience a new style of hockey, and culture," said Smallchild. "But, I'm really excited to get the chance to just soak it all in and play the game I love."
His two seasons in Swan saw Daylin suit up in 110 games, where he scored nine times and assisted on 37 others.
"They took care of me over there," said Smallchild. "I really enjoyed my time over there, and I definitely really improved.
AUDIO: Daylin Smallchild:
Details

Contributed by

Darnell Duff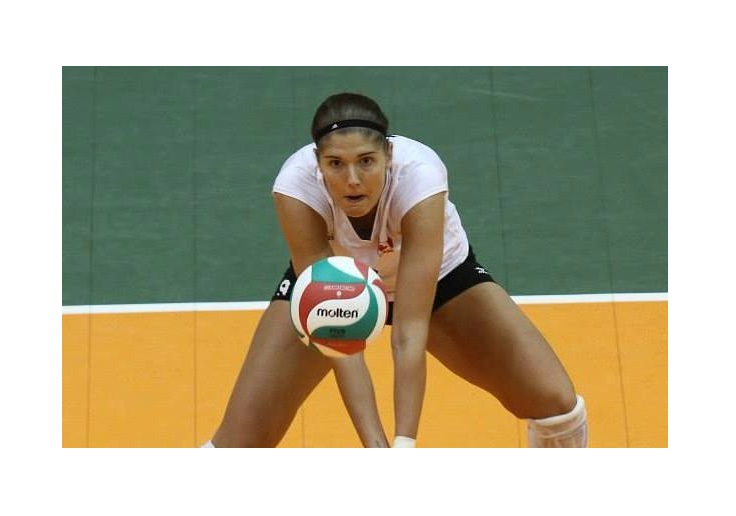 Dauphin's Tabi Love has been smashing balls professionally for years, and now she's going to do her best to hand off her skills to young ladies who want to make it big... just like she did.
The former Team Canada player and professional athlete will be joining the Queen's University Women's volleyball team as their Assistant Coach.
"I'm very excited for this opportunity," said Love. "It was definitely a really sad moment for me when I decided to stop going overseas to play, but it was time for me to start a family."
"I really wanted to get into coaching, and it just felt like it was the perfect time to make the transition," added Love. "I know their Head Coach because he coached me when I was with Team Canada, and he offered me the position... and I just couldn't turn it down."
Head Coach Ryan Ratushniak is also very pleased that Tabi is set to join the team.
"I think Tabi just brings a very deep volleyball background to Queen's," said Ratushniak. "She has a wealth of experience playing. She's going to be great for our program in terms of bringing that experience and knowledge that she has to help our team succeed."
Just one year removed from what was an excellent professional career, Love feels extra good that she got a job coaching so quickly.
"It was really reassuring, and it kind of reinforced the idea that making the transition now was a good idea," said Love. "I also reached out to some coaches in the US and had a couple potential offers. But, I do think in order to grow Canadian volleyball, I have to stay here."
Last year Queen's went 13-6 in their conference play, and with a good chunk of their core returning, along with some very good recruits and prospects... Love and Ratushniak are confident in the team going forward.
"Winning the OUA conference is a goal for us," said Love. "It's really exciting to be going to a program that has so much to offer not only in athletics but academics as well. I think the strong academic front will be enticing for strong athletes to join the program. Being from Manitoba, I'm also hoping I can use that connection to bring in some strong recruits."
"I think this coming season we're going to be improved for sure," said Ratushniak. "Our style of play will be a bit ahead of last year, and we have some strong recruits coming in. I think this year will be a very good one, and also heading into the future. We're excited about where the program is going."
A Look Back At Tabi's Professional Career:
To say it was a successful professional career for Love would be an understatement. Since grade eight, the Dauphinite has been a part of the Team Canada program.
Love got her real first taste at success playing collegiately in the states. She was a part of the UCLA Bruins team in 2011 that won the NCAA Division 1 National Championship. Professionally she's played in Puerto Rico, Poland, Azerbaijan, and in Germany.
Then in 2017, Love smashed balls at an all-time high... literally. She played in Korea and was the top scorer with the Heungkunk Life Pink Spiders who were the regular season Champions.
During that season, she set a team-record with a crazy 46 points in one match.
Although all of those things are great and things she'll never forget, her favourite volleyball moment came right here in the City of Sunshine.
"My favourite volleyball moment was when Team Canada came to play Peru right here in Dauphin," said Love. "It was such an honour getting the chance to wear a Team Canada jersey and play with the team in the DRCSS... where I spent so many hours growing up. I'm so grateful for everything Dauphin was able to provide me with."
"I hope one day I'll be back, so I can share more and build volleyball in Dauphin, even more, then it already is," she added. "But, I feel to do that... I have to leave and get some more coaching experience and then hopefully I can come back."
Extra Duties:
On top of being the team's Assistant Coach, Love will also aid in supporting and providing resources to Queen's Varsity and Recreational Clubs.
"I'm really excited for it," said Love. "It'll be my first quote-on-quote real person job since retiring from volleyball. I hear I'll get my own office, so that's really exciting."
"To get a job in an athletics department at a top university... is a dream come true," she added.
Tabi will begin at Queen's on August 20.
AUDIO: Tabi Love:
Details

Contributed by

Darnell Duff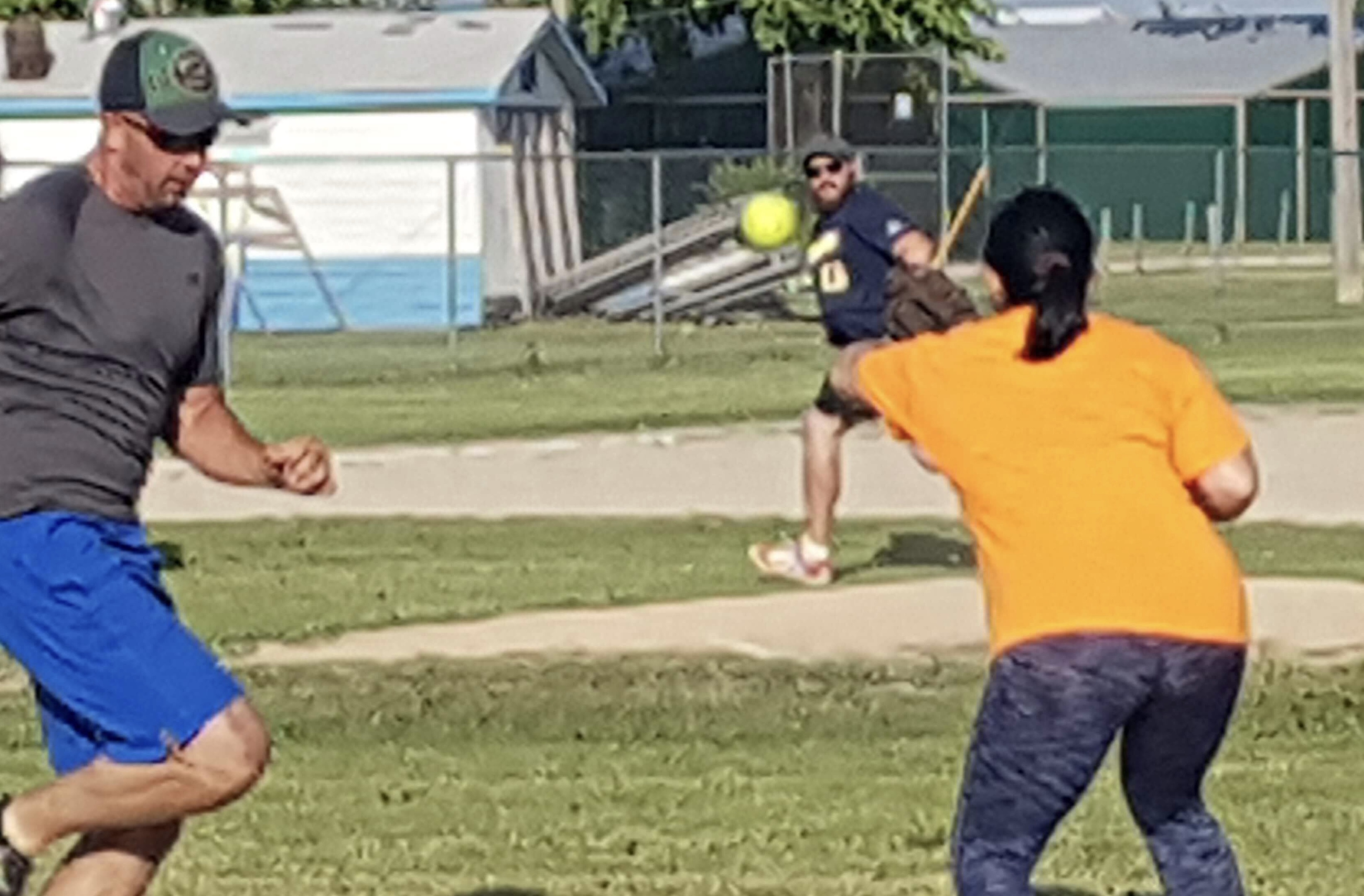 Here is the local scoreboard for August 7.
Dauphin Competitive Slopitch League:
Catalyst Credit Union Brewmeisters beat Cartridge Outlet Dane's Dingers, 25-12.
Guns and Hoses beat Blackbeard, 22-11.
Outlaws beat Denray Tire, 20-6.
Giants beat Showtime, 15-3.
Parkland Source for Sports 4 On 4 League:
Next Level St Wranglers - 14
Kelleher Ford Mustangs - 7
Wyatt Tweet with 6 goals and 1 assist for the Wranglers.
Highlights:
Kiniw Management Eagles - 7
Kal Tire Hakkapelittas - 4
Highlights:
Kyan Grouette & Brayden Kohlman each with 3 goals for Kiniw.
Details

Contributed by

Darnell Duff
The Senior Men's and Ladies Open took over the Gilbert Plains Country Club earlier today.
Here are the results:
CHAMPIONSHIP FLIGHT
1ST PLACE – Dale Murray - 70
2ND PLACE – Scott Lynxleg - 77
3RD PLACE – Mike Pernarowski - 78
FIRST FLIGHT
1ST PLACE – Bruce Parker - 78
2ND PLACE – Doug McLeod – 79 c/b
3RD PLACE – Dean Murray – 79 c/b
SECOND FLIGHT
1ST PLACE – Ian Dalmage – 84 c/b
2ND PLACE – Jim Wright – 84 c/b
3RD PLACE – Glen Sterzer – 85 c/b
THIRD FLIGHT
1ST PLACE – Ron Watson – 86 c/b
2ND PLACE – John Zeke – 86 c/b
3RD PLACE – Ralph Nispor – 86 c/b
FOURTH FLIGHT
1ST PLACE – Harry Harrell – 89 c/b
2ND PLACE – George Lobert – 89 c/b
3RD PLACE – Lloyd Campbell – 89 c/b
FIFTH FLIGHT
1ST PLACE – Orest Nimetz – 90
2ND PLACE – Brian Boyechko – 90 c/b
3RD PLACE – Wayne Howe – 90 c/b
SIXTH FLIGHT
1ST PLACE – Keith Pottle – 93 c/b
2ND PLACE – Owen Connolly -93 c/b
3RD PLACE – Derek Vendramin – 94 c/b
SEVENTH FLIGHT
1ST PLACE – Syd Tycholes – 97 c/b
2ND PLACE – Reid Birss – 97 c/b
3RD PLACE – Brian Cotton – 98 c/b
EIGHTH FLIGHT
1ST PLACE – Rick Robinson – 100 c/b
2ND PLACE – Merv Beasley – 100 c/b
3RD PLACE – George Richardson – 100 c/b
NINTH FLIGHT
1ST PLACE – Jim Ives – 102 c/b
2ND PLACE – Fred Letain - 103
3RD PLACE – Glen Riess – 104 c/b
TENTH FLIGHT
1ST PLACE – Ron Bazylo – 109 c/b
2ND PLACE – Leo Hrvshowy - 110
3RD PLACE – Bill Griffin – 111 – c/b
LADIES
CHAMPIONSHIP FLIGHT
1ST PLACE – Pearl Maksymetz - 86
2ND PLACE – Gail Tycholiz - 93
3RD PLACE – Lavona Monroe - 94
FIRST FLIGHT
1ST PLACE – Bev Lewicki- 110
2ND PLACE – Wanda Connolly - 111
3RD PLACE – Gladys Rea - 113
CLOSEST TO THE HOLE
LADIES
Hole #9 –Linda Hamilton 7'5"
Hole #17 – Marilyn Schwitzer 3'5"
MENS
Hole #4 – Dennis Lukey 24 ½"
Hole #14 – Ron Ramsey 142"
CLOSEST TO THE LINE #5
MEN'S – Myles Haverluck
LADIES' – Marg Heroux
Details

Contributed by

Darnell Duff
Main Camp is under a month away for the Dauphin Kings, and as the day approaches... the organization has committed two more players.
The first player is 17-year-old defencemen, Matthew Boonstra, while the second is 19-year-old Riley Buller.
Boonstra:
The defender was one of the main pieces in last winter's trade that saw Riese Gaber dealt to Steinbach.
Before a season-ending injury last year, Boonstra was on fire with the Eastman Selects of the Manitoba AAA Midget Hockey League. In 16 games, he had 16 points (4 G). The season before with the Selects City Midget club, he had 35 points.
Buller:
The 19-year-old Buller is coming off a season where he was a scoring machine.
With the Yellowstone Quake in the NA3HL, the native of Colorado Springs had 94 points (40 G) in just 46 games. That total put him in third overall in the 37-team league.
In seven playoff games, Buller added six more goals and two assists.
More:
The Kings kick off their 2018-2019 campaign with "Rookie Camp" on August 30, while Main Camp begins on August 31.
Photo Credit - Dauphin Kings.
Details

Contributed by

Darnell Duff
Branden McCrady is the fourth and final Parklander that'll suit up for Team Manitoba as the U18 Western Canadian Rugby Championships kick off on Thursday in Winnipeg.
The 18-year-old has been on the team for a couple years now, and he can't wait for this year's tournament.
"It's a pretty great opportunity for sure," said McCrady. "It's a very elite tournament, so it allows me to improve my game all the time. It's a great experience, and I can't wait for it to start."
When the team plays their first game on Thursday, Branden is pretty confident in the squad.
"We have a pretty good team this year, and probably the best I've ever played on," said McCrady. "We have a solid coaching staff and lineup... so, I'm hoping we can do pretty well."
This tournament will be Branden's third major one in the past three years ago. Two years ago he was on the team that went to the Canadian Rugby Championships in Toronto, and last year they went to Regina.
Can those experiences help not only Branden but the team this year? He sure thinks so.
"We all got the chance to learn things we didn't really know before because all of the competition was so good," said McCrady. "The past couple years, we were just trying to learn more and more every time... and we did that. Now, I think we're in a place that we can use all that experience to help us win games, and go far in this tournament."
Despite being somewhat of a veteran on the team, Branden knows his position on the field isn't guaranteed, and if he doesn't train hard... he'll be on the bench, and that's not what he wants.
"Just being a good athlete these days, doesn't really matter as much," said McCrady. "Because someone on the team is maybe not as good as an athlete, but they're working extra hard... and they're going to get better and play more. It's all about preparation, and showing why you deserve to play."
"I know I've been working hard, and preparing as much as I can," he added. "I've been tending to some injuries... nothing major, but injuries none the less. I'm hoping I can show off how hard I've been working, in a way that'll benefit the team."
Injuries are something that always comes with being an athlete, especially at the elite level. Unfortunately for most, the games must go on regardless, but Branden isn't letting his minor injuries stop him from getting at it.
"It's definitely difficult, but you have to learn to work with it and deal with it," said McCrady. "I've been healing, but I'm not as healthy as I was before the injury... but that's just a part of it. I can't make excuses. I know what I can do on the field, and I just have to get it done."
Being 18-years-old, post-secondary school isn't far for Branden, and if he wants to play rugby at the next level... he knows this is a great opportunity to show off to coaches around Western Canada, and the scouts that'll be in attendance.
"In games like this, it's kind of make or break," said McCrady. "You can either shine or hurt the team. I'm hoping I can get some ball handles, and maybe even make some game-saving tackles."
"It's pretty nerve-racking," said McCrady on trying to impress people. "I just have to be confident out there. If I worry about things, that's when things could go bad. It's just about going out there, setting a goal... and achieving that goal."
As noted before, Branden will join Brayden Tomchuk, Zane Brindle, and Logan Conrad to make up the Parkland connection on the team.
"It's a great thing to be playing with them again," he added. "I've been playing with them for years, and we're all pretty good friends. It's great to have them on the team."
Branden hopes to get the chance to play rugby at the next level in the future, whether that be in Canada or the US.
AUDIO: Branden McCrady:
Part One:
Part Two:
Details

Contributed by

Darnell Duff
Thanks to Janelle Howatt for this wonderful picture of Dauphin's Rueben Houle.
A couple weeks back, he won a gold medal in the shot put event at the Western Canadian Tri-Prov Track & Field Championships.
Details

Contributed by

Darnell Duff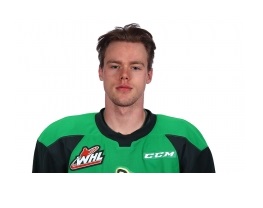 As Main Camp approaches for the Dauphin Kings organization, they've made a trade that will help the team's offence immensely.
They've picked up forward George King from the OCN Blizzard, in exchange for forward Matt Pitchenese and Future Considerations.
Originally from Alberta, King has proven himself to be a very efficient scorer. His most productive campaign came in 2016-17 season when he had 36 goals and 18 assists in 54 games while with the OCN Blizzard.
After spending some time in the WHL to start last season, King returned to OCN where he had 16 more points in 21 regular season games... and added six points in six regular-season games.
"George is a very focused player, and he wants to get better all the time," said Doug Hedley, HC/GM for the Kings. "He's got an outstanding skill set and speed. We're getting a focused player who's going to be ready to go."
"He's a game-breaking kind of player," said Hedley. "He's going to make the players around him better. If he gets off to a good start, he builds momentum for the whole team."
You can see King and the rest of the Kings as they kick off their Main Camp on the September Long Weekend.
Details

Contributed by

Darnell Duff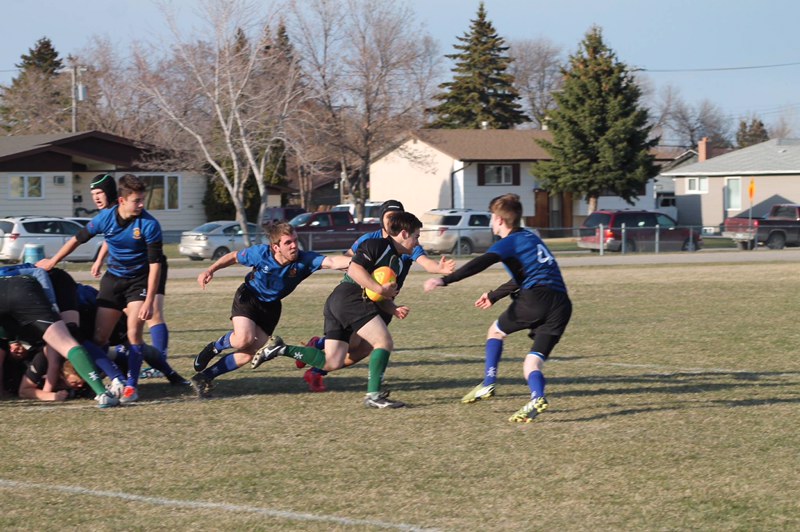 When the 2018 Western Canadian U18 Rugby Championships kick off next week in Winnipeg, Ste. Rose's Zane Brindle will be there.
He'll suit up for Team Manitoba.
"It's a really exciting feeling," said Brindle. "I'm really looking forward too it. We have a lot of good guys on the team, and some good friends. It's just really exciting to play rugby at this level."
To make the team, Zane had to be on top of his game at a regional tryout from July 11-12 in Regina, and that's exactly what he was.
"I think I did really well for sure," said Brindle. "I've been working extremely hard, and I think it showed."
Zane picked up rugby in high school, and since then, he's loved every minute of it.
"I just played it for fun, and I really fell in love with the sport," said Brindle. "I feel if you play it once, you'll kinda get hooked."
Now Zane and the rest of the Manitoba men will challenge the best U18 teams in all of Western Canada at the Championships, and he's feeling good heading in.
"I think we have a really strong team, and I think we can do well," he added. "Obviously every team is going to be really good, so we'll always have to be at our best. And, at the end of the day, even if we don't win... this tournament will definitely help all of us improve and gain valuable experience."
The Western Canadians for now, but Zane doesn't expect this to be the last big tournament he takes part in.
"Next year it would be great if I could make the U19 Blizzard team," said Brindle. "Then in the future, hopefully, I can play in some national competitions. I just want to play rugby for as long as I can, it's such a great game."
The Championships are August 9-12.
Details

Contributed by

Darnell Duff
She only began playing rugby five years ago, but not many would know that based on how she's doing on the pitch... and that's Dauphin's, Monique Coffey.
Playing university rugby at Acadia University, the 20-year-old has now been named to the U20 Team Canada reserve roster.
"I'm really proud of where I've come, and how far I've come," said Coffey. "A few years ago I was just learning to play the game, and now I'm getting the chance to play with the top players in Canada, and potentially the world. It's pretty amazing, and it's a great feeling."
For most athletes, making your national team takes years, and years, and years of hard work, dedication and commitment... and when we talk about years, it's usually more than five, but that's exactly what Monique did.
As we go back to the beginning of high school, why did Monique end up choosing rugby?
"A lot of the older rugby players came to me in grade eight and they all told me to come play because they thought I'd be great," said Coffey. "I honestly had no idea what it was or any of the rules. But, I loved sports so I thought why not give it a try. I played football, so it was possible I could be good at rugby... and it turned out I was pretty decent."
Backtracking five years, Monique never really thought making the national reserve roster as a 20-year-old was a possibility.
"It definitely wasn't something that crossed my mind," said Coffey. "It was just a new sport that I wanted to pick up and see if I enjoyed it. It wasn't even until high school when I decided I wanted to pursue rugby at the post-secondary level."
"You can't expect things like this to happen," said Coffey. "But, It's awesome to know it did."
Just like every other athlete playing at an elite-level, Monique has done everything she possibly can to succeed on a daily basis, and don't expect that grind to stop anytime soon for the Dauphinite.
"I've put in a lot of work in the gym, and whenever I have some free time, I'm usually doing something related to rugby because I want to be the best player I can," said Coffey.
Although she doesn't play rugby in Dauphin anymore, Monique knows the Clippers program was instrumental in the success she's having now as she jumps up the ranks.
"The coaches there was absolutely amazing," said Coffey. "They always pushed me to do my best. Especially, Jason Alf, he was my first coach there. I get the feeling that he knew I was going to be great, so he put everything he had into helping me improve. I'll never forget playing for the Clippers and getting the chance to represent the school on the pitch."
Right after high school, Monique committed to play at Acadia University with the Axewomen, and she talks about how her experience has been there so far, and how the hard work continues.
"Everyone here is so skilled, and you have to work so hard to get playing time," said Coffey. "You can't take a break, because the coaches are always watching, and if they know you're not giving it your all, you won't play. It's that simple."
"Our team, in general, has put in a lot of work the two years I've been here," said Coffey. "We've made the nationals both years I've been here, but we, unfortunately, didn't win. But, we're hosting nationals this year, and we're going to have a really good team. I believe we're in a place to medal and do really good. Everyone pushes each other. I love it so much here."
As she prepares for her third season of rugby at Acadia, Monique is playing on two different rugby club teams... and making the reserve roster for the national team is giving her a little extra confidence.
"Oh definitely it gives me some more confidence for sure," said Coffey. "Our team also has a couple other players on Team Canada, so they all have confidence as well."
"Making the reserve team just shows that I can help, and push harder," she added. "I want to show that I can be a leader, and I'm pretty excited about that."
When the Axewomen kick off their season with an exhibition game on August 28, there's going to be a nice Parkland connection on the team. Coffey will be joined by Dauphin's Kalee Dyck who is set to join the team after a very strong rugby career in the Parkland, and in Manitoba respectively.
"I'm so excited to get to play with Kalee again," said Coffey. "We played with each other when we were both developing, so we both have a pretty good sense of how we play. I know Kalee has a lot to offer this team, so it's a really exciting thing, and I can't wait to play on the same field as her again."
Looking into the future, besides winning a National Championship with Acadia, Coffey also has another goal she'd like to achieve.
"I would love to represent Canada and play in the Olympic 7's rugby event," said Coffey. "That'd be amazing, and it's my goal... so I'm working towards it. I feel if I keep working as hard as I do, I have the potential to make it happen."
Coffey, Dyck and the rest of the Axewomen kick off their regular season on September 8 against UPEI.
So yes, for now, it's Acadia full-time, but don't be surprised when you see Dauphin's Coffey suiting up for the national team on a full-time basis.
AUDIO: Monique Coffey - Part One.
AUDIO: Monique Coffey - Part Two.
Details

Contributed by

Darnell Duff