Latest Sports
The Dauphin Kings struggled in the opening 20 en route to dropping their final pre-season game tonight, 3-2 against Waywayseecappo.
Preston Seymour opened up the scoring for the Wolverines 9:55 into the game, and Caleb Paisley made it 2-0 for them at the 17:37 mark.
After a big hit by Wayde Johannesson just over 11 minutes into the second, the Kings got back into it. Rookie Nakodan Greyeyes found same space on a breakaway. He didn't score on his initial shot, but he stuck with it and tucked in the rebound. The Kings still trailed 2-1 after 40.
Just 3:44 into the final frame, George King went end to end to score an absolute dandy of a goal on the backhand to tie it up at two.
That didn't last long as Brady Pupp went short side and beat Brennan Kitchen 6:06 into the third.
The Kings continued to pressure and produce many great chances, but they just couldn't find the back of the net as Pupp's goal stood up as the winner.
"I thought we could have started off a lot better," said Doug Hedley, Head Coach, and GM. "I don't think we had a lot of jump in the first period, but you have to give credit to Wayway because they capitalized on their chances."
"In the second we started skating and played a lot better," said Hedley. "We were moving fast and that allowed us to get back in the game. I think overall we out-chanced them, but their goalie was really good."
The game featured several veterans as well as some rookies for the Kings. Greyeyes was the only rookie that got on the scoresheet with his goal.
"I was a little disappointed with some of the veterans," said Hedley. "I won't single anyone out but I thought there was someone out there that could have done a lot more."
"I thought Greyeyes had a really good game and most of the rookies did," he added. "Shamray was good, Johannesson was really good before he got kicked out."
The fans in attendance were treated to a great game. On top of the many chances by Dauphin, three fights got the crowd on their feet.
"It's always good when you have guys sticking together and sticking up for each other," added Hedley. "It kind of bonds the guys together. Wayway was good, I thought we were better but we just couldn't get that last goal."
Moving Forward:
The Kings will now open up their regular season on home ice on September 22 as the Virden Oil Capitals will be in town.
"We're at a point now where we won't really cut guys," said Hedley. "We feel everyone here can play Jr. A hockey whether that's here or in another league. We're looking at Tuesday when we'll hope to be down to our roster so we can prepare for the season and Virden."
Recap:
With the loss, the Kings finish up the pre-season with a 4-2 record. All in all, Doug's pleased with how things went.
Stay tuned for more coverage on the Kings early next week and throughout the season as the team embarks on their 51st campaign.
And don't forget, you can hear 26 games right here on 730CKDM with Darnell Duff. For the full broadcast schedule check out Dauphin Kings on 730CKDM.
Photo Credit - Dauphin Kings.
Details

Contributed by

Darnell Duff
The Gilbert Plains Trojans varsity girls are holding their tournament this weekend.
Here's the full schedule:
Details

Contributed by

Darnell Duff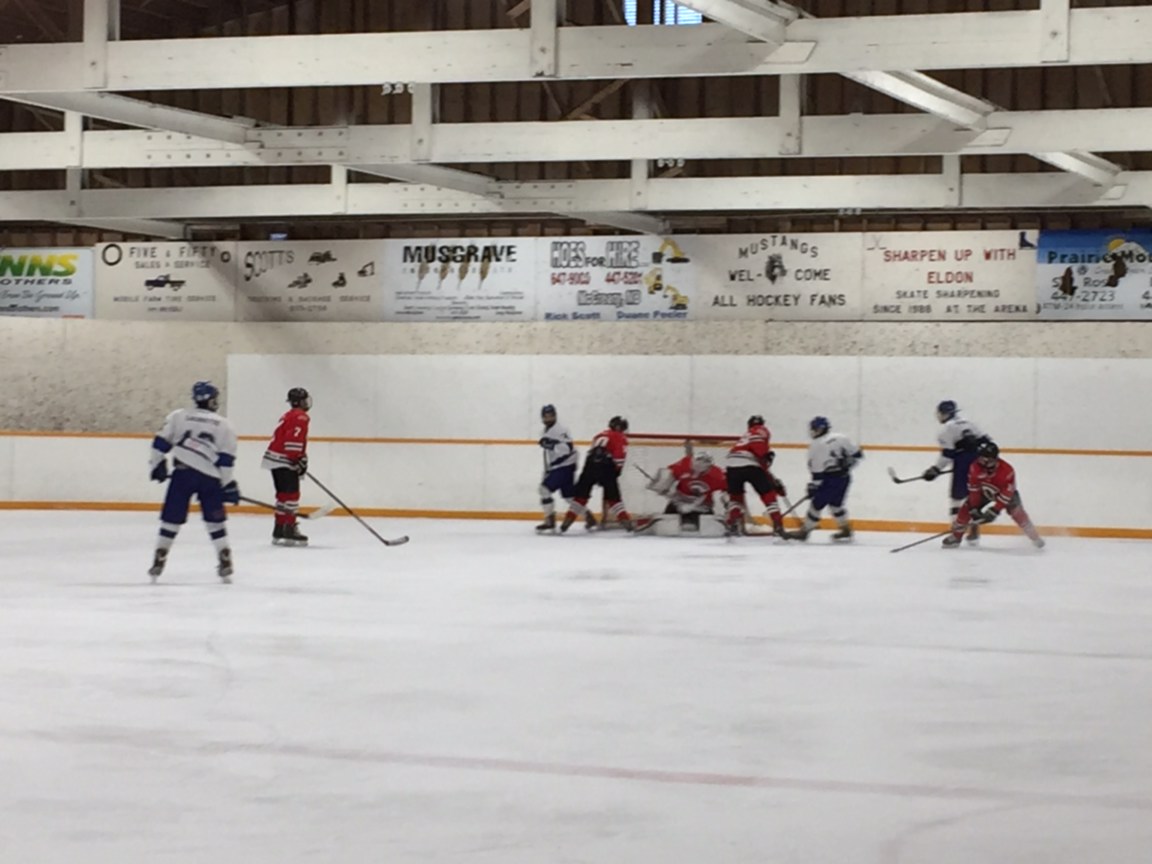 The Bantam Parkland Rangers had their tryouts a couple weeks ago.
Now, the team will begin their pre-season this weekend as they travel to Portage for a tournament.
"The guys definitely looked good at camp," said Tom White, Head Coach. "There's a good mix of 04's and 05's. The guys really showed off their skill and we had some size as well. It was good."
"We're at 25 guys heading into the tournament here," said Tom White. "So everyone will get lots of playing time, and we'll cut our numbers down to 19 after this weekend."
The Bantam Rangers have big shoes to continue to fill. Last year's team won a bronze medal at the Rural Provincial Championships.
Although that's not something Tom is worried about right now being only September 14, he likes the team's chances.
"I mean it's quite early to tell I'd say," said White. "It's a long season and we have a long way to go. It's about developing players, but I'm pretty confident in the players we have."
"We're going to have some pretty good skill up front," added White. "We've got some big defencemen and our goalies look really good right now. We're going to have some tough decisions to make, and that's what we want."
The team's schedule for this weekend is as followed:
Friday - 6:15 p.m. vs Interlake.
Saturday - 1:00 p.m. vs Yellowhead.
Saturday - 5:15 p.m. vs Eastman.
Sunday - 1:15 p.m. vs Pembina Valley.
Overall, Tom's excited to get things going in his first season as head coach.
"I'm really looking forward to the season," said White. "It's the first time being a head coach at this level. I'm really excited to just get it going."
Details

Contributed by

Darnell Duff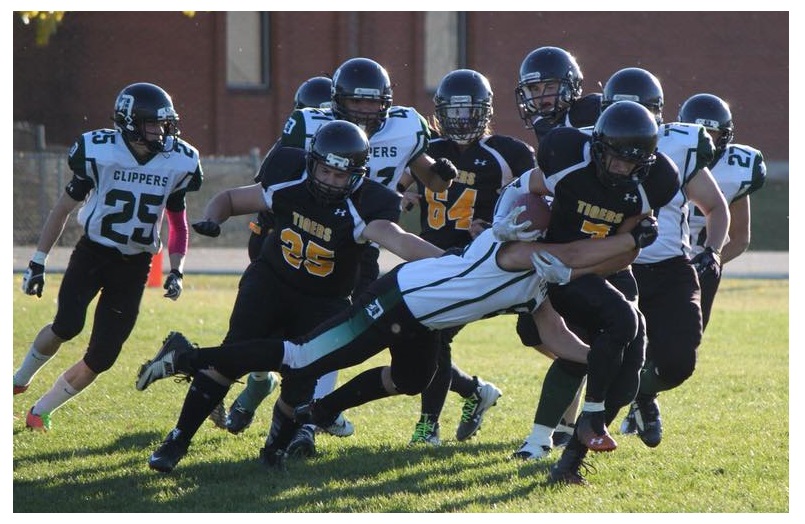 The Dauphin Clippers are set to embark on another football season.
The Clippers have won three straight championships in the Rural Manitoba Football League heading into the season.
"We have a very brand new team with all the guys we graduated last season," said Cam Bennet, Director of Logistics. "We have like 40 guys out and still some are wanting to play. So with that, we have players who are inexperienced, but we also have guys with lots of experience. I like to think we have a pretty good mix."
The team's first test is against the same team they beat in the finals last year, Moosomin. Just like the Clippers, Moosomin graduated several grade 12 players.
"We really honestly don't know what to expect," said Bennet. "They lost pretty badly last week against Interlake who's a new team. But, they know we beat them last year so the returning players will come out playing hard and we have to be ready for that."
"We're just telling our players that every play matters and they have to give it their all," added Bennet. "We're not worrying about trying to go undefeated, we're just going to go out and try and get better each time."
Kickoff is set for later this afternoon at 4:30 Saskatchewan time.
Details

Contributed by

Darnell Duff
The Dauphin Kings are on the ice tonight for their final preseason test.
They'll welcome the Waywayseecappo Wolverines to town for the second meeting between the clubs. Earlier this week, the Kings came back twice to beat Wayway, 3-2.
"For the most part, pretty much what's dressing tonight will be dressing on opening day," said Mitch Topinka, Assistant Coach. "It's also our one last look at a couple guys who want to make this team."
The Kings have been rolling in the pre-season so far. With five games under their belt, the team is 4-1 heading into this tilt.
Offence has been the name of the game so far for the Kings, as they've scored 20 goals. On the other side of the puck, the Kings have allowed just 13 goals.
If you look back at the games you'll notice how dominant the Kings been in the third period. 13 of the team's 20 goals have come in the final frame, and they've only allowed 4 goals in the third.
"I'm happy with how things are going and I know Doug is as well," said Topinka. "We're happy with how things are coming along and guys are getting close. Obviously, it's the pre-season so we have to keep this going, but we're really pleased with how things have gone."
If you've missed any of the two previous Kings home pre-season games this year, tonight will be your final chance until next Saturday's Home Opener.
And if you're wondering if you should go to the game or not, Mitch knows why you should.
"We have some unfinished business with Wayway because we weren't happy with how we played them earlier this week," said Topinka. "It's going to be a solid lineup in there, and it's your chance to see what the Dauphin Kings are going to be made of this year."
The puck drops tonight at 7:30. Ticket prices are $5 for ages 13 & up. 12 & under are free of charge.
Details

Contributed by

Darnell Duff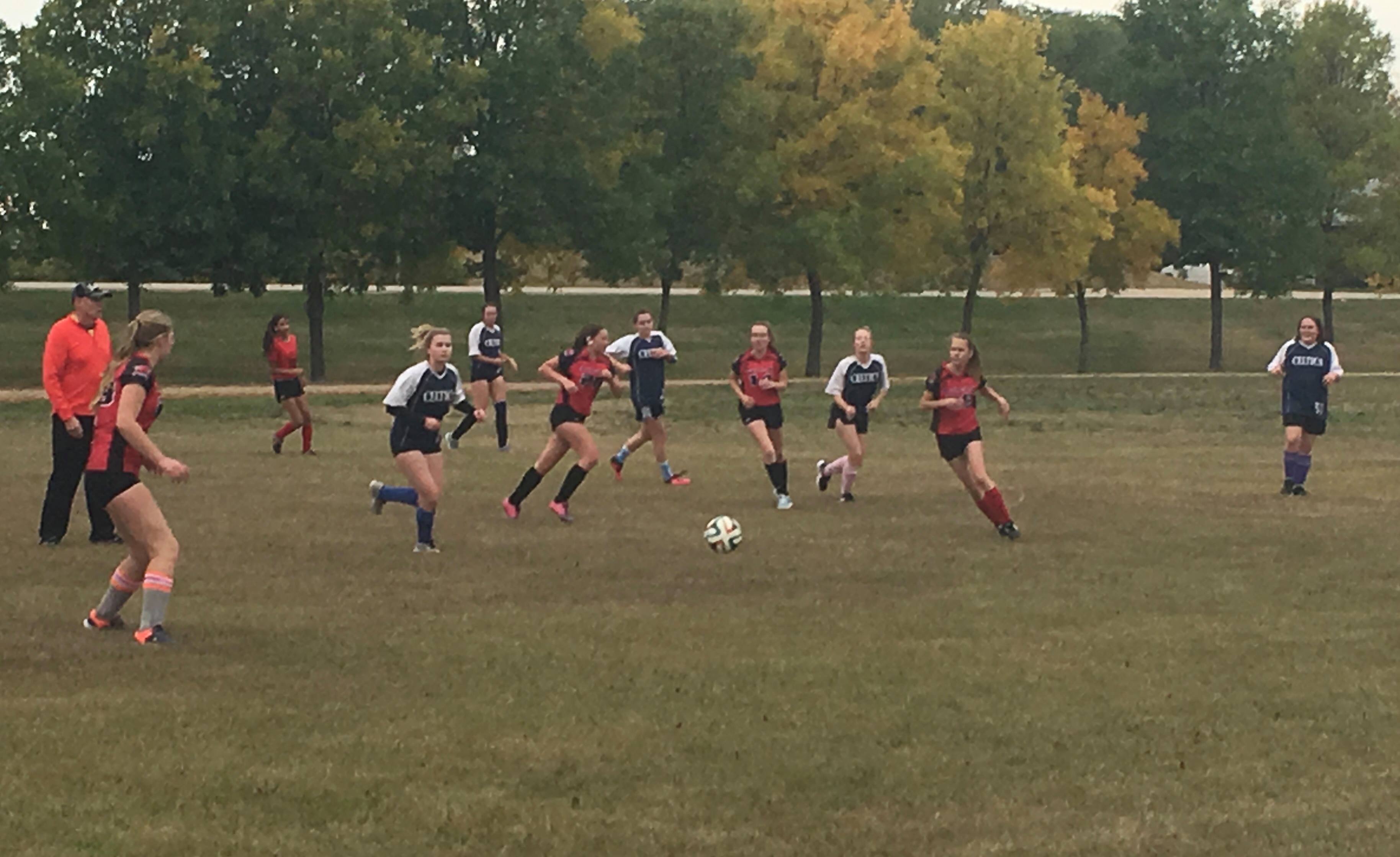 The McCreary senior girls soccer team kicked off their season perfectly earlier today.
Remy Buchanan and Gina Musgrave scored as they beat Ste. Rose, 2-1.
Elektra Breault scored Ste. Rose's lone goal.
McCreary will now take on Alonsa on Monday.
Details

Contributed by

Darnell Duff
The Dauphin Kings have been the Kings so far of pre-season comebacks.
For the second game in a row, the Kings came back from two deficits as they beat the Virden Oil Capitals tonight, 5-3.
Virden opened up the scoring just 1:40 into the game, but Grady Hobbs tied it for the Kings at the 16:52 mark.
Now we fast forward to the 8:14 mark of the second as Ben Dalke gave the Oil Caps their lead right back.
But, that didn't last long. The Kings tied it up just over eight minutes later as 20-year-old Wayde Johannesson scored with George King and Ste. Rose's Reece Hopfner picking up the assists on the marker.
Heading into the third all tied up at two, the Kings took over.
Brendan Arnold scored his first of the pre-season to give the Kings a 3-2 lead 14:32 in, with Samson Mouland and Mason Fischer picking up the assists.
31 seconds later, Carter Sawchuk put the Kings up 4-2 with the assists going to Alex Schneider and Alonsa's Dustin Mozdzen.
Virden cut into the deficit at the 17:08 mark but that's as close as they would come. Johannesson scored his second of the game with nine seconds left to seal it for the Kings.
"I'm really happy with how the guys played tonight," said Mitch Topinka, Assistant Coach. "We were moving the puck with a lot of speed. We're really stressing competing for the entire 60, and we're doing that. It was a really good game for us."
The Kings will now welcome the Waywayseecappo Wolverines to Credit Union Place tomorrow evening.
That game will wrap up the team's pre-season. Puck drop is set for 7:30.
Photo Credit - Dauphin Kings.
Details

Contributed by

Darnell Duff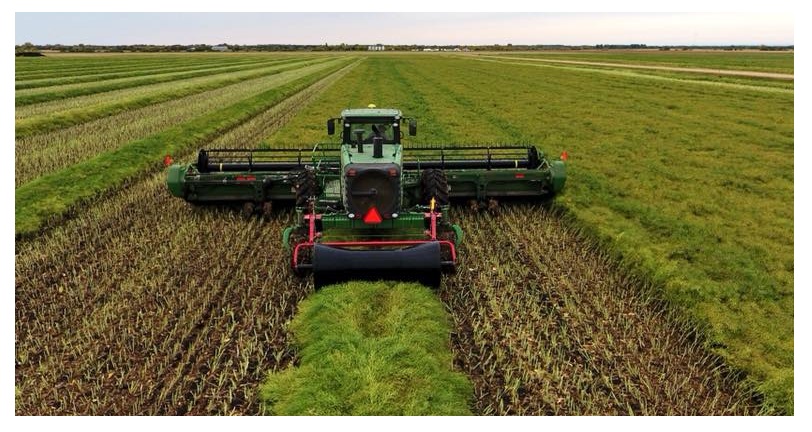 The Dauphin Kings are once again well underway with their Ag Project, and things are going well.
The field was swathed the other day and now the waiting game begins for harvesting.
"It'll probably be two-three weeks before we can combine it," said Gary Sydor. "It's going to need some heat on it to get it changed."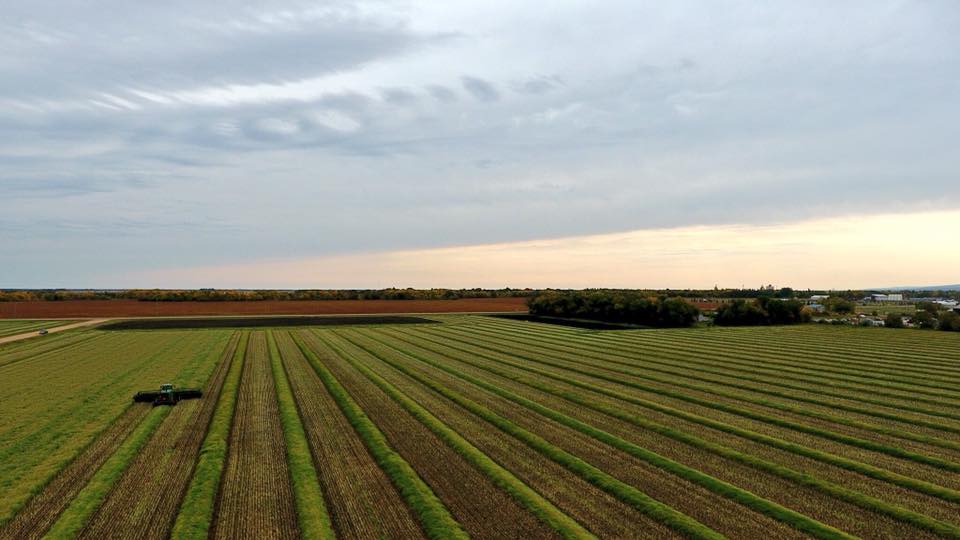 The crop this year is Canola. Once it's combined, it's already been determined where it's going.
"We're taking it to Cargill right here in Dauphin," said Sydor. "We've locked in a price of $10.25 a bushel. We've locked in 45 bushels per acre. It should go close to 50 we think."
Stay tuned to find out the exact numbers when it gets harvested.
Photo Credit - Dauphin Kings.
Details

Contributed by

Darnell Duff
Riese Gaber was chosen in the third round-40th overall by the Dubuque Fighting Saints in Phase Two of the USHL draft.
Now, the 18-year-old Gilbert Plains native is looking to gain a spot on this year's roster.
"Things are definitely going pretty good right now," said Gaber after yesterday's practice. "We start up exhibition games this weekend so I think that's where I'll get a little bit of a better idea where I stand with the team. I'm just enjoying it and working as hard as I can every day to make this team."
"It's a bigger step then what I've done before but it's a step in the right direction," he added. "Everyone here is a lot bigger and stronger. So with me being a smaller guy, I can't really outpower them so I have to use my hockey sense and skill. I'm trying to adapt to that right now."
Gaber and the rest of the Fighting Saints head to Cedar Rapids to take on the Roughriders on Friday. After that game, the two teams return to Dubuque for a rematch which will wrap up the team's exhibition schedule.
Heading into those tilts, Riese believes he has what it takes to make an impact on this team.
"I think I can make a difference on the ice for this team for sure," said Gaber. "I just need to keep working hard at the rink every day and do what I do best. If I do that, I'll have a good shot."
"I have pretty high expectations for myself," he added. "I think I might be a little bit nervous for the games, but not really a lot. I know what I'm capable of and I plan on doing good things."
The game of hockey has taken Riese to some great places.
He's played in two World Jr. A Challenges with Team Canada West. He's also won a Manitoba championship with Steinbach and Anavet Cup championship with Steinbach which allowed him the chance to play in the RBC Cup.
It's at a time like this when Riese will play against some of the top young players from all across North America, that he can use those experiences to help him.
"All of those games that I played in were super competitive with great players," said Gaber. "And out here everyone is really good so it translates well."
"Really anytime you get to play against top players it helps you," he added. "I'm just hoping I can use those experiences going forward."
The Fighting Saints begin their regular season next Friday against Green Bay.
Details

Contributed by

Darnell Duff
The Dauphin Kings will play their fifth pre-season game tonight as they head to Virden.
With tomorrow being the team's final pre-season game before the points really start to matter, tonight is one of the last chances for bubble players to show what they're made of.
"It'll be a combination of rookies and vets tonight," said Doug Hedley, HC/GM. "For the most part it'll be like Wayway, but we'll have some more vets in there. This is the second last shot for guys so hopefully, they can show well."
The Kings have already trimmed their numbers a tad heading into tonight's game but more players will still be cut going forward.
"Chad Kilimnik was sent home yesterday because of a lower-body injury," said Hedley. "We have seven lines and we need to get down to five. So, like six forwards and three defencemen will have to go before the weekend."
Last Saturday the Kings played a pretty good game of hockey as they dispatched of Virden 4-1 at Credit Union Place.
The puck drops at 7:30 from Tundra Oil & Gas Place.
Don't Forget:
The Kings will kick off their 51st season on September 22 against the same Virden Oil Capitals at Credit Union Place.
You can hear that game right here on 730CKDM with Darnell Duff beginning with the pregame show at 7:15 p.m. Puck drop is shortly after 7:30.
For the complete list of Kings games on 730CKDM this winter, head to Dauphin Kings Broadcast Schedule.
Photo Credit - Dauphin Kings.
Details

Contributed by

Darnell Duff
In a night full of penalties and ejections, the Parkland Midget Rangers couldn't buy a goal in a 2-0 loss against Yorkton.
The Maulers scored the games opening goal at the 15:13 mark of the second period.
With under four minutes left in the third, one Yorkton player was ejected after a line brawl broke out between the teams.
Two Rangers were also ejected after they received 10-minute misconducts for their roles in the brawl.
Yorkton then scored their second goal with 39 seconds left in the game to pick up a 2-0 win.
The Rangers will now head to the Souris tournament this weekend where they'll play two games on Saturday and one on Sunday.
Details

Contributed by

Darnell Duff