Latest Sports
McCreary's Logan Conrad is heading to Winnipeg next weekend, to take part in the Western Canadian U18 Rugby Championships.
The 17-year-old made the Team Manitoba squad, after a rigorous two-days of tryouts back on July 11-12.
"It's just such a good feeling," said Conrad. "When we were in Regina for regionals, the coach came up to me and said, "You have a good chance at making this team". It just felt super surreal at that moment."
"There was a lot of stress that went into the tryouts," he added. "There was a lot of good rugby players, and specifically that played my position. You have to give it your all, but it's hard to know what to do so you can impress the coaches."
What does Logan feel put him ahead of some of the other players that tried out?
"I think it was my physicality level," said Conrad. "I'm not afraid to find the biggest, strongest guy on the field and take a run at him. You have to put your body on the line for this game at all times."
Even though he was successful at the tryouts, Conrad knows it wasn't an easy road and it required a lot of grinding, and commitment.
"Well, I play numerous sports, and I feel that helped me stay in shape so that I was ready for the start of the rugby season," said Conrad. "Our coaches at the high school level also did an amazing job of preparing us even before the season started. It's been a tough grind for sure, but it's been absolutely worth it."
Just like any player, to get to the next level, you have to work extra hard and coaching plays a big part in your success... and it sure has with Conrad.
"Our Head Coach Rodney Carberry is absolutely great," said Conrad. "He goes above and beyond what he has to do for a high school rugby team, so we can flourish. He's played a huge role in my progression, and so many other people have as well."
As the Westerns are only seven days away, Logan will continue training hard as he prepares for what will be a tough challenge for the Manitoban's
"I'm planning on seeing personally a lot of improvement," said Conrad. "We've had a few practices as a team, and we've been gelling together unbelievably. Honestly, I think we're going to have a pretty good showing."
As far as Logan's thought process heading into the tournament... "We have to prepare for the worst," said Conrad. "Our coach has been in it for a long time, and he knows all the different playing styles of the different provinces, and we just have to trust him," said Conrad. "You just have to adapt, and play your heart out."
Logan will join Brayden Tomchuk who will also take part in the tournament on Team Manitoba. Two other Parklanders are also on the team as well, and Logan can't wait to play with all of them.
"It's a great thing," said Conrad. "It's amazing to see four Parkland kids that will play. The team is made up of the best players in Manitoba, and we're a part of it. It's an awesome feeling."
Winning the Championship is the most important thing on Conrad's mind, but playing in the tournament also provides him a chance to impress fellow coaches and the scouts that'll be in attendance.
"We have four or five different guys that play my position," said Conrad. "Our coaches made it very clear that even though you're on the team, you're still fighting. And, that brings the best out of the player and pushes me to work that much harder. It's a great chance to show off what I can do on the field."
AUDIO: Logan Conrad:
Details

Contributed by

Darnell Duff
He's a force locally, he's shown he can be a force provincially, and he's already gotten some national recognition as well... and now he's set to definitely get lots of exposure to all of Western Canada.
Dauphin's Brayden Tomchuk is only one week away from representing Team Manitoba at the Western Canadian U18 Rugby Championships, that are in Winnipeg.
"It's definitely super exciting," said Tomchuk. "You get to play alongside a lot of your friends, and people you've played against in high school. It's going to be a very cool experience."
This is the third major tournament Tomchuk will take part in, in the last three years. In 2016, he suited up for the Prairie Blizzard as the team took part in the U16 Canadian Rugby Championships. In 2017, Tomchuk took part in the U18 Canadian Rugby Championships, once again with the Prairie Blizzard which was an All-Star team comprised of players from Manitoba and Saskatchewan.
Last year, Brayden also had the opportunity to try out for the U18 Canadian squad. He didn't advance to the next set of tryouts, but the experience he has gained so far on the field should help him going forward, and next week specifically.
"I just have a lot of in-game experience over the years," said Tomchuk. "And with that, you get better with form and you get to know your teammates better. My game has definitely improved with my past experiences... whether it be in Dauphin, provincially, or nationally."
Tomchuk and the rest of his squad will be joined by all of the Western provinces at the tournament, including the powerhouse Alberta squad. Not having the chance to play any of their opponents prior to this huge tournament is a disadvantage, but the Manitoban's have been doing everything they possibly can to give themselves a shot at winning it all.
"Our coach usually has lots of game film from the teams," said Tomchuk. "That's really what we're relying on right now. So, we'll just look it over and see what weaknesses they have, and what we can maybe take advantage of."
"It's never easy to play a team for the first time, but it's a part of the game," he added. "We're preparing, and we should be ready."
Already having played at an elite level, Brayden is using this as another opportunity to show off his skill to scouts, and coaches from all over Canada that'll be in attendance.
"I'm really excited for this," said Tomchuk. "It's a chance for me to show off what I can do on the field. I've been working hard towards it."
What does working hard consist of for Tomchuk as he prepares?
"It's all about conditioning, and staying in the best shape possible," said Tomchuk. "I've been eating healthy, staying hydrated."
Brayden isn't the only Dauphinite that'll suit up for Team Manitoba. He's joined by Branden McCrady, Logan Conrad, and Zane Brindle. Tomchuk can't wait to play with his friends once again.
"It's really exciting that I get to play with them," said Tomchuk. "I've worked a lot with these guys, and we have great chemistry. I think it's going to allow us to be more successful."
Details

Contributed by

Darnell Duff
Bryant Turner Jr. spent nearly his whole career with the Winnipeg Blue Bombers, and now he's going out in Blue & Gold colours.
The defensive tackle signed a one-day contract with the team and then he announced his retirement from professional football.
Turner Jr. began his career with the Bombers in the 2011 season, where he spent five seasons.
He started in 71 games with Winnipeg.
During his time with the Blue Bombers, Turner Jr. recorded 26 sacks, five forced fumbles, and 75 total tackles. He played in three playoff games for the Bombers, including the 2011 Grey Cup.
"Bryant was a consummate professional both with his work on the field and his involvement in our community, and understood the importance of the organization in our province," said Bombers General Manager Kyle Walters. "We are always honoured when players want to finish their careers with us, and we congratulate Bryant on his accomplishments throughout his entire football career."
Details

Contributed by

Darnell Duff
Erickson's Bobbi Uhl has wrapped up her first round at the Canadian Junior Girls National Golf Championships, and she's in chase mode heading into today.
The 18-year-old fired a first round, 87 yesterday and is currently in 79th place as of this posting.
"I just didn't play very good," said Uhl. "It's not that I was hitting bad shots, I was just missing in all of the wrong places. On this course, if you miss by a yard on some spots... it just won't work out."
"I'm just planning on playing my game today, and we'll see what happens," she added.
Uhl opened up the Championships yesterday with a quadruple bogey, nine on the first hole. Despite the tough start, Uhl didn't let it get her down.
"I don't really feel it affected me," said Uhl. "I just kind of laughed about it and kept going. If I thought about it, I probably would have done it again."
Prior to this competition, Bobbi earned her spot by winning the Manitoba Junior Girls Championships. Not only did she win Provincials, but she absolutely dominated... winning by 16 strokes.
"That was a really good feeling for sure," said Uhl. "I was pretty proud of how I played. It's my last year of Jr. golf, so it was really nice to win."
With this being her last year of Jr. golf, Bobbi isn't adding any stress or pressure to her game, she just wants to have fun and do the best she can.
"I didn't put any extra pressure on myself," said Uhl. "I just know I have to go out there, play my game and whatever happens... happens."
Uhl tees off in her second round later this afternoon, and she knows an 87 probably won't be enough to make the cut.
"I'm hoping to shoot my normal score, which is a 77 or 78," said Uhl. "Hopefully, that'll mean I'll make the cut. I know shooting in the 70's is mandatory to play the final two rounds."
Taking a look back at what has become quite a decorated Jr. career, Uhl talks about her favourite moment, and also an experience she's been through that could help her today.
"Probably winning the Jr. Provincials for the first time in 2016 when I led all three rounds," said Uhl. "And, last year at the Tamarack at Clear Lake, I was six-under through nine holes. If I can just play like that, it would be huge for me."
AUDIO: Bobbi Uhl: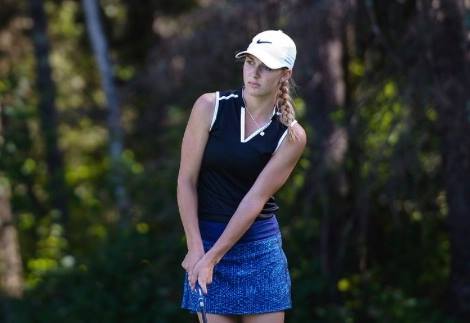 Details

Contributed by

Darnell Duff
What a month of July it was for Winnipeg Blue Bombers Andrew Harris.
The Winnipegger rushed for 100+ yards in three straight games, and because of it, he's been named a Shaw CFL Top Performer for July.
In four games in July, Harris scored five touchdowns (four rushing, one receiving), and he leads the league in rushing yards with 638.
Harris was also named a CFL Top Performer for Week 6 after he picked up 177 offensive yards as the Bombers smashed Toronto.
Now at 6,906 career rushing yards, Harris is second all-time in Canadian player rushing yards.
The Bombers are on a bye week and next play on August 10 against the Hamilton Tiger-Cats.
Details

Contributed by

Darnell Duff
In just two weeks, Ste. Rose's Brooke White will once again get to show off her skills to all of Western Canada.
The 13-year-old will suit up for Team Manitoba at the 14U Girls Invitational Western Canadian Baseball Championships... the same tournament she took part in last year in BC.
"I'm really excited to get the chance to play for Team Manitoba," said White. "It's a great honour to be able to do it again."
Last year, White and the rest of the team went 0-4 in the round robin, but she expects this year the team will fare better.
"I think last year was a pretty good learning experience for all of us," said White. "We've been practicing hard, and playing exhibition games against boys teams all summer... so I think we'll come out stronger."
This year, Manitoba will be joined by one team each from Alberta, BC, Ontario, and Saskatchewan. Brooke talks about what her favourite thing is about playing in this tournament.
"It's really fun playing with all of my friends," said Brooke. "And, of course playing against all of the other provinces, and playing outside of Manitoba."
Heading into the tournament, Brooke has a clear-cut goal that she expects to achieve.
"I'd like to hit a lot better than I have all year because I haven't been hitting great this year," she added. "We're doing a lot of live batting practice, and hitting whiffle balls."
The Championships kick off on August 17 and go until the 19.
Stay tuned here to find out how Brooke and the rest of Manitoba do.
Details

Contributed by

Darnell Duff
He's a three-time Champion with the Dauphin Clippers on the football field, and now Dauphin's Cole Precourt is set to take his talents and winning ways to Winnipeg.
The 17-year-old high school graduate will join the St. James Rods. The Rods play in the Manitoba Major Junior Football League.
"One of their coaches got in touch with me, and said they needed another solid DB for their core," said Precourt. "I decided it's a perfect opportunity for me. It's going to be a great place to play."
Cole initially tried out for the Winnipeg Rifles who play in the Canadian Junior Football League but was let go near the end of tryouts. However, Cole feels playing for the Rods is a better opportunity for himself to get better, and develop his game.
"I honestly think it's a lot better playing for the Rods, opposed to playing for the Rifles," said Precourt. "Who knows how much I would have played with the Rifles... but I'll be playing a lot with the Rods, and that'll allow me to get better each time out."
Cole won't be the only Champion from Dauphin joining the Rods, however. Ty Hassell and Steven Zurba have also both signed on to play with the team. With the three Clippers Champions joining the Rods, Cole has a good feeling that'll add to the team's success.
"We're definitely helping out some of the team, and making sure everyone has a positive attitude," added Precourt. "The coach's love us, and they know we're winners."
Precourt and the rest of the Rods will play their first game on August 25 against the Wolverines. Despite game day being 26 days away, the team has already hit the field as they prepare, and Cole's enjoying how things are going.
"I've already been to a few practices, and the players are super nice," said Precourt. "I've got a good handle on the systems already, which is great. The defensive coordinator is also a great guy, and he's helping me a lot individually so I can succeed. It's been a great experience so far, and I'm really looking forward to the season getting underway."
Despite winning three straight Championships in the RMFL, Cole knows playing in a new league with older players will be a tough transition for him.
"It's definitely going to be tough on me," said Precourt. "There's going to be a bunch of skilled guys that I'm going to have to cover and adapt too. It's going to be a challenge, but I'm ready for it."
"I just want to do my best, contribute to the team, and win another Championship," said Precourt. "And by doing my best, it doesn't necessarily mean racking up the stats, it's just doing whatever needs to be done to win games."
The Rods play a six-game regular season schedule wrapping up on October 13.
Details

Contributed by

Darnell Duff
This past weekend was a chance for young prospects and list players of MJHL teams to show off their stuff as the league held their 2nd Annual Development Camp.
The event held in Winnipeg featured coaches from all 11 teams in the league and young players from each and every system.
Doug Hedley, HC, and GM for the Kings was in attendance, and he's pleased with how it went.
"I think it went very well," said Hedley. "It was really organized. I feel the competition was better than last year, so it's getting better. Our list kids also showed very well, so it was a really good weekend overall."
Alex Cattani, who will suit up for the Kings this season was at the camp and showed everyone just how good he is. In the third game, he scored twice which earned him Player of the Game honours.
"He's a big boy, and he can play middle and left side," said Hedley. "There's always going to be a learning curve for 17-year-olds, but he's a hard worker and has a really good shot."
Kings prospect Nick Jerris was also named a Player of the Game during the weekend.
"Cattani and Jerris obviously showed really well, but I think all six of our guys did," said Hedley.
There's a definite buzz around the Kings organization for the upcoming season, and Hedley feels there should be, but also should be for the future of the Kings.
"We have some very good 2000's coming in, including Carter Sawchuk who was one of the top AAA players in Manitoba," said Hedley. "Then we have a couple guys from Quebec coming in that are said to be Division 1 prospects. We have some good kids on our list, good kids that'll come in this season, and also some good veterans that'll be returning."
"Our goal is to build our long-term depth, and stay competitive every season," he added.
The Kings will hold their Main Camp on the September Long Weekend.
Details

Contributed by

Darnell Duff
For the second week in a row, a Winnipeg Blue Bomber has been named a Shaw CFL Top Performer.
Last week, Andrew Harris' incredible week earned him the honour, and this week, linebacker Jovan Santos-Knox has been named a Top Performer.
Santos-Knox absolutely ripped it up last week against the Argos, recording three quarterback sacks, and a total of 10 tackles. His 39 tackles have him ranked in second in the entire CFL, and that's only behind fellow Bomber Adam Bighill who has 42.
He's also in third place in sacks with four through seven weeks.
Details

Contributed by

Darnell Duff
It's been a few years since Tristan Mullin last suited up for the Dauphin Kings, but... playing in Dauphin was the start of what's becoming a pretty successful hockey career.
He played during the 2013-14 season.
"It was a really cool experience playing in Dauphin," said Mullin. "That was the year we were hosting Westerns, and we ended up losing in the league final... and that still haunts me. We got the chance to play in the RBC Cup, and we were only two wins away from winning a National Championship. It's too bad we couldn't get it done, but it was still a pretty memorable year."
After a full season with Swan Valley, Tristan moved out west to play in the BCHL with the Powell River Kings, where he played two seasons. All in all, he put up 189 points in 211 games between the three organizations.
Now, the 21-year-old is playing NCAA Division 1 hockey with Cornell University... and he just completed his first season with the team. In 26 games, Mullin added six points (4 G).
"It's definitely been a change from Jr. for sure," said Mullin. "It's not young kids anymore, it's all grown men so everyone's a lot stronger. The pace and everything just picks up. It's been pretty crazy because I got used to playing Jr. hockey, and then everything just completely changed up here. It's definitely a bit of a curveball, but... I've been really enjoying it. Cornell has been great."
"And, obviously I have school on top of everything, so that's a challenge," he added. "You have to be on ball with keeping your grades up and managing your time."
Playing as a league-rookie and having to earn every second of his playing time, Mullin talks about the challenges he ran into during his first season of the top college hockey in the world.
"College is a completely different game than Jr., it's almost like a chess match," said Mullin. "And, the rosters are bigger. We carry 16 forwards and only 12 play, so if you're not performing in a game or practice, you're not going to play. It's a hard reality, but you have to bring it every single day... or you won't play."
During his Jr. days, Tristan scored 89 goals, and his scoring touch is something he's hoping he can bring to Cornell a lot more next season... after he scored four times this past season.
"I definitely bring a scoring touch to the ice," he added. "At the start of the year I didn't get many opportunities, but by the end, I was getting some powerplay time. It's all about making the most of your chances, especially at this level."
With the positives, come the negatives, but in this case, Tristan is already working hard on them.
"I definitely was struggling in the d-zone early in the season, and that's a huge deal in college hockey," said Mullin. "That was a learning curve, and my skating isn't great. My coaches are great and are always giving me drills, and helping me to improve it. Playing in the NCAA is a pretty incredible experience."
Playing in the Ivy League, fans are always regarded as passionate, and faithful... and that's the same for Cornell.
"Our fans are crazy," said Mullin. "We sell-out probably half of our games, so like 4500 people. And, if we're not selling out, it's darn near close."
Mullin at NHL Development Camp:
To kick off the month of July, Tristan took part in San Jose Sharks Development Camp. The camp featured other top prospects who were trying to show off their skill, and impress the scouts and coaching staff.
"That was a super cool experience," said Mullin. "It was completely different than I thought. Usually, it's just scrimmages to see who can light it up, but it was a lot of drills. It was basically all focused on skills, and things you'll need to have success at the next level."
Tristan believes playing at the camp will give him more of a chance at having success in the fall when he heads back to New York to suit up for Cornell.
"It definitely helped me with some of my weak points, so now I can work on them," said Mullin. "It also identified my strengths as well. It's not just about going to the rink anymore and then doing whatever. It's about being focused 24/7 now, and if you aren't... you won't succeed."
Details

Contributed by

Darnell Duff
The Manitoba Junior Hockey League regular season is under two months away, but, the league was back on the ice this past weekend as they held their Development Camp.
And, Swan River's Carter Cockburn was there showing off his stuff and looking to stay sharp.
"It was a really great camp put on by the league," said Cockburn. "I had lots of fun."
The 17-year-old spent last season with the Parkland Rangers, and had lots of success, putting up 61 points in 48 games, and he also did enjoy some time playing for the Swan Valley Stampeders.
In four games with them, he scored once and added two helpers.
Now throughout the camp this past weekend, he got to play with dozens of other players who hope they can also enjoy success in the MJHL.
"This camp really showed me how many great players are out there," said Cockburn. "The intensity was great, and the games were really fast and competitive."
Taking part in the camp also allowed Carter to obtain information from several different personnel, which he'll be able to use to get better. But, is receiving lots of information on such a short weekend hard for him?
"I find it pretty easy," he added. "It's just about taking in as much as possible and using everything you take in to succeed."
Carter will now be preparing for perhaps the biggest week(s) of his young hockey career in late August. He'll head off to Everett as he looks to make the WHL's Silvertips.
"I have to make sure I'm in the best possible shape I can be heading there," said Cockburn. "I play a fast game, so I need to make sure I'm in shape so I can do that."
"After that, I just need to keep a positive attitude, and do my best," said he added. "If I do that, hopefully, I can make the team."
Details

Contributed by

Darnell Duff