Latest Sports
The Dauphin Kings will be holding their annual Spring Camp & Draft Combine today through Sunday at Credit Union Place.
The Camp signifies the ending of another hockey season, but an important three days for players who hope to one day play for the Dauphin Kings.
"There are about 90 kids that'll be at the Camp," said Christian Laughland, Marketing Director & Media Relations for the Kings. "From our standpoint as an organization, it's a chance to see how players did in their season, and for the players to impress us and maybe get on our list with a good showing."
The Camp and Combine kicks off with registration at noon today, and runs right until Sunday at 4:30 p.m.
"Fans are encouraged to come out and watch," said Laughland. "There's no fee, and it's a chance to see the future of the Kings."
Games start at about 1:30 this afternoon, and wrap up at five.
The Camp will also give Dauphin an economy boost with players and their parents from around the province being here, renting hotel rooms and eating locally.
Details

Contributed by

Darnell Duff
Dauphin's Vincent Hughes went from missing the playoffs with the Parkland Midget Rangers to winning the KJHL Championship with the Peguis Juniors.
The team ended up beating the St. Malo Warriors, 4-3 last night to win the best of seven series, 4-1.
"It's super exciting," said Hughes. "Both my parents were there, so we took lots of pictures. It was nice to win something, and it's a bonus because it was with a great group of guys."
Hughes and the Juniors lost just one game in the playoffs, and will now represent Manitoba at the Western Canadian Keystone Cup. This will be the third straight year the Juniors will play in the tournament. Last year, they went 1-3-1.
"I think we're confident with our playing ability," said Hughes. "We had a really strong postseason. I'm really excited, and I think we'll do pretty good."
The tournament kicks off on Thursday, April 19th at the Thunder Bay Tournament Centre.
Details

Contributed by

Darnell Duff
The President of the SJHL, Bill Chow joined 730CKDM's Darnell Duff to confirm the Canalta Cup Finals between the Estevan Bruins and Nipawin Hawks will take place.
"We wanted Humboldt to have their input into the conversation," said Chow. "And, of course, each and every other Governor had their input, and at the end of the day, the decision was to move forward with the finals."
Here's the full series schedule:
Game 1 - Saturday, April 14th - 7:30 p.m. in Nipawin.
Game 2 - Sunday, April 15th - 7:30 p.m. in Nipawin.
Game 3 - Tuesday, April 17th - 7:30 p.m. in Estevan.
Game 4 - Wednesday, April 18th - 7:30 p.m. in Estevan.
Game 5 - Friday, April 20th - 7:30 p.m. in Nipawin. **
Game 6 - Sunday, April 22nd - 7:30 p.m. in Estevan. **
Game 7 - Tuesday, April 24th - 7:30 p.m. in Nipawin. **
** - If Necessary.
Details

Contributed by

Darnell Duff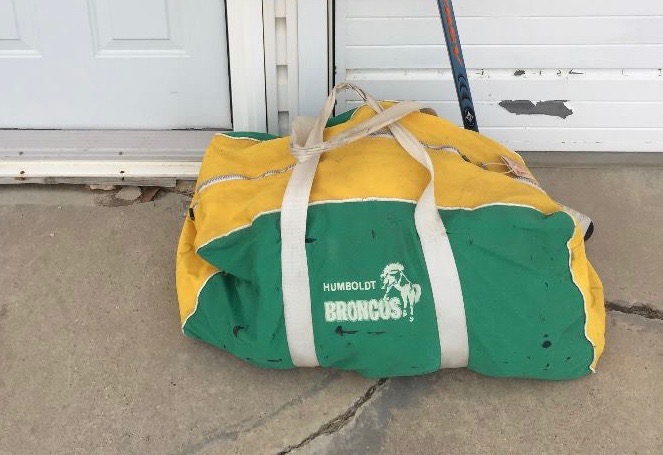 The first of 16 funerals is scheduled for today after the fatal crash last Friday involving the Humboldt Broncos, and for Gilbert Plains Mike Gaber, this hasn't been easy.
"Ever since I found out about the accident, I've been in a fog, and stunned about what happened," said Gaber from Gilbert Plains. "I can only imagine what's going through the minds of the parents, the billets, the close friends and the town of Humboldt. It's absolutely heartbreaking."
The crash hits especially close to home for Mike. He played for the Broncos from 1985-1988, and during that time, the team won 50 plus games in each three of his seasons there and won two League Championships.
When he looks back at his time in Humboldt, Mike has nothing but great things to say.
"It was absolutely incredible," said Gaber. "When you're winning 50+ games a year, and you've won back-to-back League Championships, you're on top of the world. Riding those buses, and playing with some great guys was amazing. The community was always right behind us. You couldn't wait to get back to the playoffs so we could win another Championship, because the town of Humboldt supported us so greatly."
The club also made it to the National Final in the 1986-87 season.
Details

Contributed by

Darnell Duff
According to reports, the Saskatchewan Junior Hockey League season will continue this weekend.
Nipawin will advance to the finals to take on the Estevan Bruins, with Nipawin having home ice to begin.
Bill Chow, President of the SJHL will join 730CKDM tomorrow.
Details

Contributed by

Darnell Duff
The Dauphin Minor Baseball Association's season may be delayed a little bit, but that's not stopping the Association from starting up.
They will have two booths at the Extreme Family Fun Day which is on Sunday at the Dauphin Curling Club inside the Parkland Rec Complex.
"We're going to have our Bantam and Midget players helping out," said Jodie Romanow, DMBA President. "We'll have a batting station and a pitching station. It's going to be a lot of fun."
It'll be from 1-4 p.m. and is a great opportunity for players to get some reps, and stay sharp as the season nears.
There's also an added incentive for all kids who head to the DMBA booth at the event.
"We have some awesome posters that have been sent to us from Baseball Manitoba," said Romanow. "And, the kids can drop by and take one home with them."
162 players signed up to play baseball in the DMBA this year, which is slightly down from last year, but Jodie says the number they have is a good one.
"We have high hopes for our players," said Romanow. "We're continuing to develop players who will be eligible for the Manitoba Games when they're in Dauphin in a couple years. We're also developing our coaches, because the more they know, the more they can pass off to our players."
Jodie anticipates the outdoor season will begin shortly after May Long Weekend.
Details

Contributed by

Darnell Duff
There wasn't a hotter team heading into the playoffs than the Winnipeg Jets as they get set to kick off their post-season against the Minnesota Wild.
The Jets went 11-1 down the stretch, which included a five-game winning streak to end the season, and a win against Cup Favourites Nashville on March 25th.
"The team is definitely really looking forward to it," said Dennis Beyak, TSN 1290 Broadcaster for the Jets. "They've known for a while they're making the playoffs, and they'd play the Minnesota Wild. Everyone's had enough practice, had enough talk about the experience in the playoffs. It's time to drop the puck."
The Jets scored the most goals in the Western Conference this year with 277, and only one team that was ahead of them in the entire league (Tampa Bay - 296), while the Leafs were tied with 277.
Blake Wheeler led the Jets with 91 points, while "Finnish Sensation" Patrik Laine had 70, 44 of which were goals which led the team. Highly talented offensively yes, but, the Jets can also say they have one of the best goaltenders in the league.
Connor Hellebuyck won 44 games between the pipes and had a very good 2.36 G.A.A, and a .924 save percentage. The 44 wins were 11 more than Jonathan Quick who ranked second with 33, and he also set the record for most wins by an American-born goaltender in a single season.
If there are any question marks around Hellybuyck heading into tonight, it would be his lack of experience in post-season play, as he hasn't played a playoff game in his short career. Beyak doesn't think that will change much.
"I think he's ready for this," said Beyak. "It's not like the team asked him to make five-10 bell saves a game. The Jets do a really good job of defining where shots are coming from, and they force teams to the outside. But, when he's been called upon, he's been very good and there's no doubt about that. There will be some nerves early in the game, but I think after the first period those will dwindle away and he'll be good to go."
The Jets will enter the playoffs as a healthy team, and the hope is to get Tobias Enstrom back sometime in the first round. Matt Hendricks will also start the series up in the press box, but he is skating with the team right now, and the Jets are optimistic he will be able to return later in the series.
Dmitry Kulikov is doubtful to return this round, and if the Jets advance to round two, he's doubtful to return then either.
Series Notes
This will be the first time the Jets and Wild have met in the playoffs.
The Jets won three of four against Minnesota this year, and are 10-7 against them in their last 17.
The Jets are 6-17 on the PP in their last five games against the Wild and have at least a PP goal in four of the five games.
Mark Scheifele and Blake Wheeler both have six points against Minnesota this year.
Hellebuyck played all four games against the Wild this year and had a 2.50 G.A.A, and a .914 save percentage. 30 of his 44 wins in the regular season came on home ice.
Series Full Schedule
Game 1 - Wednesday, April 11th - @ Winnipeg - 6:00 p.m.
Game 2 - Friday, April 13th - @ Winnipeg - 6:30 p.m.
Game 3 - Sunday, April 15th - @ Minnesota - 6:00 p.m.
Game 4 - Tuesday, April 17th - @ Minnesota - 7:00 p.m.
Game 5 - Friday, April 20th - @ Winnipeg - TBD.
Game 6 - Sunday, April 22nd - @ Minnesota - TBD.
Game 7 - Wednesday, April 25th - @ Winnipeg - TBD.
Details

Contributed by

Darnell Duff
MJHL Commissioner Kim Davis joined 730CKDM's Darnell Duff following the tragic bus crash involving the Humboldt Broncos, and he had this to say.
"It's one of those things that you can't believe what you're seeing and hearing," said Davis. "Then going into Saturday, we all found out the magnitude of the crash and the loss of lives. It was just completely shocking."
The MJHL postponed game two of the finals that was slated for this past Sunday out of respect, but the series will continue later this week, and here's the full schedule.
"We're planning a special ceremony on Thursday for game two," said Davis. "It's going to include both teams, on-ice officials and some other members of the league. It's also going to be streamed live on the HockeyTV Broadcast."
The MJHL has yet to make a donation to the Humboldt Broncos, but Davis says himself and league representatives will be sitting down to find out their next action.
A GoFundMe page was created after the crash, and donations continue to roll in.
Details

Contributed by

Darnell Duff
Emma Jensen, Jaycee Terrick, Kaitlyn Szweczyk, and Gracey Gulak will look to rebound at the U-18 Nationals today.
The foursome lost their first game of the tournament yesterday against Northern Ontario, 8-3.
"They were definitely disappointed when they lost that game," said Al Jensen, Coach. "But, they shook it off, and they're really looking forward to getting in the win column today. It's a great atmosphere here, and we're all really enjoying it."
The team first plays Quebec at 12, and then again at four against Alberta.
Details

Contributed by

Darnell Duff
The Parkland Minor Baseball Association will be hosting two umpire clinics coming up.
Level One Clinic - April 21st - DRCSS.
It's open to anyone who is interested in umpiring throughout the association. If you were a certified Level One umpire in 2017, you can also get re-certified through this clinic.
You must be at least 12 years of age to take part, no experience is required and the fee is $55.
Level Two Baseball Canada Clinic - April 21st - DRCSS.
It's open to Level One officials who have completed their Level One phases.
You can also get re-certified if you are a Level Two official.
The cost is $65.
More information.
Both clinics include in-class and in-game instruction. The length of the clinic is approximately seven hours.
Registration on the 21st begins at 9:00 a.m.
You can also register today, or get more information by calling Curtis Kaleta, President of PMBA at 648-7913.
Details

Contributed by

Darnell Duff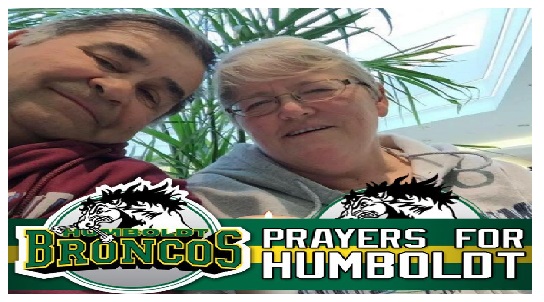 Donna Mikkola and her husband are happy to say they still have very close ties with the Humboldt Broncos.
The Steinbach couple were billet parents for Matthieu Gomercic for two years, while he played with the Pistons from 2014-16.
Gomercic was one of the 29 members of the Humboldt Broncos who were aboard the bus on Friday when they were struck by a semi, and he is one of just 14 of the members who survived.
"He's family to us," said Mikkola. "We were so relieved to hear Matt was alive, but we felt guilty at the same time. It's a totally amazing thing he's alive, but, so many people lost their lives."
In his final year of junior hockey, Gomercic put together a very nice season. In 45 regular season games, the 20-year-old had 29 points and had two more points in four playoff games.
The Mikkola's didn't miss a game while Gomercic played for the Pistons, and even when he moved to Humboldt, they looked at every box score to see how he was doing.
When finding out about the crash, Donna was in disbelief.
"It's so hard to grasp that something like that could happen," said Mikkola. "I just pray that everyone involved can eventually find some peace, and heal. My heart and thoughts are constantly with everyone out there."
Mikkola was able to get in touch with Matthieu after the crash, which lifted her and her husband's spirits.
Details

Contributed by

Darnell Duff