Latest Sports
There are just four teams remaining in the Stanley Cup playoffs. The Vegas Golden Knights will take on the Montreal Canadiens, beginning on Monday night at 8:00 p.m.
The other semi-final series is a rematch of last year as the Tampa Bay Lightning -- the defending champions -- will battle the New York Islanders, a team that features Barry Trotz of Dauphin and Ryan Pulock of Grandview.
Tampa Bay, for the most part, cruised in their last series as they took down Carolina in five games. Meanwhile, the Islanders eliminated Boston with a 6-2 win on Wednesday evening. New York won the final three games of the series and they scored 15 goals in the process.
When New York eliminated Pittsburgh from the playoffs last round, it was the team's first playoff series win at Nassau Coliseum in 28 years as the last time they clinched a series win on home ice prior to eliminating the Penguins was back in 1993. Now, the Islanders have clinched two playoff series in front of their home fans in a matter of two weeks.
"It was special, the energy in the building was absolutely electric," said Pulock. "Counting down the seconds at the end of the game, you couldn't really hear anything, that's how loud it was. Those are big moments and as a team, that's what we're trying to build upon."
Ryan's second goal of the playoffs proved to be the series winner against Pittsburgh and the former Grand Plains Hawk was back at it again in the series clincher against Boston. Although it wasn't the game-winner, Pulock put a stamp on a dominating game six performance from the Islanders as he scored his third of the playoffs with 48 seconds left in the game.
PULOCK! 6-2.#Isles | @DanielGaleSIR pic.twitter.com/mlboVppNHe

— x - New York Islanders (@NYIslanders) June 10, 2021
Ryan now has three goals and two assists in 12 playoff games. The Grandview native played the most minutes of any defenceman on the team in three of the six games, while he played the second-most minutes in two of the contests. A man with a heavy shot from the back end, Ryan has always had a goal of helping out offensively as much as possible but he knows his main goal is locking down the opponent's top players, something Barry Trotz relies on Ryan to do.
"When you get to this point in the playoffs, it's a tough matchup every single night," said Pulock. "It continues to get harder, but it's a challenge that I enjoy."
Lightning vs Islanders:
After Ilya Sorokin propelled New York to victory against Pittsburgh, it was Semyon Varlamov who pushed the Islanders past Boston. He won four of the final five games with a 2.26 GAA and .934 save percentage. Meanwhile, Tampa Bay will certainly go to Andrei Vasilevskiy. He had a 29-save shutout in a 2-0 series-ending win in Game 5 against the Hurricanes. He has a shutout in his past three series-clinching wins, including 2-0 against the Stars in Game 6 of the Stanley Cup Final last season.
Game one is set for Sunday at 2:00 p.m. local time and the game will be the first between the two teams this season as they're not in the same division, so they didn't play each other in the regular season. New York forward Josh Bailey says the team has some unfinished business after Tampa Bay eliminated them last season.
If the Islanders hope to have success in the series, staying out of the penalty box will be key. New York's penalty kill has struggled in the playoffs so far, going just 16-for-26 while Tampa Bay's power play is lethal as they're scoring at a near 42 percent clip while on the man advantage. The Islanders' power play, meanwhile, has gone 9-for-32 which equals 28.1 percent.
New York has struggled out of the gates at times this postseason as they haven't had a lead after the first period in any game -- but they are 7-1 in games tied going into the intermission -- because they've outscored their opposition 18-8 in the second period.
Under Barry Trotz, New York has 25 playoff wins in the past three seasons, third-most in the NHL behind Tampa Bay and the team they just eliminated, Boston. Tampa Bay is 8-1 in games when they have a lead heading into the third period in the playoffs after they went 26-0-0 in the regular season and 10-0 in the playoffs last year, which puts extra importance on New York either entering the third tied or with a lead. Just like New York's stellar second-period play, the Lightning has scored 19 goals in the second period during their playoff run while they've only given up 11.
Just like Bailey said, the Islanders have unfinished business and two days before game day, Ryan is confident in his group's abilities.
"I like our team. The two teams that we beat out so far we're very good hockey teams," said Pulock. "We have a chance against anybody and there is a belief in our room that we can continue to move forward and that's important to have that mindset at this point."
Here's the full series schedule:
Details

Contributed by

Darnell Duff
It's been a while since anyone has been able to golf with someone outside of their household, but that's about to change. You can head out to the course to play a round with friends beginning on Saturday morning as the province announced new public health orders on Wednesday.
The season was off to a tremendous start at the Gilbert Plains Country Club, but it hasn't been as busy in recent weeks because of current health orders, which allowed golfers to only golf with members of their household.
"It's certainly going to be a welcomed change for all golfers, it's exciting," said Scott McCallum.
With the change to the health orders, tournament season is set to begin. The Country Club will host its very popular Men's Open next Saturday, June 19. Registration for the event is now open, it costs $80, and that includes your round, a meal, and a chance at cash prizes.
A tee-time system will be used this year and you can book your full foursome today by calling 548-3030. Players are asked to arrive at the course no earlier than 10 minutes prior to your tee-time and you're asked to leave immediately following your round, the prize presentation will be done over social media.
"This event always provides a great opportunity to get out with some friends to have some fun," said McCallum. "The course is also in great shape. It hasn't been quite as busy as of late, but we're looking forward to filling up the tee sheet once again."
This event is also open to golfers of all levels. Whether you're a scratch player or you shoot in the 100s, equal payouts are given for each flight.
Details

Contributed by

Darnell Duff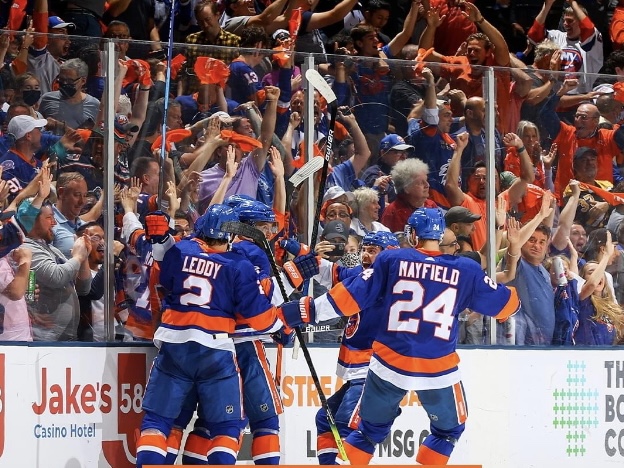 Ryan Pulock, Barry Trotz, and the rest of the New York Islanders have earned a berth to play against the defending Stanley Cup champions.
Backed by a three-goal second period, New York beat Boston, 6-2, to win the best of seven in six games.
Pulock had one goal in the contest as the Islanders have advanced to their second straight semi-final.
Details

Contributed by

Darnell Duff
The Manitoba Junior Hockey League has implemented a new Anti-Racism Player Education Program which will strengthen the league policies regarding verbal taunts, insults, and intimidation actions based on discriminatory behaviours.
Beginning in the fall, Wade Houle of Dauphin will lead seminars around anti-racism education that will be targeted at players, coaches, and support staff. Houle graduated from the Faculty of Education at the University of Manitoba in 2006 and also completed his Education Graduate Diploma from Brandon University in 2018.
"I am excited about the opportunity to work with the Manitoba Junior Hockey League and contributing to players and personnel on becoming anti-racist and anti-oppressive," said Houle. "This shows not only a commitment to the teams but a commitment to creating contributing and caring citizens in the Manitoba community."
The goals of the anti-discrimination education seminars are to:
Provide players/staff with language and terminology concerning anti-discrimination and anti-oppression.
Assist players/staff in recognizing and identifying problematic behaviours in themselves and others.
Involve players/staff to actively engage and commit to promoting a respectful and supportive hockey culture.
Topics that will be covered during the education seminars will lay the foundation for learning about racism and discrimination:
Positionality & Intersectionality, Culture & Socialization, Prejudice & Stereotypes and Discrimination & Racism.
Kevin Saurette, the Commissioner, had this to say on the new program.
"Through internal discussions as a league over the course of the past season, it became apparent that there is much more that the MJHL could and should be doing to address racism and discrimination in our sport while also providing important and necessary anti-racism education for our players/staff," offered Saurette. "We know that discrimination unfortunately still exists in our society and this type of education is required for change to take place. This program will play an important role in the MJHL being part of the solution going forward."
Addressing Verbal taunts, Insults or Intimidation Actions or Behaviors based on Discriminatory Grounds (race, religion, color, sexual orientation, etc.)
The MJHL Board of Governors passed a motion during the 2021 MJHL AGM to strengthen MJHL policies and review procedures regarding verbal taunts, insults or intimidation actions or behaviours based on discriminatory grounds (race, religion, color, sexual orientation, etc.)
Going forward, any player, team official, executive member, or any other Hockey Canada member who is found, to have acted contrary to our Anti-Discrimination Policy, will be assessed the following minimum automatic penalties:
1st Infraction – Minimum 3 Game Suspension
2nd Infraction – Minimum 5 Game Suspension
3rd Infraction – Indefinite Suspension
"The MJHL is committed to providing a positive, respectful and inclusive hockey experience for all participants in a safe sporting environment, free of discrimination," said Saurette.
Hundreds of young athletes of all backgrounds from across North America have taken to the ice in the MJHL over the years and continue to greatly contribute to the success of the league. The MJHL prides itself on working to ensure an inclusive atmosphere for all players, staff and their families.
"Through this balanced approach of both educating players and strengthening our review and sanction policies, we aim to raise awareness within our players and staff, to contribute positively to society and nurture an inclusive Hockey Culture within our league," Saurette concluded.
The curtain on the 2021-22 season raises on September 17.
Details

Contributed by

Darnell Duff
Golfers will be happy to know that you will soon be able to golf with someone, outside of your household.
As of Saturday, the public health orders will allow for people to gather with up to five people -- that don't live with you -- which means foursomes will be allowed on the golf course.
The Men's Open at the Gilbert Plains Country Club is to be played next Saturday. Stay tuned for more details.
Details

Contributed by

Darnell Duff
The Manitoba Junior Hockey League announced earlier that the 2021-22 season will begin on Friday, September 17.
The Westman High School Hockey League, meanwhile, has yet to set a date as their season doesn't begin until November, in a normal year. Only a couple of games were played last season before the season was cancelled, including Dauphin's win over Crocus Plains.
Jason Alf remains co-president of the league and he says they are committed to returning to play when they are able to safely do so.
"There's still a lot of uncertainty right now with everything going on," said Alf. "We eliminated our spring meeting which would have taken place in April, so we're just moving forward and we'll see how things go."
The league is hoping to hold two meetings in the fall -- the first being a general meeting -- and the second would be a scheduling meeting. When Dauphin advanced to the league final in the 2019-20 season, 20 teams made up the WHSHL. Last year, just eight teams committed to playing the season with the remainder opting to sit out the season.
If the league does get the green light to proceed this season, Alf says the hope is to get every team that was in the league two years ago, back in it for this year.
Two years removed from going 19-2-1-1 and entering the league final as favourites, the Clippers will ice a different roster this season, if the campaign does go ahead. With many players from the past two seasons graduating, Dauphin will look to some new faces to step up and generate offence while locking down in the defensive zone.
Dauphin won their lone game last season in a rout, 7-1 against the Plainsmen.
"We're going to be young and inexperienced," said Alf. "Our goal is to always remain competitive and from what we had last year, we had a good nucleus to help us achieve that for this upcoming season and over the next few years."
Details

Contributed by

Darnell Duff
The Dauphin Minor Baseball Association has ended its season.
Refunds will be prorated based on the rental and administration fees that Dauphin Minor already had to pay. The processing fee for refunds will begin on Wednesday.
Although Dauphin Minor has cancelled the season, they may look at holding summer sessions, if restrictions allow for that.
Details

Contributed by

Darnell Duff
When the Neepawa Junior A Hockey Club hits the ice to begin their 2021-22 MJHL campaign, they will be known as the Titans.
11 months after dropping their previous nickname, the organization announced on Monday that they are now known as the Titans. A Titan is known as "one that stands out for greatness and achievement" and the organization believes their community is full of "Titans" in every facet of life.
The logo was designed by Brooks Freeman of Virden and plays off the Greek Mythological definition of Titan, "One that is gigantic in size or power," while using a shade of gold that reflects a field of canola on the horizon.
The silver and black secondary colours pay tribute to the classic look of Neepawa Junior Hockey clubs of the 1990s.
Ken Pearson is the team's head coach and general manager.
"It's been a long time coming and I think everyone involved did a tremendous job pulling this off," said Pearson. "I think everyone is pretty excited about the new era we're starting here in Neepawa."
Neepawa used the name "Natives" for 32 years but decided to go the opposite direction after several professional teams also eliminated controversial names.
And although there is a lot of excitement in Neepawa, it's also an emotional time for Pearson. Growing up in Neepawa, Pearson played for the team and prior to returning to the organization in the 2019-20 season, he was an assistant coach from 1994-96.
"Our senior team was the Neepawa Natives as well, so that's what I knew the most, that name," offered Pearson. "So there are some mixed emotions, with that said, I'm really looking forward to this new era."
As the push to the season continues, Pearson says he's extremely busy recruiting players. Pearson will look to turn things around in Neepawa this season as they've won just 22 games over the course of the past two full campaigns.
In last year's shortened season, Neepawa was 2-6-2. He says the offseason has been extremely productive and he's looking forward to getting back to the rink for main camp in the fall.
"Recruiting has gone well for us and we're ready to move forward and focus on what's coming up next," ended Pearson.
Details

Contributed by

Darnell Duff
After a season in which minimal action took place, the Manitoba Junior Hockey League continues to prepare for a new season.
It was announced over the weekend that the 2021-22 campaign kicks off on September 17 as all 12 teams will be in action. The Dauphin Kings will be in the West Division with Neepawa, OCN, Swan Valley, Waywayseecappo, and Virden. The East Division is made up of Portage, Selkirk, Steinbach, Winkler, the Blues, and the Freeze.
Each team will play 54 games with 40 of the games being divisional play while the West Division will play East Division teams 14 times. The MJHL Showcase is also back from November 22-24 at Stride Place in Portage la Prairie. Each team plays two games at the event.
"We're very excited that the date that we have been targeting for a few months was finalized," said Kevin Saurette, Commissioner. "As a league, we're very excited to turn the page after last year's disappointment of not playing a full season."
The MJHL/SJHL Showcase will also be back, with one change. After three successful years in Regina, the event will be played at Seven Oaks Sportsplex in Winnipeg. The event to be played January 25-26, 2022 will feature all-star players and goalies from the MJHL going up against all-star players and goalies from Saskatchewan.
"To bring that talent and the scouts to our province, it's tremendous," offered Saurette. "I know MJHL fans will really enjoy the event, so we're glad that they will have a chance to watch."
Following the showcase, the next time the MJHL and SJHL will meet comes in the Anavet Cup beginning on Friday, April 29. The Turnbull Cup playoffs begin the week of March 14, with a playoff format set to be released in the coming weeks.
Elsewhere around the league, Niverville is joining the league in the 2022-23 season, as they will become the league's 13th franchise. Talks between the league and owners of the new franchise have been extensive over the past couple of years. Saurette says talks between the two parties have been extremely positive.
"This is very positive for the league to be moving into a new market," ended Saurette. "We can't wait until the puck drops on their inaugural season next year."
The Centennial Cup will also return, being played from May 20-29 at Affinity Place in Estevan, home of the Bruins. Subject to Regulatory Approvals, the MJHL will also send an all-star team to Sochi, Russia in August of 2022 where the team will play in the Sirius Junior World Cup, an international IIHF sanctioned event.
Details

Contributed by

Darnell Duff
The Dauphin Soccer Association has made the decision to cancel the rest of the spring season.
At this point, Public Health Orders do not allow outdoor gatherings of any type.
"This is very disappointing for our organization, however, we know that it is the best decision for the safety of our players and families," said Nathan Fleck.
All player registration fees will be refunded in the following manner (if you have not already received your refund).
- If you registered and paid online, you will receive a refund on your credit card directly through PayPal. Once your refund has been issued, an email will go out to the email address you provided during the payment process period.
- Refunds will be processed on Monday, June 7, if you have not received yours by June 9, please email
This email address is being protected from spambots. You need JavaScript enabled to view it.
.
- If you registered in-person or sent in payment via etransfer, you will receive your refund via etransfer to the email you provided at the time of registration.
Details

Contributed by

Darnell Duff
The Manitoba Junior Hockey League has announced that the 2021-22 regular season will begin on September 17.
Dauphin will be in the West Division alongside Neepawa, OCN, Swan Valley, Waywayseecappo, and Virden.
40 of 54 games will be played within division, while 14 will be played outside.
The Centennial Cup wraps up the season in late May.
Details

Contributed by

Darnell Duff