Latest Sports
Brayden Pawluk had a break out few games last week and he's being rewarded because of it.
In three games with Dauphin, Pawluk scored three times and he had three assists as he helped the Kings extend their winning streak to eight games. He joins Riley Bruce and Mattias Dal Monte as the MJHL Stars of the Week.
Pawluk and the rest of the Kings return to the ice tomorrow when they play Waywayseecappo
Details

Contributed by

Darnell Duff
In just more than three weeks' time, the best junior curlers in the province will compete for a provincial title on the men's and women's side. Dauphin is playing host to the 2020 Telus Junior Men's and Women's Provincial Championships.
Round-robin games will be played inside of the Dauphin Curling Club and Credit Union Place. All playoff games will be at Credit Union Place.
Over the weekend, several Parkland teams qualified for the event. Check out the full list right here. More than a dozen teams at the event of the 32 will feature either a full Parkland foursome or Parkland players playing on teams that are based outside of the region.
"It's very exciting. With many local teams and local players taking part, we couldn't ask for better results," said Mark Hadway.
All of the action gets underway on January 1. After winning the title last year on the women's side, Lauryn Kuzyk will be back in town with her foursome. There is also a good chance that Lane Prokopowich and her team could be ranked as the top team on the women's side.
"Our local teams have a good shot at winning a title on both the men's and women's side," continued Hadway.
You can get into every single draw from January 1-5 for just $50. That includes every round-robin draw and playoffs leading up to the finals on January 5. There will be a night pass for $10 while day passes can be picked up for $15.
"You have to come out and watch this. Our local flavour of curlers is going to perform well and they're ready for this," concluded Hadway. "It's the pinnacle of their curling careers and they would all love the support from everyone."
You can pick up your tickets at the Dauphin Rec Complex front desk.
Details

Contributed by

Darnell Duff
The Manitoba Junior Hockey League has been extremely tight this season and now we'll take a quick look at the standings from the top to the bottom.
At the top is the Portage Terriers who will host this year's Centennial Cup from May 9-17 at Stride Place.
1st Place: Portage Terriers: 22-7-1 = 45 points.
They've won seven straight games. They haven't lost since November 19 against Winnipeg. During the streak, the team has scored 32 goals. They are led by Riley Bruce who has 30 points.
Portage plays Waywayseecappo and Winnipeg this weekend. The team's last loss was against Winnipeg last month.
2nd Place: Steinbach Pistons: 21-5-1-1 = 44 points.
They have been arguably the most consistent team all season. They are 21-5-1-1 and that has them just one point behind Portage for first place and they have two games in hand.
Since November 22, Steinbach is 5-1. They are the only team in the league this season that hasn't lost consecutive games in a row.
Kyle Bettens leads the team with 28 points. Carter Loney who has 25 is currently away from the team. He's playing with Team Canada West at the World Jr. A Challenge in Dawson Creek.
3rd Place: Swan Valley Stampeders: 19-10-3 = 41 points.
They now have a new head coach and general manager, but he's not really new. Geoff Grimwood stepped down back on Friday. Barry Wolff is now back and he led the team to the league final last year.
The Stamps are coming off a shocking win their last time out. Trailing 3-1 against Winnipeg yesterday, Swan Valley scored six unanswered goals in the third period to win 7-3. They also scored the last goal in the second period so it was really seven straight goals.
They're 3-0-1 in their last four games and are led by Mattias Dal Monte who has 36 points.
They play three road games this weekend. They're in Selkirk on Friday and Saturday and they play Winnipeg again on Sunday. Barry Wolff is expected to be on the bench for the trio of games.
4th Place: Winkler Flyers: 17-8-2-2 = 38 points.
This is where the logjam begins. Winkler has the same amount of points as Waywayseecappo, but they have four games in hand so they're currently in fourth. The Flyers are 17-8-2-2, but they're certainly going in the wrong direction.
Winkler has just two points in their last four games. They lost in overtime against Dauphin twice. Winkler will host Dauphin this weekend for a pair of games.
The Flyers have received some help offensively. They welcomed back Eric Fawkes from the NAHL. He led the team last year with 38 points.
Winkler plays Waywayseecappo on Sunday after the two dates with Dauphin.
5th Place: Waywayseecappo Wolverines: 17-12-2-2 = 38 points.
They have played more games than any other team in the MJHL and they have a 17-12-2-2 record to show for it.
They're coming off a disappointing loss against Neepawa over the weekend and their record in their last six games dropped to 2-3-0-1 in the process.
Waywayseecappo plays four more games this week including a tilt with Dauphin on Tuesday at Credit Union Place. They will also play Dauphin on December 21 before the Christmas break. Waywayseecappo then welcomes Dauphin on January 5 in their first game after the break.
Jaymes Knee leads the team with 30 points while Conrad Phillips is three behind in second.
6th Place: Dauphin Kings: 16-10-3-2 = 37 points.
Without a doubt, Dauphin is the hottest team in the MJHL as they've won eight straight games. They haven't suffered defeat since November 17. After a 1-5-0-1 start, the Kings are now 16-10-3-2.
Dauphin is now just four points behind Swan Valley for third place and they'll have a chance to gain some ground this week. With a game against Waywayseecappo tomorrow and a pair of games against Winkler on the weekend, the team can earn a maximum of six points.
The Kings have scored the second-most goals in the league at 123. 17 of those have come off the stick of Nakodan Greyeyes and he also leads the league with 50 points.
Dauphin's first line has combined for 121 points. Cole DeKoninck also leads all defencemen with 35 points.
In net, Mattias Smith hasn't lost since November 15. He's fourth in the league with 11 wins and only Matt Lenz has fewer losses than him.
7th Place: Virden Oil Capitals: 15-13-2-2 = 34 points.
With their one point against Dauphin on Sunday, the Oil Caps' are just three points behind Dauphin in the standings. With the recent acquisition of Ethan Peterson, Virden certainly improved.
They also have Kolten Kanaski who is second in league scoring with 43 points.
Virden plays just two games this week on Thursday and Friday. They come against Waywayseecappo and Virden, respectively.
The Oil Capitals bring a mixed bag in their last five games as they're 2-2-1. They have the most goals in the league with 127.
8th Place: Selkirk Steelers: 15-15-2 = 32 points.
They're certainly not doing themselves any favours at all. Selkirk is only four points ahead of Winnipeg for the final playoff spot. Since November 16, Selkirk has gone 1-8. They have also given up 15 goals in their last two games.
Their schedule is extremely tough heading into the Christmas break. They play Swan Valley twice this weekend and Steinbach as well. They finish 2019 in Dauphin as they play the Kings again. Selkirk has given up 20 goals in Dauphin this season.
The next time Selkirk plays an opponent that is below them in the standings is on January 8 when they're in Neepawa.
9th Place: Winnipeg Blues: 13-16-2 = 28 points.
This past weekend ruined Winnipeg's hot streak. Coming into the weekend, they were winners of four straight. They then lost to Dauphin on Friday in overtime; however, they did get a point in that game.
Yesterday, they gave up seven straight goals in a 7-3 loss against the Swan Valley Stampeders.
A youthful and not experienced group has shown at times, but they're still just four points back of a playoff spot. They play six games before Christmas and each opponent is higher than them in the standings.
If they can rise to the challenge, Selkirk seems to be in a free fall, so the Blues have an opportunity to perhaps even get in a playoff spot leading into 2020.
10th Place: OCN Blizzard: 10-19-2 = 22 points.
Their head coach and general manager was relieved of his duties last week and the team has struggled to get anything going as of late. OCN hasn't won a game since November 17 and they've been giving up a ton of goals lately.
In their seven-game skid, OCN has given up 33 goals. They've also been shut out twice in that span.
The Blizzard has the second-fewest goals in the league at 81. They have given up 117 and that's the fourth most. That -36 ratio is the second-worst in the MJHL.
They do, however, have a good chance to build some momentum this weekend. They'll welcome Neepawa to town for a pair of games on Friday and Saturday.
11th Place: Neepawa Natives: 5-24-1-1 = 12 points.
They have shown they can play good hockey. They beat Waywayseecappo over the weekend and they've beaten Dauphin twice this year. The biggest thing is consistency and there hasn't been a ton of it this season.
With just five wins, Neepawa is 20 points back of a playoff spot. They still have 58 possible points throughout the remainder of the season, so you can't count them out yet, but they'll have to go on quite the tear to even have a chance.
Dating back to November 29, Neepawa is 2-1-1. They have also beaten Swan Valley this season.
Before Christmas, they play a home-and-home with Virden and they also play two games this weekend on the road as mentioned above against OCN. They will also battle the Steinbach Pistons.
Neepawa also had its highest attended game in that win against Waywayseecappo. 560 fans packed the Yellowhead Centre and cheered their team to victory. Eli Lieffers leads the Neepawa attack with 31 points. Ste. Rose's Brad Marshall has 12 points this year.
Details

Contributed by

Darnell Duff
The Dauphin Clinic Pharmacy Atom AA Kings are back in the Parkland with some bronze medals.
Playing in Morden over the weekend, the Kings only loss was against the host Morden team.
They played very solid in wins against Brandon Green and Winkler.
Details

Contributed by

Darnell Duff
The Parkland Bantam Rangers picked up another win to end their weekend.
Brayden Dube led the team with two goals in a 5-3 win against the Winnipeg Hawks.
Madden Murray, Kyan Grouette, and Matthew Munro all had singles in the game.
Details

Contributed by

Darnell Duff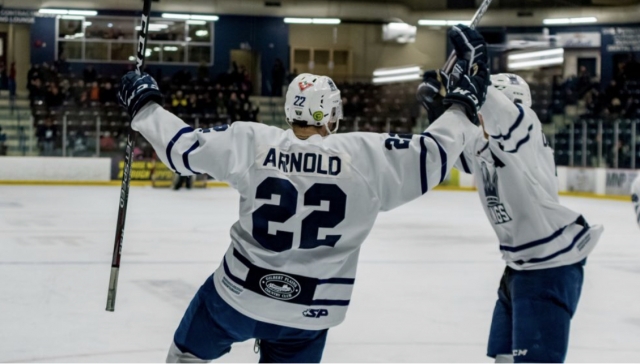 Cole DeKoninck pulled off some late-game heroics and the Dauphin Kings have now won eight straight games.
DeKoninck tied the game up at two with just 35 seconds left and then Brendan Arnold scored the overtime winner as the Kings beat the Virden Oil Capitals, 3-2, on Tractor Lotto Sunday inside of Credit Union Place.
"It feels awesome. That's my first overtime goal as a King so it's amazing," said Brendan Arnold after the game. "It was a big two points for us tonight, we're pumped up."
The win moves Dauphin within one point of fourth place. They are also just two points back of third place.
Virden would start the scoring in the game as Kolten Kanaski scored his 19th of the season at the 10:57 mark to give the Oil Capitals a 1-0 lead. On the power play early in the second, Dauphin would strike back.
Just 25 seconds into the second, Carter Sawchuk beat Ethan Peterson top corner to tie the game up. Virden would regain their lead at the 10:26 mark of the third as Brett Paddock scored his seventh.
The Kings remained down late, but they, in the end, we're not out. With just 36 seconds left, Cole DeKoninck scored his 13th of the season off a beautiful pass from Grady Hobbs as the game was overtime bound.
Just 44 seconds into overtime, captain Brendan Arnold was sprung on a breakaway and he did the rest as the Kings won their eighth straight game.
"This just goes to show how far we've come as a team," Arnold concluded. "It doesn't matter if we're down late, we're always going to battle and we found a way to get it done."
Dauphin will look to make it nine straight wins on Tuesday when the Waywayseecappo Wolverines are in town.
Details

Contributed by

Darnell Duff
Dauphin's Nolan Hadway and the rest of his curling team are coming to town to play in the Telus U21 Curling provincial Championships.
They won their berth at the West 2 qualifier.
The provincials are January 1-5.
Details

Contributed by

Darnell Duff
The Dauphin Clippers hockey team is coming home from Brandon with a bronze medal.
Dauphin came out and completely dominated Major Pratt in the first period and they cruised the rest of the way in a 5-1 win.
Dauphin was up 4-0 after 20 minutes and they had 23 shots compared to just three from Major Pratt.
Bryce Bonnett, Kayden Bodnar, Ashton Hlady and Austin Storey scored the goals in the first for Dauphin.
Parker Boguski would score a goal in the third to seal it for the Clippers who only lost one game at the tournament.
Details

Contributed by

Darnell Duff
The Parkland Bantam Women's Rangers had a couple of solid performances the last two days in Winnipeg.
Playing against a very strong Titans team yesterday, the Rangers and Titans played to a tie.
Allee Hrechka scored Parkland's first two goals in the game. The Titans would storm back to take a 3-2 lead, but the Rangers pulled off some late game heroics to tie it.
With just 20 seconds left, Hailey Hojnocki tied the game at three and that's where it ended.
Playing against the Victorias today, the Rangers fell just short, 4-3.
Sam Moshenko, Hailey Hojnocki, and Trystyn Hanneson scored for Parkland in the game.
Details

Contributed by

Darnell Duff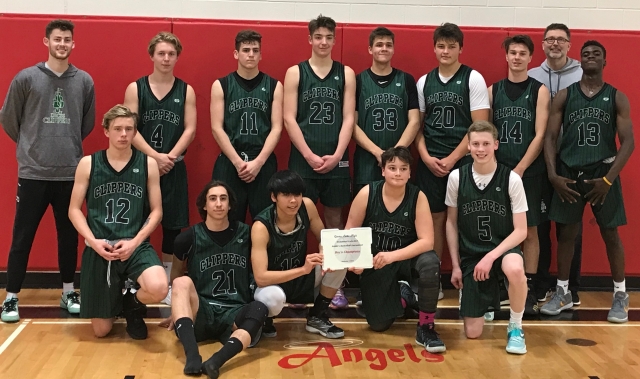 The Dauphin Clippers varsity boys basketball team are champions to begin their season.
Playing in their first tournament in Roblin, the team cruised through to win the title.
They beat Major Pratt, Swan Valley, and Goose Lake, all by more than 30 points.
Details

Contributed by

Darnell Duff
It is Tractor Lotto Sunday and it's sure to be a day to remember for someone who will win $100,000 at around 6:00 p.m. tonight.
Prior to that, however, the Dauphin Kings are going for their eighth win in a row and another local player is getting ready to make a splash.
Garrett Hrechka is in the lineup for today's game. Garrett is currently tied for first in scoring in the Manitoba AAA U18 Hockey League with 34 points.
The Virden Oil Capitals come in off a win against Winkler on Friday.
Note the special start time today as things get underway at 4:00 p.m.
Details

Contributed by

Darnell Duff