Latest Sports
Ahead of their home opener which is set for Friday night at Credit Union Place, the Dauphin Kings have announced that a veteran from the Jewel of the Parkland will serve as the team's leader this year.
For the first time in his junior career, Aidan Brook of Roblin has been named captain. Brook is set for his second full season with Dauphin after beginning his junior career by playing four games with the team, followed by a tenure in the Western Hockey League.
Brook re-joined the team in the 2021-22 season and helped the club win the Turnbull Cup and they ultimately advanced to the national semi-final where they came up short against the Pickering Panthers of the Ontario Junior Hockey League.
Prior to the season, Brook had this to say on being back with his home region junior team.
"Being back in Dauphin has been awesome, it's also nice to see how hard we all worked this summer," offered Brook. "That first round exit last year clicked our brains to a championship mindset like we had the previous year. We are looking forward to playing extra deep into the playoffs this season."
Brook will don the 'C' for the first time on Friday when the Swan Valley Stampeders come to town. You can hear the game with Darnell Duff beginning with the Parkland Source for Sports pre-game show at 7:20.
The organization has also announced the remainder of their leadership group. Logan Walker, in his second season with the team, will serve as an assistant captain. Nolan Wickham, who also was a part of the championship team two seasons ago, will also serve as an assistant captain. Anthony Bax, the man who scored Dauphin's first two goals of the season last year, rounds out the leadership group.
Details

Contributed by

Darnell Duff
The Rural Manitoba Football League season is well underway and so far it's the St. Vital Mustangs on top.
The Mustangs have allowed a league-low 12 points against this season while their 68 on the offensive side of the ball are the second-most in the league. The Swan Valley Tigers have been the best offensive team with 121 points for and they're also 2-0 while also sitting with a perferct 2-0 record are both the Southwest Sabres and Interlake Thunder.
The top six teams at the end of the regular season battle for the Doug Steeves Trophy while the remaining four teams go to battle for the Murray Black Cup. The Dauphin Clippers are among four teams that have yet to win a game; however, that's not for lack of effort. The Clippers showed signs of great play in an opening loss against the Winnipeg Falcons, 35-13.
Then in their next game going up against a very solid Sabres team, the Clippers battled right until the end before ultimately coming up short, 36-28.
Jeff Michasaw is one of the team's coaches and he continues to see improvement with every practice and game.
"We're constantly getting better, guys are starting to understand the systems more now," said Michasaw. "We're a young team and football is a complicated sport. We're trying to put everything together here."
Michasaw said the coaching staff are preaching taking care of the small things. This includes arm tackling and staying discipline, among other things.
"That's really what has been our downfall in the first two games," offered Michasaw.
After starting their season with back-to-back road games, it's time for some home cooking for the Clippers. Dauphin welcomes the Interlake Thunder to the high school field on Friday with kick off set for 4:30 p.m. As noted above, the Thunder are one of four teams in the league that are undefeated and it's the same Interlake team that eliminated Dauphin from the playoffs last year.
While the Thunder have lost some firepower from last season, Jeff knows it will be another great test for his team.
"Everyone is very excited to play a home game," said Michasaw. "We're going to be down five guys on defence which isn't ideal. With that said, our guys that will step in are ready to go and they will do whatever it takes to help the team win."
Jeff says he is very proud of each and every player on the team and he's looking forward to Friday's game and every one the rest of the way. Dauphin's next game following Friday will be next week as they welcome Parkwest to town. Dauphin then heads on the road to play Neepawa before wrapping up their regular season on home field against Swan Valley.
Details

Contributed by

Darnell Duff
Growing up in British Columbia, Jakob Jones grew up playing his minor hockey in his home province and Jones stayed right close to home for his AAA journey as well.
In his final year of AAA, Jones unfortunately only played four games because the COVID pandemic shuttered the season, but the 5'8" Vernon native was off to a torrid start with three goals across those four games. It was a tough pill to swallow for Jakob realizing his AAA days were cut very short, but there was some light at the end of the tunnel as he was presented with an opportunity to play with the Humboldt Broncos of the Saskatchewan Junior Hockey League to begin the 2021-22 season.
Jones played in 20 games with the Broncos, scoring once and adding two assists before he returned to his home province to play with the Merritt Centennials, where the sharpshooter had a pair of points in 28 games.
With strong ties to British Columbia himself, Barry Wolff then recruited Jones to come play with the Swan Valley Stampeders. So Jakob made yet another move away from his home province and for him, it was one that he was very happy with.
"It was a lot of fun, I knew two guys on the team already which made the transition very easy," said Jones. "It was a great team atmosphere right from the beginning and that made it a great year."
Jakob came in and immediately produced at an all-star level with 72 points in 58 games. He scored in his regular season debut with the Stampeders and added another goal in his third game with the team and he never looked back. Jakob played most of the season with Justin Keck and Trey Sauder and the trio formed one of the most dominant lines in the league as they combined for 195 points.
"It was awesome playing with those two guys, especially being able to keep that line together throughout the year," offered Jones. "It was really easy to go out there knowing exactly where they would be. It made the offensive side of the game much easier."
Jones found out very quickly about the rivalry between Dauphin and Swan Valley and come playoff time, it was once again Stampeders against the Kings for the second straight year.
"The rivalry was made very clear to me right from the get go," said Jones. "I know some of the guys lost to Dauphin the year before so it was a very passionate win for us, it felt great to win that series."
Swan Valley came up short against Steinbach in the next round, but it was still a great season for the second most northern team in the league. While this year's team will not include some firepower from last year including Keck, Collin Jennings, and Kobe Grant to name a few, a solid group of returnees are back in the fold this year including Jones and linemate Trey Sauder who was born and raised in Swan River.
It will certainly be a new looked Stampeders roster come Friday, but it's a group that Jones believes in.
"We have another great group of guys," said Jones. "We have guys that want to come in everyday to get better and that's what we need. I'm excited to get going with them into battle."
The curtain opens on a new season this Friday as the Stampeders make the short trip to Dauphin to play the Kings at Credit Union Place. The puck drops at 7:30 and after three weeks of training camp and preseason games, Jones is ready to get things going for real.
"The preseason felt long for whatever reason, we're all very eager to get going for real," said Jones.
You can hear Jakob's full chat with Darnell Duff during the Dauphin Kings Powerplay Show on Friday afternoon just after 4:00 p.m. and you can then hear it during the second intermission of Friday night's game right here on 730CKDM.
Details

Contributed by

Darnell Duff
From 2017 to 2022, the OCN Blizzard failed to make the playoffs once. It was a run that spanned four seasons.
Heading into the 2022-23 campaign, OCN realized it was time for a change and a return to playoff hockey at this point became almost mandatory. They brought in Doug Johnson to serve as the team's head coach and general manager.
Prior to making the move to northern Manitoba, Doug spent the previous 11.5 years with the Nipawin Hawks, a run that included the Hawks winning the Saskatchewan Junior Hockey League title in 2018. They eventually fell to the Steinbach Pistons in the Anavet Cup, which is no longer a thing. Johnson parted ways with Nipawin during the middle of the season in the 2021-22 campaign and he was hired on by the Blizzard the following season.
Needing to change the culture and how things were done, Johnson found immediate success with his new team as the Blizzard got off to an 8-3 start last year. OCN would go on to win 33 games in the regular season as they made the playoffs for the first time in six years. A first-round exit to the hands of Virden left a sour taste in the team's mouth to end the campaign, but a return to the playoffs put the franchise in the right direction.
Shortly after the season, Johnson announced that he would not return to OCN and he was hired by the Melville Millionaires to lead the organization. Doug's first training camp and preseason with the club has now come to an end. While it's not about wins and losses in the preseason, Melville did win four of their five games including a 6-0 win against the Dauphin Kings last Friday.
"For a first training camp, I think things went pretty well," said Johnson. "There were some great battles for spots and there continue to be. It's always about finding guys who can work together and complement eachother. So far we're very happy with where things are at, we might be farther ahead than where we thought we would be over the summer."
Just like OCN was heavily struggling when Johnson came in, the same can be said about the Millionaires. Melville has failed to make the playoffs in four straight seasons. The last time they competed in the playoffs was when the 'Survivor Series' was used in the 2017-18 season. Melville has failed to win more than 17 games in any of the last four seasons, but if history repeats itself with Johnson around, Melville could be a in a good spot heading into the new campaign.
"This is going to be a great challenge, I know the fan base in Melville is outstanding and they have stuck right by this team during the hard times," offered Johnson. "With the players in the room, we are hoping to show the fans that there is a light at the end of the tunnel."
While questions are still to be answered, Melville's strongest suit will be goaltending. 20-year-old William Dyke of Lethbridge will be the team's opening day starter on Friday and he's coming off an outstanding season out east. With the Burlington Cougars to wrap up last season, William won 11 of the 12 games he played in, adding up a 2.34 goals-against average to go along with a .927 save percentage. Dauphin fans saw how dominant Dyke can be when he went 20-for-20 in the team's 6-0 win over the Kings on Friday night.
Standing in at a towering 6'5", Dyke still remains very mobile and he's a great competitor that gives his all every single minute of every game.
"He's a very driven young man, he's one of the first guys to the rink and he's one of the last ones to leave," said Johnson. "I find that the goalies with routines and that drive are the ones that succeed."
The curtain on the 2023-24 SJHL season opens on Friday night with 10 of the league's 12 teams in action, including Melville as they pay a visit to Affinity Place to play the Estevan Bruins. It's the first of a home-and-home with the Bruins to open the campaign.
"Within the community, there is a ton of excitement to get the season going," ended Johnson. "We're hoping to see a bunch of our fans in Estevan on Friday and then we're looking forward to what should be a packed crowd on Saturday."
Details

Contributed by

Darnell Duff
It was a day that champions were crowned at the Gilbert Plains Country Club.
In gorgeous shape on a beautiful day, the club hosted its members windup over the weekend. Taking the home the men's title with a score of 71 was Chad Facey.
Julie Facey, Chad's wife, won the ladies championship with a 90 while Boston Karlson fired an 81 to win the juniors title.
Next up at the club is the Ironman Tournament which takes place on Saturday, October 7. You can register by calling the pro shop at 548-3030. Keep in mind, you must pre-pay if you would like to pay. It's $300 per foursome which includes your round, a meal, and a chance at some great prizes. Carts are extra.
Details

Contributed by

Darnell Duff
The Dauphin Clippers junior varsity girls volleyball team were crowned champions this weekend.
Playing in Elton, the team won six of their eight sets in the round-robin with their only defeat coming against Gilbert Plains.
Ultimately, Dauphin got their revenge against the Trojans as they downed them in straight sets in the final, 25-22 and 25-18.
Prior to the finals, the team beat Prairie Mountain in the Final 4 and Elton in the Elite 8.
Details

Contributed by

Darnell Duff
The Dauphin Kings dropped their final preseason game on Saturday night in Virden.
The Oil Capitals jumped out of the gate in a hurry as they scored three times in the first 10:28 of the first period and they didn't stop there as they found the back of the net six more times in a 9-4 win.
Anthony Bax led the way for Dauphin with two goals and two assists while Blake Boudreau had one goal and an assist and Havyril Simchuk also scored for Dauphin in the defeat.
Cole Sheffield and Luke Swanson split time in net for Dauphin, with Sheffield making six saves on 10 shots and Swanson making 10 saves on 15 shots.
Dauphin will now prepare for their home opener which happens Friday night. The puck drops at 7:30 at Credit Union Place. You can get the season going with Darnell Duff as he opens the broadcast schedule with the Parkland Source for Sports pregame show.
Details

Contributed by

Darnell Duff
The Parkland U-18 Rangers open their 2023-24 campaign on Friday, September 29 when they welcome the Yellowhead Chiefs to Credit Union Place.
It's the first of 48 games for Parkland as they look to return to the playoffs after coming up short last year. Two seasons ago, the team advanced to the second round for the first time in more than 20 years.
This year's roster will feature a good mix of veteran players and also players that will be new to the league whether they played with the U-15 Rangers last year or with a different team at a younger age group. Training camp began on Tuesday night at Credit Union Place with skill sessions and the organization was right back at it on Wednesday with scrimmages.
Tyler Carefoot has returned as the team's head coach this year. Chris Belhumeur, Colton Robak, and Alex Lytwyn will serve as the team's assistant coaches while Jason Gibbs is the team's manager.
"From what I see so far, I like our defence and our goaltenders, we're going to have some tough decisions," said Carefoot. "Our back end will be the focal point and what will drive us. Overall, we're pleased with the calibre at camp."
The Rangers will now hold an instrasquad game on Thursday night at Credit Union Place as their very busy week continues. After three days of training camp, Parkland is off to Souris this weekend for a preseason tournament. They will play one game on Friday and a pair of games on Saturday. This weekend will provide some players with their last chance to show why they should make the opening day roster.
Up front, two players that will be relied heavily upon are Hayden Seib and Cash Clarkson. Clarkson -- who won a national championship with Team Manitoba earlier this year -- returns to the program after a 30 point season last year. 16 of his points were goals and he also had 32 penalty minutes. Recently in the Parkland Summer Hockey League, Cash scored 35 times and had 52 points to finish second in league scoring.
Calling his home Russell, Hayden also has one more year of junior eligibility and just like Cash, Seib is coming off a great season in which he posted 16 goals and 20 assists to go along with 12 penalty minutes.
One of the newcomers to the team is Quinten Fisk. From Dauphin, Fisk put up 40 points in the Parkland Summer League and he had 50 points last year in 39 games with the U-15 Rangers. On the back end, Sam Swanton will be one of the team's leaders. With a Western Hockey League rookie camp already under his belt along with a great performance at Dauphin Kings camp earlier this month, Swanton is primed for an outstanding year playing in his hometown. At this point; however, Sam is on the injured list and the Rangers are hoping he can return very soon.
In net; meanwhile, it will be Chase Glover who gets the reigns to open the season. Glover also won a national title alongside Cash at the National Aboriginal Hockey Championships and he saw some preseason action with Dauphin earlier this month in the team's rookie game against Swan Valley. Chase played 23 games between the pipes with the U-18 club last year, winning seven of them and all things lead to him taking his game to the next level this year.
"He's one of those goalies that doesn't get too high or too low, he has ice in his veins," ended Carefoot. "He's going to be our number one heading into the season, he's going to get an opportunity to be that guy. He works hard and never gives up and that's what being a Parkland Ranger is all about."
New this Year:
Darnell Duff will have the call of six regular season games this year. The first of which comes on Sunday, October 8 when the team welcomes Eastman to Credit Union Place.
Other Broadcasts:
Sunday, October 22 @ 1:30 p.m.
Tuesday, December 19 @ Yellowhead - 8:00 p.m.
Wednesday, January 03 @ Brandon - 7:30 p.m.
Tuesday, January 30 vs Yellowhead @ 7:30 p.m.
Sunday, February 04 vs Interlake - 1:30 p.m.
All games will begin with a 15 minute pregame show followed by a post-game show to wrap it up.
Details

Contributed by

Darnell Duff
The preseason is nearing a close in the Manitoba Junior Hockey League as all 13 member clubs compete in one more weekend of tuneup games before things get going for real next weekend.
In the valley, the Swan Valley Stampeders are putting in final preparations as they get ready to come to Dauphin on September 22 on the opening night of the 2023-24 season. The Stampeders bounced Dauphin from the playoffs last year before coming up short in a six game defeat against the Steinbach Pistons.
Barry Wolff led the Stampeders to their first Turnbull Cup final in 2019 and the team has not missed the playoffs since. In fact, Swan Valley continues to be one of the powerhouses in the league and a title contender year after year since Barry came on board.
This year, there are some big changes; however, that's what happens in the junior game.
"Things are going okay right now, we're getting the rust out and plugging along," said Wolff. "We had the chance to use our young guys in the first four preseason games which is a positive. Everyone is working hard and doing what they need to."
Swan Valley jumped out of the gate this preseason by scoring nine goals in two games in a pair of victories against Waywayseecappo. The team then lost a pair of games against Dauphin, one at Credit Union Place and one at the Centennial. The Stampeders jumped out to a 2-0 lead in the second game but ended up falling 5-2. That was a lesson learned for everyone on the team.
"There's no question about it. We went up and our guys thought it was over," offered Wolff. "Dauphin always competes and works extremely hard and they took it to us in the second half of the game. It was a great lesson for our guys."
Swan Valley will now play a home-and-home with OCN this weekend. That leads up to a week of practice before their trip to Dauphin to open the campaign. While many tough decisions still have to be made when it comes to finalizing their roster, two critical pieces of the puzzle this year will be Trey Sauder and Jakob Jones.
Both back for their final year of junior eligibility, the duo are coming off outstanding seasons. Jones finished tied for third in league-scoring last year with 72 points, 30 of which were goals. Sauder; meanwhile, finished with 24 goals and 36 assists to rank 10th in league scoring. They were playing on a line with Justin Keck who had 63 points and has since graudated from the junior ranks. Jones then had 12 more points in 12 playoff games and Sauder had eight in the same amount of games played.
They will once again be paired this year and are expected to be two of the toughest players to stop in the league.
"We're hoping that they can build off the success that they had last year," ended Wolff. "We have to find a linemate for them to create that magic again. Both Sauder and Jones have come into camp focused and they are ready to do whatever it takes to win, they're both in a good spot."
This year also marks a monumental one for the organization as they celebrate their 25th year in the MJHL. While the chase for their first league title continues, the community of Swan River is once again ready to rally behind their hometown team.
"The buzz in the community is huge right now," ended Wolff. "For a small market team to be successful and to get all of the support we get, it's second to none. I can't say enough about how great this community is."
Details

Contributed by

Darnell Duff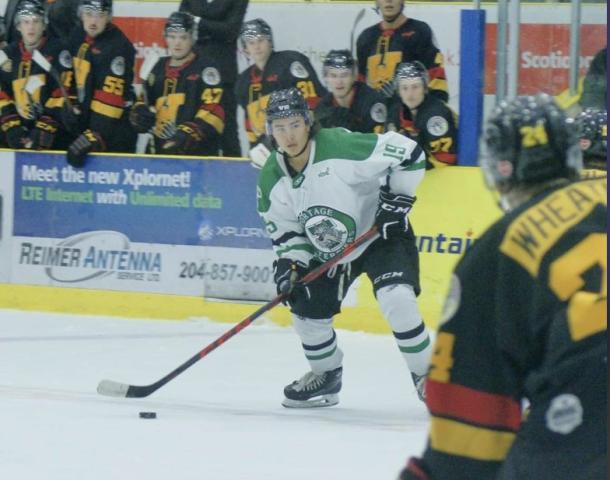 At this time, he remains in Waterloo, but the Waywayseecappo Wolverines are hoping that changes.
The organization has acquired Hayden Lacquette in a three-team deal that included the Portage Terriers and Neepawa Titans
Waywayseecappo sent forwards Keenan Skrupa and Dawson Andries to Neepawa in exchange for Parker Korman, who was then dealt to Portage along with future considerations for Lacquette, who is coming off an all-star season with Portage.
Lacquette led the MJHL among defenceman with 54 points last season and he then had three points in five games at the Centennial Cup. Hayden played one preseason game in the United States Hockey League this year with the Waterloo Black Hawks, a 4-2 loss against the Farco Force on September 8.
He did not play in the team's last two preseason games which mean his return to Manitoba could happen sooner rather than later. The Wolverines open their season at the Arena Complex on September 22 when they battle the Titans.
Details

Contributed by

Darnell Duff
Credit Union Place is starting to pick up with bookings and soon, so will the Rotary Arena.
The ice will be put in very shortly and in just less than a month, the Dauphin Rec Hockey League will take centre ice. Registration for the upcoming season is now open with early bird pricing of just $375.
That pricing is until October 1 and after that, you will have to pay $450. Chad McCrady has been working extremely hard at building up the league for more than a dozen years and he's welcoming everyone out to play this winter.
"If you just finishing playing high school or junior or minor hockey, we have a spot for you," said McCrady. "We have a pretty great group of guys that play every year, we have a pretty good thing going on here."
Skill ranges from ex junior players to those that didn't play much hockey growing up. That means, whether you're a seasoned vet or just looking to get into a game, you can try it out.
"Some guys have higher skill levels and some just want to come out and have some fun," ended McCrady. "Anyone is welcome to join, it's all about that at the end of the day."
To register today, you can see Bob Murray at Dean Cooley GM.
Details

Contributed by

Darnell Duff