Latest Sports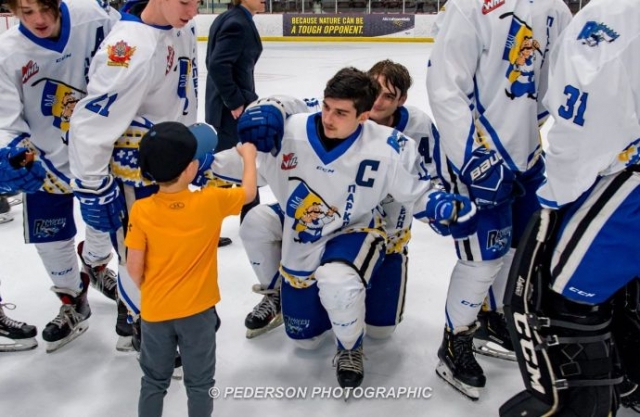 Garrett Hrechka is in his final season as a Parkland Ranger and he's recently won an award that he'll always have moving forward. The Dauphinite has been named the CCM Player of the Week across the Manitoba AAA U18 Hockey League.
Hrechka had six points last week in just three games. Starting their week against Brandon, Garrett had two goals to help his team get past the Wheat Kings. On Saturday, Hrechka chipped in an assist, but the team lost, 5-2. The Rangers would host the Winnipeg Bruins on Saturday evening and Hrechka was right back at it.
He had one goal and two assists as the Rangers got past the Bruins in overtime, 3-2.
"It feels good, I'm just glad I helped my team and it's an honour to be named the Player of the Week," said Hrechka. "It's a surprise. I thought I had a good week and I guess it was better than I even thought."
Hrechka leads the Rangers in points this year with 21 points. Eight of them are goals. Garrett's already well on his way to a career-high in points. His high came last year when he had 25 points (16G). With still a third of the regular season ahead, Hrechka has plenty of time to continue building on the great season he's put together.
"Yeah, I'm super happy. I'm glad that I'm helping the team be successful and we've been playing well as of late," he continued. "With that being said, I certainly can't take all of the credit or even close to it. My linemates, Brayden Kohlman, and Steven Arp help me so much and our whole team is doing a great job."
The team's most recent win was a thriller this past Saturday. That win against the Bruins was in front of more than 1000 fans as the Rangers hosted Ukrainian Night down at Credit Union Place. It was the final time Garrett will play a Ukrainian Night with the Rangers.
"It was like nothing I've ever seen when I got there, it was super early and so many people were already at the rink, it was incredible," said Hrechka. "The Opening Ceremonies were also awesome. It was great playing in front of all those fans. Scoring that first goal and seeing the crowd go crazy was fantastic."
With one second left in overtime, Hrechka and Steven Arp teamed up to get the puck to Hayden Lacquette who finished the game in style.
"It was so cool. I'm glad we won, it was a big game," he added.
Hrecha, Kohlman, Arp, and the rest of the Rangers have won four of their last five games. They now welcome the Kenora Thistles to town for a pair of games this weekend. Kenora has yet to win a game this season. They're 0-16-1 while the Rangers are now 6-11.
"We're super happy with how we've been playing lately. Knowing how it feels to win, we want to win all the time now, it's a ton of fun," said Hrechka.
After two games against Kenora this weekend, Parkland will continue with two more games against teams just above or below them in the standings. They play in Kenora next Friday to kick off a weekend featuring three games on the road. On Saturday, they play Eastman and the Selects are currently just four points ahead of Parkland. They wrap up the trip against the Bruins, a team they just beat at Credit Union Place.
"I think if we just play our game like we have been and everyone puts in 110%, we can beat anyone in this league, we have confidence in ourselves," he concluded.
Details

Contributed by

Darnell Duff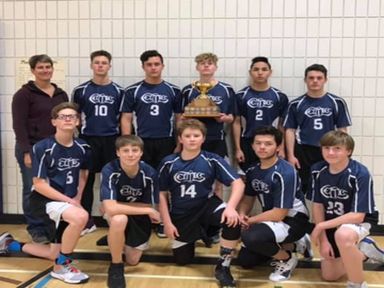 The Ste. Rose Celtics varsity boys volleyball team is heading to the "A" Provincial Championships.
Playing in the zone championships, the Celtics came together to finish in second and they earned the final spot at the provincials by doing so.
In the round-robin, they dispatched of Wawanesa, 25-18, 25-14. They then came up short against Treherne, 12-25, 14-25. They finished out the round-robin, however, on a high note. They beat Rossburn in three sets. After losing the first set, 23-25, the Celtics pulled clutch. They won the next two sets, 25-13, 15-11 to clinch second place going into the playoffs.
They then dispatched of Rossburn in the semifinals, 25-20, 25-15.
Treherne beat Ste. Rose in the finals, but the Celtics did enough to earn their spot and now they'll head to Riverton Collegiate for the event next weekend.
Details

Contributed by

Darnell Duff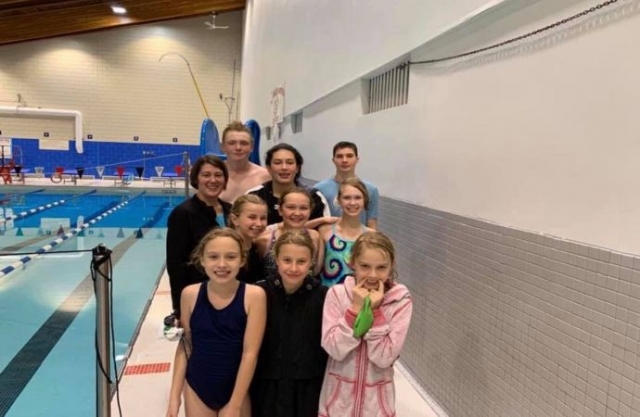 It was a wonderful weekend for the Parkland Gators swim club. They took part in their first meet of the season in The Pas and they came home with a bunch of top notch finishes.
Leading the pack was Kiara Wilson. In the 13 and over age group, she had seven first place finishes while Parker Beer had three first place finishes and four second place.
In the 12 and under age group, Mya Jensen had five first place finishes and two second place finishes.
Kiara Wilson, Matthew Senko, Mila Heschuk, and Parker Beer teamed up to place second in the 4x50 relay.
Details

Contributed by

Darnell Duff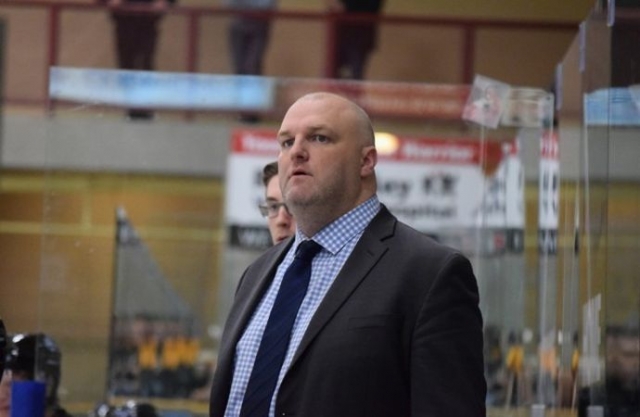 Geoff Grimwood is heading back to the province where he coached junior hockey for three seasons. The Swan Valley Stampeders bench boss has been named one of the coaches for the MJHL/SJHL Showcase which is set to take place in late January in Regina.
Grimwood will join Steinbach Pistons head coach, Paul Dyck as the duo guides Team Belfour. The team will be comprised of the best 20U players. The league will also send one other 20U team and one rookie team. The SJHL also sends three teams and each team plays two games over the course of the two-day event.
"I'm certainly excited about it. It's funny that I used to coach in the SJHL and I remember when we were putting the event together, it's neat that I get to experience it this year," said Grimwood. "It's an exciting opportunity to represent the MJHL and it's an exciting time for the Swan Valley Stampeders."
This year marks the second time Geoff has coached in the event. He was an assistant coach two years ago, but he was on the bench of an SJHL squad. He coached Kindersley that season and spent three years with the program.
"I can't remember all the details, but I remember it being a really good event," continued Grimwood. "Anytime that we can get more exposure for our league, it helps a lot. It's a great thing to run."
Geoff has led the Stampeders to an impressive season so far. With the help of associate coach and associate general manager, Suneil Karod, the Stampeders are 14-7-2. That has them in fifth place in the league, just four points behind the first place Portage Terriers.
They won two of their three games over the weekend and they've now won three of their last four. That includes a big 6-2 win against the Portage Terriers back on Sunday.
"It's certainly a crowded league, everyone is within a couple of points. When you lose a couple you're going down, but when you win a few, it doesn't seem you really move up," continued Grimwood. "We had a good weekend with those wins. But, you kind of have to park that and go out and win more because every game is so important."
Things aren't getting any easier for Swan Valley. They play Waywayseecappo and Portage this weekend. Portage and Waywayseecappo are tied for third in the league, one point ahead of Swan Valley.
"They're two very good teams and they're going to be tough on us," he added.
After this weekend, Swan Valley plays Portage once more this month and they head on the road for two games in Neepawa.
Details

Contributed by

Darnell Duff
Week two of the Parkland Junior Curling Tour has wrapped up.
Here are the results:
Draw 1
Formo Motors (skip Bailey Mangin) 6.
Benson Feeds (skip Shayna Benson) 5.
Intermountain Contracting (skip Karter Meyn) 5.
Swan River Key Chevrolet (skip Presley Sagert) 6.
River Valley Power Sports (skip Makenna Hadway) 8.
Grandview Pharmacy Inc (skip Anya Jackson) 1.
Swan Valley Pharmacy(skip Jessy Meyn) 1.
Old Dutch (skip Colten Gawryluik) 10.
Draw 2
Old Dutch (Colten Gawryluik) 7.
Formo Motors (Bailey Mangin) 3.
Benson Feeds (Shayna Benson) 1.
Swan Valley Key Chevrolet (Presley Sagert) 9.
Swan Valley Pharmacy (Jessy Meyn) 5.
Grandview Pharmcy Inc. (Anya Jackson) 11.
Intermountain Contracting LTD (Karter Meyn) 7.
River Valley Power Sports (Makenna Hadway) 4.
Details

Contributed by

Darnell Duff
The Dauphin Home Hardware Kings battled hard, never gave up, and they were rewarded with a medal over the weekend.
They beat Carman, 3-1 in the bronze medal game to finish in third in the Gold Division at the Peewee tournament in town.
The Yorkton Terriers ended up winning the tournament over Brandon, 4-3.
Details

Contributed by

Darnell Duff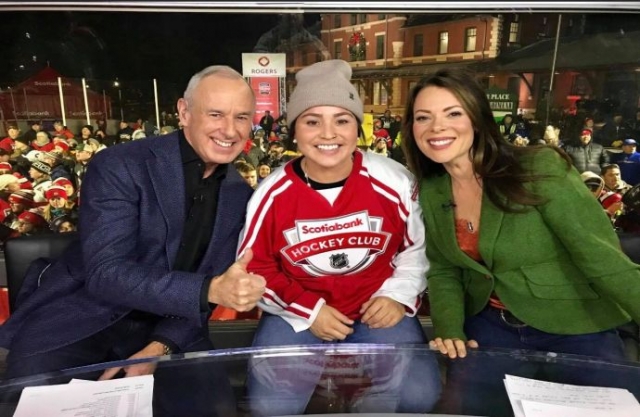 Rogers Hometown Hockey took over Dauphin the past two days. There was singing, other live entertainment, games for the kids, and so much more. Festival attendees also had their opportunity to meet three celebrities.
The first one was a former Dauphin King, Butch Goring and the second was former NHLer, Colton Orr.
The third celebrity became the first-ever First Nations woman to play for the Canadian women's hockey team at the Olympics. She helped the Canadians get a silver medal in Pyeongchang and now she's back playing hockey full-time in Calgary.
Over the weekend, she was back in the place she spent a good amount of her life in, it was Brigette Lacquette.
"It was an honour just to be considered as a celebrity. There are so many great athletes that have come out of Dauphin and the Parkland," said Lacquette. "I got to spend some time with my family and friends. It was really nice to see everyone."
Brigette's first autograph signing was on Saturday at 12:45. She also signed autographs at 4:45 and both sessions were jam-packed. Whoever did go for an autograph also had the chance to hold Brigette's silver medal.
"It was awesome seeing the support. Hockey is massive here and that was definitely shown over the weekend," she continued. "The first thing many people were saying when they held the medal was it was heavy, it was pretty funny."
One of Brigette's cousins is also doing great things on the ice. Hayden Lacquette plays for the Parkland U18 Rangers. They held their Ukrainian Night on Saturday and Lacquette scored two goals to fuel the team to a 3-2 win against Winnipeg in overtime. The overtime marker was scored by Lacquette with less than one second left on the clock.
"All of Dauphin was at the game watching, it was so exciting," said Lacquette. "As soon as he got that pass in front of the net, I had a feeling he was going to score and he did. It was pretty great to see."
Brigette will now head back to Calgary where she trains six times per week and she has a Team Canada camp in a week. They play in several showcase events across North America. Coming up in February, Lacquette will join the team for the "Rivalry Series".
"I'm going to be pretty sad when I have to leave town, but the whole experience was pretty incredible," concluded Lacquette.
Details

Contributed by

Darnell Duff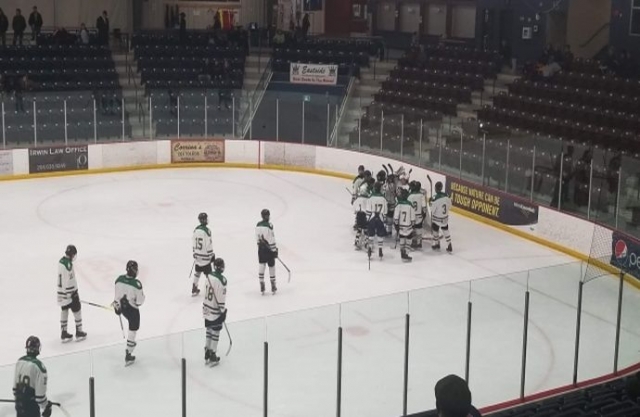 The Dauphin Clippers hockey team picked up a 7-2 win against the Major Pratt Trojans.
Keanu Woodhouse led things with three goals for Dauphin.
Jesse Koshowski, Kayden Bodnar, and Ashton Hlady all scored a goal in the game.
Details

Contributed by

Darnell Duff
The Winnipeg Blue Bombers are heading to Calgary to play for the biggest prize in the Canadian Football League.
The Bombers beat Saskatchewan, 20-13 to book their ticket to the Grey Cup.
Zach Collaros threw for 267 yards in the game.
Winnipeg will play Hamilton next Sunday in the final.
Details

Contributed by

Darnell Duff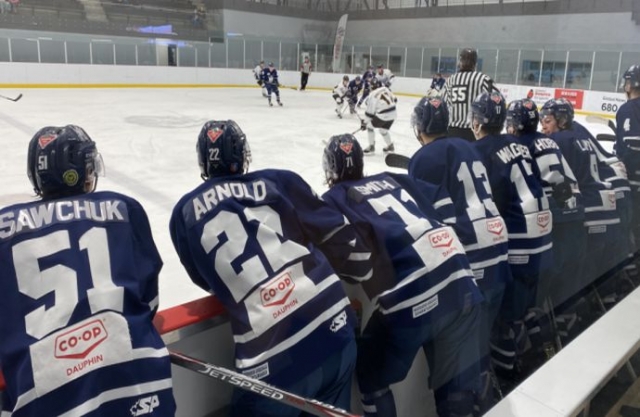 The Dauphin Kings losing streak was extended to four games this afternoon.
Wrapping up a weekend which featured three games, the Kings dropped a 5-2 game against the Winnipeg Blues.
Grady Hobbs and Avery Smith scored for Dauphin.
The Kings next play on Wednesday in Neepawa. Darnell Duff will have the pregame show at 7:15.
Details

Contributed by

Darnell Duff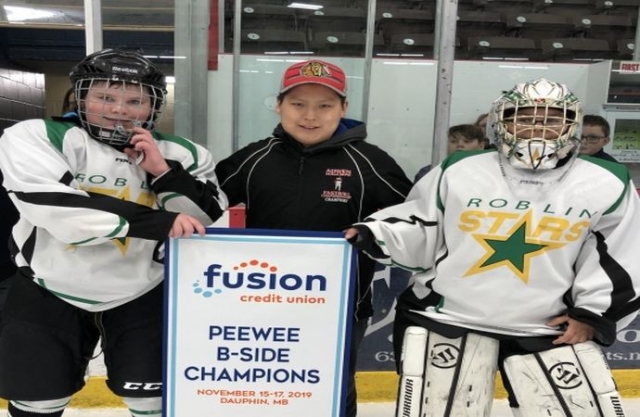 The Roblin Stars picked up a title on the ice this weekend.
In the Fusion Credit Union Silver Division, they beat the Swan Valley A Stampeders, 6-2 to win the B-side.
Winning the Fusion Credit Union Silver Division was the Brandon A Wheat Kings as they beat Thompson.
Details

Contributed by

Darnell Duff