Latest Sports
The Manitoba Junior Hockey League regular season continues to wind down. The Dauphin Kings have two more games to go one of which will be played inside of Credit Union Place as the Winnipeg Blues are in town tomorrow. On Sunday, the team ends their season on the road against the Virden Oil Capitals.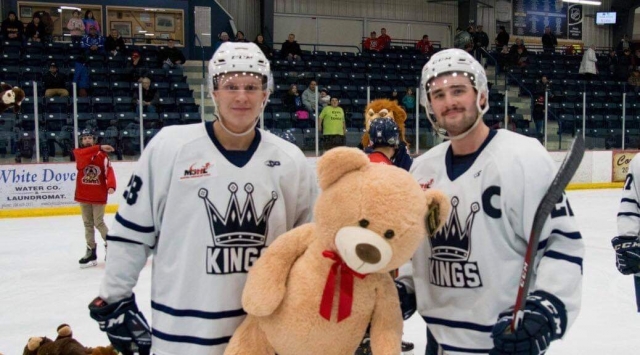 Dauphin has won 30 games this season, one more than they won last year. With the two games left, Dauphin has the chance to win 32 games prior to the playoffs. Eight players from the team have added up at least 30 points as well, including Brayden Pawluk. The 20-year-old has played in 52 games with the team this season and he has 32 points. Five of which are goals and he's also this season's "Teddy Bear Man" as he scored Dauphin's first goal in a game against the Winnipeg Blues back on December 6.
Heading into Friday's game against Winnipeg, Pawluk has helped Dauphin win four straight games. During the streak, Pawluk has five assists, four of which came in a big 10-3 win against OCN.
"It's been quite a wild ride here lately. We're trying to push to jump up the standings," said Pawluk. "We've been able to get a few wins in a row here and now our goal is to overtake Virden with these next two games."
Throughout the month of February, Dauphin has taken down the top teams in the league as well as the teams below them. Back on February 4, they took down Winkler 5-1 in what could have been a first-round preview. In fact, if Dauphin wins their final two games, there is a chance that the two teams will play in the first round.
On February 8, they beat Steinbach, 5-2, and they once again beat Steinbach six days ago, 3-2. The team played well in a 5-3 loss against Portage and they took down the Terriers just recently at Credit Union Place. Add it up and that's three combined wins against the top two teams in the league.
Dauphin has also added up 23 goals in their last four games.
"We're a really confident group right now, we know we can beat anyone on any given night," said Pawluk. "It's all about preparation and we're making sure we're ready to go every night."
The Winnipeg Blues pay a visit to town tomorrow and they'll be looking for the upset which would also keep their playoff hopes alive. With two games left, the team is one point back of the final playoff spot. After a game against Dauphin, they'll play against OCN to wrap up the regular season. They are currently chasing Selkirk who has a tough ending to their season with two games against teams near the top of the standings (Steinbach and Winkler).
Being a 1999 born player, this is Brayden's final year of junior eligibility. After winning 29 games with the team last year just to come short in the first round of the playoffs, Pawluk is ready to change the fate and make a push with this year's club.
"We're all hungry to take this as far as we can and we want to make one final push," continued Pawluk. "It would be extremely special if we could bring a ring back to Dauphin."
This part of the season is very important for Brayden as he hopes to play hockey at the next level beginning next season. Whether that be in Canada or the United States. Heading into the Turnbull Cup Playoffs, Pawluk is pleased with the fact he's giving this team everything he can.
"I think I'm playing the best hockey I can. It's just about continuing to be consistent every single game," concluded Pawluk.
You can hear Darnell Duff's full chat with Brayden during the final Dauphin Kings Power Play Show of the season tomorrow just after the 4:00 p.m. news, weather, and sports.
Details

Contributed by

Darnell Duff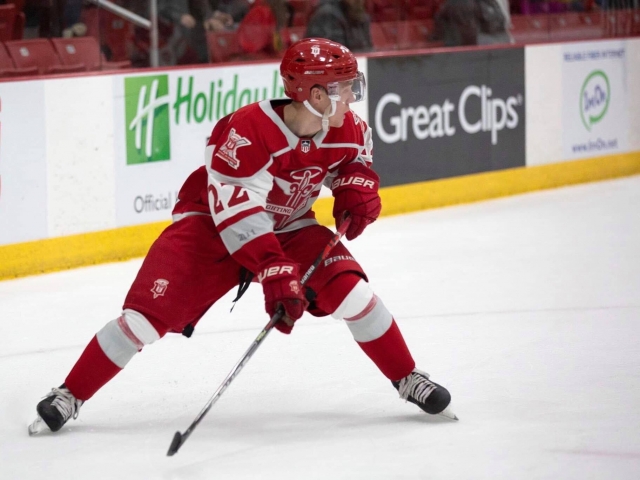 Riese Gaber will join the University of North Dakota Fighting Hawks Division 1 hockey team next fall. Prior to that, he's finishing off his junior hockey career with the Dubuque Fighting Saints of the United States Hockey League and he's certainly making a lot of noise and so is the team.
They're currently 30-12-1 and they're in second place in the Eastern Conference. In the last 10 games, they've gone 7-3 and they won their last time out.
"Yeah, I think we've been pretty happy with how things have gone. Of course there have been some bumps in the road," said Gaber. "With that said, I think it's been a pretty outstanding season so far.
When it comes to what Riese is doing individually, he's putting a special season together and it's been one of milestones as well.
Back on February 15, Riese suited up in his 100th United States Hockey League game, all of which have come with the Fighting Saints. On February 14, Gaber scored one goal in a 4-2 win over the Green Bay Gamblers. That was Riese's 50th career USHL goal. So in a matter of 24 hours, Gaber scored his 50th marker and played in his 100th game.
"Yeah, that shows that I've had some success here. It's not that big a deal for me, I just have to treat every game as a new one," continued Gaber. "I'm looking forward to moving on here."
Overall this season, Gaber has found the back of the net more than any other player. With his 32 goals, the Gilbert Plains native leads the USHL in goal scoring. He has five more than Trevor Kuntar. Four of Riese's goals have been game-winners while he has four power-play goals and one shorthanded marker.
Gaber has also chipped in 17 assists. His 49 points are tied for the eighth-most in the league; however, he isn't far from the top. Three different players lead the league with 53.
Riese has 125 shots this season. Of players who have played more than 30 games, he has the highest shot/score ratio at 25.6 percent.
"I feel like I've been playing some really good hockey lately and I've been dialed in," continued Gaber. "I'm trying to score every game and obviously, that's not easy, but I think I've done a really good job of doing whatever I have to. I work hard and the rest has taken care of itself."

"I've been really focused all year on the goal lead, but if I could win that and the scoring race that would be pretty cool," he continued. "With that said, I'm not worried too much about it, I just want to help this team win games."
The team plays 19 more games including a huge home-and-home with the Chicago Steel. Chicago currently leads the Eastern Conference by 14 points over Gaber and the rest of the Fighting Saints. The team ends their regular season with a home-and-home against Cedar Rapids on April 17 and 18.
Just as he has been all season long, Riese believes in this team.
"Right from up and down the lineup, we have everything you need to be a contender," concluded Gaber. "It's tough to beat us when we're playing our game."
Riese will also be getting some family support this weekend. His mom Krista has made the trip to Dubuque to watch their two games against Sioux City and Sioux Falls.
Details

Contributed by

Darnell Duff
The Grand Plains Peewee Hawks are getting set for a championship series.
The team beat Neepawa, 6-5, in overtime in game two of their best of three series to sweep it.
Six different Hawks scored in the game with Zak Fillion notching the first marker. Ronin Mouck, Kingston Stirling, Landon Garton, Adel Wiebe, and Montana Jubenvill also scored singles in the win.
The Hawks will challenge the Brandon Wheat Kings in the B-side final in the Parkissimo Hockey League. The series start date is yet to be determined.
Details

Contributed by

Darnell Duff
For the first time in several years, a softball program could be on its way to Dauphin. There will be a meeting on Monday, March 2, at 6:00 p.m. in the lobby at the Parkland Rec Complex.
The goal is to start the league with girls in the 12U age group, however, interested parents with girls older or younger than that are welcome to come to the meeting.
"We're trying to figure out who's interested and what it takes to play in a league in the Parkland, attend a few tournaments, and even go to the provincials," said Phil Fafard. "We welcome anyone to come down and hopefully, we can go forward from there."
Starting softball at a young age can very well create opportunities moving forward.
"Softball is a lifelong sport. There are several opportunities for elite players to play at the next level when it comes to colleges in Canada and United States as well."
Speaking of softball, it will be played at the Manitoba Summer Games that are coming to Dauphin from August 9-15.
Details

Contributed by

Darnell Duff
The Winnipegosis Curling Club was the home to some fantastic action at their annual "Mixed" bonspiel.
Taking home the title was Team Sahulka. The foursome included Chad Sahulka, Kaitlyn Payette, Richard Sahulka, and Paige Sahulka.
Team Devos took home the second event. The team included Logan Devos, Rachel Sime, Michala Sime, and Tori Dyck.
Winning the third event was another Team Sahulka. The foursome included Brady Sahulka, Keith Murkin, Osten Sahulka, and Linda Murkin.
Details

Contributed by

Darnell Duff
The Dauphin Clippers junior varsity girls' basketball team has had a superb season with three tournament wins, a third-place finish, and they also have a consolation title to their name. At the end of each season, one team will be able to call themselves a provincial champion.
The Clipper girls have earned the right to compete as they'll look to do just that. Hosting the Zone Championships at the DRCSS, Dauphin hammered their opponents to book their berth.
In their semi-final, Dauphin took down Virden, 105-11. That was followed with a must-win against Neepawa and win was what the Clippers did as they cruised in a 99-37 victory.
"I'm definitely very proud of this team. We've played very solid defensively all year and we are super unselfish offensively," said Steve Hudyma. "These girls are so tight-knit and they have a ton of fun on and off the court."

"After the game was over, it kind of set in for some of the girls and they realized that we were going to the provincials," he added. "Especially the grade 10 girls, it was a special moment."
The provincials are set for March 12-14 in Winnipeg. Dauphin is currently ranked the sixth-best team in the "AAA" category in the province.
"Anything can happen, you need to win to keep going," concluded Hudyma. "If we stay true to what our team is, I think we'll have some success."
Details

Contributed by

Darnell Duff
30 hours, that's how long it took for Team Jacques Gauthier to make it to Krasnoyarsk, Russia to take part in the 2020 World Junior Curling Championships. They earned their berth to the event by winning the New Holland Junior Championships after a wonderful week.
In their way of a world title were the best junior teams from around the world, a daunting task no doubt. In the end, however, it was a task that the team was able to get past and now, Brandon's Brayden Payette is back in the Wheat City with a world championship gold medal.
The foursome ended up beating Team Switzerland, 7-2, in the gold medal game in a field that truly was "stacked". This was Brayden's first-ever gold medal on the world stage. Prior to this curling season, he hadn't even travelled abroad.
"It's crazy to think. I never thought I would be able to call myself a world champion, it's hard to believe," said Payette. "You see others do it and you always think to yourself, I would love to do that. With that said, you don't ever think it's going to happen, it's just amazing."
The team's quest for a gold medal began with a defeat, however. They lost to the United States, 5-4, in their first draw. The team would catch fire after that with seven straight wins. In their final round-robin game, they fell to Team Scotland so they finished with a 7-2 record. In the semi-final, they took down Germany, 7-4. That was followed with a dominating 7-2 win in the finals.
After taking a 2-1 lead into the fifth end break in the final, Team Canada blew the game open with two in the six and they stole another two in the seventh, followed by another steal in the eighth. Down 7-1, Switzerland scored one in the ninth, but it was too little, too late as Payette, Jordan Peters, Zachary Bilawka, Gauthier, alternate Thomas Dunlop, and Coach John Lund celebrated the big victory.
"Things felt real in the ninth end when we were up by six. I just looked at Zach and we had the biggest smiles on our face and Jacques did when he came down the ice," continued Payette.
When it came to competing against the best in the world, it was just another bonspiel for Payette and it's certainly one that he'll never forget.
"You just have to take it like any other game, it's just four other guys and you have to play to your best," he continued. "I'll never forget this moment. It's absolutely crazy that we did this together."
Canada has now won the world juniors three years in a row. Prior to Gauthier taking this year's event down, Team Tyler Tardi won the past two years. With the off-season now upon Payette, he's not sure what the plan is for next year. For now, it's about enjoying and realizing that he's going to forever be a world champion.
Details

Contributed by

Darnell Duff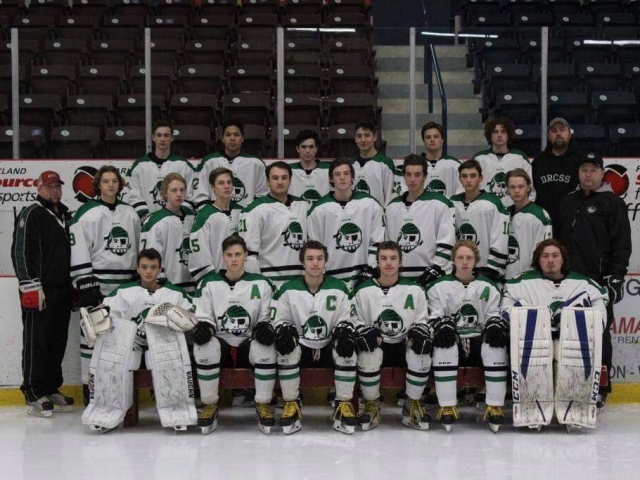 Playoff hockey is what you play for all season long and for the Dauphin Clippers, they're sure riding high into the Westman High School Hockey League Playoffs. The team kicks things off tomorrow against the Boissevain Broncos inside of Credit Union Place.
Dauphin went 19-2-1-1 in the regular season and they won the North Division for a third straight season. Fun fact, the Westman High School Hockey League switched from just a South Division to three divisions to start two seasons ago and now there are four.
Since the adoption of different divisions, Dauphin was won three straight North Division crowns. This year, they edged Major Pratt by one point. The Boissevain Broncos, meanwhile, went 17-6 and they finished up in second place in the South Division. They allowed the fewest goals in the league (43) while the Clippers allowed the third-fewest (53). Offensively, Dauphin potted 134 goals while the Broncos added up 120.
"At this point, those stats from the regular season don't matter, it's a fresh season," said Rick Freese, Head Coach. "Boissevain is a good team. They don't gamble on the side of offence, they're very sound defensively. We have to be prepared for a tough battle."
The puck will drop on game 1 at 7:30. Game two will be played on Saturday at 5:30 in Boissevain. If needed, the two teams will go to battle in game 3 on Sunday inside of Credit Union Place at 1:30.
Over the weekend, the Clippers program achieved something that they haven't in a few years and that's qualify for the AAA/AAAA Provincial Championships. The last time they made that event was in the 2015-16 season. They lost two close games at the provincials against Lord Selkirk and Vincent Massey.
"These guys deserve it, they've played all year and they've bought into the systems," concluded Freese. "If there's anyone that deserves to play in that event, it's these guys. It's nice that they're going to get to show the province what they have."
The provincials are set for March 13-16. However, no games will be played on Sunday the 15th. If Dauphin advances to the provincial final, it'll be played on the 16th.
Details

Contributed by

Darnell Duff
Andrew Liwiski played the role of local hero for the Dauphin Kings tonight.
The Dauphinite scored the game winner with just more than two minutes left as the Kings beat the Neepawa Natives, 3-1. Liwiski's goal was followed by an empty net marker from Baron Thompson.
After some good offensive zone pressure, the puck was cycled up to Liwiski and he did the rest on a shot from the point.
He notched the game winning goal, his second goal of the season with 2:05 left.
Baron Thompson and Braeden Young also scored for the Kings in the win who won their 30th contest.
Dauphin now has the same amount of points for sixth as Virden does (65), however, Virden has one game in hand which will be played on Thursday.
Dauphin returns to the ice for a game on Friday. Darnell Duff will have the final Power Play Show of the season at 4:00 p.m. He will also broadcast the regular season finale from Virden on Sunday at 6:45.
Details

Contributed by

Darnell Duff
Every season, the Manitoba U18 AAA Hockey League announces its all-star teams at the end of the regular season. When the Parkland Rangers hosted the Norman Northstars this past weekend, they ended the season with two straight wins. It was also an extra special Sunday afternoon for Russell's Keaton Ziprick.
The 17-year-old had another solid season in net and he was rewarded for his contributions. The second-year U18 Ranger was named to the second all-star team. He received the award and a golf bag just prior to the team's 8-4 win against the Northstars.
"It feels amazing. I didn't even really know it was a thing before I won it," said Ziprick. "When Coach Footer told me I won it, it was a really special feeling, and it means so much to me."
Throughout the season, Keaton won 12 games as he took over the number 1 role for the team. He had a 3.86 and a .900 save percentage. That save percentage is extra impressive because of what Ziprick faced all season long. 1205 shots were sent his way which adds up to him facing just more than 37 shots per game. One of his best performances came when he made 54 saves in a 2-1 win against the first-place Winnipeg Wild.
He also made 36 saves in a 2-1 win against the Yellowhead Chiefs, who are contenders in the league.
"I think this season went pretty good. I had a solid team in front of me and I just tried to focus on every shot," continued Ziprick. "There were some pretty great moments, I think that win against the Wild was the best one."
Keaton also picked up his first-ever junior regular-season win when he played against the Wolverines earlier this season after Matthias Smith was injured. The off-season has now arrived for Keaton and the rest of the U18 Rangers. Keaton is still eligible to return to the Rangers next season which would be his final one.
However, he will try to crack the Dauphin Kings roster.
"I have a big couple of months ahead of me, I have to work hard, get in the gym a lot and prepare for camp," concluded Ziprick. "If I don't make the Kings, I'll be back with the Rangers."
Details

Contributed by

Darnell Duff
The best athletes that are 12-17-years-old will compete in the Treaty 2 Winter Games which are set to begin tomorrow on Pinaymootang First Nation, just north of Ashern. Badminton, basketball, hockey, and snowshoeing are the four sports that will be featured.
Two different age groups will split up the competition. There will be 14 and under and 17 and under for the four-day event which welcomes athletes from all across Treaty 2 territory.
The event will come to a close on February 28 with the Closing Ceremonies at 5:00 p.m. at the PFN Conference Centre. 730CKDM is a proud media sponsor for the event so stay tuned for results throughout the event.
Details

Contributed by

Darnell Duff