Latest Sports
Ryan Pulock, Barry Trotz, and the rest of the New York Islanders are moving on to the Sweet 16 in the NHL Playoffs.
Pulock had one more assist in today's game as the Islanders ended Florida's season with a 5-1 win. Antony Beauvillier scored New York's first two goals as they went up 2-0 and they never looked back as they skated their way to the next round of the playoffs.
With Pulock's assist, he had one goal, and three assists this round.
Details

Contributed by

Darnell Duff
The Santa Clara Baseball League's regular season has come to an end and the Ebb and Flow Lakers finished things with a 3-7 record.
The Neepawa Cubs; meanwhile, had a very successful campaign as they went 8-2 which puts them in second heading into the four-team playoffs that begin next week.
Both of Neepawa's defeats came at the hands of the Portage Padres who finished unbeaten at 9-0-1 and they will now play Plumas in the first round, best-of-three series.
Neepawa scored 76 runs, the second-most in the league while they allowed a league-low 25 runs.
"We're feeling good about the season. I think we know that we can beat Portage, it's just about us showing up and playing our top game," said Garett Rempel.
With their second-place finish, Neepawa will play the Carberry Royals in the first round of the playoffs.
Carberry hasn't won a league title dating back to 2000; however, they're always known as league contenders and they finished the season at 5-5. The Cubs downed Carberry, 8-1, and 4-3 in their two games against them.
"They are just a scrappy team always. They have good pitching and good hitting," said Rempel. "From the top to the bottom of the lineup, they have skill. They're a good ball club and it should be an exciting series."
Game one is set for Monday night in Neepawa followed by game two on Wednesday in Carberry. If needed, game three will be played next Friday in Neepawa.
Details

Contributed by

Darnell Duff
The Winnipeg Blue Bombers made history last year when they beat the Hamilton Tiger-Cats to win the Grey Cup, something that was nearly 30 years in the making.
Yesterday, they had another chance to celebrate as they unveiled their championship rings.
The hardware features the Winnipeg skyline and the Golden Boy along with a custom quote from each player and, of course, the classic W on the front of the ring.
Bob Irving who calls the Club's games on 680CJOB was also presented with a ring. When it comes to this year, Winnipeg has been chosen as the league's Hub City if a 2020 season can be played where the schedule would be truncated.
Details

Contributed by

Darnell Duff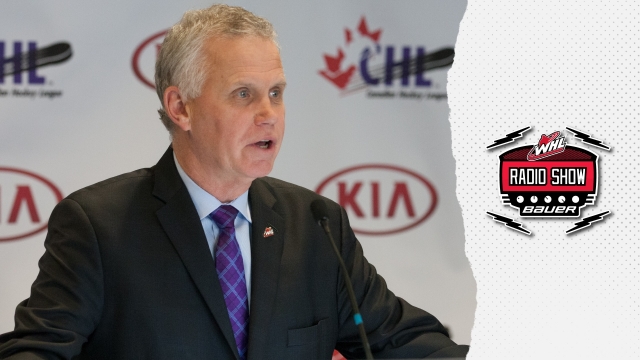 The Western Hockey League has officially announced that they're scheduled to open the 2020-2021 regular season on Friday, December 4, 2020.
The League remains committed to playing a full schedule of 68 games which would be followed by four rounds of playoffs.
"Regardless of our start date, the WHL is committed to playing a full regular season and playoffs in 2020-2021," stated WHL Commissioner Ron Robison. "In our discussions with the government and health authorities, it has become apparent that additional time is required to ensure we can return to play in a safe and responsible manner. Our WHL health and safety protocols have been well received by the health authorities but we have several key issues that we will need to reach a resolution on in the coming months."
It's also been said that the Memorial Cup will be played in June.
Details

Contributed by

Darnell Duff
The South West Baseball League has been known for years as one of the best senior leagues in the province and they're certainly living up to its billing this season. Five teams have at least six wins and six teams are above the .500 mark.
Two teams have at least eight wins, one of which is the Oak River Dodgers who lead the league currently with a perfect 9-0 record. The Dodgers have scored an average of 10.11 runs per game this season while they've given up just more than three-per-game.
The Dodgers have a one-game lead on Rivers, a team that features Wyatt Tweet and Dawson Tweet. Oak River; meanwhile, features Conor Geekie of Strathclair.
"This organization has always been a team to watch out for," said Geekie. "I'm playing with older guys and all of them know my brothers. We have a great group of guys and we're getting the job done."
Morgan Geekie has played for the team in the past and he's now in the NHL's Eastern Conference bubble with the Carolina Hurricanes who have advanced to the Sweet 16. Noah Geekie; meanwhile, will be heading to Kansas to continue his college career very soon.
In his second year with the team, Conor has definitely been a big part of the team's success with his 14 hits and a .560 batting average. Of hitters across the league that have as many at-bats (25) as Conor, the Strathclair native is second in the league with that average. He has six singles, seven doubles, and one home run. Geekie also has three stolen bases, good enough for top five in the league.
"I think my success comes along with team success, it's not about me at all," said Geekie. "We have a goal of being undefeated; I'm not worried about my average. We want to win our next two games here entering the playoffs and that's the only thing I'm focusing on right now."
The Dodgers will face two stiff tests to end the regular season. They're on home field against the Virden Oilers tomorrow before playing in Rivers in the season finale on Sunday. Virden is 6-3 right now while Rivers is 8-1, still within reach of Oak River.
Conor has gone 3-for-6 in his last two games as the team scored a combined 39 runs against Elkhorn. Geekie won't be at tomorrow's game; however, he will play in the season finale on Sunday.
"You couldn't have scripted it any better playing against these two tough teams to end the regular season," added Geekie. "We know they're not going to be easy games. They're going to be intense and a lot of fun."
The Strathclair native won't be in action tomorrow as he looks to earn a spot on Team Manitoba for the Canada Summer Games. Niagara will host the 2021 edition of the prestigious event that welcomes the best athletes in Canada in a vast variety of sports and the men's baseball event will be U17.
Conor's brother, Noah took part in the 2017 CSG as he helped the Manitoba men finish in second place. Conor is now looking to become another Geekie to represent Manitoba on the national stage under the brightest of lights.
"I'm trying to follow in my brother's footsteps as much as I can. It's not a competition but at the same time, it is," offered Geekie. "Just getting the chance to compete with the best young players in the province is an honour and I really hope I can make this team."
Geekie says he's a confident guy but he's not being overconfident heading into the tryouts.
Later this month Conor will be heading back to Winnipeg as he aims to crack the Western Hockey League's ICE after playing in seven games last season with the team. The rest of last year was spent with the Yellowhead U18 Chiefs where he had 19 goals and 38 points in 30 games.
One year prior to that, Geekie posted 86 points with the U15 Chiefs and he was then drafted second overall by the ICE in the WHL Bantam Draft.
"Playing in those seven games last year was such a big thing for me," ended Geekie. "Getting to know the guys, the maturity in the room and the style of play was really important for me. I've been training all summer and I think I'm ready to make the jump full-time."
As mentioned above, Morgan Geekie had one assist in the 'Canes qualifying series against the Rangers as they advanced. The American Hockey League champion played more than 30 minutes across three games in the sweep.
Details

Contributed by

Darnell Duff
You only have two more days to get your discounted Dauphin Kings season tickets which also allows you to choose where you'll sit for the upcoming 2020-2021 season.
With the recent news that Grady Hobbs is set to return for one more season with the Club, there is a ton of buzz ahead of the new campaign, one that is sure to be an exciting one for fans in the area.
The Kings season ticket blitz is currently going on at the Speedy Glass South Ticket Office inside of Credit Union Place.
"Things are going pretty good so far, lots of people have been coming down to grab their tickets," said Christian Laughland, Director of Business Operations. "We're expecting to be a good team this year and obviously, people are feeding off that energy."
The cost to get your season tickets is just $229 + taxes & fees for adults. That works out to just $6.94 a game which would save you $5 per game on walk-up prices.
Students (Ages 13 to 18) will pay $119 + taxes & fees while the Kings Kids Club (Ages 5 to 12) returns for $50 + taxes & fees.
There are also flex tickets up for grabs. A 30 Game Flex Pack will be worth $249 + taxes & fees and the 10 Game Flex Pack returns at $99 + taxes & fees. As a treat for fans, you'll be getting one extra home game as the MJHL Showcase has been cancelled for the upcoming season.
"Flex packs are great for people that can't make it to every game during the season," ended Laughland. "You can choose when you want to use the tickets. You can use a bunch at once and bring some friends, or save them throughout the season, it's your choice. Flex tickets don't expire until the end of the regular season."
After tomorrow, season tickets will go up in price.
SPEEDY GLASS SOUTH TICKET OFFICE HOURS:
Thursday, August 6 - 8:00 a.m. to 5:00 p.m
Friday, August 7 - 8:00 a.m. to 5:00 p.m.
Details

Contributed by

Darnell Duff
Ryan Pulock, Barry Trotz, and the rest of the New York Islanders are going to have to wait a couple more days before getting another chance to advance.
Playing the Florida Panthers earlier today, a two-goal deficit was too much to overcome in a 3-2 loss. The loss still has the Islanders up 2-1 in their best-of-five qualification series.
After a two-point outing yesterday, Ryan had another assist in the defeat. Game four will be played on Thursday.
Details

Contributed by

Darnell Duff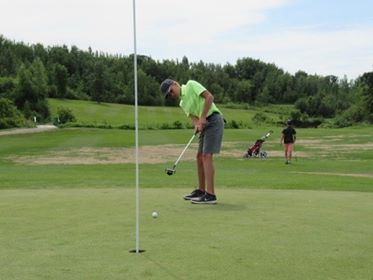 Quinten Fisk has now been playing golf for two years. A member at the Gilbert Plains Country Club, the Dauphinite plays as often as he can with a strong group of junior golfers that the region has to offer.
Some of Quinten's friends play on the Westman Junior Tour and being the competitor that Quinten is, he decided to join the circuit this season and the summer has certainly brought forward an improving golf game and some memories that the 12-year-old will never forget.
"It's been a lot of fun playing on this circuit," said Fisk. "I've had the chance to meet so many new people and I get to play on different courses around the province, that's pretty fantastic. I'm enjoying every second of it so far."
In the first event of the season back on June 9, Fisk fired a 102 which was followed up with a pair of 101's in his next two rounds. After a two week break from the action on the Tour, Fisk came back rejuvenated and feeling good for his event on July 21 at Pleasant Valley where he shot a 100.
Seven days later, Fisk posted a 94, his best round of the summer so far on the circuit but he wasn't done there.
Playing at the Neepawa Golf and Country Club in yesterday's event in the 12 & under age group, Fisk shot a 90 to earn himself seven points. It was not only Quinten's best round on the tour, but it was also his best round of the season.
The score earned him a third-place finish, tied for his highest this season. Quinten also made a pretty miraculous shot when he chipped in for birdie on the first hole.
"It was definitely a good feeling, it shows that I'm improving," added Fisk. "I'm pretty proud of myself and that chip in was awesome."
Quinten's seven points yesterday now gives him 25.5 on the year, good enough for a fourth-place tie. However, he is only 2.5 points back of Tyson Draper who is in third place. With one more event to go next week at Oak Island, Fisk will have a good opportunity to finish inside the top three with another solid round. In their head-to-head, Fisk edged Draper by two strokes yesterday.
"I just really have to focus. I need to read the putts and focus on my short game," said Fisk.
On the ice, Quinten will get back at it next week when he starts practicing with his AAA team in Brandon before the team plays in a tournament later this month in Brandon. Fisk will be trying out for the U13 AA Kings this season and he says he's thrilled to be back on the ice and he can't wait for the season to start.
Dauphin rolls:
Fisk isn't the only golfer from the Parkland who had a great performance yesterday. Jackson Delaurier shot a 79 to win the 14 & under age group by eight strokes. He also won the Closest to the Hole in his group. It was Jackson's sixth championship of the summer and he also finished in a tie for first in the other event.
He has a seven-point lead entering next week's season finale and he can clinch the title with another strong outing. Hayden Shtykalo will enter next week's event tied for top spot in the 12 & under age group.
Details

Contributed by

Darnell Duff
The hockey season in the Parkland is right around the corner. In fact, just seven days from now is when the first booking will hit the ice at Credit Union Place and Dauphin Recreation Services is working hard inside of Credit Union Place to get the state of the art facility ready for action.
All of the decals and lines were put in last night. The crew is now light misting to seal everything in and over the next couple of days, they'll be putting heavy floods in to build the ice up. The Zamboni will hit the ice by Saturday to shape and shave the ice to get it ready.
Wes Carnegie who will celebrate his three-year anniversary at DRS next month says this time of year is always the most exciting.
"After everything that is going on, it's really nice to get the ice back in and people booking slots," said Carnegie, Operations Manager. "It's nice to know that people are really excited to get back in the rink, it'll be nice to see them."
August will include the Parkland U18 Rangers training camp as well as a few other camps. The Dauphin Kings are tentatively set to begin their main camp early next month.
Carnegie also assures that the Parkland Rec Complex continues to be an extremely safe place for all visitors. They have protocols put in place and they are sanitizing all touchpoints more often than in the past. Dauphin Rec also purchased a "Fogger" which puts a chemical into the room that sanitizes everything. It takes about three minutes to do a dressing room, it sits for five minutes and everything comes out sparkling clean and sanitized.
"We're taking things one step further to assure the public feels safe coming into our facility," ended Carnegie. "We have a wonderful crew here that does whatever it takes to keep this place in great shape for everyone to enjoy."
When it comes to the Rotary Arena and the Dauphin Curling Club, you'll have to wait a while still. The ice at the Rotary will be in by mid-October while the DCC will be ready for October 1.
Details

Contributed by

Darnell Duff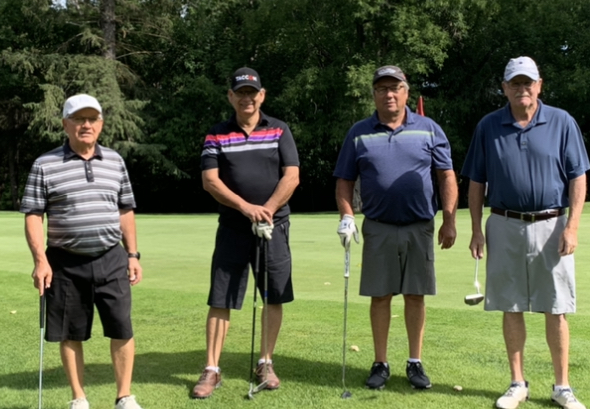 Dennis Lukey shot the low round of the day to win the senior tournament at the Gilbert Plains Country Club.
He shot a 72 to beat Charles Blackbird by one stroke. Nelson Leask finished in third with a 78.
First Flight:
1st - Tom Monson - 82 CB
2nd - Calvin Campeau - 82 CB
3rd - Edmon Quill - 83 CB
Second Flight:
1st - Joey Pasternak - 86 CB
2nd - Ron Watson - 86 CB
3rd - Murray Kalechyn - 86 CB
Third Flight:
1st - Sheldon Birrs - 89 CB
2nd - Howard Cooper - 90 CB
3rd - Frank Clement - 90 CB
Fourth Flight:
1st - Bruce Hannibal - 93 CB
2nd - Merv Lynxleg - 93 CB
3rd - Robert Otke - 94 CB
Fifth Flight:
1st - Laurie Vrooman - 96 CB
2nd - Rick McCaig - 97 CB
3rd - Tom Archuk - 97 CB
Sixth Flight:
1st - Doug McCoarvie - 101 CB
2nd - Don Snitka - 101 CB
3rd - Frank Douglas - 101 CB
Seventh Flight:
1st - George Fischer - 108 CB
2nd - Harvey Taylor - 108 CB
3rd - Wally Shepard - 108 CB
Putting Contest - Bill Murray
Closest to the Line on #5 - Russ Panagapko
Closest to the Hole on #4 - Keith Pottle - 11.75 inches
Closest to the Hole on #14 - Wayne Coukell - 7 feet
Women's Championship:
Pearl Maksymetz shot an 88 to win the title. Lindsa Hamilton was in second with a 91 while Gaylene Stoughton shot a 92 to finish third.
First Flight:
1st - Linda Ushkowski - 110
2nd - Bertha Davis - 111
3rd - Nettie Tycholes - 112
Closest to the Line on #5 - Linda Hamilton
Closest to the Hole on #9 - Pearl Maksymetz - 16 feet, 11 inches
Closest to the Hole on #17 - Donna Campbell - 10 feet, .5 inches.
133 golfers in all took part.
Details

Contributed by

Darnell Duff
A pair of Parklanders are just one win away from advancing to the Sweet 16 of the NHL Playoffs.
Ryan Pulock and Barry Trotz are now up 2-0 in their best-of-five series against the Florida Panthers after a 4-2 win earlier today.
Pulock had a great game with one goal and one assist. Jordan Eberle led the crew with a pair of goals.
New York can sweep the series tomorrow when the teams hit the ice at 11:00 a.m.
Details

Contributed by

Darnell Duff