Latest Sports
The Dauphin Kings' have once again beaten the Steinbach Pistons and because of it, they're heading to the playoffs.
The 2-1 win gives Dauphin their first playoff berth since the 2013-14 season when they advanced to the RBC Cup.
Dauphin opened up the scoring in the second period off a scrum in front in which Riley Shamray came up clutch again. He found the puck in a crowd and beat Matt Lenz.
With 0:07 left on a power play a little bit later in the period, Dauphin's Bradyn Smelski delivered a perfect pass to Avery Smith on a rush. Smith did the rest and beat Lenz blocker side as Dauphin took a 2-0 lead.
Steinbach did get back in the game later in the period. Tyson McConnell brought the puck into the Kings' zone and took two shots which Ethan Slobodzian saved both. On a third chance, Easton Bennett netted one past Slobodzian with just 50 seconds left in the second to trim the deficit in half.
The Kings' locked it down defensively in the third by only allowing seven shots, all of which Slobodzian turned away.
In the two-game set, the Kings' allowed a combined 51 shots while recording 82 of their own.
"It feels awesome, it was a big two-point night and it feels great to clinch a playoff spot against a team like Steinbach," said Avery Smith who scored the game-winner. "We're excited to see how the rest of the season turns out."
"It's an electric feeling right now, we're just trying to roll with it," he added. "We want to keep rolling so we can go into the playoffs on fire."
The win was Dauphin's 60th point of the season and their 27th win. With Selkirk idle tonight, the Kings' are just four points behind them for fourth place but Selkirk does have three games in hand.
Winnipeg won tonight so Dauphin remains two points ahead of them in sixth place.
Ethan Slobodzian earned his seventh win of the season for Dauphin and as mentioned before, it was his second in as many nights.
"Slobodzian was fantastic all weekend long," said Doug Hedley. "We knew he could play when we picked him up. He won a series in the AJHL last year and it's not easy to win in that league. He's got a lot of confidence and he stopped the pucks that he should."
"We would like some more goals, but we did a fantastic job of controlling the play in the neutral zone," said Hedley. "Our defensive zone has come a long way and guys are communicating a lot more. Things are getting good."
Dauphin returns to the ice on Wednesday as they play the Waywayseecappo Wolverines. That's the next time Kings' hockey returns to 730CKDM with Darnell Duff as the Parkland Source for Sports pregame show hits the airwaves at 7:15 p.m.
More:
Kolby Johnson suffered a lower-body injury last night and is expected to miss two-three weeks.
Details

Contributed by

Darnell Duff
The 2020 Manitoba Canola Growers Junior Men's and Women's Curling Provincial Championships are coming to Dauphin.
From January 1-5, 2020, several of the top curling teams in the Parkland will get the chance to win a buffalo in front of all of their friends, family and in their home region.
"This is fantastic news for junior curling in the Parkland," said Mark Hadway, one of the co-chairs. "We have many teams that represent the Parkland at the provincial level, and now they get everyone coming to compete on their ice."
Not only does the Parkland have teams compete at the provincial level, but the teams that do often perform very well. For instance, Dauphin's Lauryn Kuzyk and her team won the Canola Growers in January. That team is eligible to play again next season as well.
Dauphin's Lawson Yates, Terron Stykalo and their foursome ended up being in the final four at the 2019 event as well. Many other Parklanders played in the event including Dauphin's Carter Williamson and his team on the men's side while Emma Jensen and her team also played in the event and should be title contenders at the 2020 event in Dauphin.
"That's 99% of the reason why this event is coming to Dauphin, because of the success that's coming from this region," said Hadway. "Kids are working hard and are representing us so well. It's a privilege to get the chance to give the Parkland curlers a chance to play in this event in Dauphin."
The event will be played between the Dauphin Curling Club and Credit Union Place. Four sheets will be used at the DCC and four will be made and used at Credit Union Place.
"These kids get to watch all of the best players play on arena ice on TV, so it's really exciting that they're going to get that same chance," Hadway added. "We're going to have Greg Ewasko coming in to make the ice and he's one of the best in the world."
16 men's and 16 women's teams will be split up in two pools of eight on each side. The top four teams overall will make the playoffs on the men's and women's side.
"There is pressure on every team that plays in this but especially for our Parkland teams on their home ice," said Hadway. "We're hoping they just remain calm and relax. This is a learning process for everyone and it really is the next step. We hope to graduate these players to the next level."
Gord Wood is joining Mark as a co-chair and the next step is getting a committee together.
Details

Contributed by

Darnell Duff
The Parkland Bantam Women's Rangers kicked off their Showcase in Winnipeg with a dominating win.
Allee Hrechka led the Rangers with three goals while Jayselyn Nybo chipped in two in a 9-2 thumping of Interlake.
Hrechka also added an assist for a four-point game. Brooklyn Hramalak also had a four-point game with a goal and three helpers.
Ashley Shiner, Brittan Yaschyshyn, and McKenna Lawless all added one each in the big win.
The team continues with two games today.
Details

Contributed by

Darnell Duff
Riley Shamray scored the game-winner in overtime and the Dauphin Kings' beat one of the league best, Steinbach Pistons, 2-1 tonight.
The Kings' came out hard and peppered Matthew Radomsky with plenty of shots in the first but they were unable to score. Ethan Slobodzian got the nod for Dauphin and was also solid in the first, making eight saves. Dauphin racked up 12 but it was all tied at zero after 20.
In the second, the Kings' continued their strong play and heavily outshot Steinbach but, it was the Pistons' that struck first. With just 0:44 left, Tanner Mole got away on a breakaway and snuck a backhand past Slobodzian to open up the scoring as Steinbach led 1-0 after 40.
Dauphin held a 28-22 lead on the shot clock after 40 minutes.
The back and forth affair continued in the third and it wasn't until Dauphin pulled Slobodzian that magic happened. With the extra skater and just 1:15 left, Leeam Tivers wrapped around the net and jammed one past Radomsky to send Credit Union Place into a frenzy as the game was tied at one.
The contest was overtime bound and after how great of a 60 minutes it was, it was fitting that was the case. The Kings' entered overtime on a power play after Steinbach picked up a late penalty.
Dauphin capitalized on the 4 on 3 in overtime as 20-year-old Riley Shamray hammered home a slapshot from the point that beat Radomsky five-hole.
It was the first time this season that Dauphin beat Steinbach. With the win, the Kings' (26-23-3-3) remain in sixth place in the MJHL. The two teams will go at it again tomorrow night at Credit Union Place at 7:30.
Details

Contributed by

Darnell Duff
The Dauphin Clippers bid to play in the AAA/AAAA Provincial Championships came up just short today.
They fell 5-4 to Neepawa. It was 5-1 late when the Clippers turned it on and scored three straight goals but they couldn't get the equalizer.
Dauphin will now focus on the Westman High School Hockey League. They begin their playoffs on Tuesday against the Virden Golden Bears.
Game one is at Credit Union Place at 7:30 p.m.
Grandview Comets:
Will not repeat as North Central Hockey League Champions.
They battled hard but came up just short against Virden, 4-2.
The Oil Kings' won the series 2-0 and will move to the next round.
Details

Contributed by

Darnell Duff
When Brayden Kohlman hits the ice, you expect big things from him with his slick skating skill and beautiful shot. Big things are exactly what the McCreary native provided the McCreary Mountaineers with this season.
The 15-year-old led the team in scoring with 39 points (18G). Kohlman's a big reason why the Mountaineers had their best season in franchise history. With nine wins, it was a significant bump from last season when the team won just three games.
"I'm kind of alright with what I did this season," said Kohlman. "I was expecting a little bit more but not everything goes your way and you just have to go with the flow."
"We really grew as a team every single time we hit the ice," he added. "We always worked hard and we found a way to win some games."
For the past two seasons Brayden played for the Parkland Bantam Rangers. He played 70 regular season games in the two seasons and put up 33 points (20G). 22 of those points came last season.
Playing on last year's team ended up giving Kohlman a bronze medal. The team won that at the Rural AAA Provincial Championships.
"Yeah, it was a great experience playing with them for two seasons," said Kohlman. "We weren't too strong in the first year but we really had a strong second year. We didn't finish how we wanted to, but I really enjoyed playing with the Rangers."
This year Brayden was eligible to play for the Midget Rangers. He decided he wanted to return back to his hometown to play for the Mountaineers instead.
"I kind of personally didn't really feel I had my offensive touch anymore. I was playing more of a defensive role with the Rangers," added Kohlman. "I thought if I went back to my hometown and played with my childhood friends it would spark something."
Brayden says he now feels more confident in himself and a return to the Rangers next year could happen. But for now, the only thing that matters is his time with the Mountaineers. They begin their playoffs on Monday.
"I'm really hoping we can get that first win in our own barn and get the momentum on our side," added Kohlman. "If we play how we know we can, we should come out with a solid result."
Get To Know Brayden:
What is your favourite hockey memory? I was in Atom at the time and I got called up to play on the Peewee team. It was really cool to play with the older guys and I pushed myself to get better.
What pushes you to succeed now? Just looking around the room and seeing everyone on the team and how hard they work. We're not the most skilled team in the league, but we work hard day in and day out. I'm the leading scorer on the team so that pushes me to ramp things up as well.
Details

Contributed by

Darnell Duff
The Dauphin Clippers lit up the goal light in Rivers earlier today a bunch against the Vincent Massey Vikings.
The Clippers captured a decisive 7-1 victory in their Provincial Championship qualifier semifinal.
Riley Hammond scored twice. Logan Conrad, Alex Iwanchysko, Logan Storey, Brayden Broome, and Craig Allard also scored in today's win.
Dauphin will play tomorrow afternoon at 1:00 p.m. against Neepawa in Rivers once again.
A win would advance them to the AAA/AAAA provincial championship.
Details

Contributed by

Darnell Duff
When you look up and down the lineup for the Dauphin Kings' lately to see who's contributing a lot, a name you're starting to see more and more is Cole DeKoninck.
The 18-year-old is having a standout first season as a junior hockey player. With 32 points in 42 games, Cole is third in team scoring. Six of those points came last week when he was red-hot.
Against Winkler, Cole notched two goals and one assist and followed that up with a one-goal, one-assist performance the very next night.
A couple of days after the week ended, Cole was named the MJHL Player of the Week.
"Yeah, that was definitely a good feeling," said DeKoninck. "With that being said, I didn't do it all on my own, I have a lot of great guys helping me out. I have guys giving me the puck and when I give other guys the puck; they put it in the back of the net."
If you just looked at Cole's stats without knowing much about him, you could possibly think he's a forward with all the production he's provided Dauphin with this season. So why is Cole not a forward, it's obvious that he's very efficient offensively. But, let's not forget, Cole is also a great player on the back end.
"When I was like 7 or 8, we only had nine skaters and our coach said our three top players are going to play defence," said DeKoninck. "So it was me and two other guys that played on the back end."
"I have played forward before like I got called up by the Lorette Comets the last couple seasons and I would play up front," he added. "I'm comfortable playing anywhere out there."
With his first MJHL season wrapping up, Cole continues to grind it out daily to get better. Not just for this season, but for seasons going forward as there is no doubt that the 18-year-old has a very bright future ahead.
"The goal is to get to the next level. I'm where I am right now and winning here now is important and the main thing," said DeKoninck. "Going forward, the next level is the goal and it takes a lot of work to get there. You have to sacrifice things and you can never stop working."
"I'm working as hard as I can to get the success that I think I deserve, things are going well," added DeKoninck.
Don't forget to tune into the Dauphin Kings power play show tomorrow to hear the full interview with Cole. It goes just after 4:00 p.m.
Details

Contributed by

Darnell Duff
The golf season isn't quite here, but when it is, there's a great tournament going on at the Clear Lake Golf Course this summer.
The Manitoba Longball Open goes down from June 27-28 and the format is a two-person scramble. The tournament is fully in support of Kid Sport Manitoba.
"Longball started this event in Alberta eight years ago, and we're going to replicate it in Manitoba for the first time," said Josh Zaporzan, organizer.
The early bird registration is this Friday at the end of the day. If you register now, the cost is $350 ($175 per player).
What does your entry fee include?
Drink and appetizers at the pre-game mixer the night before the tournament.
Pre-round buffet breakfast at Clubhouse 204.
Golf & Cart at the Clear Lake Golf Course for the two-person scramble tournament.
On-course drinks, food, and activities.
Welcome tee gift - $150 worth of Longball Swag.
Dinner after the round at our post-game celebration.
Entertainment evening after dinner at the post-game celebration. Entertainer TBD (comedian, magician, musician).
Prizes to be won. A silent and live auction during the event also.
If you wait until after tomorrow to register, the price goes up to $400 ($200 per player) and you get all of the above.
"Kid Sport does such a great job with providing kids opportunities to play organized sports," said Zaporzan. "There are so many individuals that have grown up and sports have been a big part of their lives. What Kid Sport does is so important and we're hoping we can raise a lot of money so they can continue doing the great work that they're doing."
This is the full schedule:
Thursday, June 27 - Pre-game mixer inside Clubhouse 204 from 7-9:00 p.m. This is not mandatory to attend but it is recommended as it's a great chance to meet some new people and have a great time.
Friday, June 28 - 9:30-11:00 a.m. Buffet Breakfast.
11:30 a.m. - Golfing begins.
5:00 p.m. - Dinner & Entertainment.
To register today, head to Manitoba Longball Open.
Details

Contributed by

Darnell Duff
The Dauphin Kings' completely owned the first period but couldn't score in it and ended up losing 7-2 to Winnipeg tonight.
Dauphin peppered Jeremy Link with 19 shots in the opening 20, but Link was tremendous in making each save.
Winnipeg also scored once to take a 1-0 lead after 20.
It was in the second that Winnipeg took over. On the strength of 26 shots in the frame, the club scored four straight to take a 5-0 lead.
Ian Tookenay brought the Kings' back within one, but Winnipeg regained their five-goal lead at 6-1 heading into the locker room.
Grady Hobbs got on the board early in the third with a nice shot but Winnipeg bounced right back with their seventh goal.
Dauphin is back at it on Friday against Steinbach at Credit Union Place.
Grandview Comets:
It was a great game down at the GACC tonight between the Virden Oil Kings' and Grandview Comets.
After it all, Virden won 5-4 to take a 1-0 series lead in the first to two series.
Game two is on Friday in Virden.
Details

Contributed by

Darnell Duff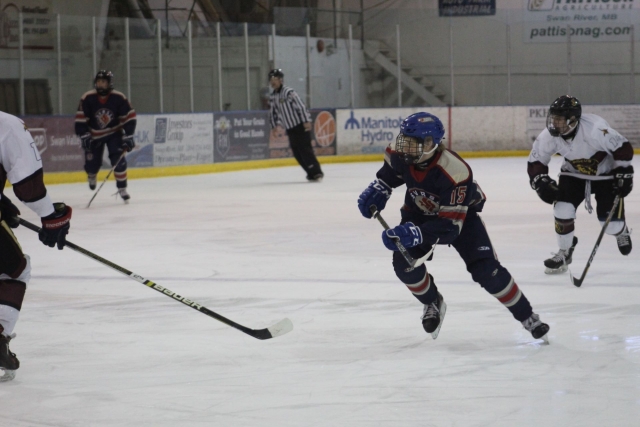 Trey Sauder played the last couple seasons for the Parkland Bantam Rangers. He started off this season with the Midget Rangers but he decided returning back to his hometown to play full-time was the best decision for himself.
So that's what he did, and now the 15-year-old has played a full campaign with the Swan Valley Tigers and what a season it was. Sauder recorded 66 points and won the Westman High School Hockey League's scoring race by one point.
"It feels so good to win this for sure," said Sauder. "Especially only being in grade 10, it's such a great feeling."
"I was hoping to do good this season but I wasn't expecting to finish on top," added Sauder.
Trey has been a force all season long offensively and he had two assists in Swan Valley's last regular season game against Killarney to lock it up. Trey has failed to record a point in a game this season just twice, both came against Dauphin.
Sauder has four hat-tricks to his name and he's scored two goals in five other games. All in all, the 15-year-old had 30 goals in the regular season which was fifth-most in the league and the 36 helpers were third-most in the WHSHL.
"I was just playing with a ton of confidence and my line mates were huge to my success, I couldn't have done it without them," added Sauder.
Sauder and the rest of the Tigers also had a pretty good season. They went 15-8-1 which was good enough for third place in their division.
"We played hard every single game," said Sauder. "Sometimes we just made some small errors that cost us games, but we never gave up."
Next up for Trey and the team is a battle against the Rivers/Elton Rage for a spot in the Championship bracket of the playoffs. If they win, they'll play Killarney in the first round.
Details

Contributed by

Darnell Duff