Latest Sports
Dauphin's Rueben Houle is officially a part of the Team Manitoba Track & Field team.
The 17-year-old was in Winnipeg on June 22-23 trying out for the team, and he did extremely well. He ended up winning gold in discus, and silver in shot put, and those results locked him a spot on the roster.
Now, he's off to Sherwood Park, Alberta with the rest of the team as they get set to take part in the Western Canadian Tri-Prov Challenge, that kicks off tomorrow and runs through Sunday.
Houle will look to once again dominate the competition as he competes in the Youth discus and shot put events.
We'll have Rueben's results throughout the weekend, so stay tuned.
Details

Contributed by

Darnell Duff
The weekend schedule for the Dauphin Lake Golf Club this weekend has been altered
The 1st Annual Coed Long Ball Challenge that was slated for tomorrow and Saturday has been cancelled due to a lack of entries.
"We've only really had a few entries for it," said Ray Karlson, General Manager. "So, we just thought we would set it aside for now. Maybe we'll do it later this season, or next year... whenever we can garner more interest for it."
The Men's Club Championship that was set up for Saturday and Sunday has also been postponed until later in the season.
"We were looking for a chair from the membership, but we were unable to find one," said Karlson. "We're thinking it's going to be in mid-September so that we can let people go on holidays all summer, and then hopefully we can find a chairperson at that point."
Because of the changes, the DLGC has a special going on starting tomorrow, through Sunday.
"Our course is wide open," said Karlson. "So we're going to be offering a 2-for-1 rate, with the rental of a power cart. We're looking forward to this weekend."
As far as course condition, Karlson notes it's in good shape.
"We just aerated and sanded the front nine greens which makes them a little tougher, but we're hoping for some rain," said Karlson. "Our back nine greens are looking great, and we've fixed the three worst ones. The rest of the course is in tip-top condition thanks to our crew out there. We're ready for the golfers."
If you want to book a tee time, call the DLGC at 638-9400.
Details

Contributed by

Darnell Duff
The Parkland Jr. Golf League wrapped up the league portion of their schedule last night at the Gilbert Plains Country Club.
The league kicked off on July 4 and offered kids aged 9-17 a chance to get out on the course four times this month to learn the game, and most importantly have a great time while doing so.
"It was an overwhelming success," said Ryan Rauliuk. "With the parents bringing the kids out... and them having a great time, it was just a fantastic experience."
"We had some great reviews, and the comradery on the golf course was fantastic," he added. "The kids who just began playing golf progressed so much throughout the four weeks because they just kept coming out and they worked hard to get better. There was no rain throughout the four weeks, so it couldn't have gone much better."
28 kids took part in the league this year. That number is much higher then Ryan was expecting for the first year, so it's very safe to say golf in the Parkland has a bright future.
"Golf in the Parkland is very strong," said Rauliuk. "I think it's a hidden gem within the sports field in the Parkland. I encourage every kid in the Parkland to head down to the course because there's someone that can show you how to improve your game."
"I think we've proven how strong it is with this league," added Rauliuk. "The future of golf in the Parkland area is going to be strong, and we want to continue to build it to be strong."
With the overwhelming success of the league this year, it will be back next summer once again.
"It'll definitely be back," said Rauliuk. "We're looking at creating a board within the parents that are there so we can figure out if we need to change anything. But, we're also going to include the kids so they can have their say on what they think should happen. We kept it pretty simple overall this year."
"Just looking forward to next year, it's only going to get bigger and better," Rauliuk added.
Details

Contributed by

Darnell Duff
After a very successful Jr. hockey career, Landyn Cochrane will be continuing his competitive hockey career at the next level.
The 20-year-old from Russell has committed to play for the Minot State Beavers of the American Collegiate Hockey Association (ACHA) in the fall.
"It's a really good feeling that I'm going to get the chance to continue my competitive career at the next level, and further my education," said Cochrane. "Minot is a really good organization. It's a really exciting opportunity."
Landyn began last season with the Minot Minotauros who play in the NAHL, and that's how the chance to play for the Beavers came about.
"When I left to play for Virden, they just kept a close tab on me all season long," said Cochrane. "So, I'm really familiar with the area. It's just a good situation."
When Landyn left to play for the Oil Capitals, the forward had nothing but success. In 34 games with the team, he chipped in 39 points (15 G). He also added another three points in 11 playoff games as the Oil Caps advanced to the Turnbull Cup Final, before falling to Steinbach.
"It was a really fun season with Virden," said Cochrane. "Obviously we didn't end the season the way we wanted, but still. I had lots of fun there, and success. It was a great year."
Now as he gets set to play in the ACHA, Landyn knows it will take some adjusting as he'll play against all grown men, some of which are several years older than him, but he's prepared to put the work in that's needed to succeed.
"It'll probably take a few weeks to adjust realistically," he added. "But with my hockey sense and heads up type of play, I don't think it should be too hard."
Camp for the Beavers is still a month away, but the Russell native is already really looking forward to playing at the college level, and everything that comes with it.
"It's really exciting," said Cochrane. "We're going to Vegas for a weekend and Arizona. Then, the National Championships are in Dallas, so it's going to be a ton of fun."
"Since I started playing hockey, it was always my goal to make it to college," said Cochrane. "Now I've achieved that, and I couldn't be any more excited."
There's no hiding the fact that Landon will be a rookie next season, but he does know a fair share about the Beavers program heading in, especially with the fact he started last season playing in Minot.
"I've been following them the last few years because I have some friends that play there," said Cochrane. "They've been really competitive and I know that's the goal this year. We're hoping to win the National Championship."
When Landon takes a look back at his Jr. career which included stints with Waywayseecappo and of course most recently the Virden Oil Capitals, he has nothing but good things to say about the MJHL. He also shares some of his favourite moments.
"My favourite moment was definitely just being with the guys every day... I've built so many lifetime friendships," said Cochrane. "The MJHL is a great league. I came in at 17, and I've progressed so much now that I'm 20. It's a fantastic league for opportunity."
Landyn and the Beavers play their first league game on September 14 against Briercrest. The Nationals are March 21-26 in Dallas.
Details

Contributed by

Darnell Duff
This week is your final one to signup for the Parkland Source for Sports 4-on-4 hockey league which goes down at Credit Union Place.
The first day of games will be on August 6, and it runs until August 22.
Age Divisions:
2002 & Older - August 6-19. (Six round-robin games and two playoff games).
2003 - 2005 - August 6-22. (Six round-robin games & two playoff games).
"We're trying to get to four teams in the younger division," said Doug Hedley, HC/GM for the Kings. "If you want to play, now is the time to signup.
The camp costs just $160, which includes eight games and that includes playoffs.
"It just gets the kids back on the ice and lets them get back in shape," said Hedley. "Everyone gets to play lots, and they get the chance to get their timing back and conditioning. It's just a great chance to get yourself sharp before tryout camps start up."
For more information, or to signup today, you can call Doug Hedley at 572-4036. The deadline is this Friday, July 27
Details

Contributed by

Darnell Duff
Here is the July 24 local scoreboard:
Dauphin Competitive Slopitch League:
Catalyst Credit Union Brewmeisters beat Aspen Insurance Swingers, 16-4.
Balloholics beat Guns N' Hoses, 29-6.
Denray Tire beat Cartridge Outlet Dane's Dingers, 25-5.
Blackbeard beat Showtime, 16-11.
Outlaws beat Strilkiwski Contracting Limited Crushers, 28-3.
Santa Clara Baseball League:
Carberry beat Minnedosa, 11-4.
They won series and advanced to League Final.
Details

Contributed by

Darnell Duff
The Winnipeg Blue Bombers have been very active this week ahead of their game on Friday against Toronto.
First, they traded Adarius Bowman to Montreal, and now the team has picked up Frédéric Plesius.
Plesius played his collegiate football at Laval University and won two Vanier Cup Championships. Since turning pro, he's played 73 games between the Hamilton Tiger-Cats and Montreal Alouettes. In that time he made 90 tackles, picked up one sack and one interception.
He'll likely be in the Bombers lineup on Friday.
Details

Contributed by

Darnell Duff
All summer long, Dauphin's Tommy Montpetit was trying out for the Manitoba Men's Football Team, and as each cut was made, Tommy's goal of making the team became closer to becoming a reality.
Then on July 9, all of Tommy's hard-work and determination paid off, as he was named to the final 40-man roster, that was set to represent to the province at the Football Canada Cup.
After a week of practicing in Winnipeg, Tommy and the rest of the team headed to Calgary for the Championships.
"It was a total honour to make Team Manitoba," said Montpetit. "Calgary was really fun. Prior to last week, I hadn't been there. It was absolutely gorgeous."
Tommy and the team kicked off their Canada Cup against Saskatchewan, and it didn't go the way the team planned. After a slow start, the Black & Gold couldn't recover as they fell 48-6.
Next up for the team was a game three days later against Nova Scotia, and this time it did go the way they hoped. They ended up winning the game, 18-13 to even up their record.
"Saskatchewan and Nova Scotia were two completely different teams with how they played and executed," said Montpetit. "We kind of shot ourselves in the foot against Saskatchewan, but we definitely didn't against Nova Scotia."
Although Tommy has had his fair share of success playing high school football, this was the first team he's suited up for Team Manitoba in a national tournament. After the tournament, Tommy had nothing but great things to say about the coaching staff of Team Manitoba, and all the work they put in as well.
"We had some amazing coaches for sure," said Montpetit. "They worked so hard to make sure we had the best chance of winning games."
"I feel like moving forward, I am a way better football player," he added.
Tommy feels he improved his hand movement, hip movement and everything that is critical to being a strong defensive player on the field.
The 17-year-old is now set to move to Brandon to play for the Crocus Plains Plainsmen in his final year of high school football.
Details

Contributed by

Darnell Duff
After an absolute monster game last week against Toronto, Winnipeg Blue Bombers Andrew Harris has been named a Shaw CFL Top Performer.
For the third straight game, Harris rushed for more than 100-yards, piling up 161, which is a career best. His previous high was way back in 2012 when he was with the BC Lions and he rushed for 147.
All in all, the Winnipegger finished the game with two touchdowns and 177 total yards. And, those 161 yards rushing moved him into 15th place on the CFL's all-time rushing list at 6,878 yards. He's now in second place on the list of all-time Canadian rushers.
Overall this season, Harris has seven touchdowns and 610 rushing yards.
The Blue & Gold are back on the field on Friday as they take on the Toronto Argonauts.
Details

Contributed by

Darnell Duff
Al Porter stepped up to the tee box on the 11th hole on Saturday, July 21 at the Dauphin Lake Golf Club, and the rest is history.
With a 7-iron, Porter struck the perfect ball, and it ended up going right into the cup for a Hole-In-One.
This is Porter's second Hole-In-One at the 11th hole at the DLGC.
Details

Contributed by

Darnell Duff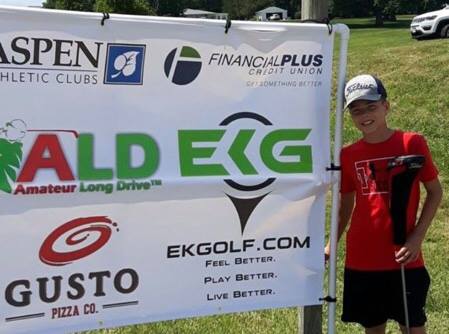 Russell's Dru Mushumanski is heading to South Carolina for the Amateur Long Drive World Championships.
The 12-year-old was in Des Moines, Iowa this past weekend for a qualifier event, and what a performance the young big-hitter put forward.
He ended up finishing in first place.
"It felt really good to win," said Mushumanski. "Now I get to go to South Carolina with my dad. I was kind of expecting to win because I hit the ball pretty far, and not many kids my age can hit as far as I can."
Dru stepped up to the tee and drove the ball 252 yards, which was three yards short of the record. But, that 252-yard drive is a lot more impressive because of the conditions. The wind was gusting near 25 MPH right into Dru's face when he was hitting.
"It was pretty tough to hit it because of the wind for sure," said Mushumanski. "I had to adjust, and I finally got a really good one out there. It felt awesome."
"I had to change up how I did things quite a bit," he added. "I usually hit the ball pretty high and far, but the ball just wasn't going anywhere with the wind. So, I was forced to hit a low-ball, and it ended up working out."
Now that Dru conquered the qualifier, the "World Finals" will be at Myrtle Beach, and he's confident heading in.
"My goal is to be in the top-5 for sure," said Mushumanski. "I know there is going to be lots of people who can hit the ball far."
The "World Championship Finals" is set for mid-August in Myrtle Beach, South Carolina.
Details

Contributed by

Darnell Duff