Latest Sports
It wasn't as dramatic as last time, but the Parkland Source for Sports Midgets picked up a win none the less last night.
They beat Ste. Rose, 9-8 at Vermillion Sportsplex.
When the two teams last hooked up at the Sportsplex last week, the PSFS Midgets came back from an eight-run deficit to win the ball game.
Details

Contributed by

Darnell Duff
When Jayden Jubenvill makes the jump to Jr. A hockey, it will come with the Dauphin Kings.
The Kings drafted the crafty 14-year-old 26th overall at the MJHL Draft last weekend.
"It definitely feels good that a team wanted me," said Jubenvill. "It's been my dream to be drafted into the MJHL. It's an honour especially because it's by the hometown team. My family and friends can come out and watch.'"
Being just 14-years-old, Jubenvill knows making it to the MJHL might be a few years away, but he has a good plan in the meantime.
"I'm going to be working as hard as I can on and off the ice," said Jubenvill. "Hopefully one day I can make the Kings roster."
"I need to work a little on my shot," he added. "And, my mindset to stay disciplined and not take stupid penalties."
Jayden feels he impressed the Kings at their Spring Camp by showing his speed, energy, and his physicality.
Details

Contributed by

Darnell Duff
It's set to be a very busy day in Dauphin tomorrow with two different baseball tournaments set to go.
The first is the "Grand Slam Jamboree" and all the games take place at the DMCC Grounds, Diamond 4, 5 and Brewer Diamond.
Here's the schedule:
"There will also be the "Mazer Group Fun Zone," said Jodie Romanow, DMBA President. "So, we're going to have a 52-foot obstacle course that anyone can try out. There will also be a canteen open from 10-5:00 p.m.
"We're celebrating Baseball Manitoba's 50th Anniversary," she added. "It's going to be a great day."
The second tournament will be the Monster Mania, which will be at Vermillion Sportsplex with all games being played on Diamond A, B, C.
Here's the schedule:
"Mosquito is definitely a great age to watch," said Romanow. "It definitely displays the upcoming talent that we've got in the Parkland. They learn how to pitch, and some of the things that will allow them to succeed."
The canteen at the Sportsplex will be open from 8:30-5:00 p.m.
Details

Contributed by

Darnell Duff
The Vermillion Archers will be hosting their 29th Annual Outdoor 3D Shoot this Sunday at the Selo Ukraina Site.
Registration takes place from 8:30-10:30 a.m. and the prices are as followed:
Adults - $20.
Juniors - $15.
Cub - $10.
Peewee - Free.
Non-Abam Members are charged an additional $5.
It'll be two rounds of 25 targets each.
On-site camping and a concession will be available on site.
Details

Contributed by

Darnell Duff
It's one thing to win one Championship in a nine-year span, but, Sifton's Ryan Boguski and the rest of the Brandon Marlins Senior AAA Team won five Championships in a nine-year span.
Thanks to that, Ryan and the rest of the team were inducted into the Manitoba Baseball Hall of Fame for the period of 1999-2008.
Ryan grew up in Dauphin and played all of his minor baseball here, before moving to Brandon and eventually joining the dominant force that was the Marlins.
"We were all young guys getting started in 1995, so by the time those years came around, we really hit our stride," said Boguski. "We had some really good players and some pickups as well."
Ryan and his team were officially inducted into the Hall on June 2 at the Morden Access Centre.
"It didn't really sink in until I was actually there at the supper," said Boguski. "It was then when I kind of realized how big of a deal it was. The supper and speeches were all high class. It all made it sink in, and really made it feel real."
Ryan and the Marlins became the first team to win five Championships in that short of a span in the Manitoba Senior Baseball League, which is no longer around.
"I don't think any of us were aiming to make it to the HOF," said Boguski. "We just were always trying to do our best. As I'm winding down my career now in baseball, I think it's a great way to end it for sure."
Taking a look back at what can be called an extremely successful career, Boguski talks about some of the memories he remembers.
"In 2003, we were down 3 games to one against the Brandon Cloverleafs," said Boguski. "Then, we ended up winning game five and six. Of course, you have to cap it off, and we did by winning game seven. That was pretty incredible, and felt amazing."
On a personal level, Ryan also definitely has a favourite.
"It was game six of that series and they had the winning run in scoring position and they hit a ball hard down the first base line," he added. "I was playing first base at the time, I dove and caught it, stepped on the bag and got the out. Our pitcher then got the next batter out, and we obviously ended up winning that game and then the Championship."
Just because Ryan isn't playing with the Marlins Senior AAA team anymore because the league isn't a thing, it doesn't mean he's not playing the game.
And, the best part? he's still winning Championships.
"I'm playing in the Andrew Agency AA League," said Boguski. "This was really the only other option after the MSBL folded. There are still some players from the Marlins, so it's great to be playing with some familiar players that I'm friends with."
"We won the league last year in just our second season," he added. "It's not as easy with three kids at home growing up, and the body not recovering as quickly. But, it's still fun to be out there, playing the game I love."
Details

Contributed by

Darnell Duff
The Stanley Cup is coming to the Parkland!
Dauphin's Barry Trotz and the Washington Capitals won their first ever Stanley Cup last night, as they beat the Vegas Golden Knights, 4-3 in a hard-fought battle.
Vegas led the game 3-2 heading into the final frame, but the Caps showed their resiliency and battled back with two straight goals to win their first Cup.
Stay tuned for lots of local reaction from Barry, and his family.
Barry joined to chat about WINNING the Cup, and what's up next. Enjoy.
Barry's first cousin, Karen Rauliuk joined to chat about Trotz WINNING the Cup!
Mark Odut, Barry's first cousin joined as well to give his thoughts.
Details

Contributed by

Darnell Duff
Only eight men in the entire province that are graduating high school end up winning the McDonalds Leadership Scholarship worth $1000, and Inglis' Lyndon Zimmer is one of them.
"I feel really honoured to be chosen out of so many people," said Zimmer. "It's surreal."
"You don't really expect to win these types of things," said Zimmer. "Especially because only eight guys won in all of Manitoba. It's quite an honour."
The $1000 scholarship is the second scholarship that Zimmer has won in his senior year at Major Pratt School in Russell.
On top of maintaining a very impressive 92% average in the classroom, Lyndon excelled in any sport he took part in, including high school baseball.
Zimmer and the rest of the Trojans made the final four at the Provincial Championships this past weekend.
"I've been really fortunate with the opportunities that I've had," he added. "Unfortunately it didn't work out the way we wanted in provincials, but, I still had a really fun year."
Lyndon now will head to the University of Manitoba in the fall, where he'll use his scholarship.
"I'm also planning on playing on some city hockey teams," he said. "Then in the summer, I'll come back and play some senior baseball."
Previously, Lyndon won the D'Arcy Bain/Fred Stevenson Award worth $750.
Details

Contributed by

Darnell Duff
Early bird pricing is now on for the Parkland Source for Sports 4-on-4 Summer Hockey League, which gets underway in August.
The first day of games will be on August 6, and it runs until August 22.
Age Divisions:
2002 & Older - August 6-19. (Six round-robin games and two playoff games).
2003 & 2005 - August 6-22. (Six round-robin games & two playoff games).
"It's a great chance for players to get some good skates in, and get themselves conditioned before heading to tryout camps," said Doug Hedley. HC/GM for the Kings.
More:
Until June 15, the cost to enter is just $140, which is the cheapest it's ever been. After June 15, the cost to enter increases to $160.
To enter today, you can call Doug Hedley at 572-4036.
Details

Contributed by

Darnell Duff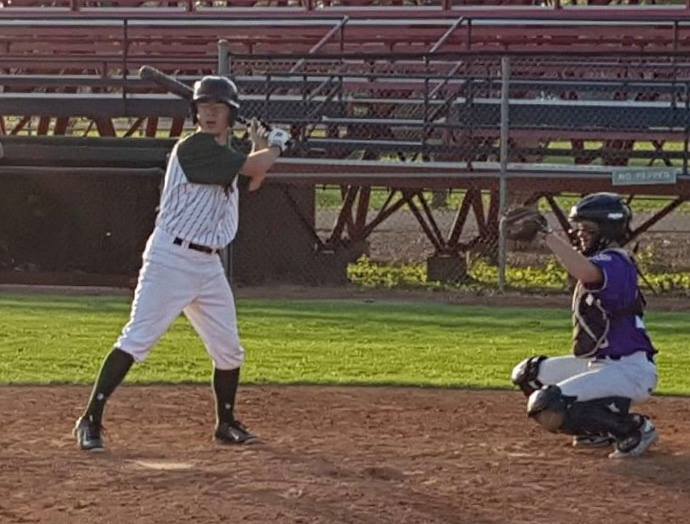 Here's the scoreboard for Wednesday, June 6th.
Dauphin Clippers:
Lost 10-7 vs Vincent Massey.
Grandview Lakers:
Lost 19-8 to Langenburg Legends.
Dauphin Clinic Pharmacy Mosquitos:
Lost 24-11 to Grandview.
Strilkiwski Contracting Peewees:
Lost 12-8 to Grandview.
Details

Contributed by

Darnell Duff
Soccer fans in Winnipeg received quite the treat earlier today.
The Canadian Premier League (CPL) announced that Winnipeg is now home to their own professional soccer team, Valour FC.
Valour FC will play out of Investors Group Field for their home games.
They join the CPL to take on the HFX Wanderers, York 9 FC, and Cavalry FC. More teams are to be announced in the coming days, and weeks.
If you're thinking you're going to be an avid fan at their home games, you can put a $50 membership deposit down on Friday, June 8 to secure your seats. You can visit Valour FC for more information.
The average ticket price will be $20 for adults and $12 for youth.
Details

Contributed by

Darnell Duff
You love watching Tiger Woods on the golf course draining that magical putt, or any of the young phenoms on the PGA Tour, and you're thinking to yourself that you want to do that, well, here's something that may get you on your way.
The Parkland Junior Golf League will be starting up on July 4 at 6:00 p.m., at the Gilbert Plains Country Club.
The league takes place every Wednesday in July (July 4, 11, 18, 25), and gives young kids in the Parkland aged 9-17 a chance to get on the course and learn the game if you've never played before, or keep sinking birdies if you play all the time.
"It's just going to be a really fun night," said Ryan Rauliuk. "It's going to give the kids a chance to get out every Wednesday, and play a full nine holes and just have fun. Kids will be playing with different kids every week, and there are no scorecards."
The cost to take part in the league is $40, plus the green fee for the junior golfer each week unless you're a member at the GPCC, then you only have to pay the one-time $40.
The max amount of players that can take part is 36, and already 18-20 have signed up.
"We were aiming for five, but, obviously we already have a lot more than that," Rauliuk said. "We're expecting it to fill up pretty quickly here now."
"There have been lessons around the Parkland, and now this gives the players a chance to use what they learned on the course," he added. "From there on, kids can join into tournaments, and this will help them getting in the mode of playing a full round of golf."
If you'd like more information, or you want to sign up your kid today, contact Ron Chapen at 638-8861, 572-5581, or email This email address is being protected from spambots. You need JavaScript enabled to view it..
Details

Contributed by

Darnell Duff