Latest Sports
Most players on the Parkland Midget Rangers saw their season come to an end several weeks ago, but that wasn't the case for Dauphin's Vincent Hughes.
The 17-year-old Dauphin native is now suiting up for the Peguis Juniors of the Keystone Junior Hockey League.
He was called up as an AP Player, and the former Ranger is loving every minute of it.
"It's really nice to continue my season into March and April," said Hughes. "It's also a good feeling to get some recognition for how I play."
Hughes hasn't looked out of place at all during his time with the Juniors who are now in the KJHL Final.
In nine games as a part of the team, he has five points (2G, 3A).
"I'm playing with a lot of skilled players," said Hughes. "We have good coaches, everyone moves the puck well, and it's just a really good team to play with."
It's been a perfect playoff so far for the Dauphin native and the rest of the Juniors.
They've played nine games, and they're 9-0 which includes a 2-0 lead in the Championship final.
"We just need to keep doing what we're doing," said Hughes. "We've had lots of success in the first couple rounds. We have the ability to dominate any team. It's just up to us to do it."
The winner of the final will earn a berth in the Western Canadian Keystone Cup in Thunder Bay from April 19-22nd.
"That would be an incredible opportunity, and a big accomplishment for everyone on the team to qualify for that," said Hughes. "But, we're not worrying about that right now. We're just going game-by-game."
After this season, Hughes plans on continuing his hockey career at the junior level.
"I've received several invites from MJHL and SJHL teams," said Hughes. "So, I'll go to some Spring Camps, and then Fall Camps next year, and hopefully make a team."
Being 17, Hughes wrapped up his Midget career with the Rangers at the beginning of March, and his days as a Ranger is something he'll never forget.
"Just getting the chance to play with the Rangers was amazing," said Hughes. "I made so many lifelong friends. I loved every minute of it."
Hughes and the rest of the Juniors hit the ice tomorrow night as they look to take a 3-0 stranglehold lead against St. Malo.
Details

Contributed by

Darnell Duff
A very successful season on the basketball court for Swan River's Michael Chartrand has earned him a spot in Basketball Manitoba's High School Graduating All-Star Game.
The ASG will be in Winnipeg on April 14th, and Michael can't wait.
"It means a lot," said Chartrand. "It definitely took a lot of hard work, so I'm super excited for it."
Not only did Chartrand excel on the court, but so did the entire Swan River Tigers.
They advanced all the way to the Provincial Championship Final before falling to Neelin, but Michael is super pleased with the season.
"It was an amazing year," said Chartrand. "We had a really good team, and we all worked hard. We had a goal of making it to the finals, and even though we lost, we achieved what we wanted to.
Chartrand will join his teammate, David Muller at the game in eight days.
Details

Contributed by

Darnell Duff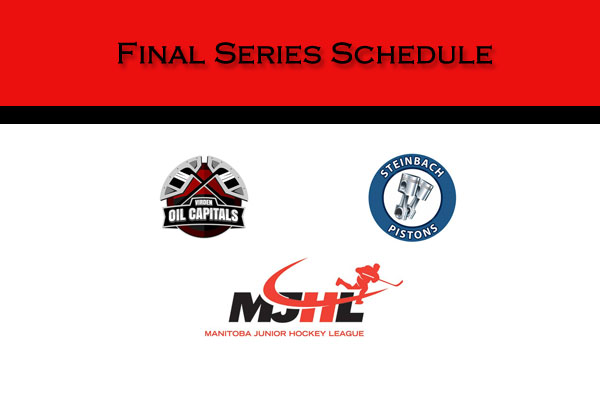 The Virden Oil Capitals and Steinbach Pistons are set to begin the MJHL Championship final tonight.
The Oil Capitals definitely come in as the fresher, and perhaps the more healthy team.
They won their first-round series against Selkirk in five games and followed that up with a four-game sweep against Winkler.
On the other side, the Pistons cruised through their first round dispatching Swan Valley in four games, but they were forced to six games against the Winnipeg Blues in what was a physical, and scrappy series.
In the regular season, the Pistons did own the Oil Capitals (5-0-0-1).
Here's the full series schedule:
Steinbach Pistons

(if necess)

Virden Oil Capitals

(if necess)

Steinbach Pistons

(if necess)
***Photo Provided***
Details

Contributed by

Darnell Duff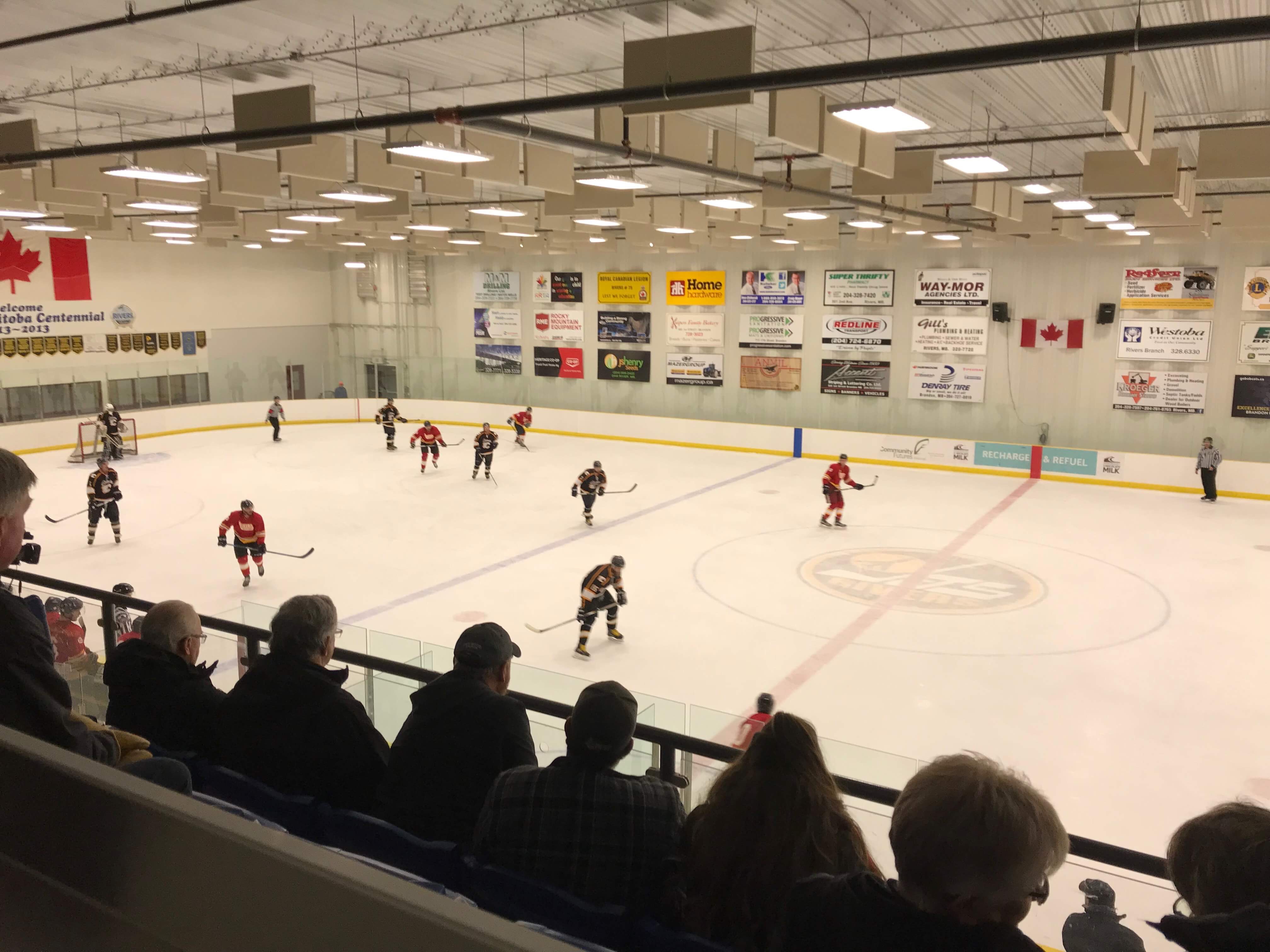 The Grandview Comets are only two days away from their biggest game of the season so far.
They take on the Carman Beavers in the third game of the Provincial Championships, and so far it's been a successful Championships for the team.
Both games they've played in resulted in wins and the team was missing some of their top players during the games.
"We've definitely played really good," said TJ Warkentin, Comets Captain. "We didn't really know what to expect in either game. We've gotten stronger each period. Even though we've been missing some guys, we continue to battle hard and now we're in a really good spot heading into the third game."
A win on Saturday would clinch top spot in the round-robin, which means they would play on Sunday in the Championship Final.
The Beavers are 1-1 through their first two games, but TJ knows it won't be easy.
"We know they have some really good players," said Warkentin. "The biggest thing will be knowing when those players are on the ice. Our confidence is really high right now after the first two games. We know we can play with any team in Manitoba, so we're going to just focus on our game and the rest will work itself out."
The Comets and Beavers hit the ice on Saturday night at 7:15 at the Bell MTS Iceplex.
Sunday's Senior A Provincial Final is an afternoon affair at 2:30, also at Bell MTS Iceplex.
Details

Contributed by

Darnell Duff
Swan River's David Muller is heading to Winnipeg for Basketball Manitoba's Graduating All-Star Game.
"It's pretty cool to be selected," said Muller. "It's a great feeling to be picked as one of the best players in the province. I can't wait."
He will suit up the A-AA-AAA game. Muller and the rest of the Swan Valley Tigers finished second place in the province this year after they fell to Neelin in the Championship.
"We had a pretty good year," said Muller. "It wasn't the finish we were hoping for, but we battled and gave it our best."
David notes he hopes to play for the University of Manitoba Bisons next year, but he knows it'll be tough to crack that roster.
The Graduating All-Star Game goes on April 14th.
"I'm just going to try and prove that I'm the hardest worker out there," said Muller. "I may not be the most skilled, but I'll work harder than everyone on the floor."
Muller will be joined by Michael Chartrand on his team who also plays on the Tigers, and stay tuned to 730CKDM to hear from Michael.
Details

Contributed by

Darnell Duff
Ryan Pulock's hockey season won't be coming to an end for a little while.
Reports are that the hard-shooting 23-year-old has accepted an invitation to suit up for Team Canada at the World Hockey Championships in Denmark.
In his first full year in the NHL, Pulock has made a case for a lengthy career in the big leagues.
After being a healthy scratch for the first several games of the season, the Grandview native has now suited up in 66 games and has 30 points (nine goals).
Wearing a Canadian jersey will be a first for Pulock since he donned the Red and White at the U-18 World Juniors in 2012.
The WHC is May 4-20.
Fellow Islanders teammates Mathew Barzal, and Jordan Eberle will also be playing for Canada, while John Tavares has not confirmed if he will play or not.
Ryan will join 730CKDM closer to the Championships.
Details

Contributed by

Darnell Duff
Emma Jensen and her foursome are just days away from kicking off their U-18 National Curling Championships in St. Andrews, New Brunswick.
The foursome will kick off their Championships on Monday, April 9th.
"We're really excited," said Jensen. "Like words can't describe how excited we are. And, when we get our jackets at our send-off party, it's going to really feel like this is happening."
The send-off will be tomorrow night in the Lions Den at the Parkland Rec Complex, and it begins at 7.
You can get your tickets by calling Mark at 648-3208 or 629-2089, Gord at 638-8105, or Al 648-5025. You can also call the Rec Complex.
It's been quite the season for Jensen, Jaycee Terrick, Kaitlyn Szewczyk, Gracey Gulak, and Coach Al Jensen.
The team first qualified out of the Parkland, then had an incredible week in Thompson at the MWG to earn their spots at the Nationals.
"We really just want to play our best," said Jensen. "We need to play as a team, and just enjoy the whole experience. We'll give it our all."
The team will enter the Championships as the sixth-seed, and they will play six round-robin games with the finals set for April 14th.
Details

Contributed by

Darnell Duff
Dauphin's Connor Shaw and Grandview's Branden Storey are off to the finals.
Connor, Branden and the rest of the Transcona Railer Express beat Charleswood last night, 3-0.
It was the second straight shutout for Shaw, in a game which clinched a 4-2 series win for the team.
Storey also had one assist in the game.
The team will now take on the Raiders JR. Hockey Club in the finals.
Details

Contributed by

Darnell Duff
When the season began, it didn't look like Gilbert Plains Riese Gaber would be playing playoff hockey, but a deadline day deal has him now getting set for the Championship series in the MJHL.
Gaber and the Steinbach Pistons will challenge the Virden Oil Capitals in the finals when they get underway likely this weekend.
"Everyone's very excited," said Gaber. Obviously, it was our goal, and we're all really looking forward to it."
The Pistons rolled through their first-round matchup against Swan Valley, but things weren't as easy against the Winnipeg Blues.
The club had to snap the Blues home playoff dominance to advance to the finals in six games, and that's exactly what they did in a 3-2 win.
"I think we played good enough to win even in the games we lost," said Gaber. "I don't think we got some of the bounces. I think anywhere we play, we're confident we can go out and win."
The Pistons last Championship was in 2013, while the Virden Oil Capitals haven't raised the Championship trophy since 1994 when the team was the "Winnipeg Saints".
On paper, the series should go down to the wire, but Gaber knows where the Pistons could have an edge.
"We just need to stick to our game," said Gaber. "We have to get pucks on net and work our cycle game to our advantage. We know they're a really good team, but we're ready for the challenge. It should be a fun atmosphere."
A full series schedule is expected to be released on Wednesday.
Details

Contributed by

Darnell Duff
Gilbert Plains Colby Robak has been named a finalist for the 2017/2018 American Specialty Man of the Year Award.
The 27-year-old was nominated for the award because of his leadership, and dedication to building long-lasting connections in the Stockton community, and the willingness to help out where he's needed.
Some things Robak has done during his time in Stockton include volunteering at Cancer Fundraisers and performing with the Stockton Symphony.
"It's a huge honour definitely," said Robak. "Getting out into the community is something I take pride in. Especially being in a warm city where hockey is starting to grow. I love being able to get out and help out the community where it's needed."
Since turning pro in the 2010/11 season, he's played with six different organizations, and going out in the community is something he'll never get tired of.
"It's one of the fun parts of the game," said Robak. "Every new city you go to, you end up making new friends and meeting some great people. I'm definitely really passionate about going out and spreading the word about hockey."
Now Robak will play the waiting game, to see if he wins the Yanick Dupre Memorial Award, which is the league-wide Speciality Man of the Year Award.
On the ice, it's been a challenging year for Robak and the rest of the Heat (31-25-2-4).
Despite the above .500 record, the Heat find themselves in near win-out mode with just six games left in the regular season.
The Heat have a .548 winning percentage, and to qualify for the playoffs they have to catch Texas which has a .579 winning percentage.
"It's definitely a bit of a grind," said Robak. "It's that time of year. Every game is important, and we're down to crunch time. We can only control what we can control, and that's playing our game and winning. If we play our game, I think we'll be fine."
Wednesday night is a huge game for Robak and the team as they play Texas in Texas.
Details

Contributed by

Darnell Duff
Swan River's Evan Morden is one of 382 former WHL players that have been awarded a WHL Scholarship.
The scholarship is only available to players who used to play in the WHL, and planned on playing at the University level while studying.
"It's a really good feeling that I was awarded the scholarship," said Morden. "It was in my final year of playing in Swan River with the Stampeders that I was recruited to go play for the Brock Badgers, and I decided that it was a good idea."
Before playing for the Badgers, Morden played three seasons in the WHL combined between the Everett Silvertips and Prince Albert Raiders.
"Playing in the WHL was a great opportunity. I got to play with and against the best players in the world at the junior level," said Morden. "Obviously, the hopes were to turn it into a pro career, but having the scholarship to fall back on is a great thing. The scholarship is really second to none, and it allows you to continue playing hockey at a high level in university."
The 24-year-old is in his fourth-year at Brock University, and is set to graduate this year with a Bachelor Business Administration degree, with Concentration, and Accounting.
Details

Contributed by

Darnell Duff