Latest Sports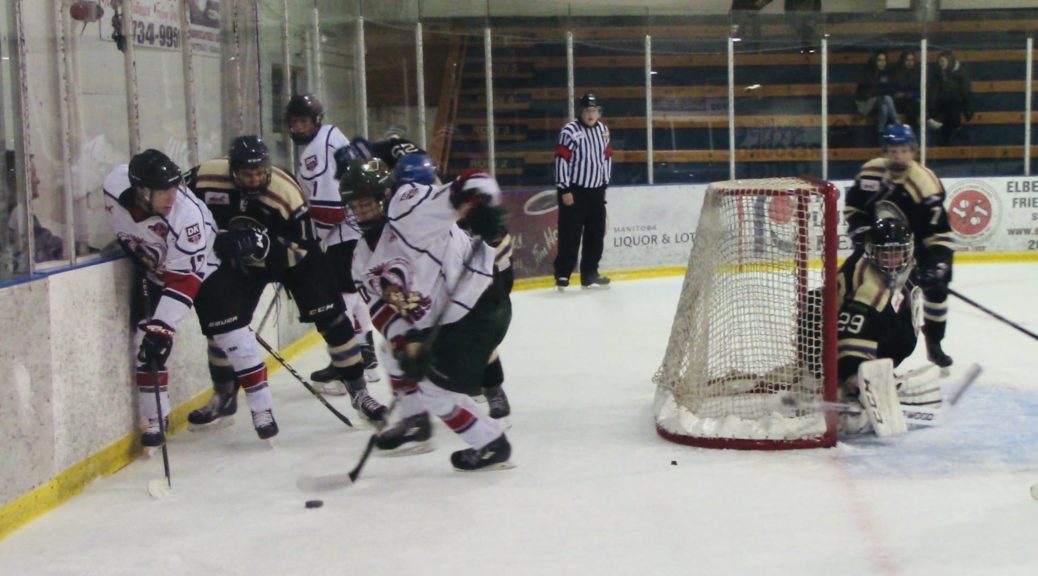 The Dauphin Kings jumped out to a big lead yesterday and won, tonight Swan Valley jumped out to an even bigger lead and won.
The Stamps scored three goals in the first period and followed that up with two in the second to lead 5-0 after 40.
Hometown boy Carter Cockburn made a big impact in his first game with the Stampeders this season scoring two of the five goals.
Rylan Gudnason, Cory King, and Joel Delorme all added one each.
But, in the third period the Kings came out with a different effort as Alex Cattani and Leeam Tivers got the team back into it with a goal apiece and only 1:44 had elapsed.
No more goals were scored until the 15:52 mark when Grandview's Taron Topham scored and picked up his second point in as many games for the team.
With four seconds left Tivers scored again for Dauphin, but it was too little too late as the Stamps won their preseason home opener, 5-4.
Dauphin will now get a couple days off before they return to the ice on Saturday at Credit Union Place against the Virden Oil Capitals.
Photo Credit - Dauphin Kings.
Details

Written by

Darnell Duff
He spent the weekend in Winnipeg getting the chance to play the game he loves with his friends.
Dauphin's Easton Odut did that and so much more. Playing in the Manitoba AAA Hawks 3 on 3 tournament with and against some of his friends, Easton and his team won the Championship.
"It was definitely a super fun weekend," said Odut. "Some of my friends weren't on my team, but some were. It was an awesome time and it felt really cool to raise the trophy after winning the final."
After coming back to the Parkland with a gold medal, Odut is now preparing for the hockey season that'll be starting up soon in town.
"I want to make the Peewee AA team here in town for sure," added Odut.
So does Easton take a break when he's not playing in Dauphin? No chance.
He also plays on the 07 Manitoba provincial team. Playing on that team has given Easton a chance to travel to Nashville, California and a few other places to play against some of the top young players in North America.
"It's been a ton of fun," said Odut. "It's great travelling with friends and everything. It's never easy because all of the teams are so good, but it's a great experience playing against them."
"And then of course off the ice, we have a lot of fun together to," said Odut. "Like last year we went to a zip line park which was cool. So, hopefully, we can continue doing stuff like that."
When Easton takes a look back at his time travelling with the provincial team, he's made lots of great memories. But, there's one specifically that he'll never forget.
"I'll probably never forget about the goal I scored in Nashville last year," added Odut. "My friend was trying to deke out the guy but the defender stopped him but the puck ended up right on my stick. Then, I just put it in the back of the net and my whole team started jumping on me and all that. It was crazy."
So Easton has achieved a ton in the hockey world, and he's just 11-years-old. And now he's preparing as he looks to have success in his hometown this winter.
"I'll just go outside and shoot two big buckets of hockey pucks," said Odut. "It's important to stay in shape and focused on the goal. I want to make it to the WHL when I'm older, and I have my eye on that goal."
Details

Written by

Darnell Duff
It will go down as one of the most competitive Dauphin Kings training camps in recent years, and right in the middle of it all was Gilbert Plains Evan Gullet as he looks to make his home region team.
After graduating from Midget AAA this past season, Gullet made a new goal of making the team, and he's happy with how it's gone so far.
"You know I thought it was a really good camp," said Gullet. "The speed has been up quite a bit for sure. Just the level of hockey, in general, has picked up from Midget. Not that much, but it's definitely a bit faster and more physical."
Although Evan hasn't had the chance to play junior hockey full time yet being just 18-years-old. The Gilbert Plains native did get the opportunity to suit up for the team last season. And, as he tries to make the team this year, the hard-working defender feels that will help him.
"I think being an AP a couple games last year definitely helped," said Gullet. "But, it's obviously still quite a jump from Midget. I just have to give it my all, and we'll see how it goes."
Training Camp wrapped up on Sunday with the JoFo Cup in which Team Goring doubled up Team Trotz, 6-3.
"I was definitely trying to show off my speed in that game," added Gullet. "I need to show that I can play with the type of players that play in this league. And, that was a fully veteran game so that allowed me to I think do that. Then, of course I went out there to try and get a couple big hits and really just make a difference."
As the Kings continue their preseason tonight in Swan River, Gullet doesn't know if he'll suit up but he knows that whenever he gets the call, he has to be ready for it.
"I just want to keep working on my speed so the organization knows I can keep up with everyone," said Gullet. "It's been a long grind since training camp started, but I'm definitely enjoying it. It's been a fun ride."
If Gullet does get the chance to wear a Kings jersey full time this season, he'll achieve something he's dreamed about for years, and that's playing for the Kings.
"I would consider that as an honour," said Gullet. "I've watched the Kings my whole life and I've seen so many of my friends and people I know go through the program. I really want to be a part of this program, so I'm going to do everything in my power so I can be."
Details

Written by

Darnell Duff
The Dauphin Kings opened up their preseason tonight at Credit Union Place with a 4-2 win against their Parkland rival Swan Valley Stampeders.
The Kings opened up the scoring 9:32 into the opening frame when Owen Wareham potted it past Stamps goalie Dawson Green. Swan River's Darian Boychuk was credited with the first assist while Antoine Gauthier picked up the second.
At the end of twenty, the Kings led 1-0 on the score clock and had a 15-7 shot advantage to boot.
It was all Dauphin in the second frame. 3:15 in Ben Kelly made it 2-0 with Sloan Stanick picking up the lone assist. Later in the period at the 17:50 mark, a couple Parkland players made their mark on the game as Stanick recorded his first ever multipoint game in a King jersey.
On the Stanick goal, Ste. Rose's Reece Hopfner and Grandview's Taron Topham picked up assists.
Then, we fast forward to late in the game as Josh Beauchemin scored for the Stamps to bring the team within two goals with 3:15 left.
That goal lifted the Stamps spirits as they scored another goal with 1:49 left in the third frame off the stick of Joel Delorme.
But, that's as close as Swan Valley would get as Dauphin scored an empty-net goal with 51 seconds left to secure a 4-2 win.
Leeam Tivers who had a tremendous training camp scored the goal with Nakodan Greyeyes and Kade Runke picking up the assists.
The two teams will hook up again tomorrow night, this time at the Centennial Arena in Swan River.
Details

Written by

Darnell Duff
After a few rigorous, highly competitive days of training camp, the Dauphin Kings will officially flip the page and begin their preseason tonight.
And, it's set to be an all Parkland battle as the Kings welcome the Swan Valley Stampeders to town.
Both teams will feature a younger roster which includes lots of local talent on both sides.
Five different Parklanders will suit up alone for the Kings.
They include Reece Hopfner, Jayden Jubenvill, Taron Topham, Hayden Lacquette, and Keaton Ziprick.
Tonight's game will be the first of a home and home between the clubs, as the Kings will head to Swan tomorrow.
Ticket prices for this tilt are $5 for adults and students and kids 12 and under get in for free.
All the action hits the ice at 6:00 p.m.
Photo Credit - Dauphin Kings.
Details

Written by

Darnell Duff
It was one of the worst performances Matt Nichols has ever had in the CFL and it came in a game the Winnipeg Blue Bombers always want to win.
Nichols completed just over 53 percent of his passes as the Bombers dropped their game against the Riders this afternoon 31-23.
On the other side of the ball, Zach Collaros remains perfect on Labour Day Weekend. He went 18 for 30 for 250 yards to move to 4-0 in his career playing on LDW.
The Bombers were leading the game 17-14 at halftime but struggled in the second half while Saskatchewan did what they had to do by scoring 17 points compared to just six by the Blue & Gold.
Andrew Harris led the Bombers with 158 yards rushing in another dominant game for the Winnipegger. Naaman Roosevelt picked up 86 yards through the air to lead the Riders.
With the win, the Riders are now tied for second in the division with a 6-4 record, while the Bombers dropped to 5-6 on the season.
Details

Written by

Darnell Duff
It was the Alex Cattani show this afternoon at Credit Union Place, as the 17-year-old scored three goals to lead Team Goring to a 6-3 win in the 2018 edition of the JoFo Cup.
But, it was Team Trotz that opened up the scoring off a faceoff as Samson Mouland put his team up just 5:46 into the game.
At 11:02 of the first, Cattani scored his first of the game to tie it up after 20 minutes.
In the second, Team Trotz stormed out of the gate with two goals in a two-minute span. At the 13:28 mark Mason Fischer scored while Leeam Tivers increased Team Trotz lead to 3-1 at the 15:53 mark.
It didn't take Team Goring long to get back in it as Brendan Arnold scored a dandy at the 16:44 mark with Jaxon Heeney and Grady Hobbs picking up the assists.
After 40, it was Trotz leading 3-2.
In the final twenty, it was all Goring. Cattani tied up the game 3:52 into the frame and Gilbert Plains Warren Jubenvill made it 4-3 for the team at the 9:38 mark.
Grady Hobbs sealed it for Goring into an empty net at 18:38 and Cattani picked up his hat-trick, also into an empty net at 19:03.
The Kings begin their preseason tomorrow when the Swan Valley Stampeders are in town for a 6:00 p.m. puck drop.
Photo Credit - Dauphin Kings.
Details

Written by

Darnell Duff
It's not how you start, it's how you finish and that was clearly evident at Credit Union Place today as Team Kotyk won the first place game as Dauphin Kings Training Camp wrapped up.
After a solid win in their semifinal, the return of Jaymes Knee once again paid off for the team.
He assisted on one goal as Kotyk beat Team Trotz 3-1.
Brennan Kitchen and Dauphin's Zach Grouette did an excellent job as they shared minutes between the pipes.
Earlier in the third place game Team Goring beat Team Luke 5-4 in overtime.
Second Semifinal:
Led by the top line of Mason Fischer, Matt Bartel, and Alex Schneider, Team Barry Trotz is off to the finals.
Bartel scored once and the line pressed several times as they beat Team Luke 2-1 earlier today.
They will now take on Team Kotyk in the finals. That goes at 5:00 p.m.
First, at three, Team Goring challenges Team Luke.
First Semifinal:
In the first game of the day, the four seed Team Kotyk upset the top-seeded Team Goring to advance to the final.
Team Kotyk was steadied by a good performance to begin the game from veteran Brennan Kitchen who dazzled last year, and local Zach Grouette came in and shut the door in the final period.
Since coming back from Swift Current camp, Jaymes Knee has created several chances offensively.
Details

Written by

Darnell Duff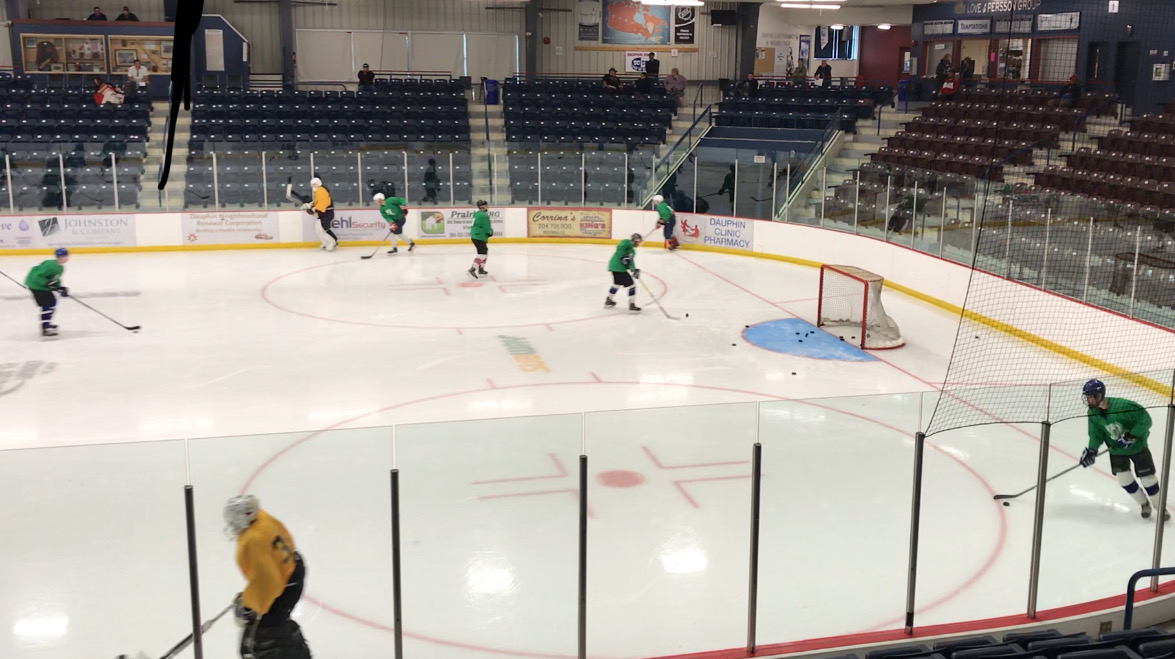 It was another busy day at Credit Union Place as the Dauphin Kings held their second day of training camp.
The day kicked off at 10:00 a.m. this morning and included four different scrimmages and wrapped up with a goaltender only session.
Several local players excelled throughout the course of the day including Dauphin's Bradyn Smelski who ended up on a stacked line on Team Shane Luke which consisted of Nakodan Greyeyes and George King.
Team Luke was also joined by #14 Leeam Tivers who dropped the gloves at one point and had a very good showing not only offensively, but defensively as well.
One of the best games all day came from a player who played on the Kings last year and that's Matt Bartel. The Floridian scored once in the team's second game of the day and produced a couple other chances. And, he scored the shootout this morning as Team Trotz got past Team Kotyk.
Day three of camp on Saturday will feature another busy one.
Here's the full schedule:
10:00-11:00 a.m. - 1st Place (Goring) vs 4th Place (Kotyk).
11:30-12:30 p.m. - 2nd Place (Luke) vs 3rd Place (Trotz).
3:00-4:00 p.m. - 3rd Place Game.
5:00-6:00 p.m. - 1st Place Game.
All of the action all weekend long is free of charge. On Sunday, the JoFo Cup will take place at 2:00 p.m.
Details

Written by

Darnell Duff
It's been a busy week in the Wheat City and specifically at Westoba Place.
The Brandon Wheat Kings have started up their camps as the rookies hit the ice earlier this week looking to gain a spot in "Main Camp" which began this morning at 8:30.
"Rookie Camp consisted of 54 players and I think our scouting staff and hockey operations did a fantastic job of filling that camp," said David Anning, Head Coach. "And, from there several players moved on to Main Camp because they performed well in the first two days. Our veterans were able to come in and we put them through fitness testing, and we're encouraged with those results."
"Now as we go through Main Camp, the competition gets much stiffer and faster," added Anning. "We're looking forward to the weekend and beyond."
As the camp unfolds, the Wheat Kings will look to assemble the best team possible. Thankfully for the Wheaties, some decisions on which players to keep and which to cut won't be easy. But, as an organization that's exactly what you always want.
One of the positions that could be the most interesting is between the pipes. Dylan Myskiw returns after taking the reigns last year in the playoffs when Logan Thompson was injured early in their first-round series against Medicine Hat. However, just because he played last year certainly doesn't mean he has a spot locked up.
The team picked up Czech born Jiri Patera in the CHL Import Draft, and it's expected one day that Patera will make it big. The Vegas Golden Knights draft pick will take part in Knights rookie camp early next month. Also fighting for a spot is Ethan Kruger and Connor Ungar. Kruger was the backup to Myskiw in last year's postseason.
"I think there's going to be many tough decisions here," added Anning. "The goaltending position is definitely an interesting one. We were pretty fortunate to pick up Patera and we like what he's brought to camp. We also have 17 position players that are returning from last year, and we have a bunch of young guys who are fighting to make this team that we're pretty excited about."
"It's an exciting time to see all these players go through camp and the preseason as they try to make the team," added Anning.
Heading into this season, some work the Wheat Kings did last year was a foundation for success this year and going forward. At the trade deadline, the organization traded star players Kale Clague and Tanner Kaspick.
This allowed the team to pick up some prospects and players who could be on the roster this year, and even players who made a difference last season.
Two of the players who made an impact that came through those trades were Luka Burzan and Chase Hartje. Burzan had 21 points in 30 games in the regular season for the team and added another seven in 11 postseason games. Hartje had eight regular-season points in 27 games with the Wheaties and added another two points in 11 playoff games.
"Both those guys contributed in the second half of the season and they've looked good so far here this week," said Anning. "Now Ty Thorpe's a guy who we got through the trade and he's pushing hard to try and make the team this year. It was a tough day for our organization getting rid of those extremely talented loyal players, but we believe it put us in a good spot heading into this season and the future."
A Look Back:
The Wheat Kings went 40-27-3-2 last season which earned them the top Eastern Conference Wildcard spot. In the first round, the team beat Medicine Hat in six games. Lethbridge then ended the Wheaties season in the next series in six games.
"I think that whole playoff experience was great for our team," said Anning. "Our young group got the chance to feel what it's like to play in the playoffs and when games ramp up that much more.
Brandon begins their preseason next Friday as they take on the Regina Pats in a home and home. After the four preseason games, Anning and the Wheaties begin their regular season on September 21 against the Moose Jaw Warriors.
"I think we're excited with our returning group for sure," said Anning. "We're just focused on ourselves and improving how we play, and if we continue to work hard, I'm confident we'll be able to put a good group of players on the ice."
In Brandon?

If by chance you are, you can head down to Westoba Place to catch the action all weekend long for free!
Fun Facts
David Anning was an Assistant Coach in the 2010 season for the Dauphin Kings when they won the Anavet Cup. Anning also spent time with the former Winnipeg Saints and Steinbach Pistons in the MJHL.
The Winnipeg native is set to enter his third season as the Head Coach for the Wheat Kings.
Details

Written by

Darnell Duff