Latest Sports
It's time to get geared up for rugby season in the Parkland, as the Parkland Pirates will be holding their registration night this Wednesday.
It'll be from 4-7 at Parkland Source for Sports in Dauphin and is open for kids aged 5-13 in the region.
The cost to take part is $50 for kids aged 5-8, and $75 for kids aged 9-13.
The Pirates practice twice a week until the end of September and will be in a jamboree every weekend which includes teams from all over the province. The practices in town take place at Kin Field and start at 5:30 p.m.
"Rugby is a really great sport," said Aaron Miner. "The Parkland had the largest growth in all of Canada last year as per Stats Rugby. It's a really fun sport, and it's really growing not only in Dauphin but the Parkland. We'd love to see your kids there, we know they'll love it."
If you can't make it to PSFS on Wednesday, you can contact Gerald Lopez at the Dauphin Chiropractic Centre and sign up in person with him during business Hours. And, if you're out of town and want to play, you can just head to Kin Field on August 27 before 5:30 as the Pirates hold their first practice.
The team's final practice will be on September 27.
Details

Contributed by

Darnell Duff
The Tamarack Golf Tournament is well underway at the Clear Lake Golf Course, and several Parklanders put forth some solid rounds.
Men's:
Dauphin's Mark Odut went 69-72 to earn the fourth spot in the Championship flight.
Gilbert Plains Dale Murray went 73-71 to finish in sixth.
Scott McCallum is fifth in the second flight after rounds of 79-76.
Dauphin's Bart Michaleski is sixth after a 75-80.
Details

Contributed by

Darnell Duff
The Dauphin Rangers FC soccer squad will be playing to call themselves Champions next week.
The team doubled up Deloraine 6-3 earlier today to book their berth into the Westman Soccer League final against Oldcastle United.
Jason Dando led the Rangers with two goals, while Junior Davila, Johnny Kohan, Weston Kabel, and Kobe Banahene scored one each.
The league final goes next Sunday in Brandon.
Details

Contributed by

Darnell Duff
It was a busy weekend at the Gilbert Plains Country Club with lots of money on the line.
Here are the results from two tournaments.
WEST REGION TRIBAL COUNCIL RESULTS
AUGUST 18, 2018:
CHAMPIONSHIP FLIGHT:
1st Place – Team Brian Spence – 59
2nd Place – Team Elvis Nepinak – 60
3rd Place – Team Tyler Lacquette - 61 c/b
FIRST FLIGHT:
1st Place – Team Valdez Bear – 63 c/b
2nd Place – Darren Sinclair – 63 c/b
3rd Place – Nelson Leaske – 63 c/b
SECOND FLIGHT:
1st Place – Team Barry McKay – 65 c/b
2nd Place – Team Darryl Lacquette – 65 c/b
3rd Place – Team Wayne Bazylo – 67
THIRD FLIGHT:
1st Place – Team Garret Dykun – 71 c/b
2nd Place –Team Brandon McKay – 71 c/b
3rd Place –Team Stan Smith – 72
Closest to the Hole #4 - Stan Mancheese -42 ½"
Closest to the Hole #9 – Nick Roulette -4 feet
Closest to the Hole #14 – Darren Sinclair- 5'8"
Closest to the Hole #17 – Barry McKay -79"
Longest Drive – Stacy Genaille.
BATTLE OF THE NATIONS RESULTS
AUGUST 19, 2018:
CHAMPIONSHIP FLIGHT:
1st Place – Team John North – 59 c/b
2nd Place – Team Dean Edwards – 59 c/b
3rd Place – Team Barry McKay – 60 c/b
FIRST FLIGHT
1st Place – Team Cale Cote - 61
2nd Place – Team Jay Moosetail - 62
3rd Place – Team Dennis Moar – 63 c/b
SECOND FLIGHT:
1st Place – Team Lawrence Bear – 64 c/b
2nd Place – Team Nelson Genaille – 65 c/b
3rd Place – Team Brennan Burns – 65 c/b
Closest to the Hole #4 - Jared Hudson
Closest to the Hole #9 – Brad Moosetail
Closest to the Hole #14 – Derek Straightnose
Closest to the Hole #17 – Tim Edwards
Details

Contributed by

Darnell Duff
Ste. Rose's Brooke White and the rest of the U14 Manitoba women's baseball team are the second best in Western Canada.
After beating Alberta yesterday, and Saskatchewan today, Brooke and the rest of the team earned their right to play in the gold medal game.
In the finals, BC proved to be too much for the Manitoba squad, but none the less, Brooke will be coming home with a silver medal.
Details

Contributed by

Darnell Duff
Dauphin's Breken Brezden joined the Skate Manitoba team this weekend as they travelled to Toronto to take part in the Greater Toronto Skating Association Summer Skate.
And, the young Parklander continues to prove why she's a force out on the ice in Manitoba, and is starting to be a force in Canada.
In her long skate yesterday, Breken skated to a personal best with a score of 46.74, which moved her up six spots to a fourth place finish.
Earlier on Friday, Breken scored 20.37 points in her short skate to finish with a two-day score of 67.11.
That total ended up being just 1.29 points short of finishing in third.
Details

Contributed by

Darnell Duff
Here is your local scoreboard for August 18.
Parkland Source for Sports 4 on 4 Hockey League:
Kiniw Management beat Next Level ST Wranglers, 12-9.
Brayden Kohlman had five goals and two assists for Kiniw.
Kelleher Ford Mustangs beat Kal Tire, 12-8.
Ameron Laliberte and Jayden Jubenvill had three goals each for the Mustangs.
Kal Tire was led by Trey Sauder who had four goals.
Details

Contributed by

Darnell Duff
Ste. Rose's Brooke White is enjoying her time in Alberta this weekend as she takes part in the Western Canadian U14 Women's Baseball Championships on Team Manitoba.
They played two games yesterday and went 1-1.
In their first game, they lost to BC 13-6. They then followed that up with a 13-12 win against Ontario.
We'll continue to give you the scores you want and need all weekend.
Details

Contributed by

Darnell Duff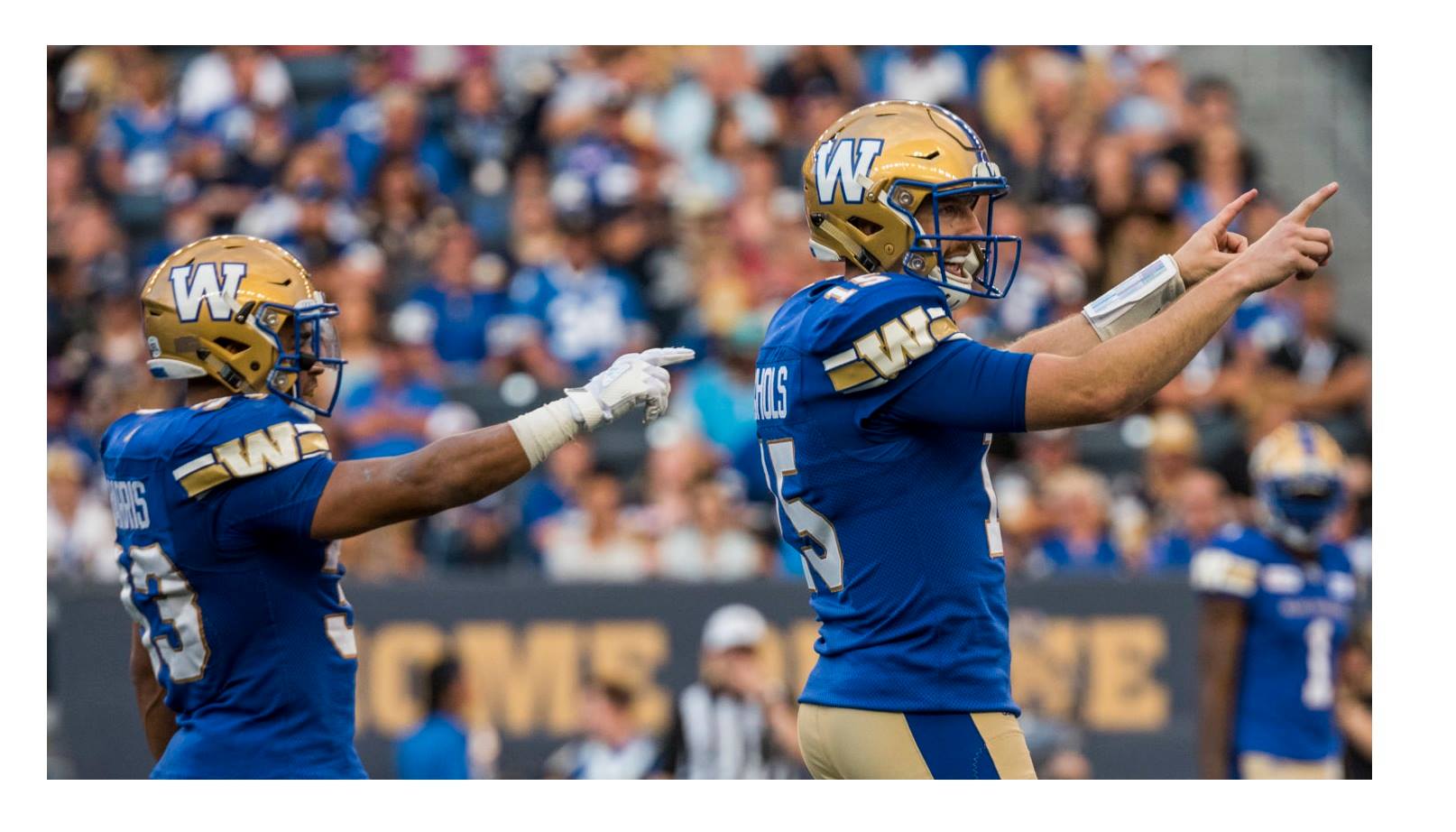 The Winnipeg Blue Bombers trailed 8-7 heading into the second quarter last night but ended up playing a horrid remainder of the game as they fell 44-21 to Ottawa.
The Blue & Gold could never really get it going, and it was a tough second quarter that sealed their fate. They were outscored 14-0 in the second and trailed 22-7 at halftime.
22 more points in the second half from the high powered Redblacks offence was plenty enough to pick up their sixth win of the season, while the Bombers dropped to 5-4, a loss which halted their winning streak at three games.
Trevor Harris had another monster game. He completed 29 passes for 361 yards and didn't throw an interception.
On the Bombers side, Matt Nichols was subpar. He was 23 for 35 for 291 yards.
The real lone bright spot for the Bombers was Darvin Adams. The star receiver picked up 162 yards over eight catches.
Winnipeg heads to Alberta next week to take on the red-hot Stampeders.
Details

Contributed by

Darnell Duff
He's only 14-years-old, but he has big plans when it comes to hockey and that's Dauphin's Rylan Gibbs.
The crafty forward is in Winnipeg this weekend as he was invited to Hockey Manitoba's WHL Program of Excellence Combine.
"It was definitely a great feeling to get the email inviting me to take part," said Gibbs. "It was a big exciting moment for me. It took a lot of hard work to get here, so I'm hoping big things come out of this as I move forward."
"It means a lot to be in the top bunch of Bantam players in Manitoba," added Gibbs.
Although hockey is only played a certain amount of time in the year, for Rylan, he dedicates countless hours to the game he loves even if it's not hockey season.
"As soon as the summer started I was working out a lot with Doug Hedley," said Gibbs. "I know you can't take anytime off or else you'll lose your edge. Hockey season is a tough grind, so I had to make sure my body was ready for this."
On top of working out, Rylan also suits up for the Next Level ST Wranglers in the Parkland Source for Sports 4 on 4 Summer Hockey League, that started earlier this season and wraps up early next week.
Playing in the league has given him multiple chances to sharpen his skills as he takes part in the combine this weekend alongside the best Bantam players in the province.
This weekend includes a rather rigorous schedule. Rylan will take part in multiple skill sessions, dryland training, and the weekend will cap off with three games.
"Playing with all these kids will definitely help me," said Rylan. "Whether they're better than me or not, I want to be the best player I can be. It's been a really fun experience so far, and I'm really looking forward to the rest of the weekend."
After playing AA hockey in Dauphin last winter, Rylan will be looking to make the jump up this season.
"I'm going to try out for the Bantam Parkland Rangers this season," said Gibbs. "I'm just hoping I can have a successful season, and we'll see where that takes me."
Details

Contributed by

Darnell Duff
Russell's Seth Falkevitch's goal is to be drafted and get the chance to continue playing the game of hockey for many years to come.
And, the 14-year-old is definitely getting the chance to show off his skills against the best young Bantam players in the province.
Falkevitch is one of eight players in the Parkland that were invited to U15 WHL's Program of Excellence Skills Combine this weekend in both Portage and Winnipeg.
The weekend will include skill development sessions, position-specific coaching, and will wrap up with three competitive games.
Already on the ice this morning, Seth took a couple minutes to chat about how it's going so far.
"It's been going great so far, and it's nice that I've been able to see a few familiar faces," said Falkevitch. "I just feel like it's a great experience, and opportunity to take part in this. I'm going to be able to get more exposure which is good for my future."
With the camp being the Program of Excellence (POE), Falkevitch isn't only playing alongside some of his elite friends, but he's playing against all of the best U15 hockey players in the province.
"The competition out here is definitely pretty wicked," said Falkevitch. "I'm just going out there and giving it my all. I know it's not going to be an easy weekend, but I'm going to try and impress as much as I can."
Although he's not looking past this weekend, Seth does know what's up next for him as the hockey season in the Parkland gets closer day by day.
"I'm heading into my major year in Bantam, so I'll be going back to play with the Parkland Rangers," said Falkevitch. "My goal is to get drafted in the Bantam Draft, so I'll be pushing really hard this season to prove I'm good enough."
The 14-year-old has a good idea heading into the season on what he could do to impress the scouts and help the Rangers succeed.
"I mean, racking up some more points will definitely help," he added. "I think I can help the team out on the PP and PK. I want to be more of a two-way player this season.
Seth already knows what it feels like to be a winner, as he was a part of the Rangers team last season that won a bronze medal at the Bantam Rural AAA Provincial Championships.
Details

Contributed by

Darnell Duff