NewsNow
There are some changes to the yard waste pick-up schedule in Dauphin next week.
This is because of the National Day For Truth & Reconciliation on Thursday, September 30th.
Those in the Day 1 Zone will be moved to Monday, September 27th.
Day 2 will be moved to Tuesday, September 28th.
Day 3 will be moved to Wednesday, September 29th.
Day 4 will remain on Friday, October 1st.
Regular collection days resume on Tuesday, October 5th.
Details

Contributed by

Trillian Reynoldson
Manitoba PC Leadership candidate Shelly Glover held a meet and greet in Dauphin Saturday, where she made a big announcement.
She stated that if she becomes Premier, one of the first things she will do is reopen the correctional centre in Dauphin.
Glover says she came to this decision because she's worried about the lack of support and services for our rural communities.
"We are seeing agriculture centres close, Manitoba Hydro offices close, and other rural offices being impacted. That is very dangerous for our rural communities, and we need them to be sustained, we need to support them just as much as we need to support our large cities."
Glover, who has experience in law enforcement, says it's dangerous for guards and other staff at jails when they're overcapacity.
"The stats speak for themselves. Over the last five years, we had an average of 369 inmates overcapacity. That included when we had the Dauphin jail. So by closing the Dauphin jail, we have now just put those extra bodies into, yet again, over-taxed systems located elsewhere. We need to better protect the guards and the inmates. We're in COVID, the last thing you want to do in COVID is pile people who don't know each other into rooms together."
The Progressive Conservative Party of Manitoba will choose its new leader, who will be Manitoba's first female Premier, on October 30th.
Details

Contributed by

Trillian Reynoldson
From 11 a.m. to 3 p.m. today, Dauphin's Rail Museum will celebrate the 125th anniversary of the first train's arrival through the city.
While the actual date of the train's entry is December 15th, 1896, Dauphin Rail is looking to take advantage of some nice September weather to celebrate.
President of the Museum, Jason Gilmore, outlines what is scheduled for the event,
"We are going to have live music; we are also going to have C&D snack shack right beside the building that offers food for purchase. We are going to have some giveaways, some birthday cake, and there's also items for purchase as well."
The Museum recommends you wear a mask while outside, but they understand that it is up to individual people's digression.
If you do go inside the Museum, you will need to show proof of vaccination.
The Museum will be taking donations to help support future projects at this event.
Bring your lawn chairs, sit and relax while enjoying free entertainment, giveaways and more when Dauphin Rail celebrates 125 years.
Details

Contributed by

Noah Fuchs
Saskatchewan has been seeing an increase in COVID-19 numbers lately.
At the moment, the province has 4,734 active COVID-19 cases; compared to Manitoba, which has 499.
In the southeast part of Saskatchewan, they have 309 active cases. This area includes Yorkton, 174.3 km from Dauphin.
That's only 190 fewer cases than our entire province.
Currently, 84.6 percent of eligible residents have one dose In Manitoba, and 79.9 percent have two doses.
While in Saskatchewan, 80 percent of people have one dose, and 71 percent have two doses.
Details

Contributed by

Noah Fuchs
Nobody was injured after a suspicious house fire in Swan River.
On Thursday afternoon, Swan River RCMP received a report of a fire.
When officers arrived on the scene, the house was fully engulfed in flames.
The investigation has determined that no one was inside the residence at the time of the fire.
The cause of the fire is suspicious.
Anyone with information can call the Swan River RCMP at 204-734-4686.
Details

Contributed by

Trillian Reynoldson
Designated front-line public servants in Manitoba who aren't fully vaccinated will need to undergo regular rapid COVID-19 testing.
This new health order comes into effect on October 18th.
The province says this applies to:
health-care workers
school personnel
licensed child-care facility personnel
public servants who regularly have direct and ongoing or prolonged direct contact with vulnerable populations
child and family service personnel
funded agency personnel direct contact with vulnerable populations
home care workers
paramedics.
This builds on the rapid testing for employees in personal care homes that was launched in 2020, and the Fast Pass sites in the school system that was launched earlier this year.
The new public health order doesn't apply to the private sector, not-for-profit sector or organizations that may choose to enact their own vaccination or testing requirements.
Details

Contributed by

Trillian Reynoldson
UPDATE-------The fire that wiped out a 47 unit condo in Brandon earlier this week was reportedly due to the careless disposal of smoking materials.
The estimated damages of the fire are coming in at roughly $11 million.
The fire broke out on Tuesday night, and fire crews were still putting out flames later Wednesday afternoon.
All 48 residents of the building were safely accounted for, police confirmed on Thursday.
Details

Contributed by

Noah Fuchs
Anyone attending any Dauphin Rec Services events or programs must now enter from the south entrance of the Parkland Recreation Complex.
The Dauphin Rec Services front desk has been temporarily relocated to the speedy glass ticket booth.
Proof of vaccination and ID must be shown at the front desk.
Details

Contributed by

Trillian Reynoldson
According to the provincial dashboard, there are 60 new cases of COVID-19 in the province.
Of the cases announced today, Manitoba reports 39 are from unvaccinated individuals, six from partially vaccinated and 15 fully vaccinated people.
Public Health officials also report that of today's cases:
Nine are in the Prairie Mountain Health region
Six are in the Interlake-Eastern Health region
Five are in the Northern Health region
24 in the Southern Health–Santé Sud health region
16 are in the Winnipeg Health region
Dauphin has nine active cases of COVID-19 in the city.
The numbers of active cases in other Parkland health districts are:
Riding Mountain (0), Swan River (3), Duck Mountain (4), Porcupine Mountain (1), Agassiz Mountain (6), Asessippi (3), Little Saskatchewan (0), Whitemud (1). Brandon has 26 active cases.
In the Interlake, the Eriksdale/Ashern health district has three active cases. The Fisher/Peguis district has one active case.
The current five-day test positivity rate is two percent provincially. 3,535 laboratory tests were completed yesterday.
There are 499 active COVID-19 cases in the province.
34 Manitobans are hospitalized with active COVID-19.
10 Manitobans are in intensive care units with active COVID-19.
79.1% of eligible residents in Dauphin are fully vaccinated.
Details

Contributed by

Noah Fuchs
UPDATE-------42-year-old Jeananne Jubenville, originally from Dauphin, was sentenced to one year in jail yesterday.
In July of last year, Jubenville entered the bar at the Gilbert Plains Hotel, armed with a knife and demanded cash from the till, but the employee refused; Jubenville then left through the back entrance.
Once police arrived on the scene, bystanders pointed officers in the direction of Jubenville, who was found close by still in possession of the knife.
When she refused the officer's demands to drop her weapon, police were forced to use a taser to apprehend her.
Jubenville was later taken to hospital with minor injuries before being released back into custody.
Details

Contributed by

Noah Fuchs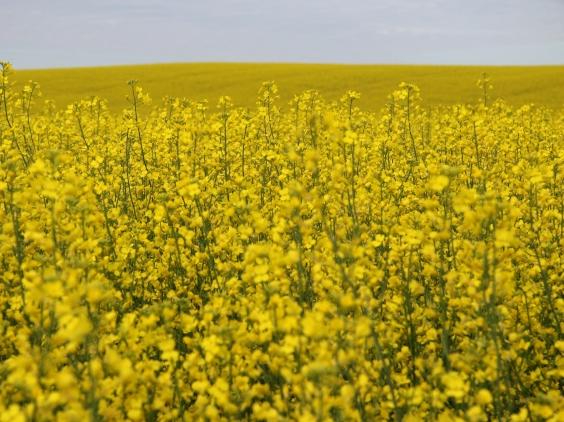 The governments of Manitoba and Canada are wrapping up Farm and Food Awareness Week on a positive note by providing $84 thousand to Ag in the Classroom Manitoba.
This funding will help Ag in the Classroom develop a Manitoba Seed Kit.
The Manitoba Seed Kit will help students learn about the top cereal, oil, specialty, and pulse crops grown in Manitoba.
Each kit will feature seed samples from 15 crops commonly grown in the province, and lesson plans for teachers of grades 3 to 6.
The kits will also include activities in other areas like math, social studies, health, and science.
Details

Contributed by

Trillian Reynoldson