NewsNow
Emergency crews are on scene and an investigation is underway.
Crews from Gilbert Plains were dispatched to a fire at Hemp Sense on Tuesday morning.
At this time, it's been determined that the bale shredder that was being used to process bale caught fire and filled the building with smoke. There was also a small amount of damage done to the exterior of the building.
The investigation continues and we will have more when we can.
Details

Contributed by

Darnell Duff
Changes are coming for students that attend schools in the Division Scolaire Franco-Manitobaine next month.
Beginning in October, cellphones will be banned in class after teachers decided they were being disruptive. The new policy will be different for two different age groups. For those in kindergarten to grade eight, students are not allowed to bring their phones into the school.
For high school students, they aren't allowed to have their cellphones in the classroom; however, they are able to use them during lunch breaks and spare periods. That isn't the only change coming to the division next month, as stated by Alain Laberge, division superintentent.
"We're also not allowing students to use earbuds, including the wireless ones," said Laberge. "We found that students could have their bags three feet away and still have access to music. We believe that students don't engage in learning when they're listening to their own music."
Locally, the changes will come into effect at Ecole Jours de Plaine.
Weeks ahead of the change, Laberge is confident that this will be a positive change.
"We believe that there will be more attention directed to learning," ended Laberge. "We also believe there will be more socialization between students which is a positive. We have seen so many times that kids are three feet apart and they're texting eachother, but that won't happen moving forward."
730 CKDM has reached out for more comment from students and administrator at Ecole Jours de Plaine.
Details

Contributed by

Darnell Duff
Strike action could continue its ripple effect across the province as Loblaw's employees could seek strike action if contract negotiations fall through.
United Food And Commercial Workers Local 832, the union representing the four thousand Loblaw workers says more than 97 percent of the workers who cast a ballot on the weekend voted in favor of a strike mandate.
Locations that would be affected by this action would be the province's Superstores, No Frills and Extra Foods.
The union says workers have seen the headlines about Loblaw's record profits and company president Galen Weston's compensation package, and want a contract that recognizes the role they've played in boosting the company's success.
By voting overwhelmingly in favor of a strike mandate, Loblaw workers are showing their employers that they are serious about getting a fair offer and recognition for their efforts. The union and Loblaw are back at the bargaining table this morning, and negotiations are scheduled to continue right up to the current contract's expiry in September.
The current contract expires September 28th.
Details

Contributed by

Michael Brossart
A local artist of national recognition is bringing the Woodland Art Style to a display in Dauphin, and he's not alone.
Patrick Paul will be joined by fellow artists Brianne Island, Thomas Sinclair, Mishiikenh Kwe, and Jared Tait for the first-ever Woodland Art & Cultural Experience in the city of Dauphin
The Woodland Art Style is a distinct style of Native art that blends traditional legends and myths with contemporary mediums.
The event kicks off at Noon tomorrow September 12th at the Watson Art Center, and opens with a drum ceremony from "Turning Leaves In The Wind".
Shortly thereafter, there will be live painting demonstrations by indigenous artists and a collection of craft and beadwork vendors.
Paul's got a few goals in mind with this event. He notes that bringing artists together like this could inspire a more creative future for others.
"I think that's my biggest initiative, that other artists need to start painting in Dauphin, the Parkland, and the surrounding area. It's a big, big community that we're missing and I know there's a lot of talented people out there."
Paul hopes that moving forward, this could become an annual event.
If you're looking to take in this first-of-its-kind event in Dauphin, you can see it from September 12th until September 19th.
Admission for this art display will be $5, but free with a status card's presentation.
Paul says it best, "No indigenous person should ever have to pay for their culture.".
For more information or inquiries for vendor registration, This email address is being protected from spambots. You need JavaScript enabled to view it..
Details

Contributed by

Michael Brossart
The new arena in Minnedosa now has a name.
Sunrise Credit Union has been given the naming rights to the building after the Minnedosa Credit Union pledged $250,000 towards the project back in 2013 before it merged with Sunrise Credit Union.
In a release, Sunrise Credit Union President and CEO Tim Klassen said they are excited to support the project, adding this reinforces their commitment to work for the betterment of their communities.
Former Minnedosa Credit Union GM and current Sunrise Credit Union Vice-president of Member Services Brad Ross says it is extremely satisfying to see the years of hard work put in by community and board members finally come to fruition with the opening of the facility.
Besides being the new home of Minnedosa minor and senior hockey and the Minnedosa skating club, Sunrise Credit Union Centre can also be retrofitted to host curling events such as the Scotties Tournament of Hearts.
It also contains a canteen, meeting rooms, and a walking track.
Details

Contributed by

Jeff Henson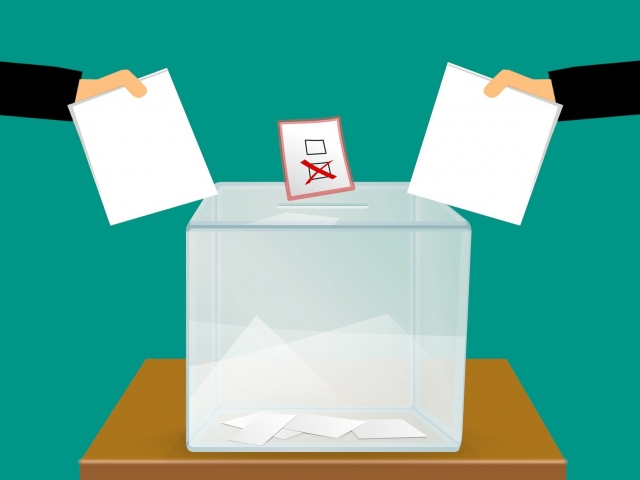 The provincial election campaign took Manitoba's two main parties to opposite ends of the province on Friday.
In Steinbach, the Progressive Conservatives promised to increase tax credits for charitable donations if they are re-elected on October 3rd.
Recent Justice Minister Kelvin Goertzen, who is running for a sixth term in Steinbach, says they would increase the provincial income tax rebate on the first 200 dollars given to a registered charity to 20 per cent from the current 10.8 per cent.
He added the rebate on contributions above 200 dollars would jump to 25 per cent, from 17.4 per cent.
Meanwhile, Manitoba New Democrats were in Brandon where they promised to open four new family medical centres in Winnipeg and one in the "Wheat city" if they form the next government.
Leader Wab Kinew says the plan would help address a shortage of family doctors and reduce the strain on hospital emergency departments.
Kinew is also promising money to help existing clinics expand to offer a range of medical services, including family doctors, mental health workers, social workers, and pharmacists.
Details

Contributed by

Jeff Henson
A local funding project created after a tragic vehicle accident earlier this year has gotten a serious funding boost to accomplish its goals.
Thanks to Wawanesa Insurance, $50,000 dollars was donated to Dauphin's Support Our Seniors Fund today.
The Dauphin and District Community Foundation's Kit Daley met with representatives from the insurer today to go over all the good that this funding can do in the city.
Gord Dowhan works as a Chief Financial Officer at Wawanesa Insurance, and he is looking forward to the good this donation could do.
"When we first of the tragedy, we reached out to the city of Dauphin and the Dauphin Foundation, and we wanted to understand how we could help and make an impact given the time of need and the healing that community is going through. Today we're meeting with the city and the foundation to understand the impact of our funds and where they're directed"
This money will likely go a long way in the Fund's efforts to purchase equipment, organize activities, and build infrastructure to support the seniors living in Dauphin.
If you're you're looking to contribute to the Support Our Seniors Fund, you can visit the Dauphin And District Community Foundation's Website.
Details

Contributed by

Michael Brossart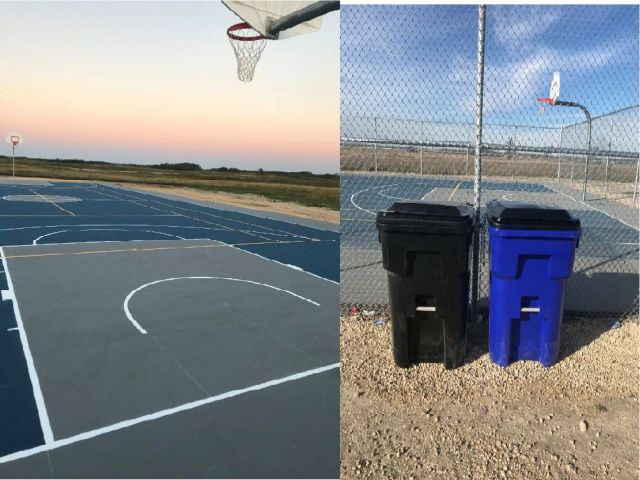 Farmers in the Ste Rose area looking to contribute towards the construction of a basketball court in that community now have an avenue in which they can do so.
Project committee member Shelly Brunel says they have talked with several producers who wanted to donate to the project, and so they have created a Producer Challenge.
"A producer can donate the proceeds of five acres of any crop that they have grown, to our court project. And then they will be honoured with signage that will be up at the site as being part of this challenge and receive a charitable donation receipt as well."
Brunel says the idea for the challenge originated from a Field of Dreams project that they have done.
"To kick our fundraising off last year, Derek Brunel and David Hopfner each donated 70 acres of their own land, and then got donations of inputs before growing the crops for our project. We have harvested both of those crops and are just in the process of selling those crops, and the proceeds will be donated to our basketball project."
She adds the response from the local farming community has been very good so far.
"We have had our first producer donate to the challenge. Shelton and Kristi Kehler are from our area, which is great. So they have kicked things off for us and are helping spread the word."
Farmers interested in taking part can contact either Derek Brunel at 204-648-3174, or David Hopfner at 204-647-7619.
Shelly adds they hope they can break ground on the $300,000 basketball court project before year's end, and have it opened in 2024.
Details

Contributed by

Jeff Henson
An explosion Thursday night at Brandon's Civic Services Complex has sent one person to hospital.
Brandon police and fire crews were called around 6 p.m. Thursday.
A natural gas line is said to be the cause of the explosion, although an investigation is underway.
The Civic Services Complex is closed while the investigation is ongoing, and the City of Brandon says there will be some service disruption as a result.
However, all transit routes in that city are expected to continue as scheduled.
The condition of the injured person is unknown.
Details

Contributed by

Jeff Henson
Manitoba Public Insurance has announced plans to resume appointments for hail claim insurance as of next week.
The crown corporation says in a news release that a combination of the ongoing labour dispute as well as a sharp increase in the number of hail claims this year has led them to put additional measures in place for their customers.
MPI says it will open dedicated resources at its Physical Damage Centre, in order to provide faster estimates, and help more customers get their vehicles fixed sooner.
They say they have received over 11,600 hail claims so far this year, with over 3,800 alone coming as a result of a storm that battered parts of southern Manitoba on August 24th.
They project this year will be one of the worst years for hail-related claims in the past two decades.
Details

Contributed by

Jeff Henson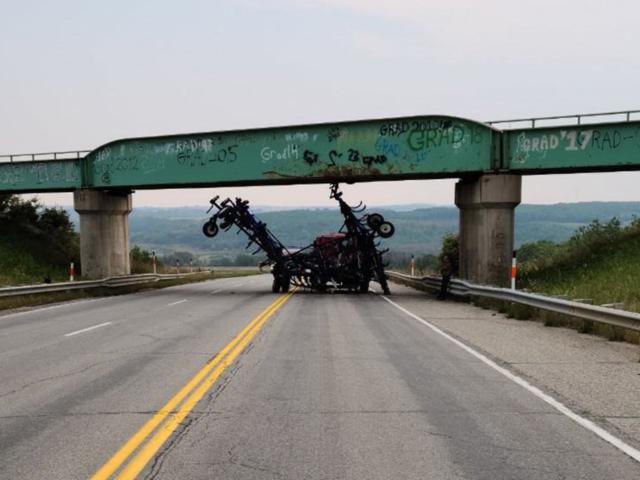 The RCMP released a report of an incident, and it's a good reminder to double-check equipment heights if you're going under bridges or powerlines.
Yesterday at roughly 11:35 am, the Spruce Plains RCMP responded to reports of a trailer carrying farm equipment that had lodged itself under a railway bridge on Highway 10 near Minnedosa.
A tow company was called to clear the vehicle and free up the lane. CP Railway was also called so they were aware of the incident and could examine and ensure the integrity of the bridge.
Traffic in the area was affected for approximately two hours.
Luckily, Nobody was injured in this incident.
Details

Contributed by

Michael Brossart