News Now
We're all dealing with a lot of uncertainty during the COVID-19 outbreak.
Speaking with CKDM, psychotherapist Julia Senchuk offers some practical advice on how you can cope with stress and support your loved ones during this challenging time.
She says it's normal to feel stressed, but it can really help to shift your focus onto the positive.
"I would encourage people to take a step back and realize what we have control over, and what we don't have control over. The main thing we have control over is ourselves; our thoughts, our feelings and our behaviour. Outside of that, we don't have much control. So let's put our time and energy into what we can control."
According to Senchuk, sometimes the most helpful thing we can for our loved ones, is just listen.
"A lot of us just need other people to hear us and to normalize the situation and say 'Yea, I'm feeling stressed too.'"
At the end of the day, Senchuk says focusing on what we can control can help take away a lot of the external stress, and allows us to focus on ourselves and our families.
"We just need to take it one step at a time. Recognize what we can control and move forward with a plan that works for you and your family. My plan may be different than your plan, and that's okay."
Julia Senchuk is a sessional instructor with Brandon University's Department of Psychology. She also runs her own private counselling practice in Brandon.
Details

Contributed by

Matt Hamel
One more case of COVID-19 has been announced by Manitoba health officials.
The total number of lab-confirmed and probable cases in the province is now at 21.
The new probable case is a Winnipeg man in his 40's, at this time an investigation is looking into confirming if it's travel-related.
Chief Public Health Officer Dr. Brent Roussin says there have been over 4,500 tests COVID-19 tests sent to Manitoba's Cadham Provincial Laboratory.
"Cadham Provincial Lab is working on a solution [to the reagent shortage]. We hope to be able to increase testing later this week."
"Due to a worldwide shortage or reagent, Manitoba is prioritizing testing to those who are most at risk. This includes testing from First Nations, individuals in hospitals or long-term care facilities, as well as healthcare workers."
There is a new drive-thru testing site opening south of Winnipeg, at the Winkler Centennial Arena. Once it opens it will be Manitoba's 12th community testing site, and fourth drive-thru location.
Keep in mind, all Manitobans need a referral to be tested at these sites. They are not walk-in clinics. More information can be found here.
As a reminder, visitor access at hospitals is suspended, with some exceptions for end-of-life situations.
Dr. Roussin says if someone has mild respiratory symptoms, they are being advised to stay home, wash their hands, and disinfect frequently used services.
"I want to remind Manitobans that most people that contract COVID-19 will have mild symptoms and recover at home."
Those at the greatest risk of health complications are (1) over the age of 65, (2) those with underlying health issues, and (3) those with underlying health issues.
For more information and to access the online screening tool for COVID-19, visit www.manitoba.ca/covid19.
Details

Contributed by

Matt Hamel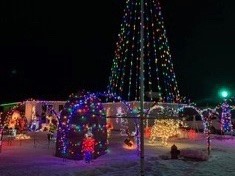 Dozens of families living in Neepawa decided to light up their homes this past weekend to shine some light and bring a positive to the current situation of COVID-19.
About 50 homes put their Christmas lights back on which led to some busy streets for people who wanted to tour Neepawa and see some beautiful sights.
Darryl Gerrard is a councillor in Neepawa and he had the thought last week of turning this unfortunate situation into a positive.
On Thursday, he brought up the idea of people in Neepawa turning their Christmas lights back on and less than 24 hours later, the Town of Neepawa jumped right in. That post was shared more than 80 times and over 100 comments were posted on it. The theme of the post was "Time to switch on Neepawa". From there, the rest is history as the town was lit up for everyone to see.
"There are a lot of residents here that want to go above and beyond," said Gerrard. "We understand so many people are under a lot of stress right now and we wanted to give people something to be happy about."
One of the best displays was just south of town where Tom Kruzer's display was in full force and it certainly was one that garnered a ton of interest.
"Tom's display is always one that people love seeing, many people go out of their way to check it out," continued Gerrard.
Not only is Darryl a city councillor, but he also lives in the Town of Neepawa. It's during a time like this when residents step up that makes him so truly happy to call himself a member of the community.
"Absolutely. There is so much fear out there, but our community is just putting their head down and focusing on the good things," concluded Gerrard. "They want to make the new normal as enjoyable as possible. I'm so thrilled with how the residents replied to this, it's truly incredible."
Details

Contributed by

Darnell Duff
The past few days have been a whirlwind for Dauphin-native Tymothy Jaddock.
"If you would have asked me a week ago, "when's the next time you'll be back in Canada?", I would have said, maybe Christmas time. Four days later, here I am sitting in Calgary."
Tymothy Jaddock grew up here in the Parkland, but has been attending a prestigious arts school in New York City to obtain his Master's in dance education and ballet pedagogy.
On March 9th, Tymothy received a memo that his school would be closing for the remainder of the semester. One week later, New York City was virtually on a complete lockdown, with no one allowed to go outside or leave their house without good reason.
It was clear that Tymothy would have to leave New York City.
"When Justin Trudeau addressed all Canadians and said "if you're abroad it's time to come home", things weren't so bad in New York yet. I was thinking self-isolating in Canada versus self-isolating in NYC…..what's really the difference? But then the amount of cases continued to increase and increase."
At this time, New York City is dealing with over 15,000 cases of COVID-19; more per capita than any other state in America, or country on the globe.
Tymothy says the Consulate General of Canada in New York City emailed all students at NYU and encouraged them to go home, saying if Canadians were to get sick there would be limited resources to help them.
"If the Canadian government is reaching out to Canadians at my university, I think that's a sign that it's a good time to go home."
Tymothy was able to find an Air Canada flight out on the morning of Sunday, March 22nd.
"I flew from New York to Montreal. There were only 7 people on our flight; the last of the Canadians trying to get out of New York City. The [New York] airport was like a ghost town. On the board that shows all the flights coming in and out; every flight was cancelled."
Tymothy arrived in Canada with no symptoms, but is still required to self isolate for 14 days. He's currently staying with some friends in Calgary until he goes to stay with his sister in Edmonton.
Like many of us, Tymothy is totally uncertain of when things will get back to normal. He's currently signed into a lease until October, having paying rent for his New York apartment.
"It was so interesting packing up to leave because of the uncertainty of everything. I have no idea when I'll be able to go back to New York City. Just kind of taking everything day by day."
Details

Contributed by

Matt Hamel
It was a sparsely attended city council meeting in Dauphin Monday evening, with several councillors joining the meeting by phone in an effort to promote social distancing.
City Manager Sharla Griffiths explained that Dauphin is gauging its response to COVID-19 based on directives given by the provincial government.
When discussing whether or not we'll see a COVID screening site in the Parkland, Griffiths says it's something that's been discussed by Prairie Mountain Health.
However, testing materials are not widely available, and we would have to see the situation change significantly before the Parkland gets a testing location.
City Hall remains closed to the public, but you can still make payments by mail and communicate with city staff over the phone, or in-person by appointment.
More information and staff directories are on the City of Dauphin website, or by phone at (204) 622-3200.
The meeting ended with Mayor Allen Dowhan encouraging all residents to reach out to the elderly and less fortunate during this time to see if they need help.
Details

Contributed by

Matt Hamel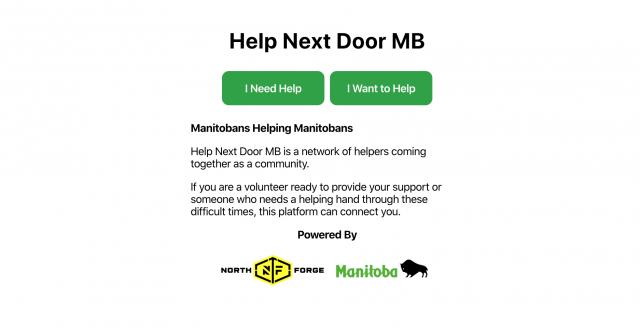 Premier Brian Pallister announced a new web-based app that will enable Manitobans to help each other by volunteering services.
The app was developed by North Forge Technology Exchange, in partnership with the province of Manitoba.
Pallister says the app will allow Manitobans to do what they do best; help each other in times of need.
The app is only accessible online and is designed to match Manitobans with volunteers that can help with tasks like pickup/delivery, technology help, social support, and other general tasks.
The service works by calling volunteers to create an online profile and specify which services they can provide.
Then, anyone who's in need of help can put in a request, and be matched up with a fellow-Manitoban that's able to provide assistance.
Pallister says the innovative tool will also place a strong emphasis on following social distancing protocols.
The service launched today and can be found at www.HelpNextDoorMB.ca.
Details

Contributed by

Matt Hamel
Dauphin Recreation Services has now closed seven public parks in Dauphin.
They include:
Vermillion Park Playground
Kerr Avenue Playground (East end of Kerr Avenue)
Kirby Park (Corner of Kirby Avenue W. and Hedderly Street)
Kinette Park (Corner of 5th Avenue S.W. and 2nd Street S.W.
McDonald's Playground (Parkland Recreation Complex 200 1st Street S.E.)
Park Crescent Playground
West End Playground (Corner of Railway Avenue and William Street)
The use of these playgrounds is prohibited until further notice, as they are considered "high-touch" areas.
To limit the spread of COVID-19, public health officials encourage a two-metre distance in public.
Dauphin Recreation Services are encouraging parents to use open, large spaces like fields and parks.
Details

Contributed by

Darnell Duff
In today's daily update from Manitoba Public Health, Dr. Brent Roussin says the number of COVID-19 cases in Manitoba remains at 20.
An earlier probable case in Manitoba has been ruled out, but a new probable positive case has been identified.
The new probable case is a Winnipeg man in his 50's. At this time, all cases are believed to be travel-related.
You can find information about flights where a person with a lab-confirmed case of COVID-19 had symptoms at the time of travel by clicking here.
Dr. Roussin also says the mandatory two-week self-isolation now applies to Manitobans who return from travel within Canada, as well as internationally.
"I want to make it clear that this is not just a suggestion."
We're also learning that the Manitoba government is investing $800,000 and the Canadian Institutes for Health Research (CIHR) is investing more than $465,000 in three research projects. The 1st project will be investigating how logistical systems can adapt to a pandemic at the University of Manitoba. The 2nd project is developing a cost-effective, point-of-need diagnostic test for COVID-19 at the Canadian Science Centre for Human and Animal Health, and the 3rd project is developing a COVID-19 vaccine at the University of Manitoba.
Call Health Links–Info Santé at 204-788-8200 or toll-free at 1-888-315-9257 before arriving at a testing site.
You should not seek out testing if you are not showing symptoms, however, you are advised to get tested if:
(1) you have respiratory symptoms,
(2) have travelled internationally in the last 14 days,
(3) or had contact with a confirmed case (ie. on a cruise ship, at a large conference).
The latest information from the Manitoba government can be found at www.manitoba.ca/covid19.
Details

Contributed by

Matt Hamel
In the past week, gas prices on average have fallen 10.4 cents per litre and are averaging 79.48 c/L across the province.
In Dauphin, the price of gas is sitting around 79.5 c/L, which is down from 97.9 at this point last week.
Head of petroleum analysis for GasBuddy, Patrick DeHaan, anticipates prices to fall even more.
"Gas prices have spent virtually all of March marching lower, with the drop continuing as the coronavirus destroys oil demand globally, leading to the lowest oil prices we've seen in 18 years, paving the way for still an additional 10-25 cent per litre drop at most stations in the weeks ahead. I don't think I've ever seen such a collapse in prices, even including the Great Recession. What we're witnessing is easily going to go down as the great collapse in oil demand, and for motorists hurrying to fill up today, they're wasting their money as prices will continue to drop in the days ahead. Gas stations are passing along the drop several weeks behind, and there's plenty more room for prices to drop, putting 59 cent per litre prices as a strong possibility for perhaps many more stations than we previously anticipated. This is truly an unprecedented turn of events."
Including the change in gas prices in Manitoba during the past week, prices yesterday were 35.3 c/L lower than the same day one year ago and are 23.2 c/L lower than a month ago.
The national average has decreased by 28.3 c/L during the last month and stands 36.7 c/L lower than this day one year ago.
Details

Contributed by

Isaac Wihak
Dauphin City Council will convene this evening, and it appears there will be lots of COVID-related items on the agenda.
City Manager Sharla Griffiths says most of her time in recent days has been working on COVID-19 preparations, and says the city looks at the issue from two perspectives:
(1) How does COVID-19 affect city staff and their ability to continue running the municipality safely, and
(2) How to support the community in times of emergency.
At this time, the City has taken proactive measures of closing off public access to City Hall and the City Shop.
The Fire Hall is also closed to the public, but services will operate as usual, as will snow removal, garbage removal and the Waste Disposal site.
CKDM will be at the meeting this evening to report on the latest developments in Dauphin's COVID-19 plan.
Details

Contributed by

Matt Hamel
There are some important changes in effect at the Dauphin Medical Clinic that you should be aware of.
Dr. Fred Fjeldsted wants everyone to know they will have to access the Medical Clinic services a bit differently for the time being.
"The vast majority of appointments on the Dauphin Medical Clinic [this past week] have been virtual appointments by telephone. The goal is to limit the amount of foot traffic, and limit the spread of the coronavirus."
Dr. Fjeldsted says we'll also have to access the Walk-in Clinic a bit differently during the COVID-19 pandemic.
"We are not walking through the pharmacy anymore, in order to decrease exposures and spread of COVID-19. We are also asking that people phone ahead. The people that answer the phone will have good information on the best way to access walk-in services that day."
If you have a non-urgent medical issue, (ie. a bum knee that's been bothering you for a while), Dr. Fjeldsted suggests now is probably not the best time to address that, while the medical system is dealing with a global pandemic.
The Dauphin Medical Clinic CEO says he has noticed people becoming more aware of the new guidelines.
"The uptake in the public has been improving as the week has gone on. Some people were still showing up in person for their virtual appointments. People are now understanding they should stay home, and we can arrange something over the telephone."
We know the people with the highest risk of developing severe complications from COVID-19 include (1) people over the age of 65, (2) people with underlying health conditions, and (3) those with compromised immune systems. Dr. Fjeldsted explains the number one concern is people with existing lung/respiratory issues.
"Emphysema, COPD, and asthma; those are concerning features [in combination with COVID-19] and we want to avoid these people getting sick. Secondly, we want to ensure people continue to practice good hand washing and social distancing so they don't bring home the virus home to immunocompromised family members, parents, etc."
Dr. Fjeldsted says the number one message he wants to pass out is this:
"Wash your hands. It sounds like common sense, and we shouldn't need a global pandemic for people to remember to wash their hands, but it is very important. Beyond that, social distancing is the next most important step. Also, phone the Dauphin Medical Clinic before coming in, even for walk-in. And call Health-Links with any concerns. Some of the wait times have been lengthy, but they are improving those wait times."
Dr. Fred Fjeldsted is a physician and CEO of the Dauphin Medical Clinic, which also runs the walk-in clinic.
All information related to the Dauphin Medical Clinic and Walk-in can be found here.
The latest information from the Manitoba government can be found at www.manitoba.ca/covid19.
Details

Contributed by

Matt Hamel