NewsNow
In correlation with World Teachers' Day, nominations for Manitoba's Excellence In Education Awards have opened up.
Education Minister Kelvin Goertzen made the announcement today, saying the awards recognize achievements in education and celebrate the extraordinary effort of the province's teachers.
"The Excellence in Education Awards provide a chance to thank Manitoba teachers who are making a difference in the lives of their students. I want to thank our teachers for the work they do, now more than ever, to support our children and ensure they can succeed."
Nominations are now being accepted to recognize outstanding achievement in education.
Awards will be presented in the following categories:
Teaching excellence (three awards)
Outstanding new teacher (one award)
Outstanding team collaboration (one award)
Outstanding school leader (one award)
Premier's Award for Excellence in Education (one award)
The province invites parents, students, school trustees, teachers, and school or school division administrators to make submissions. Nominees must be educators holding a valid, permanent Manitoba teaching certificate at the time of nomination and work directly with kindergarten to grade 12 students in a school setting on a daily basis.
Information on past recipients and on the nomination process, including selection criteria and required forms, can be found at www.edu.gov.mb.ca/k12/excellence/. Each award recipient will receive $500 and a framed certificate.
The submission deadline is December 2nd.
Details

Contributed by

Isaac Wihak
Construction on the Edwards Creek Bridge on Highway 20 is almost done.
The project started in January this year with the goal of being finished in September.
Dauphin MLA Brad Michaleski made the announcement this morning and says when the bridge will be open.
"I'm told it's on or around Wednesday, October 7th. I talked to the foreman here on-site and it might be plus or minus one day, but hopefully it'll be open by the weekend."
There had been restrictions on the bridge for many years, but those restrictions have been removed for the new bridge.
Michaleski says there have been discussions about the provincial government doing some touch-ups on the RM of Dauphin's roads where the detour was.
He says any work there would likely happen in the spring.
Details

Contributed by

Isaac Wihak
This year's Fire Prevention Week runs until October 10th with the theme 'Serve Up Fire Safety In The Kitchen'.
Dauphin Fire Chief Cam Abrey says the theme was chosen because cooking incidents remain the leading cause of home fires in North America.
"When we talk about cooking, it is the leading cause of home fires and home fire injuries. Thanksgiving, Christmas, when typically everybody got together in large groups and you'd have a very large meal, which is going to look a little bit different this year possibly due to COVID restrictions. But, those large gatherings were the leading days for fires that involve cooking equipment."
As unattended cooking is the leading cause of fire in the kitchen, Cam Abrey has some tips to avoid accidents.
Stay in the kitchen when you're frying, boiling, grilling, broiling, simmering, baking, or roasting, whatever you're doing.
Check it regularly.
Keep a lid nearby in case of a small fire, you can safely slide the lid over top of the pan, turn off the burner, and leave the pan covered until it's cool.
Keep anything that can catch fire away from the stovetop.
Make sure you don't have any loose-fitting clothing that could come across the burner or make contact with anything that's hot.
If you have children around, make sure they're a metre away from the stove or other areas where there's hot food or drinks.
Abrey says it's not only fires you have to worry about with the burns, but hot water or spitting grease as well.
In the past, the themes stand by your pan and watch what you heat have been used to keep people in the kitchen.
"One of the other things we like to tell people when we're out doing public education is 'keep a wooden spoon in your hand.' So that if you're distracted by the phone ringing or the television and you do wander out of the kitchen, you've got this wooden spoon in your hand that's going to remind you, 'I've got something on the stove or in the oven, I've gotta go back in there.' So, little things like that."
Dauphin's fire chief also had some general fire safety tips.
Check your smoke alarms. Working fire alarms can detect and alert people to the fire when it's in its early stage. Abrey says it's not fire that kills, but the smoke that overcomes the victims.
Have smoke alarms set in every bedroom. The code requires a smoke alarm on every level of the home and new construction requires one in each sleeping area.
Test your smoke alarms every month using the test button.
Plan and practice at-home fire drills.
Make sure everyone in your home knows your address, especially in rural areas. That way, if someone needs to call 911, they can report where they are so the emergency services can find them.
Keep things at least a metre away from your furnace and hot water tanks.
Make sure nothing's on top of baseboard heaters.
If you have any equipment such as a portable heater, Abrey says to make sure there's a ULC or a CSA label on them, to know they're safe to use.
Abrey says even if it's a small kitchen fire, get the emergency services rolling as fast as possible. He adds that the fire department can check for fire extension and assist the homeowners with getting smoke out of the home.
"Your safety comes first, so we don't want anybody getting hurt, we don't want the fire growing beyond their control. The earlier that we're notified, the better it is."
Due to COVID restrictions this year, the fire department doesn't have a lot planned for Fire Prevention Week. There won't be an open house at the fire hall or any visits to the schools. But, they'll be partnering with the Dauphin Kings on October 17th for some fire awareness. Fire trucks will be on scene outside, Sparky will be there greeting everybody, and there'll be some giveaways.
Details

Contributed by

Isaac Wihak
The newest case of COVID-19 announced in the Dauphin health district has now been removed from the province's list.
Provincial data now shows Dauphin back down to 7 total cases of the virus — all of which have recovered.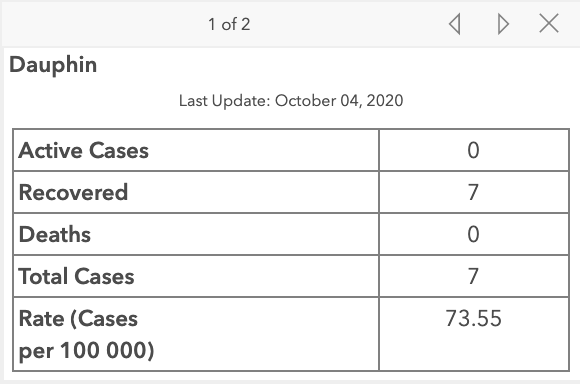 CKDM will look to get more details from public health officials in Monday's 1 o'clock press conference.
Thirty-six new cases of the virus were announced on Sunday, along with the province's 23rd death related to COVID-19 — a man from Winnipeg in his 50s.
With four previously announced cases removed from the list, Manitoba's case total has now reached 2,140.
Here's where the new cases are located:
• one case in the Prairie Mountain Health region;
• five in the Interlake–Eastern health region;
• seven cases in the Southern Health–Santé Sud health region; and
• 23 cases in the Winnipeg health region.
There are 696 active cases in Manitoba, with 1,421 people listed as recovered from the virus.
There are 20 people in hospital, with 5 in intensive care.
The number of deaths due to COVID-19 is now 23.
For the latest information from the province on COVID-19, click here.
Details

Contributed by

Matt Hamel
A man is in serious but stable condition after an ATV-related incident in Camperville.
On Saturday night at 7:26 p.m., a STARS air ambulance was dispatched to the area.
STAR 7 (Winnipeg) has been dispatched for a Scene Call Emergency in the Camperville, MB area.

— STARS air ambulance (@STARSambulance) October 4, 2020
A 53-year-old man involved in the incident was airlifted to a Winnipeg hospital.
RCMP are expected to release more details shortly.
Details

Contributed by

Matt Hamel
The Under One Roof program could soon be getting back to normal, depending on the success of the soft reopening of in-person services on Monday, October 5.
The program — run by Dauphin's Crisis Prevention Task Force out of the Dauphin United Church — found success earlier this year offering participants a free meal, social time, and directing them towards useful services.
But back in March, the COVID situation put a stop to the program's Monday night gatherings.
Organizer Randy Daley explains they felt they couldn't just stop what they were doing, so they adapted the program and started delivering about 150-170 meals every Monday.
Daley says the program can offer community members a lot more than food, and is glad that Under One Roof can begin welcoming a limited number of community members back to the Dauphin United Church once a week.
"What we're trying to get out the people is that there's a lot of folks around here that are in need. Now, it's no worse than any other community our size — it's just simply there needs to be an awareness and we need to have a plan to deal with it."
Starting on Monday, October 5th, the program will be serving up meals at the Dauphin United Church from 4:30 p.m. to 6:30 p.m.
Daley says they'll have space for about 30-35 visitors, along with 10 or 12 volunteers. Meals will still be delivered to folks that can't leave their home, and Daley explains meal pick-ups are also still available.
He says they'll see how things go on the 5th, with the goal of getting back to running the program every Monday night.
Details

Contributed by

Matt Hamel
The Northwest Metis Council hosted its 2nd annual "Empower Her" event in Dauphin this weekend.
Vice President Frances Chartrand tells CKDM the event — held on Saturday at the Metis Community Centre — is all about making Indigenous women feel stronger and safer.
She says the event features various presentations to enlighten and educate youth and Métis women that are leaving their smaller communities to pursue education in bigger cities.
Chartrand explains that measures were taken to ensure the event followed public health guidelines, including a sanitization team, and also providing masks to attendees.
"The majority of our presenters are Métis or Indigenous. We're trying to focus on our survivors that went through the system, and how they were able to overcome the obstacles of being a Métis or Indigenous woman coming from a small community," says Chartrand.
One of the presenters in attendance was NDP MLA for St. Johns, Nahanni Fontaine.
Fontaine discussed the topics of surviving sexual abuse, and Missing and Murdered Indigenous Women and Girls.
"Yes, some things maybe on the surface look like they're getting better. But for me, my default is when women and girls can walk the streets safe to go to school, drop their kids off, to go to work — and we're not there yet," says Fontaine.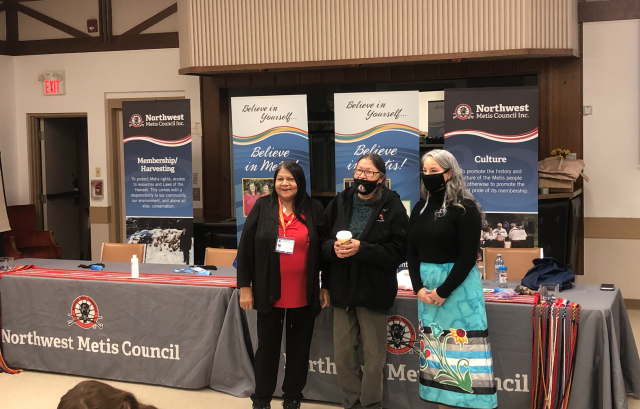 "To me it's unacceptable that there are still Indigenous women and girls that go missing or murdered. It's unacceptable."
Data from the Government of Canada shows that between 1980 and 2012, Indigenous women made up 16 percent of all women murdered in Canada, despite making up only 4 per cent of Canada's female population.
Details

Contributed by

Matt Hamel
Public health officials reported 38 new cases of COVID-19 on Saturday, and another death related to the virus.
A woman in her 80s from the Winnipeg health region is the province's 22nd death.
The 38 cases are from the following health regions:
• two cases in the Prairie Mountain Health region;
• three in the Interlake–Eastern health region; and
• 33 cases in the Winnipeg health region.
Dauphin currently has 1 active case, which was announced on Friday. For more details, click here.
The total number of cases in Manitoba is now 2,108.
There are 677 active cases and 1,409 individuals listed as recovered.
Officials say the data on hospitalizations is currently not available due to technical issues.
For Halloween and Thanksgiving safety recommendations recently released by the province, click here.
Details

Contributed by

Matt Hamel

Health officials have now provided more guidance for Manitobans ahead of the autumn holidays.

Thanksgiving
For food-based gatherings such as Thanksgiving, the province encourages people to increase the amount of disinfecting high touch surfaces, washing hands before and after eating, avoid sharing food, and designating one person to serve the food if possible.

Halloween & Trick-or-Treating
As for Halloween guidelines, it seems trick-or-treating has been given the green light by the province, but health officials are stressing the importance of screening children before allowing them to participate.
Anyone that feels unwell or is showing symptoms should not take part, and stay home.
Parents are also asked to consider incorporating masks into their children's costumes this year.
When handing out candy, the province suggests using tools such as tongs to ensure a safe distance. Masks and gloves should be worn, and candy should be packaged in individual bags to avoid unnecessary contact.
In general, health officials ask that all Manitobans to stick to the fundamentals to limit the spread of COVID-19.
Details

Contributed by

Tess Kovach
The number of students going the home-school route in Manitoba has nearly doubled compared to last year.
As of September 25, the province reports around 6,600 students are either registered or in the queue for home-school — that's up from the roughly 3,700 registrations on file last fall.
Many attribute the significant increase in home-school numbers to the anxieties around COVID exposures in schools. At this time, public health has reported cases at over 20 schools in Manitoba.
At the direction of the province, school divisions are only able to provide remote learning plans to students who have an underlying medical condition, or those with an immunocompromised family member.
Details

Contributed by

730 CKDM
A traffic stop on Sandy Bay First Nation led police to a loaded semi-automatic rifle, ammo, and drugs, according to First Nations police.
On September 29 around 12:30 a.m., Manitoba First Nations Police Service (MFNPS) members responded to reports of an impaired driver on Main Road and Ridge Road North.
When attempting to pull over the erratic driver, the suspect vehicle fled at a high rate of speed, eventually coming to a stop at a roadside embankment.
MFNPS officers arrested the two occupants, a man and a woman, and found empty liquor containers along with small baggies containing substances believed to be methamphetamine and cocaine.
A search of the vehicle found a loaded semi-automatic rifle with a 17-round magazine, a bag containing 2 cases of 9MM rounds and a pistol magazine.
A 23-year old man from the Sandy Bay First Nation faces several criminal code offences:
Flight from Police

Possession for the Purpose of Trafficking

Possession of a prohibited Weapon as well as several other firearm-related offences

Multiple breaches of court-ordered conditions
The suspect has been remanded into custody to appear in court at a later date.
A 30-year old woman from the Sandy Bay First Nation was also charged with:
Flight from Police

Possession for the Purpose of Trafficking

Multiple Firearm-related offences

She was released on conditions to appear in court at a later date.
Details

Contributed by

Matt Hamel