NewsNow
At the end of July, the provincial government announced the school reopening plan and gave school divisions until mid-August to release their individual plans.
Mountain View School Division superintendent, Dan Ward, says they have a draft plan in place based on meetings they've had with schools.
"We will be presenting the plan to the board and it will be published no later than August 17th, on our website."
As of late last week, Ward said they hadn't met with all of their schools, but had with the larger ones.
With COVID numbers on the rise, the question has been posed whether masks should be mandatory or not. In Alberta and Ontario, masks are mandated for grades 4 to 12 and in Nova Scotia, masks are mandatory in all common areas at schools. Manitoba's government is still considering whether masks should be required at schools.
Ward says they recognize that staff and students may choose to wear masks and the division would support that decision, even though it's optional at this point.
"We are following the advice of the Chief Public Health Officer, Dr Roussin, and in the recent publication of restoring safe schools, that was released on July 30th, the province is not making the wearing of non-medical masks mandatory. However, if that should change, we would certainly be communicating with our families, with our staff, and working with whatever plan we need to, to meet any future requirements."
MVSD trustees and senior admin are meeting today to review the plan.
"As well as reviewing plans for cohorts, social distancing and enhanced cleaning protocols, we will discuss the potential of supporting the wearing of masks for our staff and middle and senior years students, which may include the purchasing of non-medical masks."
When planning out cohorts for their schools, Ward says particularly in k-8, they're looking at classroom groupings. He says cohort sizes are supposed to be 75 students or less and their classes are between 15 and about 24 students on average.
"We're looking to make sure within those class cohorts, we can maintain at least 1 metre of social distancing between students and where we can provide greater social distancing, that we work to do that. So, essentially from K to 8, it's largely going to be based on your homeroom, your classroom, which will essentially be your main cohort."
On the topic of bus students, Ward says buses are considered to be separate cohorts and they're encouraging parents to provide transportation for their children when possible. Ward says bus services will still be provided where needed. The board is looking at requirements within the buses, such as a seating plan where a student would sit alone on a seat, or if that isn't possible, with a member of their family or school cohort.
Ward says there'll be an emphasis on education to keep students safe when not in school and they recognize students will have other activities outside of school, such as sports or other events.
He says the important part of maintaining cohorts in schools is to mitigate the risk of spreading COVID-19.
"In the event that anywhere in the province, there is a case that emerges, it will allow public health officials to quickly and effectively do any contact tracing that they need to do to reduce the spread and to provide the services in healthcare needed for anyone who becomes symptomatic."
Once again, MVSD's return to school plan will be released no later than next Monday, August 17th.
Details

Contributed by

Isaac Wihak
Public health officials announced 35 new cases of COVID-19 on Sunday.
This weekend has added 51 new cases to Manitoba's caseload and there are now 182 active cases in the province.
Broken down, today's new cases feature 20 cases in the PMH region, 10 in the Southern Health Region, 4 in Winnipeg, and 1 in the Interlake-Eastern Health Region.
Many of the new cases today are linked to known clusters in the Southern Health region and Brandon or are close contacts to a previously announced case. However, preliminary information does suggest a small number of cases have an unknown form of acquisition.
Right now in Manitoba, 6 people are in hospital with 3 in intensive care, 352 people have recovered and the number of deaths remains at 8.
Dr Roussin gave an update on last week's announcement of dividing health regions into sub-health regions to give Manitobans a more detailed look at where COVID-19 is.
"We're working to provide information that is broken down by health districts. Health districts are administrative zones within each regional health authority. This will allow us to break down case numbers in more detail while continuing to ensure the privacy of Manitobans. We expect that this more detailed data will be available later this week on the COVID-19 dashboard."
756 lab tests were performed on Saturday, which brings the total since early February, to 100,830.
For up-to-date information on COVID-19 in Manitoba, click here.
Details

Contributed by

Isaac Wihak
With 16 new cases of COVID-19 announced by public health officials, Manitoba's total number of confirmed and probable cases is now 507.
There are 146 active cases in the province, 9 people are in hospital and 3 are in intensive care.
351 people have recovered and there have been 8 deaths.
For up to date info and to access the online screening tool, visit http://manitoba.ca/covid19.
Details

Contributed by

Isaac Wihak
Two more cases have been linked to the COVID cluster in Brandon.
There are now 10 cases in connection to Brandon's Maple Leaf Foods plant.
Dr. Brent Roussin says there doesn't appear to be any workplace transmission. UFCW Local 832 was calling for the plant to be shut down until at least Monday, August 10th, but Maple Leaf is continuing to operate.
Details

Contributed by

Tess Kovach
Construction work will be taking place throughout Riding Mountain National Park next week.
Beginning Monday, August 10, crews will be resurfacing a portion of Highway 19, as well as repairing the guardrail.
Parks Canada asks travellers to be prepared for delays, loose rocks, and increased traffic.
The construction work will continue until September 30th.
Details

Contributed by

Tess Kovach
A meteor shower will be passing by Earth for the next few weeks, filling our skies with shooting stars.
The Perseids shower happens every year around August, and is visible to the naked eye.
If you want to catch a glimpse of the shower, Planetarium Astronomer with Manitoba Museum Scott Young explains the best time to watch.
"For us in North America the best time for us to observe it is after midnight on the 11th into the morning of the 12th. It's kind of an early morning rise; the best time will be around 2 and 4 in the morning."
He adds that you'll have the best view if you get away from city lights, and sit with your back to the moon.
For more information about the meteor shower, visit manitobamuseum.ca.
Details

Contributed by

Tess Kovach
A tornado touched down Friday night just outside of Virden.
RCMP arrived on scene shortly after 8:10 p.m., where they found 2 vehicles had been picked up, and thrown into the ditch.
A 54-year-old man from Sioux Valley First Nation was taken to the hospital with serious but non-life threatening injuries.
When searching the second vehicle, officers found 2 people that were thrown from their vehicle. An 18-year-old man, and an 18 year-old woman, both from Melita were pronounced dead at the scene.
Misheyla Iwasiuk was chasing the storm with her fiancé, and was the first on the scene.
"It started snapping and pushing over trees and as the tornado approached a farmyard it hit some dried dirt and you could see the funnel cloud fully condense. Unfortunately, it hit the farm and crashed into the road before it moved on to the next field over."
Misheyla tells CKDM the tornado damaged nearby vehicles and farm equipment.
"One vehicle was flipped over and a man was pinned inside so I called 911. There were powerlines knocked over everywhere, and they were underneath the vehicle that he was trapped in. It was a risky area to be in for everyone out there so there was pretty extensive damage. It was a very violent tornado."
Misheyla adds that the tornado was on the ground for around 10 to 15 minutes.
RCMP continue to investigate.
Details

Contributed by

Tess Kovach
The Independent Investigation Unit has dropped its investigation into a man who suffered a self-inflicted gunshot wound during his arrest in Riding Mountain National Park.
On July 22, RCMP responded to a home in Riding Mountain National Park, where a barricaded man was believed to be armed.
When the man surrendered to police, officers noticed the gunshot wound and the man was taken to the hospital.
Further investigation determined that the injury was self-inflicted, and that RCMP had no connection to the gunshot.
Details

Contributed by

Tess Kovach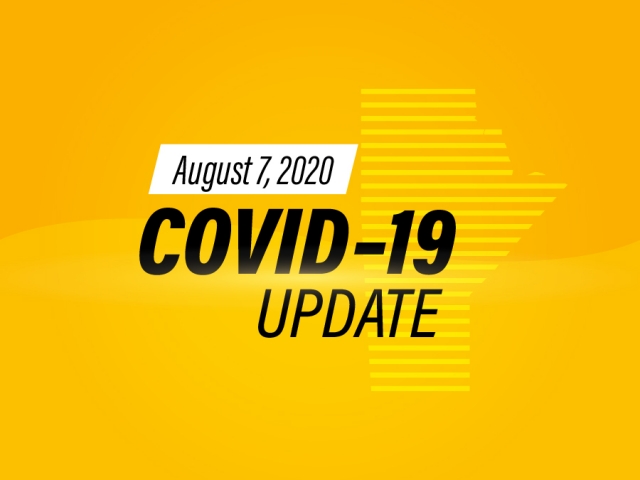 Public health officials have announced 17 new cases of COVID-19 in the province.
This brings the total number of lab-confirmed positive and probable cases to 491.
10 of the new cases are from the PMH region, 5 are in Winnipeg and 2 are in the Southern Health Region.
9 people are in the hospital, 3 of those are in intensive care. There are now 132 active cases and 351 recoveries. The number of deaths remains at 8.
While there has been a potential exposure to COVID-19 at a Tim Hortons on the Trans-Canada Highway at 18th St. in Brandon, the risk of transmission is considered very low. Information is being provided to help people assess their risk.
For up-to-date information on COVID-19 in Manitoba, click here.
Details

Contributed by

Isaac Wihak
A severe thunderstorm watch has been put into effect for the Parkland.
Conditions are calling for the development of severe thunderstorms, strong wind, and heavy rain in the following areas:
Gilbert Plains Mun. incl. Ashville
Grandview Mun. incl. Valley River Res.
Mossey River Mun. incl. Winnipegosis and Fork River
Mun. of Ethelbert incl. Garland
Mun. of Roblin incl. Makaroff Shortdale and Bield
Mun. of Russell-Binscarth incl. Gambler Res.
R.M. of Dauphin incl. Sifton and Valley River
R.M. of Lakeshore incl. Ochre River and Makinak
R.M. of Lakeshore incl. Rorketon and Toutes Aides
R.M. of Riding Mountain West incl. Asessippi Prov. Park
Details

Contributed by

Tess Kovach
Employment in Manitoba has increased for the third month in a row, as nearly two-thirds of Manitobans have returned to work.
In July, Manitoba's total employment increased by 12,400, a 2 percent increase from June.
Premier Brian Pallister made the announcement this morning, saying "over 60 percent of Manitobans who have lost their jobs because of COVID are now back at work. Overall our provincial unemployment rate has edged down to 8.2 percent which is the lowest in Canada."
Full-time employment was up by 6,200 people, or 1.3 percent between June and July – over double the national average according to Statistics Canada.
Manitoba also has the lowest youth unemployment rate in Canada.
Details

Contributed by

Tess Kovach