NewsNow
Two men from Portage la Prairie are facing weapons charges after police seized multiple knives from a vehicle on Sunday.
On October 25th at around 1:50 a.m., RCMP received a report of a suspicious vehicle outside of a home on Tupper Street North in Portage.
It was reported that there were two unknown men in the vehicle, and at one point one of the men exited the vehicle and started screaming that he had a gun.
The vehicle then left for a period of time before returning to the home.
At around 2:35 a.m. RCMP located the men, and while speaking to the driver noticed a knife in the vehicle.
Both of the men were arrested and the vehicle was searched. Police seized four knives including a machete, along with a can of bear mace. No firearm was present.
24-year-old Kyle Richard from Portage was under conditions not to possess weapons, and is facing charges including failure to comply with release conditions x6, and breach of probation.
24-year-old Brennen Roulette from Portage is facing charges including possession of a weapon for a purpose dangerous to the public peace and possession of a prohibited weapon.
Richard remains in custody and Roulette has since been released and will appear in court in December.
Details

Contributed by

Tess Kovach
For the first time in 75 years, the Fire Fighters' Ball won't be happening in person.
Fire Chief Cam Abrey says instead of cancelling it, they're putting a different spin on it.
"We had already had the facility and caterer booked, we didn't want to leave them hanging either, so we asked them about creating a partnership and they agreed to it. We're going to be doing a meal delivery. So, rather than the ticket for the admission into the ball with the meal and dinner and dance, we're just doing the dinner and members of the Dauphin Fire Department will deliver those meals to your door, so you can still enjoy it in the comfort of your own home."
Over the past few years, proceeds from the Fire Fighters' Ball have gone towards restoring the old fire truck and Abrey says this year is the same.
"So we're currently restoring our 1919 Chevrolet fire truck. We committed it to the restoration company last year, the day after the Fire Fighters' Ball and it's still out there."
The Fire Fighters' Ball is happening November 7th.
Abrey says people have asked them if there are sponsor tickets. Abrey says usually sponsor tickets go towards their fundraiser but this year they're doing something a bit different.
"If people are unable to have a meal delivered because they don't live within the city limits, or they're not going to be home that night, but they still want to support a great initiative, these sponsor tickets are also available for $20 each, but that whole $20, our association is going to turn around and donate that to the Under One Roof program. So in essence, you're still buying a hot meal, but you're buying it for somebody that's in need."
Tickets are $20 and you can get them by going to the fire station or by calling (204) 622-3100. There are three different delivery time slots to choose from, 4:00-5:00 pm, 5:00-6:00 pm, or 6:00-7:00 pm.
Details

Contributed by

Isaac Wihak
For the fourth provincial election in a row in Saskatchewan, the Sask Party has won.
Premier Scott Moe and his party secured 46 seats in the 61-seat legislature, easily surpassing the 31 needed for a majority government.
This was Moe's first election after taking over from Brad Wall in early 2018.
This is the third provincial election to happen during the pandemic, with all three incumbent parties going on to win.
The Saskatchewan Party has been in government since 2007, currently making them the longest governing party in Canada.
Details

Contributed by

Isaac Wihak
Dauphin RCMP will be ensuring the safety of residents in and around the city this Halloween with increased patrols.
You can expect to see a greater number of RCMP officers this Saturday, with a focus on distracted and impaired drivers.
Corporal Kalvin Kristjanson of the Dauphin RCMP says "with an increased number of young children out on the streets at Halloween, we want to pay special attention to traffic enforcement in an effort to keep those children safe."
The Dauphin detachment are reminding drivers to be cautious when out on the roads on Halloween, and remind parents to ensure they're taking steps to keep their kids safe while trick-or-treating.
Details

Contributed by

Matt Hamel
Scientists are discovering there's more water on the surface of the moon than previously thought.
University of Colorado's Paul Hayne says this will help expand the possible landing sites for future lunar missions.
Astronauts at future lunar bases can tap into these resources for drinking water and to make rocket fuel.
The United States government has directed NASA to put astronauts back on the moon by 2024.
Details

Contributed by

Matt Hamel
Gypsumville RCMP say a 32-year-old man is presumed dead after reportedly falling off a train bridge into a river.
On Sunday, October 25 at 9:50 p.m., RCMP received reports the man fell off the bridge while he and his younger sister were walking across it.
Officers, along with the local fire department and volunteers from the community, attended to the area and conducted a search of the river and the shoreline but have yet to locate the male.
The 32-year-old male is presumed dead with the search continuing today.
Gypsumville RCMP continues to investigate.
Details

Contributed by

Matt Hamel
RCMP are announcing charges have been laid in connection to the death of a man in Dauphin early Sunday morning.
43-year-old Ramona Tanner of Dauphin has been arrested and is charged with manslaughter in the death of a 26-year-old man -- whose name has not been released by police.
Dauphin RCMP responded to a report of an injured, unconscious man at a home early Sunday morning. The 26-year-old man was pronounced dead by EMS when officers arrived on scene.
Tanner remains in custody.
Details

Contributed by

Isaac Wihak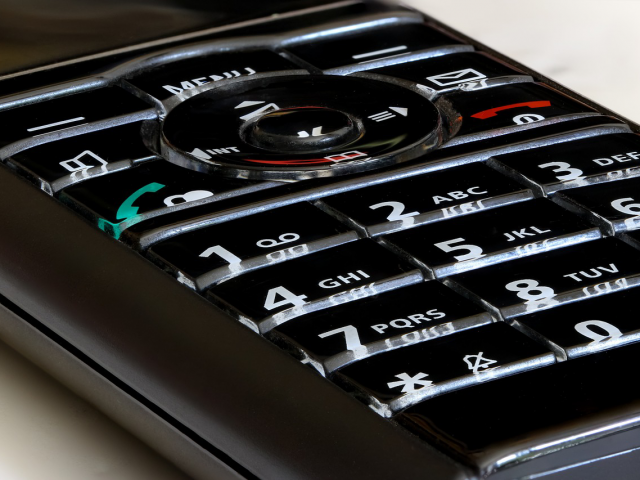 Virden RCMP are looking for help identifying a young boy to ensure the wellbeing of him and his family.
On Thursday, October 22, RCMP received a report that a 4-year-old boy — who identified himself as Jason — had called the Virden Health Centre saying he needed a doctor.
Jason told the employee at the clinic that he was home with his mom, who was asleep, and his younger brother Hayden, who could be heard crying in the background.
He said that he lives by a school and train tracks. Jason further stated that he had an injury on his toe, but he did not appear to be in distress.
When asked by medical staff if he could wake up his mother, Jason said he could not.
The medical staff then asked Jason if his mom had a car and what was the licence plate number, but the call was disconnected, and it had come from a blocked number. That is when police were contacted.
RCMP officers followed up every lead, knocking on dozens of doors, including an entire apartment building, but nobody knew of Jason or his brother Hayden. Schools have been contacted, medical charts have been examined by health centre staff to see if anyone who attends the clinic fits that description.
At this time, RCMP are not sure what community Jason is from. Investigators have enlisted the help of Manitoba First Nations Police Service to assist in locating Jason to ensure his and his family's well-being.
If you have any information that can assist police in this matter, please contact Virden RCMP at 204-748-2046.
Details

Contributed by

730 CKDM
Another death and 100 new cases of COVID-19 have been announced on Monday.
Public health officials are also advising a person who has tested positive for COVID-19 attended a funeral in Lake Manitoba First Nation on October 12 when they did not have symptoms but was in their infectious period. Public health officials will be notifying close contacts directly. Others who attended the funeral should self-monitor for symptoms. If symptoms develop, people should self-isolate and seek testing.
A possible exposure has also been identified in Shoal Lake at Big Way Foods (433 Station Rd. Shoal lake) on October 13-14 from 9 a.m. to 6 p.m. -- and also on October 15-16 from 10 a.m. to 4 p.m.
Swan River Outbreaks
Dr. Brent Roussin did not provide any further details about the outbreaks declared in Swan River at the Swan Valley Health Centre and Swan Valley Lodge Personal Care Home -- but did explain what's involved in the outbreak procedure.
"The definition of an outbreak is more than what's expected. For something like COVID in a high-risk setting like a personal care home, we would declare an outbreak with a single case. The benefit of that is it immediately enables the outbreak measures: widespread isolation, ending group gatherings, enhanced infection prevention and control measures."
Today's caseload brings Manitoba's total number of cases to 4,349.
Today's data shows:
• five cases in the Interlake–Eastern health region;
• 10 cases in the Northern health region;
• one case in the Prairie Mountain Health region;
• 11 cases in the Southern Health–Santé Sud health region; and
• 73 cases in the Winnipeg health region.
The following Parkland health districts have active cases: Dauphin (2), Asessippi (7), Porcupine Mountain (1), Little Saskatchewan (2), Whitemud (1). The Swan River health district has 1 active case. Brandon has 9 active cases of COVID-19.
1,704 (80%) of the province's active cases are in the Winnipeg region.There are 2,117 active cases in Manitoba, and 2,177 individuals who have recovered from COVID-19.
There are 80 people in hospital and 15 people in intensive care.
The number of deaths due to COVID-19 is 55.
Public health guidance for Halloween trick-or-treating has been developed. Click here to read more.
For up-to-date information on COVID-19 in Manitoba, click here.
Details

Contributed by

Matt Hamel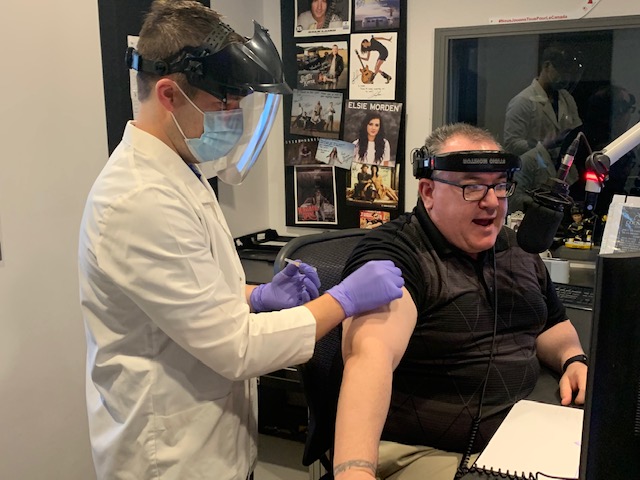 To mark walk-in flu shots being available at the Dauphin Clinic Pharmacy, Barret Procyshyn stopped in the CKDM studios this morning to give Al Gaines his flu shot.
At the building in the DCP parking lot, anyone aged 7 and up can get a flu shot for free, without a health card.
Procyshyn says the flu shot is very safe to get.
"It's perfectly fine to get it, it's great to get it. You have to remember, I hear all the time, 'oh I don't get sick.' But even if you're one of those people that say you don't get the flu, remember, the flu shot stops you from passing it on to someone else. You can actually get the flu, not get sick, but then pass it on to a loved one."
There are some differences this year for flu shots at the Dauphin Clinic Pharmacy.
"We're not actually doing the flu shot in the Dauphin Clinic Pharmacy, we've got the DCP annexe, so it's in our parking lot. It's the dark blue-greyish building. We've got it all set up with walk-in, no appointment necessary clinic, that's going to run 9 a.m. to 5 p.m. no lunch break, we're going to go straight through. We're going to do it safely, effectively, quickly. You'll just come in through one door, exit through the other. You are supposed to wait 15 minutes, you can wait, we've got a waiting area."
Procyshyn says they're hoping the free, walk-in flu shots will help boost the number of flu shots Manitobans get because we're consistently in the 20% range.
Details

Contributed by

Isaac Wihak
Voters in Saskatchewan head to the polls today.
The Saskatchewan Party led by Scott Moe is hoping to win its fourth consecutive term.
Over 185,000 people already voted in five days of advance polls.
Polls close at 8 p.m. local time.
Mail-in ballots won't be counted until after today, so some results may not be confirmed for a few days.
Details

Contributed by

730 CKDM