NewsNow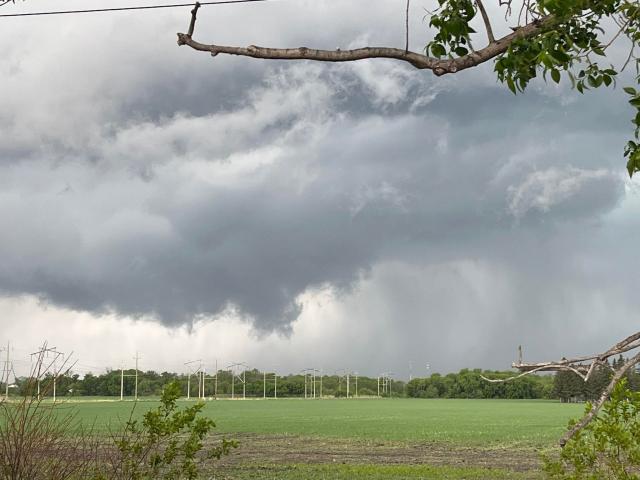 Update: As of 4:06 PM CDT, Environment Canada meteorologists have changed the Tornado warning for The R.M. Of Alonsa, including Sand Bay and Ebb And Flow to a Severe thunderstorm Warning.
The storm is being tracked through the province, as it's moving eastbound at 35 Km per hour.
Severe thunderstorm warnings are issued when imminent or occurring thunderstorms are likely to produce or are producing one or more of the following: large hail, damaging winds, and torrential rainfall.
Please continue to monitor alerts and forecasts issued by Environment Canada. To report severe weather, send an email to This email address is being protected from spambots. You need JavaScript enabled to view it. or tweet reports using #MBStorm.
___
Update: At 3:22 PM CDT, Environment Canada meteorologists are tracking a severe thunderstorm that is possibly producing a tornado.
The R.M. Of Alonsa, including Sand Bay and Ebb And Flow could see high winds resulting in a possible tornado.
This is a dangerous and potentially life-threatening situation.
Take cover immediately, if threatening weather approaches. If you hear a roaring sound or see a funnel cloud, swirling debris near the ground, flying debris, or any threatening weather approaching, take shelter immediately.
___
At 2:20 PM, Environment Canada announced they were tracking a severe thunderstorm in the Parkland area.
The watch covers much of the southwest of the province, but a severe system is tracking across the area north of Riding Mountain.
A warning is in effect for Makinak and Ste.Rose. These areas could see the worst storm conditions as the system is rapidly moving east.
These storms could bring high wind, lightning, and nickel-sized hail.
Be sure to keep an eye on Environment Canada's Website in order to track the storm, and prepare for extreme weather conditions
Details

Contributed by

Michael Brossart
Prairie Mountain Health has announced plans to host three Strive to Thrive programs, including one here in the Parkland.
Strive to Thrive' is a free 5-week interactive program where participants explore their wellness symptoms and improve their mental health by developing skills, knowledge, and practices.
The Parkland sessions will be held on Thursdays between September 28th and October 26th at the Ste Rose Primary Health Care Centre.
Sessions are also planned for Brandon and Killarney, with a virtual session via MS teams taking place on Thursdays from November 9th to December 7th.
With class sizes being limited, you are encouraged to register early by calling 1-877-509-7852 or by emailing This email address is being protected from spambots. You need JavaScript enabled to view it.
Details

Contributed by

Jeff Henson
Unionized workers at Manitoba Public Insurance have rejected the latest offer made by the crown corporation and were slated to begin preparations last night for a potential strike.
According to MPI, their latest offer that was tabled earlier this week was for four years and included annual general wage increases of two percent, a one percent market adjustment on wages for about 75 percent of union members, and a proposal to enter voluntary binding arbitration to settle general wage increases.
But the MGEU says the offer falls far short of inflation, adding the top priority of their members is to negotiate wage increases that will help all members keep up with the cost of living.
No word yet from the union as to when a possible strike could begin.
The union represents 1,700 MPI employees across the province, including here in Dauphin.
They have been without a new contract since September of last year.
Details

Contributed by

Jeff Henson
The Russell Ag Society has been in existence since 1881.
While it hasn't all been sunshine and lollipops for the society, this weekend surely will be. Up until four years ago, there was only about five members of the society; however, membership has since grown substantially as they continue to rebuild.
As a part of that rebuild, Russell Ag is getting set to host their fair this weekend from Friday to Sunday. Opening with the Russell barrel race series finals on Friday, Saturday is a jam-packed day which begins with a slo-pitch tournament at 9 a.m. and round one of the Russell cowboy contest takes place at 10.
Moving ahead in the day, there will be a pork supper at 5:00 p.m.
"We certainly have many things to celebrate as we look to grow," said Cathy Clemence, secretary and treasurer. "We're really looking forward to this weekend and we welcome everyone to our community to see what's so special."
On Sunday morning from 8:30 to 10, Russell Ag Society will be hosting a pancake breakfast and that's followed by kids horsin' around and mutton bustin' wraps up the three-day event starting at 3.
"We're trying to have things that are going to be of interest for everyone," offered Clemence. "We want this to be a family weekend, we believe that's what the people want and we're thrilled to have the opportunity to pull it off."
There will alsol be a tractor display as a farmer from Langenburg is bringing some vintage tractors for the kids. There will also be beer vendors all weekend, food vendors, and a 50/50. You can always check out Russell Ag Society for photos throughout the weekend.
Details

Contributed by

Darnell Duff
A new development in the Manitoba Liquor strike, MGEU has reached a tentative agreement with MBLL that, if ratified by members, would end the strike that began July 19th.
According to MGEU's bargaining committee, this agreement will be helpful to all MGEU liquor workers, and they're recommending voting in favour.
All Details of the agreement will be shared will MGEU members in meetings that will be held both Thursday and Saturday.
MGEU President Kyle Ross is has expressed a favourable opinion of this agreement, saying "Since this strike began, our members have stuck together for fairness. We look forward to discussing the agreement with members over the coming days."
MGEU picket lines at MBLL locations will come down until voting by members is completed.
Details

Contributed by

Jeff Henson
A traffic stop by the Portage la Prairie RCMP General Investigation Section led to an arrest and a seizure of 1 kilogram of drugs.
At a traffic stop on Fisher Avenue East in Portage, a driver refused to Identify himself, which led to his arrest.
A search of the driver and vehicle was conducted and officers located a large quantity of cash and approximately one kilogram of suspected methamphetamine and cocaine.
It was quickly discovered that the driver was wanted on an outstanding warrant of arrest.
Bjarne Roussin, 44, has been charged with two accounts of Possession for the Purpose of Trafficking, Possession of Property Obtained by Crime, and Obstructing a Peace Officer.
He remains in custody at this time. Portage la Prairie RCMP continues to investigate.
Details

Contributed by

Michael Brossart
The case of a Dauphin man charged after a traffic stop earlier this summer was back in provincial court earlier this week.
Back on June 13th, RCMP pulled over a vehicle that they witnessed speeding on Main Street.
Two men were inside at the time along with a strong smell of alcohol.
A search of the vehicle turned up a large bag of unmarked cigarettes, along with a homemade gun with a bayonet attached, used and unused ammunition, several cell phones, and cash.
37-year-old Christopher Bilay faces a number of charges including Unauthorized Possession of a Firearm.
He remains in custody and is due back in court on August 29th.
Details

Contributed by

Jeff Henson
The Northwest region is slightly behind the provincial average when it comes to harvest.
The latest crop report shows harvest is about 13 percent complete across Manitoba, with the Northwest region reporting about 5 percent being finished.
Harvest of spring cereals has begun in some parts of the region and appears to be more advanced in the Dauphin area, while fall rye and winter wheat harvest is approximately 95 percent wrapped up across the region.
Most canola is reported as podding and maturing across the area.
Temperatures reached 30 degrees or warmer at times throughout the week across the entire region, with Swan River recording the warmest temperature at 32.0 degrees.
At the opposite end, Ruhthenia recorded the coldest low over the past seven days, getting down one evening to a chilly 3.9 degrees.
Scattered showers, strong winds, and smoke did impact harvest operations at times over the past week, but precipitation levels varied across the region from as high as 18.4 mm in Birch River, to as low as 1.4 mm in Amaranth.
Dauphin received 3.4 mm of rain over the past week.
Details

Contributed by

Jeff Henson
The province's Chief Medical Examiner has called for an inquest into the December 2021 death of a man from the Sandy Bay First Nation.
31-year-old Marlon Whincup was fatally shot by RCMP along Highway 16 neat Westbourne.
According to a release by the Chief Medical Examiner's office, Mounties were investigating reports of a stabbing in the area and came upon Whincup, who was carrying a machete and reportedly acting erratically.
The release adds that police discharged a firearm while trying to subdue Whincup, hitting him in the neck and chest.
He was pronounced dead at the scene, and an autopsy determined he died as a result of the gunshot wounds.
The inquest was called due to Whincup dying as a result of the use of force by a peace officer, which is a requirement under the Fatality Inquiries Act.
It will also determine the circumstances leading up to Whincup's death, as well as what can be done to prevent similar deaths from happening in the future.
Details

Contributed by

Jeff Henson
The Winnipegosis RCMP are on the hunt for a man wanted for Sexual Assault.
37-year-old Joey Richard Delaronde is a part of Manitoba's most wanted. His possible locations are Winnipeg, Dauphin or Camperville. He has a tear drop under his right eye and he stands in at 5 foot 10, 190 pounds.
If you have any idea where Joey is, you're asked to call the RCMP as soon as possible. You're also reminded to never try to apprehend the person yourself.
Details

Contributed by

Darnell Duff
Dauphin's Selo Ukraina site is playing host this week to the Crocus Girl Guides 2023 National Camp.
Over 500 Guides, Pathfinders, and Rangers from across the country are taking part in the week-long camp, which kicked off Sunday night.
The event, which is held to share the sisterhood of guiding and reigniting the camping spirit among participants, also includes components surrounding nature and emergency preparedness.
Participants will be both in the city and in the R-M to engage in a number of activities not only associated with the girl guides movement but also centered around the local Indigenous and Ukrainian culture.
That includes the opportunity to learn about Ukrainian dancing and creating their own Pysanka, as well as Indigenous dancing and medicine wheel creation.
Geocaching, mountain biking, and exploring Riding Mountain National Park are among some of the other activities being offered to participants.
Details

Contributed by

Jeff Henson