Latest Sports
It wasn't the result they were looking for; however, there was plenty of bright spots as the Dauphin Clippers opened their season in the Rural Manitoba Football League.
On the road to play the Winnipeg Falcons, Dauphin fell short in a 35 to 13 defeat. Dauphin struggled out of the gate as the Falcons came out hard on Dauphin to take a commanding lead into halftime. Dauphin stuck right with the Falcons in the second half as both teams scored seven points.
Cody Zurba started at quarterback and he went 7-for-15 with 118 yards passing, 95 of which went to Alexander Tomkins. Will Miner had a monster game on the ground with 172 yards rushing across 17 carries. Sully Fox had a two touchdown performance in the defeat. Dauphin's international kicker Jakob Pferrer went 1-for-2 on conversions. He punted for 105 yards on three punts.
On the defensive side of the ball, Riley Lobert led the way with four tackles, one interception, and one knockdown.
Details

Contributed by

Darnell Duff
Dru Mushumanski is very thankful for the opportunity that the Parkland U-18 Rangers provided him.
From Rossburn, Dru played the past two seasons with the region's lone AAA team where he finished with 58 points. 45 of those came last year when he found the back of the net 19 times and he also added 26 assists. Winning the team's scoring title, Dru paired his great skating ability with a brilliant shot as he also finished in a tie for 25th when it came to league scoring.
He spent hundreds of hours over the past two years travelling to practices and games to play with Parkland and for the now 17-year-old, every moment with his teammates were special.
"It was an honour playing with Parkland, we had a tight group which was great," said Mushumanski. "We also had a great coaching staff led by Tyler, he always pushed me and believed in me. I firmly believe he was a big reason for my success."
Dru also played in a pair of games with the Waywayseecappo Wolverines of the Manitoba Junior Hockey League. While he was auto-protected by the Wolverines, Dru was drafted by the Regina Pats of the Western Hockey League in the seventh-round of the 2021 WHL U-15 Draft.
He got his first taste of the Western Hockey League lifestyle last year when he attended their camp before returning to play with Parkland. After spending the summer in the gym and on the ice, Mushumanski once again made the 299 kilometre trip from his hometown to Regina for training camp and while he entered with little expectation, Dru believed in himself entering camp and over the course of a few days, he made a name for himself.
"I knew that I needed to have a good camp to stick around," offered Mushumanski. "I feel I did just that. As the camp rolled on, I scored a couple goals and I was feeling really good about where my game was."
Following a rigiourous camp, the Pats were set to open their preseason by playing a home-and-home against the Brandon Wheat Kings over the weekend. Dru was in the lineup for both games after he signed his first Western Hockey League Scholarship and Development Agreement. For Mushumanski, signing on the dotted line was a dream come true and it was a day that he was hoping would arrive and it ultimately did.
"It's great, the way we get treated here is incredible, it's such a first-class organization," said Mushumanski. "I am very happy to be a Pat and it's time to move ahead and continue to show the organization why I should be here."
On tap for Regina is a pair of preseason games as they play Saskatoon on Wednesday before heading to Prince Albert on Friday for their final tuneup game. Their regular season then opens next Friday in Brandon before their home opener the following night against Saskatoon.
Details

Contributed by

Darnell Duff
They were looking to respond after a tough loss in the Labour Day Classic and they certainly did.
Another soldout crowd packed into IG Field on Saturday afternoon for the Banjo Bowl as the Bombers and Roughriders wrapped up a two-game home-and-home in Manitoba's capital. From the start, it was all Blue & Gold as they went on to crush their rivals, 51-6.
Winnipeg outscored Saskatchewan 11 in the first quater and they took the game over by scoring another 28 points in the second quarter and Saskatchewan only scored six during the entire first half. The Bombers defence was incredible all game as they did not allow a point in the second half.
Zach Collaros had a monster game with 319 yards and he went 18-for-21. Brady Oliveira, who will be a canditate for most outstanding Canadian league-wide, had 154 yards on the ground while both Kenny Lawler and Dalton Schoen had 104 yards thru the air.
Winnipeg becomes the second team in the league to clinch a playoff spot with a record of 10 and 3. Toronto is 10 and 1. Winnipeg will look to keep it rolling on Saturday when they play Hamilton.
Details

Contributed by

Darnell Duff
After scoring just one goal in their rookie game against Neepawa, the Dauphin Kings caught fire offensively.
Now it is only preseason, but there is a ton of talent on the roster as they scored another five goals in a 5-2 win against the Swan Valley Stampeders on Friday night.
Making his preseason debut, Blake Boudreau scored in the contest as did Havyril Simchuk of Ukraine. Havyril tore it up with the Parkland U-18 Rangers last year, he impressed in his brief stint with the Kings and this preseason, he has looked rock solid.
Both Austin Seibel and Cole Sheffield put forth solid efforts in net on Friday night as Dauphin downed Swan Valley for the second time in three days.
Dauphin will now get a break from game action as they do not play again until next Friday when they welcome the Melville Millionaires to town.
Dauphin opens the regular season on September 22when they welcome the Stampeders to town. Darnell Duff will have the broadcast of that game.
Details

Contributed by

Darnell Duff
If you're in the Swan River area or you're looking for a road trip and you want to play some golf, you can do so alongside the Swan Valley Stampeders.
One day after they welcome Dauphin to town for a preseason game, the organization will host their four-person scramble this Saturday at the Swan River Golf & Country Club. The tournament fee is $100 per player which includes your round, a chance at prizes and a meal.
There are also five par-3 hole-in-one prizes. All proceeds from the event will be going directly to the Stampeders to keep them alive and well in the community.
If you are interested, call the golf course at 734-3935. It will be an 11:00 a.m. shotgun start.
Details

Contributed by

Darnell Duff
They call him 'Grandpa Dean'. Dean Murray played for the Dauphin Kings from 1974 to 1978 and previous to that, Billy Murray played for the organization in the 1950's.
Fast forward more than 40 years from when Dean played with the team, it's now Madden Murray's opportunity to show what he can do in Manitoba's top junior league. Murray signed his letter of intent with the organization last year and he recently took part in his first training camp with the team since signing on the dotted line.
While Murray is a rookie, he hasn't looked out of place as the young star uses his outstanding speed and hockey IQ to create chances for himself and his teammates. It has now been just less than a week since the start of training camp that wrapped up last Sunday with Team Hobbs beating Team Cherepak in the JoFo Cup, 6-5.
"Things have been going really good, I'm having a lot of fun," said Murray. "It's been great meeting the new guys and I love spending a ton of time at the rink playing hockey. I grew up watching the Kings and I always wanted to play with them so now that it's actually here, it's a great experience."
Madden was in the lineup on Wednesday night when the team welcomed Swan Valley to town. While he did not hit the scoresheet in his preseason debut this year, Madden was buzzing on the ice and did not at all look out of place going up against some players that will end up being full-time and impact players on Swan Valley.
"Everyone did their job and everyone did the little things right," said Murray. "We played with some amazing pace and that's what allowed us to succeed, it was fun to be a part of."
Murray is coming off a solid season in which he scored 17 times in 42 games with the Parkland U-18 Rangers and he also added 17 assists. As he now makes his jump up to the junior level -- a level that brings on bigger and better players -- the young man from Dauphin is looking forward to playing with elite competition on his team and against the elite opponents the Kings will go up against.
"I know that I'm not the main puck carrier right now," offered Murray. "I love playing with guys that are just as good and better than me, it's always fun to surround yourself with guys like that. I'm really enjoying the challenge so far and this is just the beginning."
He has been an elite point producer in the past but with this being his rookie year, Madden isn't focusing on the points, he's just focusing on what he can do to help the team win.
"I just want to win, that's what it is all about," ended Murray. "I don't really have any expectations set for myself, I just want to be a part of a successful team and I believe we will be just that."
Coming off an impressive performance, Dauphin will make their first trip up north of the season as Dauphin and Swan Valley complete a preseason home-and-home. The two teams will open the regular season against eachother on September 22 at Credit Union Place.
Details

Contributed by

Darnell Duff
For the second straight night, the Dauphin Kings lit up the shot clock and this time, they made it count.
Playing their second preseason game in as many nights, Dauphin never trailed as they cruised to a 5-0 convincing win over the Swan Valley Stampeders. Dauphin recorded another 47 shots, oen night after they put up 65 in a shootout loss.
On Wednesday, Luke Swanson was outstanding for Dauphin in the first as Swan Valley had 14 shots, but none were able to beat Swanson. Dauphin then gave their netminder some support as Sheldon Shyiak scored 7:32 into the first as the Kings took a 1-0 lead into the second.
In the second, Dauphin cranked things up with 27 shots and two goals. Vladyslav Teroshyn and Anthony Bax scored within three minutes of eachother as Dauphin led the game 3-0 after 40. Myles Yearwood and Gabriel Bugeau would score goals for Dauphin in the third as earned their first preseason win.
Austin Seibel came in relief for Swanson halfway thru the game and he was outstanding with 11 saves. Naaman Hofer had three assists in the game.
The Kings will now head to the Centennial Arena on Friday for a rematch with Swan Valley.
Details

Contributed by

Darnell Duff
The Layne's Stars men's fastball team was back in action in Brandon over the weekend and they have yet another championship to show for it.
In the finals, the Stars beat a very good Waywayseecappo A's team, 5-2, to claim the title. Opening their tournament against Cross Lake, Layne Stars got the best of them 8-1. The Stars also beat Fisher River, 4-3, before losing to the A's, 8-1.
On the B-side now and having to win, that's exactly what the Stars did as they beat Fisher River, 2-0. That led the team to their championship game and they got their revenge on the A's.
The lady Stars also won a championship at the same tournament.
Details

Contributed by

Darnell Duff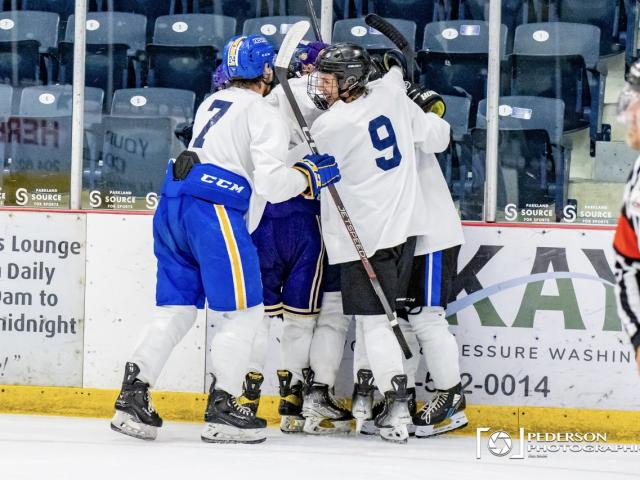 The Dauphin Kings dominated the Neepawa Titans on Tuesday in just about every statistical category except for the one that means the most.
On a night where the Kings racked up 65 shots, they only capitalized once in a 2-1 loss against the West Division foe as Dauphin began their preseason schedule.
The Kings jumped out to an 11-1 shot lead in the first and they finished the first period with 25. Neepawa did find the back of the net very late in the first. Karson Raymond, who otherwise played a solid game, turned the puck over at Neepawa's blueline and Kohen Kulbacki was sprung away on a breakaway, one that he would score on.
Chase Glover started for Dauphin and he made 12 saves. Piet Mierau came in relief and turned away all 12 shots he saw through overtime. To get into extra time, Elias Eisenbarth scored with just more than four minutes left in the game. It was Dauphin's lone goal on the man advantage as they struggled heavily, going just 1-for-8. They were 3-for-3 on the penalty kill.
Jordan Bax scored for Dauphin in the shootout after no goals were scored in overtime. Addison McIntosh and Owen Wallace responded for Neepawa, who will now return home to play Kam River of the Superior International Junior Hockey League.
Dauphin will welcome Swan Valley to town on Wednesday night, the puck drops at 7:30 at Credit Union Place. $5 for adults and those aged 18 and under get in for free.
Details

Contributed by

Darnell Duff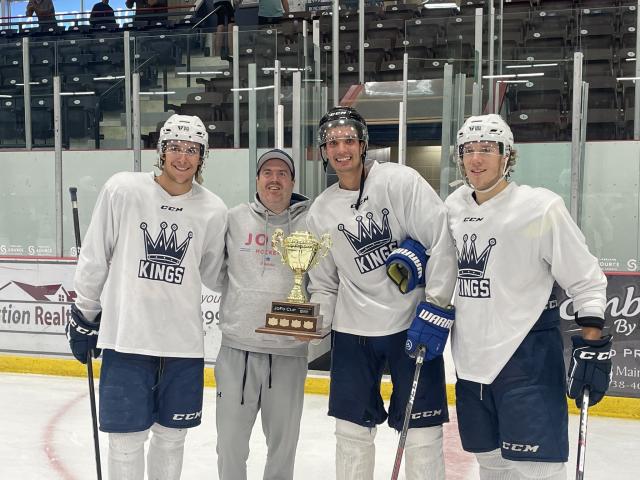 The 2023-24 Manitoba Junior Hockey League regular season is just more than two weeks away.
Five games will hit the ice on opening night which is slated for Friday, September 22. The Dauphin Kings will open their campaign that night at Credit Union Place as they welcome the Swan Valley Stampeders to town. It will be the first meaningful game between the two clubs since game six of the Turnbull Cup playoffs last year, a game in which Swan Valley won and eliminated Dauphin from the playoffs in the process.
Ahead of that, the Kings will have a busy preseason schedule which includes five games. The first of which will take place on Tuesday when Dauphin welcomes the Neepawa Titans to town before playing Swan Valley on Wednesday. The Kings then make their way to the valley to complete a home-and-home with the Stampeders. Dauphin then takes on the Melville Millionaires of the Saskatchewan Junior Hockey League next Friday at Credit Union Place. That leads the Kings into their final preseason game next Saturday when they head to Virden to play the Oil Capitals.
As the push to the regular season does continue, 730CKDM is thrilled to release the broadcast schedule for the upcoming season. Darnell Duff will have the call of 26 Dauphin games throughout the season which includes 21 games on the road. The first two games of the season will be live on the radio and the schedule includes a special 'school' game on February 28 when Dauphin plays in Swan Valley at 12:30. The final broadcast of the regular season is Friday, March 15.
On top of the 26 Kings games, Darnell Duff will also broadcast six Parkland U-18 Rangers games. Four of the games are played in Dauphin and two will be on the road.
Details

Contributed by

Darnell Duff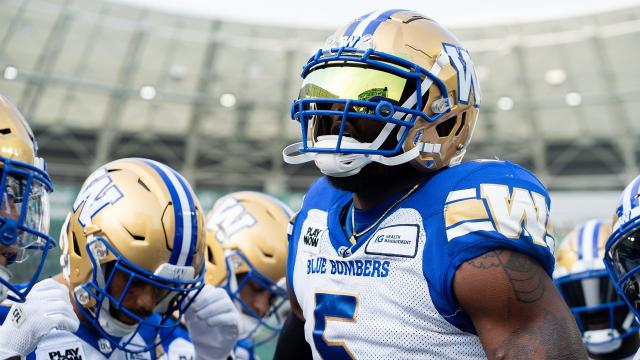 Whether you're a Winnipeg Blue Bomber fan or a Saskatchewan Roughrider fan, you were treated to an incredible game on Sunday.
In Regina for the Labour Day Weekend Classic, it was the Roughriders who tied it up late and won in overtime, 32-30. Saskatchewan tied it up with just 31 seconds left and scored first in overtime. Winnipeg then quickly scored six points; however, they were unable to convert their two points in the defeat.
Zach Collaros had 279 yards passing in the game while Jake Dolegala continued his impressive stretch of play as he completed 22 passes for 326 yards. Nic Demski had some highlight reel plays and 118 yards for the Blue Bombers while Brady Oliveira had 88 yards rushing. It took Winnipeg more than 15 minutes before scoring their first point of the game and they only had seven points going into halftime.
They played a much better offensive second half with 17 points; however, it wasn't enough. Winnipeg dropped to 9-3 with the loss but they still remain ahead of B.C. for first place in the West Division. Saskatchewan is now four points back of B.C., but they do have a game in hand and have six wins in their first 11 games.
Winnipeg will now look to get back on track and get revenge in the process as they host the Banjo Bowl on Saturday afternoon at 3. The game is sold-out and has been for quite sometime.
Details

Contributed by

Darnell Duff