Latest Sports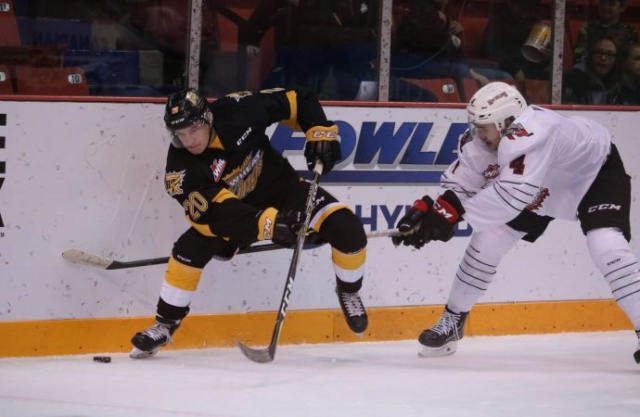 Lynden McCallum has gone through some ups and downs throughout his young hockey career. At 19-years-old, he's missed time to injury and he's had all-star seasons. He's also had the opportunity to play for his hometown Western Hockey League team and that's exactly what he's doing right now.
Born in Brandon on January 26, 2000, Lynden played all of his minor hockey and AAA hockey in his home city. His best season was in the 2017-18 campaign when he had 74 points in 37 games with the Brandon U18 Wheat Kings. He also had another 14 points (6G) in nine playoff games.
During that season, Lynden also got the chance to play for a team he had dreamed about playing for years. He suited up in five games with the WHL's Wheat Kings.
"It's pretty special, I'm not going to lie. I've said this before, but every kid from Brandon hopes to play for the Wheat Kings and not many get the chance," said McCallum. "I'm a guy that has been put in this position and I just go out there and give it my all every day."
Last season was anything but ordinary for Lynden. He played in 46 games with the big club. His final game of the season with the team was on February 23. He suffered a season-ending upper-body injury in a 7-1 loss against the Prince Albert Raiders.
Previous to the injury, Lynden had four goals and three assists.
"It was a really tough thing to go through. I felt in the previous six-or-seven games I was starting to play well and find my way out on the ice," said McCallum. "I think it made me mentally stronger because I had to push through it and not make excuses."
Using excuses were indeed the last thing McCallum used. Poised and determined to make the team this year, Lynden did everything in his power to do so and he achieved his goal.
"I had a bit of a unique summer. I had surgery and I think that gave me a bit of time to step away from the game and work on myself and realize what I had to work on," he added. "When I was able to get back on the ice, I had a fresh mindset and I was hungry to get back it. I did a lot of work in the gym and a lot of rehab work. I also did a lot of work on the ice to prepare for a big season."
What a big season it's turning out to be for the hometown boy. He already has two goals and three assists in seven games. All of last year he had just four goals and seven total points. He's also a +3 this year compared to being a -11 last season.
"Being confident is big and I just started going out there and believing that I could do it," he added. "I still have a lot of work to do. Our new coach Dave Lowry has helped us a lot as well. He's a really smart hockey mind so we're trusting what he's saying and I think that's working for us."
"I always have high expectations on myself," he added. "Whatever happens, I just need to keep going and that's what I plan on doing. It's all about proving myself."
With his solid start, Lynden has helped his hometown club win. In their last game, the club stunned Saskatoon with two goals in the last 1:05 of the game. They ended up winning in a shootout and they've now won two of their last three games. In that contest, McCallum had one goal and one assist.
"When we stick together and stay after the game, we realized how good of a team we can be," added McCallum. "That was a gutsy effort by our guys, it was our third game in three days. I'm really proud of the way the guys pulled together to get the job done."
The team plays just one game this week. It comes on Friday night when they welcome the Saskatoon Blades to Westoba Place.
After that contest, the club will head out for their first two-week road trip. They play in Everett, Seattle, Portland, Tri-City, Spokane, Lethbridge, and Swift Current. The seven games come in 11 days.
"We're really confident in each other and we're really confident in our coaching staff," concluded McCallum. "We're hungry to get back at it. We didn't get off to the start we wanted, but that's behind us and we're moving forward."
Details

Contributed by

Darnell Duff
The Parkland U18 Rangers will continue their season this weekend with a pair. Tomorrow they're in Kenora and they wrap things up with a date against Eastman on Sunday.
So far the team is 0-4, but they have played some solid hockey at times, especially Taggert Plouffe. In the four games, the Winnipeg native already has three goals and one assist to his name. Two of those goals came last weekend in a loss against the Selects.
"Things are going pretty good, I like the way we're playing, we're working super hard," said Plouffe. "We had a couple of tough losses but I think we'll be able to rebound nicely this weekend and get some wins, I know everyone wants that."
"I know I've been putting up some points, but that doesn't really matter, it's all about the team," he continued. "I'm just working hard and getting to the net. I had one rebound goal and I'm finishing my chances. I'm just trying to help this team win every game."
Taggert played last year with the Winnipeg Monarchs U18 City team. He had 18 points (10G) during that time and he also played one game with the Winnipeg Wild. Now, however, Taggert has called Dauphin his home. He's staying with fellow Ranger Liam Jardine at the Chubka's.
"It's a lot different compared to Winnipeg, but I'm really liking it here," he added. "It's a great place."
Last year's 18 points were a career-high for Taggert. This weekend is also the first time Taggert and the crew will hit the road. Their first four games came inside of Credit Union Place. What's in store for the club travel-wise? We'll, about five hours to Kenora, another two to Beasujour and then about three and a half back to Dauphin.
Many hours will be spent on the bus and Taggert's okay with that as he travels with a team that he hopes can get on a winning streak.
"I'm pretty excited about this. I think the boys will be able to go and get these wins, it's going to be a good weekend," he added. "We just have to work hard, get pucks deep and play our game."
Taggert is currently enrolled at the DRCSS.
"I like it a lot, it's a great school," he concluded.
Details

Contributed by

Darnell Duff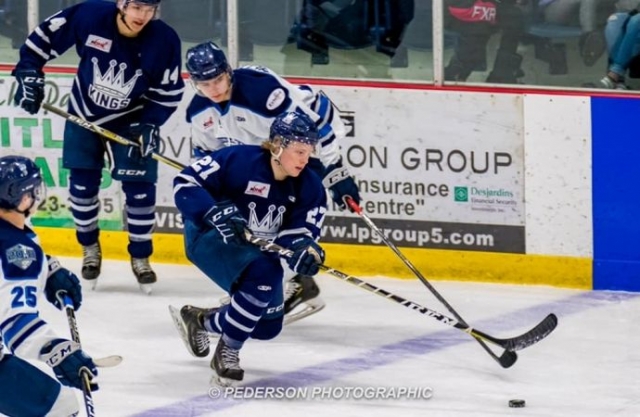 UPDATE:
Due to the weather and road conditions, the Dauphin Kings won't be heading to Selkirk today. Their game has been postponed to a later date.
---
The Dauphin Kings will begin their first three-games-in-three-nights road trip of the season tonight just outside of Winnipeg.
On a weekend that is expected to see a ton of snow and nasty weather, the Kings will look to heat up after a tough start to the season.
"We're the only ones that can change things and we believe in ourselves," said Doug Hedley.
For the second time this season, the club will challenge the Selkirk Steelers. In their last meeting, Dauphin struggled in a 5-0 loss.
Nakodan Greyeyes has paced Dauphin offensively with eight points so far.
Tonight's game is also the first of four straight away from Credit Union Place for the club. Dauphin is 0-3 on the road and they're the only team without a point so far.
Selkirk, meanwhile, is 4-4 this season.
You can hear tonight's game right here on 730CKDM with Darnell Duff. The Parkland Source for Sports pregame show gets going at 7:15.
Details

Contributed by

Darnell Duff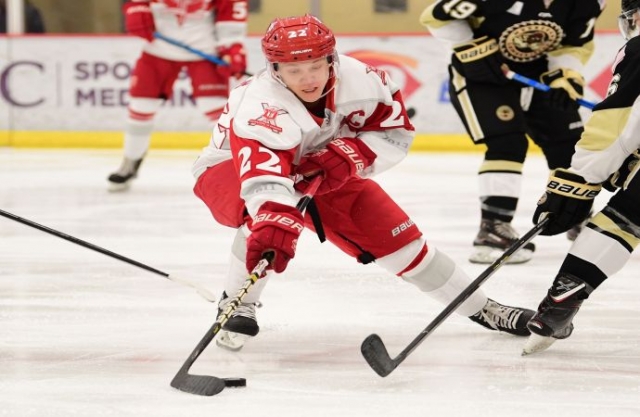 Throughout the season, I'll be chatting with players who used to play with the Dauphin Kings as I take a "Blast to the Past". The full interviews will play during the Dauphin Kings Power Play show after the 4:00 p.m. news, weather, and sports on Friday afternoon.
This week's "Blast to the Past" is Gilbert Plains Riese Gaber. In 77 games with Dauphin, Riese had 30 goals and 26 assists. He made his debut with the team in the 2015-16 season where he had two goals and one assist.
He followed that up with a 32-point campaign (13G) in the 2016-17 season. The 2017-18 season ended up being a title-winning season for Gaber. He had 15 goals for Dauphin through 27 games before he was traded to the Steinbach Pistons.
In 24 games in Steinbach, he had 15 goals and he helped the team win the MJHL Championship. The club also won the Anavet Cup that season and they played in the Royal Bank Cup where they came up short.
Now, Gaber's off playing in the United States Hockey League with the Dubuque Fighting Saints for the final time. After this year, he'll move to North Dakota to play for the Fighting Hawks Division 1 team.
As Riese looks back at his time playing for Dauphin, he knows the club helped him become the player he is now.
"It's crazy to think back really, that was a long time ago. I will cherish those years forever," said Gaber. "Playing in Dauphin is where things really took off for me. Starting with the Kings and getting the chance to play in other tournaments where I was able to build my confidence, it really helped me and it's a big reason I am where I am today."
Riese had 52 points last year for Dubuque. This year, the Gilbert Plains native is off to a great start. He already has three goals in just three games and he's added an assist as well. His four points have him tied for second in team-scoring and 17th in league scoring. Former Portage Terrier, Reilly Funk leads the league with eight points.
"Our first week we obviously got off to a great start by winning two games and I was very happy with how I played, I think I came out of the gates flying," added Gaber. "I knew I was ready for the season and I had a lot of energy to get things started."
The first two wins came at the USHL Showcase. Where his UND coaches and coaches from the professional ranks were in attendance.
"I wanted to make a good impression and it was great to perform well in front of UND," added Gaber. "It was nice to prove myself to the pro teams and make a statement there. I'll keep working toward my goal of playing pro one day."
As mentioned before, Dubuque won their first two games, but Gaber also helped them win their most recent which means they're 3-0. They will try to go 4-0 on Sunday when they play Tri-City. After being bounced from the playoffs against Muskegon last season, Gaber is looking forward to making a big push this year, in his final year of junior hockey.
"Winning always makes it better when you go to the rink because the mood is good," concluded Gaber. "It's a really exciting time at the rink. It's something you have to really sink in because your junior hockey years go fast and this is my last one, so I really want to make it count."
Make sure you stay tuned for the full interview with Riese tomorrow afternoon during the Dauphin Kings Power Play show.
Details

Contributed by

Darnell Duff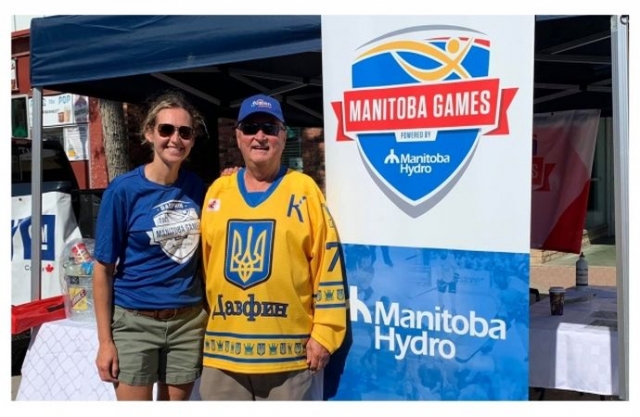 In just 303 days, athletes from all over the province will invade Dauphin and area for the 2020 Manitoba Summer Games.
This event will feature many athletes from right here in the Parkland and the Host Society is continuing to prepare for the event. On Tuesday, they held an inter-dependency meeting. That brought together the entire Host Society organizational charts and that's about 80 people.
"We talked about what all of the individual committees are doing and we just connected," said Alicia Zurba, Games Coordinator. "Additional meetings were also scheduled."
"It was an extremely productive meeting," continued Zurba. "It was fantastic to see everyone come together. The room was buzzing, it was great."
The committee is now working with its partners to assure that all of the facilities that will be used are up to scale.
"Track and field at the high school will be getting a bit of a face-lift and we're also looking at Vermillion Sportsplex to see what needs to be added," continued Zurba. "We're planning on what can be finished prior to the winter and then we'll pick back up in the spring."
A lot of their planning also runs through you. The committee is looking for 800-to-1000 volunteers. That can include you doing an hour shift for one day or volunteering eight hours of your time every day of the week.
"We're looking for anyone to help out big or small next August," continued Zurba. "We're looking to create a positive impact on the calibre of athletes moving forward. This next generation of athletes are coming to Dauphin and we want them to feel welcome. They're going to give it all they can and we plan on doing the same."
In her return to the Parkland, Zurba was brought on as the Games Coordinator back in August. She, alongside the entire committee can't wait to get things going.
"The Host Society volunteers are just buzzing," she concluded. "They're so excited and they're working so hard to make sure this event is a success. It's going to be great to see everything executed."
If you're looking to help out during the 2020 Manitoba Summer Games, head to Volunteer Opportunities.
Details

Contributed by

Darnell Duff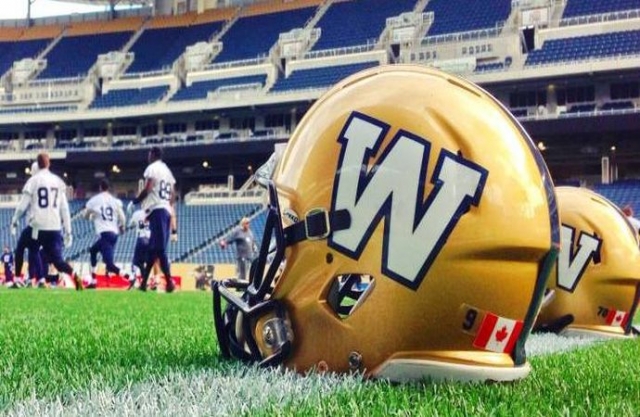 The Winnipeg Blue Bombers have acquired a quarterback with plenty of experience.
They added 31-year-old Zach Collaros in a trade from the Argonauts.
Also coming Winnipeg's way is a fifth-round pick in the 2020 CFL Draft.
Toronto will get a third-round pick next year and if Zach signs with Winnipeg in the offseason, Toronto will also get a first-round pick.
Collaros is 34-31 all time as a starter and he was 10-4 with Saskatchewan in 2018. That included throwing for 2,999 yards and nine touchdowns.
Details

Contributed by

Darnell Duff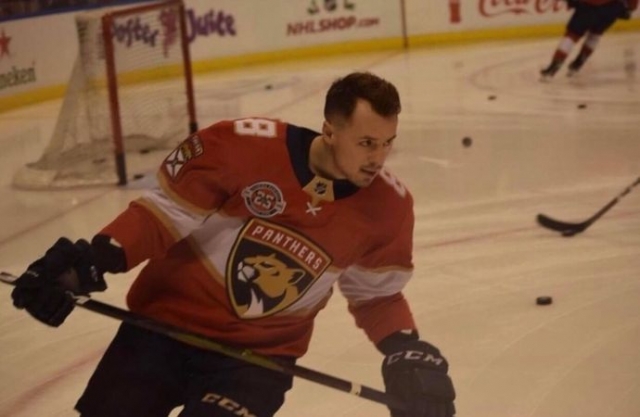 The Florida Panthers have welcomed back Roblin's and former Parkland Ranger, Jayce Hawryluk to their team this season.
After starting the season in the American Hockey League last year, Jayce has made the team out of training camp this year. He's now played two games with the club as they split with Tampa Bay.
"Things are going well. We're off to a pretty nice start here, splitting a home-and-home with Tampa is definitely a nice step for our team," added Hawryluk. "I'm feeling good. I'm getting opportunities here to start this season and I'm looking forward to playing each and every game here."
"I just have to play my game. If I come to the rink every day and try to get better, that's going to help me," he added. "I'll try to keep it consistent and show them I can play all the time."
Jayce had 12 points last year in 42 games last year with Florida. He made his debut against the Toronto Maple Leafs on Hockey Night in Canada. His first goal career goal came against the Chicago Blackhawks.
Most recently, the club lost to Carolina yesterday. With a 1-2 record, they'll get back at it on Friday against Buffalo. Saturday's game will feature all sorts of Parkland flavour. Jayce will challenge Barry Trotz, Ryan Pulock, and the New York Islanders on Long Island.
"For myself, I'm just really focused on being in the lineup every night and being a guy that the coaches can trust," said Hawryluk. "If I get playing time consistently, I think some points will come along the way."
Jayce's professional career didn't start in the National Hockey League. He played 142 games with the Springfield Thunderbirds and six with the Manchester Monarchs.
Now that he's playing in the show, he doesn't plan on stopping anytime soon.
"I love the game. I've loved it since I can remember," he continued. "I get to do something I love for a living, I don't even look at it as a job. I'm going to give it all I have."
Jayce will make the trip back to Manitoba in March. The club is in Winnipeg on March 17 to take on the Winnipeg Jets.
"For now, I'm just trying to focus on what is happening right now, there's a ton of time before that," he concluded. "With that said, that is a date that I have circled on my calendar, it's going to be a super special day."
"There will be a ton of family and friends at the game, so it's going to be pretty unreal," he added. "Our team is also really solid. We have a ton of really good players so it's going to be exciting for the other fans as well to watch them."
Jayce started his junior career with the Brandon Wheat Kings in the 2012-13 season.
Details

Contributed by

Darnell Duff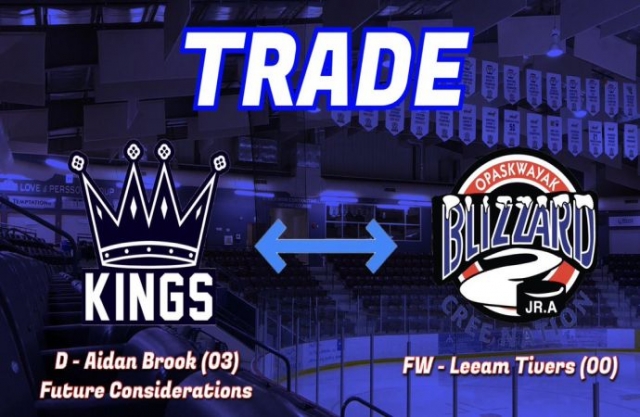 The Dauphin Kings have acquired Roblin's Aidan Brook from the OCN Blizzard. Dauphin also received Future Considerations.
Playing with the Rink Hockey Academy Prep team this season, Brook has four assists in five games.
Going OCN's way is Leeam Tivers.
Details

Contributed by

Darnell Duff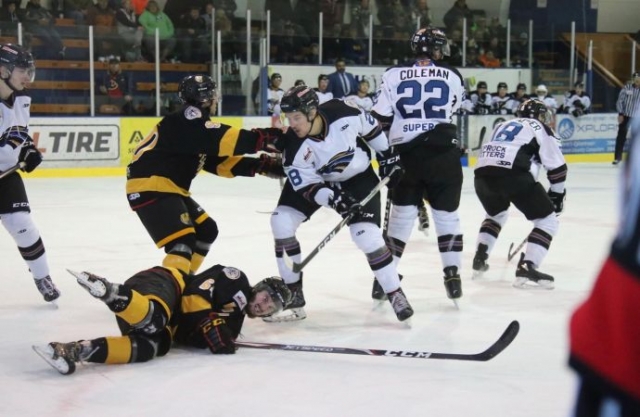 After graduating several of their top players from last year's league final run, the Swan Valley Stampeders aren't being affected what-so-ever early in the season. The club has skated out to a 7-1 record and they're in second place. The 14 points are just two behind Portage who is in first place in the league.
Each week, the Canadian Junior Hockey League (CJHL) announces its Top-20 teams in the country. The Penticton Vees top the rankings. 10 spots behind them at number 11 is where you'll find the Swan Valley Stampeders. They are joined by the Portage Terriers were are ranked as the third best team in the nation.
"To be honest it was a little bit of a surprise. We're so early in the season, we certainly don't see ourselves as better than anyone else," said Geoff Grimwood, head coach, and general manager. "We've been fortunate to get off to a good start here. There are a lot of good teams in this league, but a bit of recognition for the program is never a bad thing."
"I kind of chuckle about it, though honestly. Who's to say who is the best team in the country," he continued. "We certainly don't dismiss it, but it's far too early. If we have one bad week, we could go way down, it's just one of those things. At the end of the day, it's a tip of the cap to our team so far."
Of their eight games, Swan Valley has played eight home contests. Keep in mind, one of those was at the MJHL Showcase. Their home record is 8-0 and they've outscored opponents 26-to-13. Besides Portage, Swan Valley is the only undefeated team on home ice.
The team lost their second game against Dauphin. Since they've rallied off six straight wins. In those six contests, they have 23 goals.
"The one thing that we like is we're getting contributions from everyone. On Friday against Neepawa we got three goals from our third and fourth lines," added Grimwood. "On Sunday night we got a tying goal late from our third line."
"Whether it's our veterans or young guys, everyone is chipping in and I think that will help us moving forward." continued Grimwood.
Swan Valley is back on the ice for a trio of games this weekend on the road. They're in Steinbach on Friday, Selkirk on Saturday, and Portage on Sunday. Steinbach is 5-2-1, Selkirk is 4-4 and Portage is a perfect 8-0.
Speaking of Friday's game, in particular, Swan Valley has a lot of recent history against Steinbach. Two seasons ago they were bounced in the playoffs by them. Last season, they took out Steinbach en route to making the league final.
"We're really looking forward to the weekend. We've been fortunate to get some wins on home ice because we've had a heavy home schedule so far," said Grimwood. "We know no game this weekend or season is going to be easy."
"We're looking forward to some really good challenges from some really good hockey teams," he added.
With all the good, Swan Valley does have some things to sharpen up. They've taken 147 penalty minutes which are sixth in the league.
"We almost feel like we haven't even started, we have a lot of things to work on," concluded Grimwood. "One thing is definitely our penalties. We're giving too many teams chances on the power play and that's difficult on us. Our penalty kill has been very solid, but it stresses our players more often. Our number one focus is getting our penalty numbers down and with that, we hope that helps in some other areas as well."
The next Parkland battle is October 30 in Swan River.
Details

Contributed by

Darnell Duff
The snow is here and so are the Grandview Comets as they're getting prepared for another season in the North Central Hockey League.
A part of that preparation is holding tryouts, which they will do tomorrow night at the Gilbert Plains Rink. It starts at 8:30. Once the ice is in at the GACC, the team will move there.
"Anyone 18-years-old and older can come out if they want to try and play on the team," said Brad Potoroka. "A lot of guys that are done high school hockey usually try. It's a great league to play in and it's a lot of fun. It's competitive and if you're interested, come on out and try."
A league schedule has not yet been set. But, based on last year, the regular season will begin during the first weekend of November. Further practices and tryouts will also be set tomorrow night.
Details

Contributed by

Darnell Duff
On a night where the Dauphin Kings put up 62 shots through 65 minutes, they couldn't get more than a point.
Ste. Rose's Brad Marshall scored the lone goal in the shootout to give Neepawa their first win of the season as they beat Dauphin, 6-5.
It took Neepawa just 10 seconds to score on the night. Kadin Ilott responded for Dauphin and Nakodan Greyeyes also scored in the first but Neepawa had a 3-2 lead after 20.
Former Parkland Ranger Jaeger Lapointe had one of the goals in his return to Dauphin. Brad Marshall also scored.
Up 3-2, Neepawa doubled their lead early in the second. Avery Smith and Cole Dekoninck scored, however, as the game was tied at four after 40.
Neepawa went on to regain their lead in the third, but they couldn't hold on. With just more than four minutes left, Grady Hobbs tied the game at five and pushed it into overtime.
After nothing happened in overtime goals wise, Marshall scored the lone goal in the shootout to give Neepawa their first win of the season.
Dauphin drops to 1-5-0-1 on the season. They're in Selkirk on Friday, Steinbach on Saturday, and Winnipeg on Sunday. Darnell Duff will have the call of all three games.
Details

Contributed by

Darnell Duff