Latest Sports
The 2022-23 Manitoba Junior Hockey League regular season continues to inch closer every day and the league has announced its schedule for opening weekend.
The Dauphin Kings will open their schedule on home ice, Friday, September 16 against the Neepawa Titans. It will be a night to celebrate as it will be Dauphin's first home game since game six of the Turnbull Cup playoffs against Steinbach, a game Dauphin won. The Kings went on to advance to the national semifinal.
The following night on September 17, Dauphin hits the road for the first time as they play the Titans at the Yellowhead Centre.
Swan Valley opens its season with a home-and-home against the OCN Blizzard. The league has announced a full schedule will be announced in the coming weeks.
Details

Contributed by

Darnell Duff
Dauphin is set to have some representation at the 2023 North American Indigenous Games that take place in Halifax.
Trayden Guiboche who was born and raised in Dauphin and is a member of the Skownan First Nation has accepted an offer to be on Team Manitoba and he will be on the men's fastpitch team.
Tryouts for the team took place last month and Guiboche found out about the exciting news last week. He's been playing the game for about two years and he's very excited about this opportunity.
"It felt pretty great to make the team," said Guiboche. "All of my teammates, coaches and my family helped me get here and I will be forever grateful, it's a once-in-a-lifetime opportunity."
Wearing the buffalo is not something many athletes get the chance to do over the course of their athletic careers and Trayden knows it's now his time to make a difference for the team. The shortstop and pitcher has plenty of time to prepare for the event as it's not until next summer and he knows there is a lot of hard work to be done.
"I think one of the toughest challenges will be hitting, so I have to be ready for that," he offered. "I believe my defence is definitely strong enough, it's where I shine on the field."
Guiboche also says getting this opportunity is a dream come true
Details

Contributed by

Darnell Duff
Years of hard work has earned Connor Dewar some stability in the National Hockey League.
The former Parkland Ranger and fan favourite has signed a two-year, one-way contract with the Minnesota Wild.
He scored his first NHL goal against Montreal last season and had six points overall, two of which were goals.
Details

Contributed by

Darnell Duff
Crystal Zamzow has always excelled at whatever she has done, whether that be in the classroom or in her athletics. From Swan River, Zamzow is a dominant force in basically every sport she takes part in and she continues to make herself a household name around the province.
This year alone, Crystal has a pair of provincial silver medals in high school and her performance on the golf course continues to be extremely impressive. At high school badminton provincials representing her hometown Tigers, Crystal went a perfect 7-for-7 in the round-robin. Her run to a perfect round-robin really was magical as she didn't lose a set and she gave up 10 or fewer points six times. She scored 147 points and gave up just 53, 24 fewer than her next closest opponent that went 6-1.
Zamzow went on to continue her great play in the playoffs as she won her first six straight sets. Ultimately, the Swan River native came up short in a great gold medal game as she earned a silver medal. She's also thrilled that she was able to earn a banner for her school.
"It's really nice to bring a banner back for our school," said Zamzow. "I'm happy with how I played, it was a great tournament."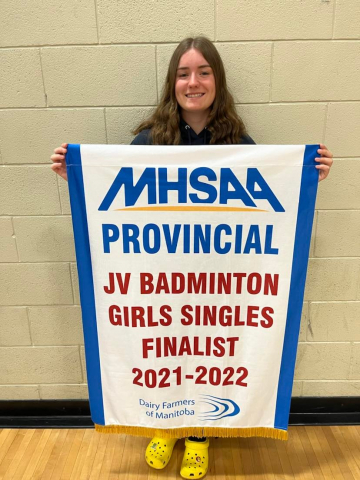 Prior to provincials, Zamzow won sectionals which included Swan River, Ethelbert, and Winnipegosis, to name a few. She also added a zone championship. Then on the golf course, Crystal led her Tigers team to a silver medal. Her round of 81 helped the team finish with 309 strokes, good for second in the province, only behind St. Mary's. So that's two silver medals for the grade 10 student and outside of high school, Crystal continued with her domination.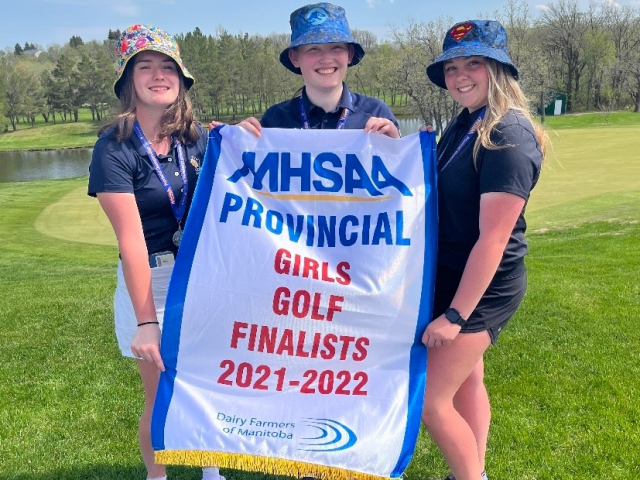 She shot an 82 at the Carman Golf & Country Club to qualify for Golf Manitoba's amateur women's championships where she went on to win her Round of 16 match before falling short against the eventual champion, Marissa Naylor in the Elite 8.
Then just recently, she was at the Teulon Golf & Country Club for the Maple Leaf Junior Tour Manitoba Series and she opened the two-day tournament with an 81 to sit atop the leaderboard heading into the final round. Crystal would fire a 79 in the second round to hold off Addison Kartusch by four strokes to claim the girls' 15-19 division. Crystal also won the longest drive for her age group.
"I had a nice bounce back from the previous weekend when I struggled at the NextGen tournament so that was nice," offered Zamzow.
An extremely busy remainder of the season is on the way for Crystal as she will compete in the junior national championships in Ottawa next month to go along with her local circuit. She's also trying to make Team Manitoba for the Canada Summer Games. Crystal knows it will be a daunting task and she's ready for the challenge.
"Making Team Manitoba would be a complete dream come true," she ended. "I'm just going to try to go out there and play my best. If I do that, we will see what happens."
Details

Contributed by

Darnell Duff
There's no hiding the fact that the Dauphin Kings lost some big pieces on their back end after their run at the Centennial Cup.
Their captain Parker Malchuk alongside assistant captain Colby Jaquet both ran out of junior eligibility. Klim Georgiev who was very solid on the back end also aged out. At the end of the day; however, it happens to all teams. It's then up to the team's general manager to fill the gaps and Doug Hedley has been busy doing just that.
In the Kings' most recent deal, the team acquired Anthony Bax who resides in Parkhill, Ontario. The 18-year-old considers himself a two-way defender that focuses on his own end but likes to contribute offensively wherever he can. Bax says joining a team that just won a championship is a pretty special feeling.
"I was really excited when I found out about the trade, I've heard so many great things about the city and the organization," said Bax. "It's a pretty exciting opportunity and I'm looking forward to earning a spot on the team."
Anthony started last season with the Collingwood Blues of the Ontario Junior Hockey League where he scored once and had four assists in 26 games. He then went to play in the NCDC with the Connecticut Jr. Rangers. He suited up in 11 games with them.
Doug Hedley had this to say on the signing that included Jeriah Shantz heading to Collingwood alongside future considerations.
"He brings mobility, speed and physicality to our back end," offered Hedley. "We are looking forward to working with him. We would also like to thank Jeriah for his time with the Kings and we wish him all the best moving forward."
Bax was drafted 10th overall by the Owen Sound Attack in the 2020 OHL U18 Priority Selection and in his final year of U18 hockey, he scored five times and had 20 assists in the regular season. He also scored one goal and had five assists.
Details

Contributed by

Darnell Duff
He was the best goalie in the Manitoba Junior Hockey League. His 30 wins were the most in the regular season and that number came despite missing a sizeable amount of time because of injury and sickness.
Moving forward into the MJHL playoffs, he was incredible and made one of the biggest saves in MJHL history late in the third period against the Steinbach Pistons. He was then named the Centennial Cup's top goaltender and most valuable player. For Carson Cherepak, the 2021-2022 season was dominating. He turned away 45 shots in his debut with the team against the Neepawa Titans way back in September. He also posted a league-tying six shutouts in the regular season and he had another one in the playoffs.
Cherepak's season which ran right until the national semifinal will go down as one of the best in recent years across the country. Still, with one year of junior eligibility, Carson has decided that this past season was his final as a junior hockey goalie.
The Winnipeg native and former goaltender of the year with the Winnipeg Wild of the Manitoba AAA U18 Hockey League has announced his commitment to Rensselaer Polytechnic Institute Engineers (RPI). They play out of Troy, New York in the Eastern College Athletic Conference.
"It's a dream come true. For as long as I can remember, this is what I have wanted," said Cherepak. "To accomplish a dream, it's very exciting. I believe it's going to be the perfect fit for me, I can't wait for next year."
The team is coming off an 18-23-3 campaign. They won their first-round playoff series against Dartmouth before coming up short against Harvard in the second round. Their exhibition schedule next season begins October 1 against Colgate. Conference play begins 27 days later on October 28 when they play Union College in a home-and-home.
"It's going to be extremely competitive and that's what I'm most looking forward to," offered Cherepak. "I'm a competitor and I always like pushing myself to the limit and that's exactly what I'm going to have to do."
RPI is getting a special goaltender not only on the ice but off the ice as well. Cherepak was always front and centre during his time in Dauphin when fans wanted to meet him and take a picture. He was also out and about in the community as he took part in a school visit with a few of his teammates and played some dodgeball while doing so.
It will go down as a one-year stop for Carson in Dauphin, but it was a year full of hardware and a year that he won't soon forget, if ever.
"I'm so glad that I had the opportunity to be with the team," said Cherepak. "I made a ton of great friends and they will be my friends for life. It was a special year and I enjoyed every second of it."
Carson is the second King that has committed to Division 1 hockey in the past few years. Grady Hobbs is playing with the Rochester Institute of Technology where he scored seven goals and had seven assists in his rookie season. Hobbs was named the MJHL's most valuable player in the 2019-20 season when he put up 43 goals and 81 points with Dauphin.
Details

Contributed by

Darnell Duff
It was an exciting weekend for some minor baseball teams in the Parkland as regional championships were held.
In the U13 age group, the Roblin Stars downed Dauphin's McMunn and Yates team, 16-6, to win the 'AA' championship. The Stars are now off to Morden for the provincials next month.
After the loss, Team McMunn and Yates had another chance in the 'A' final and they made it count as they downed Team Reit-Syd Equipment in a thriller, 20-19. Team Reit-Syd's season has now come to an end while Team McMunn and Yates are off to Winkler next month for provincials.
U15:
In Swan River, it was a battle of Dauphin as Team Aspen Insurance met Team Dauphin Clinic Pharmacy in the final. Team Aspen Insurance coached by Travis Shewchuk would come out on top and they're off to Hamiota for next month's 'AA' provincials.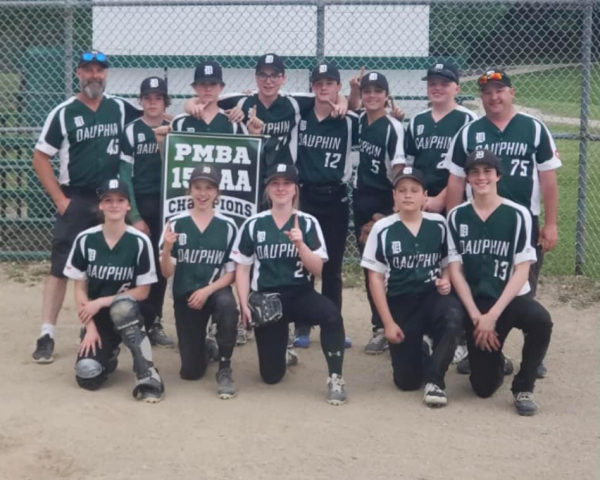 Team DCP will return to Swan River for the 'A' provincials, also next month.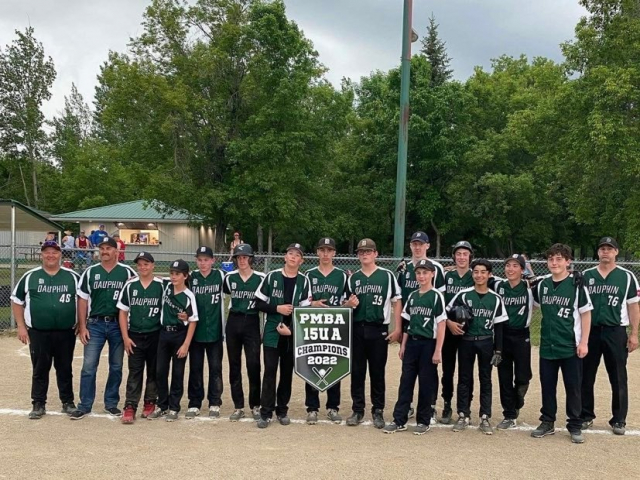 Details

Contributed by

Darnell Duff
Gilbert Plains Country Club held its 2022 Men's Open today. Stacey Genaille took first place in the Championship Flight by three strokes over Chad Facey.
Here are the full results:
CHAMPIONSHIP FLIGHT
1st – 68 - Stacey Genaille
2nd – 71 - Chad Facey
3rd – CB 76 - Scott McCallum
FIRST FLIGHT
1st – CB 81 - Larry Nepinak
2nd – 83 - Farron Genaille
3rd – 84 - Jon Tomlinson
SECOND FLIGHT
1st – CB 88 - Mitchell Rauliuk
2nd – CB 88 - Frank Douglas
3rd – CB 89 - Walter Toderian
THIRD FLIGHT
1st – CB 94 - Merv Lynxleg
2nd – CB 94 - Joey Pasternak
3rd – CB 94 - Derrick Brooks
FOURTH FLIGHT
1st – 101 - Jim Todoruk
2nd – 102 - Fred Todoruk
3rd – CB 103 - Fred Letain
CLOSEST TO THE HOLE
Hole #4 – Terry Murray
Hole #9 – Larry Nepinak
Hole #14 – Larry Johnson
Hole #17 – Dan McFarland
Details

Contributed by

Sam Brownell
The Winnipeg Blue Bombers remain undefeated after beating Ottawa 19-12.
The defending CFL champions trailed the Redblacks until early in the third quarter.
Marc Liegghio kicked a 30-yard field to give the Bombers the lead.
Zach Collaros's pass to Dalton Schoen for a touchdown with just over five minutes remaining in fourth quarter sealed the deal for Winnipeg.
Details

Contributed by

Nicholas Iatropoulos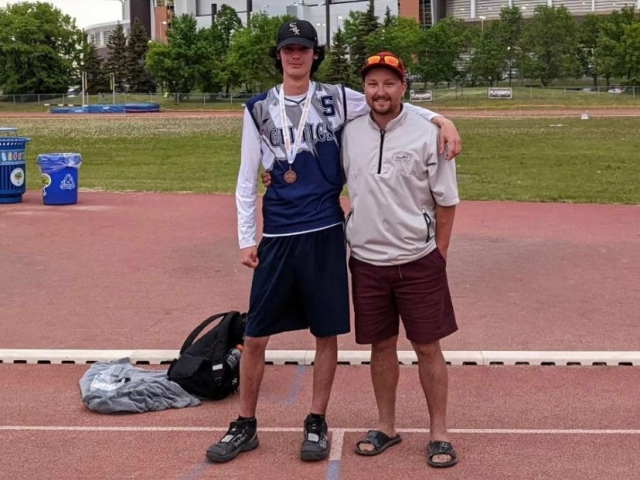 Deacon Bennett-Letain is all ready for his final set of exams before he graduates from Ste. Rose High School. The grade 12 student has excelled in the classroom and athletically, he finished off his high school career with a bang.
Competing with the Celtics at the Manitoba High School Athletic Association's track and field provincial championships last week, Deacon earned a bronze medal in the varsity guys' long jump.
"It was such a great feeling, especially because it's the first medal I've got in sports," said Bennett-Letain. "I was speechless when I found out I won the bronze, I didn't know what to say."
Bennett-Letain also finished in the varsity guys' high jump. Besides the two great finishes, Bennett-Letain was just happy to be a part of the group and he says it was a great weekend.
Overall, it was a tremendous weekend for the Celtics. They finished third in the province for all 'A' schools competing at the event. They ended up with a total of 16 points.
"It was a fantastic season and the future for the Ste. Rose track and field team is extremely bright," offered Nathan Zadorozny, coach."
Katelynn Preston finished 9th in javelin and seventh in discus. Breeann Walker finished 11th in shotput, Julien Legargde placed 15th overall in the 3000m and John Cimarno finished 23rd in the 1500m.
Details

Contributed by

Darnell Duff
Sully Fox knew he wanted to play for the Dauphin Clippers football program when he entered high school and that's exactly what he did. Now there is a steep learning curve for most players that are playing a sport competitively for the first year.
For the 15-year-old, there certainly was a learning curve but he made it work for him and excelled like most rookies dream to. Fox immediately became an impact player for the Clippers as he helped the team make the Rural Manitoba Football League final. They would come up short against Swan Valley; however, it was still a season to remember and Sully was extremely pleased with his decision to join the team.
"Sure it didn't end up how we would have hoped it to, but we had a great season," said Fox. "We battled right to the end and coming up short gives us more fuel to get the job done next year, we will be ready for the challenge."
Fox helped the Clippers win a provincial silver medal on the football field and most recently, he helped the Clippers rugby team win a provincial bronze medal. After losing their provincial semifinal against St. Pauls, the Clippers rebounded in a big way the next day as they hammered Crocus Plains in the bronze medal game. It was quite the first year on the field for Sully.
And while the high school season has come to a close both with rugby and football, Sully's exciting journey is set to continue as he's off to Langley, British Columbia as he looks to help the Manitoba men win a medal. The U16 Manitoba men's tryouts all began with 200 players and that dwindled down to 130. From there, the top 90 U16 players took part in one final rigorous weekend with the goal of making the final roster. For some, it didn't work out that way but for Sully, it worked out just how he envisioned it would.
Sully made the final roster and he will now play for Team Manitoba at the U16 Western Challenge from July 1 to 7. Making the team was a dream come true for Sully and what makes Sully's journey to playing for Team Manitoba even more special is how he did it. Playing offensive lineman for the Clippers, Fox was asked to play defensive line at U16 tryouts and the young man impressed the coaching staff immensely as he will represent the province early next month.
"I was very excited and I'm so thankful for the opportunity," offered Fox. "I was speechless at the time. There were a ton of Winnipeg players that were trying to make the team so I wasn't sure if they would take anyone from rural Manitoba but I guess I broke that barrier. It's going to be a tremendous opportunity and I can't wait to hit the field."
The team will play their first game against Team Saskatchewan on July 3. The bronze and gold medal games take place on July 6. Other teams competing are Team Alberta and Team British Columbia.
Details

Contributed by

Darnell Duff