Latest Sports
Last year the Grandview Comets entered the playoffs as the #3 seed and they ended up winning the North Central Hockey League. This year, the club enters the playoffs as the #6 seed and they'll look to do the same thing as they begin their playoffs tomorrow night against the #3 Virden Oil Kings'.
The Oil Kings' swept Grandview in the regular season with back to back wins. The first game was tied at one before Virden went on to win 6-2.
Virden went 11-3-0-2 this season, but they have struggled of late in losing two of their last three games.
"I don't know if we necessarily have to worry so much about Virden, I don't think we played a full 60 minutes when we played them," said Kaine Morran, Grandview's leading scorer. "We really just have to focus on our own improvement and being better. We also need to stay out of the penalty box because that's where they will hurt us. If we do that, we'll give ourselves the best chance of winning."
The Comets do come into tomorrow's game #1 on a positive note. They erupted with 51 shots and beat the Rivers Jets, 4-2 to wrap up their regular season this past weekend. The win was Grandview's fourth of the season.
"Anytime you can end on a win is for sure a good thing," said Morran. "With that being said, we definitely have to pick things up heading into tomorrow. Everything ramps up with it being the playoffs so we need to be better."
Yes, Grandview winning this series would go down as a shock based on the regular season standings and previous results between the two teams. But, Grandview has upset teams in the past. Last year, they beat the #2 Swan Valley Axemen in the semifinals before dispatching of the top-ranked Miniota-Elkhorn C-Hawks in the final.
"We just need to stay loose and be fresh out there. We need to let the game come to us and work hard," said Morran who was a part of last year's winning team.
Here is the first round series schedule vs Virden:
Wednesday, February 13 - @ GACC - 8:30 p.m.
Friday, February 15 - @ Tundra Oil & Gas Place - 8:30 p.m.
Saturday, February 16 - @ Tundra Oil & Gas Place - 4:30 p.m.
"It's definitely nice that we get to start this series on home ice. With it being on a weekday and they have to travel here, hopefully, we can catch them with some bus legs," added Morran.
Details

Contributed by

Darnell Duff
After going 13-10-0-1 in the 2016-17 season, the Dauphin Clippers have caught fire in the Westman High School Hockey League. Not that the record that year wasn't good, but the club has definitely stepped it up in the past two seasons.
Last year, the Clippers went 22-1-0-1 and finished atop the North division by 13 points. That momentum has carried into this year as the Clippers (21-3) once again have finished atop the North division heading into postseason play. Only Killarney and Hamiota have more points than the Clippers and Dauphin has beaten both of those teams.
"We've kind of been up and down lately. Our intensity level seems to be very high against the top teams but low against teams that are lower in the standings," said Trevor Robak, Head Coach. "That's one thing that we're really stressing to everyone on the team. We can't afford to take a night off because it's not the regular season anymore; we're not guaranteed to be playing several more games."
Since opening their season with two straight losses, the Clippers rattled off 20 straight wins. That streak came to an end when they lost to Sandy Bay this past Friday, 10-7. It was the first time that the Clippers scored more than two goals and lost this season.
"That was a little disappointing because we all know what our team is capable of," added Robak. "We just don't seem to have that extra gear when we're playing against the lower teams and I don't know why. We need to play everyone like they're at the top of the standings and that's how we'll have success. Our intensity level can't drop off at all."
Despite that loss, the team still put together some incredible numbers this year. They scored seven goals during eight different games and hit the double-digit mark three times. Dauphin also held their opponents to less than three goals, 17 different times. They also racked up 338 points against their opponents while holding other teams to just 139 points combined.
Now the team is set for their biggest two days of the season so far, a Provincial Championship qualifier. Being the #1 seed, Dauphin earned a bye through the first round and will play either Neepawa or Sandy Bay in the semi-final. That game will be at 1:00 p.m. on Thursday. Neepawa and Crocus Plains are on the other side of the bracket and meet in Thursday's semi-final.
Two straight wins from Dauphin and they're off to the AAA/AAAA provincials in Winnipeg later this season.
"We have to make sure we come with our intensity level at an all-time high," said Robak. "We have to win every battle and every race and we need to attack with the speed we have."
"We know we can compete with anyone, it just comes down to work ethic," he added. "We also have some really good goaltending so if we all come together at the right time, I don't see why we can't make something great happen."
The Clippers will enter the playoffs later this month but schedules have not been finalized as of yet.
Details

Contributed by

Darnell Duff
An all-star type of performance has the Grand Plains Bantam Ice Dogs moving to the consolation league finals.
The team swept their semifinal series with Neepawa by beating them yesterday and then today, 11-2.
From the get go it was all Ice Dogs and it reflected on the scoreboard as the team took a 6-1 lead after the first period.
Hailey Hojnocki had the hot stick in the first frame with three goals.
Three other Ice Dogs scored one each in the period including Riley Turetsky.
Jayselyn Nybo and Brooklyn Hramalak also got in on the action in what was a dominating opening period.
The Ice Dogs didn't stop in the second as they poured on five more goals.
Allee Hrechka and Ashley Shiner both scored twice each while Brooke Minshull added a single.
Neepawa scored once in the third while the Ice Dogs were held off the board but they scored plenty to move on.
The final will be against Morden but a date has not yet been set.
Details

Contributed by

Darnell Duff
Dauphin Kings' Cole DeKoninck has been named the MJHL's Player of the Week after a fantastic few performances.
In just three games last week, the big D-man scored three times and also had three assists. Ever since becoming a King, DeKoninck has been fantastic defensively and offensively and that shows in his stats.
The Lorette native has now played in 41 games with the team and has 32 points (11G). The 32 points has the rookie tied for third in team scoring. With his average of 0.78 points per game, only Riley Buller (32 points) has a higher point per game total. (0.80). He's also tied with Portage's Sheldin Howard for the highest point per game total among rookies.
Cole will look to keep his hot play going on Wednesday when the Winnipeg Blues pay a visit to Credit Union Place.
The next time you can hear Cole on 730CKDM is on February 20 when the Kings' head to Waywayseecappo. The Parkland Source for Sports pregame show with Darnell Duff begins at 7:15 for that game.
Details

Contributed by

Darnell Duff
McCreary's Jaycee Terrick and the rest of her foursome are heading to the High School Curling Provincial Championships later this month.
Jaycee, Kaitlyn Szewczyk, Zoey Terrick, and Lindsay Dunning will represent Zone 8 after winning the zone championships this past weekend.
"I'm really excited, especially because it's my last year," said Jaycee. "It's also Kaitlyn and Lindsay's last year as well so it's definitely a pretty big accomplishment. It's also my sisters first year on the team so it's special that we won this together."
The team went into full-on cruise mode. In their first game, they beat Gilbert Plains, 11-2. That was followed up with a 6-0 win against Swan River. Next up was an 8-1 victory against Dauphin. Terrick, Szweczyk, Terrick, and Dunning had to beat Dauphin once again to earn their spot and that's exactly what they did, by a final score of 10-2.
Allowing only five points in their four games really showed how solid of a weekend the team put together.
"I think we were just used to the ice, and we had a really good weekend," said Jaycee. "We came in really prepared and it worked out well for us."
The provincials are set for February 21-23 in Somerset. The foursome will now prepare to challenge the best curling teams in the province at the high school level.
"I think the biggest part for us going in is to just have some fun out there," said Terrick. "Even if we're down in a game, we have to stay positive. It's our first year going and we're just really excited for the experience."
"The biggest personal pressure was winning the zones this past weekend and that's what we did," she added. "This event gives us one more chance to curl together and we can't wait for that."
Jaycee is no stranger to having success out on the ice. She was a part of the Jensen rink that won the Manitoba Games last winter. That team went on to play in the U-18 nationals and although the team didn't do as well as they hoped they would, Jaycee still came out as a gold medalist.
She joined Braden Fleischhacker and the duo ended up winning the mixed doubles competition by winning five straight games in the single-knockout format.
Details

Contributed by

Darnell Duff
Tiffany McLean and her foursome won the Dauphin Ladies Bonspiel that wrapped up yesterday at the Dauphin Curling Club.
McLean, Morgan Kropelnicki, Stacy Sime, and Kelli Zeiler beat the MacQuarrie rink to claim the top spot.
Second Event:
1st - Therese Deah, Melanie White, Paige Kabel, Carla Good.
2nd - Team Leanne Fedak.
Third Event:
1st - Kathy Preston, Shirley Moffat, Krista Morrison, Sheryl Richmond.
2nd - Team Lindsey Kyle.
Details

Contributed by

Darnell Duff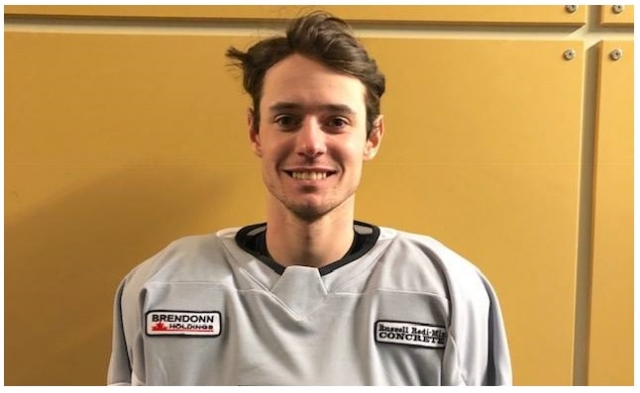 The Russell Rams' finished off their regular season this past weekend with a 5-1 win against Foxwarren. That win pushed the team to 15-0-0-1 and extended their winning streak to 15 games after opening their season with an overtime loss.
The Rams' have several solid contributors to the team's success, including Russell's Rylee Zimmer who pitched in one goal and three assists in that win against Foxwarren.
"It's been a lot of fun, everyone is having fun," said Zimmer. "We have a pretty good hockey team with a lot of guys that have played at high levels. We're also pretty much all hometown guys which is obviously a great thing for the community and everyone involved."
The four-point night added to Zimmer's already stellar season offensively. He finished with 38 points which is just two behind his teammate, Brock Nixon who was named the NCHL's MVP. All in all, Rylee was third in league scoring in his rookie season.
Thanks to his success, Rylee has been named to the NCHL's second all-star team ahead of the playoffs.
"It's an accomplishment for sure," added Zimmer. "I'm not really worried about though, I'm just trying to go out there to help the team win games. We have a group of guys that love to have fun but we're also really competitive and we want to win at the end of the day."
Zimmer and the Rams' are now getting set for the first round of the playoffs. After winning a one-game play in series, the club begins a best of three with the Shoal Lake Eagles. Game one goes on Friday while game two is on Saturday. If needed, game three is slated for Sunday.
"This is a year we're certainly looking at winning that championship," said Zimmer. "We've worked really hard all season to get home-ice advantage."
Rylee has been oh so close to winning a title for the past three seasons in a row. Back in the 2015-16 season, he played in the SJHL final with the Flin Flon Bombers but came up short. He stayed on the Bombers for the next season and once again advanced to the Canalta Cup final but came up short again.
Zimmer started last season with Melville before being traded to Portage. Despite producing 17 points in 16 games with Portage, Rylee was traded to the Virden Oil Capitals. The Oil Capitals went on to advance to the Turnbull Cup final where they came up short against the Steinbach Pistons.
Although advancing to the finals in the NCHL is a couple series wins away, Rylee's hoping that the fourth time is a charm to raise the trophy.
"It would be pretty relieving if I can finally get over that hump and win a title," said Zimmer. "We were up 2-0 in the finals last year and lost so that definitely hurt. I think it's just about going out and playing good solid hockey and not worrying about the past."
"I just want to be able to help this team win it all and I think my past experiences will help us," he added.
Details

Contributed by

Darnell Duff
The Parkland Midget Rangers battled, but came up on the wrong side of the scoreboard today.
They lost to the Bruins, 5-1.
The game was 2-1 in the second period for Winnipeg before they pulled away scoring three straight goals.
Landyn Brasch scored for Parkland in the game.
Details

Contributed by

Darnell Duff
The 12-16 year-old Rec Tournament wrapped up at Credit Union Place yesterday and Dauphin Black came out on top.
They ended up beating Dauphin White in the final.
Some of the highlights throughout the day included an unreal performance in net from Branden Bilay. In a 2-1 loss, Bilay made more than 80 saves to keep his Dauphin Blue team in the game.
Throughout the day, some of the MVP's included Malcolm Eddie, Deegan Beaulieu, Chris Cherneski, Mathew Perchaluk, and Gabriel Coffey just to make a few.
Details

Contributed by

Darnell Duff
Riley Buller recorded his first ever MJHL hat-trick and the Dauphin Kings' rolled all over OCN tonight, 10-1 on Hockey Night in Treaty Two down at Credit Union Place.
From start to finish, tonight was really owned by the Kings'. Buller opened the scoring at the 4:29 mark off a sweet shot from the side of the circle and Ian Tookenay made it 2-0 just less than three minutes later.
The Kings' kept coming as Bryon Fobair with his mom in attendance, made it 3-0 at the 12:05 mark. Brendan Arnold gave Dauphin a 4-0 lead after 20 minutes as he scored with just 16 seconds left in the first.
Avery Smith made it 5-0 for Dauphin at 9:53 into the midway frame. That set the stage for Buller. He scored at 13:45 to make it 6-0 for Dauphin. Just 28 seconds later, Buller scored his third of the game for his first ever hat-trick.
"It feels pretty awesome," said Buller after the performance. "I was pretty pumped. I'm pretty excited about it for sure."
Cole DeKoninck and Dauphin's Bradyn Smelski scored a goal each as Dauphin led 9-0 after 40 minutes.
Eamonn Miller made it 10-0 just 0:56 seconds into the third and that was all the scoring for Dauphin in the dominating performance. Cory Checco scored late in the game for OCN off a nice shot that beat Ethan Slobodzian.
"I thought our speed was great tonight and we really shared the puck," said Doug Hedley, Head Coach & GM. "We had a ton of 10-foot passes and we drove the lane really well. It's hard to play in a game like that but I thought our structure was really good."
The win capped off what turned out to be a perfect evening for the Kings'. Not only did they win, but the Winkler Flyers lost so Dauphin is now eight points ahead of them. The Virden Oil Capitals lost so the Kings' are only six points behind them and Selkirk lost which means Dauphin is only five points behind fifth place.
The Winnipeg Blues did win tonight, but Dauphin still has a six-point lead ahead of them. Dauphin plays Winnipeg on Wednesday at Credit Union Place.
More:
Treat yourself to some fantastic photos from Hockey Night in Treat Two.
Details

Contributed by

Darnell Duff
The Grandview Comets' came up big at a big time in their regular season finale against Rivers earlier today.
The club earned a 4-2 win and moved into sixth place in the standings because of it.
With the win, Grandview will now play Virden in the quarterfinals.
Dates for the series are still to be determined.
Details

Contributed by

Darnell Duff