Latest Sports
Dauphin's Barry Trotz, Grandview's Ryan Pulock and the rest of the New York Islanders are moving on.
They completed a four-game sweep tonight against the Pittsburgh Penguins.
Pulock finished the series with one assist.
Details

Contributed by

Darnell Duff
When Roblin's Jakob Brook joined the Prince Albert Raiders, he had a couple of goals in mind. His first was to make a difference on the best team in Canada and he's done that.
His second goal was to continue to excel in the classroom and that mission has been accomplished as well.
Jakob excelled so much in the classroom that he's been named the WHL's Eastern Conference Scholastic Player of the Year. He averaged an 85 in English, 92 in Native Studies, 95 in Physical Science, and 98 in Physical Education.
"It really was awesome to win this award. I obviously had my goals going into the season with hockey and I enjoy school and it's something I work hard on," added Brook. "It was my goal to get top education on my team but I was fortunate enough to get it for the entire Eastern Conference."
"It was a great honour for me and I'm really happy about it," he said.
The challenge from day one was balancing hockey and school. That's not an easy task for some but Jakob made it work for himself.
"Obviously it was tough at times when you're on the road for so long and you're missing school but we had a lot of help from our education coordinator and our teachers were great," said Brook. "I'm really happy about what we have for resources here."
Jakob's main focus now is advancing to the WHL final. The Prince Albert Raiders got one step closer to achieving that goal after beating Saskatoon in six games in their semi-final.
Prince Albert stormed out of the gates by winning the first two games before Saskatoon won the next two. Brook and the Raiders went on to win the next two to close out the series.
"Yeah, it was awesome to win that series. Saskatoon pushed back a lot and losing those two games gave us a chance to fight off some adversity and we did that well," said Brook. "It was a great series overall and obviously, we're happy with the outcome."
"There was a huge parade when we got back to Prince Albert after game six which was amazing," he added. "It's honestly like something I've never experienced in the past."
Brook and Raiders will now hook up with the Edmonton Oil Kings in the Eastern Conference final.
Game one goes this Friday and Edmonton will come in as the more rested group. They swept the Calgary Hitmen back on April 10.
"They're a good team and they're fast," said Brook. "It's going to be a hard series and we know it's not going to be easy. I feel we have great depth and skill on this team so we're going to do everything we can to win this one as well."
The winner of the best of seven will take on either the Vancouver Giants or Spokane Chiefs in the WHL final.
Details

Contributed by

Darnell Duff
Dauphin will play host to the 2020 Manitoba Summer Games and next Wednesday, April 24 is your first opportunity to learn more about the games.
There will also be information on how young athletes and local coaches can get involved in the event.
"A question we're getting asked on the street a lot is how my kid will take part in the games and what age groups will there be and we wanted to have a platform to communicate all this information," said Carla Wolfenden, Co-Host.
Dean Lowrie who has been appointed the region's new Athlete and Coach Development Coordinator will also be on hand to answer questions. He will also be in Dauphin several other times before the Games kick off next August.
Last year in Thompson, there was a Winnipeg Gold and Blue team. They were joined by the East, South, West, and North regions.
When athletes from the Parkland are battling to make teams, they'll be tasked with doing so against athletes from the Westman who are also hungry to take part in the Games.
That means it may be more of a challenge for Parkland kids to take part but Carla knows that the Parkland will be well represented.
"Our goal is to have as many as possible and that's why we're having this night, we want the athletes and parents to know that they need to start working hard," added Wolfenden. "There is no reason why there won't be lots of representation from the Parkland at the Games."
There will also be presentations that outline the services and supports available through Sport Manitoba for athletes, coaches and officials. This event is open to anyone, not just to those who are interested in summer sports.
The event will begin next Wednesday at 7:00 p.m. at the Countryfest Community Cinema.
Details

Contributed by

Darnell Duff
When the snow disappeared and the field was in playable shape, McCreary's Logan Conrad knew he had one more high school rugby season ahead of him before he graduates. And, he plans to make it a memorable one just like last season turned out to be for the 18-year-old.
This past weekend Conrad was presented with the 2018 Young Male Player of the Year Award for his contributions to the Dauphin Clippers and provincially last season. It was the first time that Logan has received an award of this type.
"I wasn't expecting this at all. It just feels so good that I had so much support throughout the season," said Conrad. "It comes as a big shock because I have played against and with so many great rugby players from around the province."
Rod Carberry nominated Logan for the award and the rest is history.
"I'm constantly being told how much I've improved and how good of a person I am," added Conrad. "I just like to treat everyone with respect."
"I think this will just help me with my team here in Dauphin and it shows I can be a leader," he said.
Conrad and the rest of the Clippers hit the field this past weekend to begin their season. They did drop both games but they were very close. One was a 17-10 defeat against Vincent Massey and the other was a 20-17 loss against Souris.
Despite the defeats, Conrad and the rest of the Clippers are very motivated to get in the win column when they next hit the field which is on April 22.
"I was beyond excited about our team this year. Come two weeks ago, we only had 14 guys show up and you need at least 15," said Conrad. "Two practices before we played we had 20 guys show up which was really exciting."
"It was a good start and we did a lot better than I thought we would being such a new team," he added. "Having those two close games was a really good thing for us."
When Logan is asked why he plays rugby, the answer is very simple.
"I absolutely love the game and I encourage everyone to come out and try it," added Conrad. 'Most people that I talk to fall in love with it and they always wonder why didn't play it before."
Details

Contributed by

Darnell Duff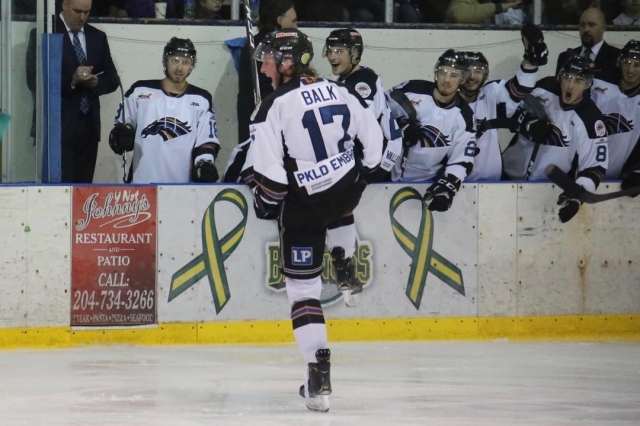 A solid week of play has earned Swan Valley Stampeders Campbell Balk and Merek Pipes runner-up status for the MJHL Player of the Week.
Balk had two goals and one assist as the Stamps' slaughtered Portage, 7-2 on Saturday night to even up the best of seven series at two.
Merek Pipes made 32 saves in that game and he's made 66 saves overall in the past two games while only giving up five goals.
Balk, Pipes, and the rest of the Stampeders will look to take a series lead tomorrow when game five goes at Stride Place at 7:30.
Details

Contributed by

Darnell Duff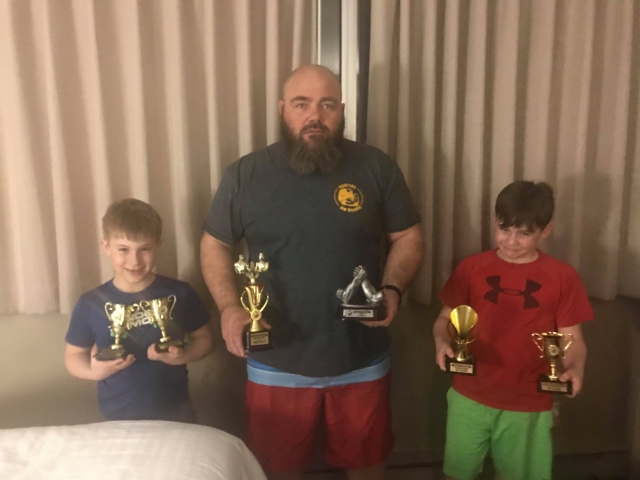 It was road trip time for Dauphin's Mike Dumas, Thomas Dumas, Tristan Dumas, and Crystal Dumas this past weekend.
Mike, Thomas, and Tristan took part in the Manitoba Provincial Arm Wrestling Championships at the TYC Event Centre in Winnipeg.
What a weekend it turned out to be for the Dauphin father/son trio as they all are back home in the Parkland with championship trophies. Competing in the 5-7 year-old left and right arm category, Tristan stole the show to finish in first place with both arms.
Thomas took part in the 7-9 year-old category and just like his brother; Thomas stole the show by winning the event with both arms. Thomas and Tristan's dad, Mike also came out on top. He won a title in the Masters left arm competition.
Add it all up and that's five titles between the Dauphin trio.
"It was fantastic and it was unexpected for me. I'm not a competent left-handed puller, I'm more confident in my right but it was such a fantastic feeling to win with my left," said Mike Dumas. "When the boys both came out on top with both arms, it really is unexplainable how everyone was feeling."
Tristan and Thomas may only be six and eight-years-old respectively, but they've shown that they can keep up with the best in Manitoba.
"My boys have such great speed. A lot of the older competitors were raving at their speed and focus," said Dumas. "They were extremely determined and focused when they came up to the table. They were also very respectful. After every match, they would go up to their opponents, shake their hand and say congratulations."
Heading into the event, Thomas was all geared up.
"He went there to win. He had it programmed in his head that he was going to win," added Dumas. "He told me "Dad, I'm not going to lose, I'm going to win.".
Tristan, on the other hand, wasn't expecting to win, but he sure did.
"He was in utter shock that it happened so fast," added Dumas. "I don't think it sunk in until afterwards when we were taking pictures. You could just see the smile on his face."
The Provincial Champions alongside Crystal will once again hit the road later this summer, but this time to compete with the best in Canada.
They will take part in the Canadian Arm Wrestling Championships in Edmonton. That event will take place from July 12-14 at West Edmonton Mall.
"We have a lot of work ahead of us. We have a day or two to just let our muscles relax and then the training continues," said Dumas. "We're going to go in strong and we're going to win. It's just so fun, it's a family orientated sport and it's just hard to explain how much fun we all have."
Details

Contributed by

Darnell Duff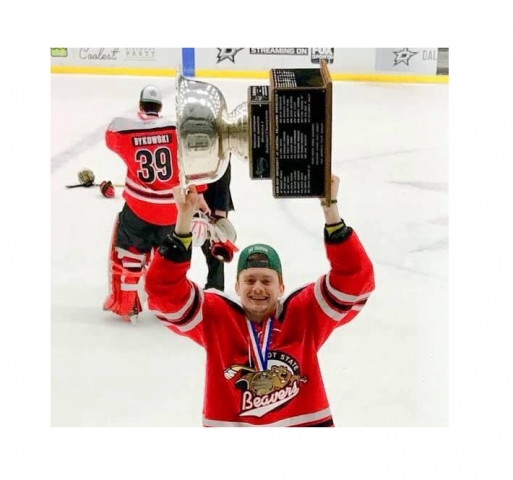 After two and a half solid seasons with the Swan Valley Stampeders, Connor Navrot began his college hockey career with the Minot State University Beavers and what a freshmen year it was.
Connor and the Beavers won the American Collegiate Hockey Association Division 1 National Championship by beating Iowa State, 3-1. It was a tournament that featured several upsets en route to winning the title.
Going in as the #6 seed, the Beavers beat #11 Illinois in the round of 16. The Beavers next took down the #3 seed Adrian squad before beating the top-ranked Lindenwood team in the semi-final.
Lindenwood went 31-2 before their loss to Connor and the Beavers and they scored seven goals in the first two games of the nationals but they couldn't get a single puck into the Beavers net.
Iowa State upset Michigan-Dearborn in their semi-final, but they couldn't solve the Beavers in the winner take all tilt.
"It's pretty surreal, I still don't have the words to describe it, I don't think it's hit me yet," said Navrot. "To do it in my first year is really special. Hopefully, this continues to happen."
"I always knew we were going to be a contender and there was no doubt in my mind about that," added Navrot. "In the past, the team has always been an older group and they always lost in the semi-final."
19 of the members of the team including Connor entered the year as first-year players.
"Yeah to be able to win it with all the first-year players is definitely very special," added Navrot. "We're going to be a contender for the next few years to come; I have no doubt in my mind."
During his time with the Stamps', Connor was a regular contributor on the scoresheet as he put up 107 points. That trend continued right into his college career.
In 35 regular season games this year, Navrot put up 27 points (11G).
"Yeah, I'm really happy with my effort," added Navrot. "I'm just proud of my effort and hopefully, I can continue with it going forward."
Connor now gets a little bit of time to soak in the past season before he's set for a big tournament. He will join the Canadian men's national team as they take part in the 2019 Ball Hockey World Championships from Friday, June 14 to Saturday, June 22.
Connor and the team will enter as the second best team in the world behind Slovakia.
Most recently he played for the U18 and U20 Team Canada and he got a call after this past World Championships in Winnipeg. That call was an invitation to make the jump up to the men's team for the first time.
"Yeah, it was definitely a pretty special phone call and I can't wait,' said Navrot. "Hopefully we can bring a gold medal back."
Details

Contributed by

Darnell Duff
It was a golden weekend for the Parkland 2007 Thunder.
Playing in the Portage Cup, the Thunder beat Pembina Valley, 3-2 in the final to claim the title.
Before the finals, the team won their first four games.
It was also the second straight season that the team won the tournament.
Details

Contributed by

Darnell Duff
The Parkland Vipers 14U-2 played some great volleyball and they finished up in third place at the ACC tournament in Brandon.
After finishing first in their pool, the team easily got past Club West South in the quarterfinals, 25-20, 25-20.
They ended up coming up short in their semi-final match against RVC.
Details

Contributed by

Darnell Duff
The Parkland 2011 Thunder are the Champions of the Brandon AAA Challenge.
The Thunder played a fantastic game in a 6-4 win as they captured the tournament by beating the Wheatland Wild.
Before the final win, the Thunder beat the Manitoba Lightning, 11-1 and they followed that up with a big 8-1 win against the Razorbacks.
After losing to the Wild, 5-2, the Thunder rebounded very nicely in the semi-final by beating the Regina Titans, 8-2.
Details

Contributed by

Darnell Duff
It was a busy weekend for the Veselka Dance Group from Gilbert Plains and Grandview. They took part in the 10th bi-annual Zirka Ukrainian Dance Competition at Credit Union Place.
Beginners - Gold & silver medal
Juniors - Gold & two silvers:
Novice - Gold & silver:
Intermediate - Gold & two silvers:
Seniors: Four silver medals: (Main photo).
Destany Payne and Dan Kozak both coached the team's.
Details

Contributed by

Darnell Duff