Latest Sports
Dillon Birch was eight games into his second and final season with the Yellowhead U18 Chiefs this year when the season was put on pause in mid-November.
Now, the 17-year-old from Neepawa is waiting for Manitoba to get out of 'Code Red' so he can join his teammates once again.
Birch has played 60 games with Yellowhead over the course of the past two seasons. Last year, the team won 32 games and they were one of the favourites to win the league when it was ultimately cut short because of the novel coronavirus.
As the wait continues to get back on the ice this season, Birch has loved every minute of playing with Yellowhead.
"It's been great. We have great coaches and a great group of guys," said Birch. "Playing at the highest level gives me a chance to develop, and I'm thrilled to be a Chief."
Dillon scored 11 goals last season, he added 25 assists and he sniped two more goals this season in eight games before the province-wide shutdown. Yellowhead is 4-3-1 this season and that puts them in third place.
"I think it was an okay start. We have a lot of new faces on our team this year, so it's about getting to know everyone, and building that chemistry," said Birch. "We were looking forward to making a push and I believe we have a strong team."
During the league-wide pause, Dillon has been working out a lot and he's also been skating on Lake Irwin.
Staying home:
Dillon grew up watching the Neepawa Natives and the organization protected the 17-year-old a couple of years back at the MJHL Draft. On January 12, Dillon rang in the New Year by signing his Letter of Intent to join the team for the 2021-22 MJHL season.
"It's a really exciting time for me, it's something I've always dreamt about," said Birch. "I'm excited to further my hockey career with a great organization and staff."
Although he plays all of his home games in Shoal Lake and has for the past few seasons, Dillon's parents have still made it out to many games. With that said, with Dillon playing for his hometown team, that means his family will be at every game and his friends will also get the chance to watch him play for the MJHL club.
And as he looks forward to next year, that's something he can't wait for.
"That's going to be awesome. Playing in my hometown has always been a goal of mine," ended Birch. "I grew up watching this team and to get the chance to play with them, that would mean everything."
Details

Contributed by

Darnell Duff
Doug Hedley will continue to lead the Dauphin Kings as the team's head coach and general manager for a couple more years.
While the MJHL season remains on pause, the organization has announced the extension of Hedley's contract through the 2022-23 season.
"Any time you get into a position like this you want to be able to get an opportunity to build something and I think we're moving in the right direction," said Hedley. "Last year with the playoffs being shortened it was tough and this season has been kind of an up and down year."
Not including this year Hedley has a regular-season record of 60-49-6-5 since returning to coach the club in 2018. Scott McCallum, Director of Hockey Operations for the team says it's a great feeling to have this deal completed.
"We can't signify enough how important Doug is to our team. We hired him at a crucial time for the organization," offered McCallum. "Doug's come in and done a tremendous job of changing the culture, changing the wins and losses and recruiting some very good hockey players to come here and play in our community."
When the season was put on pause in early November, Dauphin was 3-3 while most other teams in the league had played more games.
Details

Contributed by

Darnell Duff
Chris Porter didn't have access to a backyard rink when he was growing up so besides playing on the teams that he did, Porter would head to the outdoor rinks with his friends. Back when he was growing up, there was an outdoor rink at every school in Dauphin, which isn't the case these days.
So three years ago when his son Talon was getting into hockey, the family decided to build their own backyard rink so Talon had another outlet to lace up the skates and have some fun. The first year it took a little bit longer to get the rink ready in their backyard, but it's been smooth sailing for the past two winters.
"I really wanted my kids to grow up with that outdoor rink experience just like I did," said Porter.
Talon has two younger brothers, Jagger who is two while Kessel just turned one on December 26. Chris says Talon absolutely loves it and with a chuckle, he probably likes it just as much as his six-year-old son who plays with the Grand Plains Hawks squirts team.
So already with a backyard rink, the Porter family took things to the next level. Part of the basement was unfinished after the family added on and they got extra creative to fill up space. Chris wanted to condense everything and provide the kids with a place for sports and activities and about a month later, they have their own roller hockey rink that the kids can also play mini-sticks on.
So when the weather is too cold outside to put their skates on, the entire family stays inside and plays on their latest family creation in their basement.
And then on Christmas, the Porter's took things one step further as they gifted Talon, Jagger, and Kessel three individual lockers with their nameplates on each one. Although they may not be in a hockey rink with their families, Chris and his wife have certainly brought the full hockey experience to their three young sons, one of which just turned one less than a month ago.
"It all came together last spring when we were trying to find things to do inside," said Porter. "We're just trying to make the most of the situation. Our kids skate outside a few times a week and they play on the indoor rink like six times a week so everyone is loving it."
Backyard rinks have certainly brought families together this winter and when it comes to the Porter's, the hockey fun continues in the basement.
Details

Contributed by

Darnell Duff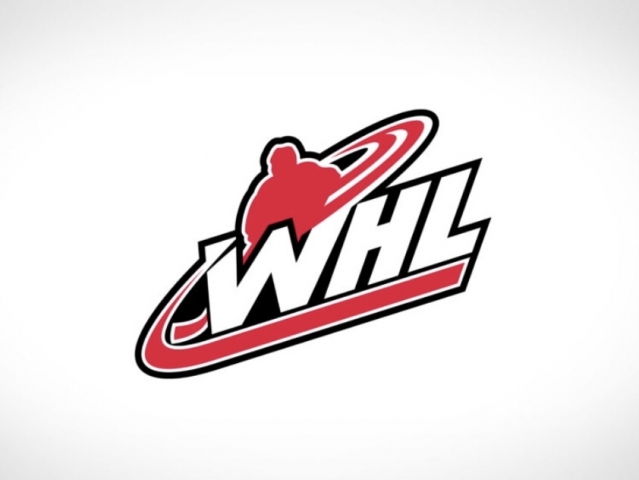 The City of Cranbrook, B.C., is suing its former hockey team as well as the Western Hockey League over the team's departure in 2019.

The Kootenay Ice left for Manitoba before the start of the 2019-20 season, becoming the Winnipeg Ice.

A civil claim filed in B.C. Supreme Court says both the Ice and WHL are responsible for breaking a deal that was supposed to run through June 2023, costing the city hundreds of thousands of dollars.

The city says in its lawsuit the team was paying arena lease fees, a percentage of game receipts, a cut of the club's advertising revenue and it collected 100 percent of the parking and concession money.

The claims have not been tested in court, no statements of defence have been filed and neither the Winnipeg Ice nor the WHL could immediately be reached for comment.

The team, which moved to Cranbrook from Edmonton in 1998, won the WHL championship and Memorial Cup in 2002 and also won league titles in 2000 and 2011.
Details

Contributed by

Darnell Duff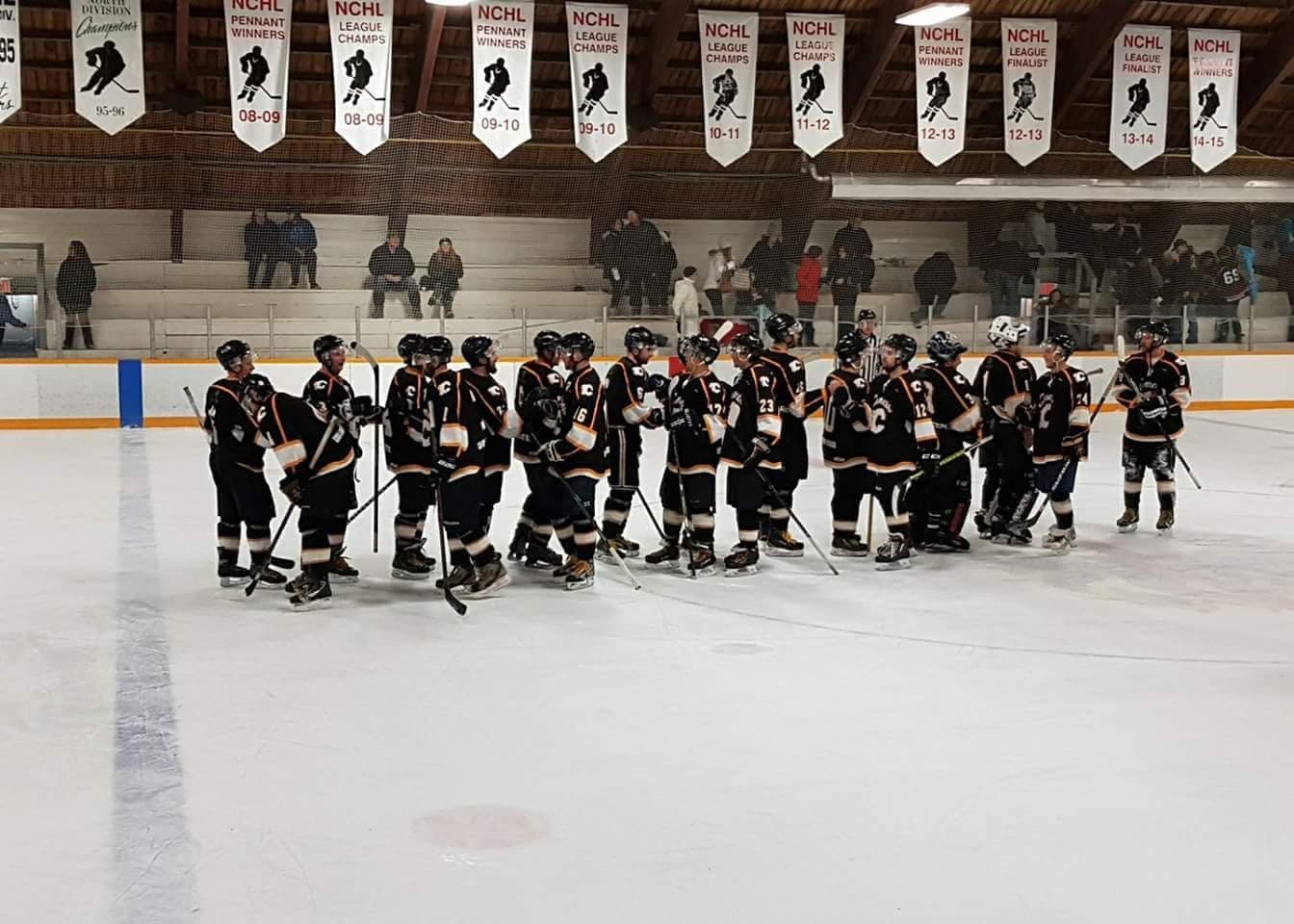 Even if the green light is given to resume hockey activities this season, the Grandview Comets won't be hitting the ice.
The North Central Hockey League (NCHL) has announced that they have cancelled the 2020-21 season because of the continued uncertainty around the novel coronavirus.
Darren Grasby is the president of the Comets and he received the news from the league earlier today.
"The league tried to hang on as long as they could, but it just doesn't look like anything will be resolved before it's too late to salvage a season," said Grasby.
There was plenty of interest from players in the area wanting to join Grandview this season, just a few seasons removed from winning a league championship. Ultimately, senior hockey players in the region will have to wait until next season to defend their home ice at the GACC.
"It really is too bad. We had a lot of new guys and it would have been good for them to get some experience," ended Grasby. "We'll just have to wait until next season, we'll be back."
Details

Contributed by

Darnell Duff
If you're driving on the outskirts of Russell you'll find a 160-foot long by 110-foot wide outdoor hockey rink and this year, the Magnowski's are the masterminds behind it.
The father and son from Russell flood the rink every weekend with an ice resurfacer purchased by Merv. For the last number of years, Denis Dohie and Spencer Reavie put together a smaller scale of the rink. That's when Merv approached Denis and he had the idea of making it bigger so everyone in the community could use it and clearly, the rest is history.
Merv has been having a blast flooding the ice with his son and watching all of the community members skate on the rink while they're unable to skate inside because of 'Code Red' restrictions.
"It's been great, we're so happy with how things are working out," said Magnowski. "So many parents don't have the ability to make a rink in their backyard, so we're happy that we can provide one for so many kids."
Merv understands how stressful things have been since last March and he also knows how important it is to get outside so putting the rink together with his son is a way to give back to the community.
And he wants everyone to know that the rink is open to everyone. Even if you're not from Russell, you can head to the outdoor rink and enjoy a skate, whether it be for 10 minutes or four hours.
"The community has accepted it very well," ended Magnowski. "I want everyone to come out and enjoy it."
Details

Contributed by

Darnell Duff
The Dauphin Curling Club would be buzzing every day of the week in a normal year or even if we were in "orange", but that's not the case as 'Code Red' restrictions have put a halt to that.
To keep curling alive in the community, Dauphin Recreation Services have put together a couple of rinks in the campground at Vermillion Park. It took about five days from building the frame to flooding it. The rocks are wood with a metal band around them and it was finished on Saturday.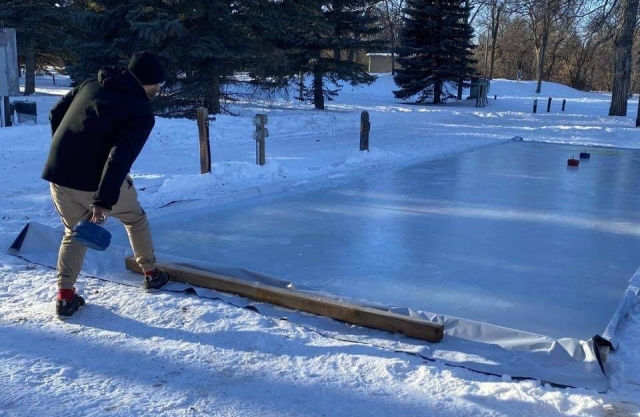 Wes Carnegie, Operations Manager said they have been getting some great feedback from the public.
"Our programs coordinator, Tamara Kolida has been getting so many pictures on our Facebook and other social media platforms," said Carnegie. "We know our park is highly used and everyone seems to be loving these two rinks."
Cam Bennet and his family took advantage of the rink over the weekend and they played four ends. Even their dog, Chevy got in the action and Bennet says it was a blast and that they will certainly be back.
"It was a lot of fun," offered Bennet. "It's wonderful that Dauphin Rec has done this, so many people around the community are going to use it. It gave us a chance to get outside and have a great time."
Details

Contributed by

Darnell Duff
Riese Gaber continues his hot play with the North Dakota Fighting Hawks.
As the team beat Colorado College on Monday night, 2-1, Gaber notched his eighth goal. The Fighting Hawks are now 9-2-1.
The team heads to Denver to play a home-and-home with the Pioneers this weekend.
Details

Contributed by

Darnell Duff
Tyler Coulter was just 16-years-old while he was playing with the Brandon U18 Wheat Kings when he received his first big break. After a tremendous start to the season, Tyler was given an opportunity to play with the big boys as he was called up by the Wheat Kings of the Western Hockey league.
From Brandon, Coulter spent many nights inside Westoba Place cheering on his hometown WHL team and he was now living out his dream of playing with them as he suited up in three games.
"It was pretty special to me. Ryan Stone who played with the Wheat Kings billeted at our house previously and I always wanted to follow his footsteps," said Coulter. "It was an incredible feeling playing for my hometown WHL team at just 16-years-old."
Tyler finished his AAA regular season that year with 61 points, 33 of which were goals as he posted a career-high. He also scored five goals in seven playoff games and had eight points. That year was ultimately Tyler's final with the AAA team as he joined his hometown WHL club on a full-time basis the following season.
As we flashback to the 2013-14 season -- his first in the WHL as a full-time player --, Tyler scored eight goals and had 13 points. Tyler would help Brandon advance to the WHL final in 2015 with 11 points in the playoffs where the Wheat Kings would come up short against the Kelowna Rockets.
Back in Brandon for the 2015-16 season, the Wheat Kings were the class of the WHL. After posting 48 wins and winning the East Division by 18 points, the Wheat Kings once again advanced to the league final.
This time, no one was stopping Brandon. Coulter had one goal and one assist on Friday, May 13, 2016, as the Wheat Kings doubled up Seattle, 8-4, to win the WHL title. Coulter posted another 14 points on their way to the title.
"It's pretty surreal looking back. Winning a WHL title was something I had always dreamt of," offered Coulter. "Sharing that trophy with my family and friends, those are moments that I will never forget. Especially winning it with my hometown team, what a year."
Tyler played the following season with Brandon before he turned professional when he joined the Jacksonville Icemen of the ECHL and he also played 11 games with the Calgary Dinos in the 2017-18 season.
The 2018-19 season would see Tyler pack up his bags once again as he moved overseas to Sweden as he started the campaign with Tyringe SoSS of the HockeyEttan league. After a run that saw him put up 24 points in just 20 games with Tyringe, he was dealt to Kristianstads IK where he would help the team win a title. The Brandon native had two points in 14 playoff games as he added to his trophy case with a Swedish league championship.
"That was a super neat experience, I didn't really know what to expect going in," said Coulter. "I loved my time in Sweden and it was great capping it off with that title."
Tyler came back to North America following his year in Sweden as he signed with the ECHL's Rapid City Rush and he immediately became a top contributor for the team as he posted 39 points in 47 games. A longer than usual offseason has led Coulter right back to Rapid City as he's an assistant captain on this year's team.
10 games into the season, Rapid City is off to a tough start at 2-8, but Tyler is off to a great start. He's scored two goals and added four assists in his eight games played while Peter Quenneville, who played with Tyler in Brandon has five points in seven games.
"I'm just happy to be back on the ice playing the game I love, that's what matters," ended Coulter. "I'll continue to do anything I can to help this team win games and we're looking to turn things around here."
Details

Contributed by

Darnell Duff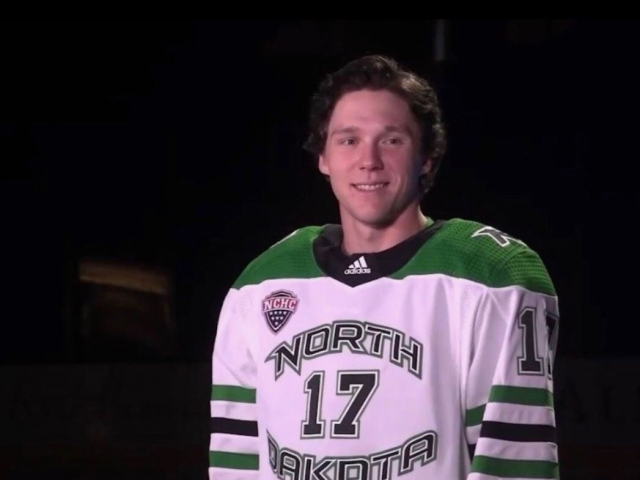 Riese Gaber has played one game in 2021 and he has one assist.
Back in action with the Fighting Hawks, Gaber chipped in with the assist as the team beat Colorado College, 3-0, on Sunday night.
In his first 11 games, the Gilbert Plains native has 11 points, seven of which are goals. The two teams will play again on Monday night.
Details

Contributed by

Darnell Duff
Many would consider the 2010 Dauphin Kings as the best team in the organization's history. It was a team that included plenty of local talent including Shane Luke and Dallas Drysdale, just to name a couple, and it also included Steven Shamanski.
From Carberry, Steven joined the program in the 2007-08 season after three seasons with the Southwest U18 Cougars. Coming in as an 18-year-old, it was the first time that Shamanski moved out so it was a new experience for him, but Dauphin welcomed the young man with open arms.
"The rink was only a few years old and it's state of the art, it was awesome playing in it," said Shamanski. "The fan support was tremendous and we always had a pretty good team. It's a big hockey community and they loved us being around so it was a great atmosphere to be around."
In his rookie MJHL season, Shamanski scored eight times and added 32 assists as Dauphin went 32-28-2 to finish third place in the then Sherwood Division. A 42 win campaign the following year finished Dauphin in second place in the Sherwood Division and Shamanski put up 54 points. Dauphin would fall against Portage in their semifinal series.
And now we look at the 2009-10 season, one of pure dominance for the home team. Dauphin dominated from start to finish as they won 50 games, 14 more than any other team in the league. The team's 101 points won them the Sherwood Division by a whopping 21 points and their 296 goals were 43 more than anyone else. Steven had 71 points in that season -- 19 of which were goals -- as he was 12th in league scoring.
Shane Luke scored 101 points that season while Ryan Dreger tallied 99 as the Parkland duo combined for 200 points.
"We had such a great mix of players. We had a ton of guys that had WHL experience and of course, those local players that dominated," said Shamanski. "We all came together, we were extremely talented, and we had one common goal."
Dauphin would steamroll in the first round of the playoffs against Neepawa with four straight wins and they followed that up with a five-game series win against Swan Valley in their semifinal. Playing the 36 win Winnipeg Saints in the league final, Dauphin had no problems at all as they swept the Saints to win the Turnbull Trophy.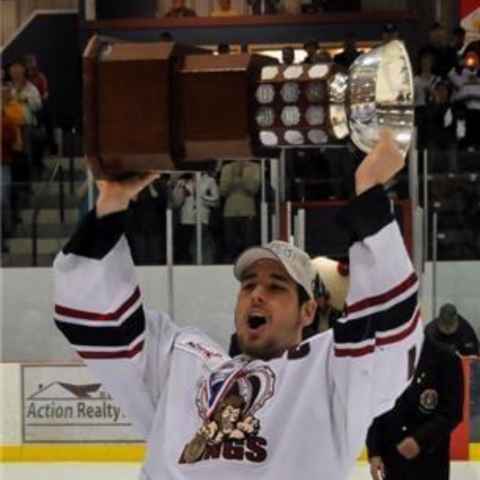 Winning the MJHL title advanced Dauphin to the Anavet Cup as they went up against the La Ronge Ice Wolves. The Ice Wolves were a surprise to win the SJHL as they finished fourth in the Itech Division and seventh in the overall league standings. After winning the Credit Union Cup, La Ronge started the Anavet Cup off perfectly with a 5-3 win in game one at the Mel Hegland Uniplex.
Following a bounce-back win in game two by the Kings, the series switched venues as Dauphin played host to games three, four, and five. As Dauphin made the trip back home, they faced some adversity heading into game three as the entire team got food poisoning after game two.
"It definitely wasn't the best part about the series, but it probably provides the best story," said Shamanski with a chuckle.
Dauphin would score 15 goals in the next three games in front of their home crowd as they hoisted the Anavet Cup inside of Credit Union Place and Mitch Czibere was named the most valuable player of the series. Shamanski; meanwhile, recorded five points in the series.
Royal Bank Cup:
Dauphin was the host team as they welcomed the Brockville Braves, La Ronge Ice Wolves, Oakville Blades, and Vernon Vipers to Credit Union Place for the national championship. Out of all the teams competing, Brockville had the most regular-season wins with 52 while Vernon had 51.
"We definitely had confidence and we knew we were a solid group," offered Shamanski on playing in the nationals. "With that said, we knew how strong our competitors were, we knew it was going to be an extremely tough battle."
After a 4-0 round-robin, Dauphin beat La Ronge, 6-2 in the semifinal. In the other semifinal, Vernon shutout Brockville, 2-0.
Dauphin beat Vernon on the opening day of the tournament in overtime, 6-5. In the finals, however, things didn't go Dauphin's way from start to finish. They were outplayed by the visiting team as they dropped an 8-1 decision in the finals and as a result, Dauphin finished as the second-best team in Canada in 2010.
Providence bound:
Straight out of his days as a junior player with the Kings, Steven's impressive resume landed him a spot on the Providence Friars Division 1 team. In the 2010-11 season -- his first with Providence -- Shamanski was named to the NCAA Hockey East All-Academic team. In all, the former King played four seasons with Providence and he recorded 36 points, 11 of which were goals.
Following his 141 games with the Friars, Steven turned professional as he joined the Elmira Jackals of the ECHL for the 2014-15 season, one in which he played in the league's all-star game and he was named to the all-rookie team.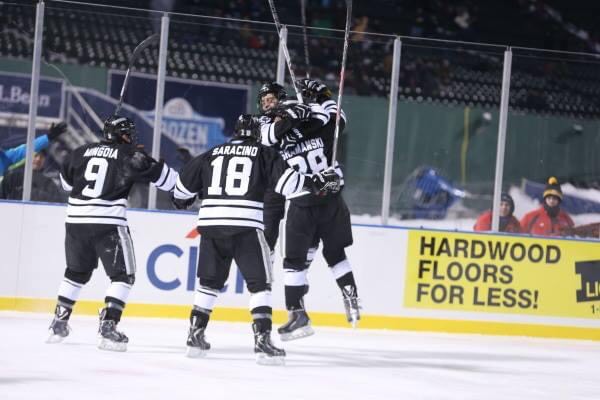 He also played six games in the American Hockey League that season combined between the Rochester Americans, Springfield Falcons, and Wilkes-Barre/Scranton Penguins. Ultimately, Steven's days as a competitive player came to a close after the 2014-2015 season, but not without a ton of memories including the celebration following a league championship and Anavet Cup title with Dauphin.
Details

Contributed by

Darnell Duff