Latest Sports
Dauphin's JJ Love has completed the roughly 600-kilometre trek from Swift Current to Dauphin and he's done so with a silver medal.
Love played an integral part in the Manitoba men winning silver in the volleyball event at the Western Canada Summer Games, in Swift Current.
They beat Saskatchewan, Yukon, Northwest Territories, and Nunavut in the round-robin. Their lone blemish came against Alberta.
In the semifinals, the Manitobans once again beat Saskatchewan, setting up a rematch with Alberta. In the end, Alberta came out on top in three sets.
"We started off the tournament very well and we were undefeated until we played Alberta in the round-robin and we played a good game, but we came up short," added Love. "We played very well against Saskatchewan in the semifinals and we were happy we had a chance to win a gold medal. In the finals, guy's bodies were worn down, but Alberta played a tremendous game, you have to give it to them."
Despite the gold medal loss, JJ isn't hanging his head at all.
"You know, I always obviously want to win gold, but that won't always happen," he added. "Alberta is an amazing team and we put up a good fight against them. I think everyone on this team should be proud of the result."
JJ now gets to enjoy some time off, at least on the court. He's expected to be a big piece to the Dauphin Clippers varsity boys' team once again this season. It will be his third season with the team.
"I'll start going back to the gym right away here and working out and that sort of thing," he added. "I'll let my body relax a bit from volleyball, but I'll be making sure my muscles are ready for tryouts and the season."
"I think we're going to have a good chance at winning this year, we're going to be a good team," he concluded.
Details

Contributed by

Darnell Duff
The Tamarack Tournament at the Clear Lake Golf Course has released it's men's matches after two qualifying round.
Here is where the Parklanders sit.
Championship Flight:
Kody Fawcett - 6th seed.
First Flight:
Joran Hedley - 11th seed.
Dale Murray - 12th seed.
Second Flight:
Mark Odut - 1st seed.
Jake Wiens - 6th seed.
Regan Hedley - 8th seed.
Third Flight:
Tyler Carefoot - 15th seed.
Fourth Flight:
Jason Yates - 1st seed.
Anthony Wiens - 8th seed.
Fifth Flight:
Dave Campbell - 15th seed.
Sixth Flight:
Bart Michaleski - 8th seed.
Robert Bouchard - 11th seed.
Seventh Flight:
John Tomlinson - 3rd seed.
Eleventh Flight:
Lawson Yates - 6th seed.
Matches begin tomorrow
Details

Contributed by

Darnell Duff
Back on July 18, the Wheat Kings named Lowry their new head coach.
Lowry has coached in the WHL before. He spent four seasons with the Calgary Hitmen from the 2005-06 season through the 08-09 season. Dave then made his NHL coaching debut with the Calgary Flames in the 2009-10 season, where he would spend three seasons as an assistant coach.
He would then come back to the WHL to become the head coach of the Victoria Royals from 2012-2017. While with Victoria, he also was an assistant coach for Team Canada at the World Junior Hockey Championships.
Next up was a trip back to the NHL, as he spent two seasons with the Los Angeles Kings beginning in the 2017-18 campaign.
Now, the Sudbury native will call the Wheat City his home as he is the 23rd head coach in franchise history.
"I'm extremely grateful for the opportunity and I'm very excited to get things going," said Lowry.
Darren Ritchie was named the team's general manager last month and he's thrilled to have Dave in town.
"We see this as a very positive step for our organization," said Ritchie. "Dave's teams are always prepared, they play fast and are very competitive."
Dave arrived in Brandon last Wednesday
"It's been a great couple of days. I came in and I've been hard at it since," said Lowry. "It's been great talking with the new staff and setting our expectations for the upcoming season."
After working with professional athletes for the past two years, Lowry is back in a league that he's spent most of his coaching career in. Prior to this season, he's spent nine years in the WHL and five in the NHL.
"I think the biggest thing is going to be the size of the players again," said Lowry. "We're going to have some guys that just aren't that big."
"At the end of the day, it's the same game," he continued. "When it comes to teaching it, it's the same thing. Our biggest challenge is making sure that these guys get to school, get to the rink and get home at night."
Brandon finished just outside of the playoff picture last season. They went 31-29-4-4 for 70 points. That ended up being two points behind the Red Deer Rebels, who earned the final playoff spot.
With as many as 18 veterans on the roster entering training camp, Dave is looking forward to making a push back to the playoffs. The ultimate goal is winning a WHL title, which three other Wheat King teams have done.
"I like our skill and I like the pace that we're going to be able to play at," Lowry concluded "The biggest thing that is encouraging is we have really good goaltending. I really like the age of our group and overall skill level."
Dave and the staff continue preparation for main camp which starts on August 28.
Details

Contributed by

Darnell Duff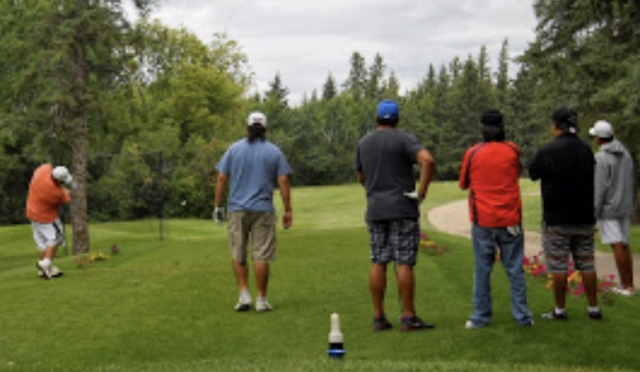 The Treaty 2 Battle of the Nations took place at the Gilbert Plains Country Club.
Here are the results:
Champion
1 - Elvis Nepinak 57 cb.
2 - Ashley Straightnose 57 cb.
3 - Keenan Leaske 58.
1st Flight
1 - Barry Mckay 59 cb.
2 - Tony Cote 59 cb.
3 - Dion Houle 59 cb.
2nd Flight
1 - Bradley Burns 63cb.
2 - Phil McCorrester 63 cb.
3 - Kevin Mckay 63 cb.
3rd Flight
1 - Emery Stagg 65 cb.
2 - Rene Hunter 65 cb.
3 - Sterling Nepinak 66 cb.
Closest to the Pin
#4 Emery Stagg 88 feet, 8 inches
#9 Savannah Sanderson 5 feet, 5 inches.
#14 Kevin Mckay 7 feet.
#17 John North 2 feet, 6.5 inches.
Details

Contributed by

Darnell Duff
After a 14 over in his first round, Dauphin's John Tomlinson put together an improved round in his second round at the Tamarack Tournament.
He shot a 12 over and he will now wait for his third round tee time.
After qualifying, Joran Hedley remains atop the Parkland at nine over.
Dale Murray and Mark Odut are both at 10 over.
Jake Wiens and Regan Hedley are 12 over while Tyler Carefoot is five back at 17 over.
Jason Yates is 18 over while Anthony Wiens is 19 over.
Bart Michaleski is 24 over and Lawson Yates is 43 over.
Match play brackets on the men's side will start tomorrow.
In the senior men's division, Laurie Vrooman begins his match play today at 12:39. He's the fifth seed in the eight-person bracket.
Also on the senior side, Mel Graves is in the first flight, Frank Clement is in the third flight and Ivin Semenek is in the fourth flight.
Plenty more action hits the tee today including the junior event.
Stay tuned for results.
Details

Contributed by

Darnell Duff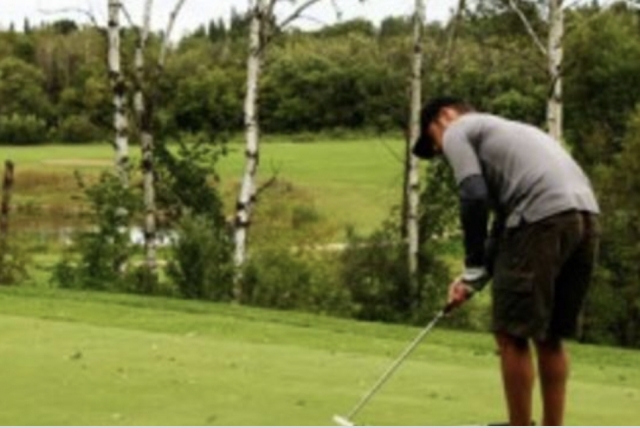 The West Region Tribal Council golf tournament was yesterday at the Gilbert Plains Country Club.
Here's the results:
Champion:
1st - Darryl Lacquette - 61.
2nd - Stacey Genaille - 64 cb.
3rd - Barry McKay - 64 cb.
1st Flight:
1st - Nelson Leaske - 64 cb.
2nd - Dion Houle - 65.
3rd - Mervin Lynxleg - 65 cb.
2nd Flight:
1st - Garret Dykun- 68 cb.
2nd - Brad Moosetail - 68 cb.
3rd - Dalon Schutz - 69 cb.
3rd Flight:
1st - Rob Woods - 70 cb.
2nd - Scott Lynxleg - 70 cb.
3rd - Ron Missyabit - 71
4th Flight:
1st - Nelson Nepinak - 78 cb.
2nd - Robert Malcom - 78 cb.
3rd - Frank Abraham - 80.
Closest to the Pin:
4- George McKay - 8 feet.
9- Nelson Leaske - 2 feet, 6 inches.
14- Cliff Bruce - 6 feet, 3 inches.
17- Elvis Nepinak - 6 feet, 5 inches.
Details

Contributed by

Darnell Duff
Steve Hewey is the newest member of the Parkland Hole in One club.
Playing the Gilbert Plains Country Club earlier today, Steve aced the ninth hole.
It was Steve's second ace of his golf career, but first at Gilbert Plains.
Details

Contributed by

Darnell Duff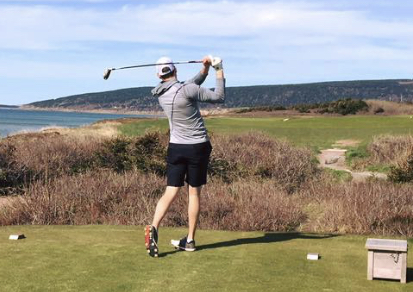 Joran Hedley is the top Parkland golfer after day one of the Tamarack Tournament in the men's division.
He fired a 1 over, 73 in the first qualifying round. He's in 12th place. The top 16 will advance to the Championship bracket after round two on Sunday.
Joran's brother, Regan finished 3 over and he's in a tie for 20th.
In 34th is Jason Yates after a 77, while Mark Odut and Tyler Carefoot both short 79's.
Dale Murray's in a tie for 59th after an 80 in his first round.
Here are some other Parkland scores.
Anthony Wiens shot a 10 over while John Tomlinson and Bart Michaleski both shot a 14 over.
Details

Contributed by

Darnell Duff
Dauphin's JJ Love and the rest of the Manitoba men are semifinals bound at the Western Canada Summer Games volleyball event.
They went 4-1 in the round-robin. The team's only blemish so far was a 3-0 loss against Alberta.
Although the defeat was in straight sets, Manitoba was in it for the entire game.
The set scores were 24-26, 22-25 and 21-25.
They will now play Saskatchewan in their semifinal. In the round-robin, they beat them in three sets. Saskatchewan's highest amount of points in a set was 21.
The winner earns a berth to Sunday's gold medal game.
Details

Contributed by

Darnell Duff
Brayden Dube scored four times as Fusion Credit Union got past Dean Cooley GM, 15-8 in the Parkland Source for Sports 4 on 4 Hockey League.
Colby Cherneski also had a hot stick with three goals. Jaegar Lapointe and Owen Riffel both had two goals.
In the loss, Riese Gaber led the way with three goals while Kyan Grouette also had three.
In the late game, Reece Hopfner scored three goals as Treaty 2/Kiniw beat Aspen Insurance, 12-7.
Drake Pahl, Derek Benson and and Brayden Kohlman all scored twice.
In the loss, Koby Morrisseau and Bradyn Smelski both had two goals.
Details

Contributed by

Darnell Duff
Whatever happens for the rest of the golf season, Dauphin's Eric Prokopowich will end it with a title.
Playing on the Westman Junior Golf Tour, Eric was the Champion of the 1st Flight, in the 15-18-year-old group.
His final match for the top spot in the group came against Bodhi Speiss from Neepawa and the match was never really in doubt. Eric went on to win 7 up in the match play format.
"It felt pretty good, it was a really good experience and I had a ton of fun," said Prokopowich. "I was hoping to get into the Championship Flight, but I'm fairly happy with the 1st Flight title. I played some solid golf all summer, sometimes I just didn't come out on top."
As Eric continues his golf season, he knows the key to success is staying composed on the course.
"A big thing is the mental game. You have to have that mental edge on opponents," he added. "I definitely have to work on that."
With the title now in the rearview mirror, Eric will now chase another one. He's playing in the Tamarack Tournament at the Clear Lake Golf Course, in the Junior Men's Division. His first round is on Monday at 12:30 on the first tee.
"I'm really hoping to get into the Championship Flight," he added. "I played the course a couple of times and I'm feeling pretty confident about it."
Eric will also play in the Maple Leaf Junior Tour Bieber Classic PGA of Manitoba Junior Championship later this month. It's from August 25-26 at the Breezy Bend Country Club. It's the final event of the season.
"It's a little frustrating going into these events because I don't know the course as well as some people," he added. "But, it's still going to be a blast and I can't wait to play."
Stay tuned to find out how Eric does at the Tamarack.
Details

Contributed by

Darnell Duff