Latest Sports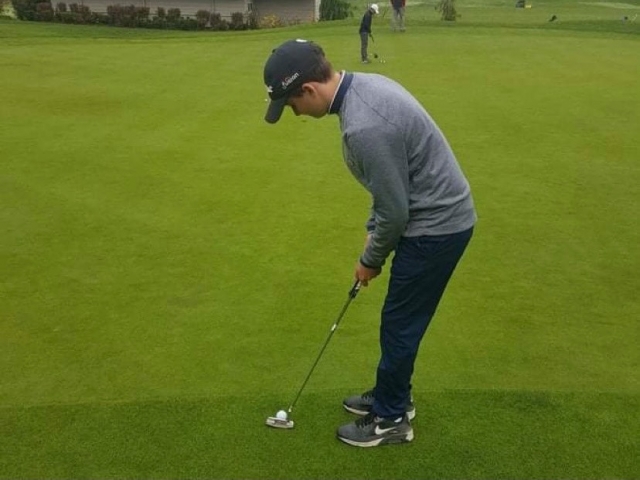 Jackson Delaurier's competitive golf season has come to an end but before it did, the Dauphinite had the chance to compete in the Maple Leaf Junior Tour's National Championship at the Morgan Creek Golf Course in Surrey.
Delaurier says it was the nicest course that he has ever played on and the rising star put together a pretty solid week.
"It was a really fun event, the scores were much better," said Delaurier. "It was fun seeing everyone else's games from across Canada, great experience."
Playing in the event after qualifying based on his performance throughout the summer in Manitoba, Delaurier finished in 13th place in the bantam boys division. He opened the tournament with back-to-back 82s which he then followed up with his best round of the tournament, a third-round, 80.
"I'm pretty pleased that I was consistent, I didn't have one blowup round or anything like that," offered Delaurier. "I definitely left some shots out on the course but overall, pretty happy with how things turned out."
Moving forward, Delaurier said something he really needs to work on is hitting his driver straight consistently as it was something he struggled with at times in Surrey.
"The rough was very penalizing, so that definitely added some strokes to my score when I wasn't hitting the fairways," ended Delaurier.
Jackson is now back on his way to Manitoba.
Details

Contributed by

Darnell Duff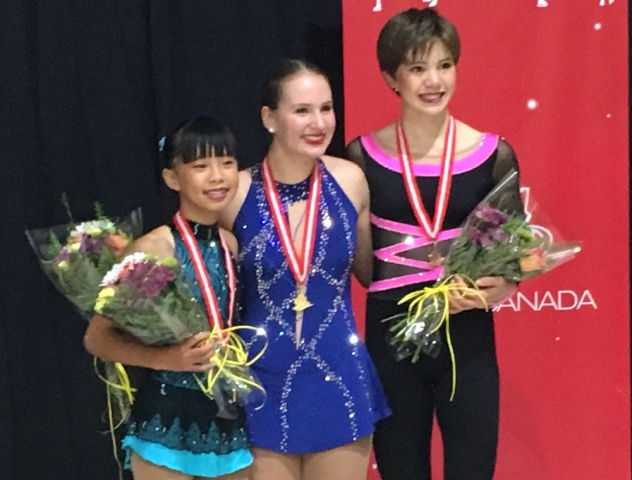 It was another great weekend on the ice for Breken Brezden.

Competing in the Saskatchewan Skate 2021 competition, Breken earned a silver medal.
The event featured the top skaters from Manitoba, Ontario, and Saskatchewan.
Breken is off to Chilliwack for another event later this month.
Details

Contributed by

Darnell Duff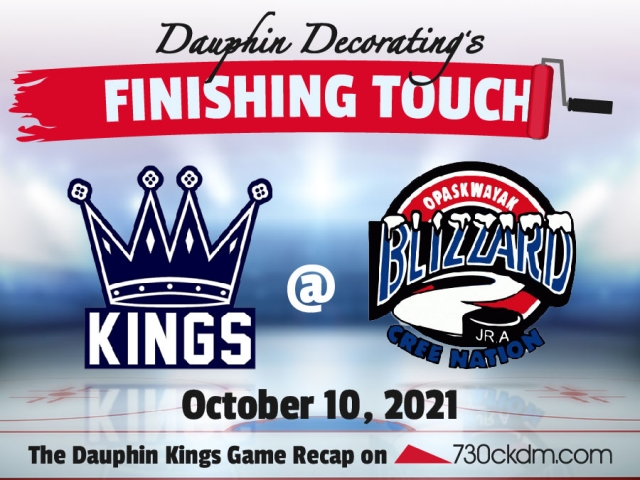 The Dauphin Kings have fully hit their stride offensively. Following a 7-2 win on Friday, Dauphin scored another seven goals on Sunday night to earn a weekend sweep in a 7-3 win against OCN.
It was somewhat of a slow start for Dauphin, who gave up the games first goal. Mike Hlady scored on a shot from the point 3:56 into the game. After allowing that goal, Keaton Woolsey was excellent as he played his second game with Dauphin.
Dauphin dominated the remainder of the period offensively. Ben Hackl scored his second goal of the campaign at the 9:48 mark and just less than two minutes later, Cordell Coleman scored his first goal.
Colby Jaquet — who entered Sunday's game as the team's point leader — scored his second goal of the season at the 15:29 mark as Dauphin took a 3-1 lead, one they held after 20 minutes of play.
OCN did push at the end of the period in an attempt to get back in the game, but Woolsey made several quality saves to preserve a two-goal lead.
5:12 into the second while on the powerplay, Colby Jaquet took matter into his own hands as he scored his second of the game and it was a beauty, off a toe drag. Dauphin led 4-1.
Just like they have done throughout the season, the Blizzard responded in a big way. Ryland Kuczek scored at 9:57 and less than 30 seconds later, Dain Sardelli found the back of the net to bring OCN within a goal. After 40 minutes, Dauphin led the game 4-3.'
In the third, Kaden Bryant gave Dauphin a 5-3 lead early in the third and that's when Mathew Rathbone took over. In his debut as a King, the 20-year-old scored two goals in a four-minute span as Dauphin took a 7-3 lead and that was the final.
Dauphin remains in a tie for first in the West Division as they're now 6-2 while OCN drops to 3-4-0-1. Dauphin returns to the ice on Friday when they play the Virden Oil Capitals at Tundra Oil & Gas Place.
Sunday's game was the third straight that Dauphin has chased OCN's goaltender. Nik Jerris was pulled in the second period
Dauphin has scored 31 goals this season, 30 of them in their last six games
Keaton Woolsey earned his first career MJHL win in net, playing solid in the process
Dauphin scored two more goals on the powerplay and they were a perfect 3-for-3 on the penalty kill
Colby Jaquet now has back-to-back three point games. Two goals and one assist on Sunday
Dauphin now leads the season series with OCN, 3-1
Details

Contributed by

Darnell Duff
The Parkland U15 Rangers put forth their best effort of the weekend on Sunday afternoon.
Playing against the Eastman Selects to conclude a busy weekend in Winnipeg, the Rangers played solid from start to finish in a 5-2 win.
Hayden Shtykalo scored twice for Parkland in the game. Luke Myhre, Tyrell Leaske, and Ryan Gower scored a single goal each in the victory.
"There's no doubt it was our best effort of the weekend," said Tom White. "The kids played very well and we ended the weekend nicely."
Owen Martyniuk was tremendous in net for the Rangers
In their first game, Isaac Tomchak recorded his first hat-trick of the season in a 5-5 tie against Winnipeg Wild Red. Trace Langan and Luke Myhre scored in the game as well.
Ethan Carnegie, Trace Langan, and Cade Legaarden scored in a 6-3 loss in yesterday's game against the Winnipeg Wild Gold.
Overall, White says it was a very positive weekend.
"It was a good test for the team, everyone worked very hard," ended White. "We found out our weaknesses and displayed our strengths. I had some talks with a few scouts and they were impressed."
Details

Contributed by

Darnell Duff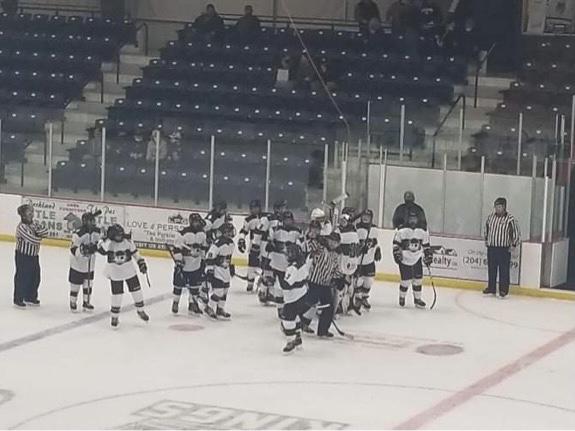 Parker Boguski played the role of hero on Saturday night for the Dauphin Clippers.
In a preseason game against Vincent Massey, Boguski scored in overtime to give Dauphin a thrilling 4-3 win.
The goal completed a huge come back for Dauphin, who trailed 3-0 in the game.
Austyn Roos, William Miner, and Tyron Sweetman scored for Dauphin as well.
Cody Coombs and Owen Chubka shared the action in net.
Details

Contributed by

Darnell Duff
Dauphin Kings prospect Roan Coe added an insurance marker this afternoon for the Eastman Selects.
His goal locked down a 5-3 win for the team over the Parkland U18 Rangers. Parkland lost both their games this weekend, also falling to Eastman last night.
Jayce Legaarden, Rylan Gibbs, and Cole Delamare scored for Parkland in the defeat.
On Friday, Jayce Legaarden scored in a 2-1 loss against Eastman.
Details

Contributed by

Darnell Duff
Playing in just his second junior hockey game, Brayden Dube put on a show on Friday night.
Dube recorded his first career hat-trick at the junior level as Dauphin won their second straight game as they downed OCN, 7-2.
It was a game of runs for Dauphin as they scored the first three goals of the contest, which was opened by a marker from Slade Stanick. The first year King took a short pass from Luke Morris after he got a long stretch pass from Colby Jaquet, and Stanick scored another highlight reel goal. This time, he went five-hole to beat Nicholas Pineo as Dauphin took a 1-0 lead at the 2:38 mark.
That's when the Roblin native, Dube took over. He scored his first as a King at the 6:17 mark and he added another, just 36 seconds later as Dauphin opened a 3-0 lead.
But OCN certainly didn't quit. A late goal from Riley Zimmerman cut the deficit to 3-1 after 20 minutes. Then Zimmerman scored his second of the game, 1:45 into the second as Dauphin's three-goal lead was cut to just one.
But, that was ultimately as close as the Blizzard would get as Dauphin responded in a big way, scoring the games next four goals.
At the 9:46 mark, Tyson Pauze scored his first as a King with a beautiful shot from the point and Dube completed the hat-trick less than three minutes later as Dauphin took a 5-2 lead into the third period.
In the final frame, Luke Morris and Garrett Hrechka found the back of the net as Dauphin put up a seven-spot against their division rivals and the most northern team in the league.
Dauphin now moves to 5-2 on the season, tied for first in the West Division with Waywayseecappo while OCN drops to 3-3-0-1.
The same two teams will play once again on Sunday evening, this time at the Roy H. Johnston Arena. You can catch that game on HockeyTV
King Tips:
After giving up 20 of the first 26 shots in the game, Dauphin responded on the shot clock as well. They finished the game on a 28-11 run
Carson Cherepak was solid once again, making 29 saves on 31 shots
For the second straight game, Dauphin chased OCN's goalie. Nicholas Pineo who was pulled last Sunday, was also pulled on Friday night
Dauphin added two more powerplay goals and they now have nine on the season. Overall, they're 9-for-29 on the man advantage.
Colby Jaquet added three more assists and he now has nine this season, the most on the team. That's the third-most in the league and his 10 points are the seventh-most.
Dauphin now leads the season series 2-1
Details

Contributed by

Darnell Duff
Riese Gaber scored 11 times last year in his first year of Division 1 college hockey with the University of North Dakota Fighting Hawks, a perennial powerhouse every season.
His great rookie season saw the Gilbert Plains native earn some prestigious accolades as he was named to the NCHC's All-Rookie Team and he was a driving force in the Fighting Hawks winning the National Collegiate Hockey Conference. He was also named the tournament's most valuable player and now, Gaber is set for his second season in North Dakota.
The team played a preseason game last weekend against Bemidji State and they came out on top 2-1. Gaber -- who is a former player of the year in the United States Hockey League -- scored the team's first goal of the season. His marker came early in the second period on the powerplay.
"That felt great, I think I'm going to take another step this season, that's the goal," said Gaber. "I'm really looking forward to continuing with the season here and doing what I do best."
The game marked the first time that 100 percent capacity could pack the Ralph Engelstad Arena since the beginning of the pandemic and fans certainly embraced that opportunity as the final attendance was 11,812. Just short of 12,000 people packed the arena to watch preseason hockey and getting to play in front of that many fans is something that Gaber won't forget.
"Electric, I think that's the best way to explain it," offered Gaber. "I took it all in and it's definitely something that I will never forget."
Now, it's time to get down to business for real for Gaber and the rest of the Fighting Hawks. The team begins their regular season on home ice with a pair of games against unranked Niagara. UND has won all seven of the previous meetings between the two teams, including in the 2015-16 season, the last time the Purple Eagles made a visit to Grand Forks. UND outscored Niagara, 12-1, in that series.
The two programs have also met twice in the NCAA Tournament, including in 2000 when UND won a national championship. 13 years later, the Fighting Hawks beat the Purple Eagles at the 2013 NCAA Tournament.
While the Purple Eagles aren't ranked and UND has dominated them in the past, Gaber says they aren't taking them lightly as the curtain officially opens on a new season.
"We have extremely high expectations this season," said Gaber. "Obviously with the culture here in North Dakota, we always expect to win and that's what we're brought here to do. We know it's going to be a tough first matchup and we're just excited to get going."
Details

Contributed by

Darnell Duff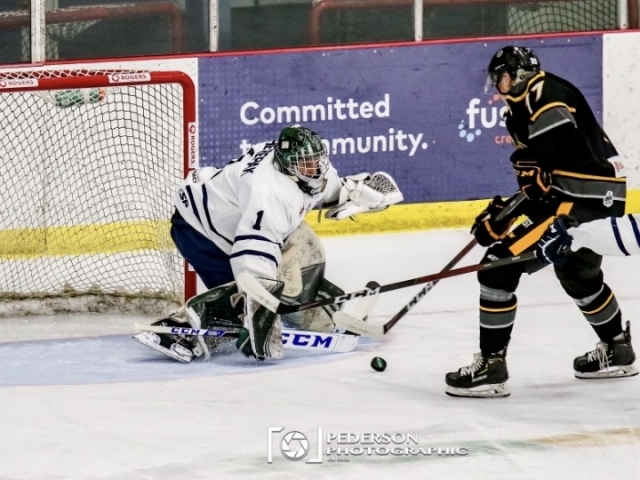 For the third game in a row, the Dauphin Kings and OCN Blizzard will meet. Last weekend, OCN won Friday's game and Dauphin responded in a big way on home ice on Sunday afternoon.
And that leads us to Friday night when OCN visits Dauphin for a 7:30 game at Credit Union Place. Dauphin enters the game at 4-2 while OCN is 3-2-0-1 and they sit one point behind Dauphin in the West Division standings.
Dauphin and Waywayseecappo enter the weekend tied atop the division standings.
"They're a club that works hard, they have energy, and they always come at you," said Doug Hedley. "They have Sinclair on the back end and he's one of the best defenders in the league. I don't think we did enough on Friday around the net but we got better here on Sunday."
Friday's game is the third of eight in the season series between the two teams. Dauphin is a perfect 3-0 on home ice entering the contest while OCN is 1-1-0-1 with their lone win on the road coming against Swan Valley earlier this season.
By the numbers:
Dauphin
Goals leader - Kaden Bryant (4)
Assists leader - Colby Jaquet (6)
G.A.A - Carson Cherepak - 1.60
Save percentage - Carson Cherepak - .948
Game-winning goals - Parker Malchuk, Ben Hackl, Luke Morris, Slade Stanick (1)
Powerplay - 7-for-21 - 33%
Penalty kill - 23-for-27 - 85.2%
OCN
Goals leader - Max Mazur/Aaron Lorenz (3)
Assists leader - Max Mazur, Dain Sardelli, Bryden Sinclair, Riley Zimmerman (3)
G.A.A - Nick Pineo - 1.70
Save percentage - Nick Pineo - .956
Game-winning goals - Ashton Paul, Aaron Lorenz, Bryden Sinclair (1)
Powerplay - 1-for-20 - 5%
Penalty kill - 23-for-27 - 85.2%
Following Friday's game, Dauphin heads up north for a rematch with the Blizzard on Sunday evening.
Details

Contributed by

Darnell Duff
If you're looking to play at one of the best courses in the province once more before the season ends, this weekend is your last chance.
The Gilbert Plains Country Club will remain open for one more weekend which means the season isn't over just yet.
"The weather has certainly cooperated this fall, it's been tremendous," said Scott McCallum. "Great chance this weekend to get out with some family and friends and really enjoy what this beautiful course has to offer."
Known for its extremely friendly staff, the Gilbert Plains Country Club truly is one of the best courses in the province and the best thing about it, it's very playable for golfers of all skill levels. So whether you're a scratch golfer or you play once a year, the GPCC is the perfect place for you to spend a few hours at.
The fall special is also in effect right now which means you can play 18 holes with a power cart for just $45. The course is also still in great shape.
You can also book a tee time by calling the course at 548-3030.
Details

Contributed by

Darnell Duff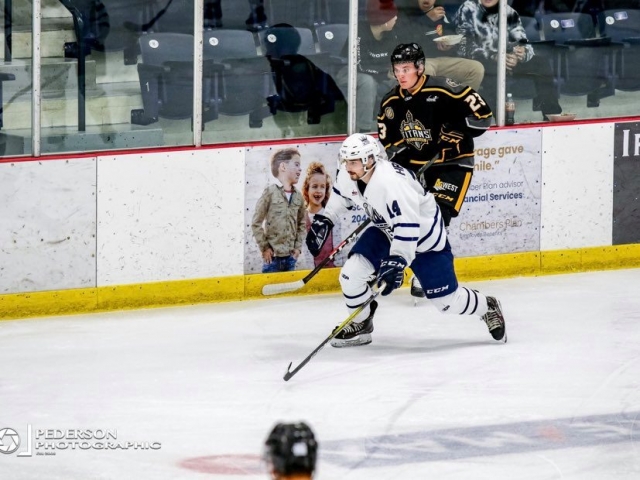 Garrett Hrechka is back doing what he loves with the team he always grew up wanting to play with. The 19-year-old from Dauphin is back with the Kings as the team prepares for a weekend home-and-home with the OCN Blizzard.
The former all-star with the Parkland Rangers program has played in three games this season as the team is off to a 4-2 start which has them tied atop the West Division. Hrechka says being back on the ice is an incredible feeling, especially with it being with the team he grew up watching.
"It feels so great," said Hrechka. "To be back on the ice with this great group of guys and coaching staff, I couldn't ask for more."
After losing a nearly full season of eligibility, Hrechka used that as motivation during the pause knowing that hockey would eventually return and thankfully, it has with the MJHL season entering week four of regular-season action.
As the season continues to move ahead, Hrechka is happy that he's on this year's team but he knows that he has a lot more to give if he wants to be an everyday player and one that contributes regularly.
"There's always room for improvement, I need to do more as a 19-year-old," said Hrechka. "I just need to keep getting better, that's my message to myself."
After splitting their first two games of the season with Neepawa, Dauphin was back on home ice at Credit Union Place on September 24 as they opened another home-and-home with the Titans. From start to finish, Dauphin outplayed the Titans as they held a 4-2 lead with less than 10 minutes left when Dauphin's fourth line showed off some flash.
Slade Stanick picked up a puck, skated over the blue line and outlasted the Titan defender, slid it to Hrechka and Garrett went to the backhand to tuck it past Emerick Demers as the Dauphinite recorded his first-ever MJHL regular-season goal with his hometown team.
Hrechka said it was nice to get the monkey off his back.
"It was mostly all Slade, he gave me a gift," said Hrechka. "I'm going to have to get him a Christmas present for that. It was a beautiful pass, all I had to do was finish. It gives me a lot of confidence moving forward knowing I can find the back of the net."
Off the ice, Hrechka is staying busy taking a couple of university classes in computer science and is also working at North of 51 Designs.
Get to know Hrechka:
Q: Is there something you always eat on game day? Right now, I've been eating a meat-lovers skillet in the morning with Mozza sticks.
Q: Who are your favourite professional sports teams? Cleveland Browns and Boston Bruins
Q: What's your favourite thing about living in Dauphin? Hunting and ice fishing in the area
Q: What's your favourite movie? Parasite or the dirt
Q: What's your favourite childhood memory? Going to Quebec with the French program in elementary school
You can hear Garrett's entire interview with Darnell Duff during the Kings Power Play Show which goes after 4:00 p.m. NewsNow on Friday afternoon. Then at 7:30, Dauphin plays OCN at Credit Union Place to begin their weekend.
Details

Contributed by

Darnell Duff