Latest Sports
Kristian Andres has done a lot of special things on the track and on the trails and now, the former Roblin native has a piece of Manitoba trail running history. We'll get to that later, but first, we'll take a look at what led Andres to make history and it all started in Roblin at Goose Lake High School.
On the track competing with the Raiders, Andres is a 10-time provincial champion and 17-time provincial medalist. That means he averaged 2.5 gold medals each year throughout his high school days and 4.25 overall medals. His favourite event was the 3-kilometre race where he would win four provincial rural championships and he continued his dominance by winning two AAAA provincial titles.
Andres, who now lives in Brandon, was also a provincial all-star and medallist on the volleyball court and in his grade 12 year, Kristian was named the varsity boys athlete of the year at Goose Lake. That was back in the 2005-2006 school year.
"It's neat to reminisce on once in a while, but I don't think about it that often because it was so many years ago," said Andres. "With that said, I still have those moments of being proud because of all the work I put in and the results that came from it. It was a pretty special four years."
After an illustrious athletic career in his hometown which is nicknamed the "Jewel of the Parkland", Andres was set for a change as he packed his bags and moved to Winnipeg. He attended the University of Manitoba where he would spend six years full-time and three years part-time. While attending school, Andres ran two years for the Bisons' track and field team and it was during those two years that Kristian admittedly lost his passion for running so for the most part, he focused solely on his studies.
His studies, by the way, have led him to a profession at the Brandon Hospital where's he's a physician assistant who works in orthopedic surgery. Living in the Wheat City was the fuel to Andres' fire as he started running at the Brandon Hills which is about 10 minutes south of Brandon. It's a 50 kilometre trail which sees everything from runners to cross-country skiing and mountain biking.
Andres has now been running at the Hills for about four years and for the Roblin native who lives a very busy life with a high-pressure job, it's a great way to take a break.
"It's one of those places where I can just forget about everything going on in the world," said Andres. "Whether I go running for an hour or two, it just really helps me take a break from everything else going on so I can enjoy myself."
Manitoba history:
Every time Andres runs at the Brandon Hills is a challenge because of the hilly terrain, but he amped things up to the next level with a friend of his by the name of Mikhail Gerylo. The duo made their way to the Whiteshell Provincial Park as they attempted to complete the 64-kilometre Mantario Trail and they wanted to do it in record time. The fastest known time prior to Kristian and Mikhail attempting it was 8:56:58.
The 64-kilometre trail was the longest run ever for Andres by more than 20-kilometres. His previous high was the 42.2 km Coureur des Bois stage trail marathon run in Riding Mountain National Park. Gerylo; meanwhile, ran the 75-kilometre West Coast Trail race in British Columbia. The duo had also done Spartan Races so they were ready for the challenge and a daunting one it was.
The route features a combination of Boreal forest, marshy low spots through knee-deep mud and water, and stony Canadian Shield near the south trailhead. Another challenge was there are no access points between the finish and end of the trail meaning Kristian and Mikhail had to carry everything they needed. They carried water, nutrition, first-aid kits, and aqua tablets that purify water.
"It's absolutely gorgeous out there, of course, it's daunting, but the views are mesmerizing, it was incredible," added Andres.
Prior to making the attempt at a record, both Andres and Gerylo scouted the trail to see what they would come up against and after more than eight hours, the former Roblin native has made history. The duo finished the trail in eight hours, 13 minutes and 48 seconds, the fastest known time by more than 30 minutes. They averaged 7:45 per kilometre to complete the feat.
Andres estimates he lost more than 5,300 calories that day and the pair even lost about 20 minutes when they wandered off the trail and had to retrace their steps. That wasn't the only blip throughout the race as just about 1-kilometre in, Andres gashed his knee and after the midway mark, cramps started to set in both thighs.
"I kind of led things in the first half and guided us through and then Mikhail took over the back end," said Andres. "I went to a dark place later in the race, it was a struggle. Mikhail did a great job of keeping me at a good pace for the final 20-kilometres.
Kristian's girlfriend and another friend were standing at the finish line with tape and the pair were able to run through it.
"It was a great feeling to achieve the feat and we were both pretty excited to just lay down in the parking lot, we were extremely tired," added Andres. "We had a goal in mind and to be able to accomplish our goal that feels absolutely great."
So the duo completed Manitoba running history; however, that isn't enough for Kristian. As noted above, the pair lost about 20 minutes because they wandered off-trail.
"Within a day or two there was a part of me that was saying we'll go back in the fall to see if we can run in under eight hours," concluded Andres. "I think we could have done better and the competitiveness in me wants to make that happen."
Kristian will continue to train at the Brandon Hills just in case they do attempt to break the eight-hour mark in a couple of months' time.
Details

Contributed by

Darnell Duff
Back on June 11, Volleyball Canada made an initial decision to cancel all national summer team training camps for the rest of the summer because of the coronavirus that has had a major impact on the sports world.
However, training for the national men's team has now resumed at the Centre Sportif de Gatineau in Gatineau, Quebec. When it comes to how the organization is handling junior teams, they're doing things virtually.
Beginning next Monday, Volleyball Canada will hold Zoom meetings with a select list of players who have bright futures and are officially on the radar of the national team.
Just six Manitobans have been invited to take part in the U19 men's virtual training camp, one of which is from Dauphin. JJ Love who was recently named the varsity boys athlete of the year at the DRCSS has cracked the invitee list.
Team Canada has prepared the program to further connect, educate, and continue the development of the selected athletes as Canada looks towards World Championship qualification in 2021.
In a statement, Dawna Sales, Director of Athlete, and Coach Pathways had this to say.
"While every coach and athlete would love to be in the gym, we recognize the significant challenge we all are facing during the pandemic. It is critical that our coaches and athletes continue to develop athletes through high-performance pathways toward the men's and women's indoor national teams," offered Sales. "To work with world-leading professional staff that traditionally wouldn't be available in July to our youth and junior athletes is just one of the opportunities to extend our programs."
Being invited to this camp is the first step in Love achieving his goal of cracking the senior men's team.
"It's a huge honour to be selected, there are so many great players in this country and I'm thrilled that I was chosen," said Love. "I just have to keep working as hard as I can, I want to make that senior men's team in the future."
The senior men's team has become one of the best in the world. Currently ranked as the 7th best team in the world, Canada has qualified to take part in the 2021 Olympics in Tokyo. The U19 team is currently ranked in a tie for 72nd in the world.
The last time Canada took part in the FIVB Volleyball Boys' U19 World Championship was back in 2005 when they placed 13th. Brazil leads the list with seven total medals, six of which are gold.
Love knows making the senior national team won't be an easy feat; however, he's ready for the challenge ahead and he's certainly achieved the first step by being invited to the U19 virtual camp.
"I just have to take things one practice at a time and continue to work hard," continued Love. "Nothing is guaranteed, I'm ready to grind it out and give it my best."
JJ will return to the DRCSS where he'll look to defend his athlete of the year award when the volleyball season begins in September.
Details

Contributed by

Darnell Duff
The Gilbert Plains Country Club is one of the finest courses across Manitoba and for Hayden Shtykalo, he gets the chance to hone his craft by playing on it nearly every day of the week.
If you ask the Dauphinite how many rounds he's played this season, he can't answer because the number is far too high.
Dating back to last season, Hayden also had the opportunity to travel across the province to play some of the other top courses as he competed on the Westman Junior Tour. On top of all his rounds in Gilbert this year, Shtykalo is back on the Tour, one that will finish on August 11 at the Oak Island Resort.
Four events have currently been played and there is nine total.
"I'm really comfortable playing in this because I've done it before," said Shtykalo. "It's a great experience playing on all these courses in a tournament format. It's also great to have friends playing that support me."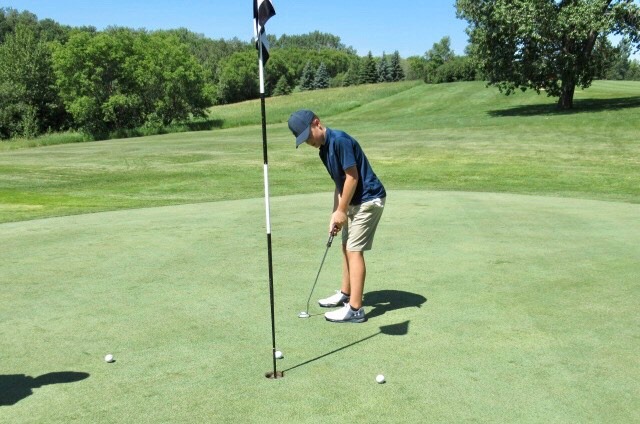 Shtykalo has played in all four events and now, he's joined the winner's circle. Backed by a solid back nine yesterday, Hayden edged Carson Craig to win the 12 & Under age group. He shot an 85 at the Glen Lea Golf Course, Craig was two behind with an 87.
In the last event that was played, Shtykalo finished in second, behind Craig.
"It felt really good, I've been working really hard," said Shtykalo. "I knew I was a couple of strokes back of Carson heading into the back 9, so I had to step it up and I did. I hit the ball pretty well and I'm really happy that I found a way to win."
Yesterday's win gave Shtykalo the full 10 points that are available for a first-place finish while Craig finished with 8. Through four events, Shtykalo is in second in the overall standings with 28.5 points with Craig coming in at 36. It's been a steady progression for the young man from Dauphin throughout the season.
After earning 4.5 points in the first event, he earned six in the second followed by eight with his second-place finish and as noted above, now he's racked up a perfect 10. With five tournaments left on the schedule, Shtykalo can continue to close the gap on Craig beginning next week when the Tour continues its schedule at the Shilo Country Club.
"I'm just trying to improve on my gameplay every week, that's the biggest thing for me," concluded Shtykalo. "I look back after every round and learn what I did wrong and I work on those areas and that's what's allowing me to play better."
In other action yesterday, Parkland golfers continued its dominance on top of the Shtykalo victory. Jackson Delaurier and Luke Myhre tied for first place in the 14 & Under age group. Delaurier continues to lead that group by seven points over Myhre with 39. McCreary's Brady Turko took home the closest to the hole prize in his age group. Landyn Garton also competed yesterday.
Details

Contributed by

Darnell Duff
The NHL and NHL Players' Association have reached a tentative deal on Return-to-Play Protocol and a four-year contract extension. This means there won't be a lockout for at least another six years.
What this also means that if the agreement is ratified, training camps will open on Monday, July 13. That day leads up to the beginning of the 24-team Stanley Cup playoffs which are set to begin on Saturday, August 1 with a champion being declared in October.
If everything goes forward, Edmonton and Toronto have been chosen as the two hub cities with the Eastern Conference playing their games in Toronto while the Western Conference games will be played in Edmonton. It's also been reported that Edmonton will play host to the conference finals and Stanley Cup final.
That means the Winnipeg Jets will play their games in Edmonton and their first-round opponent will be the Calgary Flames. Calgary is ranked #8 while Winnipeg is ranked #9. As he has been since the Jets 2.0 was brought to Winnipeg, Dennis Beyak will have the call of each and every Winnipeg game as they look to pull off a first-round upset.
However, the former Winnipegosis native doesn't know where he'll be stationed if things get going. He's heard some rumours that he may be in Edmonton; however, he won't be calling games on site.
"I think the NHL has handled this very well. They've taken their time, it hasn't been a rushed Return-to-Play," said Beyak who is currently in Kelowna where he lives during the summer. "We do expect something from TSN later this week as to what we're going to do, but it's all over the map right now. It does; however, look like we won't be on-site at this point."
It has also been confirmed that no fans will be allowed in the stands because of restrictions put in place to fight the coronavirus.
While Dennis has been patiently waiting to get back up in the broadcast booth, he's taken his talents to the links where he plays golf at least a few times a week.
Heading into the season, Beyak already had one ace on his resume which was made at the Shannon Lake Golf Club which is located in West Kelowna.
On June 24, Beyak added to the trophy case. Playing the 147 yard par-3, 16th hole, Beyak chucked the "perfect" shot for his second career hole-in-one, and second at the Shannon Lake Golf Club. He used an 8-iron.
"I managed to hit a good shot, it took a couple of bounces, it hit the pin, and in it went," said Beyak. "It was just one of those days where I was getting some bounces. It's always fun. It's a good feeling and it's always exciting."
Now back to hockey as Dennis continues to prepare as games will begin on August 1. Other play-in series in the Western Conference will see Edmonton playing Chicago, Nashville battles Arizona and Vancouver takes on Minnesota. In the Eastern Conference, Pittsburgh challenges Montreal; Carolina plays the Rangers, Ryan Pulock, Barry Trotz, and the Islanders battle Florida while Toronto challenges Columbus.
"I don't think there are any questions whether the play-in round will bring upsets or not, I think it certainly will," said Beyak. "I think most people are looking at the Montreal series. Carey Price can play like he's the best in the world and if he does, he can steal a series."
Beyak's road to this year's 24 team playoffs has been lengthy and very successful. His first play-by-play job was with the Flin Flon Bombers of the Western Canada Hockey League in 1970. He also provided commentary for the Saskatoon Blades, Victoria Cougars, and Seattle Thunderbirds, all of the Western Hockey League.
His first NHL broadcasting job was with CFRN-TV where he called Edmonton Oilers games. Prior to moving to Winnipeg to call Jets game, he also called games for the Toronto Marlies and Toronto Maple Leafs.
So many years later, calling hockey games professionally is still a passion of Dennis' and it's something that never gets old and when it comes to who he believes can win the series between Winnipeg and Calgary, he's confident in the team he's called games for, for nearly a decade.
"I think the Jets are probably going to be favoured. We talk about goaltending in a short series, that's going to be huge in this series," ended Beyak. "Anything can happen in a short series, but I do think Winnipeg is the better team. The coaches will also have both teams extremely prepared; there is nothing that these teams won't know about each other."
You can hear Darnell Duff's full interview with Dennis right here.
Details

Contributed by

Darnell Duff
It's being called the "Scramble of the Summer" and it's filling up faster than tournament organizers thought was possible.
The Battle for the Belts two-person scramble put on by Parkland Source for Sports goes down on Sunday, July 26 at the Gilbert Plains Country Club, Parkland's premier golf destination, and one of the finest across the province.
As of today, there are already 45 teams signed up and the maximum is 72.
"Registration has been going incredible, there has been a ton of chatter and people are certainly interested," said Danny Scott. "We're well above what we thought we would have at this point. I would say a sellout is definitely in the cards at this point."
When it comes to making a hole-in-one on the course, it's a shot that no one ever forgets especially, if you're the one that sinks it. And if you do just that on hole #4 or #17 during the event, you could walk away with a big prize.
Love & Persson Group has stepped up to sponsor hole-in-one prizes. The prize for draining your first shot on number 4 is $10,000. The prize for making an ace on 17 is $1000. There are also two prizes per hole so if someone makes an ace before you, you'll still have a chance at the big prize.
Hole 4 will play 125 yards while 17 will measure 150 yards.
Tournament organizers want to remind all interested players that this event is for everyone. Whether you're a scratch golfer or you play three times a year, you can play and have a great time while doing so.
"This is 100% a fun tournament with a chance to win some prizes," concluded Scott. "We have some junior teams, some women's teams, grandparents playing with their grandchildren, and everything in between. It's going to be a lot of fun."
You can sign up at the golf course or by calling Chris at 648-7989 or Danny at 572-7552.
Details

Contributed by

Darnell Duff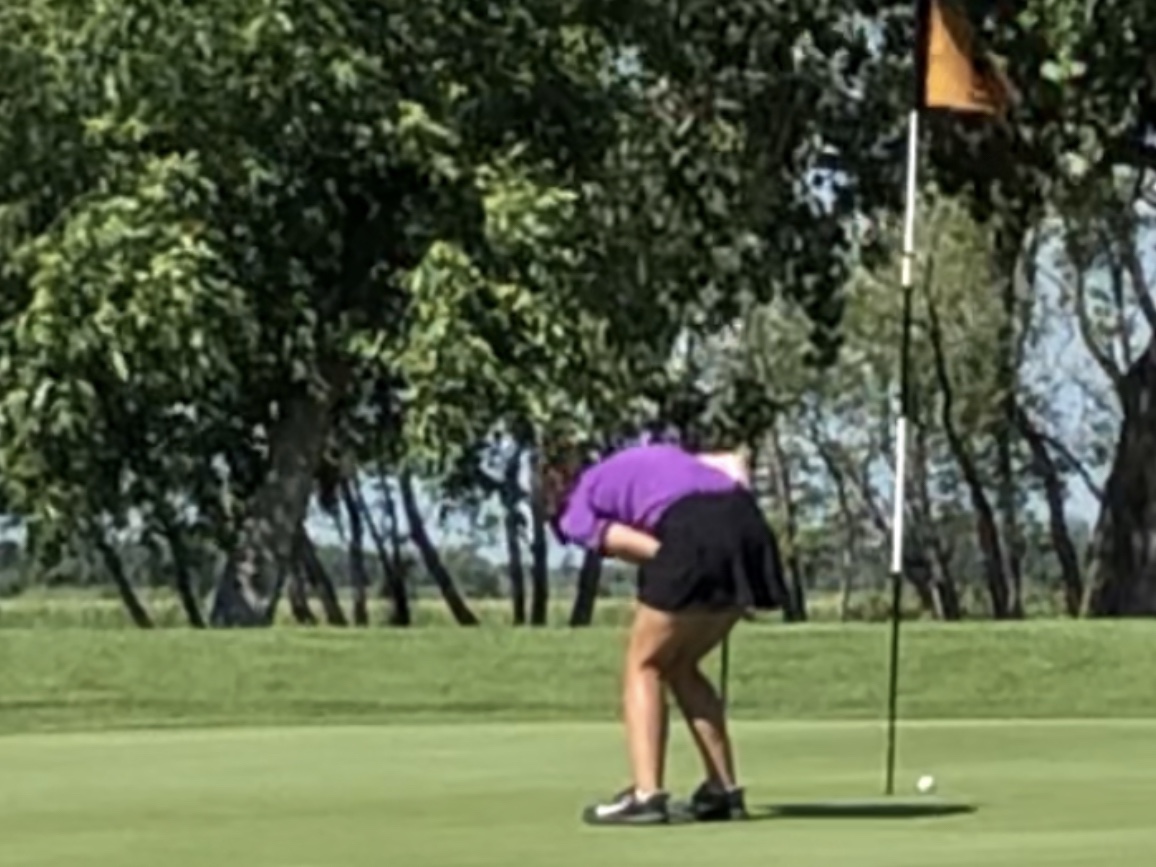 Crystal Zamzow is right in the thick of things at the Manitoba women's amateur championships that are being played at Bel Acres.
The Swan River native finds herself in a tie for 10th after day one after shooting a 11 over, 84 today.
Zamzow is just five strokes back of being in the top 5. Round two is played on Tuesday while things wrap up with round three on Wednesday.
Bobbi Uhl of the Shilo Country Club is the 18-hole leader at 1-over.
Details

Contributed by

Darnell Duff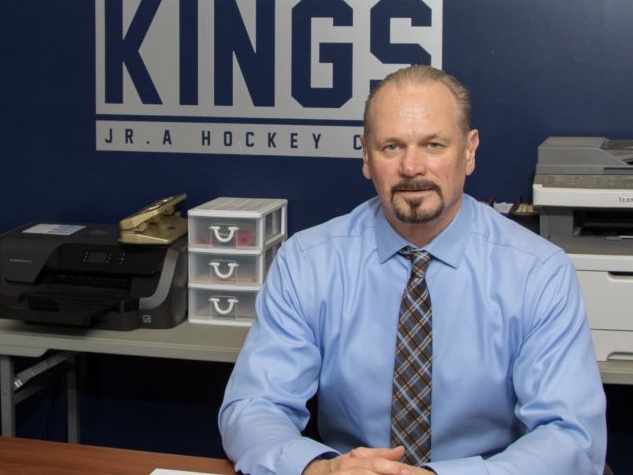 The Dauphin Kings have completed a trade that sees the team add some offence.
2002 born Dylan Winsor is now a member of the Club while Jesse Mistelbacher is with the Dryden Ice Dogs of the Superior International Junior Hockey League.
The soon to be 18-year-old scored 12 goals last season in 55 games with the Ice Dogs. He also added 16 assists.
In the previous season with Dryden, Winsor posted 34 points (15G) and one more point in six playoff games.
In case you missed it, the Manitoba Junior Hockey League has announced that they intend to begin the new season on Friday, September 25.
Details

Contributed by

Darnell Duff
The 2020 Canadian Football League season truly is a big question mark. It's been confirmed that the earliest the season will begin is in September with a truncated schedule with the Grey Cup to be played in December.
The CFL has also brought up "Hub" cities in the past and now, it appears that Winnipeg is an option.
The league's focus for returning to play is Winnipeg as a hub city. It's been reported that there has yet to be a deal finalized and that there is a lot of hurdles to clear before a deal does come true.
Commissioner Randy Ambrosie has also said that cancelling the season is still a possibility.
Details

Contributed by

Darnell Duff
2020 has been a year of changes that were brought on by the coronavirus that dates back to March. When the sports world was shut down at that time, the question was when would things get back to normal?
There now seems to be a new normal and if you're a golfer, that's okay because courses were permitted to open back on May 4. Players at the Minnedosa Golf and Country Club and Neepawa Golf and Country Club were back on their home tracks playing what are two of the best courses in the province.
However, those plans to continue the season at both courses came to a screeching halt last week at least for now. When Mother Nature pounded parts of the province with a crazy amount of rain, both Neepawa and Minnedosa were affected.
So much so that both courses are closed until further notice. If you hadn't already seen, this is what the Neepawa course looked like late last week.
Without a home course to play for the foreseeable future, members are now required to travel to other communities to get some rounds in and that's where the Gilbert Plains Country Club enters. They are welcoming all members at the Neepawa Golf and Country Club and Minnedosa Golf and Country Club to come to Gilbert Plains.
For just $38 dollars, they can play 18 holes with a cart.
"We certainly know how difficult a situation is like this and how hard the courses are working to get their tracks playable again," said Scott McCallum, General Manager at the Gilbert Plains Country Club. "Chad Facey brought up this idea and I thought it was great so we're running with it. I'm also glad that other courses in the area stepped up to do this as well."
Those courses include the Poplar Ridge Golf Course and McCreary. Scott adds that already members of Neepawa and Minnedosa played Gilbert Plains over the weekend.
"Yeah, that was great to see. We're just glad that they have a place to play," added McCallum.
It's now been more than two months since the game of golf was allowed in the province. Although things are different with no rakes in bunkers and modified pins, most notably, Gilbert Plains continues to not only be one of the best courses in the province, but they are also a very busy one at that.
"Our green fee traffic has certainly gone up. People are getting out, I think they feel that the golf course is a great place to get in some outdoor activity while still social distancing," commented McCallum. "We've been very busy so all is good."
McCallum also says they are seeing a lot of new people around the Club and he expects to remain busy. When it comes to tournaments in Gilbert Plains, they have set their Ladies Open for Saturday, July 25. You can call the Club at 548-3030 to register today.
Details

Contributed by

Darnell Duff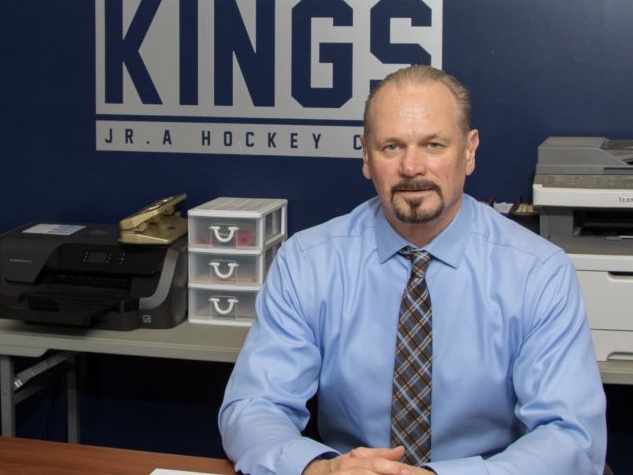 As the off-season continues to roll on, the Dauphin Kings have remained active on the trade front.
This time, the Club has completed a trade that has Mattie Boonstra becoming a part of the Portage Terriers.
Boonstra played three games with Dauphin this past season while most of his action was with the Railer Express of the Manitoba Major Junior Hockey League.
Coming back Dauphin's way is Future Considerations.
Details

Contributed by

Darnell Duff
Anna Garnett is all sports and of course, studying means a lot to her as well. Those reasons are why Garnett, from Russell, has been recognized by McDonald's of Manitoba and the Manitoba High School Athletic Association.
We'll get more to that below, first, however, we'll take a look at Garnett's high school days at Major Pratt as she has officially finished off what was a very successful and rewarding four years.
Whether it was playing hockey and basketball in the winter or baseball and running on the cross-country team in the summer, Garnett was front and centre. Many athletes have a favourite sport; however, that's not the case for the Russell native. She says whatever sport she's playing at the time is her favourite and it just changes depending on what season it is.
"I made so many great friends through playing sports, they're such a big part of my life and I love that," said Garnett. "Playing sports is also a good distraction for me, it allows me to take a break from what's going on with my studies and stuff like that."
At the 2017 varsity girls' volleyball provincials, Garnett helped the Trojans to a fourth-place finish as they narrowly lost to the Warren Wildcats in the third-place game.
Back at it the next year, Garnett and the rest of the team would improve their previous season result as they finished in second at the provincials. They would once again come up short against Warren in what turned out to be a three-set thriller to determine a provincial champion.
Switching sports now and heading to the links. Playing on the high school golf team, Major Pratt took part in the provincials at the Swan River Golf & Country Club back on September 20, 2019. Garnett teamed up with Summer Fuz, Alana Sawaryn, and Clara Peak. The four girls combined for a score of 323 as they won the provincial title by 12 strokes.
"To win that gold medal was amazing, that felt incredible," continued Garnett. "Also that silver medal, it just means a lot. It was also extremely special to share that medal with my teammates; we all worked so hard to achieve success."
Garnett says some of the best parts of taking part in high school sports is spending time in hotels with her teammates and forming a very strong bond. So we talk a lot about how much success Anna has enjoyed athletically, but that's not the only place that she's done great things. A grade 12 student who has graduated, Garnett had a 95% academic average. She's an athlete, but at the end of the day, she's also a student.
"I was always pretty good at managing my time and it has really helped through my high school years," added Garnett.
And now thanks to all of her efforts athletically and academically, Garnett has been rewarded by the province. She is one of 16 student-athletes that were rewarded a 2020 McDonald's Leadership Award that comes with a $1000 scholarship towards her post-secondary studies.
Those studies will take place in the fall in Calgary as she will attend the University of Calgary, home of the Dinos. Anna took part in volleyball nationals in Calgary before, but she's never lived in a city with a population of just under 1.4 million in 2019.
"I fell in love with the city when I visited there, it's got a great vibe," concluded Garnett. "I'm really looking forward to moving and just making a ton of new great friends and memories along the way."
Anna adds that she'll take part in any intramural sport that she can. She will take a Bachelor of Science.
Details

Contributed by

Darnell Duff