Latest Sports
Olivia Brown and Morgan Gouldie made some excellent saves over the weekend as the Parkland U15 Women's Rangers continued their season.
In a game against Eastman on Saturday, Brown made 59 saves then on Sunday against Westman, Gouldie finished with 44 saves. Maliya Malowski also scored for Parkland.
The team joined the Westman Wildcats in sporting purple tape to raise awareness and collect donations for ALS. Next up for the team is Hockey Manitoba's Female Showcase this weekend as the team plays a trio of games in Winnipeg.
Details

Contributed by

Darnell Duff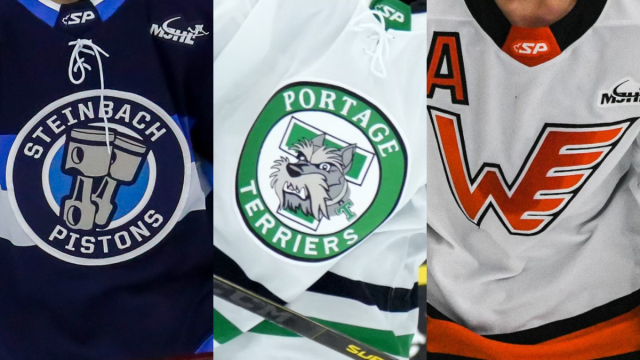 Of teams in the Canadian Junior Hockey League, there is only one club that is undefeated in regulation play. After 23 games, the Battlefords North Stars still haven't lost a game in regulation. They have two overtime losses and one shootout loss.
Despite having an incredible start to the season, the North Stars are only eight points up on the Flin Flon Bombers for first place in the league while the Humboldt Broncos and La Ronge Ice Wolves are 10 points back of Battlefords. The North Stars' 115 goals are the most in the league and they are a plus 64.
The Brooks Bandits of the Alberta Junior Hockey League is the next closest team as they have just one regulation loss paired with a loss in a shootout and one overtime loss. The Bandits are trying to win their third straight national championship. That's why this week, there is no surprise that Battlefords and Brooks are ranked first and second, respectively, in the CJHL Top 20 Rankings.
Two teams in the MJHL are in the top 20 while one is an honourable mention, starting with the Steinbach Pistons who are ranked sixth after this past week.
Steinbach Pistons #6:
They lead the league with 40 points and they're a plus 57. Their 27.1% on the power play is a league-best and they also have the best penalty kill at 87%. Steinbach was an extremely strong team last year when they advanced to the league final, only to lose to the Dauphin Kings in the Turnbull Cup final in seven games. While there is still plenty of regular season left, this year's Pistons roster could be even stronger.
Davis Fry leads the league with 38 points, Travis Hensrud has 32 and Ty Paisley also has 32 points. They are the 'tremendous' trio and no one has been able to stop them this season. The Pistons also have a pretty solid supporting cast which includes Ian Amsbaugh and Warren Clark. Amsbaugh has 24 points this season, a year after he posted 61 points in 65 games with Dakota College at Bottineau last year. Warren Clark has chipped in with 21 points this year, he's already committed to play Division 1 and he is also one of the best lockdown defenders in the league.
Cole Plowman and Dominik Wasik both have 10 wins apiece for Steinbach in net. If there was one weakness to this team, it would be goaltending and that's saying a lot because Wasik has a 1.92 goals-against average and Plowman has a 2.23 goals-against average. OCN did put up a four spot on Steinbach on Sunday, the Pistons scored seven. This team is deep, talented, and will be tough to beat. Paul Dyck continues to do a masterful job putting a great roster together year after year.
Portage Terriers #9:
Despite their loss against Dauphin last Tuesday, Portage slipped just one spot in the rankings. Sitting in third place in the East Division, Portage is gearing up to host the Centennial Cup in May at Stride Place. Portage has used a very balanced approach to win this season as 11 players have at least 10 points.
This is led by Hayden Lacquette of Dauphin as he leads the team with 28 points, seven of which are goals. Lacquette is averaging 1.17 points per game and he scored against his former team last week. While Steinbach's goaltending could be their weakness, it is certainly Portage's.
It's a team that will likely be looking for a number one goaltender as the trade deadline continues to near on January 10. While Bailey Monteith and Jayden Catellier have combined for 18 wins, they both have save percentages under .900 and their goals-against averages are both near 3.00. At the end of the day, they're hosting a national championship and players enjoy joining a team that is guaranteed to play on the biggest stage at the end of the season. That's exposure and players love exposure. Following their loss against Dauphin, Portage responded with a win against Niverville and the Blues.
Winkler Flyers - HM:
16-5-4-1 thru 26 games has them in second place in the East Division, one point ahead of Portage, but the Terriers do have three games in hand. They're led by Trent Sambrook who is off to play Division 1 hockey next year with Mercyhurst University. Standing in at just 5'8", Sambrook is undersized on the back end, but don't let that fool you, this guy is one of the best, if not the best defenseman in the league. He also has a high offensive upside with three goals and 22 assists so far this season. Sambrook has a knack for making the perfect pass.
Jayden Legaarden continues his great rookie campaign as he has 18 points, eight of which are goals. Unlike Portage, Winkler likely isn't going to be in the market for a netminder. Aidan Comeau has been nothing short of superb this season. He's 5-1-3 with a 1.79 goals-against average to go along with a .937 save percentage. Then Malachi Klassen has won 11 games in net for Winkler. He has a 2.46 goals-against average and a .918 save percentage.
Winkler is a big team, they play a physical brand of hockey and at times, they play on the edge, but it works for them so why change? The team has allowed just 60 goals this season which is the second-fewest in the league. The team will be looking for a piece of revenge this weekend as they play Dauphin in a home-and-home. The Kings downed Winkler in their only meeting of the season a couple of weeks back in overtime.
Details

Contributed by

Darnell Duff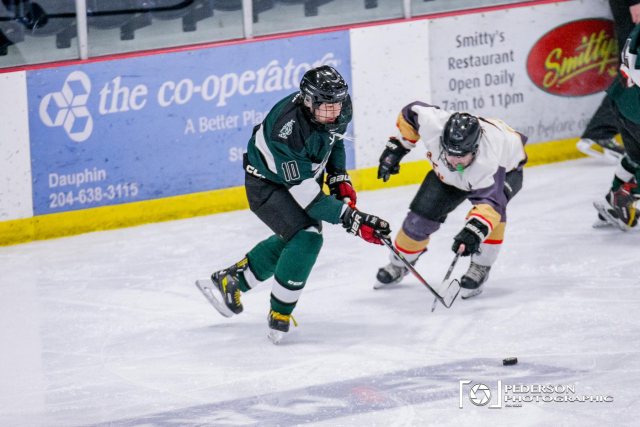 The Dauphin Clippers hockey team is the first team in the Westman High School Hockey League to get to 10 wins.
They were on the road on Sunday in Brandon and they cruised past the Crocus Plains Plainsmen, 6-2.
Six different Clippers scored in the game. They were Liam Chartrand, Logan Chapman, Jaymen Fee, Tyron Sweetman, Jake Kuzmiak, and Ethan Carnegie.
Details

Contributed by

Darnell Duff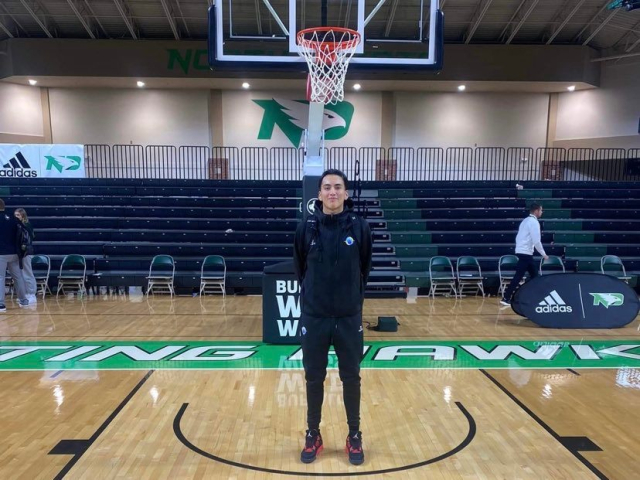 When Mason Chartrand made the Manitoba junior men's basketball team, he had the opportunity to play at the U17 national championships and Mason sure showed exactly what he could do.
He recorded at least six points in four games and was a force on the glass. In an 11-point performance against Team Newfoundland, the Pine Creek native had one block, four offensive rebounds and five defensive rebounds.
Now Mason lives in Winnipeg as a new door has opened for the 6'8" forward as he made the Northstar Prep basketball team. The team's roster features some of the best 18U players from across the country, and this is Chartrand's first year playing. Mason says it was an honour just to make the team.
"It felt pretty good, the coach saw something in me that I didn't know I had," said Chartrand. "To get the chance to play with some elite players, it's a great feeling and I'm very proud."
Chartrand and the rest of the team were in Seattle over the weekend for some action against teams from the Pacific Northwest. Now back in Winnipeg training, they're preparing to head to San Francisco for the Golden State Classic later this week and then they will head to Las Vegas right after that event.
Just days before he joined the team on their trip to Seattle, Mason was in North Dakota. It's his goal to play at the next level and Chartrand took part in his first unofficial Division 1 visit to the University of North Dakota. For Chartrand, it felt like he took a step toward his dream.
"Especially being from Pine Creek and now going on Division 1 visits, it felt amazing," said Chartrand. "I've always wanted to play at the D1 level and Northstar has given me this opportunity. I know there is a lot of work to do, but I'm very happy that I was given that chance and we will see what's next."
Mason's 2023 schedule with Northstar Prep includes tournaments in Seattle, Ottawa, Bradenton, Florida, and two in Toronto.
Details

Contributed by

Darnell Duff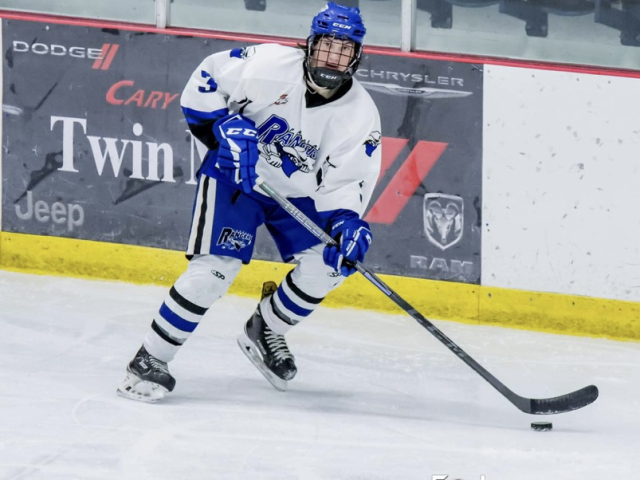 They were down by just a single goal in the second period, but that's as close as the Parkland U18 Rangers would get on Sunday.
Wrapping up their weekend in Winnipeg, the Rangers lost 5-2 against the Thrashers.
Tavyn Boychuk scored another goal for Parkland, it was his third of the two-game set against Winnipeg after he scored twice yestsrday. Dru Mushumanski also scored for Parkland.
Parkland is seven points back of the final playoff spot.
Details

Contributed by

Darnell Duff
Tyson Zimmer put together a great weekend against his former team.
Returning to Brandon for a two-game set against the Wheat Kings, the Russell native had one assist in a 4-3 win on Friday and then he scored once while adding one assist in the team's 6-4 win on Saturday as they completed a weekend sweep.
He also scored the game-winning goal a few days prior in an upset against the number one team in the country when the 'Canes downed the ICE, 2-1.
Tyson's stellar play has helped Lethbridge jump into fifth place in the Eastern Conference with their 14 wins.
Stay tuned to hear from Tyson in the coming days.
Details

Contributed by

Darnell Duff
The Parkland U18 Rangers scored two late goals against the Winnipeg Thrashers on Saturday afternoon to make it close; however, they couldn't complete the comeback.
Playing game two of a three-game weekend, Parkland fell short, 5-4. Parkland found themselves down 5-2 with just more than 14 minutes left in the third. Conner McKay and Tyrell Leaske would score for Parkland in the third to give the Rangers a chance, but they couldn't find the back of the net again.
Tavyn Boychuk had his biggest game as a Ranger as he scored twice. The Rangers will complete their weekend on Sunday afternoon when they remain in Winnipeg to play the Thrashers.
Details

Contributed by

Darnell Duff
The Gilbert Plains Trojans junior varsity girls volleyball team are provincial champions.
The team finished off the season perfectly by capturing the provincial event this weekend and they capped it off by beating Rosenort in the finals.
Jody Smelski is the team's head coach and she is extremely proud of the girls.
"It feels great, all these girls have worked so hard all season," said Smelski. "Each and every one of them deserves this."
Nevaeh Payne and Anika Gulenchin were named tournament all-stars while Montana Jubenvill was named the tournament's most valuable player. The team won three tournaments this season, plus the zone championships before capturing the buffalo.
Details

Contributed by

Darnell Duff
After a gut wrenching loss in the Grey Cup, the Winnipeg Blue Bombers have locked up one of their all-stars.
Willie Jefferson has signed a one-year extension, he was set to become a free agent in February.
Jefferson was the Bombers' most outstanding defensive player this past season and he was also named a West Division All-Star.
He led the team with seven quarterback sacks while adding 33 tackles, one interception for a touchdown, two forced fumbles, and 10 pass knockdowns.
He also became the first player in CFL history to record 50 sacks and 50 pass knockdowns.
Details

Contributed by

Darnell Duff
The Parkland U18 Rangers defended Credit Union Place perfectly on Friday night.
The team's offence fired it up in a big way as they scored four times in the third period in a 6-2 win. Cash Clarkson led the way with two goals while Ryan Gower and Dru Mushumanski both had two assists.
Jackson Badowski, Tyrell Leaske, Luke Myhre, and Skyler Carriere also scored for Parkland. The team is now off to Winnipeg for a pair of games against the Thrashers on Saturday and Sunday.
Details

Contributed by

Darnell Duff
Tyson Zimmer has had this game circled on his calendar from the day he was traded.
The Russell native was drafted by the Brandon Wheat Kings sixth overall in the 2019 WHL Bantam Draft. He went on to play 87 games with the team and he scored 12 times while adding 13 assists. Then on September 27, Zimmer was dealt to the Lethbridge Hurricanes as his time as a Wheat King came to an end.
On Friday, Zimmer will be back at Westoba Place as the 'Canes roll into Brandon to open up a two-game set with the Wheat Kings. Zimmer has flourished in his new role with Lethbridge as he has five goals and nine assists in 22 games and he's well on his way to recording a career year.
He also recorded the game-winner earlier this week on Tuesday as Lethbridge downed the Winnipeg ICE. At the time, the ICE was 20-1 and they're the number one ranked team in Canada. Brandon and Lethbridge play Friday at 7 and they hit the ice again for a rematch on Saturday, once again at 7. You can get tickets at Wheat Kings.
Details

Contributed by

Darnell Duff