Latest Sports
The Tractor Lotto is a massive fundraiser for the Kings every year and it gives ticket buyers a solid chance at winning the $100,000 grand prize.
Next Sunday, all of the draws will take place which means you still have some time to get your tickets. And if a three-pack is something that interests you, Christian Laughland says you better hurry before it is too late.
"Now is the time. I know we're going to be out of three-packs by the end of the weekend and we may even be out before the weekend," said Laughland, Director of Business Operations. "There is less than 70 so now is the time to pick them up."
Tickets are 1 for $100 or you can get that three-pack for just $250. There are also supplementary tickets for a John Deere Lawn Tractor and everyone seems to be talking about the 50/50. As of this posting, it's currently more than $43,000 and it is increasing every day.
"It's starting to gain speed now. It will probably get closer to $60,000 over the weekend," said Laughland.
As always when getting your tickets, the easiest and simple way is online at Tractor Lotto. Many people are buying their tickets online for the first time and they will continue doing so every year now.
"People are talking about how easy it is to buy their tickets online," offered Laughland.
The other way you can get your tickets is by calling 1-877-585-4647.
Details

Contributed by

Darnell Duff
The Manitoba Junior Hockey League has said it plans to resume the 2020-2021 season on January 1 as training camps will open that day followed by games not long after.
Although there is no certainty around the day, the league is doing everything they can to resume things then. If Manitoba is taken out of the 'red' team sports can resume. When the season was paused, the Waywayseecappo Wolverines were one of the hottest teams in the league.
The Wolverines 7-3 record had them atop the Northwest Division as they won their final four games before the pause and five of their last six. Vista's Mackenzie Belinski leads the team with nine goals and seven assists while Conrad Phillips is second in team scoring with 11 points.
Another bright spot on the team was Tyson Zimmer. From Russell, Zimmer scored four goals and had four more assists in his 10 games and he was on a tear on the power play as three of his goals came on the man advantage and he chipped in with another three assists. All-star returning player, Jaymes Knee has three goals and six points so far.
"We're pretty happy with our group. Our goal is to have a successful season and to bring a championship to town," said Taylor Harnett, head coach, and general manager. "We have a great group that is extremely dedicated and they do whatever it takes."
(On a Facebook post on November 13, the Wolverines said "We will be back")
Taylor says the entire group knows they need to stay focused during this pause so that when they return, they can pick up where they left off. When the season does resume in January, the team will have a different look to it.
Chad Nychuk and Cole Muir will leave the team. Both players are on loan from their respective Western Hockey League teams and they will return to them after the Christmas break. The WHL season is slated to begin on January 8. The Wolverines may also lose two 16-year-olds who are continuing to show why they're playing Junior A. Zimmer will aim to make the Brandon Wheat Kings while Thompson is off to Portland in hopes of cracking the Winterhawks roster.
Another guarantee is that the Wolverines will welcome back their top three scorers to start the season in Belinski, Conrad Phillips, and Gerrik Ripley.
Doug Hedley was very confident that the season will resume in January when he spoke with Darnell Duff earlier this week. Harnett is hopeful, but he understands it is a process.
"When the time is right, the league will let us play hockey again," ended Harnett. "We all know Kevin Saurette wants everyone playing more than anyone else. We're going to stay positive and when it's time to return to the ice, we will be ready."
Details

Contributed by

Darnell Duff
25 different members that live on the Waywayseecappo First Nation are getting some brand new hockey equipment.
Through an initiative by Hockey Manitoba and Bauer Hockey called the 'Hockey Equipment Relief Program', the Manitoba First Nations Police Service is handing out 75 combined sets of equipment to three communities they serve, one of which is Waywayseecappo.
The set includes a helmet, gloves, a stick, and new skates.
Jo-Ann Helgason is the Crime prevention coordinator for MFNPS and she says being a part of this initiative is a thrill.
"Our police officers are feeling great because they have the chance to do something so positive in their line of work," said Helgason. "It's all about building community connections. Parents are feeling so great for their children that are receiving a new set of equipment."
The equipment is being given to kids aged 4-12. They have already presented some of the equipment as seen above; however, they will wait until hockey activities can resume in the province before handing out the rest of the equipment.
"When the communities found out about this, they were extremely pleased and surprised," ended Helgason. "This is a huge thing. It's such a positive thing in a time where so many are stressed."
Details

Contributed by

Darnell Duff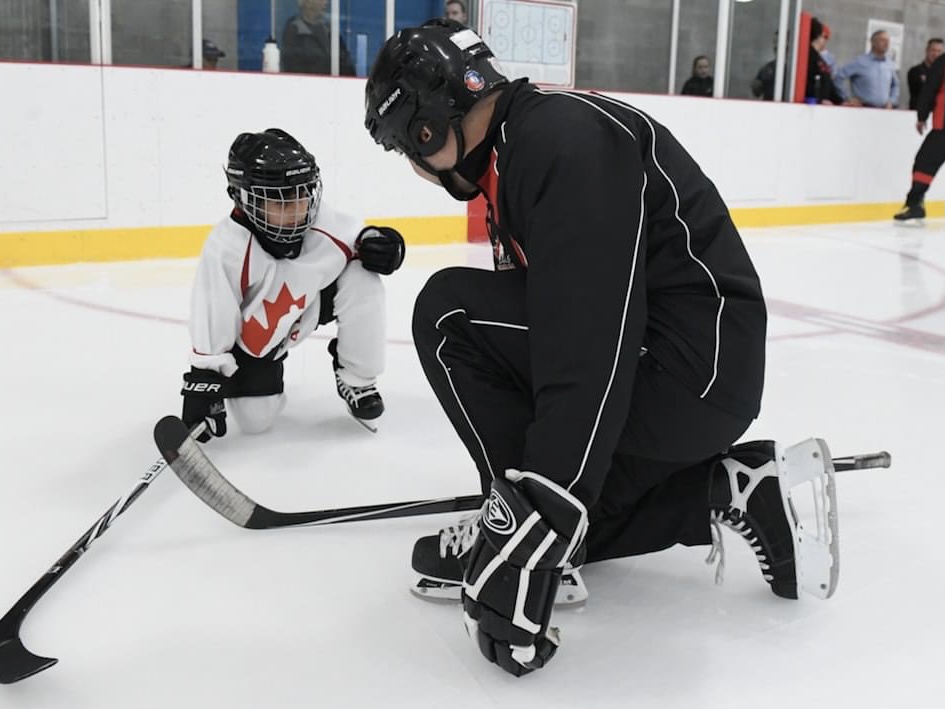 The provincial championships are something every player and coaches look forward to. This year; however, that isn't the case.
After several provinicial events were cancelled last year because of the coronavirus, Hockey Manitoba has announced that all events this season are cancelled.
Hockey Manitoba said this in a release.
"The decision to cancel the minor hockey championships has been made with the safety of all members and the community in mind. These tournaments will not be rescheduled for the 2021 season,"
The season can commence once Manitoba is out of 'Code Red' which at this point is scheduled to happen on December 11 at 11:59:59.
Hockey Manitoba is hopeful they can stage provincial championships in 2022.
Details

Contributed by

Darnell Duff
'Code Red' means no team sports are being played in the province. A usual extremely busy time of the year at the rink has become a time where the lights inside of Credit Union Place are set to off.
When the MJHL announced that they would be pausing the season until 2021, the Dauphin Kings were 3-3. Considered as one of the top teams in the league, Dauphin was in third place in the Northwest Division, behind Swan Valley, and Waywayseecappo.
Dauphin's offence already produced 26 goals in the six games and they were just set to get stronger. Jakob Brook joined the team on loan from the Prince Albert Raiders as he was set to join fellow WHLer, Tyson Kozak who was on loan from Portland. Dauphin also got Trent Miner on loan from the Vancouver Giants and he's an NHL draft pick by the Colorado Avalanche.
"I think we're in pretty good shape when we do start in January," said Doug Hedley. "We mentioned to our leadership group that we all need to stay in touch. Everyone needs to be focused when they return to get the job done."
The MJHL has said an abbreviated training camp schedule would begin on January 1 with the continuation of the season starting not long after. Kevin Saurette confirmed there would likely be schedule changes and a new schedule should be announced in the coming weeks.
And when it comes to if Hedley believes the season will return, that's easy. The bench boss is very optimistic that the MJHL can return in January. When it does return, Dauphin's roster could look a little bit different.
The WHL is set to begin its season on January 8 and all WHL roster players across the CJHL will return to their WHL teams ahead of training camp right after Christmas. That mean's Dauphin would lose the service of Tyson Kozak who had one point in his only game with Dauphin while Trent Miner and Jakob Brook -- both of which didn't play a game with Dauphin -- will also leave the program to join their WHL teams.
Despite losing those elite players, Dauphin's roster will still include Grady Hobbs, last year's most valuable player, Charles Massey who has seven goals, and Austin Lamotte, to name a few. Check out Dauphin's full roster here.
"We think we're really deep and we believe we have a solid four or five lines," said Hedley. "We're all in, that's for certain. We believe there is going to be a championship series and we want to be a part of it."
Details

Contributed by

Darnell Duff
The 50/50 for the Dauphin Kings Tractor Lotto continues to increase rapidly.
It's grown more than $7,000 since Friday as it is now at more than $36,000.
"It will likely be more than $40,000 by the middle of this week," said Christian Laughland.
As you know, lotto tickets aren't deemed essential which means you can't buy them in stores. However; the easiest and safest way to buy your tickets has always been online or by phone. You can call 1-877-585-4647 or you can head to Tractor Lotto.
On top of this year's $100,000 grand prize, the following will also be up for grabs.
10 prizes of $1,000;
Two prizes up for grabs of $2,500;
Two draws for $5,000;
One draw for $10,000; and
Three additional draws for a 2021 John Deere E110 Lawn Tractor.
Tickets are 1 for $100 or you can get a three-pack for $250. There are also supplementary tickets available.
There is also a special on Monday. If you purchase one ticket, your name will be put into a draw for another free ticket. If you purchase three tickets, you will get three ballots into that draw for a free ticket.
"That's all thanks to Jeremy Knutson of Intermountain Ag Supply, he's a huge supporter of our Ag Project every summer and fall and he's stepped up again," said Laughland.
All draws will be aired live on the Dauphin Kings Facebook on December 13.
Details

Contributed by

Darnell Duff
With the Western Hockey League season just around the corner, the Brandon Wheat Kings have had an extremely busy week.
First things first, it was learned that Dave Lowry has now joined the Winnipeg Jets as an assistant coach. Lowry spent last season with Brandon and he led the team to a 35 win campaign, including a ten-game winning streak.
Joining Winnipeg will be Lowry's third stint in the NHL after he spent five combined seasons as an assistant coach with the Los Angeles Kings and Calgary Flames. Dave will also join his son as Adam Lowry has played more than 400 games with Winnipeg.
Darren Ritchie is the General Manager for Brandon and he had this to say on the news that Dave was moving up to the NHL.
"We're extremely happy for Dave. He's a great guy and a great coach," said Ritchie. "The opportunity to coach your son in the NHL doesn't happen often. We knew we would lose Dave at some point because he's such a good coach. We look forward to watching him have success at the NHL level."
New Head Coach:
Just hours after announcing Lowry would leave the team to pursue his NHL goals, the team hired a new bench boss. They hired Don MacGillivray to become the 24th head coach in the team's history. MacGillivray has spent the past four seasons with Brandon as an assistant coach under Lowry and Dave Anning.
Don has also served behind the bench in the Manitoba Junior Hockey League with the Neepawa Natives, St. James Canadiens, Winnipeg Blues, and Portage Terriers.
The new head coach of the Wheat Kings has also spent time as head coach of the Prince Albert Raiders. In 2008, he was named the Canada West Coach of the Year as a member of the Manitoba Bisons.
During a very successful tenure in the MJHL, Don was named coach of the year on four occasions (1995, 2005, 2012, and 2013), he won a championship with the Terriers in 2005 and with the Blues in 2014 when he was the team's head coach and general manager.
Ritchie says naming MacGillivray head coach really was an easy decision.
"Don has a great track record and he's been in the game for a long time," offered Ritchie. "He has won wherever he has gone and he has a great relationship with our staff and players. He will continue to push our players to improve."
New season:
Ron Robison announced earlier that the WHL will only play inter-division games this season with the East Division will feature seven teams. They include Brandon, Moose Jaw, Saskatoon, Prince Albert, Regina, Winnipeg, and Swift Current.
A season schedule has yet to be released; however, Robison has said the season will begin on Friday, January 8. After clinching a playoff spot last season before the season was cut short, Ritchie and the remainder of the Wheat Kings are ready to take the next step.
"Our staff are preparing hard for what's next and that's training camp at this time," said Ritchie. "Any time you get close to the season starting, there is always a lot of buzz and excitement and I think that's the case here right now."
Representing Canada:
That's what Ridly Greig and Braden Schneider are hoping is the case. Both Wheat King veterans are in the Red Deer bubble right now looking to make Team Canada ahead of the IIHF World Junior Hockey Championships which are set to begin on Christmas Day in Edmonton.
Ridly scored 26 goals last season and his 60 points were the most in a single season for the young man from Lethbridge. Greig has played in 123 total games with Brandon, scoring 40 goals and adding 56 assists. He was drafted 28th overall by Ottawa in the most recent NHL Draft.
Schneider was the highest Wheat King selection in the most recent draft as he was taken 19th overall. The veteran of 199 games (including playoffs), Braden has been a spark plug from the back end for Brandon since he joined the team full time in the 2017-2018 season. Last year, he scored seven times and added 35 assists for a career-high 42 points. Braden had one assist for Team White in a 6-3 double up of Team Red in the second intrasquad game back on Sunday.
An extended training camp for Team Canada runs until the middle of December ahead of the team's first game on December 26.
"It's a great opportunity for both guys to get in the bubble and play with the best junior players in Canada," ended Ritchie. "It's going to allow them to get better moving forward."
Details

Contributed by

Darnell Duff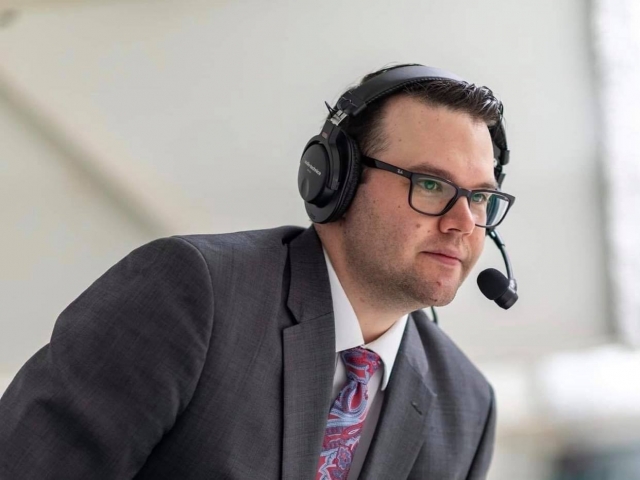 Shortly after the Saskatchewan Government announced there would be more restrictions put in place in the province, the SJHL announced they would be taking a pause until after Christmas.
The restrictions include the suspension of team sports competitions which means there will be no hockey games played in Saskatchewan until at least December 17. Teams can still practice with a maximum of eight players on the ice at one time.
For the La Ronge Ice Wolves, the team was off to a 4-1 start to the season after dropping their first game. Braden Malsbury is the Voice of the Ice Wolves and he had this to say on the suspension of play.
"It's pretty unfortunate, that's the best way I can put it," said Malsbury. "I believe hockey is a convenient scapegoat and it's too bad that this happened."
There were zero confirmed cases of COVID-19 during the regular season so far in the SJHL which was six games underway for most teams. For the Flin Flon Bombers, they were impacted even before the SJHL took a pause.
When Manitoba went to 'Code Red', all sports facilities in the province were closed. Although Flin Flon plays in the SJHL, they are located in Manitoba which means the iconic Whitney Forum had to be closed.
Without a place to play, Flin Flon was looking into alternative options on the Saskatchewan side of the border; however, they were unable to get anything to plan. Flin Flon had only played two games when the season was put on pause.
Rob Hart is the Voice of the Bombers and he was fully expecting a stoppage in play with the rising cases in Saskatchewan.
"It was bound to happen. With that said, I'm quite frustrated with the process," said Hart. "I understand that you have to shut things down, but I don't understand how bingo halls and casinos are still allowed to remain open. I think if you're going to shut things down, you have to shut down everything, not just sports."
Over in Melville, the Millionaires were 4-2 when the season was stopped. They were just getting prepared for a home-and-home with Humboldt. Mike Rooney is the team's head coach and general manager and he had this to say.
"I really felt that we could have played up until Christmas," said Rooney. "We were off to a great start and just like all teams, this is disappointing. We just have to move on and hope for better things in 2021."
When it comes to returning early in 2021, that is the hope, but as everyone knows, there are so many uncertainties right now due to the novel coronavirus and we can expect things to remain uncertain for the near future.
"I know everyone involved with La Ronge and everyone around the league is working hard so we can return," ended Malsbury. "I think the league put together a great return-to-play plan and everyone is doing what they can so we can return."
Details

Contributed by

Darnell Duff
The 2020 baseball season in Manitoba was very different than in other years. Although different, baseball was still being played throughout the province and Baseball Manitoba has put together a campaign to recognize some of the hardworking people that helped assure there would be ball played in different communities.
Jodie Romanow is the President of Dauphin Minor Baseball and she is one of the members that worked extremely hard to get a season going in Dauphin. Jodie was nominated and Baseball Manitoba is now recognizing her for all of her efforts.
Jodie's nominator had the following to say.
"Over the past several years, Jodie has shown enthusiasm for helping her community through fundraising and financial management, and she usually takes the greatest burden of work along with her husband (a coach) and son (player and umpire). She has worked on topics such as website development, diamond improvement (including accessing grants), planning and hands-on installation of improvements, and game and umpire scheduling. Jodie is enthusiastic about everything baseball-related. She pushed through the difficulty of the 2020 season (due to COVID-19) and continues to work hard to make the improvements needed in her community."
Romanow just finished her fourth year as president and she says there have been some twists and turns, but just being able to be a part of the game is special to her.
"It means a lot to me to know that I have a hand in creating a program that gives the best opportunity for baseball in Dauphin," said Romanow.
Jodie isn't sure who nominated her, but she appreciates the support that she has received over the years.
"It's quite an honour to be recognized like this," said Romanow. "It's always a great feeling getting recognized for anything you do."
Romanow says she works with a tremendous team and she's looking forward to the upcoming baseball season.
Details

Contributed by

Darnell Duff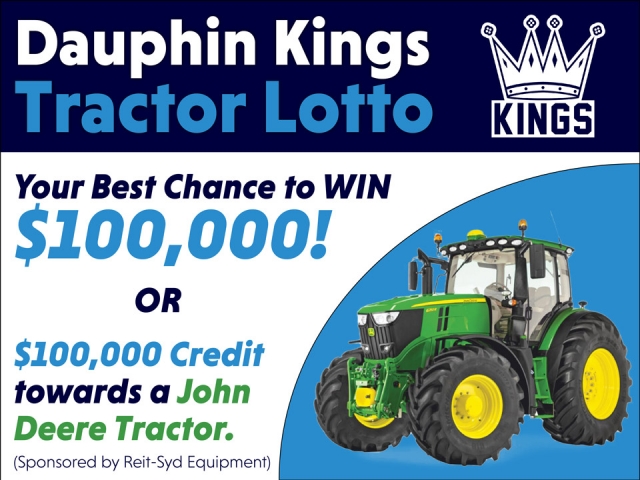 Everyone seems to be talking about how you don't even need to leave your house to purchase Dauphin Kings Tractor Lotto tickets this year. That's because the easiest and safest way to get your tickets is at Tractor Lotto or by calling 1-877-585-4647.
One of the great things about the Kings Tractor Lotto is the odds to win. On top of the $100,000 grand prize, there are ten draws for $1000, two draws for $2500, two draws for $5000, one draw for $10,000, and three additional draws for a 2021 John Deere E110 lawn tractor.
"Especially if you get a three-pack, the odds are really good to win a cash prize," said Christian Laughland, Director of Business Operations. "We're giving away more than $130,000."
As of Friday morning, the 50/50 is already more than $29,000. It's expected that it will get over $30,000 by the end of the weekend.
"Sales overall have been pretty solid with 50/50 and our regular tickets as well," offered Laughland. "The next two weeks will be very busy, and we're really excited about that."
Details

Contributed by

Darnell Duff
The push to the new Western Hockey League season continues as the campaign will begin on January 8, 2021.
Each team will play in their respective divisions. The four divisions will be the East Division, B.C. Division, U.S. Division, and the Central Division.
The Brandon Wheat Kings will compete against the Winnipeg ICE, Regina Pats, Saskatoon Blades, Swift Current Broncos, Prince Albert Raiders, and the Moose Jaw Warriors. When the season does begin, there will be a new man as the team's bench boss, but he isn't new to the organization.
It was announced earlier in the week that Don MacGillivray has been named the 24th head coach in Wheat Kings history.
"It means a lot to me. This is a storied franchise that has a lot of history and I'm glad to be a part of it," said MacGillivray. "This is something I've been working towards for a long time. It's been a long journey to get here, but at the same time, it makes it really satisfying to accept the position."
This will be Don's fifth season on the team's coaching staff. He spent the previous four years as an assistant coach. The first three years were spent with David Anning. Brandon advanced to the playoffs in two of the first three years.
"I enjoyed my time with David. He taught me a lot and it allowed me the opportunity to get better every day and that's key," said MacGillivray. "I firmly believe that if you're not improving all the time, you're doing something wrong."
When David's contract wasn't renewed, the search for a new bench boss began. Don was a candidate for the position. However; in the end, Dave Lowry was hired as the new head coach of Brandon. He led the team to a 35 win campaign last year. Lowry has since signed a contract to become an assistant coach with the Winnipeg Jets.
Don says not getting the job before last season was likely the best thing that had ever happened to him because he had the opportunity to work alongside Lowry.
"I was so grateful for the opportunity. Dave is an incredible person and an unbelievable coach. I can't thank him enough," said MacGillivray. "It was like a coaching conference every day with us. I had the chance to pick his brain and improve. At the time perhaps it was a setback, but it was probably the best thing to happen."
Mark Delago:
He played 237 games (including playoffs) with the Wheat Kings before he enjoyed professional stints in the American Hockey League, ECHL, and in Denmark, just to name a few. He joined the Wheat Kings coaching staff as an assistant coach last year.
MacGillivray said the process to finalize the coaching staff is still in the works; however, he has confirmed that Derlago will return behind the bench for the upcoming season. Don and Mark became very close last year and the new bench boss is looking forward to working alongside the former Wheat King.
"He has a great personality and it was great to have him on staff last year," offered MacGillivray. "He also learned a lot from Dave last season and I think he will even step more out of his comfort zone.
New season, high expectations:
If they weren't the hottest team to end the season, they were right near the top. Brandon went 18-5-3 in their final 26 games and they also had a ten-game winning streak that went from late December to late January.
With a solid group of returnees set to return to Brandon accompanied by a solid cast of prospects and players looking to break out, the feeling in Brandon is very upbeat right now. No one knows how many games will be played right now or how the upcoming season will work -- besides inter-division play being a lock -- but one thing is guaranteed, the Wheat Kings are expecting to do big things.
"We're really happy with where we're at when it comes to our roster," ended MacGillivray. "Our objective is to continue trending in the right direction based on last year's season end."
Don has also spent time as head coach of the Prince Albert Raiders. In 2008, he was named the Canada West Coach of the Year as a member of the Manitoba Bisons.
During a very successful tenure in the Manitoba Junior Hockey League, Don was named coach of the year on four occasions (1995, 2005, 2012, and 2013), he won a championship with the Terriers in 2005 and with the Blues in 2014 when he was the team's head coach and general manager.
He's won everywhere he has gone and Don will now try to win a league championship back to Brandon.
Details

Contributed by

Darnell Duff