Latest Sports
If you're a female born in 2008 or 2009 and you're looking to play some softball, you're in luck.
There will be a training session on Tuesday from 7:00-9:00 p.m. at the Parkland Crossing Gym.
If you want to play but you can't make it, call 204-891-4743 or email This email address is being protected from spambots. You need JavaScript enabled to view it..
Details

Contributed by

Darnell Duff
Two power play goals in 56 seconds were the difference as the Turnbull Cup playoffs started tonight.
Portage scored twice very quickly in the third and Dauphin couldn't respond as they dropped game one against the Terriers, 4-2.
Dauphin opened up the scoring in the game as Braeden Young took a pass from Avery Smith and he did the rest. Portage scored two straight to take a 2-1; however, Dauphin responded.
Cole Dekoninck scored on the man advantage to tie the game up. The rest of the way was all Terriers as they skated off with a solid win.
They also racked up 48 shots in the game as they maintained most of the possession. Levi Mitchell was a definite bright spot as he was tremendous.
Game two is set for Sunday. Darnell Duff has the pre-game at 6:15.
Details

Contributed by

Darnell Duff
The Dauphin Clinic Pharmacy Atom AA Kings played a great third period as they kicked off the provincials at Credit Union Place with a 3-3 tie.
Playing against Brandon, Dauphin trailed 3-1 after the second period, but they came up clutch in the third to tie it.
Noah Smigelski, Ethan Zalischuk, and Brayden Budolowski scored for Dauphin in the game.
Xander Perih made six saves on eight shots to start before he left the game due to injury. Ben Miner made 11 saves on 12 shots in relief.
Details

Contributed by

Darnell Duff
While there may be hockey provincials taking place in Dauphin this weekend, that's not the only spot. Holland will be hosting the Female Peewee Rural C provincials and that's where you'll find the Grand Plains Ice Dogs.
They're one of eight teams that will vie for a provincial title when the event begins today.
"Everyone on our team has really come together here lately," said Dave Minshull, Head Coach. "Early on, we only had a few players that were keeping up in games, but now, it seems that everyone is doing their part and it's great to see."
The Ice Dogs begin their quest this afternoon at 4:00 when they play Flin Flon and that is it for today. Tomorrow, the team will play two games to end their round-robin. Starting at 11:30 a.m., they're up against Altona.
They finish their round-robin with a game against Cross Lake at 4:00 p.m. The gold medal game is set for Sunday afternoon.
"I think the girls are firing all cylinders heading into the event and hopefully, they can keep it going," concluded Minshull. "It's been such a good year. We have a lot of travel with this team because players come from all over the Parkland. The parents have been tremendous and I really appreciate each and every one of them."
Details

Contributed by

Darnell Duff
75 wins and 157 points, that's what the Dauphin Kings and Portage Terriers combined for in the regular season. Now, none of those stats matter as the Turnbull Cup Playoffs are set to begin inside of Stride Place tonight.
Dauphin and Portage meet in the playoffs for the first time in 2011 when the Terriers got past the Kings in six games. This season also marks the first time since the 2013-14 campaign that Dauphin racked up more than 30 wins. In that 13-14 season, Dauphin advanced to the league final with eight straight wins.
Dauphin and Portage split the season series with both teams winning three games. The Terriers ended the season with eight wins in their last 10 games while Dauphin took down seven of their last 10.
Joey Moffatt led Portage against Dauphin with 11 points while Grady Hobbs, Nakodan Greyeyes, Cole DeKoninck, Austin Lamotte, and Carter Sawchuk all had five points.
Dauphin went 5/32 on the power play against Portage while they went 20/24 on the penalty kill. That means Portage went 4/24 on the power play while they killed off 27 of the 32 penalties they took against Dauphin. Overall, it was a season series that provided fans with many thrills.
Dauphin does have the top line in the series. Grady Hobbs, Baron Thompson, and Nakodan Greyeyes have combined for 66 points in their last 19 games. This season in total, the trio has combined for 218 points and Hobbs is this year's Most Valuable Player across the MJHL.
Eight different Kings' had at least 30 points. Cole DeKoninck's 62 points were the most of any defender in the league.
When it comes to Portage, Joey Moffatt led the way with 68 points with 10 players securing at least 30 points. All in all, both teams have firepower, it's just going to come down to who can get it done the most and we've already seen a ton of goals between the teams.
Darnell Duff kicks off the series tonight with the Parkland Source for Sports pre-game show at 7:00 p.m.
Details

Contributed by

Darnell Duff
Hockey Manitoba Provincial Championships continue this weekend and one event is set to make a stop in Dauphin. The Dauphin Minor Hockey Association will host the Atom Rural AA event inside of Credit Union Place and the Rotary Arena.
Here is the official schedule:
Stay tuned to 730CKDM all weekend long for all of your updates!
Details

Contributed by

Darnell Duff
Ashton Hlady has put the Dauphin Clippers hockey team within one game of the Westman High School League Final.
Hosting Sandy Bay tonight in game one of the semi-final, Hlady lit the lamp three times to lead Dauphin in a 4-1 win.
The Badgers scored first in the game; however, that was it as Bode Childs was solid in net.
Austin Storey scored Dauphin's other goal. Game two is set for Sunday back in Sandy Bay.
Details

Contributed by

Darnell Duff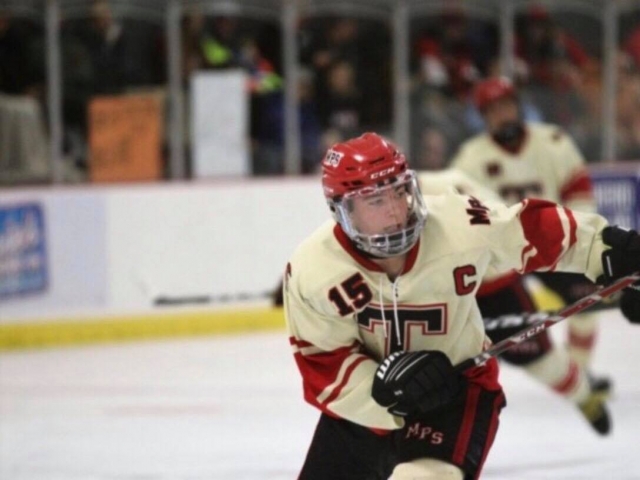 The Major Pratt Trojans hockey team has enjoyed a lot of success in the Westman High School Hockey League to date. They went 19-3-1 and they finished second place in the North Division, only behind their Parkland rival Dauphin Clippers.
When it came to producing goals, that came quite easy for the team as they scored 172 times over their 23 game regular season schedule. That was tied with Killarney for the most in the league.
A big piece of their success this season was their captain, Dawson Tweet. The grade 12 student had 26 points in 20 games prior to the postseason. With the playoffs now underway and a provincial qualifier in the past, Tweet has really stepped it up and taken his game to a new level.
In the past four games, Tweet has eight goals and nine assists. The production came in their two provincial qualifier games and their first two playoff games. Thanks to his success, the Russell native has been recognized by the Manitoba High School Athletic Association. He's this week's Rural Athlete of the Week.
"It feels pretty cool, it's definitely a huge honour," said Tweet. "I work hard all year and it's nice to get that recognition. I also owe a ton of the credit to my teammates and my coaches; I couldn't do it without them."
In the provincial qualifier, Major Pratt skated handily past their opponents. They first beat Birtle, 8-4 and they followed that up with a 4-0 win against Boissevain. With the two wins, the team is heading to the A/AA Provincial Championships that will be played in Rivers from March 12-14.
"We love going to provincials. For us to be able to qualify with those two big wins, it's going to be a ton of fun and I can't wait," continued Tweet.

"We have pretty high expectations. We have a good group of guys and we work hard always," he added. "I think we should do well at this."
When it comes to playing in the Westman High School League, their semi-final begins tonight and a tough task is ahead. They'll play the Killarney/Wawanesa Raiders who finished first in the entire league. Killarney also swept their first-round series against Swan Valley. Dawson had one assist in a 6-3 loss against Killarney back on January 31.
"They're number one for a reason, they're very strong and they've had a great season," added Tweet. "With that said, we feel we have very similar lineups. We're both deep and we both work hard, it should be a fun one."
After tonight's game one in Wawanesa at 8:00 p.m., the teams return to Russell on Saturday at 2:00 p.m. If need be, Sunday's game three will be in Killarney at 1:30 p.m.
Not only does Dawson succeed on the ice, but he does in the classroom as well. He maintains an 88% average.
"My parents always told me that I need to keep my grades up so I've always worked hard in the classroom," he concluded. "Keeping them up is also the key to pursuing post-secondary education and that's what I want to do."
Details

Contributed by

Darnell Duff
The Swan Valley Stampeders will be looking to make a return to the MJHL Final. The road to that starts with a best of seven series against the Waywayseecappo Wolverines. After finishing fourth in the league, the Stampeders will have home-ice advantage against Waywayseecappo who finished in fifth.
Based on the standings, Swan Valley will be favourites in the series but also because of how they played the Wolverines all season long. Swan Valley went 4-2 against them in the regular season and they scored 22 goals while they only gave up 13. The Stamps' finished the season with five more points than Wayway.
"It's going to be a battle, there's no question about that," said Barry Wolff, Head Coach, and General Manager. "They're tenacious, they work hard, they compete and they have a lot of offence from the back end. We have to match those to have a chance here."
Wayway finished the season on fire as they went 7-2-1 in their last 10 games. In their final two games, they outscored their opponents 9-1 and they shutout Virden, 5-0, in their 60th game. Wayway did double up Swan Valley back on February 19 in their final meeting of the season.
The Stamps', meanwhile, went 5-4-1 in their final 10 games. They beat Steinbach on back-to-back nights before they dropped their season finale against Virden in a shootout, 6-5.
They had 35 wins overall compared to the Wolverines 32.
"We were okay down the stretch. We were so banged up and I know everyone has a tough schedule at the end, but we played like 12 games in just about three weeks," continued Wolff. "We had a couple forwards playing defence, but we found a way to work on the things we needed to and we secured some points in the process. Hopefully, with the rest, we had in the past 10 days or so that we'll be ready for the playoff run here."
Game one between the Stampeders and Wolverines is set for tomorrow night at 7:30 at the Centennial Arena. The two teams won't play game two until Monday at the Waywayseecappo Arena Complex.
If need be, game seven is set for March 18 in Swan River.
"It's a big thing for us to have our home crowd to start the series, hopefully, we can build some confidence and momentum out of game one to move forward with," concluded Wolff. "We know Wayway will bring some fans on their bus, but we feel really good about starting on home ice so we'll see how it goes."
Here is the entire series schedule:
Game 1 - Friday, March 6 @ Swan River Centennial Arena - 7:30 p.m.
Game 2 - Monday, March 9 @ Waywayseecappo Arena Complex - 7:30 p.m.
Game 3 - Wednesday, March 11 @ Swan River Centennial Arena - 7:30 p.m.
Game 4 - Friday, March 13 @ Waywayseecappo Arena Complex - 7:30 p.m.
Game 5 - Monday, March 16 @ Swan River Centennial Arena - 7:30 p.m.
Game 6 - Tuesday, March 17 - Waywayseecappo Arena Complex - 7:30 p.m.
Game 7 - Wednesday, March 18 - Swan River Centennial Arena - 7:30 p.m.
Details

Contributed by

Darnell Duff
Whether it's right after school, late at night, on the weekends or anytime in between, if you visit the McCreary Centennial Arena, there's a great chance you'll see a packed ice surface.
Sometimes it will be for organized practice and sometimes, it'll be because kids in the community and area just love playing the game and they do it on their own time.
Clearly the hard work has paid off in a big way this season. Earlier this week, the Peewee Mustangs completed a perfect season by winning the Parkissimo Hockey League "A" side. Now, another Mustangs team is on top. The Atom Mustangs have also claimed the "A" side title in the Parkissimo Hockey League.
They did so by taking down Rivers in front of their home crowd, 6-2.
Easten Turko led the way with two goals in the win. Reese Scott also scored twice while Nicklas Hopfner and Nathan Peeler notched one each.
Details

Contributed by

Darnell Duff
It's been a hard week of preparation for the Dauphin Kings as they get ready for round one of the Turnbull Cup Playoffs against the Portage Terriers. That preparation will include one more full practice today and one morning skate tomorrow.
When the afternoon rolls around, the team will board their bus with the destination of Stride Place as game one will take place at 7:30 against the Centennial Cup hosts and second-seeded team in the Manitoba Junior Hockey League.
For Baron Thompson, playoff hockey isn't something he hasn't experienced before. However, tomorrow's game will mark his MJHL playoff debut as his previous playoff games came with the Western Hockey League's Brandon Wheat Kings.
After a 63 point regular season with Dauphin and an average of 1.43 points, that's all in the past and Thompson is ready to get the playoff grind going.
"I'm more anxious than anything else. We've been doing pretty well lately and we're really excited to get at it against Portage," said Thompson. "I'm not ready to shut the book on my junior career."
Dauphin has enjoyed success against Portage this season. They won three out of the six meetings in the regular season including a 7-4 win in their last meeting. Overall this season, Dauphin won 31 games, two more than last year.
"We did pretty well against them all year. I think we have a pretty good chance. We can't take them lightly and they can't take us lightly," continued Thompson. "Its playoff hockey, it's different. Everything moves that much faster and we have to be ready for war."
Prior to the playoffs and their week of practice, Dauphin held their Awards Night this past Monday at the Aspen Lodge. At that event, Baron was named a co-MVP with Nakodan Greyeyes and Grady Hobbs. The line has terrorized teams all season long and they'll look to continue that beginning tomorrow.
"I wouldn't have gotten that award without those two guys, we just started clicking," concluded Thompson. "It got to a point where I would just send the puck into the corner and they would be there. We grew that bond."
Every year, the Kings do a Parkland Source for Sports 3 Stars Award from the regular season.
This year with his 32 points, Baron was named the third star.
Details

Contributed by

Darnell Duff