Latest Sports
They're known as the Pine Creek Warriors and they're dominating the 3-on-3 basketball scene.
All from Pine Creek, Kamdyn McKay, Mason Chartrand, Rylan Chartrand and Phillip Desmarais joined forces to play in a 3-on-3 tournament back in August in Winnipeg. They never lost a game as they claimed a championship.
"That was great, it felt so good to come together and win together," said McKay.
Winning that tournament was just the start for the four from Pine Creek as that title earned them a spot in the Hoop It Up 3-on-3 National Championship which was played in Tempe, Arizona. Playing in the 16U age group, the four had confidence going in after winning the tournament in Winnipeg; however, they didn't fully know what to expect now that they would play players from all around North America.
And while the competition was the toughest they had come against yet, no one was able to contain the Warriors. The four went undefeated in the round-robin and they capped off the playoffs with a stunning 15-13 win in overtime as they claimed the title. It was a dream come true for the four players from Pine Creek who had never competed on the basketball national stage in the past.
"You never think something like this will happen, such a special feeling," said McKay. "All of our supporters back home were behind us, they had a huge parade for us when we got back home. Our Chief and Council were at the parade and everyone around the community, it was amazing."
Now that Kamdyn, Mason, Rylan and Phillip are back in Pine Creek, they are setting their sights on winning a provincial title when the high school basketball season gets underway. McKay says the team this year is very solid and he's looking forward to getting back at it with his teammates.
Details

Contributed by

Darnell Duff
A red-hot third period has the Parkland U18 Rangers still rolling.
Down 2-1 entering the final frame in Shoal Lake on Tuesday night, Parkland recorded 25 shots in the period and scored three goals to come from behind for a 4-2 win.
Rylan Gibbs scored in the second period while Cash Clarkson, Bo Eisner and Kyan Grouette found the back of the net in the third. Brenden Birch-Hayden was solid making 35 saves, Parkland had 47 shots.
Parkland has won four straight games and seven of their last eight heading into a big weekend series with the Winnipeg Wild. The team is just three points out of fourth place in the league.
Details

Contributed by

Darnell Duff
The Parkland U15 Women's Rangers season is well underway and this past weekend will go down as a memorable one.
Playing in a Showcase in Winnipeg, the Rangers beat the Twins in a thriller, 3-2. Sara Hopfner and Ffion Devonald scored for Parkland in regulation time.
And then Montana Jubenvill ended the game with a penalty shot in extra time. It was Parkland's first win of the season and it came against a very strong Winnipeg-based club. Grace Kirk wears #15 for the Rangers, she's the team's captain and she was proud of the team.
"The girls were super pumped up after the win, it was special," said Kirk. "We were really pleased with how hard we worked and our performance."
Then one day later, Carli Durston led the way as she scored twice as Parkland doubled up the Brandon Wheat Kings, 4-2. Ffion Devonald scored another goal for the Rangers while Adel Wiebe also found the back of the net. The team finished their weekend with a 2-1 record.
And now, the team is back on home ice this Friday when they play the Pembina Valley Hawks at the GACC in Grandview. They will also practice on Sunday afternoon. Fresh off their first two wins of the season, Kirk says the team is ready to go out and get some more.
"Getting those wins last weekend definitely helped us feel better about our game," said Kirk. "We now know how to get it done. Our confidence level has gone up quite a bit and we're looking forward to getting back at it this weekend."
Details

Contributed by

Darnell Duff
The Parkland Gators swim team put together a great performance at their most recent meet in Winnipeg. Seven swimmers secured their Provincial 'A' times which qualified them for the provincials in February.
Paityn Bourgouin recorded her first 'A' time in the 50m backstroke and Chayne Paziuk attended his first swim meet and also achieved his first A times in the 50m free and the 100m back.
Here is how the rest of the team finished.
Paityn Bourgouin
5th 200m back 9th 50m back
Mila Heschuk
4th 50m breast and 5th in the 400m free
Mya Jensen
4th 200m free and 6th 200m back
Chayne Paziuk
3rd 100m back and 10th 50m fly
Jade Toews
7th 50m breast and 9th 200m back
Sophia Heschuk
5th 100m breast, 7th 200m IM and 50m breast Mia Zamrykut - 4th in 50m and 200m back
Details

Contributed by

Darnell Duff
It was an exciting weekend of volleyball for a few high school teams in the Parkland.
Playing in the 'A' varsity boys provincial championships, the McCreary Mavericks earned a bronze medal. They downed the Melita Marauders, 25-22 and 25-18 in the third-place match. And prior to that game, they also downed Melita the first time and Riverton. Ryan Benson and Chris Szewcyk were named tournament all-stars.
This team battled all year and came together when it mattered, I can't express how difficult it will be to replace these seniors at the end of the year," said coach Daniel Macfarlane. "They've been such a massive part of our program, both on and off the court, for so many years now."
The Grandview Spartans varsity girls team; meanwhile, finished the season with a silver medal at the provincials. The team lost just one set as they won all three of their round-robin games and they then beat Nellie McClung and Glenboro in their first two playoff games. Ultimately, they came up short against the Hamiota Huskies in the championship game.
And in Warren, the Major Pratt Trojans finished with a 2-1 record in the round-robin. They would then win all six of their playoff sets to win the championship. In the finals, they got their revenge on Warren. The host team beat the Trojans in the round-robin, but they couldn't get past them when everything was on the line.
Details

Contributed by

Darnell Duff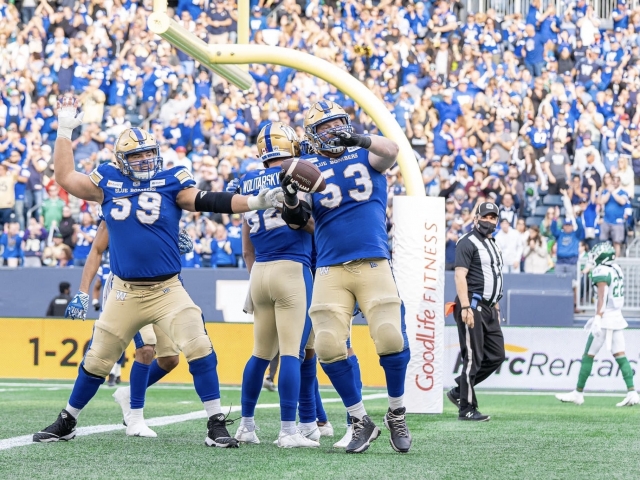 The Winnipeg Blue Bombers are heading to Hamilton.
After a nail biting 21-17 win on Sunday against Saskatchewan, the Blue and Gold have advanced to the 108th Grey Cup. The team will look to defend their title after downing the Tiger-Cats in 2019 and next Sunday, the two teams will go head-to-head again.
It wasn't a pretty win by any means for Winnipeg who turned over the ball six times but the top team in the league got in done in the end and that's all that really matters.
Andrew Harris scored a touchdown and ran for 136 yards while Zach Collaros threw for 229 yards.
Details

Contributed by

Darnell Duff
Photo credit - Pederson Photographic
=====
The Dauphin Kings battled back but it was a battle that came up just short.
Wrapping up a home-and-home with the Steinbach Pistons, the road team jumped out to a 3-0 lead and they didn't look back as they downed the Kings, 5-3 on Saturday night.
In a game that started 60 minutes later than originally scheduled, Dauphin got out to a slow start and ultimately, they couldn't rebound as they lost for a second straight night.
Dauphin's Garrett Hrechka scored a goal for the Kings while Luke Morris and Owen Wareham also scored a single for Dauphin in the defeat.
Despite the loss, Dauphin is now 20-6 on the season and they lead the West Division and are just one point behind Steinbach for first place overall.
Next up for the team is a home-and-home with the Winnipeg Blues next weekend.
King Tips:
Dauphin has now lost two straight games for the first game this season
Dauphin went 0-for-2 on the man advantage while Steinbach converted on one of their three chances
Jack Rogers had a tremendous game for Dauphin, registering one goal and two assists
Carson Cherepak was pulled for the first time this season, making eight saves on 11 shots
Details

Contributed by

Darnell Duff
The Dauphin Kings put up 47 shots on Friday night but they ran into a hot goaltender as their eight-game winning streak was snapped.
Opening a home-and-home against Steinbach, Dauphin never led as they dropped a 4-2 contest. The win saw Steinbach win their 19th game and they're only one point behind the Kings for first overall in the standings.
Kaden Bryant scored on a power play while Garrett Hrechka scored Dauphin's other goal in the defeat.
Despite the loss, Dauphin is still 20-5 on the season and they lead the West Division by six points over Waywayseecappo. Steinbach; meanwhile, have a four-point lead atop the East Division.
King Tips:
Both teams went 1-for-2 on the man advantage
Dauphin held Steinbach to fewer than 10 shots in two periods.
With his goal, Kaden Bryant now has nine in his last five games
The season series is now tied at one game apiece
Details

Contributed by

Darnell Duff
Photo credit - Pederson Photographic
=====
The top two teams in the Manitoba Junior Hockey League are set to square off in a home-and-home this weekend, starting in Steinbach.
The Dauphin Kings open up the weekend on the road at the TG Smith Centre as they take on the Steinbach Pistons. In their recent meeting, Kaden Bryant scored three times as Dauphin earned a convincing 6-2 win at the league's showcase last week.
Since that game, Dauphin won three more games in a row and they are now riding an eight-game winning streak and have reached 20 wins. Remarkably, they reached 20 wins before December even started.
Since that loss meanwhile; Steinbach has also won three games in a row and they now have 18 wins to sit in second place in the league, two points behind Dauphin.
Offensively, Steinbach has a slight edge as they've scored 103 goals while Dauphin has found the back of the net 97 times. However, defensively, just like they are in the standings, Dauphin is on top. The team has given up just 49 goals which averages to just more than two per game. The Winnipeg Blues are the team that's allowed the second fewest with 59 while Steinbach has given up 64.
Dauphin and Steinbach are third and fifth, respectively on the man advantage this season while they are one and two on the penalty kill.
One of the major keys to success for Dauphin when the home-and-home opens on Friday is to allow two or fewer goals. Of their 20 wins, the Kings have given up two or fewer 16 times and they're a perfect 16-0 when doing so.
Dauphin has scored at least four goals in six straight games while Steinbach scored 10 times in last weekend's games against Neepawa
By the numbers:
Dauphin
GF - 97
GA - 49
PP% - 24.5
PK% - 89.2
Road record - 10-2
Leaders - Colby Jaquet 6g, 24a
Kaden Bryant 17g, 12a
Parker Malchuk 6g, 15a
Carson Cherepak 16-3, .929 save percentage, 2.04 goals-against average
==========
Steinbach
GF - 97
GA - 49
PP% - 20.4
PK% - 88.3
Home record - 10-2
Leaders - Dawson Milliken 13g, 14a
Davis Fry 8g, 19a
Jack Rogers 10g, 15a
Simon Harkness 10-4, .899 save percentage, 2.92 goals-against average.
Details

Contributed by

Darnell Duff
The Saskatchewan Roughriders survived a slugfest of a night to defeat the Calgary Stampeders 33-30 to advance to the Western Final.
Cody Fajardo survived a four-interception night and Brett Lauther hit a 34-yard field goal to put the game away, as the Riders advance to their second consecutive Western Final. They'll face the Winnipeg Blue Bombers at IG Field on Dec. 5, to battle for a berth in the 108th Grey Cup.
Ed Gainey also had two interceptions for the Roughriders in the game and he's expected to play a big factor come Sunday. Buck Pierce is Winnipeg's offensive coordinator and he knows the Riders will be stingy on the defensive side of the ball.
"They're playing with confidence which is a key component to playoff football," said Pierce. "They believe in each other and they're starting to click on that side of the ball with some big-time plays."
One of the side notes people have been talking about this week is the weather and how it may play an impact on the game. At the time of publishing, the forecast is calling for a chance of flurries and minus 5 for Sunday afternoon when the two teams kick off at 3:00 p.m. But whether it's hot or cold, Pierce doesn't believe it should change many things.
"People always like to put things in your head of what you can't do, but I tend to believe the other way," said Pierce. "We've been practicing in the cold and we're going to be able to execute our offence."
Winnipeg outscored Saskatchewan, 56-17 in two regular-season meetings this year. You can hear the game on Sunday right here on 730CKDM with Bob Irving. It'll be Irving's final game as he is set to hang up the mic after a near five-decade career with the Blue and Gold.
Details

Contributed by

Darnell Duff
Klim Georgiev's first practice with the Kings was back on October 21 and now more than a month later, the native of Toronto has now played 13 games with the team, scoring twice and adding five assists.
Klim started his season with the Cowichan Valley Capitals of the British Columbia Hockey League before coming to Dauphin and he's been a welcomed addition to the team's back end and has been put in every situation possible from on the man advantage to on the penalty kill and everything in between.
Klim's last full season was in the 2019-20 campaign when he suited up for the Toronto Jr. Canadiens of the Ontario Junior Hockey League. He had 24 points, seven of which were goals across 48 games and he also racked up 115 penalty minutes. And while living in a small community is a new experience for Georgiev, he's really enjoying it.
"It's been a great time so far, Dauphin has surprised me," said Georgiev. "When you think of a medium-sized town in Manitoba, I didn't really think much of it but it's a beautiful place and I've liked what I have seen so far."
Heading into last week's showcase, Klim had one goal to his name but he added to that by scoring his biggest goal as a King, the game-winner against the Winnipeg Blues on Wednesday afternoon. The win moved the team's winning streak to six games at the time and they are now winners of eight straight and Dauphin is the only team in the league with 20 wins.
"It was a good feeling to get that one. I'm just happy that the team rallied to win that game," said Georgiev.
Klim also shared a special moment with two Kings Superfans over the weekend. After a thrilling 4-3 overtime win against the Portage Terriers, Georgiev joined Areta and Jim Kozar of Ethelbert for a photo. It was one that the Kozar's were looking forward to and so was Georgiev.
"They're great people, it was pretty special," said Georgiev. "I promised them a signature a few games before so I'm glad it happened. I'm looking forward to seeing them in the rink again this weekend."
Klim will be back on the ice this weekend as Dauphin opens a home-and-home with the Steinbach Pistons on Friday at TG Smith Centre in the Automobile City. The two teams return to Dauphin on Saturday night at 7:30.
Get to know Georgiev:
What are your hobbies? I love spending tons of time with my family and friends, golf, play poker and I enjoy playing video games as well
When did you realize you wanted to play hockey competitively? It was pretty frustrating for me when I was younger because I wasn't a good skater. But my parents really wanted me to play so I stuck with it and here we are, it's been a pretty cool family journey
What is your ultimate goal? Moving forward, I would love to get a university scholarship. But for now, I just want to win a championship with this team, that's all I'm thinking about
Georgiev's grandma lives in Russia and he says he would love to spend some more time with her.
Details

Contributed by

Darnell Duff