Latest Sports
During his time playing baseball in the Parkland within the Dauphin Minor Baseball Association, William Hlady always had a dream and it was a goal of his to play the game he loves at the next level.
In the fall of 2016, William officially achieved that goal and was given a chance to live out his childhood dream. He joined the Iowa Wesleyan University Tigers baseball team. Joining the Tigers meant he packed up his bags and moved more than 15 hours away from home as a 17-year-old. Iowa Wesleyan is just more than three hours away from St. Louis.
"That was a culture shock, it's always going to be moving to a different country," said Hlady. "The number of practices was way more than I was used to. In Dauphin, we would practice like two times a week, but in Iowa, we were practicing every day and we were in the gym lifting weights a few times a week.
Of course, you have to add Hlady's studies so times were very busy for him. Hlady adds that he really enjoyed his first year playing with the Tigers; however, he decided he needed a change after year two and a change was exactly what happened.
After spending two years more than 15 hours away from home, Hlady moved much closer to home to continue his college career as he joined the Valley City University Vikings baseball team. Located near Jamestown, North Dakota, Valley City is just more than six hours away from Dauphin.
William is now into his second full year with the team after playing his rookie season last year. Currently, the team is playing its fall season.
"It's been fantastic and a ton of fun," offered Hlady. "We have a really tight-knit group; everyone gets along with one another. Our coaching staff is great and I've really enjoyed being here."
The team's 2019-2020 season was interrupted after a 9-3 loss against Mayville State University on March 15 because of the novel coronavirus. Every game for the remainder of the season was canceled. Prior to that, the team was sitting at 6-10 and Hlady found himself on the mound more than any other pitcher on his team. He finished the season pitching 24.2 innings to go along with a 4.74 ERA. William gave up just 13 earned runs and he had 15 strikeouts over the course of his action. His record when the season ended was 1-1
"I think I could have done a little bit better, but I think everyone has a goal of being better, regardless of how they did," said Hlady. "Overall, I think it was a pretty solid season for me and I had the chance to grow a ton throughout the season."
Hlady is back with the Vikings as they roll on with their fall season before winter rolls around. The team is 1-1 and William is a big reason why they earned a win. After opening the season with a 7-1 loss against Mayville State, Hlady was the star of the show in an 8-4 win, also against Mayville State.
William came on to pitch with the bases loaded and only one out, a tough spot to enter for anyone, but the Dauphinite didn't let it phase him. He only gave up one run in that inning -- which will go down as an unearned run -- and he went on to pitch 3.2 innings. He struck out five Mayville State batters in that game, only walked one batter and he threw 59 pitches as the team went on to win their first game of the season.
"It was really great to get back on the mound. That was a tough situation, but I just stayed confident in my abilities and found a way to get out of it with limited damage," offered Hlady. "Our batters got the job done and we were happy to pick up the win."
The Vikings will play seven more games in the fall season. Three of them coming against the University of Jamestown, three are against Morningside College, and one more against Mayville State. The team will then break for the winter before returning for a spring season.
"The fall season gives us a great opportunity to see what we need to work on in the winter," ended Hlady. "I'm feeling pretty good about my game right now and I look forward to getting more opportunities and proving what I can do."
Details

Contributed by

Darnell Duff
There is just one more hurdle that the Manitoba AAA U18 Hockey League has to get over for a 2020-2021 season to take place and that's approval from Hockey Manitoba.
If the league does get approval -- a modified season schedule would begin on Friday, October 16 -- a date the Parkland U18 Rangers would surely be ready for. The organization will host its main camp this weekend inside of Credit Union Place.
It was originally scheduled for earlier this month but because of the season delay, the Rangers also delayed main camp. Tyler Carefoot will coach alongside Rick Freese this season and he's thrilled to get things going for real.
"Ecstatic I think is a really good word to use and relieved," said Carefoot. "We're fortunate that we have a Return-to-Play plan. We're looking forward to opening camp on Friday and preparing for the season. There is a lot to be excited about, that's for sure."
The Rangers have been holding conditioning camps twice a week since the ice was put in Credit Union Place late last month. There will be two groups and both feature 19 skaters and two goalies each. The list includes returning veterans Hayden Lacquette, Jayden Jubenvill, Keaton Ziprick, and Rylan Gibbs, just to name a few.
Several U15 Rangers from last season are also ready to try and crack the roster. That list includes Brayden Dube who was drafted 29th overall by Seattle in the WHL Draft, Madden Murray, Carter Zalischuk, and Kyan Grouette, just to name a few as well.
In past years, the Rangers have had trouble getting players out to camp. This year, more than 40 will hit the ice looking to make the team beginning on Friday.
"We want the program to have success, we think the program deserves success, and of course, the players," said Carefoot. "I think this is a special year, I really believe we have the core and the recruitment class that is coming on to put something special together."
The public is welcome inside the arena to watch this weekend's action as Prairie Mountain Health is no longer under the "restricted" level. The first ice session on Friday is at 6:15 followed by another one at 7:45 p.m.
A mini-tournament begins on Saturday morning at 11:00 a.m. which consists of four different teams. Ultimately, the finals of the tournament will be played at 3:45 on Sunday afternoon. The Dauphin Kings will then play the Neepawa Natives at 7:30 on Sunday night.
"If conditioning camp was any indication of how things are going to be, it's going to be extremely exciting," ended Carefoot. "Rick and I have coached a lot of these kids over the years and we're expecting things to be ultra-competitive."
Details

Contributed by

Darnell Duff
The 2021 National Aboriginal Hockey Championships have been cancelled.
The event was scheduled to be played in Winnipeg from May 1-9, 2021.
"The health, safety, and well-being of our community is most important to the ASC, our board, and the organizing committees," said Aboriginal Sport Circle CEO Carey Calder. "While we are saddened to postpone this event due to the global pandemic, we look forward to a time when our athletes can hit the ice again to showcase their skills and pride for their regions when it is safe to do so."
The 2020 tournament was supposed to be played in Regina back in May; however, that was cancelled due to the COVID-19 pandemic as well.
"The difficult decision to recommend postponing the 2021 NAHC was presented by the hockey committee considering all available information and uncertainties, along with the risk to not only the athletes but their communities," said Jeff Spencer, the ASC's hockey committee president.
Dauphin Kings forwards Austin Lamotte and Nakodan Greyeyes have played in the event in the past.
The Aboriginal Sport Circle says the NAHC event is an important cultural event that fosters Indigenous unity and pride, and celebrates the athletic abilities of elite Indigenous athletes from across the country.
Details

Contributed by

Darnell Duff
Mitch Drysdale was born in Brandon and he was raised on a farm in Eddystone. Drysdale was always a big fan of sports growing up with hockey being one of his favourites.
When he turned 12, he became a hockey official as a way to make some extra money, and about a dozen of his friends were also taking that path. Once you become an official, there's an opportunity to climb up the ranks with some determination, dedication, and of course, knowledge.
Fast forward four years and Drysdale got a promotion as he was the head of the three-man system officiating in Grand Plains as a 16-year-old.
"It was a nice change to take control of the game. I was on the ice with younger players so I had a good opportunity to learn where I needed to be at all times," said Drysdale.
Then in the 2006-2007 season, Drysdale made another jump, one that he wasn't exactly expecting at that time. He joined Kerry Fidierchuk on a trip up north for a pair of OCN Blizzard games where Drysdale officially made his Manitoba Junior Hockey League debut at the Gordon Lathlin.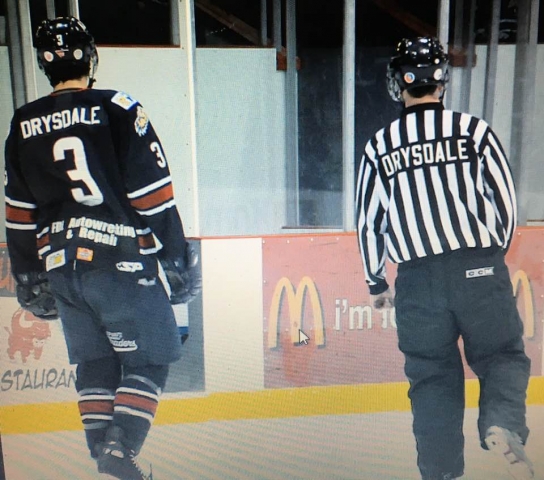 He was quickly front and centre as he broke up a couple of fights and if you've never been to a game at the Gordon Lathlin before, there isn't anything quite like it when that facility gets packed with people, something that it certainly has been in the past.
"The first thing that was going through my mind was like oh man, I'm actually going to line a game in the MJHL," said Drysdale. "It was a pretty great opportunity and it was an experience that I've cherished ever since."
So Drysdale got a taste of what it was like lining in the MJHL, but a taste wasn't enough for him. A former Dauphin Clipper hockey player himself, Drysdale became a full-time league official in the next season where he had the chance to line games inside of Credit Union Place.
Seven years ago, the string of promotions continued for Drysdale as he became a headman in the MJHL along with his duties of being a linesman.
Injury:
When Mitch was in high school, he played many different sports with one of them being hockey and another being football. Football is known as a sport that takes a big toll on a person's body and that was the case for Drysdale as he initially injured his right knee while on the field.
His knee continued to get worse over the years and two years ago, he completely tore his ACL in his right knee playing slo-pitch. He walked onto the diamond normally, but he was carried off and ended up on crutches.
Despite the injury, Mitch powered through and continued to ref games as it was something he really enjoyed, and over the years, he has become one of the best officials in the Parkland region.
Mitch's final game last year was on Sunday, December 22. Two days later on Christmas Eve, the Dauphinite was put under the knife as he underwent knee surgery years after initially hurting his knee in high school.
Drysdale didn't ref another game for the rest of the season as he regained strength and healed. He says not being on the ice was unfortunate, but he was still very much a part of the game.
"It was different not being on the ice with the guys. With that said, I was still able to head to the rink and talk to the guys," said Drysdale. "I also always sat in the booth with Al and he always makes the game entertaining, so that was fun. I didn't miss much hockey, that's for sure."
The Comeback:
Mitch didn't ref a game or spend any time on the ice for nine months. This past Sunday, Drysdale was back doing what he loves. He was the referee as the Kings held their JoFo Cup inside of Credit Union Place. He looked in midseason form and was able to keep up with the play, although he was sore after the game, but what ref isn't a bit sore after keeping up with elite junior hockey players.
"It felt pretty amazing, to be honest, just to be back at it," offered Drysdale. "I was kind of surprised with how good I was feeling and I'm feeling now. It was just nice to be back on the ice doing something I love."
Drysdale does plan on doing many more games throughout the winter months, they'll just have to line up with his busy work schedule, but you can certainly expect to see a ton of Mitch Drysdale inside of Credit Union Place this winter.
Details

Contributed by

Darnell Duff
When the clock struck 1:15 p.m. last Friday, Garrett Hrechka knew it was go time and although he has been in many important spots throughout his hockey career, this time could go down as the most important to date.
Hrechka from Dauphin, committed to his hometown junior team earlier this year and now, he's looking to make the opening day roster. Garrett has taken part in Kings' main camp in the past; however, he's always had a backup plan as he was eligible to return to the Parkland U18 Rangers.
In three seasons with the Rangers, Garrett scored 44 goals and added 57 assists for a 101 point total in 132 games. His final season with the program saw him score 24 points and add 39 assists.
All of that is now in the past and although Garrett knows he accomplished a fair bit during his time with the region's AAA team, he also knew that any past success wouldn't guarantee him a spot on the team, he would have to earn his way.
"I felt like I needed to give it my all, if I didn't impress Doug and the rest of the staff, my hockey career would be at a standstill," said Hrechka. "I knew how important this past weekend was going to be for me."
Hrechka took part in all four scrimmages over the weekend and he's happy with how things have been going.
"I think things have been going really good, I'm just trying to get more confident with the puck and I'm trying to get my speed up," offered Hrechka.
Then on Monday night, Hrechka was paired with Ben Hackl and Colby Ralston as the Club hosted their first preseason game against the Swan Valley Stampeders. The line dominated with 10 points in total, four of which were credited to Garrett including one goal. Garrett scored his first preseason goal just six minutes into the game after Hackl opened the scoring 59 seconds in.
"We played physical and we used our speed against them," he said. "We knew where each other were at all times and it worked out."
As the Winnipeg Freeze gets set to play their first-ever game on Tuesday night against the Blues, Hrechka is on top of the league when it comes to points, albeit just one game been played. He's also taking the approach that it was just one game.
"I'm not satisfied, that's for sure. I believe that I can do more than what I did on Monday and that's my mentality moving forward," said Hrechka.
The Kings will now have a hard week of practice beginning on Tuesday afternoon before they welcome the Neepawa Natives to town for preseason game number two on Sunday evening.
Take note, Sunday's game was originally scheduled for Saturday, October 3. It was always Garrett's dream to play junior hockey in his hometown, he's done it in the past, and he wants to continue doing it for years to come.
"It's always a tremendous feeling. Playing in front of my family and friends always means a ton to me," ended Hrechka. "I feed off that energy that the home crowd provides."
Details

Contributed by

Darnell Duff
It was a dominating performance from start to finish and as a result, the Dauphin Kings kicked off the preseason with a 6-1 win against the Swan Valley Stampeders.
The Stampeders only hit the double-digit mark in shots once -- when they had 10 in the second -- and they finished the contest with just 20 shots. Dauphin; meanwhile, had 57 shots, 26 of which were fired in the final frame.
"I thought we had a great work ethic, these are all kids fighting for jobs," said Chad Facey, assistant coach after the game. "Our team chemistry was great, there was a ton of life on the bench and it was a great win."
The line of Ben Hackl, Garrett Hrecka, and Colby Ralston couldn't be stopped on Monday night. Hackl scored twice and added one assist, Dauphin's Hrechka scored once and added three helpers while Ralston had three assists. In total, the line combined for 10 points.
Hackl opened up the scoring just 59 seconds into the game and Hrechka made it 2-0 at the 6:00 mark. Hackl added his second goal in the second frame.
"That line was very dominant, they moved the puck very well together," offered Facey. "They played in the hard areas, got in on the forecheck and they played solid defensively. They deserved what they got in the game."
After scoring a goal in Sunday's JoFo Cup, Zach Turner scored his first MJHL preseason goal as did Slade Stanick and Matthew Ramsay. Ekam Dhaliwal scored the lone goal in the game for the Stampeders who will end their preseason with a home-and-home against OCN.
Dauphin; meanwhile, is back on home ice on Sunday when they welcome the Neepawa Natives to Credit Union Place. They will then finish the preseason on Wednesday, September 30 when they play the Portage Terriers at Stride Place.
King Tips:
The line of Hrechka, Hackl, and Ralston combined for 10 points, the most of any line.
Mathias Savoie went 8-for-8 in net as he started the game for Dauphin while Ian Lee went 11-for-12 in relief.
Both Stampeder goalies were excellent. Darby Tipton went 22-for-24 while Tressor Wotton made 29 saves on 33 shots.
Dauphin's Hayden Lacquette had one assist and 10-of-18 Dauphin skaters had at least one point.
Dauphin went 0-for-2 on the power play while Swan Valley went just 1-for-7 in the defeat.
Game Summary:
1st
0:59 - Kings - Ben Hackl (1) ASST: Colby Ralston (1), Garrett Hrechka (1)
6:00 - Kings - Garrett Hrechka (1) ASST: Colby Ralston (2), Ben Hackl (1)
2nd
12:31 - Kings - Matthew Ramsey (1) ASST: Hayden Lacquette (1), Jayden Harris (1)
14:00 - Kings - Ben Hackl (2) ASST: Colby Ralston (3), Garrett Hrechka (2)
18:07 - Stampeders - Ekam Dhaliwal (1) ASST: Matthew Munro (1), Will Munro (1) (PP)
3rd
1:51 - Kings - Zach Turner (1) ASST: Braedon Lacomy (1)
16:25 - Kings - Slade Stanick (1) ASST: Nolan Wickham (1), Garrett Hrechka (3)
Details

Contributed by

Darnell Duff
Just as many other teams in the MJHL did, the Swan Valley Stampeders held their main camp over the weekend inside of the Centennial Arena.
Starting on Friday morning, the Club conducted skill sessions and several scrimmages also took place over the course of the three days. The list of players was capped at 34 and included a solid veteran presence and some Parkland prospects.
Will Munro, Stephan Arp, Zack Boychuk, Bo Eisner, and Matthew Munro, all of Swan River competed in the camp. Mikael Foucher who had an all-star type of season last year was back between the pipes as the Stampeders push to the regular season continues.
"It's been great, the intensity over the weekend was tremendous," offered Foucher. "There are a lot of new faces, it was exciting to see them trying to make the team, it's been fun."
Foucher won 24 games for Swan Valley last season which was tied for the third-most in the league. He had a .917 save percentage which was the second-best in the league and his 2.80 goals against average was the third-best in the league. Originally from St-Hubert, Quebec, Foucher joined the organization after an all-star 2018-2019 season with the St. Louis Jr. Blues who play in the NA3HL.
As a 20-year-old, Mikael knows he has just one more season of junior hockey to impress scouts at the next level and his off-season routine was full of workouts and preparation as he looks to help the Stampeders make the MJHL playoffs again, something they've become accustomed to over the past several years.
"I was hitting the weights a ton in the offseason, I want to continue getting bigger and stronger," said Foucher. "I want to be intense and help this team win games."
Swan Valley won 35 games last season and finished fourth in a highly competitive year in which eight teams won at least 31 games. They were up 2-1 on Waywayseecappo when the season was cut short due to the novel coronavirus and they put up 10 goals in game three against the Wolverines.
Barry Wolff had a busy summer adding pieces that the team had lost due to graduation after that game and Foucher is thrilled with what he's seen so far.
"The skill level is great, it's been super competitive," ended Foucher. "We have a lot of speed, we have some big guys, and we have skilled guys. It's going to be really interesting to see what we can do come October 9."
Swan Valley will play in the Northwest Division this year alongside the Dauphin Kings, Waywayseecappo Wolverines, and the OCN Blizzard. Each team will play each other eight times and each team plays their non-divisional opponents twice throughout the season.
Four games in nine days to begin the season for the Stampeders will begin on opening night. The first of eight Parkland battles is November 20 at the Centennial Arena and Darnell Duff will have the call of that game beginning at 6:45. That's the first of four straight between the Parkland rivals in a matter of nine days.
Details

Contributed by

Darnell Duff
The captain of the Winnipeg Jets is calling on Premier Brian Pallister to make masks mandatory in the province as Manitobans continue to fight COVID-19.
@BrianPallister time for universal mask mandate. Why not? Let's take care of each other.

— Blake Wheeler (@BiggieFunke) September 20, 2020
In the Prairie Mountain Health region, masks aren't mandatory. Certain companies do require mask-wearing; however, including Liquor Marts and Walmart, just to name a couple.
29 new cases of COVID were reported on Sunday while 40 were reported last Friday. Sandwiched in the middle were 18 cases on Saturday as the cases have surged in the province in the past week. 22 new cases and two additional deaths were reported on Monday.
Details

Contributed by

Darnell Duff
The Dauphin Kings ended main camp on Sunday afternoon with their annual JoFo Cup which was won by Team Trotz.
With that now in the past, the Kings will host their preseason opener tonight as the Swan Valley Stampeders are in town for the first of three tune-up games for the Kings leading up to October 9 which is when the 2020-2021 season officially begins.
Monday night's game will be the annual rookie game as both teams will ice young rosters. Included in Dauphin's roster will be Sean Williams, Zach Turner, and Brayden Stevenson, just to name a few. All three excelled over the weekend at main camp.
"We have some really strong 2002 born players and I really like our 16-year-old players," offered Hedley. "I'm looking forward to seeing them play against Swan Valley rookies."
After the game, the Kings will trim down their roster ahead of a full week of practice. The team's game against Neepawa that was scheduled to be played on Saturday, October 3, will now be played this Sunday, September 27.
Dauphin will end its preseason with a game in Portage against the Terriers on Wednesday, September 30.
"We're looking forward to a good week of compete and some practices, we'll have five of them before that game against Neepawa."
Kings Tips:
When will tickets be on sale before each game?
During the regular season, the ticket office will open at 6:30 p.m.
Do I have to wear a mask in the arena?
Yes, but once you are in your seat you may take it off. If you get up to get food, go to the washroom, or anything else it is mandatory that you wear a mask at this time.
All fans must use the self-assessment tool before attending games, and if feeling unwell, are asked to leave the building.
If you have an assigned seat, please remain in that seat. There is no standing at this time.
Fans on the concourse should be moving except when at the concessions, washrooms, or exiting the building.
Fans should remain in their seats during intermissions, except for moving directly to a washroom, concession, or when exiting the facility.
Fans are encouraged to socially distance themselves from people outside their household.
Right now there are about 100 walk-up tickets available for each regular-season game; however, as Season Tickets are sold that number will decrease. The Kings are also no longer selling Flex Packs for the season. Everyone who has purchased a Flex Pack will be given 10 or 30 vouchers to redeem at the Speedy Glass South Ticket Office before every Kings home game.
"Season tickets are currently being printed, so they're not quite ready yet," said Christian Laughland, Director of Business Operations. "We're hoping to have them ready for our next exhibition game which we expect to be on Sunday against Neepawa."
Details

Contributed by

Darnell Duff
A showdown between Dennis Lukey and John Tomlinson was needed to determine a champion as the Gilbert Plains Country Club held its club championship on Sunday.
In the end, Lukey captured victory on the second playoff hole. Both players shot 76 which forced a playoff.
Despite coming up just short, Tomlinson said it was a thrill.
"It was pretty great playing in front of the people watching the playoff, that was fun," said Tomlinson.
The second place finish caps off an impressive summer for John who won the 5th flight at the Tamarack and he also won Tuesday night men's league alongside Laurie Vrooman.
Dean Murray finished in third with a 77.
Walter Toderian won the first flight with an 84 while Scott Lynxleg placed second with an 85 which needed a count back. Finishing in third was Stan Mancheese.
Pearl Maksymetz won the ladies title with an 87 while Marilyn Schwitzer shot a 95. Finishing in third was Marie Sawyer with a 98.
The first flight was captured by Nettie Tycholes with her countback on a 114. Teresa Gulak finished in second, also scoring a 114.
Linda Murray finished in third with a 117.
The u18 championship flight was won by Jackson Delaurier shot an 80 while Boston Karlson fired an 88.
Hayden Shtykalo shot a 97 to win the u12 championship flight while Quinten Fisk shot 103. Zac Fillion fired a 105.
Closest to the Hole on #4 - John Tomlinson - 10' 2"
Closest to the Hole on #9 - Boston Karlson - 4'
Closest to the Hole on #14 - Kenai Mouck - 5'
Closest to the Hole on #17 - Gord Maclean - 10' 2.5"
Details

Contributed by

Darnell Duff
Dauphin Kings main camp has officially come to a close, but it didn't without a thriller inside of Credit Union Place on Sunday afternoon.
The team hosted its JoFo Cup and Team Barry Trotz nipped Team Butch Goring, 7-5. Team Trotz opened the game with a goal just 50 seconds in when Colby Jaquet fired one past a screened Mathias Savoie. Team Trotz would score three more goals in the period as they took a 4-0 lead heading into the second period.
Parker Fofonoff responded for Team Goring in the second as he scored two quick goals to bring Team White within two goals with plenty of time left. After Team Trotz made it 5-2, Team Goring scored two straight to bring the game within a goal.
Team Trotz would respond once again as they took a 6-4 lead late before Parker Malchuk beat Matthias Smith to bring the game within one. In the end, last year's most valuable player Grady Hobbs scored into the empty net to seal the 7-5 win.
Trotz goal scorers: Colby Jaquet, Zach Turner, Noah Wanger, Sean Williams, Andrew Andries, Austin Lamotte, and Grady Hobbs.
Goring goal scorers: Parker Fofonoff (X2), Kadin Ilott, Kaden Bryant, and Parker Malchuk.
"I liked the game. Obviously, Team Trotz definitely dominated the first period, but Goring came back and battled hard," said Doug Hedley, head coach, and general manager. "It was an extremely competitive second half of the game. The energy was great and the speed was good. It was great to see."
It was the first time all weekend that Grady Hobbs and Austin Lamotte hit the ice. The dominate duo didn't take part in either scrimmage on Friday or Saturday. They scored two of the team's goals on Sunday and generated several other solid chances while playing on a line with Noah Wagner.
"I thought that line was really good. Both Hobbs and Lamotte showed their speed," offered Hedley. "The line was making something happen every time they were on the ice."
On the other end as mentioned above, Fofonoff led the way for Team Goring with two goals. Koby Morriseau created many chanced with Kaden Bryant also scored as it truly was a battle of the top lines on Sunday afternoon.
"Kaden had a really nice goal. Malchuk also worked really well with that unit," ended Hedley. "Some really nice players were made and that's usually not something that happens this early in the season, so it was a great start."
Hedley went on to say that Matthias Smith was the team's best goaltender all camp long. He allowed just one goal in his 30+ of action. Dauphin will now focus on its preseason game tomorrow evening against the Swan Valley Stampeders. Both teams will ice young rookies in their annual "rookie game".
Details

Contributed by

Darnell Duff