Latest Sports
The minor hockey season has begun for many teams around the Parkland and that includes McCreary's Brady Turko and the Peewee Mustangs.
The team kicked off their season over the weekend in Neepawa. They ended up winning the game 10-2.
"Yeah, it's great that the season is back," said Turko. "I've been wanting it for a while, so I'm really happy that we're back playing."
"It was a good start, I thought our team played really great," he continued. "Our forwards got lots of chances and we capitalized. Our defence was solid and our goaltending was solid as well. I think our team is really solid this year and I think we can make a pretty deep run."
Turko made his presence felt immediately in the season-opening win. Of the 10 goals, four of them came off the stick of Brady. He was joined by Brody Fayant who also scored four goals in the game. Fayant scored the first goal of the season.
"I thought I played okay," said Turko. "I have to give a lot of credit to my teammates, they made some great passes to me and I was able to finish them off."
The team will look to win their second straight game on Sunday night. They play their home opener in McCreary at 5:00 p.m. against Minnedosa. Moving forward this season, Brady knows what the keys to success are.
"We just have to keep playing how we know we can," said Turko. "We have to move forward every game. I think we did really good against Neepawa, but I think we can do even better. We have to have a good forecheck, make our passes, and work hard. If we do those things, I think we'll do good."
One of the team's goals this season is to have better success at the Tournament of Champions. It takes place in January.
"We did fine last year, but we want to do better," he continued.
For now, he's representing the Mustangs every time he suits up in-game action, but moving forward, Brady hopes to represent the entire Parkland. He'll be eligible to tryout for the Parkland Bantam Rangers next season.
"I hope to make that team next season," he continued. "But, that's in the future. It's all about McCreary now and I'm looking forward to the season."
"I have to improve every game and just get better all the time," Turko concluded.
The Mustangs will take part in the big tournament in Dauphin on November 15-16-17.
Details

Contributed by

Darnell Duff
The Dauphin Kings offence has been red hot lately and they will look to keep that going this evening. The club kicks off an extremely busy week on home ice against the Virden Oil Capitals. The game marks the return of Bradyn Smelski. He's played 13 games with the Oil Capitals and he has one goal.
The Kings have won three straight games coming into tonight and they have scored 20 goals in the process. The club has been just as good in the defensive end as they have only surrendered six goals.
Virden, meanwhile, has been giving up a pile of goals lately. In their last four games alone, the club has given up 20 goals. That includes giving up seven on Sunday night in a wild 8-7 win against the Winkler Flyers.
Virden is currently in a tie for sixth in the league, six points ahead of Dauphin who is now in eighth after starting the season 1-5-0-1. The Oil Capitals have given up the most goals in the league coming into tonight. On average, they give up four goals per night. They, however, have still managed to score 3.6 goals per game.
The Kings now have 50 goals which are sixth in the MJHL and they have given up 45 which are the fifth-fewest in the league.
Dauphin is six points back of Virden, but they do have four games in hand. The team's power play is also now third in the league at 21.3%. Virden is fourth-best on the power play at 19.7%. When it comes to taking penalties, Virden takes a ton. They have the second-most penalty minutes in the league with 336. Their penalty kill is near the bottom of the league at 78.1% which is ninth.
Dauphin's penalty kill is fifth in the league at 81%.
After tonight, the Kings head back on the road. They're in Swan Valley tomorrow, Steinbach Friday, and they wrap up their busy week in OCN on Sunday. Darnell Duff has the pregame show of all three games at 7:15.
Details

Contributed by

Darnell Duff
The Dauphin Clippers varsity boys and girls played an exhibition match against Swan Valley today and both teams finished perfect.
The boys played four sets against the Tigers and won all of them. The set scores were 25-12, 25-9, 25-13, and 29-27.
The ladies also swept the Tigers. The scores were 27-25, 25-20, and 25-19.
Details

Contributed by

Darnell Duff
Dauphin's Monique Coffey has added to her trophy case. Last year, Coffey was named to the Atlantic University Sport conference women's rugby All-Star team. Monique was also named to the U20 Team Canada women's rugby reserve roster.
In her fourth year at Acadia, Monique went right back to dominating on the field. The Kinesiology student has been named the AUS women's rugby Most Valuable Player. Coffey helped the AUS number 2 ranked and U Sports number 7 ranked Axewomen advance to the AUS final.
"It feels awesome. I'm very proud of my accomplishment and all of the work I've put in to get here," said Coffey. "I've worked really hard and it's showing that it's paying off."
"It wasn't expected at all. I even forget the award existed until I won it," she continued.
The Dauphinite wasn't only named an MVP. For the second straight year, Coffey was named to the AUS women's rugby all-star team.
"It also feels great. It shows that I'm doing something right which is always nice," she continued.
Throughout the regular season, Coffey had five tries for 25 points. In their AUS semifinal against UPEI, Monique stepped things up with two tries as the team hammered Acadia, 52-20 to advance to the title game.
"It definitely felt like everything was coming into place, I've definitely developed as a player," she continued. "If you ever have a feeling that everything is falling into place, we'll that was my feeling."
The team ended up coming up just short against the StFX X-Women in the final. If that was Coffey's final game with the Axewomen, she surely won't forget her four years with the program.
"The energy that we had as a team was amazing, I love my team," she continued. "My love for the team followed me every time we played."
Monique has now applied for medical school at McGill. If she gets in, she plans on playing her final year of eligibility with them. She's also looked into options in the US, but where ever she goes, Monique knows her time at Acadia has set her up well.
"100%. I've learned so many skills throughout the years that I can apply to different areas of life," added Coffey. "I've learned a lot about time management through the pressures of being an athlete at the university level."
Monique also joins a very short Acadia MVP list. Only one other Axewomen player has ever been named an AUS MVP.
Coffey will be the AUS conference nominee for the U Sports MVP.
Details

Contributed by

Darnell Duff
The MJHL has named their weekly Recycle Everywhere 3 Stars of the Week and this week, Dauphin is represented very well.
The first star is former Brandon Wheat King, Baron Thompson. He had a torrid week for the Kings which included nine points (4G) in just three games. One of the goals came in last night's win against the Portage Terriers.
The second star of the week is Roblin's, Jaden Townsend. Helping the Flyers turn things up, Townsend had seven points (5G) in three games.
The third star of the week is also from the Kings. Cole DeKoninck had a great week as he had five points (2G) in just three games.
Details

Contributed by

Darnell Duff
The club volleyball season in the Parkland is just around the corner. When it comes to it in Dauphin, the Parkland Vipers will be back and they'll once again have a few different age groups and that's where you come in.
The club is looking for coaches for the upcoming season. The number they are looking for is about three-to-four.
"You have to be a Level 1 certified coach," said Ted Rea. "We're looking at getting a 15U, 14U, 13U, as well as a 12U coach for the season."
The season begins near January 15 and runs through April.
Practices usually run every Sunday for about 1 hour and 30 minutes. Coaches can also schedule additional practices when it works for them.
In the past, Ted's teams have played four to five tournaments per season plus provincials.
"That would probably be the maximum amount, or coaches can also play less, it depends how much of a commitment the team wants to make," added Rea.
Coaches expenses will be covered throughout the season as well. All coaches also need to undergo a criminal records check, child abuse registry checks, as well as they, need to complete their online respect in sport coaching course.
If you're interested in becoming a coach for the upcoming season, give Ted a call at 648-4433.
Details

Contributed by

Darnell Duff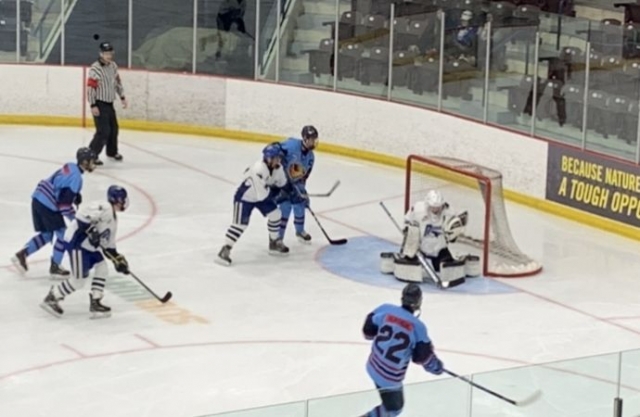 The Parkland Rangers had their game against Winnipeg tied at one, but their losing streak was extended.
In a back and forth affair, Parkland lost, 3-2 to the Bruins.
After Winnipeg took a 1-0 lead, Garrett Hrechka tied the game up with about seven minutes left in the first.
That set the Bruins up to score two straight to take a 3-1 lead into the third.
With just less than 10 minutes left, Mackenzie Menard and Jayce Legaarden set up Taggert Plouffe who brought the game within one,
Despite some late pressure, that's as close as Parkland would get.
Keaton Ziprick made 37 saves.
Details

Contributed by

Darnell Duff
The Dauphin Clippers hockey team are off and running with their Westman High School Hockey league season.
Kicking off their season in Boissevain, Dauphin won, 4-2.
Kayden Bodnar, Ashton Hlady, and Parker Boguski had Dauphin up 3-0 after 40.
Brady Dyck added the team's goal in the third.
Boguski also had an assist for a two-point game.
Details

Contributed by

Darnell Duff
The Dauphin Kings roll continues as they beat the best team in the MJHL tonight.
On a night where they scored first, the Kings beat the Portage Terriers, 3-2 inside of Stride Place.
The win gives Dauphin five wins in their last six games as they've earned 10 of their last 12 points.
Austin Lamotte got away on a breakaway and he made it 1-0 for the Kings at the 10:57 mark. Dauphin held that lead into the intermission and they led 8-6 on the shot clock.
Portage turned it up in the second, but Matthias Smith stood extremely strong giving up just one goal while the Kings scored twice in the second.
Avery Smith made it 2-0 just 2:01 into the midway frame as Hugo Laflamme got the assist.
With just more than 11 minutes left, Caelan McPhee cut the deficit in half.
Before the period was over, Dauphin regained their two-goal lead. Baron Thompson made it 3-1 on the power play late as Nakodan Greyeyes and Grady Hobbs got the assists.
Mack Belinski brought Portage within one early in the third with a power play goal, but that was it.
Matthias Smith wasn't beaten again as the Kings won their third straight and fifth of sixth.
Dauphin finished 7-of-8 on the penalty kill and 1-of-5 on the power play.
The team is now 6-6-0-1 and they're in eighth place. Portage is now in a tie with Waywayseecappo for first.
The Kings return to Credit Union Place on Tuesday night.
Details

Contributed by

Darnell Duff
The Dauphin Clippers junior varsity girls volleyball team had a perfect weekend.
Playing in Hamiota, the team didn't drop a set en route to winning the tournament.
In the round-robin they won their six sets. The Clippers dominated Erickson in the quarterfinals, 25-18, 25-8.
They then beat the host Huskies in the semifinals, 25-9, 25-17.
To cap off the tournament, the ladies swept Glenboro in the finals.
Details

Contributed by

Darnell Duff
After winning their second straight game last night, it's a quick turn around for the Dauphin Kings as they're in Portage tonight.
For the second time this season, the Kings will challenge the first place Terriers. In the first meeting, Portage won 3-1.
Dauphin has been on a roll for about three weeks now. Winners of four of their last five, Dauphin's only blip along the way was against Neepawa last Saturday.
In the last two games alone, Dauphin has scored 17 goals and they've only given up four.
Portage, meanwhile, is on a slide. They've lost three straight games with their most recent being against Steinbach on Friday.
Despite the slide, Portage is still first in the league with 10 wins.
Tonight ends a two-game weekend for Dauphin and they'll be extremely busy next week. They play on Tuesday, Wednesday, Friday, and Sunday.
Darnell Duff has the pregame show this evening. It starts at 6:15.
Details

Contributed by

Darnell Duff