Latest Sports
The Grandview Comets are back in the win column.
Dave Elder led the way in the game with a pair of goals in a 5-2 win against Canora.
Brett Ewanyshyn, Evan Gullet, and Brenden Kozak scored for Grandview in the game. Brett Evans was stellar in net.
Details

Contributed by

Darnell Duff
The Dauphin Clippers hockey team opened 2023 with a great performance as they got some redemption.
After a loss against Birtle earlier this season, the Clippers came out strong and defended home ice on Saturday in a 5-2 win against the Falcons.
William Miner led the way for Dauphin in the game with a pair of goals. Ethan Carnegie, Boston Karlson, and Liam Chartrand rounded out the scoring for Dauphin.
Owen Chubka was excellent in net and Dauphin returns to the ice on Sunday afternoon.
Details

Contributed by

Darnell Duff
The Dauphin Kings pushed on Friday night, but they couldn't find the equalizer.
Playing their first game of 2023, Dauphin struggled defensively at times in a 6-4 loss against the Winnipeg Blues.
Michael Tanchak scored twice for Winnipeg on the night and he opened up the scoring just less than five minutes into the contest before Logan Walker tied the game up with his third of the season for Dauphin as it was 1-1 after 20 minutes.
The floodgates opened up in the midway frame as the two team's combined for five goals, three of which came for the Blues. Matthew Gough would open up the scoring in the second with his 13th of the season as Dauphin took a 2-1 lead, but it didn't last long.
Dawson Zeller, Kai Elkie, and Thomas Kaufield would respond for Winnipeg as the Blues jumped out to a 4-3 lead. Aaron Neal then found the back of the net with his first as a King to trim the deficit to just 4-3 after 40 minutes.
Tanchak scored his second for Winnipeg 13 minutes into the third to restore Winnipeg's two goal lead before Logan Walker's second of the game for Dauphin brought the Kings within a goal. Ultimately, that was as close as Dauphin would get as Kaufield scored his 15th of the season for Winnipeg to cap the game and make the final 6-4.
Dauphin was solid on special teams going 1-for-3 on the power play and they were a perfect 2-for-2 on the penalty kill. These same two teams will meet on Saturday night at Credit Union Place. You can watch that game on HockeyTV.
Details

Contributed by

Darnell Duff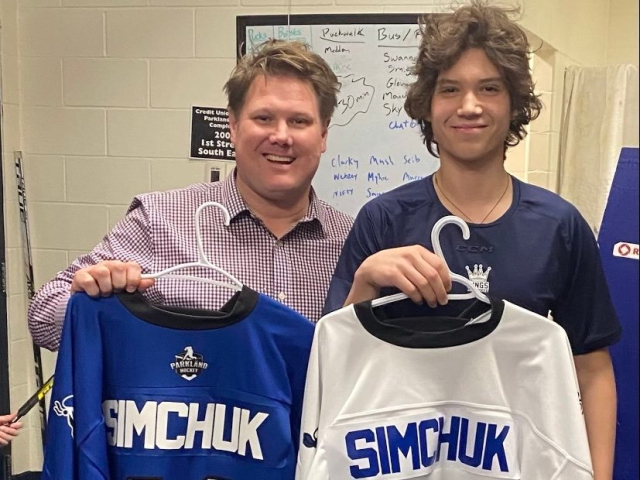 The Parkland U18 Rangers ended 2022 by picking up a single point in a hard-fought 5-4 overtime loss against the Yellowhead Chiefs.
A two-week break followed that game and after three practices full of great tempo and compete, the Rangers are back in game action on Saturday as they open up 2023 at the Centennial Arena in Swan River against the Winnipeg Bruins. It's a daunting task as the Bruins are 22-6-1 and find themselves just four points back of Brandon for first place in the league, but it provides Parkland with a great chance to build some confidence.
Tyler Carefoot had this to say on entering 2023.
"We have had three excellent practices after getting that break which is what we needed," said Carefoot. "Everyone is feeling good about themselves and we're healthy, I think it's the first time since the first game of the season that we have had a healthy group."
Winnipeg and Parkland will also square off on Sunday afternoon at 1:30. Madden Murray enters the second half of the season with the points lead for Parkland as his 13 goals are paired with 11 assists while Hayden Seib has contributed 21 points. Parkland's 80 goals are the second-fewest in the league and while it has been a struggle at times to find offence, the team has added some excellent skill up front.
In a blockbuster deal, the Rangers added Havril Simchuk to their roster. Havryil arrived from Ukraine nearly two months ago and he has been practicing and travelling with the Dauphin Kings since. He was joined by Dmytro Kubrytskyi who is currently playing with the Ukrainian U25 National Team and he is a member of the Kings. Havryil is very excited to get down to game action and Tyler Carefoot had this to say about the addition.
"We met Havril on Thursday night and we are extremely excited to add him to our roster, it's a huge addition for us," offered Carefoot. "He's exceptional, he is a young player that has a lot of tools. His puck skills are dazzling and he has a really good shot."
Simchuk isn't the only Simchuk that has come to Canada from Ukraine as his brother, Mikhail is currently playing with the Brooks Bandits of the Alberta Junior Hockey League. Mikhail is 20 years old and he's scored two times while adding 10 assists in 14 games. The Bandits are back-to-back national champions and they are the only team in the AJHL that has clinched a playoff berth as they are 35-3-1-1 heading into 2023.
The Rangers; meanwhile, enter 2023 11 points back of Eastman for the eighth and final playoff spot in the league. Parkland plays 16 more games this season, 11 of which are on home ice. The team returns to Credit Union Place on Tuesday, January 17 when they play Brandon and then they host Eastman in two critical games that weekend.
One year removed from making the second round of the playoffs for the first time in more than 20 years, Parkland has plenty of work to do if they want to make the playoffs this year and that work all starts on Saturday in Swan River against the Bruins.
"We're going to go out and take things game by game," said Carefoot. "If we can weather the storm, get a surprise or two over our next six games, we then have a set of games with teams that we have played well against already this year. Adding Simchuk creates some excitement and elevates our energy. I'm hopeful that we're going to get bigger, faster, and stronger, that's what we want to achieve."
Details

Contributed by

Darnell Duff
The Winnipeg Blue Bombers continue to add some very important pieces as they will look to get back on top of the Canadian Football League.
The team has come to terms with Stanley Bryant on a one-year contract extension. Wearing #66, Bryant is a four-time Most Outstanding Offensive Lineman. Next season will be Stanley's eighth with Winnipeg and 13th in the league.
On top of being named a Most Outstanding Offensive Lineman last season for the fourth time, Stanley was also selected as an All-Star for the seventh time.
Details

Contributed by

Darnell Duff
After years of playing within Dauphin Minor Hockey and a few years with the Rangers program, Marco Bodnarski was given the opportunity to make his Dauphin Kings debut back on September 24.
It was a positive debut for Marco as he saw plenty of ice time as he helped the team down the Stampeders, 3-2, in an overtime thriller. The hometown favourite went on to play two more games with his hometown team over the next few weeks.
"It was nice to be able to play with the team, especially growing up watching them play," said Bodnarski. "It was a special moment for my family and me."
Following his three games played, Marco was loaned to the Oceanside Generals of the Vancouver Island Junior Hockey League which is one of Canada's top Junior B leagues. The move gave Marco a chance to get some more ice time and he certainly made his presence felt.
In four games with the Generals, Marco posted his first two junior assists. The Generals are currently in first place in the 11-team league with a record of 23-3-2-2. Ultimately, four games are all Marco would play with Oceanside as he has rejoined the Dauphin Kings.
Marco arrived back in Dauphin just about a week before Christmas and the team returned to the ice for their first practice of 2023 on Tuesday. Bodnarski says it's great to be back in his hometown.
"Being back home with my family is really nice," said Bodnarski. "Also being around town with my friends, it's a great spot and I'm really happy to be back with the team."
Dauphin is back on the ice this weekend as they open 2023 with a pair of games against the Winnipeg Blues. Friday's game is in Winnipeg at the Rink Training Centre before the two teams return to Dauphin for a rematch on Saturday evening. As he continues to work as hard as he can so he can get in the lineup, Bodnarski says he has to stick with the process.
"I just need to keep working in practice and when I get a chance to play, I really need to show what I can do," said Bodnarski. "It's a battle at practice every day, so I need to continue giving it my all."
Bodnarski also says there is plenty of buzz around the dressing room as Dauphin is just two points back of OCN for first place in the MGEU West Division. The team ended 2022 with points in five straight games and four of those games ended in wins.
"Everything is going well, everyone is excited to be back here," ended Bodnarski. "We want to have success heading into the second half and I believe the group that we have here is capable of doing that."
Details

Contributed by

Darnell Duff
Carson Baptiste is putting together an MVP like season with the Waywayseecappo Wolverines and he's being recognized for his contributions.
In six games in December, Carson scored nine times while adding four assists and he's now been named the MJHL's Player of the Month for December.
In just 25 games this season, Baptiste has scored 21 times and he's added 17 assists. Waywayseecappo's first game after the break is Friday in Swan Valley.
Details

Contributed by

Darnell Duff
It's not how you start, it's how you finish and the Neepawa Titans will look to continue trending upward as the unofficial second half of the season is set to begin for them this weekend. It was a slow start for Neepawa as they lost four of their first five games of the campaign.
Then from October 1 to 14, the team lost five straight games and they gave up 26 goals in that span. While they gave away several points before the Christmas break, the team also caught fire in their final four games before the break.
After earning a single point in a 3-2 overtime loss against OCN on December 10, the Titans won three straight games and scored 16 goals in those games, including when they put up a seven spot against Waywayseecappo in their final game of 2022.
The Titans enter 2023 just four points back of the final playoff spot and they are only six points back of OCN for first in the Division. Ken Pearson is the team's head coach and general manager and he had this to say on the first half.
"I think now that we have gotten healthy here and with the addition of a couple of guys, things have played out as we expected them to," said Pearson. "Briley Wood and Connor Thompson have been fantastic for us. There was some pressure on some of the younger guys early when we were plagued by some injuries, but that was also a good thing in the sense of giving the young guys some reps."
Following a 60-game season with the Lethbridge Hurricanes last season, Wood was acquired by the Winnipeg ICE this season where he played in nine games and scored once. The 19-year-old from Rivers was then reassigned to Neepawa and he's been torching teams since.
In 17 games, Wood has nine goals and 18 assists and he's only behind Hayden Stocks when it comes to team scoring. Briley has already racked up five power-play goals and he leads the team with 11 assists while a man-up.
"He has been a real bonus to our power play and he uses his big body to win a lot of battles," said Pearson. "He is also really good in the faceoff circle and that's one thing we really struggled on early in the year."
While it won't be an easy feat, the Titans will be looking to make the playoffs for the first time since 2017 when they lost to the Steinbach Pistons in six games. Since that year, Neepawa has finished dead last in the league's standings twice.
They were extremely close to making it last year, but they lost their final two games of the season and finished two points behind Swan Valley for the fourth and final spot in the West Division. Sitting just outside the playoff line right now, Pearson says there is some renewed buzz in the town.
"The guys have been back for a couple of days now and our practices on and off the ice have been very good, real good tempo," offered Pearson. "We know that every game from here on out needs to be like a playoff effort for us. We can't worry about what the other teams in our division are doing, we just need to be at our best every time that we hit the ice. Everyone in the community is excited for us to get back on the ice."
Neepawa will return to the Yellowhead Centre on Friday when they host Niverville and then they're off to Niverville to play the Nighthawks to complete a weekend home-and-home the following night. Then the Titans will play in Portage, Waywayseecappo, and Winnipeg to wrap up a four-game road trip. The team's season ends with a home-and-home against Selkirk on March 17 and 18.
Details

Contributed by

Darnell Duff
It ended up being the blockbuster of the year. The Dauphin Kings sent Slade Stanick and Hayden Lacquette to the Portage Terriers in exchange for Logan Calder.
Calder came to Dauphin already a champion after he won an MJHL title with the Terriers in 2019 and he also helped the team win the Anavet Cup that season as they downed Battlefords. At the time of the trade, Calder was in the midst of a solid season with his hometown team as he scored 19 times in 31 games while adding 14 assists.
He would go on to play 22 regular season games with Dauphin and he averaged a point a game in the playoffs, he put up another seven goals and seven assists. No goal was bigger than his seventh and it came in game seven against the Steinbach Pistons when the team was down a goal.
"It was a great feeling, just to do it with the group of guys we had was amazing," said Calder. "The team welcomed me in and we all became brothers, it truly was incredible."
Calder then made his presence felt at the Centennial Cup, Canada's National Jr. A Championship as he scored twice and added two assists in five games.
Logan is now playing south of the border with Salve Regina University and he's off to a great start with three goals and two assists in eight games. Playing in all of the team's games so far, they're 4-3-1 as the Christmas break has approached. That means Logan had the chance to come back home to spend the holidays with his family and he will also be spending a couple of days in Dauphin.
Calder returned to Credit Union Place for Dauphin's final game before the Christmas break. It was his first time inside Credit Union Place since game six of the league final against Steinbach when he scored to seal the game in a 2-0 win.
"It was amazing to return, ever since getting traded to Dauphin, I have nothing but amazing things to say," ended Calder.
Details

Contributed by

Darnell Duff
Tessa Terrick and Cassidy Dundas both played in Curling Canada's U18 championships last May in Oakville, Ontario.
Playing on a team skipped by Zoey Terrick, the team won three of their seven games. Tessa said it was a fantastic opportunity to represent the province at a national event and she had her goals set on doing that again this season.
There was a little change heading into this season as Tessa and Cassidy joined Team Grace Beaudry. Last year, Grace also played in the national event, winning three of the team's eight games. Also adding Lauren Evason to this year's roster, the foursome immediately put together a great event. Playing in the Canada Winter Games qualifier late last year, the team came up just short as they lost in the gold medal game.
Then to end 2022, Team Beaudry played in the Asham U18 Women's Provincial Championships and they opened the event with four straight wins. A tight 7-6 loss against Team Wahl was immediately followed up by a 7-5 win against Team Hayward in the event's semifinals. The game came right down to the wire, but Team Beaudry was able to secure two points in the ninth end to advance to the final.
While the foursome of Tessa, Cassidy, Lauren, and Grace was still gunning for the gold medal once they advanced to the final, they had already clinched their berth to the national event. Manitoba once again has two spots for the nationals so Team Beaudry is now off to Timmins, Ont, for the event which takes place from February 6 to 11.
"We were really happy after we clinched our national berth," said Terrick. "We knew we had to be sharp in the semi-final and we just played our game, it was extremely close, so it was great that we were able to get it done."
Team Beaudry was up 2-1 in the finals after two ends but Team Wahl would score three in the sixth and another in the eighth end as they picked up a 5-3 win. The win gave Team Wahl a provincial gold medal while Team Beaudry had to settle for the silver medal.
While they came up just short in the finals, Terrick knows the team will have an excellent time at nationals and they are confident in their abilities.
"It's a really great feeling, we were a little disappointed that we didn't win, but we still get to represent the province which is amazing," ended Terrick. "Our goal is to make the playoffs and we will go from there."
Details

Contributed by

Darnell Duff
The feeling was merry inside Credit Union Place on December 22 as the Dauphin Clippers hosted the Neepawa Tigers in the 'Christmas Classic'. Trayden Guiboche scored the 'Teddy Bear' goal while Logan Chapman scored the game-winner in a thrilling 5-4 win against their rivals to claim the Christmas Cup.
That win capped off a tremendous first half of the season for Dauphin as they won 14 of their 16 games and that has them in the top spot in the Westman High School Hockey League.
Dauphin ended the first half on a seven-game winning streak which has lasted more than a month. The team's last defeat came on November 20. The team has been dominant during that streak with 39 goals and they only gave up 11. One of Dauphin's most impressive wins came on November 15 when they beat Major Pratt, 9-0.
Jason Alf says a game plan was put in place at the start of the season and the team continues to execute it very well.
"It was a surprising first half, I knew we would be in the top half of the league," said Alf. "It's a testament to the work ethic of the guys and the coaching staff has done a great job in getting the guys prepared."
Alf also says the team is very happy with their record, but there is a lot of work to do. William Miner leads Dauphin with 10 goals and 18 assists while Logan Chapman is second in the team scoring with 22 points then Tyron Sweetman has 21.
Eight players in all have at least 10 points and everyone on the roster has at least a point, including Boston Karlson who has seven. Dauphin has been getting scoring from all over this season and it's their great depth that has allowed them to get off to such a hot start.
"That's always been a theme that we try to carry on," said Alf. "We have a tight group that gets along well and they are genuinely happy for each other. They also take care of each other on and off the ice."
Dauphin's next league game comes on Saturday, January 7 as the team welcomes the Birtle Falcons to town. Dauphin has just two losses, one of them came against the Falcons earlier this season. Dauphin also plays on January 8 at Credit Union Place against Boissevain.
The Clippers are also off to Winnipeg for the Piper Classic on January 13 and 14. They will be going up against one of the best teams in the province in their first game as they battle the Garden City Fighting Gophers. The Gophers lead the Winnipeg High School Hockey League's top division with a perfect 15-0 record and they have given up just 26 goals this year.
Dauphin also plays River East in that tournament, they have struggled this year as they're 2-12-1 and sit in the bottom of the league's top division.
"We definitely have our work cut out for us to start that tournament," ended Alf. "It's always nice to see how we compare with one of the top teams in the province. It's a good prep for what we want to do."
Details

Contributed by

Darnell Duff