Latest Sports
It's going to be a weekend full of semifinals for the Odut family at the Tamarack Tournament.
Mark Odut beat Regan Hedley in a second flight quarterfinal to advance to the semifinals.
Mark's son, Easton Odut is in a fifth flight junior semifinal.
Kody Fawcett's bid for a third straight title ended when he lost his quarterfinal match.
Also, Joran Hedley is off to the first flight consolation semifinals after a win.
Tyler Carefoot also secured a win in the third flight consolation to keep his tournament going.
Also staying alive was Jerron Kyle, as he won his second straight match in the fifth flight.
In the consolation fifth flight, Dave Campbell cruised in his match to advance to the semifinals.
Details

Contributed by

Darnell Duff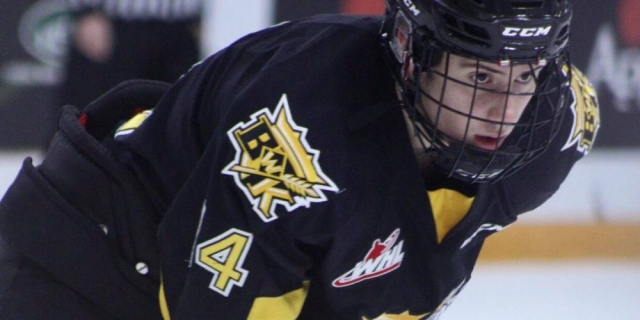 The future of the Brandon Wheat Kings will be front and centre starting on August 28. That's when the club begins its rookie camp at Westoba Place inside the Keystone Centre.
The two-day camp will wrap up on Thursday and that's when the big boys come in as main camp kicks off on Friday, August 30.
One of the Wheat Kings most highly touted prospects is Tyson Zimmer. The flashy forward comes from the small community of Russell, Manitoba. Zimmer grew up watching Brandon games as less than two hours separate his home from Westoba Place.
On May 2, 2019, his dream of playing for the team he grew up watching became a little bit closer. He was drafted sixth overall by the Wheat Kings in the WHL Bantam Draft.
He was the second-highest Manitoban to hear their name picked after Conor Geekie went second overall to Winnipeg.
Now, the 14-year-old is ready for what will be a few of the biggest days in his young hockey career to date.
"I'm feeling pretty good heading in there," said Zimmer. "It's obviously an honour just to get this opportunity. I think the best part will be that I'll be there."
Back in his hometown of Russell for the summer months, not a day has gone past where Zimmer hasn't counted down the minutes to the first drill next week.
"I've skated a little bit, but I'm really focusing on the off-ice aspect of the game," he added. "It's important that I get stronger and build up my cardio so I can be the best player I can be."
When talking to Tyson in the past, he mentioned May 2 was a day he'll never forget. That remains the case today. Ultimately, the job isn't done until he's making an everyday impact for the club and even at that point, the job won't be done
"Yeah it's awesome to get drafted high, but I'm not just going to make the team because of that," he added. "I need to build up more skill, more power and just get better. I'll be competing against 20-year-olds who are much bigger and I need to show what I can do."
When main camp opens up August 30, up to 18 veterans will be back as they look to earn a spot on the team. Though he may only be 14, Tyson is ready for any challenge that comes his way.
"I think I'm ready for this. If I work my hardest, I should be good, I'm definitely not afraid," he continued.
Being 14, Tyson is eligible to play just five games until his midget season finishes. After that, if Brandon so wishes, Tyson can play as many as they want.
"This is a big year for me. I obviously want to play those five games," he added. "It's going to be a good year. I'll be able to play U18 full-time and that will allow me to develop even more and get better."
Tyson played for the Okanagan Hockey Academy bantam prep team last season. He had 52 points (26G) in the regular-season and that success translated to playoff success. He had another two points (1G) in two playoff games.
In the 2017-18 season, Tyson played for the Parkland bantam Rangers where he first showed how much talent he has. He had 69 points (36G) in 34 regular-season games.
Also in that 2017-18 season, Zimmer tore it up overseas. He played in the World Selects Invitational tournament in Spain, where he had 17 points in nine games with the Draftday Hockey Selects U14 team. His team won that tournament by knocking off the Selects from Sweden 3-1.
In order to impress head coach Dave Lowry, general manager Darren Ritchie and the rest of the Wheat Kings organization, Tyson knows exactly what he needs to do.
"When I'm having success, I'm skating fast and moving the puck really well," he concluded. "I always stress play in my own end as well. My shot is also important to me. I pride myself on making it accurate with a lot of power as well."
Tyson has yet to confirm where he will play his midget hockey season this year.
Details

Contributed by

Darnell Duff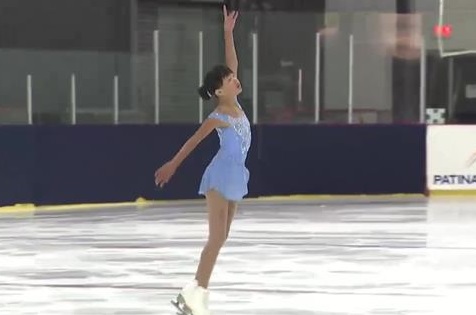 Dauphin's Breken Brezden's figure skating season is off to a good start.
Two weekends ago, she competed in Montreal where she finished in 12th place. The Dauphinite was then Toronto bound and she improved her final standing.
Competing at the North York Skating Association Summer Skate at the Scotiabank Pond Centre, Brezden finished in sixth out of 14 skaters.
She was sixth in her long program and eighth in her short program.
The 13-year-old is competing in the Novice Women's Division this year, which is open to girls 17-years-old and younger.
Breken will be back in Ontario next month.
Details

Contributed by

Darnell Duff
The Dauphin Rec Hockey League is getting set for its ninth year. After winning the title last year, Team Reit-Syd Equipment will be back to defend.
The league will once again feature four teams and you can get in on the action. Registration is now open.
"Any individuals that haven't played before or are new to town are more than welcome to come in and sign up," said Chad McCrady, league organizer.
The league will start on October 16. It's $325 if you sign up before October 1. If you sign up after that, the price goes up to $400.
You can sign up by heading to Dean Cooley GM and asking for Bob Murray. He is taking care of all registrations.
"We have a pretty good league going. We have a good group of guys that keep coming back," added McCrady. "The teams are really competitive and it's a lot of fun."
Game nights are on Sunday's and Wednesday's.
"We have all kinds of skill levels out there," he concluded. "If you want to come out and skate, come on down.
The regular season ends on March 1 and playoff action takes centre ice on March 4.
If you have any further questions, you can text or call Chad at 647-6095. You can also check the Dauphin Rec Hockey League.
Details

Contributed by

Darnell Duff
At the Canadian Mid-Amateur Golf Championships, a tough round has Russell's Jay Thiesen coming back home to the Parkland.
After a three-over, 74 in his first round, Thiesen shot a 10 over, 81 yesterday.
The total of 155 was one shy of the cut which was 154.
NHL linesmen Garrett Rank leads the tournament at six-under heading into round three.
Details

Contributed by

Darnell Duff
The Tamarack Tournament continues to wind down at the Clear Lake Golf Course and a few Parkland golfers are still very much alive.
In the junior men's first flight semifinals, it'll be Neepawa's Hayden Delaloye against Dauphin's Eric Prokopowich after they both won their quarterfinal matchups.
Thomas Scott won his second flight match while Jackson Delaurier did what he had to in the fourth flight.
In the fifth flight, Easton Odut won.
In the senior men's third flight, Russell's Frank Clement is off to the finals.
In the champion men's third flight, Mike Pernarowski is off to the semifinals after winning his quarterfinal.
The second flight ladies scramble saw Dauphin's Jo-Anne Stitt and her partner Geri Menzies move onto the semifinals.
Details

Contributed by

Darnell Duff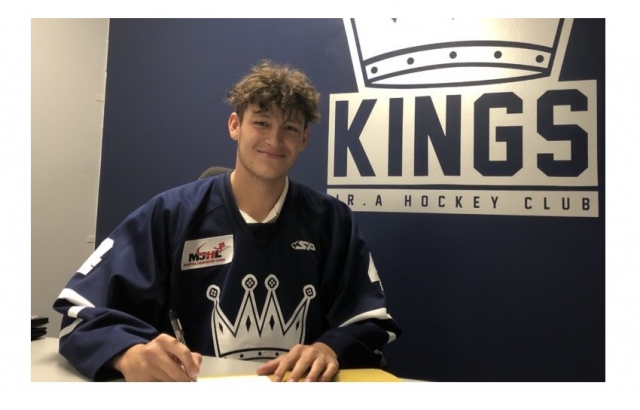 Grandview's Koby Morrisseau isn't going anywhere.
The Dauphin Kings have announced that the former Parkland Ranger will be joining their club this season.
Morrisseau comes to the Kings from the WHL's Regina Pats. He had one goal and three assists last year in 14 games.
"Koby brings a lot of different things to this team. I coached him when he was 15-years-old and he was an impact player," said Doug Hedley, Head Coach & General Manager. "The speed he has, the ability and everything. He has the ability to be a difference-maker every game. He should be very solid for us."
"His grandpa Barry McKay is very happy to have him here. With the calibre of player he is, it should be outstanding," Hedley continued.
Koby is thrilled that he'll be playing for the organization and being so close to home while doing so.
"It was really good to sign with this organization," said Morrisseau. "It's going to be great playing around the family. I'm hoping to win an MJHL Championship with this team."
"It's going to be very nice to play around home, they'll be able to watch my games and that's exciting," he continued.
In the 2015-16 season, Koby had 15 points in 17 games with the U18 Rangers. He broke onto the scene in the 14-15 season, with 61 points (39G) in just 30 games.
What can you expect from Koby this season?
"I have speed, size and I can put the puck in the back of the net," he continued. "I'm hoping that happens a lot this season. I like to use my body as well."
You can see Koby on the ice next Friday as main camp opens up for the Kings at Credit Union Place. Stay tuned for a schedule and full coverage throughout that weekend.
Details

Contributed by

Darnell Duff
Dauphin Kings main camp starts next Thursday at Credit Union Place. Several local players will be there and one is Ste. Rose's Reece Hopfner.
The 19-year-old has been working hard in preparation for this year's camp. He also took part in last year's camp with the team, before he was traded to Fort Frances.
"I feel ready for this and I'm really excited to get back into competitive hockey," said Hopfner. "I got more experience at the junior level so I think I'm ready to show what I can do."
"When I got traded to Fort Frances last year, I think it really helped me grow as a player and as a person to live on my own," he continued. "It was important for me to experience what it feels like to be on the ice every day and to play with older players. It was a fun year and I learned a lot."
Reece suited up in 43 regular-season games with the Lakers. He had 19 points (6G). He started last season on fire. In his first four games, he had four points.
"I think I really learned that everyone is a lot faster at the junior level," added Hopfner. "They're stronger and I have to play the body more. You need to trust your teammates and I have to always move my feet. It was all about getting better every day and I think I did that."
Hopfner has spent a lot of his summer in the gym on top of working for the City of Ste. Rose. He also played for Treaty 2/Kiniw in the Parkland Source for Sports 4 on 4 Hockey League. Reece scored one goal in the gold medal game as the team went on to win the league. He also scored three times in their semifinal win.
"I've been working hard, that's for sure. I've been running a lot and just preparing all around," he continued.
Main camp hits the ice for the first time on Friday. That's when Reece will get his first opportunity to impress Doug Hedley and the crew as he looks to lock up a spot on a team that's just down the road from his hometown.
"I think I'm a 200-foot player. I can generate offence and I'm also really good defensively," he added.
Dauphin plays their season opener on September 20 in Swan Valley and Reece has a goal of being a part of that lineup.
"It would mean a lot to me and my family as well," he concluded. "It would be totally surreal to represent my community as a whole."
Details

Contributed by

Darnell Duff
Wyatt Tweet's baseball season came to an end this past weekend in Swift Current. He represented Manitoba at the Western Canada Summer Games, in the baseball event and the team put together a great week.
After going 4-2 in the round-robin, Tweet and the Manitoba men advanced to the gold medal, where they came up just short against Alberta. That meant Manitoba would make their way back home with a silver medal.
In that round-robin, Manitoba played Saskatchewan three times. They scored 34 runs in winning all three and they gave up just 14 runs. They also beat Alberta once.
"We stayed in classrooms in a school and we ate in the cafeteria, so that was a new experience," said Tweet. "When it came down to the game, we were focused and we played pretty well. It's a real honour winning a silver medal, especially when you get the chance to represent your province. It was a great week."
Alberta came out of the gates firing in the gold medal game. After scoring one in the first, they pounded out five runs in the third to take a 6-1 lead. Manitoba would score three runs in the final three innings, but it was too little, too late.
"It was important for us to get out to an early lead against them, but we didn't do that," he said. "Our offence didn't come until later in the game. It is what it is, it was still a fantastic week."
On a personal level, it was a solid week for Wyatt as scouts from all around watched. He hit a towering home run in a round-robin game against Alberta.
"I'm happy with my performance. I got on base every game and I was able to have positive at-bats," he continued. "I advanced runners and had some RBI's. I think I showed off my skill pretty well."
Wyatt will return to play with Major Pratt next season. He will also play with the Midwest AAA club.
Now his mindset switches to hockey. He'll take part in Waywayseecappo Wolverines camp, which starts on August 28.
"I've really been working hard over the summer to gain weight and get stronger," he added. "My goal is to make an impact at camp and show what I can do."
The Russell native has already made an impact within the Wolverines organization. He scored his first-ever junior goal last season with the team against the Virden Oil Capitals. Whatever happens throughout the camp, just getting the chance to try out for the team is something Wyatt won't forget.
"I'm over the moon excited that I get this chance," he concluded. "I just can't wait for it to start."
Waywayseecappo begins their preseason on September 2 against the OCN Blizzard
Details

Contributed by

Darnell Duff
Treaty 2/Kiniw are this year's Parkland Source for Sports 4 on 4 Hockey League Champions.
Koby Morrisseau scored twice as they beat Aspen Insurance, 13-7 in the finals.
Brad Marshall also scored twice. Other scorers included Brayden Kohlman, Ryan Benson and Landon Brown.
In the loss, Brendan Arnold scored twice.
In the bronze medal game, Dean Cooley GM beat Fusion Credit Union, 20-10.
Carter Zalischuk scored four times in the win while Jordan Gray scored three times.
Kyan Grouette and Trey Sauder also scored three in the win.
In the loss, Owen Riffel and Tyson Zimmer both had three goals.
Details

Contributed by

Darnell Duff
It's an all Dauphin battle on Thursday as the Tamarack Tournament continues.
After wins in the Round of 16, Mark Odut will take on Regan Hedley in a quarterfinal in the Second Flight.
In other action today, Gilbert Plains Dale Murray pulled off a big comeback. He was down three after nine, but he ended up coming back to advance in the First Flight.
In the Championship Flight, Kody Fawcett has advanced and he'll play the 14th seed in the quarterfinals.
Also winning his first match was Jerron Kyle.
Bart Michaleski has advanced after he beat the #9 seed in the Sixth Flight.
In the 11th Flight, Lawson Yates advanced.
In the Champion Men's Championship Flight, Keith Fawcett won his match to advance to the semifinals.
Details

Contributed by

Darnell Duff