Latest Sports
Jay Thiesen of Russell and Kolby Day of Brandon were crowned champions on Sunday.
Playing in the Battle for the Belts at the Gilbert Plains Country Club, the duo fired a 59 to win the tournament by a single stroke over Chad Facey and Shawn McQuarrie. Christian Laughland and Bob Gilroy shot a 65 to finish third on a countback.
1st Flight:
1st) Earl Thompson/Larry Nepinak - 67 CB
2nd) Bailey Reichmuth/Kale Bombak - 67 CB
3rd) Cole Kopytko/Taylor Fletcher - 68
2nd Flight:
1st) Dave Campbell/Curtis Campbell - 71 CB
2nd) Clint Baxter/Blair Johnston - 71 CB
3rd) Lloyd Campbell/Rylan Campbell - 71 CB
3rd Flight:
1st) Scott Lynxleg/Merv Lynxleg - 73CB
2nd) Josh Yaschshyn/Keenan Yaschshyn - 73 CB
3rd) Brock Nixon/ Carl Bicknell - 73 CB
4th Flight:
1st) Chris Porter/Kaine Morran - 75 CB
2nd) Dylan Ushkowski/Mitch Prawdzik - 75 CB
3rd) Troy Caruk/Shaun Caruk - 75 CB
5th Flight:
1st) Shawn Sarkonak/Jamie Hodgson - 77 CB
2nd) Fred Letain/Gerald Musey - 77 CB
3rd) Ian Brezden/Jordan Pernarowski - 77 CB
6th Flight:
1st) Colton Stadnyk/Richard Eliuk - 79 CB
2nd) James Morran/Lincoln Morran - 81
3rd) Dustin Dawson/Jodi Gancher - 82 CB
Closest to the Hole:
Hole #4 - Mark Odut - 5 feet, 1 inch
Hole #9 - Teddy Wojtowicz - 2 feet, 2 inches
Hole #14 - Dale Murray - 5 feet, 7.5 inches
Hole #17 - Regan Hedley - 5 feet, 8 inches
Details

Contributed by

Darnell Duff
There were plenty of great shots and laughs as the Gilbert Plains Country Club hosted its two-person ladies' scramble on Saturday.
The duo of Gail Tycholes and Martha Messingbird finished first with an 84 on a countback. Theresa Gulak and Stephanie Remniak also shot a 84 to finish second on a countback while Trudi Binkley and Mackenzie Binkley shot an 84 to finish third on a countback.
First Flight:
1st) Donna-Lee Davis / Lisa Hale - 86
2nd) Pearl Maksymetz / Jan Nakonashy - 87
3rd) Amber Tarrant / Carrie Brook - 88
Second Flight:
1st) Pauline Murray / Beth Tarrant - 89 CB
2nd) Jenna Wreggat / Julie Facey - 90
3rd) Donna Dowsett / Donna Stevenson 92 CB
Third Flight:
1st) Susan Glasgow / Karen Paulson 92 CB
2nd) Donna Campbell / Heather Ready 99
3rd) Verna Vanrobaeys / Betty Hanson 101
Closest to Line #5 - Donna Stevenson
Closest to Hole #9 - Lisa Hale
Closest to Hole #17 - Pauline Murray
Longest Drive #12 - Carrie Brook
Details

Contributed by

Darnell Duff
The Parkland will be very well represented at the Western Canadian Rugby Championships when they get underway in Calgary early next month.
As of this posting, 22 players from the region in four different age groups will take part in the event. Suiting up this year on the Manitoba U-16 girls' team are Felicity Sahulka and Paityn Bourgouin while the U-18 girls' team roster will include Emma Fox, Brooke Miner, Chloe Fletcher, Bree Walker, Mai Maguet, Megan Thompson, Saje Marohn, Raylyn Koshowski, and Allee Hrechka.
The Manitoba U-18 boys' team includes Scott Gower, Rhett Tkachuk, Will Miner, Lars Gudbjartson, Matthew Zurba, Joseph Lopez, and Oliver Dandeneau. Ben Miner, Colton Miner, Sully Fox, and Kingston Stirling will suit up on the U-16 boys' team.
Ahead of the championships, the Manitoba program will take over Kin Field on Saturday for training sessions and scrimmages. They were originally set to welcome Team Saskatchewan to town for four games across the age groups; however, Saskatchewan pulled out. There will still be games that take place on Saturday following the training sessions in the morning and they could include other local rugby players.
As shown by the numbers, rugby in the Parkland continues to trend in the right direction and while the now is very bright, Shawn Sarkonak knows they are set up very well moving ahead as well.
"The future is very bright and I can't wait to see these players move onto the senior level," said Sarkonak.
Sarkonak is a long-time rugby coach and he's a mentor to so many in the sport. Always with a smile on his face, Shawn takes great pride in doing whatever he can to help Parkland rugby flourish, as they very clearly are. He's also very proud of how hard Parkland rugby players are working.
"As coaches, we give the players the tools to put in the tool belt, but they're the ones that have to put the work in," ended Sarkonak. "When we see those players doing the extra stuff like going to the gym or spending extra time on the field, that's really where the smile gets put on our faces. We know how bad these players want it and it's very special to be a part of."
Morning sessions on Saturday are open to the public and the afternoon scrimmages are expected to begin around 2:00 p.m.
Details

Contributed by

Darnell Duff
The Winnipeg Blue Bombers played far from perfect in the first half, but they had a great second half on Thursday night.
Returning to IG Field after a disappointing loss in Ottawa last week, the Bombers put up 22 points in the final 30 minutes as they downed the Edmonton Elks, 28-14. With the win, Winnipeg moves to 5-2 while the Elks remain the only winless squad in the league as they have lost seven straight.
Zach Collaros threw for 308 yards and was very accurate only missing four passes. Brady Oliveira had a monster game on the ground with 110 yards rushing while Nic Demski had four receptions for 115 yards and he did not drop a ball.
Kenny Lawler made an incredible catch in his return to the team's lineup and finished with 93 yards. Winnipeg allowed just eight points in the second half, all of which came in the third quarter.
Winnipeg does not play again until August 3 when they welcome the Lions to Manitoba's capital. BC beat Winnipeg earlier this year.
Details

Contributed by

Darnell Duff
Thomas Scott made two birdies on his final holes and he is the Parkland leader after day one of the Manitoba amateur golf championships at Oak Island Golf Club.
He finished with four birdies overall to fire a +3 to sit in a tie for 29th. Dalen Schulz is one stroke back of Thomas while is in a tie for 42nd after a first round, 77. Eric Prokopowich shot a 78 on day one and he's in a tie for 47th.
Keaton Jameson, a former Swan Valley Stampeder, tied Prokopowich as he also sits in a tie for 47th. Jose Mekish-Lacquette is in a tie for 58th after a first-round, 79. Hayden Delaloye of the Neepawa Golf & Country Club is outside the cut line after a first-round 80 while Taylor Fletcher of McCreary is in a tie for 72nd.
The top 60 and everyone within 10 strokes of the lead after Friday will make the cut and play one final round on Saturday. Two-time defending champion Braxton Kuntz leads the way as the Breezy Bend member shot a five-under on Thursday to lead Ryan McMillan by a single stroke.
Details

Contributed by

Darnell Duff
In the last 10 years alone, 45 of about 200 former Parkland Rangers have advanced to the next level.
The list includes a pair of former U-18 members in Ryan Pulock who is with the New York Islanders and Connor Dewar who is currently with the Minnesota Wild. Of the 43 others that went on to bigger journies following time in the Manitoba U-18 AAA Hockey League, players have played in the Manitoba Junior Hockey League, Western Hockey League, NCAA Division 1, the East Coast Hockey League and the American Hockey League to name a few.
Some players in the region believe their best route to the next level will be given a greater chance by moving outside of the region. For some, they believe their route to the next level stems from representing their home region club. Statistics have proven in the past and they continue to prove that there is no urgent need to move outside of the Parkland to develop.
Another prime example is Tristan Langan. From Swan River, Langan played 48 games with the U-18 program and he just recently signed a contract to play in Norway's top professional league with the Stavanger Oilers. Riley McKay of Swan River will return to the Laval Rocket after he helped them make the Calder Cup playoffs last year. McKay scored 11 goals in his lone campaign with the U-18 Rangers before he moved on to the Western Hockey League and he turned professional in 2020.
Mark Liwiski played 40 games with his hometown U-18 team and he's coming off a 17-point season in the ECHL with the Wichita Thunder while Jayden Jubenvill, a veteran of 95 games with the U-18 Rangers, is coming off an outstanding rookie season in the United States Hockey League with the Dubuque Fighting Saints, and has a scholarship to North Dakota.
For those who aren't aware of the USHL, it is widely known as the best Junior league in North America. Following his time with the Rangers, Jayden also helped the Dauphin Kings win the Turnbull Cup and he was excellent at the Centennial Cup as Dauphin advanced to the national semi-final.
The list of former Rangers that have advanced to the next level includes Riese Gaber of Gilbert Plains. Riese averaged nearly a point per game over his 80 contests with Parkland before moving on to help the Steinbach Pistons win the Turnbull Trophy and he also played with Team Canada West U-19 at the World Junior A Challenge in back-to-back years. He followed that by being named the Player of the Year in the USHL with the Fighting Saints and he is now one of the most dynamic scorers in NCAA Division 1 with the University of North Dakota, the same school where Jubenvill will soon attend. These are just a few examples of players from the Parkland who took the home region route before moving up in the hockey world.
For Tyler Carefoot, he is a complete believer in what the Ranger program has to offer.
"Overall, it just proves that we can develop our players right here in the Parkland, all the tools and programming are right here," said Carefoot. "It's a chance for the guys to stay in their hometowns with their schoolmates, yet, benefit from high-performance programming. When you add it all up, the Parkland Rangers is giving every player an opportunity to develop as hockey players, but most importantly, help mould their character for after their hockey journey."
With that in mind, Parkland is preparing to host their main camp starting with two sessions on September 7 and 12 which will be followed with an intrasquad game on September 13. All sessions will take at Credit Union Place and registration is now open. Depending on the number of players that take part in main camp, the roster could be dwindled down for the Souris exhibition tournament on September 15 and 16.
Carefoot likes to think of the Rangers as a 'mini' junior program.
"The rink that we play in; is first class, our dressing room, is top-notch, when on the road; we bus to most and we stay in quality hotels, it's all-inclusive," offered Carefoot. "Wherever we may be as a team, we are always having a lot of fun as a group. Playing with the Rangers in the U-18 AAA league provides every player with an opportunity to develop and achieve higher levels of hockey; it's a very good league with quality competition, which includes high-achieving players."
Tyler also wants to give a tip of the cap to Boston Karlson and Mitchell Rauliuk, as the young duo provides the team with excellent coverage on HockeyTV.
"Trent and those two fellas; do a tremendous job; it just adds another element to our program," ended Carefoot. "Our players are treated like professionals, they get exceptional media coverage; whereas most teams and players don't get the same media exposure and coverage"
If you are interested in becoming a Ranger, you can email This email address is being protected from spambots. You need JavaScript enabled to view it. The curtain on the season opens on September 29 as Dauphin hosts Yellowhead at Credit Union Place.
Details

Contributed by

Darnell Duff
Kenny Lawler says he is ready to make up for six weeks of lost time.
Lawler will be back in the Winnipeg Blue Bombers lineup on Thursday when they take on the Edmonton Elks at IG Field. The star receiver pleaded guilty to a 2021 impaired driving charge in Manitoba back on April 4. As a result, he was fined $1,500 and his driver's licence was suspended for a year.
Being an American citizen, he was unable to enter Canada and he was also ineligible to earn any pay with the Bombers. The situation has since been resolved which paves the way for his return.
Ahead of Thursday's game, Lawler said there was a ton of excitement when he returned to the Bombers' dressing room.
"It feels good, it's definitely a blessing to be back with these guys," said Lawler. "I was embraced by hugs and good spirits. I'm ready to get back to work, it's an unbelievable feeling to be back."
Lawler helped Winnipeg win the Grey Cup in 2019 and 2021, he spent last year with Edmonton. He will provide a much-needed spark to Winnipeg's offence after last week's stunning loss to the Ottawa Redblacks. After putting up 18 points in the first half last week and another seven in the third quarter, Winnipeg's offence hit a brick wall in the fourth quarter as they failed to score a point and they could only muster a field goal in overtime.
Lawler is widely known as one of the best receivers in the game and despite missing six games to start the season, he is ready to hit the ground running against his former team and with the team he helped win two championships.
"When it comes to the ball in the air, I believe I am the best," ended Lawler. "As a professional athlete in the Canadian Football League, it's all about staying in shape and I believe I did that during my time off. I'm here to help better the team, it's as simple as that."
Edmonton enters Thursday as the league's worst team as they have not won a game this year. They are 0-3 on the road and they have that same record at Commonwealth Stadium, where they have lost 20 games in a row.
Coach Mike O'Shea is also pleased to have Kenny back.
"I think everyone is just happy for Kenny that he has made it thru this," said O'Shea.
You can hear Thursday's game right here on 730CKDM as we're a proud member of the Blue Bomber Radio Network. Kickoff from IG Field is set for 7:30.
Details

Contributed by

Darnell Duff
It was a moment that Peter Genaille will never forget.
Playing at the Dauphin Lake Golf Club, Genaille recorded his first-ever hole-in-one.
Playing the 158-yard par 3, ninth hole, Peter made some great contact and it ended up rolling into the centre of the cup.
"It was pure excitement when the ball disappeared," said Genaille. "I have been golfing for more than 20 years, so this was very exciting."
Details

Contributed by

Darnell Duff
Gabriel Beaudin started playing volleyball in grade six and despite missing his grade seven year because of the COVID-19 pandemic, he has continued to fall in love with the game more and more since he first stepped on the court.
Come grade nine which he played this past school year, Beaudin already made the jump up to the varsity ranks and he helped the Clippers nearly make the provincial championships. Now, Beaudin is nearly 4,000 kilometres away from home as he competes for a national title.
Gabriel found out earlier this year that he was selected to play on the U-16 Manitoba men's volleyball team, a team that is playing this week in the North American Indigenous Games. While Gabriel has played against some of his teammates on this year's roster in the past, this is his first time representing his home province.
"I was very excited when I found out that I made the team, I have never really gotten this opportunity before," said Beaudin. "It's a really high level and the athletes here are top-notch, it's great to be part of."
With great representation in several sports for athletes from the Parkland, Beaudin is enjoying every second out east.
"It's been really fun, I have really enjoyed my time on the court," said the Dauphinite that is the team's starting middle blocker. "It has also been great to bond with my teammates, we have a great group of guys."
The team is also off to a red-hot start. After only allowing 20 points combined in a two-set sweep against Ontario in their first game, Manitoba downed Saskatchewan in straight sets. That was then followed up with another straight-set victory as they beat Alberta on Tuesday morning. Manitoba is outscoring their opponents, 150-106, as they sit atop the four-team event.
Beaudin has been a big reason why the Manitoban squad is off to a 3-0 start with some timely blocks paired with his attack efficiency which is near the top among middle hitters.
"We're really strong offensively and we're starting to pick up our play defensively," said Beaudin. "Not many teams have been able to stick with us, we're a very strong group."
Gabriel and the rest of the team will now take in the full experience of being at a North American Indigenous Games before hitting the court on Wednesday morning for a match against Ontario. Manitoba will then play Saskatchewan on Wednesday afternoon before they wrap up their round-robin with another game against Alberta on Thursday afternoon. The semi-finals go on Friday afternoon with the national final set for Saturday morning.
Manitoba knows they have a strong chance of making a deep run, but Beaudin knows it won't be easy.
"We have to stay prepared and we can't be too confident," ended Beaudin. "Anything can happen, we just have to keep playing how we know we can, it's still a long tournament."
NAIG Daily Recap:
Gabriel is joined by her sister, Bianca who is playing on the U-19 women's volleyball team. After opening their tournament with a tough three-set loss against Alberta, Manitoba rebounded in a straight-set win over British Columbia;
Norman Lacquette and Conner Weber-McKay highlight the Manitoba U-16 softball team. They beat British Columbia and Nova Scotia;
Tyrell Leaske of Swan River is playing with the U-16 soccer team and they beat Nova Scotia in their first game, 2-1;
Skyla Burns is on the U-19 soccer team and they opened their tournament with a 1-0 win over Eastern Door & North;
Maddie Amyotte is playing with the U-19 women's basketball team and what a start they are off to. After downing Northwest Territories, 61-9, Manitoba cruised to a 14-point win over British Columbia and they will finish first in their pool; and
Mason Chartrand, Rylan Chartrand, and Leland Malcolm are playing on the U-19 men's basketball team. They pummelled Colorado, 93-40. They will now play Minnesota and British Columbia and they are favourites to win their pool.
Details

Contributed by

Darnell Duff
Chase Glover is a national champion on the ice and on the golf course, he's also a champion.
Playing in the four-person scramble at the McCreary Golf & Country Club on Saturday, Glover was a part of the winning team that shot a sizzling round of 60.
Also on the team was Kayden Caumartin, Greg Anstett, and Wade Kopytko. Glover also picked up a closest to the pin prize while Renee Hunter Junior won the other one.
The course was in outstanding shape and tournament organizers are thrilled with how everything worked out.
Details

Contributed by

Darnell Duff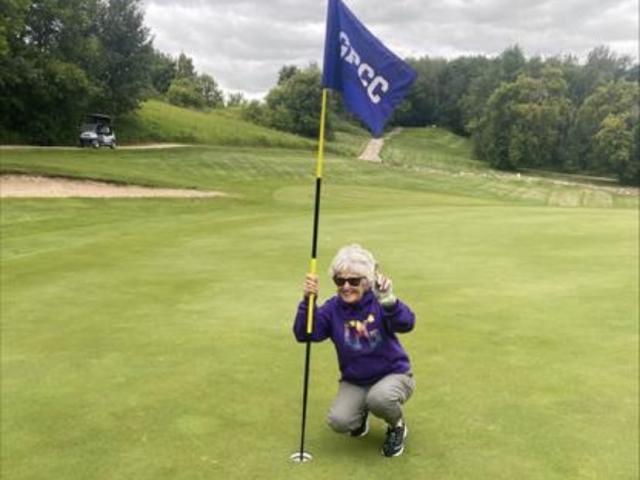 She was back playing on the course that she grew up playing on.
Now living in Langley, Katie Postnikoff has now joined an exclusive club on the link.s
Playing the Gilbert Plains Country Club on Saturday, Postnikoff aced the extremely tough 17th hole, to record her first hole-in-one.
With the pin nestled near the back of the green, Katie hit the perfect shot and it is now one that she will never forget.
Details

Contributed by

Darnell Duff