Latest Sports
Roblin's Samantha Kringle's high school basketball career came to an end on a great note. She was named to team Rogers for the A-AA-AAA Graduating All-Star Game in Winnipeg that took place on April 13.
Also from Roblin, Lexi Hawryluk was named to the same team.
"Oh my gosh, it was such an honour to be named to the team," said Kringle. "Our team worked so hard all season and to be recognized, it really is something."
Samantha was a vital part of the Goose Lake Angels success this season. She helped the team advance to the "AA" provincial championship final against Warren. Kringle was also named a Tournament All-Star for her contributions at the event.
"We had a goal at the beginning of the year and we just worked so hard," added Kringle. "Warren has always been our rival. It was a tough loss in the finals but it was still such a great season."
"We had four grade 12 players so we really just wanted to have the most fun with the coach, he really is one of the best we've ever had," she added.
Samantha will move on to university but she has made the decision to step away from competitive basketball. That doesn't mean she will stop playing the game entirely. Kringle plans on playing rec basketball.
Details

Contributed by

Darnell Duff
The Turnbull Cup Final is going the distance.
Portage pushed the series to a seventh and deciding game with a 5-2 win tonight in front of a sold out crowd at the Centennial Arena.
Game five hero Bradly Goethals opened up the scoring just 3:20 in.
That 1-0 lead held until very late in the second. With just 12 seconds left, Owen Murray tied the game at one.
The flood gates opened in the third and that was okay with Portage.
Alexander Uryga gave Swan Valley a lead just more than two minutes into the period and that fuelled Portage.
Jay Buchholz scored twice while Chase Brakel and Reece Henry also scored one each.
Game seven goes back at Stride Place on Monday night.
Details

Contributed by

Darnell Duff
The Gilbert Plains Country Club is now open for the season.
"The course is great. The grounds crew has worked really hard," said Scott McCallum, General Manager. "The tees and greens are as good as I've ever seen them."
There will also be a special going on right through the weekend. You can play 18 holes with a cart for just $45. The course also has brand new carts.
To book your tee time call 548-3030. For membership rates head to Gilbert Plains Country Club.
Details

Contributed by

Darnell Duff
Every year the Grand Plains Minor Hockey Association awards a Peewee player with the Brock Pulock Memorial Award.
The award is given to the player who never gives up, always provides encouragement to the team and has the ability to help the team win games.
This year's winner voted on by her teammates is Dauphin's, Reese Boguski. It's the first time that the 12-year-old won the award.
"I'm very honoured to have been chosen to receive this award," said Boguski. "I'm really thankful that my teammates and coaches thought of me as a leader."
"There are lots of very great leaders that played on this team this year," said Boguski. "Anyone could have been picked but I'm very thankful it was me."
Reese spent most of her season with the Peewee Ice Dogs and she also was an "AP" player for the Bantam Ice Dogs.
Boguski helped the Peewee team claim a bronze medal at the provincials in March. Way back on October 28, Reese scored four times in a big win against the Westman Falcons.
"Yeah, we had a very good season this year, it was really fun," said Boguski.
Reese will now enjoy the warm weather and come the fall, she'll be right back at it as she looks to lead the Ice Dogs once again.
"Winning the award will definitely push me and I think it will make me a better leader going forward," said Boguski. "I really want to thank the Pulock's for giving me this award."
Details

Contributed by

Darnell Duff
It was a bitter sweet weekend for Roblin's Lexi Hawryluk. She got the chance to play in the A-AA-AAA Graduating High School All-Star game in Winnipeg on April 13 thanks to all her contributions to the Goose Lake Angels this season.
The bitter part about it was that it was going to be Lexi's final high school game ever. She played on team Rogers as they stomped team Wilson, 60-42.
"It was a really awesome experience and was so fun," said Hawryluk. "All of us had some good chemistry out there and it worked well."
"It was really interesting playing with new girls and seeing how they play," she added. "We obviously didn't have any set plays or anything like that, but we still made it work."
Lexi also made her mark on the game to finish her high school career. She chipped in six baskets. She also was able to make her own personal highlight reel.
"Yeah, I went for a layup and the ball went off the top of the backboard which is technically out of bounds and it went into the net, everyone was calling it a circus shot," added Hawryluk.
Hawryluk was a big piece of the Angels puzzle this year as they got the Provincial Championship final against Warren.
Now that her high school basketball career is over, it will soon be her turn to get her next step shoes on.
Lexi will attend the University of New Brunswick and she expects to play for the Seawolves who play in the Atlantic Collegiate Athletic Association.
"That's going to be really awesome. I've been going through the recruiting process for a while now just chatting with schools from around Canada and into the US as well," said Hawryluk. "I just love that I have the opportunity to play sports at a competitive level. I've always really been a really competitive person and to get the chance to play at the post-secondary level is a fantastic opportunity."
The Seawolves went 9-12 in regular season play last year.
"I think it will be a different transition but I feel it's something that I definitely can handle," added Hawryluk.
Lexi was also named the Player of the Game when the Angels beat Hapnot, 51-37 in the first game of the provincials.
Details

Contributed by

Darnell Duff
The Dauphin Clippers hockey team held their season ending banquet this evening inside the Aspen Lodge at the Parkland Rec Complex.
Pictured above is Trevor Robak who will not return as the team's Head Coach after a few excellent years behind the bench.
The jersey he was presented with is signed by each player and the number three is the amount of year's he coached the team.
Most Valuable Player: Riley Hammond.
Playoff MVP & Top Goaltender: Bode Childs.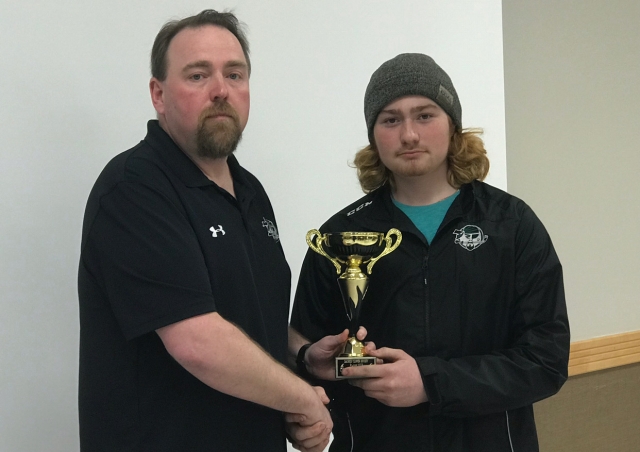 Top Defenseman: Wade Kopytko.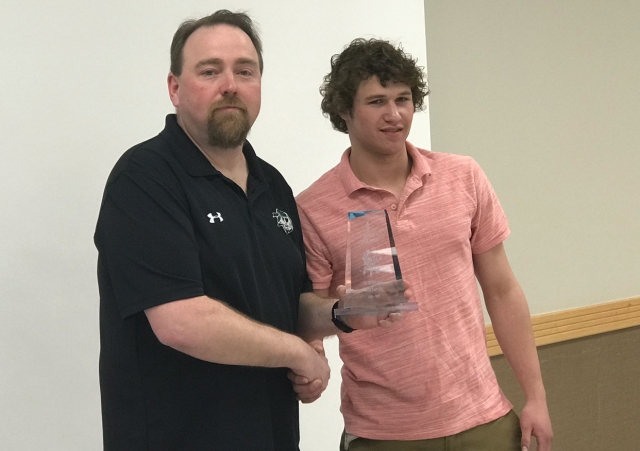 Rookie of the Year: Brayden Broome.
Hardest Working Player: Brock Allard.
Coaches' Choice Award: Austin Storey.
Clipper Commitment: Alex Iwanchysko.
Top Defensive Player & Top Scorer: Logan Storey.
Player's Choice: Riley Hammond.
Most Improved Player: Blake Zamrykut.
More exciting Clipper news is coming up within the next few days.
Details

Contributed by

Darnell Duff
The high school badminton season is underway and Minitonas' Jackson Kurtz is doing great things for himself.
Playing in the Flin Flon Bash this past weekend, Jackson had a dominating weekend.
He placed first in the men's singles and he was second in men's doubles. The 16-year-old also placed second in the mixed doubles competition.
The cool thing about his mixed doubles silver medal was who he played with. Jackson teamed up with a player from Snow Lake. He had never met him prior to playing with him at the event.
"I was really, really proud of how I did at the tournament," said Kurtz. "I've been playing badminton since October and I felt really good going in. I lost to one of my teammates earlier in the round-robin and instead of getting down on myself, I just tried focusing that much more and I ended up winning the rest of my games. I was really happy."
"Getting silver in the doubles was a really good feeling as well, it was fun playing with someone I've never met before," added Kurtz. "We came up short against a Dauphin duo in the final but it was still a really good game. I learned a lot over the weekend and it was a great experience."
Although the high school season just started, Jackson has been busy. He's been with the club team since October and he played in a few tournaments before Flin Flon. Playing in those prepared him to play some of the best high school badminton players from across the province.
"Instead of just getting my shots over the net this year, I'm trying to add more finesse and power to them," said Kurtz. "I think the combination of those has allowed me to have the success I've had. I've learned so many different techniques from playing many different players."
Although it's not a long season, Jackson will be very busy moving forward leading up to the provincials. Within the next two weeks, Kurtz will take part in the Gimli tournament, the Sectional Championships in Swan River and the Zone Championships in Grandview.
The provincials are May 3-4 at R.D. Parker Collegiate.
"I think I should have a good shot at making the provincials because I made it last year," added Kurtz.
After that Jackson will head to Brandon for a tournament with a friend of his.
"I know there are many good players from around the province and it's going to be hard moving forward," said Kurtz. "I'm just trying to keep it going and I'll work my hardest to have success."
"I just really need to be able to adapt to the other player," he said.
Details

Contributed by

Darnell Duff
Tiger Woods tore up Augusta this past weekend and now it's your turn to do the same.
The Dauphin Lake Golf Club opened this morning.
"The greens looked to have survived the winter fairly well," said Ray Karlson, General Manager. "There are a few spots but not nearly as much as last year. We're really excited."
If you want to book a tee time give the Dauphin Lake Golf Club a call at 638-9400.
For green fee prices and if you still want to buy a membership, head to Dauphin Lake Golf Club.
Details

Contributed by

Darnell Duff
Ken Shaw moved to Dauphin in September 2008. For the next more than nine years, he became someone everyone knew and someone who everyone wanted to.
Whether it was working at Safeway or spending his time at the golf course, Ken completely immersed himself into the Dauphin community.
His son Connor played for the Dauphin Clippers, Parkland Rangers and Dauphin Kings and Ken was always front row and he never missed a game.
In 2016, Connor moved to Winnipeg to go to school and play with the Transcona Railer Express. Ken commuted for every possible game that he could.
When the 2017-18 season came along, Ken's life was altered. He packed up his bags and moved just outside of Winnipeg so he could be extra close to his son and watch every single game of his final competitive hockey season without having to commute as much.
When Connor and the team lost in the league final last season, Ken expected to spend a little bit less time at the rink, but that wasn't the case at all.
He became the Railers Express "Team Photographer" this season.
"I didn't really know how to take a picture last year, but to be able to take a couple of online courses and go out there and put it to the test, it was really enjoyable," said Shaw. "The team likes it and they want me back next season. I love it and I plan on continuing to do it."
The one big difference from this season compared to many in the past was Connor was no longer around at the rink. He graduated and could no longer play which allowed him to focus solely on his studies at the University of Manitoba.
Just like he devoted so many hours to watching his son play, Ken was now tasked with devoting many of his nights to taking pictures for the Railer Express and he certainly made the most of it.
"I did really miss watching Connor play. The excitement you get when you see your son playing, there really is nothing like it," added Shaw. "But with that being said, I still really enjoy the game itself. I've been involved with the game for 55 years and to not be involved with it because my son isn't there, that just wouldn't make sense to me."
"I didn't enjoy it to the same level as I would have if Connor was playing, but I will say, it was a lot easier on my heart," added Shaw with a chuckle. "The excitement was still there. I felt really passionate about the team all regular season and right through the playoffs."
Despite having a young team this season, the Railer express still went 24-16-5 in the regular season. They also had a 3-1 series lead in the semi-final before they dropped three straight against the St. James Jr. Canucks as their season came to an end on Sunday, April 14.
"I would say we exceeded expectations. I think we should be in the finals with how we played, but we're not. We lost our best player with six seconds left in the regular season when he broke his leg so it was a freak accident," said Shaw. "We showed up and really played well all season."
"It was fun to watch. We had two game seven's in two series, like talk about excitement," added Shaw. "We didn't win, but I would say we had a pretty successful year."
The team will hold their season ending banquet in the coming weeks which Ken is very excited to take part in.
Apart from that, it's time to get summer going. Ken will enjoy it by playing some golf, spending time with Connor and of course as people know in Dauphin, riding his motorcycle is something he will do plenty of.
Here are some of Ken's shots from the season for your enjoyment:
Details

Contributed by

Darnell Duff
Bradly Goethals has the Swan Valley Stampeders just one win away from winning their first ever league title.
He scored the game winning goal in triple overtime as the Stamps' beat the Terriers, 4-3.
Kasyn Kruse opened the scoring before Portage tied it late in the first as it was 1-1 after 20.
Chase Brakel gave Portage their first lead of the game just over seven minutes into the second. It didn't last, however.
With just over a minute left in the period, Matthew Osadick tied up the game at two after 40.
Portage regained a lead early in the third but again it didn't last.
It was Mr. Clutch Bradly Goethals who tied the game up and sent it to overtime.
After two scoreless overtime sessions, Goethals took a pass from Josh Tripp and he did the rest.
Swan Valley can win the title on Thursday night. The series will shift back to Swan River.
Details

Contributed by

Darnell Duff
Dauphin's Barry Trotz, Grandview's Ryan Pulock and the rest of the New York Islanders are moving on.
They completed a four-game sweep tonight against the Pittsburgh Penguins.
Pulock finished the series with one assist.
Details

Contributed by

Darnell Duff