Latest Sports
The Western Hockey League has a tentative plan on beginning the 2020-2021 season on Friday, October 2. The biggest word is "tentative" as with everything going on in the world right now, there is no certain way to say whether next season can start on that date or if it'll be delayed even longer.
The off-season for Darren Ritchie certainly hasn't been a normal one compared to previous years, but the general manager of the Brandon Wheat Kings is adapting to a new normal as he looks to form the best possible roster ahead of the new season.
First off before we get to that, we'll share some exciting alumni news. Jiri Patera who is coming off an all-star season has signed his first professional contract. He played in 41 games this past season, one that offered up five shutouts and a franchise-best 2.55 goals-against average to go along with a .921 save percentage.
Patera is also the first European-born goalie to play for the Wheat Kings and he ended his time in the Wheat City with some individual hardware. The graduating goaltender was named the WHL's Eastern Conference Goaltender of the Year and he was also named the team's most valuable player.
Now, Patera could be on the way to the "Sin City". He's signed a three-year entry-level deal with the Vegas Golden Knights, the franchise that drafted him in 2017. Jiri has said in the past that his goal was to sign a contract with Vegas and he can now check that off the list. Although Patera was unavailable for comment, Ritchie shared his thoughts on the all-star goaltender inking his first professional contract.
"We're really proud of Jiri. He had a tremendous two years with us," said Ritchie. "He loved Brandon, he spent last summer here and he continued to train. We're always really proud of any player who advances to the next level and that's the case for Jiri."
There's a clear difference between junior hockey and playing professionally. Just because Jiri had an outstanding junior career doesn't exactly mean that will be the case professionally. However, if you've ever chatted with Jiri, you would know how hard he works and clearly, how talented he is. Signing a contract is the first step to him making his NHL debut and Ritchie has all the confidence in the world in Patera as he embarks on his new journey, wherever it may take him.
"He's a dedicated player and he's extremely competitive," said Patera. "His competitiveness makes everyone better. He also wants to get better every day, I think he should have good success at the pro level."
Jiri was originally drafted by Brandon in the CHL Import Draft. He was taken 104th overall back in 2018 in what really turned out to be a steal of a selection based on all of what Jiri did during his tenure with Brandon and starting with Jiri, Brandon is hoping their 2020 Import selection can do the same things, just offensively.
CHL Import Draft
With the 39th overall selection in the CHL's Import Draft, Brandon nabbed Russian defenceman, Yaroslav Busygin. Born in 2003, the 17-year-old is 6'2" and he weighs in at 170. He played with three different teams this past season, one of which was Vityaz Podolsk in Russia's U17 league, a team that he captained. He collected 21 points (4G) in 24 games.
Playing with Russkie Vityazi Chekhov in Russia's top junior hockey league, Busygin added four goals and one assist in 25 games. He also played with Vityaz Podolsk's U18 team where he had 11 points.
"He has good size and we think he's going to continue getting better," said Ritchie. "He has a really good first pass and that's really important these days. The more we watched him, the more we liked him."
Brandon also had the opportunity to select 99th overall; however, they passed.
Team Canada invitations:
In other news, it's been an exciting summer for three Wheat Kings prospects, one of which is from Russell. Tyson Zimmer is one of three members of the Club that has been invited to Hockey Canada's virtual national under-17 development camp which is set for July 19-25.
Zimmer, who grew up watching Brandon play, was taken sixth-overall by the Club in the 2019 WHL Bantam Draft.
"He's a really good player and he has a great shot. He just needs one chance to score a goal," said Ritchie. "He knows how to get open and he's extremely competitive."
As noted above, two other Wheat Kings received nods as Nate Danielson and Rylen Roersma will also attend the virtual camp. Danielson previously represented Canada at the Youth Olympic Games in Lausanne, Switzerland.
"It's a great honour for the three boys. Those boys have worked really hard and they've proved that they're top-end players in their age group," ended Ritchie. "They've put the work in and they're getting rewarded for it so it's great to see."
Details

Contributed by

Darnell Duff
The Dauphin Lake Golf Club will be busy in September as they'll host the Home Hardware Best Ball Challenge, but before that, another four-person scramble will take place.
On Sunday, September 6, a maximum of 36 teams will tee it up in the "Golfapalooza" texas scramble with registration beginning at 9:30 a.m. and a shotgun start at 11. The entry fee for the event is $400 for per and that includes 18 holes, 5 closest to the pin entries, one long drive entry (women's and men's), and one long putt entry.
The prizes for the closest to the pins will be $250; the long drives will be worth $150 while the longest putt is worth $100. Each team is required to have one female at least.
"It's right near the end of the season and it's a great event right before the school year gets going," said Tyler Geisler. "There are some great prizes and it's just going to be a ton of fun."
Already more than a dozen teams have signed up. You can do so by texting Tyler at 314-0087, a $50 deposit is required to hold your spot. There will be cash prizes in the championship flight, first flight, and second flight with a 100% payout.
Each team is responsible for their own carts and meals throughout the day. The Dauphin Lake Golf Club will feature tournament specials.
There will also be a $10,000 hole-in-one prize which is sponsored by Ashern Chicken Chef.
Details

Contributed by

Darnell Duff
The Manitoba Junior Hockey League entered a new era back on Wednesday, July 1 when Kevin Saurette became the Commissioner of the league after Kim Davis stepped down after serving 18 years in the role.
During those years, Kim helped transform the league to become one of the best in Canada and all Kim has done hasn't gone unnoticed. In the past, John Grisdale, Ron Boileau, Joe Drago, Frank McKinnon, Wayne Kartush, and Marty Knack were appointed by the Canadian Junior Hockey League as Life Members in recognition of their considerable contributions over the years to Jr. A hockey.
After 18 years at the helm of the MJHL, Kim is now the seventh individual in CJHL history to earn the honour as he's been appointed a Life Member. Under Kim's watch, which began in June of 2002, the MJHL saw over 6,000 regular season contests held, along with 700-plus playoff match-ups competed in and over 200 regional or national championship games having been played.
Brent Ladds, president of the CJHL had this to say on the appointment.
"The CJHL is grateful for Kim's many years of service, as a member of our Board and is truly deserving of joining the CJHL's distinguished group of Life Members," offered league president Brent Ladds. "His dedication, integrity, and passion for Junior A hockey across Canada, has always been evident through the unselfish giving of his time and his commitment to player-related issues."
Davis, from Flin Flon, had this to say.
"I've met all of the individuals that have received this award and they all did so much," said Davis. "To be a part of that group is an extreme honour and it's extremely humbling. It's very rewarding and gratifying that all my peers believe I did positive things, it's a tremendous honour."
During his 18-year tenure with the MJHL, Kim also spent a number of years as part of the CJHL's Executive Committee.
Although he is no longer at the helm of the league, Davis says he plans on staying involved in the game in other ways. Nothing has been finalized at this time, but he is talking to different groups about potential work. Davis also plans on staying in touch with Saurette moving forward.
For now, Davis will head back up north to his cabin near Flin Flon for the majority of the summer months to sit back and relax after an illustrious career as commissioner of the league.
"I'm honestly trying to figure my way around and get used to being retired, I think it's going to take me a while," added Davis. "It's a different lifestyle. I'll enjoy the summer months here and we'll see what happens moving forward."
Fans of the MJHL these days come to expect an elite brand of hockey, one that is very exciting to watch and a league that sends many players to the next level; however, it wasn't always like that. Davis says that when he first entered his role as commissioner the league wasn't seen as relevant when it comes to developing players and moving them on after their junior days.
Today, as mentioned above, the MJHL is doing a great job of advancing players. The Kings advanced several players to the next level in time for next season, one of which is Grady Hobbs who is playing Division 1 hockey.
"I really do believe the MJHL is doing a wonderful job in terms of fulfilling its mandate to develop and provide opportunities to players so they can move on to the next level," ended Davis. "I'm really proud of having established that as a mandate for this league and helping to fulfill it."
Details

Contributed by

Darnell Duff
A memorial was held last week at Vermillion Sportsplex to remember the late Victor Fron who made a difference to so many lives over the course of the years on and off the baseball field.
The Dauphin Minor Association then held an intrasquad game at Vermillion to remember Fron and they will continue to remember the local legend every single year moving forward.
Prior to the intrasquad game, Dauphin Minor put in their constitution that the first Saturday of June will be 'Vic Fron Day'.
This means there will be a tournament every single first Saturday in June moving forward and it will be to continually remember Fron and everything he did over the years.
The age group for the tournament each year will be determined prior to the season's start.
"We plan to move it around to each age group so that everyone gets to experience the one-day celebration for Vic," said Jodie Romanow, President. "Vic did so much for the baseball community in the Parkland and this was the least we can do to remember him, he was such a great man."
You can read more on Vic's life and all of his contributions right here.
Details

Contributed by

Darnell Duff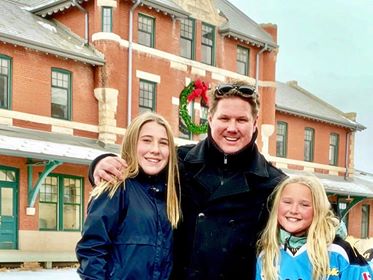 The Parkland U18 Rangers will be led by two proven coaches moving forward in Tyler Carefoot and Rick Freese.
Both have noted in the past how excited they are about the upcoming season and the prospect of turning the Rangers into a program that can compete with any team in the league on a day-to-day basis.
Although there's still a bit of time before the hockey season gets underway, there is no lack of buzz around the program.
Prior to training camp, the Rangers will be hosting a few conditioning sessions inside of Credit Union Place and they will be full.
The organization has announced that all of the sessions have been filled. There will be 18 forwards, 10 defenceman, and four goalies. The sessions begin middle of next month and run up until main camp begins a short time after.
"I think there's been more buzz about the Rangers than ever before. It's a great feeling to have support from some of the players already," said Tyler Carefoot. "There is a ton of it and we're going to give these players an opportunity to shake some rust off and get ready for what's coming."
Training camp will take place late next month which leads up to the annual Rangers intrasquad game.
From there, the team will take part in the annual Souris exhibition tournament leading up to the beginning of the Manitoba U18 AAA Hockey League's regular-season which will feature a 48 game schedule.
After a tough few years for the Rangers program which has offered up just 39 wins over the past three seasons, Carefoot knows this year's team will be one that works hard and gives it their all every single minute. He is also expecting big things at camp.
"The Rangers are back on the radar for several families and we're expecting a competitive camp," ended Carefoot. "Other than the players signed up for the conditioning camp, we're expecting a bigger number at training camp, so yeah, we're expecting to have an extremely competitive camp."
Details

Contributed by

Darnell Duff
The Southwest Baseball League's season is well underway and it's a tie atop the standings as both the Oak River Dodgers and Rivers Comets are 4-0 early in the campaign.
Former Dauphin King Riley Shamray is batting .500 for the Dodgers. The Rivers Comets, meanwhile, feature a Russell native who is helping the team win games. Dawson Tweet who was asked to hit leadoff has five hits so far in 15 plate appearances for a .333 batting average. That is the fourth-highest on the team among hitters who have been up to the plate at least 10 times.
Rivers has scored 8.25 runs per game while they've only given up 2.25 which is a league-best.
"The seasons going really well, we're really playing as a team right now," said Tweet. "Everyone is chipping in and it's helping us succeed."
Dawson also has two stolen bases and four runs batted in, the second-most on the team.
"I just go up to the plate with the approach to get on base and I think I've been getting that job done here," he continued.
Rivers is back on the diamond tonight as they play Elkhorn who are near the bottom of the standings at 0-3. So Dawson is doing solid things with the senior baseball club and his younger brother will also be given the chance when he's able to make it out.
Wyatt Tweet has been put on the team's roster for the remainder of the season. With a busy AAA schedule, Wyatt has only played in one game so far. But with lots of season left, there will be several games this summer where you won't only be seeing Dawson on the field, but you'll also be seeing Wyatt.
"It's a lot of fun playing with him, he's a great ballplayer," said Tweet. "We're always talking and pushing each other to be better, it's great having him around."
At 4-0, Tweet and the rest of the team play seven more games this season which runs through August 9 before the playoffs begin. A hot start has the team feeling confident and ready to make something special happen.
He says the team has a very deep hitting lineup and pitchers who can get the job done.
"We have a great group of guys, we just need to keep building momentum and we'll see where the season takes us," offered Tweet.
Details

Contributed by

Darnell Duff
There's still plenty of summer left, but already Crystal Zamzow has made this summer one that she will never forget.
Starting her competitive golf season at the Manitoba amateur championships at Bel Acres earlier this month, Zamzow put together three scores that saw her finish as the 10th best amateur in the province. This feat was that much more impressive because Crystal is only 14-years-old and she was playing against women of any age.
She shot 84-79-90 at that event and was just four strokes back from a top 7 finish. Zamzow added some new clubs to her bag prior to the event so it was really about getting the feel and she did just that.
"I played two pretty solid rounds and that made me feel like I was where I needed to be," said Zamzow. "I wasn't happy with that 90 but overall, it was a pretty good week."
After a short time off, Zamzow was back on the course competing as she played in the Manitoba junior championships at the Selkirk Golf & Country Club. This year was Crystal's second time playing in the event after she finished in fourth place last year.
Her goal heading into this tournament was to finish in the top 3 as her young career continues to blossom every round she plays.
After an opening-round 79, Zamzow had a one-stroke lead over Mikyla Albert heading into round two. Zamzow would end up taking a two-stroke lead into the final round after she fired a 77 in the second round.
With the tournament coming down to the wire, Crystal took care of business in grand style down the stretch. After a par on back-to-back par 3's on 16 and 17, Zamzow sealed the championship with another par on the 18th hole as she won the junior title by two strokes.
It's the first time Zamzow has won a Golf Manitoba provincial championship.
"It still feels like a bit of a dream right now, I don't think it's really set in," concluded Zamzow. "I was over the moon and back happy, it was such a crazy feeling to win this event. It's something that I will never forget."
Zamzow is eligible to play in some Maple Leaf Junior Tour events moving forward this summer. For now, however, she plans on spending some time with her family and enjoying a provincial gold medal.
Details

Contributed by

Darnell Duff
Jose Mekish-Lacquette had a goal of finishing inside the top 5 at Golf Manitoba's junior championships in Selkirk.
Although he finished just outside, the Russell native did top the Parkland players. After opening with a 2 over, Jose struggled in his second round firing an 84.
However, he did respond in round 3 by shooting a 7 over to lock up 17th place in the province.
Thomas Scott was just a few strokes back in a tie for 22nd while Eric Prokopowich finished in a tie for 25th.
Hayden Delaloye finished in a tie for 27th. Jackson Delaurier, meanwhile, finished in 40th.
Details

Contributed by

Darnell Duff
The Ebb and Flow Lakers senior men's baseball team weren't sure if they would play this summer because of the novel coronavirus. In the end with Manitoba easing its restrictions, the Santa Clara Baseball League is holding a 2020 season which means the Lakers are back.
The team started with a 9-1 loss against the Neepawa Cubs. A strong sixth inning propelled Neepawa to the victory. Ebb and Flow would get back on the field a short few days later to play a doubleheader against the Austin A's and the double-dip provided the team with its first win of the season.
Ebb and Flow are now 1-2 after three games.
"We're doing alright right now. We had a close game against Neepawa, it just sort of got away from us near the end,' said Eric Archambault. "It was nice to get that first win against Austin; we're looking forward to the rest of the season. We have a pretty young group mixed with some veterans."
That win against Austin was fuelled by an incredible pitching performance from a veteran. Archie McIvor had a complete game shut out which featured 12 strikeouts. McIvor has been playing for the Lakers for more than 30 years and he's long been known as the team's ace.
"He's always been one of our top guys and he showed that again," continued Archambault. "He's been having these types of performances for the past 30 years, it's just what we come used to expect."
Archambault is playing his fifth season with Ebb and Flow. He says having the senior team is a great thing for not only just the community but players from outside the community who are looking to continue their competitive baseball careers.
"It's a very respectable ball club with a long history of excellence, it's an honour for myself to play on this team," ended Archambault. "It gives young kids an outlet after their high school days."
Eric adds that there are a ton of new faces on this year's team and that's the most exciting part of what is a very bright future for the Ebb and Flow Lakers. The team heads to Plumas to play the Pirates tomorrow.
Details

Contributed by

Darnell Duff
Tuesday, March 10, that was the last time the New York Islanders played a game as they were defeated 5-4 in a shootout against the Vancouver Canucks. As he did basically every game prior to that contest, Ryan Pulock led the team in minutes played with over 27 minutes on the ice as he was a +1.
In came the novel coronavirus which brought not only thousands and thousands of cases to New York, but thousands and thousands of deaths as the state was truly the hot-bed early on. Just as every other league did, the NHL suspended play until further notice and in the end, the remainder of the 2019-2020 season was cancelled because of the virus that continues to grapple the world. Ryan was able to leave New York and he made his way back to Manitoba to quarantine and assure he was staying safe.
Five months later, Pulock is now back in New York and he's back on the ice with his teammates as the NHL's Return-to-Play Protocol continues to formulate.
"It's been a crazy past couple of months with what's going on, there's no doubt about that," said Pulock. "I got back in the gym as soon as they opened back up and I stayed in shape to prepare for this."
Pulock has now been back in New York for about 10 days as training camps across the league officially opened yesterday ahead of August 1.
"Getting back on the ice has been great, really exciting," he added. "It's just nice to be back with the team as we prepare to get back into game action."
Despite going 2-4-4 down the stretch before the season was put to rest, Pulock had helped the Islanders go 35-23-10, good enough for 80 points, the ninth-most in the Eastern Conference. New York also went a solid 20-9-6 on home ice.
Offensively, Ryan was well on his way to a career year. After scoring nine goals and adding 28 assists in the 2018-2019 season for 37 points, Pulock had already added up 35 points this past regular season. If the season wasn't cut short, there's no doubt that Pulock would have posted his career-high, in fact, he already had 10 goals, the most he's scored in one single National Hockey League season.
"I liked my season overall, I think I was playing some of my best hockey in the past couple of weeks leading up to the pause," offered Pulock. "I'm just trying to improve every year, be more reliable, and produce more offensively every year and I was on track to do that. I was satisfied."
Pulock says after a few months break, there is a lot to work on as his team works towards winning a Stanley Cup.
The Islanders who are coached by Barry Trotz of Dauphin will remain in New York until next weekend when they will travel to Toronto. All 24 playoff teams will report to the two "Hub" cities in time
for July 26. The Eastern Conference will be in Toronto while the Western Conference will be played in Edmonton.
While in Toronto, Pulock and all teams will be in the "bubble" which is a confusing term to many. Basically, the bubble is aimed to keep all players safe from the outside world as the NHL attempts to complete the playoffs.
"We haven't really been informed about how it's going to work. I think the most we know is that we're going to be stationed in a hotel and we can't really leave other than playing in games," said Pulock. "I think it gives us a great chance to bond as a team and really dial in."
The NHL has said some activities will be available for players; however, those plans have not been made public.
Now we look ahead to the matchup. As mentioned, it's going to be Islanders against Panthers at Scotiabank Arena and the action kicks off on Saturday, August 1, ironically which will be called "Hockey Night in Canada". Games two and three will be played Tuesday and Wednesday. If necessary, game four is played on Friday and game five will be played on Sunday, August 9, if need be.
The Islanders are the favourites in the series after they won all three regular-season meetings against Florida. The Islanders won by 1 goal in two games and 2 goals in one game.
"The matchup has given us a good opportunity here. We know Florida has good depth and good goaltending, but I think we matchup pretty well and we played them well during the season," continued Pulock. "It's all about who can stay healthy and who can capitalize on those chances. I'm taking this as a pretty special opportunity to play for the Stanley Cup in a modified situation, it's a pretty exciting thing and I believe everyone on this team is taking it like that."
We know that games will begin on August 1 and that slate includes Florida against New York. We also know that no fans will be allowed inside the building as all games will be played without spectators for the entire playoff run.
"That's going to be different and it's going to be an adjustment," said Pulock. "Passionate fans can really drive a team but obviously there won't be any of that. But it's not like one team gets fans and another doesn't, no one gets fans so it's all about finding that extra energy within the team and feeding off that. No one knows how it's going to turn out, but we're going to find out here in a few weeks' time."
This playoff run will be Ryan's third. He had one goal and two assists in the 2016 playoff run while he had one assist in eight playoff games last season. A decade ago, Pulock suited up in playoff action with the Parkland U18 Rangers and now, he's getting ready for his third playoff stint with the NHL's New York Islanders. There truly isn't anything that's better than playing for the biggest prize in hockey.
"There really isn't, you dream of playing in the NHL playoffs and you dream of winning a Stanley Cup," ended Pulock. "To have that opportunity here, it's a special one and it's about making the most of it."
Ryan added that he's also been spending a lot of time on the golf course. If you go back a couple of years, he was inches away from making a hole-in-one at the Gilbert Plains Country Club during the Grand Plains Celebrity Classic, a feat that nearly earned him $10,000.
You can hear Darnell Duff's full interview with Ryan here.
Details

Contributed by

Darnell Duff
The Battle for the Belts opened up registration late last month for the two-person scramble at the Gilbert Plains Country Club on Sunday, July 26.
Organizers Danny Scott and Chris Todoruk expected a field of roughly 30-40 teams; however, many more are set to tee it up. The event has officially sold out with all 72 team spots filled meaning 144 golfers will be on the course for the event in less than two weeks' time.
The cost to enter was just $50 which includes your round, a meal, and a chance at prizes.
"This is great. The response on this tournament has been overwhelming really," said Scott. "We just expected to start small and build in the years ahead. This just shows that so many people want to raise money for the Gilbert Plains Country Club."
The money raised will go towards improvements at the Club. There will also be a $10,000 hole-in-one prize up for grabs on #4 and someone can win $1000 by making an ace on hole #17.
"It's going to be a ton of fun. We have to thank Dave Campbell at Parkland Source for Sports, we couldn't do this without him sponsoring it," concluded Scott.
The field is officially set and now the question is who will win the belts. Stay tuned for full results after the tournament.
Details

Contributed by

Darnell Duff