Latest Sports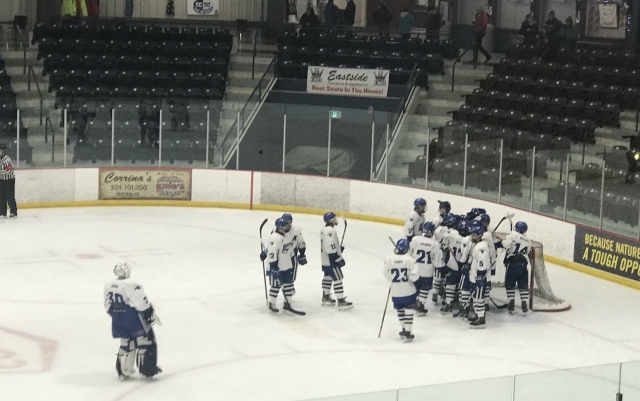 It's a big day for the Parkland u18 rangers as they return to the ice.
They'll welcome the Interlake Lightning to town.
Parkland is currently one point back of a playoff spot, while Interlake is just one point back of the Rangers.
When the two teams last met prior to Christmas, Parkland won 5-2.
Gametime at Credit Union Place is set for 7:30.
Details

Contributed by

Darnell Duff
The Dauphin Super 8 Bantam Kings are rolling in Souris.
Playing in the Tournament of Champions, the Kings are 2-0 after day one and they're playoff bound.
They opened things with a huge 9-1 win against Virden and then they beat Lord Selkirk, 6-0.
The team is now playing in the quarterfinals.
Details

Contributed by

Darnell Duff
The Dauphin Clippers hockey team rolled all over the host John Taylor Pipers in Winnipeg.
After a win over Sturgeon Heights in the morning, Dauphin dispatched of John Taylor, 6-1.
Seth Masson and Keanu Woodhouse had Dauphin up 2-0 after 20 minutes.
Matt Boguski, Brady Dyck, Brayden Broome, and Logan Storey scored the rest of the way.
They will now play River East in the semifinals. The Kodiaks are the number one ranked team in the province.
Details

Contributed by

Darnell Duff
The Dauphin Clippers varsity boys basketball team is off to a strong season and they're being recognized for it. Included in the team's success was taking down the Goose Lake High tournament earlier this season.
The Clippers dominated all three of their games in that tournament. They first beat Major Pratt, 90-34, then they got past Swan Valley in the semifinals. Next up, the Clippers beat the host Raiders, 91-59 in the final.
Ahead of hosting their own tournament this weekend, Dauphin is ranked as the fifth-best AAA team in the province. The list includes six teams from Winnipeg and the remaining three are just outside.
"I kind of thought that we would be in the hunt for one of the top spots in the province," said John Marshall. "With that said, you never really know because there are always Winnipeg teams that have good competition."

"Our goal this year was to be in the Top-5, so we're glad that we achieved our first goal," he added. "We want to be in the Top-3 come provincials, so that's our next goal. That would give us an advantage."
Dauphin begins their home tournament against Ebb & Flow. Other teams taking part are Helen Betty Osborne, Goose Lake, Margaret Barbour, Morden, Hapnot, and Ste. Rose.
Other tournaments Dauphin will take part in this year include one in Brandon and one in Winnipeg. This all, of course, leads up to the zones and provincials which take place from March 19-21 at Ste. Anne Collegiate.
"I'm confident that we can keep it rolling. We've had a few injuries and some players can't play in some tournaments, but we're fortunate to have a deep team," added Marshall. "I do believe that we can move higher than the fifth spot that we're currently in."
When it comes to the ultimate goal for the season, the Clippers are looking to at least win a bronze medal. With the group they have, John knows that they can make that happen.
"We want to medal and of course, we want to medal as high as we can," he added. "Winning gold would be wonderful, but we know that's going to be tough. With that said, it's doable, but we have to make sure we continue to play our best basketball and improve every single game."
Details

Contributed by

Darnell Duff
The CJHL Trade Deadline is at 5:00 p.m. and the Dauphin Kings have completed another couple of trades.
The team acquired Colby Jaquet from the Selkirk Steelers. He played in last year's MJHL/SJHL Showcase in Regina and he was one of the Steelers top defenders.
Colby racked up 21 points (4G) with Selkirk this season. He will join Levi Mitchell who he played with on Selkirk as Dauphin picked him up yesterday. Going Selkirk's way is Ben Bonni, Ethan Williment, and Future Considerations.
In another deal, Dauphin sent Hugo Laflamme to the St. Jerome Panthers of the QJHL for Future Considerations.
Stay tuned for more.
Details

Contributed by

Darnell Duff
The Bantam AAA all-star game is taking place tomorrow in Winnipeg and all week, Ranger players that are taking part in the game have been highlighted. The list includes Aiden Ziprick, Kyan Grouette, Carter Zalischuk, and Brayden Dube.
Those four players, however, aren't the only Rangers that will take part. Will Munro is one of 14 forwards on the team and he's ready for his first all-star AAA game.
"It feels great, I'm honoured," said Munro. "I have to thank my teammates and coaches for making this possible."

"My goal was to be an all-star, but everyone wants to be one," he continued. "It's a special feeling and I'm really looking forward to the festivities."
Also joining Team Army is Tom White. He'll be the team's head coach for the game. He is also the head coach for the Parkland Bantam Rangers. In all, six members of the Rangers will take part in the game.
"It's pretty cool that so many of us are taking part in this," he continued. "It'll be a lot of fun and we'll see how it goes."
There's no doubt that tomorrow's game is an important one for Will and the rest of the crew. Every player that takes part in the game is eligible for the upcoming WHL and MJHL Bantam Drafts that take place in May and June, respectively.
That means a bunch of scouts will be at the Iceplex tomorrow and it's a great opportunity for the players to show what they really have.
"I'd say there's some pressure playing against the best players in the province at this age level, but it's honestly just another game," added Munro. "There's no mercy when I'm on the ice."
The Swan River native has been a driving force to the Rangers success this season. The group leads the West Division by three points over Southwest. Munro has 27 points, 14 more than he had all of last season and he's played 13 fewer games this season.
Will is fifth in scoring on the team this season.
"Things are going pretty good, I'm happy with how things are going right now," concluded Munro. "I'm working as hard as I can and I just want to do anything I can to help this team win games, that's my main goal."
Right after the all-star game tomorrow, Munro and the rest of the Rangers are back at it on Sunday. They'll play the Winnipeg Hawks who are 14-10-1.
Details

Contributed by

Darnell Duff
The Dauphin Clippers are off to a good start at the Piper Classic hockey tournament in Winnipeg.
They beat Sturgeon Heights, 4-3, in overtime. Brady Dyck, Logan Storey, and Brock Allard scored the goals in regulation.
In overtime, Brayden Broome was the hero. Broome is in a tie for fifth in Dauphin scoring this season with 18 points in the Westman High School Hockey League.
Details

Contributed by

Darnell Duff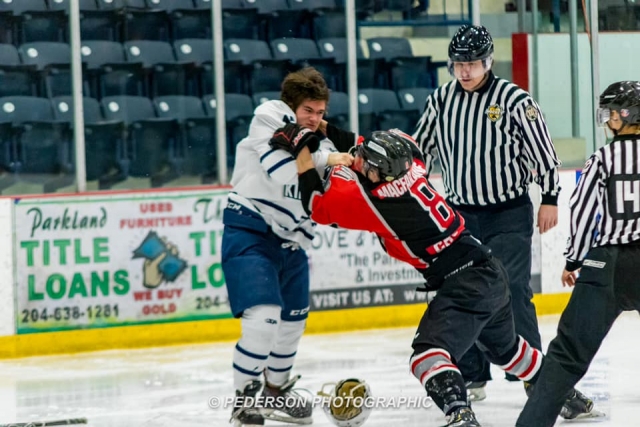 Noah Wagner spent the past few of his competitive hockey seasons preparing to achieve one goal and that goal was making a junior roster. Playing at the Rink Hockey Academy in Winnipeg last season, Wagner was solid.
He played in 78 games and he put up 60 points. After the season came to an end, Wagner continued to work hard just in case a junior opportunity came open and it sure did. Wagner began this season with the North American Hockey League's Minnesota Wilderness.
The Winnipeg native ended up playing just three games with them before he decided to come back to Canada and when he did, he joined the Dauphin Kings. Wagner has now suited up in 31 games with the Kings as the team prepares for one game this weekend.
"I love Dauphin, the guys are great and I'm having a really good time," said Wagner. "We have a solid team. Once we get things going here, I think we can have a lot of success."

"Dauphin provides me with a better opportunity than Minnesota and I think I made the right choice," continued Wagner. "Based on my play, Dauphin is a better spot and I'm happy that I'm here."
In his 31 games with Dauphin, Wagner has seven points (3G). One of the best things about Wagner's game is his skating ability, tight passes, and willingness to do anything it takes to help the team win. If a big hit is needed, Wagner will make one and he won't shy away from taking on the other team's biggest player.
However, Wagner is looking to add more to his game beginning on Sunday.
"I think every player has more to offer at the end of the day," said Wagner. "It's my first year of junior, so I'm just trying to find my way. I take a good look at the veterans and I see what they do to succeed and I try to do the same things they do. It's all a process being a young player."
Noah has represented Manitoba in the past. He played for Team Manitoba at the WHL Cup back two seasons ago. In five games, he had two points. They beat Saskatchewan in the tournament to claim the bronze medal.
"Representing my province was definitely an honour for me, it was extremely special," concluded Wagner. "It's my best hockey memory so far and it's also one of the best memories in my life."
Get To Know Noah:
Nickname – Wags.
Favourite song – UCLA by RL Grime.
Best warmup music in the MJHL – Dauphin.
Favourite rink to play in – Steinbach.
Favourite pre-game meal – Chicken and Rice.
Favourite cheat meal – McDonald's.
Favourite NHL player – Brady Tkachuk.
Favourite professional athlete – Lamar Jackson.
Favourite NHL team – Winnipeg Jets.
Favourite professional team – Minnesota Vikings.
Stay tuned for my full chat with Noah during the Dauphin Kings Power Play Show just after 4:00 p.m.
Details

Contributed by

Darnell Duff
The Dauphin Kings organization has had many great seasons throughout the years and they've seen a ton of incredible talent play for the team. The 2012-13 season was definitely a season that included both.
The team went 47-11-2 in the regular season and it included local player, Jesse Sinatynski who led the league in scoring during the regular season. Another player it included was one who started his junior career in the QMJHL and he also spent time in the OJHL before he joined the Kings.
Joining Dauphin that year was Guillaume Naud. The now 27-year-old was born in Germany and he spent a few seasons in Canada before joining the Kings.
"I have nothing but great memories of Dauphin. We had so much fun as a group," said Naud. "We were very successful and we won a lot of games. Everyone was always in a good mood, it was a great environment to be a part of."
Naud quickly became a favourite around the city and he certainly was one inside Dauphin's dressing room. He was also a player that dominated many teams. He ended up with 88 points (32G) in the 60 regular-season games. His teammate, Sinatynski finished the year with 93 points.
Naud would go on to add another 24 playoff points (7G) as the team advanced to the league final. However, they would end up falling short against the Steinbach Pistons who won the series in six games.
"That was a pretty heartbreaking moment, we really believed we had what was needed to win a title," said Naud. "I still remember as if it was yesterday, it's a feeling that never really goes away, it was a tough one."
The season didn't end with a title, but it did end up with some personal accolades for Guillaume. He was presented with the Steve "Boomer" Hawrysh Award that season as the Manitoba Junior Hockey League's Most Valuable Player. On top of that, Naud was also a Runner-Up for the Canadian Junior Hockey League's Player of the Year Award.
"It meant so much to me, it was definitely a pat on the back for all the hard work I had given to the game," said Naud. "It was also a motivation for me to push even harder. It also made me think that I could continue playing hockey after junior. It was really special."
After his season with Dauphin, Naud would go on to play one year with the University of Lethbridge Pronghorns men's hockey team. He had 10 points (3G) in 27 games. After transferring, Naud joined the Nipissing men's hockey team where he would end up playing for another three seasons.
After that, Naud's dream of playing professional hockey came true. He joined the East Coast Hockey League's Greenville Swamp Rabbits right out of university. He spent 27 games in the ECHL and he also had a 39-game stint with the SPHL's Peoria Rivermen. Now, Naud is back where he was born.
Guillaume has joined the Herforder EV hockey club out of the German league. He has 44 points in 21 games (23G). The team is also looking to win their third straight championship after winning in back-to-back seasons.
"I'm really happy to be back in Germany, this is where I want to be," said Naud. "Our team is having a lot of success and our goal is certainly winning a title. Hockey is fun and I want to enjoy it for as long as I can."
Details

Contributed by

Darnell Duff
The Dauphin Kings have made their first big move ahead of the CJHL Trade Deadline which is tomorrow.
The team has acquired goaltender Levi Mitchell from the Selkirk Steelers. Mitchell has a 12-16-2 record this year with the Steelers which includes a .907 save percentage. Mitchell shut the door against Dauphin earlier this year.
He made 29 saves back on November 15 in a 3-1 win for Selkirk.
Selkirk receives Marcus Sekundiak who is currently in the WHL, Drayden Kurbatoff who is playing AAA, and Future Considerations.
Stay tuned for more.
Details

Contributed by

Darnell Duff
When Brayden Dube is on the ice, opposing teams put out their top defenders as they try and lock him down. However, any gameplan teams have used to try and do so hasn't worked this season.
When Tom White and his entire coaching staff put together this year's team, they expected Dube, who is in his second year with the team to do big things. However, it's safe to say that Dube has done more than many people perhaps would have expected.
Dube has played in 23 games with the Rangers this year and he not only leads the West Division in points, but the sharpshooter leads the entire province. Dube has scored 50 goals, 16 more than any other AAA player in the province and he's added 35 assists for a total of 85 points. That total is 11 more than Jayden Perron who is second in scoring with 74 points.
The Roblin native has also been a force on the penalty kill as he has four shorthanded goals, the second-most in the province. Add five goals on the power play and 13 power-play assists to that total and it's safe to say that Dube is dangerous in whatever situation you put him in.
"All of this production is honestly shocking, especially the 50 goals that I've scored," said Dube. "I really didn't think I would put up this many points, especially this quick into the season."

"It's a pretty good feeling to know that I'm one of the top players in the province," he added. "It's a big year because it's my draft year, so I'm pretty happy about how things are going."
Playing in 32 games last season with the team, Dube had 34 points (17G) in the regular season. In nine fewer games this year, he already has 51 more points than last season and he still has 13 regular-season games with Parkland. The first of which comes against the Winnipeg Hawks this Sunday.
Prior to Sunday, Brayden will be joining the best in the province. He's been named to Team Army for the Bantam AAA All-Star Game in Winnipeg. Brayden will join his teammates Will Munro, Carter Zalischuk, Kyan Grouette, and Aiden Ziprick.
The game will take place on Saturday at Bell MTS Iceplex.
"It feels good to know that all my hard work has paid off," he added. "It's going to be super competitive and I'm really excited to play with my teammates and with all of the other players as well.".
When it comes to Saturday, Tom White will be the head coach of the team. He's in that same position with the Rangers and Brayden has great things to say about him.
"He's helped me a lot. He always pushes me to become a better player offensively and defensively," he continued. "He's just a great coach."
Moving forward into early March, the best teams in the province will be coming to the Parkland region and Swan River specifically. Dube and the rest of the Rangers will host the Rural Provincial Championships at the Centennial Arena.
The winner of that tournament plays the winner of the Winnipeg division for a spot in the Western Canadian Championships.
Although it's still a bit away, Dube is no doubt really excited about it.
"All of my family can come to watch and it's so close to home, it's pretty awesome," he concluded. "Our goal is to win that title and I believe we can, things will be tough, but I know everyone believes we can."
Details

Contributed by

Darnell Duff