Latest Sports
Sport Manitoba has announced the cancellation of the Manitoba Games 2022 this afternoon.
In a press release provided to CKDM, they state the decision is one to keep Manitobans safe and prevent the spread of COVID-19.
The Games were set to take place in Niverville from February 27 - March 5, 2022.
Mayor of the Town of Niverville, Myron Dyck, expressed his disappointment for the decision, but it's one he understands,
"While I am disappointed by the decision to have to postpone the Manitoba Winter Games, I support the Niverville Winter Games committee and understand the reasoning behind their decision. I know this was not an easy decision to make, but I now set my sight forward to 2026 and welcoming everyone to our community then."
These Games would have covered upwards of 1,500 participants from all across the province, including athletes, coaches, managers, officials, and 1,000 local volunteers organizing 12 sports over seven days in and around the Town of Niverville.
The Town of Niverville has been offered the first right of refusal to host the 2026 Manitoba Games in the winter of 2026, the next Games available to host.
Details

Contributed by

Noah Fuchs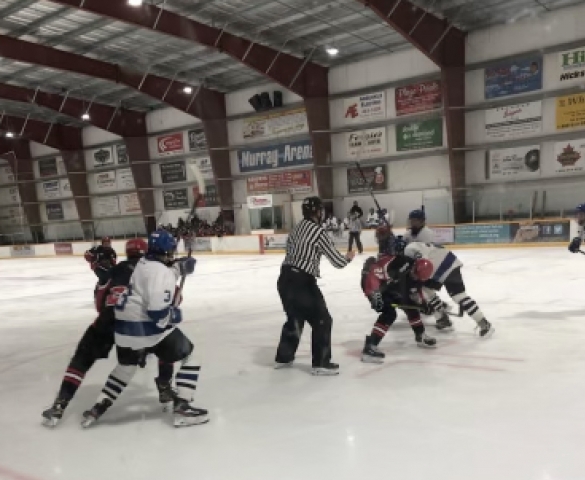 A new season has officially arrived for the Parkland U18 Rangers as they open their 2021-22 campaign at the Shoal Lake Communiplex against the Yellowhead Chiefs.
The team hit the ice last weekend for two preseason games, in which they went 1-1. Tyler Carefoot returns as head coach of the team and he says last weekend was positive as the team gets set to begin things for real on Friday.
"Other than the first period of our first game, we improved every game and every period," said Carefoot. "I was very impressed with our veterans and our young guys did really well. It was a solid weekend."
In three meetings with Yellowhead in last year's shortened season, Parkland outscored the Chiefs, 19-8. Friday's game is the first of a weekend home-and-home between the two clubs and the first of four meetings this season.
"Super excited to get things going," said Carefoot. "We're still waiting to find out if a few players will join the team but we're focused on the task at hand. It's been a long time since we last played a regular-season game."
Jayce Legaarden will be one of Parkland's leaders this season after he started his season at Winkler Flyers rookie camp. He was also invited to main camp before being reassigned back to the Rangers.
"It was a great experience, especially to see the pace increase from rookie camp to main camp," offered Legaarden.
In seven games last year, Jayce scored three goals and added one assist. Last weekend, the Grandview native scored four goals, two on Friday and another two on Saturday. With high expectations for himself, Legaarden is confident that this year's group can do some damage, beginning this weekend.
"I think there's a lot to be excited about with this group," ended Legaarden.
Following Friday's game, Parkland returns to Credit Union Place for their home opener which will be played on Saturday evening at 7:30.
Details

Contributed by

Darnell Duff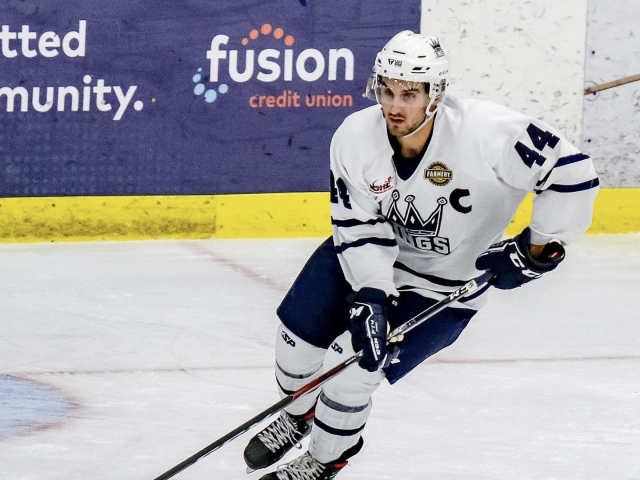 For the second time in six days, the Dauphin Kings will play a home game inside of Credit Union Place. And when they host the Neepawa Titans on Friday night, they will look to make it two straight wins against their rivals.
Dauphin is coming off a 1-0 win in which Carson Cherepak made 45 saves to record his first win as a King while Luke Morris scored his second goal in the victory. It's been a busy week for Dauphin as they were out in the community earlier this week volunteering their time at the Mountain and Main Street Co-op Gas Bars in town for Fuel Good Day.
Rylan Gudnason enters the game as Neepawa's leading scorer with two points while four other Titans have one point, including Jaegar Lapointe who was born just down the road in Ste. Rose.
Friday's game is the third of eight between the two clubs this season and is the first of a weekend home-and-home with Saturday's game being played at the Yellowhead Centre.
Dauphin enters the game at 90.9% on the penalty kill as they killed off 10-of-11 penalties taken last week while Neepawa killed off both of the penalties they took. Dauphin is 6-2-1-1 against Neepawa at Credit Union Place in the past five years, including 1-0 this season.
Dauphin will add some offensive depth to the lineup this weekend, as Sean Williams has returned from the Swift Current Broncos. He had six goals and three assists in just four games last season with Rink Hockey Academy in Winnipeg.
"He's a kid that we're going to rely on for top-six minutes," said Doug Hedley. "He's got some speed and skill. He's definitely a guy that we're going to rely on to create some offence."
Make sure you're in your seats early on Friday as there will be a pregame ceremony to honour the late Allen Dowhan, who passed away on Tuesday.
Details

Contributed by

Darnell Duff
The Parkland U15 Rangers push to the regular season continues this weekend as the club plays four games in Souris. The team that's comprised of 2007 and 2008-born players will play one game on Friday night, two on Saturday, and wrap up their weekend with another game on Sunday afternoon.
Tom White returns for his fourth season as head coach and he says the battle for spots continues and that after this weekend, the team's full roster should be set. They're currently at 25 players and plan to get down to 17 before they open their season on Sunday, October 3.
With four games in one weekend, each and every player will get a great opportunity to make one last case on why they should be on this year's team, which Tom is expecting to be a very competitive one.
"There are some really good 2008-born players coming in and we have a good group of returning 2007-born players," said White. "We should have a very competitive team this year and we're looking forward to getting going."
Three of the team's games this season will be played at Credit Union Place with the first being on Sunday, November 7 at 2:30 against and Winnipeg Wild Green. The Wild have three different teams this season.
The remainder of the Rangers' home games will be played at the Swan River Centennial Arena, Grandview, and McCreary.
Before that; however, four games are on the docket this weekend and Tom says the team will be ready to go when the puck drops on Friday night.
"It's been a long layoff, everyone has been waiting for so long," ended White. "Even though it's just preseason, it's an important weekend for the guys competing for spots, so it's just as important as the regular season."
Details

Contributed by

Darnell Duff
It's been a long time coming but football is back in Dauphin. The Clippers have been practicing hard for a couple of weeks now and they'll begin their season on Friday at the high school against Park West.
41 players are currently on this year's roster which is a large increase from the past which is surprising to Cam Bennet. The team's manager expected fewer players to be interested after taking an entire season off but that is certainly not the case with game day just one day away.
"It's exciting for sure to have so much interest," said Bennet. "It's great that the kids are getting on the field and getting some exercise and being a part of something."
Dauphin's six-game schedule as mentioned above begins on Friday and it also includes a game against the Swan Valley Tigers on October 15 in Dauphin. The team will rely heavily on a few returning starters this year, including Thomas Scott who is now in grade 12 and is expected to be one of the top quarterbacks in the league.
Friday's game is set for 4:30 and Bennet says the team is fired up and ready to go.
"We've got some raw talent, that's for sure and a couple of new recruits that are incredible," ended Bennet. "It's going to be an exciting game on Friday with some adventures."
Friday's game in Dauphin is free of charge and is the first of three home games for the team. Also in Dauphin's division this season is the Moosomin Generals.
Details

Contributed by

Darnell Duff
The Manitoba AAA U18 Hockey League is set to operate this season with one less team.
The Central Plains Capitals have been granted a leave of absence for the 2021-22 season due to low registration numbers. The LOA is only for one season as it is expected that the Capitals will return for next season.
12 teams will now compete for a league title, beginning this weekend. Levi Taylor is back as the league's commissioner and he says this news was certainly disappointing.
"We always want each of our regions to be successful and have enough registration," said Taylor. "I think we're seeing the consequences of the last 20 months. Some players decided to quit hockey because there was none for more than a year, it was tough on a lot of people."
With the disappointing news comes some great news as the league will begin its regular season this weekend. The Parkland U18 Rangers open the new campaign at the Shoal Lake Communiplex as they battle the Yellowhead Chiefs to open a home-and-home on Friday.
They play their home opener on Saturday at Credit Union Place at 7:30.
Taylor says opening night is always an exciting one, especially after so little of last year's season was actually played. Parkland played just seven games, going 6-1.
"I look forward to watching the players develop throughout the season," ended Taylor. "As you go from the start of the season to a couple of months in and then early in the New Year, it's full steam ahead. It's exciting to watch the progression."
Tune into the Dauphin Kings Power Play Show on Friday after 4:00 p.m. NewsNow as Tyler Carefoot will join the program.
Details

Contributed by

Darnell Duff
The next time you head to the Gilbert Plains Country Club, you'll notice a new piece of art to the left side of the ninth green. The art was unveiled to the public on Saturday afternoon as the club hosted the 'Battle for the Nations' event, an event that featured more than 160 golfers.
Barry McKay, chief of the Valley River First Nation donated towards purchasing the art while the men's club in Gilbert Plains also donated with the club chipping in with the rest.
Scott McCallum, general manager at the club says the art is for everyone to enjoy.
"We wanted to do it as a symbol of appreciation to all of the patronage," said McCallum. "And also, the long-standing relationship between Gilbert Plains and the Valley River First Nation."
Chief McKay hosts several tournaments every summer at the GPCC, the biggest being this past weekend's event.
While this year's season is slowly coming to an end, McCallum is looking forward to hosting chief McKay many times moving forward as the relationship between the two parties continues to strengthen and flourish.
"Our relationship with Valley River First Nation is built on respect and we've worked hard on it," ended McCallum. "There's respect both ways and it's really nice to have them."
In other exciting news, the Ironman Classic that's set for Saturday, October 2 has sold out.
Details

Contributed by

Darnell Duff
Liam Tereposky has been named an MJHL Star of the Week after a great opening weekend.
The Waywaysecappo Wolverines starting goalie won both of his games over the weekend against the Virden Oil Capitals. He had a 1.50 goals-against average to go along with a .947 save percentage.
The Wolverines entered the season as the 14th-ranked team in the country. In their first game of the season, they were trailing 2-0 after 40 minutes before they stormed back with five goals in the third period.
On Saturday, they never trailed and controlled the majority of play in a 5-1 win against the same Oil Capitals. They now play another home-and-home this weekend against Virden.
Details

Contributed by

Darnell Duff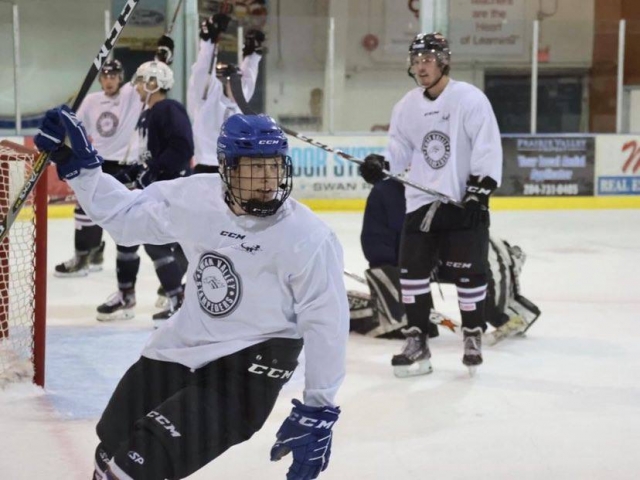 Steven Arp began his hockey season by taking part in Rangers U18 training camp which included an eight-point performance. He scored three times and added five assists in the team's intrasquad game.
Immediately following that game, Arp made the trip back to his hometown to compete in Stampeders training camp which was followed up with his current adventure, as he's in Medicine Hat for Tigers camp as the Western Hockey League season continues to near.
An extremely busy schedule without a doubt, but Arp's okay with that especially after the Swan River native played just seven games last season before the campaign ended because of COVID-19.
"It feels amazing to be back on the ice, it's been a long time coming," said Arp. "I'm skating every day and working out every day, it's good to be back."
Arp played in three preseason games with the Stampeders, including both affairs against Dauphin, one of which was at the Centennial Arena. Growing up in Swan River, Arp spent many nights at the Centennial watching the Stamps' play and it's long been his dream to get the chance to play for them.
Swan Valley auto-protected Steven ahead of the 2019 draft. Steven would score twice in his preseason action.
"It was awesome. Playing in front of family and friends and having them cheer you on, it's quite the feeling," said Arp. "It's a great place to play and I'm glad I had the opportunity."
Arp now remains in Medicine Hat as the Tigers prepare to wrap up their preseason with a home-and-home this weekend against the Swift Current Broncos. Arp did play in the team's intrasquad game but he didn't dress this past weekend as the Tigers played a pair of games against Lethbridge.
With a few days left to prove what he has, Arp is looking forward to leaving it all out on the ice this week. Medicine Hat opens its regular season on October 1 in Swift Current.
"They kept me around to give me a chance to prove myself, so it's now up to me," Arp. "I want to stick around here so I have to give it everything I have."
In seven games last season with the U18 Rangers, Steven averaged a point-per-game, putting up seven in seven games.
Details

Contributed by

Darnell Duff
Dale Murray is this years club champion at the Gilbert Plains Country Club.
He shot a 71 on Sunday to win the members windup which was sponsored by us here at 730CKDM. He held off John Tomlinson, who played one of his best rounds ever, shooting a 73. Chad Facey finished in third with a 76.
Here are the complete results:
1st flight:
1st - Fred Letain - 87
2nd - Calvin Zatylny - 88 CB
3rd - Stan Mancheese - 88 CB
Second flight:
1st - Merv Lynxleg - 94 CB
2nd - Joey Pasternak - 94 CB
3rd - Cliff Lambkin - 96
Third flight:
1st - Todd Gardipie - 101 CB
2nd - Nathan Zadorozny - 101 CB
3rd - Billy Murray - 107
Ladies championship:
1st - Pearl Maksymetz - 89
2nd - Linda Hamilton- 93
3rd - Marilyn Schwitzer - 98
First flight:
1st - Caroline Mentuck - 111
2nd - Teresa Gulak - 113
3rd - Amber Tarrant - 119
Junior championship flight:
1st - Mitchell Rauliuk - 95
2nd - Nolan Ducheck - 99
3rd - Liam Maclean - 103
4th - Zak Fillion - 105
Closest to the pin:
#4 - Fred Letain - 3 feet, 7.5 inches
#9 - George Lobert - 66 inches
#14 - Sandy Hafenbrak - 11 feet, 10 inches
#17 - Nathan Zadorozny - 13 feet, 3 inches
Details

Contributed by

Darnell Duff
After joining forces to win the Battle for the Belts two-man scramble earlier this summer in Gilbert Plains, Steve Desroches and Jake Wiens have won another title.
The Dauphin golfers won the Home Hardware two-man classic in support of the Gary Brandon Sports Bursary that wrapped up on Sunday.
Other winners after Sunday include:
1st Flight: Tyschinski/Prytula
1st Flight Consolation: Gilroy/Laughland
2nd Flight: Ripmeester/Harrell
2nd Flight Consolation: Vendramin/Farnsworth
3rd Flight: Campbell/Tomlinson
3rd Flight Consolation: McMullin/Osis
4th Flight: Patsack/Wickman
Details

Contributed by

Darnell Duff