Latest Sports
Nolan Ritchie feels as if he has a lot to prove this season as the Brandon Wheat Kings season rolls on. The Brandon native played just 24 games last season after suffering a broken leg on November 22, 2019, when he slid into the boards in a game against the Calgary Hitmen.
Ritchie scored five goals and had six assists in his 24 games. And in a year where the league's East Division is playing in a bubble in Regina, Ritchie is off to an incredible start.
Just six games into the season and Nolan has already potted four goals and has nine points -- two fewer than he had all of last season -- and he's played 18 fewer games. Nolan is also a plus-two.
Back on Tuesday, March 16, Ritchie had two assists in a defeat against Prince Albert and he followed that up by scoring two goals and adding one assist, two nights later, as Brandon beat Swift Current, 4-1. Two nights later, Nolan kept it going as he scored once more and added one assist for another multi-point game as Brandon got past Regina, 3-2, in overtime.
And thanks to last week's hot play, the Wheat King forward has been named the WHL's Player of the Week, for the week that ended March 21.
"It's a pretty special feeling, and it's really cool to have that honour," said Ritchie. "At the end of the day, it all comes down to the team effort, I couldn't have this success without my great teammates."
Brandon is back on the ice on Wednesday as they battle the Moose Jaw Warriors. The Wheat Kings (3-2-1) trail Moose Jaw for third in the East Division while the Saskatoon Blades have currently set the pace at the top as they've only lost once in six games.
It's a busy week overall for the organization as after tonight, the team plays two more games this week to make up a four-game week, one that started with a 6-4 loss against Saskatoon on Monday. Nolan says the team is becoming closer every day and he believes that will be very beneficial for the team not only off the ice but on the ice as well.
"There are some areas we have to work on, but we're playing pretty well I believe," said Ritchie. "We just need to keep getting better every day and the rest will take care of itself."
Hometown team dream:
Growing up in Brandon, Nolan worked his way up the minor hockey system in the Wheat City. In the 2016-17 season, he scored 51 goals and had 89 points in just 36 games with the U15 AAA Wheat Kings while the young sniper put up 84 points when he joined the U18 Wheat Kings the following season.
It's been nearly two years since Nolan helped his U18 Wheat Kings win the Manitoba AAA U18 Hockey League. He had one goal in the series clincher against the Winnipeg Wild in the final and overall in 11 playoff games, Nolan scored nine times while adding 12 assists.
After missing about half a season due to last year's injury, Ritchie is just happy to be back playing with his hometown team, although the team will play no true home games this season.
"It's a really special feeling to be a Wheat King, I grew up watching every game I could when they played at home," ended Ritchie. "I wear this sweater with a ton of pride."
Details

Contributed by

Darnell Duff
The Saskatchewan Junior Hockey League hoped to return for an abbreviated season in a bubble -- thought to be in Weyburn -- but that hope has been dashed. The league's return-to-play plan has been rejected by the Saskatchewan government.
The reason behind the rejection is due to the high amount of variants of COVID-19 in Saskatchewan. The province was set to give the league an option to wait a few more weeks before looking at it again, but that is not viable at this point.
The Western Hockey League's East Division is currently holding a 24-game season at the Brandt Centre in the Regina bubble. The SJHL now joins the MJHL who had cancelled their season early last month. The British Columbia Hockey League and Alberta Junior Hockey League -- two of the top Junior A leagues in Canada -- will resume their seasons after no hockey was played for months.
Five teams had played six games this season before the pause with Humboldt leading the way at 5-1. The Yorkton Terriers were 3-2-1 while Melville was 4-2.
Details

Contributed by

Darnell Duff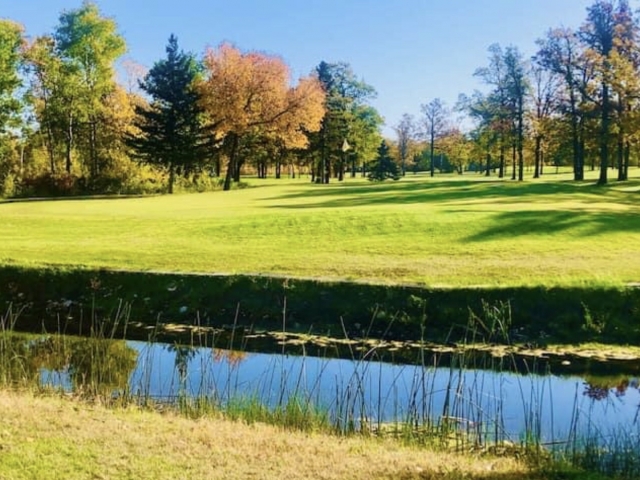 It was a historic golf season last summer at the Dauphin Lake Golf Club despite a few tinkers to rules on the golf course brought on by the novel coronavirus.
79 new members joined last summer and green fee traffic was up about 35% compared to the year prior. And now, a new golf season is right around the corner and although the weather to start the week has been less than ideal, Ray Karlson says opening day hasn't been delayed.
Ray says they are tentatively planning to open on April 19 for the season.
"We have a lot of sitting water so a slow melt is beneficial for us," Karlson. "Our grounds crew starts on April 5 and I think it's safe to say that we're all counting down the days."
If you haven't been a member since 2017, you can take advantage of some great prices this year. An adult membership is $600 if you haven't while a senior can pick up a membership for just $525.
"We're really excited to offer this option and we're hoping that it attracts many golfers of all skill levels," said Karlson.
Another attraction to Dauphin Lake this year is 26 brand-new carts, as well as the interior of the clubhouse, which has been renovated.
Growing the game:
Dauphin Lake was unable to hold any junior lessons last year because of the pandemic, but they're back this summer. Five lessons free of charge have been confirmed on May 1, 8, 15, 22, and June 5 at the driving range.
"The way to get juniors into the game is to get them on the range," said Karlson. "We're looking forward to these lessons with our new junior executives."
The Home Hardware two-man match play tournament in support of the Gary Brandon Sports Bursary will return from May 28-30 while the Dauphin Kings Par 3 Extravaganza goes down on June 12.
New look, new feel:
When renovations are done, the back nine at Dauphin Lake will be a Par 37. Work to make the 12th hole longer will begin this season and in turn, 13 would also change, turning the back nine from a 35 to a 37.
Details

Contributed by

Darnell Duff
The Gilbert Plains Country Club's pro shop is officially open for the season.
From 9:00 a.m. to 3:00 p.m. every day, you can purchase your membership for the season. If you haven't been a member since 2018, you can purchase your season-long membership for just $600.
Men's Night will also return this season and registration is now open. Weekly gift prizes and money will be given every single week after Tuesday and Thursday nights. You can register with your partner by heading to the GPCC or by heading to Men's Night.
Details

Contributed by

Darnell Duff
Bryson Cecconi finished his junior career with the Dauphin Kings and just more than one year after his final game with Dauphin, Bryson is a college champion.
Playing with the Marian University Sabres of the Northern Collegiate Hockey Conference, the Sabres beat MSOE in two straight games to claim the championship.
Congratulations to our seven #MJHLAlumni who won the @NCHAhockey conference championship with @MU_Mens_Hockey

Well done, boys...Anthony Bilka, Brady Pupp, Ty Enns, Mateo Albinati, Taylor Derynck, Bryson Cecconi & Aaron Brunn.#MJHLHockey https://t.co/b5MM4anIC9

— #theMJ (@mjhlhockey) March 21, 2021
Cecconi had two points this season with the conference champions.
Details

Contributed by

Darnell Duff
The Shilo Golf and Country Club is open for business as the warm weather has given the course a chance to get a jump start on the 2021 season.
And while there are nearly no open tee times at Shilo this weekend, there will soon be plenty at the Gilbert Plains Country Club. A beautiful forecast is expected this weekend and that means the golf season is right around the corner.
"In terms of putting a date to when we could open, it's probably premature at this point," said Scott McCallum. "This weekend is going to make a big impact getting those great temperatures."
McCallum expects to have a better idea early next week as to when the course could open. With the season just weeks away, now is a great time to make sure you're a member of the Gilbert Plains Country Club. If you haven't been a member since the 2018 season, you can join for just $600.
And you can set it up where you pay $200 each month for the first three months of the season.
"It really is a tremendous deal to play on one of the best courses in the province," offered McCallum.
Just like McCallum said, the GPCC is one of the top courses not only in the Parkland but in all of Manitoba. Whether you're a scratch golfer, a 30 handicap or anywhere in between, Scott is looking forward to seeing you down at the course very soon.
"We get people from far and wide to play this golf course, we're really excited about this season," ended McCallum. "By all indications, the course wintered well. This could be one of the earliest golf seasons we've had in a while as long as the sun keeps shining."
Details

Contributed by

Darnell Duff
The New York Islanders are among the hottest teams in the National Hockey League. Despite two straight losses on March 16 and 18, the Islanders have won 10 of their last 12 games, including a 6-1 win against Philadelphia back on Saturday.
Of the Islanders' 20 wins, 13 of them have come on home ice as they're 13-1-2 at home and 7-7-2 on the road. Coming off a 35 point regular-season, Ryan Pulock has 12 assists this year as he's played in all 32 of the team's games.
And if you are cheering on Barry Trotz, Ryan Pulock, and the rest of the Islanders, Islanders Manitoba has everything you need. A new show hosted by the Rauliuk family on Facebook and Instagram. A new show airs every gameday and it features a pre-game show followed by a post-game show.
Mitchell Rauliuk says it's been a blast hosting the show, especially because New York has been so solid this season.
"Talking to the fans has been great, we have met a few Islanders fans from New Jersey and New York, so that's super cool," said Rauliuk. "It's also great watching Ryan Pulock and Barry Trotz be successful at the NHL level."
Islanders Manitoba will go live once again on Monday at about 5:30 p.m. ahead of a game against the Philadelphia Flyers. Mitchell and company will tee up the game which includes starting lineups, stats from previous games, and a whole lot more. And Mitchell says he would love for more people to watch the show and become a part of the interactions.
"We welcome everyone to watch the show, we're having a lot of fun doing it," ended Rauliuk. "We like answering questions and hearing other fan's thoughts."
Other hosts include Ryan Rauliuk, Boston Karlson, and Norman Lacquette who is the show's out-of-town scoreboard analyst.
Details

Contributed by

Darnell Duff
The Western Canada Hockey Academy is making its way to Brandon.
And a new arena being built will be located south of the city and it will feature state-of-the-art new training with a focus on developing players to skate faster and shoot harder while taking their games to the next level.
The main rink will feature an NHL-sized ice surface and there will also be full physical testing equipment. The facility will also include two shooting bays and one goalie bay for small group sessions and private training.
The Academy will be open to student-athletes from grades five through nine. Half of their days will be training on-ice and in the performance centre while the other half will see the student-athletes focusing on four core subjects in the classroom, Math, English Language Arts, Science, and Social Studies.
Every student-athlete receives more than 400 hours of skill-based training over the course of one year.
More:
On top of everything offered in the academy, WCHA will also offer camps for players in U9 all the way up to professional camps for both male and female athletes.
Details

Contributed by

Darnell Duff
The top men's curling teams in the province are heading to Neepawa in two years. Curl Manitoba announced that the Viterra Championships will be played at the Yellowhead Centre.
The Viterra Championship wasn't played this season because of the COVID-19 pandemic. As a result, Team Gunnlaugson represented Manitoba at the Tim Hortons Brier while Team McEwen -- also of Manitoba -- was Team Wildcard.
Scott Newton is with the organizing committee in Neepawa.
"It's very exciting. Whenever you get to bring a provincial championship to town, you always jump on it," said Newton. "Everyone is looking forward to hosting this big event."
The 2023 event will mark the second time that Neepawa has hosted men's provincials after Jeff Stoughton won the event at the Yellowhead Centre in 2013. Newton says Neepawa is the perfect place to host an elite event and the entire community will come together to assure it runs extremely smoothly.
"Our facilities are top-notch. Having the arena and the hall right next to it, that's key," said Newton. "We have a large volunteer base to pull from so that's great as well. We're also just a short drive from the city and teams coming from rural communities won't have to travel far."
In other curling news across the province, next year's Scotties Tournament of Hearts will be played at the Carberry Curling Club while the Viterra Championship will be played at the Selkirk Curling Club. The Scotties Tournament of Hearts in 2023 will be hosted at the East St. Paul Curling Club.
Details

Contributed by

Darnell Duff
It doesn't matter how big the stage nor how bright the lights are, Riese Gaber steps up his game in big moments and that's exactly what was needed on Tuesday night.
Playing St. Cloud State in the final of the Frozen Faceoff, Gaber notched two goals in a 5-3 win. The win gave the Fighting Hawks a clean sweep of the National Collegiate Hockey Conference after they won the Penrose Cup.
😤 The rookie does it again 😤#UNDproud | @UNDmhockey pic.twitter.com/RKS4LHfy4p

— UND Insider (@UNDinsider) March 17, 2021
The win gave North Dakota its first Frozen Faceoff Championship.
"It was pretty awesome, we really never lost belief in the locker room when we were down," said Gaber. "It's an incredible accomplishment and everyone is pumped up."
North Dakota entered the final period down 2-1. In a matter of 122 seconds early in the third, Gaber and two more Fighting Hawks scored to give North Dakota a 4-2 lead which they would ultimately cap off with a 5-3 win. On top of winning the title and scoring two goals, Gaber's three goals and one assist in the Frozen Faceoff gave him the Most Outstanding Player award.
The team will take the day off to enjoy their recent championship before returning to the ice to prepare for regionals which take place next weekend in Fargo with North Dakota playing host. The Frozen Four national championship is set for April 8-10 at PPG Paints Arena, home of the Pittsburgh Penguins.
"We have to win four more games to become national champions, so we're ready," stated Gaber. "We're looking forward to Fargo."
Details

Contributed by

Darnell Duff
It has been an extremely long few months for Dauphin Rec Services, but things continue to be headed in the right direction. Under current Public Health orders, pools are able to re-open and the Kinsmen Aquatic Centre has done just that.
The pool is officially back open as of Wednesday morning. While the pool is open, Dauphin Rec is asking everyone who wants to swim to pre-register by calling 622-3150.
Tamara Kolida says it's a great feeling that the pool is back open after being shut since November.
"People are so excited. All of our normal users are back and we've heard nothing but great things this morning," said Kolida. "Everyone is just excited to be back in the pool. Even if it's just a little sliver, we're excited we can offer a few programs."
If you can get a group together, you can also book the entire pool for just $125 per hour. You can have a group of up to 10 and each swimmer is allowed, one spectator. This upcoming weekend is already full of private bookings.
And while Dauphin Rec is extremely excited that the pool and Credit Union Place are open to the general public once again, they do have a lot of catching up to do.
Kolida says the past few months have been extremely tough financially.
"No curling, limited hockey, no swimming, we had nothing coming in," ended Kolida. "We're in a situation right now where we need things to pick back up."
Details

Contributed by

Darnell Duff