Latest Sports
Wyatt Tweet has played just one junior hockey game in his career. It came with the Waywayseecappo Wolverines last night as they played the Virden Oil Capitals to end their regular season.
The 15-year-old made a fantastic first impression by scoring his first ever junior goal. Tweet scored at the 11:54 mark of the game as the Wolverines went on to win 6-4.
Wyatt didn't know when he would score his first junior goal, but he's glad he got it off his chest early.
"I was just so nervous and I really had to get the jitters out in warmup so I focused on that and got that done," said Tweet. "I just tried grinding it through every shift and worked as hard as I can."
"Eventually in the second, I just went hard to the net and the puck bounced off my skate and I tapped it in," he added. "It felt awesome. Scoring that goal and seeing all the guys skating towards me was an amazing feeling. You couldn't wipe the smile off my face."
After the solid performance, Tweet will now return to play for the Major Pratt Trojans. He had a great regular season with the team with 36 points in 23 games. Tweet has added three more points in three playoff games so far.
"I think I've done a really good job of using my speed and aggression and I try to soften up the other team with my physicality," added Tweet. "I also have a really good team around me which helps me a lot."
Tweet and the rest of the Trojans are now in must-win territory. They play game two of their semifinal series tonight against the Hamiota Huskies. If they don't win, the team's season will come to an end.
"We're confident going in that we can win, we've beat them before," he added. "We just have to get pucks behind the defencemen and drive the net. They have good goaltending so we have to screen the goalie and get lots of net traffic."
If you're in the Russell area, the game goes at 8:15.
Details

Contributed by

Darnell Duff
Before coming to Dauphin to play for the Kings', Mitchell Joss played his competitive hockey in Winnipeg and he won hockey games, a lot of them.
The past two seasons, Joss was a part of the Winnipeg Wild that won the Manitoba AAA Midget Hockey League in back to back seasons. Before that, he played with the Winnipeg Monarchs for two seasons and joined the Winnipeg Twins for the season before that.
That's five total seasons, and Joss won a Championship in each and every one. Among many other things he was bringing to Dauphin, Joss was going to bring a winning culture to a city that was so hungry for wins.
"Every single season, we just had a great group of guys that really bonded together," said Joss. "We all worked together as a unit and we had some skill that allowed us to win it all."
Joss is coming off a great year last season. Not only did the team win Manitoba, but he had a great offensive showing.
In 48 games, he racked up 65 points (26G) which were a career-high. The opportunity came to make the Dauphin Kings' out of training camp and that's exactly what he did. Now, his first MJHL regular season is over and he suited up in 40 games and he put up 16 points (5G).
That total is fifth on the Kings' among rookies.
Mitchell's best game came back on February 28 where he scored two goals against the Neepawa Natives in a 4-2 win. It was his first ever two-goal game in his young career.
"I love it here in Dauphin. It's a great place, different than Winnipeg but I'm really enjoying it," said Joss. "The McCallum's have really made me feel right at home."
"I have a lot of confidence in myself now after that game," he added. "It took me a while to find my game here in junior hockey but it was definitely nice to get rolling."
Joss and the rest of the Kings' are now preparing for their first-round matchup with the Swan Valley Stampeders. That series starts on Friday at the Swan River Centennial Arena.
Game two will return to Dauphin on Sunday and that will be Mitchell's first home playoff game as a part of the Dauphin Kings' in what he hopes will be a long playoff run.
"All of the games against them were super close all season long," said Joss. "They are definitely beatable. We have to play really hard and we need to take their key guys away. If we do that, we should be able to have success."
Question & Answer with Joss:
What are your hobbies? I'm definitely a big fisher in the summer at the cabin. I love hanging out with my friends playing golf and playing video games.
Biggest fish you've caught? I caught a 26" pickerel one time.
What's a recent trip you've been on? I went to Vegas just before the season. I wasn't of age at the time but I still had a ton of fun and it's a great place.
All Joss did in Winnipeg was win hockey games. Now, he's helped the Kings' make the playoffs for the first time in four years.
Details

Contributed by

Darnell Duff
The Dauphin Novice Thunder are Champions. The team played a fantastic weekend of hockey and ended up going undefeated in Souris.
That included a 12-8 win in the gold medal game against Souris in the McDavid Division at the Ultimate Hockey Championship.
Details

Contributed by

Darnell Duff
The Dauphin Clippers ship can now be called the comeback ship and because of it, they're heading to the Championship final in the Westman High School Hockey League.
For the second straight series, the Clippers came from behind to win a series, and this time it was against Killarney.
After losing in game one, Dauphin responded by winning game two on their home ice.
Tonight, they came out as a determined bunch and beat the Raiders, 6-4 to win the series in three games.
Logan Storey led the Clippers with two goals. Noah Wiens, Jesse Koshowski, Logan Conrad, and Kayden Bodnar all scored one each in the win!
Dauphin will now wait for the winner of Hamiota and Major Pratt to see who they play. Game two of that series is tomorrow and Hamiota is up 1-0.
Details

Contributed by

Darnell Duff
The Dauphin Home Hardware Kings' are back home with a bunch of silver medals.
They earned them at the provincials that wrapped up in Swan River earlier today.
Earlier, Luke Myhre scored with just 22 seconds left to send the team to the final.
Details

Contributed by

Darnell Duff
After losing game one, the McCreary Mountaineers were in danger of being eliminated from the Westman High School Hockey League playoffs tonight.
That's not what happened as Brayden Kohlman had a monster game and the Mountaineers stayed alive with a 6-1 win over Minnedosa.
The win evened up the best of three series at one a piece heading into game three.
Nelson Lepla and Chris Szewczyk scored one each in the big win.
Game three goes on Tuesday back in Minnedosa.
Details

Contributed by

Darnell Duff
The Dauphin Kings' held their Awards Banquet tonight inside the Aspen Lodge at the Parkland Rec Complex.
Here are the award winners:
Most Valuable Player - Cam Alf Memorial Award: Cole DeKoninck & Bryon Fobair.
Best Defencemen - Joe Dawson Memorial Award: Riley Shamray.
Rookie of the Year - Dauphin Minor Hockey Award: Carter Sawchuk & Cole DeKoninck.
Community Involvement - Dave Seeley Memorial Award: Grady Hobbs.
Best Defensive Award - Barry Trotz Award: Bryon Fobair.
Most Improved Player - Dave Snitka Memorial Award: Landon Russell.
Parkland Source for Sports Three Stars Award: 1st - Riley Shamray (27 points).
2nd - Bryon Fobair (23 points).
3rd - Cole DeKoninck (20 points).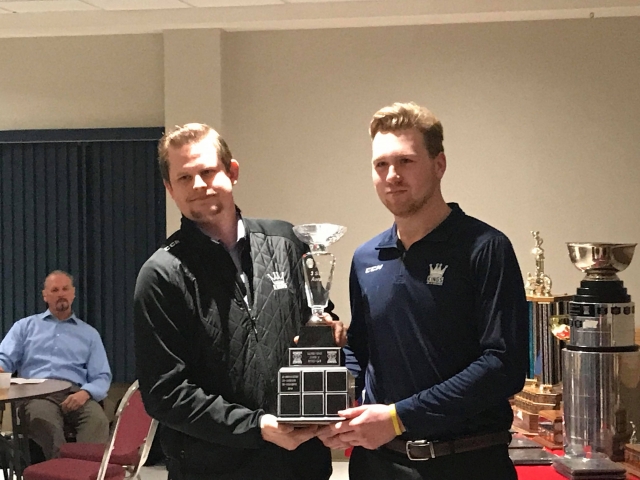 Most Inspirational Player - Johnny Kay Award: Bryon Fobair.
Most Gentlemanly Player - Steve "Boomer" Hawrysh Award: Eamonn Miller.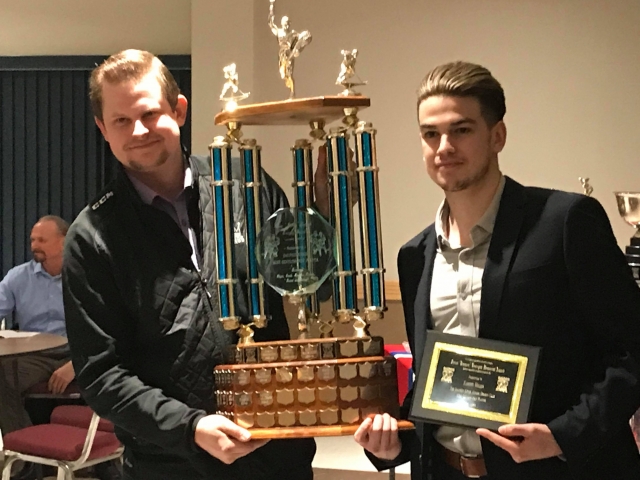 Outstanding Character - The Dauphin Herald Award: Jaxon Heeney.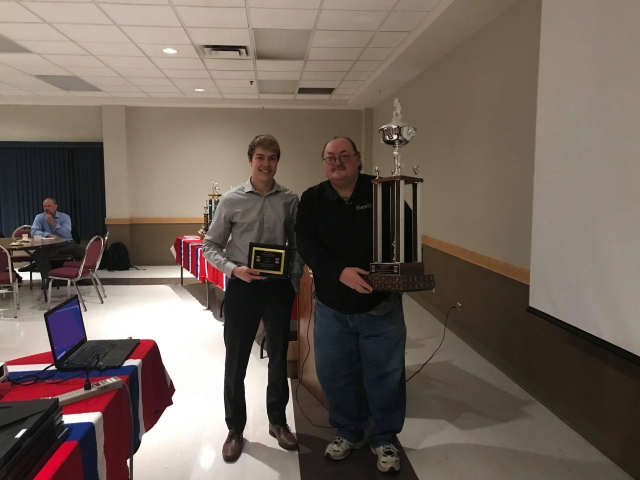 Most Popular On & Off The Ice - Ernie Hlady Memorial Award: Riley Shamray.
Five members of the team were also recognized as they will graduate from Jr. A hockey after this season.
Riley Shamray, Kolby Johnson, Eamonn Miller, Bryon Fobair, and Riley Buller.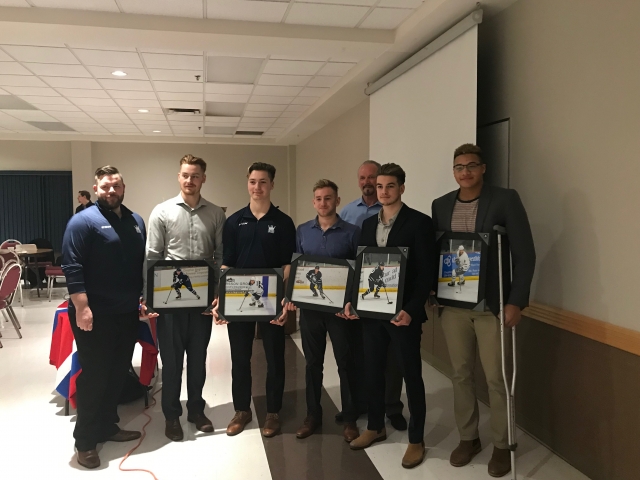 Details

Contributed by

Darnell Duff
The Dean Cooley GM Peewee A1's are Provincial Champions!
The team beat Thompson, 7-5 in the gold medal game.
AP player, Cash McCallum continued his dominance in the game. He scored four times.
Quinten Fisk also had a very solid game with two goals while William Miner added the teams other goal.
Jesse Hockridge notched two assists in the game.
Dauphin jumped out of the gates taking a 3-1 lead after the first period and they didn't look back.
Kings' Domination:
Not only did they win the tournament, but several players finished high up on the scoring leaders including Cash.
The Atom call up had 14 points to lead all scorers at the tournament.
Jesse Hockridge was fourth in scoring with 11 points while Fisk finished up just outside the top five in sixth.
William Miner tied Fisk for sixth as both players recorded eight points.
Details

Contributed by

Darnell Duff
Greg Todoruk and his foursome came together this weekend to play in the Dauphin Men's bonspiel and they went undefeated to win the A-event.
Todoruk, Rob Lulashnyk, Barret Procyshyn, and Jeff Abraham beat the Rempel rink in the final that went down to the wire with both teams making excellent shots.
Team Lorne Orpin won the second event. Orpin was joined by Logan Devos, Bronson Orpin, and Stefan Gudmanson.
Winning the third event was team Karter Meyn. He was joined by Carter Williamson, Hunter Dundas, and Douglas Hay.
Team Dwight Bottrell won the fourth event. Dwight was joined by Morley Bourns, Steven Soloway, and Bruce Hannibal.
Details

Contributed by

Darnell Duff
It was a thrilling game in Hamiota and the Grand Plains Bantam Ice Dogs came out on top as they won the Consolation Championship against Morden, 5-4.
Trinity Fisk had the lone Ice Dogs goal in the first as the teams were tied after the period.
The flood gates opened in the second. Morden scored twice but the Ice Dogs did one better in scoring three times.
Brittan Yaschyshyn, Brooklyn Hramalak, and Hailey Hojnocki had the teams goals in the second.
Jayselyn Nybo scored the game winner early in the third for the Ice Dogs. Morden did score one more but that was it.
Details

Contributed by

Darnell Duff
The McCreary Peewee Mustangs ended their Provincial Championships on a very high note.
They beat Holland earlier today to win the Consolation Championship at the Peewee B provincials in Killarney.
Brody Fayant chipped in two goals while Ffion Devonald and Kyle Gilmore also scored.
Jackson Buchanon was an assist machine as he picked up five of them.
Ryan Gower was the game star. He also was a game star earlier in the tournament.
Details

Contributed by

Darnell Duff