Latest Sports
The Parkland Bantam Rangers have been off of game action for quite some time; however, that's set to change this weekend. The team will host the Rural AAA Provincial Championships at both the Swan River Centennial Arena and the Minitonas Arena.
The event begins on Friday morning at 9:00 and it runs through supper time on Sunday.
"This is what we've been working hard for all season long, it's what you play for," said Tom White, Head Coach. "Now, it all comes down to one weekend and one winner."
Parkland had a very solid season as they led the West Division with their 24-10-2 record, good for 50 points. The Southwest Cougars were the closest team in their division with 46 points.
The Rangers were also just nine points behind the Winnipeg Monarchs for the second spot. The last Rangers team to add up more than 40 points in a regular-season was the 2017-18 team when they had 49. That team ended up winning a bronze medal at the provincials.
Parkland scored 220 goals, the third-most in the entire province.
"I'm very happy with how the season went. I'm pretty proud of these guys for all they accomplished throughout the year," continued White. "We've been a really good competitive team all season and it's got us to where we are right now."
The Rangers round-robin will come in the Black Pool and they are joined by Pembina Valley and Norman. Parkland dominated Norman all season by going 3-0 and they outscored them 26-9. Against Pembina Valley, the Rangers went 2-0-1. They scored 19 goals while Pembina Valley had 13. Nine teams in all will compete in the event and the top-two overall teams earn a direct berth into the semi-final which will be played on Sunday morning.
The other competing teams are Eastman, Brandon, Central Plains, Yellowhead, Southwest, and Interlake.
"We have pretty high expectations for these guys. This is a new season so anything that happened in the regular season doesn't really matter now," said White. "It's all about one game showdowns now. Our first goal is to make it to that semi-final on Sunday morning. We're really excited about this and we're ready to get going."
The winner of this event will play the winner of the city division in a best-of-three that will take place next weekend.
Here is a complete weekend schedule:
Details

Contributed by

Darnell Duff
Breken Brezden wrapped up the winter portion of her figure skating competition schedule in Virden and what a final weekend it was.
She ended up earning two gold medals. On Saturday, she took home a gold medal in her Novice women's division short skate as she performed to her 2019 program. On Sunday, Breken tried something new and she made it work.
She performed to her brand new 2020 routine and she won another gold medal on her long skate to cap off the weekend on top just as she started it.
"I was pretty proud of myself, especially winning with my new routine," said Brezden. "I know it may have not been perfect; however, it was a great starting point for me and it's only going to get better from here for me."
Breken will now continue to train and prepare for her next competitions which will start in July. As she closes the chapter on this winter's set of competitions, it was a good winter for the up-and-coming Dauphin figure skater who continues to make noise not only in Manitoba but around the country.
"I'm really excited about things, it was a good season," continued Brezden. "I also really love my new long program and I'm looking forward to working on it. I also want to land a triple jump again moving forward."
Details

Contributed by

Darnell Duff
The Parkland U18 Rangers held their awards evening inside of the Aspen Lodge at the Parkland Rec Complex. This year's Most Valuable Player was Russell's Keaton Ziprick. He was also named to the league's second all-star team.
This year's Rookie of the Year was Steven Arp. The 15-year-old from Swan River had a tremendous season with 46 points (27G) in 48 games.
Gilbert Plains Jayden Jubenvill was named this year's Defensive Player of the Year for his solid play on the back end. He also chipped in 30 points (12G).
Daenan Delaurier was named the team's Most Improved Player for the season as voted on by the players and coaches.
Finally, Leo Chartrand was named the Team Guy/Hardest Worker for his contributions to the team this season.
Details

Contributed by

Darnell Duff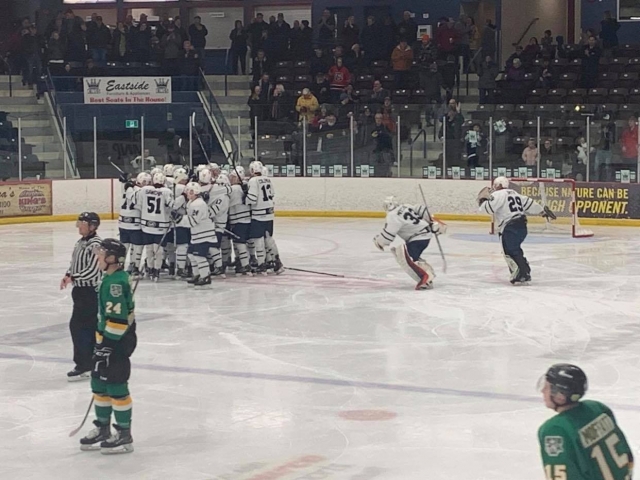 For the first time since the 2014 playoffs, the Dauphin Kings have won a playoff game. Grady Hobbs played the role of hero as the Kings beat the Portage Terriers, 1-0, in a double-overtime classic inside of Credit Union Place.
In a game that featured great chances on both sides, Levi Mitchell was nothing short of tremendous for Dauphin in the victory as he made 43 saves. Dauphin, meanwhile, had 27 shots in the victory in front of a great crowd.
It took 72:25 to find the game's first goal which was the winner. Off a Portage turnover, Hobbs took an initial shot that got through and there was a big rebound which Hobbs put in the back of the net for his first goal of the playoffs.
The win puts Dauphin right back in the series as the Terriers hold a 2-1 lead. Dauphin has the chance to tie the best-of-seven on Friday when the series returns to Credit Union Place for a game at 7:30.
Darnell Duff will have the pre-game show on Friday at 7:15.
Details

Contributed by

Darnell Duff
The soccer season is right around the corner and if you've been waiting to sign-up in-person, tonight is your chance to do so. From 5:30-7:30 p.m. at the Parkland Rec Complex, the Dauphin Soccer Association will have a table set up.
If you can't make it out tonight and you haven't already, you can also sign-up online.
There are the following age groups and prices:
Intro to Soccer (2016 born) $75.
Tiny Tims (2015 born) $85.
Timbits (2013-14 born) $95.
10U (2010-12 born) $100.
13U (2007-09 born) $100.
18U (2002-06 born) $100.
"Soccer is a ton of fun. It gets the kids outside and they just get to enjoy the beautiful weather we get during the summer," said Nathan Fleck.
Details

Contributed by

Darnell Duff
The Grand Plains Peewee Hawks have ended their season with a B-Side Championship in the Parkissimo Hockey League. Playing against the Brandon Wheat Kings, they completed a perfect series against them with a 5-2 win in game two.
Nolan Ducheck led the way with two goals, one of which was into an empty net. Landon Garton and Owen Sigvaldason had singles while Kingston Stirling scored the game-winner. Landon McIvor was solid as usual in the net.
In game number one, Zak Fillion stole the show. He scored three goals and had two assists in a 10-2 drubbing of Brandon. Zak had a pair of assists in game two.
Details

Contributed by

Darnell Duff
Tonight is no doubt the most critical game of the season so far for the Dauphin Kings. The team returns to Credit Union Place for game three of their first-round series against the Portage Terriers. Dauphin dropped the first two games over the weekend as they were outscored, 9-4.
When it comes to 5-on-5 play, Dauphin has been right in the series; however, the team's Special Teams have struggled immensely. Dauphin has gone just 2-for-16 on the man advantage which equates to 12.5%. The team has also struggled to stay out of the penalty box which has hindered the club's success. Dauphin has 14 penalties in the past two games and they've only killed off nine of them which adds up to 64.2%.
Playing at Credit Union Place could be the saving grace for Dauphin in the series as they've enjoyed success of late in Dauphin. They won their last five games inside Credit Union Place to end the regular-season and six of their last seven. Portage, meanwhile, has dropped two of their last three games on the road. However, it's playoffs and the Terriers have stepped it up as they do every season.
Dauphin received 11 power plays on Sunday, one of which they scored on. So if Portage does get into more trouble, Dauphin has to find a way to capitalize if they hope to get back in the series. A win tonight would guarantee a game 5 at Bell MTS Iceplex in Winnipeg.
Another key to success is to stay out of the box for Dauphin if they wish to have success. If you can't make it to the game, Darnell Duff will have the call beginning with the pre-game show at 7:15. Even if you make it down to the game, you can use listen to us online at Radio Player Canada.
Details

Contributed by

Darnell Duff
The 15U Predators took part in the Queen City Volleyball Club tournament over the weekend in Regina. Clearly there's something about playing in Saskatchewan that gives the team a boost. Last month, the team went undefeated in Moose Jaw to win their first tournament of the season in their first action.
After a tournament in Winnipeg, the Predators made the trip to Regina for their second tournament of the season in Saskatchewan and they now have their second title. They played six matches at the tournament and they didn't lose a single set on their way to winning the event.
"It was another pretty solid weekend. We had some ups and downs, but we played with a lot of grit," said Dave Sigvaldason, Head Coach. "We had to grind out some tough games. It showed a lot of character from the girls this one."
In their first game, they dispatched of HVC Premier, 25-15, 25-22. The Predators would then beat the Humboldt Honey Badgers, 25-17, 25-22, and they followed that up with a straight-set win against the Cougars, 25-14, and 25-17. In their final round-robin game, they beat the Junior Sundogs Black, 28-26, 25-12.
With a perfect 4-0 round-robin record, the team advanced directly to the semi-finals where they came up against HVC Premier, the same team they beat in their second game. They also turned out to be the second-ranked team in all of Saskatchewan and they were once again no match for the team based out of Grandview and Gilbert Plains. The Predators took care of business in straight-sets, 25-10, 25.22.
"We were able to find some advantages that we could use and we had a strong game plan going in and that worked well for us," continued Sigvaldason.
In the final, the Predators came up against the QCVC Royal Purple who was hosting the tournament. The Predators came back in each set to win the match, 25-23, 25-23. The win gave them the tournament title.
"The girls are really excited, it was another solid weekend for us," continued Sigvaldason.
The team doesn't get much time to rest before their next action. They'll take part in the Parkland Vipers 15U tournament which will be played at the DRCSS this coming Saturday. The team will look to win their third title of the season and they'll get the chance to do so in front of their family and friends.
"We don't really get to play games at home like this very often. I know a lot of people in our area are asking when we play," concluded Sigvaldason. "When it comes to expectations, we know there are so many good teams that will play in this event and on any given day, anyone can beat anyone. We just want to go in and play well, be consistent and if we do that, things will take care of themselves."
Details

Contributed by

Darnell Duff
Tryp Klassen has had a season offensively that most dream of having, especially when it comes to scoring big goals at really big moments. Earlier this season, he scored the overtime winner in the final at the Neepawa Tournament of Champions. At the Brandon Tournament of Champions in the semi-final, he once again scored the game-winner in overtime.
Moving forward to the Parkissimo Hockey League playoffs, Tryp scored the overtime winner in their semi-final.
On the biggest stage of them all, Tryp came up massive once again. He scored the double-overtime winner against Killarney in a 5-4 win as the McCreary Atom Mustangs won a provincial championship in Carberry. Reese Scott scored twice while Easten Turko and Nathan Peeler scored singles.
Prior to the finals, the Mustangs were unstoppable. In the semi-final, they hammered Carberry, 10-0, and Tryp did what he does best and that's score. He had five goals and one assist for a six-point performance in the big win that advanced the team to the finals. Brody Buchanan scored twice while Reese Scott, Easten Turko, and Karlee Kohlman added singles.
Klassen scored another two goals in their final round-robin game, a 9-1 win against Killarney. Reese Scott continued his great string of performances with another two goals. Nate Gurke, Easten Turko, Karlee Kohlman, Noah Desjardins, and Niklas Hopfner scored a goal each.
In their first game of the tournament, Easten Turko was a man on a mission as he racked up four goals and five assists for nine points while Tryp had three goals and five assists in a win against Oakville. Reese Scott scored another two goals as did Brody Buchanan. Scoring singles were Nate Gurke, Cameron Campbell, and Noah Desjardins.
Overall, the team scored 38 goals in their four games and they allowed just six.
Details

Contributed by

Darnell Duff
The Dauphin Clippers hockey team hit the road last night for game two of their semi-final series against the Sandy Bay Badgers. After winning game one at Credit Union Place, the Clippers had the chance to advance to the Westman High School Hockey League's Championship series with a win.
A goal each from Parker Boguski and Brock Allard and some great goaltending from Bode Childs allowed the team to achieve just that. Dauphin nipped Sandy Bay to advance to the league final for a second straight season.
"Especially in game one, we played really well and the right way," said Rick Freese, Head Coach. "Our guys have learned how to play on the road. Our work ethic got us through last night's game."

"These guys really understand that defence is so important and they're starting to defend extremely well," he continued. "They deserve to be where they are and I'm very happy for them here."
Dauphin will now challenge the Killarney/Wawanesa Raiders in the league final. They edged Major Pratt in overtime last night, 5-4. They won the best of three series in three games. Killarney was the only team that had more points in the regular season than Dauphin with their 45 while the Clippers finished with 40.
In their lone meeting against them earlier this season, Killarney beat Dauphin in a shootout, 3-2. That game was way back on November 6.
"Killarney stacks up pretty much like us. They have some firepower upfront and they have some defenders who can put up some points," continued Freese. "It's a shame it's not a best of seven because I think it would go the distance, it should be a really hard-fought series. The guys are ready and they're looking to give it everything they have."
With the provincials starting up this week, the Raiders/Clippers series won't start until next week. Speaking of those provincials, the Clippers will make their way to Winnipeg for the AAA/AAAA Provincial Championships later this week.
Dauphin is joined in a pool with the St. Paul Crusaders and River East Kodiaks. In its last rankings late last month, the MHSAA had St. Paul's as the third-ranked team in the province while River East was slotted in the fourth position. The other pool features Dakota, Garden City, and the W.C. Miller Aces from Altona.
The top two teams will advance to the semi-final on Saturday after a two-game round-robin on Friday.
"I think if we play as well as we can and our guys keep rolling how they are, I have no doubt that we're going to make the playoff round," concluded Freese. "There's no doubt in my mind that we will if we play as we have been."
Details

Contributed by

Darnell Duff
The Mountain View School Division held its grade 6 and 7 divisional basketball championships. The Mackenzie Middle School Magic boys and girls teams continued their great seasons.
The grade 7 boys defeated Gilbert Plains in the semi-final before they took down Grandview in the finals.
On the girl's side, the Magic also beat Gilbert Plains in the semi-final. In the final, they took down Grandview as the Magic program doubled up on titles.
Details

Contributed by

Darnell Duff