Latest Sports
It was an incredible weekend on the pebbled ice for Team Zoey Terrick.
The foursome which includes Zoey, Jaycee Terrick, Jensen Letham, and Tessa Terrick, won the Kyle Flett Memorial Manitoba Junior Curling Tour event. They scored 19 points in three round-robin games as they finished atop their pool with a 3-0 record.
Up 2-1 after three ends in their semifinal against Team Ehnes, Team Terrick stole three straight points and ended up winning the game, 5-3. They then scored four points in the first end of the final against Team Maguet and they cruised the rest of the way in an 11-3 win.
Team Terrick has now beaten Team Maguet in five of their last seven meetings.
Details

Contributed by

Darnell Duff
The Battlefords North Stars of the Saskatchewan Junior Hockey League are once again the top ranked team in the country. The Canadian Junior Hockey League revealed its latest rankings on Monday.
The North Stars are the only team in the country at the Jr. A level that has yet to taste defeat in regulation. They're currently on a 21 game point streak to start the season as they're 18-0-2-1. They also have the top three scorers in the league. Holden Doell has 33 points as does Jake Southgate while Kian Bell has 32. Josh Kotai is 13-0-2-1 in net with a sparkling 1.88 goals-against average to go along with a .942 save percentage.
In the Manitoba Junior Hockey League; meanwhile, Portage is ranked third nationally, Steinbach is seventh and Winkler is an honourable mention.
Portage Terriers:
League champions from coast-to-coast will head to Stride Place in Portage for the Centennial Cup in early May. The Terriers will play host to the event which means one other team from the MJHL will also earn the right to compete in the event.
At 16-4 heading into the MJHL Top Prospects Showcase, Portage has been very good on special teams this year. Racking up an astonishing 500 penalty minutes -- 90 more than any other team in the league -- the Terriers are 85.6% on the penalty kill. The team's power play has also scored 23 goals and is 22.5%. There is no denying that this Portage team is solid but there are certainly some holes.
They lost on Sunday night when they gave up six goals in a 6-4 defeat against Swan Valley. Portage has lost two of their five games in November and in those losses, they have allowed 12 goals against. They also allowed six goals against Niverville back on October 19. The team did beat Steinbach on Friday night.
There is no reason to believe that Portage won't be contending for a league title this year because they likely will but when it comes to past national championship hosts, the Terriers don't appear to be on the same level. For instance, Estevan won 43 games last year and lost just 10 in regulation as they hosted the Centennial Cup. They remain in a tie for first place overall alongside the Steinbach Pistons.
Steinbach Pistons:
They have the best line in the league, without a doubt. Davis Fry leads the league with 32 points, Ty Paisley has 29 and Travis Hensrud has 28. No other line in the league has come even close to producing as much as that trio.
Six other players have at least 11 points so the team has some solid depth and they very rarely lose games on home ice as they're 10-1 at the T.G. Smith Centre this season. Heading into the league's showcase fresh off a 6-2 win against the Freeze, Steinbach has scored in bundles this year, which is no surprise with their first line and overall depth.
In five November games, the team has scored 21 times. The team has a league-best 26.7% on the man advantage and their penalty kill is sitting at 87.8% and it's the best in the league. The countdown to the trade deadline on January 10 continues and that's when Steinbach will likely add some more firepower to their roster just like they did last season, watch out for the Pistons.
Winkler Flyers:
The team has one of the top defenders in the league as Trent Sambrook pairs his smooth skating with his tenacity and great offensive upside. He is also on the ice more than any other player but he makes it work himself.
Sitting just five points back of first place in the West Division, Winkler is coming off a 3-2 overtime loss against Dauphin on Sunday and overall, the team has somewhat trended downward as of late. The team has lost four of their last six games, two of which came in overtime.
Featuring former Parkland Ranger all-star Jayce Legaarden, who has 16 points, the Flyers will play a home-and-home with the Waywayseecappo Wolverines this weekend, a few days after sending a solid cast of players to the league's showcase. They lost in the league semifinal against Dauphin last year and with a solid group of returning players paired with some new players to the organization, Winkler is in a good spot.
They also statistically have one of the the best goalies in the league. Aidan Comeau is 5-1-2 with a .933 save percentage and a 1.78 goals-against average.
Details

Contributed by

Darnell Duff
Madden Murray was drafted by Neepawa in the 2020 MJHL U-15 draft, 23rd overall.
He was then acquired by Dauphin and the Kings are now pleased to announce that the hometown product has committed to the organization.
Murray signed his committment letter on Wednesday afternoon and it's a moment that he has been thinking about for a long time. Growing up in Dauphin, Madden spent many weekend nights at the rink watching the team play.
"It's an unreal feeling," said Murray. "I've been looking forward to this moment since the day I was traded to Dauphin, it's such a special moment."
Doug Hedley, the team's head coach and general manager had this to say after Murray signed on the dotted line.
"We are excited to have Madden join our organization for the 2023/24 season," said Hedley. "He typifies how we want to play with speed, skill, hockey IQ, and hard work."
Murray has been having a sensational offensive campaign with the Parkland U18 Rangers. After posting 15 goals in 44 games last year, Murray has nearly reached that mark and he's only suited up in 17 contests this year.
The Dauphinite is tied for fifth in league scoring with 13 goals and he's also added four assists to his total. When it comes to the team, they are improving every game but they sit at 3-13-1. While Murray is very pleased with his offense, he is a team-first guy and knows there is work to be done.
"We're off to a slow start here so we have to pick things up and get some wins here moving ahead," said Murray. "We have played very well in our past three games so we're looking to keep that going this weekend."
Madden was joined by his grandpa Dean for his committment picture on Wednesday while his brother Emmett and mother Pauline also were a part of the special moment. Dean won a Turnbull Cup with the Kings in 1977 and Billy Murray Jr. won a Turnbull Cup with the Kings five years prior in 1972.
Madden says having Dean take the picture with him alongside Emmett and Pauline meant a lot.
"I can't wait to play my first game to show my family that I made it," said Murray.
When asked what he likes most about Madden's game, Hedley said there are many things to like.
"He has committed to getting better for the last couple of seasons," said Hedley. "His hard work is paying off. He has outstanding speed, and skill and his ability to go into the hard areas will make him a great addition to our group next season."
Madden will be back on the ice for a pair of games this weekend with Parkland as they play in Kenora.
Details

Contributed by

Darnell Duff
Winnipeg is going back to the Grey Cup championship game.
The two-time defending Grey Cup champion Blue Bombers defeated the visiting B-C Lions 28-20 in the West Division Final.
The Blue Bombers led 19-8 at halftime and limited the Lions' chances in the second half.
The Blue Bombers play the Toronto Argonauts in the 109th Grey Cup in Regina next Sunday.
Details

Contributed by

Darnell Duff
Pederson Photographic
—
Owen Wareham is the captain of the Dauphin Kings and on Saturday, he played the role of hero.
On a power play late in overtime against the Winkler Flyers, Wareham beat Aidan Comeau to give the Kings a 3-2 thrilling win to end the weekend.
It was a great response win for Dauphin after they struggled in a loss on Saturday night. Deepkaran continued his strong play with the Kings as he scored his eighth of the season.
Also scoring for Dauphin was Carter Zalischuk and the hometown boy looked great overall in the victory over the third-place team in the East Division.
Marko Belak was outstanding in net for Dauphin as he made 24 saves to pick up the win as Dauphin has 12 wins as the league takes a small pause for the MJHL Top Prospects Showcase which takes place on Tuesday and Wednesday at Stride Place in Portage.
With the win, Dauphin is now 12-8-2 and they're back into second place in the highly competitive West Division with 26 points, one point ahead of Waywayseecappo.
Dauphin is back in action on Friday when they welcome the Winnipeg Freeze to town.
Details

Contributed by

Darnell Duff
The Parkland U18 Rangers are coming home with just one point.
In Kenora for two games, the club earned a point on Saturday in an overtime loss; however, they were doubled up on Sunday in a 6-3 loss. On Saturday, Cade Legaarden led the way in a 5-4 overtime loss. Bo Eisner and Dru Mushumanski also scored for Parkland while Chase Glover made 32 saves.
On Sunday afternoon, Parkland trailed 3-2 after 20 minutes and 4-3 after 40 minutes, but they couldn't claw back. Madden Murray scored his 12th and 13th goals of the season in the defeat while Luke Myhre also scored for Parkland.
Parkland is now 3-13-1 on the season. The Rangers play a home and home next weekend with the Yellowhead Chiefs with Saturday's game being played in Russell.
Details

Contributed by

Darnell Duff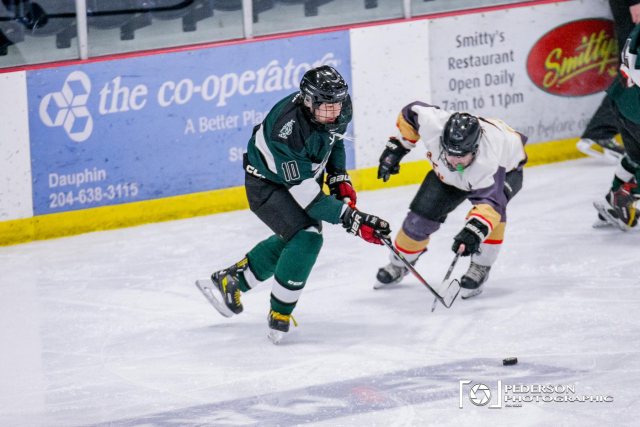 The Dauphin Clippers hockey team's stellar start to their season continued on Sunday afteroon.
On home ice hosting the REMP Renegades, Dauphin came out victorious by a final score of 4-1. It was a solid third period that propelled the club to the win as Dauphin scored three times in the final 20 minutes.
William Miner, Landon Brown, Tyron Sweetman, and Ethan Carnegie scored for Dauphin in the game.
Details

Contributed by

Darnell Duff
The West Division is close, and it doesn't look like that will change anytime soon. Coming into Saturday's game against the Oil Capitals with a two-point lead over their divisional rival, Dauphin struggled in the first 40 minutes.
In the end, Virden scored three straight goals and secured a 5-2 win at Credit Union Place.
Blake Boudreau scored both goals for Dauphin in the defeat. The game was tied at two until Virden scored three goals in the final 4:44 of the game. Trevor Hunt led the way with a pair of goals for Virden while Colten Miller, Brody Wilson, and Andrew Blocker scored Virden's other goals in the contest. Eric Reid made 28 saves for the win.
Cole Sheffield played quite well for Dauphin as he made 30 saves; however, it wasn't enough for Dauphin as they have now lost two straight games.
Virden won their 12th game of the season as they now jump ahead of Dauphin in the West standings, but both teams have the same amount of points with 24.
Dauphin doesn't have much time to rest as they welcome the Winkler Flyers to town on Sunday afternoon. The puck for that one will drop at 4:00 p.m. and it will be the team's final game before the MJHL Top Prospects Showcase which goes down on Tuesday and Wednesday in Portage at Stride Place.
Details

Contributed by

Darnell Duff
The Grandview Comets have opened their season with a win.
Playing in the Southeast Hockey League, the Comets came out strong and downed Whitewood, 5-2.
Dylan Ushkowski scored two goals in the win while Brett Evans earned the win. Derrick Pulock, Dave Elder and Brett Ewanyshyn scored singles in the game.
Details

Contributed by

Darnell Duff
It was a marquee matchup when they played back in July. It's once again a marquee matchup but there is a lot more meaning to this game. The Winnipeg Blue Bombers will host the Western Final on Sunday at IG Field against the BC Lions.
BC downed Calgary last week to earn the right to play in this game with the winner advancing to next weekend's Grey Cup in Regina.
Nuts & Bolts:
The Bombers have scored 26 touchdowns in their past six games while their opponents have recorded just 10
Brady Oliveira averaged 3.2 yards per carry through the first third of the season but boosted that average to 5.75 yards in the final 12 games to hit the 1,000-yard mark for the first time in his career.
Winnipeg averaged 29.9 points in the regular season while BC was just behind at 29.2
B.C. recorded 384.6 yards net offensively while Winnipeg recorded 366.3
Winnipeg's rushing offense was superior as it recorded 113.5 yards per game while B.C. recorded 99.7 per game
Winnipeg turned the ball over just 23 times, the fewest in the CFL while B.C. turned the ball over 34 times
Defensive Dominance:
In their last 13 games, Winnipeg's opponents have eclipsed 300 yards passing just twice
Winnipeg has dominated the fourth quarter this season, outscoring their opponents, 177-73, which includes overtime
In two wins over the Lions this year, Winnipeg was a combined +5 in the turnover differential. The Bombers were -3 in their lone loss against them
Winnipeg allowed a league-low 20.6 points per game while B.C. allowed 22.5 per game
Winnipeg only allowed 27 touchdowns compared to B.C's 36
Nathan Rourke is expected to start for B.C. after he returned from injury to end the regular season. He threw for 321 yards last week and two touchdowns. Zach Collaros will get the start for Winnipeg after the team went 15-3 in the regular season, their best record in franchise history.
Blast to the Past:
Winnipeg beat Saskatchewan, 21-17, in last year's West Division Final. Collaros threw for 229 yards in that game
The Bombers also beat Saskatchewan in the 2019 West Final, 20-13. Collaros threw for 267 yards in that game, and Darvin Adams recorded 93 yards receiving
You can listen to this Sunday's game right here on 730CKDM as we're a proud member of the Blue Bomber Radio Network, kickoff is set for 3:30.
Details

Contributed by

Darnell Duff
After playing a game, Jayden Harris has trouble falling asleep unless he watches the game back to learn. A true student of the game, Harris is back with the Kings after helping the team win a league title last year.
From going to workouts early to being at the rink extra early before a game to mentally prepare, Harris prides himself on giving his all every second and his work ethic makes him a great leader on and off the ice. That's why this year, Jayden is a part of the team's leadership group and he's very happy to be back in Dauphin.
"It feels awesome to have that voice and lead by example," said Harris. "I love Dauphin, I consider it like home here, especially after what he achieved last year. It feels a lot to me to be back here and playing out my final season as a junior."
Since arriving in Dauphin, Jayden has been doing anything he can to help the team win games. In the past, it's been killing off penalties and playing a stellar defensive game. While he continues to be solid in the defensive zone, Harris has now added an offensive touch to his game. Including last year's Centennial Cup, Harris scored twice and had eight assists in 61 games.
This year, Harris has gone off offensively as he has 15 points, six of which have been goals. Jayden's second on the team in scoring alongside Mason Smith. Harris attributes his offensive success to his work in the off-season and his great linemates this year.
"I worked on my quickness a lot in the off-season so I could beat defenders," said Harris. "I also shot a ton of pucks every day so I could take my shot to the next level. I also have to give a lot of credit to my teammates, I couldn't do what I'm doing without them."
The Kings are back in action this weekend as they play a pair of home games. They welcome Virden to town on Saturday before playing the Winkler Flyers on Sunday afternoon. Dauphin sits in second place in the West Division at 11-7-2 and they're just seven points behind OCN for first, as of publishing. Shortly after Sunday's game, Harris will head to Portage as he is one of 11 Kings' that will play in the MJHL Top Prospects Showcase next Tuesday and Wednesday.
Harris was initially announced as were Owen Wareham and Anthony Bax. Since, Mathew Gough, Cole Sheffield, Jonathon Wong, Aidan Brook, Blake Boudreau, Mason Smith, Alex Senf, and Nick Hatton. It's the first time that the MJHL is hosting this event as Harris and his teammates will get the chance to play in front of scouts at the next level.
"It's always nice to have that recognition from the league and it's great for everyone on our team that is going," said Harris. "If there were more spots, more guys on our team certainly deserved it. I'm super happy about it and I'm looking forward to getting down to business."
Get to know Harris:
What are some of your hobbies? I'm a pretty big golfer in the summer, I love being on the course. I also love being on the boat and just spending time with family and friends
Do you have a favourite NHL team? I'm a big Toronto Maple Leafs fan
What's your favourite time of the year? The winter, I love being at the rink and being with the guys, it's what I love to do
What are your goals moving forward? I want to further my hockey career and achieve my educational goals. Playing Division 1 hockey has always been my dream so that's what I'm striving for
Any travelling plans in the near future? With COVID, I'm due for a hot holiday in the near future, go to Mexico, Cabo or something like that, I think it would be awesome
Details

Contributed by

Darnell Duff