Latest Sports
An offensive outburst from the Kings in their 2021 finale has the team heading into the Christmas break happy.
Powered by five goals in the first period alone, Dauphin skated off with a decisive 7-3 win in front of the best crowd of the season at Credit Union Place on Hockey Night in Treaty 2.
Kaden Bryant gave Dauphin a 1-0 lead just more than seven minutes into the game before Ryan Ostermann tied it up for Selkirk. However; Dauphin would run away with it after that, scoring four goals in the final 11 minutes of the period to take a 5-1 lead.
Bryant scored another goal in the period while Nick Braun scored twice and Jayden Jubenvill notched one.
Brayden Dube and Luke Morris scored the rest of the way as Dauphin picked up the win.
The team is now 23-7 and they remain atop the West Division heading into the break. Their first game of 2022 comes on Friday, January 7 when they welcome the Winkler Flyers to town. It'll be the first meeting of the season between the two clubs.
Keaton Woolsey earned the win in net for Dauphin, making 18 saves.
King Tips:
After scoring two power play goals on Friday night, Dauphin went 3-for-5 on the man advantage on Saturday
They were also perfect on the penalty kill, going 9-for-9
Bryant led the way with two goals and two assists while Parker Malchuk had three assists
Dauphin improved to an impressive 11-3 at Credit Union Place (they have 12 home wins, one was at Stride Place in the showcase)
Details

Contributed by

Darnell Duff
The Selkirk Steelers locked it down defensively on Friday night as they earned their biggest win of the season.
Hosting Dauphin in their final home game of 2021, they used a three-goal first period to pick up a 5-2 win.
It took Selkirk just 30 seconds to open the scoring before Jayden Jubenvill tied it up with a power play goal less than two minutes later. Selkirk would go on to score three straight goals to take a 4-1 lead.
Dauphin would cut the deficit in half with a Luke Morris goal; however, that was as close as it would get for Dauphin. An empty net goal would clinch the game for Selkirk as they picked up their 12th win of the season.
Dauphin dropped to 22-7 with the loss. The two teams will go back at it on Saturday night for Hockey Night in Treaty 2. The game will also be sponsored by Cary Fillion's Twin Motors.
King Tips:
Despite the loss, Dauphin did go 2-for-4 on the man advantage; however, Selkirk went 3-for-4
Jubenvill's goal was his third of the season while Ben Hackl earned his 15th assist
Selkirk now leads the season series, 1-0
Details

Contributed by

Darnell Duff
Paul Maurice has resigned as head coach of the Winnipeg Jets.

Dave Lowry will assume the head coaching duties on an interim basis.

Maurice was in his ninth season as head coach of the Jets, having guided the team to the playoffs in each of the past four years and five times overall.

The Jets currently sit fifth in the Central Division with a 13-10-5 record, three points back of the Edmonton Oilers for the final wild-card spot in the Western Conference.

Maurice leaves the Jets 315-223-62 behind the bench with the team. He guided Winnipeg to the Western Conference Final in 2018.

The 54-year-old head coach was in his 24th season as an NHL head coach.

His career record sits at 775 Wins, 680 Losses, 99 ties, and 130 Overtime Losses.
Details

Contributed by

Eric Fawx
After somewhat of a slow start for the Parkland U18 Rangers that saw the team lose 10 of their first 16 games, the season took a turn for the better on Sunday, November 7.
In Winnipeg to wrap up a two-game set with the Wild, Jayce Legaarden scored with just four minutes left in the game as the Rangers earned a point against one of the top teams in the league. And just more than a month and a half later, the Rangers are one of the hottest teams in the league as they have wins in eight of their last 10 games, one of the losses was in overtime.
The team's solid play included a 5-2 win against the Wild last Friday and on Saturday, the team was up 4-0 before falling 5-4.
"We have to learn from that and that's what we always plan to do whether we win or lose," said Carefoot. "Our goal is always to be a team that is tough to play against and I believe we have shown that and opened some eyes over the past month and a little bit."
Thanks to their hot play, Parkland is now sixth in the league and they're just one point behind Southwest for fifth -- with a game in hand -- and they're just two points behind the Winnipeg Thrashers. With a record of 14-9-3, Parkland has two games before the Christmas break and they come on the road this weekend when the team makes a trip to Kenora for a two-game set.
Parkland dismantled Kenora earlier this season by a combined score of 15-3 in two games and the Thistles enter this weekend at the bottom of the league with their 2-22-1 record. But by no means are the Rangers going to take their final opponents of 2021 lightly, especially in their own barn.
"There's really no easy games in this league, it's a gritty league and it's hard to score," said Carefoot. "If we want to continue being a team to reckon with, we need to continue doing the small things right. We need to have a solid weekend so we can head into our holiday break feeling good about ourselves."
Details

Contributed by

Darnell Duff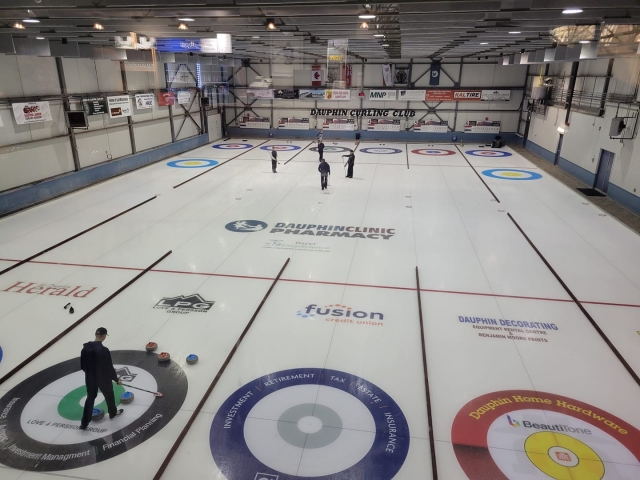 Athletes between the ages of 12 and 17 must now have at least one dose of a COVID-19 vaccine or a recent negative test to take part in indoor sports.
And while this may have turned away some from continuing with their sports, Dauphin Rec Services remains busy. With a hockey arena, walking track, curling rink and a pool all under one roof, Dauphin Rec is a one-stop-shop for all athletes.
Wes Carnegie says bookings all remain full and he also knows of some that have got vaccinated because it's required.
"We haven't had any problems with people trying to come in without being vaccinated," said Carnegie. "It's come down to some people needing to get vaccinated to play and they are doing so."
Carnegie wants to thank the public for how great they have been with the new rules. He also wants to remind everyone that you are required to bring your vaccine card of QR code and ID every time and you must show staff at the front desk. If you don't, you won't be able to enter the facility, regardless of how often you go.
"People are having a lot of patience with us which is great," said Carnegie. "We really haven't had to deal with too many complaints."
If you would prefer to get a rapid test, you can do so at the Dauphin Clinic Pharmacy. Rapid tests cost $35; however, they are expected to be reduced in price moving forward, according to Barret Procyshyn.
Details

Contributed by

Darnell Duff
Cole Topham of the Yellowhead Chiefs has been named the CCM Player of the Week in the Manitoba AAA U18 Hockey League.
The cousin of former Parkland Ranger Taron Topham, Cole scored twice and had an assist to help Yellowhead beat the league-leading Brandon Wheat Kings on Friday. He followed that up with another goal the following night in a 5-3 loss.
In 23 games this season, Cole has 22 points.
Details

Contributed by

Darnell Duff
The Manitoba Scotties Tournament of Hearts gets underway on Wednesday in Carberry. With a berth to the National Tournament of Hearts, most of the top women's teams in the province will battle for the buffalo.
Team Einarson won't take part as they have already qualified for the nationals while Team Jennifer Jones won't either as they will represent Team Canada at the Olympics. Team Tracy Fleury is the top seed heading into the event, an event that will also have some Dauphin flavour to it.
Lane Prokopowich will play third for Team Walter when the event begins. The team has already had a tremendous season, winning the junior provincials last month which earned them a berth in the nationals in Saskatoon. In a pool with Team Clark-Rouire, Team Watling, Team Fleury, Team Bevan and Team Kaitlyn Jones, Prokopowich and the team begin their tournament against Team Watling on Wednesday morning at 8:30.
The final will be played on Sunday at 4:00 p.m.
"We just have to play like we know we can. Being at the nationals, we really got a feel playing against teams we don't normally which is the case this weekend," said Prokopowich. "We're looking forward to this event because we can take that with us. It's always an exciting opportunity to play in the provincials."
Already with a provincial title on their resume this season, Team Walter knows this event won't be easy but they also know that they can curl with anyone when they're on. And this is also the team's first women's provincial tournament together as well.
"We're pretty comfortable, I have a few nerves but that's pretty normal for me," said Prokopowich. "We're just looking forward to playing against the best women's teams in the province and we'll see how it goes."
Details

Contributed by

Darnell Duff
Sergio Garcia came to Dauphin as a part of the Mountain View School Division's International Exchange Program and when he did, it sure didn't take him long to be immersed into the local sports scene.
The Spain native joined the Clippers football team and helped them advance to the Rural Manitoba Football League's championship game. Garcia converted on more than 80% of his converts this past season.
"He was a real force and a real treat of a kid," said Cam Bennet. "He had played rugby in the past but there was definitely a learning curve. He worked extremely hard and his hard work paid off."
In the league final against the Tigers, Garcia made a 25-yard field goal to give the team an early 3-0 lead. Despite ultimately falling in the finals, the Clippers gave it everything they had and made it a tight game.
And while his time as a Clipper kicker has come to an end, Garcia will head back to Spain at the end of the school season with some hardware. He was named a finalist for the league's special teams player of the year and he was named a co-winner of the award. One season and one award for Sergio, a solid season without a doubt.
"He was thrilled to bits when we won the award and we were for him as well," said Bennet. "He was very well-liked on the team, there's something special about him."
Details

Contributed by

Darnell Duff
The Winnipeg Blue Bombers have won the 108th Grey Cup.
The Blue Bombers beat the Hamilton Tiger-Cats 33-25 in overtime at Tim Hortons Field to repeat as Grey Cup champions. Winnipeg was the C-F-L's top team during the shortened regular season with an 11-and-3 record.
Blue Bombers quarterback Zach Collaros was named Grey Cup M-V-P after leading Winnipeg to victory in the C-F-L championship match. Collaros threw for 240 yards, with two touchdowns and two interceptions.
Winnipeg receiver Nic Demski was named the top Canadian. He caught four passes for 27 yards and a touchdown.
Details

Contributed by

Darnell Duff
The Dauphin U13 A1 Kings are golden again.
After winning a tournament in The Pas earlier this season, the team came together and cruised in Brandon to win another championship.
They won all five games this weekend including an 11-4 win against Waywayseecappo in the final. John Riel went 3-0 in net in the tournament with one shutout. It was a great team effort.
In Dauphin this weekend, the U15 AA Kings finished with a silver medal after losing a tight battle against Norman in the finals. Prior to that game, Dauphin was dominant
Details

Contributed by

Darnell Duff
Photo credit - Pederson Photographic
-----
The Dauphin Kings are back in first place in the league standings.
Following a 1-0 win on Friday, Dauphin hammered the Blues on Saturday night as they downed them, 6-0, in front of a great crowd at Credit Union Place.
It took less than three minutes for Dauphin to open the scoring as Jeriah Shantz scored the 'Teddy Bear Toss' goal as hundreds of teddy bears were flooded onto the ice.
Shantz also scored another goal in the second while Kaden Bryant, Luke Morris and Parker Fofonoff found the back of the net as Dauphin led 5-0 after 40 minutes of play.
In the third, Brayden Dube scored his 14th of the season as the Kings skated off with another win.
Carson Cherepak was solid again, making 17 saves.
Next up for the team is a home-and-home against Selkirk, starting next Friday in Selkirk.
King Tips:
It was Dauphin's second straight shutout and it was Cherepak's fourth of the season
Dauphin is now 22-6 with one more weekend left before the Christmas break
Paired with Steinbach's loss, Dauphin is first in the league
Tanner Brouwer had three assists for Dauphin
Details

Contributed by

Darnell Duff