Latest Sports
Drew Luhowy opened up his season with a bang earlier today.
Playing for the Grand Plains Novice Hawks, Luhowy had a hat-trick.
Trystjan Code also had a great game in net, but the team fell short, 9-4 to begin their season.
Avery Crowe had the Hawks' other goal.
Details

Contributed by

Darnell Duff
It was another magical set of performances from the Mackenzie Middle School Magic grade eight girls volleyball team.
The girls won another tournament, this time in Swan River.
They beat Grandview in the semifinals, 25-11, 25-12.
In the finals, the team put together another dominating performance against Russell as they won, 25-16, 25-9.
They will now play for a divisional title on Wednesday in Grandview.
Details

Contributed by

Darnell Duff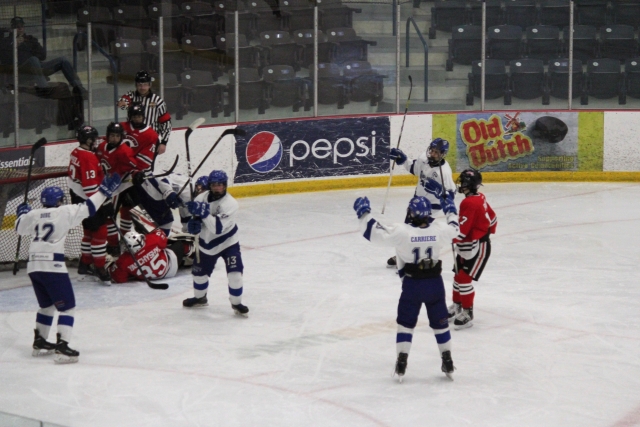 Hats were flying on the ice this afternoon inside of Credit Union Place thanks to Kyan Grouette.
Grouette scored three times to lift the Parkland Bantam Rangers to a 7-4 win over the Pembina Valley Hawks.
Bo Eisner, Domi Leask, Brayden Dube, and Madden Murray all scored one in the win.
The win moves Parkland's record to 7-2 and they remain comfortably atop the West Division by six points.
Kyler Swanton picked up the win in net.
They next play on Friday in Shoal Lake against Yellowhead.
Details

Contributed by

Darnell Duff
Despite leading 3-2 after 20 minutes, the Grandview Comets couldn't hold on as they began their season on Friday night inside of the GACC.
The club ended up falling, 6-4 against the Waywayseecappo Warriors. Grandview returns to the GACC to host the Swan Valley Axemen next Friday. Next Saturday they host the Virden Oil Kings. Friday's game is at 8:30 and Saturday's is at 8:00 p.m.
Details

Contributed by

Darnell Duff
After a 1-5-0-1 start to the season, the Dauphin Kings continue to get points when they hit the ice.
The team earned a single point in a 3-2 shootout loss against the Steinbach Pistons, who now have 10 wins this season.
Steinbach opened the scoring in the game late in the first and they led 1-0 after 20.
With 42 seconds left in the second, it was the league's leading point man doing his thing.
Nakodan Greyeyes scored his 11th of the season as Cole DeKoninck and Grady Hobbs set him up. After 40, the game was tied.
Early in the third, Steinbach regained their lead.
On Wednesday, the Kings scored late to tie the game up and get a point. On this night, that's exacrly what they did again. Grady Hobbs took a pass at the top of the slot and he potted it past Matt Lenz to tie it up.
Greyeyes would also score in the shootout, but Steinbach would score twice to win it.
The Kings have now earned a point in six straight. They return to the ice on Sunday and Darnell Duff has the pregame show at 5:45.
Details

Contributed by

Darnell Duff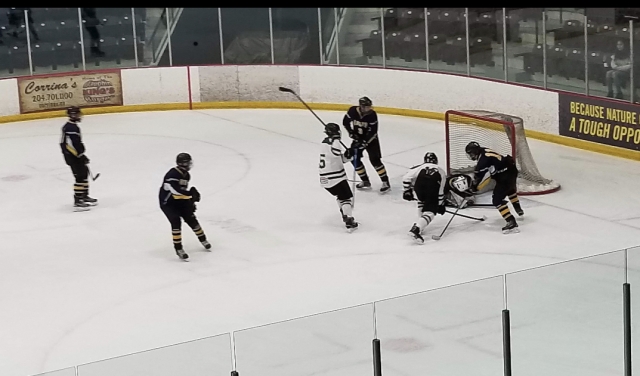 Keanu Woodhouse and Parker Boguski both scored twice as the Dauphin Clippers sent their fans happy.
Playing in their home opener, Dauphin doubled up Deloraine, 4-2 inside of Credit Union Place.
Cohen Smigelsky also had two assists in the game.
Dauphin is now 2-0. They'll look to make it 3-0 on Wednesday in Killarney.
Details

Contributed by

Darnell Duff
The Dauphin Clippers varsity girls volleyball team had a great day in Brandon.
The team won all of their matches to place first in their pool.
They first beat Westgate, 25-18, 25-13. In their second game the team got past WC Miller, 25-19, 25-17.
In their final game of the day, they beat The Pas, 25-22, 25-22.
The Clippers varsity boys also hit the court. In their first game, they beat The Pas, 25-13, 25-21. They next split with Linden Christian, 25-17, 13-25.
In their final game, Dauphin fell to Louis Riel, 17-25, 19-25.
They finished third in their pool.
Details

Contributed by

Darnell Duff
The Parkland Bantam Rangers played the role of the "comeback kids" today as they played their home opener.
Welcoming the Winnipeg Sharks to Roblin, the Rangers scored the winner with just six seconds left to win, 8-7.
The Rangers were down 6-3 before they came all the way back to pick up two points.
It was Will Munro who scored the winner. Munro also had another goal.
Meanwhile, Brayden Dube continued his great season with three goals while Carter Zalischuk, Brandon Lyon, and Kyan Grouette all scored a goal in the win.
Details

Contributed by

Darnell Duff
Dauphin Kings forward Nakodan Greyeyes had a fantastic month of October with 18 points (5G) in 11 games. His most recent goal came back on Wednesday when he scored with less than four minutes left and the goal helped the team get a point against Swan Valley.
Thanks to his great month, Greyeyes has been named the RBC Player of the Month. Fellow King, Baron Thompson was an honourable mention for the award.
On the back end, Cole DeKoninck is a honourable mention for the Telus Defenceman of the Month.
Details

Contributed by

Darnell Duff
Conor Geekie is back in Manitoba after taking part in the WHL Cup. The team ended up getting a silver medal after they fell just short against Saskatchewan in the final, 4-2.
Prior to the tournament, Conor was also named the team's captain. With all that aside, it was time to get down to business.
After losing to Alberta in their first game and a loss against British Columbia in their second, Geekie helped Manitoba get on a roll. They won their third and fourth games against Saskatchewan and British Columbia, respectively.
In the final against Saskatchewan, Tyson Zimmer scored the game-tying goal in the second period. However, two goals in just under two minutes pushed Saskatchewan to a 3-1 lead and they ended up holding on to win the title. Geekie had Manitoba's second goal in the game.
"It's a huge feeling honestly, we weren't even expected to be in the gold medal game," said Geekie. "We just ended up playing for gold because we worked really hard. It was a great week."
"Saskatchewan played a great game. We didn't generate much, but that's going to happen sometimes," he continued. "I think the game could have gone either way. It was a fun game and we gave it our all."
The event was Geekie's first WHL Cup. He had seven points, one of which was a goal in the gold medal game against Saskatchewan. Geekie also played for Manitoba at the Canada Winter Games in Red Deer.
"Getting the opportunity to play with Team Manitoba again is awesome, it's a real honour," added Geekie. "We had a really good group of guys. We came up short, but it was a great week and one I won't forget."
"I got off to a slow start, but I brought my game up as the tournament went on," he continued. "I adapted pretty quickly and I enjoyed my time."
Conor's seven points were the second-most in the tournament. Thanks to his contributions, the Winnipeg ICE prospect was named to the all-star team.
"I was kind of shocked off the start when I heard my name," continued Geekie. "It means a lot and obviously, anytime you can make an all-star team, it means you're doing something right."
Geekie is now back at his Strathclair home playing with his home region AAA team. Joining the U18 Yellowhead Chiefs, Geekie's off to a fantastic start. He already has five goals and four assists in seven games. Conor also had 86 points last year with the Yellowhead Bantam Chiefs.
The team is also on fire. They're 9-0-0-1 which is second place in the league, four points behind the Winnipeg Wild.
"It's been a really good start for us, we've worked really hard," he continued. "We have an excellent team. It's pretty easy to put up nine points when you have a team like I do."
"I'm a team-first guy, points help, but they're not everything. It's about the team winning games, we want to win a championship," said Geekie. "I'm not going to take anything away from my individual success, but it's just great being with a team that's winning."
Both of Yellowhead's defeats have come against the Wild. Both were also by 3-2 scorelines.
The team will now play four of their next six games on the road. That includes another meeting with the Winnipeg Wild, a team that is now 12-0.
"We've had some really good games against Winnipeg, we just came up short," continued Geekie. "If we keep this up, I think we have a good chance of winning this whole league."
Back on September 23, the Winnipeg ICE reassigned Geekie back to Yellowhead. Rather than taking that as a negative, Geekie is taking it as a positive.
"Playing with the ICE is pretty special, playing in the home opener was incredible," added Geekie. "I kind of knew I was going to get sent down. I can only play a certain amount of games and obviously, I want to get my five games in with the team this year."
He had a great performance at the Canada Winter Games with Team Manitoba and he did the same at the WHL Cup. He already has nine points this season with Yellowhead and his first WHL regular-season game is in the past.
Details

Contributed by

Darnell Duff
The Dauphin Clippers football team has several leaders on and off the field. One of those leaders is grade 12 student, Phoenix Lautt. Phoenix has been playing football for seven years and he's spent his entire high school career with the Clippers high school team.
His high school career will end this weekend, but his football career sure won't. Phoenix is heading to Calgary later this month to play against some of the best high school football players in the country. The 17-year-old has made the Nissan 2019 All-Canadian Titan Team.
"It's a huge honour, it took me a while to figure out it's such a big deal," said Lautt. "I don't think it's going to really hit me until I get off the plane. It really does mean a lot."
"I wasn't expecting this at all, I didn't even know about it until my dad told me," he continued. "It was a really big surprise."
Being with the Clippers for four years, Lautt has been a part of the ups and downs. Included in the ups is winning a couple of titles with the team. This year's Clippers team relies on the 17-year-old heavily to make tackles at big times and even chip in with the odd sack. Whatever happens on the defensive end of the ball, there's a good chance Phoenix will be involved one way or another.
Clippers coach Cam Bennett nominated Phoenix for the team. This is why Lautt thinks he was nominated and eventually picked to play.
"I play a leadership role on the team, I have a lot of experience, but I have to give a lot of credit to my team," he continued. "They help me succeed. We've had such a good group throughout the years and that includes this year."
With the all-star game being just 20 days away, the preparation continues for him to assure he's ready to compete against the best of the best.
"It's going to be a step up for sure, I'll have my work cut out for me," continued Lautt. "I think I'm ready for this challenge. I'm going to stay in the gym and I'll continue to train. I want to make a difference for the team."
Lautt is one of just 18 Manitoban players that were nominated. He is also the only rural athlete as all others are either from Winnipeg or just outside.
Taking part in the all-star game isn't the only thing Lautt will get to experience, however. Every athlete chosen to play in the game will also attend the 107th Grey Cup at McMahon Stadium on Sunday, November 24.
"That's something I've wanted to experience in my life for a long time. It's going to be like a dream come true," continued Lautt. "Just the entire experience from playing to watching is going to be awesome, I can't wait."
When it comes to his team back home, Phoenix is getting ready for the biggest game of his high school career and his last. He will join the Clippers as they play in the Murray Cup Final against Neepawa tomorrow afternoon. It's Phoenix's last opportunity to win a title with his home town team.
"It's something I'll never forget, I'm already kind of anticipating how it's going to go," added Lautt. "I want to win, but either way, it's been an incredible ride with all of my best friends in the past few years. I'm so appreciative of everyone on this team. We weren't expected to make it this far, but we've battled and we earned the right to play for a title."
In the regular season, Dauphin lost to Neepawa, 22-21 in double overtime. Now that they have a chance at redemption, Lautt is looking forward to getting at it.
"As long as everyone's doing their job, I really believe we can for sure put up a good fight against them," Lautt concluded.
Tomorrow's game is set for 2:00 p.m. in Neepawa.
Details

Contributed by

Darnell Duff