Latest Sports
Blake Boudreau, who came into main camp in outstanding shape, scored a pair of goals on Sunday as Team Hobbs downed Team Cherepak, 6-5, in the JoFo Cup.
Rylan Gage, Riley Borody, Jordan Bax, and Elias Eisenbarth also scored in the victory.
Joshua Schmidt led the way for Team Cherepak as he scored twice to wrap up a weekend where he excelled and impressed.
Josh Heistad, Sam Boldt, and Danylo Dolin also scored in the tight defeat.
Dauphin will now begin preseason play on Tuesday at Credit Union Place when the Neepawa Titans come to town. Puck drop for that game is set for 7:30.
Details

Contributed by

Darnell Duff
Forrest Karlson led the way with four goals as Team Freese beat Team Hedley, 16-11, on Thursday to win the Parkland Summer Hockey League.
In the win, both Carter Zalischuk and Jordan Height scored three times. Cade Legaarden potted a pair of goals in the win while Parks Gardner, Jace Paterson-Brading, Ryder Gardner, and Ryzlie Nepinak all scored singles for Team Freese.
In the defeat; meanwhile, Havyril Simchuk, Noah Smigelsky and Sam Swanton scored a pair of goals. Jake Myhre, Alex Lopez and Samson Bourgouin also found the back of the net.
Karlson finished the league as the scoring champion with 36 goals and 17 assists. Cash Clarkson was one behind with 52 while Carter Zalischuk had 44 and Quinten Fisk had 40.
In the third place game, Team Soupy and Team Carefoot played to a 16-16 tie. Brayden Budolowski and Landyn Garton both scored four goals for Team Carefoot. Dillian Anderson scored a pair of goals. Brayden Alf, Coy Dixon, Jake Nykolaishen and Luke Harness also scored for Team Carefoot.
Scoring four times for Team Soupy was Ethan Carnegie while Thomas Schmidt recorded a hat-trick. Carter Moncreif, Jaxon Bodnar, and Carter Rands each scored twice. Kaleb Crowe, Dominic Chartrand, and Ayden Bradley all scored once.
Details

Contributed by

Darnell Duff
The Dauphin Kings are holding their main camp this weekend at Credit Union Place.
The three-day camp kicks off a very busy next several days for the club as after Sunday's JoFo Cup, they will host the Neepawa Titans on Tuesday in their first preseason game.
All sessions this weekend are free of charge.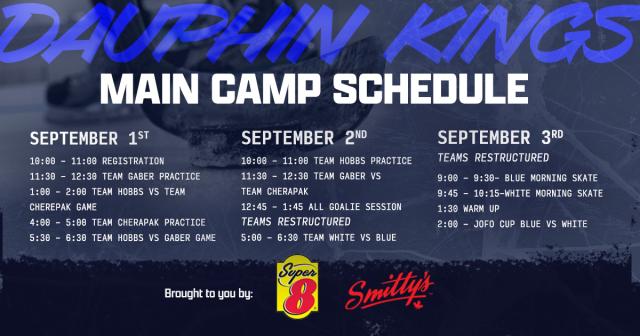 Details

Contributed by

Darnell Duff
He has always dreamt of playing with the Dauphin Kings.
Eventually, that dream became a reality and now, his dream is set to roll on. Carter Zalischuk played 39 regular season games with the Dauphin Kings last season, scoring four goals and adding five assists. He then would score his first Manitoba Junior Hockey League playoff goal in the first round against Swan Valley.
Being a rookie last year, Carter had to earn every single moment of ice-time and when it comes to work ethic, you may have a hard time finding anyone more committed than Carter. Being the first person on the ice for practice and the last one off, Zalischuk is now ready to make a larger impact with his hometown junior team this season.
With players rolling in from across the country, main camp will begin on Friday at Credit Union Place. It will wrap up with the JoFo Cup which takes place at 2:00 p.m. on Sunday before the team opens their preseason on Tuesday when they welcome the Neepawa Titans to town.
Upwards of 50 players will compete for spots on this year's roster beginning Friday.
"I'm expecting a lot of really great talent, we also have a solid group of returnees this year," said Zalischuk. "The compete level will be very high and we will have a very strong defensive core. It will interesting to see how our young players perform. I'm really looking forward to this weekend, it's time to get down to business."
Ahead of camp, Zalischuk has spent his summer in the gym and he's been on the ice for the last month playing for Team Freese in the Parkland Summer Hockey League. While it's hard to compare the league to what Carter can expect when the MJHL season gets going, he has had a very solid showing with 40 points in just nine games. 25 of those points are goals as he ranks tied for third in league scoring. The league will wrap up on Thursday with the championship game alongside the third place game. Zalischuk will lead his team into the gold medal game against Team Hedley beginning at 8:30 at Credit Union Place.
"I'm feeling much more confident putting the puck in the net and finding guys on the ice," offered Zalischuk.
With main camp being just one day away, Zalischuk is ready to do whatever it takes.
"I'm just trying to make an impact every time I'm on the ice and I'll do whatever it takes to get more minutes," said Zalischuk. "I'll keep playing the way I do and I plan on doing it better this year. I also want to have fun with it."
Growing up in Dauphin, Carter spent countless Friday and Saturday nights at Credit Union Place watching the Kings.
"The people around here make you feel amazing being a King," said Zalischuk. "I love playing in front of the hometown crowd and being a part of the atmosphere. I'm living my dream and I can't wait to get going this year."
All camp sessions this weekend will be open to the public.
Details

Contributed by

Darnell Duff
The Swan Valley Tigers finished the regular season last year in the Westman High School Hockey League in third place.
They finished the playoffs; however, as champions. The team did not lose a game in the playoffs and they scored 13 times in the final against Neepawa as they were crowned league champions. While the team graduated a few of their all-star players, the Tigers are once again expected to be a force this season.
With September right around the corner and the Labour Day Weekend just days away, preparations are well underway ahead of the 2023-24 high school circuit which featured 17 teams last year.
At this point, Jason Alf says things are looking positive.
"We're pretty much looking the same as we were at the beginning of last year," said Alf. "We have some teams that are supposed to get back to us by a certain date to let us know if they can commit to the season or not. There is a possibility of one less team this year, or there could be one more. Once school starts, everything starts to fall in place."
League executives will meet late next month and that's when the teams for the upcoming season will be confirmed.
When it comes to the Dauphin Clippers, they will begin skating on September 14 at Credit Union Place. Dauphin came up short in the second round of the playoffs last year against Swan Valley. Just like the Tigers, Dauphin did graduate a few key players; however, Jason is still feeling good.
"We're going to be okay, we have a good core coming back and they are all very excited to get back on the ice," offered Alf. "We won't truly know until after we get going, but we're looking forward to it."
The team will play in a preseason tournament in Glenboro from October 13 to 15. The league has also approved an early start to the season this year and Alf believes the regular season could begin the week after that tournament is played.
Moving ahead in the season, Dauphin is also hoping to make their way to Las Vegas for a tournament. Alf says they are in the pre-planning stage, but the goal is to attend a tournament in the 'Sin City'.
"We have been to Nashville, Anaheim, and other places in the past and it's always something that the kids talk about forever," Alf. "We go to play hockey but the experience of it all is something no one forgets. It's also a great bonding experience for the guys. Nothing is set in stone, but we will see how everything comes together."
As always, keep it locked here to 730CKDM for everything Dauphin Clippers throughout the 2023-24 season.
Details

Contributed by

Darnell Duff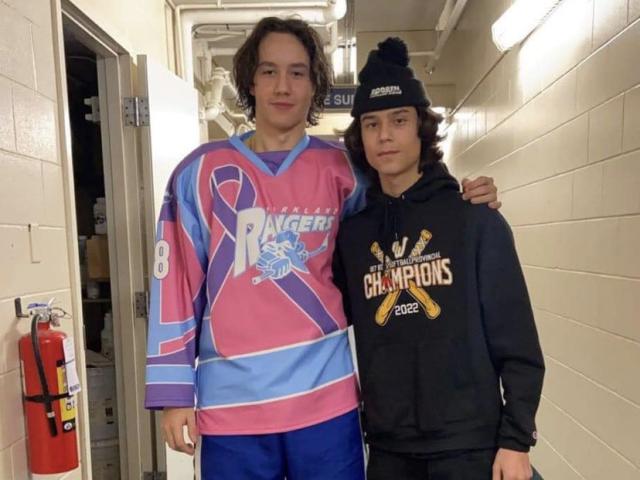 Conner McKay was born in Thompson and since, he has been very well travelled.
McKay moved to Dauphin in grade four and played within the Dauphin Minor Hockey Association. He then made his way back up north to play with the U-15 Norman Wolves where he registered one goal and one assist in six games before the pandemic shut down the rest of the 2020-21 season.
McKay would then make the venture to Winnipeg as he joined the U-15 Bruins and he put together an excellent season with 14 goals and 28 assists in 30 regular season games. He then added two more points in three playoff games.
Conner would ultimately come back to Dauphin for his first year of U-18 AAA hockey as he joined the Parkland Rangers. He managed to score six times while adding 11 assists in 37 games with the Rangers, a team that showed signs of brilliance throughout the campaign.
Conner will only end up playing one season with Parkland, but it was a season to remember for the now 16-year-old.
"I loved the team, we had a great coaching staff, and a great group of guys," said McKay. "We all came together and grew as a team, we had some pretty impressive performances. It was also great to play in such a top notch facility like Credit Union Place, it was a very fun year."
Now with the 2023-24 season right around the corner, Conner is once again heading back up north and this time, that journey will take him home. The Norman Northstars held their training camp last week and McKay cracked the roster.
A team led by head coach Justin Valentino, Conner will get the chance to play with friends that he grew up playing alongside and while the Northstars have struggled to jump up the standings in the Manitoba U-18 AAA Hockey League in the past, McKay is excited to be joining his hometown team.
"This is my first time playing with the Northstars and I am very excited about it," offered McKay. "We have a great group of guys that are ready to get down to business."
To add to the excitement, McKay can't wait to play in front of his family and friends on a consistent basis, something that hasn't happened very often over the past few years.
"I'm thrilled about that, I'm going to get so much support and I'm really happy about that," ended McKay. "I feel like I play better with them watching, so I can't wait to soak it all in and hit that home ice for the first time with them in the stands."
Norman opens their regular season on September 30 when they welcome Interlake to the C.A. Nesbitt Arena for a pair of games to open the campaign. McKay will make his return to Dauphin for a pair of games against Parkland on October 21 and 22.
Details

Contributed by

Darnell Duff
The Dauphin Kings are just eight days away from opening their preseason as the Neepawa Titans will pay a visit to Credit Union Place on Tuesday, September 5.
That begins a stretch that will see Dauphin play three games in a four-day period, including a game on September 6 against Swan Valley in Dauphin before heading to the Centennial Arena in Swan River for a Parkland rematch two days later.
Dauphin will then welcome the Melville Millionaires of the Saskatchewan Junior Hockey League to town on September 15 before wrapping up their preseason the next night at Tundra Oil & Gas Place against Virden. Dauphin is set to open the curtain on the 2023-24 MJHL season on September 22 on home ice against Swan Valley.
Ahead of all of that, the organization will host main camp at Credit Union Place this weekend. All sessions will be open the public; however, no schedule has been set as of yet. The JoFo Cup will take place on Sunday afternoon. Several local stars will be on the ice competing for spots and the list includes Rylan Gibbs.
From Dauphin, Rylan says being a member of his hometown junior team has been a great pleasure and he's enjoyed every single step of the way. The now 19-year-old who spent plenty of time working out in the summer, played his first full season with the team last year. He also joined the team at the Centennial Cup in Estevan two seasons ago.
"I'm very excited to get going here this weekend, some of the guys are starting to roll in which makes it that much more exciting," said Gibbs. "I put in a lot of work this summer so that I can take my game to the next level and I'm looking forward to doing so."
Appearing in 52 games in his rookie season, Rylan scored seven times and added six assists. He then went on to play in four playoff games against Swan Valley. Rylan showed how much talent he has offensively the prior year when he scored 21 times and had 63 points with the U-18 Rangers and while he was pleased with what he provided last year, he knows that now is the time to take things to the next level.
"I'm always looking to help the team as much as I can," offered Gibbs. "The offensive side of my game is quite strong and I believe that I have the ability to make things happen. Contributing offensively is something I look forward to doing this year."
Playing on Team Soupy in the Parkland Summer Hockey League, Gibbs has found the back of the net 19 times in just six games. His 19 goals rank as the fifth-most in the league. Only Cash Clarkson, Forrest Karlson, Carter Zalischuk, and Quinten Fisk have scored more. Zalischuk will also be at main camp this weekend in Dauphin.
King Notes:
Darnell Duff will return to call games on 730CKDM, a broadcast schedule will be announced in the coming days;
Season tickets are on sale by calling Derrick Brucks at 1-306-290-7744;
Dauphin plays four straight home games from October 1 to 14, three of which come against West Division opponents (two against Neepawa, one against Virden)
Transaction Wire:
Ahead of main camp, the team has acquired Naaman Hofer from the Winnipeg Freeze. With them last year, the 6'1" defenseman scored three times while adding 12 assists. Hofer will be able to provide some great depth on a back end that is already loaded with talent.
Details

Contributed by

Darnell Duff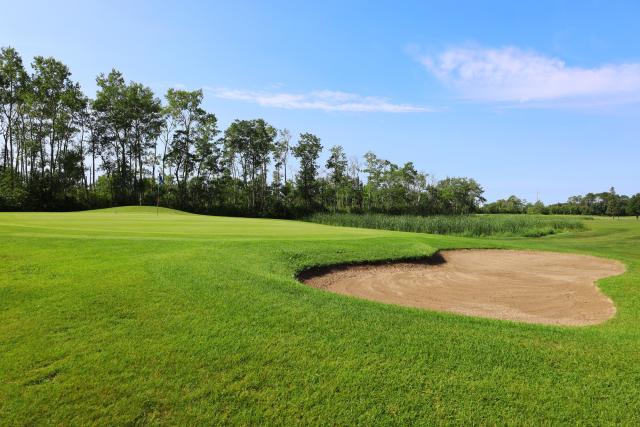 Ron Love took home the championship as the Dauphin Lake Golf Club hosted its senior men's and women's open.
Meanwhile on the women's side, Pearl McSymic won the championship side.
Dennis McKay finished in second in the championship flight while Brad Carefoot and Ken Benson finished in third and fourth. Shelley Love, Laurie Williams, and Chris Carefoot finished in second, third, and fourth, respectively in the women's championship flight.
Men's 1st Flight
1st - Bill Allbutt
2nd - Jim Cruise
3rd - Dick Kirkpatrick
4th - Bruce Hannibal
Men's 2nd Flight:
1st - John Kalechyn
2nd - George Lobert
3rd - Ron Forgeron
4th - Gerry Musey
Men's 3rd Flight:
1st - Fred Todoruk
2nd - Garth Turner
3rd - Wayne Catcheway
4th - Kent Wiebe
Men's 4th Flight:
1st - John Lesychen
2nd - Jim Mulligan
3rd - Tom Cyr
4th - Bill Speers
Women's 1st Flight:
1st - Bertha Davis
2nd - Irmgard Juce
3rd - Sue Leney
4th - Jean Sedor
Women's 2nd Flight:
1st - Margo Elliott
2nd - Leana Compton
3rd - Pennie Karlson
4th - Jackie Thompson
Age Category Winners:
Men's 50-59 - Ted Rea
Men's 60-69 - Ron Love
Men's 70+ - Brad Carefoot
Women's 50-59 - Cathy Cyr
Women's 60-69 - Shelley Love
Women's 70+ - Pearl McSymic
Details

Contributed by

Darnell Duff
Jake Wiens capped off this year's edition of the Tamarack Tournament perfectly at the Clear Lake Golf Course.
In the seventh flight, Wiens won his fourth straight match to win the flight which comes with a gift card and some serious bragging rights. After winning three matches in the ninth flight as the 15 seed, Lawson Yates came up short against Craig Cameron in the flight final.
In a battle of the Parkland, Keith Fawcett downed Dean Cooley to win the master's second flight. Jackson Delaurier won his first two matches to advance to the final in the junior's championship bracket; however, he had to settle for a second place finish after falling to Grady Chuback.
Hayden Delaloye of Neepawa won the junior's consolation championship flight.
Details

Contributed by

Darnell Duff
Rick Freese spent three years with the Norman Northstars U18 program from 1997 to 2000 before he made the move just a few hours to Flin Flon as he began his junior career in the Saskatchewan Junior Hockey League with the Bombers.
Freese playerd 99 games with Flin Flon, collecting 13 points, all of which were assists. Then in the 2002-03 campaign, Rick moved to Humboldt as he scored his first junior goal and had nine assists in 59 games with the Broncos.
Nearly 10 years later, Rick scored three times and had nine points in 15 games with the Grandview Comets, who at the time, were a part of the North Central Hockey League. Still with a passion for hockey after his playing days, Freese focused on the coaching aspect of the game. Since, he has coached the U-18 Parkland Rangers and most recently, he spent last year as head coach for the U-15 Parkland Rangers.
Playing a big role in helping develop young Parkland stars over the years, Rick is set to take the next step as the 2023-24 season continues to inch closer. With just one week remaining until the Dauphin Kings hold main camp at Credit Union Place, the organization has announced that Freese has joined the club as an assistant coach.
He is set to join an outstanding coaching staff that includes Doug Hedley, Brad Dupasquier, Chad Facey, and Dan Keeping. Haley Choma also recently joined the organization as the team's trainer as well as strength coach and equipment manager.
"I think it's a great opportunity to work with some unbelievable people," said Freese. "I think that we can do some good together. I'm really looking forward to it, it's going to be a lot of fun. It's a great learning opportunity to learn from some great hockey minds, I can't wait to get going here."
While his role changes from last year when he was a head coach, Freese realizes that being an assistant coach is very important and he's looking forward to the challenge as he has never coached at the Junior A level in the past.
Two seasons removed from a run to the Centennial Cup -- Canada's National Junior Championship -- Dauphin is set to return several crucial pieces from last year's team, a team that pushed the Swan Valley Stampeders in the first round of the playoffs before coming up short.
The list of returnees includes Blake Boudreau, Logan Walker, Aidan Brook, and Anthony Bax, to name a few.
Local stars Carter Zalischuk, Rylan Gibbs, Marco Bodnarski will also all return and they will be joined by Madden Murray who is set to enter his first full season with the team.
Opening their regular season on September 22 in Dauphin against Swan Valley, Rick says one of the most exciting things about joining the organization is the committment from the coaching staff and their vision to getting back to the league final.
"Being with such an amazing organization with amazing fans, awesome staff, and awesome people will be a pleasure," ended Freese. "This organization has it all when it comes to being one of the best, it's going to be an awesome experience and I can't express enough how excited I am to get going with the team."
Details

Contributed by

Darnell Duff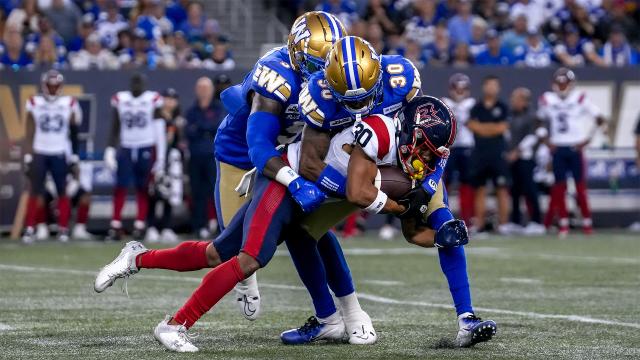 The Winnipeg Blue Bombers could not have put together a better second half than they did on Thursday night.
Leading by just three points at halftime against Montreal, Winnipeg scored 27 points in the second half while not allowing a single point as they ended up hammering the Alouettes, 47-17, in front of a capacity crowd at IG Field in Manitoba's capital.
In his return to the lineup following an injury that saw him miss two weeks, Zach Collaros threw for 240 yards on 16 completions which included four touchdown passes. Brady Oliveira had a monster night for Winnipeg as he rushed for 119 yards with his longest on a single play being 26 yards.
Nic Demski led things thru the air with 87 yards while Kenny Lawler had 65. Jackson Jeffcoat was a monster on the defensive side of the ball with five tackles with both Kyrie Wilson and Winston Rose locking up four apiece.
This win coupled with BC's loss last week now has Winnipeg four points ahead of the Lions for first place in the West Division. The Bombers are also on a five-game winning streak and they will look to keep it going next weekend when they make their way to Regina for the Labour Day Classic.
Details

Contributed by

Darnell Duff