Latest Sports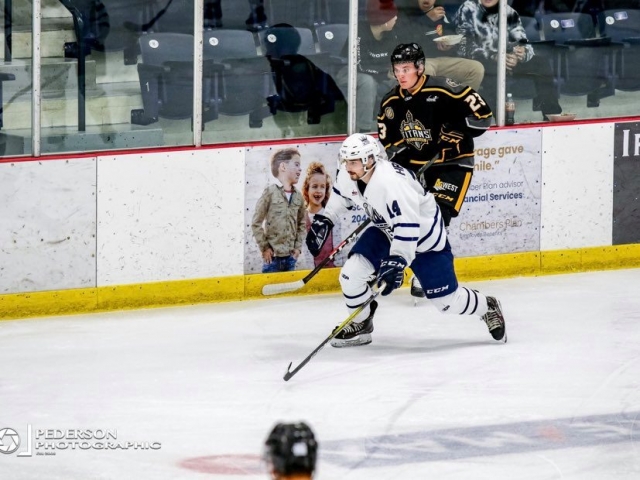 Garrett Hrechka is back doing what he loves with the team he always grew up wanting to play with. The 19-year-old from Dauphin is back with the Kings as the team prepares for a weekend home-and-home with the OCN Blizzard.
The former all-star with the Parkland Rangers program has played in three games this season as the team is off to a 4-2 start which has them tied atop the West Division. Hrechka says being back on the ice is an incredible feeling, especially with it being with the team he grew up watching.
"It feels so great," said Hrechka. "To be back on the ice with this great group of guys and coaching staff, I couldn't ask for more."
After losing a nearly full season of eligibility, Hrechka used that as motivation during the pause knowing that hockey would eventually return and thankfully, it has with the MJHL season entering week four of regular-season action.
As the season continues to move ahead, Hrechka is happy that he's on this year's team but he knows that he has a lot more to give if he wants to be an everyday player and one that contributes regularly.
"There's always room for improvement, I need to do more as a 19-year-old," said Hrechka. "I just need to keep getting better, that's my message to myself."
After splitting their first two games of the season with Neepawa, Dauphin was back on home ice at Credit Union Place on September 24 as they opened another home-and-home with the Titans. From start to finish, Dauphin outplayed the Titans as they held a 4-2 lead with less than 10 minutes left when Dauphin's fourth line showed off some flash.
Slade Stanick picked up a puck, skated over the blue line and outlasted the Titan defender, slid it to Hrechka and Garrett went to the backhand to tuck it past Emerick Demers as the Dauphinite recorded his first-ever MJHL regular-season goal with his hometown team.
Hrechka said it was nice to get the monkey off his back.
"It was mostly all Slade, he gave me a gift," said Hrechka. "I'm going to have to get him a Christmas present for that. It was a beautiful pass, all I had to do was finish. It gives me a lot of confidence moving forward knowing I can find the back of the net."
Off the ice, Hrechka is staying busy taking a couple of university classes in computer science and is also working at North of 51 Designs.
Get to know Hrechka:
Q: Is there something you always eat on game day? Right now, I've been eating a meat-lovers skillet in the morning with Mozza sticks.
Q: Who are your favourite professional sports teams? Cleveland Browns and Boston Bruins
Q: What's your favourite thing about living in Dauphin? Hunting and ice fishing in the area
Q: What's your favourite movie? Parasite or the dirt
Q: What's your favourite childhood memory? Going to Quebec with the French program in elementary school
You can hear Garrett's entire interview with Darnell Duff during the Kings Power Play Show which goes after 4:00 p.m. NewsNow on Friday afternoon. Then at 7:30, Dauphin plays OCN at Credit Union Place to begin their weekend.
Details

Contributed by

Darnell Duff
Week four of the MJHL season is nearly upon us and another home-and-home is on deck for the Kings.
On Friday night, they'll welcome the OCN Blizzard to Credit Union Place while on Sunday, the team makes another trip to The Pas to play the Blizzard.
Dauphin is 4-2 this season which has them in a tie for first in the highly-competitive West Division. The team is coming off a weekend split with the Blizzard.
And as Friday continues to near, it's time to take a look at the Kings by the numbers:
Record: 4-2 (Tied first in the West Division)
Goals for: 17 (Tied fourth in the West Division)
Goals against: 12 (First in the West Division, third overall)
The team has given up two or fewer goals in three of their six contests, one of which they gave up 0 in a 1-0 win against Neepawa.
Powerplay: 7-for-21 – 33.3%. After failing to score a goal while on the man advantage in their first two games, Dauphin has caught fire. Dauphin has scored at least two powerplay goals in three of their last four games, going 7-for-19 in the process. Only the Winnipeg Blues (37.5%) have a superior percentage.
Dauphin is scoring once every three powerplays they get. They are averaging 3.5 powerplay chances per game
Penalty kill: 23-for-27 – 85.2%. Given Dauphin has one of the top goaltenders in the league and solid penalty killers outside of the crease, there's no surprise the team has a solid percentage. It's tied for second in the West Division.
Dauphin is averaging 4.5 penalties per game. They are killing off 3.8 of those in the first three weeks.
Leaders: Kaden Bryant and Colby Jaquet both are tied for the team lead with seven points. Bryant has four goals while Colby scored his first goal of the season on Sunday.
Carson Cherepak was named the league's Goaltender of the Month in September and if you don't know who the young man from Winnipeg is yet, just watch one game and you'll find out. He's 4-1 with a .948 save percentage to go along with a 1.60 goals-against average. He also has one shutout to his name.
There hasn't been a lot of talk about Keaton Woolseyyet for the fact that he's only played one game, but he looked good in that game. He gave Dauphin a chance to win in their first game of the season against Neepawa.
Rookie success:
Eight rookies this season have recorded at least a point. Four of which has three points, Slade Stanick, Hayden Lacquette, Jayden Jubenvill, and Jeriah Shantz.
Stanick and Morris both have two goals while Lacquette, Williams, and Jubenvill have a goal a piece.
Upcoming schedule: bold denotes home game
vs OCN Blizzard – Friday, October 8 – 7:30 p.m.
@ OCN Blizzard – Sunday, October 10 – 7:00 p.m.
@ Virden Oil Capitals – Friday, October 15 – 7:30 p.m.
vs Virden Oil Capitals – Saturday, October 16 – 7:30 p.m.
vs Virden Oil Capitals – Friday, October 22 – 7:30 p.m.
@ Virden Oil Capitals – Saturday, October 23 – 7:30 p.m.
vs Waywayseecappo Wolverines – Friday, October 29 – 7:30 p.m.
@ Waywayseecappo Wolverines – Saturday, October 30 – 7:30 p.m.
Details

Contributed by

Darnell Duff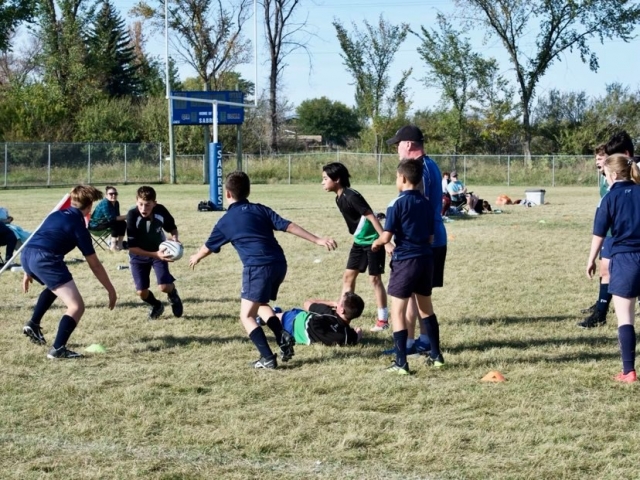 The Parkland Pirates have completed their final youth jamboree of the year in four age groups and all four came out on top.
The U7, U9, U11, and U13 teams hit the field to play a few different teams in the Westman region and no team lost a game. The U7 team beat the Minnedosa Sharks and Brandon Barbarians while the U9 team beat the Souris Sabres and Minnedosa Sharks.
The U11 group beat Brandon and Souris and the U13 team downed Brandon and Souris as well. It was a perfect 8-0 jamboree for the Pirates and Aaron Miner says it was a complete team effort for each group.
"We're certainly trending on the up compared to some other communities, said Miner. "We bounced back quite nicely after our COVID break. It was nice to see the numbers for the Pirates stay strong once we returned."
The season on the field has now come to an end but that doesn't mean several members of the Pirates program are calling it quits until next season. There will be practices indoors throughout the winter months and come 2022, the Pirates will be back in full force outdoors.
Miner says the interest level continues to grow and that's great to see.
"I think rugby is a sport that doesn't get a lot of recognition," said Miner. "But when someone comes out to try it, they fall in love instantly. It's such a quick game and there's never really a dull moment. I think many are realizing that."
It's safe to say that rugby is in great hands in the Parkland for the now and the future.
Details

Contributed by

Darnell Duff
In his first game as a Dauphin King, Carson Cherepak made 45 saves in a 1-0 win against the Neepawa Titans.
The netminder from Winnipeg followed that up with 40 more saves in his following two September games and thanks to his great play, the Manitoba Junior Hockey League has named Cherepak the Goaltender of the Month.
"I'm super proud, I know there are a lot of good goalies in this league," said Cherepak. "The fact that they recognized me is a feather in my cap and I'm very proud."
In saying that, Cherepak also credits his teammates for playing solid in front of him as they wrapped up September with three straight wins.
Cherepak finished September with a .944 save percentage to go along with a 1.66 goals-against average. And he also had great things to say about living in Dauphin as the season enters its fourth week, this weekend.
"I'm really enjoying Dauphin, the team and staff have been great to me," ended Cherepak. "They're doing everything they can so I can play my best and I appreciate it."
Details

Contributed by

Darnell Duff
Carter Johnson scored 18 times and added 25 assists in 44 games with the Interlake U18 AAA Lightning in the 2012-13 season, his final season as a AAA hockey player.
And during that season, Johnson also had the chance to get a taste of junior hockey as he played eight regular-season games with the Swan Valley Stampeders and he even made his playoff debut that season, playing in three playoff contests.
Following that season, Carter made the full-time jump up to junior as he played the next two seasons with the club, playing in 124 games combined between the regular season and playoffs.
The Gimli native finished with 39 points in his first full season with the Stampeders and he added six more to that total the following season, as he tallied 45 points.
Carter's 45 point season was his final in the valley and although he moved away from Swan River more than six years ago, he still remembers the great times that were had over the course of two seasons and a brief stint after his AAA season was over.
"It was an awesome experience, I really cherished my time in Swan River," said Johnson. "Those were two of my favourite years playing this game. Being from Manitoba, I sort of embraced the cold winter. From playing inside the Centennial to playing on the outdoor rink and everything in between, Swan River will forever be a special place to me."
Johnson would move south of the border in time for the 2015-16 season as he joined the Corpus Christi Ice Rays of the North American Hockey League. He was drafted in the third round, 67th overall in the 2015 NAHL Entry Draft.
Johnson immediately became one of the team's top point producers, scoring 16 goals over 59 games and he chipped in 21 assists. His 37 points were the second-most on the team, just one back of Drake Lindsay. His six powerplay goals were tied for the most on the team and his 10 powerplay assists were tied for the second-most.
Carter's tenure with Corpus Christi ultimately only lasted one season before he took the next step as he joined the Miami University of Ohio. The former Stampeder played four seasons with the Division 1 club, suiting up in 23 or more games in two of the seasons.
"Travelling across all of the states and getting the chance to play Division 1 hockey, that was pretty special," offered Johnson. "The culture around NCAA sports is crazy, quite amazing to be a part of."
Johnson's career with the school came to a close on somewhat of a sour note as the coronavirus pandemic forced the team to cancel their season last year ahead of what would have been his fifth and final season with the club.
So his focus now transitioned to finding somewhere to play at the next level. He moved back to Gimli, trained and spent time with family. Johnson does admit that it was tough at times working out and training knowing that no games were coming up on any weekend in the near future, but he didn't allow that to stop him from staying in top-notch shape.
And all of that hard work has certainly paid off as Johnson has signed his first professional contract with the Wichita Thunder of the ECHL. The Thunder play in the league's West Division and they're coming off a tremendous season in which they went 41-22-6-2 to finish in second place, four points back of the Allen Americans.
Carter will make the near 16-hour drive to Wichita early next week as he'll join his Thunder teammates ahead of the team opening their season on October 23 when they play the Americans.
"I'm very excited. I've wanted to play pro hockey my entire life so to get this chance, it means a lot and I'm looking forward to it," ended Johnson. "I'm pushing myself to climb the ladder so I'll embrace being a pro every day and we'll see how things go."
Details

Contributed by

Darnell Duff
It's been a very long time since the Dauphin Clippers last hit the ice and in just a few days, that is about to change. The team will officially begin their preseason this Saturday at Credit Union Place against the Vincent Massey Vikings at 7:30.
Dauphin played just one game last season, in which they hammered Crocus Plains. Jason Alf says the group has been waiting for this for a long time and Saturday can't come quick enough.
"We had a good month of practice and we're looking forward to Saturday, that's for sure," said Alf.
Only eight teams committed to play last season but that certainly isn't the case this year. The Westman High School Hockey League will see 18 teams competing for a title and there will be plenty of Parkland talent across the league. Dauphin is joined by Swan Valley, Sandy Bay, McCreary, Major Pratt, and the Grand Plains Raiders.
Each team will play a 34 game schedule, with 17 home games and 17 road games. The Clippers, who in a normal year play in a couple of tournaments, have not committed to any events as of yet because the Manitoba High School Athletic Association isn't allowing teams to stay in hotels at this point.
So unless that changes, Dauphin will solely focus on making it back to the league final, which they did a couple of years back. Alf says this year's team is a young one with only two seniors on the roster, but he does believe they can be competitive.
"It's been a while since anyone has played any games so it'll take a bit for us to get our feet wet," said Jason. "We have a busy start to the season. So I believe once we get a few games in and start getting comfortable with each other, we'll be just fine."
Details

Contributed by

Darnell Duff
The Parkland U15 Rangers had a perfect start to their season on Sunday afternoon.
Opening their campaign against the Pembina Valley Hawks, the team dominated from start to finish in a 6-1 win.
Six different Rangers scored in the win, with Trace Langan, Luke Myhre, Sam Swanton, Cade Legaarden, Isaac Tomchak, and Hayden Shtykalo scoring in the victory.
"It was a solid effort for us," said Tom White after the game. "We were a little sloppy in the third but overall, we played well with solid goaltending."
The team has a very busy weekend coming up as they'll play three times next weekend in Winnipeg at the IcePlex.
Details

Contributed by

Darnell Duff
A dominant second period has the Dauphin Kings heading into a new week with another win.
The Kings scored four goals in the second period and heavily outplayed OCN on their way to a 4-1 win on Sunday afternoon at Credit Union Place.
After an opening 20 minutes that provided very little, Dauphin found their stride in the second period and they have their special teams to thank. The team's first two goals in the second period came on a power play, the first of which was on a 5-on-3.
Nick Braun opened the scoring on the man advantage at the 1:46 mark and just 58 seconds later, Ben Hackl gave Dauphin a 2-0 lead.
On another powerplay a very short time later, Hayden Lacquette of Dauphin found the back of the net as the Kings took a commanding 3-0 lead with all three goals coming in the periods first 6:50.
Colby Jaquet made it 4-0 with his first of the season at the 8:57 mark.
Brock MacDonald would cut into Dauphin's lead late in the third period but it wasn't near enough as the Kings skated off with a 4-1 win.
The win improves Dauphin to 4-2 on the season while OCN drops to 3-2-0-1. The two clubs will play another weekend home-and-home next weekend, with Friday's game coming at Credit Union Place. Next Sunday, the two teams meet at Roy H. Johnston Arena in The Pas.
King Tips:
With Lacquette's goal, three of Dauphin's four players from the Parkland have now scored a goal this season. Brayden Dube was held off the scoresheet as he made his debut with the team and played very well
Carson Cherepak made his fifth straight start for Dauphin, four of which are wins
Dauphin outshot OCN 40-31 and they recorded 21 shots alone in the second period
As they did entering the weekend, Dauphin remains tied with Waywayseecappo for first place in the West Division as both teams are 4-2. OCN is one point back
Dauphin's three powerplay goals has them sitting at 33.3% on the man advantage (7-for-21) which is the third highest in the league, only behind Waywayseecappo and the Blues
The season series between OCN and Dauphin is now 1-1
Details

Contributed by

Darnell Duff
For the first time this season, the Parkland U18 Rangers failed to earn a point in a game.
Playing the back end of a home-and-home with Southwest on Saturday night in Souris, the Rangers lost 6-1.
The team trailed 1-0 after 20 minutes, 3-0 after 40 minutes, and the Cougars added another three goals in the third.
Jayce Legaarden scored Parkland's lone goal of the game in the third period when the contest was well out of reach. The team is now 2-1-0-1 this season and they hit the road for a pair of games against Eastman next weekend.
The next time they play at Credit Union Place is on October 12.
Details

Contributed by

Darnell Duff
The Dauphin Clippers football team is now 2-0 after another great performance on Saturday. Playing the Moosomin Generals, the Clippers took care of business in a 39-16 win.
Matthew Zurba was a force rushing the ball, as he ran for 112 yards while Mathieu Bray ran for 95 yards. Joseph Lopez ran for 78 yards.
Garrett Thompson had seven tackles and two assists defensively for the Clippers, who have given up just 16 points in their first two wins. Veteran quarterback Thomas Scott completed three passes.
Gerald Lopez had this to say after the win.
"As a coaching staff, we're so happy that all these kids are able to play football this year," said Lopez. "There has been a lot of positives early in the season and we're only going to get better as a team."
Details

Contributed by

Darnell Duff
A great day was had on Saturday at the Gilbert Plains Country Club and it was another successful event for Team Cary Fillion. The foursome that consisted of Cary, Russ Romaniuk, Kevin Kowerko, and Jeff Hildahl shot a 7-under 65 to win the tournament.
It was the third event that the team has won this summer, as they also teamed up to win the Kings Par 3 and the Canadian Friends of Hockey in Ukraine scramble. Team Walter Toderian, Team Chad Cowan, Team Dean Murray, Team Shawn McQuarrie, and Team Regan Hedley rounded out second thru sixth place.
Closest to the hole:
#4 - Taylor Fletcher - 3'3"
#9 - Bill Albutt - 26"
#14 - Trevor Robak - 18'4"
#17 - Dennis Lukey - 14'8"
Details

Contributed by

Darnell Duff