Latest Sports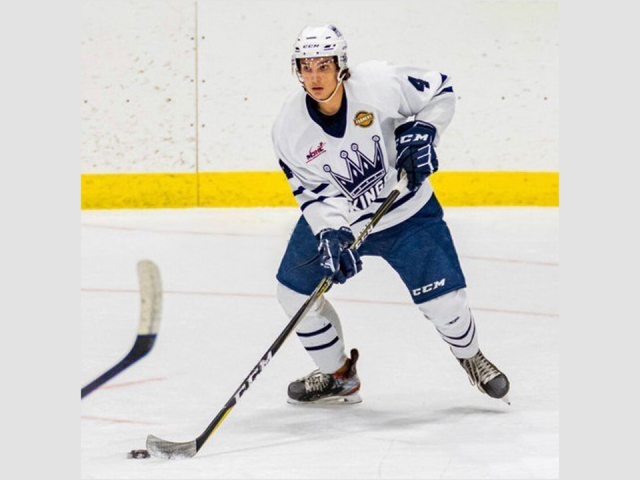 Aidan Brook is back in the Parkland and he's ready to do anything it takes to help the Dauphin Kings win. The Roblin native has joined the team after starting his season in the Western Hockey League.
Brook opened the season by playing seven games with the Medicine Hat Tigers and he most recently played 11 games with the Prince George Cougars. Brook was set to make his season debut with Dauphin this weekend during a home-and-home with the Winnipeg Freeze; however, that won't happen as both games have been postponed.
So Brook's season debut with the team will have to wait a few more days as the team's next game is Wednesday in Swan River against the Stampeders.
"Really happy to be back home," said Brook. "I can't wait to play with this team and chase a title. I can already tell we have an amazing group and I'm thrilled to be a part of it."
Brook says he wasn't having much fun this year playing with Medicine Hat and Prince George and he wasn't thrilled with how he was playing. Now, he's ready to re-focus and get down to business with his home region junior club. Aidan strengthens an already strong back-end.
"It's a great honour for me to get the chance to play with this great organization," said Brook. "I'm proud to put the jersey on."
Get to know Aidan:
What was your favourite WHL arena to play in? Spokane was an awesome rink and I always enjoyed playing there
Least favourite? Swift Current was small, dark and I hated playing in it
What's your favourite hockey memory? Playing for Team Manitoba at the Canada Winter Games in 2019
Brook played six games for the team in Red Deer, scoring once and adding one assist. Although the team's result wasn't what they would have hoped for, Brook says the experience was one that he will never forget.
"I had the chance to play with and against the best players in my age group, that was great," said Brook. "The atmosphere was amazing and just everything about it."
Any pre-game rituals? I like to play sewer ball before games but that's about it
Aidan will make his home season debut with the team next Saturday when the Virden Oil Capitals pay a visit to Credit Union Place.
Details

Contributed by

Darnell Duff
The Winnipeg Bruins scored three goals in less than two minutes on Friday night and that proved to be the difference against the Parkland U18 Rangers.
Playing at Credit Union Place, the Bruins jumped out to a 6-2 lead and they ultimately held on for a 7-5 win. Trailing by that 6-2 scoreline, Parkland almost completed a come back as they scored three straight goals.
The Bruins would seal the game with an empty-net marker with less than a minute left.
Rylan Gibbs led Parkland with two goals. Jayce Legaarden, Hayden Seib and Matthew Munro all scored a single in the defeat. Parkland's game on Tuesday against Southwest has been postponed because of COVID-19 issues.
The team is in Morden next weekend for a pair of games against the Pembina Valley Hawks.
Details

Contributed by

Darnell Duff
Neal Broten of the University of Minnesota won the Hobey Baker award in 1981, the first year that the now annual award was given out to NCAA college hockey's top player. Cole Caufield; meanwhile, won the award last year after a tremendous season with the University of Wisconsin Badgers.
Baker was considered the first American star in ice hockey by the Hockey Hall of Fame and he was also an accomplished American football player. He was a member of three national championship teams, for football in 1911 and hockey in 1912 and 1914, and helped the St. Nicholas Club win a national amateur championship in 1915. During World War I, he served with the 103rd and the 13th Aero Squadrons before being promoted to captain and named commander of the 141st Aero Squadron. Baker passed away in December of 1918 at the age of 26 after a plane he was test-piloting crashed, hours before he was due to leave France and return home.
Throughout the years, the names of Jack Eichel, Cale Makar, Paul Kariya, and Johnny Gaudreau have won the award. Now just more than 40 years after the first Hobey Baker Award was given out, a sniper from Gilbert Plains is a nominee. Enjoying a fantastic season with the North Dakota Fighting Hawks, Gilbert Plains' Riese Gaber has been named a nominee to win the award.
In his sophomore season, Gaber is tied for the team lead with 22 points and leads the way with nine goals and five powerplay tallies. Gaber has also recorded a point in 15 of 21 games this season, he's riding a five-goal point streak.
"It feels pretty good, just to hear my name along with Hobey Baker, it's very special," said Gaber. "There is a long way to go and I don't really expect much to come out of it but it is nice to be recognized. I'm just going to put my head down here and try to finish this season strong."
In eight games this season, Riese has already topped his point total from last year when he notched 21 points. Two years removed from being the Player of the Year in the United States Hockey League with the Dubuque Fighting Saints, Riese's ability to use his speed to his advantage and find the back of the net is a talent that not many possess at the Division 1 level.
"I have something to prove every single night to a lot of people and myself as well," said Gaber. "The biggest thing is just bringing it night in and night out and not taking my foot off the gas here."
Gaber isn't the only Fighting Hawk to be nominated for the prestigious award as he's joined by Jake Sanderson who is heading to the Olympics to play with Team U.S. next month. Sanderson also has 22 points, he was taken fifth-overall by the Ottawa Senators in the 2020 Draft.
"No surprise at all, I wouldn't be surprised if he's a top-three finalist, I believe he should be and will be," said Gaber. "We've become really good friends over the past couple of years, it's really special to play with him. He's a true pro."
While Gaber is having a great season, he believes he has a lot left in him as the Fighting Hawks try to win another Penrose Cup. The team's games this weekend have been postponed because of COVID-19 concerns so next up is a trip to Kalamazoo for a pair of games next weekend against Western Michigan. At 8-2 in conference play, the Fighting Hawks have a six-point lead on Western Michigan for the top spot in the National Collegiate Hockey Conference.
Gaber's also tied for fifth in conference scoring. Leading the way is his former teammate with the Steinbach Pistons in Drew Worrad who has 27 points.
The Hobey Baker's popular fan-voting is now underway and will run until Sunday, March 6 at midnight. That means you can vote for Gaber by heading to Vote for Gaber.
Details

Contributed by

Darnell Duff
Two local players have signed their Letter of Intent to join the Dauphin Kings in the 2022-23 season.
Rylan Gibbs and Marco Bodnarski both signed their letter on Wednesday afternoon at Credit Union Place.
Gibbs, who turned 18 earlier this week, is having an all-star season with Parkland. He's scored 14 times and has 29 assists in just 30 games, averaging well more than a point-per-game.
"I'm extremely happy, it's something that I've wanted to do for a long time," said Gibbs. "Growing up here and watching the Kings all throughout my minor hockey days and now, it's a dream come true."
Gibbs offered this is just the start and he's looking forward to what is next.
Bodnarski; meanwhile, has 22 points this season, two of which are goals.
Marco's 10 power-play assists are the second-most on the team, behind Gibbs who has notched 16. He's also tied for seventh in team scoring this year as Parkland is off to a 16-11-3 start.
Bodnarski had this to say after signing his intent.
"It feels amazing, growing up here and watching the Kings, it's a dream come true," said Bodnarski. "The team is having a lot of success and I'm very excited to be a part of the organization."
Just like Gibbs, Marco says he needs to push himself to the next level to be ready for next season.
In a chat with Doug Hedley, the team's head coach and general manager had this to say on the two local players putting pen to paper.
"It's really exciting for us. We've been trying to get Parkland to be a stronger program for a few years and there is starting to be a ton of talent throughout the region," offered Hedley. "Both kids are very capable of playing Junior A and we're excited that it's going to be with us. We can't wait to work with them."
Details

Contributed by

Darnell Duff
This weekend's Dauphin Kings games have been postponed.
The club was scheduled to play the Winnipeg Freeze; however, the games won't take place.
Both clubs will work together to reschedule the contests. Dauphin's next game is now next Wednesday against Swan Valley.
Details

Contributed by

Darnell Duff
The Parkland U18 Rangers are in a position this season in which they haven't found themselves often in recent years and that's battling for a playoff spot in the top half of the league.
The club is currently tied for fifth place with the Southwest Cougars and they're just two points behind the Winnipeg Thrashers for fourth, which would give Parkland home-ice advantage in their first-round playoff series. Now the playoffs are still quite aways away, but it's safe to say that it is an exciting time to be a Ranger player and fan. At 16-11-3, Parkland is making it tough against the top teams in the league and in many cases are earning points against them.
Despite failing to earn a point this past weekend against the third-place Eastman Selects, the Rangers put together two good efforts and were one minute away from earning at least a point on Saturday night. Tyler Carefoot is pleased where the team is heading but he knows the group does have a few things to sharpen up on.
"The big thing with our group is finding that consistency," said Carefoot. "We've really been focusing on having energy and competing every single shift. In this league, if you take one or two shifts off, you're done, especially against the top teams."
Ahead of two games this weekend against the Winnipeg Bruins, the Rangers have added a local piece to their roster as Parker Boguski has committed to the team. The 17-year-old will quickly slot into the team's lineup. He started the season with the Clippers.
"He's going to add some depth and it's a neat little story, one conversation led to another," said Carefoot. "We gave him a weekend to decide and he came back and wanted to be a Parkland Ranger. We're excited to have Parker with us."
Parkland will; however, be without one of their young stars as Kyan Grouette remains with the Everett Silvertips of the Western Hockey League. The Dauphin product has scored once in three games with the WHL Club after they drafted him 153rd overall in 2020. Grouette was off to a great start with Parkland having scored 11 times to go along with 23 assists in 27 games. There is no timetable for his return.
"I've always said that there is no reason why guys have to go out of the region to get noticed and Kyan has shown that," ended Carefoot. "He is a tireless worker and he's earned everything he has been given. It was great to see him score that first goal.
Gametime at Credit Union Place on Friday is set for 7:30 and the two teams meet again on Saturday at 1:30.
Details

Contributed by

Darnell Duff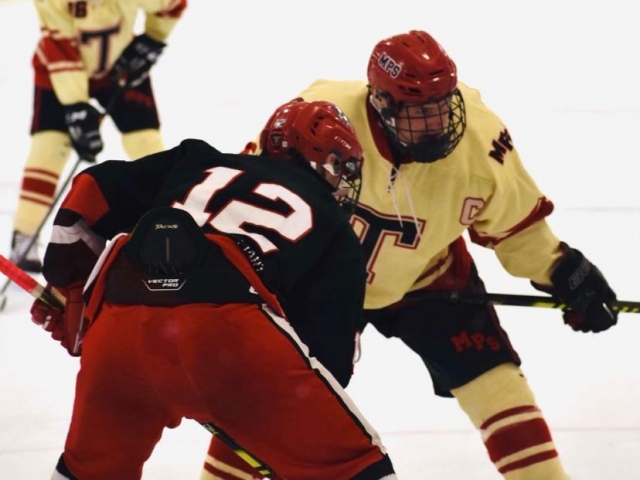 The Major Pratt Trojans high school hockey team will have to wait at least another week before going for their 15th win of the season.
The team hasn't played since December 22 when they scored five goals in the third period as they dispatched the Hamiota Huskies, 9-3. In six December games, the team scored 45 goals as their dominating season includes a 14-2 record. The Trojans 134 goals for is 23 more than any other team and the team has only given up 51 goals. They trail Vincent Massey by eight points; however, they do have seven games in hand.
The team's games are currently paused and they will not hit the ice until at least the middle of next week. Luke DeCorby is a grade 12 student and he's been the team's leader on and off the ice this season. A former Parkland U18 Ranger, DeCorby's great attitude is contagious on and off the ice.
"We we're all just excited to get back on the ice to play a full season," said DeCorby. "We're keeping it pretty light and we're a really tight group. It's been a great start to the season but we know there is a lot left to go."
Offensively this season, Luke has racked up four hat-tricks, the most in the Westman High School Hockey League and he's also on top of the league's scoring race. In just 14 regular-season games, DeCorby has scored 19 goals and his 24 assists give him 43 points. That's four more than Ryan Benson who is second in league scoring and Luke also has two games in hand.
In one preseason game, DeCorby also scored three goals and had five assists.
"I just try to have fun out on the ice and I think that just helps me be more successful," said DeCorby. "I have a great group of teammates and I wouldn't be able to have the success I am without them."
Bo Tibbatts, also of Major Pratt, has 14 goals and 16 assists this season as the Trojans wait to get back on the ice to continue a season in which they believe something special could happen.
"We're a confident team and we have a great coaching staff," said DeCorby. "We need to continue to get better every day and we'll see how it ends up."
Details

Contributed by

Sam Brownell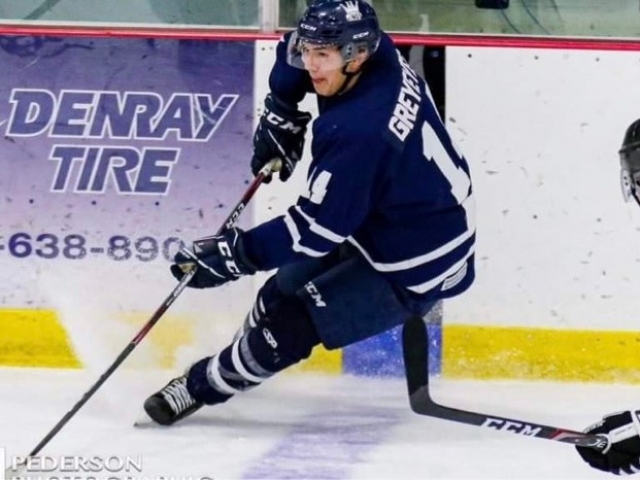 Trade deadline day is here and the Dauphin Kings have made a major splash.
The club has added all-star forward Nakodan Greyeyes to their roster. Nakodan is no stranger to the organization as he's played in 120 games with the team. In the 2019-20 season, he recorded a career-high 74 points.
Greyeyes started this season with the Austin Bruins in the North American Hockey League.
Move #2
Dauphin also went just down the road to add a blue-liner with Western Hockey League experience as Aidan Brook is making his way back to the Parkland.
Most recently with the Prince George Cougars of the WHL, Brook is coming back to join his home region junior club. He started his season in Medicine Hat where he played seven games before suiting up in 11 with Prince George.
Both will be eligible to be in the lineup this weekend when Dauphin plays a home-and-home against the Winnipeg Freeze.
Details

Contributed by

Darnell Duff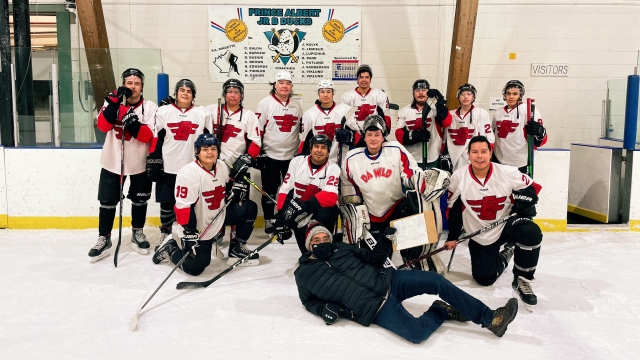 It's been several years since the Ebb and Flow Flyers senior hockey team hit the ice together for a competitive tournament but they are now officially back.
The team made up of players who are all band members of the first nation, hit the road for their first tournament of the season recently in Prince Albert.
Rene Hunter is one of the team's leaders and he says being together as a group means a lot.
"It feels a lot different than playing with other teams," said Hunter. "I'm proud to play with the Ebb and Flow Flyers and to play with guys from home, it makes it that much more special."
When the tournament wrapped up, the Flyers finished in fifth place, an impressive performance for a team that iced a younger roster. The tournament featured 13 teams from across Manitoba and Saskatchewan.
"It was great to go on a road trip with all of the guys, that's what it was all about," said Hunter. "We're trying to get our younger players some more experience and that will come when we can hit the ice more often."
12 of the players on the Flyers also play together in the Dauphin Rec Hockey League on Team Green. The Flyers are back and they're ready to make some noise.
"I'm extremely proud to be a part of the Ebb and Flow First Nation and I love representing our community," ended Hunter.
Details

Contributed by

Darnell Duff
The Dauphin Kings held a lead late on Sunday afternoon but only came out with one point.
Wrapping up a weekend home-and-home with Winkler, the Flyers came from behind to earn a 4-3 win in overtime. The win gives Winkler a weekend sweep over Dauphin while the Kings earned one of four points.
Colby Jaquet, Kaden Bryant and Nick Braun scored for Dauphin in the game as they earned a point after failing to do so on Friday.
Sunday's defeat was Dauphin's first extra-time loss of the season. They're now 23-8-1 on the season heading into a home-and-home with the Winnipeg Freeze next weekend.
Details

Contributed by

Darnell Duff
After a win to open 2022 on Saturday, the Parkland U15 Rangers came up just short on Sunday afternoon.
Playing at 7Oaks Arena, Parkland came up short in a 4-3 loss against the Winnipeg Wild Green.
Tucker Thompson, Isaac Tomchak and Tyrell Leaske scored for Parkland in the game.
Details

Contributed by

Darnell Duff