Latest Sports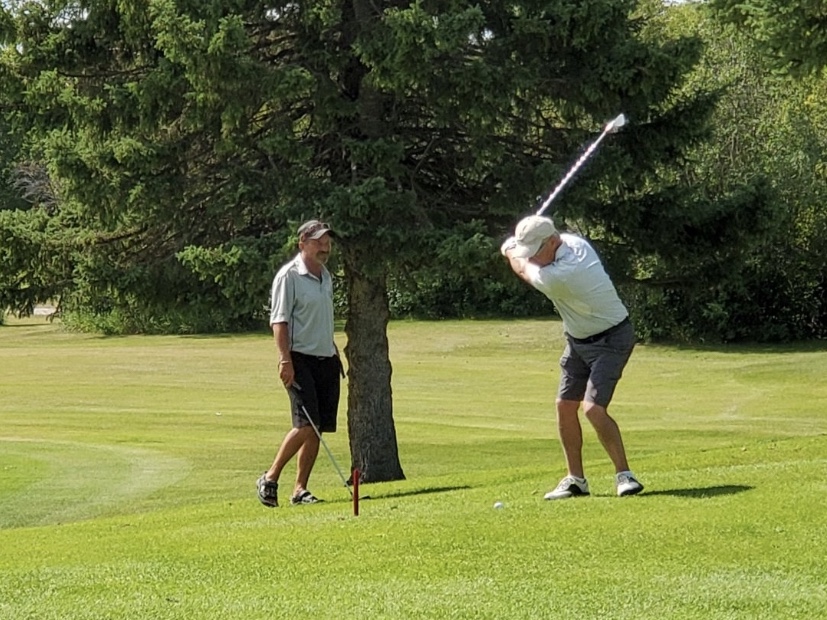 More than a dozen local golfers hit the links at the Gilbert Plains Country Club to celebrate Cliff Lambkin's 50th birthday.
Darnell Duff and Scott Snitka ended up winning the event with a 5 under, 66 in the two-person scramble format.
Snitka also won closest to the hole on #9.
A great time was had by all and the plan is to hold an annual event.
Details

Contributed by

Darnell Duff
Devastation, it's the word that the entire Town of Neepawa used when they were severely affected by a massive rainstorm. At the Neepawa Golf & Country Club, it forced the Club to close its doors while crews worked to get the course back into playing shape.
After closing on June 29, Neepawa was able to open the back 9 for public play on Saturday, July 11. However, the front nine still remained closed due to the flood.
It does now look like there is some more light at the end of the tunnel as Landon Cameron has confirmed that the front 9 has now opened for play.
"We played men's league on it earlier this week as a test run and it seemed to go okay," said Cameron. "There are a lot of damaged areas that are being re-seeded so we have some strict cart rules in place. It's been a long road already and that road continues, but we're very excited to offer players the opportunity to play on the front."
There will be some changes. Number 2 will now play as a 165-yard par 3 instead of a 385-yard par 4. The green on number 9 was lost and re-seeding was required. As a result, the hole has been shortened to a par 4 instead of a par 5. A temporary green is being used.
"It's actually pretty incredible how well the temporary green is," said Cameron. "It played just like our normal greens so that's kudos to our grounds crew."
Cameron said the fact that the grounds crew was able to get the front 9 in playable shape this quickly is borderline a miracle.
"They've worked day and night to get it ready, if they aren't the top grounds crew in western Canada, they're right near the top," ended Cameron.
You can book your tee times today by calling 204-476-5711.
Details

Contributed by

Darnell Duff
Keith Fawcett's summers consist of golf, golf, and even more golf. The Onanole native calls the Clear Lake Golf Course his home and he plays on the track nearly seven days per week. His best round of the season was a 70 which is also his age.
Earlier this week he made his way to the Carman Golf and Country Club to play in the Manitoba senior championships, an event that he plays in every season.
Fawcett would open with an 81 as he sat 11 strokes behind the first-round leader, Mike Walker.
"I wasn't playing very well when I left Clear Lake so I guess I wasn't expecting a whole lot," said Fawcett. "My goal; however, was to open the tournament with a better score than that. They had the pins in some very tough places, I hit the ball, okay but I was on the wrong side of the holes and it was pretty impossible to make putts."
Fawcett would improve in his final two rounds, score-wise. He shot a 78 in round two followed with an 81 in his final round. The Onanole native ended up finishing in a tie for 25th in the province.
"I hit the ball better as the day went on. Round 3 was a tough start, they had the pin on the right side and I hit it on the left side so I had like an 80 footer and I four-putt that one," added Fawcett. "It was a tough start, but I mean I'm pretty happy with how I did."
Bruce North who calls Carman his home won the title with a 7 over, Keith was 31 over.
Next up for Fawcett is the chance to defend a title that he's won the past two years at his home course. The Tamarack Tournament starts on August 15 and Keith will once again play in the Champion Men's age group and he's won it two straight years. His goal, of course, is to win the title for a third straight year but he knows that won't be easy.
"A lot of guys came from the men's event to be in the champion seniors and I know there are some really good players," ended Fawcett. "The field will be extremely tough and I'll have to be dialed in if I want to have a chance at winning this thing."
Details

Contributed by

Darnell Duff
The buzz continues to build ahead of the Dauphin Kings 2020-2021 season and to assure you get the seats you want for the upcoming season, the Kings have you covered.
From next Tuesday to Friday, the Club will hold a 'Season Ticket Blitz' at the Speedy Glass South Ticket Office inside of Credit Union Place.
The cost to get your season tickets on those days will be just $229 for taxes and fees for adults. That works out to just $6.94 a game which would save you $5 per game on walk-up prices.
Students (Ages 13 to 18) will pay $119 + taxes & fees while the Kings Kids Club (Ages 5 to 12) returns for $50 + taxes & fees.
"Usually we have this at the Business Expo but of course that didn't happen," said Christian Laughland, Director of Business Operations. "We want to give season ticket holders an opportunity to reserve their seats for the upcoming season."
There will also be flex tickets up for grabs. A 30 Game Flex Pack will be worth $249 + taxes & fees and the 10 Game Flex Pack returns at $99 + taxes & fees. As a treat for fans, you'll be getting one extra home game as the MJHL Showcase has been cancelled for the upcoming season.
"Flex packs are great for people that can't make it to every game during the season," ended Laughland. "You can choose when you want to use the tickets. You can use a bunch at once and bring some friends, or save them throughout the season, it's your choice. Flex tickets don't expire until the end of the regular season."
That means there will be 30 home games during the regular season and three exhibition games. After next Friday, the adult price will go up to $239 + taxes & fees.
SPEEDY GLASS SOUTH TICKET OFFICE HOURS
Tuesday, August 4 - 8:00 a.m. to 3:00 p.m.
Wednesday, August 5 - 8:00 a.m. to 5:00 p.m.
Thursday, August 6 - 8:00 a.m. to 5:00 p.m
Friday, August 7 - 8:00 a.m. to 5:00 p.m.
Details

Contributed by

Darnell Duff
The reigning most valuable player in the Manitoba Junior Hockey League is set to return to the City of Sunshine for one more season.
The Dauphin Kings announced that Grady Hobbs is set to return for his final season of junior eligibility.
"I spoke with RIT (Rochester Institute of Technology) lots when I made the decision and they were great. They were totally supportive, understanding, and treated me well in the process" said Hobbs. "I'm really excited. I know there's going to be a lot of guys back in Dauphin. We'll have a great core group and I'm looking forward to returning."
Hobbs was second in league scoring last season with 81 points, 43 of which were goals, the most in the league. He also had 13 powerplay goals, tied for the most in the league. In the playoffs, he scored in double overtime in game three against Portage before the season was shut down.
"It's great news for us, he's one of our top guys," said Doug Hedley. "We love to have him back. It's going to create a lot of excitement in town. He's such a special player and to see him wearing our uniform and crest one more time, that's going to be fantastic for us."
This upcoming season will be Hobbs' fifth season with the team. From Deloraine, he's played 231 games with the team. Shane Luke is the all-time leader in games played with the team as he played in 277 from 2007-2011.
Entering at 231 this season, Hobbs is well on his way to becoming the all-time leader in games played.
"Not many guys can say they've played five years with one team so that's something very special for me," added Hobbs.

"That's extremely well deserved. He's a guy that practices as he plays and he never takes a shift off," ended Hedley.
Hobbs will now head to Rochester Institute of Technology in time for the 2021-2022 season where his scholarship will still be on the table.
Details

Contributed by

Darnell Duff
For the first time ever, Canada's National Ukrainian Festival is partnering with the Dauphin Kings.
On November 21 inside of Credit Union Place, CNUF has joined the Kings to host "Ukrainian Night" a night that has become so special in the past, and this year's edition is guaranteed to be another special night.
Kayla Gillis, President of Canada's National Ukrainian Festival says they were approached a couple of weeks ago by the Kings and the rest clearly is history.
"We think it's a wonderful opportunity not only for CNUF or the Kings but the community as a whole," said Gillis. "We're really looking forward to working with the Club to make this an extremely exciting evening. We can't hold a festival this year so we want to make this like a mini one."
Gillis said it's an honour that the Kings approached them in the first place. In the past, Ryan Rauliuk has hosted "Ukrainian Night"; however, he has said in the past that he will now focus on doing Rangers "Ukrainian Night".
More details will be revealed moving forward on what November 21 will look like exactly, but Gillis did provide a little bit of an insight on what you can look forward to seeing on that day when the Kings hit the ice just more than a month before Christmas.
"We're planning on having a band at the door and having some dancers perform as well," she ended. "We also have some games that we'll be playing in the intermissions. There will also be some pierogi's involved and you will have to eat something."
Details

Contributed by

Darnell Duff
The hockey season is right around the corner and here's ag olden chance to get prepared for training camps.
The Parkland Source for Sports Return to Play Tournament will take place at Credit Union Place from August 13-16, just weeks before the main camps begin.
There are two age categories, one being a junior tournament and the other being a U18 tournament.
3-on-3 tournament:
Each team will have nine skaters and one goalie. You are allowed to have up to three CHL/NCAA/USHL/USports/Minor pro players per team.
There will be three-12 minute periods and the final two minutes will be stop time. It's $1800 per team registration or $200 per player/goalie.
The winning team will be awarded $5000 while the second-place team will receive $2000.
The registration deadline is August 7. You can enter your team by calling Doug at 572-4036.
18U tournament:
Each team will have 12 skaters and one goalie.
There will be three-15 minute periods and the final five minutes will be stop time. It's $1000 per team or $100 per player/goalie.
The registration deadline is also August 7 and you can do so by calling Doug at 572-4036.
"There should be some really good action. I know a few teams have already reached out to me and there are some very good hockey players," said Doug Hedley. "The key is to get the timing going and the cardio as well. There will be lots of ice time, it's a great opportunity to get back into the thick of things before the season."
Details

Contributed by

Darnell Duff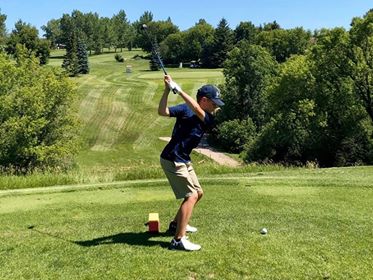 Junior golfers from Dauphin have dominated the Westman Junior Tour in the past and that was once again the case at the Wheat City Golf Course in Brandon yesterday.
As the many golfers from the City of Sunshine look forward to playing every Tuesday in a tournament format, they hone their skills basically every other day of the week at the number of wonderful courses the Parkland has to offer.
Hayden Shtykalo is one of those and it's already paid off for him as he won an event at the Glen Lea Golf Course earlier this season over Carson Craig by two strokes. He also won at Pleasant Valley last week. As the Tour continued its circuit across Westman, Shtykalo has once again joined the winner's circle as he continues to improve day by day.
An 85 yesterday earned him a three-stroke victory in the 12 & under age group as he won his third tournament of the season. Hayden has only played in six events and he's converted by winning a title in three of them.
"It feels pretty good. As I've said in the past, I just have to continue practicing and improving," said Shtykalo. "It's also wonderful that so many juniors in this area play in these events."
Hayden's three-win summer now has him right in the thick of things when it comes to the standings. He's earned 38 points and that's tied with Carson for the top spot in the season-long race to finish on top.
There is just two events left with next week being in Neepawa followed by the next weekend at Oak Island. That means 20 total points are up for grabs as Hayden and Carson go head-to-head.
"I definitely want to place first, but I know it's going to be tough," ended Shtykalo. "I'm going to have to continue playing solid and we'll see how things go. It should be a pretty interesting last two weeks here."
Delaurier Mania:
The title says it all. Jackson Delaurier has been a man on a tear this summer and that continued at Wheat City. Jackson tied Luke Myhre at Glen Lea earlier this summer as both players earned nine points.
Yesterday at Wheat City, Delaurier shot a 77 to once again win the 14 & under age group by eight strokes as Myhre placed second again. Boston Karlson came in at third. Add it all up and Jackson has won five titles this season and he finished in a tie for first in his other event.
Delaurier leads the group by seven points over Myhre who is in chase mode. Just as is the case for the 12 & under age group, two more events will be played in Neepawa and Oak Island on August 4 and August 11, respectively.
Delaurier also won the closest to the hole prize in his age group while Quinten Fisk who the prize in his age group.
Details

Contributed by

Darnell Duff
This summer has turned out to be one of championships for Crystal Zamzow and now, her trophy case just continues to fill up.
Earlier this summer, the Swan River native took home the Manitoba junior championships at the Selkirk Golf and Country Club. She finished that event with three straight pars to claim her first provincial title on the golf course against the provinces best.
After that event, Zamzow said she was looking forward to spending the summer with her family and friends. She knew she could play in some more tournament golf on the Maple Leaf Junior Tour and she decided to do just that at the St. Boniface Golf Club.
Playing in the U15 Girls age group, the Swan River junior opened the two-day event with a 90 as she took a six-shot lead into the final round. Inconsistent greens and playing to winter rules, the course played as a challenge for every golfer, but Zamzow was able to fend off that challenge on day two.
She improved by four strokes over day one for a two-day total of 176. That total won her the championship by 19 strokes, the largest margin of victory in any group.
In other action, Neepawa's Hayden Delaloye had the clubhouse lead after the first round in the bantam boy's event. However, he would end up finishing in third place. Thomas Scott finished in a tie for fourth in the juvenile boy's group while Eric Prokopowich settled for sixth in the junior boy's age group.
Details

Contributed by

Darnell Duff
Rylee Zalischuk has spent countless hours on the road over the years and she's okay with that because it's given her the chance to play the sport she loves. The soon to be 18-year-old has spent her winters in a hockey rink for as long as she can remember and nowadays, she has an opportunity to look back at what was a very successful and enjoyable competitive hockey career.
After playing in Dauphin during her young playing days (atom), Zalischuk would play in Neepawa and the surrounding areas. She also suited up for the midget Grand Plains Ice Dogs last season and the team won a bronze medal at the provincials.
"That was pretty fantastic finishing third at the provincials," said Zalischuk. "It was really good being close to home, lots of my family and friends could come to watch me play."
After that bronze medal, Zalischuk would join the Neepawa Natives U18 team for this past season, a team that actually won silver the year prior and finished one place higher than Zalischuk and the Ice Dogs. This past season was officially Zalischuk's final of her competitive playing career and she had the opportunity to play in one final provincial championship before turning the page.
The team opened their tournament with a tie against Birtle. In the end, they lost a close battle against Souris in the bronze medal game.
"I'm really glad we had the chance to play in the provincials, it happened before everything happened with the novel coronavirus," added Zalischuk. "It was such a wonderful year with such a great group of girls."
Rylee hasn't only been playing over the years. For the past two years, she's assisted Phil Fafard at tryouts for the Parkland U15 women's Rangers, a team that continues to improve every day. Zalischuk says getting that opportunity was such an honour.
"I really loved seeing those girls and how hard they worked to improve their games," said Zalischuk. "I hope I can come back and coach that team in the near future, I loved every second of it."
So there's no doubt that Rylee has done great things on the ice and off the ice as well and now she's been rewarded for all of her contributions. Zalischuk is the lone recipient in the province to be awarded the Buck Matiowski Memorial Scholarship. Matiowski was a trailblazer for several hockey firsts in Manitoba such as organizing the first-ever provincial women's hockey tournament in 1955 and founding Western Manitoba's first summer hockey school in Brandon in 1967.
The scholarship is accompanied by $750. Rylee was also a wizard in the classroom as she maintained an average of 96% during her time at the DRCSS.
"It's really nice to be recognized, I worked really hard with my schooling and balancing that with my extracurricular activities," she added. "It's great and it's certainly going to help me a lot moving forward with my schooling."
Rylee will now head to the Wheat City where she'll attend Brandon University as she looks to obtain her degree in Optometry (eye doctor). After three years in Brandon, she will move to Waterloo for four years. She decided she wants to get a degree in Optometry to help people.
"I think it's pretty important to try and make a difference and that's what I want to do," ended Zalischuk. "I'm looking forward to the next stage in my life and we'll see how things go."
In all, the Dauphinite was awarded 13 scholarships.
Details

Contributed by

Darnell Duff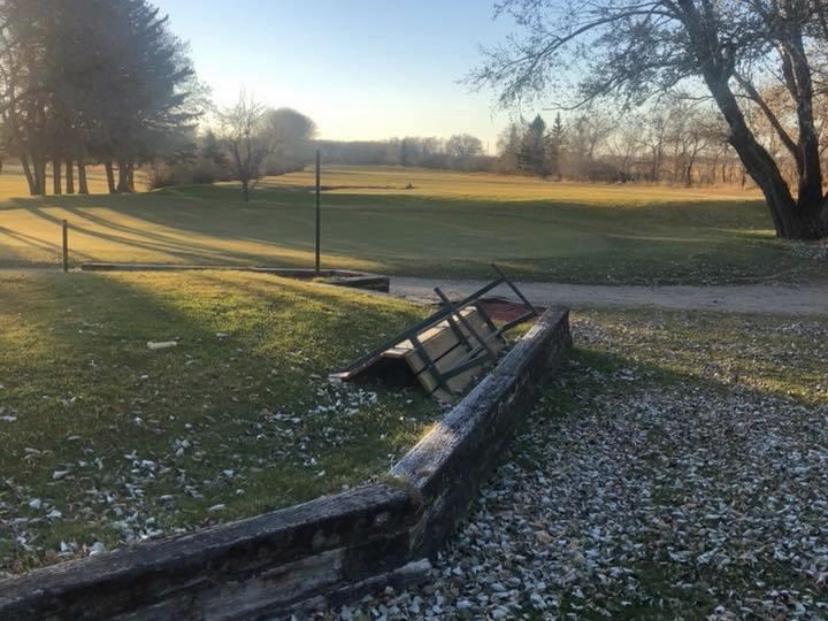 89 men and women teed it up at the Swan River Golf & Country Club as they held their Senior Open.
Faron Genaille put together a 71 to win the men's side.
Lorna Munro, meanwhile, shot a 91 to win the women's title.
Details

Contributed by

Darnell Duff