Latest Sports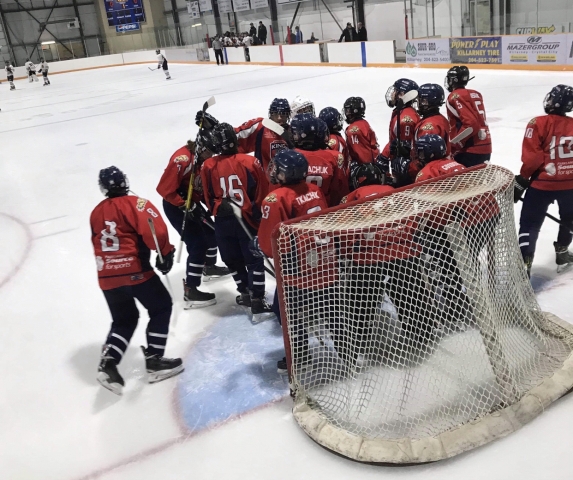 The Dauphin Super 8 Bantam AA Kings may be playing in their first tournament of the year, but there's been instant chemistry and success.
The team has rolled in both of their games and now they're playing for a gold medal at the Killarney Stars tournament.
In their first game, they beat Virden, 5-0. That was followed up with a big 8-1 win against Neepawa.
Sunday's final is set for 2:15.
Details

Contributed by

Darnell Duff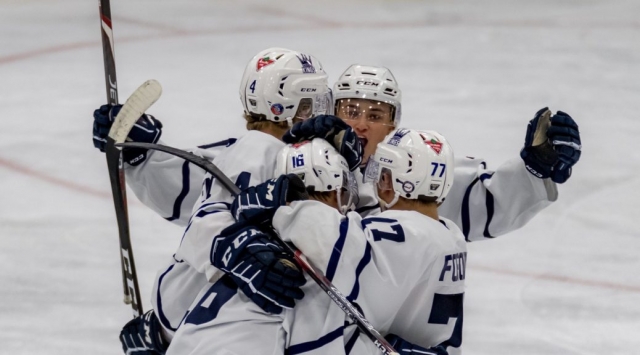 For the second time this season and second time in the last eight days, the Dauphin Kings will meet Steinbach.
This time, the game will be played in Dauphin after last Friday's game was in Steinbach.
Steinbach won that game 3-2 in a shootout. Dauphin has now earned points in nine straight games.
Steinbach is second in the league with 26 points at 12-2-1-1. The two teams will also meet next weekend in Steinbach.
Dauphin, meanwhile, is 8-6-3-2 for 21 points.
The game gets going at 7:30 tonight.
Details

Contributed by

Darnell Duff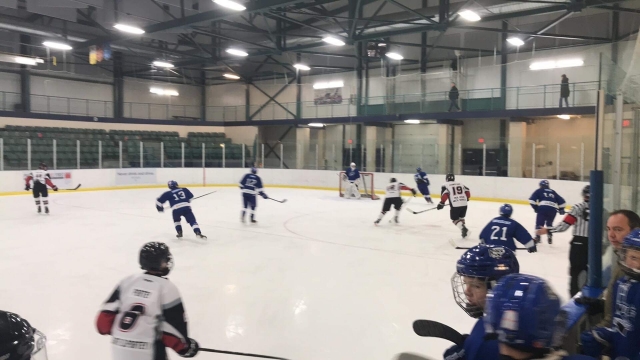 The Parkland Bantam Rangers outshot the Yellowhead Chiefs, 36-33, but it wasn't enough to get a win over them.
The Chiefs caught fire after a slow start to beat Parkland 8-5.
Brayden Dube had three goals alone in the first period as they were up 3-1 after 20.
The Chiefs then scored seven of the games next nine goals for the win.
Carter Zalischuk and Kyan Grouette also scored in the win. Grouette also had three assists.
Parkland and Yellowhead are now tied atop the West Division with 14 points.
Details

Contributed by

Darnell Duff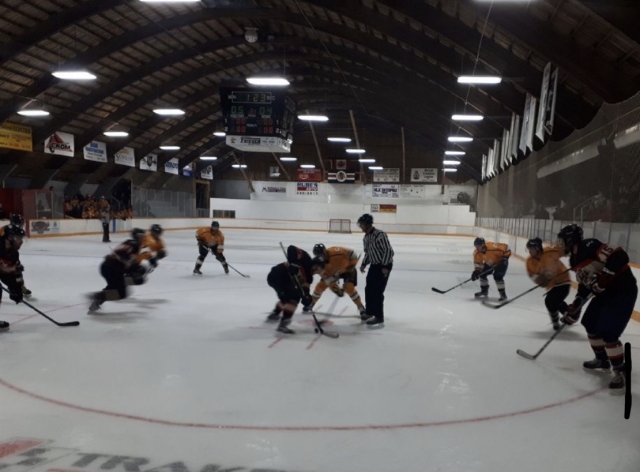 The Grandview Comets came up just short tonight.
Playing against the Swan Valley Axemen, the Comets lost, 5-4.
They'll play Virden in Grandview on Saturday at 8:00 p.m.
Details

Contributed by

Darnell Duff
For the second time in a week, the Dauphin Kings used a big third period to earn a point. The club saw their point streak extend to nine games tonight inside of Credit Union Place. However, a point is all they would get in a 7-6 overtime loss at the hands of the Flyers, who now have 23 points on the season.
It was a great start to the game for Dauphin. On the power play, Grady Hobbs and Nakodan Greyeyes set up Cole DeKoninck who scored his seventh of the season to give Dauphin a 1-0 lead at the 7:19 mark.
At the 7:58 mark, Austin Lamotte was sprung on a breakaway and he beat Dorrin Luding to make it 2-0 for Dauphin.
The Flyers would then catch fire. They scored three straight in a nine-minute span to end the first period up 3-2.
Trailing 3-2, Nakodan Greyeyes scored his 10th goal of the season just 4:55 into the midway period. DeKoninck and Hobbs drew the assists. With the game now tied at three, the Flyers once again took over to end the period.
They scored three goals in seven makes to take a big 6-3 lead into the third period. But, Dauphin showed they know how to come back when down in the third. On Tuesday night they trailed by two goals in the final period against Waywayseecappo and they pushed the game into overtime.
Tonight, the team did the same thing with one of their best periods of the season. Grady Hobbs cut the deficit to 6-4 just 34 seconds into the period. Kadin Ilott would then make it 6-5 at the 10:11 mark and Mitchell Thiessen tied the game up just four minutes later.
Thiessen was making his Kings debut as an "AP" player. He plays for the Brandon AAA Wheat Kings.
Despite some late pressure, the Kings couldn't find the equalizer, but they did pick up a late penalty when Parker Fofonoff was sent to the box. On the ensuing power play in overtime, Jayden McCarthy scored his third goal of the game and eighth of the season to give the Flyers a 7-6 win and two points.
Dauphin continues their homestand tomorrow night when the Steinbach Pistons are in town.
Details

Contributed by

Darnell Duff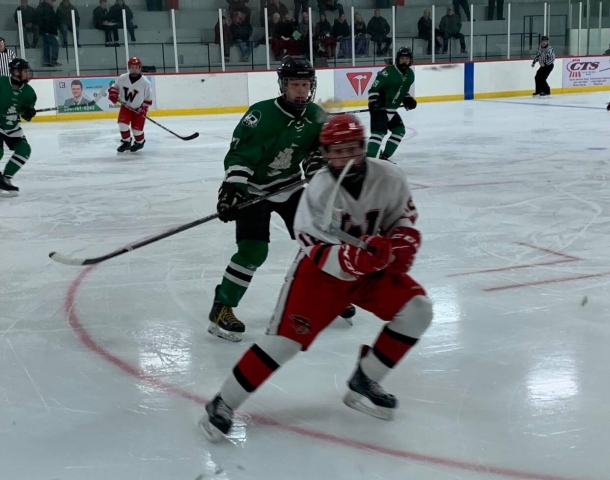 The Dauphin Clippers hockey team was tied with the Glenboro Wildcats tonight at one, but then they stole the show on the road.
The Clippers scored five straight goals as they beat the Wildcats, 6-1 for their third win of the season.
Ashton Hlady led the Clippers with two goals. Kayden Bodnar, Keanu Woodhouse, Jesse Koshowski, and Parker Boguski also scored one each for Dauphin in the big win.
Bode Childs picked up the win in net.
Dauphin hosts Birtle on Sunday afternoon at Credit Union Place at 2:30.
Details

Contributed by

Darnell Duff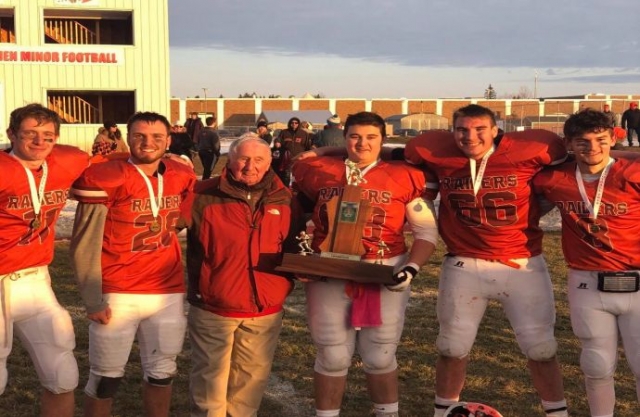 For the past two seasons, the Yorkton Raiders football team played in the Moose Jaw High School Football League. They won the past two titles in that league. It was then taken over by Saskatchewan High School Athletics and they created a new league name with the same teams.
It's now called the Saskatchewan Rural Football League, but even a league name change wasn't enough to stop a Cardinals team that just keeps winning. For a third straight season, the Raiders are league champions. They nipped the Swift Current Colts, 31-17 on their home field in the finals.
In the first half alone, Val Declines led things with 165 yards on the ground over 17 carries. Connor Watrych also scored two one-yard touchdowns as the Raiders led 14-0 at the half.
The Colts battled back in the third and they trimmed the deficit to five at 14-9 heading into the final quarter.
A 75-yard interception return for a touchdown by Brad Heskin sealed the game in the fourth as the Raiders won the title for a third straight year.
"We certainly enjoyed that win and we took 24-hours to enjoy it," said Roby Sharpe, head coach. "Swift Current came to town prepared and they played a tough game. We were just able to break it open at the end and win it."
24-hours is all the celebration lasted as the team hit the field on Monday for another big week of practice. They are getting set to host Bishop Mahoney tomorrow afternoon and a provincial title is on the line. Bishop Mahoney beat the Balgonie Greenall, 14-2 in their semifinal.
The game not only gives Yorkton a chance to win a provincial final but also change their fate in provincial title games as of late. They've lost the last two finals by less than 14 points combined in the past two years.
"We know what Bishop Mahoney brings, they are hard-nosed and they're very conservative," said Sharpe. "They don't often gamble on third downs. They protect the ball and they grind the clock. They're very physical. We may have a smaller roster than them, but we are also very physical. It should be a really good football game."
Tomorrow's game will be played in Yorkton at 1:00 p.m. at the Yorkton Regional High School's football field. It's the first time the team has hosted a provincial final since 1990. Ironically enough, coach Sharpe played in that game.
"It's awesome that we're playing on our home field. 1990 is a long time ago. Our community has been so fantastic for football and really everything," concluded Sharpe. "I know Dauphin is an awesome community as well, but our community here in Yorkton is always behind us. Every single member of our team can't wait to take part in the game and it's going to be fantastic."
Details

Contributed by

Darnell Duff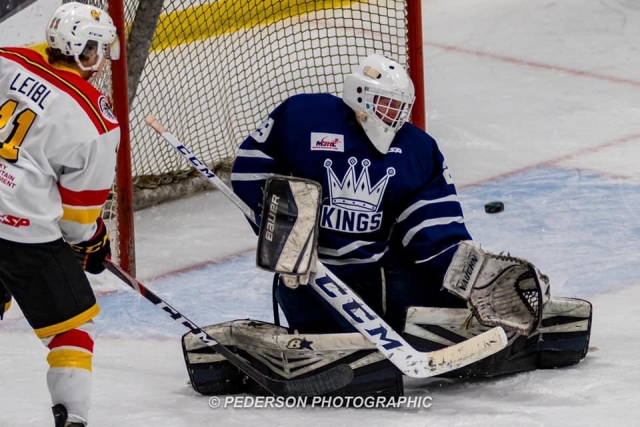 The Dauphin Kings begin a two-game weekend home stand this evening as the Winkler Flyers are in town for the first time.
The Kings have points in eight straight games while Winkler comes into the game off a 3-0 loss to Selkirk in their last game.
Going into tonight, just one point separates the two teams. Winkler has 21 and they're in sixth while Dauphin is in seventh with 20.
The Kings will look to take advantage of this weekend before heading out on the road for a while. They play six straight games away from Credit Union Place.
Nakodan Greyeyes and Baron Thompson are Dauphin's two leading scorers coming into the game. They have 29 and 2 points, respectively.
Justin Svenson and Drake Burgin lead Winkler with 18 points each.
Don't forget to listen for the Dauphin Kings Power Play Show after the 4:00 p.m. news, weather, and sports as Darnell Duff gets you one step closer to the game.
Details

Contributed by

Darnell Duff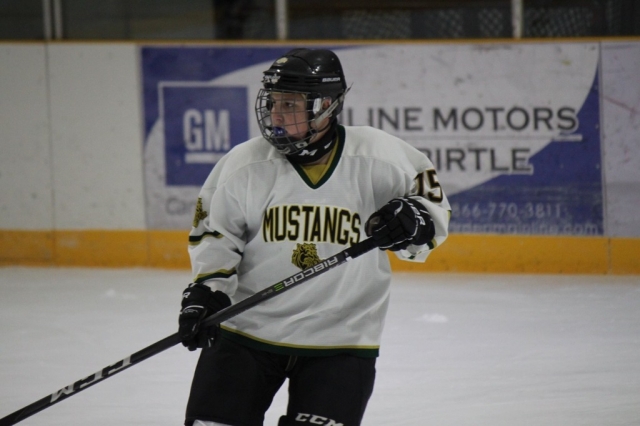 The McCreary Peewee Mustangs used a solid team performance to beat Rivers, 6-2.
Reese Scott scored four times for the Mustangs while Ryan Gower was fantastic on the back end and he had three assists.
Brady Turko and Brody Fayant scored the other goals in the win.
Details

Contributed by

Darnell Duff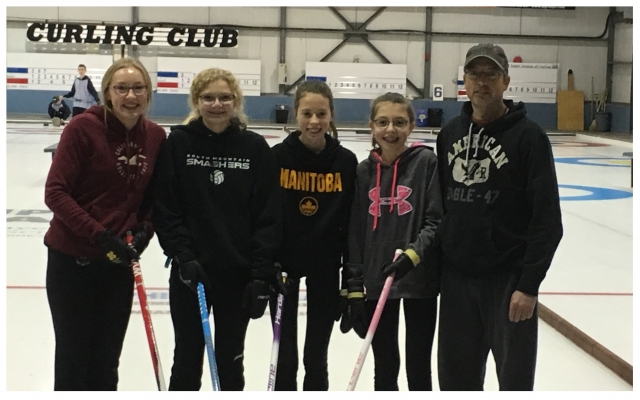 Over the weekend, Makenna Hadway, Cassidy Dundas, Zoey Terrick, and Tessa Terrick invaded Swan River for the Westwood Inn Swan River MJCT Classic.
Playing against another fellow Dauphin team in their first game, Hadway's foursome beat Anya Jackson's rink, 4-2. The foursome from the Parkland continued to improve from that impressive performance.
They beat Jessi Meyn, 8-2 in their next game. They wrapped up their round-robin with a 10-3 win over Bailey Mangin's foursome.
The team's 3-0 record gave them a bye into the finals and they capped things off exactly how they started it, with a win. In a rematch with Anya Jackson's rink, the Hadway foursome won 10-2 to claim the title.
"I think we played really well and it felt really good to win our first bonspiel of the year," said Hadway. "We were really focused on making our shots and we did a really good job at communicating, it was great."
The next big competition for the team will be early next month. From December 5-8, they will head to Swan River for the West 1 Canola Growers Junior Provincial Championship qualifier. From January 1-5, the best junior curlers in the province will be in town for the provincials played at both the Dauphin Curling Club and inside of Credit Union Place.
To have success at the qualifier, Makenna knows exactly what they need to do.
"We just have to keep playing like we have been and we need to communicate and focus," continued Hadway.
When asked what it would mean to play in the provincials in her hometown, Hadway knows it would be a special feeling.
"It would mean the world to us, it would mean everything to play in front of all of our friends and family in Dauphin," she concluded.
Makenna's brother, Nolan Hadway also had success at the tournament. He's playing third on Team Brooks Freeman and they won the tournament on the junior men's side.
Details

Contributed by

Darnell Duff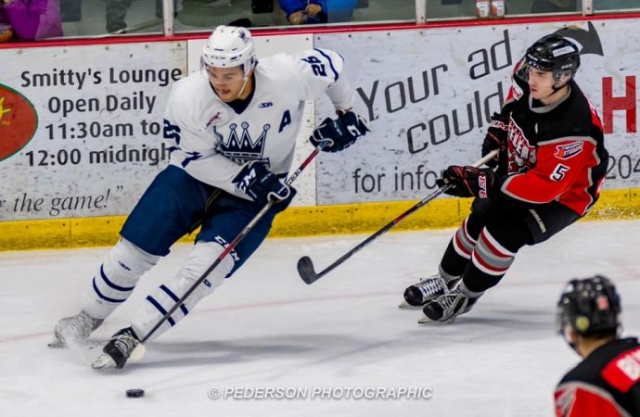 When the Dauphin Kings signed Lakeville, Minnesota's Baron Thompson prior to this season, there was a ton of excitement around the town and within the organization and it didn't take Thompson long to make his mark felt when he arrived in town.
Prior to this season, Baron spent the past three years in Brandon as he played for the WHL's Wheat Kings.
"Things are going pretty well. I got put with some really good billets and the guys are coming together really well," said Thompson. "I'm really enjoying my time here and hopefully, we can do some pretty special things this year."
Thompson is staying with Sarah and Dan Keeping this season.
"They're really, really great people and they have two boys of their own and it's always fun to play mini hockey with them and other games," continued Thompson. "I'm also staying with Gavin Wendorf and he's a really good kid. It's been fantastic."
The family also has a dog named Rupert.
"He's a good time, that's for sure," continued Thompson.
Playing in a preseason game against Neepawa, Thompson scored off a beautiful shot from the hash marks. Now 15 games into his final junior hockey season and first in Dauphin, Baron has been doing a ton of scoring.
On a line with Nakodan Greyeyes and Grady Hobbs, Thompson has 13 goals and 15 assists. The 28 points have him second in league scoring, behind Greyeyes who has 29.
He's already surpassed his junior career-high. Two seasons ago while with Brandon, Thompson had 26 points (13G).
"Yeah, it's always fun scoring. Nakodan and I always joke together to see who can get the number one spot, but it's all fun and games," continued Thompson. "If you look at all of my goals, it's my teammates that help me. Nakodan and Hobbs are fantastic to play with and Doug is putting me in a position to succeed."
"With the amount of time I'm playing and the spots I'm being put in, it would be hard not to produce," he continued.
Baron and the Kings started their season with some struggles. They were 1-5-0-1 after a loss against Neepawa early last month. Since that game, Dauphin has caught fire. They are now 8-6-2-2 and they have points in eight straight games. They'll have the chance to increase that to 10 straight games this weekend with a pair of games.
"Everyone on this team was a brand new face to me and I was a brand new face to them. It's hard to have chemistry with someone you just met," he added. "We're pretty far along in the season now and we're really coming together."
Dauphin will return to Credit Union Place tomorrow night. They play the Winkler Flyers and they play the Steinbach Pistons on Saturday.
Q: What are some of your hobbies?
A: There are a lot of lakes where I'm from so I spend a ton of time fishing with my dad. I also spend some time with my brother and of course, I train throughout the summer.
Q: Favourite video games?

A: I like Fortnite and NHL and some others.
Fun fact:
Baron played 26 games with the Dubuque Fighting Saints during the 2015-16 season. That's the same team where former Dauphin Kings player, Riese Gaber is playing with right now.
Make sure you tune in to the Dauphin Kings Power Play Show tomorrow after the 4:00 p.m. news, weather, and sports to hear my full chat with Baron.
Details

Contributed by

Darnell Duff