Latest Sports
There isn't much that Mallard's Brigette Lacquette hasn't achieved in her hockey career. She's played in the Olympics where she won a silver medal, she's won a Clarkson Cup Championship, and now she's an All-Star Captain.
Lacquette will be the Canadian Women's Hockey League Captain when the All-Star Game takes place on Sunday, January 20 in Toronto at Scotiabank Arena.
Lacquette took home 50% of the votes to secure the spot as Captain. So far this season, Brigette has racked up 15 points in 18 games for the Calgary Inferno.
Details

Contributed by

Darnell Duff
A red-hot week has earned Dauphin Clippers Logan Storey the Player of the Week honours for the Westman High School Hockey League.
The Clippers star played in just two games last week but he put up points at a torrid pace. He notched three goals and five assists for eight points total.
It's been a special year for Dauphin so far. They've won 13 straight league games. It's also been a special season overall for Storey. He's second in league scoring with 37 points total. That's just two behind the league leader which is his teammate, Riley Hammond.
Logan and the rest of the club are in Winnipeg this weekend for the Piper Classic.
Details

Contributed by

Darnell Duff
Simply put, Cole DeKoninck has become a player for the Dauphin Kings that has been heavily relied upon on the back end, but he's also a player that has received the green light offensively.
The 18-year-old is 29 games into his first full season as a junior hockey player and it's been a good one so far. He also made a bang on his new team by recording his first ever point with the Kings way back in October against Waywayseecappo. That was an assist and since that, Cole has tallied five goals.
"Things are going great, I mean we've been struggling to get the wins lately but we've been working really hard to change that," said DeKoninck. "I think things are going to turn around and we're going to start winning games."
"We really need to start capitalizing on our chances, like we're close every game for the most part," he added. "We're not giving up a lot of goals, but we're not scoring that many either. Scoring five goals on Wednesday against OCN was big for us and I think that's going to help with the confidence."
Cole's also tacked on 13 assists so far, one of which was on Tuesday against OCN. The 18 points Cole has is tied for sixth on the team.
"I wasn't really expecting much coming in as a rookie," added DeKoninck. "I was hoping to get a couple, my main goal is to just help this team. I just want us to be successful going forward."
DeKoninck's success has earned him a trip to Regina to take part in the MJHL/SJHL Showcase at the Co-operators Centre which takes place January 14-15 (Monday/Tuesday). He will play on Team Garbutt and he'll be joined by teammate Grady Hobbs.
"It's a pretty great feeling to know I'm one of the top 18-year-olds in the league, it means a lot," he added. "I wasn't expecting it, but I'm pretty pumped up for it."
"Playing in front of all the scouts will definitely add some pressure and the nerves will be there, I just need to go out there and play my game and if I do that, I'll be just fine," added Dekoninck.
Cole is now tasked with playing with players he's usually against. With the exception of Hobbs, every other single member of the Garbutt squad is from another team and usually is Cole's enemy out on the ice. The versatile defender doesn't see that being a problem.
"I don't think it's going to be tough, I know a couple of the guys from previous years so It shouldn't be that hard to gain chemistry," said DeKoninck.
Cole and the Kings return to Credit Union Place tomorrow night as they get set for a tough test. Dauphin welcomes the Portage Terriers to town. Last time the Terriers beat Dauphin, 4-3 at the MJHL Showcase. Dauphin lost 8-2 to Portage in the team's last meeting at Credit Union Place.
"After that win against OCN, the boys are really fired up," said DeKoninck. "We're ready for what's going to be thrown at us. It's time for us to get some wins and that's what we're ready to make happen."
Tomorrow's game is set for 7:30.
Details

Contributed by

Darnell Duff
Deadline day is upon us for the Dauphin Kings and everyone in the CJHL.
Here's what the Kings have been up to: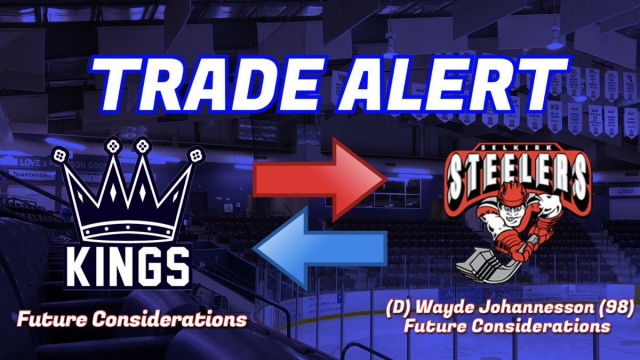 Details

Contributed by

Darnell Duff
Today is Trade Deadline Day across the Canadian Junior Hockey League and the Swan Valley Stampeders have already made a transaction.
Details

Contributed by

Darnell Duff
To say it's been a pressure packed season for Swan River's Kaila Powell would be an understatement. The 17-year-old is in her final year of Midget hockey, but that's not where much of the pressure is coming from. For the past few months, the 17-year-old has been trying out for the U-18 Manitoba women's hockey team and her hard work has paid off.
Kaila has made the final roster and her alongside the rest of the team will now represent the province at the Canada Winter Games, next month in Red Deer. Kaila is the only Parkland athlete on the team.
"I'm extremely proud that I get the chance to represent my province in such a big event with a lot of my friends," said Powell. "I'm just completely wowed over the fact that I get to compete in the Canada Winter Games."
Powell is known as one of the more skilled defenders in the province at her age level. She's also played on Team Manitoba before, at the National Aboriginal Hockey Championships. With that being said, with so many great athletes attending the selection camps, no spot on the roster was guaranteed.
"I know I had to work very hard for my spot and I couldn't take anything for granted," added Powell. "I guess my hard work paid off which I'm very thankful for."
The 2019 Canada Winter Games take place from February 15 until March 3. That gives Kaila a good amount of time to prepare to play against the best U-18 women's hockey players in Canada, a challenge that she's really looking forward to."
"Yeah, it's right around the corner and I honestly can't wait for it," said Powell. "It's time to get down to the grind and work really hard on and off the ice to prepare for it."
"The big crowds are going to be pretty electric and I think that's where my nerves may come out," said Powell. "This is the best of the best; everyone playing in this event is extremely good at hockey so it's going to be tough."
Luckily for the 17-year-old, she may be able to use a past experience to help her have success in Red Deer. Kaila was fortunate enough to play in the 2017 Esso Cup with her Pembina Valley Hawks team, a tournament in which the Hawks hosted and ended up placing fourth at.
"That was a great experience and honestly, my mindset is it's just another game and tournament," said Powell. "My family is coming down to watch and that's super important to me and I think that will help me stay calm. I just have to try as hard as I can every game and we'll see how it all turns out."
Kaila and the rest of the Manitoba women are joined by New Brunswick, Quebec, and Saskatchewan in their pool.
So far this season, Powell has been rock solid for the same Pembina Valley Hawks. She was named the team Captain and she's racked up 11 points in 19 games so far.
"Obviously it's a really big role to take on but I'm really enjoying it so far," said Powell. "We have a really great team and a fantastic coaching staff so I'm really thankful to be in the position I am."
The team overall is 6-9-1-3 in the Manitoba Female Midget Hockey League which has them in seventh place but they're just six points back of fourth place.
What's Next?
Regardless of how Kaila does at the Canada Winter Games, she's had a very successful hockey career to date and that will extend well past this year. She will be going to the University of Regina next season and she will suit up for the women's hockey team while she studies science.
Details

Contributed by

Darnell Duff
The Parkland Midget Rangers kept it close on the shot clock, but the goal count wasn't friendly to them tonight.
The club lost 7-1 to the Brandon Wheat Kings earlier tonight.
The lone Rangers goal was scored by Jayden Jubenvill with 40 seconds left.
Details

Contributed by

Darnell Duff
The 2020 Manitoba Games powered by Manitoba Hydro are officially a go in Dauphin! Sport Manitoba presented the Dauphin Host Society with a $50,000 cheque as a part of the official signing of the Multi-Party Agreement at City Hall.
Above is City Manager, Sharla Griffiths, Dauphin Mayor, Allen Dowhan, President & CEO of Sport Manitoba, Jeff Hnatiuk and Co-hosts Carla Wolfenden and Clayton Swanton as they signed the official agreement which formalizes the partnership between Sport Manitoba and the host society, the City of Dauphin.
"We are so excited to host the 2020 Manitoba Games," said Dowhan. "The legacy that the 2004 games left in our community, the promotion of amateur sport for our young people, the volunteers that come forward and of course all of the visitors that come to the games, it's going to be such a memorable event for our community."
"It's a very exciting time whenever we get together with the Host Society to sort of kick things off," said Jeff Hnatiuk. "It marks the beginning of a significant amount of work to put on this type of event. It's the largest multi-sport event we have in Manitoba. It was a great afternoon."
Today's $50,000 cheque was the first of three installments of $50,000 that Sport Manitoba will provide to the Host Society to assist with the operating costs of hosting the Games. Each installment may support costs including, but not limited to administration, staffing, food services, and registration fees.
The 2020 Manitoba Games powered by Manitoba Hydro are set to take place from August 9-15.
"We are very confident that Dauphin is going to do an amazing job just like they did in 2004," said Hnatiuk. "The facilities that are here are absolutely incredible and they're a perfect fit for the Manitoba Games. The people here are great and we know there is a fantastic Host Society set up."
About 7,500 athletes, coaches, officials, and volunteers will take part in the event.
Details

Contributed by

Darnell Duff
Dauphin Kings Prospect Reece Richmond has been named the CCM Player of the Week in the Manitoba AAA Midget Hockey League.
Reece had one goal and three assists last week for the Chiefs who won both of their games.
"It's something very special to me and it means a lot," said Richmond. "It wasn't all me though, the team really helped me succeed. One player gets recognized but I couldn't have done it without my teammates."
The Forrest, Manitoba native has been a stud this season for the Chiefs. In 26 games, Richmond has racked up 30 points (7G). Last year with the Midget Chiefs, he put up 16 points.
"I mean like I said, my teammates are the reason I'm having such a good season," said Richmond. "Our team is doing a really good job and I'm finding a way to put up points to help this team win."
The Chiefs are in a tie for third place in the league. They're 22-7-0-2 for 46 points which has them tied with the Brandon Wheat Kings and they're just two points back of the second place Winnipeg Thrashers.
"Yeah, it's been a really successful season so far for us," added Richmond. "We have a lot of good guys in the locker room and we're having a ton of fun. We get better every day."
Reece and the rest of the Chiefs play at home twice this weekend, once against Eastman and once against Interlake.
More Scribbles:
Fellow D-man and Kings Prospect Matthew Boonstra was a runner-up for the award.
Details

Contributed by

Darnell Duff
Dauphin's Andrew Liwiski began this hockey season without a place to play. That all changed when he signed with the Dauphin Kings in early October and now we fast forward more then three months and Andrew has played 32 games with the Kings.
There is also no doubt that Liwiski has been a very welcoming piece to the Kings back end, which had some holes on it before the signing of the Dauphin native.
Since Andrew became a member of his home region team, the Kings have had their ups and downs which adds up to them being right in the middle of the MJHL pack.
"I would say things have been going pretty well overall," said Liwiski. "Obviously lately we've been on a little bit of a slide, but we're looking forward to turning things around by getting on a winning streak here."
"I just feel like we haven't been getting the bounces that we were earlier this season when we were winning," he added. "Things aren't going our way and then we try and play like individuals and that just doesn't work. We just need to stick together and keep battling. If we do that, I think things will start going our way."
Perhaps last night will be the start of the said winning streak. The Kings beat the OCN Blizzard, 5-3 at the Gordon Lathlin.
"That was a huge win for us, we had a pretty slow start and we knew they would come out on fire," added Liwiski. "After they scored the first two goals, we figured things out and locked down the game from there. It was a big win for us to get."
Andrew's playing in his second year of junior hockey and offensively, it's been a much more efficient one than his first. Last year with the Lloydminster Bobcats, he had six points in 50 games. In 18 games less this season, Andrew has already racked up 14 points (2G). Ironically enough, yesterday's win was in the same arena that Andrew scored his first ever goal in the MJHL back on October 16, just 11 days after he made his Dauphin Kings debut.
"Yeah, it's for sure nice that I've chipped in a few more points this season so far," said Liwiski. "The only thing I'm really worried about though is winning games and getting as high a seed as we can for the playoffs."
"I just want to help this team out any way I can," he added. "It's important that I make solid passes up to our forwards because good things will happen."
Liwiski didn't hit the scoresheet points wise yesterday, but he definitely made his mark felt, literally. He laid a massive hit on a Blizzard player and also landed some big bombs in a fight with Tanner Barbeau late in the third period. All in all, Andrew's been solid for the Kings this season and there is no doubt that he has a very bright future ahead of him.
Details

Contributed by

Darnell Duff
When Swan River's Matthew Munro began his first season of AAA hockey with the Parkland Bantam Rangers, he didn't exactly expect to become an All-Star. With the Christmas break over, Matthew received a little bit of a post-Christmas present as he was named to Team West that will play at the Bantam 1 All-Star Game in Winnipeg this Saturday.
"It's definitely a pretty great feeling for me and I can't wait to play in the game," said Munro. "It came as a surprise, I wasn't expecting it. It really is an honour."
Really, being named an All-Star shouldn't come as a surprise as Matthew's enjoying a fantastic season with the Rangers. In 23 games with the club this season, Munro already has 17 points (4G). Going forward into the game this weekend and for the rest of the season, Munro just wants to keep it going.
"I just want to do the best I can and show off what I can do," said Munro. "It's been a pretty successful season so far and now it's time to keep that going. It's not going to be an easy game because it's the best of the best, but I'm ready for the challenge ahead."
Munro won't be going to the game alone. He'll be joined by teammate Rylan Gibbs when the festivities take place this Saturday at MTS Iceplex. "It's pretty exciting that I get the chance to play with Gibbs in this game as well, it will be a cool experience."
In Parkland's most recent win, Munro chipped in with one assist. The 14-year-old has one more chance to prepare for Saturday with the Rangers as they play Norman this Friday in Roblin at 7:45.
Details

Contributed by

Darnell Duff