Latest Sports
The curling season is underway for Dauphin's Lane Prokopowich and the rest of team Serena Gray-Withers and what a start it's been.
Playing in the Morris tournament as a part of the Manitoba Junior Curling Tour over the weekend, the foursome won the women's title. The event was the first of nine that the team will be eligible to play in this season on the MJCT.
"It felt really good to get out there and get in the groove of things," said Prokopowich. "It was definitely a great feeling to win the first event of the year. We're off to a good start and that's exactly what our goal was."
The foursome didn't make it easy on themselves, however. They ended up having to play four games just to make the playoffs on Sunday.
They started the tournament on Friday with a 5-4 win. A marathon ended up being what the team ordered on Saturday. They started the day with a 4-2 win, but they lost their next two games. With a record of 2-2 after the round-robin, the team had to play Team Davies in the tiebreaker.
They won that game 6-5, which put them in the semifinals. The foursome kept it rolling by getting out to a 4-0 start in that game and they held on for a 5-4 win. The finals against Team Zacharias was a game of singles and that's okay with Lane and the team. They scored four singles to win 4-2.
"We knew we were going to have a long day. We just sat down as a team and we made a game plan," said Prokopowich.
Next up for the team is the Mother Club Classic in two weeks. Playing primarily on the junior tour, they will make the jump up. The MCC is a women's event.
"It'll definitely be a really good experience for us," said Prokopowich. "It's going to be different, but it's going to be really good for us."
All of these events that the team will play in the next few months are in preparation for the big dance early next year. Prokopowich will return home for the Canola Growers Junior Provincial Championships, which will be played at the Dauphin Curling Club and Credit Union Place early in 2020.
The Gray-Withers rink is almost a certain bet to be ranked near the top entering the 16-team tournament.
"We know that we've played most of the teams already that will be at the provincials," Prokopowich concluded. "Anyone is beatable and anything can happen. We're certainly looking forward to it. But, we have a lot of time to practice before that so that's what we're focusing on right now."
Details

Contributed by

Darnell Duff
The Dauphin Kings will look to build off Saturday's shootout win when they hit the ice tonight for their fifth preseason game.
For the second time, the Melville Millionaires are in town. Last week, they came out with a 5-2 win thanks to a start that included the Mills' getting out to a 4-0 lead. Melville hasn't played since Thursday's tilt in Dauphin and this will be their final game before the regular season gets going this weekend across the SJHL.
For the most part in the preseason so far, Dauphin has gone with some veterans mixed with younger players. Tonight, you can expect to see the faces that have experience at this level.
"It's a Saskatchewan game and teams in that league always play rough and tough and we need to match them," said Assistant Coach Mitch Topinka. "We're going to be dressing a very, very veteran lineup tonight including the goaltenders. Our goal is to even the series tonight with a big win."
Tonight's game for Dauphin is the second last of the preseason. They wrap things up on Friday night when Neepawa is in town. As the regular season continues to approach, Topinka and the rest of the organization continue to look for more from each and every guy.
"Absolutely. It's a little harder when we can't practice systems, but we're teaching as much as we can on the bench and guys need to buy in," Topinka concluded. "We need guys to work hard and play for the crest at all times."
Ice Chips:
Four Mills' players had at least two points on Thursday. Spadafora had three. Abbamont, Nkwama, and Jerome had two each.
Dauphin is just 1-for-27 on the power play in the preseason. They went 0-for-5 against Melville. Melville, meanwhile, went 2-for-5 against Dauphin.
Tonight's game is set for 7:30.
Details

Contributed by

Darnell Duff
Dauphin's Carter Williamson and his foursome kicked off their curling season at the Morris Junior Curling Tour event this weekend.
Carter, Karter Meyn, Hunter Dundas and Scott Gower ended up going 2-2.
They started by winning their first game 7-2. That was followed by a 6-4 loss.
Next up the team lost a very close 6-5 battle. The team ended on a high note, by winning their final game 9-5.
Also at the event, Dauphin's Lawson Yates and his team reached the semifinals.
Details

Contributed by

Darnell Duff
The Gilbert Plains Trojans varsity girls volleyball team wrapped up their tournament in Warren with a fifth place finish.
After hitting the court in game action for the first time on Friday, the team just kept on improving.
In their first game of the day on Saturday, the team played Boissevain in the playoffs. They fell just short, 12-25, 25-21, 14-16.
After that game, the Trojans' went into cruise mode.
They first beat the Arborg Athletics, 25-16, 25-22.
The team followed that up by beating Hapnot, 25-19, 25-15 in their final game of the tournament.
"It was a very positive end to the weekend, really nice to jump into the season feet first and get some good competitive battles early in the season," said coach Kelsey Foote. "We're excited to get back to work and play again next weekend."
Details

Contributed by

Darnell Duff
One night after losing 5-0 to begin their preseason, the Winnipeg ICE won their first preseason game last night.
They scored their first goal in the second period and from there, they scored often in a 5-1 win against the Brandon Wheat Kings.
In a season when the two teams will play each other 10 times in the regular season, they split their preseason meetings.
Prior to Saturday's game, it was announced that star forward Matthew Savoie would play at least 30 games this season. That's great news for Winnipeg and he showed why on Saturday night with a solid WHL debut.
On the team's first goal of the game at the 6:57 mark of the second, Savoie set up Cole Muir who put it past Connor Ungar.
That goal gave Winnipeg some inspiration to tack on a few more and the second goal came just over a couple of minutes later.
At the 9:04 mark, Logan Danis scored his first goal as a member of the ICE.
Holden Kodak had the lone assist on the marker that made it 2-0 for Winnipeg.
At the 13:34 mark, Brandon hit the scoreboard for the first time to get back in it. Jonny Hooker scored a goal for a second straight night.
After that, it was all Winnipeg. Playing in a home game away from home, the ICE gave the fans at Stride Place several more things to cheer about.
Connor McClennon netted his first of the preseason, after a great summer which included more than a week overseas with Team Canada. Brad Ginnell and Nolan Orzeck picked up the two assists. The goal was scored at 15:54.
Brad Ginnell wasn't done there. He made it 4-1 with 2:01 left in the midway frame and Winnipeg held that lead after 40 minutes.
At 7:45 of the third, Winnipeg continued their very efficient night offensively, when Owen Pederson scored his first. Cole Muir picked up his first assist and Matthew Savoie notched his second helper.
Winnipeg was also very stingy defensively. They allowed just 23 shots and Will Gurski made 22 saves.
Winnipeg now gets several days off of game action before they continue their preseason. They head to Saskatoon for a pair of games next weekend.
Brandon, meanwhile, will play a home-and-home with Moose Jaw next weekend, beginning on Friday at Mosaic Place in Moose Jaw. On Saturday, Brandon hosts the Warriors.
Details

Contributed by

Darnell Duff
The Dauphin Clippers football team began their season today with an all Parkland battle in Swan River.
In the end, Dauphin ran into a very experienced Tigers squad, as they fell short 57-0.
Coach Cam Bennet shares his thoughts on the effort after the game.
"We played a lot better in the second half. A lot of our rookies have now learned how hard they have to work in practice," said Bennet. "We will get better as the season goes on. We have a lot of smart and talented athletes."
Dauphin will next play next Friday, against Moosomin. Two years ago, the team beat Moosomin in the league final.
"We need to absorb this loss and reflect on what we need to work on," Bennet concluded. "The guys will come in and work hard."
Details

Contributed by

Darnell Duff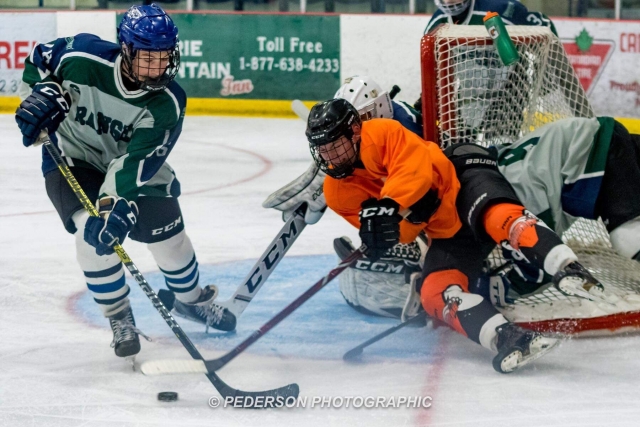 Weekend one of the Parkland U18 Rangers preseason is in the books.
They welcomed the Yorkton Maulers to town to complete a home-and-home.
After a 6-2 loss last night, Parkland improved and it showed on the scoreboard.
In the end, Yorkton earned a 5-4 win to complete the Saskatchewan Manitoba sweep.
Riley Zdan, Kevin Chrisp, Landyn Brasch and Garrett Hrechka scored for Parkland in the game.
The team heads to Souris for a tournament where they'll play three games next weekend.
Details

Contributed by

Darnell Duff
It took nine rounds in the shootout, but the Dauphin Kings are okay with that after they picked up a 4-3 win over Neepawa tonight as the preseason rolls on.
Dauphin also used a 38 save performance and a fantastic penalty kill to snap their two-game losing streak.
The Kings got out to a great start when Dauphin's Bradyn Smelski opened the scoring 12:30 in. Liam Hallet and Draydyn Kurbatoff had the assists.
1:35 later, Avery Smith made it 2-0 for Dauphin with Carter Sawchuk and Ian Tookenay getting the assists.
After holding that 2-0 lead after 20, Eli Leiffers brought Neepawa within a goal, just a few minutes into the second.
At the 11:04 mark, Taylor Redmond let go of a shot from the point, which was tipped in by Leeam Tivers as Dauphin went up 3-1. The eventual shootout hero Ty Brant also had an assist.
Leading by two going into the third, Neepawa fired back to tie the game up as it was extra time-bound.
With less than five seconds left in overtime, Jaxon Heeney was sprung on a breakaway. He put it in the back of the net, but the time had expired which meant the game went into a shootout.
Leeam Tivers, Grady Birk and Ty Brant scored in the shootout to give Dauphin the win. Brant's goal was the winner and Landsberger made seven more saves in the skills competition.
Dauphin went a perfect 12-12 on the penalty kill. On the power play, they went 1-10. The man-advantage goal was their first of the preseason.
Dauphin will return to Credit Union Place on Monday against Melville.
Details

Contributed by

Darnell Duff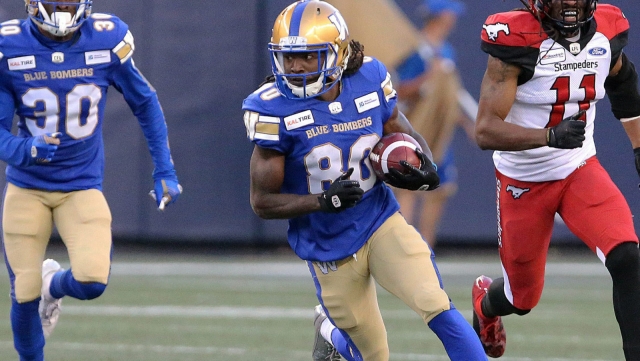 After a tough loss last week, the Winnipeg Blue Bombers made sure they wouldn't feel that same feeling again.
They hammered Saskatchewan, 35-10 in the annual Banjo Bowl at IG Field.
Winnipeg's win keeps them atop the West with a 9-3 record while Saskatchewan drops to 7-4.
The Bombers' have now won nine straight home games and Chris Streveler was a big reason why. He threw for less than 200 yards, but he ran for two touchdowns in the triumph.
Jamarion Grant also continued his stellar season with a 72 yard punt return for a touchdown.
Through the air, Steveler was a solid 15-21 for 186 yards.
Winnipeg gets a bye next week before they head to Montreal on September 21.
Details

Contributed by

Darnell Duff
Eric Prokopowich aced the 17th hole at the Clear Lake Golf Course during the Tamarack Tournament and now he's a tournament winner.
The Dauphinite shot a 77 to win the Dauphin Lake Golf Club Junior Club Championship.
Finishing second in the 13-18-year-old age group was Braydyn Tkachuk.
In third was Luke Davidson.
Jackson Delaurier shot a 78 to win the 12 & under age group while Luke Myhre finished second. In third was Boston Karlson.
Braydyn Tkachuk got closest to the hole on #9 while Boston Karlson was closest to the hole on #11.
Details

Contributed by

Darnell Duff
The Parkland U18 Rangers began their preseason tonight in Yorkton and it resulted in a 6-2 loss.
Less than eight minutes into the game, Yorkton jumped out to a 3-0 lead.
Parkland fired back shortly after. Off a rush, Jayce Legaarden fired a shot past the Maulers goalie to cut the deficit to 3-1.
Yorkton made it 4-1 with 9:59 left in the second.
With just 59 seconds left in the midway frame, Parkland fired back again. This time it was Steven Arp as he trimmed the deficit to 4-2.
Yorkton ended up scoring two third period goals to pick up the win.
The two teams will complete their home-and-home on Saturday night at Credit Union Place. Game time is set for 7:30.
Details

Contributed by

Darnell Duff