Latest Sports
He loves being outside with his friends, having fun and he's always trying to shoot his personal best. That's the story of why Boston Karlson enjoys the game of golf and he's certainly improving a ton with every round he plays.
Also working at the Dauphin Lake Golf Club, the Dauphinite plays as often as he can. He kicked off his competitive season late last month as he joined the Dauphin Clippers golf team at the provincial championships that were played at the Minnewasta Golf & Country Club in Morden. It ended up being a great day for the Clipper Ship as they combined for 238 strokes which was good enough for a silver medal. They finished 14 strokes ahead of River East who finished in third. Boston was joined by Jackson Delaurier, Thomas Scott, and Braydyn Tkatchuk.
"That tournament was a ton of fun. We played a practice round before the main tournament so we got a feeling for the course," said Karlson. "It was an awesome experience and it felt really good to bring back a banner for our school."
His goals for the rest of the summer are simple. Have fun on the golf course and improve. He's already done that and now, Karlson is pushing towards a new personal best after a round last week with former professional Stan Homeniuk.
One birdie on the card saw Boston shoot a 75 last week as he recorded a new personal best. The round featured some tremendous par saves and just one double bogey. It was a great overall round for the group as Stan fired a 76 with two birdies.
"It felt really good to post that score and a new personal best," said Karlson. "Now I want to push and beat that score so I'll continue to work harder so I can. It was also great getting lots of tips from Stan, which means a lot that he would take the time to do that for me."
Details

Contributed by

Darnell Duff
A very busy weekend is coming up at the Gilbert Plains Country Club as they will play host to the Dauphin Kings Par 3 Extravaganza Saturday. A full field will play to a unique setup with some tremendous prizes up for grabs.
Then next weekend, it'll be another busy weekend at the course as the club will host its Men's Open on Saturday, June 18. The event is a 10 a.m. shotgun and is open to players of all skill levels. So whether you're a scratch golfer or you shoot in the 100s, equal prizes are up for grabs as well as a ton of fun.
"It's one of the tournaments that we always look forward to hosting," said Scott McCallum. "The grounds crew always does an amazing job to get the course ready for everyone."
While some early showers made the course quite wet in spots, some dry weather since has dried things up and the course is in fantastic shape and the greens are running perfectly. It's what you come to expect from the Parkland's premiere golf destination and you will get just that next weekend.
It's $80 to take part and that includes 18 holes, a chance at prizes and a great meal after courtesy of Mulligan's restaurant. Call the pro shop now to enter at 548-3030. You can create your own foursome or if you're a single, you will be paired up with a group.
Details

Contributed by

Darnell Duff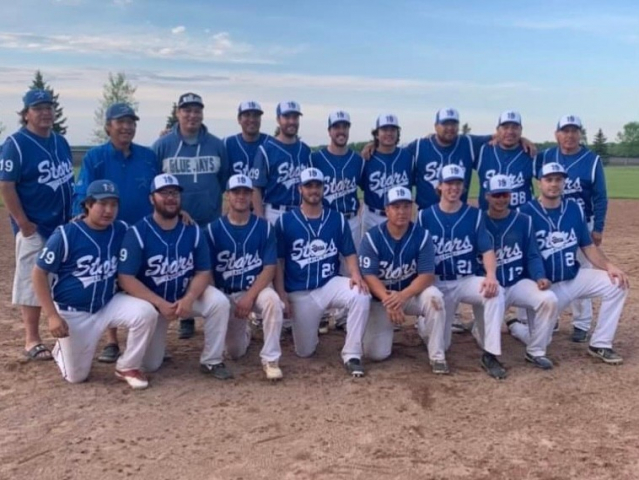 It was a thrilling weekend at Vermillion Sportsplex as Layne's Stars from Mallard hosted their 5th annual fastball tournament.
In the end, the final was one that will go down for the ages with Layne's Stars coming out on top in an exciting game against Skownan, 1-0. Nick Patrick pitched for Layne's Stars in the final and he was incredible while Bo Thomas put on a show for Skownan in the losing cause. Thomas is widely known as one of the top pitchers in Manitoba and Canada, as a whole.
Patrick was named the tournament's most valuable player after winning the title for the team from Mallard.
Jordon Hudson and Bo Thomas were named the tournament's top pitchers.
Details

Contributed by

Darnell Duff
When Ethan Thacker looks back at his high school career with the Dauphin Clippers basketball program, he remembers all the great times that he had. This included taking part in provincials and hitting the road with the team.
When scouts look at what Ethan did or when they had the chance to watch him, there was certainly plenty to talk about. During his four-year tenure with the high school team, Thacker was Dauphin's most valuable player each season and he helped the team win a consolation championship at the provincials in his final year. In his final year, he also had the chance to play in Basketball Manitoba's graduating all-star game and he was also named the most valuable player of that game. So it's safe to say that Ethan had a pretty incredible high school career.
"It was very exciting. I was very thankful that my coaches always put me in the right position to succeed," said Thacker. "I also couldn't have done it without my amazing teammates, they pushed me and helped me. It was a great four years and I will never forget my time with the Clippers."
Ethan hasn't played competitive basketball since he graduated high school and he traded in his basketball for shoulder pads as he joined the St. Vital Mustangs of the Manitoba Major Junior Football League. He immediately excelled on the gridiron and he helped the Mustangs to a perfect season and with it, a league title.
"I was pretty nervous going in for the first time but it was a really good team to be a part of," offered Thacker.
He traded in his basketball for shoulder pads and now as we look forward, Ethan is set to trade in his shoulder pads for a basketball as he will make a return to the floor. The Dauphinite will join the Canadian Mennonite University (CMU) Blazers who play in the Manitoba Colleges Athletic Conference (MCAC). The Blazers' head coach is Scott Martin and Ethan was actually the first player that he ever tried to recruit and while he took a few years off, Thacker is happy to be back on the court playing basketball.
"I've definitely been missing basketball and I know I want to go back to school," said Thacker. "So I emailed the coach and he said he was all for having me on the team. It's a pretty exciting opportunity for me, I'm looking forward to next season and doing whatever I can to help the team win games."
While Thacker knows making the jump up to the college level won't be easy, he's looking forward to the challenge and he knows that with some hard work, he will be where he needs to be.
Details

Contributed by

Darnell Duff
It wasn't the exact ending that they were hoping for; however, the Dauphin Clippers girls rugby team can certainly hold their heads up high after a brilliant season.
The season came to an end Sunday when they lost in the provincial final against Rivers, 34-14.
Emma Fox and Gina Zurba both had a try for Dauphin, Brooke Miner had two converts.
Details

Contributed by

Darnell Duff
Team Rob Bouchard got the job done Saturday as the Dauphin Kings held their par 3 tournament at the Gilbert Plains Country Club. A nine-under 45 saw them finish the tournament on top. He was joined by Anthony Wiens, Brad Carefoot and Seth Gares.
Also finishing with a nine-under 45 was Team Desroches. Steve was joined by Jake Wiens who won the Battle for the Belts last year together as well as Dylan Mills and Brady Perrault.
Team Jordan Pernarowski put together a solid 18 holes with a seven-under, 47. He played alongside Mike Pernarowski, Ian Brezden and Blake Bartram.
Team Ron Love fired a six-under, 48 playing with Dennis Shtykalo, Mike Penrose and Kirk Dawson. Team Campbell which consisted of Dave Campbell, Lloyd Campbell, Dan Scott and Ted Rea also shot a six-under, 48.
Closest to the hole:
#1 - Blake Bartram 6'2"
#2 - Dennis Shtykalo 9'4"
#3 - Dylan Mills 4'8.5"
#4 - Mike Pernarowski 64"
#5 - Ron Chapen 60"
#6 - Dale Murray 2' 1.5"
#7 - Ty Thorpe 8'10"
#8 - Ron Hedley 3'8"
#9 - Russ Romaniuk 1'8"
#10 - John Tomlinson 8'3"
#11 - Dale Murray 11'6"
#12 - Carter Cairns 6'3.4"
#13 = Dean Bedman 4' 1.5"
#14 - Dave Watson 7'9"
#15 - Ian Brezden 7'6.5"
#16 - Steve Desroches 1'5,5"
#17 - Dylan Hills 11'10"
#18 - Austin Gawryliuk 4'5"
Yardage winner:
150 yards = Jodi Gancher
200 yards = Mike Penrose
250 yards = Leah Kendzierski
50/50 draw: 9883889 - Jim Cruise
Details

Contributed by

Darnell Duff
The Winnipeg Blue Bombers are picking up where they left off last season.
The defending C-F-L champions opened their regular season with a 19-17 win over Ottawa.
Marc Liegghio kicked a 25-yard field with six seconds remaining.
Backup quarterback Dru Brown engineered the winning drive after Zach Collaros left the game late in the fourth quarter.
Details

Contributed by

Darnell Duff
Getting the chance to be a Winnipeg Blue Bombers is a dream come true for Brady Oliveira and while he's made some big plays for his home team in the past, he's set to begin what will be his biggest and busiest season yet as a Bomber.
With Andrew Harris no longer a member of the team, Oliveira will get plenty of opportunities to show exactly what he can do and it all begins Friday night when the Blue & Gold play their home opener against the Ottawa Redblacks. Winnipeg enters the game as back-to-back Grey Cup champions and they will look for a three-peat this season.
From Winnipeg, Oliveira ran for 429 yards last season with two touchdowns across 13 games. That number is expected to jump a ton this season as he will get plenty of reps at running back.
"When I walk into the dressing room on game day, I get goosebumps still," said Oliveira. "Being that hometown guy and playing for this team, I watched them growing up. It's a great feeling to be here and I just want to help this team win games, that's the goal."
Plenty of great tickets are still available for Friday's game at I.G. Field by heading to Bombers Tickets. As noted above, Winnipeg will be looking to make it back-to-back-to-back championships. Having already accomplished a rare feat by going back-to-back – only the 2009-10 Montreal Alouettes and the 1996-97 Toronto Argonauts have repeated as Grey Cup champs in the last 39 years, the Blue Bombers now attempt to win three in a row for the first time in franchise history and the first time in the CFL since Edmonton's five-in-a-row dynasty of 1978-82.
Here is a look at the Bombers roster.
WHO'S RETURNING
QB: Zach Collaros, Dru Brown
RB: Brady Oliveira, Johnny Augustine
FB: Mike Miller
WR: Nic Demski, Rasheed Bailey, Drew Wolitarsky, Kelvin McKnight, Janarion Grant, Brendan O'Leary-Orange
OL: Stanley Bryant, Geoff Gray, Michael Couture, Pat Neufeld, Jermarcus Hardrick, Chris Kolankowski*, Drew Richmond (inj)
DL: Jackson Jeffcoat, Willie Jefferson, Jake Thomas, Casey Sayles, Ricky Walker
LB: Adam Bighill, Kyrie Wilson, Shayne Gauthier, Tanner Cadwallader, Jesse Briggs, Les Maruo (Global)
DB: Nick Taylor, Deatrick Nichols, Brandon Alexander (inj), Winston Rose, Nick Hallett, Noah Hallett (inj), Demerio Houston, Redha Kramdi, Mercy Maston (inj)
LS: Mike Benson
K: Marc Liegghio
WHO'S NEW:
WR: Greg Ellingson, Dalton Schoen
OL: Liam Dobson
QB: Dakota Prukop
DL: Cam Lawson, L.B. Mack III, Cedric Wilcots II
LB: Malik Clements
DB: Tyquwan Glass, Tyrell Ford*, Malcolm Thompson, Donald Rutledge, Jr.
Greg Ellingson was one of the biggest acquisitions across the league and is a legitimate threat to be one of the top receivers in the league again. He has picked up at least 1000 yards receiving in five of his last six seasons. He didn't last year; however, he only played in 10 games.
Game one of the Bombers' season is nearly here and in closing, Oliveira is ready to go.
"Every home game is special for me, I always have lots of family and friends in the stands," said Oliveira. "It's going to be good one."
Details

Contributed by

Darnell Duff
Jayce Legaarden put together a dominating season with the Parkland U18 Rangers and he was named the team's most valuable player last night as they held their year-end banquet.
Gilbert Plains Country Club played host to the evening. Legaarden scored 46 goals in the regular season and another three in the playoffs for a Rangers team that advanced to the second round of the playoffs for the first time in more than 20 years.
Rylan Gibbs won the skills and sportsmanship award. The recent commit to the Dauphin Kings had 21 goals and 42 assists in the regular season and he added another two goals and four assists in the playoffs.
Another recent commit to the Kings earned some hardware as well. Marco Bodnarski won the defensive player award while Kyan Grouette won the team guy/hardest worker award. It was a season in which Kyan also scored his first Western Hockey League goal.
Following a solid rookie season that included 15 goals and 19 assists, Madden Murray was named the team's rookie of the year. Cohen Smigelsky was the team's most improved player.
Details

Contributed by

Darnell Duff
Hockey Manitoba's second phase of their U16 Program of Excellence featured 40 of the top U16 players and goalies in the province, all of which had a dream of making the final team that will represent Manitoba at the 2023 Canada Winter Games.
Hockey Manitoba has now trimmed the list of remaining athletes to 26 as 15 forwards, eight defencemen and three goaltenders will be at the Seven Oaks Arena in Winnipeg from July 19 to 23. The McCreary native has earned the right to compete in the third phase and that means he's one step closer to representing the province in Prince Edward Island. He's joined by Easton Odut of Dauphin.
"It's been a really fun and neat experience, a lot of work has been put into this," said Gower. "Even off the ice, it's been great getting to know some new guys and have some fun."
Gower said he feels great knowing he still gets the chance to battle for a spot. The final roster will be announced early next year.
McCreary to Prince Albert:
In the Western Hockey League Prospects Draft late last month, Ryan was taken 32nd overall by the Prince Albert Raiders. Gower didn't actually know that he was even drafted, it was his friend that found out and he was jumping on him and congratulating him. The McCreary native was the highest-drafted Parklander in the draft.
"It was a great feeling but I really didn't think I would be drafted that high," said Gower. "I just went into the day like another day and I was super happy when I heard my name."
It's been a few weeks to remember for the young man and he added one more memory to the growing list when he signed his Standard Player Agreement with the Raiders earlier this week. Putting pen to paper is a huge step toward Gower making his Western Hockey League debut and he is completely committed to doing whatever it takes to make the jump up, whenever he gets the chance to do so.
"They have a great organization, I actually looked into them before the draft," offered Gower. "They have a great hockey community and they are champions, Prince Albert is where I want to be. It was a special feeling to sign and I'm looking forward to becoming a Raider."
Details

Contributed by

Darnell Duff
Grayson Jewell started Bandolero racing about three years ago and it sure hasn't taken him long to join the winner's circle.
Racing at the Sutherland Automotive Speedway in Saskatoon over the weekend, Grayson hit the track competitively for the first time this season and he topped the field. Competing against racers as young as eight and as old as 13, Jewell finished in second place in back-to-back qualifying races, which he was pleased with.
Then going into the finals, Grayson had one thought and that was to win the race and give it everything he had. Topping 120 km/hr around the 1/3 mile paved oval track, Grayson stepped up his game and achieved his goal as he came out on top and won the race.
"I was so very happy, very happy," said Jewell. "It was a great feeling to accomplish my goal and win the final race."
Grayson now has the points lead heading into his second race which will be later this month. His goal is to continue to improve and if he can build momentum from this past weekend, there may be no one that is able to stop the 10-year-old from Dauphin.
"Plain and simple, my goal is to win the championship this year," offered Jewell.
Details

Contributed by

Darnell Duff