Latest Sports
Parker Boguski is a former Parkland Ranger and he's now playing with the Dauphin Clippers. Matthew Boguski is a former Clipper, he remains an official while Reese plays on the Parkland Women's Rangers and she has also played on the Grand Plains Ice Dogs.
Although the three aren't able to compete with their teammates right now because of 'Code Red' restrictions, the Boguskis have been staying sharp while all hockey activities are on pause.
Just about five minutes outside of Dauphin on the way to Winnipegosis is where you will find the Boguskis' outdoor rink. Parker says it's been very tough not being with his teammates for quite some time now, but having the outdoor rink has been a great thing for the entire family.
"It gives me a chance to stay sharp and it's also just a lot of fun," said Parker. "It's always a great time skating with my brother and sister, we're always laughing and having a fun time."
Manitobans continue to play the waiting game to see when we can return to the ice. 'Code Red' restrictions are set to expire on January 8 and we will find out in the coming days if that is indeed the case or if restrictions will be extended. With 2021 well underway, Parker is hoping that good news is on the way.
"I've been seeing some memories on my phone over the past little bit of hockey last year, so it's tough to see those knowing we can't play right now," offered Parker. "I really miss being out on the ice with the boys competing and representing our school."
And when Parker does return to the ice, he will do so as one of the Clippers leaders. In his second year with the team, he's an assistant captain.
"That's a big honour. To be an assistant captain on a team with a bunch of great guys, it means a lot to me," ended Boguski. "I'll do whatever it takes to help this team win games when we can return to action."
Dauphin won their only game of the season against Crocus Plains.
Details

Contributed by

Darnell Duff
Tristen Robins was drafted 56th overall by the San Jose Sharks and he now has his first NHL contract.
The star Saskatoon Blades forward from Clear Lake has signed a three-year entry level contract.
He's coming off a career year in which he posted 73 points in the Bridge City and he was named Saskatoon's most valuable player.
He is set to return to Saskatoon whenever the new season begins.
Details

Contributed by

Darnell Duff
Although Ridly Greig's goal of making Team Canada for the World Junior Hockey Championships ultimately came up short, 2020 has ended off on a solid note for the star forward from Lethbridge.
After Greig was drafted 28th overall by Ottawa at this year's NHL Draft, the Brandon Wheat King star has signed an entry-level contract with the NHL club.
In a release on whl.ca, Brandon Wheat Kings General Manager Darren Ritchie had the following to say on the news of Greig's signing.
"The Wheat Kings are really happy for Ridly and his entire family," said Ritchie. "He has worked hard for this and it's great to see him get rewarded for it. I know that he understands that there's more work to be done but he has to be extremely excited for this opportunity."
Greig had an all-star season last year with Brandon — one in which he produced 60 points — 26 of which were goals. Ridly was first drafted by Brandon back in 2017, eighth overall. In 123 WHL regular-season contests, he has 96 points.
The signing of Ridly comes just days after the organization signed Tim Stutzle to an entry-level contract. Tim is currently playing on Team Germany in the Edmonton bubble.
Details

Contributed by

Darnell Duff
Dauphin was awarded the 2020 Manitoba Summer Games Powered by Manitoba Hydro back on January 24, 2018.
Clayton Swanton and Carla Wolfenden were named co-chairs of the event that was set to welcome the top young athletes from across the province.
The novel coronavirus originally postponed the event to 2021 so the organizing committee set their sights on hosting the event in July of 2021.
However, that is no longer the case as the Games have been cancelled because of the uncertainty around the virus.
And as we close the chapter on 2020, a year that changed so much, Carla Wolfenden had this to say on the cancellation.
"We were disappointed for sure. I think the uncertainty is what bothered a lot of people," said Wolfenden. "This wasn't an easy decision, but it was ultimately one that had to be made."
There is some good news when it comes to the Manitoba Games, though. Dauphin has now been awarded the event in 2024 which means Dauphin will play host to the event, we're just going to have to wait a few more years.
Carla says the organizing committee has extra time to get everything ready to assure the 2024 event is one that no one ever forgets.
"I think everyone would be very disappointed if we went through all that work and we didn't get a chance to host," said Wolfenden. "Dauphin does such a tremendous job of hosting events and we're really looking forward to 2024."
2020 has been a challenging year, but the future looks bright and that future includes hosting the Manitoba Summer Games Powered by Manitoba Hydro.
Details

Contributed by

Darnell Duff
Kristian Andres and his friend Mikhail Gerylo made some Manitoba history in 2020.
The duo made their way to the Whiteshell Provincial Park as they attempted to complete the 64-kilometre Mantario Trail and they wanted to do it in record time. The fastest known time prior to Kristian and Mikhail attempting it was 8:56:58.
The 64-kilometre trail was the longest run ever for Andres by more than 20-kilometres. His previous high was the 42.2 km Coureur des Bois stage trail marathon run in Riding Mountain National Park.
Gerylo; meanwhile, ran the 75-kilometre West Coast Trail race in British Columbia. The duo had also done Spartan Races so they were ready for the challenge and a daunting one it was.
The route features a combination of Boreal forest, marshy low spots through knee-deep mud and water, and stony Canadian Shield near the south trailhead.
Another challenge was there are no access points between the finish and end of the trail meaning Kristian and Mikhail had to carry everything they needed. They carried water, nutrition, first-aid kits, and aqua tablets that purify water.
In the end, Kristian and Mikhail finished the trail in eight hours, 13 minutes and 48 seconds, the fastest known time by more than 30 minutes. They averaged 7:45 per kilometre to complete the feat.
Later in the summer, Kristian's and Mikhail's record was beaten as they were no longer the record holders.
With that said, that doesn't mean Kristian isn't extremely proud of himself and Mikhail for holding the record at one point in time during the summer.
"At first we were a little disappointed that someone beat our record, but that's what records are for, they're meant to be broken," said Andres. "There are a couple of very talented runners that beat the record. One won the Manitoba Marathon and one ran a 2 hour and 32-minute marathon this year. I think it just goes to show how talented the pool of runners we have in Manitoba."
Kristian is now recovering from an injury and he says he is extremely motivated to head back to the Mantario Trail in 2021 to try and break the record once again.
Race the North Face Brandon Hills:
Just a couple of weeks after completing the Mantario Trail, Kristian hosted the race for the first time, just 10 minutes south of Brandon. It featured a 5K race, a 10K race, and a 25K race. They ended up raising $3500 for the Westman Trails Association, a not-for-profit that maintains the Brandon Hills.
Ironically enough, Mikhail Gerylo placed first in the 25K run with a time of 1:52:11 as he beat his nearest competitor by more than seven minutes.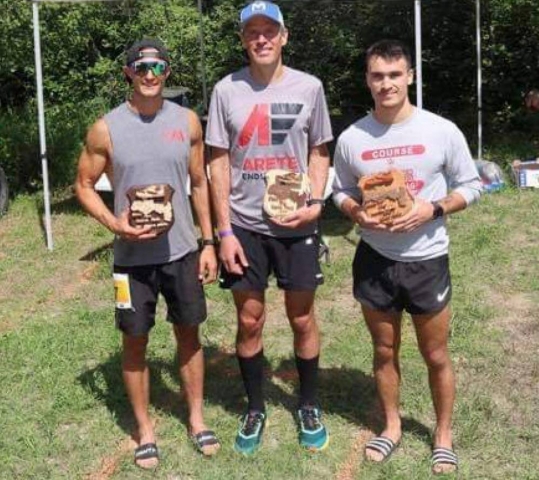 As we look forward to 2021, Kristian plans on holding the event once again.
"We had some excellent feedback, so that's always positive," offered Andres.
2020, a year for the books:
There is no doubt that the novel coronavirus made things challenging for almost everyone, including the Roblin native that is now living in Brandon.
But as the former provincial champion looks back at the year, it was a memorable year, one in which he spent some time at the top of the history books.
"It was a super challenging year, but there were some small victories and highlights as well," ended Andres. "It's important to focus on some of the positives as well."
Details

Contributed by

Darnell Duff
The Parkland U18 Rangers began their regular season on October 18 with a 10-1 thrashing against the Norman Northstars.
Rylan Gibbs and Jayden Jubenvill both scored two goals in the game, Hayden Lacquette had four points, while Keaton Ziprick made 21 saves.
Following that 10-1 win, Parkland went on to win five more games in a row as they started the season 6-0, a record that had them atop the league. The team's final game of 2020 was back on November 7 when they came up short against Southwest.
The team's start this year is one better than the 2017-18 season when the Rangers started at 5-2. As we continue to look forward to 2021 and continue to wait patiently while Manitoba is under 'Code Red' restrictions which put a halt to all team sports, 2020 was a year to remember for Parkland.
With a great group of players representing many different communities across the Parkland, the team will enter 2021 as the top team in the league. Tyler Carefoot is coaching this year's team alongside Rick Freese and he talks about what makes this team so special.
"This is the first year in quite a while that we were able to get the core players from all of the different communities around the region," said Carefoot. "We knew on paper that we had a special group and it was about playing the right way and we have done that so far."
Keaton Ziprick is one of the 17-year-old players on this year's roster and his final year as a AAA goalie is off to a sizzling statistical start. He has a .944 save percentage to go along with a 1.61 G.A.A and the Russell goalie is a perfect 5-0.
His goals-against average is also the best in the league. He was named to the league's second all-star team last year and he's happy to be back with the program.
"We had a special thing going this year, it's really unfortunate that we're shut down right now," said Ziprick. "We're all just waiting and hoping that we can get back on the rink soon because I think we can make something great happen."
New coaches:
Carefoot ended the 2019-20 season as interim head coach for the Rangers. On May 9, 2020, Tyler and Rick were hired and the Parkland duo has come together very nicely in leading the team to a 6-1 record, their best start in many years.
"Rick and I are so passionate about this game. Our goal is to help these players get ready for the next level ," ended Carefoot. "We also want to help them become great people and we're enjoying doing that."
Details

Contributed by

Darnell Duff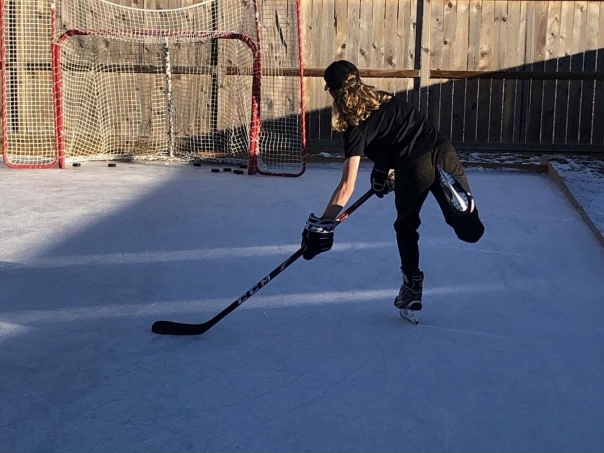 Owen Sigvaldason is playing on the U13 Grand Plains Star Hawks this season. The team played just one game before the season was put on pause because of 'Code Red' restrictions.
The team skated to a big victory and Owen recorded a hat-trick and he added two assists. Owen says coming together with players from Roblin has been fantastic.
"We have a great group of guys, our communication is very strong, and we're all great friends," said Sigvaldason. "We all just can't wait to get back on the ice with each other."
Although Owen isn't able to gather with his teammates for any organized competition at this time, the young man from Gilbert Plains is staying busy and on the ice. The Sigvaldason's have created their own backyard rink, as have so many families in the Parkland.
The rink gives Owen the chance to work on his shot and stay sharp while we wait for the season to resume. An avid golfer in the summer, Owen says he's been on the ice nearly every day.
"Not everyone has a backyard rink, so I'm thrilled that I do," said Sigvaldason. "It's a lot of fun being outside on the ice, always a great time."
Details

Contributed by

Darnell Duff
The Dauphin Kings won 31 games in the 2019-20 season as they locked down the seventh spot heading into the Turnbull Cup playoffs and that spot earned them a date against the Portage Terriers, a team they had beat three times in the regular season.
Braeden Young scored the first goal of the series for Dauphin less than 10 minutes into game one. Ultimately, the Terriers would score four of the next five goals to post a 4-2 win in game one to take a 1-0 series lead.
After a Baron Thompson goal tied game two at one early in the first period, the Terriers scored four of the next five goals once again as they posted a 5-2 win to take a 2-0 series lead.
Dauphin was in tough, without a doubt, down 2-0 against a team that was stacked with all sorts of firepower and a goalie that was one of the best in the league.
The Kings; however, were returning home and Doug Hedley knew the team had the skill to get back in the series.
"The biggest thing for us was just focusing on our strengths, we played them well all regular season," said Hedley. "I think the first two games could have gone the other way as well, we didn't capitalize on some great chances and we made some mistakes."
In front of a crowd of more than 1000, Noah Giesbrecht for Portage and Levi Mitchell for Dauphin put on a show for the fans. In more than 72 minutes, Noah stopped 26 while Levi turned away 43. The lone blip to Giesbrecht's day was he gave up a goal on the final shot he saw.
Early in double overtime and off a turnover by Portage, Bryson Cecconi shovelled a puck in front that Grady Hobbs potted into the back of the net as the Kings won the game, 1-0 and they got back into the series in the process. As Hedley takes a look back at the win, he says the celebration that followed was special.
"Guys were off the bench and on the ice in seconds. I remember telling Mitch that we're back in the series," offered Hedley. "Everyone was singing and dancing after the game, it's amazing what a win like that does to a dressing room."
Hedley has been behind the bench in a ton of important games and his team has won big games in the past, but he says that victory with Dauphin is for sure in his top 10.
"A goal like that in a series like that, it's right up there," ended Hedley. "The entire team believed in themselves after that game."
COVID-19 ultimately postponed the remainder of the playoffs and shut down the sports world.
With that said, 2020 did provide a huge goal for the Dauphin Kings as they won their first playoff game in more than five years and it came against a team that was set to host the Centennial Cup at Stride Place.
Details

Contributed by

Darnell Duff
Riese Gaber arrived in North Dakota in late July and he joined his Fighting Hawks teammates on the ice as soon as he did arrive.
The former Dauphin King and Steinbach Piston in the MJHL and all-star Dubuque Fighting Saint forward of the USHL was set to embark on his freshman college season with one of the top teams in the NCAA ranks.
Playing in the National Collegiate Hockey Conference, the team was waiting patiently to find out when they would hit the ice for real in game action. The picture became very clear on Thursday, October 15, when the NCHC's Board of Directors approved a plan to begin the season on December 1 using a 'bubble' format. All eight conference teams would enter the bubble at the Baxter Arena in Omaha and each played 10 games in the 20-day span.
After months of preparing and waiting to find out when he would make his college debut, Gaber was thrilled to know that it would come in early December.
"The guys were pretty excited, I think it was pretty awesome that we were going to get to play," said Gaber. "We knew that we had a good plan in place with the league and they did a really good job of preparing this."
The bubble portion of the season came to an end last weekend and what a three-week span it was for Gaber and the rest of the Fighting Saints. North Dakota went 7-2-1 in their 10 games as they lead the conference with 20 points -- two more than Minnesota Duluth and St. Cloud State -- while Omaha has 16 points.
In the 10 games, Gaber recorded 33 shots on goal and he scored seven times, tied for the conference lead with Carter Savoie of the Denver Pioneers and he's also an Edmonton Oilers draft pick. Riese had two, two-goal games including the team's finale in the bubble in a 6-2 win against Miami back on Sunday.
Gaber comes back for round two! @UNDmhockey#UNDproud | @MidcoSN pic.twitter.com/DkWbQ5Rfdr

— UND Insider (@UNDinsider) December 21, 2020
Gaber's nine points are tied for the eighth-most in the conference.
"I was pretty happy with what I was able to get done in those first 10 games," said Gaber. "Toward the end, I knew I was at a point where I needed to finish strong and I was able to get that done. Getting those two goals in the final game was big for my confidence."
Although he had a hot start, Gaber knows it's how you finish and not how you start. The Gilbert Plains native is now enjoying a little bit of a break south of the border with a few of his teammates for a few days. North Dakota will be back in Omaha later this month as they continue their season with two games against the Mavs and the games will be Riese's first two college contests outside of the bubble.
"It's nice to get a little bit of a breather here, it was a pretty exhausting three weeks for all of us," continued Gaber. "We're in a good spot right now and we'll be ready to go when we get back on the ice."
North Dakota will play the remaining 16 games on their schedule against West Division teams. Six of the games come against Omaha, six come against Colorado College and the remaining four are against Denver.
Gaber will play his first home game at the Ralph Engelstad Arena on Friday, January 8 when they welcome Omaha to Grand Forks. Riese doesn't know how many fans will be in attendance; however, the NCHC is leaving it up to each respective State to decide how many fans can be in the stands.
That means for the first time in a long time, Gaber will be playing in front of some fans. The last time he played in front of fans was back on March 11 when he had one assist in a 3-0 win against Waterloo when he was with Dubuque.
"I think about that every day, to be honest, just playing in front of fans gets me super excited," ended Gaber. "It's a pretty exciting feeling and it's been a long time coming, so everyone is pumped about it."
Stay tuned to hear more from Riese as we turn the page on 2020 and look forward to 2021 very soon.
Details

Contributed by

Darnell Duff
The Manitoba Junior Hockey League continues to prepare for a restart to the season in the New Year and they have developed a "restart action plan" that will be used when it is deemed safe to do so and restrictions allow.
The MJHL said in a release.
"The league remains optimistic that teams will have the opportunity to provide on-ice training activity for their players during the latter half of January with return to game play targeted for early-to-mid February,"
Key Elements of Restart Action Plan:
Players/Staff to complete a 14-day self-isolation period before participating in team activities;
Players / Staff to follow detailed travel procedures before reporting to the community/organization;
Teams to provide a ten to fourteen-day modified training period for Players/Staff once the 14-day self-isolation phase has been completed in advance of resuming games;
All new players added to the roster would be required to complete a 14-day self-isolation period before participating in any team activities;
Each team will play a minimum of two games a week against the same team and will play the same team a minimum of four times in a row over consecutive weekends;
Each team will only play teams from the same public health region, same division and/or of closest proximity based on regional restrictions at that time;
Each team will schedule games to be played during the weekend (Friday, Saturday and/or Sunday);
Regular Season will be extended until the end of April to allow for further schedule and gameplay flexibility; and
The playoff format will be reviewed over the coming weeks.
Doug Hedley had this to say on the plan.
"I think the positive thing about this is we want to have a season," said Hedley. "Teams are prepared to play into May. We're doing everything we can to play a season."
Kevin Saurette, Commissioner said this.
"Our goal remains the same as in September, to provide a meaningful development season for the players through knowingly very challenging circumstances while continuing to exhaust all options in order to do so in a safe, structured and sensible manner,"
The MJHL Board of Governors will meet early in the New Year to consider potential start dates and further restart activation planning.
Details

Contributed by

Darnell Duff
Aiden and Keaton Ziprick are all hockey. Whether they're on the ice competing with their teams or just sitting on the couch at home in Russell watching a game, the two brothers live and breathe the great game.
Aiden is playing with Rink Hockey Academy this season while Keaton has stayed in the Parkland to play with the Rangers. Both were off to great starts with their teams, but the season has now been put on pause because of 'Code Red' restrictions.
The hope is hockey can resume early in 2021, but for now, the two are staying sharp in their backyard.
The Ziprick's have made their own rink and perhaps the best part about it is that it's inside as the family has turned an old horse barn into a rink.
While the season is on pause, Aiden says it's great that he can continue to get on the ice.
"Just to get the chance to be on the ice all the time is a cool feeling," said Aiden. "I know a lot of guys don't have this opportunity, so it's a great feeling."
Aiden went back to Russell last Thursday and he says he's been on the ice every day since and basically, he skates from the minute he wakes up until he goes to sleep. Keaton, meanwhile, says he's also been on the ice every day as he continues to stay sharp.
"It's nice to be able to strap on the pads and face some shots," offered Keaton.
Aiden has played in just a couple of games with Rink Hockey Academy this season while Keaton is 5-0 with the Rangers as the U18 team is atop the league with a 6-1 record.
Details

Contributed by

Darnell Duff