Latest Sports
The newest sports team in Brandon last year was the Wheat City Whiskey Jacks. The team joined the Expedition League which is a collegiate baseball league that welcomes top players from around North America that are looking to stay sharp for their collegiate seasons.
After going 12-52 last season, the ball club is back again this season and they're ready to change the fate. With 64 days until Opening Day, Ray Walker has been busy acquiring top-end talent including a bench boss. The team has added Walker Bullington who is currently on the coaching staff at Spring Hill College in Mobile, Alabama. In the past, he led the Little River Blue Crabs to a CSCBL Championship in 2018. He also has MLB experience in youth development with the Atlanta Braves, Washington Nationals, and New York Yankees.
"Our first year was a real education process. Hiring Bullington was something we wanted to achieve first," said Ray Walker, General Manager. "Bullington will add something really special to the fans of our baseball club. We've re-signed a couple of returnees that were all-star players in our league last year. I think fans are starting to get excited for the season to start."
Of course, many sporting events have either been postponed or cancelled due to the growing concern of COVID-19. The Expedition League has released a press release saying the safety of fans, players, employees, and interns are the most important thing at a time like this. They continued to say they are closely monitoring the current situation. With 64 days until the first pitch; however, the league is preparing for the start of the season to begin on time.
As mentioned above, it's been a busy off-season for Walker and company as the organization looks to lock up a roster that can compete at an elite level day in and day out. The team has announced the return of Lucas Allen. The catcher was an all-star and fan favourite with the Whiskey Jacks last season. He batted .288 with 44 hits, 21 RBI, and three home runs.
In another big announcement, the team is set to welcome back their Most Valuable Player from last year, Cody Kehl, a sophomore 2nd baseman from Quincy, Washington. Cody had 69 hits last season and a batting average of .309.
"Cody is one of the great personalities that the Whiskey Jacks were able to add last year," continued Walker. "We're really excited to have him back; he's an excellent player and a great guy. We can play him in any sort of situation and he can deliver."
The Whiskey Jacks open up their season at Andrews Field in Brandon on May 26. They welcome the Badlands Big Sticks to town to open up a three-game home stand. The team follows that up with another three-game set on home field against the Spearfish Sasquatch. If you are planning on making a trip down to the Wheat City to watch the Whiskey Jacks, Walker says you won't be disappointed.
"The community of Dauphin is so well known for supporting sports, we know that," added Walker. "Brandon is just a short ride. We'd love if you came down for the weekend to watch a couple of games. The talent level is top-notch and we know you're going to enjoy everything that happens at the park."
The team's season finale is on August 8 at 4:35 p.m. as they play on the road against the Pierre Trappers.
Details

Contributed by

Darnell Duff
It was two years ago that Jerron Kyle lit the lamp twice in a huge game for the Grandview Comets. In that same game, Jason Shaw scored the game-winning goal in overtime as the Comets won the North Central Hockey League.
They beat Miniota-Elkhorn, 5-4, in double overtime to sweep the best-of-five series. Devron Jakeman and Luke Stokotelny also scored for Grandview in the game.
The win advanced the team to the Senior "A" Provincial Championships in Rivers.
Curling Champions:
The Dauphin Men's Curling League wrapped up and Darcy Todoruk's rink are the Champions.
The foursome beat the regular season Champions, Dwight Bottrell and his team in the finals.
Darcy's team consists of Chris Todoruk, Mark Graham, and Dustin Mayuk.
"Yeah, it feels pretty good," said Darcy. "I'm happy for the guys and it was great to win the league with my brother."
This was the first time the team has played together in the league and what a first impression they made.
"We just made the shots when we had to and we were able to hold on to the leads we had," said Todoruk. "Things went our way."
Here is how the rest of the league finished up:
Dauphin Men's Curling League Consolation Champions:
Greg Todoruk
Rob Lulashnyk
Reid Procyshyn
Jeff Abraham
Dauphin Men's Curling League Regular Season Champions:
Dwight Bottrell
Morley Bourns
Steve Soloway
Bruce Hannibal
Details

Contributed by

Darnell Duff
The start of the 2019-2020 Western Hockey League season was an exciting moment for all junior hockey fans across the country. Understandably so — the game so many Canadians love was back — and the talent across the league was in a great place.
On another exciting note, the start of this season welcomed the Winnipeg ICE to the fold as they relocated from Kootenay, one season after a campaign that offered up just 13 wins.
Winnipeg being the newest member of the league would instantly start up the "Battle of Manitoba" between the ICE and the Brandon Wheat Kings, a team that has been in the WHL since 1966. They've won three league titles in 1979, 1996, and 2016.
With all of that aside, it was set to get down to business and they split their two pre-season meetings. Things started to really matter in their first regular-season meeting which was set for September 20.
Game #1: September 20.
On the shot clock, Winnipeg hammered Brandon, 45-26. The reason the ICE didn't run away with the game was the play of Jiri Patera who made 42 saves. However, in the end, the ICE did earn two points with a 3-2 win. Michal Teply, Connor McClennon, and Isaac Johnson scored markers for Winnipeg in the game while Zach Wytinck and Vincent Iorio responded for Brandon.
With their first meeting officially in the past, it was time for the provincial battle to invade Wayne Fleming Arena in Winnipeg for the first time, the next night.
Game #2: September 21.
The more than 1600 fans were treated to a back-and-forth exciting game, one that saw Brandon get their revenge in a 4-2 win.
Luka Burzan notched two goals with Ben McCartney and Lynden McCallum scoring singles in the victory.
74 shots combined were up on the shot clock with Patera getting the upper hand as he made 33 saves.
Game #3: November 11.
For the first time in nearly a month-and-a-half, the "Battle of Manitoba" was back at it, this time at Westoba Place in Brandon. Brandon sizzled on the man advantage with three power-play goals and they erupted offensively with seven goals in a 7-2 win as they took a 2-1 series lead.
Brandon really showed off their depth in the game as seven different skaters scored including two defenceman. Braden Schneider led the way with one goal and two assists while Chad Nychuk had a goal and one helper.
Cole Reinhardt, Connor Gutenberg, Ridly Greig, Ty Thorpe, and Jonny Hooker all scored a goal in the game. Jiri Patera garnered another start for Brandon and he wasn't relatively busy; however, he did make some key saves in the win and overall, he turned away 23 shots.
Game #4: November 29.
Owen Pederson and Jackson Leppard both scored two goals for Winnipeg. With that said, offence surely wasn't the problem; however, Winnipeg's defence got them into trouble as they allowed another touchdown against their provincial rival.
Cole Reinhardt had three tallies as the Wheat Kings skated off with a 7-4 win. Connor Gutenberg, Ridly Greig, Lynden McCallum, and Marcus Sekundiak scored goals in the game.
The win gave Brandon three wins against Winnipeg compared to the ICE's one.
Game #5: November 30.
Losers of three straight against Brandon, it was Winnipeg's turn to make a statement and they sure did in the third period and that's why they earned their second win against the Wheat Kings.
Three third-period goals which started with Nino Kinder's ninth of the campaign fuelled Winnipeg in a 6-5 win.
Connor McClennon scored three times for Winnipeg, one of which was recorded in the third period. Michal Teply and Jakin Smallwood also lit the twine in the victory. Ethan Kruger did give up six goals, but there was a bright spot in his performance as he made 45 saves. Offensively, Lynden McCallum pocketed two goals.
Game #6: December 17.
If this were a playoff series, the ICE would be on the brink of elimination. However, it's not, but that doesn't mean two big points weren't up for grabs as the teams met inside of the Wayne Fleming Arena.
Winnipeg outshot Brandon, 35-23, but they didn't beat them where it mattered. The Wheat Kings used four goals from four different players in a 4-3 nailbiting win that saw Jiri Patera made 32 saves in the win. Liam Hughes was just 19-of-23 for Winnipeg.
Connor McClennon did continue his solid play against Brandon with two more goals in the defeat. So, the season series was 4-2 for Brandon. This was just the first of three overall meetings in the month of December.
Game #7: December 27.
The game kicked off home-and-home with the first game being played in Brandon. This game was all Liam Hughes, though. He made 28 saves to stymy Brandon's offence in a 4-0 win for the ICE.
Connor McClennon found the back of the net again while Isaac Johnson scored twice and Peyton Krebs potted one goal as well.
Winnipeg's win brought the season series to 4-3 for Brandon with just one more game remaining in 2019, the very next night.
Game #8: December 28.
Owen Pederson scored the game-winner just 4:21 into the third period as Winnipeg eventually skated off with a 3-2 win to complete a weekend sweep and split the season series at four.
Liam Hughes was once again very solid as he made 25 saves in the victory. Jackson Leppard and Carson Lambos also scored in the victory.
Who's hot?
Connor McClennon – Winnipeg – 7 goals, 4 assists.
Michal Teply – Winnipeg – 3 goals, 3 assists.
Luka Burzan – Brandon – 3 goals, 5 assists.
Jiri Patera – Brandon – 226/247 -.914.
Details

Contributed by

Darnell Duff
Chantz Petruic enjoyed a season that was surely one for the history books with the Yorkton Terriers of the Saskatchewan Junior Hockey League. The one time Moose Jaw Warrior ended his junior career in the same place he spent the past three seasons.
This year, Petruic stood out from the rest of the league when it came to offensive production. In 52 games played, Chantz scored 58 goals and he added 51 assists to lead the league with 109 points. Those were 21 more than Cole Rafuse and Alec Malo, both of which played for the Flin Flon Bombers and had 88 points.
Petruic averaged 2.10 points-per-game, with Malo being the next closest at 1.63. Thanks to his success, the Moose Jaw native now has eight different awards to hang on his shelves. He was named the Viterra Division's Most Valuable Player, Viterra Division's Player of the Year, RBC SJHL's Player of the Year, and SGEU SJHL's Most Valuable Player.
The Terriers also held their team awards evening and Chantz took home four more awards. He was named the team's Most Valuable Player, was given the President's Award, was the Top Scorer, and Most Popular. So that just goes to show that not only did Chantz dominate on the ice, but he was very much liked in the dressing room as well, something every player wants.
"It's an honour. You can see some of the guys that have won awards like that over the years, it's a pretty special to be amongst that group," said Petruic. "I wouldn't be able to do what I did without my teammates and my coaches. I don't think my linemates got enough credit this year, they were unbelievable. I also have to thank my coaches, they put me in spots where I could succeed."
Yorkton was right in the midst of their playoffs when the CJHL announced the cancellation of the remainder of all playoffs and past events including the Centennial Cup which was set to be played in Portage from May 9-17. At the time of cancellation, Yorkton was tied with La Ronge in the best-of-seven at two games apiece in the first to four.
Petruic had eight points in the first four games which gave him the second-most points in the playoffs. Petruic is the first one to admit that racking up a bunch of points is nice, but at the end of the day, winning a championship is the main goal and always has been. Unfortunately, the Moose Jaw native won't get another chance to do that in his junior career as he's run out of eligibility.
"I have a pretty sour taste in my mouth right now and I know everyone else on this team does as well," he continued. "We had championship aspirations and I honestly do believe we had a chance to do that this year. I always wanted to have that personal success and I did, but the most important thing to me was winning a title. The fans here in Yorkton have been absolutely incredible, they deserve that."
So the chapter on his life in Yorkton will close when he returns back to his home in Moose Jaw. However, before leaving town, he knows Yorkton is in good hands.
"This team has some unfinished business just like a few different teams do," he added. "They will be a good team next year and I think everyone should be watching out for Yorkton next year."
Playing in the Western Hockey League with his hometown Warriors offered up four assists in 55 games. His time in the Saskatchewan Junior Hockey League offered up 110 regular-season goals and 133 assists in 158 games. In 18 playoff games, he scored 10 goals and added nine assists.
For now, it's time to get some family time in, but before you know it, next season will be here and Chantz will soon have to make a decision on where he wants to play and already several offers have poured in after what can be called a magnificent junior hockey career.
"I'm just taking things day-by-day here, I'll talk about it with my family," he concluded. "We'll see what the future holds."
Details

Contributed by

Darnell Duff
Many hockey seasons were cut short because of the growing concern of COVID-19. This affected many local players who were still going to compete for titles; however, the concern of the virus didn't take anything away from Russell's Seth Falkevitch.
Falkevitch, a former Parkland Ranger joined the Pilot Mound Academy U18 hockey team this season. Playing in the Canadian Sport School Hockey League, Seth joined a team that was dominant all season long and they capped off the campaign by winning a championship.
Playing in the league championship game against Edge School, the team picked up a 2-1 victory and a title in the process.
"It was a big accomplishment for us. We had one guy that was in the same position for the past three years and he finally made it happen," said Falkevitch. "It was a super special feeling for everyone. The boys worked hard all year and it paid off, it was a total team effort."
Prior to the playoffs, it really was a season of success for the team. They went 17-6-1 and they won their division, giving them the regular-season crown. They scored the fourth-most goals in the league; however, it was their defence that really set them apart. The team only allowed 48 goals, the fewest in the U18 Varsity group.
"We kind of struggled down the stretch so everyone was kind of upset about that," added Falkevitch. "No one got down on themselves though and we just battled through and stayed devoted. We had a great group of guys and that really showed in the end."
Playing in Canada with the team, Seth put up 18 points (7G) in 24 regular-season games. In five playoff games, he added another five points (1G). Being an academy team, they also travelled to the United States where he had another six points.
Falkevitch played with the Parkland Bantam Rangers for the past two seasons where he added up 17 points.
"I think this year was a pretty strong one. It was a nail-biting experience to see how every other team was going to be," concluded Falkevitch. "I was pretty proud of what I was able to produce this season, now it's about preparing for next year."
When it comes to next year, Seth has a plan of returning to Pilot Mound for a second season.
"That would be my best interest, we'll see what happens," he added.
Details

Contributed by

Darnell Duff
On this day in 2012, the Grandview Comets completed an incredible stretch of winning championships as a member of the North Central Hockey League.
They won their fourth straight title when they beat Miniota/Elkhorn in the final. Cary Fillion was one of the goaltenders on the team and he had this to say on the feat.
"We had such a great group of guys. A whole bunch of them played junior hockey and they weren't done playing yet," said Fillion. "We had to beat some really good teams along the way. In the end, our team was so strong and so deep that we just got it done."
Grandview began the stretch of four straight titles in the 2009 season when they defeated Oak Lake. They also beat Oak Lake in 2010 and in 2011; they beat Miniota-Elkhorn in what turned out to be the first of back-to-back wins against them in the title series.
Fillion joined the team in the final two years.
"It was awesome. I remember so many great memories from the years I was with that team, we just had such a tight-knit group," continued Fillion.
In other Comets history news, on this Sunday back in 2018, the team won another North Central Hockey League title when they once again took down Miniota-Elkhorn.
Details

Contributed by

Darnell Duff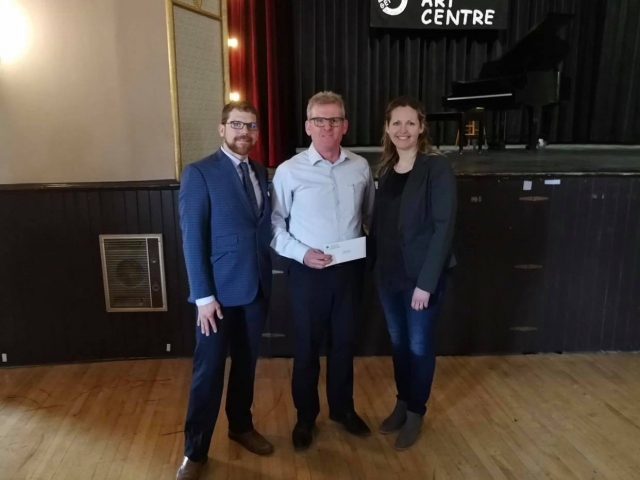 Suspension, that's been the big word right now when it comes to professional leagues across North America. The NHL, NBA, and PGA Tour have all suspended their schedules. The Canadian Junior Hockey League has cancelled the remainder of the season while the Canadian Hockey League suspended the remaining regular-season action.
Locally, many people are wondering if COVID-19 will have any effect on the running of the 2020 Manitoba Summer Games Powered by Manitoba Hydro that are set to take place in Dauphin from August 9-15.
At this point, the Host Committee is cautiously proceeding with their plans and monitoring the current situation.
Carla Wolfenden, Co-Chair has more on that.
"We've had a conference call with Sport Manitoba and they've decided that it's too far out to decide whether we should cancel or not," she said. "So for right now, we're proceeding with our plans."

"We've been hard at work at this for so long, it would be a shame for it to be cancelled," she continued.
So for now, the Host Committee is going ahead as planned and you can still be a part of this historic event scheduled to come the City of Sunshine. The Host Committee is still looking for volunteers in a variety of positions. If you'd like to help out, check out Manitoba Summer Games Volunteer.
"We really do want people to sign up to volunteer, it's a big deal," concluded Wolfenden. "Everyone is planning on this event taking place and everyone is super excited about it."
Details

Contributed by

Darnell Duff
This past season was anything but an ordinary one for Russell's Tyson Zimmer. Playing his first season with the U18 Okanagan Prep Red team, the team found themselves in some pretty unfamiliar territory when it came to icing a roster for several games.
That's because the injury bug and sickness certainly hit the team and they were forced to play with six forwards and three or four defencemen on more than one occasion throughout the season. The team still did manage 17 wins throughout the season and they managed a pretty solid +24 goal differential throughout the campaign.
Zimmer himself was second in team scoring with 37 regular-season points, only five behind Quinn Disher who led the way with 42 points.
"My game was different this year, my main focus was playing on both sides of the puck," said Zimmer. "I was pretty slow to start the year; I didn't think I was in good enough shape to play the type of minutes I was playing."
"I went home for Christmas and I woke up. I found I played very well during the end of the season," he added.
Zimmer started the season with the Brandon Wheat Kings, a team he grew up watching. Growing up less than two hours away from Westoba Place, Zimmer spent many nights in the Wheat City watching what he admits is his favourite Western Hockey League team.
His dream of one day playing for them took a big step forward when he was drafted sixth overall in the 2019 WHL Bantam Draft.
Zimmer ended up playing a pre-season tilt with Brandon against the ICE before he was sent back to his club team which ended up being Okanagan. It was during his time in Brandon when he really realized how important the defensive end of the ice was.
"Seeing all of those guys at Brandon camp, they don't play all offence, they're playing on both sides of the puck," continued Zimmer. "It's pretty simple, I won't get the chance to play if I'm just worrying about scoring. It's all about playing a full 200-foot game."
Succeeding with Okanagan was the main thing on Zimmer's mind this season and if he did that, there's a good chance that he would impress the Wheat Kings organization.
"I think I impressed them with my full game," he added. "My offence was decent I guess. I had some trouble scoring early in the season, but I picked it up as the season went on. I had more confidence with the puck and that's massive, it's something I have to improve on."
As it was for so many players across Canada, Zimmer's season was cut short because of the growing concern of COVID-19. The team did get in two playoff games, both of which they came up short. Against Northern Alberta, Zimmer had one assist in a 6-1 loss. Playing against Burnaby in their second game, Zimmer stepped things up with two goals and he also added one assist in a 5-4 overtime loss.
So yes, the season did end earlier than he would have hoped, but that just gives him more time to prepare for his second Wheat Kings camp which is expected to get going in August.
"It's pretty simple, it's back to work. I have to do everything I can to put on weight and I have to shoot a bunch of pucks," concluded Zimmer. "I also need to work on my confidence, that's a big thing."
Zimmer adds that he's not trying to put pressure on himself heading into that camp; however, "If I play my own game, I have a good feeling that I can make it," said Zimmer.
Details

Contributed by

Darnell Duff
The remainder of the Western Hockey League's regular season has been cancelled. It's been determined that the remaining 54 games across the league won't be played.
For the Brandon Wheat Kings, that means they won't be playing their final five games which would have provided them with a golden chance to jump up the standings.
Brandon was just one point behind the Winnipeg ICE for the second spot in the East Division. They were also just six points behind Prince Albert for the top spot and they had one game in hand.
WHL Commissioner Ron Robison says they will make every possible effort to conduct the 2020 WHL Playoffs at a later date.
If the playoffs do take place, Brandon could consider themselves rather unlucky going into the first round as they had a great chance to move up in the standings, especially because they were set to end the season with a home-and-home with the ICE. Overall, Brandon finished in 10th place in the league.
At the end of the day; however, safety is the main focus and it's what everyone wants and this is a decision that was made across the Canadian Hockey League with both the Ontario Hockey League and Quebec Major Junior Hockey League also announcing cancellations of the remainder of their regular seasons.
Darnell Duff has reached out to Darren Ritchie, General Manager of the Wheat Kings for comment.
Details

Contributed by

Darnell Duff
On this day last year, we chatted with Dauphin's Devin Himpe who made his Team Canada coaching debut as he was chosen as an Assistant Coach for the men's hockey team that took part in the FISU Games.
The journey took him to Krasnoyarsk, Russia and the road included a bronze medal. The Canadians beat Kazakhstan in the third-place game, 3-0 to claim the bronze medal. It was a big bounce back for the team who lost in the semi-finals against the host Russia squad.
"You're going to Russia to try and win a gold medal, so obviously we were a little short on our goal," said Himpe. "With that being said, knowing that we won a medal was absolutely amazing. I don't think I'll have anything like that anytime soon. There was like 3000 fans cheering for us when we won so that was awesome."
"It was pretty surreal stepping on the ice for the first time," he added. "Wearing Hockey Canada stuff and everyone had that nervous energy but it was good nervous energy. It was great getting to know the guys and we had a great group of them."
In the round-robin, Himpe and the rest of the team beat the United Kingdom, 12-0. They also beat Latvia, 6-1, Switzerland, 6-2, and Sweden, 11-1.
The only slip up for the team in the round-robin was a 4-3 loss against Kazakhstan, the same team the Canadians beat in the bronze medal game.
"I think the biggest thing I'm taking back is just the overall experience," said Himpe. "I learned quite a bit about certain preparation and certain motivational situations I can put myself in. We were all able to come together without knowing each other going in and we were able to put some wins together.
"I'm definitely going to miss it but I am excited to be home and I'm happy," he added. "It was amazing and it was a once in a lifetime experience."
Russia ended up beating Slovakia in the final.
Details

Contributed by

Darnell Duff
Late last week, the Canadian Junior Hockey League announced all of its member leagues across Canada were suspending their season, including the Manitoba Junior Hockey League. Shortly after, it was announced that the rest of the regular season and playoffs and Centennial Cup were being cancelled.
Prior to the suspension and eventual cancellation, seven teams were still alive in the MJHL as the chase to the Turnbull Cup continued. One of those teams was the Swan Valley Stampeders who were up 2-1 in their first-round series against the Waywayseecappo Wolverines. The Stampeders finished in fourth place in the league standings which earned them home-ice advantage for at least the first round.
"I think we had a pretty good season, we did what we needed to do to get home-ice in the first round," said Carter Cockburn, who has lived his entire life in Swan River.
Home ice is certainly something that Swan Valley used to their advantage. They won the first game of the series, 5-0, at the Centennial Arena. After losing game two back in Waywayseecappo, the Stamps' went back to work and simply put, hammered the Wolverines. They hit the double-digit mark offensively as they won, 10-0. A big key to success on the night was the play of Cockburn who had a career night. For the first time in his junior career, the now 18-year-old scored four goals.
"That was really special. You don't go into the game thinking you're going to do that, but when it happened, it was pretty amazing," continued Cockburn. "Our team had a lot of success clearly in that game. I wouldn't have been able to do it without my teammates; they're a big reason why I did that."
Cockburn ended up scoring five goals in just three playoff games. In 50 regular-season games, Cockburn had 12 goals and 11 assists. Both his playoff numbers and regular-season ones are up from last year. He had 12 points in 44 regular-season games last year and he had just one assist in 15 playoff games. It just goes to show what hard work over the course of an off-season can do for you.
"I definitely have a bigger role this year. Last year, I was watching a lot because we had an older team," continued Cockburn. "With that role, it brought more offence. Now that the season's over, I have to start preparing and getting ready for next season, I need to take the next step."
Being from Swan River, Carter grew up watching the Stampeders. It was always his dream to play for his hometown junior team. On August 3, 2018, Carter signed with the Stampeders and his childhood dream of playing with the team was that much closer.
"I remember being a little kid and always watching this team and loving every minute," concluded Cockburn. "To get this chance to play in front of my families and friends now, it's absolutely incredible and I cherish each moment."
Details

Contributed by

Darnell Duff