Latest Sports
The Parkland U-18 Rangers spoiled the Yellowhead Chiefs parade on Tuesday night.
As the Chiefs hosted their home opener, the Rangers came to Shoal Lake and they're leaving after a solid 5-1 victory.
Trey Sauder led Parkland offensively with two goals. Luke Decorby, Brayden Dube, and Josh Thompson also scored for the Rangers.
In net, Keaton Ziprick was solid as usual as he turned away 23-of-24 shots he faced.
Parkland will now host their home opener on Friday when Yellowhead pays a visit to Credit Union Place.
Details

Contributed by

Darnell Duff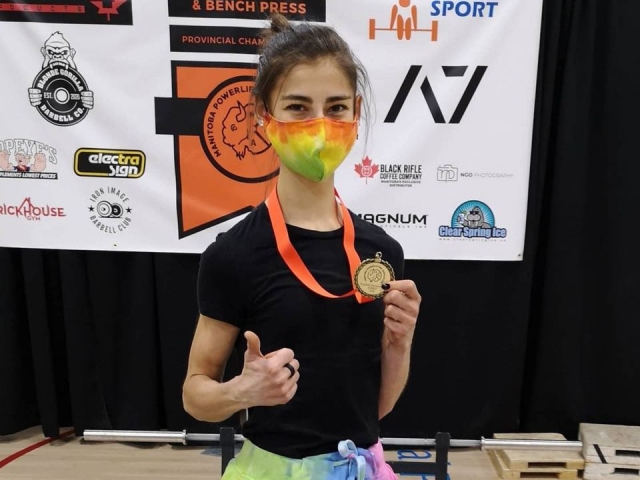 When Taylor Armstrong puts her mind to something, there's a good chance that she will do a great job in whatever she is preparing for and that's the case for the young woman from Dauphin.
She's embarked on a new journey in her life and it's competing in powerlifting competitions. It all started last November when she started training several times per week. Powerlifting wasn't even on Taylor's radar a year ago and now, she's a provincial champion.
"I got into weight lifting as a stress outlet and a way to better myself," said Armstrong. "I wanted to focus on being strong and not just skinny."
Taylor hasn't had a coach for her entire journey which means she has had to learn everything by herself along with some help from a family friend. She put all of her hard work to the test for the first time in February when she took part in the Brickhouse Power Challenge.
Armstrong racked up 306.81 points to win her age category and weight class. Placing first only fuelled her passion for powerlifting as she continued to train for the provincial championships that were hosted this past weekend in Portage la Prairie.
"I really didn't know what I was doing when I first started," she said. "As the months have gone on, I've developed my training style and what works for me and what doesn't."
The Dauphinite says the most important thing from the very beginning is having fun and that's what she's having as she becomes one of the top young powerlifters in the province all in the matter of one year.
At the provincials competing in the sub-junior category, she added up 185 points. She finished with 57.5kg in her squat, 40kg in her bench press and 87.5kg in her deadlift. Just as she did in February, Armstrong came out on top of her competition as she won her first-ever provincial powerlifting gold medal.
"It felt really good. A lot of people have told me that this isn't a real sport or I'm not that strong throughout the way," said Armstrong. "It felt really cool to show people how hard I have worked over the past year and it's incredibly special to know that I've won a gold medal."
Taylor says one of the best parts of competing is seeing all the other competitors lifting the weights and living out their dreams. Another part of her enjoyment is spending time with her mom, Jamie Derhak who has been right by her daughter's side the entire time.
"She has been my number one supporter and she's my rock," ended Armstrong. "I'll never forget the memories we have shared together at all of the meets and everything."
The provincial gold medallist will continue training as she prepares for future competitions.
Details

Contributed by

Darnell Duff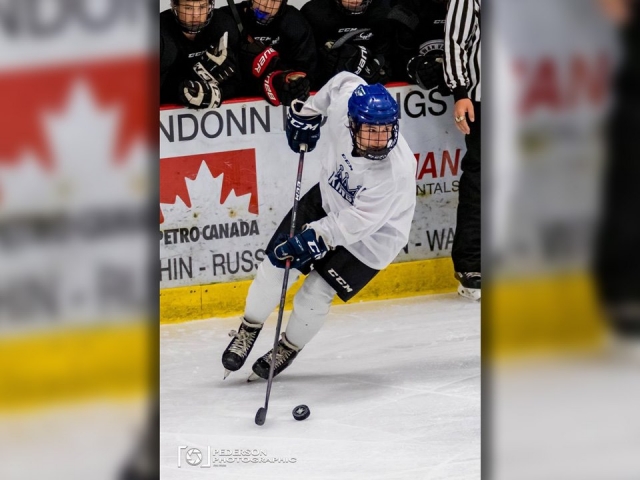 Jayden Jubenvill was drafted by the Dauphin Kings 26th overall in the 2017 MJHL U-15 Draft. Playing with the U-15 Rangers in the season leading up to the draft, Jayden scored 13 goals and added 21 assists for a 34 point total. That total was a 23 point surge than the previous season where he had three goals and eight assists.
Jubenvill from Gilbert Plains has been in the Kings system ever since and it was this preseason where he made the most noise that he has with the organization. Starting with prospects camp in early September and running right through the end of the month where the team ended its preseason in Portage, Jubenvill was given every opportunity to show what he can do against junior players, some of which were three years older than him.
The 17-year-old was on the ice in Dauphin's first preseason win against Swan Valley in the annual "rookie game". An everyday defenceman, Jayden played up front in the team's final preseason tuneup against the Portage Terriers.
The team would end up dropping that game; however, Jubenvill provided fans with a glimpse of what the future could look like as he scored one goal and added one assist, and was named the team's first star. The goal was a case of Jayden being in the right spot at the right time.
FREE HIGHLIGHT | Jayden Jubenvill has his stick in the right place at the right time and slides it home!#MJHL #ForTheCrown 👑 pic.twitter.com/lfVm8dlZGI

— Dauphin Kings (@dauphinkings) October 1, 2020
Jayden's time as a King has come to an end for now, but don't be surprised to see the 26th selection in the 2017 draft making noise again in the near future with his home region AAA team.
"Getting that chance to play with the Kings was great, I've always wanted to play with the team," said Jubenvill. "Playing with the older guys allowed me to get better and the competition was great."
He's now back with the Parkland U-18 Rangers, a team that he is entering his final season with. In his first season with the team in the 2018-2019 campaign, he scored four times and added 11 assists in what went down as a solid individual rookie season.
His point total was doubled last season where Jubenvill set up 18 goals and he scored 12 of his own as he racked up 30 points. Coming into this year one year older, bigger, and with that much more experience, Jayden is primed for big things.
"Things have been going well so far. We've been working really hard on and off the ice," said Jubenvill. "We also have a great group that's coming together really nicely."
Jayden and the rest of the U-18 Rangers set the tempo in the preseason where they won all three of their games in rather dominating fashion. The team opened up the regular season this past weekend and once again, they set the tempo as they hammered Norman, 10-1.
Not only did the team get off to the start they were looking for, but so did Jayden. He scored two goals in the big win and both goals came on the same penalty kill and were scored just 40 seconds apart. The young man from Gilbert Plains also had one assist.
"I was pretty happy with my effort. I think I played pretty physical and I was able to help the team," said Jubenvill. "And at the end of the day, that's the most important thing for me. I just want to help this team win games, it's what we do as a group, I can't do anything I do without their help."
Leadership:
Jayden likes to lead by example but he can also be a big voice when needed and he will get the opportunity to do both this season. For the first time in his AAA career, Jayden has been named the captain of the 2020-2021 U-18 Rangers. The team's assistant captains will be Steven Arp, Brayden Kohlman, and Keaton Ziprick.
"That means a ton to me. Just leading the rookies and letting the veterans know that I'm here for them if they need," he added. "It's an honour and a complete privilege to be the captain for this year's team."
Game day:
Parkland will play the Yellowhead Chiefs on Tuesday night in Shoal Lake. The Rangers skated by Yellowhead, 8-1, in the preseason thanks to three goals from Luke Decorby. Kyan Grouette, Matthew Munro, Carter Zalischuk, Jayce Legaarden, and Rylan Gibbs also scored in that win.
Yellowhead is led by Sloan and Slade Stanick. Sloan is only expected to be with Yellowhead until Christmas as he aims to make the Western Hockey League's Regina Pats for the second straight season
While Parkland is 1-0 entering Tuesday night, Yellowhead will play their first game and the tilt will also be the first of three in a row between the two teams. The Rangers will host Yellowhead on Friday and Sunday at Credit Union Place.
"We just have to stick to our game plan and never give up," ended Jubenvill. "We also have to listen to what Tyler and Rick is telling us and if we do that, there's no reason we can't have success against Yellowhead and going forward this season."
Details

Contributed by

Darnell Duff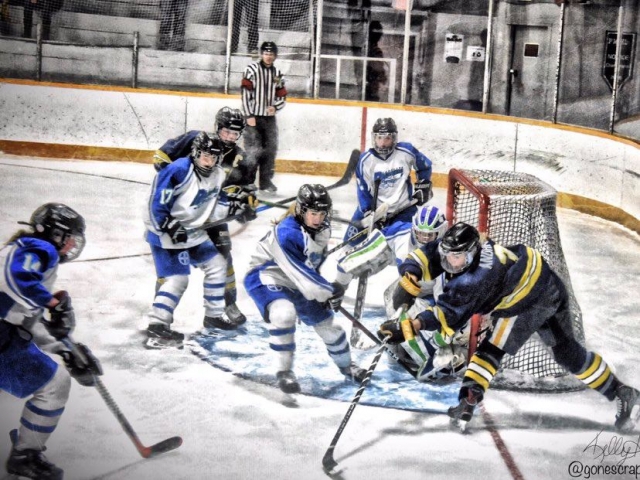 The Parkland U-15 Women's Rangers had a two-game day over the weekend at the GACC against the Yellowhead Chiefs.
In game one, the Chiefs were the only team to score in the first period and they took a two-goal lead with another marker early in the second. Reese Boguski kicked off the scoring for Parkland as she had a great offensive day as she cut the deficit in half with Tristyn Hanneson getting the assist.
Yellowhead would score one more goal to secure a 3-1 win. Caitlin Fillion was solid in net for Parkland.
Olivia Brown would play her first AAA game as the two teams hit the ice once again. The Grand Plain Ice Dog will play with the U-13 team this year, but she got the opportunity to play in this game as she's practiced with the program semi-regularly over the past couple of years. Adel Wiebe found herself on a breakaway in the first period and she made no mistake as she beat the Chiefs goaltender as the game was tied at one after the first period.
Yellowhead took over in the second as they scored three straight goals to take a 4-1 lead into the third period. Once again Reese Boguski stepped up offensively as she scored her second goal of the day. The Chiefs would end up scoring one more goal as they won 5-2 to complete a two-game sweep.
Craig Zamzow had this to say after the games.
"We served 24 minutes in minor penalties in game two, so balancing aggression and discipline will be an area for improvement for the club," he offered.
Parkland will play the Winnipeg East Saints and Winnipeg Titans this weekend in Winnipeg.
Details

Contributed by

Darnell Duff
There are just two teams that are perfect through the second weekend of action in the Manitoba Junior Hockey League.
One of them is the Steinbach Pistons who are 3-0 after victories against the Winnipeg Freeze. The Swan Valley Stampeders; meanwhile, are the first team to get to four wins on the campaign.
Opening the season with four straight games against the OCN Blizzard, the Stampeders took care of business as they scored 22 goals while they allowed 13.
Swan Valley also racked up 101 penalty minutes. The Stampeders opened the season with a dominating 6-2 win which was followed by two wins in overtime.
On Saturday, Swan Valley pulled off an incredibly improbable comeback. Down 4-1 with just less than six minutes left, the Stampeders caught fire with four straight power-play goals as they won the game 5-4. Two of the goals came off the stick of Jackson Zloty while Alex Danis scored the winner with 25 seconds left and the goal was his fifth of the season.
"We had our chances early and that kind of deflated us when we weren't scoring," said Barry Wolff, Head Coach, and General Manager. "We were lucky to get those power plays late in the game and we just buckled down and found a way to get it done. It was a great win but we weren't happy with the first 54 minutes of the game."
Mikael Foucher made 115 saves on 124 shots as he played the Stampeders first three games in net. He will carry the majority of the load this season; however, the team does have a very capable backup.
Dylan Black made his first-ever MJHL start on Saturday evening in the 5-4 win. The six-foot-one netminder from Surrey made 32 saves including some big ones down the stretch to keep his team in the game.
"He played well. He's a big body that moves well and he's pretty athletic," offered Black. "He comes into practice every day and works extremely hard. He's pretty fortunate to work with Foucher, he's been a great mentor and they have bonded very well. We're happy with our duo in net."
Offensively, the Stampeders are led by Haydn Delorme. The former Prince George Spruce King was acquired in the off-season via trade and he has certainly not disappointed.
The 20-year-old has one goal and eight assists already and that total is the most in the league -- one ahead of Brayden Foreman -- while fellow Stampeder Alex Danis has seven points.
The five-foot-eleven forward is well on his way to recording a career-high in points in a single season. With the Coquitlam Express back in the 2017-2018 season, he sniped six goals and added eight assists for a 14 point total.
"He's so patient and calm. He has a great hockey IQ and he sees plays before others," said Wolff. "You can't teach experience and he has a ton of it. He brings so much to our locker room and we're very pleased with what he's added to this team."
The Stampeders will begin another full week of practices on Monday afternoon ahead of four straight games against the Waywayseecappo Wolverines.
At 2-2, the Wolverines are in a tie for second in the Northwest Division alongside Dauphin while the Stampeders sit four points ahead. Friday's game is in Waywayseecappo before game two of the four-game set is played on Saturday at the Centennial Arena.
Looking forward, the Kings and Stampeders begin their eight-game regular-season schedule against each other on November 20.
Details

Contributed by

Darnell Duff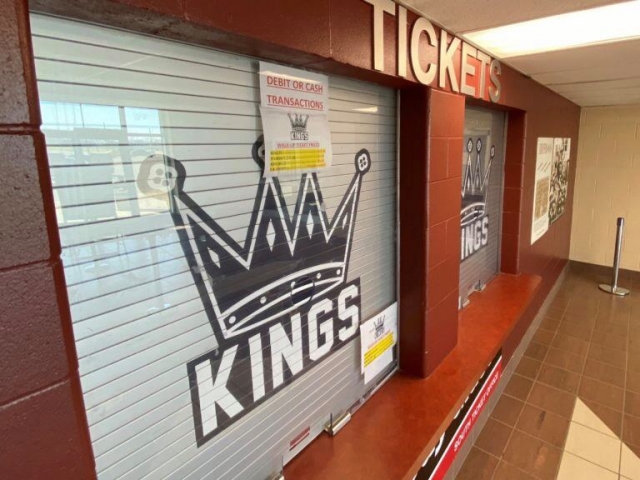 If you're a season ticket holder with the Dauphin Kings and you can't make it to a game this season, the organization has you covered.
You can donate your ticket or multiple tickets back to the team and you will receive a $5 credit towards your season tickets next season. The Kings will then in turn sell those tickets back to the public as fans have been turned away from games this season because of capacity restrictions inside of Credit Union Place.
"This is another option to get people in the rink because we don't want to turn people away," said Christian Laughland, Director of Business Operations. "We want to get as many fans in the rink as possible."
To take advantage of this offer, you can head to the Speedy Glass South Ticket Office at Credit Union Place when it is open this week and in future weeks moving forward in the season. Here's when it will be open this week.
Wednesday: 12:00 pm to 5:00 pm
Thursday: 12:00 pm to 5:00 pm
Friday: 10:00 am to 1:00 pm
Saturday: (GAME DAY vs. OCN - 7:30 pm)
4:00 pm to game time
Details

Contributed by

Darnell Duff
Jayden Jubenvill and Rylan Gibbs scored two goals each as the Parkland U-18 Rangers hammered Norman to begin their season.
After Saturday's game was cancelled, Parkland scored early and often on Sunday in a 10-1 win in Thompson.
Hayden Lacquette, Josh Thompson, Trey Sauder, Luke Decorby, Brayden Dube, and Carter Zalischuk scored singles in the win.
Parkland will head on the road on Tuesday to play Yellowhead on Tuesday.
Details

Contributed by

Darnell Duff
Hats were launched onto the ice and fans were in celebration mode as the Dauphin Kings picked up their second win of the season on Saturday night.
Playing in their second game at Credit Union Place, the Kings would open up a 2-0 lead after 20 minutes and they never looked back as they defeated the Waywayseecappo Wolverines, 5-1. The win comes after the Kings lost on Friday night despite putting up 47 shots -- the most they have recorded this season -- while they recorded another 34 shots on Saturday night.
"You have to like the rebound in our team, that's for sure. After a tough loss on Friday where I think we deserved more, this was big for us," said Head Coach and General Manager, Doug Hedley. "The fact that we can rebound and have an effort as we did on Saturday, it's great. I think we could have had more than five goals but Tereposky played well in net again."
Matthias Smith is 0-2 on Friday nights but there is clearly something about Saturday nights for the young man from British Columbia. In a game where Wayway racked up 42 shots, Smith turned away 41 of them to pick up his second win of the season.
The only skater to beat Smith was Conrad Phillips who scored 27 times last season.
"It was a really good team game. Everyone did what they had to do, everyone played well," offered Smith.
Grady Hobbs scored 43 goals last season, he had two coming into tonight and now he has five after four games. The 20-year-old from Deloraine who is playing in his fifth season with the Kings lit the lamp three times for his first hat-trick of the season and second dating back to the preseason when he scored three times against Neepawa. Hobbs scored Dauphin's first goal, third goal, and fifth goal in the victory.
"Anytime a guy scores that many goals in a previous season, we expect him to do special things offensively," said Hedley. "His effort is always great at practice, he practices how he plays and it's to his benefit."
The victory moved Dauphin to 2-2 while Waywayseecappo drops to 2-2 and both teams are now tied for second in the Northwest Division. The Swan Valley Stampeders have won their first four games and are first in the Northwest Division while the OCN Blizzard is in last as they're 0-3-1.
Dauphin will begin a four-game stretch against OCN at the Gordon Lathlin on Friday night. Darnell Duff has the pregame show at 6:45.
King Tips:
Dauphin tied the season series at two with the win
Matthias Smith has now stopped 71 of 72 shots in his two wins
Vincent Nardone recorded his first two-point game with the Kings as he had two assists.
Dauphin went 0-for-1 on the power play while the Wolverines went 1-for-5.
Liam Tereposky stopped 29 of 33 shots in net for Waywayseecappo
Charles Massey now has four goals in four games.
Game Summary:
Details

Contributed by

Darnell Duff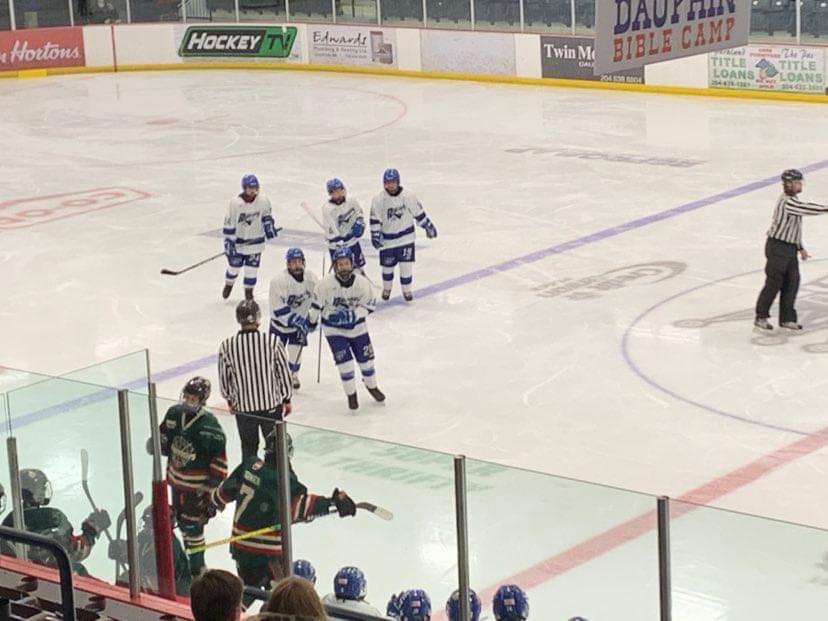 The Parkland U-15 Rangers played their first game of the season on Saturday against a team that has championship aspirations.
Trailing just 1-0 after one period, the Rangers couldn't hold the Winnipeg Warriors of the board as they skated to a 10-1 win in the Rangers home opener.
Scoring Parkland's lone goal was Cash Clarkson who let go of a beautiful shot in the third period that beat the Warrior goaltender.
The two teams will play again on Sunday in Winnipeg.
Details

Contributed by

Darnell Duff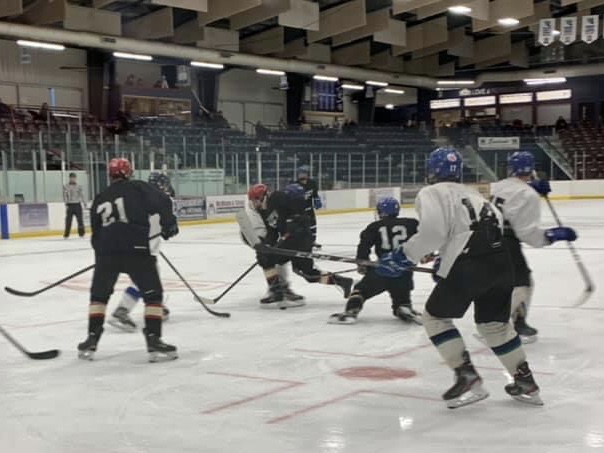 The Parkland U-18 Rangers boarded their charter bus on Saturday morning and made it to Thompson at 3:00 pm.
Saturday evening's game has been cancelled as was the case for Sunday afternoon's originally.
However, after a negative test from the Norman player that was in contact with someone who tested positive, the Rangers will play one game this weekend.
As originally scheduled, Sunday's game will be at 1:30.
Details

Contributed by

Darnell Duff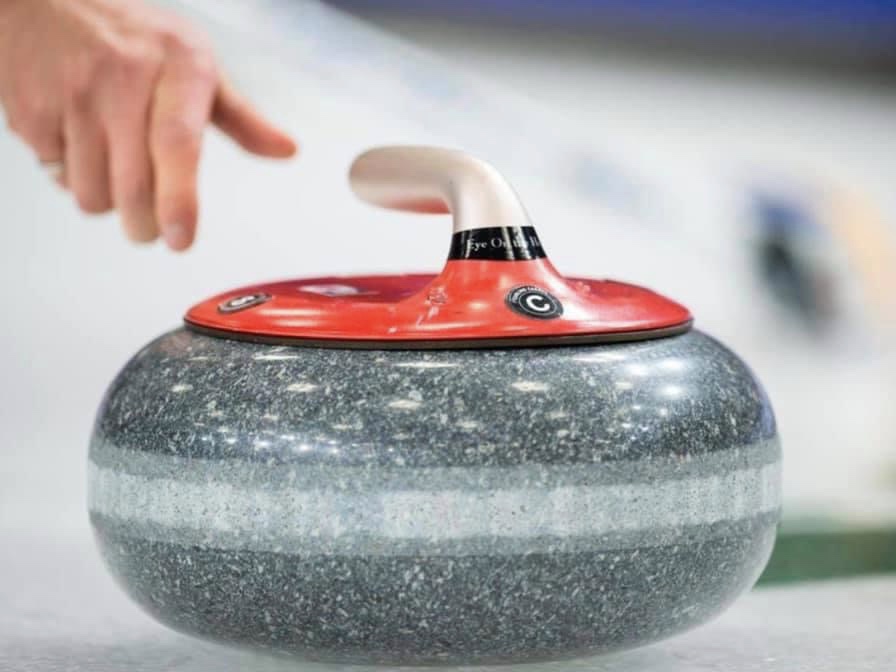 If you're a member of the Dauphin Curling Club, you will have plenty of time to practice this season.
Starting on Monday, October 19, the ice is available for practice at the following times, free of charge.
Monday's: 11:45 am to 12:45 pm
Tuesday's: 11:45 am to 12:45 pm
Wednesday's: 11:45 am to 12:45 pm
Friday's: 4:00 pm to 6:00 pm
Saturday's: 6:00 pm to 8:00 pm
Sunday's: 12:00 pm to 2:00 pm
Friday, Saturday, and Sunday practice ice will not be available when a bonspiel is being hosted at the Club.
Details

Contributed by

Darnell Duff