Latest Sports
Valour FC has their first ever home win.
They welcomed Halifax to town earlier today and they sent the crowd home happy.
The final was 1-0 for the Winnipeg based squad.
Details

Contributed by

Darnell Duff
After a big win in their quarterfinal, Dauphin's Zach Grouette, Ste. Rose's Jaegar Lapointe, and Dauphin Kings Nakodan Greyeyes are one win away from playing for gold.
They play in one of the semi-finals this evening against Alberta at the National Aboriginal Hockey Championships.
It's a rematch of earlier in the tournament when Alberta got past Manitoba.
Details

Contributed by

Darnell Duff
The Dauphin Clippers baseball invitational kicked off on Friday.
Here's the scores:
Major Pratt beat Ste. Rose/McCreary, 7-6.
Ste. Rose/McCreary beat Alonsa.
Dauphin beat Swan Valley, 10-6.
Details

Contributed by

Darnell Duff
The OCN Blizzard has announced that Jamie Corbett will not return as Head Coach and General Manager of the organization in the fall.
Instead, someone with a lot of experience within the organization has become the new General Manager. Greg Hunter will be the new GM going forward. Greg spent 20 years with the organization and he won five MJHL titles between 1997-2003.
"It's very exciting for me to be back with the club," said Hunter. "I put in my time with the club obviously with the over 20 years. It's a good and exciting time for myself."
Among Greg's first duties is signing a Head Coach. Another task will be preparing for the upcoming MJHL draft that goes early next month in Winnipeg.
"To be honest I think our prospects are pretty solid right now," said Hunter. "We also have eight picks in this year's draft so we're quite excited and the future looks great for the Blizzard."
OCN finished in 10th place in the MJHL last year with a 18-40-2 record. That was significantly weaker than the past two seasons when the Blizzard combined for a 71-37-8-4 record.
With a good set of prospects and a few months ahead to lock down some players for next year, Hunter is confident in the team.
"I think we're going to be competitive without a doubt. Our goal is to make the playoffs," said Hunter. "There will be some hiccups to get over next year from the past, but I think we're on the right track and things will go our way."
Details

Contributed by

Darnell Duff
The Winnipeg Blue Bombers season is just around the corner.
730 CKDM is once again proud to be a part of the Winnipeg Blue Bomber Football Radio Network.
Here is the full schedule:
Details

Contributed by

Darnell Duff
Gilbert Plains Bobby Murray is the latest member of the Hole in One club.
He made a perfect shot on #9 earlier tonight at the Gilbert Plains Country Club to ace the hole.
It was Bobby's first ever hole in one.
Details

Contributed by

Darnell Duff
The Neepawa Natives are making a difference in their community.
They've donated $2583.50 to the Budz 'n Bloom Daycare in Neepawa. The money came from their Ag Expo. It will go towards the cost of the daycare's developments at NACI and inside the old Co-op building.
"We really wanted to give back to the community and the daycare is a really deserving group," said President Ken Waddell. "They have some things they need to be done and we wanted to help them."
The Neepawa Ag Expo was held on Thursday, April 4 at the Yellowhead Centre Hall and Budz 'n Bloom found out how much money they would be getting shortly after.
"They were pretty thrilled. They also still have a lot of money that they need to raise moving forward, but hopefully, the community will step up," said Waddell. "Our community is growing and we need daycare here pretty badly."
In some other exciting news for the organization, Ken Pearson will join as the teams new Head Coach and General Manager. Ken most recently spent the past 7.5 years with the Winkler Flyers.
"There's a lot of history here. Ken was raised here and he played his entire minor hockey career here and he had a stint with the Natives' as well," said Waddell. "He's had success with the team in the past as an assistant coach. When he became available it was a real opportunity for us to bring in a guy who is an alumni and he has a ton of skill. It really was a natural fit."
Neepawa will be looking to bounce from a season where they finished in 11th place in the MJHL with a 9-43-4-4 record. Having Ken could be exactly what Neepawa needs in order to bring elite calibre players to town.
"I know for a fact that players and families are already reaching out to him and that's not usually the case, it's usually the other way around," added Waddell. "I think people like our program, our town and how we treat our players and parents as well. Ken has a goal of moving up the ladder here and there are a lot of expectations that he will be able to put this together."
Details

Contributed by

Darnell Duff
For many hockey players, the season has come to an end, but that's not the case for Dauphin's Jayselyn Nybo. She's heading to Portage la Prairie this weekend to take part in Hockey Manitoba's U-16 Top 40 Camp.
She advanced to the camp after a solid performance back in Winnipeg a few weeks ago alongside more than 100 of the top U-16 women's hockey players in the province.
"I was really excited when I got the email about it saying I made the Top 40," said Nybo. "I didn't really know what to expect because there were so many great players in Winnipeg. I think it's a big accomplishment for myself."
The camp starts on Friday and runs right through the weekend until Sunday and it will be a very busy weekend. There will be on-ice sessions as well as off-ice sessions.
"I'm expecting a lot of team play, everyone who's made it this far is really good at team play," added Nybo. "There will be a lot of hard work and the intensity is going to be super high with everything that's going on, it should be a good challenge."
That challenge includes making the Top 23. That's the estimated number of players that will advance to the Summer Prep Camp that takes place in July in Winnipeg.
"I think this is a great opportunity to play because everyone is so good and it will improve my skill level," added Nybo. "I'll have a great chance to learn new things and that will only help me going forward."
"I've never really had an opportunity like this so I'm sort of nervous, but I'm also excited."
Jayselyn isn't the only Parklander that's heading to Portage. She will be joined by Roblin's Brooklyn Hramalak. She also had a great first camp. Nybo and Hramalak have been playing together for years.
"I'm really excited that she's taking part in the camp as well, I've been playing with her since I was probably about five."
Details

Contributed by

Darnell Duff
The Dauphin Clippers put up 11 runs tonight, but it wasn't quite enough.
They dropped their game against Major Pratt, 12-11.
Jesse Korbet and Austin Storey combined for five hits in the game.
Korbet had a double and two singles while Storey had two singles and a pair of walks.
Dauphin (1-3) now plays a home doubleheader to end their regular season on Sunday. The games are at 12 and 4:00 p.m.
Details

Contributed by

Darnell Duff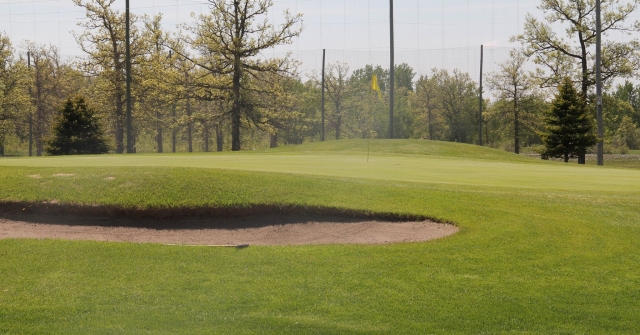 It's been a hit for 17 years and the Dauphin Kings Par 3 Extravaganza is back again. The event is coming up on Saturday, June 8 at the Dauphin Lake Golf Club.
Registration is now open.
"Things have been going pretty good so far and we're just a month away," said Christian Laughland, Marketing Director & Media Relations for the Kings. "Something that's happening is some groups are half signing up and we want to remind those groups that they need to fully sign up. If we fill up and you don't fully sign up you're just going to get your money back. It's looking like it's going to be a good one this year."
Whether you're a really good golfer or you just play the game occasionally, you can still sign up to play in the event.
It's $150 per player which adds up to $600 for a foursome. That includes your entry fee, dinner and a great time. There will also be different contests going on throughout the golf course and on the putting green.
The event is also a big fundraiser for the Kings organization.
"Yeah, it's a significant fundraiser for us. It's sort of like the summer version of the comedy night, it raises anywhere in between $8000-$14,000 every year," said Laughland. "We want to thank our continued supporters that sign up to play every year and all of our sponsors. There will be some fantastic prizes up for grabs on the course and after the round during dinner as well."
Call Aspen Insurance or head down to the office quick before you miss out.
Details

Contributed by

Darnell Duff
The Parkland Mavericks rugby team is back and they're looking for you.
"We're off to a fantastic start, we're getting anywhere from 13-16 players out each practice," said Rod Carberry. "The more numbers the better certainly."
The team practices every Tuesday and Thursday from 7-9:00 p.m. at the high school. They will soon be moving to KIN Field which is the home of the Parkland rugby program.
"We're a group of guys that understand the rugby culture and the comradery that comes with it," added Carberry. "Anytime you're part of a senior team it's honestly a family. We stick together and it's something that everyone is proud to be a part of."
Even if you're not an advanced rugby player, you're welcome to come out as the veterans will show you the ropes.
The team will play their first home game on Saturday against the Regina Highlanders at KIN Field and kick-off is set for 3:00 p.m.
Details

Contributed by

Darnell Duff