Latest Sports
For the first time since the 2011 playoffs, the Dauphin Kings and Portage Terriers will meet in a best of seven series. In that season, Dauphin won the first game; however, Portage won four of the next five to win the series in six games.
Now, the Kings and Terriers will begin this year's playoffs with game one on Friday inside of Stride Place. Game two will also be in Stride Place on Sunday. The fun returns to Dauphin for game three and four next Tuesday and Friday, respectively.
As we get you set for Darnell Duff's call on Friday beginning at 7:00 p.m., here's everything you need to know heading into the series.
Regular season:
Dauphin and Portage finished at opposite sides of the standings. Portage won the most games of any team in the league (44) and they finished in second place with their 90 points, two behind Steinbach who will play the Winnipeg Blues in the first round. In comparison to last year, Portage finished with five fewer points and they scored 37 fewer goals this season.
The Dauphin Kings, meanwhile, won 31 games and they had a chance to finish in sixth place until a regular-season finale loss this past Sunday. As a result, the team finished in seventh place. In comparison from last year, Dauphin won two more regular-season games and they scored 37 more goals.
"We didn't win as many games as we wanted to, but we were competitive in most games," said Doug Hedley, Head Coach, and General Manager. "Our consistency in the past month or so has been a lot better and our group is feeling really good together. There is a lot of confidence in the room and we're looking forward to the playoffs."
Portage and Dauphin played six times and it resulted in a split with both teams taking three games.
Joey Moffatt led Portage against Dauphin with 11 points while Grady Hobbs, Nakodan Greyeyes, Cole DeKoninck, Austin Lamotte, and Carter Sawchuk all had five points.
Dauphin went 5/32 on the power play against Portage while they went 20/24 on the penalty kill. That means Portage went 4/24 on the power play while they killed off 27 of the 32 penalties they took against Dauphin. Overall, it was a season series that provided fans with many thrills.
"I really think that with how we're playing and if we stay strong, we believe in ourselves," continued Hedley. "Any time you play a team in a best of seven, it's a grind and there's no doubt about that. We have to rebound from any time we make mistakes.
Experience:
This without a question favours Portage. They have 10 players that helped last year's team win the Turnbull Trophy and Anavet Cup. Overall, they have 264 man games of junior playoff experience going into the series which includes 128 points.
Dauphin, meanwhile, has only 74 games of junior playoff experience which has garnered 29 points.
The Terriers' have 11 players that have played at least 15 games while Dauphin has just Braeden Young.
Goaltending battle:
Levi Mitchell vs Noah Giesbrecht. Both goaltenders are 20-year-old, both goaltenders are elite, and both goaltenders believe they have what it takes to lead their team past this first round. Giesbrecht turned away 71 of the 81 shots he faced against Dauphin this season which equates to a .876 save percentage. That is lower because of one game when he allowed six goals on 23 shots.
In the two other games, he made 54 saves on 58 shots.
Levi Mitchell, meanwhile, went 12-4 in 16 games with Dauphin since he was acquired from Selkirk at the trade deadline. He also had a 30-save shutout against Portage back on January 17. In all against Portage, Mitchell stopped 104 of the 117 shots he faced against Portage.
Mitchell finished the season with a .909 save percentage while Noah had a .925 save percentage.
Offence:
Dauphin does have the top line in the series. Grady Hobbs, Baron Thompson, and Nakodan Greyeyes have combined for 66 points in their last 19 games. This season in total, the trio has combined for 218 points and Hobbs is this year's Most Valuable Player across the MJHL.
Eight different Kings' had at least 30 points. Cole DeKoninck's 62 points were the most of any defender in the league.
When it comes to Portage, Joey Moffatt led the way with 68 points with 10 players securing at least 30 points. All in all, both teams have firepower, it's just going to come down to who can get it done the most and we've already seen a ton of goals between the teams.
Here is the entire series schedule. Darnell Duff's pre-game show on Friday will be 30 minutes. Every other game will be 15 minutes prior to puck drop.
Details

Contributed by

Darnell Duff
The countdown to the 2020 Manitoba Summer Games Powered by Manitoba Hydro continues as the event will take over Dauphin and area. If you haven't already, you can be a part of all the action as they're still looking for many volunteers.
"We're still looking for about 500 or so at this point," said Alicia Zurba, Games Coordinator. "We're really encouraging everyone to do it now and create a profile. You can always go back and update that profile if you're not really sure what days or hours you're available."
There is no cost to volunteer. The Games will take place from August 9-15 and the following sports will be included such as Athletics, Baseball, Basketball, Cycling, Golf, Sailing, Soccer, Softball, Swimming, Volleyball, Triathlon, and Rugby.
"Whether you want to cook food, drive athletes around or anything in between, we have many openings," continued Zurba.
Volunteering is also open to anyone of any age. As mentioned above, you don't have to sign up for the entire event; you can pick and choose when you want to help out.
"This will be a spectacular event and it's going to showcase Dauphin and the Parkland," concluded Zurba. "We want to make sure everyone feels welcome and that their experience is the best possible."
All you do have to do to sign up is head to Manitoba Summer Games Volunteer.
Details

Contributed by

Darnell Duff
Grady Hobbs just continues to add to what has been an incredible year for him to date.
He was recently named the MJHL's MVP. Now, he's been named the Player of the Month for February.
No one could stop Hobbs in February as he had 15 goals and nine assists.
Austin Lamotte was an Honourable Mention for Rookie of the Month while Cole Dekoninck was an Honourable Mention for Defenceman of the Month.
Dekoninck had three goals and eight assists while Lamotte had eight goals and four assists.
Details

Contributed by

Darnell Duff
It's set to be Clippers vs Badgers and a spot in the Westman High School Hockey League final is on the line.
With their series win against Virden, the Sandy Bay Badgers will play the Dauphin Clippers in the semi-final.
Dauphin will have home ice advantage with game one being on Thursday at Credit Union Place at 7:30.
Details

Contributed by

Darnell Duff
The quest to become Turnbull Cup Champions begins on Friday for the Dauphin Kings when they hit the road to play the Portage Terriers. Dauphin finished seventh in the regular season while Portage was in second.
For Andrew Liwiski, this is his final chance to win a junior hockey title. After the season, he's set to age out of junior hockey. In fact, Andrew will also be in chase of his first playoff win. He's played in six playoff games, four of which were last year with Dauphin and all six resulted in defeats.
However, this year, there is much optimism around the city and dressing room heading into the first-round best of seven series.
"I'm really excited about this, it's a great opportunity to play a really good team and everyone in our dressing room has the belief that we can do this," said Liwiski.
In the regular season, Dauphin beat Portage three times including two out of their past three times. In their last meeting, Dauphin scored a touchdown in a 7-4 win inside of Credit Union Place.
"They may have more experience in their group with last year, but we're really confident about this heading into the series," continued Liwiski. "We have to go out and use our strengths to our advantage."
Dauphin also took a game at Stride Place earlier in the season and they won 2-0 on another occasion on home ice. Andrew had 16 points for Dauphin this season in 42 games, two of which were goals. His biggest goal was a game-winner against the Neepawa Natives. His first goal of the season was earlier, also against Neepawa.
"I'm feeling good, we had a few days off and now we're ready to get back at it here and prepare," continued Liwiski. "We're analyzing Portage and we're getting ready for them."
If you're not heading to Portage for game one or two, you can catch Andrew live in action on Tuesday when the series shifts to Credit Union Place for game three. Game four will also be at Credit Union Place next Friday. Get your tickets for those games here.
Details

Contributed by

Darnell Duff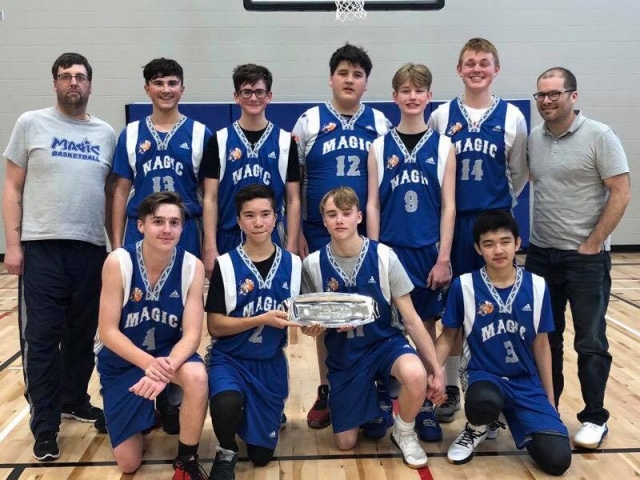 The Mackenzie Middle School Magic grade eight boys basketball team has had a season to remember. That season continued over the weekend with some more great performances in Neepawa.
The team went a perfect 4-0 to win the title. The Magic also outscored their opponents, 191-113.
In the first game, they beat Neepawa, 54-29. They also took down LVS from Portage, 49-27. In their semi-final, they took down the grade 7 Magic team, 53-26.
The Magic met up with Neepawa Black in the finals and they played a solid defensive game and came up clutch offensively when they needed to. In the end, they beat Neepawa, 35-31 to claim the title.
Details

Contributed by

Darnell Duff
Next Tuesday is the day when Dauphin Kings playoff hockey returns to the City of Sunshine. At 7:30 on March 10, the Kings will host the Portage Terriers in game three of their first-round Turnbull Cup playoffs.
Just because the game isn't for another seven days, you can get your tickets today to avoid any disappointment. Here are the box office hours for this week and ticket prices.
Tickets are $12 for adults, $6 for students, $2 for ages 6-12, and 5 & under will remain free, but they must be accompanied by an adult. If you wait until game day to purchase your tickets, each ticket price will increase $2.
If you're a season ticket holder and you want your same seat for the game, you need to get them in advance. All tickets will be available to the public on game days.
Don't forget, Darnell Duff is set to join Doug Hedley for the Playoff Primer Show tomorrow from 9-10.
Details

Contributed by

Darnell Duff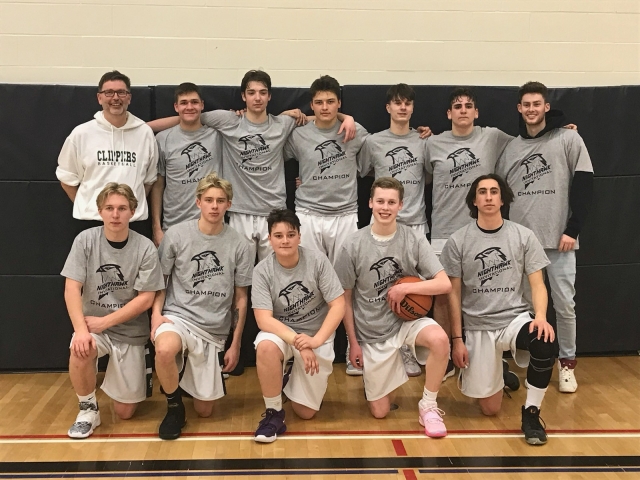 The Dauphin Clippers varsity boys basketball team is heading to the "AAA" Provincial Championships after a couple of dominating performances at the zones in Swan River.
In their first game, they hammered Virden, 101-42. That was followed up with a 108-61 win against Neepawa.
The provincials are March 19-21 at Ste. Anne Collegiate. The Clippers will be the second-ranked team in the province ahead of the event.
Details

Contributed by

Darnell Duff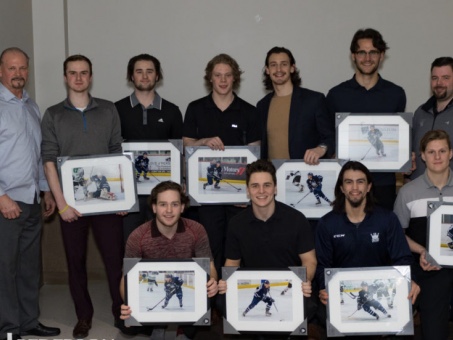 With the regular season he had, it's no surprise that Grady Hobbs was a big winner as the Dauphin Kings held their Awards Night inside of Aspen Lodge.
He started off by winning the Ernie Hlady Memorial Award by being the Most Popular On and Off the ice. Next up, he was awarded the Dauphin Herald Award for his outstanding character and he also won the Most Inspirational Player award which is known as the Johnny Kay Award.
Here is the full list of award winners and photos are below:
MVP (Cam Alf Memorial Award) Grady Hobbs, Baron Thompson, and Nakodan Greyeyes.
Best Defenceman (Joe Dawson Memorial Award) Cole Dekoninck.
Rookie of the Year (Dauphin Minor Hockey Award) Austin Lamotte.
Community Involvement (Dave Seeley Memorial Award) Brendan Arnold.
Best Defensive Player (Barry Trotz Award) Bryson Cecconi and Andrew Liwiski.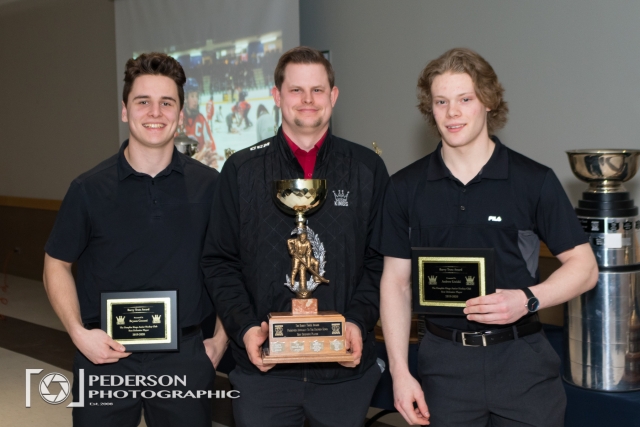 Most Improved Player (Dave Snitka Memorial Award) Gavin Wendorf.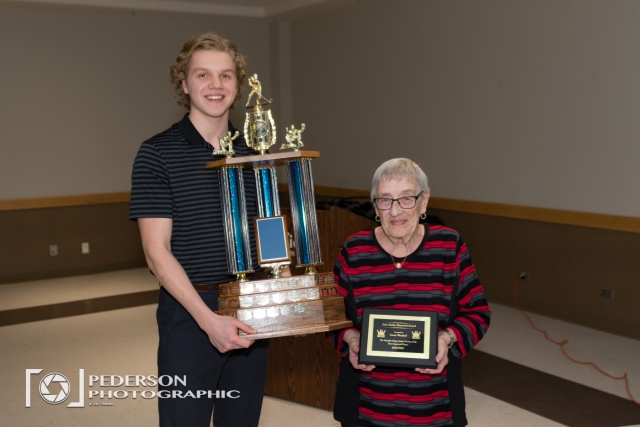 Parkland Source for Sports 3 Stars Award - Grady Hobbs (40 points) Nakodan Greyeyes (35 points) Baron Thompson (32 points).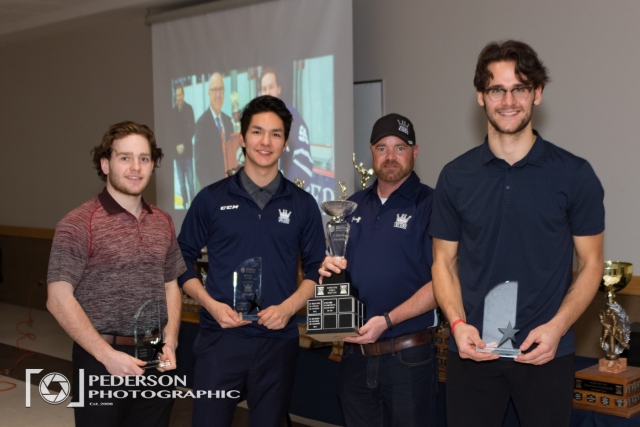 Most Inspirational Player (Johnny Kay Award) Grady Hobbs.
Most Gentlemanly Player (Steve "Boomer" Hawrysh Award) Nakodan Greyeyes.
Outstanding Character (Dauphin Herald Award) Grady Hobbs.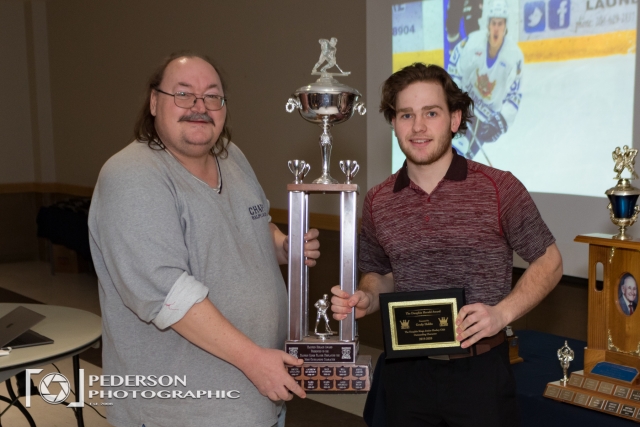 Most Popular on and off the ice (Ernie Hlady Memorial Award) Grady Hobbs.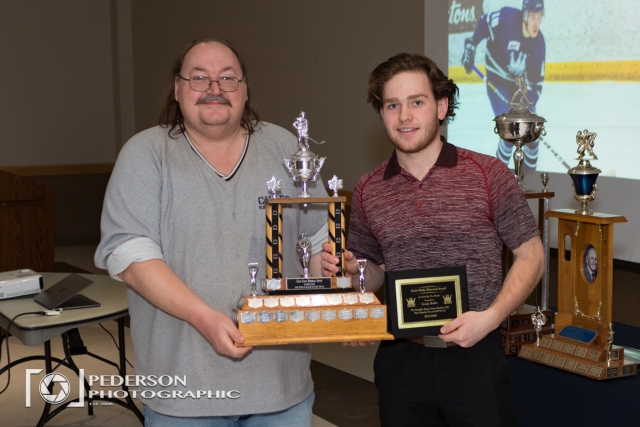 Dauphin also recognized their nine graduating players. Levi Mitchell, Landon Russell, Andrew Liwiski, Brayden Pawluk, Avery Smith, Brendan Arnold, Baron Thompson, Grady Hobbs, and Bryson Cecconi.
The team's focus now shifts to their playoffs which begin on Friday in Portage. Darnell Duff has the broadcast of every game in the series beginning with the pregame show 30 minutes prior to puck drop.
Details

Contributed by

Darnell Duff
The Dauphin Kings' journey to becoming Turnbull Cup Champions will begin this Friday inside of Stride Place.
Their first-round series with the Portage Terriers will be played using the 2-2-1-1-1 format.
Here is the complete first-round schedule:
Friday, March 6 - 7:30 p.m. @ Stride Place.
Sunday, March 8 - 6:30 p.m. @ Stride Place.
Tuesday, March 10 - 7:30 p.m. @ Credit Union Place.
Friday, March 13 - 7:30 p.m. @ Credit Union Place.
Sunday, March 15 - 7:00 p.m. @ Bell MTS Iceplex.
Tuesday, March 17 - 7:30 p.m. @ Credit Union Place.
Wednesday, March 18 - 7:30 p.m. @ Bell MTS Iceplex.
Bold denotes if necessary. Games 5 and 7 are being played at Bell MTS Iceplex because Portage is hosting a big curling event.
When it comes to ticket pricing for games at Credit Union Place, here's everything you need to know. Also to note, if you buy your tickets prior to game day, you'll save $2.
Additionally, here are the box office hours:
*Photo Credit - Dauphin Kings
Details

Contributed by

Darnell Duff
The Manitoba Grey Cup Tour made two different stops in the Parkland over the weekend. On Friday, fans at Credit Union Place were treated as they had the chance to get up close and personal with it alongside Adam Bighill, Buzz, and Boomer.
Hundreds packed the rink for the meet and greet. After the event, Darnell Duff caught up with Bighill to get his thoughts on the entire Tour that went across the province after Winnipeg won their first Grey Cup in 29 years.
"This means everything, especially because it's been so long," said Bighill. "There are generations that have never seen the Grey Cup. There are so many great fans from across the province and everyone is a champion. It was only right that we did this."
After signing autographs and taking pictures with eager fans, Bighill dropped the puck ahead of the Dauphin Kings game against the Winnipeg Blues. Very fittingly, he dropped the puck out of the Grey Cup. Bighill proceeded to stay for the game and clearly he was a good luck charm as Dauphin came back to beat the Blues in overtime.
Bighill also commented on coming to the City of Sunshine where Blue Bombers football is a huge deal.
"It's beautiful out here. I've never seen Riding Mountain National Park, so that was great to see when we got here," continued Bighill. "It seems like a great place to enjoy the outdoors and just be here."
After the event in Dauphin, Bighill, Buzz, Boomer, and the Grey Cup made their way to Swan River. On Saturday, they were at the high school.
"The interaction with the fans is the thing that's most memorable," concluded Bighill. "Everyone is so happy and it truly means a lot."
Details

Contributed by

Darnell Duff