Latest Sports
The Dauphin Kings have now won eight straight games after a thriller on Saturday night.
In a game that needed overtime, Colby Jaquet scored his biggest goal as a King as Dauphin outlasted Portage, 4-3.
In front of a great crowd, Dauphin came from behind twice in the game. They fell down 2-0 and also 3-2 in the contest, before tying it late and ending it early in overtime.
Ethan Williment scored Dauphin's first goal of the game and it was his first goal as a King and first game back after missing several weeks with an upper body injury.
Dube would then go bar down short side to tie the game up before Portage took a 3-2 lead. Dauphin's never quit attitude paid off for the team in the third as Bryant scored just 95 seconds into the third.
Jaquet's overtime goal was his sixth of the season as Dauphin skated off with another win.
King Tips:
Dauphin has now reached 20 wins, the first team in the league to do so
The team now has 10 wins on home ice and 10 on the road
With Bryant's goal, he now has eight goals in his last four games, six of which came at the MJHL Showcase earlier this week
Dauphin is now 4-0 against East Division teams
Details

Contributed by

Darnell Duff
Will Munro lit it up on Saturday afternoon as the Parkland Rangers earned another two points.
The Swan River native scored three times as Parkland downed Interlake, 6-3. It was a comeback effort for the U18 club as they trailed 3-2.
Munro also had one assist for a four-point afternoon. Madden Murray scored into an empty net while Hayden Seib and Carter Zalischuk also scored for Parkland who remained red-hot with the win.
Parkland has now earned points in six straight games, with five of the games being wins. They're now 11-8-3 and they have temporarily jumped ahead of the Thrashers for fifth place in the league.
The team ends their weekend on Sunday afternoon when they welcome the Norman Northstars to town.
Details

Contributed by

Darnell Duff
Carter Zalischuk lit the lamp three times on Friday night as the U18 Rangers erupted offensively.
Kicking off a three-game weekend, Parkland scored nine times in a 9-5 victory against the Interlake Lightning.
Jayce Legaarden scored another two goals while Will Munro also scored twice.
Madden Murray and Kyan Grouette each scored a single for Parkland who are now 10-8-3 this season.
They'll look for a two-game sweep over the Lightning on Saturday afternoon.
Details

Contributed by

Darnell Duff
The Dauphin Kings season-long winning streak has been extended to seven games.
Opening a home-and-home with Portage on Friday night, Dauphin once again lit up the scoreboard in a 5-2 win.
It took Dauphin just 1:24 to find the back of the net when Parker Malchuk took a shot that bounced off a stick, went up into the air and past Jayden Catellier.
Malchuk would score one other goal while Brayden Dube, Cordell Coleman and Kaden Bryant all scored once in the win.
Dauphin also scored once on the power play, going 1-for-5 while they were a perfect 1-for-1 on the penalty kill.
Keaton Woolsey won his fourth straight game in net, making 19 saves to move to 4-1 on the season.
King Tips:
Dauphin has now won 19 of their last 22 games and have 38 points on the season, the most in the league
Kaden Bryant remained red-hot as he now has seven goals in his last three games
Dauphin has now allowed two or fewer goals in 16 games this year, they're 16-0 when doing so
Dauphin is now 10-2 on the road this season
Dauphin now leads the season series, 1-0
Details

Contributed by

Darnell Duff
It's been a long time coming but club volleyball is coming back to Dauphin as the Parkland Vipers season is getting all set to fire up.
First up, a Parkland volleyball camp will take place from December 4-5 at the DRCSS. The camp is for girls in grades six to 11 and the 9-11 age group has three spots available. The camp will take place each day from 1 to 3 p.m. The younger age group is all full at this time.
If you're interested to take part, call Ted at 648-4433. You will need to sign a declaration of compliance that shows you don't have and haven't been in contact with someone that has COVID-19. It's $60 to take part and it's payable on the first day of the camp.
Tryouts for the Vipers will then be held for the upcoming season on Sunday, December 12 at Parkland Crossing.
1-2:30 p.m. - 13U
4-5:30 p.m. - 14U
2:30-4:00 p.m. - 16U
5:30-7 p.m. - 15U
You must pre-register if you wish to take part, you can call Ted to show your interest. Each session is only open to 15 players so if more are interested, an alternate session will be set up. After a long pause with no volleyball, Ted said it's a great time.
"It was nice to see the sport being played at the school level," said Rea. "Then at the club level, you have more elite players so the volleyball is always a step up. It's pretty awesome to see these local players elevate their game and represent the region."
Details

Contributed by

Darnell Duff
The Dauphin Kings are rolling on all cylinders and they will look to keep it going on Friday when they make another trip to Portage.
This time, they will play the team that calls Stride Place their home, the Portage Terriers for the first time this season. Dauphin enters the contest in first place in the league and they have a six-point advantage on Waywayseecappo for first in the West Division.
The Terriers; meanwhile, are near the bottom of the East Division. At 7-12-1-1, Portage is in fifth in the East; however, they are only four points behind the Selkirk Steelers for the fourth and final playoff spot in the division. They're also coming off a showcase sweep so they are playing some good hockey entering the contest.
Dauphin has won six straight entering the game and Doug Hedley is expecting a tough test.
"We're going to have to bring it and our focus is going to have to be strong," said Hedley. "We know Portage is playing well and they can beat anyone in the league."
Portage is 7-2 in the last five years against Dauphin at Stride Place. After Friday's contest, the two teams will return to Credit Union Place on Saturday for the back end of a home-and-home.
Darnell Duff will have the Parkland Source for Sports pregame show at 7:15.
By the numbers:
Dauphin

GF - 88
GA - 44
PP% - 22 for 82 - 26.8
PK% - 85-for-96 - 88.5
Road record: 9-2
=====
Portage
GF - 55
GA - 77
PP% - 14-for-105 - 13.3
PK% - 84-for-100 - 84
Road record: 4-4-1-1
Details

Contributed by

Darnell Duff
The Dauphin Clippers hockey is team on a roll as another Westman High School Hockey League season is well underway. The team has eight wins in their 10 games, with one loss coming in regulation and the other in a shootout.
So overall, Dauphin earned 17 of a possible 20 points. Dauphin's 52 goals are the fourth-most in the league; however, the team has been most impressive in the defensive end, giving up just 18 goals. Only Sandy Bay has given up fewer goals but they've also played five fewer games.
"We're pretty happy with how things have gone so far. It was a bit of an unknown because some guys haven't played for a long time," said Alf. "We're happy but we're never really satisfied, we know there is always room for improvement."
Another bright spot this year has been the team's depth. There are a few main contributors including Logan Chapman, Cole Delamare and Liam Chartrand, to name just a few. But it seems that everyone from the top of the lineup to the bottom is finding a way to put the puck in the back of the net and play solid defensively. That's why this year's Clippers are certainly a team that everyone is gunning for.
"For years now, it's been all about the team. We try to roll four lines and get everyone on the ice as much as possible," ended Alf. "Everyone seems to be stepping up in different ways and that's allowing us to enjoy some success."
Dauphin wraps up November on Sunday in Boissevain. And it'll be a very busy December for the team as they'll play eight times in the month before the Christmas break.
Details

Contributed by

Darnell Duff
The Dauphin Kings dominated in the final two periods on Wednesday night and as a result, the team has created a little bit more space atop the MJHL standings.
Backed by three more goals from Kaden Bryant, Dauphin completed a showcase sweep with a decisive 5-2 win against the Winnipeg Blues.
It was Winnipeg who opened the scoring as Mathieu Moreira and Brayden Foreman scored first period goals as the Blues led 2-0 after 20 minutes; however, that was it offensively for them.
Dauphin was nearly perfect defensively in the final two periods and when they weren't, Carson Cherepak made some big saves to earn his 15th win of the season.
Kaden Bryant scored twice in the second period to tie it and less than eight minutes into the third, Klim Georgiev scored his second goal as a King and it stood up as the game-winner. Nick Braun also scored to make it 4-2 and with less than a minute left, Bryant potted a puck into the empty net to record his second straight hat-trick.
Dauphin is now 18-4 this season and currently have a six-point lead on Waywayseecappo in the MJHL's West Division. They are also three points ahead of anyone for the top spot in the East Division.
Next up for Dauphin is a home-and-home starting this weekend against the Portage Terriers. You can hear Friday's game with Darnell Duff on 730CKDM at 7:15 or you can also watch it on HockeyTV.
King Tips:
Dauphin has given up two or fewer goals 15 times this season, they're 15-0 when doing so
Dauphin scored 11 goals in the showcase and have now scored 88 this season
The team's 44 against is the fewest of any team with the Blues 56 being the second fewest
Dauphin has now won six straight games and they're 2-0 against East Division teams this season
Details

Contributed by

Darnell Duff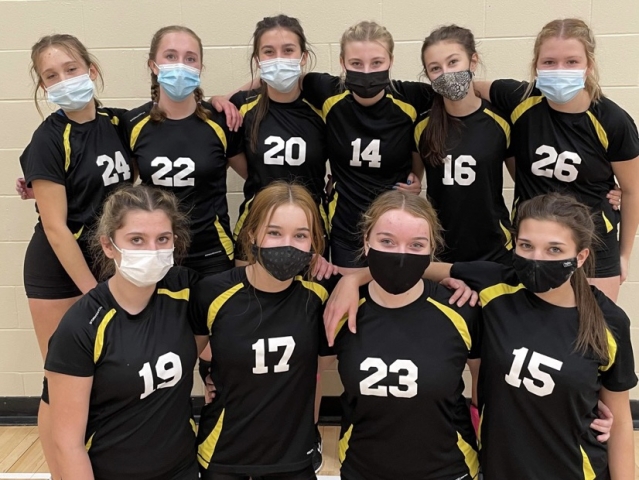 The Gilbert Plains Trojans junior varsity girls volleyball team is getting ready for their final tournament of the season and it turns out to be their biggest as well.
After winning the regionals, the team will compete in the provincials this weekend in Killarney. The Trojans will be joined in a pool by the host Raiders, Virden Bears and the Prairie Mountain Predators.
Megan Jubenvill is the team's head coach and she says the ladies have been working hard to prepare for this.
"The girls have been improving so much, so I'm really excited and confident about this weekend," said Jubenvill.
At the regionals earlier this month, the team beat Ste. Rose, Carberry and Elton.
"I'm so proud of these girls, I know they were going to be strong when I first started coaching," said Jubenvill. "I know they're excited about this weekend and they will give it their all."
Also coaching this year's team is Jody Smelski-Jubenvill.
Details

Contributed by

Darnell Duff
The Dauphin Kings are still rolling. Opening their showcase against the Steinbach Pistons, Dauphin dominated the final two periods to earn a 6-2 win.
The team has now won five straight games and are 17-4 this season, which has them atop the league.
Kaden Bryant was fantastic, scoring three goals while Nick Braun had two.
Brayden Dube found the back of the net once while Carson Cherepak made 17 saves.
Dauphin scored three goals in the final 40 minutes, Steinbach had zero.
King Tips:
Dauphin is now 14-0 when allowing two or fewer goals
Bryant also had one assist while Dube had two
Dauphin will go for their sixth straight win when they hit the ice on Wednesday against the Blues
Details

Contributed by

Darnell Duff
The top team in the West Division is set to battle a team that's tied for first place in the East Division.
For the first time this season, the Kings will challenge the Steinbach Pistons in neutral territory as the two teams square off at Stride Place in Portage as a part of the MJHL Showcase.
It's day two of the showcase as there was four games on Monday. Dauphin and Steinbach will hit the ice at 4:30 and a great battle is to be expected.
The two teams have combined for 31 wins this year and just eight regulation losses. Dauphin comes in after sweeping Swan Valley in a four-game set while the Pistons lost three of four against the Blues over the past two weekends.
You can listen to the game on 730CKDM with Darnell Duff or watch it on HockeyTV.
By the numbers:
Dauphin
GF - 77
GA - 40
PP% - 27.8
PK% - 88.9
Leaders - Colby Jaquet 5g, 22a
Parker Malchuk 4g, 14a
Kaden Bryant - 9g, 8a
Carson Cherepak 13-3, .935 save percentage, 1.99 goals-against average
Steinbach
GF - 88
GA - 52
PP% - 20
PK% - 88
Leaders - Dawson Milliken 12g, 14a
Quinton Pepper 15g, 9a
Davis Fry 6g, 18a
Simon Harkness 10-3-1, .906 save percentage, 2.70 goals-against average.
Details

Contributed by

Darnell Duff