Latest Sports
The hockey season is right around the corner and the Dauphin Kings are getting set to host their development camps.
Instruction at this year's camps will also feature some former Kings including Owen Wareham, Kaden Bryant, Colby Jaquet, and Jayden Jubenvill. Wareham has committed to play at the University of Manitoba while Bryant is currently playing with the Ottawa Gee-Gees. Jaquet is at the University of Saskatchewan and Jubenvill is set to play college hockey with the University of North Dakota.
Current Kings Nolan Wickham, Rylan Gibbs, Carter Zalischuk, Marco Bodnarski, and Cole Sheffield will also be instructors. The camp runs from August 27 to 31 at Credit Union Place and there are four age groups, U9, U11, U13, and U15.
U9, U11, and U13 are $400 for the week while it's $175 for anyone wanting to take part in the U15 camp. The reason for the price difference is the U15 group runs from 5:30 to 6:30 daily while the first three age groups have longer days.
U9 - 8:45 to 3:00 p.m. (born in 2015 & 2016)
U11 - 10:00 to 4:00 p.m. (born in 2013 & 2014)
U13 - 11:15 to 5:00 p.m. (born in 2011 & 2012)
To register, head to Dauphin Kings Camps.
Details

Contributed by

Darnell Duff
Just more than a week ago, Crystal Zamzow completed the unthinkable.
Playing in the Elmhurst Invitational at the Elmhurst Golf & Country Club, the Swan River golfer found herself eight strokes back of Addison Kartusch early on day two of the two-day event. Crystal then caught fire as she made back-to-back birdies on the front nine which was followed by three straight birdies early on her back nine. Then, Crystal put a stamp on her victory as she holed out from the bunker on the final hole of the event to avoid a playoff with Kartusch. It truly was a comeback for the ages.
Her victory at Elmhurst set Crystal up very nicely heading into Golf Manitoba's junior provincial championships that took place at the Teulon Golf & Country Club. Admittedly, Zamzow got off to a slow start as she made three bogies in a four-hole stretch to end her round and she failed to make a birdie as Crystal was five strokes back of Jeri Lafleche after 18 holes.
Heading into day two, the Swan River native knew she had plenty of time to find her game and that is exactly what Manitoba's newest junior champion did.
Four birdies and four bogies on day two say Zamzow fire a 72 and Crystal carried that stellar play into the final round and in the end, she cruised to victory. After a three-birdie, three-bogey opening nine on Wednesday, Zamzow started the back nine with a bogey on 10.
She then made four straight pars before catching fire as Crystal birdied the 15th, 17th, and 18th holes to claim what ended up being a seven-stroke victory over Lafleche, who she trailed by five strokes after 18 holes. Zamzow was the only golfer to shoot under par at the event and she now has two under-par rounds in tournament play over the last 10 days.
"It feels great to get back into the winner's circle," said Zamzow. "I finished in second place the past two years, so it was great to win again. It's always special."
It has been three years since Crystal last won Manitoba's top junior prize as she also won the event back in 2020, finishing that event at +30, which was good enough for a two-stroke victory over Mikyla Albert. In the 2021 junior championship,
Zamzow finished at +22 to finish in second and that was the exact same case the following year in 2022 when she once again finished at +22 to finish in second. This year, Zamzow finished +5 overall which is a 25-stroke improvement from three years ago and a 17-stroke improvement from just 12 months ago.
Zamzow's dramatic improvement is thanks to her dedication to the game and never quit attitude. She spent five weeks in Nashville back in the spring and Crystal is on the golf course every single day. It isn't always a perfect day on the course but for Zamzow, a day on the course is a chance to improve and that improvement has now seen her win two tournaments in two weeks and earn a berth to the national championships in the process.
"I'm really proud of how I hung in there, especially after being down after the first day," said Zamzow. "I didn't get nervous on the back nine, I didn't falter under the pressure which was nice."
Crystal will now remain in Manitoba for another key event on Golf Manitoba's schedule as the Pine Ridge Golf Club hosts the Diamond Athletic women's amateur championship. The three-day event will see Crystal play her first round on July 10 at 11:06 a.m. alongside Cala Korman and Veronica van der Meer.
Shortly after that, Zamzow is heading east for the Canadian junior girls' championship at the Hampton Golf Course in New Brunswick. Crystal will be joined by Jeri Lafleche and Cala Korman as the trio make up Team Manitoba.
"I'm feeling even more confident now than I was before this event, knowing I can continue to play well across more than one tournament," said Zamzow. "My goal is to make the cut in New Brunswick so we will see how things go."
Fun Fact:
On Sunday ahead of the junior provincials, Crystal played a practice round with Jackson Delaurier and Boston Karlson, both of Dauphin. Karlson posted his tournament-best of 78 on Wednesday to finish in 24th while Delaurier was extremely consistent with three rounds in the 70s as he finished in 11th place.
It was an all-Parkland trio and all three have long careers ahead of them on the links.
"I played with them to get a different view when it comes to them playing the course," said Zamzow. "They're always a lot of fun, it was a really fun experience."
Details

Contributed by

Darnell Duff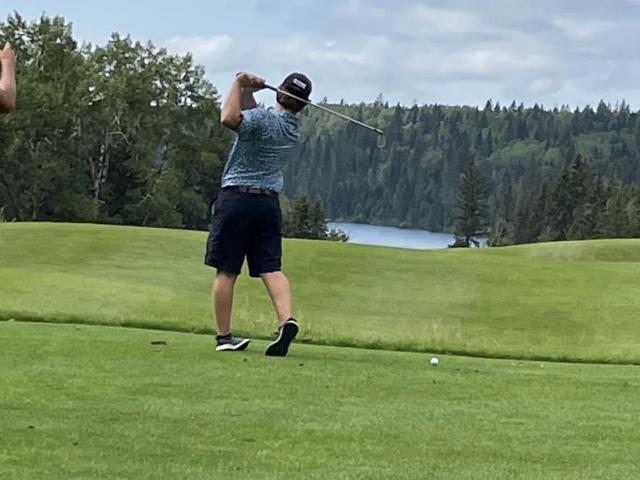 Boston Karlson knows how much hard work it takes to become an elite golfer.
He also understands it's a process and thanks to his dedication to the game, the Dauphin junior has finished in the top 25 in Manitoba. Competing in Golf Manitoba's Junior Championships in Teulon, Boston finished in 24thplace. After a pair of rounds in the 80s to begin the event, Boston had three birdies in a third-round 78, his best of the tournament.
Meanwhile, it was another solid tournament for Jackson Delaurier. Also possessing an incredible work ethic, Delaurier was extremely steady throughout the three days. He fired a 77 in the first round and followed that up with back-to-back 78s. In the end, Delaurier finished in a tie for 11th place. Teerawut Boonseeor of Thailand ran away with the competition as he finished 1-under-par, a total that saw him win the tournament by eight strokes.
Hayden Delaloye of Neepawa shot a tournament-best 75 for himself on Wednesday as he also finished in a tie for 11th.
On the women's side, Manitoba has a new provincial champion. Crystal Zamzow ended up coasting to victory as she won her second tournament in a matter of weeks and the biggest of her young career on the links to date. Zamzow is set to join 730CKDM Sports on Thursday morning.
Details

Contributed by

Darnell Duff
It's being called the "Scramble of the Summer" and registration for it is now open.
The Battle for the Belts two-person scramble put on by Parkland Source for Sports goes down on Sunday, July 23 at the Gilbert Plains Country Club, Parkland's premier golf destination, and one of the finest across the province.
"There has already been a ton of chatter and we're in that range of 40 teams already registered," said Danny Scott, organizer. "We're looking forward to hosting this event once again, it's always a great day."
When it comes to making a hole-in-one on the course, it's a shot that no one ever forgets especially, if you're the one that sinks it. And if you do just that on hole #4 or #9 during the event, you could walk away with a big prize.
Love & Persson Group has stepped up to sponsor hole-in-one prizes. The prize for draining your first shot on number 9 is $10,000. The prize for making an ace on 4 is $1000. There are also two prizes per hole so if someone makes an ace before you, you'll still have a chance at the big prize.
Hole 9 will play 125 yards while 4 will measure 150 yards.
Tournament organizers want to remind all interested players that this event is for everyone. Whether you're a scratch golfer or you play three times a year, you can play and have a great time while doing so.
"This is 100% a fun tournament with a chance to win some prizes," ended Scott. "We have some junior teams, some women's teams, grandparents playing with their grandchildren, and everything in between. It's going to be a lot of fun."
You can sign up at the golf course or by calling Chris at 648-7989 or Danny at 572-7552.
Details

Contributed by

Darnell Duff
It was Parkland strong over the weekend in Edmonton as the Alberta Rugby Championships took place.
Team Manitoba sent a U18 girls team and it featured nine girls from Dauphin, six of which played in the event. The group includes Tanya Devos, Allee Hrechka, Sage Marohn, Emma Fox, Raylyn Koshowski, Megan Thompson, Chloe Fletcher, and Brooke Miner.
Shawn Sarkonak is the team's head coach and he brings it back to what is happening right here in the Parkland.
"It's a testament to the grassroots program and what Parkland Youth Rugby has created over the last eight-plus years," said Sarkonak. "Rugby in the Parkland has come a long ways over the years and there are many great people that have been a big reason why."
The roster also included Mai Maguet of Ste. Rose, Elijah Chartrand of Swan River, Bree Walker of Ste. Rose, and Anika Sakal of Swan River. After the team dropped their first two games on day one, they flipped the script.
The Manitoba girls' came out and played two great games, winning both and their second win gave them the right to call themselves bronze medalists. The team finished third out of six teams.
"I'm pretty proud for a team that hasn't really played together, to come together within four games and have a great showing," ended Sarkonak. "It was great to watch them grow every single game and winning those two games was great for the program."
The program will now focus on preparing for the Western Canadian Rugby Championships which are set to take place during the August Long Weekend in Calgary. Ahead of that, Manitoba will play the U18 team from Saskatchewan in a pair of games, one will be played in Dauphin on Saturday, July 22. They will also hold a few team sessions in order to finalize their final roster for the event.
Details

Contributed by

Darnell Duff
Fresh off their first loss of the season, the Winnipeg Blue Bombers were looking for a response and respond they did.
After a lengthy rain delay, the Bombers shut things down defensively and did enough on the offensive side of the ball in a 17-3 win over Montreal.
Zach Collaros threw for 193 yards while Brady Oliveira ran for 119 yards in the win.
Dalton Schoen had 93 yards thru the air.
Details

Contributed by

Darnell Duff
His biggest goal as a King was scored on April 1, 2023.
That's when Deepkaran Hans lit the twine just 29 seconds into double-overtime as Dauphin got back in their first-round playoff series with the Swan Valley Stampeders. It was Hans' third goal of the series. Deepkaran's junior career would then come to a close three days later when Dauphin's season came to a close after a 4-1 defeat in front of 1229 fans.
While his junior chapter has closed, Hans' book of hockey has not as the former King is heading south of the border. Hans has announced his committment to join Marian University as his NCAA Division III hockey days will begin in the fall.
A member of the Northern Collegiate Hockey Association, Marian is one of the strongest programs in their conference.
Hans split two seasons in the MJHL between Swan Valley (2021-22) and Dauphin (2022-23) where he scored 15 goals and 26 assists. In six playoff games with the Kings last season, Hans added three goals and three assists.
"I'm extremely excited to get things going with the Sabres coming up here in the near future," offered Hans. "It has always been my goal to advance to the next level while continuing my studies. Hockey is my passion and it should be a great ride."
Hans also will never forget his time in Dauphin.
"Playing with the Kings was incredible, such a great organization from top to bottom," ended Hans.
Details

Contributed by

Darnell Duff
For the first time since 2018, a player in the Manitoba Junior Hockey League has been drafted to the National Hockey League.
With their 177th overall pick, the Tampa Bay Lightning selected Warren Clark of the Steinbach Pistons. It was Steinbach's second drafted player since 2018 after Matthew Thiessen was drafted by Vancouver.
The 2004-born defender was a key cog on the Pistons' blueline this past year where he scored six goals and 32 assists in 55 games as a rookie. In the playoffs, Clark recorded one goal and seven assists in 18 games on his way to helping the Pistons capture their 3rd Turnbull Trophy in franchise history.
During November of last season, Clark made his commitment to play NCAA Division 1 hockey at St. Cloud State for the 2023-24 season where he will begin his freshman season on the blueline for the Huskies.
Details

Contributed by

Darnell Duff
A berth to the Canadian Junior Girls' Golf Championship was on the line.
For Crystal Zamzow of Swan River, she knew plenty of work was ahead as she entered the second day of the Elmhurst Invitational five strokes behind Addison Kartusch. Zamzow was in full-on chase mode after an opening round that saw her drain three birdies in a row on holes four, five, and six.
That five-stroke deficit quickly turned into an eight-stroke deficit just more than 40 minutes after the start of Sunday's final round. Six holes into the final round, Crystal was still eight strokes back of Addison, who appeared to be well on her way to a championship and an automatic berth to the national championships.
At this point, Crystal wasn't worried about the leaderboard; she was more focused on playing her game. That mindset allowed the Swan River native to go on a run that will likely never be forgotten on the Manitoba junior circuit.
After back-to-back birdies on the final two holes on the front nine, Crystal trimmed the deficit to just four. Still facing a daunting task, Zamzow made three straight birdies on holes 11, 12, and 13. Kartusch made birdie on 13 and all of a sudden, Zamzow was just two strokes back and after Addison made a double bogey on the 16th hole, Crystal had eliminated the once-upon-a-time eight-stroke deficit that she faced just a few hours prior.
Then on 18, Zamzow found the bunker with her approach shot and she was in a tricky spot with not much green to work with. What followed was one of Crystal's best-ever bunker shots and considering the spot she was in, it was one of the best ones you may ever see.
"Considering the spot I was in, I was just hoping to get it on the green and go from there," said Zamzow. "It felt great to see it fall in the cup for the win."
Thanks to that magical shot from the greenside bunker on one of Manitoba's top golf courses, Zamzow is now New Brunswick bound as she will tee it up in the Canadian Junior Girls Championship from July 24 to 27.
It's awesome to have a solidifed spot for that event," said Zamzow. "Making the trip all the way to New Brunswick will be an incredible experience and I am certainly looking forward to it."
Crystal is now off to the Teulon Golf & Country Club from July 3 to 5 to play in Golf Manitoba's Junior Girls Championship, an event that she will enter as one of the favourites.
"It was a great confidence boost at Elmhurst to know that I can win and compete with everyone else," ended Zamzow. "I just have to take it shot by shot and we will see what happens."
Her 69 on day two of the Elmhurst Invitational also marked the first time that Zamzow has shot under par in a round.
Details

Contributed by

Darnell Duff
The U13 Ste Rose Stingers emerged victorious, showcasing skill and teamwork to claim the championship title in the competitive U13 Fastpitch league tournament which was held on Sunday, June 25.
The journey to victory began weeks ago, with teams from across the Parkland and area starting the season and battling each other in home and home games. From the early stages, it was evident that the U13 Ste. Rose Stingers possessed an extraordinary blend of talent, strategy, and dedication, setting them apart from the competition.
In the tournament's early stages, the Stingers faced tough competition, each game testing their abilities. However, the team executed on defense, showcased their pitching prowess, and unleashed a powerful offense. Winning their first game and losing their second game put them on the long side of the bracket draw.
As the tournament progressed, it became clear that the Stingers were on a relentless pursuit of victory. The bond shared by these exceptional athletes was deep, as their collective determination propelled them closer to their ultimate goal.
In a finale for the ages, that had fans on the edge of their seats, the Stingers faced off against their fiercest rivals, NeepawaNitros. The games started with both teams showcasing their skills on offence and defense. But in the end, it was the Stingers that emerged triumphant. With the game tied going into the last inning the Stingers offence managed one run in the top of 5 and in the bottom of 5 the Stingers struck out three batters to earn the win. The final score stood as evidence to the great game that the players and fans had to witness, with the Stingers securing a victory against Neepawa, 10-9.
The girls played awesome all day. We made great defensive plays when needed and we hit the ball extremely well," said Steven Hopfner, coach. "Our pitchers have been pitching well all season and continued to showcase their skills in the tournament. They should feel really happy with the way they pitched and rose to the occasion. It was a full roster worth of great players, one thru 17 on the roster, top to bottom. Everyone contributed."
This victory in the league tournament not only solidifies the Ste Rose Stingers reputation as a force to be reckoned with in the Parkland Area but also stands as evidence to their unwavering commitment, countless hours of practice, and firm belief in their abilities.
The team is off to the provincial championships early next month in Winnipeg.
Details

Contributed by

Darnell Duff
The Winnipeg Blue Bombers have announced that one of the greatest kickers in Canadian Football League history is heading to their Hall of Fame.
Justin Medlock was the team's lone 2023 selection and he will be honoured later this week at a Gala and on Saturday 21 when the Blue Bombers battle the Edmonton Elks, Medlock will be honoured on the field.
Justin played with Winnipeg from 2016 to 2019 and nine seasons in total in the league. His 1,535 points rank as the 15th most in CFL history. Medlock also scored 802 points as a Bomber. His 85.5 field goal percentage was the highest in Blue Bombers history.
He was named the league's Most Outstanding Special Teams Player in 2016 after he set a CFL record with 60 field goals on 68 attempts. He was also named the Blue Bombers Most Outstanding Special Teams player in 2016, 2017 and 2018.
Medlock also kicked a 58-yard field goal which is the longest in franchise history.
Details

Contributed by

Darnell Duff