Latest Sports
Cole DeKoninck scored in a second straight game, but it wasn't enough for the Dauphin Kings tonight.
They fell behind by three goals and dropped a 3-1 game against OCN.
Dauphin did record 50 shots, but OCN's goalie was fantastic.
Matthias Smith, meanwhile, made 37 saves in the defeat, Dauphin's second in as many nights.
The Kings play in Virden on Sunday and Darnell Duff kicks things off with the pregame show at 6:45.
Details

Contributed by

Darnell Duff
Every week, the Manitoba High School Athletic Association releases its Manitoba Hydro Weekly High School Power Rankings. When it comes to hockey, the AAA/AAAA rankings are primarily dominated by teams from the city.
River East is the top-ranked team and seven other teams are within the City of Winnipeg. Two teams are from just outside (Selkirk and Steinbach) and then one other team is sitting in the Top-10.
It's a team that is 12-1-1-1 in the Westman High School Hockey League and they lead the North Division. It's a team that calls Credit Union Place their home and they have gone 8-0 on home ice this season. The 10th ranked team in the province is none other than the Dauphin Clippers.
Dauphin was also previously ranked as the ninth-best team in the province. Besides going 12-1-1-1 in league play, Dauphin also won a bronze medal at the highly competitive Vic Inn Tournament last month. They also played a very close game with the Garden City Fighting Gophers who are ranked as the second-best team in the province.
"Yeah, that's a pretty big thing for us. It shows that the hard work is paying off for us," said Rick Freese, Head Coach. "Everything we're doing here is for something. Being ranked so high really is an honour for us."
Although it's very rare that rural teams get ranked in the Top-10, it's a spot that Dauphin has become used to over the past couple of seasons. As mentioned above, Dauphin was ranked ninth earlier this season. They also cracked the Top-8 last year en route to playing in the league final.
This year's team has shown signs of brilliance, so such an accolade isn't one that has Rick surprised.
"I can say with this group that we have here, it doesn't come as a surprise," added Freese. "We have a really skilled group here and we're pushing to be better every day. We can be happy, but we can't be satisfied with what's going on yet. If we keep going with that, we can accomplish something here."
Dauphin is back in regular season action on Monday when they play the McCreary Mountaineers in Ste. Rose at 7:00 p.m. Back on December 21, Dauphin dispatched of the Mountaineers, 8-2.
Next up for the Clippers, however, is the Piper Classic in Winnipeg this weekend. That tournament features most of the best teams in Manitoba.
"We've had a couple of practices already. It was important to get right back into the swing of things after Christmas," concluded Freese. "We have to realize that nothing comes easy in this league. The top teams really separate themselves in the second half of the season and that's our goal here."
Dauphin's first home game is next Thursday at 7:30 at Credit Union Place against Roblin.
Details

Contributed by

Darnell Duff
The Dauphin Kings are right back at it tonight as they head on the road to play the OCN Blizzard.
In the last meeting, OCN took down the Kings prior to Christmas. Coming into the game, OCN is eight points back of a playoff spot while the Kings can move within a point of sixth with a win.
Dauphin continues to be led by Grady Hobbs who has 55 points while Nakodan Greyeyes is just four back at 51.
Ryan Butler, meanwhile, leads the OCN attack with 31 points in 27 games. Rookie Boston Bird has 27 points.
After tonight, the Kings won't play until Sunday and I'll have the call of the game beginning with the pregame show at 6:45.
Details

Contributed by

Darnell Duff
The Ziprick brothers from Russell are excellent at many things and one of the things they excel at is sports. Perhaps most notably, however, is their success out on the ice. Two seasons ago, Keaton Ziprick helped the Parkland Bantam Rangers win a bronze medal at the provincials.
He's now playing with the U18 Rangers and they have secured a playoff spot thanks to their hot play, which includes Keaton being tremendous between the pipes.
Just because the Bantam team no longer has the services of Keaton, they now have Aiden Ziprick on the team and they're sure thankful that they do. Ziprick is this year's captain on a team that is first place in the West Division.
"Things are going really good right now. We're starting to play as a team more and our goal is to win every game," said Ziprick. "We're a confident group, but we know we have a lot of work to do moving forward."
Thanks to his success and leadership, Aiden will make the trip from Russell to Winnipeg this weekend for a big game. Aiden has been named to Team Army for the Bantam AAA all-star game alongside a few of his teammates.
It's the first time that Aiden will play in a AAA all-star game.
"It's an amazing feeling to be chosen. To also get the chance to play with my teammates, that's a special feeling," he continued. "I'm also looking forward to getting to know other guys and playing with them, it will be a fun time."
Brayden Dube, Carter Zalischuk, Kyan Grouette, Will Munro, and Tom White have also received the nod to represent the Parkland and Team Army.
"Making the team came as a little bit of a surprise for me," he continued. "I know I've been having a really good season, but you never expect to make a team that has the best players in the province on it. It's pretty special."
Aiden recorded five points last season in the regular season and that was through 36 games. Through just 23 this season, the Russell native has easily beat that total as he's racked up 30 points (8G) from the back end. Ziprick is third in team scoring and he's first in defenceman scoring.
"I'm just getting bigger and stronger, I wasn't that big last year, so I'm working out a lot now and I've put on weight and a lot of muscle," he added. "I feel that's a big reason why I have been able to have success offensively."
Stay tuned to hear from Brayden, Will, and Tom leading up to Saturday.
Details

Contributed by

Darnell Duff
The Dauphin Kings opened the scoring tonight, but that was about it.
On a night where the team recorded 37 shots, they dropped a 6-2 game against the Virden Oil Capitals.
Carter Sawchuk scored once while Cole Dekoninck also scored in the defeat.
Dauphin is back at it on Wednesday when they travel up north to play OCN.
Darnell Duff will have the call of the game beginning at 6:45.
Details

Contributed by

Darnell Duff
The best Bantam AAA hockey players will embark on Bell MTS Iceplex this Saturday for an all-star game. The game will feature five Parkland Rangers, one of which is Kyan Grouette from Dauphin.
"It's going to be a great experience and I'm honoured to represent the Parkland and the West region," said Grouette. "It should be a great challenge and I'm looking forward to it."
Joining Grouette will be another Dauphinite, one who is certainly having a career-year so far. Carter Zalischuk will be one of the forwards that will be on Team Army when the puck drops and the lights shine bright.
"This means a lot to me. It's a fantastic opportunity to not only represent the Parkland but the rural area," said Zalischuk. "I'm really excited and I know it's going to be a ton of fun playing with a lot of top-notch players."
"My goal was to make the all-star game and I'm really glad that I made it," he added.
Besides joining Grouette, Carter will also play alongside Aiden Ziprick, Will Munro, and Brayden Dube, all of which Darnell Duff will be chatting with throughout the week. Tom White will also be the head coach of the team.
"It's awesome that we have so many Parkland players that made the team," continued Zalischuk. "We have a solid group going and we're all looking to show what we have."
Carter joined the AAA ranks for the first time last year and he had 17 points in 36 games. Knowing he had much more to give, Carter gave it his all during the off-season and he's reaping the benefits of that.
Zalischuk is one of the Rangers top scorers this season as he has 29 points (15G) in just 22 games. That means he already has 12 more points than last year and the season is far from over.
"Scoring has come easier this year, I'm more experienced and I'm working harder," he added. "I'm giving it all I can. My offensive game still needs work for sure, but it's definitely better this year."

"I'm also playing with a bunch of great guys on Parkland, so that definitely helps me have success," Zalischuk concluded.
Details

Contributed by

Darnell Duff
Sunday brought a solid start to 2020 for the Dauphin Kings. That's when they beat Waywayseecappo and now they'll look to keep it going tonight.

For the first time in 2020, the team will play a home game as the Virden Oil Capitals are in town.
If Dauphin can continue with their special teams that were front and centre on Sunday, they will be tough to beat.
Dauphin went 4-for-5 on the power play while they went 5-for-5 on the penalty kill.
Virden enters tonight on fire as they've won four straight games and they've scored 21 goals in the process.
However, Dauphin can still jump ahead of Virden in the standings with a win in regulation.
It's also TV Tuesday and game time is set for 7:30.
Details

Contributed by

Darnell Duff
Tryp Klassen played the role of hero for the McCreary Atom Mustangs and they're champions because of it.
Klassen scored the game-winning goal in the final as the Mustangs had a wonderful weekend capped off by winning the Tournament of Champions in Neepawa. The score in the final against Killarney was 6-5.
Prior to beating Killarney in the final, they also beat Killarney one other time and they took care of Russell and Waywayseecappo.
The team has now qualified for the Provincial Tournament of Championships from February 13-16 in Brandon.
Details

Contributed by

Darnell Duff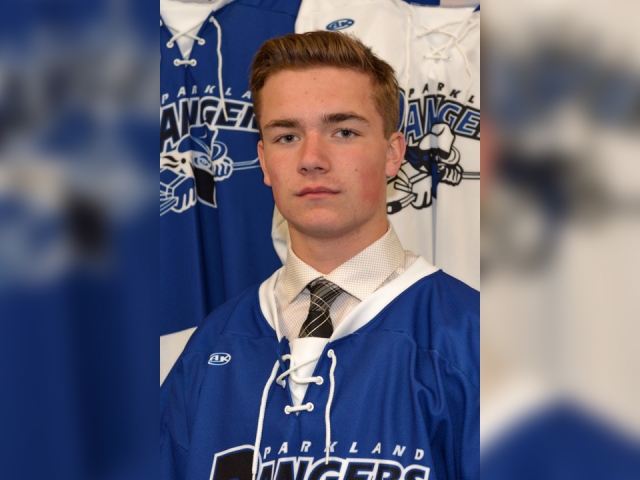 Kyan Grouette made his AAA debut last season with the Parkland Bantam Rangers. He was quite productive with 42 points (12G) in 36 regular-season games. After the season came to an end, Kyan prepared hard for this season and clearly, his hard work has paid off.
Playing with the Rangers once again, Grouette is having a ton of success, perhaps even more than he expected. He already has 55 points (25G) and he's only played in 23 games.
"I think my season is going pretty great, I'm scoring a lot and I'm having a ton of fun with the guys," said Grouette. "It's been a fantastic experience and I'm looking forward to keeping things going here."
Kyan's 55 points are the fifth-most in the entire province. Only six other players have more goals than him, one of which is his teammate, Brayden Dube who is from Roblin. When it comes to assists, only four players from around Manitoba at the AAA level have more than him.
"I wouldn't be able to do it by myself. I play with some great guys that set me up and I set them up," said Grouette.
When it comes to 5-on-5 play, Kyan plays with Will Munro and Brady Burghart. Grouette also spends time on the power play with Dube and Madden Murray.
Grouette and the rest of the Rangers lead the West Division with a 15-6-2 record, good for 32 points. That has them three points ahead of Southwest and six ahead of Yellowhead.
"We knew that we would be good, but we didn't think that we would be this good this year," said Grouette. "There are a lot of good teams and players in this league."
Thanks to his great season, Kyan will be off to Winnipeg this weekend to play with the best. He's been named to Team Army for the Bantam AAA All-Star Game that will take place at the MTS Iceplex.
He is joined by his teammates, Aiden Ziprick, Brayden Dube, Carter Zalischuk, and Will Munro.
"It's going to be a great experience and I'm honoured to represent the Parkland and the West region," concluded Grouette. "It should be a great challenge and I'm looking forward to it."
Stay tuned here to 730CKDM as Darnell Duff will chat with Aiden, Brayden, Carter, and Will this week leading up to the big game.
Details

Contributed by

Darnell Duff
The Dauphin Super 8 Bantam East Kings had a busy weekend with three games.
They started things off with a tight 3-2 loss against Neepawa. Jake Penrose and Austyn Roos scored in the game for Dauphin.
In their next game, Liam Musgrave scored in a 2-1 loss against Hamiota/Rivers.
Dauphin would then hammer Portage in their final game of the weekend, 7-1. Kyle Gilmore led things with a hat-trick for Dauphin. Austyn Roos, Jaymen Fee, Tyron Sweetman, and Liam Chartrand scored in the big win.
Details

Contributed by

Darnell Duff
The Parkland Bantam Women's Rangers were also busy this weekend and they had some success.
Playing in a showcase in Prince Albert, the team went 2-2.
They kicked off their tournament with a loss against Southern Express from Saskatchewan and a team from Prince Albert.
After that, the Rangers caught fire. They won their next two games to finish the weekend even.
Details

Contributed by

Darnell Duff