Latest Sports
Andrew Liwiski played 102 games with the Dauphin Kings, a team he grew up watching and his goal was always to be a part of the organization. Following a 52 game stint with the Lloydminster Bobcats of the Alberta Junior Hockey League in the 2017-18 season, Liwiski's dream came true as he joined Dauphin for the following season.
He helped Dauphin advance to the playoffs in his two years and he was poised to make a run with his hometown team when the season was ultimately shut down last year because of the novel coronavirus.
So Liwiski set his mind on the future and that future had him heading to Northland College. The defender from Dauphin committed to the Jacks. He packed up his bags and made his way to Ashland, Wisconsin in mid-August, but the team didn't begin practicing until the start of October.
After a significant delay to the start of the season, the Jacks were finally able to hit the ice in-game action as on Wednesday, February 3, Northland was on home ice against the University of Wisconsin-Superior at the Bay Area Civic Center.
Liwiski says he's just happy to be on the ice in a competitive game. Prior to February 3, the last time he played in a meaningful game was back on March 10, 2020, when Dauphin beat Portage in double overtime, 1-0. The Dauphinite has now played in five games with his new team and as a freshman; he's still in the feeling out process.
"Guys are obviously bigger, stronger, and it's a change of pace playing against guys that are almost 25-years-old," said Liwiski. "It's been a bit of a challenge, but I'm just trying to stay positive, and work as hard as I can."
A 3-1 loss against the University of Wisconsin - River Falls on Wednesday night dropped the Jacks to 0-5 to begin the season. However, Wednesday's game will go down as one that Andrew won't forget as he recorded his first-ever college point, an assist early in the third period on a goal from Zack Fisher.
With just five more games left in their conference schedule before the playoffs, Liwiski knows the team has what it takes to make a solid second-half run. Only two of their five losses have been by three or more goals.
"We're not getting the results we want, but I'm pretty happy with where my game is at right now," ended Liwiski. "It's been a weird year with restrictions and not being on the ice for quite a while, so I'm happy with how things are going. I think we're ready to change things around here and I'm happy to be a part of this group."
The team's next game is on Friday evening against the University of Wisconsin - River Falls, the same team that Andrew recorded his first college point against 48 hours prior.
Details

Contributed by

Darnell Duff
With the off-season having arrived early for all teams in the Manitoba Junior Hockey League (MJHL), preparations have begun for the 2021-22 season and Doug Hedley continues to be a busy man.
After committing a couple of Parkland Rangers not long ago, Dauphin has committed Lucas Hand of St. Louis Park, Minnesota as the young man has signed his letter of intent.
Lucas says getting this opportunity is one that really excites him.
"I've been in Minnesota my whole life, so I'm really excited to move to Dauphin and I'm happy I'll be playing the game I love in a great league," said Hand. "Dauphin seems like a great place and the fans really embrace the team."
Hand says he's a two-way playmaker who has great ice vision. He's currently playing with his hometown St. Louis Park Orioles and he's dominating the league. He's scored 10 goals and added 16 assists in just 10 games.
"The season has been going good. We've only lost two games, they were very close and to our rivals but we've been doing really well," said Hand. I'm just glad to be back on the ice"
Lucas missed all of last season after undergoing hip surgery that sidelined him for more than six months. As we now look forward to next season, Lucas plans on doing anything he can to help Dauphin win a league title.
"My goal is to make an immediate impact. I'm a really hard worker," ended Hand. "I'm not going in expecting for anything to be handed to me, I plan on earning every single minute."
Details

Contributed by

Darnell Duff
The Manitoba Junior Hockey League announced that the annual MJHL Draft will move from a U16 Draft (formerly Bantam Draft) to a U17 Draft highlighting players who are going into their 16-year-old season.
As a result, there will be no 2021 MJHL Draft with the current 2006-born draft eligible age-group carrying forward into the inaugural U17 MJHL Draft to be held in the spring of 2022.
Players who will be eligible for the MJHL Draft are Manitoba players who are registered to play hockey in Manitoba according to Hockey Manitoba regulations and are in their 16th year.
"Moving the draft eligible age group to a year older will give MJHL organizations the ability to watch players develop for an additional season," said Kevin Saurette, MJHL Commissioner. "This will allow for a better understanding of that players continued development and potential to play elite junior hockey."
Details

Contributed by

Darnell Duff
The Parkland Recreation Complex has been closed since November when Manitoba went into 'Code Red' and while Manitoba is still under that designation, recreation facilities are able to open at 25% and that means the Rec Complex is back.
The Dauphin Clinic Pharmacy Walking Track is open and you can walk for free for the time being because of time missed when the building was closed. Do keep in mind, all walkers are required to wear facemasks while walking around the track and you must social distance. If you are planning on walking, you must call the facility when outside and a staff member will let you in.
When it comes to Credit Union Place, there is also a chance to get back on the ice. Private bookings are now available for purchase at $150 per hour. These bookings are for one-on-one instruction only with a maximum of five players and five instructors being able to be on the ice at one time.
Athletes are not able to switch instructors during the hour and all athletes and instructors must complete the screening document prior to going on the ice. For more information and to book ice you can call Lindsey Kyle at 622-3150.
Wes Carnegie says although things aren't back to normal, it's just nice to welcome people back into the facility.
"There have already been a bunch of walkers this morning, so there's for sure a lot of excitement," said Carnegie. "It's nice to have people back in our building after a few long months."
Details

Contributed by

Darnell Duff
With Manitoba still being under 'Code Red' restrictions, the Manitoba Junior Hockey League (MJHL) decided late last week to end the season, one that was only a month underway when it was paused back in November.
There was optimism league-wide over the past couple of months that hockey would be able to resume in Manitoba. The Winnipeg ICE and Brandon Wheat Kings of the WHL will both return to action as the WHL's East Division will play in a bubble in Regina beginning next month. The MJHL, unfortunately, doesn't have the luxury of bubbling teams up to continue any type of season, so cancelling it was the only option at this point.
Doug Hedley believes more could have been done by the government.
"It's really frustrating, there's no doubt about that. I don't know whether it's knowing the facts or just a lack of knowledge, it's so frustrating," said Hedley. "The only breakout came at RHA in Winnipeg and ironically, they're the only ones to get back up and going. The government sure didn't do us any justice here."
20-year-old farewell:
Six players may never get the chance to play another junior hockey game. Layne Toder, Grady Hobbs, Koby Morrisseau, Braeden Young, Charles Massey, and Vincent Nardone are all in their final years of junior hockey. Hedley says the team is looking for teams that they could join, but that isn't an easy task as no Junior A leagues across the country are playing games right now.
"These players lost a playoff season last year and basically all of this year, I feel so bad for them," offered Hedley. "They put so much time into trying to get to the next level and although those opportunities are still there to a certain extent, they aren't getting that exposure now that they would if we could play."
If this is the end of the junior road for the mentioned players, each had a great impact over the course of the past few years. In Dauphin, Grady Hobbs won last year's MVP award and he was off to a great start. Layne Toder just came over in a trade with Portage prior to the season pause, while Koby Morrisseau was a fan favourite and dynamic forward.
Charles Massey busted onto the scene and scored seven goals in his first 10 games, Braeden Young is a two-year member of the Kings, while Vincent Nardone had seven points in his first six games and he's committed to play college hockey next year at the University of Omaha-Nebraska.
What could have been?
The 2010 Dauphin Kings will forever go down as one of the best teams in franchise history. The 2020-21 Kings were projected to be right up there with that 2010 national championship-contending team, but they won't get a chance to show what they could do.
Dauphin played just six games this season and they were 3-3. With plenty of firepower led by Hobbs, a great defensive group, and solid goaltenders, the Kings had one goal in mind and that was to win an MJHL championship.
Although they won't play another game this season and although it was a short time that they were together, Doug Hedley says he will never forget the impact that this team had.
"It was so exciting. You build for one or two years and you get some guys here that want to win with this organization and that was the case," ended Hedley. "The speed we had and the talent, it was tremendous. We had some exceptional things going on, it's just tough that we won't get an opportunity to continue with this group."
Hedley also says it wasn't just Dauphin that was primed to make some noise. Many teams in the league assembled championship calibre rosters. The Waywayseecappo Wolverines were 7-3 to start the season, Virden went 8-0-1, the Blues were 5-0-0-1, and the Pistons were 5-1-0-1.
"Fans were in for a treat, this was going to an extremely exciting season," ended Hedley. "When it comes to parody and skill on the ice, this could have been the best that the MJHL ever had."
As the chapter officially closes on the 2020-21 season, we now look forward to the 2021-22 season, one that the Dauphin Kings are eagerly waiting for.
Details

Contributed by

Darnell Duff
Days after the Manitoba Junior Hockey League (MJHL) cancelled the remainder of their season because of restrictions, another league has followed suit.
The Westman High School Hockey League has cancelled the remainder of the season.
The news means the league won't crown a champion for a second straight season after last year's finals which included the Dauphin Clippers were cancelled before game one hit the ice.
The WHSHL had the following to say:
"This wasn't an easy decision, but with the ongoing restrictions, there just isn't a way for us to move forward this season," said Jason Alf and Corey Forbes, co-presidents.
The league is now preparing for next season.
Details

Contributed by

Darnell Duff
There will be no more Dauphin Kings or Swan Valley Stampeders games this season.
The Manitoba Junior Hockey League has announced the cancellation of the remainder of the season, one that was only a month in when hockey was paused in the province back in November.
Current restrictions only allow for 1-on-1 instruction inside facilities across the province with team practices and games still being prohibited.
In a release, Kevin Saurette had this to say.
The MJHL and each Member Organization will determine based on their own unique circumstances how they will proceed with their commitments to their stakeholders going forward.
I would like to personally thank all of our stakeholders for their commitment, patience and understanding during a very difficult and challenging season.
We are very grateful to our Communities, Billets, Sponsors, Supporters, Officials, Volunteers, League Staff, Team Staff and Players for their support and leadership in navigating through the very difficult challenges faced over this past year.
Although we are extremely saddened to make this announcement, we now look forward to the future as we prepare for bigger and better things for the 2021/22 season.
Details

Contributed by

Darnell Duff
Many Manitobans were staying optimistic that the government would ease restrictions so hockey teams across the province could resume their seasons after hockey was put into pause mode back in November when Manitoba went into 'Code Red'.
Ultimately, that isn't the case. Indoor facilities can now open to 25% capacity for 1-on-1 training, but full team practices and games are not allowed. The current restrictions are in place for another three weeks and as a result, Dauphin Minor has decided to end its season.
Jordan Pernarowski says the entire board agreed that there is no point in delaying the inevitable for any longer.
"This isn't the news we were hoping for. With the current restriction, there is no way we could make it work for everyone," said Pernarowski.
Players can play or practice at outdoor facilities but there also isn't enough outdoor ice in the region for everybody. Jordan says they're currently in the process of calculating refunds or if you prefer, you can be presented with credit for next season.
And when it comes to next season, Jordan says Dauphin Minor plans on returning for a great season.
"We're already planning for next year," ended Pernarowski. "We know so many kids are disappointed right now, but we hope to have a full season next year and we'll go from there."
So while players can't join their teammates, the Dauphin Rec Services outdoor rink remains open as well as a skating trail at Vermillion Park.
Details

Contributed by

Darnell Duff
Josh Lee played 213 games with the Sherwood Park Crusaders of the Alberta Junior Hockey League (AJHL) from 2007 to 2011. In that time, Lee scored 35 goals and he added 70 assists.
On top of his offensive upside, Lee was one of the league's best lockdown players on the back end and the now member of the Waywayseecappo Wolverines are being rewarded by his old team. Over the past few months, Sherwood Park has been naming candidates for the top players over the past 20 years. More than 20 defencemen were named candidates, one of which is Josh.
The voting period is now over and Lee has been put on the Crusaders' 20-year team, along with five other defenders. Playing at the Sherwood Park Arena, Lee was a fan favourite during his time with a team he began his junior journey with.
"It's quite an honour for me. I got a message from my future mother-in-law and she was keeping close tabs on it," said Lee. "She had the chance to watch me in Sherwood Park and she was pretty proud. I'm definitely flattered and a bit surprised to be named to the team."
Here they are! Your six defenceman to be voted into the Crusaders 20 Year team!

Joining Carter Gylander and Tommy Nixon are....#OneCru | #AJHL pic.twitter.com/4PidHebd8h

— Sherwood Park Crusaders (@SPcrusaders) January 27, 2021
After 42 games with Sherwood Park in the 2010-11 season, Josh packed up his bags as he was traded to the Fort McMurray Oil Barons who was a title contender as Josh tried to go out as a 20-year-old with a championship. Ultimately, it wasn't to be as the team was swept by the Spruce Grove Saints in the North Division Final.
Josh remembers great things about the Oil Barons organization, but it was his time in Sherwood Park that is most special to him.
"Sherwood Park has my heart, there's no doubt about that," offered Lee. "I'm forever grateful for the opportunity that I was given in Sherwood Park. It was also great that they traded me to a contender in my final year, that meant a lot and gave me another chance to win a title."
Josh went on to play with NAIT of the Alberta Colleges Athletic Conference for 18 games and he recorded eight points in that time, two of which were goals. Following that season, Lee spent two seasons as an assistant coach for the SSAC Lions 15U team which was followed by two years with the U18 team. 2016-17 was Josh's final assignment in Alberta when he was an assistant coach for the Leduc Oil Kings.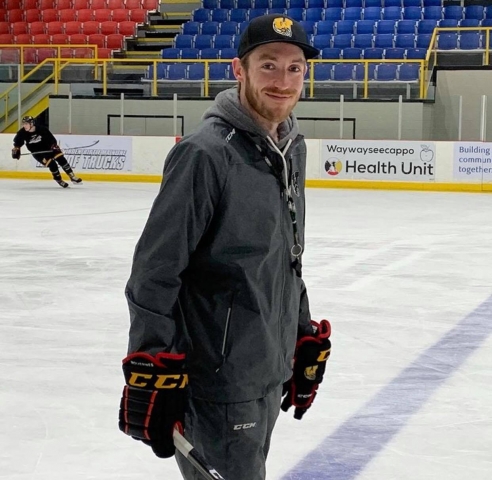 In 2018, Josh made his way to Manitoba as he was hired on to be the team's Assistant General Manager and Assistant Coach. Since that day, he has worked closely with Taylor Harnett and the remainder of the organization and all of the hard work has paid off. Just years removed from an eight-win campaign, the Wolverines are regarded as one of the top teams in the league every season.
They were leading the Northwest Division this season when the campaign was put on pause. As we look forward, Josh says bigger and better things are on the way.
"We're not satisfied. We're happy, but we know there is more we need and want to accomplish," ended Lee. "We're trending up and that's great. Our play on the ice needs to speak for itself."
Josh says working for the organization has been an incredible experience and he has learned so much over the past three years. He is now back in Alberta where he recently got engaged to his long-time girlfriend.
Details

Contributed by

Darnell Duff
Josh Thompson played with the Parkland U15 Rangers from 2016 to 2018, a time in which he recorded 46 points over the two seasons. After those seasons, Josh made the decision to stay closer to home as he joined the Major Pratt Trojans hockey team and he played the following two seasons with the team.
He was fourth in team scoring with 45 points last year while he was second in team scoring the previous season after a 37 point campaign. And while hockey activities remain on pause in the province due to 'Code Red' restrictions, Josh has been handed some good news.
Back with the Rangers program in his final year of AAA hockey, Thompson scored four times in the team's first seven games of the season and he also added three assists.
"The team was extremely fun to play with. I played with a lot of the guys before, so it was great to be back with them," said Thompson. "It's just unfortunate that we still can't play. We also had great coaches, it's a great feeling to be a part of the Rangers program."
Before joining the Rangers, Thompson took part in Waywayseecappo Wolverines main camp, the same team that he grew up watching. The biggest highlight of his time with the Wolverines came back on September 23 when Josh played in a preseason game with his brother Ryder who is now with the Portland Winterhawks of the Western Hockey League.
"It was fun playing with my brother again, I had played with him my entire life," said Thompson. "Playing that high-level hockey with him, that was great."
1-on-1 instruction can resume inside Manitoba arenas on Friday, but that means games and team practices remain off the table. There has been no confirmation if the season will resume and that's what many people are wondering.
And many people are wondering about what their plans are for next season, but not Josh. Thompson knows exactly where he will be after he signed his letter of intent with the Wolverines, meaning he will join the 2021-22 team. Thompson says he was close to making the team this year, but he needed one more year of development.
"It was a dream come true when I finally got to sign that paper, such an incredible feeling," ended Thompson.
Details

Contributed by

Darnell Duff
Growing up in Swan Valley, Trey Sauder often found himself inside the Centennial Arena cheering on the hometown junior team. He remembers some of the fondest times of his childhood included Stampeder players as the Sauder family billeted for many years.
He idolized the players that lived in his home and wanted to be just like them when he grew up. And as hockey remains on pause in the province, Sauder has been dealt with some great news as he signed his letter of intent to join his home junior team for the 2021-22 season.
Sauder says signing on the dotted line is a dream come true, one that he has been thinking about for a very long time.
"It feels so great to represent my home team, this has always been something I've wanted," shared Sauder. "Growing up and watching the Stampeders, this is such a tremendous feeling."
After two all-star seasons in the Westman High School Hockey League, Sauder started the season on fire with this year's Parkland Rangers. In seven games, the Swan River star scored seven times and he also added four assists. Trey is tied for seventh in league scoring and his seven goals are tied for the fourth-most. During his time with his high school team, Sauder won the scoring title in his final two seasons as he combined to score 70 goals while adding 113 assists.
And while he isn't able to spend time with his teammates and compete right now, Sauder says all the work he put in with his high school team allowed him to get off to a great start.
"I feel I had a lot of confidence coming into this season after what I did the past two seasons," said Sauder. "I also can't take all of the credit. I've been playing a lot with Brayden Kohlman and Josh Thompson and we work extremely well together. We also have great coaches in Tyler and Rick."
Stampeders Director of Scouting, Mitchell Kirkup says Trey has shown tremendous growth over the past couple of seasons.
"He is dedicated to improving his game and playing the game the right way," said Kirkup. "He possesses strong offensive instincts and has the ability to capitalize on his scoring chances."
Trey still remembers Swan Valley's run to the MJHL Final a couple of seasons ago. Swan Valley's 2018-19 season offered up 43 wins as it was the team's most successful season. They were just one goal away from winning a title. With a sold-out Centennial Arena for every home game, there was nothing quite like it for Trey.
"The atmosphere in the arena, I hadn't ever seen anything like it," ended Sauder. "It was such a fun run to watch, hopefully, there are many more of those coming up in the near future."
Details

Contributed by

Darnell Duff