Latest Sports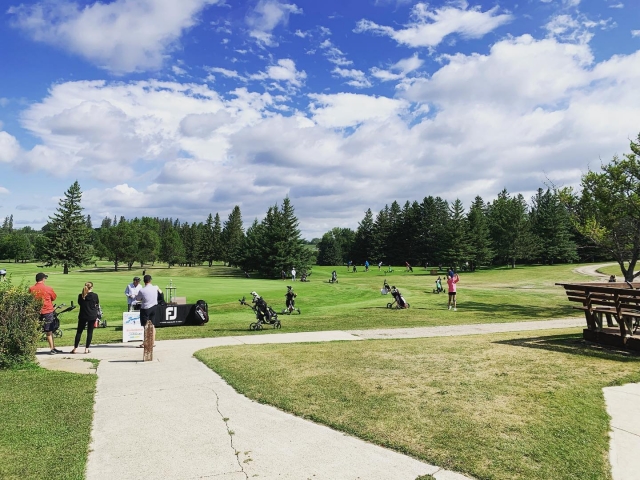 Drew Jones of Brandon had the low round of the day on Tuesday as the Neepawa Golf & Country Club hosted the Provincial Men's Interclub Championship.
Jones made par on his first 10 holes of the day before he bogeyed the 11th hole. From there, Drew caught fire as he birdied three straight holes to sit at two-under. An eagle on 16 and a birdie on 18 saw Jones finish at five-under-par.
The score was three strokes better than Dave Klowak. The Wheat City Golf Course would end up winning the rural championship with a score of seven over-par. Each team had four players and the top three scores were used. Jones' Shilo Country Club finished in a tie for third at 17 over par.
Jones recently finished in a tie for 59th at the Canadian mid-amateur championships.
Details

Contributed by

Darnell Duff
The Dauphin Lake Golf Club turned 100-years-old earlier this summer and they're celebrating this week.
Until the end of the day on Friday you can play nine or 18 holes for just $19.21 and a power cart rental is also just $19.21. That means you can play with a friend or family member for less than $60 all in. Ray Karlson says the course is in phenomenal shape and he's looking forward to seeing some new faces as the season continues in the Parkland.
On Friday, the celebration at the club will ramp up. Starting at 3:00 p.m., free coffee, water, and donuts will be served. Then from 7-11, the club will be hosting a social with drink specials and lots of music. A bonfire starts at 7:30 and a wonderful fireworks show takes the first tee at 9:30.
"We're really looking forward to Friday, it's going to be a special day for everyone taking part," said Karlson.
The Dauphin Lake Golf Club opened in 1921 as a three-hole course and as you know it to be now, the club offers 18 holes. Karlson has served as general manager at the club since 2017 and he says being a part of history is special, especially with the milestone being 100 years.
"It's surreal to believe that this course is 100-years-old," said Karlson. "The Ebb and Flow Investment Group has given me really good support to get things going at the course. Every year, we're getting better, better, and better."
Another big event is set to be played from September 17-19 as the Home Hardware two-man classic is back after the event was postponed earlier this summer due to COVID-19 restrictions. Spots remain open if you're looking to play. Call the pro shop at 638-9400 to reserve your spot today.
Details

Contributed by

Darnell Duff
The Fort McMurray Golf Club played host to the Canadian Mid-Amateur Championships and the course provided an extreme test for everyone in the field. Charles Fitzsimmons of London ended up winning the title by four strokes after posting a 67 in round four.
Several Manitobans also teed it up at the event with Jack Werhun of Oakbank finishing in 11th, the highest of anyone in the province. Drew Jones of Brandon finished in a tie for 59th.
The Shilo Country Club member opened his championship with two birdies on his opening nine holes. Jones was +4 after 15 holes during the round, but a slip up on his 17th hole saw the Brandonite fire an opening round 86.
"The course was a nightmare off the tee. If you aim right down the middle and miss it by 20 yards, your ball is gone," said Jones. "I hit three balls out of bounds on that 17th hole and took an 11, it was that tough."
Needing a solid second-round to make the cut, Jones dialled in when needed to make it. Thru 15 holes, Drew knew he had to be nearly perfect in his final three holes to make the cut and despite a bogey on 17, Jones had a tremendous finish. He made par on 16 and on 18, Drew put together two of the best shots of his life.
The 18th was playing 600 yards with a ravine in front of the green and not many players were going for it.
"It was honestly pretty silly to go for it, but I knew I had to with where I was sitting," said Jones.
Jones reached it in two and drained his eagle putt to make the cut.
"I was pretty excited," offered Jones. "Even with that 11 on the card in my first round, I was pretty proud that I was able to rebound and get the job done. It's something I will never forget."
The Brandon golfer followed up his second-round 78 by shooting 77 in the third round and he wrapped up his championship with an 82 in the fourth round. The highlight of his week was his play on the 18th hole. On top of his eagle to make the cut, Drew also birdied it in the first and fourth rounds to finish -4 on the hole.
Drew has one more event on his calendar this summer and it comes on Tuesday when he plays in the provincial interclub event at the Neepawa Golf and Country Club, a course that he has produced some very low scores at in the past.
Playing in the Manitoba amateur earlier this summer in Neepawa, Jones made eight birdies to post a first-round, 65. He would end up finishing in fourth place.
So what was Drew's personal favourite highlight from this summer on the links? There are a few to choose from.
"If we're talking about rounds in general, it has to be that one in Neepawa. It was pretty great to go out and post that great score," said Jones. "As far as a single hole, it has to be that one in Fort McMurray to make the cut. To go up and be able to make two great shots and a putt when I needed to, I won't forget that."
Details

Contributed by

Darnell Duff
The Winnipeg Blue Bombers have signed veteran receiver Naaman Roosevelt.

The native of Buffalo, N.Y., played with the Roughriders from 2015-19.

Roosevelt was Saskatchewan's most outstanding player in 2016 when he had 76 receptions for 1,095 yards in just 11 games.

He was named a West Division all-star in 2017 with 75 receptions for 1,035 yards and eight touchdowns in 14 games and he was most recently with the Montreal Alouettes in training camp before being released last month.

Roosevelt has 301 receptions for 4,134 yards and 20 touchdowns in 67 career CFL games.
Details

Contributed by

Darnell Duff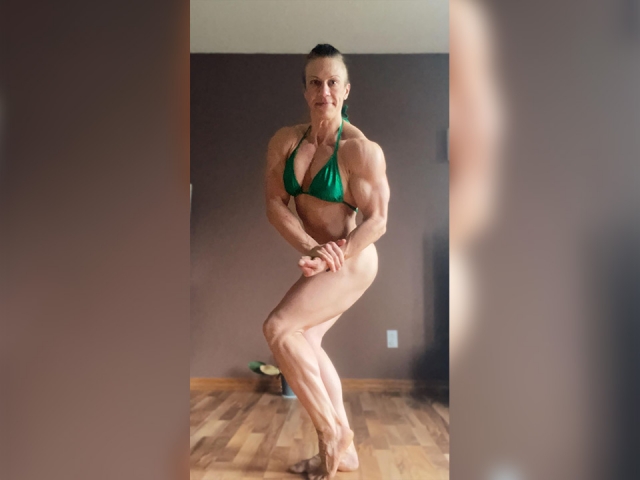 When Rachel Sedor was just a kid, she fell in love with Terminator 2 and specifically, what Linda Hamilton was doing. Hamilton, a main character in the 1991 film was doing pull-ups and chin-ups in her jail cell and that got Sedor thinking, I want to do that.
And now years later, Rachel is heading to Toronto to take part in the 2021 Canadian National Pro Qualifier on September 18. Sedor will compete in women's bodybuilding and physique as well.
Competing in both will give Sedor a greater chance at earning her pro card which means she could compete internationally and even on the Olympia stage. 16 competitors will ultimately receive their pro cards and this is the first time that Rachel is taking part in a pro qualifier, although she had competed regionally in the past on three different occasions.
"I'm really excited about this opportunity but I'm trying to not think about it that much yet," said Sedor. "I'm still just trying to focus on the day by day and keep my anxiety down. It's a totally different type of competition and as the day comes closer, the excitement will continue to build."
What does Rachel's day look like? Well, she gets up at 5:00 a.m. and does cardio for one hour before she eats her first meal of the day and also gets her daughter all ready to go for the day. She weighs her food daily and works with a trainer, which means she can't deviate from the plan.
Sedor's ultimate goal is to obtain her pro card and she's doing everything she can right now and has been for months to give her the best chance possible.
"I really want to compete in at least one pro show, that would be a dream come true," ended Sedor. "I don't necessarily know if I would make it to the Olympia stage, but I want to compete in at least one pro show."
Details

Contributed by

Darnell Duff
Rookie kicker Marc Liegghio made a 45-yard field goal with 37 seconds left in his first CFL start and the Winnipeg Blue Bombers defeated the Calgary Stampeders 18-16 on Sunday.

Calgary veteran kicker Rene Paredes had a chance to win the game with two seconds remaining, but he missed a 52-yarder his first miss of the season.

Liegghio also connected on field goals from 50, 42 and 37 yards out. The Western University product from Woodbridge, Ont., was making his pro debut in place of injured Tyler Crapigna.

Paredes had booted a 33-yard field goal with 1;49 remaining to give his team a 16-15 edge before Winnipeg came back for Liegghio's memorable kick. Paredes also made field goals from 35 and 39 yards out, putting him at 12 of 13 on the season.

Bombers (3-1) star running back Andrew Harris, making his CFL season debut after missing the first three games with a calf injury, finished with 17 carries for 81 yards and one touchdown in front of 22,806 fans at IG Field that cheered after his first run.

Winnipeg quarterback Zach Collaros completed 16-of-25 pass attempts for 243 yards with no touchdowns and no interceptions.
Details

Contributed by

Darnell Duff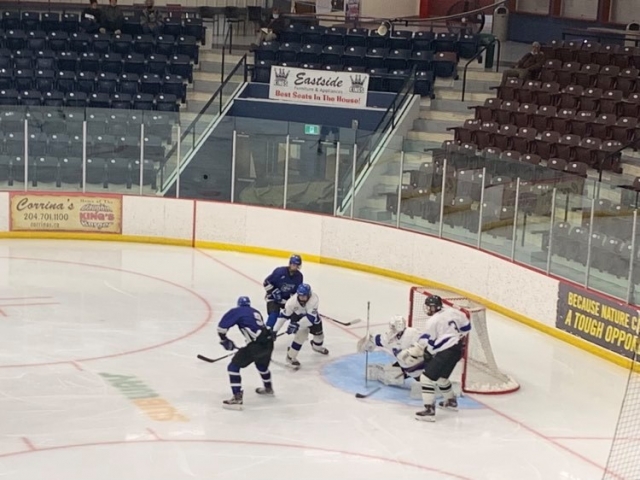 Steven Arp went off on Sunday afternoon as the Parkland U18 Rangers held their intrasquad game to wrap up training camp.
The Swan River native scored three times and added five assists for an eight-point game as Team Blue cruised to an 11-4 victory in front of a good crowd.
"From where he started to where he is now, that just shows that you don't need to leave this region to develop," said Tyler Carefoot. "And he's not the only one. You look at other veterans like Gibbs, the Munro's, it just proves that you don't have to go far to become a really good player."
Hayden Seib also had a tremendous game for Team Blue as he scored four times. Rylan Gibbs of Dauphin had one goal and two assists. Also scoring for Team Blue were Carter Zalischuk, Brennan Chartrand, and Skyler Carriere, all of which scored once each.
Responding for Team White in the defeat was Ashton Paul who scored twice while Will Munro and Cole Delamare scored singles.
The program will now take a sizeable break as junior teams across the country hold their training camps. This includes the Manitoba Junior Hockey League as teams hold main camps starting next weekend as do Western Hockey League teams. Several Rangers will be going to camps across Canada.
To wrap up this weekend's camp, Carefoot mentioned that he was thrilled with how everything worked out and the fact that 35 players signed up to try out.
"I think there's a buzz around this program," ended Carefoot. "It's hard to play at this level of hockey, especially for the young guys. But everyone came in and worked extremely hard, we're pleased."
The Rangers play in the Souris tournament from September 17-19. They open the regular season on September 24 in Shoal Lake against Yellowhead.
Details

Contributed by

Darnell Duff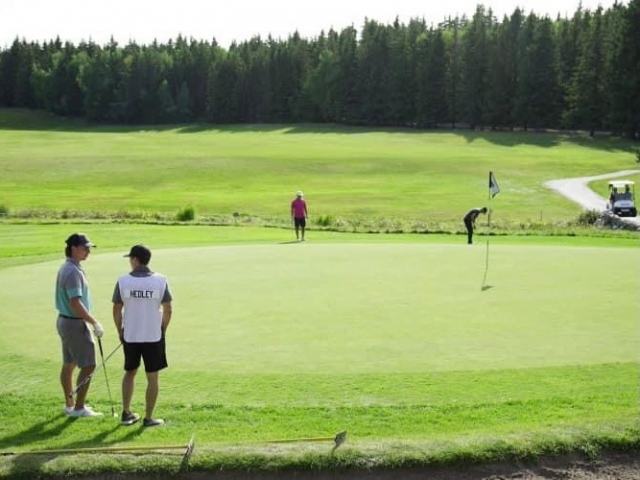 Regan Hedley capped off this year's Tamarack Tournament at the Clear Lake Golf Course in a great way.
The Dauphin golfer won the championship flight consolation bracket. Entering the bracket as the fourth-seed, Hedley upset Joel Baron in the semi-finals. Baron entered the bracket as the top seed. He then dispatched of Chris Bridges in Saturday's final.
John Tomlinson advanced to the fourth flight finals where he lost in 20 holes.
"It was an incredible match, back and forth," said Tomlinson, who won a flight last year. "This is always one of the best weeks of the year, I love everything about this tournament."
Bart Michaleski downed Mike Sparrow in a battle of Dauphin in the fifth flight consolation bracket. Robert Bouchard won the sixth flight consolation bracket.
Thomas Scott of Dauphin won the championship consolation bracket in the junior men's competition.
Details

Contributed by

Darnell Duff
Thomas Stewart scored the game-winning goal late in the second period as Team White earned a hard fought 6-5 victory on Friday afternoon as Kings Prospects Camp has officially come to a close.
Stewart took a pass from Jayden Jubenvill of Gilbert Plains and he fired it to the back of the net. Dauphin's Rylan Gibbs scored in the third period to bring Team Black within one goal, but it wasn't quite enough.
1st period:
Team White kicked off the scoring before Rylan Gage took a pass from Madden Murray to tie the game at one. Carter Zalischuk of Dauphin then got on the scoreboard as Team Black took a 2-1 lead. Rylan Gage had the lone assist.
Rory Poole scored his first of two goals late in the first as Team White tied it and after 20 minutes, it was 2-2.
2nd period:
Team White took an early lead as Skylar Ramsay found the back of the net at the 3:54 mark. Less than six minutes later at 9:24, Sean Williams of Winnipeg tied it at three.
Rylan Gibbs tickled the twine at the 13:44 mark as Team Black took a 4-3 lead but it was very short lived. Rory Poole scored his second of the contest at 14:28 to tie the game. Kyan Grouette of Dauphin had the lone assist. That led to Stewart's game-winning marker with just 3:21 left in the period.
3rd period:
Brayden Stevenson gave Team White some breathing room with his goal 8:44 into the third. Gibbs' second of the game came less than three minutes later, but as mentioned above, it wasn't enough. Madden Murray picked up his second assist of the game.
Parkland highlights:
Several players from the Parkland made their presence felt in the game. Rylan Gibbs had two goals, Jayden Jubenvill had an assist, Madden Murray had a pair of assists, and Carter Zalischuk had a goal.
Next up:
The team will now focus on main camp which runs from September 3-5 at Credit Union Place. The team's preseason starts on September 7 when they welcome the Swan Valley Stampeders to town.
Details

Contributed by

Darnell Duff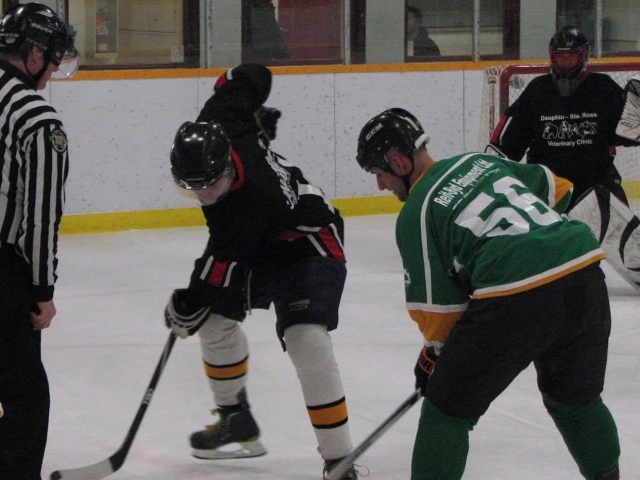 After each team played less than 10 games last season, the Dauphin Rec Hockey League is back and registration for the upcoming season is now open.
The season which is expected to open on October 17 hits the ice two times per week with each team playing 40 games and that includes playoffs. Early bird pricing is now available until October 1 and it costs $350. After that day, the fee goes up to $400 with payment plans being offered.
Chad McCrady says the league is great and you don't have to be an all-star to suit up.
"We're open to all skill levels. We have some guys that have played competitive and some that have just played outdoor as kids," offered McCrady. "We do our best to make sure every team is even."
All players must be fully vaccinated in order to play and in the event that the league must shut down, refunds will be dealt with in a fair manner.
For more information or to register, email or call Bob Murray at 638-3368 or you can call Chad at 647-6095.
Details

Contributed by

Darnell Duff
Lawson Yates is one win away from playing for a championship at the Tamarack Tournament.
The Dauphin golfer beat Julien Lafleche on Thursday morning to advance to Friday's semi-final where he will go up against Jeff Temple at 2:36 p.m.
John Tomlinson made par on the 18th hole to beat Steve Desroches as the Sifton native has advanced to Friday's semifinals.
In the senior men's bracket, Dean Murray came up short in his quest of winning the championship flight after dropping his match to Glen Parker, the top-ranked player.
Larrie Kidd has advanced to the finals in the senior men's second flight.
Details

Contributed by

Darnell Duff