Latest Sports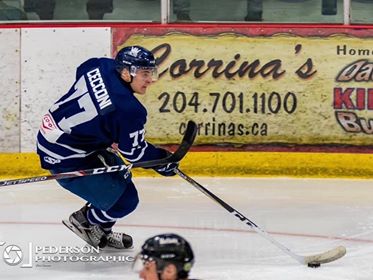 Bryson Cecconi is a very well-travelled young man. Originally from Powell River, British Columbia, Cecconi's hockey career has taken him to many different cities and he's played in many different venues.
One city is Dauphin and one venue is Credit Union Place as Cecconi joined the Dauphin Kings back at the trade deadline and he immediately made an impact when he scored a goal in his debut against the OCN Blizzard.
Cecconi came over from the Portage Terriers where he played just three games before starting the season with the Saskatchewan Junior Hockey Leagues' Humboldt Broncos where he mustered 25 points in 25 games. Cecconi's junior days came to an end after Dauphin beat Portage in game three of their first-round series. Cecconi busted onto the scene with a goal in his first game and in his last, he set up what turned out to be a favourite moment for just about every player.
The Powell River native set up Grady Hobbs in double-overtime to finish with one assist in his final junior game. In all, Bryson played 21 games and he had 17 points.
"I really enjoyed my time in Dauphin, it was a good change for me," said Cecconi. "I was really welcomed by everyone in the organization and it was a great place to be. We also won a lot when I joined the team and it's always nice to be on a winning team.
As mentioned above, when looking back at the season and everything that went with it, that double-overtime winner was a favourite among the dressing room and that was certainly the case for Cecconi who will continue his hockey journey in the fall and we'll have more on that in a second.
"That was pretty awesome and the celebration in the dressing room was pretty wicked," continued Cecconi. "It was kind of a sweet ending to a sour situation. It's nice as a 20-year-old to go out with a win."
Cecconi adds it was that much sweeter because they knocked off the team that traded him to Dauphin in January.
Although Bryson's junior journey has ended, his hockey career is set to continue. The former King has committed to play with the Marian University Sabres division 3 men's hockey team in the fall. The Sabres were in contact with Bryson throughout the season, but he waited to commit to see what other offers were on the table. At the end of the day, Cecconi is happy with his decision and he'll be joining a team that is very successful.
"I really think that Marian is a good choice for me, they have a great program," said Cecconi. "It's a nice feeling to know I have a plan for the next few years of my life and I'm excited that it includes the game I love."
This past season, Marian University went 18-9-1 which included a 13-7 conference play record. They scored 102 goals in 28 games and they averaged 36.5 shots per game. They also had four wins against teams ranked in the top 15 in the nation.
Gianni Vitali led the way with 34 points. Ty Enns who used to play with the Waywayseecappo Wolverines and Portage Terriers had 24 points. Enns was also a freshman. When it comes to Cecconi's expectations for the campaign, he's aiming high. After a solid junior career that included plenty of points, he wants to make some noise in his first year as a college player.
"I think it's important as a freshman to establish myself early. I have to show the coaches that I deserve to be in the lineup every night," continued Cecconi. "It definitely makes a difference if you can produce a lot so that's my goal."
Cecconi will spend the next four years of his life at Marian playing hockey and studying. He's looking to become a teacher. He will also look to impress the pro scouts as the years go on.
"My goal going into Marian is to for sure sign a pro contract at the end of the day," concluded Cecconi. "I think that's what everyone wants when you go to college. We'll see how things go."
Details

Contributed by

Darnell Duff
It was announced this past weekend that Rick Freese will be coaching the Parkland U18 Rangers this upcoming season alongside Tyler Carefoot. That means not only will the U18 program be changing, but the Dauphin Clippers will be changing as well.
Rick was the head coach of the team this past season when they advanced to the league final where they were set to play the Killarney Raiders. Jason Alf will now be in charge of finding a new bench boss for the Clippers.
"We've kind of been preparing for this for a couple of weeks now," said Alf. "I have some irons in the fire so to speak. There are some people I have approached and will approach moving forward."
Dauphin has advanced to the league final in the past two seasons. Two seasons ago, Trevor Robak was at the helm before he stepped away from coaching. Robak still refs heavily for Clippers, Rangers, and various other levels in Dauphin.
Alf knows being a head coach of a high school team isn't easy, but he knows there are some good candidates for the job.
"This is a volunteer position at the end of the day, so whoever ends up as coach has to know that," said Alf. "We've been very fortunate over the years to have some excellent coaches. After 20 years, I have a pretty good idea of what will work and who I can work with."
Alf, as expected, will return as an assistant coach and manager of the team. He will also remain as co-president of the Westman High School Hockey League.
Details

Contributed by

Darnell Duff
The Parkland U18 Rangers will begin a new era in late August. The 2020-2021 club will feature many new players and a entirely new coaching staff for the first time in a couple of seasons.
Rick Freese is very excited to become one of the coaches for the team. From Dauphin, Freese will be joined by another Dauphinite in Tyler Carefoot. Tyler ended this past season as the interim head coach of the team and he will return for his first full season with the club.
Carefoot is also the President of the Dauphin Minor Hockey Association and he confirms he will stay in that position and he will also find a way to coach minor hockey moving forward.
"I'm honoured to be a part of the Parkland Rangers program," said Carefoot. "I'm happy to be a part of the rebuild. And the thing I'm most pleased about is having Rick Freese joining as well."
Tyler adds that he and Rick will work very well together as they look to get the Rangers back to the playoffs, a place the Rangers haven't been since the 2016-2017 season.
As mentioned above, Tyler is excited to be a part of the rebuild with Rick. When next season does open up, the Rangers on paper should have one of the better teams that they've iced in years.
WIth a solid complement of returning players and bantam players making the jump up, it's a Rangers squad that should be able to compete on a game to game basis.
Carefoot is also ready to build that winning culture. Between coaching minor hockey to watching the various other levels in the winter, you would likely see Tyler at Credit Union Place anytime you went.
There is a clear passion for the game and that could be exactly what the Rangers need.
It's also pretty simple to know what Tyler and Rick want when the season opens up with training camp in late August.
"We're looking for players that want to be a part of this program. We want players that want to get better and make a name for themselves," concluded Carefoot. "I'm expecting that we're going to have a very competitive camp and there will be a good battle for spots on this team."
Details

Contributed by

Darnell Duff
Eight days ago the Dauphin Lake Golf Club opened to the public for the 2020 season. It was a welcoming surprise to Ray Karlson and the crew as he expected the province to not allow golf as early as they did.
However, with some precautions, the season is now well underway and things have been going well at the DLGC.
"It was pretty good until the last couple of days when it was quite cold," said Karlson. "We had almost 100 golfers out in one day on a couple of occasions and that's quite solid with everything that's going on. It was a pretty solid week for us."
As mentioned above, this year's golf season comes with precautions because of COVID-19. Two things set in stone allow just four golfers per tee-time and only one person is allowed in a single cart unless you're planning on driving with someone you live with.
Those directives are put in place by Golf Manitoba and all golf courses must abide by them or else they can be fined more than $2500.
For the most part, many golfers are abiding by the laws set. In a few cases; however, Karlson has had to educate a group of golfers.
"I've had to approach a few people over the past week and give them a friendly reminder on what's happening," added Karlson. "Those friendly reminders will start disappearing pretty quickly here. If people don't want to abide by the rules, we're going to have to ask them to leave. It's unfortunate, but it's the rules and we need to follow them."
Karlson wants to assure all golfers that the Dauphin Lake Golf Club is a safe environment. You can also still order from their restaurant for take-out.
Details

Contributed by

Darnell Duff
There were many people that were thrilled when golf courses opened up last Monday. And now it's been a week and the Gilbert Plains Country Club is off to a good start.
Scott McCallum says memberships are being sold at a good pace and green fee traffic has also been quite solid.
"If we can ever get the weather to cooperate, we'll be in really good shape," said McCallum. "Things are going well."
Although golfing is taking place, there is no doubt that it has a different feel because of COVID-19. There can only be one person per cart unless you're playing with someone you live with. Only four people are allowed per tee-time, there are no rakes for bunkers, and you can't take the flag out of the hole.
Most people are abiding by the laws put out by the province; however, McCallum does say he has had to remind some people.
"We've had to tell some people that it's for their own safety," said McCallum. "I think, for the most part, people are very understanding and receptive of what's happening around us."
When it comes to what's up next at the Gilbert Plains Country Club, McCallum is expecting things to be extremely busy, especially with the Victoria Day Weekend coming up. If you want a tee-time, he says you should book it sooner rather than later, especially with the beautiful forecast that is expected.
"We're really excited about the weekend coming up, we're expecting it to be extremely busy," concluded McCallum.
McCallum also assures everyone that the GPCC is a very safe environment for any golfer to be in. If you want to book your tee-time today, call 548-3030, extension 1.
Details

Contributed by

Darnell Duff
It was announced on Saturday that the Parkland U18 Rangers have hired Rick Freese and Tyler Carefoot as their coaches for the upcoming season.
Both from Dauphin, the club certainly have a good foundation to build off. Freese spent this past season with the Dauphin Clippers high school team and he's ready for the next step.
"Tyler and I are both very excited about it, we're looking forward to working together," said Freese. "I think that when we get rolling here, things will be really good."
There's been no surprise that the U18 program has struggled in the past couple of years when it comes to getting wins. They went 16-30-2 this past season which put them in ninth place.
The team did show signs of improvement; however, as they won just seven games in the 2018-2019 season.
Freese and Carefoot have brought out the best in many players from Dauphin in the past and now, they'll be tasked with that same challenge heading into the 2020-2021 season.
"It's a clean slate here, we're starting fresh. We want to build a culture for this program," continued Freese. "We'll work hard and we'll continue on. This team has a board and a general manager that wants to be here. We'll work as hard as it takes to win games and most importantly, develop these young players."
Freese's journey to ultimately becoming a coach for the U18 team is a dozen years in the making. He moved here 12 years ago for his work and now, he has a wife and three kids.
"This is a tremendous place to be and we certainly don't plan on going anywhere anytime soon," concluded Freese. "We've met some great people and we also have some family here."
Tyler Carefoot will join the program tomorrow.
Details

Contributed by

Darnell Duff
Jiri Patera's journey to North America came after several years of competitive hockey in his home country of the Czech Republic. It now includes a shot at the prestigious award of Goaltender of the Year.
Although his North American junior career ended in Canada, his start was with the Cedar Rapids RoughRiders of the United States Hockey League in the 2017-2018 campaign. He played in 34 games in that season as the team fell one point short of making the playoffs.
Patera won his last three games in 2017-18, one in which the team won their last five contests and seven of their final 10. He made 74 saves on 78 shots over those three games and one of them was a 32-save shutout.
The success that Jiri had in his first season in North America didn't really come as a surprise. In the previous season (2016-2017) with the Motor Ceske Budejovice U20 club, Patera's .933 save percentage was the best in the league. His .936 save percentage in the playoffs was also a league's best.
Now we fast forward to the 2018-2019 season and Patera was Wheat City bound. The now 21-year-old joined the Brandon Wheat Kings and he was a busy man playing in his first season with the team, a year that included 48 starts with a .906 save percentage to go along with a 3.31 goals-against average.
Back in Brandon for this past season, Patera's junior journey officially came to an end when COVID-19 cut the season short. So although his days in Brandon are a thing of the past, they were times that he will never forget as he embarks on his next journey.
"I really enjoyed my time in Brandon, I couldn't be more grateful for the people I met and spent time with," said Patera. "I was provided with a great opportunity with the organization and I loved every minute."
This past season is where Patera really stepped things up. We knew he was a good goalie prior to the season, but he certainly turned into an excellent goalie, one that helped the Wheat Kings become contenders across the Western Hockey League.
His 24 wins were the fourth-most in the league. Patera also missed a rather significant period of time due to injury which makes that 24 that much more impressive.
Unstoppable:
From December 30, 2019, until January 24, 2020, the Brandon Wheat Kings won 10 straight games. Jiri Patera was in net for eight of them and it didn't matter what opposing teams did, it was nearly impossible to solve the Czech Republic native. Of those eight contests, three of them resulted in shutouts for Patera and he stopped 275 of the 284 shots he faced. He also made at least 41 saves in three of the games.
"I think that was one of my favourite memories of my junior career," said Patera. "Just to see everyone smiling and playing their best, that was pretty incredible. I also couldn't have done that without my teammates, they did everything they possibly could in front of me. It was a complete team effort."
Brandon extended their point streak to 11 games in a 6-5 overtime loss against Lethbridge on January 25.
Hardware time?
Every year, the Western Hockey League announces its goaltenders of the year in each conference. Dustin Wolf of the Everett Silvertips was named the Western Conference's goaltender of the year. Wolf went 34-10-2 this past season with a 1.88 goals-against average and a sparkling .935 save percentage. Just recently, he also signed a three-year entry-level contract with the Calgary Flames.
Going up against Dustin for the Del Wilson Memorial Trophy (WHL goalie of the year) is none other than Patera.
Patera has been named the Eastern Conference's goalie of the year. He was also named to the First All-Star Team alongside Braden Schneider.
"That's a huge honour for me. But as I said above, I wouldn't be able to do what I did without my teammates," said Patera. "Dave Lowry had us playing in a great system. Everyone was playing their hardest. I'm really happy with the award, but I couldn't do it without everyone on our roster."
Patera will be looking to make it back-to-back years where Eastern Conference goalies won the goaltender of the year. Ian Scott of the Prince Albert Raiders won the award last year. The three years before that, Carter Hart won it for Everett.
If Jiri were to win the prestigious award, it would be another nod to what has been a successful junior career.
"That would be really big for my family and I," said Patera. "I know Wolf had a great season and I wouldn't be surprised if he won it. I guess we'll just see how things go."
Next chapter:
It's rather plain and simple; Patera wants his hockey career to continue in North America. He was drafted in the sixth round, 161st overall by the Vegas Golden Knights in the 2017 NHL Entry Draft. It was a day that Jiri will never forget.
Patera is now hoping to sign a contract and to continue his hockey career in North America.
"It would be an honour to sign a contract, that's my goal," added Patera. "Wherever Vegas would want to send me will follow, but that's definitely my goal to sign with Vegas and we'll go from there."
The story of Jiri Patera is definitely one that provides readers and junior hockey fans with a good storyline. It's one that started in the Czech Republic before it went to Cedar Rapids. Brandon was the most recent stop and now, time will tell where Patera's journey will take him next.
Details

Contributed by

Darnell Duff
The Parkland U18 Rangers are extremely excited to announce that they've locked up their coaching staff for the 2020-2021 season and the staff is full of Dauphin.
After ending this past season as interim head coach, Tyler Carefoot is set to return as co-head coach. He's also the President of the Dauphin Minor Hockey Association.
Tyler will be joined by Rick Freese who led the Dauphin Clippers to the Westman High School Hockey League final this past season. The Dauphin duo will share head coaching duties.
Back in 2004, Tyler was an assistant coach for the club for two seasons. He has also spent extensive time as a AA coach within Dauphin minor.
Rick has lived in the Parkland for the past 12 years and as mentioned above, he was the bench boss for the Clippers this past season, a team that enjoyed a ton of success and were set to play for a league title.
As a AAA player, Freese played with the Norman Northstars, a team Parkland plays a few times throughout the season. He also played in two Royal Bank Cup championships as a junior-hockey player.
The Rangers Board of Directors had the following to say.
"We are extremely excited to have these two outstanding gentlemen as a part of our organization. We are eagerly looking forward to working with them moving forward,"
Stay tuned as we'll be joined by both Tyler and Rick early next week.
Details

Contributed by

Darnell Duff
In a normal year, Breken Brezden would be on the ice several times a week honing her craft. A provincial champion figure skater, Breken has had to adapt and she's making it work for herself.
Instead of being on the ice, the Dauphinite is working hard in her home which includes practicing her jumps. But although she is trying to stay in the game as much as possible, being on the ice is where Breken wants to be.
"Yeah, I miss it a lot. I really wish I was able to be on the ice, but I know that's the case for so many others as well," said Breken. "I just have to stay positive and continue to train and when the time comes, I'll be back on the ice."
Not only has Breken shown that she can shine with the best skaters that are the same age as her, but she's doing special things against girls a few years older than her as well.
At the most recent sectional championships, Brezden skated in the novice age group which is open to girls aged 17 and under. Being just 14, Breken was one of the younger skaters, but that didn't hold her back from winning a championship.
So she's a provincial champion and now, she's received an award that not many do. The Manitoba Order of Sport Excellence is given to skaters who excel on the ice provincially, nationally, and on the international stage.
Although she hasn't skated on the international stage, she does have goals and we'll chat about that in a bit.
Brezden was one of 18 novice skaters across the province that were presented with the award and it marks the first time that's she's ever received it.
"It definitely feels pretty great, I'm really proud of myself," continued Brezden. "I wasn't really expecting it, but I worked really hard and gave it my all."
Brezden is also using winning the award as fuel to her fire. She plans on using this award to push her even harder moving forward as she prepares for when the figure skating season opens back up. As of right now, all events have been postponed because of COVID-19.
Of course, Breken wants to represent the country at the Olympics, but she's not focused on that one main goal at this point.
"I think it's really important to not look that forward in the future," said Brezden. "I think it's about taking it day-by-day and just continuing to work hard. I have so much to learn and grow and I'm looking forward to each day that I get the chance to do what I love doing."
On top of her training, Brezden has also been keeping busy with seminars.
Over Zoom, Brezden has joined other skaters, all of which listen in to professional skaters who share their experiences and how they made it to the biggest stages of all. A seminar the other day included a world men's champion.
"Those are pretty inspirational. It's nice to see that they struggled at times as well, but they battled through," concluded Brezden.
Details

Contributed by

Darnell Duff
It was an unfortunate ending to the Westman High School Hockey League season. The league was set for its league finals which featured the Dauphin Clippers before the sports world was shut down due to COVID-19.
So now as we look forward to the 2020-2021 season, things will be staying the same when it comes to executives. The group of executives which includes Co-President's Jason Alf and Cory Forbes, alongside Commissioner Doug Roach, and Treasurer Jerry Crampain sent out a vote to all member teams in the league. The vote asked the question if the current group should remain executives.
The vote came back unanimous which means Alf will remain as co-president alongside Forbes for the upcoming season in the fall.
"We've had some issues to deal with, but it's never gotten to be a negative situation," said Alf from Dauphin. "For it to be a unanimous vote, it's great. We also received a lot of compliments so that was a great feeling as well."
20 teams formed the league this past season, five of which were from the Parkland. In fact, the entire North Division consisted of teams from the Parkland. The Division was topped by Dauphin followed by Major Pratt, Swan Valley, McCreary, and then Roblin.
When it comes to the 2020-2021 season, Alf can't confirm, but he does figure there may a different number of teams next season.
"We noticed this past season that some teams had relatively low numbers," continued Alf. "In talking to them, they didn't have a lot of bantam players coming up. I can see a team or two taking a year of absence because it's not good for them or anyone to not have enough players to be competitive throughout the season."
Alf also sees the possibility of a team outside the region trying to enter the league because there are fewer leagues to play in across the province.
One of the greatest storylines of the season, of course, was Dauphin's dominance once again as they advanced to the league final. However, another one people are talking about is the success of the Sandy Bay Badgers.
In the 2017-2018 season, they went 7-16 and they followed that by going 7-14 in the 2018-2019 season.
This past season, Sandy Bay went a remarkable 19-4 and they took down the East Division by 10 points over Glenboro. The Badgers also advanced to the league semi-final. In three years, Sandy Bay has gone from one of the bottom teams to one of the top teams in the WHSHL.
Details

Contributed by

Darnell Duff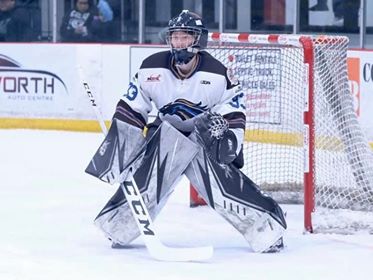 COVID-19 restrictions in Manitoba have started to ease and when it comes to sports, golf courses have opened across the Parkland and the province which is exciting. However, that's not the case everywhere.
In Great Barrington, Massachusetts, restrictions are still heavily intact and that includes golf courses being closed. If golf courses do open in Massachusetts, the course will at minimum, lose their liquor license. Although this doesn't affect any of us, it does pose a problem for a former Swan Valley Stampeder goaltender.
Parker Rey lives in Great Barrington with his family and Rey happens to be a massive golfer, so big that he usually hits the links five or six times a week on a normal year. This summer; however, is all but normal, especially in Great Barrington.
In a normal year, he would have likely had about a dozen rounds in already, but at this time, he's still waiting for his chance to drive it down the centre, followed by hitting his approach shot tight and then, his first birdie of the year will follow.
"It's a pretty unfortunate thing to be going through. But I know so many people are going through the same thing right now and so many people have it so much worse, so I can't feel bad for myself," said Rey. "I just know that when the courses do open up, I'll be out there every day, that's a guarantee."
Before the pandemic:
It was set to be another year in the hockey journey for Rey. Albeit it, his first in a new country. After playing all of his hockey in the United States, Rey made the move to the Battlefords as he joined the North Stars of the Saskatchewan Junior Hockey League. Battlefords is a team that was by far the best points-wise in the SJHL and they were a top 3 team in all of Canada.
They racked up 45 wins in the regular season, nine more than the Flin Flon Bombers who had the second most with 36, and Battlefords 92 points were 13 points more than the Bombers. In the playoffs, they were one win away from advancing to the second round.
When it comes to Rey, he went 9-3-1 with them and he sported a 2.4.4 goals-against average to go along with a .913 save percentage. However, Rey didn't see any playoff action with the North Stars, in fact, he didn't suit up for the team in the final two months of the regular season.
That's because, on trade deadline day, Rey was dealt to the MJHL's Swan Valley Stampeders, one of two Parkland teams in the league. Earlier in the season with Battlefords, Rey suffered a concussion that sidelined him for about a week.
In his first game with Swan Valley which was on January 11, Parker posted a 28 save shutout as Swan Valley beat Neepawa, 2-0. Rey was the odd man out in Battlefords which is why the SJHL powerhouse traded him. All he did to show Battlefords that was the wrong move was a 28 save shutout in his MJHL debut.
"I really wanted to prove to Battlefords that they made the wrong decision, it wasn't a great feeling to find out I was the odd man out when I thought I was having a pretty solid season," continued Rey. "I also wanted to prove to coach Wolff that signing me was the right decision and I wanted to show my new teammates that I could help this team win games."
Leaving Battlefords wasn't easy for the man who is now living in Great Barrington. But, the goaltender knew he was going to a great organization, one that had a goal of getting one step further than last season and winning a title.
"Swan Valley was a great place. I really got the sense that the community loved this team and really supported it," added Rey. "The atmosphere in the arena was also great and what else could I ask for. All of us 16-20-year-olds live for playing in front of lively crowds."
Next in Rey's tenure with Swan Valley was a start just four days later against the OCN Blizzard; however, he didn't finish the game. He suffered his second concussion of the season and this time, he missed two weeks.
In all, Rey suited up in seven games with the Stampeders.
"I don't really think I ever got back to my form after that second concussion," said Rey.
Next chapter:
He may not be able to golf and Parker Rey can't do other things that he's used to and loves to do right now. However, he can certainly get excited about what the future is set to bring. He still has one year left of junior eligibility and that may be an option for next season.
Or, Rey will begin his college career in September. That's because he has committed to play with the Ohio University Bobcats men's hockey team who play Division 1 in the American Collegiate Hockey Association. Rey isn't 100 percent sure what he will do next year. As mentioned above, he still has one year left of junior eligibility and if he gets the right offer, he may go down that route.
If he doesn't, he'll play against some of the best college hockey players south of the border for the next few years of his career.
The process of committing to college hockey began when a former teammate of his on the U18 Cleveland Barons asked him if he was interested because the Bobcats were looking for a goalie.
"I'm really excited to play with the Bobcats, there's no doubt about that," concluded Rey. "I'm not sure if it'll be next season or the season after, but whenever it is, I can't wait and I know it's going to be an amazing experience."
Whenever Rey does join the Division 1 team, he knows he'll be joining a program that wins a lot. They went 24-8-4 in the regular season this past season.
Rey's stop in the Parkland may have been a short one if he doesn't come back for the 2020-2021 season, but it was one that he very much enjoyed and he won't forget about his time in the Swan River playing on a team that had title aspirations.
"I have nothing but great things to say about my time with Swan Valley, I loved it all," concluded Rey.
For now, Rey will patiently wait to hit the tee box and when he does, he plays to a four handicap so not only does he know his way around the crease, he knows his way around the golf course as well.
Details

Contributed by

Darnell Duff