Latest Sports
The Dauphin Clippers men's and women's rugby teams opened up their season in Brandon today.
The men's team lost their first game against Vincent Massey, 17-10.
The team had another solid battle in their next game but they came up just short. This time it was a 20-17 defeat against Souris.
The girls team had a dominating day. They opened up things by beating Crocus Plains, 47-0.
They followed that up with a big 30-5 win against Souris.
Both teams hit the road on April 22 for games in Swan River.
Details

Contributed by

Darnell Duff
The Parkland Vipers 14U-2 volleyball team is in Brandon and they're on fire at the ACC tournament.
The team is a perfect 3-0 and they finished first place in their pool.
They first beat Club West Rage, 25-13, 20-25, 16-14.
After the three set battle, the Vipers went into total cruise mode.
They beat the Steinbach Pilots, 25-18, 25-19 and they swept the ACC Cougars, 26-24, 25-17.
Next up is the quarterfinals tomorrow morning at 9:00.
Details

Contributed by

Darnell Duff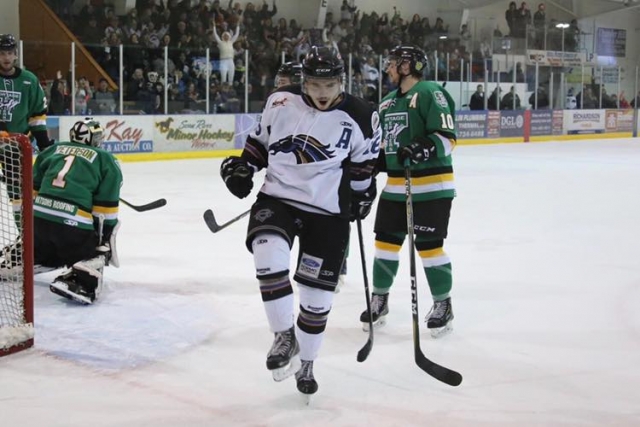 Swan River's Josh Tripp has had a season to remember. He won the Mike Ridley Trophy for winning the MJHL scoring race. He was named the MJHL's Most Outstanding Player and he was named a first-team all-star.
Now, Josh could win the next Canadian Junior Hockey League Player of the Year award. The soon to be 21-year-old is the MJHL's nominee for the award that will be handed out next month in Brooks, Alberta at the National Championship.
Josh had 84 points in the regular season (36 G). He's kept it going in the playoffs with 14 points (10G) in 13 games.
"Josh has the skill, the character and the work ethic to deserve all the accomplishments he's received this season," said Darren Webster, Stampeders Assistant Coach. "He's doing all of this against teams top defensive pairs as well. If he does win the CJHL Player of the Year award, it's well deserved."
"Yeah, that's obviously a huge honour and it's a great feather in his cap," said Barry Wolff, Stampeders Head Coach, and General Manager. "He deserves it; he's worked so hard all year. Hopefully it creates good awareness of our league and hopefully, he wins it in Brooks."
Manitoba's last national winner was Portage Terriers' star Eric DeLong, who won the award in 2009.
Josh will now look to keep it going as the Stamps' attempt to come from behind against Portage in the Turnbull Cup Final. Swan Valley has dropped both games at Stride Place as they trail 2-1 in the best of seven.
"The games have all been close. It's typical league final hockey, there really isn't a lot of room to be had," said Webster. "The downside is our compete level. I don't think we've really competed for a full 60 minutes yet. We have had times when we've shown how we can play but, it hasn't been consistent. You can't afford that against a team like Portage.
Swan Valley has been outscored by Portage 11-8 in the series so far. Six of the Stamps' goals came in a thrilling 6-5 overtime win in game two. Other than giving up six goals in that game, Ethan Peterson has been solid for the Terriers'. He's made 79 saves this series. That included a 34-save shutout in game number one.
"We haven't been getting traffic the way we need to, he's seeing the shots far too easy," added Webster. "I don't think there is any panic in our room. The guys just have to look around the room and play with each other. We need all four of our forward lines and six defencemen helping out."
The Stamps' will look to even up the series tomorrow night. Game four drops the puck at 7:30 at the Centennial Arena.
Details

Contributed by

Darnell Duff
Former Parkland Ranger Connor Dewar is facing a must-win tonight or else his junior career could be over. After rolling in the first round of the WHL playoffs, Dewar and the Silvertips have lost three straight to the Spokane Chiefs as they're down 3-0 in the best of seven.
With Connor signing an entry-level contract with the Minnesota Wild earlier this season, he does expect to be playing professionally next year, whether that's in the NHL or AHL.
If the Tips' want to have a chance at getting back in the series, their offence has to pick it up. They've scored just two goals combined in the past two games. Spokane is also averaging four goals per game through the first three games.
More:
The Vancouver Giants have already advanced to the Western Conference finals and they will play the winner of Spokane and Everett.
Brandon's Trent Miner has been very solid for Vancouver this season and he picked up two of four wins in net as the Giants swept Victoria in the semi-finals.
Details

Contributed by

Darnell Duff
No matter where Brooklyn Hramalak plays her hockey, she has succeeded. For instance, the last time Brooklyn hit the ice competitively was just over a month ago during the weekend of Bantam "A" provincials with the Grand Plains Ice Dogs.
The Roblin native helped that Ice Dogs team claim a bronze medal. She scored one goal in the 5-4 win over Morden.
After taking some time off, Brooklyn is ready to get right back at it. She'll take part in Hockey Manitoba's U16 Program of Excellence this weekend in Winnipeg. She was invited to the tryout camp for the second straight year.
Last year after a very good Top 100 camp, she was invited to a Top 40 camp.
"I thought I would get invited because I was invited last year and I made it past the first round," said Hramalak. "I'm looking forward to the challenge of advancing to the next stage of tryouts. I'm really excited to get back on the ice so I can improve my skill set."
The last time Brooklyn skated was on March 11. That's a full month gap in between a very important weekend for her, but she's not worried about it at all.
"I think there may be a tad bit of rust, like I may forget some of the techniques because it's been a while,' added Hramalak. "I've been reading some books and that kind of stuff though, so I think I'll be just fine when the weekend comes."
Not only did Brooklyn have success with the Ice Dogs, but she also had success at the next level. She played for the Parkland Bantam Rangers.
Playing in three showcase's with the team, Brooklyn put up 15 points. That was tied for fourth in all showcase scoring. It also tied her teammate, Jayselyn Nybo who also had 15 during the showcase season.
In their last showcase, Brooklyn had six points (3G).
"Yeah, that definitely helped with my confidence. I'm always trying my best and if I don't think I'm playing well enough, I'll work harder," added Hramalak.
The obvious goal this weekend is advancing to the Top 40 which will take place next month in Portage La Prairie. Just because Brooklyn achieved that goal last year, she knows that doesn't guarantee her a spot this go around.
After all, the event does feature 100 of the top U16 women's hockey players from around the province.
"There will definitely be some girls that I have never played against," added Hramalak. "Everyone at the camp was invited for a reason because they're very good. I just want to do my best and show what I can do. I'm not taking it easy that's for sure."
Brooklyn is joined by fellow teammates, Jayselyn Nybo, Ashley Shiner, Madison Haliuk, Brittan Yaschyshyn, Levi Derkatch, and Trynity Turner who will all take part in the tryout camp.
Details

Contributed by

Darnell Duff
Since arriving in Dubuque, Gilbert Plains Riese Gaber has 100% bought into the Saints culture.
That means that he does anything needed to help the team win games on the ice and also, he does whatever is needed off the ice.
Whether that's being out in the community or putting in those extra reps in the gym, Gaber is the guy that never quits.
Everything Gaber has done both on and off the ice hasn't gone unnoticed as he's this year's recipient of the Dubuque Fighting Saints Coaches Award. The award is given out every year to the player that best exemplifies what it means to be a Fighting Saint both on and off the ice.
"Obviously it's pretty cool to get that award, it really does mean a lot," said Gaber. "I think it shows that I'm doing everything right. It shows a lot about my character and the person I am on and off the ice."
"I think the way I was raised had to do a lot with getting the Coaches Award," he added. "I put in a lot of work in the gym and on the ice and this is my reward, it's pretty cool."
Riese will look to add to his 49 point total this weekend in a home and home with Waterloo. Taking it easy after winning the award is the last thing on Gaber's mind as the season continues to wind down.
"I know I just have to keep being myself," added Gaber. "As long as I keep doing what I've been doing, I'm not really worried about any pressure or anything."
"The games are starting to become more important and hopefully I can up my game and bring my best game at all times," said Gaber.
Gaber fuels Saints is where you can read more on his great first season in the USHL.
Details

Contributed by

Darnell Duff
The Swan Valley Stampeders are behind again after coming up short m 3-2 to the Portage Terriers, and now they trail the MJHL finals, 2-1.
The Terriers jumped all over the Stamps' in game 3. Merek Pipes stood on his head in the opening frame, stopping all 16 shots he faced.
Portage opened the scoring as Scott Mickoski was left all alone in front of the net, scoring his fourth of the playoffs 2:37 into the middle frame.
Jay Buchholz added to the Terriers lead just over 12 minutes later. The Stamps' pushed back late in the period but couldn't solve Ethan Peterson.
Alex Uryga started the comeback for Swan, tucking in his fifth of the post season at 4:43 of the third. Dane Hirst would tie the game just over three minutes later.
Scott Mickoski would score the eventual game winner on a four minute power play late in the third period.
Swan pulled their goalie but couldn't find the equalizer, and the Terriers skated to a 3-2 win on home ice.
The series will now shift back to Swan River for Game 4 Saturday night.
Details

Contributed by

Darnell Duff
Jayselyn Nybo was very busy this past winter. There weren't many weekends that she wasn't playing hockey for the Ice Dogs or the Rangers.
Although hockey isn't keeping her as occupied right now as it did in the winter, the Dauphinite is getting set to lace up her skates again.
Nybo has been invited to Hockey Manitoba's U16 Program of Excellence which takes place in Winnipeg this weekend. The event is by invitation only and will feature approximately 100 of the top U16 women's hockey players from across the province.
"I'm really excited to take part this weekend in the Program of Excellence," added Nybo. "I worked really hard all season long so I would hopefully get the opportunity. It's going to be really fun playing with girls that I haven't before."
"I think I improved my shooting ability and just overall team play throughout the season and I think that's why I was invited," she added.
Jayselyn spent her winter playing with three different teams. She played on both the Bantam and Midget Grand Plains Ice Dogs. She helped the Midget Ice Dogs win a bronze medal at the "A" Provincial Championships in Crystal City.
She also helped the Bantam's win the Consolation Championship at their provincials.
Playing with the Bantam Rangers at the AAA Showcase in Winnipeg, Nybo had an All-Star type of weekend. She had 15 points in just four games which was fourth in tournament scoring. Her teammate, Brooklyn Hramalak also put up 15.
The camp goes until Sunday at the Seven Oaks Arena.
Details

Contributed by

Darnell Duff
The baseball season is just around the corner and the Parkland is looking for umpires.
The Parkland Minor Baseball Association will host a clinic this Saturday at the Rotary Arena beginning at 8:00 a.m. It's for both Level One and Level Two umpires.
The Level One clinic is open to anyone who has an interest in becoming a certified umpire and no experience is required, but you must be 12 years of age. If you were a Level One umpire last year, you can also use this clinic to re-certify. The cost to take part is $60.
The Level Two clinic is for Level One umpires who have completed their phase at the first level. You can also re-certify and the cost is $70.
Both clinics will involve in class and on-field instruction with the clinic running for about seven hours.
For more information, you can contact Curtis Kaleta at 648-7913. In order to take part in the clinic, you must register through Baseball Manitoba.
Details

Contributed by

Darnell Duff
After a disappointing exit against the Vegas Golden Knights last season, the "Whiteout" will fire up in Winnipeg tonight as the Jets begin their quest to the Stanley Cup against the St. Louis Blues.
Winnipeg finished with 99 points in the Central Division with a 47-30-5 record while the Blues also had 99 points. They went 45-28-9.
Winnipeg went 3-1 against St. Louis in the regular season.
"I think the whole province is behind the Jets and it's a really exciting time," said Dennis Beyak, Voice of the Jets. "To get to the playoffs for the second straight season is definitely a good accomplishment for this team."
"The players were excited at practice and they're looking forward to getting things going," added Beyak.
The Jets have had their fair share of struggles lately. Since March 25, Winnipeg has allowed 26 goals while they've scored 18. Five of the goals against came when they took on Dauphin's Barry Trotz, Grandview's Ryan Pulock, and the Islanders.
The team has allowed at least three goals in six of seven games since that date and they have given up five goals in three of the games.
"I think the goals against is a bit of a concern heading into the series," said Beyak. "I think the quality of chances from our opponents has been higher lately. I think some of that relates to being careless in the defensive end."
"This is still a very good team so if they can get off to a good start on Wednesday, away they go," he added.
The battle between the pipes should be one to watch. Jordan Binnington won 24 games for St. Louis while he had an exceptional 1.89 goals against average to go along with a .927 save percentage. He also racked up five shutouts. Binnington also has the franchise record for wins by a rookie.
In net for Winnipeg will be Connor Hellebuyck. The Jets workhorse earned 34 wins and he had a decent 2.90 goals against average and a .913 save percentage. He's been in the playoffs before and Binnington hasn't.
"I believe Connor had a very good second half of the season despite the goals allowed. I think the chances against came a lot more often than earlier in the season," said Beyak. "Binnington is a rookie but he's not a young goaltender, he's played professional hockey in the past. I think this is going to be a very good goaltending battle."
The season can be cut into two portions for both St. Louis and Winnipeg. The Jets were 25-12-2 after 2018 while the Blues were a shocking 15-18-4.
St. Louis has stolen the show in 2019 as they've gone 30-10-5 while the Jets have been okay, going 22-18-3.
Some key injuries may hinder each team. Winnipeg is missing Josh Morrissey and Brandon Tanev, both due to upper body injuries. Colton Parayko is day to day for St. Louis with an undisclosed injury while Sammy Blais is day to day with an ankle injury.
Here is the full series schedule:
Wednesday, April 10, 8 p.m.: Blues @ Jets | SN, TVA Sports, NHL Network
Friday, April 12, 9:30 p.m.: Blues @ Jets | SN, TVA Sports, CNBC
Sunday, April 14, 7:30 p.m.: Jets @ Blues | CNBC, SN, CBC, TVA Sports
Tuesday, April 16, 9:30 p.m.: Jets @ Blues | CNBC, SN, TVA Sports
*Thursday, April 18, TBD: Blues @ Jets | TBD
*Saturday, April 20, TBD: Jets @ Blues | TBD
*Monday, April 22, TBD: Blues @ Jets | TBD
Details

Contributed by

Darnell Duff
Heading into his high school basketball career, Dauphin's Ethan Thacker didn't really think or expect to become an All-Star. Last month Ethan played his final game as a Dauphin Clipper.
That doesn't mean he played high final high school game.
Ethan has been invited to the A, AA, AAA graduating All-Star game which takes place this weekend in Winnipeg. The Dauphinite will play on Team Kahunaverse Sports as they battle Team Under Armour on Saturday at 11:30.
"I'm very surprised that I was invited but I'm very excited to represent Dauphin and I'm honoured to represent the Clippers," said Thacker. "I really have to thank my coaches and my teammates who helped me out so much this season."
"I've heard of the event because my brother went to it but I never really pictured myself playing in it," added Thacker. "It's just a great feeling."
Ethan was instrumental in the Clippers return to the Provincial Championships this season. They qualified for the event after beating Neelin in the zone finals. They were trailing by 15 in the game before they staged a massive comeback.
Thacker and the rest of the Clippers entered the provincials as the sixth seed. That put them up against the third-ranked; St. Norbert Celtics in the quarterfinals and Dauphin gave them everything they could handle in a tight one-point loss for Dauphin.
The team rebounded very nicely by beating Morden in the consolation semi-final, 70-59. The team came up just short in the consolation final against Margaret Barbour, 71-65.
"Our whole team had a really great connection and we were all so excited to play in the provincials," added Thacker. "I've never been at the tournament and we were all pretty nervous but we had a lot of fun for sure."
Ethan's looking forward to playing in the game this weekend and playing with guys he hasn't before.
Details

Contributed by

Darnell Duff