Latest Sports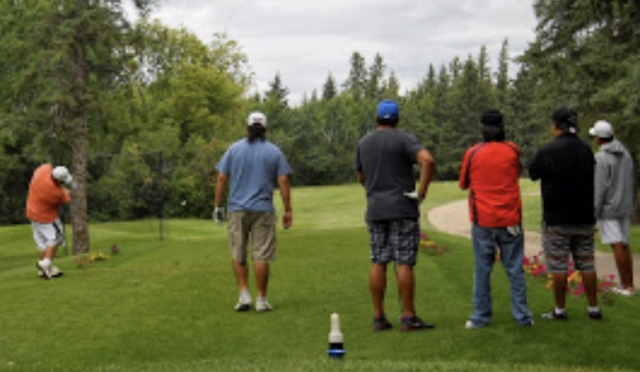 The Treaty 2 Battle of the Nations took place at the Gilbert Plains Country Club.
Here are the results:
Champion
1 - Elvis Nepinak 57 cb.
2 - Ashley Straightnose 57 cb.
3 - Keenan Leaske 58.
1st Flight
1 - Barry Mckay 59 cb.
2 - Tony Cote 59 cb.
3 - Dion Houle 59 cb.
2nd Flight
1 - Bradley Burns 63cb.
2 - Phil McCorrester 63 cb.
3 - Kevin Mckay 63 cb.
3rd Flight
1 - Emery Stagg 65 cb.
2 - Rene Hunter 65 cb.
3 - Sterling Nepinak 66 cb.
Closest to the Pin
#4 Emery Stagg 88 feet, 8 inches
#9 Savannah Sanderson 5 feet, 5 inches.
#14 Kevin Mckay 7 feet.
#17 John North 2 feet, 6.5 inches.
Details

Contributed by

Darnell Duff
After a 14 over in his first round, Dauphin's John Tomlinson put together an improved round in his second round at the Tamarack Tournament.
He shot a 12 over and he will now wait for his third round tee time.
After qualifying, Joran Hedley remains atop the Parkland at nine over.
Dale Murray and Mark Odut are both at 10 over.
Jake Wiens and Regan Hedley are 12 over while Tyler Carefoot is five back at 17 over.
Jason Yates is 18 over while Anthony Wiens is 19 over.
Bart Michaleski is 24 over and Lawson Yates is 43 over.
Match play brackets on the men's side will start tomorrow.
In the senior men's division, Laurie Vrooman begins his match play today at 12:39. He's the fifth seed in the eight-person bracket.
Also on the senior side, Mel Graves is in the first flight, Frank Clement is in the third flight and Ivin Semenek is in the fourth flight.
Plenty more action hits the tee today including the junior event.
Stay tuned for results.
Details

Contributed by

Darnell Duff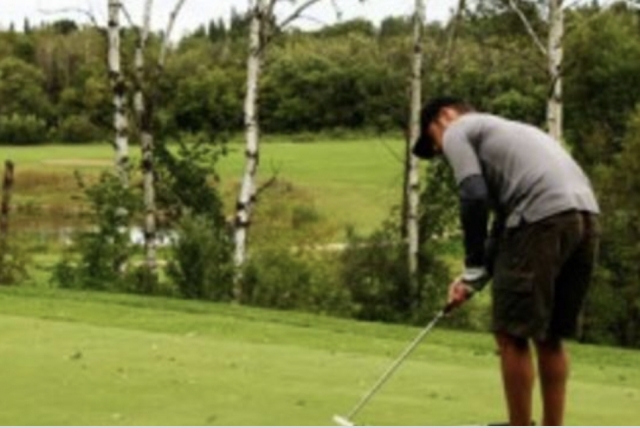 The West Region Tribal Council golf tournament was yesterday at the Gilbert Plains Country Club.
Here's the results:
Champion:
1st - Darryl Lacquette - 61.
2nd - Stacey Genaille - 64 cb.
3rd - Barry McKay - 64 cb.
1st Flight:
1st - Nelson Leaske - 64 cb.
2nd - Dion Houle - 65.
3rd - Mervin Lynxleg - 65 cb.
2nd Flight:
1st - Garret Dykun- 68 cb.
2nd - Brad Moosetail - 68 cb.
3rd - Dalon Schutz - 69 cb.
3rd Flight:
1st - Rob Woods - 70 cb.
2nd - Scott Lynxleg - 70 cb.
3rd - Ron Missyabit - 71
4th Flight:
1st - Nelson Nepinak - 78 cb.
2nd - Robert Malcom - 78 cb.
3rd - Frank Abraham - 80.
Closest to the Pin:
4- George McKay - 8 feet.
9- Nelson Leaske - 2 feet, 6 inches.
14- Cliff Bruce - 6 feet, 3 inches.
17- Elvis Nepinak - 6 feet, 5 inches.
Details

Contributed by

Darnell Duff
Steve Hewey is the newest member of the Parkland Hole in One club.
Playing the Gilbert Plains Country Club earlier today, Steve aced the ninth hole.
It was Steve's second ace of his golf career, but first at Gilbert Plains.
Details

Contributed by

Darnell Duff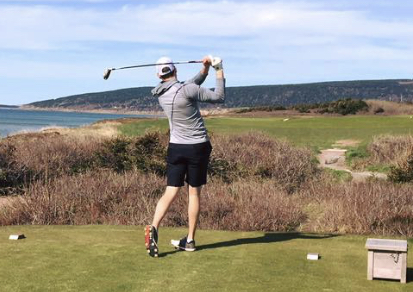 Joran Hedley is the top Parkland golfer after day one of the Tamarack Tournament in the men's division.
He fired a 1 over, 73 in the first qualifying round. He's in 12th place. The top 16 will advance to the Championship bracket after round two on Sunday.
Joran's brother, Regan finished 3 over and he's in a tie for 20th.
In 34th is Jason Yates after a 77, while Mark Odut and Tyler Carefoot both short 79's.
Dale Murray's in a tie for 59th after an 80 in his first round.
Here are some other Parkland scores.
Anthony Wiens shot a 10 over while John Tomlinson and Bart Michaleski both shot a 14 over.
Details

Contributed by

Darnell Duff
Dauphin's JJ Love and the rest of the Manitoba men are semifinals bound at the Western Canada Summer Games volleyball event.
They went 4-1 in the round-robin. The team's only blemish so far was a 3-0 loss against Alberta.
Although the defeat was in straight sets, Manitoba was in it for the entire game.
The set scores were 24-26, 22-25 and 21-25.
They will now play Saskatchewan in their semifinal. In the round-robin, they beat them in three sets. Saskatchewan's highest amount of points in a set was 21.
The winner earns a berth to Sunday's gold medal game.
Details

Contributed by

Darnell Duff
Brayden Dube scored four times as Fusion Credit Union got past Dean Cooley GM, 15-8 in the Parkland Source for Sports 4 on 4 Hockey League.
Colby Cherneski also had a hot stick with three goals. Jaegar Lapointe and Owen Riffel both had two goals.
In the loss, Riese Gaber led the way with three goals while Kyan Grouette also had three.
In the late game, Reece Hopfner scored three goals as Treaty 2/Kiniw beat Aspen Insurance, 12-7.
Drake Pahl, Derek Benson and and Brayden Kohlman all scored twice.
In the loss, Koby Morrisseau and Bradyn Smelski both had two goals.
Details

Contributed by

Darnell Duff
Whatever happens for the rest of the golf season, Dauphin's Eric Prokopowich will end it with a title.
Playing on the Westman Junior Golf Tour, Eric was the Champion of the 1st Flight, in the 15-18-year-old group.
His final match for the top spot in the group came against Bodhi Speiss from Neepawa and the match was never really in doubt. Eric went on to win 7 up in the match play format.
"It felt pretty good, it was a really good experience and I had a ton of fun," said Prokopowich. "I was hoping to get into the Championship Flight, but I'm fairly happy with the 1st Flight title. I played some solid golf all summer, sometimes I just didn't come out on top."
As Eric continues his golf season, he knows the key to success is staying composed on the course.
"A big thing is the mental game. You have to have that mental edge on opponents," he added. "I definitely have to work on that."
With the title now in the rearview mirror, Eric will now chase another one. He's playing in the Tamarack Tournament at the Clear Lake Golf Course, in the Junior Men's Division. His first round is on Monday at 12:30 on the first tee.
"I'm really hoping to get into the Championship Flight," he added. "I played the course a couple of times and I'm feeling pretty confident about it."
Eric will also play in the Maple Leaf Junior Tour Bieber Classic PGA of Manitoba Junior Championship later this month. It's from August 25-26 at the Breezy Bend Country Club. It's the final event of the season.
"It's a little frustrating going into these events because I don't know the course as well as some people," he added. "But, it's still going to be a blast and I can't wait to play."
Stay tuned to find out how Eric does at the Tamarack.
Details

Contributed by

Darnell Duff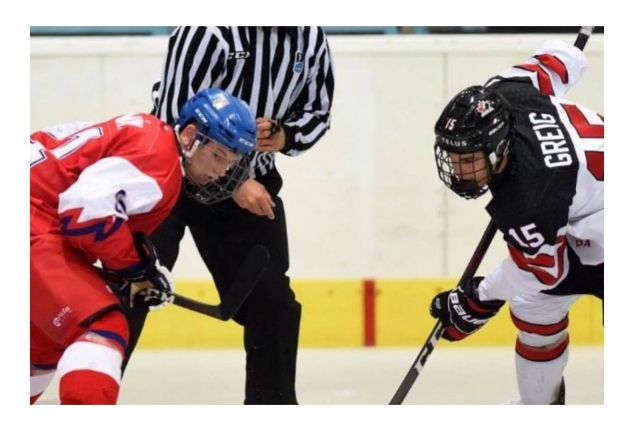 Ridly Greig has opened a lot of eyes throughout his young hockey career. In the 2016-17 season, he compiled 89 points in just 48 games.
That success came with the Lethbridge Golden Hawks Bantam AAA team. He won the league award for most assists. He also won an Alberta Cup title that season.
Fast forward to that off-season and Ridly was eligible for the WHL Bantam Draft. It wasn't long before he heard his name called. He was picked in the first round, 8th overall by the Brandon Wheat Kings, a team he now plays for.
Now we fast forward to last month. The 17-year-old from Lethbridge was invited to Team Canada's Under-18 Selection Camp, ahead of the Hlinka Gretzky Cup.
Ridly was one of 44 invited and he was one of 22 that were named to the final team after a few rigorous days of tryouts.
That meant Greig would wear the Canadian jersey for the second time. He also played in the World Under-17 Hockey Challenge.
"It was an amazing feeling to make this team, especially because I did so with some buddies," he added. "My family was so proud and it meant everything to me."
With the thrill of making it in the rearview window, Ridly's next task was helping the team win. He was able to achieve that goal, until the finals. That's when the Canadian squad came up just short against a hot Russian team.
All in all, it's still a silver medal for Ridly and it's a week he'll never forget.
"It was an amazing experience and it was a great opportunity," he continued. "Everything about it, the atmosphere and competition were top-notch."
Ridly was able to contribute on the score sheet as well. He had three points (2G). He was also a plus five.
"I think I performed pretty well. I just did whatever I could to help the team," he continued. "It sucks the way it ended, but it is what it is."
Despite the silver medal and the great time he did have, falling short in the gold medal game was and is still a tough pill to swallow for the Brandon Wheat King forward.
"It was a crappy feeling when we saw all the Russians celebrating," he added. "They deserved it, they played solid and their goaltender was on fire. Other than that, I don't really have any other words to explain it, it just sucks."
"It's going to push me moving forward, I don't want something like that to happen again," said Greig.
Ridly is now spending as much time with his family and friends as he can before he'll head out once again. This time, it'll be to join the team that drafted him, the Brandon Wheat Kings.
Greig is all set for his second full year as a Western Hockey League player. His first full one provided 35 points (14G) in 63 games. Unfortunately, the team failed to qualify for the playoffs.
"I'm really excited to get back to the Wheat City," he added. "I can't wait to see the guys and just get things going."
When it comes down to what he's expecting from himself this season, it's all about winning games.
"I don't really have any expectations for points. It's all about having a good season wins wise," he added. "I just want to help this team win. A deep playoff run is the goal right now."
Last year, Brandon went 31-29-4-4 for 70 points. That was two shy of Red Deer, who earned the final Eastern Conference playoff spot. It actually looked like Brandon would make the playoffs, but they struggled heavily down the stretch.
In their final 10 games, they went 2-7-1.
"Our team is going to be better this year," he concluded.
Ridly will pack his bags and depart Lethbridge for Brandon on August 24. He and the rest of the veterans hit the ice on the 26.
Details

Contributed by

Darnell Duff
The Winnipeg Blue Bombers won the game, but they may have lost their starting quarterback.
Matt Nichols exited Winnipeg's 32-16 win over the B-C Lions with about nine minutes left after he was sacked by defensive lineman Shawn Lemon.
Nichols fumbled the ball and left the field favouring his throwing arm.
The Bombers had no update on his condition after the game. Prior to him leaving, he was 10 for 12 for 179 yards.
Winnipeg is now 7-2 on the season. They head to Edmonton next week, before starting September with a home and home against Saskatchewan.
Details

Contributed by

Darnell Duff
The Dauphin Lake Golf Club hosted their men's and women's Open today.
Here is the results:
Women's Championship Flight
1st Linda Kitching 87
2nd Pearl Maksymetz 88
3rd Shelly Love 91

1st Flight
1st Teresa Gulak 103
2nd Jean Sydor 104
3rd Betty Puff 104

2nd Flight
1st Jean Geisel 111
2nd Myrna Fox 111
3rd Florence Burdeny 111

Senior Men's Championship Flight
1st Gord Fox 74
2nd Wayne Olson 79
3rd Ken Wiebe 80

1st Flight
1st John Kalechyn 85
2nd Don Roch 85
3rd Al Porter 85

2nd Flight
1st Thor Johnsson 90
2nd Ray Karlson 92
3rd Don Snitka 93

3rd Flight
1st Tom Carberry 97
2nd Dave Smith 98
3rd Roy Laycock 99

4th Flight
1st Ron Bazylo 103
2nd Mel Gilroy 103
3rd Fred Todoruk 104

Closest to the hole
Men- Myles Haverluk Women- Linda Kitching

Details

Contributed by

Darnell Duff