Latest Sports
Earlier this week, the Dauphin Kings hammered the Selkirk Steelers, 11-2.
Baron Thompson opened the scoring just more than six minutes into the contest.
About a minute later, it was Koby Morrisseau's turn to take over. The Tootinaowaziibeeng First Nation native scored his first goal as a King in his second game with the club since returning from a Leave of Absence.
It was one of Koby's two goals on the night in the big win.
"It just felt good going out there and playing and getting back into game shape," said Morrisseau. "It was a big win for our club and it felt great."
Koby comes from the Regina Pats where he had four points in 14 games last year. Now, Morrisseau and the club will welcome the Winnipeg Blues to town tomorrow. On Sunday, they head on the road for the first time as they challenge the Portage Terriers.
A big win on Tuesday will help the club figures Morrisseau.
"That win put our team in a push mood, we want to make that kind of thing happen more often," he continued. "We want to go out there and produce every night and I know every guy wants that."
Dauphin's Andrew Liwiski also commented on the big win. Andrew and Koby are two-thirds of the Parkland group on the club. Goaltender Zach Grouette is also from Dauphin.
"We know we're not going to win 11-2 every night and guys won't be putting up career nights all the time, but we can use that game to give us confidence moving forward," he added.
Details

Contributed by

Darnell Duff
For the past three seasons, Jaden Townsend spent his junior hockey days with the Swan Valley Stampeders. That of course, after playing three seasons with the Parkland Rangers program.
In his time with the Stamps, Jaden had 75 points. He was then traded to the Winkler Flyers in the off-season. The Roblin native has now played 13 games with the Flyers and he's billeting in Morden, which is just a short ride to Winkler.
"Things have been going great, it's definitely been a change of scenery," said Townsend. "Everyone in Winkler is treating me really well, I'm enjoying it here. There is also a lot of opportunities to excel here."
As a captain for Swan Valley last year, Jaden wasn't able to finish the season. He suffered a horrific lower-body injury late in the season. That sidelined him as the team went on to advance to the league final, where they lost in seven games against Portage.
The injury meant a long road was ahead before he began his final junior hockey season.
"I just went to a lot of physio so I could rehab my leg and then it took a lot of hard work," added Townsend. "After rehab, I just had a shorter time to prepare for the season, but I did as much as I could to assure I would be ready."
Spending last year as a captain for Swan Valley, Jaden has made it two straight seasons that he's a part of a leadership group. He's one of the Flyers' assistant captains this season.
"That's a great honour, it's always a privilege and an honour to lead a team," added Townsend. "I'm doing all I can to help this team win games and we have a great group."
"Learning how to be a leader in Swan Valley last year really helped me be ready for this," he continued.
Despite the uphill battle Jaden faced as he recovered from a terrible lower-body injury, there's no doubt whatever he did worked very well. He's played in 13 games with the team and he has five points (2G). That's not quite as many as he hoped he would have by now, but it's certainly not a bad start.
"I've been pretty happy with what I've done," he added. "I started out a little bit slow and that was a bit frustrating. I've rebounded nicely and everyone goes through slumps."
As of late, Winkler has jumped up the standings. They've won four straight games and they're now fourth in the league with an 8-5 record. That's good for 16 points which is just five behind the first place Portage Terriers.
"We're coming together here now. We've made some changes and they have really helped," concluded Townsend. "We're starting to play together now. We're playing with that no-quit attitude and how we need to."
Jaden and the Flyers are back on the ice this weekend against Virden and Neepawa.
Details

Contributed by

Darnell Duff
There is only one team that can go perfect every year in the Rural Manitoba Football League. This year, it's a team that put up 396 points while only allowing 109 (both league bests). They're a team that dominated most of their games, it's the Swan Valley Tigers.
Playing in a seven-game season, the Tigers went a perfect 7-0 to finish atop the standings. Swan Valley's closest game this year was when they put up an incredible 69 points against Southwest. They also gave up 50, but their high powered offence was good enough to pick up the win. They have scored at least 49 points in every single game this season.
"We've had a really successful season. We knew we had a lot of returning guys this season and we had a feeling we would have success," said Justin Petelski, head coach. "I think in some games we've done better than we thought we would."
"Guys are feeling good. But, there's a fine line between being confident and being cocky and we warn the guys about that all the time," added Petelski. "It's nice knowing that we can compete with anyone in this league, but our job is far from over."
The 7-0 regular season has clinched top spot for the Tigers. They will now host one of the league's semifinals in Swan River this weekend. Their opponent is the Virden Golden Bears. Virden went 3-4 this season. Swan Valley beat them 59-12 earlier this season.
"Virden is definitely a better team then their record indicates. When we played them earlier this year, they played really hard in the first and they scored first and I think that was the first time we trailed all season," continued Petelski. "We're certainly not going to take them lightly. We'll put a game plan together and hopefully, get a victory."
"All of the guys are very excited about this, especially because it's on our home field," he continued.
Kick-off on Saturday is set for 1:00 p.m. at the Swan Valley Secondary School field. If you didn't plan on heading to the game, Justin says you should.
"It's the first time that we've ever gone undefeated in this league," concluded Petelski. "It's going to be a very exciting game against Virden on Saturday."
You can expect a run and gun offence from Swan Valley. Justin says they are 60-40 when it comes to passing and running, with more plays being through the air.
Details

Contributed by

Darnell Duff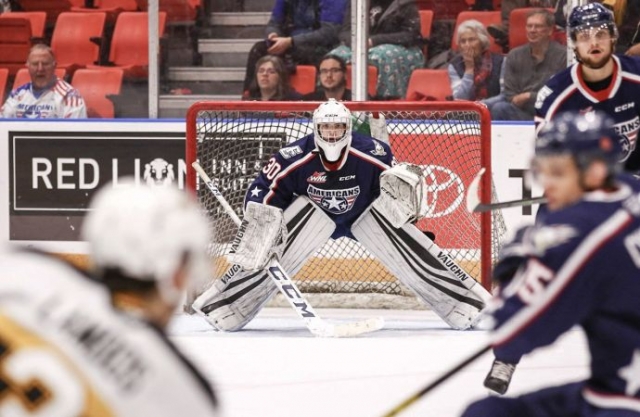 On Tuesday night, the Brandon Wheat Kings came out guns blazing as they hammered Tri-City 10-2. On Wednesday night, the club rolled into Spokane to challenge the Chiefs for the first time this season in a game the team will surely want to forget.
Adam Beckman had one goal and four assists and, he was a +4 as Spokane dominated the Wheat Kings 7-1 inside of the Spokane Veterans Memorial Arena.
"We played on our heels tonight," said head coach Dave Lowry, courtesy of wheatkings.com. "The concerning thing is, it's the second time this has happened in the back half of back-to-back nights. Our start cost us the hockey game."
On a night when they were outshot 30-to-19, Spokane scored the game's first five goals. Starting at the 14:21 mark, Luke Toporowski netted his third of the season with Beckman getting his first assist of the game.
Just less than two minutes later at the 15:53 mark, Spokane went up 2-0. Matt Leduc scored his first of the season with the assists going to Eli Zummack and Adam Beckman.
With a 2-0 lead after 20 minutes, Spokane kept coming hard in the second. Adam Beckman scored his fifth of the season in what turned out to be a career game. Owen MacNeil assisted on the insurance goal.
With 3:22 left in the midway frame, Bear Hughes scored his fourth goal of the season and Connor Gabruch was joined by Filip Kral with the assists. The goal made it 4-0 Spokane
They weren't done there, however. Eli Zummack made it 5-0 just 27 seconds later, and Spokane led by that scoreline after 40.
Brandon was also outshot 16-to-8 in the second.
"We got out-battled in front of our own net," added Lowry. "The goals we gave up in the second period, we just weren't competing hard enough."
Play early in the third period did provide a good feeling for Brandon. On a beautiful pass from Nolan Ritchie, Jake Chiasson scored his first-ever Western Hockey League goal. The goal was scored at 2:12.
That was it for Brandon. Filip Kral made it 6-1 for Spokane 6:02 into the final frame. Michael King then scored his third goal of the season as Spokane took a 7-1 lead, finishing the scoring.
Brandon plays their sixth game of a seven-game trip on Friday when they take on the Lethbridge Hurricanes.
"We better remember this feeling," concluded Lowry. "The effort we put forth was unacceptable. The way we lost the game really stings. It's something we will address, and we won't make these same mistakes again."
Brandon is now 5-8.
Details

Contributed by

Darnell Duff
The Parkland u18 Rangers hosted Hockey Fights Cancer at Credit Union Place tonight as Yellowhead was in town.
The game was tied at zero for quite a while, until Yellowhead opened up a 2-0 lead in the second and they never looked back.
Rylan Gibbs brought the Rangers back in the game with a goal at the 14:13 mark of the second frame. However, Yellowhead scored four of the games next five goals in a 6-2 win.
Steven Arp scored Parkland's second goal.
Parkland plays Saturday in Portage and they welcome the Bruins to town on Saturday.
Details

Contributed by

Darnell Duff
After a big win last night against Selkirk, the Dauphin Kings have completed another trade, this time with the Portage Terriers.
The first player Dauphin received is forward Ben Hackl. He has four goals and one assist this season with the Kenora U18 Thistles. The second player is forward Matthew Ramsey. Playing with the Southwest U18 Cougars, Ramsey has one point this season so far.
The Kings also acquired a 6th round draft pick in next summer's MJHL Bantam Draft.
Going to Portage is Reece Richmond. He's playing with Yellowhead this season and he has eight points.
Details

Contributed by

Darnell Duff
The Major Pratt Trojans varsity girls volleyball team is a group with a lot of veterans on the squad. That has allowed the team to have success and one of the grade 12 athletes on the team is having a fantastic season.
From Russell, Anna Garnett has been playing sports for as long as she can remember and she's been a part of several teams during her time at high school. She's had a ton of success in the past, but something she found out last week was a first. Garnett was named the Manitoba High School Athletics Rural Athlete of the Week.
The left side hitter leads her team in digs and aces. She's also helped the team win their own tournament and place second at both the Gilbert Plains and Goose Lake tournaments.
"It was unexpected, but I'm really happy to be recognized, especially being from Russell," said Garnett. "I'm also proud of all the other athletes that get recognized."
"I take part in a lot of sports and I feel I excel in all of them and I've been having a solid volleyball season so far," she continued.
Excelling on the court isn't the only thing Anna has done. She also excels in the classroom as her average is 94%.
Anna and the rest of the team will look to keep it going this weekend. They're playing in a tournament in Minnedosa. With already one tournament win to their name, Garnett is looking to add to that.
"We aren't ranked as high as we want right now, but hopefully we can bump our ranking up after this tournament," continued Garnett. "We want to get into a spot where we could host a provincial qualifier."
They can definitely use some past experiences. They made it all the way to the provincial final last year. They eventually fell in that contest, which is pushing Anna that much harder. That and the fact that Garnett along with a few others on the team is playing their final high school season. That means they have one more chance to win a provincial volleyball title.
"We really want this. We got silver last year and we really want the gold," continued Garnett. "We're going to do whatever it takes and we're going to push the entire way and hopefully, we can get it done."
Anna is also getting geared up to play with the Birtle/Hamiota hockey team. Later on, she will play on the badminton team, fastpitch team, and any other team that is available to her.
"I've had so many great memories playing high school sports, it's great playing with a bunch of girls that love the sport as well," she concluded.
When she graduates in June, she'll be heading out of province in the fall. She will head to the University of Calgary to continue her studies.
Details

Contributed by

Darnell Duff
The Swan Valley Stampeders are faced with a situation they haven't been up against this season. Over the weekend, the club dropped two straight games for the first time this season. The Winkler Flyers, who have now won four games in a row, beat the Stampeders in a weekend set at the Centennial Arena.
The team earned a point in an overtime loss on Friday, but they were doubled up, 6-3 on Saturday evening. The Stampeders saw their record drop to 7-2-1 through 10 games.
"We got outworked by a better team and I think people are starting to pay attention to them," said Geoff Grimwood, head coach, and general manager. "We knew going in they were a really good team but they outworked us and outclassed us. I think it's a good kick in the teeth for us and we need to be better in our defensive zone."
After an off-day on Sunday, the Stampeders helped out for the election on Monday. They were back on the ice yesterday preparing for a game tonight against the OCN Blizzard.
OCN is in eighth place in the league with a 5-6 record, but they're coming off a big win against Portage over the weekend. Tonight's meeting is the first of six between the two clubs. The game goes down at the Gordon Lathlin.
"OCN is coming off that great win against the best team in the league, so they're going to come into the game with some confidence," added Grimwood. "They're playing well right now. We expect to see a hungry hockey club and we also have to be hungry."
"Our defensive zone was weak against Winkler, we gave up far too many goals," he continued. "If we figure out our defensive zone, we'll be okay."
Tonight's game is the first of three in a row away from home for Swan Valley. They're in Virden and Waywayseecappo this weekend. Their next home game is next Wednesday against Dauphin. You can hear that game right here on 730CKDM as Darnell Duff will have the pregame show at 7:15.
Details

Contributed by

Darnell Duff
The Brandon Wheat Kings made a stop at the Toyota Center in Kennewick, Washington, on Tuesday night to challenge the Tri-City Americans. It was the team's fourth of seven games on their current two week road trip that started last Wednesday against the Everett Silvertips.
Brandon has lost two games along the way, but they changed things on Tuesday and added their second win of the trip as they hammered the Americans 10-2 inside of their own rink.
In front of 2,499 fans, Brandon got points from all but two players and they put up 41 shots. Lynden McCallum also continued his hot start to the season. Luka Burzan put a hold on his cold patch and all was well for the Wheat Kings.
We've talked a lot this season about McCallum, and that's for good reason. Last year, he had just four goals in 46 games. On Tuesday, McCallum found the back of the net twice to help the Wheat Kings pick up their most lopsided victory of the season. The two goals also give him five on the season — more than all of last year — and the season is less than 15 games old.
7:26 in, McCallum opened the scoring. Dom Schmiemann and Ben McCartney drew the assists. On their home ice, it didn't take Tri-City long to punch right back. At the 8:54 mark, Edge Lambert scored his second of the season to knot the game up. Mitchell Brown and Nikita Krivokrasov notched the assists.
Before the media timeout, Brandon gave themselves something to cheer about. 9:42 into the contest, Cole Reinhardt sniped home his fifth of the season as Lynden McCallum drew the only assist.
Being up 2-1 after 20 clearly wasn't enough for Brandon. On the power play with just 58 seconds left, Ben McCartney scored his fifth goal of the season to give Brandon a 3-1 lead going into the first intermission. Luka Burzan and Braden Schneider, who will both play on Team WHL in the Canada/Russia Series next month, had the assists.
The Wheat Kings went on a rampage in the second and blew the game wide open early on. With their 3-1 lead, Lynden McCallum scored his second of the game and fifth of the season just 2:18 in. Luka Burzan picked up another assist and so did Dom Schmiemann. 2:03 later, the goal light was turned on again. That's when Captain Connor Gutenberg made it 5-1 at the 4:21 mark.
Next up it was Jonny Hooker's time to shine. He scored his first goal of the campaign just 1:19 later as Brandon extended their lead to 6-1. Caiden Daley got his first assist of the game while Schmiemann picked up his third. Brandon scored six goals in the game's first 35:40.
Just like a 2-1 lead after 20 wasn't enough for Brandon, a 6-1 lead wasn't enough either. Marcus Sekundiak made it 7-1 with 9:58 left in the midway period. The marker was shorthanded and it was assisted by Braden Schneider and Gutenberg.
Luka Burzan hadn't scored a goal in the last six games. Well, that streak is now over. He scored his fifth of the season with 2:56 left in the second period. The goal was assisted by Caiden Daley and Chad Nychuk and gave Brandon an 8-1 lead after 40 minutes.
With the game well decided, Tri-City's Marc Lajoie trimmed the deficit to 8-2 with just over 10 minutes left.
At the 17:31 mark, Jonny Hooker scored, and 1:02 later, Jonny Lambos scored his second of the season as Brandon hit the double-digit mark in scoring for the first time this season.
The win moves Brandon to 5-7. Tri-City, meanwhile, is 6-5.
Details

Contributed by

Darnell Duff
The Dauphin Kings put on a clinic tonight inside of Credit Union Place. Seven different players had at least three points as the club hammered Selkirk, 11-2 for their fourth win of the season.
In a game that Dauphin scored more than six goals for the first time this season, Carter Sawchuk led things with his first-ever four-goal game to lead Dauphin.
"It felt pretty good. I was having a tough time scoring early in the season," said Sawchuk. "It was nice that everyone was scoring tonight and it was a big bounce back for us."
It didn't take Dauphin long to start the onslaught. 6:05 in, Baron Thompson scored his fourth of the season with Grady Hobbs and Cole DeKoninck getting the assists on the power play marker. Just 1:14 left, it was Koby Morrisseau's turn. He scored his first goal as a King with Avery Smith and Carter Eha earning the assists.
Up 2-0, Dauphin kept on coming. Carter Sawchuk scored his third of the season with Austin Lamotte and Nakodan Greyeyes notching the assists.
Caiden Gault brought Selkirk within two with his eighth of the season at the 11:09 mark.
However, the rest of the way was mostly all Dauphin. Nakodan Greyeyes made it 4-1 with his sixth of the season at the 11:39 mark. Two minutes later, Carter Sawchuk scored his second of the game to make it 5-1 for Dauphin after 20 minutes.
"It was finally good to see guys going to the net. I thought our entries were fantastic and our passing was great," said Doug Hedley, head coach, and general manager. "It was a great effort by everyone."
Already up 5-1, Dauphin didn't stop there. Koby Morrisseau scored his second of the game to make it 6-1 early in the second. After Selkirk scored to make it 6-2, Dauphin continued the runaway. Noah Wagner made it 7-2 with less than two minutes left in the second.
Carter Sawchuk scored his hat-trick just 17 seconds into the third to make it 8-2. Kadin Ilott then scored his second of the season to put Dauphin up 9-2. That wasn't enough for the Kings. Noah Wagner scored his second of the game and season to make it 10-2.
Finishing off his incredible night was Carter Sawchuk, as he scored his fourth goal of the game at the 11:44 mark to make it 11-2 for Dauphin. Matthias Smith made 20 saves in the win.
The win was a big bounce back from Dauphin, who lost 2-1 on Saturday against Neepawa.
"We were all on the same page tonight and we all worked hard and the result showed," concluded Sawchuk. "If we keep working hard and together, we'll be good."
Dauphin returns to the ice on Saturday night when they play the Winnipeg Blues at Credit Union Place at 7:30. Darnell Duff has the next broadcast on Sunday night from Portage with the pregame show starting at 7:15.
Details

Contributed by

Darnell Duff
After two seasons with the Notre Dame Hounds, Roblin's Josh Brook began his WHL career with the Moose Jaw Warriors. His WHL debut actually came in the 2014-15 season when he played one game while he was still with the Notre Dame Midget AAA club.
In the 2015-16 season, Josh played in 30 regular season games with Moose Jaw and he had 10 points and he added another five in 10 playoff games. He really showed off his stuff by scoring three goals for Team Canada Red at the World U17 Hockey Challenge.
Josh called Moose Jaw his home the next season and he continued to improve as a defender while the offence came along for the ride. Combined with the playoffs, Brook had 47 points and he had another two assists while playing with the U18 Canadian team.
The 2017-18 season saw Josh put together another solid campaign, with 32 points in 45 regular season games and six playoff points.
In his final junior season last year, Josh took his game to the next level. With a ton of outside talk swirling around Josh one day being a full-time NHL player, Josh lived up to some of the hype. He had 75 points in 59 games with the Warriors and he had three assists in four games.
Josh was also able to take the next step last season as he played seven games with the American Hockey League's Laval Rocket. That's where he recorded his first professional assist. In huge news last year, Brook also played for Team Canada at the World Junior Championships in Vancouver and Victoria. It was his third Team Canada appearance in four years.
With all of his success and progression throughout the years, it was unlikely Josh would return to the Warriors for his final junior season and ultimately, he didn't. He started this season with the Montreal Canadiens at their training camp where he would spend about two weeks.
Eventually, he was sent down to the Laval Rocket and now he's in his first full season as a professional player with the American Hockey League club.
"Things are going pretty well, it's a learning process right now," said Brook. "There is a lot of learning to be done and I'm enjoying the experience and everything I'm going through."
"I'm learning my defensive game more every day and I'm picking up on the systems as well," continued Brook.
A veteran of 239 WHL games, Josh has been in the biggest junior situations, perhaps the biggest was with Team Canada at last year's World Junior Championships. However, Josh has been in some big spots with Moose Jaw, most of which came in a position where he had to lock down the other teams best players. For now, Josh knows he has some work to do to get to that level on the professional stage.
"It's a big change here compared to junior. The guys are stronger and more skilled," added Brook. "It's a lot different playing here than in junior."
Saturday, October 12 will go down in the history books for Josh. In his third game of the season and on his third shot, Josh scored his first ever professional goal in a 4-2 loss against the Milwaukee Admirals. Josh takes us through what was going on in his mind as the play went on.
"Milwaukee had a bit of a breakdown and we had a good forcheck and I got the puck at the top of the circles," said Brook. "I took a shot and it hit one of the defenders sticks and it went in. It was a nice little boost to the confidence."
Laval is 3-4 this season. That's good for fifth in the AHL's North Division.
"Our expectations are to win the league, we have an awesome team here. We're also getting better every game," continued Brook. "Once we get everything running perfectly, we can do a lot of damage in this league."
After living the past four years in Moose Jaw, the move to Quebec has been a culture shock for Brook. So, I asked him a few questions about his day-to-day life.
Q: What does a day look like for you?
A: I get up in the morning and head to the rink for breakfast. We then practice and I have lunch at the rink and head home. I hang out with Jake Evans, see what the guys are doing. We'll play some cards sometimes and video games as well.
Q: Favourite video game?
A: Fortnite. I've won a couple games, but I'm not very good.
Q: What's living in Laval like?
A: It's been pretty good so far. I'm not living with a billet family anymore, so I'm obviously doing all the cooking and grocery shopping. Jake played here last year so he knows the ropes and he's helped me out a lot.
In the end, Josh is enjoying living and playing for the Rocket and being a professional. But, he knows what the end goal is and that's playing for the Montreal Canadiens. He had the opportunity in the preseason and now he's working hard to take it one step farther. In his own words "The Bell Centre was nuts during the preseason, I can only imagine what it would be like during a regular season game,"
Josh and the rest of the Rocket are in Belleville tomorrow, Hartford on Friday, and Providence on Saturday. Toronto leads the North Division with a 6-0 record for 12 points, which are six more than Laval. Brook will also make his return to Manitoba in the middle of January, 2020. The club is in Winnipeg to challenge the Moose twice.
Details

Contributed by

Darnell Duff