Latest Sports
The Parkland Pirates rugby program is heading to Ireland in March. The trip which will include high school athletes will include exhibition games and training sessions conducted by professional coaches.
Ahead of that, the program will be hosting a fundraising social this Saturday. It will take place at the 8th Avenue Hall and tickets are $20 per person. You can get them by messaging the Parkland Pirates on Facebook. You can also get in touch with Aaron Miner or Gerald Lopez.
Rugby in Dauphin has taken off over the past couple of years with local high school teams having plenty of success including the girls' team this past season as they won a provincial championship. Lopez says this trip to Ireland will only help the program improve.
"The rugby culture in the Parkland area is really growing," said Lopez. "We just thought we could broaden these players' experience and show them what rugby is outside the Parkland area."
There will also be tickets available at the door on Saturday.
Details

Contributed by

Darnell Duff
Swan River's Steven Arp scored once as Team 18U White downed Team 18U Black, 8-3, in the opening game at the MJHL Top Prospects Showcase on Wednesday afternoon.
Cole Sheffield made eight saves in the net for the team. Aiden Ziprick; meanwhile, had two assists. Ziprick of Russell finished the event with one goal and three assists.
In the second game of the day, Dauphin Kings forward Blake Boudreau scored an incredible goal and he had one assist in a 5-2 win for Team 20U Black. Trey Sauder of Swan River scored another goal as he finished the event with two goals.
#MJHLTPS22 | Blake Boudreau (03) @dauphinkings shows off his hands in tight and goes upstairs on this sweet goal 🚨 pic.twitter.com/4qZ3KZfe21

— #theMJ (@mjhlhockey) November 16, 2022
In the final game, Mason Smith had one goal while Alex Senf had an assist.
Details

Contributed by

Darnell Duff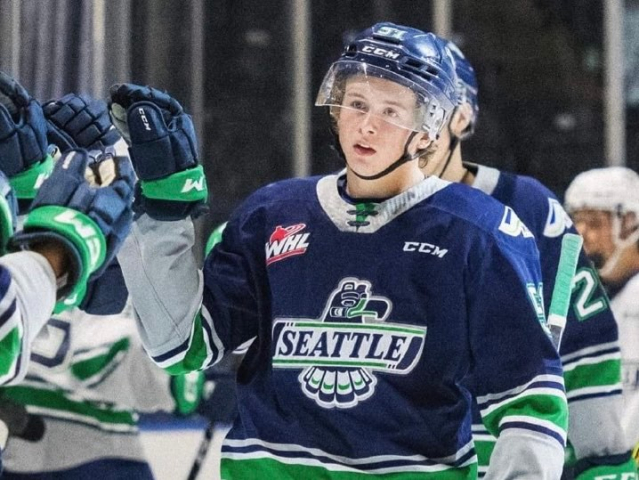 Brayden Dube's time with the Seattle Thunderbirds has come to an end.
In a trade that included five players and six draft picks, the Roblin native was dealt to the Prince Albert Raiders. Brayden's tenure in Seattle was short as he played just 14 games with them. In that time, he recorded his first Western Hockey League goal, scored one other goal and added two assists.
Dube scored the game-winning goal in game seven of the Turnbull Cup final last year against the Steinbach Pistons and he then scored four times at the Centennial Cup in Estevan. Prince Albert is 7-12-2 this season and they're back in action this Saturday as they welcome the Medicine Hat Tigers to town.
Details

Contributed by

Darnell Duff
Brady Oliveira had a monster game on Sunday in a 28-20 win against the B.C. Lions, a win that sent the Winnipeg Blue Bombers to the Grey Cup.
The Winnipegger finished with 130 yards on the ground which included a 26-yard run. Brady outrushed the entire Lions team combined. It was also Brady's first playoff game as a starter and he sure made the most of it.
"It's super special for me. I'm proud to be from Winnipeg and to see that stadium and to hear how loud the fans were, it was incredible," said Oliveira. "We have the best fans in the league and they deserve to see us play in another Grey Cup.
Winnipeg will go for their third straight championship on Sunday when they go up against the Toronto Argonauts, who downed the Montreal Alouettes in the East Final. Winnipeg edged Toronto, 23-22, on July 4 in the team's only meeting against each other. Brady rushed for 28 yards in that game.
Sunday's game also marks the return of Andrew Harris to the Grey Cup. He won last year's title with Winnipeg, now he's an Argonaut. He rushed for 111 yards against Winnipeg back in July and he finished with 42 yards yesterday.
Oliveira talks about playing in the Grey Cup and the game coming against one of his good friends and ex-teammate.
"It's going to be cool. Andrew and I still talk quite often," said Oliveira. "It's going to be cool to see him. He helped me so much when he was here. He's one of the best running backs in league history and he knows how to win. There's just a lot of excitement for our entire group, we are ready to play for Winnipeg."
Fun Fact:
Winnipeg and Toronto have not met in a Grey Cup since way back in 1950. Famously known as the Mud Bowl, Toronto won that game 13-0. The Bombers entered the game after a 10-4 regular season while Toronto went 6-5-1. 27,101 fans packed into Varsity Stadium in Toronto.
Details

Contributed by

Darnell Duff
While the results aren't coming as the team would have hoped they would, Olivia Brown continues to put together some solid numbers. In four periods played over the weekend, Olivia finished with 75 saves.
Now for the third time this season, Brown has been named Player of the Week in the Manitoba U15 AAA Women's Hockey League. The Dauphin goalie has made 293 saves this season and that's 51 more than Bailey Schwartz who has made the second-most in the league.
Parkland will look to get back in the win column this weekend as they're on home ice against the Central Plains Capitals on Friday and the Westman Wildcats on Saturday afternoon. Both games are at the GACC, Friday's puck drops at 6:15 while the Rangers and Wildcats hit the ice at 12:15 on Saturday.
Details

Contributed by

Darnell Duff
Carter Williamson's curling season is well underway as he's playing second on Team Bryden and the foursome has put together a very solid season. Also on the team are Brecklin Gervais and Adam Bukurak.
The team made the semifinals in their first two events before coming up short in the final in their third tournament. This past weekend, the team made some key shots when they needed to and they ended up winning their first event of the season, the Humboldt Saskatchewan Cup.
The team went 4-1 in the round-robin with their lone loss coming against Team Drewitz. Carter and the rest of Team Bryden; however, got their revenge as they downed Team Drewitz in the final, 4-3.
Williamson says the team is very familiar with each other and that's been a big reason why they have been so good.
"We were really glad to get over the hump and win that last game of the weekend," said Williamson. "We played pretty well all weekend long so it was nice to get the job done at the end of the day."
The team will now head to Brandon this weekend for the Sun Life Invitational, an event that features the best junior teams from Manitoba and Saskatchewan.
"The win in Humboldt certainly gave us a good feeling, we're pretty confident in our abilities heading into the Brandon event," offered Williamson.
They will also try and gain entry into the Sasktel Tankard men's provincials.
Williamson will also play with the University of Regina at the Canada West Championships in late February. The winner of that event earns a berth in the national championships. The nationals will be played in Sudbury.
"There's tons of excitement around that event, there always is," said Williamson. "We're just looking to add one more piece to the team and the guy that we are planning to add is a great guy and he is a really strong player. We're excited for Victoria."
Details

Contributed by

Darnell Duff
The Dauphin Clippers hockey team is on cruise control.
Hosting Major Pratt on Tuesday, the Clippers took care of business in a 9-0 win.
Norman Lacquette and William Miner both scored two goals apiece for Dauphin.
Boston Karlson, Logan Chapman, Jaxon Bodnar, Ethan Carnegie, and Dixon Flett also scored for Dauphin in the huge win.
Details

Contributed by

Darnell Duff
Aiden Ziprick and Jayce Legaarden both put together great performances as the 1st annual MJHL Top Prospects Showcase is underway in Portage.
Playing on Team U18 Black, Ziprick of Russell scored once while adding one assist. Legaarden; meanwhile, recorded two assists as the team downed Team U18 White, 4-1.
Dauphin Kings goalie, Cole Sheffield, turned away 12 shots for Team White in the loss.
In other action on Tuesday, Jayden Harris scored once in a 6-3 win for Team 20U Grey over Team 20U Red. Swan River's Trey Sauder also scored for Team 20U Black in a nailbiting 3-2 win over Team 20U White.
The action continues on Wednesday with three more games.
Details

Contributed by

Darnell Duff
Joseph Lopez's high school football career has come to an end. It ended when the team lost a very hard-fought battle against the Interlake Thunder in the Rural Manitoba Football League's semifinals.
Dauphin earned the right to host that game after a very good regular season which included many highlights and memories throughout the season. And while his high school career has come to an end on the gridiron, Joseph has plenty to look back on and be proud of.
The 17-year-old consistently put up big numbers on both the defensive and offensive side of the ball and he was a leader on and off the field. It may have not ended with a championship, but Lopez does believe this was his most enjoyable year of football to date.
"Just because of who my teammates were this year, we had such a special group," said Lopez. "I also had the chance to finish off my high school career with some guys that I have been playing with since middle school, so that was special. Every game meant so much to us."
Joseph was a nominee for the most outstanding player on the offensive side of the ball as he finished with 20 carries for an outstanding 388 yards on the ground. He also had three catches for 85 yards. While he was very impressive offensively, Lopez was next level defensively. He finished the season with 37 tackles, four assists, four sacks, one fumble recovery, two interceptions, two knockdowns, and one defensive touchdown.
On top of his nomination offensively, Lopez was also nominated for the most outstanding defensive player award and that was an award that he ended up taking home. At the league's year-end awards ceremony, Joseph was named the most outstanding defensive player. It's an award that he believes he couldn't have won without his great teammates.
"It means a lot. From the start of the season, I knew I wanted that award and I was pushing hard for it," said Lopez. "When I heard that I won it, I was really excited. I worked really hard for this but my coaches and teammates are the real reason that I was able to win it."
Joseph will now continue his football journey with the Manitoba Selects as they're off to Texas for an exhibition series of games early next year. He was approached by a coach from the team after Dauphin played Interlake in the league semifinal. Lopez is one of only a few players on that team that are from rural Manitoba. Lopez says getting recognized is a great feeling.
"It was exciting, it's the first time that something like that has happened to me," said Lopez.
Lopez will then head to Ireland with the Parkland Pirates rugby program as they will play a series of exhibition games against teams from Ireland in late March. In other Clipper news, Matthew Zurba was presented with the Norris Aitken award. Stay tuned to hear from Matthew in the coming days.
Details

Contributed by

Darnell Duff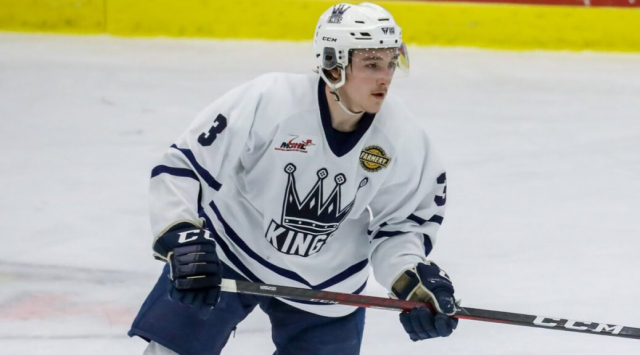 The University of North Dakota has come calling for another superstar from Gilbert Plains, Manitoba.
Riese Gaber is currently with the Fighting Hawks, and he has eight goals in 11 games. Now, Jayden Jubenvill will be heading to North Dakota.
The former King has announced his commitment to one of the top college teams in the nation. Jubenvill helped Dauphin win the Turnbull Cup trophy last year. He was fantastic last year with the Kings as he was named to the league's all-rookie team.
This year with the Dubuque Fighting Saints, Jubenvill is playing top-line minutes on the back end, and he has six assists in 11 games. He was a minus 4 after the team's opening two games; however, he is now a plus three.
Details

Contributed by

Darnell Duff
Jackson Delaurier can add a top-20 finish at the national championships to his resume.
Opening the weather-shortened event at Orange County National as a part of the MJT series, Delaurier posted a round of 83 to open the event. He then went back for round two and improved his score by firing an 81.
He finished the event in 17th place and only two Manitobans beat his score.
Details

Contributed by

Darnell Duff