Latest Sports
The Western Hockey League released some news late last week that is quite promising to all major-junior fans across the province. Whether you watch the Brandon Wheat Kings or Winnipeg ICE, you could get your first opportunity to do so on October 2.
That's when the league hopes to begin its season and with it, it would feature a full 68 game schedule for each team. The date is tentative. The WHL regular season was put on hold with less than two weeks left in it in mid-March when Canada was hit hard by COVID-19.
It shortly after cancelled the playoffs and the Memorial Cup which was set to be played back in May in Kelowna.
"We're working very diligently on a Return-to-Play Protocol," said WHL Commissioner, Ron Robison. "We've been in touch with all 22 member clubs and we're working toward a document that would be comprehensive enough to send to all health authorities across the league.
A Return-to-Play policy would only be possible if fans were allowed in the stands. Robison has said earlier that without fans, the league wouldn't be able to run as it's a spectator driven league. The WHL is one of three major junior leagues in Canada. The two other being the Ontario Hockey League and Quebec Major Junior Hockey League.
The QMJHL has made it known that they hope to begin the season on October 1, one day prior to the WHL's tentative date. The OHL, meanwhile, has not made anything public when it comes to a Return-to-Play Protocol or when they hope to begin the season.
"We feel that the reception has been very positive towards the Protocol," concluded Robison. "We have a plan that we will present in a way that is very respectful of the decisions that have to made by health authorities."
The Portland Winterhawks won the league's top record award. Both Winnipeg and Brandon had clinched playoff spots.
Details

Contributed by

Darnell Duff
The Manitoba Junior Hockey League's first-ever Roundtable Webinar started last evening.
Brigette Lacquette was a part of the first session and she was joined by Cassie Campbell-Pascall and Marie-Philip Poulin.
Session three which takes place tonight at 6:30 includes Barry Trotz and Ryan Pulock. They'll be discussing their player-coach relationship and what it takes to make it to the next level as a coach and player.
Session six wraps up the Webinar tomorrow as Paul Maurice of the Winnipeg Jets and Sheldon Keefe of the Maple Leafs join to share 'coaches perspective'.
All sessions are free of charge and you can register for them here.
Details

Contributed by

Darnell Duff
It was a field that began with 74 earlier this month as the Winkler Golf Club played host to the Manitoba amateur match play championships qualifier.
After two days of stroke play and 36 holes, the 32-man field was set for the match-play portion of the event at the St. Charles Country Club.
Entering the matches as the second-seed, Austin Dobrescu quickly secured a 3&1 win in his first match which was followed with a 3&2 win. After two straight 4&3 commanding wins, the man from Brandon, Manitoba was set to compete in the 36-hole championship final against Jack Werhun who like Dobrescu has played collegiate golf.
After trailing the opening 18 holes by one, Dobrescu re-focused after a quick break and he ended up running away with it near the end of the match as he capped off the championships with a 4&2 win. Werhun came into the match as the 17th seed and in the second round, he beat Marco Trstenjak who was the number one seed entering the matches.
"It's a pretty great feeling. St. Charles is definitely one of my favourite courses in the province so getting the chance to play it a few times in the past few weeks has been great," said Dobrescu. "It really felt like I was playing championship golf because the venue is so gorgeous."
The championship also is the back end of a back-to-back. Austin beat Colwyn Abgrall last season to claim the match play championships at the Quarry Oaks Golf Course.
"It was a really fun week and I'm always excited to play with the best amateurs in the province," continued Dobrescu. "It's a special feeling to know I've won this in two straight years, it's always a great challenge."
Next up for Austin is some practice time as he prepares for the Manitoba amateur championships that'll be played next month at the Minnewasta Golf & Country Club and the Glendale Country Club. Dobrescu was the clubhouse leader after day one when he fired a 68 last year. In the end, the Brandonite finished in second place as Abgrall was 2 under for the week, two better than Austin.
"I think if I keep my head on straight this year and just play my game, I just have a good chance of getting done this year," concluded Dobrescu. "I expect to play well and we'll see if I can get it done."
Details

Contributed by

Darnell Duff
The Dauphin Kings have added another forward as Doug Hedley continues to fill training camp spots.
In exchange for future considerations, Dauphin recieved Kahlil Fontana.
Of Duncan, B.C, he had 11 points in 40 games last season with the Victoria Grizzlies of the British Columbia Hockey League.
Details

Contributed by

Darnell Duff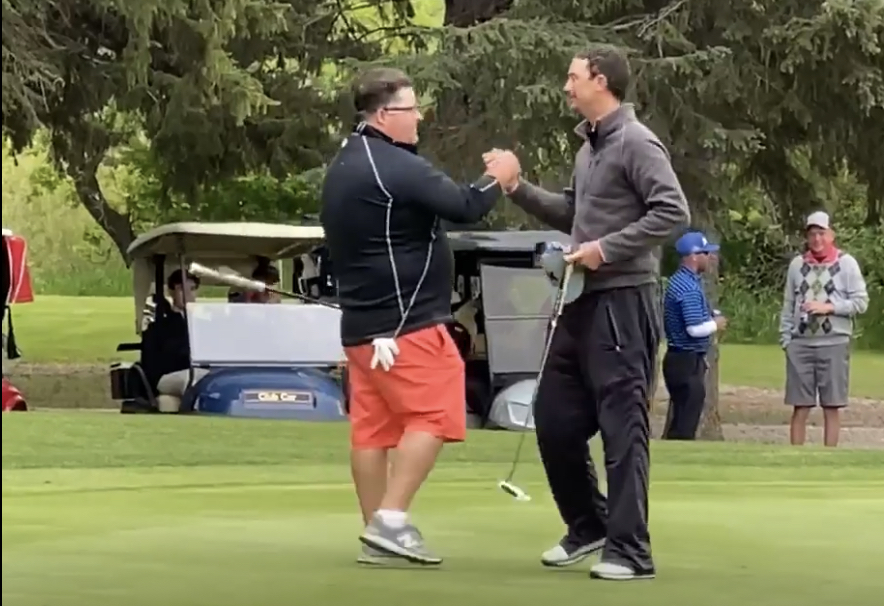 It was a battle that went down to the wire and it even needed extra holes.
That was the case today at the Gilbert Plains Country Club as a stacked field hit the course to take part in the Fusion Credit Union Men's Open.
In the end, Chad Facey finished things off on the first playoff hole against Ryan Horn who failed to convert a short putt to extend the playoff.
Dalen Schulz fired a 73 to finish in third in the championship flight.
First Flight:
Scott McCallum (78 CB)
Jerron Kyle (78 CB)
Jordan McKay (79 CB)
Second Flight:
Dennis Lukey (82 CB)
Corbin Pasternak (82 CB)
Mike Pernarowski (82 CB)
Third Flight:
Keith VanWelleghen (84 CB)
Sean McQuarrie (84 CB)
David Platford (86 CB)
Fourth Flight:
Calvin Zatylny (88 CB)
Teddy Wojtowicz (89)
Walter Toderian (90 CB)
Fifth Flight:
Bruce Parker (94 CB)
George McKay (94 CB)
Kyle Caracas (94 CB)
Sixth Flight:
Lloyd Campbell (98 CB)
Tom Munson (98 CB)
Cliff Lambkins (98 CB)
Seventh Flight:
Brian Sharpe (105 CB)
Nathan Zadorozny (105 CB)
Dan McFarland (106)
Closest to the Hole #4 - Dalen Schulz
Closest to the Hole #9 - Brad Kirton
Closest to the Hole #14 - Cary Fillion
Closest to the Hole #17 - Ryan Horn
Details

Contributed by

Darnell Duff
If you're a golfer, the Parkland is an incredible place to live. With so many beautiful options to play, there is surely a spot for you.
Whether it's at the Clear Lake Golf Course or the Gilbert Plains Country Club, both are two of the better courses in the province. Just past the Clear Lake Golf Course is the Poplar Ridge Golf Course and if you haven't visited that course before, it is also one of the best around.
With lush fairways and pristine greens, it's appealing to any golfer of any skill level.
"Our course condition is outstanding, I don't know that you'll find a better-conditioned course than ours," said Lavern Popple, Director of Golf. "We offer a fairly wide-open driving area and some challenging greens."
Lavern adds the pace of play is always great and the course also offers different specials. On Monday, you can play for just $35 which gives you 18 holes with a cart. On Tuesdays, the second round is just $2.
Popple has also confirmed that the course will be hosting tournaments this year. Details are currently being finalized and a full list of events will be available next week at tournaments.
"Yeah, we're really excited about the prospect of hosting tournaments. We're hoping Manitoba can continue to flatten the curve," concluded Popple. "Golf is a safe thing for people to do, there's no doubt about that. We have plans and we want to follow through with them."
Details

Contributed by

Darnell Duff
Two Americans have committed to the Dauphin Kings organization as a busy, but unusual off-season continues for Doug Hedley.
The Club has announced that forwards Gage Vierzba and Jack Campion have committed to the program.
Vierzba is coming off an offensive season that most wish they could have. In just 13 games with his Fort Zumwalt East High School Lions, he scored 30 goals and 22 assists for a 52 point total. That's an average of four points-per-game. He also scored 20 more times and added 16 assists in 30 contests with the Chesterfield Falcons U18 team this past season.
In all, Gage tallied 88 points. Standing in at 6'5 and 195 pounds, Vierzba will add a great offensive touch and some physicality to the lineup. Doug Hedley first noticed Gage at the UND Camp a couple of years ago.
"He's gotten bigger and stronger. We really liked his size at the UND Camp and we're really excited to get him up here," said Hedley. "He's really going to help us on the right side. He has a long stride and he's the kind of power forward that works well in this league. He also has some great interest in playing up here, so we're really happy about that."
From Crystal, Minnesota, Campion was also a proven scorer last season with the Robbinsdale Armstrong/Cooper High School Falcons. In just 25 games as team captain, Campion had 60 points, 25 of which were goals.
"His coach had nothing but outstanding things to say about his character and work ethic," added Hedley. "We know he's going to bring his work boots to practice every day. We watched some video and we believe he's going to be a solid piece to the puzzle here."
Details

Contributed by

Darnell Duff
The Neepawa Golf & Country Club is truly one of the best courses in Manitoba and it's been a busy month and a half for the club since they opened back on May 4.
The track that is very playable for every player out there whether you're a scratch golfer or just a recreational player has been ranked as the 9th "Best Valued" course in the country by Golf Advisor.
The course begins with a rather straight forward par 4 that is 369 yards. Landon Cameron, Head Professional says it's a good hole to take your par and run.
"I think the best thing about the course is it gives everyone a new experience and something pretty different than most courses around the province," he said. "We have some great elevation changes and beautiful scenery."
Golf is one of the few sports around the globe that you can do safely with everyone going on when it comes to the coronavirus pandemic. And with that being said, Cameron says there hasn't been much of a dull moment at the course yet this season.
"Our rounds played are very equivalent to year's past, we're very happy with how things have shaped up so far this year," continued Cameron. "Some of our revenues are up and some are down, but we're happy with the season so far."
If you're looking for a round on a Monday, you can also take part in the Highway 16 deal. For just $16, you can play 18 holes. Keep in mind, you must rent a cart so for just $36, you can play 18 holes with a cart for $36. You can also capitalize on this deal at the Minnedosa Golf & Country Club.
"It's been a very good addition to our offerings this season and I know Minnedosa feels the same way," ended Cameron. "It's really filled in some of our dead time."
Details

Contributed by

Darnell Duff
The Dauphin Kings hosted their Annual General Meeting last night as the 2019-2020 season was officially wrapped up inside of the Aspen Lodge.
The evening kicked off with Christian Laughland who has now been promoted to Director of Business Operations going through the financial end of things that showed the Club lost $10,766 in 2019-2020.
We'll get more to the financial outlook from the past season in just a bit. First; however, we'll talk about two changes that took place.
The first saw Dean Cooley step down as President, a role he's held since 2014. The owner of Dean Cooley GM in Dauphin said he's looking forward to becoming a part of a board in the automotive industry.
"I think a little bit of turnover is a good thing for any board, you get that fresh energy and fresh ideas," said Cooley. "It's the best time for me to step away and let some fresh blood in."
Cooley added that he's very happy with where the team currently as well as where the team is heading.
With the resignation, the board passed a motion that saw the naming of Ashley Shaw as the new President of the Dauphin Kings.
Ashley was the captain of the UND women's hockey team in the 2007-2008 season and she's the wife of Jason Shaw who is a former Dauphin King player. Ashley also becomes the first female President in Dauphin Kings' history.
"It's not the reason that I'm doing this, but I think it's great when women get involved in sports," said Shaw. "I'm extremely passionate about hockey and I love this organization. I've been on the Board of Directors for a couple of years and I've learned the ropes. It's a great opportunity and was an easy decision."
Ashley added that the team has a great current Board of Directors and it's going to be extremely easy to work with them.
Optimism:
In his address to the public, Jason Gibbs, Team Governor believes the season will start and it will start on time. The Manitoba Junior Hockey Leagues' regular-season typically begins in late September.
By the Numbers:
Some Notable Numbers In 2019-20 (Revenue)
Fundraising - $207,487
Sponsorship – $142,989
Ticket Sales – $135,232
Game Night Revenue – $77,432
Other Revenue – $19,218
Some Notable Numbers In 2019-20 (Expenditures)
Advertising – $23,011
Billets – $54,933
Dressing Room – $10,165
Equipment – $58,207
Ice & Facility Fees – $45,734
Team Travel – $84,190
Wages & Benefits – $125,152
TOTAL EXPENDITURES = $593,124
As mentioned above, Dauphin lost $10,766 this past season.
A definite positive was how many fans attended games at Credit Union Place. 20,294 fans attended games this past season, well over 2,000 more than attended in 2018-2019 (17,996).
The MJHL will hold its AGM next week VIA zoom. It's expected more details will be released on the league's Return-to-Play Protocol then. Kevin Saurette will join to share more details.
Details

Contributed by

Darnell Duff
Several golfers from Dauphin have teed it up this season on the Westman Junior Tour and that will continue throughout the summer. Next week's event is at the Poplar Ridge Golf Course.
It'll include Jackson Delaurier who will look to win his third straight tournament.
After next week's event, the Tour will take a two-week break from singles play; however, they will be hosting an event on Tuesday, June 30 at the Minnedosa Golf and Country Club.
It'll be a two-person scramble and it's open to anyone aged 16 and under.
"Most the kids that play in it play every week on the Tour and it gives them a different feel," said Gary Poole. "It gives everyone a bit of a break from playing single golf and you get to play with a friend and play the best ball. It's a fun little format for everyone."
It's $40 per player which includes your round, meal, and a chance at some prizes. Up for grabs will be wedges, golf shoes, balls, and more.
If you'd like to register with your friend today, call Gary at 204-573-4686. You can also email This email address is being protected from spambots. You need JavaScript enabled to view it.
Details

Contributed by

Darnell Duff
Just like it is for so many junior golfers in the Parkland in the spring, summer, and fall, Luke Myhre has been all golf. The young man from Dauphin has played just about every day since the season opened back on May 4.
Most of his rounds have come at the Gilbert Plains Country Club; however, he's played at different courses around the Parkland and just outside. Myhre's best round of the season so far is a 79.
"I'm not hitting the ball very well right now, but it's just the start of the season," said Myhre. "I expect to be better and I know I'll improve as the summer goes on."
Myhre said he's spent countless hours on the driving range as he looks to improve his swing and consistency.
On top of his non-competitive rounds, Myhre has also played on the Westman Junior Tour this season, a tour that includes nine different events around the Parkland.
Back on June 10, Jackson Delaurier won the 14 and under age group as he fired an 82. Myhre was just behind with a 90 in his first competitive round of the season.
Earlier this week in Killarney, Myhre improved his score as he fired an 86 to finish in third place, just two strokes behind Delaurier who once again won the age group.
Myhre will now hit the road to play in next week's event at the Poplar Ridge Golf Course and shortly after next week's event; it's time for a Golf Manitoba championship. Luke has signed up to compete in the Bantam Championship presented by the Alex and Peggy Colonello Foundation.
The event will take place at the Portage Golf Course, a track that plays to just over 6100 yards. He'll also be joined by Delaurier who plays most of his golf at the Dauphin Lake Golf Club.
"I think it's going to be a great experience. I want to play on the Manitoba Junior Tour in the future, so I think this is a great start," continued Myhre. "I try to play as many tournaments as possible in the summer and I'm also really looking forward to playing alongside Jackson."
Luke adds keeping his mental game intact is the most important thing moving forward.
Details

Contributed by

Darnell Duff