Latest Sports
Rylan Gibbs has his first-ever hat trick with the Parkland U18 Rangers.
Kicking off the preseason on Saturday night in Swan River, Gibbs scored three times in a big 8-1 win against Norman in the first of two straight against the most northern team in the league.
Gibbs is preparing for his second season with the team after he produced 19 points last year.
Five other skaters scored singles for the Rangers including Matthew Munro, Carter Zalischuk, Kyan Grouette, Keanu Woodhouse, and Steven Arp.
Parkland will go for the weekend sweep on Sunday afternoon.
Details

Contributed by

Darnell Duff
The Gilbert Plains Country Club hosted its final tournament of the season on Saturday in tough conditions.
The Ironman Tournament was front and centre with Chad Ducheck winning the championship flight.
Mark Graham finished in second while Cal Vanderschisd rounded out the top three.
Third through sixth went to Syd Gower, Regan Hedley, and George McKay, respectively.
Brock Nixon finished in seventh while Craig Genialle finished in eighth. Finishing in ninth and tenth were Shawn Flecher and Jeff Goraluk, respectively.
Syd Gower was closest to the hole on #4 with a shot of 14 feet and 7 inches away.
Closest to the Hole on #9 - John North - 1 foot
Closest to the Hole on #14 - Darren Schmidt - 1 foot, 10 inches
Closest to the Hole on #17 - Rollie Floyde - 17 feet
Details

Contributed by

Darnell Duff
The Dauphin Kings were getting set for a game against the Portage Terriers back on Tuesday, March 10, 2020. They found themselves down 2-0 in their best-of-seven first-round series against the Portage Terriers and if they didn't find a way to get a win on their home ice on that night, they would be on the brink of elimination just a few days later.
A solid crowd packed inside of Credit Union Place, one that believed the home team could get back in the series with all of the firepower the team had along with superb goaltending.
Moments were tense and each shot became one that could have been the game-winner as the game came down to the final seconds of regulation, but no pucks found the back of the net as Levi Mitchell and Noah Giesbrecht shut the door in the first 60.
The first 10 minute overtime period also solved nothing and after a flood, the second-seeded Terriers and seventh-seeded Kings were off to double-overtime to determine a winner in game three.
Just 2:25 into that frame off of a Portage turnover, Bryson Cecconi jammed the puck to the side of the net where it was retrieved by Grady Hobbs who lit the twine and a celebration ensued as the Kings got back in the series with a thrilling 1-0 win.
Game four of the series was scheduled for Friday, March 15, also at Credit Union Place as the series format was 2-2-1-1-1. Ultimately that game on Friday never took place. The Canadian Junior Hockey League put a stop to the season due to the novel coronavirus.
The question is still could the Kings have knocked off the Centennial Cup hosts in that series? It's a question that no one will ever be able to answer, but the win on March 12 was a big one for the Club, nonetheless.
"That was a really exciting goal because it gave me my first ever playoff win with this organization and that meant a ton to me," offered Hobbs. "At the end of the day, it was bitter-sweet because we didn't get the chance to play another game, but it was a goal that I won't forget."
After news that everything was put to rest for the season, Hobbs and the Kings organization never thought he would play another game with the team as he was set to join the Rochester Institute of Technology Division 1 men's team in time for this season.
However, Grady is back in town as last year's most valuable player will suit up for the Kings in his final junior season and fifth as a member of one of the most storied teams in Canadian Junior Hockey League history.
"There were a lot of talks between my parents, my coaches, and I," offered Hobbs. "Everyone thought it was best if I returned to Dauphin so I could stay close to home with everything going on."
Dauphin is the only junior team that Grady has ever played with and he's now suited up in 224 regular-season games, 231 if you include playoffs. His billets are Lindsey and Jerron Kyle.
"It's really exciting to be back in Dauphin, I really do love it here and I love my billets," said Hobbs. "We have a really great group of guys here so that makes it even more exciting for me."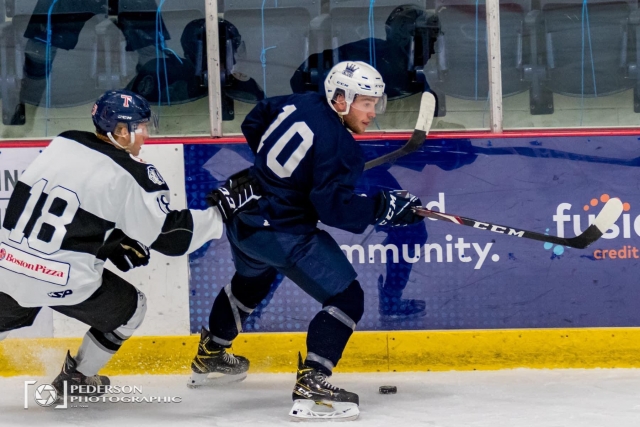 After not taking part in the first two days of main camp on September 18 or 19, Hobbs played in the JoFo Cup and he scored one goal as his Team Trotz went on to win 7-5. Fast forward to the preseason and Hobbs only played once -- but he certainly lit it up -- as most expect he will do this season. He scored three goals and added three assists in an 8-3 win for Dauphin over Neepawa.
"That felt great. I haven't played a game since that last playoff game so it was awesome to be back in game action," said Hobbs. "It was nice that I was able to find some chemistry with Koby Morrisseau and Austin Lamotte."
The trio ended combining for 13 points in that game. Hobbs took off the team's final preseason game against Portage back on Wednesday as the Club prepares for their home opener which will be played on Friday, October 9 when the Waywayseecappo Wolverines are in town.
It'll be Grady's fifth home opener with the team and ultimately, it will be his last as he's 20-years-old. Despite the crowd having to be minimized to just 50% of Credit Union Place's capacity, Grady still knows it will be a special night with hundreds of passionate fans coming to support the team.
"I'm just really grateful that we're getting the opportunity to play hockey, that's the biggest thing right now," continued Hobbs. "I'm really excited about the game, it should be a fun one."
Last year's most valuable player scored 43 goals in the regular season -- the most of any player and he also added 38 assists for an 81 one point total -- only fewer than Mikol Sartor.
Grady has now scored 71 regular season goals across his 224 games. Goals and points are nice and there's no doubt about that, but it's all about winning for the 20-year-old man from Deloraine who will do anything he can to help this team win games.
"That's all that really matters at the end of the day. If I give it all I can, the goals and points will come," ended Hobbs. "I just want to win hockey games and that's the mentality in our room, we all just want to win."
Details

Contributed by

Darnell Duff
The Dauphin Kings are getting set to host their community run on Saturday morning.
Starting at 10:00 a.m. at Credit Union Place, the run will go throughout the city. If you don't want to run, you're welcome to walk, or even join up along the route as well. You're also welcome to drive your vehicle along the route.
Route:
We'll go west down 1st Street SE, then North on Main Street. Turn right at court house and go down River Ave. Turn right and head south on Mountain Rd. Then turn right and head west on Whitmore Ave. Turn right on Main Street and head north and then finish by going right on 1st Street SE, ending at the parking lot at Credit Union Place.
All social distancing rules will be in effect.
Details

Contributed by

Darnell Duff
The Moose Knuckle Adventure Race tests a person physically and mentally. It pushes you to your limits and for many; it's a race that isn't completed.
It's about 100 kilometres of biking through tough terrain, paddling, and navigation on foot. You get a compass and a map, no electronic devices are allowed while you look to tame the beast that is called the Moose Knuckle.
It is put on my Dr. Kevin Steinbachs who works at the Dauphin Vet Clinic. An avid adventure seeker himself, he puts competitors through the toughest of conditions, and in a normal year, the event would take place within the Riding Mountain National Park.
This year; however, Steinbachs started the adventure at Selo and it continued through surrounding areas around Dauphin. The race began at Selo at 8:00 a.m. which led to the Dauphin Reservoir before the competitors went back to Selo which was followed by a grueling trek south of Ochre River. Most of the 100 km is completed on a bike and there were mandatory checkpoints as well as optional ones.
The event has been running for nearly five years with this year being the first including Carla Wolfenden. For the first time, Carla and Lisa Towson entered the race alongside Chris Wolfenden and Mick Lautt as the foursome was named Team Balls and Chains. The cut-off for the event is 10 hours. The Dauphinites finished in just more than 10 hours (10:16:00).
"It was a super fun time; we had a lot of fun as a team. We also suffered a lot," said Wolfenden. "We were pushing our bikes through super long grass, deep ruts, and everything you can imagine. It wasn't easy, but it was a great experience and I'm really looking forward to next year."
Although they just missed the cut-off, the team did finish in 5th place of the 17 teams that competed in the co-ed division. Besides spending time with her husband and two great friends which is always a blast, Wolfenden loved all of the scenery that she got to see despite the pain that she endured over the course of just more than 10 hours.
"It's so beautiful around here. Even though it was local, there were areas and gravel roads that I had never seen before," ended Wolfenden. "The view of Riding Mountain National Park was also incredible, super breathtaking. It was a scenic day and an overall great day."
Details

Contributed by

Darnell Duff
Ray Karlson is nearly done his fourth year as general manager at the Dauphin Lake Golf Club. An avid golfer himself, Ray has done a tremendous job in his four years and it is highly likely that he will return for his fifth and final season as manager of the Club next summer.
When it comes to this season, Karlson says they're hoping they can remain open through next weekend.
"We still have two more applications to put on our greens to prepare them for the winter," said Karlson. "Once we complete that particular task, that's when we'll be shutting down for the winter."
The temperatures need to remain in the double digits for the course to remain open which as the forecast shows should happen.
| | |
| --- | --- |
| Today | Mainly cloudy. 30 percent chance of showers this morning. High 10. UV index 3 or moderate. |
| Tonight | Cloudy. Becoming partly cloudy after midnight. Low zero. |
| Saturday, October 3 | A mix of sun and cloud. High 12. UV index 3 or moderate. |
| Night | Clear. Low minus 4. |
| Sunday, October 4 | Sunny. High 17. |
| Night | Cloudy periods. Low 7. |
| Monday, October 5 | Sunny. Windy. High 19. |
| Night | Clear. Low plus 5. |
| Tuesday, October 6 | A mix of sun and cloud. High 24. |
| Night | Cloudy periods. Low plus 2. |
| Wednesday, October 7 | A mix of sun and cloud. High 17. |
| Night | Cloudy periods. Low plus 1. |
| Thursday, October 8 | Cloudy. High 19. |
"It also depends on how many people are coming out to play," said Karlson. "If people continue to come to play and the weather cooperates, we hope to stay open through next weekend."
It truly has been a historic summer at the Dauphin Lake Golf Club. 52 new members have joined this season and green fee traffic is up at least 35% compared to where it was last summer.
Dauphin Lake also hosted the Home Hardware two-man best ball classic last weekend when Regan Hedley and Trevor Fox won the title.
Details

Contributed by

Darnell Duff
Team Black had no trouble finding the back of the net as the U18 Rangers held their intrasquad game on Thursday evening.
Seven different skaters scored for Team Black as they won, 7-2.
The goal scorers included Brandon Lyon, Hayden Lacquette, Carter Zalischuk, Steven Arp, Josh Thompson, Will Munro, and Luke Decorby.
Responding for Team White was Brayden Dube and Travis Roos.
Next up for the Rangers is the preseason. It begins this weekend with a pair of games in Swan River against Norman.
Details

Contributed by

Darnell Duff
The Dauphin Kings preseason has come to a close as the team will now prepare to begin the regular season on Friday, October 9. That's when the Waywayseecappo Wolverines pay a visit to Credit Union Place to begin a 40 game schedule.
In what was an extremely busy September for the team, they began prospects camp on Friday, September 4 and it ran through Sunday, September 6. Aidan Brook ultimately scored the game-winner in the intrasquad game.
After a weekend off, the Club would host main camp, one that only 34 players were able to attend. Doug Hedley trimmed down the numbers after the JoFo Cup which was won by Team Trotz.
"Our prospects camp was tremendous, the players that came in had extremely strong skillsets," said Doug Hedley. "The compete was great and that carried into main camp for us. Everyone's willingness to battle, compete level, and intensity has carried over into the exhibition season as well."
After the JoFo Cup, Dauphin hosted Swan Valley in their first preseason game in which Garrett Hrechka had one goal and three assists in a 6-1 win. Six days later the team would dispatch of Neepawa, 8-3, a game in which Grady Hobbs scored three goals and added three assists.
Dauphin would end its short three-game preseason schedule on Wednesday evening when they played the Portage Terriers. Despite opening the scoring, the Terriers nipped Dauphin, 6-3. A lone bright spot in the game saw Jayden Jubenvill score once and add one assist. The Gilbert Plains native also played in Dauphin's first preseason game. The 17-year-old has looked very impressive throughout camp and Hedley is pleased with what he's provided.
"He's a smart player, he works hard, and he makes a great first pass. He is also very versatile, he started playing forward on Wednesday against Portage and he switched to play the back end when we got into some troubles," offered Hedley. "He's going to be a very good player. He's very coachable and he's just going to get better and better."
FREE HIGHLIGHT | Jayden Jubenvill has his stick in the right place at the right time and slides it home!#MJHL #ForTheCrown 👑 pic.twitter.com/lfVm8dlZGI
— Dauphin Kings (@dauphinkings) October 1, 2020
One of the most intriguing battles all camp and preseason long has been between the pipes. Matthias Smith played with the team last year while Mathias Savoie and Ian Lee are the newcomers.
In his lone preseason action against Neepawa, Smith went 9-for-9. Savoie has gone 20-for-23 in the preseason while Lee has gone 39-for-46. Smith is a lock for one of the two spots available, which means Savoie and Lee continue to battle for the second spot. With no more preseason games left, Hedley says a decision will be made in the next couple of days.
"Ian is an athletic type goaltender that really battles and competes hard," said Hedley. "Mathias stays a bit quieter and he's technically sound. We're going to rely on our goaltender's coach in Jayson Argue. Both are very coachable and they want to learn. It is unfortunate one has to leave, but we'll hopefully find one a place to play."
This is Jayson's second year as the team's goaltender's coach. He began his junior career in his hometown as he played 83 games with the Stampeders.
In the 2011-2012 season, Argue won a ton of awards. He had the league's best GAA at 2.61, best save percentage of .923, he was named to the league's first all-star team, and he was also named the league's most valuable player. On top of that, he was the league's top goaltender and was presented with several team awards including the Stampeders regular season and playoff MVP.
"We have to give a big shout out to Fusion Credit Union who allows him to take lunch when we practice, it's a community effort," offered Hedley. "He gets so much respect from the players. We rely on him to really give us a solid direction when it comes to goaltending."
Mr. MVP:
Grady Hobbs began his junior career in the 2016-2017 season with seven goals and 12 assists in 60 games. As an assistant captain on the team last season, he scored 43 goals and was named the league's most valuable player.
The 20-year-old from Deloraine will join the Rochester Institute of Technology (RIT) Division 1 team next season, but for now, he's getting ready for his fifth season in the City of Sunshine.
Grady has already played 224 games with Dauphin. With six points in just one exhibition game, Grady is clearly ready to continue with his excellence after last year's incredible season full of goals and assists.
"Every accolade he's received is well deserved. He's definitely a player that we want wearing our crest, he's an ambassador for the Dauphin Kings on and off the ice," said Hedley. "Also with that said, we feel that we have a ton of those guys on our team. We want Grady to continue doing what he's done in the past and we know he's working as hard as he ever has to achieve all of his personal goals and team goals."
Grady was also named to the league's first all-star team last year and he scored the most goals in the league.
Great group:
Of the players and goaltenders still remain with the Kings, 12 of them are returning players. Parker Malchuk has been excellent over the past few weeks since main camp began while Colby Jaquet, Kadin Ilott, and Ty Brant are the returning defenceman.
Returning up front from last year are Austin Lamotte, Parker Fofonoff (who is currently sidelined due to injury), Grady Hobbs, Cole DeKoninck, Kaden Bryant, Noah Wagner, Cordell Coleman, and Braeden Young. Newcomers at camp include Carson Cecconi, Dylan Winsor, Braedon Lacomy, Jayden Harris, Garrett Hrechka, Jean Michael-Gilbert, Aidan Brook, Owen Wareham, Ian Lee, and Mathias Smith.
"We have a lot of kids that have really stepped up. We know they want to be coached and they want to get better and that's huge for our organization," said Hedley.
Another newcomer is another man that has a Division 1 scholarship locked up. Vincent Nardone is out of quarantine and has been on the ice with the team as he gets ready for his 19-year-old season and he's committed to join the University of Omaha-Nebraska team next season.
During his junior career, Vincent scored 19 goals and 23 assists with the Flin Flon Bombers in the SJHL. In the British Columbia Hockey League, he scored 11 goals and added 18 assists.
"He's certainly ready to go. He's a player that has speed and he'll be able to create some offence for us," ended Hedley. "He fits in our top six with guys like Hobbs, Greyeyes, Lamotte, Bryant, and Morrisseau. Hopefully, he can add to an already strong lineup."
Darnell Duff returns with the first power play show of the season on Friday afternoon right after the 4:00 p.m. news, weather, business, and sports.
Details

Contributed by

Darnell Duff
Chantz Petruic was unstoppable last season with the Yorkton Terriers as he scored 58 goals in the regular season and added 51 assists on his way to a 109 point season. Chantz had 21 more points than Cole Rafuse and Alec Malo who both finished second in league scoring.
A 35-20-2-1 record and first place in the Viterra Division saw the Terriers advance to the playoffs for a best-of-seven series against the La Ronge Ice Wolves. Ultimately, only four games were played in that series when the season was shut down and Petruic had another eight points in those contests. Petruic has now aged out and has committed to continue his career at Carleton University which means the Petruic era in Yorkton has officially come to a close.
Although they lost one of the most dominant players in Saskatchewan Junior Hockey League history, Yorkton does have the luxury of returning 12 forwards from last year's 35 win team. The team also returns Philippe Bond who won 14 of the team's game in net.
Mat Hehr, head coach, and general manager of the Terriers had this to say on losing Chantz, but returning a strong core.
"You can't really replace a player like Chantz, he's just so skilled and dynamic," said Hehr. "With that said, I think the team knows that we don't need one guy to step up to replace all of his goals. It's going to have to be a complete team effort this year and we're going to have to rely more on our defensive play."
The Terriers will also have the services of the Taphorn twins. Keenan and Kaeden -- both from Yorkton -- will return to their hometown team for their 20-year-old seasons. Both started last season in Moose Jaw before returning home and in eight games with the Warriors, Keenan had five goals while Kaeden had one goal and one assist in eight games as well.
With Yorkton last year, Keenan scored 10 goals and added 30 assists in the regular season following with another seven points in the playoffs. Kaeden; meanwhile, scored 14 goals and added 19 assists in the regular season while he posted six more playoff points, three of which were goals.
"Yeah, we're really looking forward to getting them back on the ice and I know they're just as ready to get into game action," offered Hehr. "They were dominant here last season and we're expecting the same sort of thing from them this year."
The Terriers' opened main camp last weekend. The SJHL mandated only 30 players were allowed to be on the ice at one time. The team had three teams of 13 in camp as they went through drills and scrimmages. Just as it was the case with the Kings, Yorkton hosted a very competitive camp with limited players.
"That's what all of our scouting staff was saying afterward, they were impressed with it," offered Hehr. "It was extremely competitive and it was a solid weekend."
The SJHL has hopes of beginning its season on Friday, October 9. However, they have not received approval from the provincial government which means they likely won't begin on that day. The MJHL will begin its season on October 9, the BCHL is well into its preseason and they will run an exhibition schedule for the better parts of two months. The AJHL is about to get going which means the SJHL is the only JR. A league in western Canada without a concrete plan when it comes to the 2020-2021 season.
The bench boss for Yorkton is confident; however, the flip of the calendar will bring forward some good news on the new season, news that everyone around the SJHL is waiting for.
"I would be optimistic to say that we'll start anytime in October here," offered Hehr. "I'm pretty confident we'll get a routine done and we'll get back on the ice in game action very soon."
Hehr says you can get used to a solid defensive team with good goaltending and forwards that work extremely hard.
"We're still going to be able to score; we're going to be an exciting team."
Yorkton won back-to-back Canalta Cups as the SJHL champion in 2013 and 2014.
Details

Contributed by

Darnell Duff
On a night where Jayden Jubenvill scored his first preseason goal, the Dauphin Kings suffered defeat in their preseason finale.
FREE HIGHLIGHT | Jayden Jubenvill has his stick in the right place at the right time and slides it home!#MJHL #ForTheCrown 👑 pic.twitter.com/lfVm8dlZGI

— Dauphin Kings (@dauphinkings) October 1, 2020
Despite opening the scoring, the Terriers used a stellar man advantage in a 6-3 win as they played their second exhibition game.
Noah Wagner scored Dauphin's first goal just 4:20 into the game before Portage struck three times in a row.
Down 3-1, Gilbert Plains' Jubenvill brought the Kings within one before the Terriers scored another three straight to take a commanding 6-2 lead.
Brayden Stevenson tickled the twine with just more than six minutes left; however, it wasn't enough in the field-goal defeat.
Dauphin ends the preseason at 2-1 as they'll now prepare for their home opener on Friday, October 9. Wednesday's lineup didn't include Grady Hobbs, Koby Morrisseau, Parker Malchuk, or Austin Lamotte, just to name a few.
King Notes:
Portage was a force on the man advantage as they went 3-for-7 while Dauphin went just 1-for-4.
Portage outshot Dauphin, 35-23.
Ian Lee started by going 17-for-20 in net followed by Mathias Savoie who turned away 12 shots on 15 attempts.
There were 10-10 minute misconducts in the third period with two game misconducts.
Dauphin had 76 penalty minutes while Portage finished with 70.
Game Summary:
1st
4:20
Dauphin
Noah Wagner (1) ASST:

Aidan Brook (1),

Ian Lee (1)

(PP)

10:18
Portage
Kian Calder (1) ASST:

Brady Grasdal (1),

Cody Blight (1)

(PP)

10:57
Portage
Rhys Raeside (1) ASST:

Peyton Gorski (1),

Naaman Hofer (1)

(PP)

2nd
12:09
Portage
Cody Blight (1) ASST:

Kian Calder (1),

Brady Grasdal (2)

12:40
Dauphin
Jayden Jubenville (1) ASST:

Matthew Ramsey (1),

Ty Brant (1)

17:27
Portage
Jacob Piller (1) ASST:

Ryan Hofer (1),

Logan Calder (1)

(PP)

3rd
3:06
Portage
Colby Lubachowski (1) ASST:

None

4:30
Portage
Reece Henry (1) ASST:

Tyson McLean (1),

Rhys Raeside (1)

13:58
Dauphin
Brayden Stevenson (1) ASST:

Sean Williams (1),

Jayden Jubenvill (1)
Details

Contributed by

Darnell Duff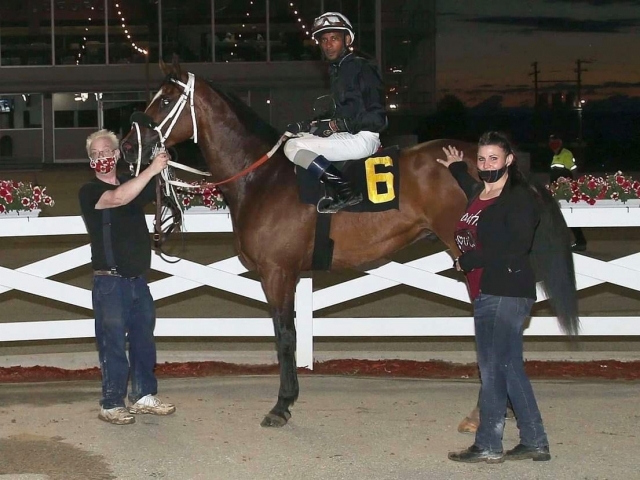 Assiniboia Downs is a hotspot during the summer months as the venue in Headingley hosts first-class thoroughbred racing to thousands of fans every weekend.
The novel coronavirus tried to put a stop to that in 2020, but not even that could stop Darren Dunn and the rest of his crew from providing fans with what they love and that's live racing -- albeit they couldn't be in the stands. After not knowing if there could actually be a season, Dunn and the rest of the crew at the Downs were notified that they could hold live races and they did just that beginning on Monday, May 25.
Because fans weren't able to watch in person, an online wagering system was used where fans could not only bet on the races but watch them as well. In a typical year, upwards of 10,000 people would attend opening night with wagers being in the range of $500,000. On opening night this year, that amount was doubled as HPIbet was a hit with wagers coming in from Canada and around the globe.
Fast forward 50 racing days and the 2020 racing season has officially come to a close and it was a year for the history books.
"It was something that was definitely weird to get used to, it was extremely bizarre," said Darren Dunn, CEO & President of Assiniboia Downs. "Horse racing is a visual sport, it's always best suited with fans in the stands. With that said, this is what had to happen and we are extremely happy to get to the finish line."
(Darren Dunn stands at the finish line)
The previous record for wagering at the Downs was $53,394,913, which was set over 135 race days in 1981. Over just 50 race days this year, the total wagering was $63,263,947. In 85 fewer race days, just less than $10,000,000 more was wagered.
"It truly is incredible, that is so much higher than anyone would have thought," said Dunn. "We had some first-mover advantage because we were the first track in Canada to host live racing. People believed what we were trying to do and they ultimately supported it."
Dunn says although that $63,263,947 was wagered, the margin Assiniboia Downs actually receives is much smaller. However, the money gained will help offset some of the losses at the Downs
"It went a long way for us. Our food and beverage, our limited VLT's are just two of the things that have beend dramatically affected, but that revenue from wagering will go a long way in backfilling lots of our operation that is still upside down," offered Dunn.
In a normal year, races were held on Friday and Saturday nights and Sunday afternoons. With no fans in the stands, the Downs changed things up and hosted races on Monday, Tuesday, and Wednesday evenings all beginning at 7:00 p.m. Moving forward to 2021, Dunn hasn't confirmed when races will take place. He does say; however, with the wagering success of Monday, Tuesday, and Wednesday's that it would be hard not to give those three days another shot.
"The wagering was so robust and the experience was exceptional, it would be hard to get away from it," continued Dunn. "It would still provide us a chance to have fans in the stands when we are able to do so."
Darren is optimistic that the Downs will be able to host fans for the 2021 season.
Stunning season for trainer and jockey:
Trainer Jerry Gorneau and jockey Antonio Whitehall completely dominated the field this summer at the Downs.
Over the course of the 50 race days, Gorneau finished with an incredible 73 wins -- which was just five wins short of the all-time record of 78 -- which was set in 1991, during a 117 date racing season. Gorneau finished 35 wins ahead of his nearest competitor.
"It's just incredible. I've followed this sport for well more than 40 years, I've worked here for 38 years, and I can't remember when there was such a dominating performance," offered Dunn. "Mr. Gorneau was just shooting with bullets from the word go. He runs an incredible operation, he has a great support team in place, and he has a great eye for horses."
Whitehall; meanwhile, finished with 74 wins, 26 more than any other rider. He won his second jockey title in the last three years after he came up just short of winning last year.
"Hats off to both of them. They were here early and they had their minds on business from the very start," ended Dunn. "They reminded everyone of how incredibly both of them are."
Details

Contributed by

Darnell Duff