Latest Sports
The Gilbert Plains Mustangs grade 7/8 girls volleyball team brought home a title.
Playing in the Rick McElroy volleyball tournament in Swan River over the weekend, the girls went perfect as they didn't lose a match.
In the finals, they beat Roblin in straight sets.
Details

Contributed by

Darnell Duff
The Swan Valley Tigers junior varsity girls volleyball team had a perfect weekend.
Playing at the Roblin tournament, the Tigers won every single match they played. In the finals, they swept Warren, 25-20, 25-19.
They now have one tournament win this year and two silver medals.
The team will now head to Neelin for a tournament this weekend.
Details

Contributed by

Darnell Duff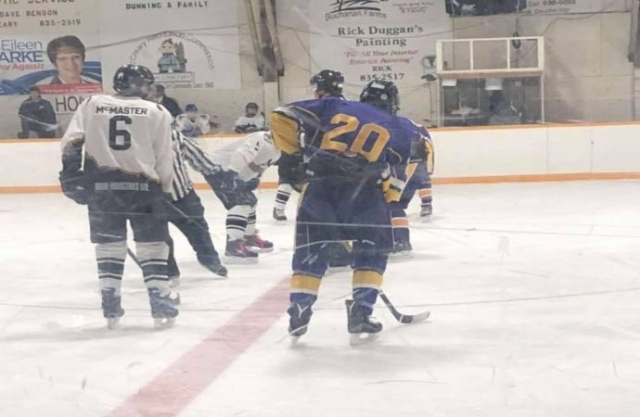 The McCreary Mountaineers kicked off their Westman High School Hockey League season with a couple of games over the weekend.
On Friday, Shayne Shura Froese and Drake Pahl scored in a 5-2 loss against Glenboro. Pahl's goal in the third had the game tied at two, but the Wildcats scored three straight to win.
Playing in McCreary again yesterday, the team welcomed Virden to town and the game was a high scoring affair. The Golden Bears ended up winning 8-5. Devon Benson led things with two goals while Nelson Lepla had one goal and three assists. Drake Pahl also scored a goal.
"I thought we saw a lot of positives in our first two games," said Doug Timlick, coach. "I'm looking forward to the year. We have some new players and we're excited about our season."
"A big thing for us is conditioning. We're a little late starting with our ice coming in late compared to other rinks, so we have to continue to work on that," he continued. "I think defensively we have to work on tightening up in our own end, all things that come with practice."
The Mountaineers are now in their third year in the league. Last year was their best. They won nine games in the regular season and they advanced to the consolation side semifinals. In their first league in the league, McCreary won just three games.
"We lost five key players after last year, but that happens with every high school program," continued Timlick. "We have a young team, only two grade 12's are on our roster. We're moving forward and our goal is to surpass what we did last year. We're looking good with our young group."
Swan Valley is right back at it this Wednesday. They continue and conclude their three-game homestand to begin the season against the Swan Valley Tigers. The Tigers are 2-1 this far and they've scored 24 goals in their first three games.
The game is also in Ste. Rose, the first time McCreary has played their this season after starting in their hometown.
"We know that Swan Valley is tough, they are high powered and they can put up a lot of points," continued Timlick. "We have to take care of our own end and we need to capitalize when we get our chances offensively."
"I know the people of Ste. Rose are really excited to watch the game, it should be a fun one," concluded Timlick.
After Wednesday's game, McCreary plays in Melita on November 17 and Hamiota on November 24. They return home on November 25 for a game against Roblin in Ste. Rose at 7:00 p.m.
Details

Contributed by

Darnell Duff
The Dauphin Kings have lit up the scoreboard on a few different occasions this season and they did it again tonight.
Playing their final road game for more than a week, the Kings put up eight goals in an 8-3 win against the OCN Blizzard.
Dating back to last season, the Kings have now beat OCN seven straight times.
It didn't take long to see the first of eight goals. On the power play, Baron Thompson scored his 12th of the season. Dauphin then scored on the power play once again.
16:22 in, Hugo Laflamme made it 2-0 for Dauphin after 20.
OCN would trim the deficit about five minutes into the second at 2-1, but then the Kings took over.
Koby Morrisseau would make it 3-1 at the 6:19 mark and he scored his second goal to make it 4-1 at the 13:05 mark.
Already up 4-1, Dauphin kept on coming as Grady Hobbs made it 5-1 with less than five minutes left.
Prior to the period ending, OCN trimmed the deficit to 5-2.
10:05 into the third, Baron Thompson made it 6-2 before OCN trimmed things to 6-3, but Dauphin sure wasn't done offensively.
At 15:25, Brendan Arnold made it 7-3 and Cole Dekoninck scored on the power play just more than a minute later to clinch the 8-3 win.
Dauphin has now earned points in seven straight and they're 7-1-1-2 in their last 11 games.
They return to the ice on Tuesday against Waywayseecappo.
Details

Contributed by

Darnell Duff
The Parkland U18 Rangers kept it close this afternoon against the Yellowhead Chiefs, but they were unable to get any points.
In a game where the team scored one power play goal, the Chiefs outlasted the Rangers, 3-1 inside of Credit Union Place.
Steven Arp opened up the scoring at the 14:18 mark, but Yellowhead tied it up at the 14:49 mark as the game was tied after 20 minutes.
Yellowhead would score to make it 2-1 after 40 and they scored an empty-net goal in the third to seal the victory.
Parkland heads to The Pas this weekend for two games against Norman.
Details

Contributed by

Darnell Duff
Forrest Karlson led the Dauphin Clinic Pharmacy Atom AA Kings as the team had a busy weekend in Estevan.
He had 10 points as the team played four games.
In their first game, however, Brayden Budolowski led things as he scored four times in a 14-6 win against Virden.
Karlson, Jake Myhre, Bohdi Bloomer, and Josh Beyette all had two goals each.
Jordan Height and Noah Smigelsky scored a goal each.
Noah Smigelski scored the lone goal in their next game which was a loss against Regina.
In a 10-5 loss against Weyburn in their third game, Karlson and Bloomer scored two goals each and Smigelski scored one.
In their fourth and final game, Smigelski scored the team's lone goal.
Details

Contributed by

Darnell Duff
The Dauphin Clippers varsity boys volleyball team wrapped up their Neelin DIG tournament by getting a silver medal on the B-side.
In their first game of the day, they beat Hapnot, 25-21, 25-10. They followed that up with another win against Sanford, 25-23, 25-21.
The Clippers continued to roll after that in the B-side semifinals as they beat RD Parker, 25-17, 25-18.
In the finals, they came up just short against Green Valley. The scores were 25-22, 22-25, 11-15. Dauphin finished 17th out of 32 teams.
Details

Contributed by

Darnell Duff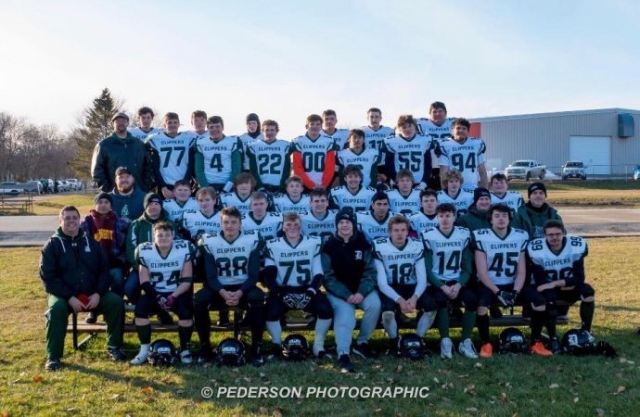 The Dauphin Clippers football team's season has come to an end after a tight loss.
Playing in the Murray Cup Final, the Clippers lost to Neepawa, 10-8.
"We had an absolute gem of a coaching staff. These guys make my job as director of logistics and player personnel easier," said Cam Bennet. "We had a great bunch of kids to work with as well, it was a smooth season in that regard. Lots of life lessons were learned."
The teams coaches this season were Dr. Scott Kish, Mick Lautt, Jason Zurba, Steve Bray, Josh Sigurdson, and Dr. Gerald Lopez.
Details

Contributed by

Darnell Duff
Two teams heading in the right direction will meet this evening up north.
The Dauphin Kings play their sixth game in nine nights as they take on the OCN Blizzard at the Gordon Lathlin.
Dauphin has secured at least a point in their past six games. They had a four-game winning streak and they've lost in overtime and a shootout in their past two games.
OCN, meanwhile, is coming off a 3-2 win over Virden last night.
Right now the Kings and Blizzard are tied for seventh place both with 17 points.
Darnell Duff will have the pregame show this evening at 5:45.
Details

Contributed by

Darnell Duff
Roux Bazin had quite the night at the expense of the Parkland U18 Rangers tonight.
Bazin scored three times to lead the Pembina Valley Hawks to a 6-1 win inside of Credit Union Place.
Hayden Lacquette scored Parkland's lone goal in the game.
The Rangers (2-9) welcome Yellowhead to town on Sunday.
Details

Contributed by

Darnell Duff
For the second time in team history, the Swan Valley Tigers football team are champions.
The Tigers capped off their dominating season with a 59-13 win against the Southwest Sabres in the title game earlier today.
The win also capped off a perfect season for the club. They went 9-0 and it's their second title, with the last being in 2014.
"It feels pretty great, we had a great season," said Justin Petelski. "I have never been a part of a perfect season as a coach or as a player. These guys worked very hard and they deserve it."
Swan Valley will graduate six players as they will look to defend their title next season.
"We should be very strong again, we'll have most of our core players," concluded Petelski. Thanks
Details

Contributed by

Darnell Duff