Latest Sports
Photo credits - Pederson Photographic
=====
The Dauphin Kings held their year-end awards banquet Monday night at the Aspen Lodge.
Here is a list of winners:
Most Popular On & Off the Ice – Ernie Hlady Memorial Award – Winner: Brayden Dube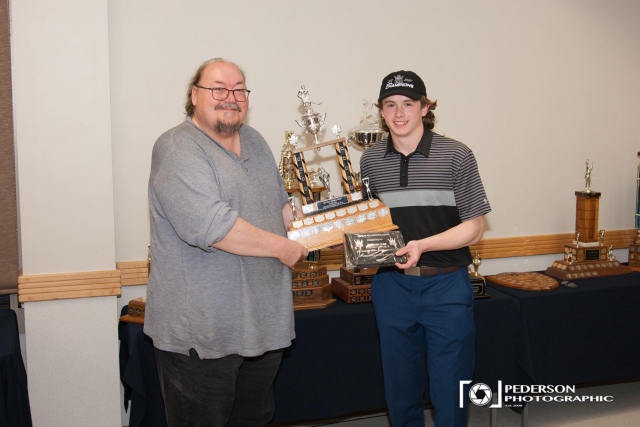 Outstanding Character – Dauphin Herald Award – Winner: Luke Morris
Most Gentlemanly Player – Steve "Boomer" Hawrysh Award – Winner: Colby Jaquet
Most Inspirational Player – Johnny Kay Award – Winner: Klim Georgiev
Most Improved Player – Dave Snitka Memorial Award – Winner: Nick Braun
Parkland Source for Sports – Three Stars Award – Winners: 1st - Carson Cherepak, 2nd – Kaden Bryant, 3rd – Parker Malchuk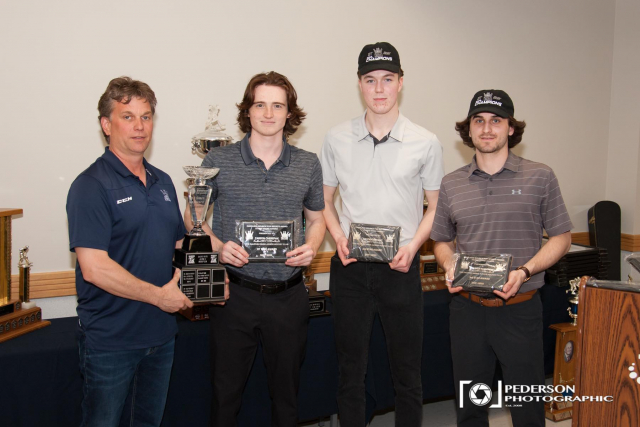 Community Involvement – Dave Seeley Memorial Award – Winner: Cordell Coleman
Best Defensive Player – Barry Trotz Award – Winner: Logan Calder
Rookie of the Year – Dauphin Minor Hockey Award – Winner: Brayden Dube & Jayden Jubenvill
The Bill & June Atta Boy Award – Winner: Luke Morris
Best Defenseman – Joe Dawson Memorial Award – Winner: Parker Malchuk
Most Valuable Player – Cam Alf Memorial Award – Winner: Carson Cherepak
Dauphin Kings Leading Point Scorer - Winner - Kaden Bryant
Most Valuable Playoff Performer - Winners - Logan Calder/Carson Cherepak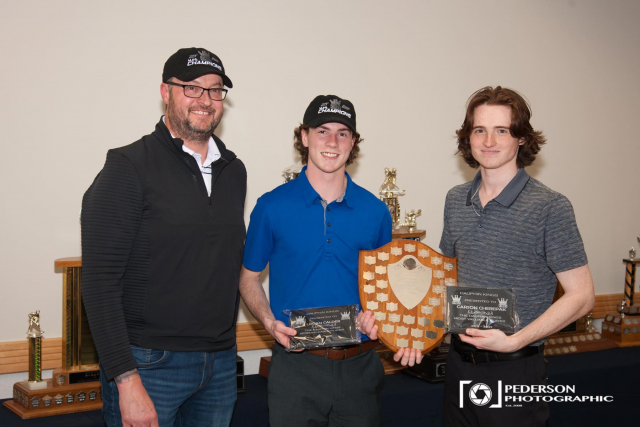 The team also recognized their graduating players, Nakodan Greyeyes, Logan Calder, Cordell Coleman, Kaden Bryant, Mathew Rathbone, Klim Georgiev, Parker Malchuk and Colby Jaquet.
Details

Contributed by

Darnell Duff
Organizers crowned champions Sunday at the Gary Brandon Memorial Tournament. Due to the course being unplayable, the higher-ranked teams in their respective matches were crowned title winners.
Here are the full results:
Championship Flight:
1st - Steve Desroches/Jake Wiens
2nd - Teddy Wojtowicz/Dave Heroux
1st Flight:
1st - Jeff Sutherland/Terry James
2nd - Gord Fox/Brad Carefoot
2nd Flight:
1st - Rob Bouchard/Mike Sparrow
2nd - Michael Zazuliak/Ryan Zazuliak
3rd Flight:
1st - Ron Low/Andy Pickering
2nd - Seth Gares/Noah Wiens
4th Flight:
1st - Wayne Heide/Scott Heide
2nd - Jason Shaw/Neil Shaw
5th Flight:
1st - Larry Catagas/Denis McKay
2nd - Kelvin Korman/Wayne Bazylo
6th Flight:
1st - Ken Wiebe/Randy Vanhumbeck
2nd - Mitch Drysdale/Trevor Robak
Details

Contributed by

Darnell Duff
The 15U Parkland Predators women's volleyball team had a great performance at the national championships in Edmonton earlier this month.
After a ninth-place finish at the provincials, the team entered the nationals as the ninth-ranked Manitoban team out of 24 in the 15U age group and they were placed into division 3 at the nationals.
The team went into cruise mode early as they won their first six matches on Thursday and Friday. They followed that up by winning their quarterfinal and semifinal so they advanced to the gold medal. They would ultimately come up short in the final; however, they still made their way back to the Parkland with silver medals.
Bryce Shewchuk is one of the team's coaches and he was proud of how they played.
"We had such a great group of girls that worked so hard," said Shewchuk. "Everyone went in and contributed towards our success. I couldn't have asked for a better group of girls, they played so hard and did very well."
The team featured girls from Roblin, Grandview, Gilbert Plains, Manipogo Beach, and Dauphin. They were Lara Dixon, Kali Solski, Montana Jubenvill, Jayda Shiner, Laura Kuysten, Karlee Paziuk, Brooke Shewchuk, Anika Gulenchin, Adel Wiebe, Teagan Luhowy, Brynnlee Loring, Nevaeh Payne, and Brooke Hanke.
Details

Contributed by

Darnell Duff
The Dauphin Lake Golf Club is closed until further notice because of recent rainfall.
Stay tuned for more information in the coming days. The pro shop and restaurant; however, remain open for business while the course is closed.
Details

Contributed by

Darnell Duff
Photo credit - Pederson Photographic
=====
It was a journey that lasted nearly nine months. A journey that included the Dauphin Kings winning the West Division and capping off the Manitoba Junior Hockey League in style by winning the league's championship over the Steinbach Pistons.
It was a journey that included the team finishing in the top spot in their group at the 2022 Centennial Cup which advanced them to the national semifinals. Ultimately, it was a journey that came to an end Saturday night but what a season it was for the Dauphin Kings.
On a night where they had 28 shots, they just couldn't beat Zachary Roy who made 28 saves on the night to record the shutout as he helped the Panthers make it to the national final where they will take on the Brooks Bandits.
Jacob Partridge opened up the scoring just about 10 minutes into the game shorthanded and that was all the Panthers needed on the night, Lucas Rowe added an insurance marker early in the third.
Carson Cherepak was solid once again as he turned away 23 shots. He took home the tournament's most valuable player award alongside the tournament's top goaltender.
Several Kings played their final games Saturday night. They include:
Nakodan Greyeyes, Logan Calder, Cordell Coleman, Kaden Bryant, Mathew Rathbone, Klim Georgiev, Parker Malchuk and Colby Jaquet.
In closing, thank you so much to every single one of our amazing sponsors, fans, billets, and volunteers... without you, there would be no Dauphin Kings. The 2022 Centennial Cup has come to a close and we can't wait to see you back at Credit Union Place for the 2022-23 season.
Details

Contributed by

Darnell Duff
The Pickering Panthers and Dauphin Kings will battle for a spot in the national final.
Following a thrilling double-overtime win against the Flin Flon Bombers, the Kings now know their opponent for Saturday's semifinal at Affinity Place.
The Panthers trailed 2-0 in their game against Flin Flon before scoring three straight, ended with their double-overtime winner.
Dauphin hasn't played since Wednesday when they ended their round-robin with a 6-1 win against Summerside and that booked them a berth in the semifinal. Brayden Dube chatted with Darnell Duff ahead of Saturday's game and he said the team is ready to go.
"We have had a few days to rest here and we will be ready," said Dube. "We just have to play like we know how to play."
You can listen to the broadcast beginning at 8:15 Manitoba time with Darnell Duff, you can also watch the game on Hockey Canada's website.
Details

Contributed by

Darnell Duff
Hockey Canada handed out some awards to the Centennial Cup all-stars Thursday and it was a double hardware day for Carson Cherepak.
The 19-year-old from Winnipeg was outstanding in the round-robin and he's a big reason why Dauphin is off to the semifinals.
He had a .968 save percentage to go along with a sparkling 0.98 goals-against average. He has also allowed just one goal on 5-on-5 play in the tournament.
Dauphin has three potential opponents, them being Pickering, Summerside and Flin Flon.
Details

Contributed by

Darnell Duff
The Dauphin Kings are getting the chance to play some primetime hockey.
Their semifinal Saturday will be played at 7:30 (Saskatchewan time) at Affinity Place.
Brooks had the choice as they finished first overall and they chose 4:00.
You can hear the game here with Darnell Duff.
Details

Contributed by

Darnell Duff
Photo credit - Pederson Photographic
=====
The Dauphin Kings are going directly to the Centennial Cup semifinals.
Brayden Dube filled the net with three goals for his first national championship hat-trick in a 6-1 win against the Soo Thunderbirds.
With the win, Dauphin ended the round-robin with three wins in their four games and they finished on top of Group B. That means the team will go directly to the semifinal which is slated for Saturday.
Dauphin jumped out of the gate on fire as they racked up 14 of the first 16 shots of the game and Brayden Dube scored both goals in the first to give Dauphin a 2-0 lead after 20 minutes. Dauphin scored three times in the second period with Nick Braun, Klim Georgiev and Colby Jaquet finding the back of the net as Dauphin increased their lead to 5-0 after 40 minutes.
Soo did get on the board early in the third as Kelsey Ouellet scored the Thunderbirds lone goal just 27 seconds in. Then with less than 10 minutes left, Dube took a beautiful pass from Georgiev and he skated down the right wing and snapped a shot past Noah Zeppa to complete the hat-trick and finish a 6-1 win.
Carson Cherepak was solid once again as he made 17 saves in the win. Cherepak's goals-against average is sparkling at 0.98 and his .968 save percentage is also the best in the tournament.
Details

Contributed by

Darnell Duff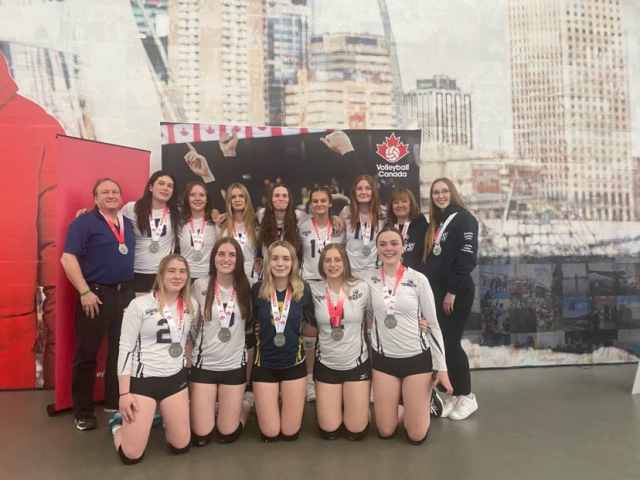 For the first time in club history, the Parkland Vipers have earned a medal at the national championships.
The U16 team was in Edmonton for the championships and they put together an incredible week of volleyball and ended up as national silver medalists. They opened their event with a straight sets win against Battlefords before coming up short against Fog Red from Edmonton in straight sets.
The team then caught fire as they won seven straight games and finished first in their pool. They downed Fog White in straight sets in the quarterfinals and beat Ultimate from Red Deer, also in straight sets to advance to the gold medal game.
The Vipers battled and the final ended up being a three-set classic with FCVC from London coming out on top in the third set, 15-10. The Vipers program has been running since 1997.
Details

Contributed by

Darnell Duff
The Ste. Rose Expos high school baseball team are Zone 8 champions and they're now off to the provincial championships.
In a winner take all game against Swan Valley, Ryan Benson had quite the game. He had a grand slam in the second and a solo shot in the sixth in an 8-4 win.
Shayne Shura Froese earned the win on the mound, pitching 3 1/3 innings, allowing two runs on only three hits with five strikeouts. Kayden Caumartin would then come on in relief and he allowed two runs on five hits and had seven strikeouts.
The teams roster includes Benson, Caumartin, Shura Froese, Chris Szewcyzk, Kyle Gilmore, Jeff Gilmore, Jacob Martin, Mathew Vandepoele, Isaac Walker, Daenen Delaurier, Ashley Scott, Liam Musgrave, and Brooke White.
The provincials start June 2 in Brandon.
Details

Contributed by

Darnell Duff