Latest Sports
Baseball Manitoba has announced its list of provincial championship hosts this summer and Swan River is on the list.
The Swan River Minor Baseball Association will host the 15U rural event from July 9 to 12. It isn't the first time that the provincials are heading to Swan River and Eric Arp is thrilled that they are.
"It's fantastic. We've always had a good experience in the past and we're delighted to be hosting again," said Arp. "We want to have top elite ball in our area and we want to showcase our area."
Arp says the facilities in Swan River are some of the best in the province and he figures all visiting teams and fans will be very impressed. And when it comes to fielding their own team, Arp says they will be competitive.
"Our team will be strong, I think we have some solid pitching," continued Arp. "We'll have to work on hitting and we'll be right there competing with the top teams."
Details

Contributed by

Darnell Duff
After many years playing hockey in Russell with the Rams, Tyler Huston has taken the next step as he's joined the Parkland U-15 Rangers. Although this is his first AAA season, this is his final year of U-15 eligibility before he moves up to the U-18 ranks.
As hockey in the province has been put on pause, Huston is sitting on five AAA games played with the Rangers so far and he's patiently waiting for when he can get back on the ice with his friends.
"It's been a great time, we have great coaches, and a great group of guys," said Huston. "I'm really enjoying the transition and I'm starting to feel more comfortable playing at this level."
Huston says he loves the pace of the game at the AAA level and it's allowing him to develop and improve his skills, something he has certainly done over the years. Now although he can't gather with his team at any rink in the province, Huston is doing his best to stay sharp.
For the second year, the Huston's have made their own backyard rink as have so many families across the Parkland. The rink is set up with a net so he can work on his shot and is a good enough size that he can get a solid skate in while he waits for the AAA season to resume.
"I'm skating almost every day right now, just doing what I can to stay in shape," ended Huston. "Working on my shot is also something that I'm working on a lot and I'm happy with how things have gone."
Tyler wanted to move up to the AAA ranks because it's more intense and he has loved every minute of it.
Details

Contributed by

Darnell Duff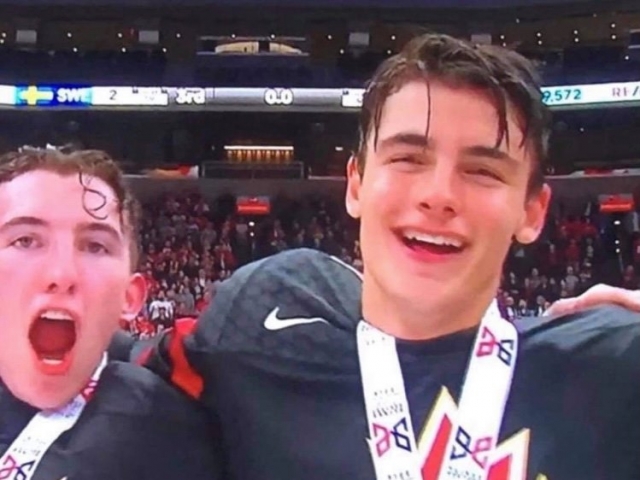 From the second that Braden Schneider could walk and perhaps even before that, he had a mini stick in his hands.
When he was three-years-old, he did a year of figure skating before he got into playing organized hockey the year after. About 15 years later, he's set to represent the country, but before we get to that, it's time to take a look at the road it has been for the Brandon Wheat King.
(Braden, age 3, figure skating photo in Big River, Saskatchewan)
Schneider lived the first eight years of his life in Big River before the family moved to Shellbrook where they lived for three years. Another move saw the family head to Prince Albert and that's where Braden's competitive hockey days really began with the Prince Albert Raiders U15 team. After a productive 23 point campaign in the 2014-15 season, Braden joined the leadership group for the next season as he was named the team's captain.
His year as captain with the U15 Raiders was also his draft year. In a draft where Peyton Krebs went first, Kirby Dach went second, and Bowen Byram went third, Schneider didn't have to wait that much longer to hear his name as he was drafted 12th overall by the Brandon Wheat Kings.
Carmela Schneider is Braden's mother and she says that day was a special one for the family, one in which Braden and his brother, Marek stayed home from school.
"We were all so pumped, it was such an exciting day for all of us," said Carmela. "We were so excited when he was drafted by Brandon. He has loved every part of his journey with Brandon, he loves the team, he loves the city, and he's made some great friends. I know the organization will always have a special place in his heart."
Speaking of Braden's brother, Marek was drafted 30th overall by the Saskatoon Blades in the 2018 draft. Marek will look to make the Blades this season after he played seven games with them last year and he started this season by playing one game with the Flin Flon Bombers before the SJHL season was shut down.
When it comes to Braden, he's nearing the 200 regular-season games played mark with Brandon as he will enter the upcoming season having played 185 games and if you include the playoffs, he's already suited up in 199. His most productive season as a Wheat King was last year when he tallied seven goals and added 35 assists for a 42 point total, an 18 point increase from the prior season.
He was also named to the Eastern Conference's first all-star team last season as he was one of the top back end players in the league and he proved he can provide offence as well.
2020 NHL Draft:
Four years prior, he was drafted by Brandon and as we fast forward four years, Alexis Lafrenière was the first-overall selection in the NHL draft. Quinton Byfield and Tim Stützle followed Alexis at two and three. 18 picks after they took Lafrenière, the New York Rangers were on the clock again and they selected Schneider. He was one of two Wheat Kings that went in the first round as Ridly Greig went 28th overall to the Ottawa Senators.
"It's just amazing that I'm able to watch my son achieve his dream, he's been talking about getting drafted for a long time and this has been a huge goal of his," said Schneider. "To experience the whole draft in our home was extremely special. We're living a lot of families dream right now, we're really grateful for that, and we're so proud of Braden."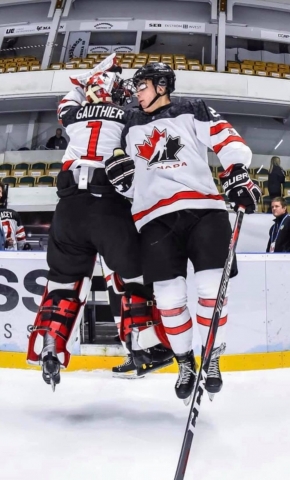 (Taylor Gauthier celebrating a Team Canada win at the World U18 Hockey Challenge in Umea, Sweden in April 2019)
World Junior dream:
Braden was among the final cuts last year for Team Canada, a team that won gold at the World Junior Hockey Championships. With one more year of experience under his belt, Braden received an invite back to camp this year as he made his way to Red Deer last month with the goal of making the team, a goal he came up just short last year.
This year, Braden is one of 25 that has been named to the Canadian roster ahead of the World Juniors which gets going on Christmas Day in Edmonton. Because of restrictions, the rest of the Schneider family wasn't able to be in attendance for any of training camp and they weren't able to congratulate Braden in person. They did; however, get the opportunity to congratulate him virtually.
Members of the Team Canada coaching staff called Braden's parents and Marek was also on the phone. They walked down the hall and knocked on his door and after a short delay, Braden opened the door and his parents and younger brother shared the good news that he had cracked the final roster.
"You could just see Braden's eyes and how happy he was, it was a pretty surreal moment for all of us," continued Carmela. "We had a great moment and it's one that we will never forget."
Carmela is always one that likes to decorate her house during the holiday season and this year, she has with a little bit of a twist. The Schneider house in Prince Albert is now decorated with red and white lights outside.
You can imagine how thrilled Kelly was when I suggested that we change the Christmas lights from white to white and red. "Come on, it's not every day that your kid makes Team Canada...". What a good Dad! ❤️🇨🇦🏒 #WorldJuniors pic.twitter.com/NTeagxudjz

— Carmela Schneider (@SchneiderSnide1) December 12, 2020
"I'm that mom that when the kids do well at something or make a team, I'll hang their jersey in the window," ended Carmela. "When we were in Canadian Tire this year, we saw the red and white lights and we thought that would be a great idea."
The family may not be able to support Braden in person like they would have hoped, but they are showing their support from Prince Albert and as we near the beginning of the World Juniors, you can expect the Brandon Wheat King and New York Ranger prospect to be a big piece as Canada looks to win another gold medal.
Details

Contributed by

Darnell Duff
Logan Samson is extremely excited to get back on the ice with his friends playing the game he loves, hockey. He plays on the Timbits Teal Sharks and he wears #10.
Although he will have to wait for that to happen until Manitoba gets out of 'Code Red' restrictions, he is staying sharp on the ice.
Just like so many families in the Parkland, the Samson's from Dauphin have created their own backyard creation. Luke and Nicole Samson teamed up to make the rink and of course, decorate it with some candy canes.
"I just wanted to put something magical together to boost all of our spirits during the holidays and we thought this would be a great idea," said Nicole.
Since the rink was built, Logan has been taking advantage of it as often as he can and when the family is all done skating for the day, they sit by the bonfire for some more laughs and snacks as well.
When Logan does get back on the ice, he will continue setting up his teammates. He likes to call himself a playmaker.
"I like passing it to my teammates for them to score," ended Logan.
Logan says his favourite part about having a backyard rink is that he gets to skate with his family and he loves the candy canes that are lit up.
Details

Contributed by

Darnell Duff
The Western Hockey League has announced that they have delayed the start of the new season.
The season was expected to begin on January 8; however, the Board of Governors will now instead meet in January to put together a plan.
The WHL will continue to work with Government and Health Authorities in our region as we consider schedule options for the 2020-21 WHL Regular Season. The WHL have developed a series of protocols in consultation with health authorities that are necessary to protect WHL players, staff, officials, and fans during the COVID-19 pandemic.
The WHL had this to say in a release.
"We continue to make every effort to get our season started, but our first priority has always been the health and safety of our players, and everyone associated with the WHL," commented WHL Commissioner Ron Robison. "Given the public health restrictions that are currently in effect, we are not in a position to determine a new target date for our season. We will continue to consult with health authorities to determine when it is safe and responsible to get our season started."
Details

Contributed by

Darnell Duff
Ahead of a game on Wednesday evening against St. Cloud State, Riese Gaber has been recognized for his great play in his rookie season with the North Dakota Fighting Hawks.
From Gilbert Plains, Gaber has grabbed NCHC Co-Rookie of the Week honours after a tremendous week. The freshman scored three goals, including a game-winner on Sunday against Western Michigan, and he had four points over four games.
"It's always good to be recognized for my success. With that said, that's what I'm here for, to provide offence for this team," said Gaber from his hotel room. "I just have to continue doing what I'm doing."
In just seven games this season, Gaber already has five goals. Although Riese is playing in his rookie season, he has made it known since the beginning that he wants to produce a lot and that's exactly what he has done.
"I'm being put in situations where I can succeed," said Gaber. "The start I'm on is a little bit surprising, but with that said, I know what I am capable of."
He shares the weekly award with Carter Savoie who is off to a great start with the Denver Pioneers. North Dakota is back on the ice on Wednesday evening when they play St. Cloud State. They are one of the top teams in the country and they beat the Fighting Hawks, 5-3 earlier this season. St. Cloud will look to rebound after they were shutout by Omaha on Sunday while also on Sunday, North Dakota doubled up Western Michigan, 6-3.
"We weren't at our best when we lost to them so we're going to sharpen some things up and we'll be ready," ended Gaber.
Details

Contributed by

Darnell Duff
If you're driving by Hospital Street in the Jewel of the Parkland, Roblin, there's a good chance you would see Jarrett Newton and his two kids, Ty and Ryder.
That's because, for the seventh year, a few different families have come together to make an outdoor rink so kids in the area have a place to skate.
Jarrett is joined by Kenton Johnston and Cam Rands who have now built the rink for the seventh year and this is perhaps the biggest one yet.
Because we're under 'Code Red' restrictions, kids aren't allowed to skate inside arenas with their friends because team sports are suspended.
There are also two professional players and two junior hockey players that use the rink. Jayce Hawryluk and Josh Brook both skate on it while Jakob Brook and Aiden Brook also use the rink and while team activities are paused, the rink on Hospital Street is always busy.
"The kids have such a great time when they see these guys who play at the next level playing," said Jarrett Newton. "The guys can get up to a good speed because it's a good size so the kids think it's so awesome when they're skating hard."
This year's rink features higher boards and netting as the kids are now shooting higher than they have in previous years.
Although Ty and Ryder aren't able to play with their friends in a team setting right now, Jarrett is just happy that they're having fun on their outdoor rink.
"It's really special. I thoroughly enjoy watching them every time they lace up the skates," ended Newton. "They always have smiles on their faces and that just makes me so happy, I couldn't ask for anymore."
Darnell Duff continues his tour across the Parkland tomorrow when he stops at the Samson house.
Details

Contributed by

Darnell Duff
Another Dauphin Kings Tractor Lotto has come to an end for 2020.
The draw was on Sunday night with Barry Edwards from Dauphin winning the $100,000.00 grand prize. Although it was a different year and the organizing committee had to change how they sold tickets, Christian Laughland said this year's lotto was a great one.
"It was a very successful year for us," said Laughland. "I think we covered every community in the Parkland with the winners, so that was great as well."
The Kings want to thank everyone that took part this year and even if you didn't, you will get the opportunity next year as the Kings biggest fundraisers will be back in 2021, likely with some changes.
"We would like to get a little bit more hardcore on the online side," Laughland ended. "With that said, we want to get back into the communities as well and into the mall."
Stay tuned in the coming weeks to find out how much the organization made on this year's lotto.
Details

Contributed by

Darnell Duff
Paige Miles is currently learning how to skate sideways and jump twice. That's the challenge from her sister, Kaylee and she's getting better at it every day.
In a normal year, Paige and the rest of the family would skate at the Minitonas and District Arena; however, the arena's doors are staying closed this winter because of 'Code Red' restrictions and the uncertainty of the entire winter.
So, the family decided to get creative as did so many other families from across the Parkland. They put together their own backyard rink on a farm just about six miles out of Minitonas and although there were some challenges because it was the family's first time putting together a rink, they are extremely happy they did.
"It's great that we don't have to go far to skate and have some fun," said Paige.
Cyndi is Paige and Kaylee's mom and she loves watching her two kids skate and laugh.
"It's great watching them skating together in the evening," said Miles. "It keeps them busy and happy which is great."
After a good skate, the family wraps up the evening by the bonfire.
"Everyone just relaxes and we can stay warm on the cool nights," ended Cyndi.
Tomorrow, Darnell Duff heads to the Jewel of the Parkland to chat with Jarrett Newton.
Details

Contributed by

Darnell Duff
Barry Edwards of Dauphin won the $100,000.00 grand prize as the Dauphin Kings Tractor Lotto came to an end on Sunday evening.
Here is the complete list of winners:
$1000 winners
Draw #1 - Ron Buternowsky - Brandon, MB
Draw #2 - Peter & Elaine Solomon - Rorketon, MB
Draw #3 - Peter Chartrand - Skownan, MB
Draw #4 - Clint Baxter - Dauphin, MB
Draw #5 - Rick Grant - Neepawa, MB
Draw #6 - Keith & Donna DeVries - Ochre River, MB
Draw #7 - Lorna Spicer - Swan River, MB
Draw #8 - Tom Jackson - Russell, MB
Draw #9 - Anthony Stephanew - Roblin, MB
Draw #10 - Robert Tucker & Brad Mowat - Ste.Rose, MB
$2500 winners
Draw #11 - Dominic & Melanie Gamache - Dauphin, MB
Draw #12 - Cort & Leanne Urbanovitch - Dauphin, MB
$5000 winners
Draw #13 - Heather Stafford & Kiernan Brooke Huska - Gilbert Plains, MB
Draw #14 - Lillian Hrytsay - Gilbert Plains, MB
$10,000 winner
Draw #15 - Gerald Rudkavich - Sifton, MB
50/50 - $42,680.00
Grant Rattlesnake - Tootinaowaziibeeng, MB
John Deere Lawn Tractor winners
Draw #1 - Ken Pascal - Fork River, MB
Draw #2 - Elsie Genik - Dauphin, MB
Draw #3 - Beverly Brinkman - Grandview, MB
Details

Contributed by

Darnell Duff
Riese Gaber has his first multi-goal game playing with the North Dakota Fighting Hawks.
Coming into their game on Sunday after their first regulation defeat, the Hawks were looking to rebound and they did just that.
Gaber scored twice in a 6-3 win against Western Michigan.
GABER finding all the angles! 👀 @UNDmhockey#UNDproud | @MidcoSN pic.twitter.com/lEEm9TDZA0

— UND Insider (@UNDinsider) December 13, 2020
Details

Contributed by

Darnell Duff