Latest Sports
When the Dauphin Clippers hit the ice this season, they'll be looking as fresh as ever.
The team unveiled their brand new uniforms on Tuesday morning.
Parkland Source for Sports is the official sponsor of the white jerseys while Co-op is the official sponsor of the green jerseys.
Stay tuned within the coming days as this year's schedule will be announced.
Details

Contributed by

Darnell Duff
Kaden Bryant is an MJHL Star of the Week for the first time this season.
The 20-year-old erupted offensively this past weekend after failing to record a point in his first two games of the season.
The former Forward of the Year in the Manitoba AAA U18 Hockey League scored four times in two games against Neepawa and he also had two assists.
Bryant's tied for eighth in league scoring as the team prepares to open a four-game set against OCN, with the first of four coming on Friday at the Roy H Johnston Arena in The Pas.
Details

Contributed by

Darnell Duff
Heading into his second week of training camp with the Medicine Hat Tigers of the Western Hockey League, Steven Arp knew he had a lot more in him as he looked to earn a spot on the roster coming opening weekend.
And while he isn't guaranteed a spot in the lineup every night, the Swan River native has achieved a big goal that he set out for himself. Arp signed his standard player agreement with the Tigers as he remains in Medicine Hat with a new goal of becoming an everyday player for a team that has won five league championships and two Memorial Cups since they were founded back in 1970.
Arp says signing with the Tigers is a dream come true and he's looking forward to what's next with the organization.
"It felt really good, making the decision to sign in the WHL is a big one and I'm glad that I did," said Arp. "Medicine Hat is a great organization and it's been great being around a bunch of guys that come to the rink ready to go every day."
Arp -- who had seven points in seven games last year with the Parkland U18 Rangers -- signed the contract just hours before the team began a weekend home-and-home with the Swift Current Broncos and Friday's game marked Arp's first appearance in a WHL preseason game and he certainly made his presence felt.
In what ended up being a 3-2 road win for Medicine Hat, Arp secured his first WHL assist as he set up Bogdans Hodass 14:10 into the game. Steven finished the game with one assist, he was a +1 and also won 7-of-14 faceoffs that he took.
"Bogdans helped me get that one without a doubt, he found the back of the net," said Arp. "I was just happy that I was able to help the team score, it was a moment I won't forget."
Arp was also in the lineup for Saturday's game, where he won a faceoff in six tries. The team's preseason has officially come to an end as they prepare to open the 2021-22 season this Friday against Swift Current. The team plays their home opener at Co-Op Place on Saturday night.
We won't know until later this week if Arp will make his WHL regular-season debut this weekend, but we do know that he will do anything in his power to be in the lineup come Friday.
"Whatever it takes, I'll do it," ended Arp. "Whatever role the coaches think I fit in best, I'm ready for."
Details

Contributed by

Darnell Duff
The Parkland U15 Rangers had a perfect weekend in Souris.
After winning their first three games and scoring 19 goals in the process, the team was at it again on Sunday.
The team played a near complete game in a 4-1 victory against the Yellowhead Chiefs.
Ryan Gower, Sam Swanton, Isaac Tomchak, and Tavyn Boychuk each scored one goal in the win.
The Rangers begin their regular season next Sunday.
Details

Contributed by

Darnell Duff
Four different skaters scored as the Parkland U18 Rangers capped off their weekend with a win on Saturday night.
Playing their home opener against Yellowhead, Kyler Swanton made 20 saves in a 4-2 win as Parkland swept the weekend home-and-home.
Madden Murray and Carter Zalischuk both scored a goal and added one assist in the win.
Will Munro, making his season debut, also scored one goal while Cash Clarkson potted his first marker of the season.
After one weekend, the Rangers are 2-0.
Details

Contributed by

Darnell Duff
Kaden Bryant is back to doing what he does best and that's score.
The 20-year-old dominated on Saturday night scoring three times as he helped propel Dauphin to a 6-3 win over the Neepawa Titans. The victory gives Dauphin three straight wins.
Bryant scored Dauphin's second, third, and sixth goal of the night as he now has four goals on the season.
Jayden Jubenvill of Gilbert Plains also chipped in offensively with his first goal of the season while Nick Braun and Slade Stanick also found the back of the net.
Carson Cherepak was solid once again, making 24 saves in the game as he picked up his third straight win after joining the team last weekend.
King Tips:
Dauphin was tremendous on special teams. They went 8-for-8 on the penalty kill and they also scored two power play goals for the second straight game
Kaden Bryant and Slade Stanick both scored for the second straight game
Three Kings had multi-point games (Bryant 3 goals, 1 assist (Braun 1 goal, 2 assists) and (Malchuk 2 assists)
After scoring just two goals in their first two games, Dauphin's offence has erupted, scoring 11 goals over the past two games
Next up for the team is a date with the OCN Blizzard on Friday at 7:00 p.m. You can hear that game with Darnell Duff on 730CKDM.
Details

Contributed by

Darnell Duff
The Parkland U15 Rangers are on a roll at their preseason tournament in Souris.
They've scored 19 goals in their three games as they're undefeated.
Game 1:
Luke Myhre led the way with his first hat-trick of the preseason in a 7-4 win against Southwest, a team that always plays Parkland extremely tough. Ryder Gardner, Trace Langan, Isaac Tomchak, and Hayden Shtykalo all scored singles in the victory.
Game 2:
In a back and forth contest against Pembina Valley, five different Rangers scored to propel the team to a 5-4 win, their second straight.
Goal scorers were Cade Legaarden, Tucker Thompson, Austin Gibb, Quinten Fisk, and Trace Langan.
Game 3:
Once again, the Rangers erupted offensively to increase their record to 3-0 after a thrilling 7-6 win against the Interlake Lightning.
The Rangers were the comeback kids in the game as they trailed 5-3 heading into the third period.
Cade Legaarden led the way with two goals while five other Rangers scored a single marker. That included Nathan Miller, Tyrell Leaske, Cash McCallum, Tavyn Boychuk, and Hayden Shtykalo who scored his second goal of the weekend.
Tom White is the team's head coach and he says some tough decisions are on the way.
"It's been a solid weekend for us, everyone is competing and working extremely hard," said White. "We're pleased and we'll see what tomorrow brings, tough decisions will have to be made."
Details

Contributed by

Darnell Duff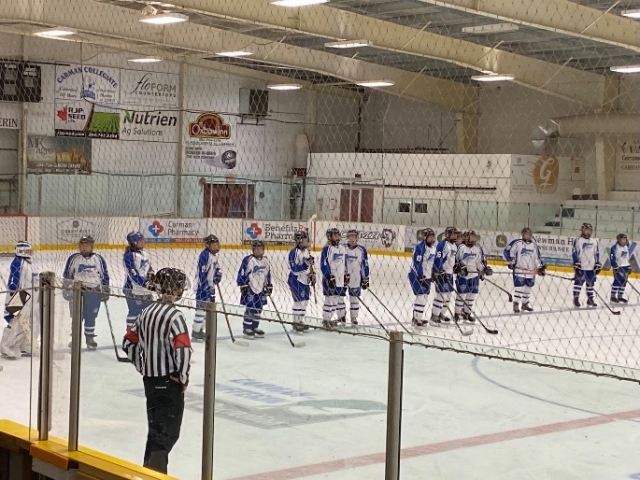 They put forth a tremendous effort and because of that, the Parkland U15 women's Rangers were rewarded.
Playing against Pembina Valley in Carman, the Rangers earned a 4-3 win. Ffion Devonald, Katie Falkevitch, Tayah Zimmer, and Montana Jubenvill each scored one goal for Parkland in the victory.
Olivia Brown was tremendous in net making several huge saves to help the Rangers earn their first win. Next up for the team is a rematch with Pembina Valley on Sunday in Dauphin at 1:00 p.m.
Details

Contributed by

Darnell Duff
The Parkland U18 Rangers opened up a 5-0 lead on Friday night and they cruised the rest of the way as they opened the new season with a 5-1 win in Shoal Lake.
Five different Rangers scored in the win, including Jayce Legaarden who scored twice. In three games this season -- two of which were preseason -- Jayce has six goals. He has two goals each in every game he has played this season.
Rylan Gibbs and Carter Zalischuk also scored singles, as did Linden Smigelsky who was playing as a special affiliated player.
In net, Brenden Birch-Hayden was solid as he stopped 21 of the 22 shots he faced. Parkland now returns to Credit Union Place on Saturday night as they welcome Yellowhead to town. The puck drops at 7:30.
Details

Contributed by

Darnell Duff
Five different players scored for the Dauphin Kings on Friday night as they played their best game of the season in a 5-2 victory against the visiting Neepawa Titans.
One of the five goals was scored by Garrett Hrechka of Dauphin as he took a nice pass from Slade Stanick, went to his backhand and tucked it past Emerick Demers. It was Garrett's first-ever goal as a King and his second point after he recorded an assist last season in four games.
Kaden Bryant scored his first of the season 8:47 into the game and Dauphin never looked back. Sean Williams scored his first as a King to give Dauphin a 2-0 lead in the second before Will Highet brought Neepawa back into the game. Parker Malchuk scored on the powerplay at the 12:13 mark of the second to give Dauphin a 3-1 lead after 40.
Slade Stanick scored his first as a King, 3:02 into the third as Dauphin went up 4-1 before Brayden Michalchuk scored to cut Neepawa's deficit in half. But that's as close as the Titans would get as the Dauphin boy, Hrechka found the back of the twine to give Dauphin a 5-2 lead and that was the final goal of the game.
Carson Cherepak picked up his second win as a King, making 15 saves on 17 shots. Demers, making his debut for Neepawa, took the loss for the Titans giving up five goals on 22 shots.
Dauphin and Neepawa will square off once again on Saturday night at the Yellowhead Centre. You can hear that game with Darnell Duff right here on 730CKDM beginning with the Parkland Source for Sports pregame show at 7:15.
King Tips:
Entering the evening 0-for-2 on the man advantage, Malchuk's goal in the second period was Dauphin's first powerplay marker
Luke Morris' two-game goal streak was snapped
Two of Dauphin's goals came from rookies (Williams and Stanick)
Colby Jaquet earned first star honours after assisting on three goals
Neepawa's 11 shots in the third were the most they recorded in a period. They had just two shots in the second period and four in the first. Dauphin finished with 22 shots.
Dauphin moved to 2-1 in the season series.
Details

Contributed by

Darnell Duff
Joseph Lopez was one of several players that made a huge impact on Friday as the Clippers football team began their season on home field.
Welcoming the Parkwest Outlaws to town, Dauphin dominated from start to finish in a 47-0 win. Offensively, Lopez ran for 147 yards while Sergio Garcia was 5-for-7 on converts.
Lopez was also solid on the defensive side of the ball, recording four tackles and an interception that he ran back for a touchdown.
Garrett Thompson had four tackles, four assists, and an interception while Oliver Dandeneau had four tackles. Will Stinson also added a pair of interceptions while Matthew Zurba had 74 punt return yards.
Details

Contributed by

Darnell Duff