Latest Sports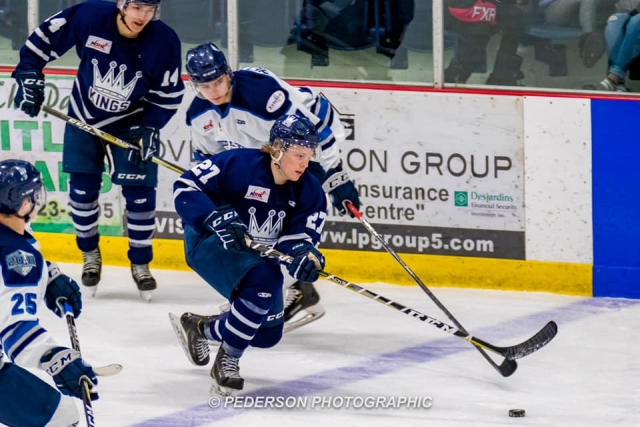 If the Dauphin Kings' want to have any success against the Swan Valley Stampeders in the first round of the playoffs, the team will have to find a way to shut down the Stamps' top players. A player that will have to be big in doing that is Dauphin's Andrew Liwiski.
Liwiski's in his first season with Dauphin and he played in 50 games after joining the team in early October. In that time, Liwiski racked up 20 points (4G). This was also Andrew's first season playing in his hometown since he played with the Parkland Midget Rangers during the 2016-17 season. Last year, Andrew played for the Lloydminster Bobcats of the AJHL.
"I think things have gone alright, I've improved some parts of my game but I'm definitely not satisfied," said Liwiski. "I wish I could have produced a little bit more offensively but that's going to come with more experience. I also played more than I did last year so that was nice."
"If I have an opportunity in the playoffs to chip in offensively, I'll definitely try to capitalize on the chance," he added. "It's not about points for me, though, I'm just trying to do whatever I can to help this team win games every time out."
Andrew and the rest of the Kings' begin their playoffs tomorrow night at the Centennial Arena. It's game one of an alternating best of seven series. Being his first year playing in the MJHL, this is Andrew's first opportunity to play for a Turnbull Cup.
"I'm absolutely pumped up about the playoffs," added Liwiski. "I remember watching the Kings' when I was younger when they were in the playoffs and it was absolutely amazing. I'm hoping this year is really exciting as well."
Dauphin returns to Credit Union Place on Sunday as game two of the series goes down at 7:30.
"I'm really excited to play in front of the home crowd and I'm hoping the rink is packed," added Liwiski. "Having a full arena really can make a difference so hopefully, everyone comes out."
Don't forget to tune into the Dauphin Kings' Power Play show tomorrow afternoon to hear the full interview with Andrew.
Details

Contributed by

Darnell Duff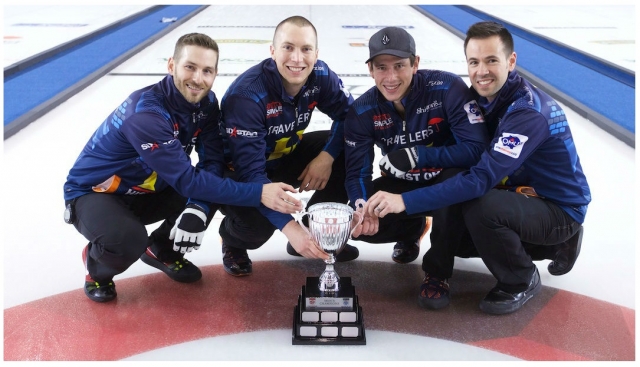 The best curlers in the world will be heading just down the road from Dauphin early next year. The Pinty's Grand Slam of Curling will be making a stop in Yorkton for their Meridian Canadian Open event.
The event goes from January 14-19 at the Gallagher Centre and it will welcome the best men's and women's teams that will all compete to become Champions under one roof.
"We're very excited that this event is coming back to town," said Paul Keys, General Manager at the Gallagher Centre. "We have a good working relationship with Sportsnet so we've been talking with them and this worked in both of our schedules."
"We're excited that the community will get to see this level of curling once again," he added. "Everyone is really excited for the event."
This won't be the first time that Yorkton has hosted this event. Back in December 2015, the Gallagher Centre also hosted the Canadian Open. More than 150 volunteers and staff came together to put on a very successful event. John Epping won that tournament on the men's side while Rachel Homan took home the top spot on the women's side.
"We are a hotbed for curling, we have so many fans that are passionate about the game," said Keys. "We would have been happy to have any of the Grand Slam events coming to town. The whole town can't wait for this."
If you want to volunteer for the event, you can call the Gallagher Centre at 1-306-786-1740.
Details

Contributed by

Darnell Duff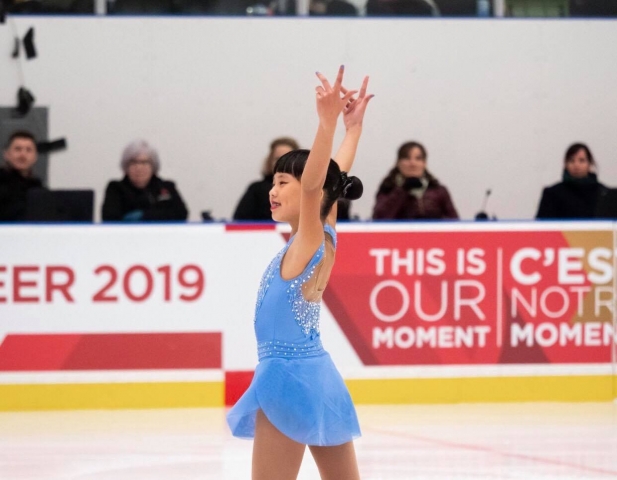 Not everyone gets the chance to represent their province and certainly, not everyone gets to take part in the Canada Winter Games. Dauphin's Breken Brezden can say she's achieved both of those as she's now back from the Canada Winter Games that recently wrapped up in Red Deer.
It was Breken's first ever appearance at a Canada Winter Games, and there's a good chance it won't be her last. When the 2023 Winter Games take place in Prince Edward Island, Breken will only be 17 which would make her eligible.
"It was amazing, it was so much fun and I had such a great time with my friends that also went," said Brezden. "It was great competing and the facilities were amazing. It was just an amazing experience and it's something I'll never forget."
This event wasn't the first time that Breken has skated with the top figure skaters in Canada. But, it was perhaps the most pressure-packed event that she's been in as she represented Manitoba. Pressure apparently doesn't phase the 13-year-old as she skated wonderfully and she placed 9th in all of Canada.
"It was really inspiring to see all of the best skate in one place," she added.
In her short skate, Breken finished in ninth and did one better when she finished eighth in her free skate out of 20 skaters.
"It felt really good because I just went in wanting to do my best," said Brezden. "My goal was to not let my nerves get to me and I think I accomplished that. I'm proud of myself."
Besides performing so well out on the ice, getting the chance to not only skate but meet the other skaters was something Breken will cherish forever.
"It was great meeting new people and trading pins with them, I really enjoyed it," she added. "Also watching the Special Olympics was fantastic."
Breken will continue to practice with her next competition coming up in the summer.
Details

Contributed by

Darnell Duff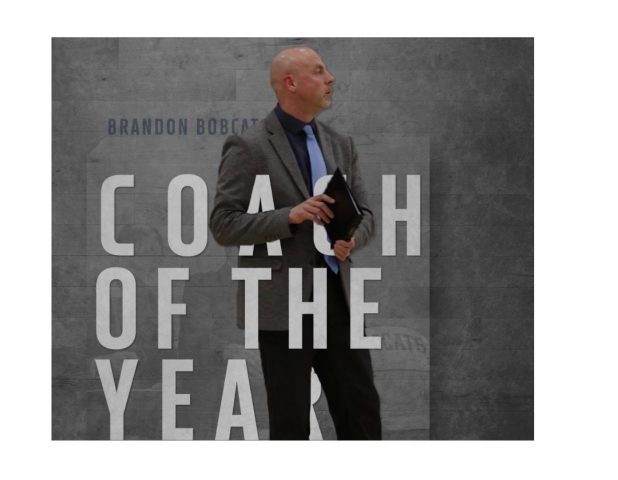 Brandon Bobcats' Head Coach, Grant Wilson is a gamer. Whether it's during practice or a game, the veteran coach is doing whatever he can to make sure the Bobcats' have success and what a job he's done this season.
Heading into the playoffs, Grant led the Bobcats' to a 20-2 record in the regular season which had them ranked as the top team in Canada and in their conference as well. The team won their final 16 games of their conference schedule and 13 of those wins came in straight sets.
Thanks to his and the rest of the team's success, Wilson has been named the Canada West men's volleyball Coach of the Year for the second time. The other time he was named the Coach of the Year came in the 2014-15 season.
"It's definitely a pretty big honour. There are so many great teams and coaches in this conference," said Wilson. "Knowing that it's a coach's vote that determines the winner, it's pretty humbling to know that I was recognized by my peers."
"With that being said, it's a team award really and it's a reflection on how our team has done," he added. "It's also a reflection of how hard my coaching staff has worked. I'm the front figure so to speak, but I'm certainly not sitting here thinking I'm the best coach in the conference, we just had a really good year and we've been recognized for it."
Grant has been with the team since its inception in 2005. For the first several years he was an Assistant Coach but he was promoted and now he's been the Head Coach for the past seven seasons. In that time, Grant owns a superb record (100-62) as the bench boss. Grant's 100th regular season win as a head coach came back on Friday, February 16.
"I'm a competitor so I love the element of going out there and competing on a regular basis," said Wilson. "I love my team, it's a great group of guys and I love watching them coming into the program as boys and they leave as men. Getting the chance to watch them get better and improve their skills makes me proud."
Grant will also join the coaching staff for the Canadian men's volleyball team that will play in the 30th FISU Games in Italy this summer.
"That's going to be an incredible experience and it's going to be good for myself because I get to learn from so many other coaches," he added.
Before that event, the work is far from done for Grant and the rest of the Bobcats'. They play in the Canada West Championships this weekend in Brandon against the Trinity Western Spartans.
Last week, the Bobcats' survived a scare. They dropped game one of their semifinal against Mount Royal before bouncing back with two convincing wins.
The Spartans outlasted UBC in three games in their semifinal to set up the heavyweight clash.
"We definitely didn't have the start we wanted to against Mount Royal but we really grew in the second game and probably played even better in the third game," said Wilson. "We're facing Goliath here this weekend. We may be the #1 seed but we know what we're up against. We have to be at our best if we want to have success."
Friday's game is winner take all as its single elimination. The game goes on Friday night at 7:00 p.m. at the Healthy Living Centre in Brandon.
Details

Contributed by

Darnell Duff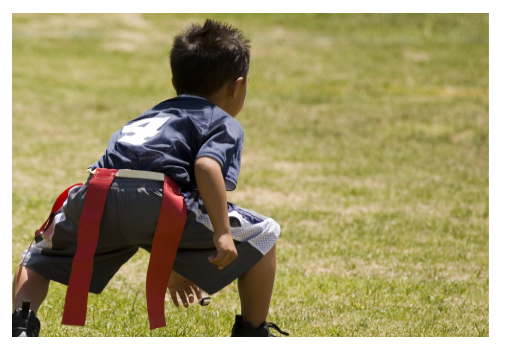 If you want to be the next Tom Brady, a good start is joining the Parkland Youth Flag Football league.
You can do so tonight as registration goes down at the Parkland Rec Complex pool lobby from 5:00 p.m. - 7:00.
Its $100 per player and that includes everything throughout the season and insurance through Football Manitoba.
"I think the guys had a ton of fun last year and I know I did," said Shayne Montpetit, Coach.
The season begins in May and runs through June. You can also register at Parkland Youth Football.
Details

Contributed by

Darnell Duff
The countdown to the Dauphin Kings' playoffs continues. On Friday the team will play game one against Swan Valley on the road.
For the first time in a few years, playoff hockey will return to Credit Union Place on Sunday evening.
Tickets will go on sale this afternoon at the South Ticket Office down at Credit Union Place.
Here are the details:
Important information:
"Season ticket holders seats will be held until the day of the game," said Christian Laughland, Marketing Director & Media Relations. "On the day of the game, they will be released and it's basically a free for all."
Details

Contributed by

Darnell Duff
Another former Parkland Ranger is doing special things out on the ice at the next level.
Connor Dewar signed a three-year, entry-level contract with the Minnesota Wild today.
Ths 19-year-old is the Everett Silvertips' captain this season and he has 74 points (34G) in 52 games.
Connor is also tied for 11th in league scoring and was named the WHL Player of the Week on February 4.
He also showcased his skill when he played with the WHL team in the CIBC Canada Russia series.
Overall in his WHL career, Dewar has 191 points (97G) and he's added 29 (14G) more points in the playoffs.
He was drafted by the Wild in the third round, 92nd overall in the 2018 NHL Entry Draft.
Stay tuned to hear from Connor later this week.
Details

Contributed by

Darnell Duff
Just like the senior boys, the Dauphin Clippers junior varsity boys basketball team is heading to the Provincial Championships.
Playing in a qualifier, the team first took care of Swan Valley. In the finals, Dauphin crunched Neelin, 91-73 to advance to the provincials.
The team's tournament starts on Friday against the Margaret Barbour Spartans. Dauphin is the third-ranked team.
Details

Contributed by

Darnell Duff
The Dauphin Clippers varsity boys' basketball team are heading to the big dance.
The team qualified for the AAA Provincial Championships which go later this month.
In their first game, the Clippers easily dispatched of Neepawa, 86-51. Needing a win against Neelin to advance, Dauphin did just that but it didn't start off well.
The team was trailing 41-30 at halftime. In the second half, the team went on a crazy run to pull away from the Spartans as they won 69-51.
The provincials are March 14-16 at West Gate High School.
Details

Contributed by

Darnell Duff
The Dauphin Minor Baseball Association will host their first registration of the year ahead of ball season.
It goes down at the Parkland Rec Complex pool lobby from 4:30 to 7:00 p.m.
Here is the breakdown of fees and ages:
Rally Cap: 2012-2014 - $75 - Practice/Games Monday & Wednesday - 6:00 - 6:45 p.m.
U-9: 2010-2011 - $115 - Practice/Games Monday & Wednesday - 6:00 - 7:00 p.m.
U-11: 2008-2009 - $170 - Practices Monday & Wednesday - 6:00 - 7:45 p.m.
U-13: 2006-2007 - $180 - Practices Tuesday & Thursday - to be determined by the coach.
U-15: 2004-2005 - $190 - Practices Tuesday & Thursday - to be determined by the coach.
U-18: 2001-2003 - $180 - Season starts June 3rd - to be determined by the coach.
If you're a female, you can play down one age group.
"Last year we had 175 players in the programs that we offer," said Jodie Romanow. "Every year we build on what we learned the year before and we try to make our program even better than the year before."
"Baseball is a great way for the kids to get out and they get some exercise as well," she added.
Registration will also take place tomorrow at the same time and place.
Details

Contributed by

Darnell Duff
A rock solid performance in net from JP Pelletier has the McCreary Bantam Mustangs playing for a title.
JP made several highlight reel saves as the Mustangs beat Russell, 4-0 earlier today.
It was game three in the best of three semifinal in the Parkissimo League and the Mustangs picked a good time to play some of their best hockey.
Kayden Caumartin led the Mustangs offensively with two goals while Stacey Dunning also scored.
Also notching a goal was call up, Kyle Gilmore.
The Mustangs will now play Shoal Lake in the final.
Details

Contributed by

Darnell Duff