Latest Sports
Toni Koshowski was very pleased with herself when she made the Yellowhead Chiefs U18 women's team in the 2017-18 season. She would go on to play three seasons with the team.
With her AAA career now in the past, Toni is in Calgary attending the University of Calgary and she's studying neuroscience and as she enters the second year of her studies, Toni has gotten some help thanks to all of her hard work on the ice and around the community over the years.
On top of her extremely busy competitive hockey schedule the past few years, Koshowski has been very involved in the community volunteering at many different places. The list of places that Toni volunteered at in the past includes Community Transitions Class -- where she would interact with children with disabilities -- the Dauphin Food Bank and Under one Roof in Dauphin, where meals were delivered to individuals in need.
When she was younger, Toni's mom had cancer and she says all of the support the family received then made Toni want to give back.
"So many people did so many things for our family, I feel it's important to give back in some way," said Koshowski. "I have always enjoyed volunteering and being a part of the community, it makes me so happy."
Award recipient:
The Terry Fox Humanitarian Award is given out to a select number of applicants that provide humanitarian services in their community and the applicant must have plans to pursue post-secondary studies.
Out of more than 700 applicants, Toni is one of 16 recipients -- from all over Canada -- to win the award. Toni will now receive $28,000 which she can use towards her studies at the University of Calgary.
Toni said she never expected to win the award, but she is extremely grateful that she did.
"I'm so honoured to receive this award, I'm so thankful," said Koshowski. "I couldn't have done this myself, so many people in the community helped me and supported me."
Details

Contributed by

Darnell Duff
Cali Yates has been playing basketball competitively for six years and she has come a long way. Her journey on the court started in her hometown of Dauphin before the family moved to La Salle for her grade 10 year.
Upon her arrival at Sanford Collegiate, Yates joined the Sabres women's basketball team and she enjoyed a great run with the team. They won zone championships the three years that Cali was a part of the team, she was named junior varsity athlete of the year, she was a varsity rookie of the year, and she's also a Manitoba High School Athletic Association rural athlete of the week.
Cali also made the AAA second all-star team and she's recently been voted to Winnipeg Sun's Top 10 players in the province. So to say Cali excelled in Sanford would be an understatement and her success at the high school level has led her to bigger and better things.
Before we get to that, we'll take a look back to 2019 as Cali made the U16 Team Manitoba girls roster in her first time trying out for a provincial basketball team. They went on to represent the province at the 2019 Western Canada Summer Games in Swift Current and they played their games at the home of the Western Hockey League's Swift Current Broncos.
Ultimately, the Manitoba girls finished with a bronze medal as Cali's first time representing the province went very well.
"Getting that chance to play with Team Manitoba was amazing," said Yates. "It was such a great experience. I had the chance to play against the top girls in my age in Manitoba and from across Western Canada, it really expanded my knowledge of the game and I learned a lot."
Cali says she loves competing and pushing herself to her limits, something that she will definitely be doing this summer as she prepares to move to Brandon. The Bobcats women's team didn't hit the court this season as Canada West cancelled the season. The team will be back at the Healthy Living Centre next season and Yates will be front and centre.
Cali -- who watched her brother Lawson win a provincial curling title in Dauphin with Team Walter -- has committed to join the Bobcat women's team in the fall, just two years after showing what she could do against the best in Western Canada. The Dauphinite says she's looking forward to going in, being a sponge, and improving every day.
"I played for coach Thomas in the past, so I'll be comfortable heading into my rookie season," ended Yates. "To say I'm a Bobcat means so much to me, I've always wanted to be a Bobcat.


Yates already knows what it feels like to play in Brandon as she played with the Junior Bobcats in grades 8 and 9.
Details

Contributed by

Darnell Duff
The Neepawa Golf & Country Club is preparing for what should be a very exciting summer on the links. It was previously announced that the top amateur players in the province will head to Neepawa from July 15-18 as the course hosts the amateur men's championship.
Although plenty of snow began to fall starting on Monday evening, Landon Cameron says the snow shouldn't push back opening day for long. He anticipates opening within the next two to three weeks.
"My best guess would be anywhere from April 8 to 15, so that's exciting," said Cameron. "We're just really waiting for mother nature to cooperate, but that snow shouldn't really push things back."
The weather is expected to take a turn for the better starting on Wednesday with a high of zero. Starting Thursday, things look great with a high of 10 while Friday should see a high of 16. In fact, double digits are expected for five days straight starting on Thursday.
A devastating flood hit the community of Neepawa last summer, a flood that closed the course for the better part of two weeks. But thanks to a ton of hard work post-flood, Cameron says things are looking good.
"Our guys did a great job getting it somewhat back to normal last fall," offered Cameron. "There is still a little bit of repair left to do, but everything looks like it wintered very well for the most part."
Landon is entering his 12th year as general manager and CPGA head golf professional and he says Neepawa is such a special community, one that he has grown to love.
"With my wife and I not being from Neepawa, the community has been very welcoming and friendly," ended Cameron. "Our membership is also very loyal, we have a great core of members and that makes coming to work everyday fun."
The course is also one of the best in the province and if you're near Neepawa, you can get a membership for last year's price of just $875 for an adult and that fee includes league play. For more details, you can head to membership.
Details

Contributed by

Darnell Duff
The Winnipeg Blue Bombers say in their 2020 annual report that restrictions introduced to combat the spread of COVID-19 have resulted in a $7-million loss.

The Blue Bombers said the rapid spread of the novel coronavirus and related restrictions had a ``devastating impact'' on sports across Canada, including the cancellation of the 2020 CFL season.

The report states that team revenue decreased by $32.3 million in comparison to 2019, when the Blue Bombers won the Grey Cup and posted a $3.5-million operating profit.

The team also says it incurred expenses of $3.4 million related to the operation of the IG Field despite no events being held at the stadium since February 2020.

The Bombers say they took a number of steps to reduce expenditures in 2020, including a reduction of labour costs, other operating costs, and working with vendors to renegotiate contracts.

The club says it also accessed government programs and secured financing to assist with the impact of COVID-19 on the club's operations.
Details

Contributed by

Darnell Duff
The Cornell Big Red finished the 2019-20 season with nine straight wins as they went 23-2-4 (18-2-2 in conference play) that season and Tristan Mullin was a big piece of the team's success.
In 29 games, the former Dauphin King and Swan Valley Stampeder scored nine times and added 13 assists. Heading into this season, Mullin was set to be the team's captain in his final season of NCAA Division 1 hockey. Ultimately, Mullin was only captain for about two months and he never had the chance to wear the 'C' in a game as the conference scrapped this season because of the novel coronavirus.
The news that an ECAC season wouldn't take place left Tristan without a place to play, although not for long. Mullin would transfer to the University of Vermont for his final year. Tristan says he was grateful to get the chance to play with Vermont, but it was a tough year.
"It was one of the wildest years I have been a part of. I was so looking forward to being captain with Cornell, we were set up for a big season," said Mullin. "It was a grind this year. With protocols, we went in and out of quarantine multiple times and that was tough, it was hard for us to get on a roll. It was probably one of the most mentally frustrating years that I've been a part of."
Tristan ended up playing 11 games with Vermont, in which he scored four goals and added one assist. But unlike the success he enjoyed team-wise in Cornell, that wasn't the case in his final year of college as Vermont went 1-10-2, with 11 of their losses coming in conference play. The team's lone win came on Friday, January 8 against the University of Maine. Vermont's in the middle of a rebuild after an entirely new coaching staff was brought in.
"They have a bright future ahead of them, without a doubt," offered Mullin.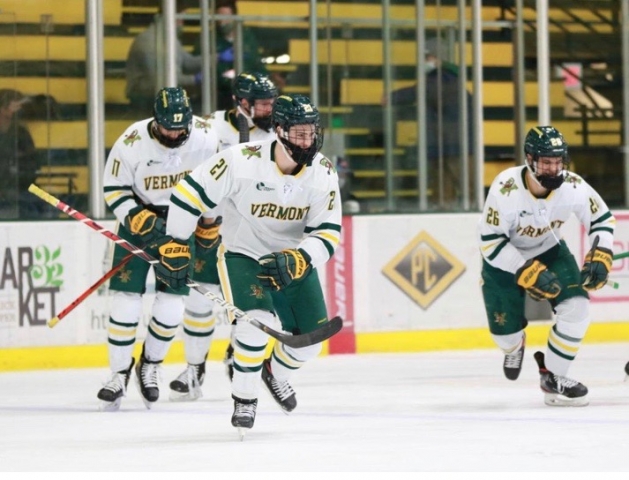 College journey:
Tristan ended his college career with 100 games played with his career-high coming back in the 2018-19 season when the former King suited up in 34 contests. Tristan scored 25 goals while adding 29 assists.
And while he didn't get the chance to finish his college days with the same team he started them with, Mullin still remembers some of the great things that happened during his time with Cornell.
"Scoring a goal against Harvard in front of a packed rink in my freshman year, that was super cool," stated Mullin. "I also scored my first goal against Boston University at Madison Square Garden so I'll never forget that."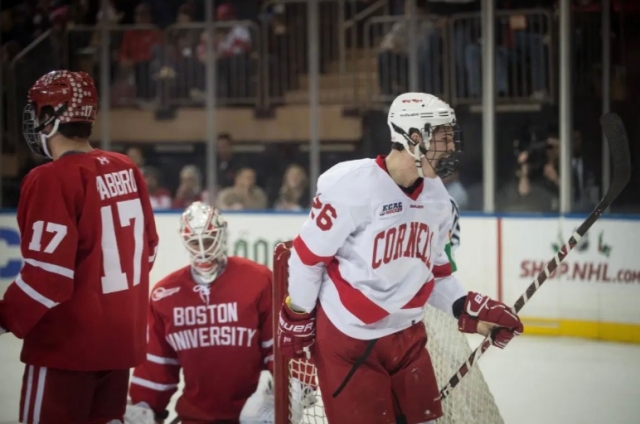 Next move:
Tristan's next goal that he wants to achieve is playing in a professional game and it looks like that could be right around the corner. Not long after finishing up at Vermont, he signed his first amateur tryout contract with the Cleveland Monsters of the American Hockey League.
Tristan has arrived in Cleveland and he's currently quarantining in a hotel. He is set to join his teammates for practice on Wednesday ahead of their final game of the month on Wednesday night against the Rochester Americans.
And although it's unlikely that Tristan will make his AHL debut with just one practice under his belt, his next chance to suit up in a game could come as early as Saturday, April 3 when the Monsters challenge the Grand Rapids Griffins.
"It's a pretty cool feeling signing this contract, I don't think it's sunk in," ended Mullin. "I'm going to play the game I love and make money doing it, it's really special. I've had a lot of people reach out to me and I appreciate all the support."
Dauphin Kings fans will remember Tristan from the 2013-14 season when he played in 39 games and Mullin then made his way to Swan River to play with the Stampeders the following season, in which he suited up in 62 contests.
Details

Contributed by

Darnell Duff
The Grandview Lakers are hoping to field a few softball teams this summer.
The age groups are U12, U14, and U16, and registration is now open. It's $85 for U12, $95 for U14, and U16 is $105. This includes a couple of practices a week and games are played on weekends. Games will be played against teams from around the Parkland.
It looks like there will be several teams in the region this summer, including teams in Dauphin, Ste. Rose, and Roblin, just to name a few.
For more information and to register, email Erin at This email address is being protected from spambots. You need JavaScript enabled to view it..
Details

Contributed by

Darnell Duff
Riese Gaber came up just short in what went down as the longest game in NCAA hockey tournament history on Saturday night.
Playing the University of Minnesota-Duluth Bulldogs for a spot in the Frozen Four starting next Thursday in Pittsburgh, the Fighting Hawks came up short as the Bulldogs sealed the game in the fifth overtime.
There was 119 shots fired in the game between the two teams. UMD will make its fourth straight appearance at the Frozen Four after winning titles in 2018 and 2019. They will play UMass in the national semifinal on Thursday at PPG Paints Arena.
UMass took down Tyler Jubenvill and the rest of the Bemidji State Beavers in a regional final in Bridgeport, Connecticut.
Details

Contributed by

Darnell Duff
Softball is making a return to Dauphin.
Phil Fafard says registration is now open to play this summer at various age groups. There are teams at the U10, U12, U14, U16, and U19 levels which means if you're just getting into the game or you've played it for years, there is a spot for you.
The cost associated with playing this summer will depend on how many players sign up, but Fafard doesn't expect it to be much more than $100 if it's even that.
The season would include weekly practices and games against teams from across the province, which would include an opportunity to play in provincials as well.
"Softball is such a tremendous life sport," said Fafard. "I think every child should learn how to catch, hit, and throw a ball.
There is set to be teams from across the Parkland competing this summer such as Ste. Rose, Grandview, and Roblin, just to name a few. If you are interested in playing softball this summer, you must contact Phil before April 1 by emailing him at This email address is being protected from spambots. You need JavaScript enabled to view it. or you can call him at 204-572-6433.
Details

Contributed by

Darnell Duff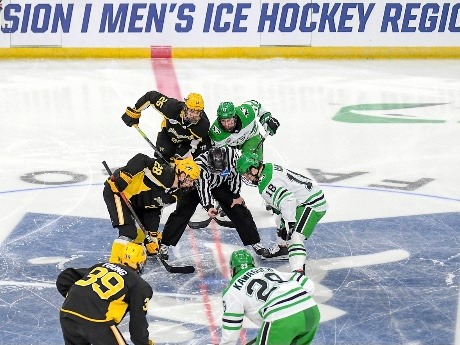 Riese Gaber and Tyler Jubenvill are now just one win away from heading to Pittsburgh.
Playing in regional semifinals on Friday, both the North Dakota Fighting Hawks and Bemidji State Beavers picked up big wins.
In Bridgeport, the Beavers took down the Wisconsin Badgers, 6-3. The Badgers entered the regionals as the number 1 seed in their region, but they couldn't solve Bemidji State. Tyler Jubenvill and the Beavers now play on Saturday against UMass. The winner heads to the Frozen Four beginning next Thursday.
Meanwhile in Fargo, there was a scary moment in the second period when Gaber was hit hard into the boards and he left the game. However, it appears that Gaber is good to go for Saturday's tilt. In Friday's contest, the Gilbert Plains native had one assist in a 5-1 win against American International College.
North Dakota plays the University of Minnesota-Duluth Bulldogs on Saturday.
Details

Contributed by

Darnell Duff
Rod Carberry has spent the past six years at the helm of the Dauphin Clippers rugby program. Coaching both the men and women, Carberry has dedicated countless hours to grow the game of rugby in Dauphin at the high school level and he has certainly achieved that.
During his time with the program, Carberry led the women's team to a league title and back-to-back appearances at the provincials. The men's team also qualified for the playoffs and were very competitive, something that didn't happen much before Carberry stepped in.
But, the Clippers program will be looking for a new coach after next season as Rod is stepping down to spend more time with family and he will also have more time to enjoy his hobbies, one of which includes fishing, which is a regular activity for the Dauphinite. Carberry says the past six years have been incredible as he looks to find a replacement to take over the program.
"It was such a hard decision to step away, it really was," said Carberry. "I've met so many incredible people over the years. I've had a lot of time to spend time with my family, hunt, and fish over the past few months, and I'm looking forward to doing more of that moving forward."
Carberry does plan on staying in the game; however. He plans on certifying as a referee so he can stay on the field and stay connected to the game he loves. Although no one has stepped up at this point to take over the program, Carberry is confident that his replacement will continue growing the game in Dauphin at the high school level.
"It's amazing where this game is right now in Dauphin," offered Carberry. "From barely having enough to field a team on the men's and women's side not long ago to having a fully flourishing youth program from six-years-old to the resurrection of our men's team in the past couple of years, it's incredible."
Rod does plan on continuing to coach at the club level. A couple of Parkland Pirates teams were set to head to Florida for a tournament last year, but that was cancelled due to the COVID-19 pandemic. Carberry says he will never forget the nailbiter games and the success that the Clippers program enjoyed over the years.
Details

Contributed by

Darnell Duff
It's been seven years since Tyler Jubenvill had nine playoff points in just four games with the Parkland U15 Rangers back in 2014 and now, he's four wins away from becoming a national champion.
Tyler, from Gilbert Plains, is in his third season with Bemidji State Beavers and the team is in Bridgeport, Connecticut for the NCAA Division 1 regional championship. Jubenvill who spent time with the Winkler Flyers before moving south of the border, played in all of the team's 27 games this year. Five of Bemidji State's games were postponed from November 23 to December 5.
They finished 15-9-3 (8-5-1 in conference play) and they advanced to the conference semifinals after sweeping Michigan Tech in the conference quarterfinals.
"We're here at the tournament and this is exactly where we wanted to be at the start of the year," said Jubenvill. "Our business isn't finished either, we're ready for our next challenge."
16 teams have advanced to the regionals with North Dakota entering as the top seed after they won the NCHC. The Fighting Hawks roster includes Riese Gaber who has been enjoying an outstanding freshman season with the top team in the country and they will play American International, a team they have never played in team history.
Bemidji State, meanwhile, will take on the fourth-ranked Wisconsin Badgers. The game will be played on Friday with the winner advancing to the regional final on Saturday afternoon. The four regional winners advance to the Frozen Four with the national championship game being played at PPG Paints Arena -- home of the Pittsburgh Penguins -- on April 10.
"It's exciting even just being here at regionals," said Jubenvill. "With that said, we know we're only four games away from winning a national championship and we have a ton of confidence in our group heading into regionals."
Game preview:
Bemidji State - 15-9-3 (8-5-1 in conference play)
Leading scorers:
Alex Ierullo - 7G, 16A
Brendan Harris - 8G, 12A
Ethan Somoza - 13G, 5A
Bemidji State dropped their only neutral site game of the season. The team's strongest period was the third when they outscored opponents, 76-63. The team had 744 shots while they gave up 675. Tyler has four assists.
In the crease: Zach Driscoll has started 26 of the team's games in which he's gone 14-9-3 with a 2.27 goals-against average to go along with a .924 save percentage. If Bemidji State wants to get past Wisconsin, Driscoll will have to be very good.
Wisconsin - 20-9-1 (17-6-1-1 in conference play)
Leading scorers:
Cole Caufield - 28G, 21A
Linus Weissbach - 11G, 29A
Dylan Holloway - 11G, 23A
Wisconsin went 1-1 in neutral site action this season as they enter the regionals as the top seed. Cole Caufield dominated his opponents this season as he had seven multi-goal games and that includes three hat-tricks. He also helped Team United States win gold at the IIHF World Junior Hockey Championships.
In the crease: Unlike Zach Driscoll who played almost every game for Bemidji State, Wisconsin rotated their goaltenders quite consistently. Cameron Rowe went 9-2-1 in 15 games started while Robbie Beydoun went 11-7 with three shutouts in 21 games started.
The Badgers boast a 6-0-1 all-time record against the Bemidji State Beavers.
"They're a good team with a lot of high-end talent, that's for sure," stated Jubenvill. "With that said, so do we, and I think we'll match up well. We have to lock down their top players and I think we'll do just fine."
Jubenvill and the rest of the Beavers arrived in Bridgeport via a private charter on Tuesday. All members of their team had to quarantine on Wednesday and now, game day is just one day away as the quest for a Frozen Four title continues.
Details

Contributed by

Darnell Duff