Latest Sports
As it was released yesterday, Hockey Canada has cancelled all sanctioned events moving forward until further notice. Hockey Manitoba has done the same thing which puts a close to the Dauphin Minor Hockey Association's season. It's a tough time for many players, coaches, and parents who were getting set to hit the road for provincials this weekend.
For Tyler Carefoot, President of DMH, it's a challenging time.
"I'm genuinely disappointed for all of the teams that have worked so hard to prepare for the provincials all season long," he said. "At the end of the day; however, this is bigger than sport. It's about the safety and well-being of people moving forward."
Although this is the end of another hockey season, DMH showed signs of excellence throughout the season taking part in multiple tournaments and winning titles including the Dauphin Super 8 Kings who for the first time in 29 years won two Tournament of Champions events.
"From a Dauphin Minor Hockey perspective, our organization continues to get better each year," said Carefoot. "I'm always happy regardless of the wins and losses. As long as we continue to get better each year, that's what matters."
Press releases have now been sent out to the entire membership. The Annual General Meeting will take place in late April or early May.
"It's all about finding out what we can do better next season to help families out and continue to improve," concluded Carefoot.
Details

Contributed by

Darnell Duff
Kyle Forsyth and his foursome are off to a great start at the Curling Club Provincial Championships.
They went a perfect 2-0 on day one and they lead their pool. The team includes Jarvis Whyte, Darius Vendramin, and Cody Hill.
They won their first game, 8-2, and they followed that up with a 7-5 win in their final game of the day.
Details

Contributed by

Darnell Duff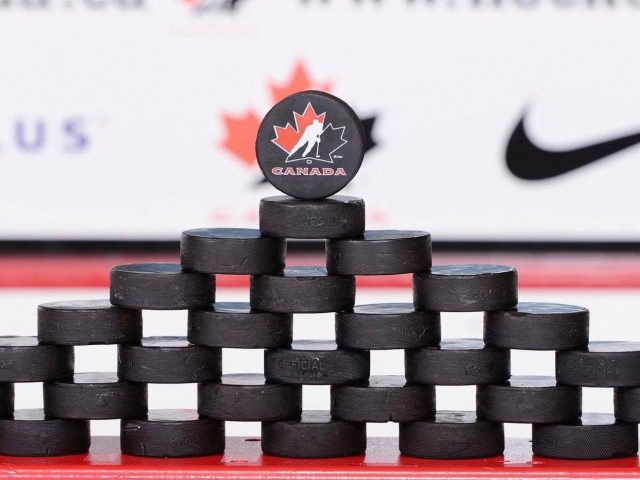 It has no doubt been a very tough day for sports fans across the country and now, that's being felt locally when it comes to junior hockey and minor hockey. The Canadian Junior Hockey League has decided to cancel all Hockey Canada-sanctioned events, including the 2020 Centennial Cup which was set to be hosted by the Portage Terriers.
This means the Dauphin Kings season, as well as every other member team of the CJHL, has come to an end, effective immediately. The cancellation is due to the concerns over COVID-19.
Hockey Manitoba has also cancelled all sanctioned games moving forward which means several local teams will not take part in the provincials, including the Bantam AAA Rangers who were to host the provincials this weekend in Swan River and Minitonas.
Jason Gibbs, Governor of the Kings shared his thoughts
"It comes as a shock. It didn't really dawn on me that it was going to affect things like it has," said Gibbs. "My heart goes out to all of the players and coaches that have put their heart and souls into being the best possible."
"The Bantam Rangers were favoured to win their provincials and the Kings were excited to get back at it on Friday," he added. "It's sad, it just makes me sad."
Next up for Dauphin was game four of their series against the Portage Terriers tomorrow night which was slated to be played at Credit Union Place. Of course, that won't happen.
"Any time you get into playoffs, it's a bonus for a club financially so this will hurt," continued Gibbs. "I'll meet with the Kings Board of Directors and we'll see where it goes from there."
Details

Contributed by

Darnell Duff
The Dauphin Clippers hockey team was ready to show what they had against the best teams in the province at the AAA/AAAA Provincial Championships. However, that's not the case anymore.
The event which was slated to be played at the Bell MTS Iceplex has been cancelled.
Details

Contributed by

Darnell Duff
The Parkland Vipers U14 Blue team is very early into their volleyball season. However, if they continue to play how they have been to start the season, there's no doubt some special things are on the way as they already have been.
The team has played in two tournaments, both of which they won a title. They first won a tournament in Brandon and they followed that up by winning their home tournament this past weekend.
Volleyball Manitoba announces its rankings each week to recognize the top teams in the province.
In the 14U Girls age group, the Vipers are on top. The team has been ranked the top team in the province after a great start.
"It feels pretty great and it's definitely a pat on the back for the success we've had so far," said Ted Rea, Head Coach. "We're really looking forward to playing some of the other top teams in the province moving forward. We'll play in another tournament in Brandon and the University of Manitoba tournament so we'll really get the chance to see where we are."
In their most recent tournament, the team didn't allow more than 14 points in any of their games and they didn't lose a set. In their first tournament of the season, they lost only one set
"Our consistency with our free ball play has been excellent. Our serving and serve receive last week improved from the previous week as well," continued Rea. "This team has been together for a while now so I think that benefits us, I can move players in and out and it doesn't cause any disturbance or anything like that."
The team will now play in the Parkland Vipers 15U tournament this weekend. They'll be in a pool with RCV 15U, South Mountain 15U, and Club West Smash 15U. Their first game is at the DRCSS on court two on Saturday morning at 9:00 a.m. The finals will wrap up the tournament at 6:00 p.m. on court one, also at the DRCSS.
"There will be some teams that we haven't seen and we don't know much about," he added. "Our goal is to finish in the top-2 in our pool and then we'll go from there."
Ultimately, the team has one goal in mind moving forward.
"We're expecting big things and our goal is to win a provincial title," concluded Rea. "Last year playing as a 13U team, we almost made the semi-finals in the 14U event. We're off to a nice start here and that's great for us. We have to keep putting the work in and we have to stay consistent."
Details

Contributed by

Darnell Duff
Riese Gaber's success with the Dubuque Fighting Saints in the United States Hockey League has been put on hold, effective immediately.
Due to the outbreak of COVID-19, the USHL has suspended its season until further notice. The decision was made by the Board of Directors with the best interest of USHL athletes, staff, officials, and fans.
More information is expected from league officials in the coming weeks.
Details

Contributed by

Darnell Duff
The McCreary Novice Mustangs have completed a triple trifecta. Earlier this season, the Peewee and Atom teams won their Parkissimo Hockey League Championships.
Now, the Novice Mustangs have done the same thing. Playing Rivers in the league final, McCreary had no problems getting past them in two games.
In game one, McCreary downed Rivers, 6-4. Game two saw another offensive explosion for the Mustangs as they put up seven goals in a 7-3 win to cap things off. Owen Devonald led the way with four goals while Dustin Roncin filled up a hat with three goals.
Details

Contributed by

Darnell Duff
The Dauphin Clippers hockey team will board their bus later today as they're off to Winnipeg for the AAA/AAAA Provincial Championships which start tomorrow at Bell MTS Iceplex.
Dauphin's first game will be played at 9:00 a.m. against the St. Paul's Crusaders and that's followed up with a game at 1:00 p.m. against the River East Kodiaks. St. Paul's enters the tournament as the third-best team in the province while River East is ranked fourth.
Ashton Hlady will be on that bus and if the Clippers hope to have success, the grade 10 rookie will have to be a big part.
"It's obviously going to be tough playing against the top teams in the province," said Hlady. "With that being said, we just have to go in and play our best game and I believe we can come out on top."
"We've had a pretty solid week of practice here and we're excited about this challenge," he continued.
In 23 regular-season games, Hlady was second in team scoring with 39 points (18G). Those 18 goals were the third-most on the team. That success over the first 23 games of Westman High School Hockey League play translated to success when it really matters, the playoffs. Hlady has racked up three goals and two assists in just four playoff games.
"It's all because of my teammates and linemates," continued Hlady. "They're the ones that set me up and we're clicking. It's a pretty good feeling."
After this weekend's provincials, Ashton and the remainder of the team will prepare for the final of the WHSHL. They'll play the Killarney/Wawanesa Raiders in the best-of-three to decide who gets to lift the trophy at the end of the season.
The Clippers have rolled so far in the playoffs with four straight wins, two over Boissevain and two more over Sandy Bay. Game one of their series against Killarney will be played on March 19 at 7:00 p.m. in Killarney. The series will return to Dauphin on March 24 at 7:30. Game three if need be hasn't been confirmed as of yet.
Being a rookie, this is Ashton's first league final with his new team and he can't wait to get things going.
"Definitely. Everyone on this team is super excited," he continued.
"We're all really confident with the players we have and the coaching staff that we have," Hlady concluded. "We're ready to rock here."
Details

Contributed by

Darnell Duff
Swan River's and former Parkland Ranger, Carter Cockburn had a career night for the Swan Valley Stampeders and it's come at a great time.
He scored four goals to lead Swan Valley past Waywayseecappo in game three of their series.
The Stamps' also scored six other goals to hammer Wayway, 10-0.
It was Cockburn's first-ever four goal game in his junior career.
The Stampeders now have a 2-1 lead in the first to four series.
Mikael Foucher made 31 saves in the win.
Details

Contributed by

Darnell Duff
When the MHSAA Varsity Girls "A" Provincial Basketball Championships take place next weekend at the Fisher River High School, two Parkland teams are taking part in all of the action.
The Gilbert Plains Trojans will go in as the fifth-ranked team. Their first-round opponent is the Elm Creek Cobras.
Coming in as the sixth-seed are the Ste. Rose Celtics and they'll play the Rosenort Redhawks in the quarter-final game.
This weekend, the McDonald's provincial A/AA junior varsity girls tournament takes place at Teulon Collegiate. The Ste. Rose Celtics are going in as the ninth-ranked team and their first game is against the Rivers Rams.
The Swan Valley Tigers junior varsity boys will take part in the "AAA" provincials, also this weekend in Winnipeg.
When it comes to Dauphin teams, the Clippers are the seventh-ranked team and they'll go up against Springfield in their first game of the "AAA" junior varsity girls provincial event.
Details

Contributed by

Darnell Duff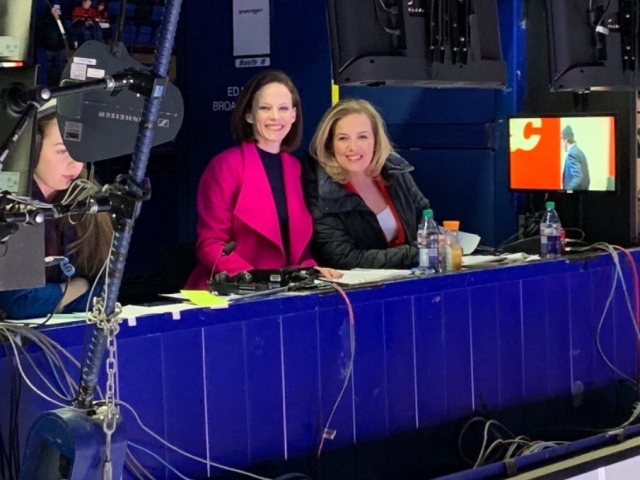 International Women's Day was this past Sunday on March 8. It was celebrated in different ways around the globe, but for a Brandon native, it was celebrated in front of some bright lights.
Leah Hextall took over the reins of play-by-play for the Calgary Flames vs Vegas Golden Knights game.
The broadcast team included Cassie Campbell-Pascall and reporter Christine Simpson.
"The experience was just thrilling and how can it not be. I had the chance to call (in my opinion) the greatest sport at the highest level," said Hextall. "I think it was also magnified because of who I was working with. To call an NHL game, it's truly a dream come true. I survived and I think it went pretty well and I can't wait to do it again if that opportunity comes up."
The end score saw the Golden Knights get past Calgary, 5-3. Although it wasn't Calgary who came out on top, Leah's favourite memory of the game was when a Flames forward scored.
"I think one of my game calls when Dillon Dube scored. There was an excitement to my voice and it was extremely genuine," continued Hextall.
Although Sunday's game was Hextall's first National Hockey League play-by-play opportunity, she has called games on big stages in the past. Last year she became the first woman ever to do play-by-play on ESPN for the NCAA men's hockey championship. She also was calling women's hockey games on Sportsnet for the past two years.
Calling a game in the NHL was always a dream for the Brandonite. That dream grew bigger after she called the NCAA action and that dream has officially come true.
"There were a few nerves early in the day, but I was actually kind of surprised by how calm I was," she added. "I knew I could do it because I had been doing it for years and that NCAA experience helped me. All in all, it's a dream come true."
Hextall did confirm that she has a busy rest of the month when it comes to calling games; however, she couldn't share exactly where. So that means if you're a big hockey fan and you enjoy listening to Hextall, stay tuned.
Details

Contributed by

Darnell Duff