Latest Sports
Riley Shamray did a lot of good things on the ice during his time with the Dauphin Kings. He's also done a lot of good things on the field for the Oak River Dodgers and now he's on top thanks to it.
The veteran of 154 games with Dauphin, Shamray helped the Dodgers win the Southwest Baseball League last night. They beat the Boissevain Centennials in the finals.
The series went the distance (five games) with Oak River winning 5-0 to win the league title.
"Absolutely it felt great. They got ahead in the series, but we just rebounded and stayed focus," said Shamray. "It was a good series and it was great to win it."
Oak River has now won two of the last three Southwest Baseball League titles.
With the off-season now upon us, Riley and the crew will enjoy their title, but they'll be back looking to win it again next summer.
"I'm sure our team is going to be pretty much the same as this year," he added. "Hopefully everyone comes back and hopefully we can make it another great season."
Riley is now Alberta bound. He's set to join the Mount Royal Cougars hockey team this season. He heads to Mount Royal on Thursday.
"I'm really looking forward to being a part of the team and taking the next step in my life," he added. "I know it's going to be a big step hockey wise, but I'm looking forward to the challenge."
"I'll give it all I can and hopefully, I can make good things happen," Shamray continued.
Riley suited up in 150 regular-season games with Dauphin and four playoff games last season. During that time, he had 92 points (23G). He also led the Kings' with 47 points last season in the regular-season and his four playoff points were second best on the team.
"I'm not really focusing on putting up a lot of points with Mount Royal," he concluded. "I'm just focusing on playing my best every time I get in the lineup and doing the little things right."
They play their first preseason game on September 10.
Details

Contributed by

Darnell Duff
Russell's Jay Thiesen is in a pretty good spot after his first round at the Canadian Mid-Amateur Golf Championships at the Summit Golf & Country Club.
He fired a 3 over, 74 earlier today. The round included two birdies, three bogies, and one double bogey.
Starting on the back nine, Jay made bogey on the 11th hole, but he rebounded with a birdie on 16. After a bogey on four and birdie on five, Thiesen made double on the sixth hole. He rounded out his round with two pars and one bogey in the final three holes.
"My ball-striking was okay. The driver wasn't the best off the tee, but I was hitting lots of greens and I was putting pretty well," he said from his hotel room. "I was pretty pleased for the most part."
After a 7:41 tee-time this morning, Jay will tee off tomorrow at 12:41. He will begin his round on the first hole.
"I think I'm pretty confident going into tomorrow. I putt well, but I didn't really make that many, I lipped out several times," he said. "If I can just cut out some of the mistakes, I could have easily been even par today and been right in there."
As of this posting, Jay is in a tie for 18th place. The leader is 5 under right now, but second place is just 1 under. That means just four strokes separate second from 18th place.
"I think I'll be a little more aggressive tomorrow, even more so than today," he said. "If I can get a few more putts to go down, I think I'll be in a good spot. Shooting even par is definitely gettable, anything below that is a bonus."
Details

Contributed by

Darnell Duff
Waywayseecappo Wolverines prospect, Brandt Young stepped into the winner's circle over the weekend.
Playing in the Neepawa Golf & Country Club Junior Men's Club Championship, Brandt took care of business by winning the title. He shot an 84 to win by five strokes.
"To be honest, I don't think I played too well, I think I could have played better," said Young. "84 was good enough to win, so I guess it worked out."
"I was hitting my driver pretty well out there," he continued. "I think it was more my short game. I lipped out on some putts and my chipping wasn't fantastic, but overall, it is what it is."
Brandt also played in the overall Men's Club Championship. That meant his second round was on Sunday and he fired a 90. The winner of the men's title was Austin Gwilt.
Young's focus now switches to getting back on the ice. The 16-year-old from Neepawa will head to Lethbridge this weekend for Hurricanes rookie camp. That starts on Wednesday, August 28.
Main camp starts on August 30.
"I'm going there to hopefully make an impression and of course, have some fun. That's really what it's all about," he added.
In his first year with the U18 Yellowhead Chiefs last year, Brandt put up 11 points (1G) in 46 regular-season games. In his last year with the Bantam Chiefs the year prior, he was very efficient. He put up 44 points (4G) in 36 games.
"I'm more of a defence first type of player and I think you can tell that by my numbers," he added. "I take pride in my own zone first and I try to make a good first pass."
Young adds his goal is to make the Hurricanes this season. As a 16-year-old that may be tough, but he's ready for the challenge ahead of him.
"I like to think I have a chance if I play well," Young said. "If I don't, I guess we'll see what happens. I just want to give it my all and leave a good impression."
If Brandt doesn't make the team, he'll report to Waywayseecappo. He was drafted 12th overall in the 2018 MJHL Draft by the Wolverines.
"I'm going into these camps with a good head," he concluded. "If I don't make Lethbridge, I'll go to Waywayseecappo with a fresh mind and I'll try my hardest. If it works out that's great, if it doesn't, it doesn't."
Details

Contributed by

Darnell Duff
Koby Morrisseau scored three times to lift the Treaty 2/Kiniw team to the gold medal game in the Parkland Source for Sports 4 on 4 Hockey League.
They beat Dean Cooley GM, 10-7.
Derek Benson scored twice while five players scored once.
They include Reece Hopfner, Riley Zdan, Brad Marshall, Brayden Kohlman, and Landon Brown.
In the loss, Kurtis Luke and Carter Zalischuk both scored twice.
Dean Cooley GM plays in tomorrows third place game while Treaty 2/Kiniw battles it out for gold.
The late game saw Brendan Arnold score three times as Aspen Insurance beat Fusion Credit Union, 12-6.
Garrett Hrechka and Ronald Johnson each scored twice in the win.
In the defeat, Brayden Dube scored four times.
Details

Contributed by

Darnell Duff
Dauphin's Eric Prokopowich is the low Parklander as the Junior Men's division at the Tamarack Tournament started.
He shot a 9 over, 81 and he's in a tie for 10th.
Just one stroke back is Luke Davidson, while Thomas Scott is three back of Eric.
Neepawa's Hayden Delaloye also is three back while Noah Wiens is six back of Eric.
Luke Myhre shot an 89 while Jackson Delaurier fired a 94.
Easton Odut shot a 109.
In other action, Laurie Vrooman lost his match and he's in a do or die situation on Wednesday.
Mel Graves also lost his match and he's in the same situation as Laurie on Wednesday.
Frank Clement won his match and he'll move onto his flighted semifinals.
After a 5 over, 77, Keith Fawcett finished in a tie for fourth in the Champions Men's division. His matches begin later this week
Details

Contributed by

Darnell Duff
After a seventh-place finish at the Manitoba Mid-Amateur back in July, Russell's Jay Thiesen is in Richmond Hill, Ontario for the Canadian Mid-Amateur Golf Championships.
They start tomorrow at the Summit Hill Golf & Country Club. Jay arrived in town yesterday and he had a practice round this morning.
"I'm really excited. The course is probably the best one that I've ever played," he said. "There is a ton of hills with some phenomenal holes."
"I didn't play fantastic during my practice round. I made some good putts, though and felt okay," he added. "If I can keep my putting going, I know my ball striking will come."
The field for the tournament is primarily Canadians. However, there are several players from the United States. Always considered as a tournament that features the best Amateurs aged 25 and older, Jay knows he will be in tough.
"I'm not expecting to win or anything, but I'd like to make the cut," he added. "If I do that, we'll go from there. My goal is to shoot around even par and that should likely be good. It's going to be a good experience and I'll give it my all."
The course will be a par 71 and it'll be 6904 yards for tomorrow's round. The average yardage of the par 3's is 192 yards. The average on the par 4's is 408 yards. The average par 5 is 569 yards and the longest hole is 595 yards.
Jay's opening hole tomorrow will be a 221 yard, par 3. His opening hole on Wednesday will be a 455 yard, par 4.
"After seeing the course today, they had it set up pretty tough and a lot of guys think today was the hardest we'll see it," he concluded. "The golf course isn't wide open, but there is some room out there. You can't really see the green on some approach shots, so that adds to the toughness. I don't really know how it'll play tomorrow, so we'll see."
Stay tuned to us to find out how the Russell native does.
Details

Contributed by

Darnell Duff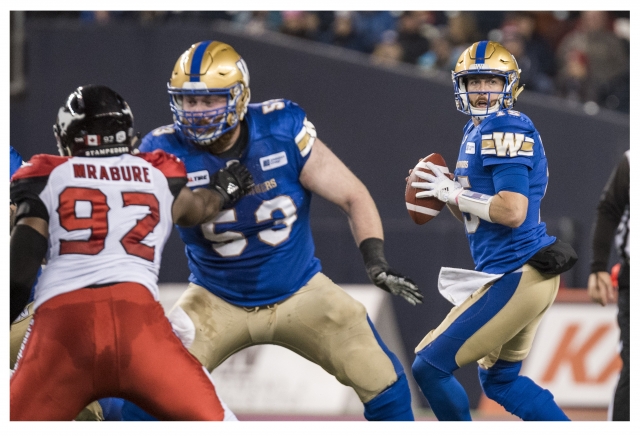 The Winnipeg Blue Bombers will be without their star quarterback for a while.
Head Coach Mike O'Shea announced today that Matt Nichols will be placed on the six-game injured list. He will be re-evaluated in 4-6 weeks.
Matt was injured after he took a hit from Shawn Lemon. He was enjoying a career season with Winnipeg. He had a 15:5 touchdown to interception ratio and he led the CFL with a QB rating of 107.2
Chris Streveler will start this Friday's game against the Edmonton Eskimos.
"I think I'm ready. I think everyone on this team does a great job of picking people up at all times," said Streveler. "There's a lot of great teammates and a ton of leadership on this team. I'm ready to rock and roll."
Winnipeg will look to sign a third-string quarterback this week.
Details

Contributed by

Darnell Duff
The Tamarack Golf Tournament is one that welcomes hundreds of golfers to the Clear Lake Golf Course every August. Of those hundreds is Winnipeg's Kody Fawcett. That name has become familiar for a few reasons around the area.
The first reason is that Kody's dad, Keith Fawcett lives in Clear Lake and plays the course several times per week. The second reason, we'll get to that a little bit later. The top 16 golfers in the men's division are placed in the Championship Flight after two rounds.
After an opening round of 2-under, 70, Kody was in a good spot. He entered his second round in third place. Kody went out for his second round and fired a 2-over, 74. The total dropped him three places to sixth, but that was enough to qualify for the top bracket heading into the match play format.
"It's good enough, that's pretty much all there is to it," he said. "My only goal was getting into the Top 16 and I did that. I hit the ball pretty well throughout the two rounds. Things were a little tougher in the second round, but I still hung around for a pretty decent score."
"It's all match play now, so the first two rounds are in the past and don't matter," he added. "I just need to keep playing solid and I need to make as many birdies as possible, that's the key to success."
As the sixth-seed, Kody plays the 11th seed tomorrow morning at 8:12. That happens to be Landon Trotter who went 75-73 in his qualifying rounds.
"I've never really played with him, I know he's a grinder and just sort of finds a way to get the ball in the hole," Fawcett added. "That's a tough quality to beat in match play. It should be a good one."
Fawcett and Trotter will be joined by the #1 vs #16 matchup when they tee-off on the 277-yard par 4, 1st hole.
"If Landon isn't playing very well on a hole, I don't really need to be aggressive, I can just play a simpler hole," he continued. "It's always good to know that if I make a big number, I'll only lose that hole. If I need to, I'll take a shot for the pin and hopefully, I can capitalize on my opportunities."
What's the second reason behind people knowing Kody in this area? He's won the men's division the past two years. That means the 29-year-old is chasing his third straight Tamarack Championship and if he does, he'll join some very elite company. Dating back to 1934, only one golfer (Barry McKenzie) has won the men's division in three straight years. He achieved the feat in 1965, 66 and 67.
On top of winning it in 2017 and last year, Kody also won the crown in 2015. Is the pressure of winning three straight getting to him?
"I wouldn't say I'm nervous really," he added. "I'm just trying to approach it like any other year I would. I just want to play as well as I can. I'm not thinking of the three in a row, I just want to go out there and play my best and we'll see what happens."
In the Champion's event is where you'll find Kody's dad. Keith opened up with a 6 over, 78 in his first round. He will enter his second round in the third spot as he looks to qualify for the Championship Flight.
In the end, playing good golf and making great memories is what the Fawcett family is all about.
"It's a tremendous week. There are a lot of families that play in this," he concluded. "It's nice when Keith is playing solid as well and he is right now. We watch each other's matches and we're always rooting for each other. It's a fun tradition every year."
Details

Contributed by

Darnell Duff
Dauphin's JJ Love has completed the roughly 600-kilometre trek from Swift Current to Dauphin and he's done so with a silver medal.
Love played an integral part in the Manitoba men winning silver in the volleyball event at the Western Canada Summer Games, in Swift Current.
They beat Saskatchewan, Yukon, Northwest Territories, and Nunavut in the round-robin. Their lone blemish came against Alberta.
In the semifinals, the Manitobans once again beat Saskatchewan, setting up a rematch with Alberta. In the end, Alberta came out on top in three sets.
"We started off the tournament very well and we were undefeated until we played Alberta in the round-robin and we played a good game, but we came up short," added Love. "We played very well against Saskatchewan in the semifinals and we were happy we had a chance to win a gold medal. In the finals, guy's bodies were worn down, but Alberta played a tremendous game, you have to give it to them."
Despite the gold medal loss, JJ isn't hanging his head at all.
"You know, I always obviously want to win gold, but that won't always happen," he added. "Alberta is an amazing team and we put up a good fight against them. I think everyone on this team should be proud of the result."
JJ now gets to enjoy some time off, at least on the court. He's expected to be a big piece to the Dauphin Clippers varsity boys' team once again this season. It will be his third season with the team.
"I'll start going back to the gym right away here and working out and that sort of thing," he added. "I'll let my body relax a bit from volleyball, but I'll be making sure my muscles are ready for tryouts and the season."
"I think we're going to have a good chance at winning this year, we're going to be a good team," he concluded.
Details

Contributed by

Darnell Duff
The Tamarack Tournament at the Clear Lake Golf Course has released it's men's matches after two qualifying round.
Here is where the Parklanders sit.
Championship Flight:
Kody Fawcett - 6th seed.
First Flight:
Joran Hedley - 11th seed.
Dale Murray - 12th seed.
Second Flight:
Mark Odut - 1st seed.
Jake Wiens - 6th seed.
Regan Hedley - 8th seed.
Third Flight:
Tyler Carefoot - 15th seed.
Fourth Flight:
Jason Yates - 1st seed.
Anthony Wiens - 8th seed.
Fifth Flight:
Dave Campbell - 15th seed.
Sixth Flight:
Bart Michaleski - 8th seed.
Robert Bouchard - 11th seed.
Seventh Flight:
John Tomlinson - 3rd seed.
Eleventh Flight:
Lawson Yates - 6th seed.
Matches begin tomorrow
Details

Contributed by

Darnell Duff
Back on July 18, the Wheat Kings named Lowry their new head coach.
Lowry has coached in the WHL before. He spent four seasons with the Calgary Hitmen from the 2005-06 season through the 08-09 season. Dave then made his NHL coaching debut with the Calgary Flames in the 2009-10 season, where he would spend three seasons as an assistant coach.
He would then come back to the WHL to become the head coach of the Victoria Royals from 2012-2017. While with Victoria, he also was an assistant coach for Team Canada at the World Junior Hockey Championships.
Next up was a trip back to the NHL, as he spent two seasons with the Los Angeles Kings beginning in the 2017-18 campaign.
Now, the Sudbury native will call the Wheat City his home as he is the 23rd head coach in franchise history.
"I'm extremely grateful for the opportunity and I'm very excited to get things going," said Lowry.
Darren Ritchie was named the team's general manager last month and he's thrilled to have Dave in town.
"We see this as a very positive step for our organization," said Ritchie. "Dave's teams are always prepared, they play fast and are very competitive."
Dave arrived in Brandon last Wednesday
"It's been a great couple of days. I came in and I've been hard at it since," said Lowry. "It's been great talking with the new staff and setting our expectations for the upcoming season."
After working with professional athletes for the past two years, Lowry is back in a league that he's spent most of his coaching career in. Prior to this season, he's spent nine years in the WHL and five in the NHL.
"I think the biggest thing is going to be the size of the players again," said Lowry. "We're going to have some guys that just aren't that big."
"At the end of the day, it's the same game," he continued. "When it comes to teaching it, it's the same thing. Our biggest challenge is making sure that these guys get to school, get to the rink and get home at night."
Brandon finished just outside of the playoff picture last season. They went 31-29-4-4 for 70 points. That ended up being two points behind the Red Deer Rebels, who earned the final playoff spot.
With as many as 18 veterans on the roster entering training camp, Dave is looking forward to making a push back to the playoffs. The ultimate goal is winning a WHL title, which three other Wheat King teams have done.
"I like our skill and I like the pace that we're going to be able to play at," Lowry concluded "The biggest thing that is encouraging is we have really good goaltending. I really like the age of our group and overall skill level."
Dave and the staff continue preparation for main camp which starts on August 28.
Details

Contributed by

Darnell Duff