Latest Sports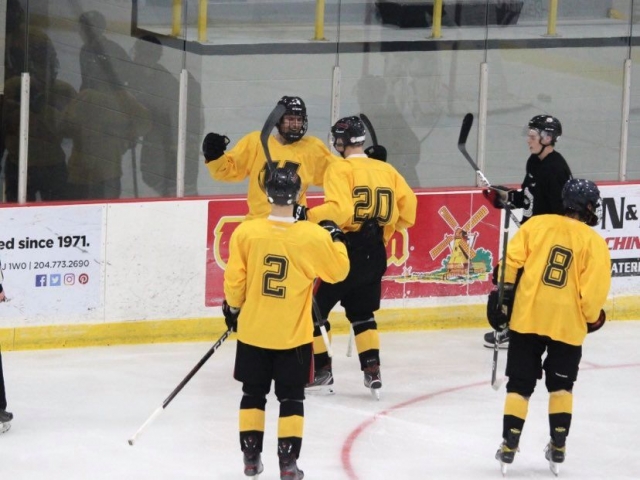 Aiden Ziprick has always wanted to become a Wolverine. Growing up in Russell, the former Parkland Ranger would often spend his weekend nights at the Arena Complex in Waywayseecappo watching Wolverine games as they compete in the MJHL.
Just more than a year removed from a 47 point season with the U15 Rangers in the 2019-20 campaign, Ziprick was at Wolverines main camp last week and he certainly made his presence felt.
"It went really well, I got a warm welcoming from all the staff and players so that was really nice," said Ziprick. "I was really happy with how things went and I'm looking forward to what's up next."
Starting with two days of skill sessions and scrimmages, the organization turned their focus to the Joe Brandon Cup to wrap up the three-day camp. The team's annual intrasquad game in memory of the late Joe Brandon pits Team Yellow against Team Black and in the game, Boston Bird scored twice as Team Cooke skated past Team Mentuck, 4-3.
Just one day later, Ziprick was in the lineup for the team's first preseason game as they welcomed the Swan Valley Stampeders to town and Ziprick had a game that he won't soon forget. After going up 1-0, Aiden scored two goals in the second period as the Wolverines took a 3-0 lead and they never looked back as they cruised to a 5-1 win. Ziprick says he couldn't have had the success without his great teammates.
"It felt really good, it's always a nice feeling when you score," said Ziprick. "And when you can get it done at that high level of hockey, it means even more to me."
Aiden says getting the chance to compete for a spot on the team is a dream come true and one that he has been waiting for. While Waywayseecappo plays Neepawa at the Yellowhead Centre on Tuesday, Aiden will take a little bit of a break from the team as he's off to Lethbridge.
He was drafted in the seventh-round, 148th overall by the WHL's Hurricanes in the 2020 draft. Ahead of opening their four-game preseason next weekend, the Hurricanes will open their main camp later this week at the Enmax Centre.
Details

Contributed by

Darnell Duff
The Dauphin Kings will play three games in the next five days, beginning on Tuesday night when they open their preseason at Credit Union Place.
The first Parkland battle is on tap as the Kings and Stampeders hit the ice in the annual rookie game, one that always features the team's youngest and brightest prospects. Dauphin ended their training camp on Sunday as Jeriah Shantz scored twice to give Team White a 4-2 win.
The Stampeders; meanwhile, have already played two preseason games earning a split. They lost to Waywayseecappo 5-1 to open their preseason and they followed that up with a convincing 5-1 win against OCN over the weekend.
In the rookie game last year, Ben Hackl scored twice while Garrett Hrechka notched one goal in a 6-1 win.
If you plan on watching Tuesday's game, you must be double vaccinated. You will need to show your immunization card or QR code prior to entering the arena.
Details

Contributed by

Darnell Duff
The Winnipeg Blue Bombers continue to prove they have one of the best defences in the league.
They held Saskatchewan to just 258 yards of offence as they won the Labour Day Classic, 23-8.
They had three interceptions. With the win, Winnipeg now sits atop the West Division at 4-1.
Details

Contributed by

Darnell Duff
Making his JoFo Cup debut on Sunday afternoon at Credit Union Place, Jeriah Shantz certainly made the most of his opportunities.
He scored the game-winning goal and added another as he led Team White to a 4-2 win as a crowd of more than 200 came out to the team's annual intrasquad game.
"We heard some good things about him coming and we were very pleased with his play," said Doug Hedley after the game.
Nick Braun and Braedon Lacomy each scored one goal each in the victory while 20-year-old Kaden Bryant scored Team Blue's two goals. The second was a snipe to the high left corner.
Dauphin's Rylan Gibbs and Hayden Lacquette suited up in the game while Jayden Jubenvill of Gilbert Plains and Aiden Brook of Roblin rounded out the group of four Parkland players in the contest.
The team will now enjoy a day off on Monday after three intense days. On Tuesday, they welcome the Swan Valley Stampeders to town for their first of three preseason games and first of three games in less than a week. They're in Swan River on Thursday and in Waywayseecappo on Saturday.
Details

Contributed by

Darnell Duff
The Winnipeg Blue Bombers arrived in Regina on Saturday night and on Sunday afternoon, they'll hit the field in the most anticipated game of the season so far.
The Labour Day Classic will be played at Mosaic as Winnipeg and Saskatchewan begin a home-and-home with next weekend's game being played in Manitoba's capital.
Winnipeg enters Sunday's game at 3-1 after squeaking out a win last week against Calgary while the Roughriders have yet to lose a game this season, as they're off to a 3-0 start with all of their victories coming on home field.
The Bombers will start veteran Zach Collaros. He is 38-33 in his career starts and 7-1 as a Bomber. He is 4-3 in his career against Saskatchewan.
The Riders; meanwhile, counter with Cody Fajardo. The West Division's Most Outstanding Player in 2019, he is 15-4 as a starter and 2-1 in career regular-seson games against Winnipeg.
You can hear Sunday's game right here on 730CKDM as we're a proud member of the Blue Bomber Radio Network. Bob Irving and Doug Brown have the call beginning at 5:00.
Details

Contributed by

Darnell Duff
The first full 5-on-5 scrimmage wrapped up day two of Dauphin Kings Fall Camp on Saturday evening at Credit Union Place. As many veterans had the night off, a strong group of younger players had the opportunity to show what they could do and most certainly didn't disappoint, including Dauphin's own Hayden Lacquette.
The former Parkland Ranger scored two goals to fuel Team Chipperfield as they won the contest 4-2 in front of a solid crowd. Lacquette, who scored 23 goals in the past three seasons with the Rangers, scored the team's first two goals of the game.
Doug Hedley commented on Hayden's performance after the game.
"He's the kind of player that really sees the ice well, he's a smart player," said Hedley. "He has a great shot. We knew himself and Jayden Jubenvill would be solid additions on the back end."
Ethan Williment and Luke Morris scored one goal each for Team Chipperfield in the win.
Dauphin's Rylan Gibbs had a marvellous goal for Team Goring in the defeat, when he led a rush and fired it to the back of the net. Nick Braun, who has been solid so far, scored one goal as well.
The focus is now on the JoFo Cup which will be played on Sunday afternoon at 2:00 p.m. Hedley confirmed after the game that veterans will be added into the lineup for Sunday's game.
Following Sunday's game, the team will take a day off on Monday before they welcome the Swan Valley Stampeders to town on Tuesday. Dauphin's first road preseason game is next Saturday when they make the trip to the Arena Complex to play the Waywayseecappo Wolverines.
Details

Contributed by

Darnell Duff
It has been confirmed that NHL players will be participating in the 2022 Winter Olympics in Beijing.
The NHL, National Hockey League Players' Association, and International Ice Hockey Federation reached a joint agreement which has allowed this to happen.
This will be the first time that NHL players will play in the Olympics since 2014.
The 2022 Beijing Olympics run from February 4th to February 20th, 2022.
Details

Contributed by

Trillian Reynoldson
Andrew Harris made his return to the Winnipeg Blue Bombers starting lineup last week when the club narrowly beat the Calgary Stampeders.
The Winnipegger rushed for 81 yards and also had five receiving yards as he played his first game since Winnipeg downed Hamilton in the 2019 Grey Cup. The star running back received a strong ovation from the Blue Bomber fans when he entered the playing field at IG Field last weekend.
Harris ran onto the field with a big smile and he was able to celebrate a win with the team after 60 minutes.
"It was great to be back. When it comes to how my body felt, I was pretty sore the next day," said Harris. "That's going to happen no matter where you are, the first couple of games are always tough on the body. I was just happy to be back."
Sitting at 3-1 and in second place in the West Division, the Blue Bombers face their toughest test of the season on Sunday as they head to Regina for the Labour Day Classic against the Roughriders.
Sunday's game will be Saskatchewan's fourth straight on home field and they enter the contest a perfect 3-0. A game you can hear right here on 730CKDM with Bob Irving and Doug Brown will begin a home-and-home set between the two clubs with next weekend's game returning to IG Field for the 'Banjo Bowl'.
The last time the two teams played was back in the 2019 West Division Final, which was won by Winnipeg. They took an 11-4 lead into halftime in that game and ended up winning 20-13.
"It's always a great and exciting back-to-back against Saskatchewan, everyone always gets fired up for it," added Harris. "Mosaic is always a fun environment to play in and a hostile one at that. There's nothing better than shutting up 30,000 fans in their building and that's what we plan on doing."
Despite their 3-1 record, Winnipeg's offence hasn't seemed to find its spark as of yet. Winnipeg's scored just 80 points in their four games with their highest total in a single game coming in a 30-23 defeat against Toronto two weeks ago.
Saskatchewan has scored 86 points and they have played one fewer game. Heading into Sunday's game, Winnipeg's lone defeat came away from IG Field.
A team led by Harris and Zach Collaros, Andrew says the offence will continue to come as the games go on.
"As the season comes along here, the scores will open up more I believe," said Harris. "It takes time to get things clicking on all cylinders, especially because we didn't play last year."
As mentioned above, you can hear Sunday's game right here on 730CKDM as we're a proud member of the Blue Bomber Radio Network. Game time on Sunday is set for 5:00 p.m. and Saskatchewan enters the contest as 4.5 point favourites.
Details

Contributed by

Darnell Duff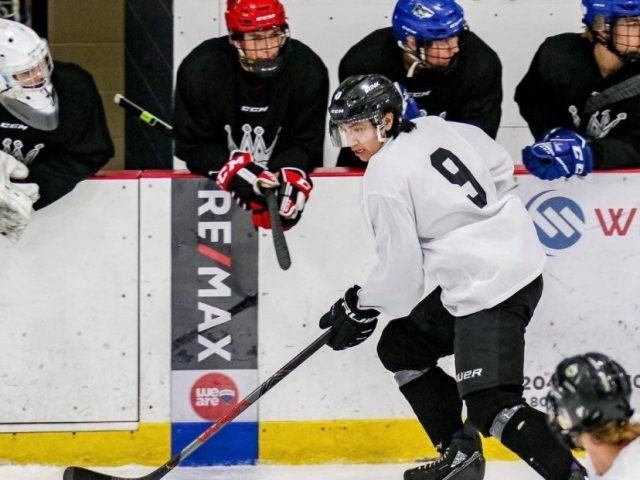 Just one week removed from hosting their prospects camp, the Dauphin Kings are one day away from main camp at Credit Union Place.
Beginning with check-in on Friday morning at 10, Team Low hits the ice for the first team practice at 1:00 p.m. Seven goalies will be at camp, including Matthias Smith who has been with the team the past two years. During his time with Dauphin, Smith has won 17 games, three of which came in last year's shortened season.
Also returning from last year's team are Parker Malchuk, Jayden Harris, Ben Hackl, Colby Jaquet, Cordell Coleman, Braedon Lacomy, Owen Wareham, Aiden Brook, and Kaden Bryant.
The Parkland will also be well represented as Garrett Hrechka returns to camp following a four-game season last year. The Dauphinite is a former all-star with the Parkland U18 Rangers. He will be joined by Hayden Lacquette, Cole Delamare, Rylan Gibbs, Madden Murray, Marco Bodnarski, all of whom are from Dauphin.
Roblin's Aiden Brook and Skyler Carriere will also be at camp while Jayden Jubenvill of Gilbert Plains will look to make the jump up after a great few years with the Rangers program. Riley Zdan of Alonsa will also compete for a spot.
All in all, upwards of 50 players will be at camp and Doug Hedley is excited to get going.
"I'm looking forward to seeing some of these guys that we've talked to all summer," said Hedley. "We have some good depth on the back end to help Smitty."
Doug also believes the team has some good young kids that they hope to mould into a solid top six.
Here is the weekend's full schedule. All sessions are open to the public, free of charge.
Hedley went on to say that he expects a physical camp, one that will see players and goalies battle to be a part of the team's short preseason which begins on Tuesday against Swan Valley. Dauphin will play three tuneup games ahead of their season opener on Friday, September 17 against Neepawa.
"There are some guys from last year that didn't really get a chance, we expect the competition to be very high," ended Hedley. "We want guys to compete and try to earn a spot here to wear the crest."
Details

Contributed by

Darnell Duff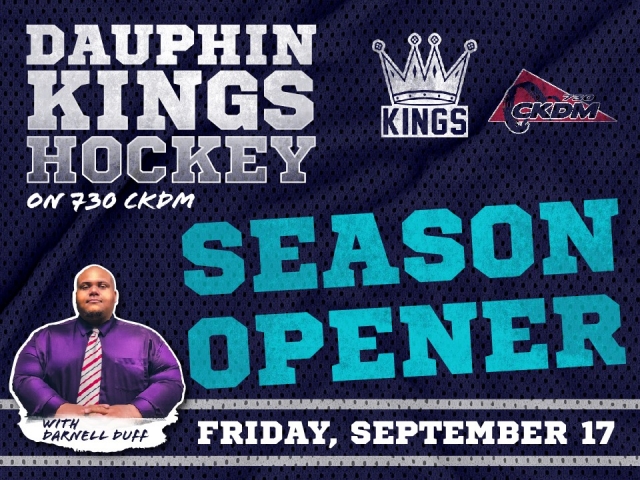 Dauphin Kings hockey returns to 730CKDM with Darnell Duff on Friday, September 17. That's when the club begins its 2021-22 season against the Neepawa Titans at the Yellowhead Arena.
Every single road game will be broadcasted this season and you can also hear the team's home opener on September 18 when they welcome Neepawa to Credit Union Place. That will be Dauphin's first home game since November 1, 2020. The Parkland Source for Sports pregame show begins 15 minutes prior to puck drop.
Here is the complete broadcast schedule: All games begin at 7:30 unless otherwise noted.
Friday, September 17 @ Neepawa
Saturday, September 18 vs Neepawa
Saturday, September 25 @ Neepawa
Friday, October 1 @ OCN
Sunday, October 10 @ OCN - 7:00 p.m. (6:45 pregame)
Friday, October 15 @ Virden - 7:00 p.m. (6:45 pregame)
Saturday, October 23 @ Virden
Saturday, October 30 @ Waywayseecappo
Friday, November 5 @ Waywayseecappo
Saturday, November 13 @ Swan Valley - 7:00 p.m. (6:45 pregame)
Friday, November 19 @ Swan Valley - 7:00 p.m. (6:45 pregame)
Friday, November 26 @ Portage
Friday, December 3 @ Steinbach
Friday, December 10 @ Winnipeg Blues - 7:15 p.m. (7:00 pregame)
Friday, December 17 @ Selkirk
Sunday, January 9 @ Winkler - 3:00 p.m. (2:45 pregame)
Friday, January 14 @ Winnipeg Freeze - 8:00 p.m. (7:45 pregame)
Wednesday, January 19 @ Swan Valley - 7:00 p.m. (6:45 pregame)
Friday, January 21 @ Virden
Sunday, January 30 @ Virden - 7:00 p.m. (6:45 pregame)
Wednesday, February 2 @ Swan Valley - 7:00 p.m. (6:45 pregame)
Sunday, February 6 @ OCN - 7:00 p.m. (6:45 pregame)
Thursday, February 10 @ OCN - 7:00 p.m. (6:45 pregame)
Friday, February 18 @ Waywayseecappo
Monday, February 21 @ Neepawa - 3:00 p.m. (2:45 pregame)
Saturday, February 26 @ Waywayseecappo
Friday, March 4 @ Neepawa
Details

Contributed by

Darnell Duff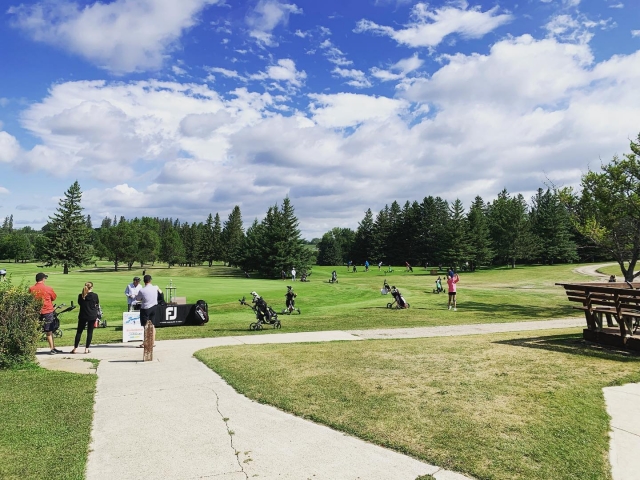 Drew Jones of Brandon had the low round of the day on Tuesday as the Neepawa Golf & Country Club hosted the Provincial Men's Interclub Championship.
Jones made par on his first 10 holes of the day before he bogeyed the 11th hole. From there, Drew caught fire as he birdied three straight holes to sit at two-under. An eagle on 16 and a birdie on 18 saw Jones finish at five-under-par.
The score was three strokes better than Dave Klowak. The Wheat City Golf Course would end up winning the rural championship with a score of seven over-par. Each team had four players and the top three scores were used. Jones' Shilo Country Club finished in a tie for third at 17 over par.
Jones recently finished in a tie for 59th at the Canadian mid-amateur championships.
Details

Contributed by

Darnell Duff