Latest Sports
Gabriel Beaudin started playing volleyball in grade six and despite missing his grade seven year because of the COVID-19 pandemic, he has continued to fall in love with the game more and more since he first stepped on the court.
Come grade nine which he played this past school year, Beaudin already made the jump up to the varsity ranks and he helped the Clippers nearly make the provincial championships. Now, Beaudin is nearly 4,000 kilometres away from home as he competes for a national title.
Gabriel found out earlier this year that he was selected to play on the U-16 Manitoba men's volleyball team, a team that is playing this week in the North American Indigenous Games. While Gabriel has played against some of his teammates on this year's roster in the past, this is his first time representing his home province.
"I was very excited when I found out that I made the team, I have never really gotten this opportunity before," said Beaudin. "It's a really high level and the athletes here are top-notch, it's great to be part of."
With great representation in several sports for athletes from the Parkland, Beaudin is enjoying every second out east.
"It's been really fun, I have really enjoyed my time on the court," said the Dauphinite that is the team's starting middle blocker. "It has also been great to bond with my teammates, we have a great group of guys."
The team is also off to a red-hot start. After only allowing 20 points combined in a two-set sweep against Ontario in their first game, Manitoba downed Saskatchewan in straight sets. That was then followed up with another straight-set victory as they beat Alberta on Tuesday morning. Manitoba is outscoring their opponents, 150-106, as they sit atop the four-team event.
Beaudin has been a big reason why the Manitoban squad is off to a 3-0 start with some timely blocks paired with his attack efficiency which is near the top among middle hitters.
"We're really strong offensively and we're starting to pick up our play defensively," said Beaudin. "Not many teams have been able to stick with us, we're a very strong group."
Gabriel and the rest of the team will now take in the full experience of being at a North American Indigenous Games before hitting the court on Wednesday morning for a match against Ontario. Manitoba will then play Saskatchewan on Wednesday afternoon before they wrap up their round-robin with another game against Alberta on Thursday afternoon. The semi-finals go on Friday afternoon with the national final set for Saturday morning.
Manitoba knows they have a strong chance of making a deep run, but Beaudin knows it won't be easy.
"We have to stay prepared and we can't be too confident," ended Beaudin. "Anything can happen, we just have to keep playing how we know we can, it's still a long tournament."
NAIG Daily Recap:
Gabriel is joined by her sister, Bianca who is playing on the U-19 women's volleyball team. After opening their tournament with a tough three-set loss against Alberta, Manitoba rebounded in a straight-set win over British Columbia;
Norman Lacquette and Conner Weber-McKay highlight the Manitoba U-16 softball team. They beat British Columbia and Nova Scotia;
Tyrell Leaske of Swan River is playing with the U-16 soccer team and they beat Nova Scotia in their first game, 2-1;
Skyla Burns is on the U-19 soccer team and they opened their tournament with a 1-0 win over Eastern Door & North;
Maddie Amyotte is playing with the U-19 women's basketball team and what a start they are off to. After downing Northwest Territories, 61-9, Manitoba cruised to a 14-point win over British Columbia and they will finish first in their pool; and
Mason Chartrand, Rylan Chartrand, and Leland Malcolm are playing on the U-19 men's basketball team. They pummelled Colorado, 93-40. They will now play Minnesota and British Columbia and they are favourites to win their pool.
Details

Contributed by

Darnell Duff
Chase Glover is a national champion on the ice and on the golf course, he's also a champion.
Playing in the four-person scramble at the McCreary Golf & Country Club on Saturday, Glover was a part of the winning team that shot a sizzling round of 60.
Also on the team was Kayden Caumartin, Greg Anstett, and Wade Kopytko. Glover also picked up a closest to the pin prize while Renee Hunter Junior won the other one.
The course was in outstanding shape and tournament organizers are thrilled with how everything worked out.
Details

Contributed by

Darnell Duff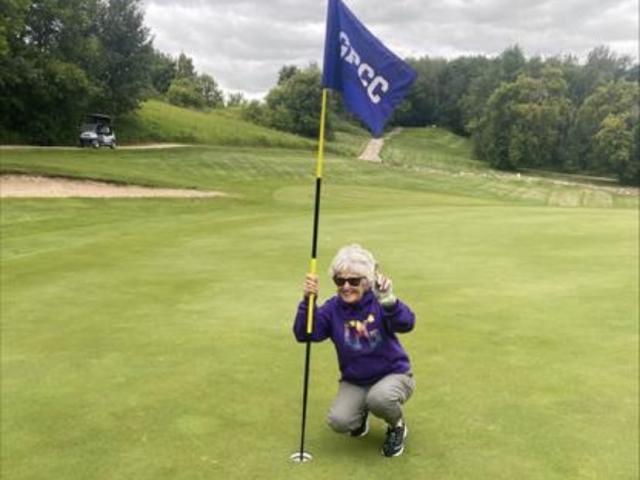 She was back playing on the course that she grew up playing on.
Now living in Langley, Katie Postnikoff has now joined an exclusive club on the link.s
Playing the Gilbert Plains Country Club on Saturday, Postnikoff aced the extremely tough 17th hole, to record her first hole-in-one.
With the pin nestled near the back of the green, Katie hit the perfect shot and it is now one that she will never forget.
Details

Contributed by

Darnell Duff
When the Manitoba Junior Hockey League holds its 2023 Prospects Camp from July 20 to 22, the Parkland will be very well represented.
An elite group of players from the region will take part including Quinten Fisk, Hayden Shtykalo, and Owen Sigvaldson, to name a few. The trio will compete in the 2008 age group after great seasons with the Parkland U-15 Rangers.
All players and goalies will play in three games. The three-day camp also includes off-ice fitness testing, a player development seminar, and the games will be played in front of scouts from all levels.
While the games will include dozens of up-and-coming prospects looking to showcase their skills, there will also be some up-and-coming officials that are trying to break into the league. The MJHL has hand-picked 29 officials from across the province and the list includes Jake Penrose of Dauphin. In fact, Penrose is the only Parkland official that will be at the event as he serves as a linesperson.
Penrose found out that he was selected when he received an email from Patrick Gagnon, who is the new Director of Officiating for the league.
"It was pretty surreal when I got that email, I was jumping out of my seat," said Penrose. "That was my goal going into the season, I wanted to be selected for this. I'm so excited to get the chance, it truly is an honour."
Jake spent last season as a linesperson in the Manitoba U-18 AAA Hockey League and he was also a referee for games at the U-15 AAA level. This was on top of Jake's heavy involvement of being an official for Dauphin Minor Hockey.
Penrose is enjoying the journey of climbing up the ranks and as he has in the past, he wants to thank Karlin Kreiger and Derian Penziwol.
"I have to give a lot of credit to them, they have helped me so much over the years," offered Penrose. "They are both high-level officials and that's where I want to be in the future, so I'm very thankful for all they have done for me."
Jake is also very happy that all of his hard work and dedication is paying off.
"I see this is a starting point for me," said Penrose. "My goal is to have a great showing. I know with the age that I am, I just want to open some eyes and get an invitation next year."
Down the road just a couple of months, Penrose will continue to referee U-15 Ranger games and he is hoping to make the jump up to head-man U-18 games as well.
Details

Contributed by

Darnell Duff
It was a stunning finish, and it did not go how it was planned.
Up 18-3, the Winnipeg Blue Bombers failed to close out their game as they lost to Ottawa, 31-28, in overtime on Saturday night.
Dustin Crum marched Ottawa back in the game and he finished it off by rushing in for a touchdown in overtime as the Redblacks capped off the stunning comeback, one that no one expected.
The Bombers appeared to be in cruise control against the at the time 1-3 Redblacks, but it did not end up that way. Ottawa scored 19 points alone in the fourth quarter and 28, including overtime. Winnipeg scored just seven points in the final 30 minutes before overtime, and they managed just a field goal in overtime.
With their loss, the Bombers drop to 4-2 while Ottawa is now 2-3. The Bombers will look to get back on track next week when they return to IG Field to play the Edmonton Elks. Edmonton has not won a game this season as they are 0-6. They also lost their 20th straight home game last week, but they will look to get in the win column in Manitoba's capital.
Details

Contributed by

Darnell Duff
The Winnipeg Wild came up just short last year of advancing to the national championships.
A member of the Manitoba AAA U-18 Hockey League and a perennial powerhouse at that, the Wild represented Manitoba at the 2023 Telus Cup West Regional. It wasn't the ending the Wild hoped for; however, they will get another chance in 2024.
Hockey Manitoba has announced that the Wild will host the 2024 Telus Cup West Regional at the Hockey For All Centre from April 4 to 7, 2024. An event that puts the best of the best in the West region against each other, when it was Manitoba's turn to host the event, it was a no-brainer for Hockey Manitoba thanks to the tremendous success of the Wild program in past years.
"Hockey Winnipeg is thrilled that the 2024 TELUS Cup West Regional will be held in our city," said Ian McArton, Hockey Winnipeg Executive Director. "The Winnipeg Wild are worthy hosts as the reigning back-to-back Provincial Champions in Manitoba. The Winnipeg Wild, Winnipeg AAA Council, Hockey Winnipeg and the world-class hockey for all centre are going to work together to put on an exceptional event to showcase our U18 AAA players and determine who will represent our region at the 2024 TELUS Cup."
The Wild finished fourth in the regular season standings last year with a record of 32-11-0-1 before they caught fire in the playoffs, ultimately winning the league crown in four games over the Winnipeg Bruins. Dating back to the 2016-17 season, the Wild have won at least 32 regular season games in each of the campaigns and from 2017 to 2020, they won 126 contests.
Levi Taylor is the commissioner of the league in Manitoba and he's thrilled with the decision that Hockey Manitoba made.
"We're thrilled to have the Wild host the event, they have been to this event frequently in the past because of their success in our province," said Taylor. "We are very excited to see what they can do at the Hockey For All Centre in early April. The Wild have our full support and we know it was an easy decision for Hockey Manitoba."
On top of the Wild, Manitoba will have one other representative at the event. That means if the Wild are to win the league next year, the other team that made the league final will also compete. If the Wild is not to win the league next year, the league champion will join the Wild at the regionals. The two Manitoban clubs will be joined by a Saskatchewan representative and a representative from Northwest Ontario.
Looking Ahead:
The countdown to the 2023-24 season continues with training camps set to open in early September and the regular season will follow shortly after. 12 teams will compete this year as the Winnipeg Thrashers, Winnipeg Wild, Winnipeg Bruins, Parkland Rangers, Pembina Valley Hawks, Norman North Stars, Interlake Lightning, Eastman Selects, Brandon Wheat Kings, Southwest Cougars, Kenora Thistles, and Yellowhead Chiefs will all vie for a provincial title.
The Central Plains Capitals have once again been granted a leave of absence for the upcoming season. They are starting a U-17 program this upcoming season, so there is some optimism that the Capitals could be back in the near future.
With teams all across the province, Levi continues to stress the league's main goal, which is to have the top 200 age-eligible players in the province on member clubs. A Competition Committee has been formed which features a group of six that are looking at regional structure, team formation, and transfer rights.
"We're always looking at ways for every team in our league to be equally competitive," ended Taylor. "We're constantly looking at different avenues that we can improve the league and many of those talks happen between closed doors between our directors."
Levi also says the league is looking to continue with the success that was enjoyed last year when it comes to league parody. Just six points separated first place from fourth place. The difference between fifth place and eighth place was just 11 points and Interlake was just three points shy of the eighth and final playoff spot. The final standings were as close as they have been in many years and that is a definite positive.
"We are always striving to provide the best opportunities for players and I think we do a pretty good job at that," ended Taylor.
When it comes to the U-18 Rangers, Tyler Carefoot will be returning as head coach. He will be joined by Chris Belhumeur and Colton Robak.
Details

Contributed by

Darnell Duff
Matt Kustra loves teaching and he loves developing young stars.
He served as goalie coach for the Parkland AAA U15 Rangers last season, a season in which both Kyle Pelletier and Scott Tibbett showed incredible improvement throughout the season. Kyle ended up winning five games in the regular season while Scott won seven games.
This was in part thanks to Kustra's work ethic as a coach and his willingness to get everything he can out of his goaltenders.
As the 2023-24 season now approaches, the U15 club has announced that tryouts for the team will take place from September 8 to 10 and Kustra will be front and centre when they take place. Now living in Grandview for the last two years, Kustra has been named the program's head coach.
While Matt's expertise is coaching goaltenders, he's looking forward to the challenge of becoming an elite well-rounded coach and his journey to that begins in just a couple of months.
"I'm very excited to get back in the community, I have a lot of pride for the area that I live in," said Kustra. "I'm very excited to develop players at this age level. Some of them will get their first taste of the WHL Draft and they will be preparing for the U18 level while giving it their all in U15. I'm really excited about this new opportunity."
Matt is very well respected in the hockey community as he has been around the game for many years and his coaching opportunities have taken him across the country. A goalie himself, Kustra also knows what it takes to advance to the next level. Originally born in Yorkton in 1997, Kustra played three seasons with the Notre Dame AAA Hounds program.
Back in the 2013-14 season, he sparkled in the playoffs with a 2.60 goals-against average to go along with a .912 save percentage in six games. Drafted by the Prince George Cougars in the Western Hockey League, Kustra would then go on to play 48 games with the Yorkton Terriers before coming to Manitoba as he played four games with the OCN Blizzard in the 2016-17 season where he went 3-1.
That following season, Kustra made the move to Dauphin as he joined the Kings where he played 11 games before being traded to the Northern Ontario Junior Hockey League where he played another 28 games with the Hearst Lumberjacks. After his days as a junior goalie came to an end, Matt changed his focus to coaching with one of his most recent jobs coming in Lethbridge three years ago before he moved back to Manitoba.
Kustra made a rise up the ranks, just like the young stars that will make up the U15 Rangers this year will be attempting to do.
"I grew up going through the entire process of advancing and I want to bring that experience to these kids," offered Kustra. "I will do everything in my power to help kids in the Parkland area get the same opportunities that I had growing up."
Last year's Rangers team won 12 of their 34 games in the regular season before coming up just short in a five-game series against Pembina Valley in the first round of the playoffs. While a number of the players on last year's roster are not eligible to return to the U15 ranks, Kustra is very optimistic heading into the new campaign and his first as head coach.
"We're going to have a very competitive team. I had a chance to coach many of the players at Directors Cup last year and we went 4-0, the players were fantastic," ended Kustra. "I know our players will be determined and we will have a lot of speed. I really do believe the Parkland should be very excited to see our team this year, it should be a fun year."
Details

Contributed by

Darnell Duff
A magnificent three-week stretch for Crystal Zamzow came to a close on Wednesday with another great finish.
After wins at the Elmhurst Invitational and Golf Manitoba's junior provincials, the Swan River golfer finished in sixth place at Golf Manitoba's women's amateur championships at Pine Ridge. She followed up back-to-back rounds in the 80s with a 77 in her final round to jump two places up the leaderboard.
That set the stage for Jeri Lafleche of the Clear Lake Golf Course. She shot her third straight round in the 70s to capture the championship. Jeri led from start to finish and she was the only golfer in the field with three rounds all in the 70s.
On the men's side, it was one of the most exciting finishes in quite some time as the mid-amateur also came to a close. With just four holes left, Jack Werhun, Drew Jones and Patrick Perrin were all six over. That's where Jones would stay; however, Perrin made birdie on the 15th and 17th hole before a bogey on the 18th, but that did not matter as he went on to hold on for a one-stroke victory.
Golf Manitoba will now shift its focus to the men's amateur which takes place next week at Oak Lake near Virden. Jackson Delaurier is among those that will tee it up in that event.
Details

Contributed by

Darnell Duff
Ryder Thompson was handed a bigger role and with it, more responsibility in the Western Hockey League last season with the Portland Winterhawks.
From Russell, Ryder took full advantage of his opportunities with one of the most storied franchises in the league as he played in 57 regular season games, scoring three times and adding 16 assists. Both totals were career-highs as Portland won 40 games and finished third in the Western Conference.
Ryder then played in nine playoff games with the Winterhawks as they advanced to the second-round where they would come up short against Kamloops. All in all, it was a great second full season for Ryder with the team that drafted him 105th overall in 2019. While Thompson's main goal was to do whatever it took to help Portland win hockey games, his secondary goal was to impress scouts from around the National Hockey League and earn an invite to a development camp.
Days went on and teams from across the NHL started releasing their development camp rosters and while his name wasn't on the first few, Thompson remained confident that he would get an invite after the great season he had. Then came the NHL Draft and Connor Bedard was selected first overall which came as a surprise to no one.
Fast forward to just hours after the draft and Ryder received a phone call that he will never forget. His agent was on the other side and that's when the Russell native found out that he was invited to Arizona Coyotes Development Camp. Thompson then quickly packed his bags and boarded a flight as he was Arizona bound for his first development camp with a National Hockey League team.
"I was so happy and thankful, I called my parents and grandparents right away," said Thompson. "It was a really cool day to celebrate with my family and friends. Knowing that I had that goal set and to see it come true was pretty cool, I am extremely thankful to everyone that helped me get there."
Arriving in Arizona on July 2 and coming back six days later, Ryder was a full participant in the team's on-ice activities and everything else that comes with taking part in a development camp. That includes off-ice training, seminars and Ryder also went to a Diamondbacks game which was another great experience for the young man from Russell.
As Ryder now takes a look back at his time in Arizona, it was an experience that he will never forget.
"I took so much away from that camp, on the ice and off the ice as well," said Thompson. "Just to experience that level of competition with those guys was incredible. I know I have to work that much harder to get to that level."
Ryder is also very grateful that the Coyotes' staff saw something in him.
"It was really cool to have the feeling of trust from their organization," offered Thompson. "Not many kids get that chance and I believe I made the most of my opportunity, I am very happy with how things went."
Now back in his home province, Ryder is training five times a week at Rink Training Centre in Winnipeg which includes three on-ice sessions. Then next month, he will make his way back to Portland, a 2000 kilometre journey from Russell but despite being thousands of kilometres away from home, the entire community of Russell is right behind Ryder and cheering him on every step of the way.
With last year's progression and after his invite to an NHL development camp, Ryder is looking forward to an even more increased workload in Portland.
"I'm very excited to get back to Portland, every year keeps getting better and better," ended Thompson. "I'm looking forward to seeing the guys and making a long and deep playoff run. It's time to get back to work."
Yotes Tips:
Conor Geekie of Strathclair also took part in the Arizona development camp. A top prospect of the organization, Conor was drafted 11th overall by Arizona in 2022. Geekie is coming off a tremendous season with the Winnipeg ICE -- who has since moved to Wenatchee to become the Wild -- where he scored 35 times and had 77 points in 66 regular season games. Then as Winnipeg advanced to the WHL Final, Geekie had another 17 points, six of which were goals in 19 games.
Details

Contributed by

Darnell Duff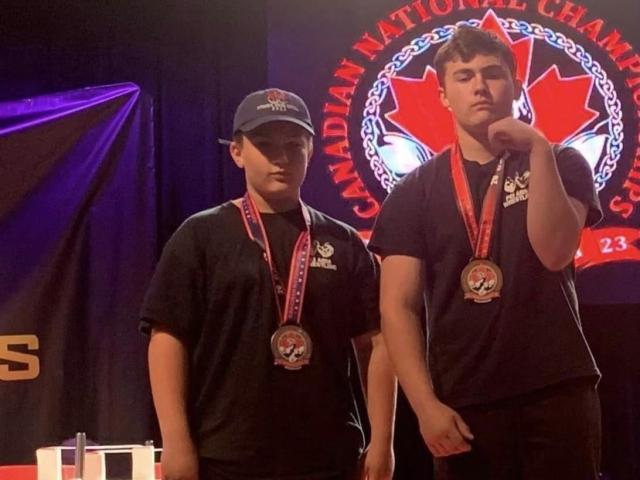 Just more than four years ago, Thomas and Tristan Dumas took the Manitoba Provincial Arm Wrestling Championships by storm.
Originally from Dauphin and now living in Prince Edward Island, Tristan finished with a provincial gold with his right and left arm. His brother Thomas also achieved the feat, finishing first with both arms as well. Their dad Mike won a provincial gold in the Masters' left arm competition. The trio won five titles that day.
Fast forward three years and Thomas won his first national title as an 11-year-old with his right arm. Thomas also finished second with his left arm in his age group and Tristan won two national titles as he won with his left and right arm. Mike would finish third with his right arm at that event.
Now to earlier this month as Tristan and Thomas were once again on the national stage. Competing in the 2023 Canadian national arm wrestling championships in Sydney, Nova Scotia, Thomas and Tristan went up against the best of the best from coast to coast in the 13 and under 60+ kg group. With his left arm, Thomas finished first and he also finished first with his right arm as the young man won another two national titles.
"It feels pretty good, it's always nice to know that all of my hard work has paid off," said Dumas. "I put many hours in the gym over the course of eight months leading up to the event, so I'm really happy that it all worked out."
For Tristan, it was another strong performance that can be added to his resume as he finished as runner-up with both his left and right arms. It was an all-Dumas final and for Thomas, it was special sharing the moment alongside his younger brother.
"It was really nice that we were both standing when it came down to the final two," offered Dumas. "It's not something that happens often so I'm really glad that we got to share that moment together, Tristan did an awesome job."
Competing on the national stage, Thomas and Tristan were also fortunate to be upfront and centre for a seminar with Devon Larratt. He's considered to be one of the best arm wrestlers in the world. Larratt has won several national titles and he has also had great success on the world stage and he had some great things to say about Thomas.
"He said that I was the best 12-year-old player that he has ever gone up against," ended Dumas. "So that was extremely special to hear."
For Tristan, getting the chance to hear Larratt speak was something that he will never forget."
"He taught me a few things, it was really cool," said Tristan.
Details

Contributed by

Darnell Duff
Crystal Zamzow is looking to win her third tournament in as many weeks, and she is off to a solid start.
Just a week after completing an impressive Manitoba junior championship at the Teulon Golf & Country Club, the Swan River native is now spending this week at one of Manitoba's top courses, the Pine Ridge Golf Club near Birds Hill.
An opening nine 41 was followed up with a 39 as Zamzow fired a first-round 80. She is just one stroke back heading into the second round on Tuesday. Jeri Lafleche of the Clear Lake Golf Course is tied for the lead. Lafleche is one of the strongest players in the province, and she is only a junior, as is Crystal.
Clara Peake of the Minnedosa Golf & Country Club is just three strokes back of the lead and Jewel Lafleche is in 16th place, nine shots back of the lead.
Ryan Terdik, playing on his home course, leads the men's tournament after a first-round 73. He has a one-shot lead over two golfers, including Drew Jones of the Shilo Country Club.
Round two begins Tuesday morning.
Details

Contributed by

Darnell Duff