Latest Sports
Caitlin Stewart played basketball and soccer at the Swan Valley Regional Secondary School for all four of her high school years. Two of the years were spent with the junior varsity basketball team while the other two were with the varsity team.
Swan Valley welcomes all four grades to play on their high school soccer team. As for all grade 12 student-athletes across the province, those days as a high school athlete are now in the past as she moves on to the next stage of her life.
"I really enjoyed both sports and I loved all of my coaches," said Stewart. "They were super supportive and they always made it extremely fun for us."
This past year in grade 12, Stewart was named a co-captain for the basketball team. It was something that was completely new to her heading into the season and she certainly knew about the responsibilities that come with leading a team not only on the court, but off the court as well.
"That was really special to me, I really enjoyed being a part of the leadership group," added Stewart. "It was an honour to me and it's an experience that I'll never forget."
Dating back three years when Caitlin was in grade 10, she helped the Tigers finish second in the province. Playing in the event featuring the best eight AAA teams in the province, Swan Valley won their first two games.
In their semi-final contest, they took down Pierre-Elliott-Trudeau, a team that was previously undefeated. Stewart helped the team win, 49-47. In the finals, they would come up short against the Lorette Scorpions.
"That was a pretty incredible season. It was a lot of fun and we had a bunch of amazing girls," continued Stewart. "That win against Trudeau was extraordinary. We played so well and we came together. It was just amazing to make the finals in the first place."
For Stewart, her studies in Swan River have officially come to an end; however, they will continue in Ontario. The Swan River native is attending Lakehead University in the fall and she plans on studying Environmental Management and she'll be doing so with some help.
Caitlin is one of 16 student-athletes in the province that were presented with a McDonald's Leadership Award that comes with a prize of $1000.
"It was really exciting when I found out. My coach had texted me and congratulated me, it's a real honour," Stewart said.
Of the 16 recipients, only four of them had a higher academic average than Caitlin as she finished her high school days with a 93% in the classroom. She's an athlete, but she also knows she's a student and she prided herself on excelling at both.
"I had some really encouraging teachers and some of my teammates were in my classes, so it allowed us to work together and get done what needed to be done," concluded Stewart.
Details

Contributed by

Darnell Duff
Juliana Davis played her U18 hockey days with the Yellowhead Chiefs. In the 2017-2018 season, she scored five goals and added three assists. In the next season, Davis really showed what she could do when she scored 12 times and she had four more assists in 37 games.
After the 2018-2019 season, Davis, from Onanole, expected her competitive days to come to an end. She had planned to attend the University of Manitoba where she would play in a women's league.
There's a saying that people are watching even when you don't think they are and that was the exact case for the Onanole native. Derek Pallardy of the McKendree University Bearcats just outside of St. Louis was watching Davis throughout the season.
A member of the American Collegiate Hockey Conference Division 1, the Bearcats were looking for a solid forward to add to their program in time for the 2019-2020 campaign and Juliana was exactly what they needed.
So, Davis' plans changed and she moved to Lebanon, Illinois, a town with a population of just more than 4000.
"I had my eyes set on heading to Winnipeg my entire grade 12 year, that was my plan," said Davis. "I got an email from Derek and it completely shocked me, I really didn't expect it."
Davis adds that her mom and she visited the campus and she instantly fell in love. From Onanole, Davis really enjoyed the fact that Lebanon is a small place, but it still offered her everything she needed.
"I always wanted to move far away from home after my high school days. I originally had a plan to move to Alberta, but those plans fell through," continued Davis. "Moving to Lebanon and joining the Bearcats was the perfect situation for me. I really couldn't have asked for any more."
Season one and year one is now in the books for Juliana. As the team played to a 15-12-1 record, Davis scored four times and she added seven assists in her rookie campaign. The 11 points were tied for the ninth most on the team.
"I made a ton of great friends and the coach was phenomenal, he was very supportive," continued Davis. "There were also a lot of Canadians on our team, so it was easy to relate to them."
Since she was a young girl, Davis always dreamed of playing hockey at the next level. Even as she jumped up the ranks through the AAA level, she still didn't believe she had it in her. However, she sure did and now, she's getting ready for season and year number two in the fall.
Davis is studying Exercise Science and Sports Performance, a four-year degree.
Details

Contributed by

Darnell Duff
Carson Lambos was the second-overall selection by the Kootenay ICE in the 2018 Western Hockey League's Bantam Draft. This after he was the Top Defenceman in the Canadian School Sport Hockey League playing with the Rink Hockey Academy Nationals in Winnipeg.
He also posted 51 points in just 35 games that season. 11 of the points came in just five playoff games. In the 2018-2019 season, Lambos got a taste of the WHL lifestyle as he played his first five junior games on the ICE who were then located in Cranbrook, British Columbia. In those five games, Lambos scored one goal.
That season ended up being the organization's final in B.C. as they relocated to Winnipeg as major junior hockey returned to Canada. A native of Winnipeg, the relocation meant Lambos would play his junior hockey days in his hometown which gave his family and friends a great chance to watch him live.
After a solid first five games the previous season, Lambos became a top-line guy this past season for the ICE, playing out of the Wayne Fleming Arena. He suited up in 57 games prior to the season being cut short because of the novel coronavirus. He scored eight times and added another 24 assists for a 32 point total.
Lambos was also expected to be a nominee for Rookie of the Year before everything was shut down. Carson finished second in rookie scoring on the team and he was ninth overall in scoring.
"I was really happy with how things worked out this past season. I was put in a spot where I could succeed," said Lambos. "I also got to play with some veteran guys that really helped me succeed in this league. I expect bigger and better things from myself moving forward."
"Playing in Winnipeg was tremendous, it was great coming back home," added Lambos. "Seeing my family and friends often made the jump to junior much easier on me. Winnipeg is a great place to play."
World Stage:
This past season started as a special one because the Winnipeg native played his first WHL campaign. But, that wasn't the only reason why. Every winter, Team Canada sends a Red, White, and Black team to the World Under-17 Hockey Challenge.
The tournament welcomes the United States, Czech Republic, Sweden, Russia, and Finland. Lambos was on Team White and he certainly made an impression on the world stage in his debut playing for Team Canada. In six games, he posted five assists. Matthew Savoie was also on Carson's team and they're teammates on the ICE.
The tournament was played between Swift Current and Medicine Hat and Carson's five points were tied for the second-most on the team.
"That was such an incredible experience playing against players from across the world," said Lambos. "It was amazing to see the talent and it gave me a chance to see where I stack up against these great players. I am truly grateful that I was given the opportunity."
In other Team Canada news, every summer, Canada sends a team to the Hlinka Gretzky Cup. That tournament features the top U18 players from across the world, all of which play in front of National Hockey League scouts and other professional leagues around the globe.
Canada has won gold 22 times at the event, 18 more than Russia who has won the second-most with four. Canada also has three silver and one bronze medal to their name, nine more than Russia who has 17 overall medals.
The first step to sending a team to the event which was to be played from August 3-8 in Edmonton and Red Deer, Alberta, was a selection camp. That camp has been cancelled as Hockey Canada announced the cancellation of the Hlinka Gretzky Cup due to the novel coronavirus.
However, Hockey Canada has still announced what its selection camp roster would have looked like, and once again, Lambos is front and centre. Carson is one of 12 Western Hockey Leaguers that were named to the selection camp roster. The list also includes fellow Winnipegger Conner Roulette and Tyler Brennan.
"To be recognized like that is a big honour for me, it's pretty surreal to be quite honest, continued Lambos. "Playing for Team Canada is a dream when you grow up, it's everything. Obviously we're in some pretty unfortunate times so the camp and tournament won't take place, but it means a lot that I was recognized."
For now, Carson continues to train for the 2020-2021 Western Hockey League season. As a few rinks have opened in Winnipeg, Lambos has been able to add on-ice training to his training schedule, one that is quite heavy as he looks to continue where he left off this past season.
When the season ended, Winnipeg was 38-24-1, good for 77 points and second place in the East Division. Icing a relatively young roster this past season, the Winnipegger is expecting bigger and better things moving forward into next season.
"I think we only expect to get better than last year," concluded Lambos. "We certainly have high hopes, I'm looking forward to seeing what we can do."
Details

Contributed by

Darnell Duff
Kaedan Korczak was born and he grew up in Yorkton and that's where he played his minor hockey. As he continued to grow and hone his skills, Korczak made his Western Hockey League debut with the Kelowna Rockets in the 2016-2017 season where he played four regular-season games and another five playoff contests.
Now for the past three full seasons, Korczak has called Kelowna his home throughout the winter months, a home that is more than 1500 kilometres away from his childhood home.
In his first full season with the prestigious WHL Club, the Yorkton native posted four goals and 16 assists in the 2017-2018 season and he had another 33 points the season after. Returning to Kelowna bigger and stronger this past season, Korczak enjoyed a career year. It offered up 11 goals and 38 assists for a 49 point total, 16 more than the previous season.
He was also a +7, a career-high.
"I think confidence is a big thing to having success," said Korczak. "I came into this past year with a mindset that I could do some pretty decent things offensively and I think I did that."
Korczak says he's quite pleased with how this past season went.
"We still had about a handful of games to go when everything was shut down so I feel I would have added some more points but there's nothing you can do about that," he added.
Back at the 2019 NHL Draft, Korczak was eligible to be selected and he expected to be as well. That expectation became a reality thanks to the Vegas Golden Knights. With the 41st overall pick in the second round, Vegas drafted Kaeden. Korczak's next goal was to sign his first contract and on December 21, 2019, the Yorkton native officially signed on the dotted line.
With a cap hit of just over $800,000, Kaeden signed his first three-year entry-level deal. Korczak's contract is through the 2022-2023 season.
"Getting drafted was a pretty special feeling, I think every kid grows up wanting to be drafted," said Korczak. "When I signed that contract, it was a huge moment for my family and me."
Korczak signed after he took part in the 2019 Anaheim Ducks Rookie Faceoff presented by McDonald's.
So Korczak's hockey journey has taken him to an NHL rookie tournament and Kelowna to play in the Western Hockey League, but that's not it. Korczak played for Team Canada Black at the 2017 World Under 17 Hockey Challenge where the team came up short of making the semi-finals.
Back with Team Canada at the 2019 IIHF U18 World Championships, Kaeden had one more point in seven games. The team lost in the United States in the third-place game.
Making both of those teams followed selection camps and now, the Yorkton native will take part in another, although it will be different than years past. Korczak is one of 41 players that have been invited to Hockey Canada's virtual National Junior Team Sport Chek Summer Development Camp, which is set for July 27-31. The camp includes the likes of Alexis Lafrenière, Dylan Cozens, and Bowen Byram, just to name a few.
This is the initial camp leading up to the 2020 World Junior Hockey Championships that begin on Boxing Day in both Edmonton and Red Deer.
"That's definitely a huge honour. Anytime you can represent your country on an international level is something you take pride in," concluded Korczak. "If I had that chance starting on December 26, it would mean everything to me. I know it's a long and tough process, we'll just see how it goes."
Kaeden is set to return to Kelowna in late August.
Details

Contributed by

Darnell Duff
Erik Barrett ended his high school athletics days by being a captain of the volleyball team and co-captain of the soccer team. Now graduated from Minnedosa Collegiate, Erik played on the soccer team for all four of his high school years. He played three years on the volleyball team as well he played three years with the hockey team and he even ran cross-country in grade 12.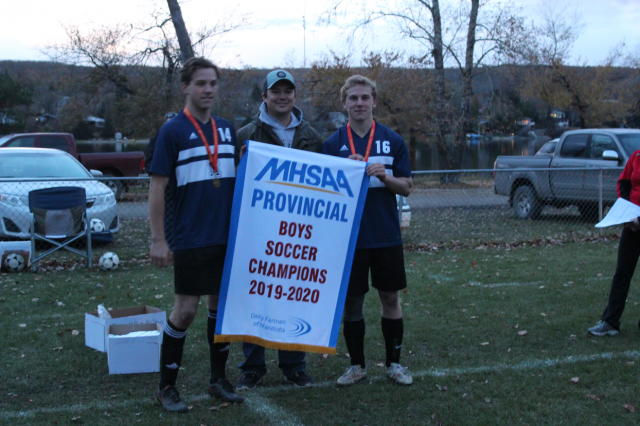 While being the co-captain of this past season's soccer team, Barrett helped the team advance to the AAA provincial championships. The team did; however, have an uphill battle ahead of them as they entered as the 7th seed, but that didn't stop them. In their first game, they beat Niverville, 2-1.
A dominating 5-0 win in the semi-finals against Swan Valley earned them a berth in the finals against the top-ranked Morden Thunder. Barrett and the rest of the Chancellors proved to be too much as they shutdown Morden, 1-0, to claim the provincial title on home soil as they hosted the event. Erik was also named a tournament all-star for his contributions.
"That was a pretty special moment, especially because we won it on our home field," said Barrett. "It was such a great way to end my high school soccer days."
Barrett's impressive resume didn't stop there. He placed 2nd at the Zone 6 Invitational Cross-Country meet and that earned him a spot in the provincials. He also helped the Chancellors advance to the Westman High School Hockey League's consolation side championship.
Every year, the Manitoba High School Athletic Association alongside Credit Unions of Manitoba award four, $1000 scholarships to worthy recipients. There were 55 nominated students this year, some of which are from the Parkland. In the end, only four students won the scholarship and the Minnedosa native who led his team to a provincial championship was one of them.
How did Erik find out? Well, that's a little bit of a funny story. While he was sitting on the couch and watching TV, he was scrolling on Twitter and he clicked on a Tweet made by the MHSAA and he saw his name as one of the recipients. Initially, he thought it was a typo.
"I can't believe that I'm along with these three other recipients of this scholarship. They have all done so much for their communities and I don't think I have," said Barrett. "It's a reality shock honestly. I guess it does prove that I am doing things and helping in any way I can."
Erik was the President of the Minnedosa Credit Union Youth Board, he assisted with a fundraiser called "Skate the Lake", an annual pond hockey tournament, and he assisted in coaching youth hockey in Minnedosa.
Another qualification for winning the scholarship is doing great things academically. The three other recipients all have averaged well over 90% and so does Barrett as he finished his grade 12 year with an average of 95.8%.
"I realized if I tried really hard in my schooling, that would open up some doors for me," added Barrett.
After living in Minnedosa for his entire life, Erik will now move to Calgary to study Engineering at the University of Calgary. Barrett is fortunate to have some family that currently calls Calgary their home.
"It's certainly going to take some getting used to, especially in the first couple of weeks," ended Barrett. "I know the family out there will help me as I learn my way."
Erik had also planned on coaching the U12 boy's soccer team this spring; however, the season was cancelled.
Details

Contributed by

Darnell Duff
There is now a new man at the head of the Manitoba Junior Hockey League. After nearly two decades as Commissioner, Kim Davis is officially stepping down and with that, Kevin Saurette will take over.
Saurette, from Brandon, has been in hockey for his entire life, one that included a successful junior career which led to a professional career. Dating back to the 1997-1998 season with the Regina Pats, Kevin scored seven times in 65 times. A few seasons later, the Brandonite ended his junior career with the Kindersley Klippers of the Saskatchewan Junior Hockey League.
Led by Tyler Shantz who had 111 points that season, Saurette finished tied for fourth in league scoring with his 37 goals and 50 assists. After a 42-17-3 season, the Klippers were upset in the quarter-finals. The tough series loss officially closed the chapter on Saurette's junior hockey days and with that, a new chapter opened.
He played five full seasons with the University of Manitoba Bisons where he recorded at least 22 points in every season. In the 2005-2006 season, his final with the team, Kevin had 59 points and 113 penalty minutes. The native of Brandon also made his debut in the East Coast Hockey League that season where he recorded his first professional goal.
While with the Reading Royals in the 2006-2007 season, Saurette got the call-up, and with it, he was just one step away from making the National Hockey League. He joined the Binghamton Senators and scored two goals while adding two helpers in 24 games.
After two professional seasons in North America, Saurette who is now a father to two kids, moved to Germany to join the ESV Kaufbeuren Club who plays in the German3 league. He scored 42 times and had 56 helpers as he was just two points short of 100. He did; however, have seven more playoff points which gave him a total of 105 for the season. The all-star season saw Saurette move up to the German2 league where he would play the next four seasons, the first two of which were with Eispiraten Crimmitschau.
98 more games of professional hockey in the Elite Hockey League with the Belfast Giants and Saurette's days as a professional hockey player officially came to an end.
"Scoring my first goal as an American Hockey League player was extremely special," said Saurette. "Playing at a level that was just one lower than the National Hockey League, that's such a great feat. There were some ups and downs during my career, but I wouldn't change anything if I went back, it was a great nearly 20 years.
Before Saurette even left Belfast; however, he was looking for a new job. He knew he wanted to stay in the game of hockey in some capacity. After being shortlisted for a couple of jobs with Hockey Canada, the man from Brandon as still on the lookout and that's when the MJHL came calling. The league posted a job to become the Director of Hockey Operations and being a Manitoban, it was a perfect fit.
"Being a Manitoba product and growing up through the hockey system in this province, I just thought it would be good for not only me but my whole family as well," added Saurette. "I was just lucky enough that the Board of Governors alongside Kim Davis thought I was a good fit."
Saurette has now been the Director of Hockey Operations for the past for seasons and as mentioned above, he's about to become Commissioner. He will officially take over for Davis tomorrow on Canada Day.
"I'm really excited about this opportunity, but with that said, it's a little bit bitter-sweet," added Saurette. "I've really enjoyed working with Kim day in and day out over the past four years; I can't thank him enough for all he's done for me. I got to learn first-hand what a commissioner goes through on a daily basis and that was critical for me."
As we flashback, the MJHL cancelled its season back in mid-March, in the middle of the first round of the Turnbull Cup playoffs. The Canadian Junior Hockey League shortly after cancelled all play for the remainder of the season, including the Centennial Cup which was set to be held in Portage back in May.
At this point, Saurette says the league has every plan to begin its 2020-2021 season on time as scheduled in late September with training camps opening up earlier in the month. He does; however, say times are certainly different and everyone is learning to adapt.
"The biggest thing is navigating the uncertainty that comes with COVID-19," added Saurette. "We've done such an incredible job in Manitoba of trying to flatten the curve. We're definitely in a lot better place than many places in North America and we're grateful for that. We're planning on returning to hockey in September and we'll follow all the necessary public health guidelines to assure we can return safely."
There are two for sure things. Kevin will be the league's commissioner going forward and he assures everyone that when the MJHL can return, it will do so as a very elite league, one that has become one of the best in Canada.
"I've talked to a lot of scouts from all different levels and they all love the direction that the league has taken," concluded Saurette. "They've all taken notice of all the great talent in this league. If you look at our alumni, so many are moving on to play the next level whether it be collegiately or professionally."
We'll also have more information from the league's AGM as it becomes available.
Details

Contributed by

Darnell Duff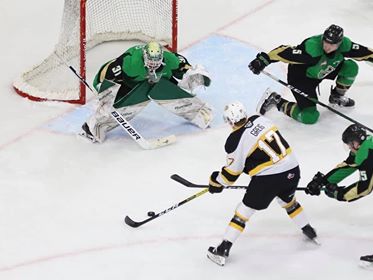 The Brandon Wheat Kings will have some representation when Hockey Canada hosts its virtual National Junior Team Sport Check Summer Development Camp which goes from July 27-31. The camp is ahead of the 2021 IIHF World Junior Championship.
The list of 41 includes the likes of Alexis Lafrenière, Bowen Byram, Dylan Cozens, just to name a few. Ridly Greig, eligible to be selected in the 2020 NHL Entry Draft is one of the 41 that has been selected to take part.
From Lethbridge, Alberta, Ridly has now played two full seasons with Brandon.
"It feels pretty great to know my name is beside all of those great players," said Greig. "I'm really looking forward to taking part in it. I don't think anyone really knows what's going to happen because it's virtual, but whatever it is, it'll be great no doubt about it."
In a release, Scott Salmond, senior vice-president of national teams for Hockey Canada had this to say.
"We are excited to begin preparations for the 2021 IIHF World Junior Championship with this group of 41 players and our full staff at our online camp, as we believe we have a good mix of veteran leadership and young talent that is eager to represent Canada during the holiday season," said Salmond.
Brandon will also have one more player attend the virtual camp as Braden Schneider of Prince Albert has been invited. From the back end this past season, Schneider chipped in with 42 points and was fifth in team scoring.
"He's obviously a really good player and he's been there before," said Greig. "It's going to be really cool just seeing his face on the screen, I'm happy for him."
Now back in Lethbridge, not only is Ridly preparing for whatever comes at the virtual camp late next month, but he's also preparing for his third season with Brandon. The Western Hockey League announced that they plan on starting their season on Friday, October 2.
Brandon was 35-22-4-2 when this past season was ended due to COVID-19. They had already clinched a playoff spot and were only six points behind the Prince Albert Raiders for the top spot in the East Division. Brandon also mixed in a 10-game winning streak and 11-game point streak that began late in December of 2019 and ran until late January 2020.
With the 2020-2021 season only a few short months away, Greig is expecting more of the same.
"I have expectations for the team, I think we're going to be a really solid team," said Greig. "I think we're going to have a chance to go for it and make a deep run. I'm expecting to pick up where we left off and go from there."
Last season was by far Ridly's most production as a WHLer. After posting 35 points in his rookie season in 63 games, Greig chipped in with 60 points, 26 of which were goals last season. He was third in team scoring; however, he was just two points behind Luka Burzan who led the team with 62 points.
"My second half was pretty solid so if I just continue with what I was doing later in the season, I'll be happy with what happens," concluded Ridly.
Details

Contributed by

Darnell Duff
Today is an exciting day for the 11 member clubs across the province that make up the Manitoba Junior Hockey League.
As Manitoba has continued to ease its restrictions when it comes to the coronavirus, the MJHL has continued to develop Return to Play Guidelines ahead of the 2020-2021 season. The guidelines would be phased in and Phase 1 is now in effect.
Phase 1 which includes the ability to safely resume summer activities has been approved by the Provincial Health Authorities.
"This is another exciting and important step that allows the MJHL and member teams the ability to operate as they normally would throughout the summer months," shared MJHL Director of Operations, Kevin Saurette. "These uncertain times have necessitated specific measures to allow the MJHL and member teams the opportunity to return safely to the sport we all love."
Teams can now prepare to plan, promote, and execute Off-Ice Training/On-Ice practice, prospect camps, and development camps. This means players, coaches, managers, staff, and medical personnel may attend facilities for on-ice and off-ice training.
You can see the complete Phase 1 Return to Play Guidelines here.
Additionally, the league has announced when it plans to open the new season. A tentative date is set for Friday, September 25.
"Fundamentally we believe these guidelines put the MJHL, its Member Teams and all participants in the best position to return to sanctioned summer hockey activities in a safe and healthy manner," concluded Saurette. "We look forward to MJHL Hockey returning to the province in September as we continue to work diligently with Hockey Canada, Hockey Manitoba, Sport Manitoba and the necessary Provincial Health Authorities."
Details

Contributed by

Darnell Duff
Levi Mitchell's stop in the City of Sunshine was short after he was picked up at the trade deadline in his final season of junior hockey. Although it was short, it was extremely memorable and it provided fans in Dauphin with one of the best goaltending performances in recent history.
Before we get to that, we'll talk about what led up to Mitchell absolutely stealing the show inside of Credit Union Place. Leading up to the playoffs, Mitchell went 12-4 with Dauphin as he sported a 2.75 goals-against average to go along with a .912 save percentage.
Between Dauphin and Selkirk, Mitchell had 24 wins throughout the 2019-2020 season, tied for the third-most across the Manitoba Junior Hockey League. He also played 2474 minutes, 202 more than Dorrin Luding who played the second-most in the league.
In his first game as a King, Mitchell turned away 39-of-41 shots in a 5-2 win against the Virden Oil Capitals. In his first home game as a member of the Kings, Mitchell was perfect as he made 30 saves on 30 shots against in a 2-0 win against the Portage Terriers.
"I loved Dauphin so much, it was such a great place to end my junior hockey career," said Mitchell. "The community was so extremely supportive and I think we had a great team. We were definitely underrated and I believe we could have gone far."
Down 2-0 in their best-of-seven series against Portage in the first round of the Turnbull Cup playoffs, Mitchell was a man on a mission and that mission was to bring the team back in the series and he did just that. Mitchell turned away all 43 shots he faced, many of which were of the highlight variety. 2:25 into the second-overtime, Division 1 commit Grady Hobbs sealed the game as he beat Noah Giesbrecht in front of the net.
Mitchell won his first road game as a King, he won his first home game as a King, and he finished his junior career with a win, one that he will surely never forget.
"When I was driving to the rink, the only thing I was thinking that if we score first, we'll win the game," continued Mitchell. "I never thought we were out of it, I knew we could come back. After Grady scored, the locker room was so pumped, it was pretty special. It was an unfortunate ending with everything, but that was a game I don't think anyone on the team will ever forget."
Moving on:
Basically every 20-year-old player or goaltender has the goal of advancing to the next level after his junior days. Whether that be at the university level or college level, it's where most want to be. For some, it's not a reality, but for Levi, it was expected. It took a bit to decide; however, Mitchell officially now knows where he will continue his playing career and studies.
The former King has committed to the Salve Regina University (NCAA Division 3) team in time for the 2020-2021 season. Based in Newport, Rhole Island, Salve Regina went 14-11-1 last season (10-7-1) in conference play. Griffin Leonard and Garrett Szeremley, both of the Winkler Flyers this past season have also committed to join Mitchell in Newport.
"I had a lot of different opportunities to sort from and I was sort of weight pros and cons between them," continued Mitchell. "I feel that Newport is where I want to spend the next four years of my life while I continue playing the game I love and studying as well. It checked every box for me."
Mitchell will be joined between the pipes by Duncan Hughes. Mitchell and Hughes played briefly together in the Alberta Junior Hockey League with the Olds Grizzlys. Although Mitchell knows nothing is guaranteed in the hockey world, he does have confidence in himself and he's looking to prove himself to his new team beginning in the fall.
"It's my net to lose, I've been chatting with the coach and that's the case going in," concluded Mitchell. "With that being said, I know the best goalie will be playing, it's as simple as that. I'm also glad that I'll enter this next challenge with Duncan, we're familiar with each other and we're looking forward to pushing each other. It's a good combination."
Fun fact:
Mitchell and Andrew Liwiski are currently working out in British Columbia planting trees that have been taken down.
Details

Contributed by

Darnell Duff
JJ Love has changed the way other teams defend on the volleyball court. A 6'6" setter, if he's in the front row, Love has the easy ability to finish off plays by himself if he decides not to set one of the team's hitters.
The Dauphin Clipper has played all three years of his high school days on the varsity team. Love was a driving force to the team advancing to the quarter-finals at the provincials championships this past season where they narrowly lost to Northlands Parkway, the team that won the third-place match.
For the first two years in high school, Love also played basketball, but he played on the junior varsity team. This past year when he entered grade 11 he joined the varsity team. With one more year to go at the DRCSS, it's been nothing but good times so far.
"My sports life in Dauphin has been fantastic, I couldn't have asked for anymore," said Love. "I've played with a ton of great teammates and my coaches have always been fantastic. Dauphin has shaped me a lot as an athlete."
Over the past few years, Love has also had the chance to represent the province. He played in last summer's Western Canada Summer Games in Swift Current and he's also played in two Canada Cups in Halifax and Richmond, B.C. At the Summer Games, Love helped Manitoba advance to the gold medal game against Alberta.
"I'm very lucky to have played for Team Manitoba on multiple occasions, it truly is an honour," continued Love.
Last year, JJ was named the junior varsity boys athlete of the year. This year, the grade 11 student is back at it again as he's been named the varsity boys athlete of the year. He narrowly edged Alex Kish who has been named the runner-up for the award.
"I'm very honoured to have been named the athlete of the year," finished Love. "I know there were a lot of great recipients and anyone could have won. It means a lot to me."
Details

Contributed by

Darnell Duff
Jackson Delaurier has been a force on the Westman Junior Tour this season and now, he's got a top two finish against the best bantam players in the province.
Playing in the Bantam Championship at the Portage Golf Club, Delaurier finished in second place as a playoff was needed.
After missing a putt to win the championship on the first playoff hole, Mack Sanderson held off Delaurier to win the title on the second playoff hole.
Delaurier was +5 in yesterday's round and went +11 today.
Hayden Delaloye from Neepawa finished in sixth while Luke Myhre finished in 12th.
Hayden Shtykalo finished second in the 12 and under age group.
Details

Contributed by

Darnell Duff