Latest Sports
Jackson Delaurier has been a force on the Westman Junior Tour this season and now, he's got a top two finish against the best bantam players in the province.
Playing in the Bantam Championship at the Portage Golf Club, Delaurier finished in second place as a playoff was needed.
After missing a putt to win the championship on the first playoff hole, Mack Sanderson held off Delaurier to win the title on the second playoff hole.
Delaurier was +5 in yesterday's round and went +11 today.
Hayden Delaloye from Neepawa finished in sixth while Luke Myhre finished in 12th.
Hayden Shtykalo finished second in the 12 and under age group.
Details

Contributed by

Darnell Duff
The Swan Valley Stampeders have completed a trade with Winnipeg and it marks their first deal of the off-season.
The team acquired the CJHL playing rights of 19-year-old Jayce Nikbakht.
From Regina, Jayce has three goals and seven assists last season with the Notre Dame Hounds of the SJHL.
Swan Valley traded 17-year-old Garett Zasitko.
Details

Contributed by

Darnell Duff
The Dauphin Kings signed a five-year lease with the RM and city of Dauphin on a piece of land that is used towards their annual grow project.
Now, the team is in their third year on the land and the first two years were very successful. Planting last year, roughly $54,000 was put into the Kings account. The year previous was canola and Dauphin profited very well from that as well.
This year, the crew has decided to plant soybeans. Gary Sydor says soybeans are a very marketable crop. A local outfit has offered $10.25 per bushel already. When the crop comes off the field, they'll need to store it until November if they go with the local outfit.
"If someone has some storage around town that's available, that would be great if they could give us some or we could rent some," said Sydor.
Sydor is hoping that the crop yields at least 40 bushels per acre. Before paying their bills last season when it comes to the project, it brought in about $65,000. They anticipate they may not make that much this year; however, the input to assure soybeans grow well is less.
"If we get that timely rain, it could be a very good year for us, that rain last night certainly helped," said Sydor. "The crop is looking really good, the beans are up."
With the Kings' operating budget being around $500,000 each year, Rae says this grow project is massive for the team when it comes to staying afloat.
"Without that money, the team would be in financial distress somewhat," said Csversko. "With everything that has gone on this year, it's that much more important for the Club."
Csversko and Sydor want to thank all of the suppliers for everything they do and everyone else who chips in throughout the summer.
Rae is also asking any farmers that have a quarter section of land if they would rent it to the Kings.
"We're certainly interested in taking on a little bit more land," he added. "It would be another added bonus and it might let us get over the COVID situation this year if we come up with a shortfall of sponsorship money and donated funds."
If you do have any land, you can call Rae at 648-7941. You can also call Gary at 638-2480.
When it comes to the Tractor Lotto, Rae can confirm it will run once again this winter; however, no other details were provided. Stay tuned for more as the 2020-2021 season continues to near.
Details

Contributed by

Darnell Duff
Fitness has always been a big part of Nicki Podworny's life, but she admitted to turning to food in tough times. Over the years, Nicki has completed a childhood dream, and now, she's going up against a select group of women for $20,000.
The story of Nicki Podworny is about a Laurier woman who always knew what she wanted to do in life. Through twists and some turns along the way, Podworny has remained determined and she's now helping others who are looking to achieve their dreams.
About five or six years ago, Podworny was at a standstill. She went from having three jobs in Dauphin as a single mother to not having that in Brandon when she moved. In 2012, Nicki got married. As she was trying to establish herself in Brandon as she had in the Parkland, Podworny turned to food. Not happy with what was happening, she made a change.
She started doing beach body workouts and within the first three weeks, Nikki had lost about 11 lbs. Although fitness had been a part of her life from the get-go, it was losing that 11 lbs in three weeks that motivated Podworny to in her own words, better herself. She was feeling better and more confident about herself.
Now if we take a look back to Podworny in her '20s, her goal was to compete in a women's bodybuilding competition. However, she was never confident enough or believed in herself to compete in one. That until, just a few years back. After getting a trainer who specialized in training women for bodybuilding competitions, Podworny competed in an International Drug-Free Association event.
It was her first-ever bodybuilding competition and she placed in her group.
"That was definitely the toughest thing that I have ever done in my life," said Podworny. "I was ecstatic when I won third, it was incredible. I went in thinking I wanted to place, but I think I was getting myself prepared just in case I didn't. It was everything I ever wanted, it was a special event."
Nicki wasn't done. She competed once again in 2018 and she went into the event stronger and leaner and once again, she placed third.
Next Stage:
Podworny knew first-hand how good she was feeling not only physically but mentally and she wanted other women to have the same feelings. Podworny became a certified personal trainer
last February. She has a private training studio in her gym so she does one-on-one training with her clients.
"I just wanted to have an impact on people and really just help them achieve their goals," added Podworny.
About six years ago was when Podworny wanted to make a change and starting in less than a month, the voting begins as one female will be rewarded with $20,000. Nicki is a nominee for the prize money and if she does end up winning, she will also be featured on the cover of Muscle & Fitness Hers.
She entered a contest a while back which included her sending a few photos of herself and biography on what she's been through. Fast forward to last week now, Nikki was named a top 20 finalist in her age group.
'I was shocked, I didn't think I would even get this far," said Podworny. "I'm honoured to have been selected among so many other great women and to have a chance to win this big prize."
The first round of voting begins on July 20 with the top 20. That will lead to a top 15 voting period, top 10 voting period, and a top 5 voting period. The eventual winner will be selected in the fall.
Details

Contributed by

Darnell Duff
There may have been no one more excited than Hayden Delaloye when he learned golf courses could open back on May 4. That meant the Neepawa Golf & Country Club was open for business and living right near the course, Delaloye was a happy man.
Delaloye has now played basically every day since the course opened, of course, unless there's been inclement weather. His best score of the season is a 70, which he says could have been lower because he lipped out for par on #6 and lipped out for birdie on #16,17, and 18. The Neepawa native has also shot a few other rounds in the low 70's.
"I'm hitting the ball pretty well, I fixed my driver and it's working quite well," said Delaloye. "I just have to work on my putting stroke and my tempo."
Hayden has played in several Golf Manitoba championships ver the past few years and he's back at it this weekend. He's set to tee it up in the Bantam Championship at the Portage Golf Club, a tournament that features several Parkland juniors. That event is on Saturday and Sunday.
On Monday, Delaloye is off to Selkirk to play on the Maple Leaf Junior Tour as the first event on that tour will be played on Monday and Tuesday.
Outside of Golf Manitoba and the MJT, Hayden has already been a busy man playing tournament golf. He's playing in the 18 and under age group on the Westman Junior Tour and he's on fire to start the season. He's won all of his three matches and his group plays match play. He won 4UP earlier this week against a young man from Brandon.
Delaloye knows that he's a contender, but he's not taking anything for granted with a lot more golf to be played.
"I'm feeling pretty good right now, I'm hitting the ball pretty well," added Delaloye. "I do have to improve on the greens though, I've struggled at times and that's kind of holding me back."
Heading into this weekend, Hayden says it's just about staying focused and not getting down on himself.
Details

Contributed by

Darnell Duff
It's being dubbed as the "Scramble" of the summer and it all goes down at the Gilbert Plains Country Club.
The Battle of the Belts takes place on Sunday, July 26, and the format will be a two-person scramble. The event is brought to you by Dave Campbell at Parkland Source for Sports.
Registration will begin on the Sunday at 9:00 a.m. with a shotgun start set for 10. The entry fee is just $50 which includes your round, a meal, and a chance at prizes.
And whether you're a scratch golfer or you only play a few rounds a year, this event is for everyone.
"We tried to keep the entry fee low to attract all calibre of golfers," said Danny Scott. "Whether it be men, women, or kids, anyone can play. It's a chance to play with anyone you want to and you'll have a great time doing so."
All of the proceeds raised will go towards improvements at the GPCC, including the picnic tent that is currently under construction.
When it comes to prizes, there will be two given out per flight with the number of flights depending on how many teams enter. The top team will receive two beautiful custom belts.
"Dave has donated some gift cards and some other things, we have quite a few prizes up for grabs," concluded Scott.
There will also be one CP per par 3. To register today, you can visit the Gilbert Plains Country Club or give them a call at 548-3030.
Details

Contributed by

Darnell Duff
The 19th edition of the Dauphin Kings Par 3 Extravaganza is certainly one for the history books and there are still two months until the event tees it up at the Gilbert Plains Country Club.
For the fifth straight year, the event has officially sold out. On top of that, this year marks the fastest that this event has sold-out in its nearly 20-year history.
There were 10 team spots open as of yesterday morning which speaks to the buzz around this tournament.
"This clearly shows that so many people want to get back to normal life and golf is certainly a part of that," said Christian Laughland, Director of Business Operations for the Kings. "We can't thank everyone enough for all of the support. It's hard to believe that this event sold out in two weeks, it's really amazing."
Now that the event is sold out, the Club will now shift their focus to sponsorship and prizes.
With a sold-out event, Laughland believes it's a great opportunity for any business to get involved in what will go down as another great day at the course while supporting Dauphin's junior hockey team.
Laughland has already confirmed that there will be $100 CP's on every single hole.
"We've never really filled up the tournament in the past few years when it comes to sponsors, so we're really looking to achieve that this year," concluded Laughland. "Lots of ideas are being thrown around right now and it's exciting because we have two months to figure everything out. I think this is going to be the best tournament in its history."
Details

Contributed by

Darnell Duff
There is no doubt that the coronavirus has had a major impact on the sports world around the globe, including the Parkland. The hockey season was cut short and so many other events were cancelled as well.
Months have now passed and the sports world is returning back to somewhat of a normal schedule, in some cases. Golf courses in the province opened up back on May 4 which was a surprise to most as it was expected courses wouldn't open up until later in May and now, baseball is back.
The Dauphin Minor Baseball Association began its season last Monday with practices. Dauphin Minor features three rally-cap teams this season, two-U9, two-U11, two-U13, one-U15, and one U18 team.
Jodie Romanow says numbers for the season are down; however, it's just a good feeling to be back on the diamond.
"It's been a really good start. All of the kids settled into their new routine and safety guidelines and I think they're having a lot of fun," said Romanow. "It's just very nice to have some sort of season, even if it's completely different which it is."
Romanow says the biggest difference this season is not being able to use the dugouts. Baseball Manitoba has said at this time, all teams must stay out of the dugouts so social distancing is respected.
So practices have begun and now, Dauphin Minor will soon be able to take part in games. Baseball Manitoba originally had a target date to begin competition on Wednesday, July 1. However, after a very successful Phase 1 (Return to Training), Return to Competition can officially start as of today.
For Dauphin Minor, they won't be playing any games until July 1, a few days after they'll host an umpire camp this weekend.
"That's extremely exciting for us. We don't have any plans on travelling outside of the Parkland at this time, but I know there are teams from Ste. Rose and Swan River and around the Parkland that are excited to get to game action," offered Romanow.
When a season schedule is released, we'll have it here.
Details

Contributed by

Darnell Duff
Jackson Delaurier's golf season is rolling on and it's one that is proving to bring forth many first-place finishes on the leaderboard.
Playing on the Westman Junior Tour, Delaurier won the first event of the season a few weeks ago at the Minnedosa Golf & Country Club by firing an 82 to sit atop the 14 and under age group.
Last week in Killarney, the member at the Dauphin Lake Golf Club edged Micky Giordani-Gross by one stroke to win his second tournament of the season and now, Delaurier is back at it again.
The Tour made its way to the Poplar Ridge Golf Course yesterday for its third week of competition and Delaurier is a three-time winner. Jackson put together a great round that saw him shoot an 83. The round was even more impressive because he managed the 83 despite getting an 8 on 18.
The next nearest golfer was five strokes back.
"I played pretty well; I just missed a few putts. All in all, it was a really good round," offered Delaurier. "Winning this tournament just helps me feel like everyone is chasing me and I'm not chasing them. I'm pretty happy with how things are going right now."
Speaking of that next nearest golfer, it was Luke Myhre, also of Dauphin. Myhre who will play in the Bantam Championship later this month shot an 88. That finished him in second and finishing in a tie for third was Boston Karlson with his 91.
Not only is Jackson happy about winning these events, but he's also happy to see so many of his friends up near the top of the leaderboard.
"It's really great to see them playing good golf as well," said Delaurier. "I know both of them were very happy."
Hayden Shtykalo finished second in the 12 and under age group with his 91 while Quinten Fisk fired a 101 to finish in third. Landyn Garton was in fifth.
Next up for Delaurier is a two-player scramble which the Westman Tour is hosting next week at the Minnedosa Golf and Country Club. Jackson is teaming up with Boston Karlson who he has played a ton with already this summer and the duo is looking to make some noise, something that they've already done this season.
"We're really excited for the scramble, we've been practicing for it for a while, it should be fun," finished Delaurier.
Details

Contributed by

Darnell Duff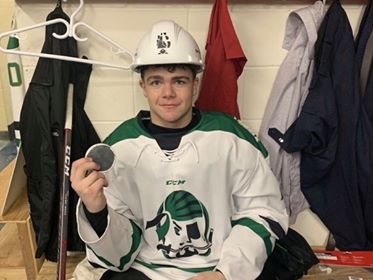 Matthew Zurba was all over the sports scene in his first year as a high school student-athlete at the DRCSS.
From Dauphin, Zurba played on the football team and volleyball team. He was also signed up to play rugby and badminton before everything was cut short because of COVID-19. On the field, Zurba played usually running back on the offensive side of the ball and linebacker on the defensive side of the ball.
"It was really fun playing with the Clippers, there are so many great guys to hang out," said Zurba. "It was a great first year of high school, that's for sure."
Back on December 13, 12 days before Christmas, Zurba got an early gift when he was called up to play with the Clippers hockey team and the soon to be grade 10 student certainly made an impact.
In a 5-2 win against the Minnedosa-Erickson Chancellors, Zurba scored one goal and he was named the Player of the Game for his efforts.
"Playing with them was a ton of fun, such a great group of guys," added Zurba. "When it comes to scoring that goal, what a feeling that was. It was such a crazy feeling, one I won't forget."
So Matthew was recognized after that game by being named the top player of the game and now, the entire school has recognized the young man from Dauphin.
He's been named the Clippers junior varsity boys Athlete of the Year. He beat out Thomas Scott who is this year's runner-up.
"I was really excited when I found out I won the award, it's a really great feeling to be acknowledged," concluded Zurba.
Zurba adds that it feels so great to be chosen among a school that has so many great athletes. He plans on playing as many sports as possible in the fall and he will also try out for the Parkland U18 Rangers.
Details

Contributed by

Darnell Duff
The Dauphin competitive slo-pitch league officially begins its season tonight
Here is the schedule:
Ballaholics vs Chiefs @ Vermillion Sportsplex diamond A
Fusion Brewmeisters vs The Heat @ Vermillion Sportsplex diamond B
Denray Tire vs Showtime @ Vermillion Sportsplex diamond E
Aspen Insurance Swingers vs Outlaws @ Brewer Diamond
Details

Contributed by

Darnell Duff