Latest Sports
The Dauphin Kings have acquired Cole Sheffield from the French River Rapids of the Northern Ontario Junior Hockey League.
The 18-year-old won 14 games last season (including playoffs) and his save percentage was .902. Dauphin gave up future considerations in the deal.
Details

Contributed by

Darnell Duff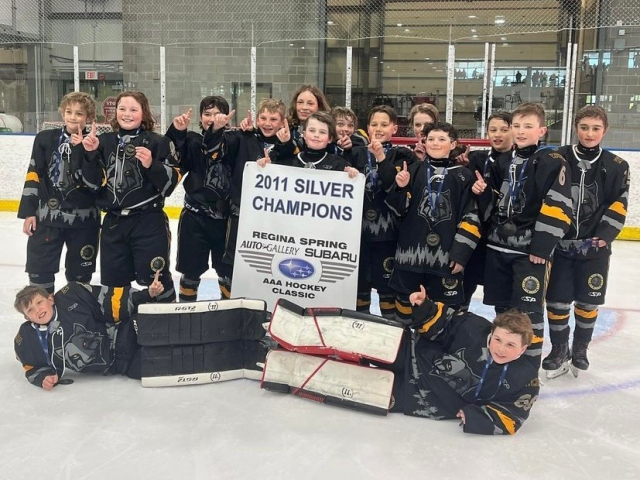 Four Dauphinites are back home and they brought gold medals with them.
Playing with the WCHA Stealth Wolves in the 2011 Silver Division Regina Spring AAA Classic, Nolan Shaw, Jace Paterson-Brading, Kellan Shtykalo, and Carter Smigelsky helped the Wolves win the championship.
They finished 1-1 in the round-robin which finished them second-place in their pool as they entered as underdogs in the eight-team playoffs; however, who doesn't like a great underdog story. They downed the Renegades in their quarterfinal game and then dispatched of the Silver Knights.
With only the Jr. Maulers standing in their way of a championship, the Wolves came out on fire and put up a 10 spot in a 10-4 win as they claimed the championship to wrap up the season.
Details

Contributed by

Darnell Duff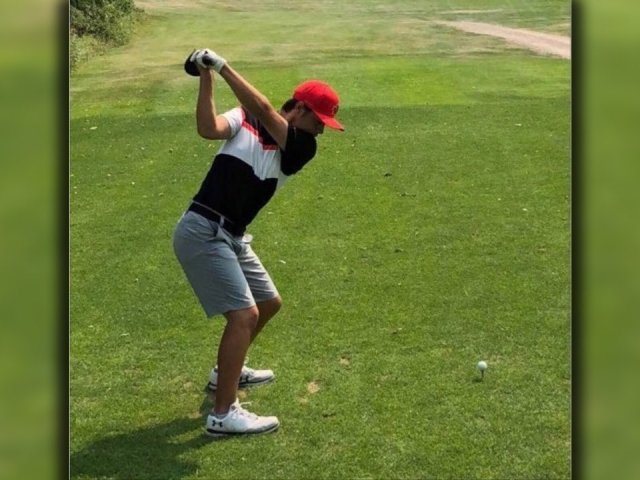 Jose Mekish-Lacquette was presented with a unique opportunity over the winter months as he was a part of a select group of junior golfers in the province that spent many hours at the Golf Dome as a part of the Manitoban development team.
The province's golf governing body hand-picked a group of golfers that would receive lessons and tips to stay sharp throughout the winter months. Jose is very passionate about golf and he has some big goals which include becoming a professional. Now he understands that isn't an easy goal to achieve; however, he is willing to put the work in.
"Getting that chance over the winter was a great opportunity for me," said Mekish-Lacquette. "I've never really played golf in the winter before so it was nice to continue swinging, it's really important."
With the golf season in Manitoba now well underway after a late start, Jose has played dozens of rounds and now he's ready to get back into the competitive swing of things. He will tee it up in this weekend's NextGen Prairie Championship which is being played at the Quarry Oaks Golf Course.
This year's field includes players from coast-to-coast, many of which are known as the top junior golfers in the province. Mekish-Lacquette says that he's feeling pretty good about his game heading into the event and he's looking forward to showing what he can do on the national stage.
"I'm happy to be playing in a tournament again, really excited about this," said Mekish-Lacquette. "I know the round isn't over until the round is over so regardless of where I am on the leaderboard, I have to continue to fight and battle the entire time. Jose will play a practice round Thursday and the three-day event begins Friday.
Here is a full list of Parkland players that will compete:
Crystal Zamzow (Swan River)
Thomas Scott (Dauphin)
Jackson Delaurier (Dauphin)
Details

Contributed by

Darnell Duff
(photo of Gavin Nemis, Dauphin's first pick)
The Manitoba Junior Hockey League held their prospects draft Saturday and it was an exciting and busy day for the Dauphin Kings.
The Kings first pick was the 12th overall selection where they picked Gavin Nemis from East St. Paul. Playing with the Rink Hockey U16 Academy Nationals last season, Gavin scored 14 times and had 11 assists. He added one assist in three playoff games.
"We added some skilled and hard working forwards," said Darry Stevens, Head Bantam Scout. "We would have liked to add some more defenceman but there wasn't quite enough depth at that position."
Here is a full breakdown of the day it was for Dauphin.
20th overall – Rhett Perrin
He scored 14 times and had 15 assists with the U16 Rink Hockey Academy Nationals last season and added another goal and one assist in three playoff games.
37th overall – Hayden Seib
The Parkland Ranger is staying home. In a productive season with the U18 Rangers last season, Hayden scored 13 times and chalked up 13 assists. As Parkland went on a historic playoff run that saw the team advance to the second round, he had two assists.
50th overall – Max Collyer
Also from the Parkland (Onanole), Max is coming off a solid season as a 16-year-old with the U18 Yellowhead Chiefs. Across 43 games, he scored four times and had 12 points. Add one goal in four playoff games and he scored five times.
67th overall – Dylan Jaquet
Kings fans will remember the last name Jaquet. After all, Dylan's brother Colby was a massive part of Dauphin advancing to the national semifinal this past season.
With the U17 Bruins this past season, Dylan had 25 points, 11 of which were goals in 33 games.
Moving forward, Dauphin had back-to-back picks in the back half of this year's draft.
76th overall – Spencer Sabourin
He played his first season with the U18 team and had two points in 42 games from the back end. In his final year of U15 hockey, Spencer had three points in six games.
77th overall – Declan Hoad
He had the chance to play four games (three playoff) with the U18 Wheat Kings this past season and he had two assists. In 37 games with the U17 Wheat Kings, Declan scored eight times and had seven assists.
Another back-to-back set for the Kings came shortly after the as they drafted 82nd and 83rd overall.
82nd overall – Zhenya Miles
From Winnipeg, Miles played this past year in Kelowna with Rink Hockey Academy and he posted seven goals across 35 games. He also added 19 assists.
He also got the call-up for a game with the U18 team where he scored one goal in three games.
83rd overall – Ethan Cull
Another member of the U16 Rink Hockey Academy Nationals (Winnipeg) this past year, Ethan suited up in 34 games including the playoffs and he scored five times while adding three assists.
96th overall – Josh Fluker
With 10 games of Western Hockey League experience under his belt, Josh was one of the most skilled and smoothest skaters taken in the draft.
He posted five assists with the Swift Current Broncos and he scored six times and added 14 assists in 38 games with the Manitoba AAA U18 Hockey League's Swift Current Broncos. He also had one playoff assist.
One final selection saw Dauphin take Jackson Hofer. He suited up in 28 games with the U18 team in his first year in the age group and he scored twice and added two assists.
Jackson also played in the team's three games in the first round of the playoffs.
"Overall, we're very happy with our selections and we're looking forward to their development in the next couple of seasons," said Stevens.
Details

Contributed by

Darnell Duff
It wasn't the ending to the Westman League the Dauphin Clippers rugby teams were looking for; however, the season isn't over yet.
Playing in their respective finals over the weekend, the girls lost to Rivers, 20-7, while the boys' team lost to Souris by a penalty convert in a game that will go down for the ages. Oliver Dandeneau and Joseph Lopez both had one try for the Clippers while Sergio Garcia had two points for converts.
Maddie Slyziuk had the girls' lone try in their game and Brooke Miner had the team's two-point convert.
What's next:
The Clipper girls will get a rematch with Rivers and this game will have everything on the line. They will play for a provincial title this Sunday.
The boys; meanwhile, have a daunting task ahead. Their semifinal is against the St. Paul Crusaders who are undefeated and are defending champions.
They will battle Friday in Winnipeg with the winner advancing to the gold medal game Saturday afternoon in Brandon. The loser; meanwhile, will play in the provincial bronze medal game Saturday in Brandon.
Details

Contributed by

Darnell Duff
It's set to be a very busy and important weekend for Dauphin's Reece Boguski.
She was one of 68 players that were invited to Hockey Manitoba's Female U18 Program of Excellence Camp in Winnipeg. This weekend's camp is the first of a few ahead of Team Manitoba naming their roster for the 2023 Canada Winter Games. All the action begins Friday afternoon and it runs until Sunday evening.
Reece is coming off a great rookie year with the Yellowhead U18 Chiefs, she played 27 games and scored once while adding three assists.
If Reece advances to the next stage, she will take part in the Top 40 camp July 22-24.
Details

Contributed by

Darnell Duff
First nations students between the grades of 7 and 12 are getting prepared to take part in the 2022 Treaty 2 Summer Games from July 12 to 13 right here in the Parkland.
The event will feature opening ceremonies and six different sports. They include basketball, slo pitch, horseshoes, cross country, and golf. They will also be trying out lacrosse.
Craig Beaulieu with Treaty 2 says this is a unique opportunity for the athletes in the 12 nations taking part to come together.
"We want to unite the nation by sport, this is how we do it," said Beaulieu. "All the nations are so excited and so are we."
The nations set to compete are Dauphin River, Lake St. Martin, Pinaymootang, Little Saskatchewan, Ebb & Flow, Pine Creek, Seine River, Tootinaowaziibeeng, Gambler First Nation, and Keeseekoose. Ebb & Flow will play host to the two-day event at Eagles Island and the Ebb & Flow Rec Complex. The golfing portion will take place at the Dauphin Lake Golf Club.
Beaulieu said the event will be a historical one and that they plan to hold it every two years.
"We're all extremely excited here at Treaty 2," said Beaulieu. "We are here and we aren't going anywhere."
Details

Contributed by

Darnell Duff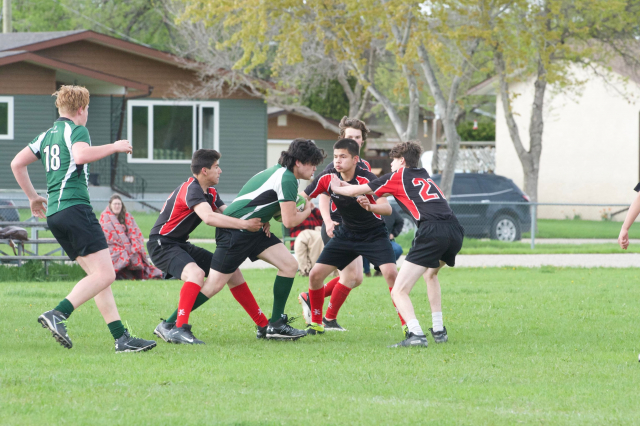 Domination was the name of the game for the Dauphin Clippers rugby program Wednesday night.
Both the girls and boys hosted the Swan Valley Tigers in their league semifinals and it was a great night for the home team. The girls kicked it off with a 57-15 win and then the boys capped off the perfect night with a tremendous performance, downing the Tigers, 50-0.
Brooke Miner scored four tries for the team and six converts. Maddy Slyziuk, Allee Hrechka, Gina Zurba, Chloe Fletcher, and Sam Gryba all had a single try for Dauphin in the victory.
On the men's side, Oliver Dandeneau and Joseph Lopez led the way with two tries each. Marcos Hernandez, Garrett Thompson, Sergio Garcia and Lars Gudbarton all had a single try each. The win moved Dauphin to 4-0 on the season and that means heading into the league final, they're undefeated for the first time in team history.
"It's a very cool accomplishment for our group," said Aaron Miner. "This group has played rugby together for about 10 years now so this is our youth program paying dividends. The future looks extremely bright for not only the boy's program but the girl's program as well."
The Clipper girls will now play in a championship game on Friday in Rivers against Rivers. Dauphin lost just one game this season and it was a thriller against Rivers.
"I think we have a really good chance," said Miner. "We lost a really close game last time and we were missing some of our key players."
On the boy's side; meanwhile, the Clippers will host Souris in the championship game. The teams have played once against each other this season with Dauphin coming out top in a solid back-and-forth game.
"Souris gave us everything we could handle last time and we expect the same thing," ended Miner. "I believe it's a matter of depth and in my opinion, we have more depth as far as skilled individuals and players that have played the game longer."
Details

Contributed by

Darnell Duff
After a closure that lasted a few days, the Dauphin Lake Golf Club is back in business.
Tee times can be booked by calling 204-638-9400.
Steve Desroches and Jake Wiens won last weekend's Gary Brandon Memorial Tournament.
Details

Contributed by

Darnell Duff
Photo credit - Pederson Photographic
=====
No goalie won more games than him in the regular season and he started his tenure with the Kings by making 45 saves on the second night of the season against the Neepawa Titans.
He then went on to win 29 more games -- and finished the season with 30 wins -- which would have been more if he wouldn't have missed time due to injury and a bout of COVID-19. Carson Cherepak was magnificent in the regular season and he carried that into the playoffs, especially late in the final against the Steinbach Pistons.
People are still talking about his save with less than a minute left in game seven of the final against the Steinbach Pistons when Travis Hensrud got away on a breakaway but Cherepak flashed the leather to make an incredible save. Dauphin would end up winning the series at the T.G. Smith Centre.
Then moving ahead to the Centennial Cup, Cherepak was nothing short of exceptional. When Dauphin got off to somewhat of a slow start in their first two games against Ottawa and Summerside, Cherepak was excellent which allowed the team to find their legs and they sure did as they scored twice in the second period against Ottawa and went on to win that game, then they put up a five-spot against Summerside in the second period. He ended up with 30 saves against Ottawa, 35 against Summerside, 40 against Flin Flon and 17 in the team's final round-robin game against the Soo Thunderbirds.
After the round-robin, Hockey Canada handed out some awards and Cherepak doubled up as he was named the tournament's top goaltender as well as the tournament's most valuable player. There was no doubt that Cherepak was the best goaltender at the tournament but he knows he couldn't have done it by himself.
"It's a nice feather in the cap, for sure," said Cherepak. "WIth that said, I couldn't have done it myself. I have tremendous teammates, hockey is a team sport."
Carson turned away 27 more shots in the semifinal; however, the team's season ended in that game after a 2-0 loss against the Pickering Panthers. It wasn't the ending the team was looking for but it was still a season for the books.
Personal accomplishments:
Regular season leader with 30 wins
.921 save percentage was second in the league as was his 2.21 goals-against average
MJHL Finals Most Valuable Player
MJHL Champion
Centennial Cup Top Goaltender
Centennial Cup Most Valuable Player
Parkland Source for Sports Three Stars of the Week - First Star
Team Accomplishments:
41 regular-season wins, second-most in the league
West Division Champions
MJHL Champions
Top four finish at Centennial Cup
Second fewest goals allowed in the regular season
Carson is eligible to return for the 2022-23 season.
"We had a super good season this year, I'm really proud of what we accomplished," said Cherepak. "There is one thing; however, that we didn't check off and that's winning the Centennial Cup. There is a lot to work to be done and more to be accomplished."
Details

Contributed by

Darnell Duff
Eric Prokopowich is all golf during the summer months as he hits the links at least five times per week. This past winter, he also had the opportunity to be all golf as he was a part of Golf Manitoba's development team.
This allowed him to take part in training with Golf Manitoba members at the Golf Dome throughout the winter which included lessons all in hopes of keeping his swing fresh and ready for the season which has now arrived.
"I'm feeling pretty good about how I'm swinging it right now," said Prokopowich. "I know the scores haven't necessarily shown it yet but I am battling and I know they will come."
Playing in the Maple Leaf Junior Golf Tour's Manitoba season opener at the St. Boniface Golf Club earlier this month, Eric posted a two-round score of 158 to finish in third place in the junior division, six strokes behind Noah Fiks who took the top spot.
Back at it last week, Prokopowich took part in Golf Manitoba's match play qualifier in Carman as he vied for a spot in the 32-man elimination bracket. Opening his round with a five-over 40 on the front 9, the Dauphinite knew he had to step it up on the back and that's exactly what he did. Despite a double-bogey and one other bogey on the back, Prokopowich also knocked down a birdie on the par 5, 14th hole to shoot a 78 on the back half.
His 7-over 78 finished him in 16th place and that puts him up against the 17th seeded William Hudson in Thursday's round of 32.
"It's an awesome feeling to get the spot in the last 32," said Prokopowich. "I'm pretty pleased that I was able to get the job done."
Eric says his goal is to take it one shot at a time and one match at a time.
"It's match play so that allows me to be aggressive and I'll be going for as many birdies as possible," ended Prokopowich.
Details

Contributed by

Darnell Duff