Latest Sports
The Parkland U18 Rangers played two tight affairs with the Eastman Selects this weekend; however, they won't come out of the two days with any points.
After dropping a 4-3 game on Saturday, the Rangers fell 5-3 to Eastman on Sunday afternoon. Jayce Legaarden opened the scoring on Sunday to give Parkland a 1-0 lead. But, the Selects scored three straight goals to take a 3-1 lead. The two clubs traded goals in the second and third scoring once each and that was it.
Brenden Birch-Hayden turned away 29 shots. On Saturday, Birch-Hayden made 37 saves and played sensational but Eastman scored with less than 60 seconds left in the game to steal at least a point from Parkland.
Parkland is now 16-11-3 and they're tied for fifth in the league. Eastman; meanwhile, is 22-4-3 and they're just six points behind Brandon for first place in the league. The Rangers welcome the Winnipeg Bruins to town for a pair of games next weekend on Friday and Saturday.
Details

Contributed by

Darnell Duff
The Parkland U15 Rangers returned from their two-week break with a win.
The club opened their weekend with a thrilling 5-4 overtime win against the Winnipeg Wild Gold.
Tavyn Boychuk scored twice to lead Parkland while Isaac Tomchak, Jaxon Bodnar and Ryan Gower also scored for the Rangers in the win.
Details

Contributed by

Darnell Duff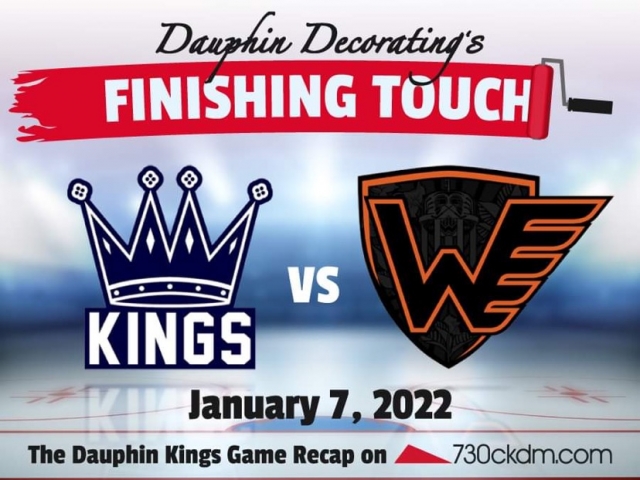 The Dauphin kings nearly made comebacks down from three goals on multiple occasions last night, but they couldn't quite get it done.
Opening 2022 on home ice, the team dropped a 6-4 contest against the Flyers.
Dauphin fell down 3-0 early before Colby Jaquet and Klim Georgiev scored back to back to cut the deficit to one. But Winkler would then strike with two straight to take a 5-2 lead.
Nick Braun and Slade Stanick would bring Dauphin within a goal; however, that's as close as they would get as Winkler scored into an empty net to secure the win.
Dauphin is still 23-8 and lead the West by four points.
The two teams will hit the ice again on Sunday afternoon in Winkler.
Details

Contributed by

Darnell Duff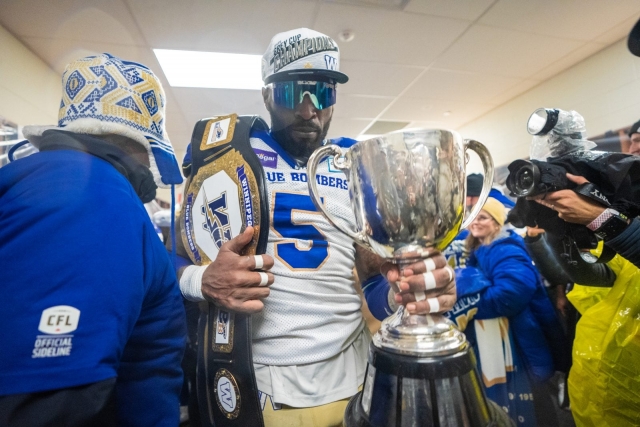 The Winnipeg Blue Bombers have signed all-star defensive end Willie Jefferson to a contract extension.
Jefferson won the league's outstanding defensive player award in 2019 and was an all-star again in 2021 after recording seven sacks, 18 tackles and two interceptions.
Jefferson has been part of three Grey Cup champion teams, 2015 in Edmonton and 2019 and 2021 in Winnipeg.
Details

Contributed by

Darnell Duff
For the first time since dispatching of the Selkirk Steelers on December 18 to wrap up 2021, the Dauphin Kings will play inside of Credit Union Place.
Dauphin opens their 2022 schedule against the Winkler Flyers who come into the contest in a tie for second in the East Division alongside the Winnipeg Blues.
Dauphin; meanwhile, is in first place in the West Division and has a four-point lead over Waywayseecappo. Both teams returned to practice earlier this week and with the deadline just a few days away, the Flyers have been active.
Earlier this week, they acquired Troy Hamilton from the Weyburn Red Wings of the Saskatchewan Junior Hockey League. He had 13 goals to start the season with Waywayseecappo and had another five with the Red Wings. They also acquired Nick Dobson from Winkler. Dauphin has yet to make a trade but as mentioned, there are still a few days until the deadline is here.
Friday's game is the first of two between the two clubs this season as they will meet back in Winkler on Sunday afternoon. Two years ago when these two teams met in Winkler, the Flyers goaltender squared off with Avery Smith.
Dauphin enters the game with three wins in their last four contests while Winkler has also won three of their last four games.
"They're a heavy team and they have some top-end talent," said Doug Hedley, head coach and general manager. "We're going to have to be defensively aware and we have to be on our A-game to have success."
By the numbers:
Dauphin
GA - 118
GA - 66
PP% - 26.4
PK% - 86.9
Home record - 12-3
Leaders - Kaden Bryant 20g, 17a
Colby Jaquet 6g, 28a
Brayden Dube 15g, 12a
=====
Winkler
GA - 106
GA - 92
PP% - 24.6
PK% - 82.8
Road record - 5-8-1-1
Leaders - Justin Svenson 18g, 26a
Jayden McCarthy 18g, 23a
Trent Sambrook 5g, 27a
Details

Contributed by

Darnell Duff
Jayden Jubenvill is just one year removed from playing AAA hockey with the Parkland Rangers and now, he's making a significant impact at the next level as his junior career is well underway.
Jayden has suited up in 29 of the team's 30 games this season and he has four goals and 15 assists. Growing up in Gilbert Plains, Jubenvill often found himself inside Credit Union Place watching Kings games and now that he gets the chance to play for the team, it's a special feeling.
"It's really a dream come true for me," said Jubenvill. "It's a great feeling to finally wear the jersey and represent this organization."
As Dauphin prepares for a home-and-home against the Winkler Flyers starting on Friday night, Jubenvill is coming off a red-hot December. He scored twice and added three assists in just six games and thanks to his success, he was named the league's rookie of the month. Jubenvill scored in both games during the final weekend of 2021 against the Selkirk Steelers, scoring once in Selkirk and once the following night as well.
"It's a great award to win and it's nice to see all of my hard work paying off," said Jubenvill. "With that said, it wouldn't happen without my teammates and coaches pushing me every single day."
Your next chance to see Jayden in action is Friday night. However; do keep in mind, you must be a season ticket holder to gain entry into Credit Union Place and the first 250 will be allowed in.
Get to know Jayden:
What's your favourite hockey memory?
Winning the provincials was pretty special
Favourite MJHL arena to play in other than Credit Union Place?
Tundra Oil & Gas Place in Virden has sort of the same feel in Dauphin so I enjoy it
Least favourite arena to play in?
Roy H. Johnston Arena but we don't play there again, we'll play OCN at their regular rink
What's your favourite moment this season?
Winning that game in overtime against Portage, such a great team win
Stay tuned for the Kings Power Play Show to hear Jayden's chat with Darnell Duff.
Details

Contributed by

Darnell Duff
The Dauphin Clippers hockey team finished 2021 with nine wins in the first couple months of the season and now, they're back on the ice to begin 2022.
The team hits the road for the first time in the new year as they take on the Virden Golden Bears Wednesday night at Tundra Oil & Gas Place. The Clippers lost four times in regulation while they fell in a shootout twice and also in overtime twice. After playing just one game last year, a win against Crocus Plains, there is certainly a lot to be excited about heading into 2022 for the Clippers.
Virden has struggled this season going 5-14 and Jason Alf had this to say on the first half of the season heading into Wednesday.
"We played well in some games that we should have won that we didn't and poorly in games that we won that we probably shouldn't have," said Alf. "We're still trying to put everything together. It was tough last year with missing basically an entire year. We have a brand new team and they're still learning how to win and hold on to leads."
Alf also said there is no quit in this year's team and the coaching staff is very proud.
After starting the season with the Parkland U18 Rangers, Cole Delamare has led the Clippers offensively, scoring seven times and adding 13 assists. Logan Chapman; meanwhile, has the most goals on the team with 11 and he's second in team scoring with his 18 points. 17 Clippers have scored this season which shows the depth of this year's roster and in net, Owen Chubka has started 10 games while Cody Coombs has started eight games.
In their last game before Christmas, Trayden Guiboche and Matthew Zurba scored a goal each in a 5-2 loss against the Neepawa Tigers and after a sizeable break, Alf says the team is ready for a Golden Bears challenge.
"We're hoping to get a rhythm here as soon as possible," said Alf. "The break is always a good thing for everyone to recharge, but it's time to get back to business here, it's going to be a busy rest of the season."
Details

Contributed by

Darnell Duff
Manitoba Junior Hockey League action is back at the Yellowhead Centre on Tuesday night as the Neepawa Titans open up the second half of the season on home ice against the Selkirk Steelers.
The Steelers roster looks quite different than it did just a few days ago as they have gone into selling mode ahead of the trade deadline. They dealt Eric Krywy to Waywayseecappo and Ryan Ostermann to the Winnipeg Blues. The Titans; meanwhile, have been quiet with one week until the deadline.
It'll be Selkirk's first game since dropping their final game of 2021 against the Kings while Neepawa won their last game of 2021 against the Winnipeg Freeze, 5-2. Jaegar Lapointe says the group is ready to go after a much-deserved Christmas break.
"We went over some videos and everyone is ready to go," said Lapointe. "Everyone is really excited, we know Selkirk will be tough even with them making some trades."
Neepawa has spent time outside of the top four in the West Division and they have also spent time inside the top 4 and entering Tuesday's game, they are on the inside. At 11-13-2-4, the Titans are fourth in the division and they're only two points back of Virden for third. The top four teams in each division make the playoffs. Two points on Tuesday night could go a long way in Neepawa creating some space for themselves as the push for a playoff spot amplifies with just more than two months left in the regular season.
"It's been up and down all season but we really put together our best hockey of the year down the stretch before Christmas," said Lapointe. "We just have to build off that and keep it going here, it's always harder to win games after Christmas."
The Ste. Rose native who has played all of his junior action with Neepawa is well on his way to putting up a career-high in points. With 15 goals and eight assists, Lapointe's 23 points are just two fewer than his current career high which he posted in the 2019-20 season with 25 points. He's currently tied for fourth in team scoring but Lapointe knows he has a lot more to offer.
"I'm going to show that I can do a lot more, I think I should have done a lot better in the first half," said Lapointe. "I want to lead this team, we have a great group of guys and I want to lead them."
Details

Contributed by

Darnell Duff
Another Dauphin King has been recognized by the league with their month-end awards.
Just days away from beginning their second half, the rookie from Gilbert Plains has been named the league's rookie of the month for December.
Jayden scored twice and had three assists in six games last month as he now has four goals and 15 assists this season.
Jubenvill and the Kings welcome the Winkler Flyers to Credit Union Place on Friday night.
Details

Contributed by

Darnell Duff
Dauphin Kings hockey returns to Credit Union Place on Friday and when it does, only a select amount of season ticket holders will be allowed in the building.
The first 250 season ticket holders at the door will be allowed to enter the arena to watch the game.
Flex pack holders and the general public won't be allowed to attend Friday's game. The doors will open at 6:45.
The changes are being made due to the current Public Health Orders.
Details

Contributed by

Darnell Duff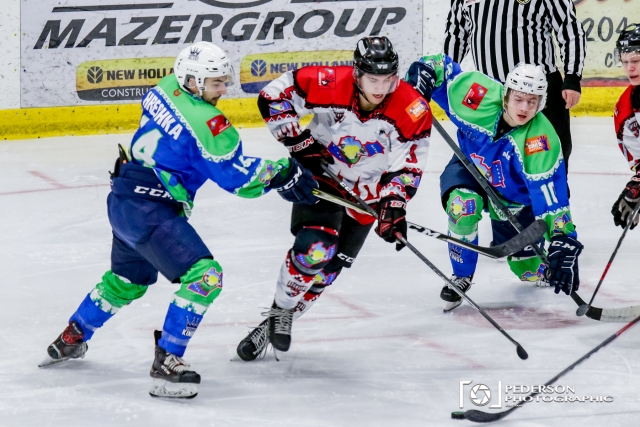 2022 is here and the Dauphin Kings will look to keep it going this weekend when their unofficial second half of the season begins.
On Friday, the team welcomes the Winkler Flyers to Credit Union Place. Within the next couple of days, the organization will unveil their new rules at home games. Only 250 people are permitted to be in the facility during the game.
Dauphin will then make their way to Winkler for a rematch on Sunday. Dauphin is 23-7 entering the weekend.
The U18 Rangers; meanwhile, are on home ice for a pair of games. They'll welcome Eastman to town on Saturday and Sunday.
They have won 10 of their last 12 games.
Details

Contributed by

Darnell Duff