Latest Sports
The Ste. Rose Royals Novice hockey team was victorious over the weekend. They played in the McCreary Mustangs Novice tournament and they ended up winning the gold medal.
In the A-side finals, they beat McCreary, 10-8, in a high scoring affair.
Here are the scores prior to the finals.
Erickson-Onanole-Shoal Lake beat Rivers, 11-4. (B-side final).
Erickson-Onanole-Shoal Lake beat McCreary, 6-5.
Ste. Rose beat Rivers, 7-6, in a shootout.
McCreary beat Roblin, 10-6.
Ste. Rose beat Erickson-Onanole-Shoal Lake, 11-5.
Rivers beat Roblin, 8-7, in a shootout.
Details

Contributed by

Darnell Duff
Two curlers who have had a ton of success in the curling world inside the Parkland, across the province and even across Canada in the past couple of years will get another chance to keep things rolling.
Gilbert Plains Gracey Gulak and McCreary's Jaycee Terrick are heading back to the U18 Provincial Championships. The Parkland duo is playing on Team Lukowich and they earned their berth at a qualifier over the weekend.
They won their first two games before they dropped their first chance at getting a spot in a 6-3 loss against Team Walter. They would then respond, however, in their next game against Team Tober as they clinched their spot to the big dance with an 8-3 win.
"It was a pretty good feeling, that's for sure," said Gulak. "Our first goal was making the playoffs which we did, then our next goal was getting a berth. We achieved both of those goals so it means a lot to us and we're really excited."
The provincials are set for March 4-8 in Minnedosa. That's when 12 of the best women's teams in the province, including Gulak, Terrick, and the rest of Team Lukowich will compete for a spot at the nationals.
"I'm really excited, it's my fourth year taking part in this so I'm looking forward to it," said Gulak.
The foursome came together just this year. Gulak and Terrick played on Team Jensen for the past couple of years and they enjoyed incredible success by winning the past two provincial titles. That means Gulak and Terrick have played in the nationals for the past two seasons and now, they have a chance to make it a third time in a row.
"Our goal to start is just to make the playoffs and we'll go from there," said Gulak.
Based on last year's event, four teams make the page playoff. A 3-2 record was enough for a tie-breaker game last year.
Although this year's team may be a new one, the ladies are certainly meshing together well and they're off to a great start.
"I think our team is working well together," concluded Gulak. "Our practices are going well and we definitely have some good chemistry."
Details

Contributed by

Darnell Duff
The Parkland Source for Sports Novice Dauphin Dynamite won a banner of the weekend.
Playing in the Grandview tournament, the team beat Grand Plains 1, 7-3, in the B-Side final.
Details

Contributed by

Darnell Duff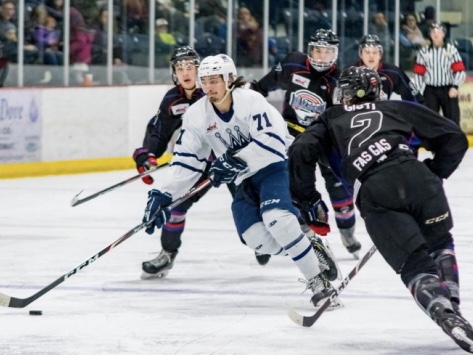 The Dauphin Kings will look to make it wins in two straight tonight when they hit the ice.
For the second time in less than a week, the club heads up north to play the OCN Blizzard.
OCN beat Dauphin last week, however, both rosters look different. OCN dealt Darren Gisti and Ryan Butler who was the team leader in scoring.
Dauphin, meanwhile, added Levi Mitchell, Colby Jaquet, and Kaden Bryant, all of which will be playing their second game.
The Kings have also added Bryson Cecconi and he's expected to make his debut this evening at the Gordon Lathlin.
Tonight is also Dauphin's first chance to win their 20th game of the season and they can move within three points of sixth place if they do so.
Darnell Duff has the pregame show beginning at 6:45.
Details

Contributed by

Darnell Duff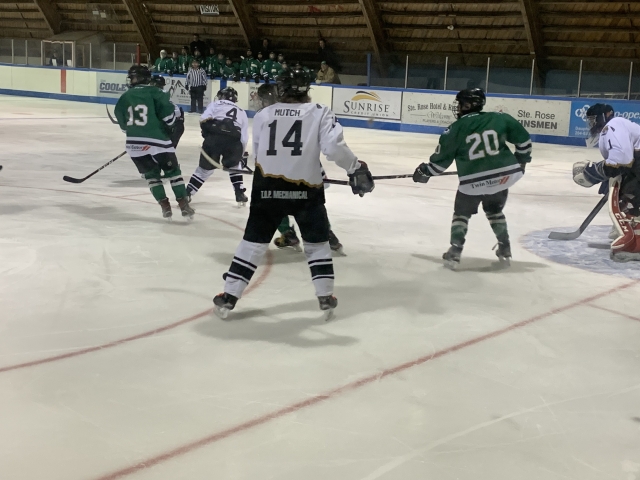 Brayden Broome scored twice to lead the Dauphin Clippers in a 9-1 win against the McCreary Mountaineers.
The game was Dauphin's first regular season matchup of 2020.
Seth Masson, Logan Storey, Cohen Smigelsky, Craig Allard, Parker Boguski, Ashton Hlady, and Craig Allard all added singles in the big win.
Dauphin is now 13-1-1-1 and they'll welcome Roblin to Credit Union Place on Thursday at 7:30.
Details

Contributed by

Darnell Duff
Many young hockey stars from around the Parkland took over the Grandview Arena over the weekend.
The Novice Tournament took place and Team Grand Plains #2 picked up silver medals.
They battled hard against Russell in the finals before they came up short.
Details

Contributed by

Darnell Duff
The CJHL Trade Deadline was last Friday and the Dauphin Kings made some additions to their roster through trades. One of the additions was 20-year-old goaltender Levi Mitchell. He started the season with the Selkirk Steelers where he would play 31 games.
Levi also played 21 games with Selkirk last season.
"I loved playing for Selkirk. I had a great opportunity to play a lot of games with them," said Mitchell. "We had a great group of guys and it was always a fun time in the dressing room."
Levi would then pack his bags and he was City of Sunshine bound to join his new team in his final junior hockey season.
Mitchell made his debut with the club last night against the Virden Oil Capitals and what a game he had. He ended up making 39 saves as the Kings took down the red-hot Oil Capitals, 5-2. Many of the saves were highlight-reel saves as he propelled the Kings to victory while Kaden Bryant, who also made his debut last night, led the way offensively with two goals.
Mitchell is no stranger to great performances when a game involves the Kings. Back on November 15, he made 29 saves to help Selkirk beat Dauphin, 3-1. On December 17, Mitchell made 33 saves as Selkirk took down Dauphin. Prior to both of those games, Levi made 26 saves in a 5-0 win for Selkirk over Dauphin earlier this season.
All in all, that was against the Kings and now he's hopes to help Dauphin win games and he sure did on Sunday night in Virden.
"Things went great, we played a full 60 minutes and our defenders made the job easier on me," said Mitchell. "Our offence also got going, it was a solid effort and a big win for us."
Levi has only spent a few days now in Dauphin, but he has enjoyed every single minute of it.
"I love the organization, it's been a great time so far," said Mitchell. "Right off the hop, everyone has been so welcoming and I'm living in a beautiful house with great people just outside of town."
Mitchell and the rest of the Kings are right back in action tomorrow as they take on the OCN Blizzard at the Gordon Lathlin Memorial Centre. Dauphin dropped a 3-1 decision against them last week; however, tomorrow's team is different than what OCN saw last week.
With two points tomorrow, Mitchell and the rest of the team could move within three points of sixth place and four points of fifth place. Moving forward into March, the top four teams will get home-ice advantage for a minimum of the first round of the playoffs.
Mitchell has now racked up 13 wins this season and he owns a .909 save percentage. That save percentage is the third-highest of active goalies in the Manitoba Junior Hockey League, only behind Matt Lenz of Steinbach and Mikael Foucher of Swan Valley.
Dauphin is 2-2 against OCN this season and they're 8-2 in their last 10 regular-season meetings.
"I have a ton of confidence in this team," concluded Mitchell. "Once I was told I was coming to Dauphin, I knew we had a great lineup. With the pieces that were added and the pieces that are already here, it's great. With the way the organization is run, I would say we have a good chance of making a deep playoff push."
Dauphin's one other game this week comes on Friday against the Portage Terriers at Credit Union Place. That is the team's final game for a week. Eight Dauphin players will represent the team at the MJHL/SJHL Showcase in Regina later this month.
Get to know Levi:
Best warmup music in the MJHL? I'd have to say, Dauphin. I've played a few games here and I really like the music here.
Favourite NHL team? Edmonton Oilers.
Favourite professional athlete? John Gibson of the Anaheim Ducks. I really like how he plays.
Favourite pre-game meal? Anything pasta, spaghetti or fettucini, whatever it is.
Do you have any pre-game rituals? I like to end off on a save in the morning skate and I'll have a nap during the day. There really isn't anything crazy about it, I think about some things, but that's about it.
Hometown? Olds, Alberta.
You can hear my full interview with Levi during the Dauphin Kings broadcast tomorrow right here on 730CKDM. It'll play during the first intermission with the Voice of the Kings, Darnell Duff.
Details

Contributed by

Darnell Duff
When the puck drops on the MJHL/SJHL Showcase in Regina later this month, the Dauphin Kings will be very well represented.
Eight players from the Kings have been announced and five will play on Team Zajac's 20U roster.
Team Zajac 20U (White):
Brayden Pawluk - 3G, 19A this season.
Carter Sawchuk - 16G, 14A this season.
Baron Thompson - 19G, 25A this season.
Nakodan Greyeyes - 17G, 35A this season.
Grady Hobbs - 27G, 29A this season.
Team Garbutt 18U (Black):
Colby Jaquet - 4G, 17A this season.
Austin Lamotte - 10G, 27A this season.
Team Belfour 20U (Red):
Cole DeKoninck - 16G, 27A this season.
Riley Ferster will also represent the Kings at the event.
Each team will play two games against teams from the Saskatchewan Junior Hockey League. The action begins on Tuesday, January 21 and it runs until Wednesday, January 22 at the Co-operators Centre in Regina.
Details

Contributed by

Darnell Duff
The Dauphin Kings play two games this week and they've bulked up their offence ahead of that action.
The team has added Bryson Cecconi to their roster for the remainder of the season. He was included in a trade with Portage earlier this season that saw the team deal Koby Morrisseau to Portage.
Cecconi had 25 points in 25 games with the SJHL's Humboldt Broncos to begin this season before he played four games with Portage.
Bryson is expected to make his Kings debut tomorrow night when Dauphin plays the OCN Blizzard. Darnell Duff will have the pregame show beginning at 6:45 p.m.
Details

Contributed by

Darnell Duff
It was a weekend full of wins for the Swan Valley Peewee A Stampeders.
They played in a Tournament of Champions event in Minnedosa and they went back to Swan River with a title.
The team went a perfect 5-0, which included a 4-3 win against the McCreary Mustangs in the final.
Swan Valley also beat McCreary in the round-robin and they also took down Killarney, Carberry, and Dauphin in the semifinals.
Over the course of their five games, Swan Valley scored 26 goals and they only gave up 14.
Details

Contributed by

Darnell Duff
It was a weekend full of team accolades and individual accolades for the Dauphin Super 8 Bantam Kings.
Playing in the Tournament of Champions event in Souris, the Kings beat a team from the Southwest region of the province, 4-1. The winning goal was scored by Braydyn Tkachuk and it was assisted by Matthew Zurba.
Zurba would also score a goal in the game as the Kings skated to victory against some of the best teams in the province.
"It was a great weekend for us. We played really well offensively and we worked hard," said Zurba. "The season has been going well, we've won a lot and we're playing well together."
On the individual side, Zurba was recognized after his one goal, one assist performance in the final. He had a solid event overall and because of it; he was named as one of the six Tournament All-Stars.
"That's a really nice feeling, I'm glad I was able to help the team win," said Zurba. "It's pretty special to me and I'm really happy about it."
"I didn't even know there was going to be some all-star selections, so it was pretty cool, I didn't expect it," he added.
Zurba wasn't the only member of the team that received the accolade. Braydyn Tkachuk and Oliver Dandeneau were also named all-stars after the event.
"I was really proud of Oliver and Braydyn as well that they were named all-stars, we were all excited," added Zurba.
Matthew and the rest of the team will now take part in another Tournament of Champions next month after winning this title.
In the end, Zurba has had a lot of fun and success this season playing with this team. However, it's not the only team he's had success with.
He was an "AP" call up for the Dauphin Clippers late last month and he scored a goal in the game. It's a tradition that the Clippers give out a hard hat with their logo on it after a win to the Player of the Game.
After that game, the Dauphinite was named the Player of the Game in a 5-2 win against Minnedosa-Erickson.
"That was really nice coming from all of the players and coaches," he concluded. "I felt really special and I'm looking forward to getting the chance to play with them more in the future."
Details

Contributed by

Darnell Duff