Latest Sports
The Dauphin Clippers hockey team lost their first game of the season last night, but they still earned a point.
Playing against Killarney, the team dropped a 3-2 shootout game.
Dauphin heads to Carberry on Friday for a game against Glenboro.
Details

Contributed by

Darnell Duff
The Mackenzie Middle School grade 7 girls volleyball team ended their season with a solid performance at the divisionals yesterday.
The team won all three of their round-robin matches. The Magic then went on to win their quarterfinal and semifinal. Through the semifinals, the team lost just one set.
In the finals, the ladies came up short against Gilbert Plains who claimed the title.
Details

Contributed by

Darnell Duff
Six Winnipeg Blue Bombers have been named to division all-star teams as the league has released the list.
Andrew Harris, Stanley Brant, Willie Jefferson, Winston Rose, Marcus Sayles, and Mike Miller have been named to the West squad.
Harris earned the honour for the sixth time in his career and for a fourth straight year since joining the team in 2016. He led the league in rushing for the third straight season with 1380 yards and four touchdowns.
Bryant hasn't missed a single game since joining the team in 2016. He anchors the left side of a line that was against the engine for the top rushing team and an offence that finished tied for second in points scored.
Jefferson set a new CFL record for pass knockdowns by a defensive lineman with 16. He also led the league with six forced fumbles and he topped the Bombers with 12 sacks.
Rose led the league with nine interceptions, the most by a Bomber since Less Browne in 1991 when he had 10.
Sayles finished with 66 tackles and he added three interceptions, three forced fumbles, and two fumble recoveries.
Miller had 25 special teams tackles, second in the league to Toronto's Frank Beltre who had 27. Miller also has 185 special teams tackles in his career, the second-most ever.

Details

Contributed by

Darnell Duff
The Gilbert Plains Mustangs grade 7 girls volleyball team won their division title yesterday.
They beat the Mackenzie Middle School Magic in the final, 25-12, 25-12.
Boys:
On Monday, the grade 7 boys team beat Mackenzie Middle School in three sets to win their divisional title.
Varsity Girls:
In other Gilbert Plains volleyball action, it was a great day for the Trojans varsity girls team.
They started things off with a 25,23 and 25-12 win against Grandview. In their second game, they swept the Alonsa Aces, 25-12, 25-9. They next swept the Ste. Rose Celtics, 25-12, 25-14.
In the finals, the ladies beat Grandview, 25-12, 25-12.
Details

Contributed by

Darnell Duff
The Yorkton Terriers made quite the splash across the Saskatchewan Junior Hockey League last year when they made the league semifinal. To do so, they beat the top-ranked Nipawin Hawks in the quarterfinals in seven games.
Ryan Ouellette made 37 saves in that game to help the Terriers' move on. They ended up dropping their semifinal series to the Battlefords North Stars, who ended up winning the league.
After starting the season in the NAHL with the Minnesota Wilderness, Oullette is back with the Terriers and he's been fantastic this year with a 1.77 G.A.A and a .955 save percentage.
Several other Terrier plays from last year's team also returned to the club this year including their leading scorer, Chantz Petruic. The Moose Jaw native had 84 points last season (32G) in just 56 regular-season games to finish fourth in league scoring. He also had another 11 playoff points (5G) in 14 games.
This year, the Terriers are 11-9-1. That has them with 23 points and atop the Viterra Division by six points over the Weyburn Red Wings.
"Things have been going good. We had a really slow start, but we've added a few pieces and the motive in the room is to win a title," said Petruic. "Just about every team is going to go through a slump throughout the year so it was better that it happened to us earlier rather than later."
"Now that the slump is over, we can just worry about moving forward and winning some games," he continued.
The team finished with a 31-26-1 regular-season record last year. After the win against Nipawin in the playoffs, the club couldn't really ever get it going against Battlefords as they were shutout twice. However, this year's club offers up a few stars. Behind Petruic is where you'll find Jordan Guiney and his 21 points.
The team has also acquired Alec Zawatsky and he has 19 points (9G) in just 16 games. Zawatsky came to the team with 107 games of WHL experience where he scored 17 goals.
"We have good depth this year. We were a good team last year, but I don't think we had the scoring depth that we do this season," continued Petruic. "We're all buying in right now, sticking with systems and it seems to be working right now."
Petruic, who played 55 games with his hometown Moose Jaw Warriors has certainly been the main contributor to the team's success. He's played in all 21 games and he already has 43 points. That's nine more than any other player in the league. The incredible start to the season includes averaging 2.05 points per game. The next closest skater that has played regularly is Flin Flon's Alec Malo who's averaging 1.74 points per game.
Chantz has five power-play goals and 21 overall goals. The 21 tallies are four more than any other skater.
Last year's 84 points were his career-high. This year, Petruic is on pace to smash that with still two-thirds of a season left.
"I really tried to emphasize this summer to be the best player I could be and I took care of my body," said Petruic. "It's a good feeling to see the results. My linemates have also been fantastic, they've really helped me succeed. It's been really fun and I just need to keep it going to help this team win games."
"I've always been hard on myself since probably my first year in midget, I take a lot of pride in my game," he continued. "I like to be that go to guy. The team relies on me in certain situations and I like that feeling. I'll do whatever the coach asks me to do and I'll follow my strong suit and if I do that, then success will follow."
Being 20-years-old, this year is Chantz' last year as a junior hockey player. The goal, for now, is to win a championship with Yorkton, but the goal moving forward is to play at the next level.
"I've been in contact with a few teams around," added Petruic. "It's kind of fun to think about what could happen moving forward. I want to play post-secondary, where that is I don't know, but we'll see."
"For now, I'm just playing hockey here in Yorkton and pushing to win the league," he concluded.
Details

Contributed by

Darnell Duff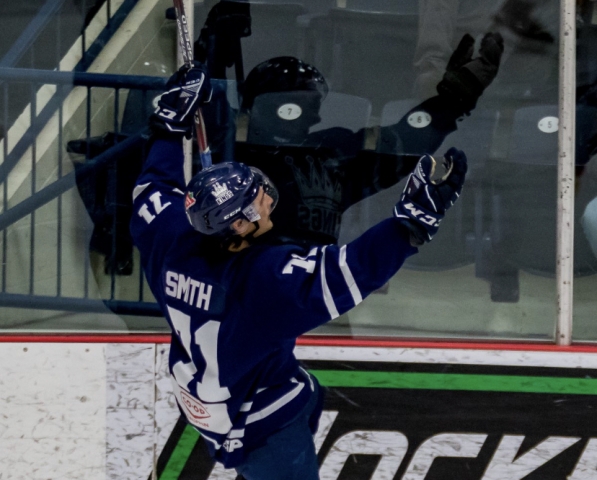 The Dauphin Kings point streak was extended to eight games this evening inside of Credit Union Place.
However, Dauphin's extra time struggles continued. In a game where they came back from a 3-1 third period deficit, the Kings dropped a 4-3 game in overtime.
11:11 into the first, Grady Hobbs went coast-to-coast and potted a puck past Thomson Phinney as Dauphin went up 1-0. Nakodan Greyeyes and Baron Thompson earned the assists.
Wayway would tie the game up late in the second and they scored two quick goals early in the third to take a 3-1 lead.
Trailing by those two goals, the Kings went to work.
At the 10:30 mark, Grady Hobbs scored his second goal of the game and just 38 seconds later, Avery Smith tied the game off a turnover.
In overtime, Conrad Phillips would beat Matthias Smith to give Wayway the extra point.
Dauphin has lost three games that went past regulation in the last week.
They're now 8-6-2-2 on the season.
The team is back in action this weekend against Winkler and Steinbach.
Details

Contributed by

Darnell Duff
Dauphin's Mya Kubrakovich has made the jump up in her hockey career this season. The 14-year-old is playing with the Yellowhead Chiefs Midget team. They play in the Manitoba Midget Female Hockey League.
So far, the team has gone 6-6 as they prepare for a busy November. The team practices every Tuesday throughout the month on the ice and on Thursdays, the team has dryland training.
They're heading to Faribault, Minnesota for four games this weekend. They will also play four other games.
"Things are going great in my first year with the team," said Kubrakovich. "I think I'm keeping up with the girls and I'm fitting right in. The coaching has been amazing and the girls are really supporting me. My family has always supported me as well, it's been a great season."
Up until this year, Mya has played all of her hockey in Dauphin with athletes her age or sometimes even younger. This year, however, that's not the case. Playing at the midget level means she's playing with players that are nearly four years older than her. However, she's not letting that affect her at all.
"My first game I was really nervous, but then I just started playing my own game," she continued. "I work really hard at practice to make sure I stay at this level and I think I'm doing a good job here."
Offensively, Mya has been one of the main contributors. She already has seven points this season which has her sixth in team scoring.
"I'm happy with how I'm playing right now. For me, points are just points, I just want to help this team win," said Kubrakovich. "If I'm not scoring, I don't let it get me down, it's all about doing whatever it takes to help this team win."
"I just want to try my best and give it my all every time I get on the ice," he continued. "Travelling with this team and spending a lot of time with the girls has been fantastic. I'm making a lot of memories and a lot of new friends, I love it."
The team is coming off a 3-2 loss against the Winnipeg Avros. This weekend as mentioned before, they play four games at a Showcase in Minnesota. They play the MN Ice Cougars, SSM Prep, Team Wisconsin, and the Pilot Mound Buffalos.
The teams regular-season wraps up on February 9 against the SNOW.
"We're really strong this season and I think we're going to do pretty good in playoffs," concluded Kubrakovich. "We're a young team and we're all still learning. We'll make mistakes, but I know we'll work hard through them."
Details

Contributed by

Darnell Duff
Breken Brezden may only be 13-years-old, but she isn't getting the chance to compete against figure skaters her own age.
The Dauphinite moved up to the Novice age group for this season and the group is for girls aged 17 and under. That means at times, Breken is competing against girls multiple years older than her, but it's sure not affecting how good she's doing.
Taking part in the Skate Canada Manitoba Provincial Championships over the weekend, Brezden finished in first place in her event. She finished higher than nine other skaters with her 92.14 points to finish on top of the podium.
Brezden finished with 30.23 points in her short program which put her in third place. In her free skate, Breken finished more than three points higher than any skater and because of it, she earned the gold medal.
"It was great, it was a bit unexpected. I just moved up to this category this season, so I wasn't sure how I would do," said Brezden. "It just shows that all of the work I put in and all of the hours in the car paid off."
"I'm also really thankful for my parents because they drive me everywhere and support me, and my coach, of course, I couldn't do it without them," continued Brezden.
Despite it being her first provincial championship at the Novice age group, Brezden was feeling fantastic heading in.
"Last provincials I was super nervous, but I knew I was going to nail it this time," continued Brezden. "I wasn't nervous at all, I knew what I can do, I knew I would do what I did."
Just a couple of weeks ago, Breken started landing a double axle. She then performed it over the weekend and pulled it off.
"I knew that would give me a better shot at pulling off the 31 points to get to the technical mark that you need to take part in the Skate Challenge," continued Brezden.
Fresh off the gold medal, Brezden will be competing again later this month. She'll be heading to Edmonton for the 2020 Skate Canada Challenge from November 27-December 1. The event welcomes all of the best figure skaters from across the country.
In the novice division, Breken will be joined by Annika Duguay from Carberry and Chanel Cabak from Portage La Prairie.
"I have quite a bit of confidence heading to Edmonton, but I know I can't be too confident," said Brezden. "I know that there is a possibility I could make a mistake and I made some last year at this event. I just want to stay calm this year and do the things that I know I can."
Details

Contributed by

Darnell Duff
The Dauphin Kings are back at Credit Union Place as they open up a three-game homestand this evening. Dauphin last hit the ice 48 hours ago when they beat the OCN Blizzard, 8-3.
Waywayseecappo, meanwhile, last played on Halloween when they lost 8-2 against OCN.
The Kings have been on a roll for quite a while now. After starting the season at 1-5-0-1, they are now 8-6-1-2 and that includes a 7-1-1-2 mark in their last 11 games. With their 19 points, Dauphin continues to move closer to the top of the standings. Right now, they're four points behind the Wolverines who sit in fourth place.
After a 4-for-5 performance on Sunday on the power play, Dauphin's now second in the league at 27.3% while their penalty kill is at 78.7%.
Nakodan Greyeyes enters the game with 28 points which is the most in the league while Baron Thompson is in second with 27 points.
Tonight's game is the first of three straight on the road for Wayway. They play this weekend against Winnipeg and Portage. Conrad Phillips leads Wayway with 16 points. On the power play, they're 18.4%.
It's also TV Tuesday down at the rink. That means if you buy a 50/50, you can win a free 43" HDTV.
Details

Contributed by

Darnell Duff
Baron Thompson of the Dauphin Kings has once again been named a Star of the Week as the league released the Top 3 earlier today.
Thompson had six goals and three assists last week for Dauphin. Thompson now has 13 goals in 14 games and he's added 14 assists. He's second in league scoring with 27 points, one behind Nakodan Greyeyes.
Mattias Dal Monte of the Swan Valley Stampeders also was solid last week and he's earned a spot in the Top 3. He had four goals and four assists last week. Riley Bruce rounds out the Top 3. He also had eight points last week.
Details

Contributed by

Darnell Duff
The Parkland Bantam Rangers have put together a very strong start to their season. Playing in the West Division of the province-wide AAA league, Parkland is 7-2.
The 14 points have them in the top spot, two ahead of the Yellowhead Chiefs. Parkland has also scored 60 goals which are 14 more than Yellowhead who has played two more games.
The Rangers also won three games when they went to Regina a couple of weeks back. The team has several second-year players, one of which is Russell's Aiden Ziprick. Aiden also played on the team last year.
If you combine the city teams in the AAA league as well, only two teams have more points than Parkland, that being the Warriors and Selects.
"I feel like we've had a really good season so far, we just have to continue playing like we are right now," said Ziprick. "We're pushing to win a provincial championship this season."
"We're working really hard in practices and that's translating to success in our games," he continued.
Ziprick and the rest of the club returned home this past weekend for their first two home games. On Friday, they came back to beat the Winnipeg Sharks in Roblin. On Saturday, they called Credit Union Place home and they held off the Pembina Valley Hawks.
Parkland played the first full month of the season on the road.
"It was awesome playing in front of family and friends, it's a great feeling," said Ziprick.
Ziprick has also been a main contributor to the team's success this season. He already has 14 points. That's tied for third-most on the team with Carter Zalischuk. Ziprick had just five points last season, so he's already enjoying a career year and he doesn't plan on stopping anytime soon.
"I'm very happy with how I've been playing and how many points I've produced so far," continued Ziprick. "With that said, I don't really care about the points, I just want to keep improving my game and I want to help this team win."
"I've gotten bigger and I'm playing with more confidence and that's helping me," he added.
The Rangers have also named their leadership group for the remainder of the season. On top as captain is Aiden.
"It's an amazing feeling. Being the captain of the Rangers is incredible, it means a lot," continued Ziprick. "I feel like I'm a pretty good leader myself and we have a great group of assistant captains as well."
Carter Zalischuk and Will Munro will serve as assistant captains for the season. Kyan Grouette will be an assistant captain on home ice while Brayden Dube will be an assistant captain on the road this season.
"All of us are really great guys and we help the younger guys with their games," concluded Ziprick. "We all work together. We have a great leadership group and everyone, in general, this season, we're strong."
Ziprick and the Rangers are back on the ice on Friday as they head to Shoal Lake to take on the Yellowhead Chiefs. A win from the Rangers would create a four-point cushion between the two teams for the top spot in the West Division.
Details

Contributed by

Darnell Duff