Latest Sports
Men's Championship Flight:
Jay Thiesen came up short in his match and his tournament is now over.
Men's 1st Flight:
Eric Prokopowich battled; however, he came up short as well and his tournament run comes to an end.
Men's 1st Flight Consolation:
Mark Odut cruised in his match to make the Final 4 as he will take on Cal Vanderschuit next.
Men's 3rd Flight Consolation:
Tyler Carefoot lost his second straight match and has been eliminated.
Men's 4th Flight:
James Stoesz advanced with a solid round and he will now play Matt Lepage, the third-seed.
Men's 4th Flight Consolation:
Jason Yates lost his match and has been eliminated.
Men's 5th Flight Consolation:
Anthony Wiens won his match and he will be the favourite when he battled Justin Rabe, the eight seed.
Men's 6th Flight:
Jerron Kyle won his match and he is now one of four remaining in the bracket.
Mike Sparrow as the 10 seed, also advanced and he is in the Final 4.
Men's 7th Flight:
Jake Wiens advanced and has now made the semi-finals.
Noah Wiens; however, lost his match and he has now been eliminated from tournament play.
Men's 9th Flight:
Lawson Yates took down the second-seed in his first bracket match and now, he took down the seven-seed as his tournament continues. He goes up against the 14 seed next in Lance Prytula.
Men's 11th Flight:
Robert Bouchard is now just two wins away from winning the 11th flight after a solid victory in his Elite 8 match.
Details

Contributed by

Darnell Duff
Master's Championship
1st - Dale Murray entered as the top-seed; however, a consolation title is the highest he could finish after he was upset by the eight-seed.
Master's 2nd Flight
4th - Keith Fawcett won his match to advance to the Final 4.
6th - Dean Cooley also was victorious to advance to the Final 4 on the championship side of the bracket.
Master's 4th Flight
Owen Connolly has been working hard on his game and he upset the second-seeded Fred Riddle to advance to the Final 4 in the championship side of the bracket.
Junior's Championship
1st - Hayden Delaloye was upset by the eighth-ranked player in the bracket, Grady Chuback.
3rd - Jackson Delaurier played very consistent golf as he won his match to advance to the Final 4.
Junior's 2nd Flight
1st - Boston Karlson beat Cash McCallum in the Battle of Dauphin.
8th - Cash McCallum came up short against the top-ranked Karlson.
Details

Contributed by

Darnell Duff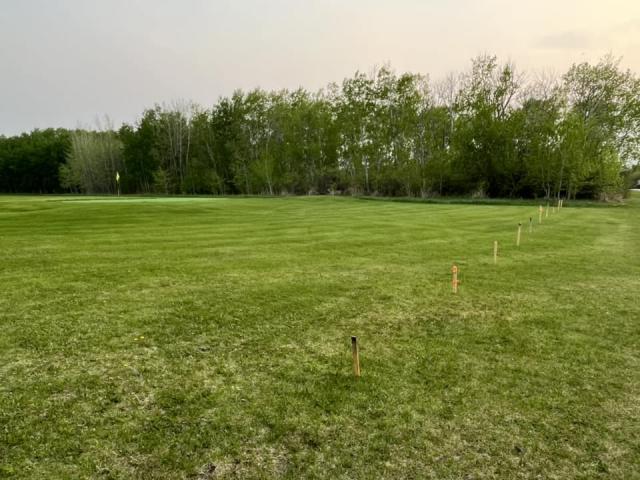 The Winnipegosis Golf Club is now the newest member club of Golf Manitoba.
As an official Golf Manitoba / Canada member club, all rounds played at Winnipegosis Golf Club are acceptable for handicap purposes and may be recorded toward establishing or maintaining an official Golf Canada Handicap Index.
Now that the club is recognized by Golf Manitoba, reps from Golf Manitoba will be making their way to Winnipegosis on Friday for a junior clinic from 10 a.m. to noon. It's just $15 for members while non-members pay $25. It's open to those aged between six and 14 and it's limited to the first 16 paid golfers.
If you would like to register or get more information, call Lisa at 656-4302 or Suzette at 657-2267. You can also message Winnipegosis Golf Club.
If you're looking to get in a round at the coruse, there is an all-day play rate of $15 and junior memberships for those aged 17 and under is just $75. There are two sets of tee boxes and brand new greens were installed late last season.
Details

Contributed by

Darnell Duff
The Dauphin Kings have chosen another local favourite to add to their staff ahead of the much anticipated 2023-24 season.
With spring camp just more than a week away, the organization has announced that Haley Choma has been hired as the team's Athletic Therapist, Strength Coach, and Equipment Manager. Hailing from Gilbert Plains, Haley has been working with the organization for a few years now and she is thrilled about the opportunity.
"When the opportunity came up to take on a bigger role, I decided I was ready for the challenge," said Choma. "I'm also looking forward to building on my working relationship with the organization."
Over the past three years, Haley has spent countless hours training the Kings in the gym, both in a team capacity and individually as well. She is also a dedicated fan of the team as she has attended nearly every home game over the past years and she has also travelled on the road to watch the team play.
Choma will take over for Ty Hassel, who opted not to return this season after spending last year in the same role. Hassel is in the midst of another season with the Winnipeg Goldeyes. Led by head coach and general manager Doug Hedley, Choma believes in the vision of the team and she's looking forward to getting down to business with one of the most storied franchises in the Manitoba Junior Hockey League.
"These players come in and they're very focused," said Choma. "They want to grow not only as individuals, but as a team as well. I look forward to seeing everyone's development, it should be a very exciting winter."
Haley started on Monday and main camp will take place over the Labour Day Long Weekend. The team plays its first home game on September 22 when they welcome the Swan Valley Stampeders to Credit Union Place in the first installment of an all-Parkland battle. The puck drops on the new season at 7:30. The team is then off to OCN for their second regular season game on September 24.
King Notes:
Dauphin plays four straight home games from October 1 to 14, three of which come against West Division opponents (two against Neepawa, one against Virden);
Dauphin will play Niverville and Winkler in the league's showcase on October 23 and 24;
Dauphin will play a game at the University of Manitoba against Steinbach on December 2;
Just like last year, the team will play a special school game at 12:30 in Swan River against the Stampeders on February 28; and
The team wraps up their regular season with back-to-back games on the road against the Blues on March 15 and Selkirk on March 16
The team has also added to their coaching staff as Rick Freese has joined the club. 730CKDM will feature Rick later this week.
Details

Contributed by

Darnell Duff
The Terrick sisters are back at it again on the pebbled ice.
Zoey and Tessa are teamed up with Cassidy Dundas and Jensen Letham this season and what a start to the season it was. Playing in the Morris Summer Manitoba Junior Curling Tour event, Team Terrick stole in the extra end to beat Team Wahl in the final. Team Terrick forced an extra by coming up clutch with three in the eighth end to tie it.
The Parkland foursome also beat Team Wahl in a round-robin game by eight points. In their other two games, they outscored their opponents, 15-5. Next up on the MJCT schedule is the Cargill Training Centre Fall Classic.
Details

Contributed by

Darnell Duff
The Tamarack Tournament is well underway at the Clear Lake Golf Courses as first-round matches began on Tuesday.
Men's Championship
7th - Jay Thiesen defeated Ross Sheard and he will now play the 15th-seeded, Mitch Foster, in the Elite 8.
Men's 1st Flight
16th - Mark Odut lost his first round match
9th - Eric Prokopowich won his quarterfinal and now plays Jared Jacobson, the top-seed in the flight
Men's 2nd Flight
7th - Bart Michaleski lost his first-round match
Men's 3rd Flight
11th - Tyler Carefoot lost his first-round match to Darryl Gosseye
Men's 5th Flight
5th - Anthony Wiens lost his first-round match to Bryan Ferguson
Men's 6th Flight
4th - Jerron Kyle beat Rick Piche to advance to the Elite 8.
10th - Mike Sparrow completed an upset by beating the seventh-seeded, Curtis Krueger.
Men's 7th Flight
3rd - Noah Wiens made quick work of Bob Hyde to advance.
4th - Jake Wiens also advanced by making quick work of Chad Parks.
Men's 9th Flight
15th - Lawson Yates completed the upset of the tournament so far by beating the second-seeded, Mark Agnew.
Men's 11th Flight
4th - Robert Bouchard has set up an Elite 8 match against Jesse Barnett after his win on Tuesday.
All action resumes on Wednesday.
Details

Contributed by

Darnell Duff
It was a wonderful day at the McCreary Golf & Country Club as they hosted their senior open.
Colin Mailman Leo Nault
Gord Ives Ken Weibe
Ladies Winners with a 82
Leanne Fedak Shari Shankaruk
Lindsay Lepla LesLee Muir
Mixed team winners with a 69
Jim Ives Joanne Cruise
Bill Allbutt Sue Leney
Mens Gord Ives 17'9"
Ladies Coreen Roy 29'4"
Longest Putt
Hole 2 Leo Nault. 93"
Hole 6 Leanne Fedak 188"
Chipping Contest
Sue Leney
Putting Contest
Heather Law
Details

Contributed by

Darnell Duff
Riese Gaber always looks forward to coming back home to Gilbert Plains during the summer to spend some time with his family and friends.
While doing that, Gaber always gets in a few rounds at the Gilbert Plains Country Club. In the end, Gaber only spent a short amount of time at home as he continues to train at the University of North Dakota ahead of his fourth full season of NCAA Division 1 hockey with one of the most storied programs in college hockey.
After a highly successful junior career that saw Gaber play in Canada and the United States in which he was named Player of the Year following a 55 point season with the Dubuque Fighting Saints back in 2020, Gaber busted onto the scene as a Fighting Hawk as he posted 11 goals and 21 points in his rookie campaign.
Gaber increased his point total by 16 the following season as he recorded 37 points in 34 games and last season, Riese posted another 37 points. He was also a nominee for the Hobey Baker Award in back-to-back years. The Hobey Baker Award is the most prestigious award given out to the nation's top player. Adam Fantilli who played his collegiate hockey at Michigan is the award's most recent winner.
North Dakota will open their pre-season this year on October 7 when they host the University of Manitoba Bisons. That's followed by a pair of games the following weekend against Army and Wisconsin as they host the 'Ice breaker tournament'. The team plays their first six games on home ice before heading to Boston in early November for a pair of games and their first National Collegiate Hockey Conference game comes on November 10 against Minnesota Duluth.
"It's been very exciting here, there's a really good feeling in the locker room," said Gaber. "We have a lot of new faces and it's been exciting to show them the way and help them along the way. We're excited to get started."
Riese served as one of the team's assistant captains last season and ahead of the 2023-24 season, the Gilbert Plains sensation's duties have been escalated. Voted by his peers, Gaber has been named captain of the team. Carson Albrecht, Louis Jamernik V, Keaton Pehrson, and Jake Schmaltz have all been named assistant captains.
"It's incredible, it's a huge honour," said Gaber. "To be able to say I'm the captain of University of North Dakota men's hockey is pretty cool. With that said, I know there are a lot of responsibilities that come with this. I have had the chance to learn from previous captains and I'm very much looking forward to leading the team the way I know I can."
Gaber will return to UND after one of the best single-season scoring years in recent history at UND. He became the first player since Shane Gersich hit the 20-goal mark back in the 2016-17 season and only the fourth player in the last decade to achieve the feat. Riese potted 20 goals and he became the first UND player to record a hat-trick in four years after he scored three times and had a career-high four points in an 8-0 win against Miami last year.
The last player to do so was Rhett Gardner on November 2, 2018. Riese averaged nearly a point per game in conference play with 23 points across 24 games.
Riese also scored 11 power-play goals which were ranked fourth in the nation and he earned All-NCHC Second Team honours.
With three great seasons of his college career in the books, Gaber is now entering the back-end of his days as a Fighting Hawk and he is feeling great as he does.
"I feel very comfortable and I know what to expect," ended Gaber. "I feel great right now, I think I had a really good summer and I'm just really excited to get going here."
Details

Contributed by

Darnell Duff
Breken Brezden's debut on the international stage was one that she will never forget.
Competing in the Cranberry Cup in Boston, Breken of Dauphin was sitting in fifth place out of 20 skaters from across the glove in the short program. Brezden ended up falling to ninth place after he long program, but a top-10 finish in her first international tournament is a great accomplishment.
Brezden then took part in the Ontario Sectionals in Kitchener over the weekend and put together a very impressive performance. She finished with just more than 133 points to finish in fourth place and she was just four points shy of a podium finish.
Brezden will now continue to train ahead of Octoberfest that takes place from October 12 to 15 in Barrie.
Details

Contributed by

Darnell Duff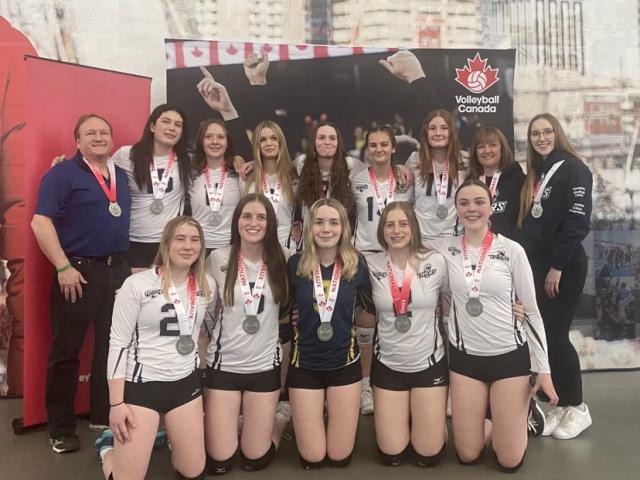 Ted Rea had a vision just more than 25 years ago. That vision was to provide 16-U female aged volleyball players the opportunity to play competitively at the club level.
So the Parkland Vipers program was founded and for the first several years, it was just Ted running the 16-U team and now as the 2023-24 season nears, the program has grown substantially. With rosters in the grade 5 level all the way up to the U-18 level, the Vipers program continues to give elite athletes the platform to shine and show off their skill provincially as well as nationally.
Building the program from the ground up over the years, Ted has officially decided it's time to take a step back as he recently announced his retirement from the program. Chris Wolfenden and Nicole Yerama will now take over organizational roles within the program.
"It's been great, we have had some success over the years and so many top-end players have played within the program," said Rea. "We started at Tier 2 because Tier 1 was mostly for Winnipeg clubs and larger rural centres. With that said, we jumped up to Tier 1 after becoming a dominant force at the Tier 2 level. It's been a great ride and I want to thank all of the players, coaches, and everyone else that came forward to help make this program what it is today."
Rea also says he will remain an adviser with the club and he will likely be a part of training sessions for the program's youngest club which is made up of players in grades five and six. As year 26 of the program is set to begin, Ted will never forget how great the past 25 years have been.
"This program means a lot to me and it always has," said Rea. "I have always loved the game, I played it when I was a kid and started coaching in 1988 when I became a teacher. To be able to watch these athletes progress over the years has been a great journey and it has always been my focus."
Ted is very proud of what was accomplished over the years and he knows the program is in great hands with the likes of Chris and Nicole. As always, stay tuned right here to 730CKDM throughout the winter months for everything Vipers.
Details

Contributed by

Darnell Duff
The Dauphin Kings have announced an addition to their staff for the 2023-24 season.
Haley Choma was introduced on Friday as the club's new athletic therapist and equipment manager, and will also serve as the team's strength coach.
Choma, who originally hails from Gilbert Plains, is the director of strength and conditioning at Parkland Fitness Club.
The Kings open their preseason schedule on September 5th against Neepawa.
Details

Contributed by

Jeff Henson