Latest Sports
Late last week, the Canadian Junior Hockey League announced all of its member leagues across Canada were suspending their season, including the Manitoba Junior Hockey League. Shortly after, it was announced that the rest of the regular season and playoffs and Centennial Cup were being cancelled.
Prior to the suspension and eventual cancellation, seven teams were still alive in the MJHL as the chase to the Turnbull Cup continued. One of those teams was the Swan Valley Stampeders who were up 2-1 in their first-round series against the Waywayseecappo Wolverines. The Stampeders finished in fourth place in the league standings which earned them home-ice advantage for at least the first round.
"I think we had a pretty good season, we did what we needed to do to get home-ice in the first round," said Carter Cockburn, who has lived his entire life in Swan River.
Home ice is certainly something that Swan Valley used to their advantage. They won the first game of the series, 5-0, at the Centennial Arena. After losing game two back in Waywayseecappo, the Stamps' went back to work and simply put, hammered the Wolverines. They hit the double-digit mark offensively as they won, 10-0. A big key to success on the night was the play of Cockburn who had a career night. For the first time in his junior career, the now 18-year-old scored four goals.
"That was really special. You don't go into the game thinking you're going to do that, but when it happened, it was pretty amazing," continued Cockburn. "Our team had a lot of success clearly in that game. I wouldn't have been able to do it without my teammates; they're a big reason why I did that."
Cockburn ended up scoring five goals in just three playoff games. In 50 regular-season games, Cockburn had 12 goals and 11 assists. Both his playoff numbers and regular-season ones are up from last year. He had 12 points in 44 regular-season games last year and he had just one assist in 15 playoff games. It just goes to show what hard work over the course of an off-season can do for you.
"I definitely have a bigger role this year. Last year, I was watching a lot because we had an older team," continued Cockburn. "With that role, it brought more offence. Now that the season's over, I have to start preparing and getting ready for next season, I need to take the next step."
Being from Swan River, Carter grew up watching the Stampeders. It was always his dream to play for his hometown junior team. On August 3, 2018, Carter signed with the Stampeders and his childhood dream of playing with the team was that much closer.
"I remember being a little kid and always watching this team and loving every minute," concluded Cockburn. "To get this chance to play in front of my families and friends now, it's absolutely incredible and I cherish each moment."
Details

Contributed by

Darnell Duff
On this day in 2013, the Dauphin Kings broke the hearts of all the Waywayseecappo Wolverines fans that were cheering on their team inside the Arena Complex. Dauphin played the Wolverines in the first round of the Turnbull Cup playoffs that season and a great series it ended up being.
The Wolverines actually took a 2-1 series lead before Dauphin caught fire. They won three straight games including game six when they hammered the Wolverines, 6-1.
Guillaume Naud and Tanner Butler led the way for Dauphin as they both scored two goals. Jeff Archibald and Connor Faupel scored singles in the victory which sent Dauphin to the second round.
Christian Laughland was the Voice of the Kings at that time and he had this to say on what he remembered.
"I remember to this day that the weather was pretty bad and we actually talked about postponing the game because it was going to be bad coming back home and it was," said Laughland. "However, we played and got it done. I think the team had regained confidence in themselves after losing those two games early in the series. Winning that fourth game was huge."
Wayway won the second and third games of the series; the second was played in Waywayseecappo. Cory Simons made 55 saves to steal the show in a 3-2 overtime win.
"It was an exciting building to be in. They have a bunch of noise-makers and they had a ton of fans," concluded Laughland. "It was huge for the team to win that game, they gained the confidence they needed to move on."
Dauphin went on to play OCN in the semi-final. A series in which Dauphin went up 3-0 before the Blizzard won three straight games to force game seven. Ultimately, Dauphin beat the Blizzard, 3-2, in game seven to move to the league final against the Steinbach Pistons. In the league final, Dauphin came up short in six games.
Details

Contributed by

Darnell Duff
Some big things happened one year ago today on March 17 in the sports world in the Parkland.
Check this out:
The McCreary Atom Mustangs are bronze medal winners. Hosting the "C" Provincial Championships over the weekend, the team put a great weekend together.
After going 2-0-1 in their round-robin, the team suffered a tough loss in the semifinals against Shoal Lake. The Mustangs rebounded in a big way in the third-place game as they beat Landmark, 4-1.
Swan Valley Atom Stampeders:
The Swan Valley Atom Stampeders are Provincial Champions. They hit the road to Rivers for the "A" event and what a weekend they put together. After playing to a tie against Virden first up, the Stamps' ran the table.
Dayson Martin, Trace Langan, and Ben Poole scored for the Stampeders in the gold medal game in a 3-1 win against Carman.
Grand Plains Ice Dogs:
The pressure on the Grand Plains Peewee Ice Dogs was high this weekend as they were challenged with defending their home ice.
Playing host to the "B" Provincials, the Ice Dogs did a great job in doing that as they won a bronze medal.
The team beat Westman, 3-2 to claim third place.
Adel Wiebe, Addison Damsgaard, and Montana Jubenvill scored one each in the win.
Celebrations of Nations:
It's been a busy weekend of sports action as the Celebration of Nations has taken over Dauphin and area.
In the men's hockey final, Brendan Boschrnen scored a pair of goals as Skownan took home the title. They beat O-Chi-Chak-Ko-Sipi, 7-0 in the final.
In some basketball action, Senior-Sunset Park downed the Grizzlies in a battle to 15 and Northwind beat the Bad Sons.
In some junior basketball action, Skownan beat the Little Saskatchewan First Nation to win the gold medal.
PCNF beat Keeseekoowenin for the bronze medal.
U18 Ice Dogs:
Brady Grasby has lifted the Grand Plains Midget Ice Dogs to a bronze medal at the "A" Provincial Championships in Crystal City.
She scored twice as the team beat Manitou, 4-3.
Emma Gamache also had a multi-point game with one goal and two assists.
Rylee Zalischuk scored the Ice Dogs other goal in the win.
Details

Contributed by

Darnell Duff
The hockey season in our province came to a close late last week when Hockey Manitoba cancelled all remaining play due to the growing concern of COVID-19. That meant the high school hockey season was abruptly cut short and for a Parkland team it was when they were competing in the provincials while another Parkland team (Dauphin) was just getting set to travel to do so.
The Major Pratt Trojans were in Rivers playing in the A/AA Provincial Championships. They hadn't quite played their first game when the plug was pulled; however, they were tournament favourites after a great regular season. In the end, it wasn't to be for Russell's Josh Thompson and the remainder of the team.
"Yeah, it would have been great to see how we could have finished in provincials," said Thompson, the brother of Ryder Thompson who has already signed his first WHL Standard Player Contract with the Portland Winterhawks. "It's a shame that it came to a close like that, but it is what it is."
When it comes to the regular season in the Westman High School Hockey League, Josh put together a fantastic season. He played in 20 of the team's 23 regular-season games and he had 45 points. The most impressive part about the season was his goal streak that will continue into the next regular season. Josh scored at least one goal in every single regular-season game.
His biggest night came in a big win against McCreary when Thompson lit the lamp four times and he added two assists for a huge six-point evening. He scored twice in a game on five other occasions as he finished fourth in team scoring.
"That was one of my goals all season long. It was a ton of fun to score every game and I kept the pressure on myself to do so," said Thompson. "I was at the right spot at the right time. I stood in front of the net and got the cheap goals, they all count at the end of the day."
When it came to playoff hockey, Josh continued doing his thing. He had three goals and three assists in five games. All three goals were scored in the team's first-round sweep of the Rivers/Elton Rage. In the second round which was the league semi-final, the team fell short against Killarney in three games. There was just one time all season long that Killarney lost a game in regulation and that's when the Trojans made it happen in game two.
The regular season saw the team go 19-3-1. Add up the playoffs and the team won 22 games.
"I was very proud of the guys, especially in that second round against Killarney, we gave it everything we had," continued Thompson. "I'm glad we made it as far as we did and everyone should be proud."
Being in grade-11, Josh has one more season left of eligibility. That means he'll return to next year's team as they'll look to win their first league title since 2006. In all, Major Pratt has four league championships to their names.
"I think our team will be just as good if not better next season," concluded Thompson. "For myself, I want to have an even better season, that's what I'm pushing for."
Details

Contributed by

Darnell Duff
All Grandview Recreation facilities are closed until further notice and programs are postponed until further notice, effective immediately.
The closure includes the Grandview Arena, Grandview Kinsmen Community Centre, and the Grandview Curling rink.
Around the parkland, the Roblin Recreation Department has closed all of its facilities, effective immediately.
Postponed programs include adult recreation that was held at the Goose Lake High School and community groups and committee meetings that have been scheduled to take place within the recreation facilities.
Details

Contributed by

Darnell Duff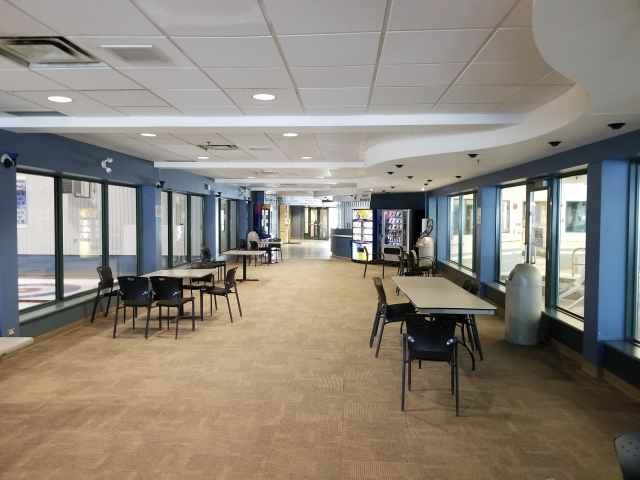 Back on Friday, Dauphin Recreation Services closed its doors for the next two weeks due to the growing concern of COVID-19. The closure includes Credit Union Place, the Dauphin Curling Club, the Kinsmen Aquatic Centre, Aspen Lodge, Strilkiwski Lounge, and the Rotary Arena, including the upstairs area used for hot yoga.
"We decided that we should definitely be a leader and not a follower with this decision," said Lindsey Kyle, Assistant General Manager. "We will re-evaluate and we'll do our due diligence to make sure policy and procedures are being followed."
One of the coming events that will be affected by the closure is the spring swimming lessons that were set to begin very shortly. If your child is directly affected by this, you will be taken care of.
"If you were registered, we will give you a full refund to your account here at DRS," continued Kyle. "When we re-open and we get new dates set, you will have first priority on those said dates."
Kyle wants to assure you that they will be reaching out to you within the next week with full information.
If you had a monthly pass at the Dauphin Clinic Pharmacy Walking Track, any time that is lost will be added when the facilities re-open.
"We want to make sure everything is as easy as possible for our entire membership," concluded Kyle. "When we are back up and running, we want everything to flow as normal around Dauphin Rec."
Details

Contributed by

Darnell Duff
The Gilbert Plains Trojans women's volleyball program has been unstoppable for the past few years. Whether that be in tournaments or on the provincial stage, the team has rolled past their opponents, at times, with much ease.
A big reason for the team's success over the past several years has been the play of Mackenzie Zatylny. The 17-year-old helped the Trojans win three straight provincial titles, the most recent of which came this past November when the team swept Strathclair in the finals.
Mackenzie was also recognized as a top player at many events throughout the past few years. She was named the provincials Most Valuable Player in 2018 and 2019 and she was named a tournament all-star in 2017. She was also named an MHSAA Athlete of the Week in 2018 and made this past year's graduating all-star team.
Although her high school playing days are numbered, Zatylny is set to open a new chapter on her playing career and it'll begin this fall in a place where she's currently playing club volleyball. Mackenzie has committed to play for the Assiniboine Community College Cougar's women's volleyball team next season. The commitment comes after she garnered interest from a few different schools.
"It feels pretty great. I'm really excited to extend my volleyball career starting in the fall," said Zatylny. "It's a pretty special feeling and I can't wait to get things going."
This past season's Cougars team qualified for the playoffs after going 8-12 in the regular season. In the playoffs, they pushed the first-ranked USB Rouges to the fifth set.
"I've been following ACC for quite a while and I know they have a lot of skill and a bright future," continued Zatylny. "I want to be on a team that can win games and has a chance to win a title, which was my goal."
Playing on the Brandon Cats right now, Zatylny has helped the team to a pretty good start to their season. They have two bronze medals and one silver medal to their name, one year after finishing with a silver medal at the provincials last year. After being a starter for her entire high school career which has many accolades to show for it, Mackenzie knows what she wants to achieve at the next level and it all starts with this one thing.
"I want to be a starter and play as much as possible," she concluded. "I'm on the team for a reason, my goal is to be a starter and I'll work extremely hard to try and achieve that goal."
Details

Contributed by

Darnell Duff
Kyle Forsyth and his Parkland foursome advanced to a tie-break game at the Curling Club Provincial Championships; however, no farther.
Forsyth, Jarvis Whyte, Cody Hill, and Darius Vendramin dropped their final game to Team Johnson.
In all, the team won three games.
Details

Contributed by

Darnell Duff
The Gym Cats gymnastic team had a wonderful weekend at the Swan River Cheetahs 2020 Invitational.
Here are some results: All scores out of 10.
Logan Wolfenden scored a 9 on her Vault and in Ubars, she scored 7.7. On the Beam, Logan had a wonderful score of 9.1 while her Floor routine gave her a score of 8.4. Overall, she finished with 34.2 points.
Tasha Hannibal scored 8.95 on her Vault routine followed with a 7.65 on the Ubars. The had 8.8 on her Beam routine and 8.52 on her floor routine.
Lauren Scott scored a 8.8 on her Vault routine, 8 on her Ubars routine, 9.55 on her Beam routine, and 9.02 on her Floor routine.
9-10-year-old age group:
Paige Hanke scored a 8.45 on her Vault routine and Ubars routine. She scored 8.9 on her Beam routine and 8.55 on her Floor routine.
Meadow Vigini scored 9 on her vault routine, 8.25 on her Ubars routine, 8.4 on her Beam routine, and 8.65 on her Floor routine.
Calista Ward scored a 7.9 on her Vault routine, followed with a 7.8 on her Ubars routine, and a 8.25 on her Beam routine. She finished with a 8.3 on her Floor routine.
Matisse LeBlanc added up 7.9 points on her Vault routine with 6.9 on her Ubars routine and 8 on her Beam routine. She finished with 7.82 on her Floor routine.
Heather Nadolny had a 8.3 on her Vault routine followed with a 7.45 on her Ubars routine and a 7.7 on her Beam routine. She closed with a 8.125 on her Floor routine.
Age 11:
Felicity Sahulka scored a solid 9.35 with her Vault routine, a 8.45 to her Ubars routine followed by a 7.9 Beam routine. To wrap it up, she scored 8.47 on her Floor routine.
Paige Slack had a 8.85 on her Vault routine, a 8 on her Ubars routine, and a 8.85 on her Beam routine. She also scored a 8.25 on her Floor routine.
Jessica White scored a 9 on her Vault routine, 7.2 on her Ubars routine, a 8.3 on her Beam routine, and 8.35 on her Floor routine.
12-13-year-old age group:
Kaitlyn Scott had a 8.65 on her Vault routine, 7.7 on her Ubars routine, 8.85 on her Beam routine, and she closed with a 7.875 on her Floor routine.
Sophie Kaminski scored a 7.2 on her Vault routine, 8 on her Ubars routine, 8.1 on her Beam routine, and 8.375 on her Floor routine.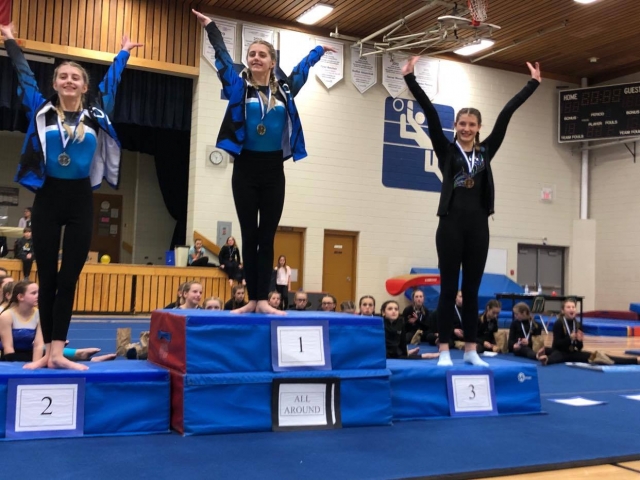 Details

Contributed by

Darnell Duff
The Manitoba High School Athletic Association has cancelled all of its provincial championships.
Prior to that, the Dauphin Clippers junior varsity girl's basketball team had the chance to play one game.
In that game, Cali Hudyma went off. She scored 24 points in a 76-35 win against Springfield.
Details

Contributed by

Darnell Duff
The Dauphin Clippers were expected to begin their league final next Thursday at 7:00 p.m. in Killarney.
With the new suspension put on by Hockey Manitoba due to the concern of COVID-19, Darnell Duff reached out to Jason Alf, Co-President of the Westman High School Hockey League and coach of the Clippers to get more information.
"Right now everything is up in the air. We're under the same mandate as everyone else," said Alf. "Everyone hopes that it's a temporary thing and that the two finals will get the chance to be played. At this point, there are more questions than answers."
As mentioned above, Dauphin was set to play Killarney on the championship side. On the consolation side, Neepawa was set to play Minnedosa.
Alf admits this is a tough time; however, just like everyone else, he understands that this is more than the game of hockey and sport.
"From a coaching perspective, you watch these kids work so hard all year so they can have the opportunity to play for a title," concluded Alf. "In the grand scheme of things though, it's minor. It's just not us as well; many people are feeling what we're feeling."
If the Clippers do end up playing their league final against Killarney, we'll continue to have wall-to-wall coverage.
Details

Contributed by

Darnell Duff