Latest Sports
The Dauphin Kings got better as the game went on tonight, but a slow result hurt them in a 4-0 loss.
Just 2:52 in, Chase Brakel opened the scoring for Portage. He was playing his first game for Portage this season after returning from Cornell University (NCAA Div One).
Ty Barnstable increased the lead for Portage as he snuck a shot past Ethan Slobodzian to give the Dogs a 2-0 lead.
13:34 in, Logan Calder made it 3-0 for Dauphin and Reece Henry finished the scoring for the game just a couple minutes into the second as he beat Bryan Landsberger.
After going down 4-0, Dauphin did respond and started to battle hard but they just couldn't put the biscuit in the back of the net.
Dauphin is 19-19-2-2 on the season as they return to Credit Union Place tomorrow at 7:30.
Details

Contributed by

Darnell Duff
Gilbert Plains Butch Mouck and his foursome capped off the Gilbert Plains Competitive Curling League last night with a Championship.
Mouck, third Therese Deah, second Steegan Stoski, and lead Trevor Basaraba beat team Bruce Hannibal, 6-5.
"It feels good to win the league this year, it's a really good league to play in," said Mouck. "We have a lot of fun out there. It's a competitive but real friendly league. It's good all around."
Team Bayer Crop Science skipped by Peter Prokopowich beat team Whyte's Custom Corn Seeding skipped by Jarvis Whyte, 6-2 in the bronze medal game.
Team 360 AG Consulting/ Cross-Town Motors skipped by Greg Clark beat team Rubes Auto skipped by Dean Bates, 8-5 for fifth place.
Team Brent Ash beat team Jonah Genik, 9-3 for seventh place.
Details

Contributed by

Darnell Duff
The Dauphin Kings didn't make a splash during the CJHL trade deadline yesterday, but they did make a couple deals that should improve the team this season and going forward into future seasons as well.
In their first deal of the day, Dauphin traded George King to Melfort for future considerations and they followed that up by acquiring 20-year-old Stephon Perreault from the La Ronge Ice Wolves in exchange for Brendan Benoit.
The Kings then received 15-year-old Slade Stanick and 19-year-old Brayden Pawluk from the Virden Oil Capitals in exchange for 19-year-old Jacob Evans. The final trade saw 20-year-old Wayde Johannesson shipped to Selkirk along with future considerations and the Kings received future considerations in return.
"Both Perreault and Pawluk are right-handed shots and we needed that on the back end and they both have experience in our league," said Doug Hedley, Head Coach, and GM. "It's kind of a sideways move to a certain extent but it secures our future a little bit going forward into next year."
"Whether the future considerations on all of the deals are cash or personnel, they will definitely help us next year," he added.
Dauphin is now back at it tonight as they welcome the Portage Terriers to town. The Kings are 19-18-2-2 and are in a tie for sixth place in the MJHL entering tonight with the Winnipeg Blues, but they're only five points behind Virden for fifth and seven back of the fourth place Selkirk Steelers.
The Kings have a pretty favourable schedule going forward as far as playing games on home ice. 13 of the Kings remaining 19 games are at Credit Union Place including six of the next seven.
"Our goal is to win as many games as we can and we want to be as high as we can in the standings," said Hedley. "We feel that we have a good young group of players that work hard and want to do good things. Our schedule definitely favours us, we just need to make our arena a tough place to play in and get as many wins as we can."
10 of Dauphin's 19 remaining games come against either Portage, Swan Valley, Selkirk, or Steinbach (all are top four). One is against Virden (fifth) and one is against Winnipeg (tied with Dauphin). Dauphin also plays the 10th place OCN Blizzard and 11th place Neepawa Natives once more each. If the Kings are able to get on any sort of a streak like they had earlier this campaign when they had at least a point in eight straight games, they have a very good chance of jumping up in the standings.
Test #1 is only hours away against the 31-6-1-1 Terriers. It's the third of six meetings between the clubs this campaign. Dauphin has lost 8-2 and 4-3 in the previous two. Portage has scored 14 goals in January so far and they have only given up four.
"We have to make sure we're ready to jump on loose pucks, we have to win battles and we have to win races," said Hedley. "Our defenders have to do a good job of getting the puck up to forwards quickly and we have to move quickly through the neutral zone."
"Portage is really good on the rush and they have a lot of young guys who are scoring this year," he added. The puck drops at 7:30 tonight.
After this weekend, the Kings will get a nice little break as they won't play again until January 18. Four players will play on Monday and Tuesday though as they head to Regina for the MJHL/SJHL Showcase. Doug Hedley will serve as an assistant coach for team Belfour and Devin Atkin will serve as the support staff for the same team.
Details

Contributed by

Darnell Duff
The Brandon University men's volleyball team is good, they're really good. Entering the Christmas break, the Bobcats were at 10-2 and won six straight games. The team has now won eight straight games heading into their second week of post-Christmas conference play after winning both games last weekend.
"We've had a really good start to the season for sure, we had a pretty favourable schedule for the most part, but you still have to win the games," said Grant Wilson, Head Coach. "Over the break, we went to Laval and came away with a split against one of the best teams in the country every single year. We are happy with where we are, but we definitely have a ways to go."
The Bobcats two most recent wins came against the Trinity Western Spartans. The Spartans are another team that is one of the best in the country every single year and are led by Canadian national team member, Eric Loeppky. Brandon steamrolled over TWU as they recorded a 3-0 sweep on each night. The two wins moved the Bobcats atop the Canada West standings with a 12-2 record, one game ahead of the Alberta Golden Bears (11-1).
"Those wins definitely added to our confidence moving forward," said Wilson. "They're pretty much the benchmark of a Championship calibre team year in and year out. I think beating them twice meant we're going in the right direction for sure. A lot can change though with injuries, illness, and that sort of thing. We're fortunate to be where we are and we're looking forward to improving on that and we want to just keep getting better."
Thanks to their success, the Bobcats are the top-ranked team in Canada as ranked by U Sport. Trinity Western is ranked third while Alberta is in fourth and Mount Royal is in fifth as the CW conference dominates the top five with four teams in it.
"It's a mixed blessing. We feel like we're being rewarded for the hard work we've put in and it's nice to be recognized like that," said Wilson. "On the same note, a lot of pressure comes with it and definitely some responsibility and that could be good for our group. There is a bullseye on our jersey; there is no sneaking in the back door anywhere. We have to continue to prepare well or else we won't stay on top long."
For the most part, it's been smooth sailing for the Bobcats. I say for the most part because it hasn't been all smooth. The team suffered back to back losses against Mount Royal back on November 9-10. In big part, that's why MR is ranked as the fifth best team in Canada.
"The big focus for our team since the start of the year is consistency. We feel like we are physical enough and athletic enough to compete with the best teams every night," said Wilson. "The best of the best do it every night and that's what we strive to do. There have been a couple nights where we haven't been at our best (Mount Royal twice). We have to understand things won't go our way every night, there will be adversity along the way and that's okay."
Brandon is back at it this weekend against one of the best. They're in Alberta taking on the Golden Bears who have won seven straight games heading into the contest. This weekend could very well determine who will finish atop the CW standings heading into the playoffs.
Alberta has yet to lose a game on their home court (6-0). Brandon meanwhile on the road is 4-2.
"They're one of the perennial favourites to come out of Canada West every year and then win the National Championships," said Wilson. "They're a big team, they're physical and athletic. We know it's going to be a big challenge going in there but we like our group and if we play how we know we can, we're confident we can get it done."
After this weekend, Brandon's remaining schedule looks like this:
@ Thompson Rivers - 7-3, vs MacEwan - 3-9, (home & home) Winnipeg 5-7.
After this weekend, Alberta's remaining schedule looks like this:
@ Calgary - 5-7, vs Saskatchewan - 7-7, vs UBC Okanagan - 0-14, @ Winnipeg 5-7.
Details

Contributed by

Darnell Duff
Trade deadline day has come and gone across the MJHL and the CJHL, and for the most part, the Swan Valley Stampeders were fairly quiet. In their first move of the day, they sent 20-year-old Tanner McKechnie to the Virden Oil Capitals for future considerations. Later in the day, they sent 17-year-old Jesse Mistelbacher to the Oil Capitals for futures. To note, Mistelbacher has been with the Moose Jaw Warriors this season.
"There was a lot of calls and talks, but for us, we made a lot of moves early and we like where we are," said Barry Wolff, Head Coach, and GM. "For us to make another move, it would have had to include an impact player coming our way. Our chemistry in the room is important and we want to keep that together."
The Stampeders did make a rather big move one week ago when they acquired 20-year-old Tucker Scantlebury from the Lloydminster Bobcats of the AJHL for future considerations. Since joining the team, Scantlebury has one goal in three contests.
"He was a guy that we wanted to add. He's an offensive gritty tough kid that skates well," said Wolff. "We were lucky to get that deal done early so it took some pressure off us during the final buzzer yesterday."
Swan Valley sits in a very good position in the league heading into their tilt tonight. The club is 26-8-3-2 which has them in second place. The team has scored the second most in the league as well (171). Portage has 192. The club has also been quite stingy defensively as they have only allowed 119 goals, good enough for third best in the league.
"I think we're happy with where we are right now," said Wolff. "We have a good mix of offensive guys, gritty guys, and guys that compete really hard. Our defence also creates some offence for us which is great. We have a little bit of everything, we're happy going forward."
Speaking of back end players producing offensively, Quintin Sudom is one of those guys. The 20-year-old has been unstoppable from the point with 48 points which is fourth in the league.
The Stampeders are now back on the ice as they welcome the Winkler Flyers to the Centennial tonight. It's the first of two straight against Winkler (tomorrow night). The Flyers are also a team that has been playing well as of late. They have won four of their last five games.
"We think they're a pretty good team and they are definitely better than their record," said Wolff. "We have to bring our A game. It's on our home ice and it's always important to win in your own rink."
In his first season with the Stampeders, Barry is loving every minute of it. "100 percent, anytime you're in an ice rink and you get to coach at this level, it's a fun time and this is a great place,"
Details

Contributed by

Darnell Duff
There isn't much that Mallard's Brigette Lacquette hasn't achieved in her hockey career. She's played in the Olympics where she won a silver medal, she's won a Clarkson Cup Championship, and now she's an All-Star Captain.
Lacquette will be the Canadian Women's Hockey League Captain when the All-Star Game takes place on Sunday, January 20 in Toronto at Scotiabank Arena.
Lacquette took home 50% of the votes to secure the spot as Captain. So far this season, Brigette has racked up 15 points in 18 games for the Calgary Inferno.
Details

Contributed by

Darnell Duff
A red-hot week has earned Dauphin Clippers Logan Storey the Player of the Week honours for the Westman High School Hockey League.
The Clippers star played in just two games last week but he put up points at a torrid pace. He notched three goals and five assists for eight points total.
It's been a special year for Dauphin so far. They've won 13 straight league games. It's also been a special season overall for Storey. He's second in league scoring with 37 points total. That's just two behind the league leader which is his teammate, Riley Hammond.
Logan and the rest of the club are in Winnipeg this weekend for the Piper Classic.
Details

Contributed by

Darnell Duff
Simply put, Cole DeKoninck has become a player for the Dauphin Kings that has been heavily relied upon on the back end, but he's also a player that has received the green light offensively.
The 18-year-old is 29 games into his first full season as a junior hockey player and it's been a good one so far. He also made a bang on his new team by recording his first ever point with the Kings way back in October against Waywayseecappo. That was an assist and since that, Cole has tallied five goals.
"Things are going great, I mean we've been struggling to get the wins lately but we've been working really hard to change that," said DeKoninck. "I think things are going to turn around and we're going to start winning games."
"We really need to start capitalizing on our chances, like we're close every game for the most part," he added. "We're not giving up a lot of goals, but we're not scoring that many either. Scoring five goals on Wednesday against OCN was big for us and I think that's going to help with the confidence."
Cole's also tacked on 13 assists so far, one of which was on Tuesday against OCN. The 18 points Cole has is tied for sixth on the team.
"I wasn't really expecting much coming in as a rookie," added DeKoninck. "I was hoping to get a couple, my main goal is to just help this team. I just want us to be successful going forward."
DeKoninck's success has earned him a trip to Regina to take part in the MJHL/SJHL Showcase at the Co-operators Centre which takes place January 14-15 (Monday/Tuesday). He will play on Team Garbutt and he'll be joined by teammate Grady Hobbs.
"It's a pretty great feeling to know I'm one of the top 18-year-olds in the league, it means a lot," he added. "I wasn't expecting it, but I'm pretty pumped up for it."
"Playing in front of all the scouts will definitely add some pressure and the nerves will be there, I just need to go out there and play my game and if I do that, I'll be just fine," added Dekoninck.
Cole is now tasked with playing with players he's usually against. With the exception of Hobbs, every other single member of the Garbutt squad is from another team and usually is Cole's enemy out on the ice. The versatile defender doesn't see that being a problem.
"I don't think it's going to be tough, I know a couple of the guys from previous years so It shouldn't be that hard to gain chemistry," said DeKoninck.
Cole and the Kings return to Credit Union Place tomorrow night as they get set for a tough test. Dauphin welcomes the Portage Terriers to town. Last time the Terriers beat Dauphin, 4-3 at the MJHL Showcase. Dauphin lost 8-2 to Portage in the team's last meeting at Credit Union Place.
"After that win against OCN, the boys are really fired up," said DeKoninck. "We're ready for what's going to be thrown at us. It's time for us to get some wins and that's what we're ready to make happen."
Tomorrow's game is set for 7:30.
Details

Contributed by

Darnell Duff
Deadline day is upon us for the Dauphin Kings and everyone in the CJHL.
Here's what the Kings have been up to: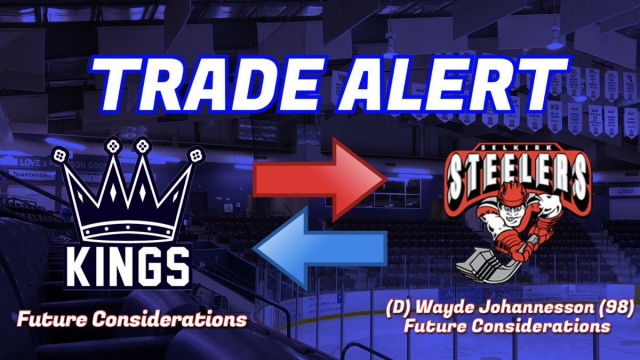 Details

Contributed by

Darnell Duff
Today is Trade Deadline Day across the Canadian Junior Hockey League and the Swan Valley Stampeders have already made a transaction.
Details

Contributed by

Darnell Duff
To say it's been a pressure packed season for Swan River's Kaila Powell would be an understatement. The 17-year-old is in her final year of Midget hockey, but that's not where much of the pressure is coming from. For the past few months, the 17-year-old has been trying out for the U-18 Manitoba women's hockey team and her hard work has paid off.
Kaila has made the final roster and her alongside the rest of the team will now represent the province at the Canada Winter Games, next month in Red Deer. Kaila is the only Parkland athlete on the team.
"I'm extremely proud that I get the chance to represent my province in such a big event with a lot of my friends," said Powell. "I'm just completely wowed over the fact that I get to compete in the Canada Winter Games."
Powell is known as one of the more skilled defenders in the province at her age level. She's also played on Team Manitoba before, at the National Aboriginal Hockey Championships. With that being said, with so many great athletes attending the selection camps, no spot on the roster was guaranteed.
"I know I had to work very hard for my spot and I couldn't take anything for granted," added Powell. "I guess my hard work paid off which I'm very thankful for."
The 2019 Canada Winter Games take place from February 15 until March 3. That gives Kaila a good amount of time to prepare to play against the best U-18 women's hockey players in Canada, a challenge that she's really looking forward to."
"Yeah, it's right around the corner and I honestly can't wait for it," said Powell. "It's time to get down to the grind and work really hard on and off the ice to prepare for it."
"The big crowds are going to be pretty electric and I think that's where my nerves may come out," said Powell. "This is the best of the best; everyone playing in this event is extremely good at hockey so it's going to be tough."
Luckily for the 17-year-old, she may be able to use a past experience to help her have success in Red Deer. Kaila was fortunate enough to play in the 2017 Esso Cup with her Pembina Valley Hawks team, a tournament in which the Hawks hosted and ended up placing fourth at.
"That was a great experience and honestly, my mindset is it's just another game and tournament," said Powell. "My family is coming down to watch and that's super important to me and I think that will help me stay calm. I just have to try as hard as I can every game and we'll see how it all turns out."
Kaila and the rest of the Manitoba women are joined by New Brunswick, Quebec, and Saskatchewan in their pool.
So far this season, Powell has been rock solid for the same Pembina Valley Hawks. She was named the team Captain and she's racked up 11 points in 19 games so far.
"Obviously it's a really big role to take on but I'm really enjoying it so far," said Powell. "We have a really great team and a fantastic coaching staff so I'm really thankful to be in the position I am."
The team overall is 6-9-1-3 in the Manitoba Female Midget Hockey League which has them in seventh place but they're just six points back of fourth place.
What's Next?
Regardless of how Kaila does at the Canada Winter Games, she's had a very successful hockey career to date and that will extend well past this year. She will be going to the University of Regina next season and she will suit up for the women's hockey team while she studies science.
Details

Contributed by

Darnell Duff