Latest Sports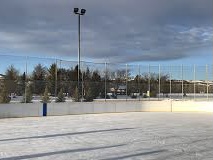 Although there are no hockey games being played in Manitoba right now, the Parkland is staying 'hockey strong'.
Starting on Tuesday at 8 a.m., a two-week long feature begins that will feature outdoor rinks across the region.
The feature is hosted by Darnell Duff. Not only will the stories be shared on the radio, but you will also be able to see photos of each and every rink right here on 730CKDM.com.
Details

Contributed by

Darnell Duff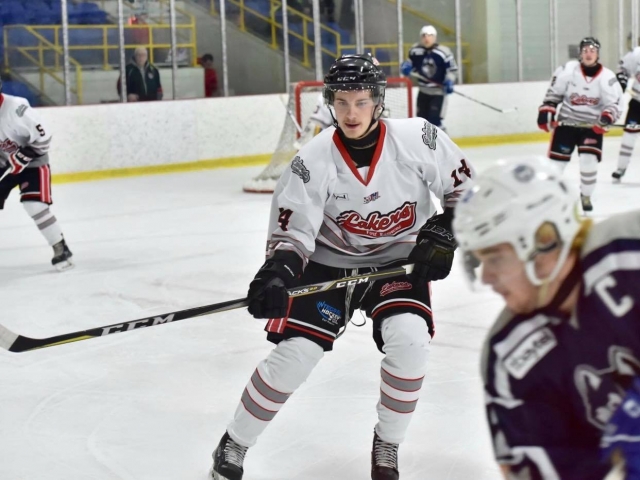 Reece Hopfner is back in Fort Frances and he's locked in for his final junior hockey campaign.
The wait for the final season to begin; however, continues and Reece isn't quite sure when that wait will end. The Superior International Junior Hockey League (SIJHL) has begun its season, but the schedule doesn't include Fort Frances right now.
The schedule only includes the Thunder Bay North Stars, Kam River Fighting Walleye, the Red Lake Miners, and the Dryden Ice Dogs. The four teams are playing in their own cohort. The league is looking to add one more team so Fort Frances could begin its season.
"I'm just taking it day-by-day right now, I think that's all any of us can do," said Hopfner. "I hit the gym in the morning and then we have a practice in the afternoon. It's just about working hard and making sure I'm ready for when we can play a game."
Fort Frances is set to play an intrasquad game this weekend, but that's the only game action for now. The league has previously announced they plan to play a 20 game season.
The Ste. Rose native has played 80 games with Fort Frances and he's scored 11 goals in that time while adding 25 assists. Reece does say it is hard some days staying motivated because there haven't been any games to this day.
He does know though that it's extremely important to stick to the process as games are likely to be announced prior to Christmas. And as Reece's junior hockey career will come to an end after this season, he has enjoyed every minute of getting the chance to play with Fort Frances.
"It's been great. I love this place and I've really enjoyed all of my teammates," ended Hopfner. "I have great billets, it's just been a great spot to be."
Reece says his favourite memory with the team was last year when they beat Thunder Bay on two straight nights right before the season was ended because of the novel coronavirus. Thunder Bay was the top team in the league at that point.
Details

Contributed by

Darnell Duff
Now is the time to get your Tractor Lotto tickets before it's too late.
The grand prize of $100,000 will be given out next Sunday as well as all of the other great prizes up for grabs. Three-packs are already sold out, but that doesn't mean you can't purchase a $100 ticket as there is about 700 left.
"We're getting close to a sellout," said Christian Laughland, Director of Business Operations. "We can't thank the Parkland and really everyone around Manitoba enough for the support."
If you do purchase a $100 ticket on Friday, you will get one ballot into a draw for a free ticket thanks to Dean Cooley GM. The 50/50 is already more than $60,000.
You must buy a single ticket or a supplementary ticket to be able to purchase a 50/50. The final draw takes place next Sunday at 6:00 p.m. and although things have changed with no Kings game, you can still catch the draw online.
"We're going to stream it live on our Facebook page so everyone will be able to find out who wins," ended Laughland.
As you have heard in the past, the two safest and easiest ways to get your tickets are at Tractor Lotto or by calling 1-877-585-4647.
Details

Contributed by

Darnell Duff
The Baxter Arena in Omaha, Nebraska will be extremely busy for the next 16 days as it hosts the NCHC bubble.
The North Dakota Fighting Hawks are one of the teams that will play 10 games in a 20-day span and they're off to a great start.
Playing Miami in their first game of the season on Wednesday, the Fighting Hawks put together a stingy defensive effort and they capitalized enough offensively for a 2-0 win.
Early in the third period, Riese Gaber who had many chances throughout the game found the back of the net for the first time. The first-year college player took a pass from Shane Pinto and he fired it top bar and down to the back of the net past a Miami goalie who really didn't have a chance.
After scoring 34 times last season, the Gilbert Plains sniper has his first college goal and it sure didn't take long.
"It felt really good to get it out of the way. I had a pretty good feeling that I was going to be able to get a goal," said Gaber from his hotel room. "As long as I keep playing how I know I can, I think I will be able to fill the back of the net a lot more."
After a practice on Thursday morning followed by a team builder session on Thursday afternoon, North Dakota is right back on the ice on Friday as they continue a stretch of 10 games in less than three weeks with a date against the Denver Pioneers. They lost their first game of the season on Wednesday against Minnesota Duluth. Despite that loss, the Pioneers are expected to be one of the top teams in the country.
"The guys are really fired up right now after Wednesday, Denver will be a really tough test for us," ended Gaber. "We're ready for the challenge and we can't wait to get back on the ice."
In case you missed Riese's goal on Wednesday, here it is.
Freshman Riese Gaber with an absolute rip off the feed from Pinto! @UNDmhockey#UNDproud | @MidcoSN pic.twitter.com/SXe3SK0toR

— UND Insider (@UNDinsider) December 2, 2020
Details

Contributed by

Darnell Duff
Riese Gaber's college career began on Wednesday with the North Dakota Fighting Hawks and what a start it was.
In a 2-0 win against Miami, Riese tickled the twine once as the team moved to 1-0 on the season.
Freshman Riese Gaber with an absolute rip off the feed from Pinto! @UNDmhockey#UNDproud | @MidcoSN pic.twitter.com/SXe3SK0toR

— UND Insider (@UNDinsider) December 2, 2020
Nine more games are ahead in the bubble for North Dakota with game two happening on Friday against the Denver Pioneers.
Details

Contributed by

Darnell Duff
Dan Shulman graduated from the University of Western Ontario in 1989 with a degree in actuarial science and landed a job in his field and worked as an actuary for roughly six months. During his time at school, he took up broadcasting as an extracurricular activity in his freshmen year.
He then started doing play-by-play for the university's basketball, football, and hockey teams. He still didn't; however, think he would pursue broadcasting as a career. That all changed in 1990 when Dan was offered a full-time position to be an anchor for CKBB, a Barrie, Ont., radio station. That's when he quit his job as an actuary for good and fully immersed himself in the broadcasting lifestyle.
In 1991, Shulman moved to the FAN 1430 (now known as Sportsnet 590 The FAN) where he would host a number of shows, including the Major League Report, and Baseball Today. Four years later, Dan started serving as a play-by-play commentator alongside Buck Martinez for the Toronto Blue Jays, and he also worked part-time for ESPN.
"It all happened very quickly. I was doing pre and post-game shows on Blue Jays broadcasts for those few years," said Shulman. "A job came open in 1995 and I actually didn't get the job right away. But they called me a couple of months later and asked me if I was interested and of course I was. Buck was so helpful to me and he taught me so many things."
Dan says he would have never imagined doing play-by-play on the TV for Blue Jays games, but he says that break in 1995 when he got his first full-time professional play-by-play job was his biggest break.
In 2000, Dan was named the Sports Media Canada Broadcaster of the Year and he won the award again seven years later in 2007. On top of those two awards, Shulman was named the National Sportscasters and Sportswriters Association (NSSA) National Sportscaster of the Year in 2011.
As Shulman prepares for another season in the booth calling Toronto games, his trophy case has gotten bigger. Dan has been named the winner of the Canadian Baseball Hall of Fame and Musem's 2020 Jack Graney Award. It's the first time that the play-by-play broadcaster has won the award and he joins the likes of Jeff Blair, Dave Van Horne, and Jerry Howarth as a few who have also won the award.
Scott Crawford is the Canadian Baseball Hall of Fame's director of operations and he had this to say on Shulman.
"It's a pleasure to listen to Dan Shulman call games for Rogers Sportsnet and ESPN," offered Crawford. "Dan is one of the best baseball broadcasters in the world and he has been consistently outstanding during his career, but we especially marvelled at his work this year when due to the COVID-19 pandemic he was confined to a studio in Toronto to call the Blue Jays games. He was so good that it truly felt like he was at the ballpark."
On top of Dan's duties calling Blue Jays games, he also joined ESPN full-time in 2001. He was the voice of Wednesday Night Baseball from 2002 to 2007, Monday Night Baseball from 2008 to 2010, and Sunday Night Baseball from 2011 to 2017. He's been calling MLB playoff games on the radio for ESPN since 1998 and World Series games since 2011.
Shulman also does play-by-play for NCAA basketball broadcasts and he has done so for 25 years, a time in which he has also called NBA games for TSN and ESPN, NHL games for TSN, and hockey at the 1994 Winter Olympics.
"I'm extremely honoured to get the award. It's voted on by the people who have won the award so when your peers recognize you for the work you have done, that really validates what I have been able to accomplish over the years," said Shulman. "I'm a big fan of the Canadian Baseball Hall of Fame, I think they do a great job. I was really happy to win this award, it means a great deal."
Dan has now been named one of eight finalists for the National Baseball Hall of Fame's 2020 Ford C. Frick Award which is presented annually for broadcasting excellence. While the award winner waits for the baseball season to begin, he will be extremely busy, especially in the next 10 days or so.
He did two college basketball games last night and he's heading to Austin, Texas this weekend where Villanova will play Texas and next week he will have the call from Duke where the Blue Devils will play Illinois.
Details

Contributed by

Darnell Duff
If the event is able to proceed, the Manitoba men's and women's provincial championships will certainly have a different feeling to it.
Curl Manitoba has announced that the Viterra Championships (men's event) will be played with 16 teams compared to the normal 32. The Scotties Tournament of Hearts (women's event) will be played with just eight teams, down from the normal 12.
Both events will also join forces as the Selkirk Recreational Complex will play host to both the men's and women's events.
Craig Baker is the Executive Director of Curl Manitoba and he explains the decision to trim the number of teams.
"By reducing from 32 to 16, we're still able to keep the double-knockout format," said Baker. "By reducing from 12 to eight, we're also able to keep the regional representation and that's important on both the men's and women's sides."
The format for the women's event will be a full round-robin leading up to the playoffs. The event will run from February 2-7 and the winner from each event will automatically earn a berth to the national championships which will take place in Calgary in a "bubble".
Although there may be some fans in the stands, attendance will without a doubt be down from previous years, but that doesn't mean you won't be able to catch the action. Curl Manitoba has said there will be additional live streams and coverage of the event.
"We want to make sure Manitobans have the ability to watch this event, even if they're not in the stands," ended Baker. "We will release more details in the near future when we get the green light as far as hosting the event."
Details

Contributed by

Darnell Duff
The Tractor Lotto is a massive fundraiser for the Kings every year and it gives ticket buyers a solid chance at winning the $100,000 grand prize.
Next Sunday, all of the draws will take place which means you still have some time to get your tickets. And if a three-pack is something that interests you, Christian Laughland says you better hurry before it is too late.
"Now is the time. I know we're going to be out of three-packs by the end of the weekend and we may even be out before the weekend," said Laughland, Director of Business Operations. "There is less than 70 so now is the time to pick them up."
Tickets are 1 for $100 or you can get that three-pack for just $250. There are also supplementary tickets for a John Deere Lawn Tractor and everyone seems to be talking about the 50/50. As of this posting, it's currently more than $43,000 and it is increasing every day.
"It's starting to gain speed now. It will probably get closer to $60,000 over the weekend," said Laughland.
As always when getting your tickets, the easiest and simple way is online at Tractor Lotto. Many people are buying their tickets online for the first time and they will continue doing so every year now.
"People are talking about how easy it is to buy their tickets online," offered Laughland.
The other way you can get your tickets is by calling 1-877-585-4647.
Details

Contributed by

Darnell Duff
The Manitoba Junior Hockey League has said it plans to resume the 2020-2021 season on January 1 as training camps will open that day followed by games not long after.
Although there is no certainty around the day, the league is doing everything they can to resume things then. If Manitoba is taken out of the 'red' team sports can resume. When the season was paused, the Waywayseecappo Wolverines were one of the hottest teams in the league.
The Wolverines 7-3 record had them atop the Northwest Division as they won their final four games before the pause and five of their last six. Vista's Mackenzie Belinski leads the team with nine goals and seven assists while Conrad Phillips is second in team scoring with 11 points.
Another bright spot on the team was Tyson Zimmer. From Russell, Zimmer scored four goals and had four more assists in his 10 games and he was on a tear on the power play as three of his goals came on the man advantage and he chipped in with another three assists. All-star returning player, Jaymes Knee has three goals and six points so far.
"We're pretty happy with our group. Our goal is to have a successful season and to bring a championship to town," said Taylor Harnett, head coach, and general manager. "We have a great group that is extremely dedicated and they do whatever it takes."
(On a Facebook post on November 13, the Wolverines said "We will be back")
Taylor says the entire group knows they need to stay focused during this pause so that when they return, they can pick up where they left off. When the season does resume in January, the team will have a different look to it.
Chad Nychuk and Cole Muir will leave the team. Both players are on loan from their respective Western Hockey League teams and they will return to them after the Christmas break. The WHL season is slated to begin on January 8. The Wolverines may also lose two 16-year-olds who are continuing to show why they're playing Junior A. Zimmer will aim to make the Brandon Wheat Kings while Thompson is off to Portland in hopes of cracking the Winterhawks roster.
Another guarantee is that the Wolverines will welcome back their top three scorers to start the season in Belinski, Conrad Phillips, and Gerrik Ripley.
Doug Hedley was very confident that the season will resume in January when he spoke with Darnell Duff earlier this week. Harnett is hopeful, but he understands it is a process.
"When the time is right, the league will let us play hockey again," ended Harnett. "We all know Kevin Saurette wants everyone playing more than anyone else. We're going to stay positive and when it's time to return to the ice, we will be ready."
Details

Contributed by

Darnell Duff
25 different members that live on the Waywayseecappo First Nation are getting some brand new hockey equipment.
Through an initiative by Hockey Manitoba and Bauer Hockey called the 'Hockey Equipment Relief Program', the Manitoba First Nations Police Service is handing out 75 combined sets of equipment to three communities they serve, one of which is Waywayseecappo.
The set includes a helmet, gloves, a stick, and new skates.
Jo-Ann Helgason is the Crime prevention coordinator for MFNPS and she says being a part of this initiative is a thrill.
"Our police officers are feeling great because they have the chance to do something so positive in their line of work," said Helgason. "It's all about building community connections. Parents are feeling so great for their children that are receiving a new set of equipment."
The equipment is being given to kids aged 4-12. They have already presented some of the equipment as seen above; however, they will wait until hockey activities can resume in the province before handing out the rest of the equipment.
"When the communities found out about this, they were extremely pleased and surprised," ended Helgason. "This is a huge thing. It's such a positive thing in a time where so many are stressed."
Details

Contributed by

Darnell Duff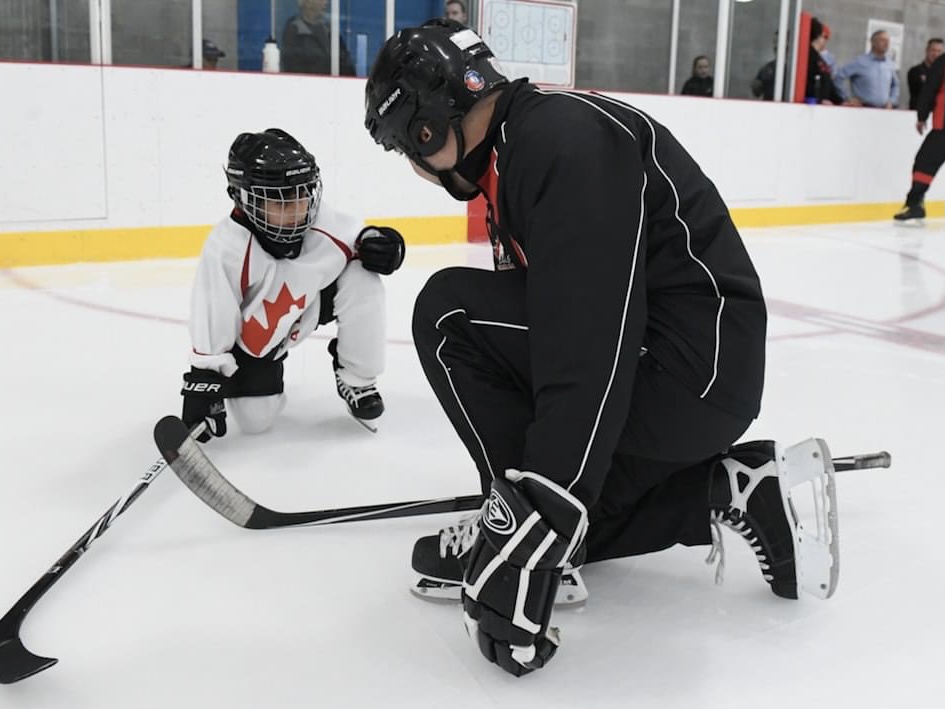 The provincial championships are something every player and coaches look forward to. This year; however, that isn't the case.
After several provinicial events were cancelled last year because of the coronavirus, Hockey Manitoba has announced that all events this season are cancelled.
Hockey Manitoba said this in a release.
"The decision to cancel the minor hockey championships has been made with the safety of all members and the community in mind. These tournaments will not be rescheduled for the 2021 season,"
The season can commence once Manitoba is out of 'Code Red' which at this point is scheduled to happen on December 11 at 11:59:59.
Hockey Manitoba is hopeful they can stage provincial championships in 2022.
Details

Contributed by

Darnell Duff