Latest Sports
They're not only making noise inside the Westman High School Hockey League, but the Dauphin Clippers are making some noise around the province.
In the most recent AAA/AAAA High School Provincial Rankings, the Clippers are ranked as the sixth-best team in the province.
A big reason why is the team's success at the Vic Inn Tournament earlier this campaign. They won a bronze medal in the Championship bracket. They also nearly beat the second-ranked Sturgeon Heights Huskies in the semifinals.
"That good showing in Brandon definitely helped boost us up the rankings," said Trevor Robak. "Hopefully, this will give us some confidence. We just need to keep working hard and if we do that, we'll keep having success."
That game against Sturgeon Heights saw the Clippers trail 2-1. The eventual final was 3-1.
"When you're playing teams like that, you have to be prepared from the opening puck drop and we came out sort of slow so they took advantage of us," said Robak. "Once you lose the momentum against a solid team like Sturgeon, it's hard to get it back."
Dauphin has also rallied off 10 straight league wins. But, things can still improve for the best team in the league.
"Like every coach says, being better in our defensive end is something we're stressing," he added. "We need to do all the little things right in our end."
The Clipper ship will hit the road tomorrow. They roll into the Yellowhead Centre to play the Neepawa Tigers for the "Christmas Classic". Neepawa is 5-4-1 this season. Tomorrow's game is an early one at 1:15.
"They're going to have a ton of fans in the crowd and we know it's going to be a really tough game," said Robak. "We need to play a hard 60 minutes because we know they won't stop coming at us. We have to answer by going even harder at them."
Dauphin's next game at home is on January 5 at 7:30 against Deloraine.
Details

Contributed by

Darnell Duff
The Winnipeg Blue Bombers 2019 schedule has officially been released.
Pre-season:
Week 2 - Friday, May 13 - vs Edmonton Eskimos - 7:30 p.m.
Week 3 - Thursday, June 6 - @ Saskatchewan Roughriders - 8:00 p.m.
Regular Season:
Week 1 - Saturday, June 15 - @ BC Lions - 9:00 p.m.
Week 3 - Thursday, June 27 - vs Edmonton Eskimos - 7:30 p.m. (Home Opener).
Week 4 - Friday, July 5 - @ Ottawa Redblacks - 6:30 p.m.
Week 5 - Friday, July 12 - vs Toronto Argonauts - 7:30 p.m.
Week 6 - Friday, July 19 - vs Ottawa Redblacks - 7:30 p.m.
Week 7 - Friday, July 26 - @ Hamilton Tiger-Cats - 6:00 p.m.
Week 8 - Thursday, August 1 - @ Toronto Argonauts - 6:00 p.m.
Week 9 - Thursday, August 8 - vs Calgary Stampeders - 7:30 p.m.
Week 10 - Thursday, August 15 - vs BC Lions - 7:30 p.m.
Week 11 - Friday, August 23 - @ Edmonton Eskimos - 8:00 p.m.
Week 12 - Sunday, September 1 - @ Saskatchewan Roughriders - 2:00 p.m.
Week 13 - Saturday, September 7 - vs Saskatchewan Roughriders - 3:00 p.m. (Banjo Bowl).
Week 15 - Saturday, September 21 - @ Montreal Alouettes - 3:00 p.m.
Week 16 - Friday, September 27 - vs Hamilton Tiger-Cats - 7:30 p.m.
Week 17 - Saturday, October 5 - @ Saskatchewan Roughriders - 6:00 p.m.
Week 18 - Saturday, October 12 - vs Montreal Alouettes - 3:00 p.m.
Week 19 - Saturday, October 19 - @ Calgary Stampeders - 6:00 p.m.
Week 20 - Friday, October 25 - vs Calgary Stampeders - 7:30 p.m.
Details

Contributed by

Darnell Duff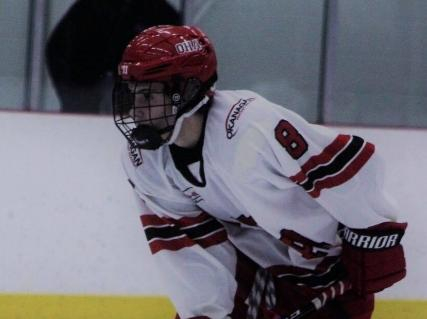 Tyson Zimmer was a star in the Parkland last season with the Rangers. He had 69 points in just 34 regular season games (36 G).
Instead of playing for the Rangers this year, Zimmer decided to change things up a little bit. Now he's having the same kind of success for the Okanagan Hockey Academy Bantam Prep team who play in the Canadian School Sport Hockey League. With the Christmas break upon him, Tyson and the squad find themselves in eighth place with an 8-6-1 record.
"It was a little bit of a slow start for me because I was out for the first month, but the team has really been battling," said Zimmer. "Everyone should be healthy after the break so we're hoping we can get on a roll and win some big games here."
"It's a pretty great opportunity for me out here because I'm out on the ice every day and I'm always training," said Zimmer on why he chose to move to the Okanagan Academy. "Getting to train as much as I do will definitely be beneficial."
Despite the slow start out of the gates, it really hasn't held Tyson back. He's played in 12 of the team's 15 games and he already has 24 points (12 G). That's a number that leads the team and is 20th in league scoring. After what he did with the Rangers last season, this success comes as really no surprise.
"Yeah, I mean it's been a pretty good start, but I want to put up a lot more," said Zimmer. "I definitely want to rack up more points than last season. My goal is 75 points, so I'll be pushing for that."
It's also an extra important year for Zimmer. He's draft eligible and is expected to go quite high up in the WHL Bantam Draft. With that being said, it's not something he's really worried about.
"Honestly, I'm not really too concerned about this draft, I'm more concerned about a few years down the road and getting into that NHL Draft," said Zimmer. "Obviously this draft is a big thing, but I'm focusing on my development and being the best player I can for now and the future."
"I have a long way to go, I'm happy with where I am right now, but there's always room for improvement," he added. "I have to work on my defensive side of the game and always play smart.
Tyson and the rest of the team resume their season on January 12.
Details

Contributed by

Darnell Duff
The Dauphin Kings dropped their fourth straight game tonight, this time to Neepawa, 3-2.
Neepawa opened the scoring just 2:53 in before they made it 2-0 early in the second.
Kolby Johnson cut the deficit in half off a rebound which was started with a beautiful rush from Riley Shamray.
Riley Buller tied the contest just 1:23 into the third. Dauphin continued to pepper Neepawa's goalie, but he stood strong. Neepawa then got the last punch.
Ste. Rose's Brad Marshall scored with just over five minutes left in the game and it stood up as the winner.
Nik Anderson was top notch for Neepawa. He turned away 41 shots including some big ones late right in front.
Dauphin will head to Waywayseecappo on Friday. The Parkland Source for Sports pregame show goes at 7:15.
Photo Credit - Dauphin Kings.
Details

Contributed by

Darnell Duff
The Dauphin Clippers hockey team just keep winning.
They doubled up Crocus Plains earlier today, 4-2. Riley Hammond and Seth Masson had the Clippers up 2-1 after 40.
Alex Iwanchysko and Noah Wiens added goals for Dauphin in the third for the 4-2 win.
Stay tuned tomorrow for some great Clippers news.
Details

Contributed by

Darnell Duff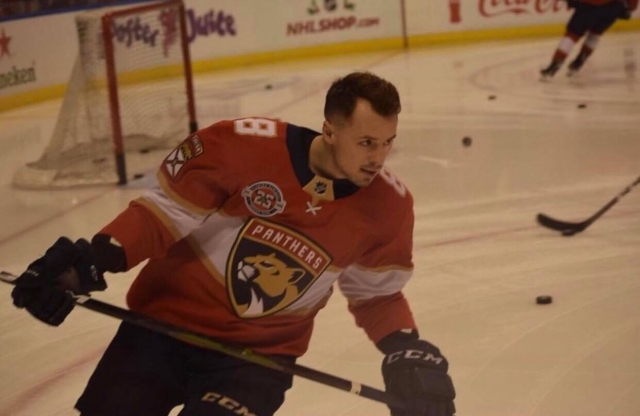 Roblin`s Jayce Hawryluk was drafted by the Florida Panthers in the 2014 NHL Entry Draft, in the second round, 32nd overall by the Florida Panthers.
Since then, Jayce has played in the WHL, AHL and now, the NHL. This past weekend, the 22-year-old was called-up by the Florida Panthers and after years of hard work, he finally made his NHL debut on Saturday. The lights for the game were extra bright as it came on Hockey Night in Canada against the Toronto Maple Leafs.
``I was super excited to get that call, it`s been my dream to play in the NHL since I was really young," said Hawryluk. "It was thrilling news for my family and me. It was an amazing first experience and it's something I'll never forget."
Jayce played 5:55 in that first game against the Maple Leafs. He recorded two shots and even saw 39 seconds of power play time. The Panthers won the game 4-3 in overtime.
"I honestly expected to be more nervous than I actually was," added Hawryluk. "I thought after the first shift, I started to settle in and it was just another hockey game."
So his first game in the NHL was in the books. Three days later, Jayce was set to play his first ever NHL regular season road game against the Buffalo Sabres. Jayce's first two NHL games were against two of the top teams in the league.
Hawryluk played exactly two more minutes in this affair (7:55), all of which came at even strength. Florida trailed 2-1 in the game, but they rallied off four straight goals for a 5-2 win.
"I felt great last night, the nerves weren't there at all, I just felt really good," said Hawryluk. "The team played great and we're hoping to roll with the momentum we have right now."
Thanks to those two straight wins, the Panthers are now 13-13-6. That has them just seven points behind the Montreal Canadiens for the final wild-card spot.
"My main goal is to help this team win games anyway I can," said Hawryluk, who is enjoying a day off before the team continues their road trip tomorrow night in Toronto.
"I just have to play smart and within the systems," he added. "In my role, it's important to make it tough on the other guys and tire them out, so when our top players are out there, they can go to work and make it happen."
Jayce's call-up to the NHL didn't come by fluke. The 22-year-old was having a fantastic season with the Springfield Thunderbirds (AHL). He had 28 points in 25 games to lead the team and he was in a tie for seventh in league scoring.
"I had a pretty big off-season and I put in a lot of work and it definitely paid off for me," said Hawryluk. "I wouldn't say I was surprised with the success, I was feeling good, confident, and our team was winning games. It was definitely a good start in Springfield, now I'm hoping to make good things happen in Florida."
Tomorrow's game will provide Jayce with another opportunity to pick up his first NHL point. He has two shots over his first two games.
"I'm not worried about that what so ever, I just want to help this team win," said Hawryluk. "If I happen to score a goal or get a point, it's nice, but at the end of the day, I just want to win."
After tomorrow, Jayce and the Panthers roll into Detroit to face the Red Wings and they finish their pre-Christmas schedule against the Blackhawks on December 23.
Details

Contributed by

Darnell Duff
The Brook family from Roblin loves hockey. They're also really good at it. Josh Brook plays for the Moose Jaw Warriors and will play for Canada at the World Jr. Hockey Championships. Jakob Brook is playing for the best team in Canada, the Prince Albert Raiders.
Aidan Brook has dreams of playing in the WHL, just like his brothers. If the 15-year-old keeps doing what he's doing, it won't be long until he's there. The Roblin native is playing in Winnipeg for the Rink Hockey Academy Elite 15 team.
"Things have been going pretty good, it's an exciting opportunity for sure," said Brook. "We also have a pretty solid team, so that's pretty exciting."
Aidan played the past two seasons with the Parkland Bantam Rangers. He could have this year as well. But, he decided he wanted to try his luck against some of the best in Canada.
"I feel it's beneficial for me to play against some of the best in western Canada in my age group," said Brook. "I just wanted to experience this and see if it's better. We put in a ton of work like we have half a school day and the rest of the day is on ice or workouts. I'm happy with my decision for sure."
Brook had a good statistical season for the Rangers last year. The back end player had 21 points in 36 games. This year, it's more of the same, but he's well on his way to making it a more productive season. In 25 games, Aidan has 20 points (1G).
"I've just been getting pucks on net and I'm making the easy pass," added Brook. "It's been working out pretty well, so I just have to keep doing those things."
Overall this season, Brook and the rest of the squad are 15-8-2. That has them in a tie for fourth place in the highly competitive Elite 15 conference. They've scored 125 goals and have only allowed 75. That +50 ratio is the third best in the league.
"We will do very well in the playoffs, we should win the Championship," said Brook. "If we don't, we'll be pretty disappointed in ourselves."
Back in the 2018 WHL Bantam Draft, Aidan was drafted in the fourth round, 76th overall by the Seattle Thunderbirds. In the 2018 MJHL Draft, he was drafted in the third round, 23rd overall by the OCN Blizzard.
Aidan isn't worried about what could happen next year, but he does know, he wants to make the step up to junior hockey. He could also use his brother's success to his advantage. With both of them playing in the WHL, it's possible that Aidan could use their experiences and guidance to make the jump up.
"I feel like I have an edge on other people making the WHL," said Brook. "I know all of the stuff and all of the hard work that goes into it. It's pretty sweet having two brothers who play in the WHL."
More:
In some other great news, Aidan is heading to Red Deer. He made the U-16 Manitoba men's hockey team. That means he'll represent the province at the Canada Winter Games early next year.
Details

Contributed by

Darnell Duff
The Dauphin Kings have been on a mini-slide as of late. They've lost two straight games in regulation and before that, lost one game in overtime.
Tonight gives the Kings a chance to get back on track. They head to the Yellowhead Centre for the final time in the regular season. In their previous two meetings there, the Kings have split the meetings.
Dauphin hasn't played in a week. The last time out, they lost 4-3 to the Portage Terriers. A day before that defeat, the Kings lost 3-0 to Waywayseecappo. So, they're riding a two-game regulation losing streak.
This week, in general, gives the Kings a great chance to jump up the standings. They play three games overall. After tonight, Dauphin heads to Waywayseecappo on Friday. That's followed up with their final game this year against Virden at Credit Union Place on Saturday.
Dauphin enters tonight's game with a 3-2-1 record. Neepawa has not won a game this month (0-7). They've also had lots of problems putting the puck in the net. They haven't scored more than twice in any game this month. The Kings meanwhile have been fairly hot offensively, with 18 goals this month.
For the first time in 18 days, we'll have the broadcast right here on 730CKDM. The Parkland Source for Sports pregame show beginning at 7:15.
Photo Credit - Dauphin Kings/Pederson Photographic.
Details

Contributed by

Darnell Duff
You've been waiting for the chance to lace up those skates so you can go to the outdoor rink for some puck with your buddies.
Well, now you can do that! The DCT Outdoor Rink is officially open for the season.
"It's open to anyone, and the hours are from daylight until 10:00 p.m. daily," said Wes Carnegie. "We recommend that you wear a helmet. It's not mandatory, but we do recommend it."
Details

Contributed by

Darnell Duff
Gilbert Plains Tyler Jubenvill has officially played the first half of his first college hockey season with the Bemidji State Beavers (NCAA Division 1).
Tyler and Beavers played their final pre-Christmas game on December 15. It was a 2-1 overtime loss. Before that, the club pounded Alaska Anchorage, 5-1 on December 14.
After the first half, the Beavers are 8-8-2 overall and are 6-5-1 in their conference. Add the one exhibition game, and the team has played 19 games. Tyler has played in 18 of them.
"Yeah, I think it's been a not bad first half, we've won some games and lost some we should have probably won," added Jubenvill. "Overall, it's been going pretty good for myself."
Before this season, Tyler spent the last three seasons playing junior hockey. Two with the Winkler Flyers. Last year, Tyler played in one of the best junior leagues (USHL) with the Cedar Rapids Roughriders. Although this is a step above, the past three years really did gear him up to make the jump.
"I think playing those three years definitely helped me make the jump," he added. "It's probably the biggest step I've ever made. It's a lot different and for sure is better hockey than what I was used to."
"The biggest thing here is everyone is so fast," he said. "You have to be able to carry the puck to have success out here. It's also a challenge defending all these guys, but it's a challenging I'm enjoying for sure."
By his own admission, the start of the season was tough for Tyler. It's never easy to make the jump to Division 1 hockey. But, Tyler's playing at that level for a reason. He's really good and he's continued to work to get better and that's why he's still playing pretty much every game.
"I really do think I've been getting better every game," said Jubenvill. "I'm looking forward to getting better going forward, and hopefully, I can do even more for the team in the second half."
Something Tyler definitely wants to add in the second half is some points. The 19-year-old has yet to record a college point.
"I mean, you don't really worry about that sort of thing because it's all about the team success," said Jubenvill. "With that being said, it's for sure in the back of my mind. You always want to have your own individual success. It can be a little frustrating at times, so hopefully, that improves going forward."
When Tyler and the Beavers hit the ice again, it will come on the road. The club heads to Air Force for a couple of games on December 29-30. That's followed up with two more games on the road against Bowling Green.
"The road trips are definitely a lot of fun, it's great spending time with all the guys," said Jubenvill. "We go pretty early and we are there for like five or six days. It's a blast."
Details

Contributed by

Darnell Duff
It was simply nothing short of a tremendous weekend for Dauphin's Kiara Wilson.
Swimming with the Parkland Gators, the team headed to Saskatoon for the Man/Sask event. The event welcomed 25 teams from Manitoba, Saskatchewan, Ontario, BC, and Alberta. So it's safe to say that the Gators were in tough. Many Gators performed very well, including Wilson.
She won a silver medal in the 50m backstroke race and a bronze medal in the 100m backstroke.
"It honestly felt so good, I guess I wasn't really expecting to do that well," said Wilson. "In the preliminaries for the 50m backstroke, I was ranked third so I was really pushing to get second. I was just really determined all weekend to make it a good one."
"I found out last week what I was ranked and everything, so I was really working hard in practice leading up to the event," she added. "I was working on my turns and starts. I had to fix everything I was doing wrong. It was a hard week of practice and I loved it."
Kiara didn't stop at just winning the silver or bronze. She also advanced to the A-finals in all seven races she took part in. That means she was one of the Top-10 swimmers in each preliminary race.
"Getting to the A-finals was my goal, and it felt amazing to achieve that," added Wilson.
Before the Saskatoon event, Wilson raced at the Last Chance for Man/Sask on December 1-2 in Winnipeg. She had a good weekend there as well, but she stepped it up in Saskatoon. On top of everything else, Wilson recorded her personal best in all seven races.
Wilson and the rest of the Gators will now get some time off to enjoy the holidays. Things will start back up in January and the team takes part in a meet in Winnipeg at the end of next month.
With all of the success she had this past weekend, there is no doubt Kiara is feeling good about the future.
"I'm not trying to get my expectations too high, but I'm pretty confident in myself going forward," added Wilson. "I'm just going to keep working hard in practice and we'll see what happens."
What's Kiara's favourite thing about being on the Gators? Winning is up there, but it's not everything.
"I've made so many new friends for life and I got to see a lot of them this past weekend, so that was great," said Wilson.
Details

Contributed by

Darnell Duff