Latest Sports
The Dauphin Kings have been extremely busy as of late and that continues this evening.
For the first time this season, the club is in Steinbach taking on the Pistons. Tonight's game is a rescheduled contest from back during the Thanksgiving Weekend. Dauphin has turned it on as of late going 6-1-1 in their last eight games.
Steinbach, meanwhile, is 9-2-1-1 this season and they haven't played since last Friday when they beat Portage, 2-1.
Heading into the game, Nakodan Greyeyes leads the league in scoring with 24 points after having 18 all of last year.
Steinbach is led by Kyle Bettens who has 14 points.
Dauphin enters the contest two points back of the sixth place Selkirk Steelers, who they beat 11-2 last Tuesday. Steinbach is in second. The Pistons don't score much, they only have 41 goals this season which is tied with the Winnipeg Blues for the fewest goals for this season. They have also only allowed 31 goals which is the fewest against in the league.
Darnell Duff will have the pregame show tonight beginning at 7:15. After this game, Dauphin heads to OCN on Sunday.
Details

Contributed by

Darnell Duff
The day Grandview Comets fans and players have been waiting for is almost here. The team will begin their season tonight at the GACC against the Waywayseecappo Warriors.
Tonight's game is the first of nine for Grandview this month. Six of the games will be at the GACC.
"I think everyone is really excited, we have a really nice team coming up here," said Brad Potoroka. "We have a nice compliment of returning players and new ones. We're looking really good in practice and everyone is ready to get going."
"We have a handful of players that are back after playing their first-year last season and they've picked it up," he continued. "They're picking up on the systems and they have that experience under their belt now. We have a good group."
Grandview finished 4-11-1 last season. That had them in sixth place in the league. The year prior, the team won the league championship.
"I think everyone in the room is positive, we want to win every game this year and we're going to give it all we can to try and bounce back," continued Potoroka. "We're moving in the right direction."
It will also be Waywayseecappo's first game of the season. They're a new team to the league and they'll be playing their home games at the Arena Complex in Waywayseecappo.
"We're not really sure what they'll bring to the table, but it's going to be a fun game," concluded Potoroka. "It's going to be an interesting game, everyone should come out."
Tonight's game is at 8:30.
Details

Contributed by

Darnell Duff
Russell's Ryder Thompson had the opportunity last week that not many young hockey players in the province get. The Russell native played for Team Manitoba at the WHL Cup in Calgary.
The tournament welcomed most of the best young players from across Western Canada. With hundreds of scouts in attendance, it gives each player tremendous exposure throughout the week-long event.
"It was truly an honour to represent my province, it was an amazing opportunity," said Thompson. "I tried to do whatever I could to help my team. We came together really quickly and that helped for sure. It was an amazing experience."
In the end, Ryder and the club ended up getting a silver medal. They lost to Saskatchewan in the final, 4-2.
"We had a bit of a slow start, but we started peaking at the right time," said Thompson. "It was a pretty good game against Saskatchewan. I was really proud of our team and I thought we did really good."
Ryder is now back with his club team. He's playing for the Rink Hockey Academy Nationals Elite 15's this season. After playing with Team Manitoba, Ryder is hoping to use that experience moving forward to help him have continued success.
"Yeah, I definitely think that's going to push me to become a better player and person off the ice," said Thompson. "I hope to bring some of the things I learned from playing with that team back to Rink."
Ryder is also on top of the leadership group. He's been named the team's captain for the season. He was also in the leadership group with Team Manitoba where he was an assistant captain.
"It was an honour being picked as an assistant captain with the team and just being picked for the team in general, I was proud," said Thompson. "It's a great feeling being the captain for Rink as well, it means a lot to me. I'm just trying to be the best captain I can be."
The team is 3-1-1 to start their season. They are near the bottom of the standings, but that's only because they haven't played much. Every other team in the division has played at least eight games. Pursuit has even played 14 while Burnaby who leads the league with a 8-1-1 record has played 10 games. Ryder has one assist so far.
Ryder and the team will play 10 games next month.
"We've been having great practices and great games," he concluded. "It's going to be a great year, I'm loving it here."
Earlier this year, Ryder also signed his first Standard Player Contract with the WHL's Portland Winterhawks.
Details

Contributed by

Darnell Duff
The Parkland U18 Rangers are back in the win column.
Taggert Plouffe scored the winner in the shootout as the Rangers will make their way home from the Wheat City with two points.
Keaton Ziprick made 32 saves through regulation and he made another four in the shootout to pick up the win.
Jayce Legaarden scored Parkland's goal in the second as the game was 1-1 after 40.
The Wheat Kings then took a lead in the third. That's when the Rangers pulled off some late game heroics.
Hayden Lacquette scored a power play goal with just more than two minutes left to send the game into extra time.
Plouffe would then tie the game in the shootout and he also scored the winner for the Rangers, who return home for a game on Saturday.
Details

Contributed by

Darnell Duff
The Dauphin Kings first line continued to produce tonight and the club earned a point, but that was it.
Frazer Dodd scored early in overtime to push the Swan Valley Stampeders to a 3-2 win in the fourth Parkland battle of the season.
On a night where Zach Grouette got his first start of the season, the rookie goaltender was superb as he was a big reason why Dauphin earned a point. Grouette made 42 saves in the game.
Leyson Coleman made it 1-0 for Swan Valley at the 14:49 mark. Very early in the second, Trevor Schroeder increased the lead to 2-0.
That's when Dauphin started their come back. Less than seven minutes into the middle frame, Baron Thompson scored his 11th of the season to trim the deficit.
Next up it was Nakodan Greyeyes turn. He scored with 3:57 left in the third to tie the contest up and send it to extra time.
Frazer Dodd would score the overtime goal just 1:19 in to give Swan Valley two points.
Dauphin is now 7-6-1-1 on the season as they head into Steinbach on Friday. Darnell Duff will have the pregame show for that game at 7:15.
Details

Contributed by

Darnell Duff
If you're a really good billiards player, there's a chance you've been called a "Pool Shark" in your life. That's the case for Shellmouth's Tyler Lacquette.
He took part in the Battle of the Bands 2019 Series #8 pool tournament in Cold Lake, Alberta over the weekend. Competing against roughly 50 players, Lacquette who golfs at the Gilbert Plains Country Club, finished in second place on the consolation side.
"It feels good. I haven't played pool in like five years, so it's a pretty good feeling to know I can still win a tournament," said Lacquette.
After being bumped down to the consolation side, Lacquette heated up. He won five straight games to advance to the finals. He would eventually come up short in the finals.
"You have to play smart in these kinds of tournaments," added Lacquette. "You can't really miss a shot because your opponent will run the table out and you'll lose. It's pretty much as simple as that."
Lacquette is no stranger to placing high in pool tournaments. Five years ago as a 22-year-old, the former Dauphinite won the Western Canadian Championships.
Tyler will look to continue his impressive performances on the table moving forward. He's joining a league in Brandon that runs every Tuesday night. Coming up in February, he's heading to Red Deer for another tournament.
"I'll practice as much as I can so I'm ready for that one, it's going to be tough for sure," Lacquette concluded.
Details

Contributed by

Darnell Duff
The Dauphin Kings have jumped up the standings recently and they have another chance to do just that tonight. The club heads to Swan Valley to continue their extremely busy week. Including this evening's game, the club will play three more times this week, all on the road.
Dauphin has won six of their last seven games, while Swan Valley has struggled as of late. They've lost four of their last five and they're now just two points ahead of the Kings.
"We have to bring more energy tonight. We have to be simpler and smarter," said Doug Hedley, head coach, and general manager. "When we have speed away from the puck, we're a tough team to play against. It has to be a greasy road win tonight."
"Our guys know we have a good hockey club," he continued. "We have to work hard the entire game, Swan Valley is tough."
Tonight's game is the fourth meeting between the two clubs. After splitting on opening weekend, Swan Valley won on September 30.
You can hear tonight's game right here on 730CKDM. Darnell Duff has the pregame show at 7:15.
Details

Contributed by

Darnell Duff
The Dauphin Kings lit up the scoreboard again tonight as they won their fourth straight game on TV Tuesday down at the rink. In front of a good crowd, the Kings earned their sixth win in their last seven games by beating the Virden Oil Capitals, 7-4.
Baron Thompson led the Kings with three goals as he continues his great play in his final junior hockey season.
"I couldn't do it by myself, my teammates helped me tonight, I'm just glad we're doing well," said Thompson after the game. "We started off slow, but we're starting to figure things out here."
"The good thing about the game was we bent, we didn't break. I didn't think we had the pop, energy, or work ethic," said Doug Hedley. "Smith played really well. We just found a way to win at the end of the day."
The game didn't start how the Kings planned it to. 5:50 in, Hunter Cloutier scored his ninth of the season. The Kings battled back not long after. Baron Thompson scored his first of the night at the 7:31 mark and Nakodan Greyeyes made it 2-1 with 4:08 left in the first.
With a 2-1 lead after 20, the Kings kept on going in the second. Grady Hobbs made it 3-1 just 4:29 into the period. Carter Sawchuk let go of a wrister that beat Kyle Kosma just more than three minutes later as the Kings had a commanding 4-1. However, the Oil Capitals certainly didn't go down without a fight.
With 1:14 left in the second, Tanner Andrew scored his 11th of the season to trim to the deficit to 4-2. Dylan Halliday and Nolan Dawson would both score once to tie the game in the third with just under 13 minutes left.
That set the stage for Dauphin to take over once again. Baron Thompson would score the game-winner through the five-hole of Riley Wallace at the 11:25 mark. Koby Morrisseau would then make it 6-4 two minutes later.
With 1:50 left and the Oil Capitals net empty, Thompson scored his third goal of the game to complete the hat-trick. With three goals tonight, Baron now has 12 points in his last four games.
"Baron's been on a roll lately and he was solid tonight," said Hedley. "His line was our best tonight, they played a ton in the last 10 minutes."
The win pushes Dauphin to 7-6-0-1 and they're now just two points behind Virden and Swan Valley for sixth. Dauphin has also scored 27 goals in their last four games. 24 of them have come in their three home games.
Dauphin now heads on the road for three straight. They're in Swan Valley on Wednesday night, Steinbach on Friday, and OCN on Sunday. Darnell Duff will have all the games right here on 730CKDM beginning with the pregame show at 7:15.
Details

Contributed by

Darnell Duff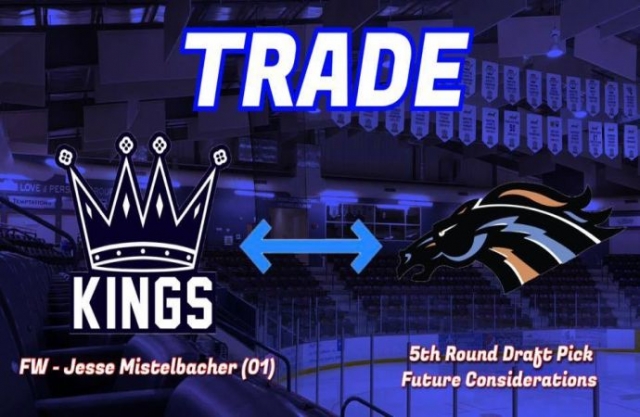 The Dauphin Kings have acquired Jesse Mistelbacher from the Swan Valley Stampeders.
Jesse has played in 11 games with Swan Valley this season.
In exchange, Swan Valley receives a 5th Round Draft Pick and Future Considerations.
Details

Contributed by

Darnell Duff
Seven games in 11 days, that's what the Brandon Wheat Kings went through over the past couple of weeks. It began on October 16th in Everett, Washington with a 3-2 loss against the Silvertips.
A handful of games later, thousands of miles later, and some ups and downs later, the trip ended over the weekend with a solid 5-1 win against the Swift Current Broncos.
Along the way, Brandon went 3-4. They are now 6-9.
One of the talking points is other teams having games in hand on the Wheat Kings. Brandon has played 15 games. In the Eastern Conference, only the Saskatoon Blades (16) have played more. Lethbridge has also played 15 games. After that, everyone has played less.
The Hitmen, who hold the first wildcard spot in the Eastern Conference have played just 10 games.
One of the other talking points for Brandon is between the crease. Vegas Golden Knights prospect Jiri Patera played last on October 6th in a 5-4 shootout win against the Saskatoon Blades. For conversation's sake, that's the night Brandon scored two goals in the last 1:05 to tie it before they eventually won it.
Patera has been sidelined since that game and there have been no concrete words as to when he will return. Since that, it's been the Ethan Kruger show. He has now played eight straight games for Brandon which included the club's 5-1 win back on Saturday.
Overall this year, Kruger has a 2.94 G.A.A and a .911 save percentage. Yes, Brandon is 6-9, but in Patera's absence, the 18-year-old from Sherwood Park is certainly holding the Wheat Kings in games and giving them a chance to win. Kruger's hometown junior A team is one of the best in the country. The Crusaders are 17-1 and they have 92 goals in their 18 games, which are eight more than any other team in the Alberta Junior Hockey League.
For Brandon, the long road trip is now followed by some home cooking. Not for a long time, but a few games. Brandon welcomes Swift Current to the Wheat City on Friday for a rematch with the Broncos. That's followed by a game on Saturday against the very strong Lethbridge Hurricanes and they remain on home ice for a game on Tuesday, November 5th against the Red Deer Rebels.
When Brandon does hit the road again, it surely won't be easy. They're in Prince Albert on November 8th and they complete a Saskatchewan trip on November 9th against the Saskatoon Blades. But, that's two weeks away and really isn't something the Wheat Kings are worried about what-so-ever.
The only thing on their minds right now is likely staying off the bus and getting some rest in their own beds, something they haven't done for more than two weeks.
With their next game not being until Friday, the club also gets a few days to prepare.
It's highly expected that Luka Burzan will win the Wheat Kings scoring crown after finishing in second last year to Stelio Mattheos who nearly put up 100 points. However, a somewhat of a slow start from Burzan certainly has a few other players in contention.
With his 13 points (7G), Burzan leads Ben McCartney and Lynden McCallum by three points. My feel-good story of the season when it comes to the Wheat Kings is definitely McCallum.
Playing in his hometown, the now 19-year-old had seven points last year in an injury-shortened season. This year, McCallum already has 10 points. Cole Reinhardt and Braden Schneider both have nine points while Chad Nychuk has eight. It's safe to say, it's been scoring by committee so far for Brandon and that's not necessarily a bad thing as long as it gets the job done.
Details

Contributed by

Darnell Duff
Johnny Kohan grew up playing soccer in Dauphin. During his time in town, he played with the Dauphin Clippers and the FC Rangers men's team. Now, Kohan is playing soccer in Brandon for the Brandon University Bobcats.
His season with them began on September 5 with a 6-1 win against Briercrest College. Playing in the Manitoba Collegiates Athletic Conference (MCAC), the freshman and the rest of the team began their regular-season on September 14 against St. Boniface. They won 4-2.
Less than two months after that game, the Bobcats won the biggest game in team history. For the first time ever, the Bobcats won a soccer championship game. Johnny and the Cats' beat Providence, 3-2 in the final over the weekend.
"Winning the title felt amazing. Knowing it was the first outdoor win for a Bobcats men's soccer team makes it even more special," said Kohan. "I was in disbelief. Even when I got back to school that night, I still didn't believe it. It's just an incredible feeling."
Winning the title certainly didn't come by fluke. The team went 10-1-1 overall and 8-1-1 in conference play. They also ended their season on a seven-game winning streak. The last time they lost was on October 5 in a 2-1 decision against St. Boniface. In the MCAC Final Four, Kohan and the team beat St. Boniface, 2-0. That was followed by the historic win.
"It was a really fun season. It was also really demanding to play at this level," continued Kohan. "We knew every other team was getting better all the time so we had to keep working hard and get better ourselves."
Kohan now gets some time off to enjoy. He hasn't yet decided if he'll join the Futsal team. If so, they begin their season early next year. If he doesn't, he'll continue to train in preparation for next season when he'll once again be a member of the Bobcats. This time, they'll be looking to defend their title.
"I have a lot of drive because I want that feeling again and I know every person on the team does if they can come back," Kohan concluded. "We don't have many graduating players so hopefully, guys from this year will come back and we should be strong again."
Kohan also won two straight titles with FC Rangers in Dauphin.
Details

Contributed by

Darnell Duff