Latest Sports
A McCreary native is heading to Prince Edward Island next year to represent Manitoba. Team Manitoba announced its final roster ahead of the Canada Winter Games and Ryan Gower has made the team.
The Male U16 Program of Excellence process began in early April 2022 with the Spring Selection Camp which was held in Niverville, MB. Following the Spring Selection Camp, forty players were invited to the POE Top-40 Camp which was held from May 5-8, 2022 in Portage la Prairie.
The third phase of the Male U16 POE selection process was a Summer Camp which was held from July 19-23 2022 at Seven Oaks Arena in Winnipeg and the fourth phase was an exhibition game versus the Winnipeg Wild U18 AAA back in October.
Gower, who is in his first year with the U18 Rangers, has looked very solid on the back end and he has one goal and four assists this season. Ryan has also already signed his Standard Player Agreement with the Prince Albert Raiders
Also making the final roster is Easton Odut. He is also in his first year of U18 hockey with the Brandon Wheat Kings and it's been a great season offensively for him and the team is rolling. He has eight goals and seven assists in 10 games and he also made his Western Hockey League debut with the Wheat Kings over the weekend. Brandon is 13-0 and they're the only undefeated team in the league.
Gower and Odut will join the team in Saskatoon next month for a pair of exhibition games against U16 Team Saskatchewan and the Canada Winter Games take place from February 18 to 26, 2023.
Details

Contributed by

Darnell Duff
The Manitoba Junior Hockey League's MGEU East Division is about as close as it could get.
The OCN Blizzard is on top with their 31 points after starting the season with 15 wins in their first 21 games. Then you have a complete logjam for the next few spots as Dauphin currently occupies the second spot in the division with 24 points. Waywayseecappo is right behind with 23, the Virden Oil Capitals have 20 and the Neepawa Titans are in last place but they have 15 points and are right within striking distance.
The Swan Valley Stampeders, meanwhile, have 22 points as they're first in the division as more than a third of the season has come and gone. Swan Valley has scored 59 goals, four of which came on Tuesday night in a 6-2 loss against Waywayseecappo. Prior to Tuesday's loss, the Stampeders were red-hot as they won four straight contests, all of which came by one goal.
The Stampeders trailed in three of those four wins but found a way to earn two points to stay right in the thick of things in the West.
While Barry Wolff says the team is still trying to find ways to start games on time and not fall behind, he is pleased with how the team is finding a way to climb back in contests to win games.
"We're definitely getting to where we want to be," said Wolff. "Anytime you can come back like we have been doing lately, it builds character in the room and belief."
Justin Keck leads the Stampeder offence with 22 points (10g) while Jakob Jones is just behind with 18 points, 10 of which are goals. Trey Sauder; meanwhile, is the top local producer with six goals to go along with five assists. Since coming from the Winnipeg ICE, Steven Arp has been very solid with four goals and four assists in 13 games.
The team also boasts a very strong goaltending tandem of Kobe Grant and Loic Mainguy-Crepault. While Grant is 6-8, he has a solid .926 save percentage to go along with a 2.77 goals-against average. Mainguy-Crepault is 4-0-1 with a .922 save percentage and a 2.55 goals-against average.
The team's power play is tied for fifth in the league and after a six-game series to end their season last year against Dauphin, the Stampeders appear to be trending to a top-two spot in the division, compared to last year's team that just snuck into the post-season.
Seven members of the team are also on their way to Stride Place to play in the MJHL's 1st Annual Top Prospects Showcase which goes next Tuesday and Wednesday in Portage. Trey Sauder is among the seven heading to the event and Wolff is pleased to have such great representation from his club.
"Anytime you can get on the big stage like that, it's awesome for the guys," said Wolff. "They will have a great opportunity to showcase themselves. The games are going to be high-end with a lot of skill and it's going to be a great event."
Details

Contributed by

Darnell Duff
The Parkland U18 Rangers lost a heartbreaker on Tuesday night.
Controlling most of the play all game against Southwest, both teams looked like they would earn at least a point... until they didn't.
Southwest scored with 0.01 seconds left to pick up a 3-2 win over Parkland.
Bo Eisner and Luke Myhre scored for Parkland in the game.
Details

Contributed by

Darnell Duff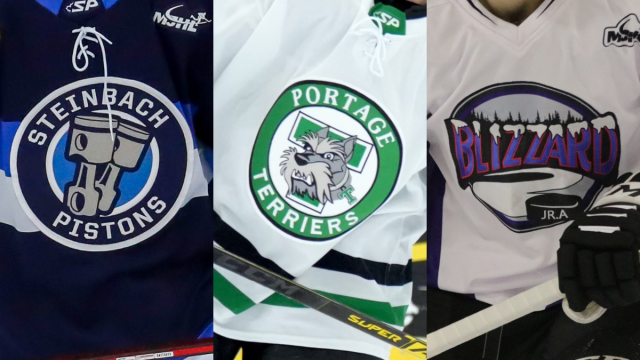 The OCN Blizzard have not had a winning season since the 2017-18 campaign when they won 32 games and finished fourth in the league's regular season standings. This year, OCN is having a great campaign and they are indeed back to their winning ways. While there is plenty of season left, the Blizzard are well on their way.
The most northern team in the league is an honourable mention this week in the Canadian Junior Hockey League Top 20 rankings.
Once again the top MJHL team on the list is the Steinbach Pistons as they're up four spots now and are ranked third nationally. It's been all good news for Steinbach this year as Warren Clark recently committed to play Division 1 hockey at St. Cloud State and the club is on top of the league. At 15-2, the Pistons' 30 points have them tied with Portage for first in the league; however, the Pistons do have a game in hand.
They also played Portage over the weekend and it wasn't even close as the Pistons won the game 6-1. If there were any questions before that game on how good this team is, there surely aren't anymore. Paced by Ty Paisley's 29 points, Travis Hensrud's 28 and Davis Fry's 27, Steinbach is on cruise control. Steinbach has won five straight games and they have scored 19 goals in the process. On top of their win against Portage, Steinbach also beat Winkler last week and they're ranked third in the East. The Pistons play three times this week including a rematch with Portage on Friday night. They also play Niverville and the Winnipeg Freeze.
---
All teams have off games. the Portage Terriers had an off game on Sunday but they also had an off game on October 19 in a 6-2 loss against Niverville. What does this mean in the end? likely nothing, this Portage team is very deep and they're very talented. With two games this week, Portage will get that chance to redeem themselves when they head to Steinbach on Friday.
They're ranked sixth nationally heading into the week and are preparing to host the Centennial Cup this year. Daniel Siso (21) and Hayden Lacquette (19) lead the way for Portage offensively and they have eight other skaters with at least 10 points.
They recently acquired Karson King in a trade with the OCN Blizzard and while King has yet to play with Portage, he is expected to report and when he does, he will be tough to stop. A native of Warren, Karson has 54 games of Western Hockey League experience with the Swift Current Broncos. He started his season this year in the Manitoba Major Junior Hockey League with the Stonewall Jets where he has two goals and five points in three games.
It's certainly not time to panic in Portage but fans across the league may get a true feeling for how good this team can be on Friday.
---
West Division domination, that's the case for the OCN Blizzard to start the season. At 15-5-0-1, OCN has a seven-point lead atop the MGEU West. They have scored 81 goals, the second-most in the league and they're 8-1 at the Gordon Lathlin Memorial Centre. If you have never been to the GLMC, it is the toughest arena in the league to win in and that's voted on by the players. Their penalty kill has been premium at 86.8% and their captain is having a career year.
Riley Zimmerman's 30 points (14g) are the most in the league and he has five power-play goals. A relentless worker, Zimmerman is just eight points shy of his career-high in points after he posted 38 points last year with OCN in 53 games. This is his fourth season with the Blizzard.
The cliche saying is "defence wins championships" and if that holds true, OCN will be tough to beat. They have what most teams wish they had, a solid goaltending tandem. Ethan Farrow is 5-2 with a superb .943 save percentage to go along with a solid 1.73 goals-against average. Chase Hamm is 9-3 with a .914 save percentage to go along with a 2.51 goals-against average. Following five straight games on home ice, OCN heads on the road for a pair of games this week as they're in Virden on Wednesday and Waywayseecappo on Thursday.
Details

Contributed by

Darnell Duff
As the Rural Manitoba Football League season has come to an end, several members of the Dauphin Clippers have been nominated for season end awards.
Joseph Lopez has been nominated for the most outstanding offensive player. In only six games, Joseph had 20 carries for 388 yards and four touchdowns. He also had three catches for 85 yards. Joseph is also nominated for the most outstanding defensive player. He finished the season with 37 tackles, four assists, four sacks, one fumble recovoery, two interceptions, two knockdowns, one defensive touchdown, and two forced fumbles.
Sully Fox; meanwhile, is nominated for the most oustanding player on the offensive line.
Damon Nepinak is nominated for the most outstanding player on the defensive line. Damon's great season included 12 tackles, three assists, one fumble recovery, and one forced fumble.
Josiah Seale played linebacker and finished the season with 18 tackles to go along with two assists, one quarterback sack, four interceptions and five knockdowns. He also had three kickoff returns for 87 yards. He's been nominated for rookie of the year.
Guzman Garcia is nominated for most outstanding special teams player. He finished with a punt average of 43 yards and a kickoff average of 46 yards.
Matthew Zurba; meanwhile, is nominated for the Norris Aitken Memorial Award. Zurba played nearly every position this past season and he holds an academic average of 98%.
Scott Gower is a nominee this year for the Parker Guy Memorial Award.
Details

Contributed by

Darnell Duff
His favourite moment last year with the Dauphin Kings was travelling with the team to Steinbach for game seven of the Turnbull Cup final. He will never forget Carson Cherepak making a huge glove save down the stretch and the team winning the league title.
For Mitchell Rauliuk, being around the Kings is a lot of fun but it's also about getting down to business. His dad, Ryan used to be a trainer for the team and now Mitchell is carrying on with the family tradition as he's back as the team's assistant equipment manager.
From setting up the pucks prior to warmup to getting the towels ready and everything in between, Rauliuk does whatever he can to help the team as they look to defend their championship.
"It feels great to be back. I always miss being around the rink during the golf season but it's nice to be back," said Rauliuk. "I get the chance to meet some new faces and help the club out, it's a great thing."
Mitchell says he loves doing what he does with the Kings to give back to the community. This season has already brought forward a few extra long days for Rauliuk as he was playing with the Dauphin Clippers football team. They had a great season that came to an end with a loss against the Interlake Thunder.
"We'll be back on the field right after the snow melts, we have unfinished business," said Rauliuk.
On several occasions, Rauliuk would take his pads off after a game and head right to the rink to get things ready ahead of a Kings game. It's something that the young man from Dauphin has become passionate about and he's looking forward to an exciting remainder of the season which is set to continue on Saturday night when Dauphin welcomes the Virden Oil Capitals to town.
Rauliuk is also enjoying working alongside Ty Hassel this year and moving back to last year with Hudson Yaremko.
"Both guys have been amazing, it's pretty great to learn new things," said Rauliuk. "It's a great group and I'm happy to be a part of it."
Details

Contributed by

Darnell Duff
We are just eight days away from the first ever Manitoba Junior Hockey League Top Prospects Showcase and several Parkland players will be there competing in front of top scouts from across North America.
Jayce Legaarden:
He continues to put up a great rookie season with the Winkler Flyers with seven goals and seven assists in 20 games. Pair his great speed with his great release, Legaarden is a handle to lock down and he will only improve with more experience.
His 14 points are the fourth-most on Winkler and he's fifth in rookie scoring but only three back of Warren Clark. Clark has recently committed to play Division 1 hockey at St. Cloud State.
Hayden Lacquette:
A local favourite, Hayden has used his extremely smooth hands to torment his opponents. With several highlight reel assists and goals already this season, there is no surprise that Lacquette will suit up in the game.
On Friday night, this goal won Portage the game.
Hayden Lacquette are you kidding me!

Between the legs overtime winner ☑️ @PortageTerriers 🚨🤯 pic.twitter.com/wLlM0GCSHg

— #theMJ (@mjhlhockey) November 5, 2022
Hayden now has five goals and 14 assists on the season and his 19 points are the second-most in the league, only behind Daniel Siso. He also leads the league in scoring among defenseman.
Aiden Ziprick:
How does it feel to score twice in a single game? Just ask the Russell native as he achieved the feat on Saturday night in a 6-3 win against the Winnipeg Freeze. Aiden now has five goals on the season.
Aiden Ziprick gets his 2nd of the night on this nice play from the point @mjhlWolverines 🚨 pic.twitter.com/DbFxhSTpEG

— #theMJ (@mjhlhockey) November 6, 2022
To go along with his five goals, Ziprick has also added six goals. He had 12 points all of last season in 33 games and he's played just more than half of that this season. The sky is the limit for the former Parkland Ranger. While scoring isn't his main priority being a defenseman, Ziprick is proving that he can get things done offensively.
Also don't forget, he still isn't even 17-years-old, he turns 17 in December.
Dauphin Kings:
While the league will unveil the showcase's full rosters later this week, we do know of three players that play on the team that are heading to the event. The team's captain Owen Wareham will be joined by Anthony Bax and Jayden Harris.
The event takes place next Tuesday and Wednesday in Portage.
Details

Contributed by

Darnell Duff
The Parkland U15 Rangers put together two great offensive performances in earning four points.
In a two-game set with Norman, Parkland scored 16 goals in two games to sweep the two games.
On Saturday, Trace Langan scored twice as did Alex Campbell. Hayden Shtykalo and Dayson Martin both had a goal in a convincing 6-1 win.
Reese Scott then scored three goals on Sunday in a 10-4 win for Parkland. Noah Smigelsky, Quinten Fisk and Trace Langan each scored twice.
Alex Campbell scored once while Kyle Pelletier made 27 saves.
Details

Contributed by

Darnell Duff
Breken Brezden is a provincial champion.
She beat the best junior women in Manitoba and Saskatchewan in Stonewall this weekend to claim the gold.
She finished first in her short skate and first in her free skate.
Breken is next off to the Canada Challenge where she will look to gain a spot in the national championships.
Details

Contributed by

Darnell Duff
The Parkland U18 Rangers looked like they would earn at least a point on Sunday.
Until Pembina Valley scored late as they secured a regulation win by a score of 3-2.
Madden Murray and Dru Mushumanski would score for Parkland in the game and Kyler Swanton made some excellent saves, finishing with 33 saves. Pembina Valley scored the winner with just 75 seconds left.
The Rangers will look to continue with their solid play on Tuesday night at Credit Union Place.
Details

Contributed by

Darnell Duff
Morgan Gouldie made 52 saves on Saturday but the Parkland U15 Women's Rangers lost 9-3 against Norman.
Madison Colon, Peyton Lehmann-Mullin and Layne Minshull scored for Parkland in the game.
Lehmann-Mullin also had an assist in the game.
Details

Contributed by

Darnell Duff