Latest Sports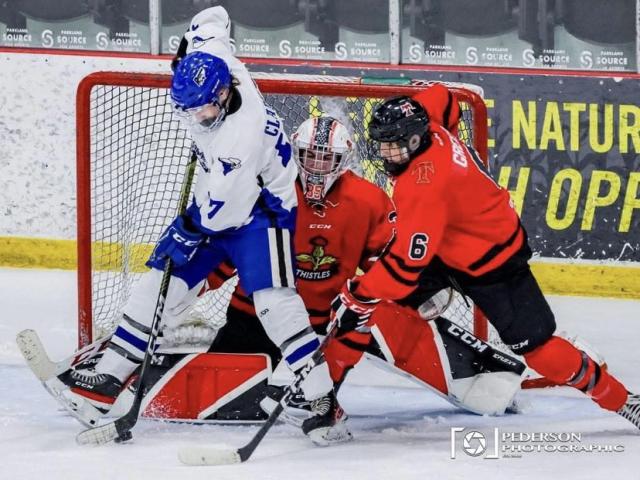 Cash Clarkson is committed to getting better and he's committed to doing whatever it takes to make it happen.
From Winnipegosis, Clarkson has risen up the ranks over the years and it's been an exciting journey for the 17-year-old. Recently, he made the trip to Boston with his family to play in the 2023 Chowder Cup as he suited up for the Boston Jr. Whalers. In three games at that tournament, Clarkson scored one goal while adding an assist and he played a very physical game.
"It was really enjoyable to get the chance to go on a trip with my family," said Clarkson. "It was really good hockey, it actually surprised us. We had a really good team and we ended up winning our division, it was a great experience and I'm really happy that I was asked to play."
Clarkson has also spent a ton of time on the ice in Saskatoon and Winnipeg this summer as he prepares for the 2023-24 campaign. Now back in the Parkland, Clarkson is back skating at Credit Union Place as he plays on Team Hedley in the Parkland Summer League which opened up play on Tuesday evening.
Calling Credit Union Place his home over the past few years, Clarkson was thrilled to be back at the state-of-the-art facility.
"I haven't skated there for a few months so just to touch the puck and get a feel on the ice was great," said Clarkson.
Cash scored four times on Tuesday as he led his team to a commanding 14-6 win. The Winnipegosis native is no stranger to finding the back of the net as he scored 16 times with the U-18 Rangers last season while adding 14 assists. Cash also scored eight times in the previous regular season and he added one more goal in the playoffs as Parkland advanced to the second round of the playoffs for the first time in more than 20 years.
Clarkson has played 88 regular season and seven playoff games with his home region AAA team and he has enjoyed every single minute, win or lose.
"I love the Parkland guys, we have had some amazing guys play on this team during my time with them," offered Clarkson. "I also love Tyler, he's a great coach that always pushed me and brought the best out of me. Also, Chris and Colton, it's a great organization from top to bottom, I love being a Ranger."
Cash will now continue to lace up the skates to play with Team Hedley over the next few weeks before he heads to Swift Current for Broncos camp. Swift Current is just five years removed from winning the Western Hockey League. Upon his return, Cash will head to Swan Valley for Stampeders camp and his goal is to get into some preseason games and then make the team's opening-day roster after he was drafted 32nd overall by them in the 2022 MJHL Draft.
"That's my dream, to get the chance to play with the team that drafted me," said Clarkson. "I understand no spot is guaranteed, I'm just going to do whatever I can to give myself the best chance possible to make the team."
Swan Valley opens their preseason schedule on home ice at the Centennial on September 3 before they head to Waywayseecappo one day later for their second preseason game.
National Champion:
Just like he knows how to score, Cash also knows how to win. He helped Team Manitoba win a gold medal at the National Aboriginal Hockey Championships that were played in Winnipeg from May 7 to 13. He scored one goal and had one assist in that game as he joined a strong Parkland contingency which included Carter Zalischuk and Chase Glover.
It was Clarkson's first national title.
"Being a national champion is an honour," said Clarkson after helping Manitoba capture national glory. "We had a really good group of guys. When we won it, it was a really special moment for our entire group and my family as well. Just being around great guys and playing in a national championship was something that I will never forget and winning gold adds to that."
Details

Contributed by

Darnell Duff
The hockey season is here for many Parkland stars as they take part in the Parkland Summer Hockey League at Credit Union Place.
On the opening day of the competition on Tuesday, Cash Clarkson put on a show. He scored four times and added one assist as Team Hedley downed Team Soupy, 14-6. Quinten Fisk scored three times in the win while Jake Myhre netted a pair of goals. Noah Smigelsky also scored twice in the win while Sam Swanton had one goal as did Alex Lopez and Weston Rank.
In the defeat, Rylan Gibbs had the hot stick for Team Soupy as he scored four times and had two assists. Kenai Mouck and Ethan Carnegie also scored in the loss.
In the final game of the evening, Team Freese picked up their first win. Carter Zalischuk -- who scored his first MJHL playoff goal last year -- finished with three goals while Forrest Karlson scored a pair of goals. Also finding the back of the net were Axel Dunning, Ryzlie Nepinak, and Jordan Height.
In the defeat, Brayden Budolowski had one goal and one assist while Noah Hanneson also scored. Dillian Anderson scored a pair of goals.
The league continues with two more games on Thursday.
Details

Contributed by

Darnell Duff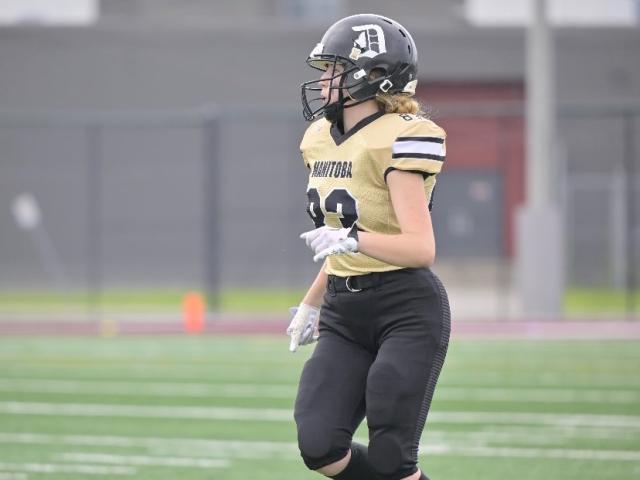 Annaliese Silvester was in Winnipeg during the middle of June so she made the decision to try out for the Manitoba U-18 girls' football team.
A couple of weeks later, Silvester found out that she was named to the team's roster, and with it, she was given a chance to take part in Football Canada's national championships in Ottawa, an event that recently wrapped up.
A member of the Dauphin Clippers, Silvester's rise to the top of the junior women's game in the province began nine years ago when she suited up for the Nomads Football Club in Winnipeg. With a passion for the game, nothing will stop Annaliese from achieving her goal of playing at the highest level possible. At this time, playing in the national championships certainly allowed her to check off one of her lifelong dreams.
"It was a very amazing feeling knowing that I made the team," said Silvester. "Ever since I first picked up a football, I knew I wanted to go as far as I could so to get the chance to represent the province was an incredible feeling and I feel honoured."
So Silvester joined her team as they were Ottawa bound for the event and they opened things up with a tight 32-26 loss against Ontario Red. Manitoba would respond in their next game as they hammered Team Indigenous Football Canada, 53-0.
"It was an incredible experience, everyone got along together very well from the coaches to the players," said Silvester. "We even had a game night one night where all the coaches played video games with us. Then on the field, I couldn't have asked for much more."
With a 1-1 record, Manitoba had the opportunity to play for a gold medal in the Cummings Division as they went up against Team Ontario Black. Ultimately it wasn't meant to be for Manitoba as they came up short in an 8-0 loss. Despite the loss, the team still earned silver medals and the finish was a dramatic improvement from one year prior.
At the 2022 national championships in Regina, Manitoba lost all three of their games and they scored just three points.
For Annaliese, being a national silver medalist is a tremendous feeling.
"I don't even know how to describe how I feel," offered Silvester. "We are the first Manitoba team to win a medal at the event, so it's very special."
Now back at home in Ethelbert, Silvester is getting ready for the high school season as the Clippers will hold their first workout next Wednesday at the DRCSS. Just like it was special playing for Team Manitoba, Annaliese certainly does not take being a Clipper for granted.
"I'm very excited for the season, I'm hoping to see a lot of new faces and make some new friends," ended Silvester. "We should have a pretty strong team, we're all ready to compete."
Details

Contributed by

Darnell Duff
The Layne Stars fastball team was back in action over the weekend and what a weekend it was.
Playing in Cross Lake, the Stars dominated their opponents to finish the weekend as champions.
In the finals, Layne Stars beat Cross Lake, 8-1. Among the players that put forth great performances was Bo Thomas as he was razor sharp on the mound.
Details

Contributed by

Darnell Duff
Codi Harrigan has been told by Rugby Manitoba that the Mavericks Rugby Club is not committed enough.
This has ultimately led the team to play just three games this summer. Rugby Manitoba does not appear to know that the Mavericks are an extremely committed group of Dauphin players that come together to practice and improve their skills because they love the game.
Then when they hit the field, they are showing that no one can stop them in hopes of getting back into a sanctioned league because exhibition games are simply not enough. Over the weekend at Kin Field, the Mavericks once again showed why they should be going up against the best senior teams in the province as they hammered the Winnipeg Wasps, 56-31.
It was the Wasps' premiere team and it was the Mavericks' second win against them this year after beating them 15-5 earlier this summer.
Earlier this year, the Mavericks also hammered the Winnipeg Assassins, another premiere team, 60-0. Cody and the rest of the team have proven that they can stick with anyone.
"We are competitive, we can compete against and beat those Winnipeg teams," said Harrigan. "It gives the guys confidence, we continue to show that we can win games and our skills continue to develop."
It's also an added bonus when they beat teams from Winnipeg.
"It just shows where we are at as a team," offered Harrigan.
The league that the Mavericks are hoping to get back into will see a new commissioner join the fold next season. While a name has not yet been released, Harrigan is hoping that it comes with positive results.
"My hope is that there is a bigger push outside of Winnipeg, there is a lot of talent out here and it's just waiting to be tapped into," he ended. "Not even just Dauphin, you go to other communities like Minnedosa and Rivers, they could make teams as well."
For now, the Mavericks will have to sit on their perfect record until they hit the field again for a game on August 19 and that game will be played in Dauphin.
Details

Contributed by

Darnell Duff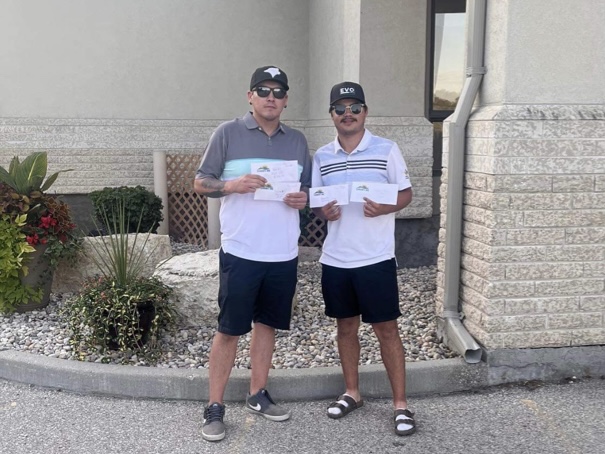 For Jose Mekish-Lacquette, there is no feeling quite like getting the chance to tee it up with his brother.
A very good golfer himself, Tyler joined Jose at the 9th Annual Creators Sky two-man tournament at the Bel Acres Golf & Country Club earlier this week, and what a performance they put together.
After going even par thru their first nine holes, the duo heated up. They played their final nine holes in nine-under-par to win the tournament. They made seven birdies on the back nine and one eagle which were paired with a single par.
"It's always amazing to play with my brother," said Jose. "Our bond becomes that much closer every time that we step on the course."
Jose also won himself the long drive competition and he won a closest to the hole.
Details

Contributed by

Darnell Duff
Breken Brezden was just five years old when Donna Drysdale of Dauphin saw something in her.
It was Breken's first year of figure skating and Drysdale led Skate Dauphin for many years so she knows great talent when she sees it. Now 12 years later, Brezden is still living her dream on the ice as another skating season has arrived.
Breken has now begun her season in Hamilton, a city that is home to more than 780,000 people. On top of her extremely busy training schedule on and off the ice, Brezden will begin her post-secondary studies at McMaster University and she will be studying Life Sciences.
"I know it will be a big change, but as much as I'm nervous about it, I am very excited as well," said Brezden. "I still have some shopping to do for my residence and stuff. I'm excited to start the next chapter of my life."
Since first stepping on the ice at Credit Union Place with coach Drysdale, Brezden has continued to improve immensely and when she was nine, she started travelling to Virden to train with Patti Hole. Patti has more than 35 years of coaching experience and she has coached at the Olympics in the past. During this entire time, Breken continued to train with Donna in Dauphin while showing off her amazing talents in the city and across the country.
With the new skating season now here for Breken, she's looking to build off the incredible season she had last year. Winning gold medals both in Manitoba and Saskatchewan, Breken stepped up her game at the national championships as she finished in the top 10 and she was less than a point away from being in the top five. An accomplishment that she is very proud of, all of Breken's success has certainly not gone unnoticed.
Skate Canada has announced its NextGen Team for the 2023-24 season. The team includes 45 skaters, 13 of which are women and only three of them are from Western Canada. When opening up her email recently, it was all smiles for Brezden and her family as she was named to the team for the season.
Skate Canada's NextGen program was created to support the operations of Skate Canada's high-performance development system with the purpose of ensuring athletes and coaches reach their maximum potential through various development and training opportunities.
Selected skaters and their respective coaches are provided essential support to further their athletic goals while identifying and supporting the development of the skills necessary to be competitive at a national and international level.
"I was at the bank with my mom when I first got the email and we couldn't help but celebrate," offered Brezden. "It's a really great feeling to know that all of my time, hard work, and dedication is paying off. To get this kind of opportunity is very satisfying for me. I'm happy I have the chance to continue showing what I can do."
Brezden will continue training in Hamilton for the next several days before heading to Boston for the Cranberry Cup, an event that welcomes skaters from across the globe. In the Junior Women's age group, Breken will be going up against skaters from Mexico, the United States, Argentina, Egypt, Greece, South Africa, and Chinese Taipei.
It will be the first time that Brezden goes up against international competition and she is very much looking forward to the challenge ahead of her.
"I feel pretty confident with the trajectory of my progress, even compared to last year, I am starting leaps and bounds to where I started last year and I had a successful year," said Brezden. "I'm very happy to be on the ice as much as I am, I'll continue to put everything I have into this so I can become the best skater I can."
Details

Contributed by

Darnell Duff
Mark Liwiski loved Kelowna so much that he will spend his summer training there.
After all, the Dauphinite played all but 10 of his Western Hockey League games with the Rockets. Including three playoff games with them, he suited up in 197 games with one of the most storied franchises in the league and as he made a journey up the ranks, Liwiski continued to get better and better.
After posting a 17-point campaign in 60 games in his first year with the club, Mark increased his point total by two the following season and during a shortened pandemic season, Liwiski scored nine times and had 14 points in 16 games.
Then in his final season with Kelowna, Liwiski really made a name for himself with 46 points in 63 games. While his point totals increased, his stock did as well. Mark proved not only could he score, but he could do so by playing physical and going hard in the corner and he truly put his body on the line for his teammates every single time he stepped on the ice.
After that great season in Kelowna, Mark was on to bigger and better things as he took part in his first National Hockey League camp and he then signed his first professional contract with the Wichita Thunder. A member of the ECHL, Wichita won 33 of their 72 games and missed the playoffs by just a single point. Liwiski was a regular in the lineup as he played in 67 of the games.
"I was definitely struggling a bit at the start, but I started to turn my game around as time went on," said Liwiski. "We had a great group of guys and I leaned on that for a little bit more success. It was a great experience, I'm really glad that I was given the opportunity."
Liwiski finished the season scoring 10 goals and adding seven assists to go along with 192 penalty minutes. Mark was one of just eight players on the team that reached double-digits in goals and he finished 10th in team scoring. Mark's 132 shots on goal was sixth on the team and he scored one goal while on the man advantage.
While Mark is pleased with how his first year as a professional went, he knows that he has a lot more in the tank.
"There could have been more, without a doubt and I'm ready to show that," said Liwiski. "I know that I can put the puck in the net, go into the hard areas and play with good players. I know what my role is and I am ready to do whatever it takes to help my team and myself advance."
As noted above, Liwiski is back in Kelowna training for the summer, and in just less than a month, he's coming back to Manitoba. The last time Mark played full-time in Manitoba was when he was a member of the OCN Blizzard of the Manitoba Junior Hockey League in the 2017-18 campaign. That's when he scored 14 goals and had 25 points in 36 regular season games before posting another two goals and three points in six playoff games. That was his final step ahead of a 197-game tenure with the Rockets.
As we now look ahead to the 2023-24 season which is just around the corner, Liwiski is bound for Manitoba's capital. The Manitoba Moose of the American Hockey League and the Dauphinite have come to terms on a one-year contract.
Mark will now call Canada Life Centre his new home as the Moose make a push to the Calder Cup playoffs. It also means that for the first time in a long time, Mark will get the chance to play in front of his friends and family on a consistent basis.
"It's a big dream of mine, you always want to play in front of the people that have been by your side since day one," said Liwiski. "So many people have reached out to congratulate me and I really appreciate that. I'm excited to earn a roster spot and keep working hard."
Just eight years ago, Mark scored 39 times and had 91 points in just 35 regular season games with the Parkland U-15 Rangers and he had another 54 points in 37 games with the U-18 Rangers the following season which was paired with five points in three playoff games.
Now, he's just one step away from the National Hockey League and his journey will continue in his home province and just three and a half hours away from his hometown.
The Moose host the Calgary Wranglers to open the new season on Friday, October 13. That game starts a stretch where Manitoba will play eight of their first 10 games on home ice.
Details

Contributed by

Darnell Duff
Anyone who knows Jose Mekish-Lacquette will know that his summers are spent on the golf course.
Playing mostly at the Gilbert Plains Country Club, Jose's passion for golf runs deep and his motivation to become the best golfer he can push him daily. While he understands it is a long process to becoming an elite golfer and a consistent one at that, Jose respects that process and the summer of 2023 is shaping up to be the best of his life.
'Things are looking pretty good, I have been hitting the ball pretty well all summer," said Mekish-Lacquette. "I've been struggling with the flat stick on the greens, but that's golf. I'm happy with where the game is right now."
Jose has played in several tournaments so far this summer with the biggest one coming at the Oak Island Golf Resort as he went up against the best amateurs in the province as Golf Manitoba hosted its amateur championships. Braxton Kuntz won his third straight provincial title with rounds of 67, 69, and 69.
Ryan McMillan of the Elmhurst Golf & Country Club finished one stroke behind and Jose finished in a tie for 30th at the event. Only Thomas Scott finished higher when it comes to Parkland golfers and Eric Prokopowich of Dauphin joined Mekish-Lacquette in 30th.
Opening his tournament with a 79, Jose turned things up in the second round with a smooth 73 which saw him easily make the cut. Jose opened his second round with a birdie on one, he added another on 13 and he finished his round perfectly with an eagle on the 18th. Jose was then three under after six holes in his final round and he added one more birdie on the back to shoot a 76.
"That was probably the best that I have hit it all year ball-striking-wise," offered Mekish-Lacquette. "Just like it has been for the last nearly two months, I really struggled on the greens. It's great to know that I was hitting greens and giving myself chances, but it's tough to swallow not making any putts and giving up a ton of strokes because of it."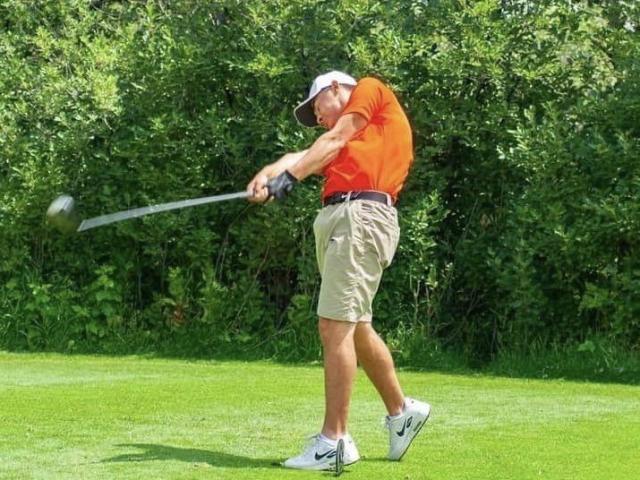 Now back home, Jose will compete in a couple of local tournaments to prepare for another big event as he looks to qualify for the Manitoba Open which takes place August 24 to 27 at Southwood Golf & Country Club. That event is a part of the PGA Tour of Canada, a tour that features players that will eventually make the PGA Tour. Heading into that event, Jose just plans on being loose and having some fun.
"I really have nothing to lose when I tee it up trying to qualify," said Mekish-Lacquette. "I just want to go out there and give it my best shot, that's the goal. It's going to be a great experience playing alongside some professionals that are also looking to get into the main field."
Then shortly after that event, Jose will move to Manitoba's capital to study at the University of Manitoba and while he does that, he will be living out his dream. Jose has been invited to join the Bisons' men's golf team and based on last year, their season begins in early September. While Jose will have to earn his way into each event, he's looking forward to the challenge and he understands the grind has just begun.
"I'm so excited, it has always been a dream of mine to play at the collegiate level," ended Mekish-Lacquette. "It's really cool how everything is coming together and I'm looking forward to what's next and being a part of the Bisons."
Details

Contributed by

Darnell Duff
It was a journey that saw him travel nearly 8,000 kilometres round-trip and it was a journey that has since provided him with memories that will last a lifetime.
Gabriel Beaudin is back in Dauphin after playing with the U-16 Manitoba men's volleyball team at the North American Indigenous Games which wrapped up over the weekend in Halifax. Beaudin got the nod just a few years after he started playing the game.
"It was an incredible experience," said Beaudin. "I'm always going to remember my amazing teammates. We were very busy with different activities, it was a week that I will never forget."
When it came down to business on the court, it was a near-perfect week for the Manitoba men. They won all six of their round-robin games, losing just one set in the process. The team would then go on to hammer Ontario in straight sets in their semi-final.
"We all connected really well, we were a very athletic team heading into the event," said Beaudin. "We had a lot of success offensively and we improved defensively as the week went on. No one was able to stop us, it was really cool to be a part of."
Then on Saturday, July 22 at 11:30 a.m. on court 4 at the Canada Games Centre, a national title was on the line. Manitoba had already beaten Saskatchewan twice and if they could do it once more, they would win a national gold.
Saskatchewan pushed Manitoba in the first set, but Team 'Toba earned a 26-24 first-set win and they never looked back. Manitoba gave up just 34 points in the next two sets as they cruised to another victory and with it, the Manitoba U-16 men's volleyball team won a gold medal.
"It was pretty amazing when we won, everyone stormed the court," said Beaudin. "The U-19 team gave us a broom so we swept the court. I was really excited that we won, it was a great feeling."
With the high school season now just more than a month away, Gabriel will return to the DRCSS where he excelled last year as a rookie playing varsity.
Details

Contributed by

Darnell Duff
For Norman Lacquette, it was a dream come true and it was a week that he will never forget.
From Dauphin, Norman got the nod to play with the Manitoba U-16 softball team at the North American Indigenous Games that took place last week in Halifax. An elite player himself, Lacquette has been working very hard over the years and when he was presented with a chance to play with the team, he knew he needed to continue working hard and pushing himself.
A full-time member of Layne's Stars, Norman is always the first one on the diamond and he's always the last one off the diamond, whether it be a practice or a game. It's safe to say that all of his hard work over the years has paid off.
"It was amazing, it was a once-in-a-lifetime experience," said Lacquette. "Wearing that Team Manitoba on my chest meant a lot, especially because I had so much support from people back here in Dauphin. Everything was amazing, the atmosphere and the people were so kind. I will never forget what happened in Halifax."
Getting down to business on the diamond, Manitoba opened the tournament with an 8-7 win against British Columbia before they dispatched Nova Scotia, 9-5. Manitoba remained undefeated with a 14-7 double-up against Ontario before they dropped their final game of the round-robin, against Saskatchewan, 10-6.
Lacquette helped the team win three of their four round-robin games as they finished second heading into the playoffs where they would beat Ontario 6-2 in the semi-finals. After Saskatchewan beat British Columbia in their semi-final, it was an all-Prairie battle and a national championship was on the line.
Manitoba got off to a tremendous start as they were up by three runs after the first inning; however, that was where the game was halted. Inclement weather brought the game to a halt so Manitoba was named national champions. Now back home with a gold medal and many amazing stories to share, Lacquette wants to thank everyone for all of their support over the past week and years.
"I had to play thru a popped knee and we had other guys with injuries," said Lacquette. "We just put those aside and did whatever it took. We had such an amazing group of guys, I wouldn't have wanted to play with anyone else. It feels absolutely amazing, I'm still smiling and I likely will for a long time."


Conner Weber-McKay, who played with the Parkland U-18 Rangers last year, was also on the team and he played a big role.
Another Gold:
On the volleyball court, Gabriel Beaudin helped the Manitoba men cap off a perfect week and it resulted in a national title. The team lost just one set the entire tournament and they ended things with a three-set sweep against Saskatchewan in the final.
Beaudin was the team's starting setter and stay tuned to hear from Gabriel in the coming days.
Details

Contributed by

Darnell Duff