Latest Sports
In just two days' time, 15-year-old Conor Geekie will be in Winnipeg for his first training camp with the Winnipeg ICE.
Preparing for this camp has been a priority for Conor all summer long. It hasn't been the only priority for Conor, however. Earlier this summer, he won a provincial title with his hometown baseball team, Strathclair. In the finals at that tournament, Conor reached base all three times and drove in two runs.
Conor hasn't added to his gold medal trophy case again this summer, but he showed off what he can do on the diamond on the national stage.
The Strathclair native played for Team Manitoba at the 15U Ray Carter Cup National Championships in Oshawa, Ontario.
After going 4-1 in the round-robin, Conor and the club found themselves in the national semifinal earlier today.
They fell short in that game, but they still played in the bronze medal game. Manitoba once again came up short in that game, as they finished fourth.
"It's a pretty cool feeling. Manitoba is a small province compared against teams like Ontario, Quebec, and teams like that," said Geekie, prior to the closing ceremonies. "It was sweet to beat some really top-notch teams. It was a fantastic week, that's for sure."
Manitoba came out of the gates firing. They won their first three games. After going 1-3 in their 3-0 win against New Brunswick to start and 0-3 in their next game against Prince Edward Island, Geekie caught fire.
He went 3-4 in the team's huge 10-1 win against Newfoundland.
The rest of the way, he picked up five hits and ended up going 9-21. His .429 batting average was second on the team, and his five RBI were also second on the team.
Conor also had a team-high seven runs scored.
"Yeah, I got off to a tough start and my teammates just got behind me and told me to just go hit," said Geekie. "I just put the ball in play, and good things happened."
Conor also pitched 3.2 innings, and he had four strikeouts and gave up just one earned run.
Being 15, this was the final 15U tournament Conor will play in. He'll move up an age group next year, and he's looking forward to that challenge.
"Playing baseball is always fun and it's always something I love doing," said Geekie. "I'm looking forward to whatever is next for me when it comes to baseball."
Now the focus for Conor switches solely to another game he shines at. After getting drafted second overall by the ICE, Geekie will take part in his first main camp with the team, starting on Wednesday.
Wednesday is off-ice while team practices start on Thursday. The camp wraps up on Sunday with a showcase game.
After a dazzling 86 point performance with the Yellowhead Bantam Chiefs last year, Geekie is ready to make some waves in Winnipeg.
"I'm very excited to get things going. It's super high-level hockey, and I can't wait to get on the ice, and I want to get to know everyone," continued Geekie. "I love playing hockey, and it's going to be an unreal week."
"I just want to go out there and have fun. I'm not going out there to try and do too much," he added. "I just want to play my game. Winnipeg took me for me. I'll go out there and give it my all."
Fresh off a fourth-place finish at nationals, Conor knows that starting Wednesday, it's another chance for him to shine.
"I really think I'm ready for this. It's going to be a test full of ups and downs, but I think it's a great start for me," he concluded.
Details

Contributed by

Darnell Duff
The Odut's have brought home two titles back to their home.
First up, Mark Odut won the men's second flight at the Tamarack Tournament. After entering the second flight matches as the first seed, he won four straight to win it.
Mark's son, Easton Odut won the junior men's fifth flight.
Onanole's Keith Fawcett defended his own course. The Clear Lake Golf Course member won the champion men's championship flight.
Other winners from the Parkland include Dauphin's Jason Yates as he beat Dauphin's Mike Sparrow to win the fourth flight consolation title.
As the eighth seed, Bart Michaleski won his fourth straight match to win the sixth flight.
Mel Graves won the senior men's first flight consolation championship.
The final one saw Ivin Semenek winning the senior men's fourth flight consolation title.
Details

Contributed by

Darnell Duff
The Parkland U18 Rangers wrapped up their training camp on Sunday afternoon at Credit Union Place.
The weekend included scrimmages and drills as the club now looks to trim down their roster.
Head Coach Arnie Caplan shares his thoughts on the weekend.
"I thought guys looked a lot better as the weekend progressed," he said. "It's a small group, but I think we have some pretty good young players."
The group included some players that are used to AAA hockey and some that played high school last year.
"Some of the returning guys looked good as well as some of the bantam players coming up," added Caplan. "Brayden Kohlman also really stepped up his game, he looked solid."
Keaton Ziprick and Bode Childs were the two goalies at camp.
"They're looking forward to showing themselves coming up here," Caplan concluded. "They're looking pretty good."
The team will practice on Tuesday and Wednesday.
They travel to Yorkton for a preseason game on September 6. On September 7, they're at home against Yorkton.
Details

Contributed by

Darnell Duff
In what is always a long and exciting week at the Tamarack Tournament at the Clear Lake Golf Course, Dalayna Tomlinson finished her tournament on top.
She won the Championship Consolation Match.
Several other final matches take place today.
Details

Contributed by

Darnell Duff
Strathclair's Conor Geekie and the rest of the Manitoba men's baseball team are semifinal bound at the 15U National Championships.
Playing at the event in Oshawa, the team has gone 4-1 so far and Conor's been massive in their success.
In a 7-1 win against Nova Scotia, Geekie went 1-3 and scored two runs and had one RBI.
He also went 1-2 and had the team's lone RBI in a 4-1 loss against Alberta.
In a dominating 10-1 win against Newfoundland, Geekie went 3-4. One hit was a double, one was a triple and he also had a stolen base.
Conor went 0-3 against Prince Edward Island, but he did have an RBI as the team went on to win 6-5.
In their fourth win, Conor had a hit and scored a run in three plate attempts.
Conor and the gang will now play Ontario in one semifinal on Sunday.
Details

Contributed by

Darnell Duff
Dauphin's Eric Prokopowich fell short in his semifinal match at the Tamarack Tournament, but he didn't fall short on the 17th hole.
Playing the severe downhill par 3, Eric hit a perfect tee shot and it went in.
That's a first flight championship on the Westman Junior Tour, a semifinal appearance at the Tamarack and a Hole in One all in the same season for the Dauphinite.
Details

Contributed by

Darnell Duff
No winners will be decided today at the Clear Lake Golf Course.
The Tamarack Tournament has cancelled today's action.
The finals will start tomorrow morning at 9.
Details

Contributed by

Darnell Duff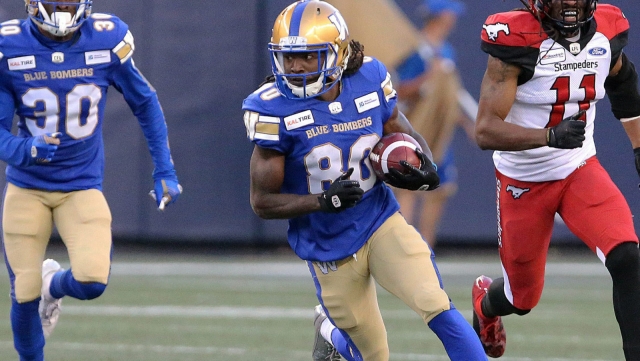 The Blue Bombers own first in the West and are a league-best 8-2.
Quarterback Chris Streveler only threw for 89 yards, but he ran for 95 more with a touchdown as Winnipeg beat the Edmonton Eskimos 34-28 at Commonwealth Stadium.
Trevor Harris had another monster game for Edmonton. He threw for 470 yards.
Winnipeg will now look to continue with their hot play. They play the Labour Day Classic next week against Saskatchewan.
Details

Contributed by

Darnell Duff
Onanole's Keith Fawcett will play in the Championship match in the champion men's bracket at the Tamarack Tournament.
Jackson Delaurier, Noah Wiens and Hayden Delaloye won their respective matches to advance to finals. Also, Easton Odut will play in the finals in the junior Fifth flight.

In the junior third flight, Brayden Tkachuk will play in the finals.

The top seed in the second flight is Dauphin's Mark Odut and he's finals bound after a semifinal win.

In the fourth flight consolation bracket, it's all Dauphin.

Jason Yates will take on Mike Sparrow.

As the 10th seed in the fifth flight, Jerron Kyle has caught fire. He's won three straight matches and he will play in the finals.

In the sixth flight, Bart Michaleski will play in the finals as well.

Details

Contributed by

Darnell Duff
Earlier this month, Riese Gaber played in the Jayce, Josh, and Friends Celebrity Texas Scramble at the Roblin Golf & Country Club.
The event included 13 celebrities. Ryan Pulock, Colby Robak, Josh Brook, Jayce Hawryluk, and Travis Sanheim, just to name a few all teed it up. Riese was also a celebrity for the event.
Just like the Grand Plains Celebrity Classic, each golfer was auctioned off and Pulock went for $2000. That was followed by Jayce who went for $1600. Riese, who won last year's junior men's Tamarack Tournament, was auctioned off for $1000.
In the end, nearly $45,000 was raised and it will be split between Roblin Minor Sports and the Roblin Golf & Country Club.
"Yeah, it was a ton of fun. It turned out to be an unreal event and the organizers did a fantastic job," said Gaber. "They're hoping it's going to get even bigger going forward and there's no doubt in my mind that it will."
"It was cool being a celebrity for it. Obviously, that's my dad's hometown and a lot of my family is from Roblin," he continued. "It was an honour being a part of this tournament."
When it came to the golf, Gaber and his foursome played a great round, but they ended up falling just short in a playoff to the team they were paired up at the start. That means the eight some ended up playing 20 holes together.
"The golf was awesome. It was all relatives of ours so we had a really good time," continued Gaber.
Despite the loss, they still shot 13 under.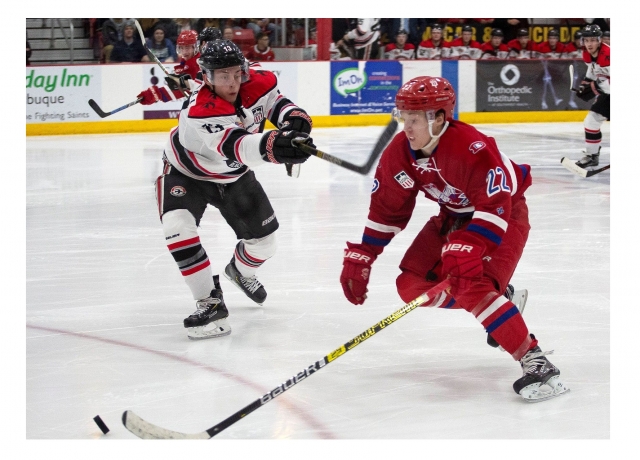 Now, Riese will prepare for his hockey season in Dubuque. He's set to head there in just over a week. Working at the Gilbert Plains Country Club, skating in Brandon and training in Dauphin has kept Gaber very busy, and now he's looking forward to moving back to his winter home.
"I think things are setting up to have a good year for me and the team in a whole," he continued. "I'm really excited to get back at it. I'll be out there shortly and I can't wait."
In his first year in the United States Hockey League (USHL) last season, it didn't take Riese long to get used to the style of play. Playing on a line with the Jackson brothers, Riese had 50 points (22G) in the regular-season. He also added two playoff assists.
Combined, Riese's line had 134 points and Riese was second in team scoring. Gaber was also in the Top 30 in league scoring (29th). With one year under his belt, he expects nothing but another good campaign.
"I try to not really focus on my points too much, but I know they'll come," he continued. "It would be nice to have a bigger year than I did last year and I fully expect that I will."
The team's first preseason game is on September 13. They play a home and home with Cedar Rapids before they wrap up their preseason with another home and home against Green Bay the next week.
Their season opener is at the Showcase against Muskegon on September 26. Last year, the team beat Youngstown in the first round of the playoffs, before they fell short against Muskegon.
"We have a lot of returning guys and they know what it's going to take this year to win," he added. "We really should be looking forward to going further than we did last year."
Whatever does happen this season, it will be Gaber's last in Dubuque. He will join the University of North Dakota Hawks in the 2020-21 season. Known as one of the best programs around, Riese knows what he'll be walking into when he reports there in that year.
"This is a huge year for me. I get another year to develop my game and my strength and size," said Gaber. "I couldn't be more excited to get back to college. I think this year is a good opportunity for me to really take advantage of things and get better."
Details

Contributed by

Darnell Duff
Dallas Drysdale was a big part of a lot of hockey teams. In 2009-10, he helped the Dauphin Kings win an MJHL Championship. Fast forward to the 2012-13 season and Dallas helped the Minot State University Beavers win the ACHA National Championship.
To cap things off as a player, he had 10 playoff points for the Grandview Comets in the 2017-18 season as they went on to win the North Central Hockey League title.
Now, the Dauphinite is set to take the next step. Dallas will be an assistant coach this season for the U18 Brandon Wheat Kings.
He joins head coach Curtis Brolund and Travis Mealy as the group that will lead the club.
"I'm really excited about this. I played junior hockey with Curtis and we got along really well," said Drysdale. "I'm excited to see what he can do behind the bench."
"It's really good to be back behind the bench. I didn't coach the last two years, so it's nice," he continued. "It's going to be nice to be able to pass on some knowledge as we try to win some games this year."
When Brandon begins their regular-season late next month, the entire league will be gunning for them. They're the defending Manitoba AAA U18 League Champions. They beat the Winnipeg Wild to win the title last season. With only three players eligible to return from that roster, Dallas knows it'll be tough, but he's up for the challenge.
"I'm sure we're going to be competitive. Brandon always pulls a lot of quality kids," he added. "We'll definitely have some work cut out for us, but I'm sure we'll be able to put a good team together."
Brandon will open up their training camp on September 6 and it runs through September 8. When it does start, Dallas knows exactly what he wants to bring to the team.
"I'm not really focusing on one aspect, I'll be looking at both the forwards and defence," added Drysdale. "My goal is to get the kids to produce every night and battle. What I don't like is when players expect to get lots of ice time just because they're wearing the jersey. That's not the case. I'll push them to get the most out of them at all times."
Brandon begins their title defence on September 28. They're in Brandon for back to back games against Kenora. The first time you can see Dallas in Dauphin is on November 13, when his Wheat Kings take on the Rangers.
"We're definitely going to be leaning on the three kids that were a part of the winning team last year," he concluded. "I don't think the other guys will be feeling a lot of pressure, but we always expect to compete and be up there. It should be an exciting season."
Dallas will also be in town on Sunday, February 9.
Details

Contributed by

Darnell Duff