Latest Sports
Eddystone's Caitlin Wilkinson was in Stonewall this past weekend for the U21 Women's National Baseball Championships... and she came back to the Parkland as an All-Star.
The 21-year-old was named as one of just nine players in the entire tournament to be named an All-Star for her contributions to the Manitoban squad.
In the team's six games, Caitlin tore it up going 9-16, which included six RBI.
"It's definitely a really good feeling for me," said Wilkinson. "It's my last year of baseball, so it was definitely a great way to end it. It's a proud moment."
"We as a team put in a lot of hours together," said Wilkinson. "I think that's mainly the reason I was able to have some success."
Despite going 1-1 in the team's first game against Ontario, not much else went right as they ended up falling 13-1.
From there, the Manitoban's got on a little bit of a roll which included a 15-2 thumping of Saskatchewan, and a 6-3 win against Quebec. In the game against Saskatchewan, Caitlin went 4-4 and followed that up with a 2-4 performance against Quebec.
"After losing that first game, we knew what we had to do going forward in the tournament," said Wilkinson. "We knew we could play good baseball, and that's what we did for a couple games in a row."
Quebec ended up winning the entire tournament as they beat Ontario in the finals.
"Beating Quebec was a pretty special feeling," said Wilkinson. "We knew they were a really good club, but it felt even better at the end knowing they won it all. It was really cool."
Once again, Wilkinson got to team up with her Parkland friends as Ste. Rose's Olivia Sheldon and Eddystone's Lauren Bray both were on the team as well.
"I was really glad they were on the team with me," added Wilkinson. "I grew up with them, so to be able to play with them is always a really fun thing to do."
When taking a look back at her couple years of playing at the National Championships, Caitlin has nothing but great things to say.
"It's been a lot of fun," she added. "It's really cool meeting people from other provinces, and playing against them. And, winning a couple games was a lot more special as well."
Being 21-years-old, Wilkinson won't be able to play in this tournament next year, but she is hoping to play some competitive baseball.
"There's talk now that there might be an "Open" Division," said Wilkinson. "So, if that all goes through and Manitoba has a team... I'm hoping I'd get the chance to play on it."
Details

Contributed by

Darnell Duff
The Dauphin FC Rangers once again hit the field in regular season action against Oldcastle United yesterday.
Despite being a man down because of an injury, Dauphin still mustered three goals as they ended up drawing the squad from Brandon.
Details

Contributed by

Darnell Duff
The Parkland Source for Sports 4 on 4 Summer Hockey League continued this weekend at Credit Union Place.
Saturday, August 11 (Bantam Division).
Next Level ST Wranglers beat Kiniw Management, 13-9.
Tyson Zimmer had four goals and three helpers for the Wranglers, while Rylan Gibbs had a hat-trick and one assist.
Kyan Grouette had four goals for Kiniw Management.
Kal Tire beat Kelleher Ford Mustangs, 19-9.
Zach Boychuk and Eric Shewfelt each had five goals, while Trey Sauder had four.
Jayden Jubenvill led Kal Tire with four goals.
Sunday, August 12 (Junior Division).
Next Level ST Turbochargers beat Dean Cooley Generals, 23-12.
Jackson Betcher had five goals for the Turbochargers, while Tristan Langan had four goals and six helpers.
Kurtis Luke led the Generals with five goals and five assists.
Catalyst Credit Union Lightning beat Aspen Insurance, 11-9.
Liam Bachewich led the Lightning with three goals, while Drayson Kruk had two goals and two assists.
For Aspen Insurance, Riese Gaber had three goals and three assists, while Kieren Raknerud chipped in two goals and two assists.
Details

Contributed by

Darnell Duff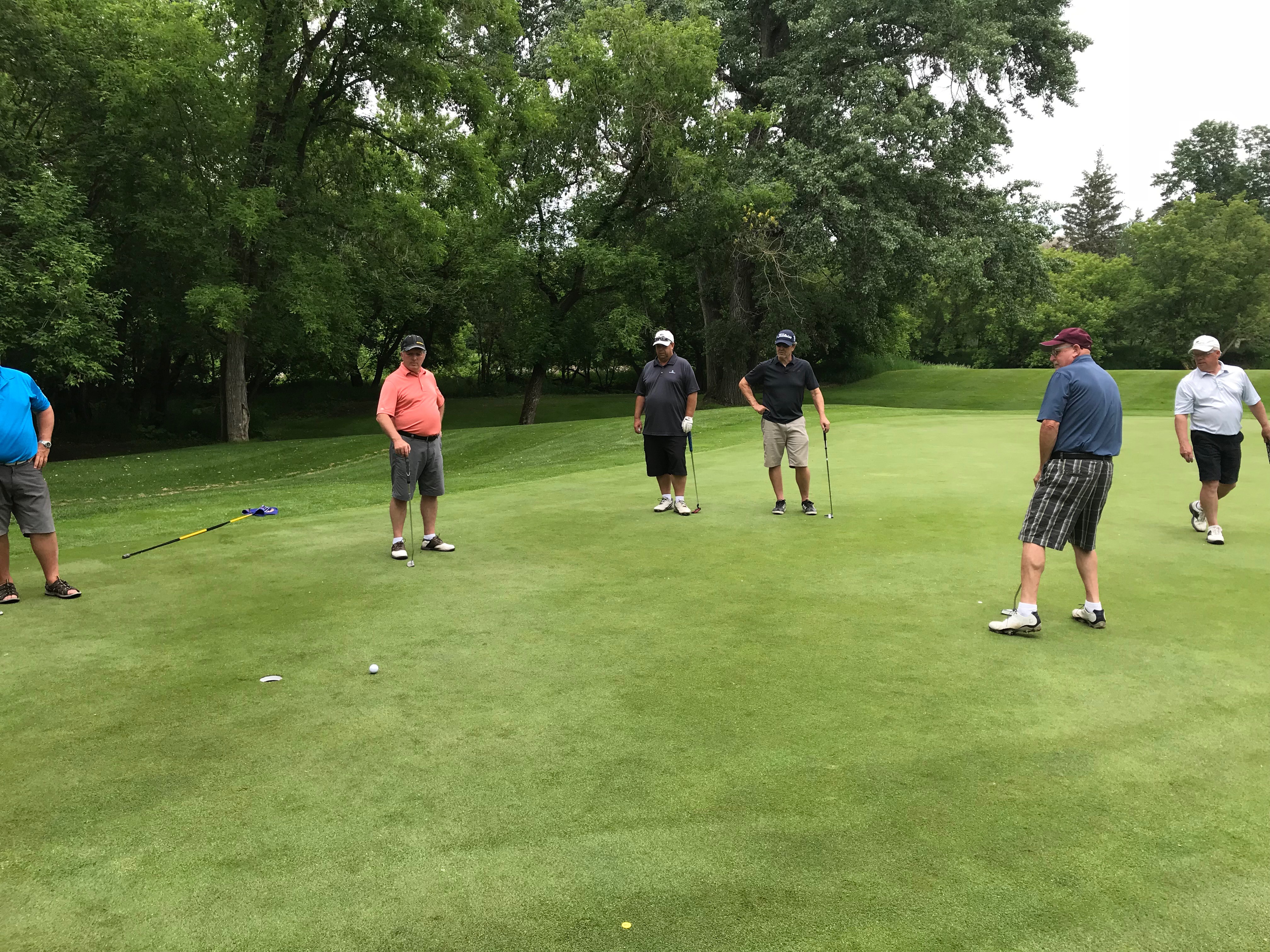 The Gilbert Plains Legion held their 12th Annual Golf Tournament yesterday at the GPCC.
The tournament was a scramble format, and the team of Rick Horn, Ryan Horn, Cliff Lambkin, and Ted Wojtowicz walked off the course as winners shooting a 15 under, 56.
Closest to the Pin:
Men's:
# 4 - Bill Shield.
# 9 - Barry Nakonechny.
# 14 - Keenan Pasternak.
# 17 - Stan Mancheese.
Ladies:
# 4 - Maryann Zalischuk.
# 9 - Steph Sochan.
# 17 - Karen Stoughton.
Closest to the Line on # 5 was Lorna Morrison for the women, while Reg Parker won the honour on the men's side.
Details

Contributed by

Darnell Duff
It wasn't the finish they had hoped for, but Ste. Rose's Olivia Sheldon, and Eddystone's Lauren Bray and Caitlin Wilkinson can say they were a part of a team that's the fourth best in Canada.
Playing on Team Manitoba, the three Parklanders went 2-2 at the U21 Women's Baseball Championships which earned them a berth in the semifinals.
In the semis, they challenged Ontario... the same team they were mercied by earlier in the tournament.
Manitoba did once again come up short, but the game went down as perhaps the best of the tournament as the team from Ontario downed Manitoba, 5-4.
Next up for Manitoba was a game against Nova Scotia, and they came up short to finish fourth overall.
Details

Contributed by

Darnell Duff
The Hamilton Tiger-Cats made it close late, but they couldn't rally enough to beat the Winnipeg Blue Bombers tonight, as the Blue & Gold picked up a 29-23 win on their home turf.
After giving up just seven points in the first quarter, the Bombers completed locked down defensively... not giving up a single point in the second quarter as they took a 19-7 lead into halftime.
The Ti-Cats outscored the Bombers in the second half 16-10, but their tough first half proved to be their demise.
Andrew Harris once again led the home team with 82 yards rushing and another 46 through the air, while fellow Manitoban Nic Demski picked up a big touchdown, and proceeded to go to the Bisons logo in the end zone... where he played his university football to show some love.
With the win, the Bombers (5-3) now move into a tie with Edmonton for second in the West Division.
The Bombers are back at IGF next Friday as they welcome Ottawa to town.
Details

Contributed by

Darnell Duff
It's nearing the end of August, and that means the Swan Valley Stampeders are getting closer to holding their Main Camp as they prepare for the 2018-19 MJHL season.
Taurean White, who took over the reigns as the HC/GM of the Stamps before last season... led the team to the playoffs in his first year as the team got hot late in the season. But, the Stampeders graduated several 20-year-olds including their leading scorers in Connor Navrot and Keaton Jameson and Duck Bay's Daniel Chartrand.
"Obviously we turned over quite a large group of 20-year-olds this past season," said White. "The focus this summer has pretty much been all about recruiting and bringing in players we feel would work well on this team. Our scouts have done a tremendous job in doing that as well."
"Then, of course, it's important to spend some time with family, because they sacrifice so much throughout the winter months with everything that goes on," added White. "It's been a busy summer, but a good one."
Throughout the summer months, some of the signings the Stamps have made include hometown boy Carter Cockburn. They've also signed young prospects Carson Pawlenchuk, and Jacob Thomson to name a few.
"I think we're happy with what we've done so far," said White. "Providing everyone comes to camp, we're excited to be going through a process of picking a team that could give us some success."
Despite camp not starting for another nearly 20 days, White says he's already ready to go, and can't wait to get things started back at the Centennial Arena.
"I think if you were to ask me, I'd be okay if camp started next week," White. "Once August rolls around, I'm always usually ready to go. I think it's going to be a pretty exciting season around here, and league-wide...so definitely, I'm ready for things to start."
The Stamps kick off their season on September 21.
Details

Contributed by

Darnell Duff
The Winnipeg Blue Bombers will look to extend their winning streak tonight as they welcome the Hamilton Tiger-Cats to town.
Players Thoughts:
Andrew Harris comes in as the hottest Bomber, rushing for 100+ yards in three of his last four games. Which earned him not only a CFL Performer of the Week last month but CFL Top Performer for the entire month.
The last time the Blue & Gold hooked up with Hamilton, Harris was relatively quiet with just 66 rushing yards... but he's got a lot of mojo heading into this game with his recent performances.
"I mean the confidence starts with the O-Line, they're the guys that block for me," said Harris. "It's not just me though, we have a few guys that can run the ball for success. Coach Lapolice has been doing a fantastic job giving us the opportunities, and we're just trying to make the most of it. Everyone else, including myself just hope to keep it going this week."
Not only is the Bombers offence rolling, but their defence is doing a pretty good job as well. In the last four games, they've allowed 20 or fewer points... and as result, they've won three of those games.
"It really just starts and comes down to execution," said Adam Bighill, Star Linebacker for the Bombers. "And, we're just starting to get more chemistry with some of the guys. It's all about playing fast, and executing your assignments... but the chemistry part is definitely helping us out a lot right now."
The Blue Bombers lead the entire CFL in points for... but the Tiger-Cats have shown they can put up points in bunches, which includes last week's 50-11 mauling over the Alouettes. If the Bombers want to have any success tonight against Jeremiah Masoli who's been ripping it up this season, the Bombers will need to once again step it up defensively.
The last time the team's hooked up, Hamilton scored 31 points in a 31-17 win.
"I mean we weren't happy with how the last game went, but you have to give credit to them... they played a good game," added Bighill. "It's just about going out there and doing the same things we've been doing for the past couple weeks. We can play a fast game, so we plan on doing that and executing, and if we do that... we should be good."
The Return of Westerman:
Jamaal Westerman played 47 games for the Winnipeg Blue Bombers from 2015-17 and had 118 tackles while doing so. He'll be back in Winnipeg tonight, but not playing for the Bombers as he plays his fourth game for the Ti-Cats.
"I'm excited to come back to Winnipeg for sure," said Westerman. "I spent my first three seasons with the Bombers, and I have a lot of respect and good things to say about the organization and city."
Those good words are echoed as the two teams get set to battle this evening.
"Both teams are pretty good," he added. "You look at their offence, and they have really two quarterbacks that can get it done... and like two or three running backs that can get it done. It's going to be an exciting game, and I can't wait to play."
Weather:
Just like Dauphin, the weather in Winnipeg for tonight's game is expected to be scorching with temperatures to reach 35 with the humidex and the UV index will be eight or very high.
"It's just about making sure we're all prepared," said Bighill. "Of course you have to make sure you stay hydrated and things like that. I mean I personally like hotter games because your muscles stay looser, and you just feel better."
Gametime:
The Bombers are 2-1 on home field this season, while Hamilton is 2-2 on the road. But, Hamilton owned the last couple meetings with the Blue & Gold winning by scores of 31-17, and 30-13.
Speaking about Masoli, he's thrown for at least 300 yards in 11 of his last 12 games.
Another Ti-Cat that comes in red-hot is Brandon Banks. He's eclipsed the 100-yard receiving mark in five of his last six games.
"I'm just getting more opportunities," said Banks. "Coach is calling the plays for me, and Masoli is just finding me open. From there, I'm just able to make some nice catches and get first downs for the team."
Interesting Facts:
The Bombers have generated 71 points off turnovers, which is second only to the Stampeders.
Kickoff:
All the action gets going at 7:30, and as always... you can hear it right here on 730CKDM, as we're a proud member of the Blue Bomber Radio Network.
Details

Contributed by

Darnell Duff
Ste. Rose's Olivia Sheldon is spending the weekend in Stonewall, as she suits up for the Manitoba women that are competing at the U21 National Baseball Championships.
They kicked off their tournament this morning against a very tough Ontario team and fell 13-1.
"It was a little rough for sure, but Ontario is very strong," said Sheldon. "We played hard, and we'll come out hard again tonight. It's an honour getting to suit up for Team Manitoba once again. It's always a great time."
Now Sheldon and the rest of the team takes on Saskatchewan this evening, and although it's very early in the tournament... it's a near must-win for the Manitoban's if they wish to advance to the playoff round.
"I think we just really need to stick together as a team," said Sheldon. "We need to get the bats going right from the start of the game, and if we do that... I think we'll have some success."
As far as her personal performance goes, Olivia knows what she has to do.
"I just have to stay positive, and be a great teammate," said Sheldon. "And, when I get the chance I just need to do anything I can to help the team win."
Details

Contributed by

Darnell Duff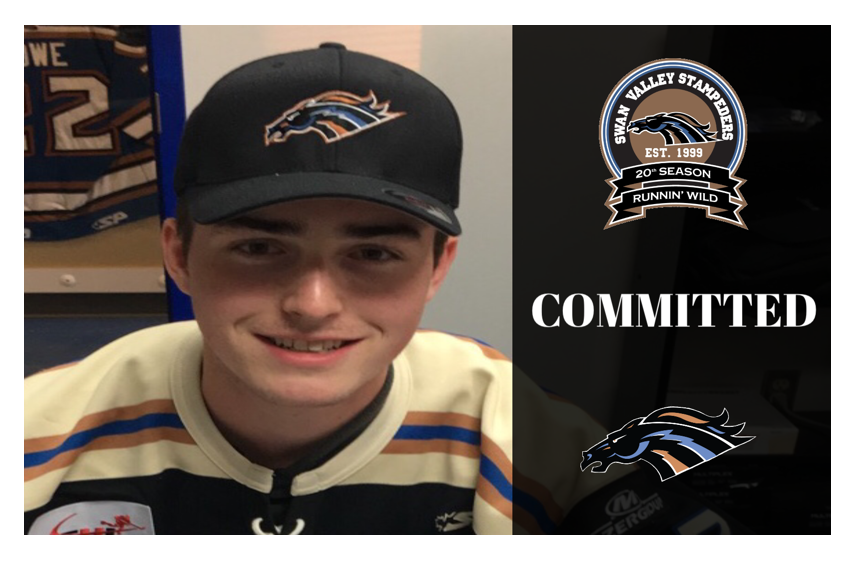 He's coming off a great season with the Midget Parkland Rangers, and was sure to sign with an MJHL team... the question just became when.
And, on August 3 that question was answered when 17-year-old Carter Cockburn signed with his hometown team, the Swan Valley Stampeders.
"It's pretty exciting for sure," said Cockburn. "I'm just really thankful for the opportunity they've given me, and I can't wait for the season to start."
In 48 games with the Rangers last year, the highly talented forward put up 35 goals and assisted on 26 others, which was 31 points more then he produced the season before.
Carter's already had the chance to suit up for the Stampeders, and he did quite well. Late last season, he played in four games and scored once while adding two helpers.
"I wasn't really sure what my expectations were heading into that game," said Cockburn. "But, with the year I had with the Rangers, and obviously having the chance to play with Swan Valley, I feel I have what it takes to play in the MJHL. I just have to keep working hard, and things will pay off."
Just because Carter signed on with the Stampeders, it doesn't necessarily mean that's where he'll end up this season. Later this month he'll head to Everett for the Silvertips Main Camp. He earned the right to try and crack that roster after being listed by the team last season.
"I'm just going to go and give it all I have," said Cockburn. "And, If I'm able to make the team, that's when I'll make my decision."
"It's obviously not going to be easy," he added. "All of the players there are super skilled, and I'm going to have to be at my best just to have a chance. I'm looking forward to the opportunity."
For now, as he prepares for Tips camp, the 17-year-old is playing in the Parkland Source for Sports 4 on 4 Summer Hockey League, and what a first game he had. He scored twice and added one assist last night as his Next Level ST Turbochargers edged their opponent.
"It's a great chance to just get on the ice before these camps start," said Cockburn. "There is a great skill level, and it lets you get your compete level up."
"It's really important to work on your speed during this camp," he added. "And, I'm always working on my shot."
Details

Contributed by

Darnell Duff
Daylin Smallchild played for the Swan Valley Stampeders for two years, and what happened after his playing days in the Parkland wasn't expected... at least yet.
The 21-year-old has signed on to play professionally with the Maddogs Mannheim who are based out of Germany.
"I'm so excited to head to Germany to continue playing hockey," said Smallchild. "When I first found out about it, I was probably the happiest guy around. I couldn't believe I was actually going to sign to play pro hockey."
It all started when Daylin was chatting with an agent, and the rest is history.
Daylin really made a name for himself on the backend last year for the Stampeders, but he knows the transition from Jr. A hockey in Canada, to professional hockey in Germany, will be a tough one.
"You bet, it'll be tough for sure," said Smallchild. "I just have to take it day-by-day, and game-by-game. I'll get used to it, it'll just take lots of work, and I'm prepared to put that in."
With the signing, Smallchild will become the first indigenous player from Beardy's and Okemasis Cree Nation to play pro hockey in any capacity.
"It's definitely a really special feeling," said Smallchild. "I take pride in my community. It's very special to come from this reserve and become the first player to play pro hockey. I've really been feeling the support from people texting me, and all of that. It's all been pretty overwhelming."
The Duck Lake native will leave for Germany at the end of the month, and it's taken quite some time for everything to sink it... but it seems like it finally has.
"It's really starting to hit me that I'm leaving home and going overseas," said Smallchild. "My parents are always reminding me too. It's just such a humbling feeling."
Daylin got a feel of living away from home when he played for the Stampeders, which was five hours away from his home, but he knows everything's about to change once again with Germany being so far, and him having to adopt a new culture and way of life.
"I'm pretty nervous to go over there and experience a new style of hockey, and culture," said Smallchild. "But, I'm really excited to get the chance to just soak it all in and play the game I love."
His two seasons in Swan saw Daylin suit up in 110 games, where he scored nine times and assisted on 37 others.
"They took care of me over there," said Smallchild. "I really enjoyed my time over there, and I definitely really improved.
AUDIO: Daylin Smallchild:
Details

Contributed by

Darnell Duff