Latest Sports
Here is your June 26 local scoreboard.
Dauphin Minor Ball:
Parkland Source for Sports Midgets beat Ste. Rose, 17-4.
Dauphin Competitive Softball:
Danes Dingers beat Outlaws, 7-0.
Blackbeard beat Crushers, 28-12.
Denray Tire beat Giants, 20-7.
Southeast Senior Baseball League:
Willowbrook Royals tied Yorkton Orioles, 4-4.
Yorkton Yankees beat Canora Supers, 7-4.
Details

Contributed by

Darnell Duff
If you're ever in or around Minot, North Dakota and you're wanting your hockey fix, make sure you head to a Minot State Beavers game and that's where you'll catch former Swan Valley Stampeder Connor Navrot.
The 21-year-old from Martensville, Saskatchewan recently committed to the Beavers hockey team.
"Throughout my hockey career I always wanted to play college hockey," said Navrot. "I feel like there's no better place to sign with. It's only seven hours away from my home, and it's such a great program over there."
Navrot is coming off a career-best season with the Stampeders. In 55 games, the hard-hitting physical Navrot put up 54 points, 11 of them were goals. Overall as a team, Navrot and the Stamps made the playoffs but were quickly eliminated by the Steinbach Pistons who went on to the RBC Cup.
"We obviously didn't achieve the goal we wanted to as a team," he added. "Individually, I think I did a pretty good job offensively, and I think that'll transfer well into college hockey this upcoming fall."
Not only is Navrot 6'3" and 180lbs, but he boasts a great shot and hands with the ability to create offence by himself.
"I'm a big player, and I can definitely use my physical preference if I need to," Navrot added. "If that's going to help me get time and space with the puck, I'll use it to my advantage."
After being a third-year veteran with the Stamps this past season, Navrot expects being a rookie will definitely be a little bit of a transition, but he's ready for the challenge.
"It's definitely a little hard making the transition," he added. "But, it's not the first time I've had to do it, so I think I'll be able to hold my own."
In the 2017-18 season, the Beavers were near unbeatable as they went 36-2-0-1. Offensively, they scored 213 goals while giving up just 50.
"I believe we're going to have another really strong team this year," said Navrot. "So, I'm hoping we can make a deep playoff push."
Over 143 games with the Stampeders, Connor put up 107 points, and he expects to make a difference with the Beavers as well.
"I'm expecting myself to be another point per game player," he added. "I definitely plan on making an impact. Whatever I have to do to help the team succeed, I'll do."
AUDIO - Connor Navrot:
Details

Contributed by

Darnell Duff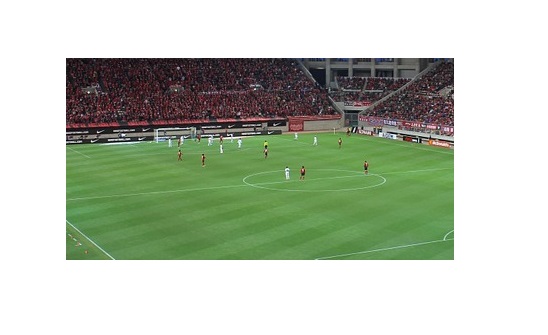 Rob Gale has been named Head Coach & General Manager of Valour F-C, Winnipeg's team in soccer's Canadian Premier League.
The Zambian-born English native spent eight years as technical director of the Manitoba Soccer Association, and also coached Canada's national youth teams.
The CPL is set to kick off its inaugural season next year.
Details

Contributed by

Darnell Duff
Ste. Rose's Olivia Sheldon will never play another game or event in high school athletics, but as she's set to graduate, she is being rewarded for her hard work, and dedication to being the best athlete she could be.
The 17-year-old has been awarded one of 11 High School Scholarships through Sport Manitoba worth $500.
"It's definitely a really great feeling,' said Sheldon. "University is really expensive, so it'll be really nice to use this towards that."
She was given the scholarship at a ceremony yesterday in Winnipeg, but she wasn't expecting it.
"I definitely didn't think I was going to win it," she added. "I knew a lot of people across the province were going to apply for it because it's for all sports. It's a fantastic feeling, but I didn't think I would win one."
Sheldon has made a name for herself on the diamond, not only in Dauphin but also province-wide. She was the catcher for the Dauphin Clippers high school team this past season, and last year she took part in Baseball Canada's U16 National Championships.
"I've been playing baseball since I was eight-years-old," she added. "We don't have any softball teams around here, so I chose baseball, and I'm really glad that I did."
Although playing high school sports is in the past for the 17-year-old, Olivia does hope to continue playing competitive sports at the college level.
She'll now head to Canadian Mennonite University, and she hopes to suit up on their women's basketball team.
"I think that would be really cool for me," said Sheldon. "I've been in touch with the coach there, and I think it would be an amazing experience."
Taking a look back at her high school career, Olivia talks about some of her favourite moments.
"Getting to be the catcher this year for the Clippers was awesome... it was so fun," said Sheldon. "Then, getting the chance to go to the Provincial Championships with the team was amazing."
Audio - Olivia Sheldon:
Details

Contributed by

Darnell Duff
The Winnipeg Blue Bombers are coming off a complete shellacking of the Montreal Alouettes when they beat them 56-10 this past weekend, and the team's quarterback is getting some praise.
Rookie pivot Chris Streveler has been named a Shaw CFL Top Performer for his efforts.
Playing in just his second game as a pro, Streveler completed 22 of 28 passes for 246 yards and added three touchdowns. He also rushed for 98 yards on ten tries.
The three TD's Streveler threw ups his season total to six, which is atop the CFL in that category.
Streveler and the Blue & Gold will look to win again this Friday when they take on the Hamilton Tiger-Cats.
*Photo Credit - David Lipnowski*
Details

Contributed by

Darnell Duff
The 2019 Canada Winter Games are still months away, but the selection process for the Manitoba men's hockey team is well underway as they've trimmed the roster down to 29, and one of the 29 is Russell's Wyatt Tweet.
"It means so much to me," said Tweet. "I've always wanted to get to the next level of hockey, and this is my chance to get as far as I can. It's a great honour."
"It was unexpected," he added. "When I did see my name on the list, I didn't even know what to say."
As the program breaks for the rest of the summer, the 14-year-old will have lots of time to prepare for the next set of tryouts which take place in late August, before the roster is once again trimmed down to 27 for an exhibition tournament.
"It's all about working out all summer, and not staying around home doing nothing," said Tweet. "I have to keep my conditioning up, and make sure I get stronger so I can compete with everyone on the ice."
Wyatt has embraced the fact that he's not out there scoring goals and getting all the glory, but instead, he's the player who will put his body on the line and do whatever is needed for the team to succeed.
"I'm not a goal scorer, and I know that," said Tweet. "I like to grind in the corners and come out with the puck in the end. Whatever they ask me to do, I'll do it."
With only a few player cuts remaining, Wyatt knows he has to be at his best in the next stage of tryouts in August, or it'll be very tough to crack the final roster to head to the CWG.
"There's a lot of pressure right now for sure," said Tweet. "But, even if I do get cut, I won't be down on myself because I know that I made it this far playing against extremely talented players."
"If I do make it and eventually get to represent the province at the CWG, it would be massive," he added.
Throughout the whole tryout process, the Russell native has had the opportunity to play alongside his Parkland Ranger teammates in Keaton Ziprick, and Aidan Brook.
"It's been awesome to get the chance to share something this special with some great friends like Keaton and Aidan," he added. "We all push ourselves to compete and work hard. It's been a great experience overall."
AUDIO: Wyatt Tweet:
Details

Contributed by

Darnell Duff
Riley Shamray hopes to win a Championship with the Dauphin Kings this winter, but in the off-season, he's winning Championships on the baseball diamond.
The Oak River native was a part of the Oak River Dodgers ball team that won Baseball Manitoba's Senior AAA Championship this past weekend.
"It feels pretty good for sure," said Shamray. "We won it last year, then we got another chance this year, and we got it done. It's a good feeling."
Winning the Championship didn't come easily to Shamray and the rest of the Dodgers. They found themselves down 2-1 in the best of five series heading into Sunday. All three of the games were played on Saturday.
"We played some good baseball the whole time, but we made a couple mistakes and a couple errors hurt us," said Shamray.
On Sunday, Shamray and the Dodgers came out firing and came all the way back en route to raising the banner for the second straight year.
"We came out and hit the ball better than ever, and got some great pitching," he added.
The great pitching came from the arm of Anthony Friesen. The lefty threw 20 innings over the five games and was a perfect 3-0.
His most special performance definitely came on Sunday when he needed to be at his best. He pitched six innings of relief in game 4, and then came back out and pitched a complete game as the team beat the Elmwood Giants, 3-1 in game 5.
"There are not many guys that can do what Anthony did out there," said Shamray.
Winning the Manitoba AAA Senior League earned Shamray and the rest of the Dodgers a berth in Baseball Canada's Men's National Championships next August in Chatham, New Brunswick.
But, first, they'll head to Victoria in late August of this year to take part in the Championships, after winning the Manitoba AAA Senior League last year as well.
AUDIO - Riley Shamray:
Details

Contributed by

Darnell Duff
The MJHL off-season is well underway, but the Dauphin Kings are by no means taking it off.
Two more players have committed to the organization.
The first player is 18-year-old forward Leeam Tivers who's from Abbotsford, BC.
Tivers:
There's no doubt Leeam will be one of the biggest players in the Kings lineup next season, as he'll come in at 6'5" and just over 200 pounds.
He spent last season with the El Paso Rhinos in the Western States Hockey League and had a season he definitely won't forget.
In 32 games, he had 33 points (16 G) and added another six goals in nine playoff games to go along with three assists. Tivers also knows what it feels like to win. Two of the playoff goals came in the League Final, in which the Rhinos went on to win.
"We've definitely heard a lot of good things about Leeam," said Doug Hedley, HC/GM for the Kings. "He was a point per game guy last year, so we're hoping he comes in this year and adds more scoring up front. He's got a lot of size and skill, and he knows how to score in front of the net."
The second commit is 18-year-old defencemen Keagan Morrison.
Morrison:
The 6'1" defender has been in the Kings system for several years, and just wrapped up his Midget AAA career with the Brandon Wheat Kings this past season.
He put up 17 points in 38 games with the Midget Wheaties and helped the team lockdown defensively en route to a League Final berth where they eventually fell to the Winnipeg Wild.
"He had other opportunities to play outside of Manitoba, but he's really happy to stay here and play with the Kings," said Hedley. "He's a big stay at home defender, and he adds a lot of size back there. He also makes a good first pass."
More:
Overall, Doug is pleased with how the summer has gone so far as Main Camp approaches closer each day.
"There's a lot of interest from players wanting to come to play in Dauphin with the Kings," said Hedley. "This is a message to the veterans. They need to come into camp ready to go because no spot is guaranteed."
"We're trying to get better at all times," he added. "Everything's wide open right now. We'll start sending out invites to Main Camp here shortly, and we'll get some information out to the vets."
Stay tuned for everything Kings going forward.
Details

Contributed by

Darnell Duff
The Grand Plains Celebrity Classic at the Gilbert Plains Country Club is under three weeks away on July 14, and it's now time to reveal the first "Celebrity" that'll take part.
Today's reveal is Grandview's Ryan Pulock.
"It's always a really fun weekend," said Pulock. "Obviously it's for a great cause that I enjoy supporting, so I'm looking forward to it."
The proceeds from the tournament will be going straight to the GPCC and the Grand Plains Minor Hockey Association.
Pulock still remembers playing in the GPMHA, and he feels now is a great time to give back to the association that taught him so much.
"It's nice to be able to give back a little bit for sure," he added. "it's great seeing people that I haven't in a while, and it's always nice to spend the day on the golf course. It'll be a great day, and it's nice to be able to give back to where I learned the game."
"Minor hockey in small towns is very important," he said. "It gives kids the opportunity to play the game and become a better person. I was very thankful that the GPMHA was around when I was younger, and it's great to see that it's still going strong."
One of Ryan's highlights from last year when he took part in the event was nearly worth $10,000. On the 17th hole, Pulock was only inches away from a hole-in-one that would have seen him take home the $10,000 prize.
It was just Ryan's first shot of the day, and he figures he'll be ready come July 14.
"My games doing alright coming in," said Pulock. "I've been able to get in a few rounds, so I'm slowly improving each time out."
"Maybe I'll be able to have better luck this time," he added while chuckling.
Registration for the tournament is now open, and Ryan knows why you should enter.
"It's just a great day and a lot of fun," said Pulock. "The money raised goes to a couple great organizations. If you're looking for something to do, it's a great one."
To register today, you can call 548-3030. You can also head to the Gilbert Plains Celebrity Classic.
Details

Contributed by

Darnell Duff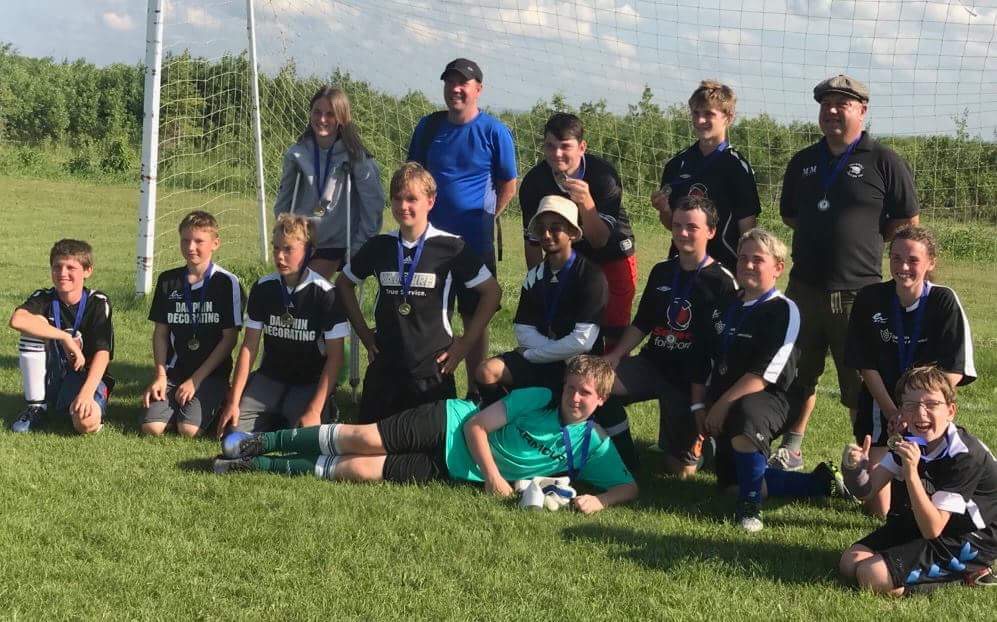 The Dauphin U-15 mixed soccer team are Champions!
They were in Swan River for a tournament this weekend and didn't lose a game.
In the round robin, they won two games and tied one.
Then in the finals, they capped it off perfectly by shutting out Swan River 2-0.
Details

Contributed by

Darnell Duff
Here is your local scoreboard for Sunday.
Dauphin FC Rangers:
Lost 1-0 to Oldcastle United.
Grandview Lakers:
Tied Roblin Stars, 6-6.
Lost to Roblin Stars, 18-12.
Santa Clara Baseball League:
Ebb & Flow Lakers beat Neepawa Cubs, 11-2.
Details

Contributed by

Darnell Duff