Latest Sports
Branden McCrady is the fourth and final Parklander that'll suit up for Team Manitoba as the U18 Western Canadian Rugby Championships kick off on Thursday in Winnipeg.
The 18-year-old has been on the team for a couple years now, and he can't wait for this year's tournament.
"It's a pretty great opportunity for sure," said McCrady. "It's a very elite tournament, so it allows me to improve my game all the time. It's a great experience, and I can't wait for it to start."
When the team plays their first game on Thursday, Branden is pretty confident in the squad.
"We have a pretty good team this year, and probably the best I've ever played on," said McCrady. "We have a solid coaching staff and lineup... so, I'm hoping we can do pretty well."
This tournament will be Branden's third major one in the past three years ago. Two years ago he was on the team that went to the Canadian Rugby Championships in Toronto, and last year they went to Regina.
Can those experiences help not only Branden but the team this year? He sure thinks so.
"We all got the chance to learn things we didn't really know before because all of the competition was so good," said McCrady. "The past couple years, we were just trying to learn more and more every time... and we did that. Now, I think we're in a place that we can use all that experience to help us win games, and go far in this tournament."
Despite being somewhat of a veteran on the team, Branden knows his position on the field isn't guaranteed, and if he doesn't train hard... he'll be on the bench, and that's not what he wants.
"Just being a good athlete these days, doesn't really matter as much," said McCrady. "Because someone on the team is maybe not as good as an athlete, but they're working extra hard... and they're going to get better and play more. It's all about preparation, and showing why you deserve to play."
"I know I've been working hard, and preparing as much as I can," he added. "I've been tending to some injuries... nothing major, but injuries none the less. I'm hoping I can show off how hard I've been working, in a way that'll benefit the team."
Injuries are something that always comes with being an athlete, especially at the elite level. Unfortunately for most, the games must go on regardless, but Branden isn't letting his minor injuries stop him from getting at it.
"It's definitely difficult, but you have to learn to work with it and deal with it," said McCrady. "I've been healing, but I'm not as healthy as I was before the injury... but that's just a part of it. I can't make excuses. I know what I can do on the field, and I just have to get it done."
Being 18-years-old, post-secondary school isn't far for Branden, and if he wants to play rugby at the next level... he knows this is a great opportunity to show off to coaches around Western Canada, and the scouts that'll be in attendance.
"In games like this, it's kind of make or break," said McCrady. "You can either shine or hurt the team. I'm hoping I can get some ball handles, and maybe even make some game-saving tackles."
"It's pretty nerve-racking," said McCrady on trying to impress people. "I just have to be confident out there. If I worry about things, that's when things could go bad. It's just about going out there, setting a goal... and achieving that goal."
As noted before, Branden will join Brayden Tomchuk, Zane Brindle, and Logan Conrad to make up the Parkland connection on the team.
"It's a great thing to be playing with them again," he added. "I've been playing with them for years, and we're all pretty good friends. It's great to have them on the team."
Branden hopes to get the chance to play rugby at the next level in the future, whether that be in Canada or the US.
AUDIO: Branden McCrady:
Part One:
Part Two:
Details

Contributed by

Darnell Duff
Thanks to Janelle Howatt for this wonderful picture of Dauphin's Rueben Houle.
A couple weeks back, he won a gold medal in the shot put event at the Western Canadian Tri-Prov Track & Field Championships.
Details

Contributed by

Darnell Duff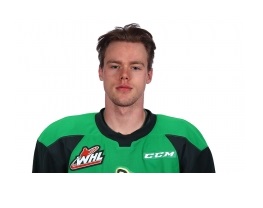 As Main Camp approaches for the Dauphin Kings organization, they've made a trade that will help the team's offence immensely.
They've picked up forward George King from the OCN Blizzard, in exchange for forward Matt Pitchenese and Future Considerations.
Originally from Alberta, King has proven himself to be a very efficient scorer. His most productive campaign came in 2016-17 season when he had 36 goals and 18 assists in 54 games while with the OCN Blizzard.
After spending some time in the WHL to start last season, King returned to OCN where he had 16 more points in 21 regular season games... and added six points in six regular-season games.
"George is a very focused player, and he wants to get better all the time," said Doug Hedley, HC/GM for the Kings. "He's got an outstanding skill set and speed. We're getting a focused player who's going to be ready to go."
"He's a game-breaking kind of player," said Hedley. "He's going to make the players around him better. If he gets off to a good start, he builds momentum for the whole team."
You can see King and the rest of the Kings as they kick off their Main Camp on the September Long Weekend.
Details

Contributed by

Darnell Duff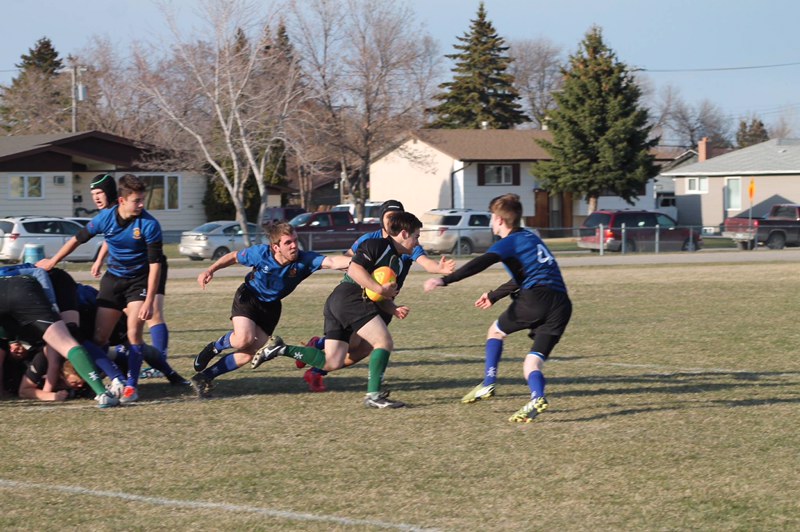 When the 2018 Western Canadian U18 Rugby Championships kick off next week in Winnipeg, Ste. Rose's Zane Brindle will be there.
He'll suit up for Team Manitoba.
"It's a really exciting feeling," said Brindle. "I'm really looking forward too it. We have a lot of good guys on the team, and some good friends. It's just really exciting to play rugby at this level."
To make the team, Zane had to be on top of his game at a regional tryout from July 11-12 in Regina, and that's exactly what he was.
"I think I did really well for sure," said Brindle. "I've been working extremely hard, and I think it showed."
Zane picked up rugby in high school, and since then, he's loved every minute of it.
"I just played it for fun, and I really fell in love with the sport," said Brindle. "I feel if you play it once, you'll kinda get hooked."
Now Zane and the rest of the Manitoba men will challenge the best U18 teams in all of Western Canada at the Championships, and he's feeling good heading in.
"I think we have a really strong team, and I think we can do well," he added. "Obviously every team is going to be really good, so we'll always have to be at our best. And, at the end of the day, even if we don't win... this tournament will definitely help all of us improve and gain valuable experience."
The Western Canadians for now, but Zane doesn't expect this to be the last big tournament he takes part in.
"Next year it would be great if I could make the U19 Blizzard team," said Brindle. "Then in the future, hopefully, I can play in some national competitions. I just want to play rugby for as long as I can, it's such a great game."
The Championships are August 9-12.
Details

Contributed by

Darnell Duff
She only began playing rugby five years ago, but not many would know that based on how she's doing on the pitch... and that's Dauphin's, Monique Coffey.
Playing university rugby at Acadia University, the 20-year-old has now been named to the U20 Team Canada reserve roster.
"I'm really proud of where I've come, and how far I've come," said Coffey. "A few years ago I was just learning to play the game, and now I'm getting the chance to play with the top players in Canada, and potentially the world. It's pretty amazing, and it's a great feeling."
For most athletes, making your national team takes years, and years, and years of hard work, dedication and commitment... and when we talk about years, it's usually more than five, but that's exactly what Monique did.
As we go back to the beginning of high school, why did Monique end up choosing rugby?
"A lot of the older rugby players came to me in grade eight and they all told me to come play because they thought I'd be great," said Coffey. "I honestly had no idea what it was or any of the rules. But, I loved sports so I thought why not give it a try. I played football, so it was possible I could be good at rugby... and it turned out I was pretty decent."
Backtracking five years, Monique never really thought making the national reserve roster as a 20-year-old was a possibility.
"It definitely wasn't something that crossed my mind," said Coffey. "It was just a new sport that I wanted to pick up and see if I enjoyed it. It wasn't even until high school when I decided I wanted to pursue rugby at the post-secondary level."
"You can't expect things like this to happen," said Coffey. "But, It's awesome to know it did."
Just like every other athlete playing at an elite-level, Monique has done everything she possibly can to succeed on a daily basis, and don't expect that grind to stop anytime soon for the Dauphinite.
"I've put in a lot of work in the gym, and whenever I have some free time, I'm usually doing something related to rugby because I want to be the best player I can," said Coffey.
Although she doesn't play rugby in Dauphin anymore, Monique knows the Clippers program was instrumental in the success she's having now as she jumps up the ranks.
"The coaches there was absolutely amazing," said Coffey. "They always pushed me to do my best. Especially, Jason Alf, he was my first coach there. I get the feeling that he knew I was going to be great, so he put everything he had into helping me improve. I'll never forget playing for the Clippers and getting the chance to represent the school on the pitch."
Right after high school, Monique committed to play at Acadia University with the Axewomen, and she talks about how her experience has been there so far, and how the hard work continues.
"Everyone here is so skilled, and you have to work so hard to get playing time," said Coffey. "You can't take a break, because the coaches are always watching, and if they know you're not giving it your all, you won't play. It's that simple."
"Our team, in general, has put in a lot of work the two years I've been here," said Coffey. "We've made the nationals both years I've been here, but we, unfortunately, didn't win. But, we're hosting nationals this year, and we're going to have a really good team. I believe we're in a place to medal and do really good. Everyone pushes each other. I love it so much here."
As she prepares for her third season of rugby at Acadia, Monique is playing on two different rugby club teams... and making the reserve roster for the national team is giving her a little extra confidence.
"Oh definitely it gives me some more confidence for sure," said Coffey. "Our team also has a couple other players on Team Canada, so they all have confidence as well."
"Making the reserve team just shows that I can help, and push harder," she added. "I want to show that I can be a leader, and I'm pretty excited about that."
When the Axewomen kick off their season with an exhibition game on August 28, there's going to be a nice Parkland connection on the team. Coffey will be joined by Dauphin's Kalee Dyck who is set to join the team after a very strong rugby career in the Parkland, and in Manitoba respectively.
"I'm so excited to get to play with Kalee again," said Coffey. "We played with each other when we were both developing, so we both have a pretty good sense of how we play. I know Kalee has a lot to offer this team, so it's a really exciting thing, and I can't wait to play on the same field as her again."
Looking into the future, besides winning a National Championship with Acadia, Coffey also has another goal she'd like to achieve.
"I would love to represent Canada and play in the Olympic 7's rugby event," said Coffey. "That'd be amazing, and it's my goal... so I'm working towards it. I feel if I keep working as hard as I do, I have the potential to make it happen."
Coffey, Dyck and the rest of the Axewomen kick off their regular season on September 8 against UPEI.
So yes, for now, it's Acadia full-time, but don't be surprised when you see Dauphin's Coffey suiting up for the national team on a full-time basis.
AUDIO: Monique Coffey - Part One.
AUDIO: Monique Coffey - Part Two.
Details

Contributed by

Darnell Duff
McCreary's Logan Conrad is heading to Winnipeg next weekend, to take part in the Western Canadian U18 Rugby Championships.
The 17-year-old made the Team Manitoba squad, after a rigorous two-days of tryouts back on July 11-12.
"It's just such a good feeling," said Conrad. "When we were in Regina for regionals, the coach came up to me and said, "You have a good chance at making this team". It just felt super surreal at that moment."
"There was a lot of stress that went into the tryouts," he added. "There was a lot of good rugby players, and specifically that played my position. You have to give it your all, but it's hard to know what to do so you can impress the coaches."
What does Logan feel put him ahead of some of the other players that tried out?
"I think it was my physicality level," said Conrad. "I'm not afraid to find the biggest, strongest guy on the field and take a run at him. You have to put your body on the line for this game at all times."
Even though he was successful at the tryouts, Conrad knows it wasn't an easy road and it required a lot of grinding, and commitment.
"Well, I play numerous sports, and I feel that helped me stay in shape so that I was ready for the start of the rugby season," said Conrad. "Our coaches at the high school level also did an amazing job of preparing us even before the season started. It's been a tough grind for sure, but it's been absolutely worth it."
Just like any player, to get to the next level, you have to work extra hard and coaching plays a big part in your success... and it sure has with Conrad.
"Our Head Coach Rodney Carberry is absolutely great," said Conrad. "He goes above and beyond what he has to do for a high school rugby team, so we can flourish. He's played a huge role in my progression, and so many other people have as well."
As the Westerns are only seven days away, Logan will continue training hard as he prepares for what will be a tough challenge for the Manitoban's
"I'm planning on seeing personally a lot of improvement," said Conrad. "We've had a few practices as a team, and we've been gelling together unbelievably. Honestly, I think we're going to have a pretty good showing."
As far as Logan's thought process heading into the tournament... "We have to prepare for the worst," said Conrad. "Our coach has been in it for a long time, and he knows all the different playing styles of the different provinces, and we just have to trust him," said Conrad. "You just have to adapt, and play your heart out."
Logan will join Brayden Tomchuk who will also take part in the tournament on Team Manitoba. Two other Parklanders are also on the team as well, and Logan can't wait to play with all of them.
"It's a great thing," said Conrad. "It's amazing to see four Parkland kids that will play. The team is made up of the best players in Manitoba, and we're a part of it. It's an awesome feeling."
Winning the Championship is the most important thing on Conrad's mind, but playing in the tournament also provides him a chance to impress fellow coaches and the scouts that'll be in attendance.
"We have four or five different guys that play my position," said Conrad. "Our coaches made it very clear that even though you're on the team, you're still fighting. And, that brings the best out of the player and pushes me to work that much harder. It's a great chance to show off what I can do on the field."
AUDIO: Logan Conrad:
Details

Contributed by

Darnell Duff
He's a force locally, he's shown he can be a force provincially, and he's already gotten some national recognition as well... and now he's set to definitely get lots of exposure to all of Western Canada.
Dauphin's Brayden Tomchuk is only one week away from representing Team Manitoba at the Western Canadian U18 Rugby Championships, that are in Winnipeg.
"It's definitely super exciting," said Tomchuk. "You get to play alongside a lot of your friends, and people you've played against in high school. It's going to be a very cool experience."
This is the third major tournament Tomchuk will take part in, in the last three years. In 2016, he suited up for the Prairie Blizzard as the team took part in the U16 Canadian Rugby Championships. In 2017, Tomchuk took part in the U18 Canadian Rugby Championships, once again with the Prairie Blizzard which was an All-Star team comprised of players from Manitoba and Saskatchewan.
Last year, Brayden also had the opportunity to try out for the U18 Canadian squad. He didn't advance to the next set of tryouts, but the experience he has gained so far on the field should help him going forward, and next week specifically.
"I just have a lot of in-game experience over the years," said Tomchuk. "And with that, you get better with form and you get to know your teammates better. My game has definitely improved with my past experiences... whether it be in Dauphin, provincially, or nationally."
Tomchuk and the rest of his squad will be joined by all of the Western provinces at the tournament, including the powerhouse Alberta squad. Not having the chance to play any of their opponents prior to this huge tournament is a disadvantage, but the Manitoban's have been doing everything they possibly can to give themselves a shot at winning it all.
"Our coach usually has lots of game film from the teams," said Tomchuk. "That's really what we're relying on right now. So, we'll just look it over and see what weaknesses they have, and what we can maybe take advantage of."
"It's never easy to play a team for the first time, but it's a part of the game," he added. "We're preparing, and we should be ready."
Already having played at an elite level, Brayden is using this as another opportunity to show off his skill to scouts, and coaches from all over Canada that'll be in attendance.
"I'm really excited for this," said Tomchuk. "It's a chance for me to show off what I can do on the field. I've been working hard towards it."
What does working hard consist of for Tomchuk as he prepares?
"It's all about conditioning, and staying in the best shape possible," said Tomchuk. "I've been eating healthy, staying hydrated."
Brayden isn't the only Dauphinite that'll suit up for Team Manitoba. He's joined by Branden McCrady, Logan Conrad, and Zane Brindle. Tomchuk can't wait to play with his friends once again.
"It's really exciting that I get to play with them," said Tomchuk. "I've worked a lot with these guys, and we have great chemistry. I think it's going to allow us to be more successful."
Details

Contributed by

Darnell Duff
Bryant Turner Jr. spent nearly his whole career with the Winnipeg Blue Bombers, and now he's going out in Blue & Gold colours.
The defensive tackle signed a one-day contract with the team and then he announced his retirement from professional football.
Turner Jr. began his career with the Bombers in the 2011 season, where he spent five seasons.
He started in 71 games with Winnipeg.
During his time with the Blue Bombers, Turner Jr. recorded 26 sacks, five forced fumbles, and 75 total tackles. He played in three playoff games for the Bombers, including the 2011 Grey Cup.
"Bryant was a consummate professional both with his work on the field and his involvement in our community, and understood the importance of the organization in our province," said Bombers General Manager Kyle Walters. "We are always honoured when players want to finish their careers with us, and we congratulate Bryant on his accomplishments throughout his entire football career."
Details

Contributed by

Darnell Duff
Erickson's Bobbi Uhl has wrapped up her first round at the Canadian Junior Girls National Golf Championships, and she's in chase mode heading into today.
The 18-year-old fired a first round, 87 yesterday and is currently in 79th place as of this posting.
"I just didn't play very good," said Uhl. "It's not that I was hitting bad shots, I was just missing in all of the wrong places. On this course, if you miss by a yard on some spots... it just won't work out."
"I'm just planning on playing my game today, and we'll see what happens," she added.
Uhl opened up the Championships yesterday with a quadruple bogey, nine on the first hole. Despite the tough start, Uhl didn't let it get her down.
"I don't really feel it affected me," said Uhl. "I just kind of laughed about it and kept going. If I thought about it, I probably would have done it again."
Prior to this competition, Bobbi earned her spot by winning the Manitoba Junior Girls Championships. Not only did she win Provincials, but she absolutely dominated... winning by 16 strokes.
"That was a really good feeling for sure," said Uhl. "I was pretty proud of how I played. It's my last year of Jr. golf, so it was really nice to win."
With this being her last year of Jr. golf, Bobbi isn't adding any stress or pressure to her game, she just wants to have fun and do the best she can.
"I didn't put any extra pressure on myself," said Uhl. "I just know I have to go out there, play my game and whatever happens... happens."
Uhl tees off in her second round later this afternoon, and she knows an 87 probably won't be enough to make the cut.
"I'm hoping to shoot my normal score, which is a 77 or 78," said Uhl. "Hopefully, that'll mean I'll make the cut. I know shooting in the 70's is mandatory to play the final two rounds."
Taking a look back at what has become quite a decorated Jr. career, Uhl talks about her favourite moment, and also an experience she's been through that could help her today.
"Probably winning the Jr. Provincials for the first time in 2016 when I led all three rounds," said Uhl. "And, last year at the Tamarack at Clear Lake, I was six-under through nine holes. If I can just play like that, it would be huge for me."
AUDIO: Bobbi Uhl: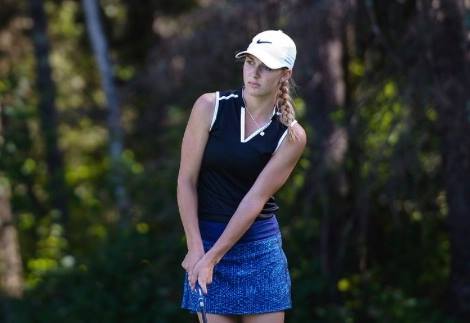 Details

Contributed by

Darnell Duff
What a month of July it was for Winnipeg Blue Bombers Andrew Harris.
The Winnipegger rushed for 100+ yards in three straight games, and because of it, he's been named a Shaw CFL Top Performer for July.
In four games in July, Harris scored five touchdowns (four rushing, one receiving), and he leads the league in rushing yards with 638.
Harris was also named a CFL Top Performer for Week 6 after he picked up 177 offensive yards as the Bombers smashed Toronto.
Now at 6,906 career rushing yards, Harris is second all-time in Canadian player rushing yards.
The Bombers are on a bye week and next play on August 10 against the Hamilton Tiger-Cats.
Details

Contributed by

Darnell Duff
In just two weeks, Ste. Rose's Brooke White will once again get to show off her skills to all of Western Canada.
The 13-year-old will suit up for Team Manitoba at the 14U Girls Invitational Western Canadian Baseball Championships... the same tournament she took part in last year in BC.
"I'm really excited to get the chance to play for Team Manitoba," said White. "It's a great honour to be able to do it again."
Last year, White and the rest of the team went 0-4 in the round robin, but she expects this year the team will fare better.
"I think last year was a pretty good learning experience for all of us," said White. "We've been practicing hard, and playing exhibition games against boys teams all summer... so I think we'll come out stronger."
This year, Manitoba will be joined by one team each from Alberta, BC, Ontario, and Saskatchewan. Brooke talks about what her favourite thing is about playing in this tournament.
"It's really fun playing with all of my friends," said Brooke. "And, of course playing against all of the other provinces, and playing outside of Manitoba."
Heading into the tournament, Brooke has a clear-cut goal that she expects to achieve.
"I'd like to hit a lot better than I have all year because I haven't been hitting great this year," she added. "We're doing a lot of live batting practice, and hitting whiffle balls."
The Championships kick off on August 17 and go until the 19.
Stay tuned here to find out how Brooke and the rest of Manitoba do.
Details

Contributed by

Darnell Duff