The Parkland U-15 Women's Rangers have had a busy few weeks as they prepare for what will be an extremely busy weekend in Grandview.
It was a historic start to the season for the Club as they had 25 registered Parkland athletes tryout for the team -- more than any other year -- and there were also a few players from outside the region. The team has been on the ice every weekend since they started camp back on Saturday, September 12.
Phil Fafard is back as head coach while Craig Zamzow will be the assistant coach this year. After a very intense few weeks of tryouts, the team ultimately trimmed down their numbers 17 which is where they will begin their season with.
"Certainly having 25 players out at camp provided a very competitive edge," said Zamzow. "I think this team offers a lot of depth perhaps that the organization hasn't had in the past years. Our selection committee had some tough choices, but that's a good thing for the Parkland."
The team played in just one preseason game against the Westman Wildcats -- who is known as a perennial powerhouse every year -- and the Rangers did come up short.
"A lot of kids were battling for spots at that point, so everyone was working extremely hard and pushing themselves," offered Zamzow. "Westman had some big girls with some speed so we'll definitely be prepared for our next game against them."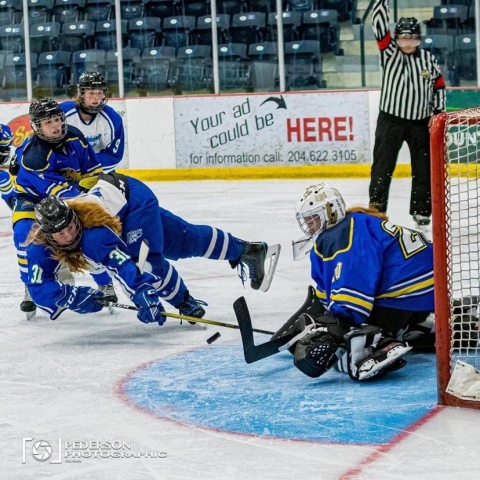 As noted above, this year's final team has been selected.
Goalies: Caitlin Fillion (Gilbert Plains) and Jane Sugimoto (Stonewall).
Forwards: Carli Durston (Dauphin), Skyla Burns (Dauphin), Tristyn Hanneson (Dauphin), Brooke Shewchuk (Dauphin), Ffion Devonald (McCreary), Tayah Zimmer (Russell), Sammy Jo Moshenko (Minitonas), Katie Falkevitch (Russell), and Alexis Campbell (Kinosota).
Defenceman: Grace Kirk (Swan River), Montana Jubenvill (Gilbert Plains), Raylyn Koshowski (Dauphin), Adel Wiebe (Grandview), Reese Boguski (Dauphin), and Crystal Zamzow (Swan River).
"It's really nice to see the entirety of the Parkland included on this year's roster," said Zamzow. "We have a lot of quality young women that want to develop their hockey games and we're really looking forward to working with them."
A two-game weekend is up next for the U-15 Rangers. They'll play Yellowhead on Saturday morning at 11:00 and 2:00 p.m. at the GACC.
"Anyone that's making the commitment to drive around the Parkland to practice is always excited to play games," ended Zamzow. "Our expectations are the girls will work extremely hard this weekend and we'll see what happens."