Latest Sports
Ethan Carnegie has booked the Dauphin Clippers ticket to the Final Four.
He scored in overtime on Wednesday night as the Clippers downed Carberry, 4-3, in an overtime thriller. The win gave Dauphin a sweep in the best-of-three and they're now off to the league semi-finals.
Logan Chapman scored twice in regulation while also finding the back of the net was Jake Kuzmiak and Owen Chubka was the winning goaltender.
Details

Contributed by

Darnell Duff
The Dauphin Kings pushed hard, they hit the cross-bar late in the third period and ended up falling on Wednesday afternoon.
In a crucial game against the Swan Valley Stampeders, Dauphin opened up a 2-1 lead after 20 minutes but they couldn't hold on in a 4-3 loss. It was Dauphin's fourth straight loss in regulation as they remain outside of the top four in the West Division.
Just 70 seconds into the game, Anthony Bax gave Dauphin a 1-0 lead before the Stampeders tied the game with just more than two minutes left. The Kings would; however, regain their lead a short time later as Mason Smith scored on the power play with just seven seconds left.
Collin Jennings, Jakob Jones, and Darius Makse scored for the Stampeders in the second period as Swan Valley took a 4-2 lead after 40 minutes.
Jamie Valentino would bring the Kings within a goal with just more than three minutes left. Then Bax hit the cross-bar late and it bounced up and over the net in a 4-3 loss.
The Kings will look to snap their skid on Friday when they welcome Niverville to Credit Union Place. Dauphin has seven games left this season and they remain two points back of Waywayseecappo for the fourth and final playoff spot.
Details

Contributed by

Darnell Duff
Bonspiel season rolled on at the Winnipegosis Curling Club over the weekend with their mixed bonspiel.
Tyson Beyak, Rebecca Sahulka, Justin Sime, and Ashton Paskal won the first event.
Dan Brown, Suzette Crandall, Richard Sahulka, and Lisa Sahulka won the second event.
Shayna Benson, Chase Sliworsky, Belle Maniel, and Ben Chewka won the third event.
Details

Contributed by

Darnell Duff
They dominate on the field and they dominate on the ice, the Layne's Stars do it all.
The team went undefeated and looked extremely impressive in doing so as they won the Lake Manitoba First Nation tournament. The win also came with a prize of $10,000.00.
There was never a doubt in the finals as the Stars capped off the event with a coast-to-coast 7-1 win. They also beat Peguis in one other game. They also locked up convincing wins against Moose Lake and Animoozibeeng First Nation.
Stars also won a tournament in Brandon earlier this season.
Details

Contributed by

Darnell Duff
The Dauphin Kings are sliding at what some people would classify at the worst time of the season.
With three straight losses, Dauphin now finds themselves in fifth place in the MGEU West Division while their opponent this afternoon, the Swan Valley Stampeders are in second place.
Despite their struggles dating back to a defeat in Steinbach last Saturday, Dauphin is just two points back of Waywayseecappo, who lost last night against OCN.
The Kings scored just three times in two games against Virden while they were unable to get the clutch save that was needed.
Wednesday's game -- which is pegged for 12:30 at the Centennial -- will be Dauphin's earliest game since they played the Ottawa Jr. Senators at 1:00 p.m. in Estevan at the Centennial Cup last year. A great crowd is expected Wednesday as all schools in the Swan River area have been invited to the game.
It's the sixth and final meeting between the two clubs this season and if Dauphin hopes to make a return to the playoffs, Wednesday's game could go down as a must-win. Things don't get any easier for the club after the game as they play Niverville twice this season before heading on the road to play Waywayseecappo next Tuesday and then Dauphin faces the ultimate test next weekend as they play the Centennial-Cup hosting Portage Terriers in a home-and-home.
You can also listen to it with Darnell Duff.
Player to Watch - Dauphin - Logan Walker
The 19-year-old continues to be one of Dauphin's most consistent players. Logan puts everything he has into every single shift he plays and that will need to be the case on Wednesday.
Walker has also shown that he has a great shot and shots will certainly need to be great if they wish to beat Kobe Grant, who always comes to play against Dauphin
STATS: 6 goals, 4 assists
Player to Watch - Swan Valley - Jakob Jones
He was an Original 16 Star of the Week last week and he's on fire this season.
Jones is very dynamic and he is great at creating space for himself on the ice. He's flashy and possesses a great shot which is why he's top-five in league scoring this year.
STATS: 28 goals, 33 assists
Details

Contributed by

Darnell Duff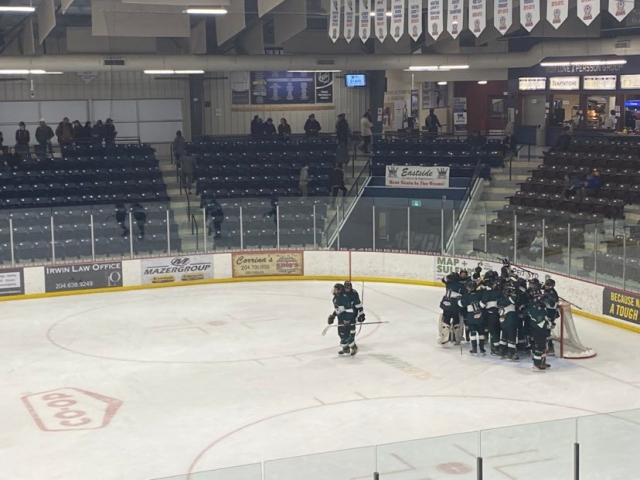 The Dauphin Clippers are one win away from advancing the league semi-final.
Opening their series against Glenboro on Tuesday, the Clippers opened up a 4-1 lead and they held on in the end to secure a 5-3 win to give them a 1-0 series lead.
Tyron Sweetman led the way for Dauphin with a pair of goals while Trayden Guiboche and Jake Kuzmiak also scored singles to give Dauphin their 4-1 lead. The Wildcats would respond with a pair of goals to make it close; however, that is as close as they would get.
Braydyn Paskaruk scored into an empty-net late to seal it. Dauphin can now advance on Wednesday with a win when game two is played in Glenboro.
Details

Contributed by

Darnell Duff
The Dauphin U9 Hurricanes wrapped up their season with a B-side championship over the weekend.
The team won four of their five games and they scored 36 goals in all. After opening their tournament with an 8-6 win over Neepawa, they came up short in a 13-7 loss against the Brandon Kings.
Dauphin then won three straight games to claim the B-side as they downed Winkler, Killarney 2, and Notre Dame 2. The team's win against Winkler came in overtime.
Details

Contributed by

Darnell Duff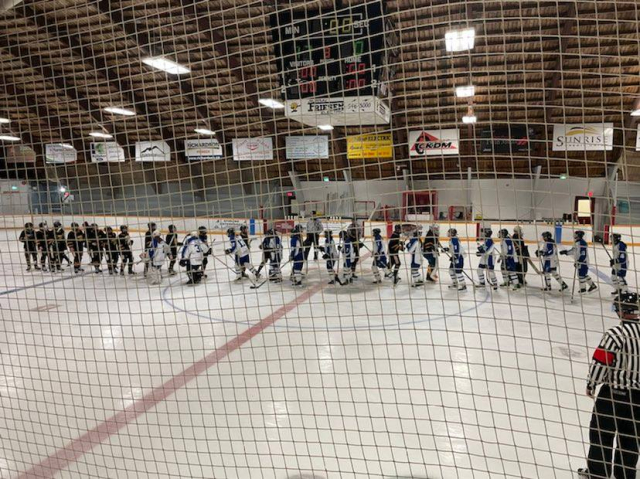 The Parkland U15 Women's Rangers season has officially come to an end.
Opening their playoffs against Brandon, the team came up short in a pair of games as they saw their season end.
Despite the loss, there was amazing development throughout the season and the Rangers are now looking forward to the 2023-24 season.
Details

Contributed by

Darnell Duff
The Dauphin Clippers high school hockey team -- for the most part -- were dominant all season long.
The team won 26 of their 32 regular season games and they earned points in 27 of them. From late November to the back half of January, the team won 12 straight games which was snapped in a thrilling defeat in overtime against Killarney, a team that enters the playoffs as the number one seed.
Dauphin; meanwhile, finished in second which means they have earned the right to host game one of their playoffs against the Glenboro Wildcats. Game one is slated for Tuesday evening at 7:30 at Credit Union Place, a venue that Dauphin was dominant at all season. Dauphin lost just one game on home ice this season which was the 6-5 defeat against Killarney.
"As the season progressed and we started rolling, we saw that chance to be dominant," said Alf. "We had some ups and downs as well along the way, but that happens to everyone. To only lose five times in the regular season in regulation is great."
The Wildcats won 17 of their games this season and it was a mixed bag down the stretch as they won five of their last 10 games. Two of their five losses down the stretch came against Dauphin as they allowed 13 goals in the two defeats. Glenboro has shown that they can put up goals in bunches as on four seperate occasions in the last month of the season, the team scored at least 11 goals and they scored 14 times in two games.
"They are very well-coached and they're very well disiciplined," offered Alf. "We beat them twice so we know they're going to come out hard. We can't take teams lightly because when we did in the regular season, we struggled. We need to play like we played in Glenboro and Sandy Bay down the stretch, we worked very hard and the results were positive."
While Dauphin is focusing on play in the Westman league, the team will be off to Winnipeg next weekend for the MHSAA provincial championships. Dauphin has qualified for the main event as they finished one point ahead of Swan Valley in the regular season so the Clippers will be going up against the best teams in the province. Earlier this year, Dauphin played the Garden City Fighting Gophers -- the number one team in the province -- and they kept it close right until the end.
"It's always a tough tournament to play in, going against AAAA teams," ended Alf. "Our goal is to go there and pull off an upset, that's always our goal. It's always exciting for our players to play in the event, so we look forward to it."
Game two of the series will be played in Glenboro on Wednesday and if need be, game three will return to Credit Union Place on Friday at 1:45 p.m.
Details

Contributed by

Darnell Duff
It was a weekend to remember for the Mackenzie Middle School Magic basketball program.
The grade seven and grade eight boys both won the MVSD Divisional Championships. The grade seven team overpowered Gilbert Plains in the final, 52-33. Meanwhile, the grade eight boys team beat Ethelbert and then they beat Roblin in their championship game, 40-34.
The Winnipegosis grade eight team won the bronze medal.
Details

Contributed by

Darnell Duff
Chloe Fletcher decided to join the Dauphin Clippers rugby team when she was in grade 11 and she quickly developed into a dominating player. Her brothers, Dawson and Garret played with the Clippers during their high school days and that was one of the reasons why Chloe joined.
While Fletcher's time on the field with the Clippers has come to an end, she won't ever forget her time with the team.
"I loved it, I struggled to find a sport to play, but rugby just clicked for me," said Fletcher. "I played with so many amazing teammates and we had great coaches, it was an awesome two years."
Chloe is also now a provincial champion. The team came up short in the 15s; however, they won the provincial final at the 7s and Chloe made a big impact.
"It feels amazing. We lost some pretty good players from the previous year so we knew we were in tough," said Fletcher. "We just came together as a team and gave it our all and it ended up perfectly, being a provincial champion is such an amazing feeling."
When one chapter closes, another one opens and for Fletcher, the newest chapter of her life will take place in Brandon. Halfway into her final season with Dauphin, Chloe was approached by the Brandon Bobcats rugby coach and not long after, she announced her commitment to join the team. Fletcher will also be joining Brooke Miner as she is also committed to the Bobcat program.
"I'm very excited about it. I'm not expecting a whole lot in my first year with the team because I'm still pretty new to the game," offered Fletcher. "With that said, I'm going to give my all and I'm looking forward to developing and learning more about the game. I'm extremely happy and proud to be a part of the team."
Details

Contributed by

Darnell Duff