Reece Newkirk is a three-year veteran in the Western Hockey League with the Portland Winterhawks. He was drafted 53rd overall by the organization back in 2016 after he put up 53 points in 37 games with the Notre Dame U15 AAA Hounds.
He was set to return to Portland for his fourth season and although he will do that, his arrival has been delayed. The WHL season isn't slated to begin until January 8 and when it does, the Winterhawks will only play their U.S. Division opponents as a part of the league's return-to-play plan.
While he waits to return to the Major Junior team, he is continuing his development with the Melville Millionaires of the SJHL.
"I'm really enjoying it here, everyone was extremely welcoming from the day I stepped into the dressing room," said Newkirk. "We have a great coaching staff and a great group of guys. I'm happy here."
After recording 65 points in 55 games last season with Portland, Newkirk is off to a tremendous start with his new team. In just six games, he's lit the twine four times and he has 12 points. He's tied with Logan Kurki for the most points in the league while his two points-per-game is also tied with Kurki for the top spot. One of his goals is on the man advantage while he also has one game-winning tally.
"Coming in here, I had expectations to produce at a high level. Whether it's scoring goals or adding assists," said Newkirk. "I just want to help this team win games any way I can. I'm pretty pleased with how things have been going so far."
Winterhawk connection:
Jaydon Dureau has played two full years in the WHL -- both of which have come with Portland -- and he has 99 points in that time. Dureau scored 19 goals last season and he offered up 51 points for a 70 point total.
The two Saskatchewan-born juniors combined for 135 points in Portland last season and now, they have come together to dominate the SJHL. Playing on the same line, Dureau already has 11 points in six games. The two have combined for 23 points in just six games.
In Melville's most recent win, Dureau scored two goals and had one assist in a 5-3 win against Yorkton while Newkirk scored once.
"We talked about coming to Melville and we decided it was the best thing to do for us," said Newkirk. "We've played together for four or five years now so we have pretty good chemistry together. He's a great player and a great guy."
Battle at the top:
With a split against Yorkton this past weekend, Melville sits in second place in the Viterra Division. The team's 4-2 record has them in second place, one point behind the Estevan Bruins. Melville has scored 24 goals, Estevan has scored 26, and both teams have given up 19 goals. Yorkton leads the division with 27 goals, but they're in third place.
"I would say we're an extremely hard-working team this year. We're maybe not as deep as other teams, but we work hard, and have a solid mindset," offered Newkirk. "Everyone is feeling pretty good in the dressing room and we're looking forward to moving ahead."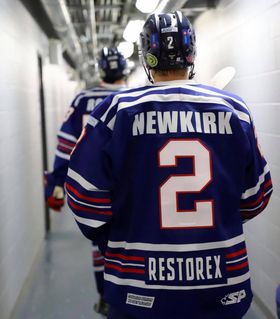 Winterhawk dominance:
Last year's team was the class of the WHL. They went 45-11-3-4 to not only win the U.S. Division but they were also crowned regular-season champions. In Reece's three years with Portland, the team has gone 129-55-7-12.
Newkirk scored eight times in his first 58 regular-season games with Portland. In his next 123 games, he added up 52 goals, 29 of which were tallied last season. Reece attributes his success to some great coaches including Mike Johnston and the elite players he has played with. The linemates include Joachim Blachim, and Cody Glass, just to name a couple.
Glass combined for 171 regular-season points over his final two seasons with Portland and he now plays with the Vegas Golden Knights. Blichfield; meanwhile, had 114 points in just 68 games in his final season with Portland. He has played three games for San Jose in the NHL.
"Playing with those two guys is going to help any player. They pushed me to succeed and they always challenged me to be better," said Newkirk. "I've also had the chance to build confidence over the past couple of years and that's helped as well."
Big day:
The 2019 NHL draft arrived and Reece didn't know what to expect. He was eligible to be drafted; however, he didn't know where or if he would even be selected. He was out with his friends when he heard his parents screaming from inside and it was for good reason.
Reece was drafted by the New York Islanders, 147th overall. The day goes down as one that the Millionaire and Winterhawk will never forget.
"That's a dream come true and it's honestly the best day in my life," ended Newkirk. "Getting drafted is every kid's dream. Now the work begins and I hope to represent the Islander organization in the future."
If he does in the near future, he will be coached by Barry Trotz of Dauphin, and he will play alongside Ryan Pulock of Grandview.