This week is Small Business Week, which revolves around building supports and showing off small businesses.
Stephen Chychota says this year's theme is 'Forging The Way Forward'.
"I kind of take it that, we've went through this pandemic, we're still in it, and what can we do to forge our way forward and come out the other side a little bit better, little bit stronger, little bit smarter. With the supports that businesses have been getting from other organizations and from government, just trying to make sure that there's jobs for people to go to, to make sure that there's these businesses are out there and able to do their thing and survive and get through this pandemic. It's again, the Small Business Week reflecting on what we've been through for the past few months and making sure we can go forward through all this."
The Chamber has events planned all week, some in partnership with The Hub and Take The Leap.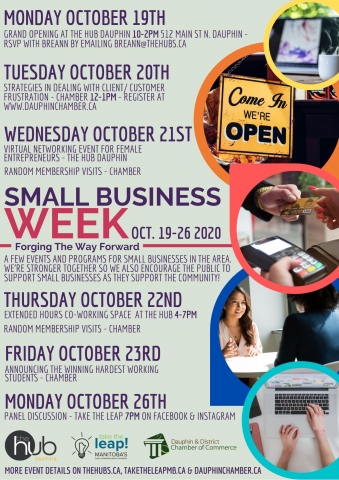 Chychota says there are numerous ways to support small businesses.
"It can be as simple as making some posts on their social media pages and giving them a shout out, you can share some of their content and that message goes a long way for some of these small businesses. You can go actually to the business and ask them 'what can I do?' And there's actually just going to the business, either if they have an online presence, buying something through their market there or going to the business itself and picking up some of their products or getting some of their service."
Chychota adds that it's very important to have small businesses.
"They are a huge part of our economic system out here. We know that in our region specifically, there's a lot of ag, but there's a tremendous amount of small and medium sized businesses out here. So, without them we're lacking and we need those businesses out here to make sure that we've got the products we need."
The Chamber is also doing a recognition piece this week for the hardest working students.
Chychota says if any businesses had students working for them over the summer, to nominate them to the Chamber to share the content for everyone else to know how hard they were working.
Then at the end of the week, Chychota will be on the Al Morning Show to pick two winners that'll get some chamber bucks.