A Manitoba First Nations Police Service (MFNPS) K-9 Unit named CETO is getting credit for assisting in two arrests last week.
On Thursday, June 25th, MFNPS officers arrived at Sandy Bay First Nation after being alerted to a hit and run involving a suspect who was already wanted on a pre-existing warrant for assault, forcible confinement, and failure to comply with court orders.
Officers located the suspect on an ATV, who then ran away on foot. Officers warned the suspect they would deploy CETO, at which point the suspect surrendered.
The 21-year-old man from Sandy Bay First Nation was arrested on his outstanding warrants. The hit and run investigation is ongoing.
Later that same day, police were informed that a suspect wanted on multiple warrants was seen driving onto the Sandy Bay First Nation.
Police tried to conduct a traffic stop, but the suspect vehicle sped off towards a home, before the driver exited the car and ran.
The K-9 handler yelled 2 warnings to the suspect, before releasing CETO from the back of the police car. The suspect was quickly apprehended and arrested after a 500-metre chase.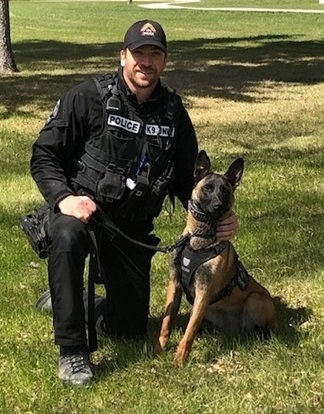 The 28-year-old man is facing charges for fleeing from police, resisting arrest, and driving while prohibited.
With these 2 arrests, CETO now has a total of 7 apprehensions for the month of June.