The Leader of the Official Opposition was in Roblin Tuesday afternoon for a socially distanced town hall, where he addressed concerns among community members about the recent suspension of their emergency department.
Wab Kinew says he was impressed with the large turnout of people who filled the Roblin Community Center parking lot, staying in their cars and honking horns to express their discontentment.
"Imagine a championship hockey game at the local arena — it was that many cars in the parking lot, and it was about healthcare. It tells me a lot of people in Roblin are upset their emergency department is going to be closed at 4:30 p.m. this Friday, and that they want the government to change their mind, said Kinew, adding "hopefully, the government does reconsider."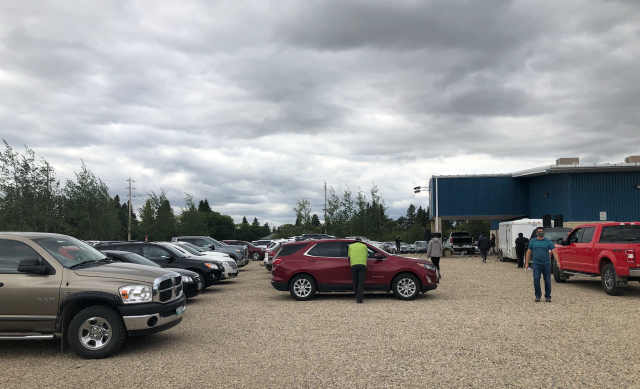 Speaking with CKDM, the Manitoba NDP Leader touched on the potential long-term impacts on the development of the community, if the temporary suspension of health services were to result in a permanent closure.
"If you don't have a local emergency department, that young family is going to think twice about moving here. Teachers, professionals, business owners, people who work in ag — they might thing twice about moving here if this thing is allowed to move ahead."
Northwest Metis Council Vice President Frances Chartrand also spoke at the town hall, voicing concerns on behalf of the Metis community living in the R.M. and town of Roblin.


Health Officials Maintain This Is A Temporary Closure
In response to these concerns, health officials have maintained their intention is to restore health services as soon as staff shortages are addressed.
Petr Kresta, Chief Operating Officer of diagnostic services with Shared Health, told CKDM reporters the work to fill vacant positions has been going on for years, and unfortunately, there is a shortage of diagnostic staff — not just in Manitoba — but in most of the country.
"Rest assured that we are expending all possible efforts to deal with the situation, and to get a sufficient staffing level so we can resume providing diagnostic support in Roblin and return services to a pre-existing level," said Kresta.
Kresta described the staff shortages in Russell, Roblin, and Shoal Lake as being at "a very serious level right now."
Prairie Mountain Health, Shared Health, and Health Minister Cameron Friesen have said this is only a temporary closure due to diagnostic staff shortages.
"Our intent is to reinstate those services as soon as we have the staffing," said Shared Health's COO of diagnostic services.
Even with the temporary suspension of Emergency Department services, the Centre will continue to provide acute in-patient care, ECG exams, ultrasound service, and lab sample collection.