Latest Sports
If the Brandon Wheat Kings make the postseason this year, they'll be playing two of their first-round games once again at Credit Union Place during the week of March 26.
Right now the Wheat Kings are sitting in the top Wild Card spot in the Eastern Conference, eight points clear of Saskatoon.
"We were at Credit Union Place last year, and the community was great to us," said David Anning, Head Coach of the Wheat Kings. "It was an easy adjustment for our team. The facility is first class, it was easy to deal with everyone and the attendance was great. Being out of our building is never ideal, but Credit Union Place was definitely the first choice for us."
It's been an interesting year for the Wheat Kings. At one point, they were battling for the top spot with Moose Jaw and Swift Current in the East Division, but a significant deadline day that saw the team trade Tanner Kaspick and Kale Clague changed the team's dynamic.
"It took us a little bit longer to adjust after we made those trades," said Anning. "But, as of late our group is starting to come together, and it's an important time of the year to do that. We're hoping we can continue to build, and carry the momentum forward."
The Wheat Kings beat the Warriors this past weekend, 4-2 on home ice and played a close game on Saturday in a loss against Swift Current. Moose Jaw is on top of the East Division, while Swift Current is second.
"That win definitely has given us some confidence," said Anning. "Moose Jaw is the top team in our division for a good reason because they're a good team. We're focusing right now on the structure of our game, and making sure our guys are working hard every day to give us a good chance at winning every night."
Ticket information for the games at Credit Union Place will be available shortly.
Details

Contributed by

Darnell Duff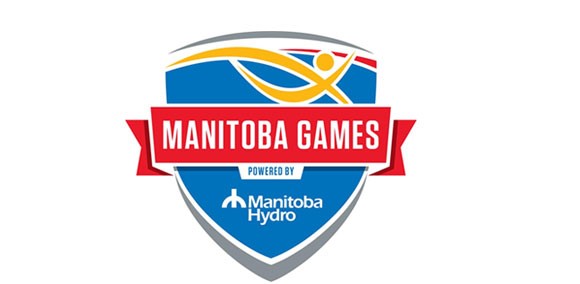 Yesterday was day one action at the Manitoba Winter Games in Thompson, and here are the hockey results.
Team West White, which includes Parkland Rangers DJ Taylor-Luke, Jayden Jubenvill, Trey Sauder, Josh Thompson, Wyatt Tweet, Tyson Zimmer, Aidan Brook, and Ryder Thompson are 1-1 after day one. They lost their first game, 4-3 but rebounded with a 5-4 win in their second.
Team West Green, which includes Parkland Rangers Zach Boychuk, Keaton Ziprick, Hayden Lacquette, and Brayden Broome are also 1-1 after day one. They struggled in their first game losing, 6-0 but rebounded in their second winning, 3-2.
Details

Contributed by

Darnell Duff
It wasn't the finish he or the team was hoping for, but Jacob Goodine wrapped up his high school hockey career on Saturday with the Dauphin Clippers.
Goodine played two seasons with the Clippers.
"We had a pretty tough go last year," said Goodine. "But, this year with the group of guys, we did pretty well. That loss on Saturday was definitely tough, but we had a good season, so we should all hold our heads up high."
The 17-year-old had nine points this season (three goals) for a Clippers team who were very good offensively all season long.
"It was just a great experience," said Goodine. "Getting to come to the rink to play with a great group of guys was always a lot of fun."
Goodine notes winning the Lone Star Invitational in Dallas earlier this season was definitely one of his favourite memories as a part of the Clippers.
Details

Contributed by

Darnell Duff
Three seasons ago Dauphin's Drayson Kruk hit the ice to try out for the Dauphin Clippers hockey team and he made it.
Now we fast forward to Saturday, March 3 when Kruk's high school hockey career came to an end with a 5-4 loss to Killarney.
"It was the best three years of my life," said Kruk. "I saw big improvement each season I played. I wasn't playing a whole lot in grade 10, then I got more ice time in grade 11 which helped me, and then this season I played the most I ever had and had a really good season."
In 22 regular season games this year, Kruk had 42 points (27 goals) which were a team-high for goals.
Playing high school hockey allowed Kruk to bond with his teammates every day.
"It was amazing," said Kruk. "We had the school support always behind us. It was really good getting to see my friends who were also teammates every single day. We were able to build stronger relationships at school, which helped us win games on the ice."
Kruk now hopes to continue his competitive hockey career at the next level.
"I'm going to try and try out for some teams in the MJHL," said Kruk. "I'm not sure which team yet, but hockey will always be a part of me. I'll work my hardest to try and get there."
The 17-year-old had several great memories during his time as a Clipper, including the following.
"Scoring my first goal in my first game three seasons ago was huge for me," said Kruk. "And, getting the chance to go to Dallas with the team this year was amazing."
Kruk had one goal in six playoff games this season.
Details

Contributed by

Darnell Duff
After a 14-44-1-1 season and a tenth place finish, the Dauphin Kings are now accepting applications for a new Head Coach and General Manager.
"The Dauphin Kings set out for our 50th season, and we certainly had far better hopes then what happened this season," said Scott McCallum, Hockey Operations for the Kings. "Now is certainly a time that the Kings have to take a step back and evaluate where we're going."
Mitch Giguere joined the Dauphin Kings as the Assistant Coach prior to the 2017-2018 season but was named the Interim Head Coach and GM of the Kings in mid-November when Marc Berry was released. Brett Anderson joined the Kings as the new Assistant Coach in early January.
"I want to thank Mitch and Brett," said McCallum. "They definitely were thrown into a difficult position with the midseason change. But, as an organization, we've decided to take a step back and do a complete evaluation of our Hockey Operations."
The Kings once again iced a very young lineup this season, with several rookies being in the everyday lineup, including Jaymes Knee who was named to the Rookie All-Star Team.
"The maturity on our hockey team was probably a large part why the record was the way it was," said McCallum. "We probably went to young too fast. Now that we're setting out to find a new Coach and GM, we're looking for the best candidate possible."
When asked about the direction of the team going forward, McCallum had this to say.
"I think the Dauphin Kings are going to be in a position to try enrich the lineup," said McCallum. And, bring some leadership in as well."
Dauphin Kings fans have been spoiled in the past as the team went through years of winning, but the club has struggled in the past few years, but McCallum says's that's about to change.
"A Jr.A Hockey team doesn't survive without the local support of sponsors, and the fans who come out," said McCallum. "We couldn't be more thankful for the fans that come to support the Kings every game, and I want to encourage the fans that we have a rich history and we are going to get back to our winning ways. The product on the ice next year is going to be a really good one to watch."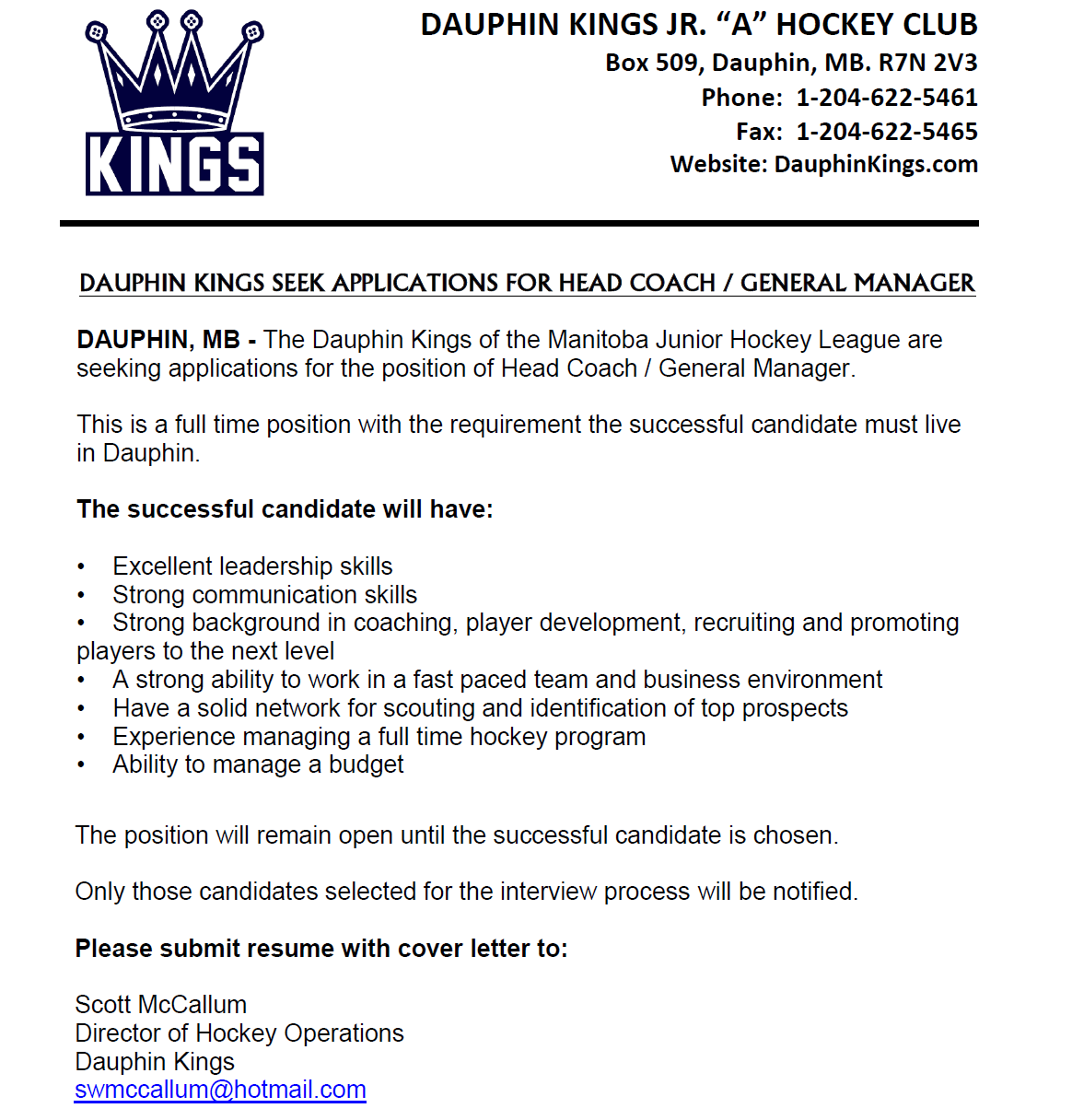 Photo Credit - Dauphin Kings
Details

Contributed by

Darnell Duff
It was another golden weekend for the Dauphin Novice Kings as they won the Ultimate Hockey Championship in Souris this past weekend.
Noah Smigelsky led the team in the 6-5 win over the Brandon Canucks in the final with three goals and was named the game star.
Forest Karlson also had a good game scoring two goals in the game for the Kings.
In games leading up the final, the Kings beat the Brandon Jets (8-1), Rivers Jets (10-2), and the Brandon Stars (4-2).
Details

Contributed by

Darnell Duff
The second weekend of the Provincial Hockey Championships wrapped up earlier today.
Peewee A Swan Valley - Won Championship.
Women's Atom A Neepawa - Won Championship.
Peewee B Neepawa - Won Bronze Medal.
Midget Winnipegosis - Finished in fourth place.
Peewee C Russell - Finished in fourth place.
Details

Contributed by

Darnell Duff
Dauphin's Greg Todoruk and his foursome ran the table this weekend to win the first event at the Dauphin Men's Bonspiel.
Todoruk, Barrett Procyshyn, Scott Carr, and Rob Lulashnyk beat Team Hadway in the finals.
Second Event
Winner - Team Todd Aitken
Aitken, Roy Forsyth, Glenn Rozak, and Keith Murray beat Team Yaciuk in the final.
Third Event
Winner - Paul Scinnoca
Scinnoca, Dave Lemoine, Tim Coeb, and Dutch beat Team Jim Todoruk in the final.
Fourth Event
Winner - Darcy Todoruk
Todoruk, Chris Todoruk, Mark Graham, Dustin Mayuk beat Team Hanibal in the final.
Details

Contributed by

Darnell Duff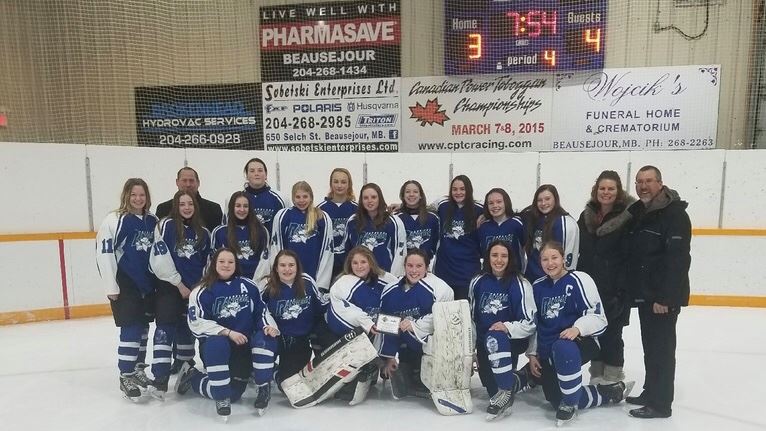 The Parkland Bantam Women's Rangers will be coming back home with a plaque.
The team won the Consolation Championship earlier today with a thrilling 4-3 overtime win over the Yellowhead Chiefs at the Rural AAA Provincial Championships.
Kensington Rainkie scored the winner 7:54 into the first extra frame.
Riley Turetsky, Levi Derkatch, and Remmy Buchanan scored the other Rangers goals in the game.
Defensemen Brooklyn Hramalak was named as one of the Tournament All-Stars.
Details

Contributed by

Darnell Duff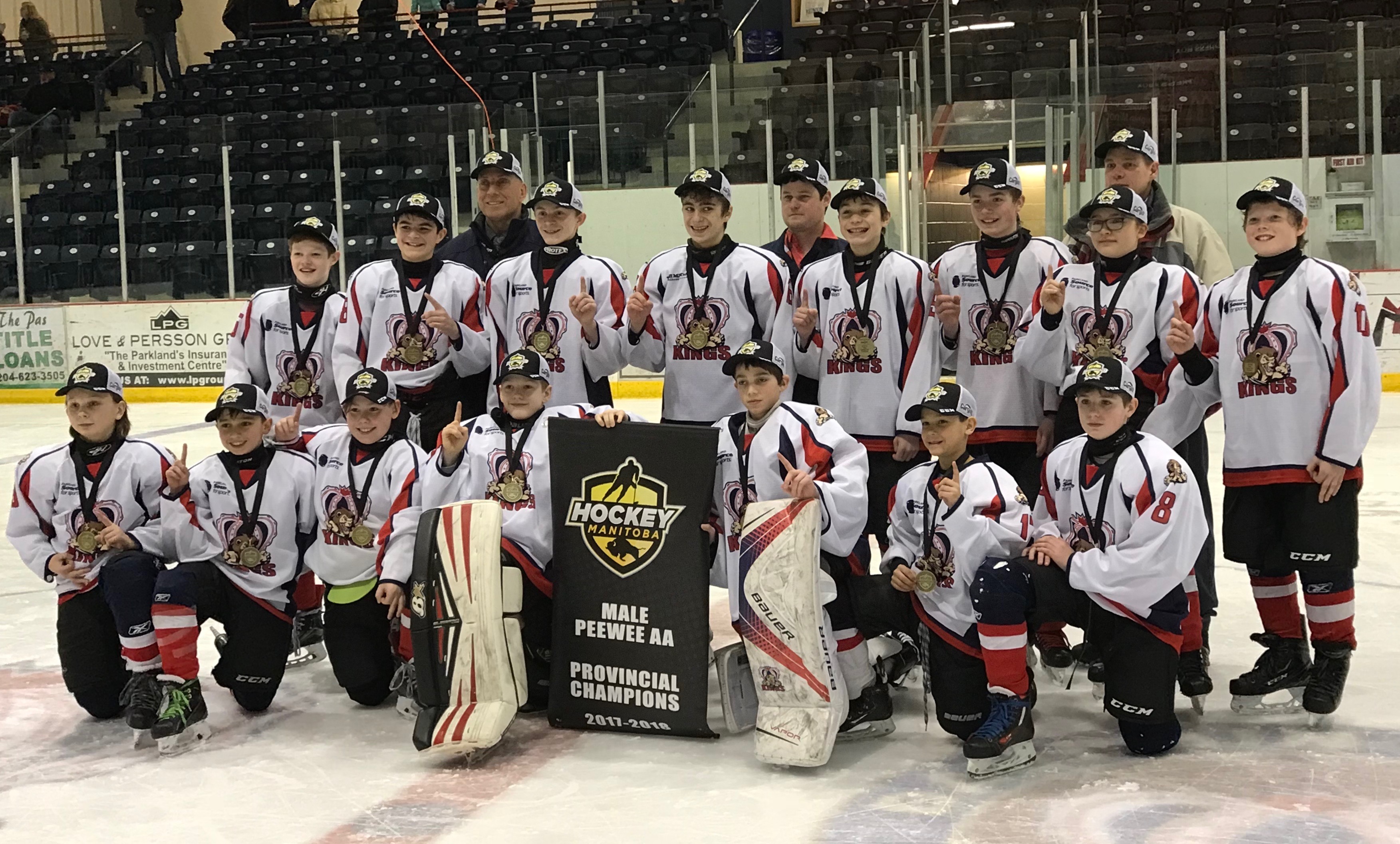 What a finish to a great season for the Dauphin Peewee AA Kings as they are the 2017-2018 Rural Provincial Champions.
The Kings met the also previously undefeated Flin Flon Bombers in the final, and after 45 minutes of back and forth action, the Kings came out on top, 4-3.
Once again it was the familiar foes of Carter Zalischuk and Kyan Grouette who led the way.
Zalischuk had three goals and several other great chances for more, while Grouette pitched in one goal and a helper.
Cody Coombs was very good between the pipes for Dauphin making several big saves late in the game to preserve the victory.
In the bronze medal game earlier, Morden beat Steinbach.
You can see the game-winning celebration from the Kings here:
Details

Contributed by

Darnell Duff
Montana Jubenvill had an incredible game scoring three times, and the Grand Plains Ice Dogs capped off a perfect weekend by winning the Atom B Rural Provincial Championships in Hamiota.
Layne Minshull scored the other Ice Dogs goal in the 4-3 win.
The win gave the Ice Dogs a perfect 5-0 record this weekend, and they scored 37 goals while giving up just seven.
Details

Contributed by

Darnell Duff