Latest Sports
The McCreary senior girls soccer team kicked off their season perfectly earlier today.
Remy Buchanan and Gina Musgrave scored as they beat Ste. Rose, 2-1.
Elektra Breault scored Ste. Rose's lone goal.
McCreary will now take on Alonsa on Monday.
Details

Contributed by

Darnell Duff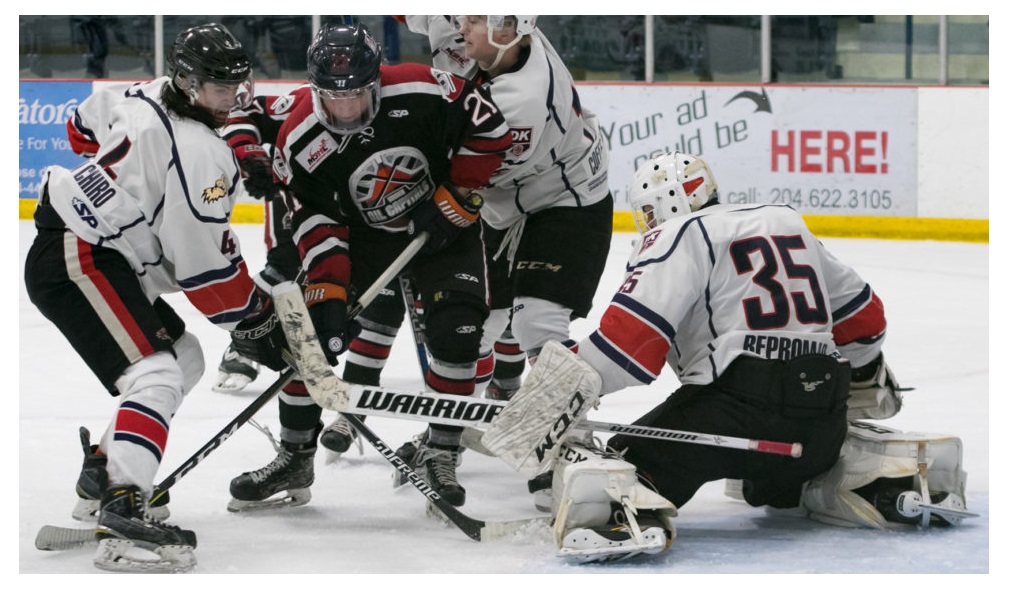 The Dauphin Kings have been the Kings so far of pre-season comebacks.
For the second game in a row, the Kings came back from two deficits as they beat the Virden Oil Capitals tonight, 5-3.
Virden opened up the scoring just 1:40 into the game, but Grady Hobbs tied it for the Kings at the 16:52 mark.
Now we fast forward to the 8:14 mark of the second as Ben Dalke gave the Oil Caps their lead right back.
But, that didn't last long. The Kings tied it up just over eight minutes later as 20-year-old Wayde Johannesson scored with George King and Ste. Rose's Reece Hopfner picking up the assists on the marker.
Heading into the third all tied up at two, the Kings took over.
Brendan Arnold scored his first of the pre-season to give the Kings a 3-2 lead 14:32 in, with Samson Mouland and Mason Fischer picking up the assists.
31 seconds later, Carter Sawchuk put the Kings up 4-2 with the assists going to Alex Schneider and Alonsa's Dustin Mozdzen.
Virden cut into the deficit at the 17:08 mark but that's as close as they would come. Johannesson scored his second of the game with nine seconds left to seal it for the Kings.
"I'm really happy with how the guys played tonight," said Mitch Topinka, Assistant Coach. "We were moving the puck with a lot of speed. We're really stressing competing for the entire 60, and we're doing that. It was a really good game for us."
The Kings will now welcome the Waywayseecappo Wolverines to Credit Union Place tomorrow evening.
That game will wrap up the team's pre-season. Puck drop is set for 7:30.
Photo Credit - Dauphin Kings.
Details

Contributed by

Darnell Duff
The Dauphin Kings are once again well underway with their Ag Project, and things are going well.
The field was swathed the other day and now the waiting game begins for harvesting.
"It'll probably be two-three weeks before we can combine it," said Gary Sydor. "It's going to need some heat on it to get it changed."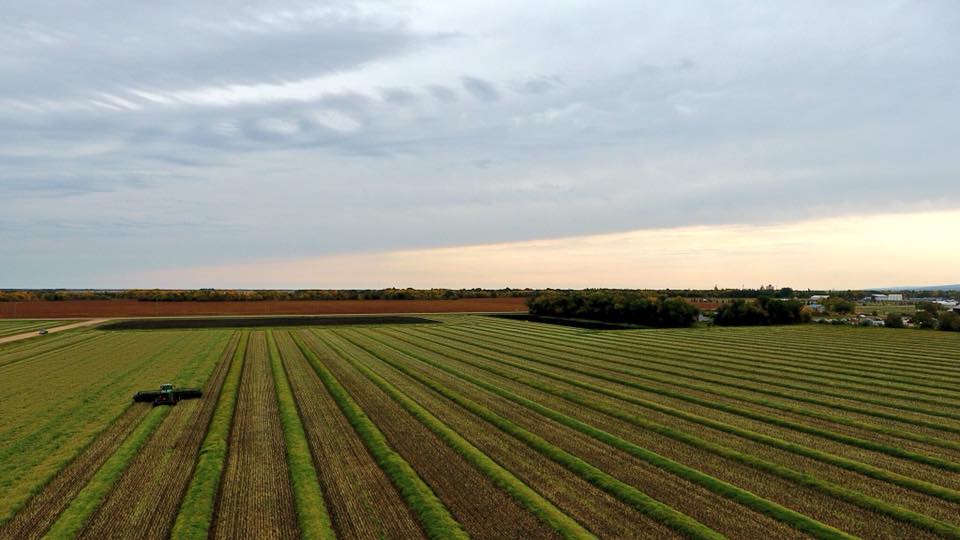 The crop this year is Canola. Once it's combined, it's already been determined where it's going.
"We're taking it to Cargill right here in Dauphin," said Sydor. "We've locked in a price of $10.25 a bushel. We've locked in 45 bushels per acre. It should go close to 50 we think."
Stay tuned to find out the exact numbers when it gets harvested.
Photo Credit - Dauphin Kings.
Details

Contributed by

Darnell Duff
Riese Gaber was chosen in the third round-40th overall by the Dubuque Fighting Saints in Phase Two of the USHL draft.
Now, the 18-year-old Gilbert Plains native is looking to gain a spot on this year's roster.
"Things are definitely going pretty good right now," said Gaber after yesterday's practice. "We start up exhibition games this weekend so I think that's where I'll get a little bit of a better idea where I stand with the team. I'm just enjoying it and working as hard as I can every day to make this team."
"It's a bigger step then what I've done before but it's a step in the right direction," he added. "Everyone here is a lot bigger and stronger. So with me being a smaller guy, I can't really outpower them so I have to use my hockey sense and skill. I'm trying to adapt to that right now."
Gaber and the rest of the Fighting Saints head to Cedar Rapids to take on the Roughriders on Friday. After that game, the two teams return to Dubuque for a rematch which will wrap up the team's exhibition schedule.
Heading into those tilts, Riese believes he has what it takes to make an impact on this team.
"I think I can make a difference on the ice for this team for sure," said Gaber. "I just need to keep working hard at the rink every day and do what I do best. If I do that, I'll have a good shot."
"I have pretty high expectations for myself," he added. "I think I might be a little bit nervous for the games, but not really a lot. I know what I'm capable of and I plan on doing good things."
The game of hockey has taken Riese to some great places.
He's played in two World Jr. A Challenges with Team Canada West. He's also won a Manitoba championship with Steinbach and Anavet Cup championship with Steinbach which allowed him the chance to play in the RBC Cup.
It's at a time like this when Riese will play against some of the top young players from all across North America, that he can use those experiences to help him.
"All of those games that I played in were super competitive with great players," said Gaber. "And out here everyone is really good so it translates well."
"Really anytime you get to play against top players it helps you," he added. "I'm just hoping I can use those experiences going forward."
The Fighting Saints begin their regular season next Friday against Green Bay.
Details

Contributed by

Darnell Duff
The Dauphin Kings will play their fifth pre-season game tonight as they head to Virden.
With tomorrow being the team's final pre-season game before the points really start to matter, tonight is one of the last chances for bubble players to show what they're made of.
"It'll be a combination of rookies and vets tonight," said Doug Hedley, HC/GM. "For the most part it'll be like Wayway, but we'll have some more vets in there. This is the second last shot for guys so hopefully, they can show well."
The Kings have already trimmed their numbers a tad heading into tonight's game but more players will still be cut going forward.
"Chad Kilimnik was sent home yesterday because of a lower-body injury," said Hedley. "We have seven lines and we need to get down to five. So, like six forwards and three defencemen will have to go before the weekend."
Last Saturday the Kings played a pretty good game of hockey as they dispatched of Virden 4-1 at Credit Union Place.
The puck drops at 7:30 from Tundra Oil & Gas Place.
Don't Forget:
The Kings will kick off their 51st season on September 22 against the same Virden Oil Capitals at Credit Union Place.
You can hear that game right here on 730CKDM with Darnell Duff beginning with the pregame show at 7:15 p.m. Puck drop is shortly after 7:30.
For the complete list of Kings games on 730CKDM this winter, head to Dauphin Kings Broadcast Schedule.
Photo Credit - Dauphin Kings.
Details

Contributed by

Darnell Duff
In a night full of penalties and ejections, the Parkland Midget Rangers couldn't buy a goal in a 2-0 loss against Yorkton.
The Maulers scored the games opening goal at the 15:13 mark of the second period.
With under four minutes left in the third, one Yorkton player was ejected after a line brawl broke out between the teams.
Two Rangers were also ejected after they received 10-minute misconducts for their roles in the brawl.
Yorkton then scored their second goal with 39 seconds left in the game to pick up a 2-0 win.
The Rangers will now head to the Souris tournament this weekend where they'll play two games on Saturday and one on Sunday.
Details

Contributed by

Darnell Duff
In his last year of high school football he won a championship with the Dauphin Clippers.
Then he took his skills to Winnipeg.
That's the route for Dauphin's Ty Hassel. He's now playing on the St. James Rods who play in the Manitoba Major Junior Football League.
"I'm definitely having a really good time," said Hassel. "I'm really happy that I was able to continue my football career after high school."
Playing against some of the best players in rural Manitoba wasn't easy. But, now that he's playing against some of the best players in all of the province, it's gotten even harder.
"It's definitely been a pretty tough transition," said Hassel. "Everyone out here is so skilled and guys are a lot bigger than they were in high school. It's been challenging, but I'm enjoying the experience."
The Rods have started their season 0-2. Heading into week three and going forward, Ty knows what he needs to do to have success.
"I just need to get bigger, faster and stronger," said Hassel. "Those are really the things that'll allow me to help the team the most."
Playing on the Rods also gives Ty a chance to play with a couple of his buddies. Steven Zurba and Cole Precourt are also on the team.
"It's been a lot of fun," said Hassel. "Obviously I'm really good friends with both of them so it's nice that I can share this experience with them. I'm hoping we can turn things around and win some games together."
The team is back in action on Friday when they take on the Nationals.
Details

Contributed by

Darnell Duff
The Parkland Midget Rangers hit the ice tonight for their second test so far in the pre-season.
They'll welcome the Yorkton RawTec Maulers to Credit Union Place.
The two teams played last week when the Rangers fell 5-1.
"We're trying to evaluate what we have to work with," said Arnie Caplan, Head Coach. "It's sort of been a mish-mash with injuries and some players still at junior camps. We've got four games in the next five days which will really allow us to see what we have and where we want to go."
After tonight, the remainder of the four games will come this weekend at the Souris tournament.
The Maulers begin their regular season next Friday. That means you can expect a veteran lineup tonight at Credit Union Place.
"They're going to be hungry," said Caplan. "There are a lot of guys battling for spots there. They're going to play really hard and they'll play a high tempo game. That's what they did last week so we can expect that again."
For the players on the Rangers tonight that want to be on the regular season squad. The message from Arnie is simple.
"Guys just need to bring out what they do best," added Caplan. "We need everyone to give it their all and show us what they can do."
The puck drops tonight at 7:30.
Details

Contributed by

Darnell Duff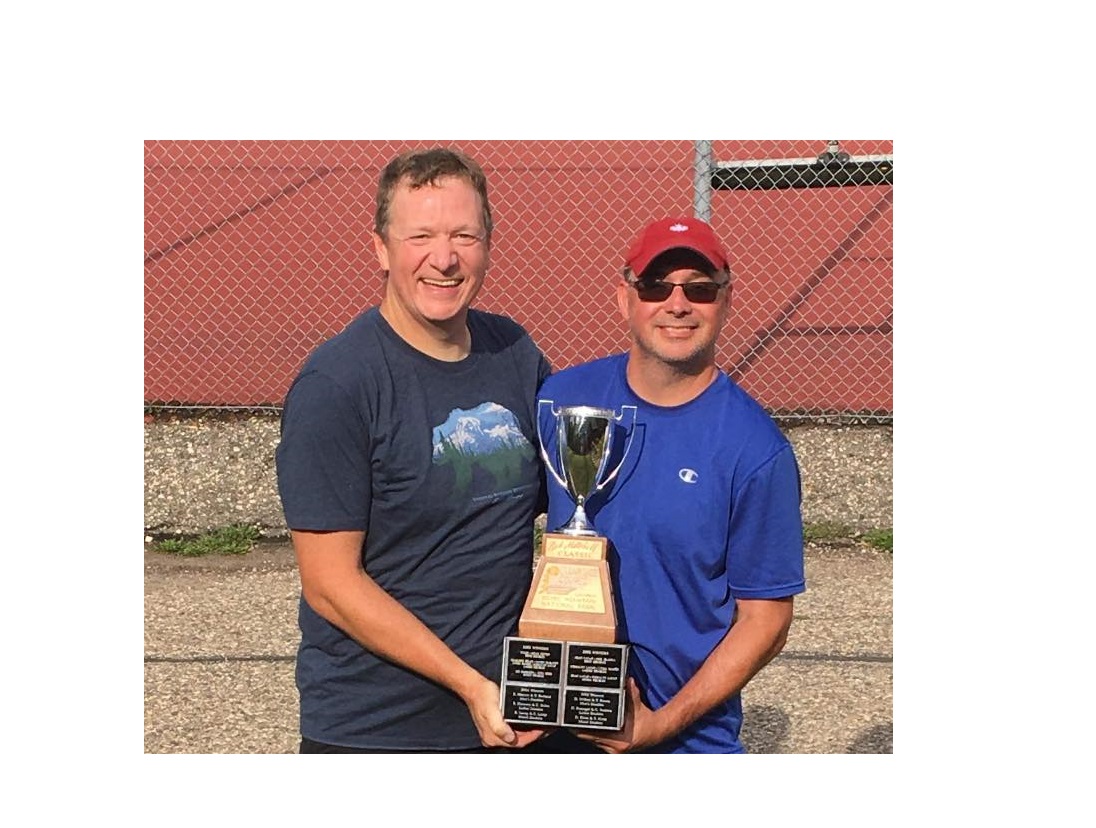 It was a golden weekend for Dauphin's Kevin Thiele and Boyd White.
The Dauphin duo joined forces to cruise through the competition at the Clear Lake Tennis Tournament this past weekend and win it all.
"It definitely felt great but we didn't expect to win it all," said Thiele. "I've played it personally for 15 years and I've never been in the final."
"It was pretty special to just get to the final," he added. "Then to win it all was an even better feeling."
In the round-robin, Thiele and White went 4-0. They then beat Larry Kustra and Craig Zamzow of Swan River in the semifinals 6-4, 6-4.
In the finals, Thiele and White held off the three-time defending champions Kit Harrison and Gilbert Lee of Brandon in the final in straight sets.
The scores were 7-5 and 6-4.
"It was a cool feeling to beat them in the final," said Thiele.
Winning the Clear Lake Tournament hasn't been the only success story for the duo this summer.
They also teamed up three weeks ago to win the Wheat City Classic in Brandon.
"It's just been a really good summer for us," said Thiele. "We've been playing more and I think we just sort of got in a groove. I'd say winning that tournament in Brandon definitely gave us confidence for the tournament in Clear Lake."
"We knew we were in a little tougher in Clear Lake, but we stuck to the plan and got it done," he added.
Kevin and Boyd will now look to turn what has already been a great summer into a spectacular one. They'll head to Brandon at the end of the month to take part in the Brandon Club Invitational.
"We've been playing a lot of singles lately in our practice time so we can become more consistent because you hit the ball more and move a lot more," said Thiele. "And of course it helps us improve our conditioning. So, we'll continue to do that to prepare and hopefully, it works out."
After that tournament, the duo won't play another tournament this summer. But, that doesn't mean they won't join forces again in the future.
"Obviously joining up together has worked," said Thiele. "We're definitely going to try and defend next year."
Details

Contributed by

Darnell Duff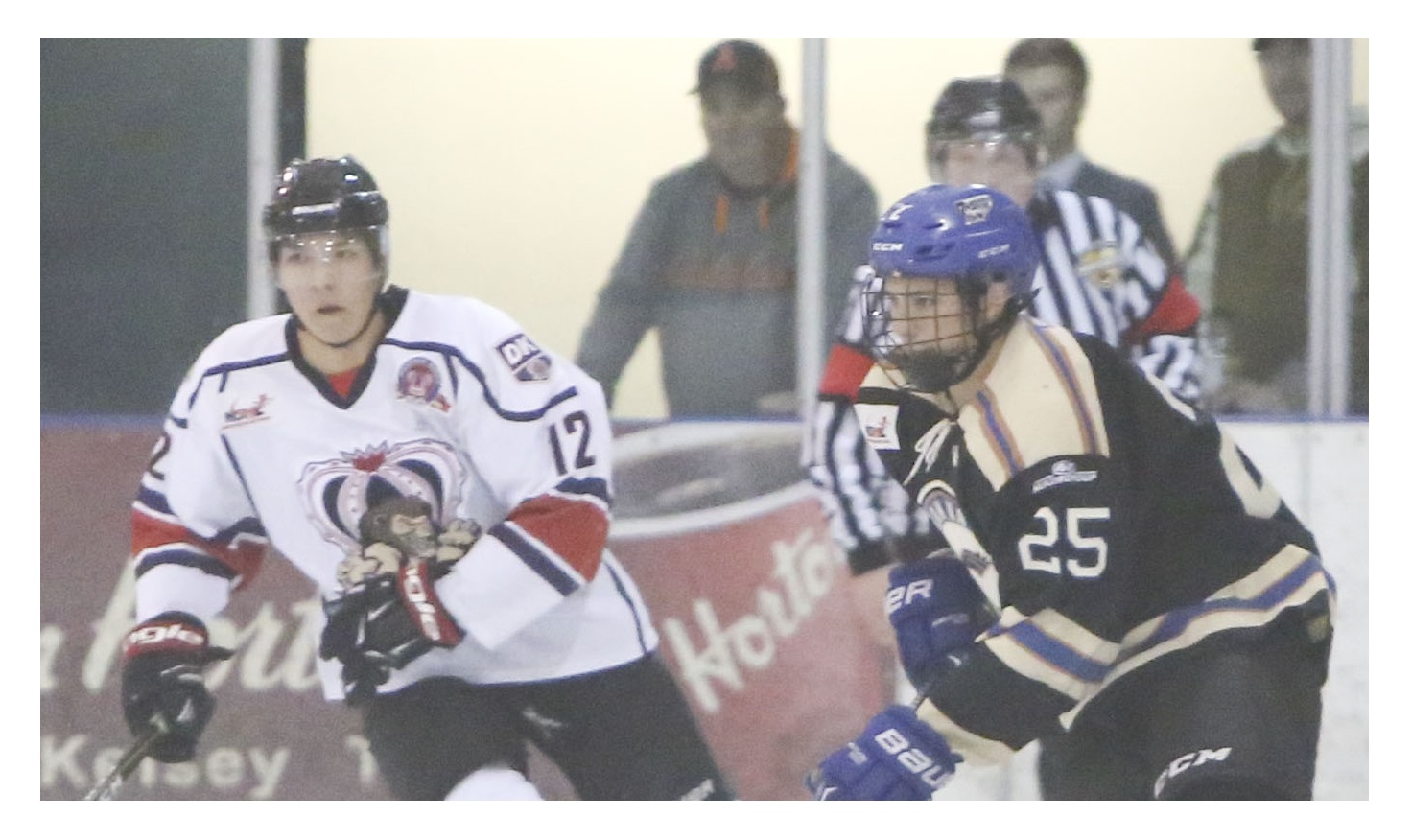 The MJHL pre-season is winding down.
So that means players that aren't good enough to play in the league are getting cut on a near daily basis. But, not Swan River's Jackson Betcher.
The 17-year-old is still with the Stampeders organization as they enter their game tonight against OCN.
"Things have been going pretty good so far for sure," said Betcher. "There's lots of competition and everyone's working hard. There are still nine defencemen left, so I have lots of work to do."
Betcher's coming off a two-year run with the Parkland Midget Rangers.
The Swan River native improved immensely in his second year. He put up 14 points in his first year with the team, and more than doubled that last year with his 34 points.
As he looks to make the jump up to junior, he already knows it's been a tough transition.
"The pace is a lot higher then midget and the compete level is ramped up," said Betcher. "I just need to keep pushing myself. I can't really afford to make any mistakes or else the puck may end up in our net."
"It's been tough for sure, but I'm enjoying the challenge," added Betcher.
Despite the challenges Betcher is experiencing, he's got a good feeling he can make the squad.
"I'm pretty confident in myself right now," added Betcher. "I'm not going to push anything and say I'm on the team yet. But, I'm obviously hoping I will be."
Growing up in Swan River, Betcher had one big dream when he started playing hockey. That was to play for the Stampeders, and that dream has lived on throughout the years.
"It would be an absolute honour," said Betcher. "Especially as a 17-year-old cracking the roster and playing in my hometown. I'm just hoping I can make that dream happen."
Betcher will play his third pre-season game with the team tonight.
Details

Contributed by

Darnell Duff
Last year's National Champions are coming to Dauphin.
The University of Manitoba Bisons will be in town this Saturday and Sunday.
They'll take on the University of Saskatchewan Huskies in a two-game set.
Saturday's game goes at 7:00 p.m. and Sunday's puck drop is set for 2:00 p.m.
"We're definitely very excited to have these university hockey teams here in Dauphin playing," said Ann Ransom, Parkland Minor Hockey Association President. "It's not only great for our female players but it's going to be a lot of fun for fans to watch."
On top of the games, young female hockey players will get the chance to learn in some camps taking place before the games.
Coaches from the U of M and U of S will lead Sunday's female hockey camp. For more details on that and how you can get involved, head to Female Hockey Camp.

Tickets for adults are $10. Youth aged 17 & under will get in free as long as they're with an adult.
The proceeds from the games will go to the Parkland AAA Bantam Women's Rangers.
The doors are set to open one hour before puck drop.
Details

Contributed by

Darnell Duff