Latest Sports
The Dauphin Kings are on a roll and they'll look to keep that going tonight when they return to Credit Union Place.
The Kings (16-12-1-2) will welcome the Waywayseecappo Wolverines (13-13-1-2) to town. It's the third of six meetings between the two clubs this season and so far it's been all Dauphin. They've beaten Wayway, 3-2 and 1-0 respectively. Both of those games were in October.
Dauphin has gone 4-0-2 in their last six games. That includes back to back wins over OCN and Winnipeg. The Kings have also been solid on home ice this season. They've earned 13 points (7-3-1-2). On the road, the Wolverines are 8-6.
Wayway is 2-4 in their last six games. They're coming off a 3-2 win against Neepawa on Wednesday.
Riley Shamray and Cole DeKoninck will look to keep it going for the Kings on the backend. Riley had 11 points last month and has two more this month so far. Cole has been very good with five points in his last four games.
Tonight's game could also be a good tee up going forward. Dauphin will meet Wayway next Tuesday (December 11) at the MJHL Showcase in Winnipeg.
It's also Barry Trotz and Teddy Bear Toss down at the rink tonight. The puck drops at 7:30.
Details

Contributed by

Darnell Duff
Kolby Johnson arrived in Dauphin not too long ago. He was acquired in a trade with the La Ronge Ice Wolves back on November 29. He made his Dauphin Kings debut the next night against the Virden Oil Capitals at Credit Union Place.
Before coming to Dauphin, Kolby has been very well travelled. Johnson began his junior career in the 2013-14 season where he played two games with the Prince George Cougars.
The next season, Kolby played 32 games with the SJHL's Kindersley Klippers before playing 45 more games with the Cougars. He then went to Prince Albert to play for the Raiders and also spent some time in the QMJHL with the Sherbrooke Phoenix. After playing several games for the Ice Wolves, Kolby was Dauphin bound. Since coming to town, Kolby has made a very good impression not only on the ice but off the ice as well.
If you ever get the chance to meet the 20-year-old, he's always ready for a good chat.
"I've been enjoying things here in Dauphin a lot," said Johnson. "It's been a lot of fun so far."
Johnson has now played three games in the MJHL. He hasn't registered a point, but he has been close with several good chances.
"Playing in this league was definitely a bit of an adjustment," said Johnson. "I was playing with the same players for the start of the year, so it was a little bit of a challenge to change that up. I think our line (Arnold and Miller) are starting to click and produce some pretty great chances. We're just snake bitten right now. As long as we keep staying positive, I believe we're going to do some pretty good things out there."
"I'm a hard skilled kind of guy, I like to play like a Tom Wilson or Wayne Simmonds and that type of player, but I also like to have an edge like Ryan Reaves," he added. "I like to make the safe plays out there, but I also like from time to time trying to make those high risk, high reward type of plays."
Coming to Dauphin was definitely a move that gives Kolby a much better chance of winning. The Ice Wolves have now lost 14 games in a row and they're at the bottom of the SJHL standings. The Kings meanwhile are 4-0-2 in their last six games. Kolby has only been around for half of those contests, but none the less, he's obviously enjoying being on a team that is winning.
"In La Ronge, we were winning games at the start of the season but then we lost some key guys, and then some guys left and it just sort of went downhill," added Johnson. "Being here in Dauphin, I couldn't be any more thankful being a part of a group that can win games every night out. We're not just trying to make the playoffs, we're trying to lock down a top spot and that's really exciting."
Get To Know Kolby:
Besides hockey, what's been the best part about Dauphin so far? My billet family has a hot tub, so that's pretty awesome. I've also been to the movie theatre and it's pretty awesome there.
What's your favourite movie? Oh man, that's a pretty loaded question. I'm a big fan of the Lord of the Rings series. I also love the Book of Eli and the Star Wars series. I watch a lot of movies.
Best sports movie? Coach Carter is pretty great and Concussion. Both are great.
You're a fighter; does a movie like concussion scare you a little bit? I worry about it a little. But, I think it's just trying to be smart about it. I know how important my brain is.
Kolby and the Kings return to the ice tomorrow night. They welcome the Waywayseecappo Wolverines to Credit Union Place.
You can hear the full interview with him during the Dauphin Kings Power Play show tomorrow afternoon after the 4:00 p.m. news, weather, and sports.
Photo Credit - Dauphin Kings/Pederson Photographic.
Details

Contributed by

Darnell Duff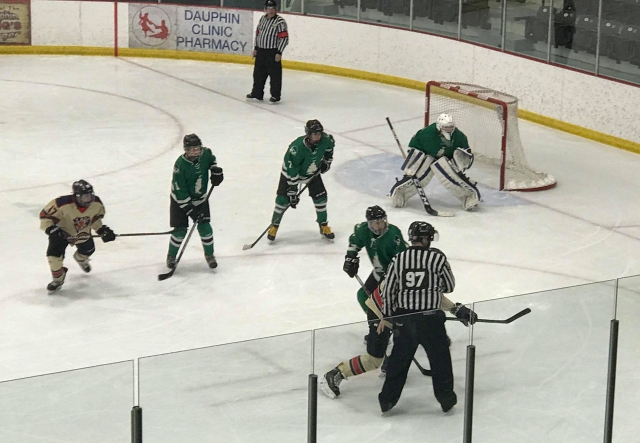 The Dauphin Clippers hockey team will spend their weekend in Brandon beginning tomorrow. The team will play in the Vic Inn tournament which is played at Westoba Place, Enns Arena, and Kinsmen Arena.
Dauphin will go into the tournament with all sorts of confidence. After dropping their first two games of the season, the Clipper ship has rallied off eight straight wins. That record has them atop the North division, something they've become quite familiar with. Last year, they won the North division pennant.
"We've definitely been playing some really good hockey lately," said Trevor Robak. "We played in Killarney and Hamiota and stole two points from those teams in their barns which was great for us. The kids have really stepped up."
A big reason for the team's success this season has been obviously Riley Hammond and Logan Storey who own the top two spots in league scoring. But, the return of Wade Kopytko has really lifted the team. He missed the first two games of the season and has played the last eight. In that span, Wade has 19 points.
"That was really big to get him back, he's a really big part of this team and he leads the backend," added Robak. "He turns pucks over in the neutral zone and he's really smooth with bringing the puck out of our defensive zone. We just seem to play with so much more confidence when we have a full roster."
The Clippers will begin their mini-two game round robin tomorrow afternoon at 12:00 p.m. They play Westwood in their first game. At 8:15, the Clippers battle with Prairie Mountain. Obviously, Dauphin really doesn't know much about these two teams going in.
"I don't think we're really preparing for them, we're just trying to play the best game we can," said Robak. "We need to keep working on the little things and just work as a team. If we do that, we'll have success."
"We don't really have big expectations for this weekend because we don't know what the other teams look like, we just want to play our game," he added. "Our main goal is to get better this weekend. So when we come back to league play, we'll be ready to fire on all cylinders."
Stay tuned all weekend long for updates on how the Clippers do.
Dauphin next plays at Credit Union Place on December 11. They welcome Major Pratt to town.
Details

Contributed by

Darnell Duff
Bradly Goethals played almost 100 games in the WHL. 95 to be exact. Now, the 20-year-old has made the change to play Jr. A hockey with the Swan Valley Stampeders.
Not only has it been a great season for the Stampeders, but it's been a fantastic season for Goethals. In 22 games, he's got 34 points. Thanks to his contributions, he was named the MJHL Player of the Month for November. 17 of his now 34 points came in November.
"It's a pretty awesome feeling but I couldn't do it without my linemates," said Goethals. "It's definitely nice to get recognized by the league and hopefully it keeps up."
Bradly also had some success in the WHL. In those 95 games, he had 39 points (19G). But, the start he's off to now has been a bit unexpected.
"I mean I definitely expected to do well, but I didn't know I would do this well," added Goethals. "It's definitely helped to play with Tripp and Osadick for sure. I have to give them credit for my success."
How did Goethals back up his solid November? By having a nasty December. In Swan Valley's first two games, Brad had one goal and one assist. Yesterday against OCN, Goethals absolutely went off. He had three goals alone in the second period and he added one in the third for a four-goal performance.
Yesterday's game was also a rebound one for the Stamps. Entering play yesterday, the team lost four straight games. With last night's win, the Stamps are just two points behind the first place Portage Terriers.
"Teams are kind of keying in on us now and when we don't play in our barn, they're always line matching," said Goethals. "It's been a little bit harder to score. But, hopefully, I can keep up the pace and we as a team can keep winning."
Overall, the Stamps (20-6-2-2) are having a great season and Bradly's loving every minute of it in his final junior hockey season.
"Yeah, ever since I came here, it's been an absolute blast and I'm getting treated really well," added Goethals. "The boys are all awesome. We've struggled a bit as of late, but it's better to lose now compared to later. Sometimes you have to learn how to lose to have success in the end."
"I came here because I believe we have what it takes to win a Championship," he added. "With the team we have, I think we have a really good chance."
Moving forward, Bradly has four years all expenses paid to college because of his WHL play. But, he's all in for this year and he's not worried about the future yet.
Details

Contributed by

Darnell Duff
The Gilbert Plains Trojans varsity girls volleyball team capped off their season in the perfect way this past weekend. They won the Provincial Championships and a huge part of the team was Gilbert Plains Mackenzie Zatylny.
The 15-year-old was so good this season, that she had the nickname "Poundtown Zatylny" at the provincials. She was also named the Most Valuable Player at the end of the tournament.
"It felt so good to win that tournament, we worked so hard all season to achieve our goal of winning it all," said Zatylny. "Being named the MVP was a true honour. There were so many good players out there. It meant a lot that I was chosen."
So there was no doubt it was a memorable grade 11 season for Mackenzie and the rest of the Trojans. As she takes a look back, "Poundtown Zatylny" has nothing but great things to say about it all.
"The whole season was just so much fun," she added. "I loved being with my team and seeing how we improved throughout the season."
Mackenzie doesn't get much time off to soak it all in. She'll head to Brandon this weekend to try out for the 17U Brandon Cats women's volleyball club team. She's already made several good impressions in front of the team's coach and she's feeling good heading into the weekend.
"I'm pretty confident and I think I'll make that team," said Zatylny. "I know I can improve a bunch, but I'm feeling good heading in."
So moving forward, Mackenzie will look to continue dominating the volleyball world in Manitoba. After her high school years, the 15-year-old has big plans. She wants to play volleyball at a college in the US.
Details

Contributed by

Darnell Duff
Dauphin Kings Riley Shamray has been named a runner-up for the Telus-MJHL Defenceman of the Month for November.
The 20-year-old has been very solid for the Kings all season. Shamray chipped in 11 points last month (5G).
Overall this season, Riley leads the Kings offensively. He has 24 points (8G).
December is already off to a good start for the Oak River native. He's got two assists in two games.
Photo Credit - Dauphin Kings/Pederson Photographic.
Details

Contributed by

Darnell Duff
The Parkland Vipers women's volleyball program is getting ready to start up.
They'll host tryouts this Sunday at the DRCSS.
The times are the following:
12:30 - 2:30 p.m. - 13U - girls born September 1, 2005 or later.
2:30 - 4:30 p.m. - 14U - girls born September 1, 2004 or later.
4:30 - 6:30 p.m. - 15U - girls born September 1, 2003 or later.
There will also be a 12U team for girls in grade 5 or 6. Those tryouts will be near the middle of January.
"You can just register when you come," said Ted Rea. "We don't charge a tryout fee as some clubs do. We just want to see as many girls out as possible."
If needed, there will also be tryouts on December 16 at the same time as above. From there, the hope is teams will be picked. There will be no volleyball during the Christmas break and it will start back up during the second weekend in January.
"Most of the time, we host our own tournament here in Dauphin, and the kids usually play in three or four tournaments outside of Dauphin," said Rea. "Also, they'll play in the Provincial Championships which are held in Winnipeg in the end of April."
Details

Contributed by

Darnell Duff
The Dauphin Kings opened the scoring and got the last punch as they beat Winnipeg in a shootout tonight, 3-2.
Just 30 seconds in, Riley Buller opened the scoring for Dauphin.
After tying the game in the second, Winnipeg took a lead in the third.
Cole DeKoninck tied the game on a beautiful end to end rush which was capped off with a rocket.
Buller scored the only goal for Dauphin in the shootout.
Ethan Slobodzian was once again very good for Dauphin. He made 30 saves and shut the door in the shootout.
Dauphin is now 16-12-1-2 this season.
Details

Contributed by

Darnell Duff
The Johnston & Company Junior Curling Tour has wrapped up for another season.
It was also a solid tour for Onanole's Hunter Dundas, Dauphin's Brett Rowe, Brandon's Ethan Marshall, and Minnedosa's Kieran Baron. The foursome won the Consolation side bracket on Sunday.
They did so by winning their semi-final in a big way, 10-1. That was followed up with a 6-3 win in the final to claim the consolation title.
"It felt pretty great to win this for sure," said Dundas. "We started off pretty rough and lost a lot of games out of the gate. We hadn't really curled as a team. But, as we went on we were able to pull it together as a team and we had some success."
Dundas and his rink finished the round robin with a 2-5 record. But, as mentioned before, they got hot at the right time. On top of winning their final two games, they also won their final round-robin game. All in all, three straight wins for a team that just started playing together is a solid finish.
"I think we could have done a little bit better, but I'm pretty pleased with how we performed at the end," added Dundas. "It was a lot of fun getting to know each other. We really didn't play together much before this tour, so it was exciting to get to know them."
Next up for the Dundas rink is the U21 Canola Growers Provincial Championships this weekend at the Dauphin Curling Club. Their first game is on Saturday against the Carter Williamson rink. Overall, four teams will be playing for two spots to the big dance from January 2-7.
"I think if we come in focused and determined, we should be able to compete," added Dundas. "That's our biggest thing, we need to be focused. We also have to be well prepared because it's not going to be easy. We're excited about the challenge."
Details

Contributed by

Darnell Duff
Blaire DeLaMare is in her second season of college volleyball with the ACC Cougars, based out of Brandon. Last season finished off with a bang for the now 19-year-old. She was named the team's most improved player.
Now as the Cougars are on their Christmas break, they can reflect on what was somewhat of a tough first semester. They went 2-6 and are in fourth place in the MCAC standings.
"It definitely hasn't gone how we expected it to," said DeLaMare. "We lost our captain so that was a little bit of a tough blow. We're staying positive and we'll come out hard after Christmas."
One thing Blaire continues to stress in her game is her blocking. There's nothing like getting a huge block that can really turn the tides of a set. Heading into the second semester, that's what the Dauphinite hopes to bring to the table more often.
"We had a couple new coaches come in and help us out with that," said DeLaMare. "We just have to be more defensively sound and we'll have that success. We'll keep working on it."
"I think it's been a pretty good season overall for me," she added. "Last year, I played right side the whole season and I've changed to the left side this season. It's been a little bit of an adjustment. I'm enjoying the change though, and I think it's going pretty well."
Despite having a 2-6 record, DeLaMare and the Cougars did get hot late. They lost their first six games of the season, but they entered the Christmas break on a two-game winning streak.
"Our goal going into that final weekend was to finish off on a high note and that's what we did," said DeLaMare. "We're super excited for the second semester for sure."
"I think we just played with more confidence in those last games," she added. "We also have a new assistant coach who knows a ton about the game, so that's helping us as well."
Blaire and the Cougars will now have more than a month off. Their next game is on January 11 against l'Université de Saint-Boniface. It will be a tough start as USB is 6-2 and are tied atop the standings.
"Right now, we're sitting in fourth place and that would put us up against the top team in the playoffs and we don't want that," said DeLaMare. "It's really important for us to get some wins and move up in the standings to third or even second."
The team will enter the post-Christmas break three games behind the Red River Rebels for third.
Details

Contributed by

Darnell Duff
The Dauphin Kings will look to make it points in six straight games tonight.
They'll play the Winnipeg Blues once again. It's the fifth meeting this season between the two, and it's been incredibly close so far.
The Kings have won two of the games. One of the losses was in a shootout last week.
Since that game, the Kings are 1-0-1. They're coming off a 4-2 win against OCN on Saturday.
The Kings powerplay is 16.4% on the season. Their penalty kill is at 79.9%.
Winnipeg's penalty kill is among the league's best. It's at 84.4%. The teams powerplay is 19.9%.
Tonight's game is the official start of Dauphin's second half.
Photo Credit - Dauphin Kings/Pederson Photograpgic.
Details

Contributed by

Darnell Duff