Latest Sports
The Dauphin Kings are in their 51st season and it's been a successful one. But, the season wouldn't have gone on without the support of the community and the team's many billets.
Today, we take a look inside the Perih's house. They've been a Dauphin Kings billet for several years in the past decade. That means every season, they open their home to young aspiring junior hockey players who hope to call themselves National Champions.
"After the RBC Cup year, my wife and I were moving into a new home, and we wanted to give back," said Blaine Perih. "So, we brought in one player that year and it's sort of been history since."
Since that year, the Perih's have taken a couple years off as billets. But, for the most part, they've been all in with giving several players a home to call their own during the hockey season.
"It's just great watching the kids and seeing how they get better and we get to be a part of their journey to the next level," said Perih. "It's a very rewarding experience for us to share the memories they make with them. One day, maybe our kids will need a spot to stay and they'll be in a great home as well."
This season, Blaine, his wife, and two kids are the billet home of Bryan Landsberger and Landon Russell.
"We were only supposed to bring in Bryan, but we brought in Landon to just sort help the team out and then he fit in really well with the family," said Perih. "We decided as a family that we wanted him to stay. The guys play video games with my kids and they'll come out and help with hockey practice when they can."
"This whole thing really hits home after what happened in Humboldt," he added. "These kids are away from home and we want to provide a great place to stay. We want them to enjoy their experience in Dauphin."
From family dinners to video games with the kids and everything else, the Perih's open up their home to give the Kings a chance at bringing high-quality players to town in the hope of winning it all.
Of course, there are so many other great Dauphin Kings billets as well. Stay tuned all season long to get to know some of the other ones.
Details

Contributed by

Darnell Duff
Around the locker room, Mark Liwiski is now referred to as the "Teddy Bear Man". Why? We'll get to that a little bit later. First things first, the 17-year-old is in his first full season of WHL hockey with the Kelowna Rockets.
The Rockets have been a perennial powerhouse in the B.C. Division of the league for years and years. This year, things are a little bit different, but that doesn't mean it's been a bad campaign.
Kelowna is second place in the B.C.division with a 13-15-2 record. Liwiski and the team have been pretty hot as of late. They're 5-3-2 in their last 10 and are 2-0-1 in their past three.
"We kind of started slow, and we had a coaching change which kind of shook things up, but I think we're getting better every day," said Liwiski. "We're looking forward to a few more games before the Christmas break and we're hoping to keep our good play going."
For Mark himself, he's made his way to the scoresheet in just about a quarter of the team's games. He has six points in 28 games.
"There's always room for improvement, but I just need to keep playing my role and more points will come if I do that," said Liwiski. "I'm working really hard and that's the way I've put up the points so far. So, I just need to keep that going here."
Until now, you've probably been asking yourself why Mark is the "Teddy Bear Man". It's because he scored Kelowna's first goal in their Teddy Bear Toss game. That means Mark was the reason that the ice was flooded with teddy bears, just in time for Christmas.
"It was a pretty special feeling, it's never happened to me before," he added. "You always see it on TV and stuff, and I've always wanted to be the guy. It was cool that I was the reason why the bears were all over the ice."
"A few of the guys were giving me the gears, so that was pretty funny," said Liwiski. "It was nice to see all the fans get involved and everything. It was just a great moment."
Although perhaps the Rockets aren't quite as strong as past years, Mark still has a feeling this team has what it takes to make some noise.
"I think we're for sure a playoff contending team this year," he added. "There's no easy game in this league because every team can win on any given night. It's going to be tough, but I think we can battle it out for a playoff spot."
It's the WHL and the Kelowna Rockets for now. But, Mark does have some goals going forward. The number #1 goal would be playing in the NHL like so many players aspire to do.
"I think if I keep working hard and keep doing the little things right, I have what it takes to make it there one day," added Liwiski. "My coaches do a great job of doing whatever they can to help me and I need to soak in everything they're saying and use it to my advantage. I'm looking forward to the future, but it all starts right here in Kelowna."
Mark and the Rockets are back on home ice this evening as they welcome Victoria to the Prospera Centre. It's an important game for the club as they're two points ahead of Victoria in their division.
After tonight, the team next plays on December 11, before playing on December 12, 14, and 15. Next Saturday's game in Medicine Hat is their final before Christmas.
Details

Contributed by

Darnell Duff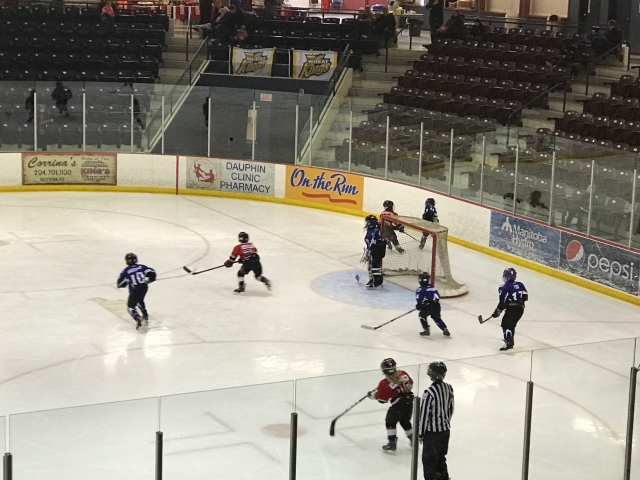 Credit Union Place and the Rotary Arena will be jam-packed with some of the best young hockey players in the province this weekend.
The A1/AA Tournament takes centre ice. Here is the schedule:
| | | | | | |
| --- | --- | --- | --- | --- | --- |
| GAME | TIME | RINK | HOME | ROOM | AWAY |
| 1 | FRIDAY 1145-115 | ROTARY | ROBLIN | 1 | MCCREARY |
| 2 | FRIDAY 115-245 | CUP | DAUPHIN A1 | 8 | SWAN VALLEY A1 |
| 3 | FRIDAY 130-300 | ROTARY | DAUPHIN AA | 3 | SOURIS |
| 4 | FRIDAY 315-445 | ROTARY | LORETTE | 1 | SWAN VALLEY AA |
| 5 | FRIDAY 430-600 | CUP | SWAN VALLEY A1 | 6 | THE PAS |
| 6 | FRIDAY 800-930 | ROTARY | SOURIS | 3 | THOMPSON AA |
| | | | | | |
| 7 | SATURDAY 800-930 | ROTARY | BRANDON | 1 | LORETTE |
| 8 | SATURDAY 815-945 | CUP | THOMPSON A1 | 7 | ROBLIN |
| 9 | SATURDAY 945-1115 | ROTARY | THE PAS | 3 | DAUPHIN A1 |
| 10 | SATURDAY 1000-1130 | CUP | THOMPSON AA | 6 | DAUPHIN AA |
| 11 | SATURDAY 1130-100 | ROTARY | SWAN VALLEY AA | 1 | BRANDON |
| 12 | SATURDAY 1145-115 | CUP | MCCREARY | 7 | THOMPSON A1 |
| 13 | SATURDAY 115-245 | ROTARY | AA 2ND A POOL | 3 | AA 3RD B POOL |
| 14 | SATURDAY 130-300 | CUP | A1 2ND A POOL | 6 | A1 3RD B POOL |
| 15 | SATURDAY 300-430 | ROTARY | A1 2ND B POOL | 1 | A1 3RD A POOL |
| 16 | SATURDAY 315-445 | CUP | AA 2ND B POOL | 7 | AA 3RD A POOL |
| 17 | SATURDAY 445-615 | ROTARY | A1 1ST B POOL | 3 | WINNER GAME 14 |
| 18 | SATURDAY 500-630 | CUP | AA 1ST B POOL | 6 | WINNER GAME 13 |
| | | | | | |
| 19 | SUNDAY 800-930 | ROTARY | AA 1ST A POOL | 1 | WINNER GAME 16 |
| 20 | SUNDAY 815-945 | CUP | A1 1ST A POOL | 6 | WINNER GAME 15 |
| | | C | FINAL | | AA |
| 21 | SUNDAY 945-1115 | ROTARY | LOSER 13 C AA | 3 | LOSER 16 C AA |
| | | C | FINAL | | A1 |
| 22 | SUNDAY 1115-1245 | CUP | LOSER 15 C A1 | 7 | LOSER 14 C A1 |
| | | B | FINAL | | AA |
| 23 | SUNDAY 1130-100 | ROTARY | LOSER 19 AA | 1 | LOSER 18 AA |
| | | B | FINAL | | A1 |
| 24 | SUNDAY 100-230 | CUP | LOSER 17 A1 | 6 | LOSER 20 A1 |
| | | A | FINAL | | A1 |
| 25 | SUNDAY 115-245 | ROTARY | WINNER 20 A1 | 3 | WINNER 17 A1 |
| | | A | FINAL | | AA |
| 26 | SUNDAY 300-430 | ROTARY | WINNER 19 AA | 1 | WINNER 18 AA |
Details

Contributed by

Darnell Duff
The next time you go to the Rotary Arena, you'll notice something new and sharp.
A new scoreboard is being installed right now ahead of the tournament that starts later today.
"At the start of the hockey season, we turned on the board and we noticed there was no power," said Wes Carnegie. "With it being so old, there is no replacement parts. So, I turned around and ordered a new quality board for the arena."
"It's just going to bring a new feel to the arena. The old board had lightbulbs in it so we always had to change those," he added. "This one is all digital and it looks really nice. I added a Kings logo in the middle of it, just so everyone knows we're all Kings around here."
The Atom A1/AA tournament kicks off at 11:45 at the Rotary.
Details

Contributed by

Darnell Duff
The Dauphin Kings are on a roll and they'll look to keep that going tonight when they return to Credit Union Place.
The Kings (16-12-1-2) will welcome the Waywayseecappo Wolverines (13-13-1-2) to town. It's the third of six meetings between the two clubs this season and so far it's been all Dauphin. They've beaten Wayway, 3-2 and 1-0 respectively. Both of those games were in October.
Dauphin has gone 4-0-2 in their last six games. That includes back to back wins over OCN and Winnipeg. The Kings have also been solid on home ice this season. They've earned 13 points (7-3-1-2). On the road, the Wolverines are 8-6.
Wayway is 2-4 in their last six games. They're coming off a 3-2 win against Neepawa on Wednesday.
Riley Shamray and Cole DeKoninck will look to keep it going for the Kings on the backend. Riley had 11 points last month and has two more this month so far. Cole has been very good with five points in his last four games.
Tonight's game could also be a good tee up going forward. Dauphin will meet Wayway next Tuesday (December 11) at the MJHL Showcase in Winnipeg.
It's also Barry Trotz and Teddy Bear Toss down at the rink tonight. The puck drops at 7:30.
Details

Contributed by

Darnell Duff
Kolby Johnson arrived in Dauphin not too long ago. He was acquired in a trade with the La Ronge Ice Wolves back on November 29. He made his Dauphin Kings debut the next night against the Virden Oil Capitals at Credit Union Place.
Before coming to Dauphin, Kolby has been very well travelled. Johnson began his junior career in the 2013-14 season where he played two games with the Prince George Cougars.
The next season, Kolby played 32 games with the SJHL's Kindersley Klippers before playing 45 more games with the Cougars. He then went to Prince Albert to play for the Raiders and also spent some time in the QMJHL with the Sherbrooke Phoenix. After playing several games for the Ice Wolves, Kolby was Dauphin bound. Since coming to town, Kolby has made a very good impression not only on the ice but off the ice as well.
If you ever get the chance to meet the 20-year-old, he's always ready for a good chat.
"I've been enjoying things here in Dauphin a lot," said Johnson. "It's been a lot of fun so far."
Johnson has now played three games in the MJHL. He hasn't registered a point, but he has been close with several good chances.
"Playing in this league was definitely a bit of an adjustment," said Johnson. "I was playing with the same players for the start of the year, so it was a little bit of a challenge to change that up. I think our line (Arnold and Miller) are starting to click and produce some pretty great chances. We're just snake bitten right now. As long as we keep staying positive, I believe we're going to do some pretty good things out there."
"I'm a hard skilled kind of guy, I like to play like a Tom Wilson or Wayne Simmonds and that type of player, but I also like to have an edge like Ryan Reaves," he added. "I like to make the safe plays out there, but I also like from time to time trying to make those high risk, high reward type of plays."
Coming to Dauphin was definitely a move that gives Kolby a much better chance of winning. The Ice Wolves have now lost 14 games in a row and they're at the bottom of the SJHL standings. The Kings meanwhile are 4-0-2 in their last six games. Kolby has only been around for half of those contests, but none the less, he's obviously enjoying being on a team that is winning.
"In La Ronge, we were winning games at the start of the season but then we lost some key guys, and then some guys left and it just sort of went downhill," added Johnson. "Being here in Dauphin, I couldn't be any more thankful being a part of a group that can win games every night out. We're not just trying to make the playoffs, we're trying to lock down a top spot and that's really exciting."
Get To Know Kolby:
Besides hockey, what's been the best part about Dauphin so far? My billet family has a hot tub, so that's pretty awesome. I've also been to the movie theatre and it's pretty awesome there.
What's your favourite movie? Oh man, that's a pretty loaded question. I'm a big fan of the Lord of the Rings series. I also love the Book of Eli and the Star Wars series. I watch a lot of movies.
Best sports movie? Coach Carter is pretty great and Concussion. Both are great.
You're a fighter; does a movie like concussion scare you a little bit? I worry about it a little. But, I think it's just trying to be smart about it. I know how important my brain is.
Kolby and the Kings return to the ice tomorrow night. They welcome the Waywayseecappo Wolverines to Credit Union Place.
You can hear the full interview with him during the Dauphin Kings Power Play show tomorrow afternoon after the 4:00 p.m. news, weather, and sports.
Photo Credit - Dauphin Kings/Pederson Photographic.
Details

Contributed by

Darnell Duff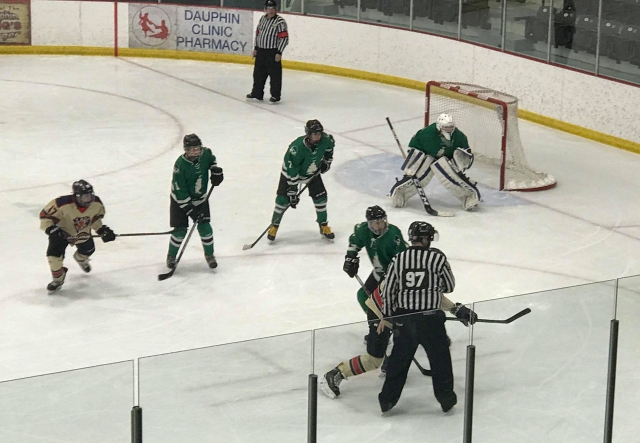 The Dauphin Clippers hockey team will spend their weekend in Brandon beginning tomorrow. The team will play in the Vic Inn tournament which is played at Westoba Place, Enns Arena, and Kinsmen Arena.
Dauphin will go into the tournament with all sorts of confidence. After dropping their first two games of the season, the Clipper ship has rallied off eight straight wins. That record has them atop the North division, something they've become quite familiar with. Last year, they won the North division pennant.
"We've definitely been playing some really good hockey lately," said Trevor Robak. "We played in Killarney and Hamiota and stole two points from those teams in their barns which was great for us. The kids have really stepped up."
A big reason for the team's success this season has been obviously Riley Hammond and Logan Storey who own the top two spots in league scoring. But, the return of Wade Kopytko has really lifted the team. He missed the first two games of the season and has played the last eight. In that span, Wade has 19 points.
"That was really big to get him back, he's a really big part of this team and he leads the backend," added Robak. "He turns pucks over in the neutral zone and he's really smooth with bringing the puck out of our defensive zone. We just seem to play with so much more confidence when we have a full roster."
The Clippers will begin their mini-two game round robin tomorrow afternoon at 12:00 p.m. They play Westwood in their first game. At 8:15, the Clippers battle with Prairie Mountain. Obviously, Dauphin really doesn't know much about these two teams going in.
"I don't think we're really preparing for them, we're just trying to play the best game we can," said Robak. "We need to keep working on the little things and just work as a team. If we do that, we'll have success."
"We don't really have big expectations for this weekend because we don't know what the other teams look like, we just want to play our game," he added. "Our main goal is to get better this weekend. So when we come back to league play, we'll be ready to fire on all cylinders."
Stay tuned all weekend long for updates on how the Clippers do.
Dauphin next plays at Credit Union Place on December 11. They welcome Major Pratt to town.
Details

Contributed by

Darnell Duff
Bradly Goethals played almost 100 games in the WHL. 95 to be exact. Now, the 20-year-old has made the change to play Jr. A hockey with the Swan Valley Stampeders.
Not only has it been a great season for the Stampeders, but it's been a fantastic season for Goethals. In 22 games, he's got 34 points. Thanks to his contributions, he was named the MJHL Player of the Month for November. 17 of his now 34 points came in November.
"It's a pretty awesome feeling but I couldn't do it without my linemates," said Goethals. "It's definitely nice to get recognized by the league and hopefully it keeps up."
Bradly also had some success in the WHL. In those 95 games, he had 39 points (19G). But, the start he's off to now has been a bit unexpected.
"I mean I definitely expected to do well, but I didn't know I would do this well," added Goethals. "It's definitely helped to play with Tripp and Osadick for sure. I have to give them credit for my success."
How did Goethals back up his solid November? By having a nasty December. In Swan Valley's first two games, Brad had one goal and one assist. Yesterday against OCN, Goethals absolutely went off. He had three goals alone in the second period and he added one in the third for a four-goal performance.
Yesterday's game was also a rebound one for the Stamps. Entering play yesterday, the team lost four straight games. With last night's win, the Stamps are just two points behind the first place Portage Terriers.
"Teams are kind of keying in on us now and when we don't play in our barn, they're always line matching," said Goethals. "It's been a little bit harder to score. But, hopefully, I can keep up the pace and we as a team can keep winning."
Overall, the Stamps (20-6-2-2) are having a great season and Bradly's loving every minute of it in his final junior hockey season.
"Yeah, ever since I came here, it's been an absolute blast and I'm getting treated really well," added Goethals. "The boys are all awesome. We've struggled a bit as of late, but it's better to lose now compared to later. Sometimes you have to learn how to lose to have success in the end."
"I came here because I believe we have what it takes to win a Championship," he added. "With the team we have, I think we have a really good chance."
Moving forward, Bradly has four years all expenses paid to college because of his WHL play. But, he's all in for this year and he's not worried about the future yet.
Details

Contributed by

Darnell Duff
The Gilbert Plains Trojans varsity girls volleyball team capped off their season in the perfect way this past weekend. They won the Provincial Championships and a huge part of the team was Gilbert Plains Mackenzie Zatylny.
The 15-year-old was so good this season, that she had the nickname "Poundtown Zatylny" at the provincials. She was also named the Most Valuable Player at the end of the tournament.
"It felt so good to win that tournament, we worked so hard all season to achieve our goal of winning it all," said Zatylny. "Being named the MVP was a true honour. There were so many good players out there. It meant a lot that I was chosen."
So there was no doubt it was a memorable grade 11 season for Mackenzie and the rest of the Trojans. As she takes a look back, "Poundtown Zatylny" has nothing but great things to say about it all.
"The whole season was just so much fun," she added. "I loved being with my team and seeing how we improved throughout the season."
Mackenzie doesn't get much time off to soak it all in. She'll head to Brandon this weekend to try out for the 17U Brandon Cats women's volleyball club team. She's already made several good impressions in front of the team's coach and she's feeling good heading into the weekend.
"I'm pretty confident and I think I'll make that team," said Zatylny. "I know I can improve a bunch, but I'm feeling good heading in."
So moving forward, Mackenzie will look to continue dominating the volleyball world in Manitoba. After her high school years, the 15-year-old has big plans. She wants to play volleyball at a college in the US.
Details

Contributed by

Darnell Duff
Dauphin Kings Riley Shamray has been named a runner-up for the Telus-MJHL Defenceman of the Month for November.
The 20-year-old has been very solid for the Kings all season. Shamray chipped in 11 points last month (5G).
Overall this season, Riley leads the Kings offensively. He has 24 points (8G).
December is already off to a good start for the Oak River native. He's got two assists in two games.
Photo Credit - Dauphin Kings/Pederson Photographic.
Details

Contributed by

Darnell Duff
The Parkland Vipers women's volleyball program is getting ready to start up.
They'll host tryouts this Sunday at the DRCSS.
The times are the following:
12:30 - 2:30 p.m. - 13U - girls born September 1, 2005 or later.
2:30 - 4:30 p.m. - 14U - girls born September 1, 2004 or later.
4:30 - 6:30 p.m. - 15U - girls born September 1, 2003 or later.
There will also be a 12U team for girls in grade 5 or 6. Those tryouts will be near the middle of January.
"You can just register when you come," said Ted Rea. "We don't charge a tryout fee as some clubs do. We just want to see as many girls out as possible."
If needed, there will also be tryouts on December 16 at the same time as above. From there, the hope is teams will be picked. There will be no volleyball during the Christmas break and it will start back up during the second weekend in January.
"Most of the time, we host our own tournament here in Dauphin, and the kids usually play in three or four tournaments outside of Dauphin," said Rea. "Also, they'll play in the Provincial Championships which are held in Winnipeg in the end of April."
Details

Contributed by

Darnell Duff