Latest Sports
Alexis Lafreniere was selected first overall by the New York Rangers in this year's NHL draft.
The first Canadian team to draft a player was the Ottawa Senators and they used the third overall pick to select Tim Stuetzle.
The organization also selected Jake Sanderson, Brandon Wheat Kings star Ridly Greig, Roby Jarventie, Tyler Kleven, Egor Sokolov, Leevi Merlainen, and Eric Engstrand. That took the Senators through the 158th pick, but they weren't done.
Already having picked one Brandon Wheat King star, Ottawa stayed in the Wheat City. With the 181st overall pick, they selected Cole Reinhardt. From Irricana, Alberta, Reinhardt has played four full seasons with Brandon.
"It's a pretty special feeling, my phone was blowing up with people congratulating me," said Reinhardt. "Every kid wants to get drafted and I couldn't be any happier to be drafted by the Senators organization."
After finding out the big news, Reinhardt and his family went to the Keg in Calgary to celebrate. Even More than 24 hours after being drafted, Cole said it hasn't fully set in yet.
With the draft now in the past, Reinhardt's preparations for the upcoming Western Hockey League season continue. He is set to return for his final season in Brandon which will also be his fifth with the organization. He was rewarded for all his contributions last season as he was an assistant captain.
"That was a great honour for me. I had a ton of fun being a leader, we had such a great group of guys," he continued.
Back in his rookie WHL season in the 2016-2017 campaign, he scored three goals and added four assists in 61 games. Since that year, Reinhardt's offensive production has spiked every year. He had 34 points the following year which was followed by a 45 point season. Last year, Reinhardt tickled the twine 31 times — the second-most on the team only behind Luka Burzan — as he recorded a career-high 55 points in 56 games.
In 252 regular-season games, Cole has scored 75 goals and added 66 assists. He's averaging more than half a point-per-game.
"I think it just proves that I'm improving every year," said Reinhardt. "I've had the opportunity to play with a bunch of great players and they help me succeed every day."
Cole's 55 points last year were the fourth most on the team. The Irricana native also won 54.5% of the faceoffs he took — the second-best on the team only behind Ty Thorpe — and his eightpower-play goals were tied for second.
The WHL has said they hope to begin the new season in early December. Brandon won 35 games last season. That had them just six points behind Prince Albert for the top spot in the East Division. With a solid core of returning players which includes the likes of Reinhardt, Ridly Greig, and Braden Schneider, just to name a few, Cole is extremely excited to head back to Brandon as the Wheat Kings look to get back to the promise land.
"I know there are a lot of guys that believe we're going to have something special," offered Reinhardt. "With the players we have and the coaches we have, I really do believe we're set up to have a ton of success here."
Details

Contributed by

Darnell Duff
Mikael Foucher knows how important this year is for him and he's off to a great start.
The 20-year-old is back with the Swan Valley Stampeders and he helped the Stampeders win two times this weekend.
To start the season on Friday, he turned away 42 shots in a 6-3 win. Parker Johnson led things offensively with two goals and one assist for Swan Valley while Lane Kirk scored once.
Despite being outshot 43-31 on Saturday, Foucher made another 41 saves in a 6-2 win as the Club won their second straight game.
Six different Stampeders scored in the victory as they're 2-0 after the first weekend of play.
Details

Contributed by

Darnell Duff
The Parkland U-15 Rangers preseason consists of just one game and they took care of business in it.
Easton Odut led the way with three goals as the Rangers skated by Norman, 7-3.
Cash Clarkson added two goals in the win while Brody Fayant and Ronin Mouck scored singles.
The Rangers open the season on Saturday afternoon at Credit Union Place at 3:00 p.m. before playing in Winnipeg on Sunday.
Details

Contributed by

Darnell Duff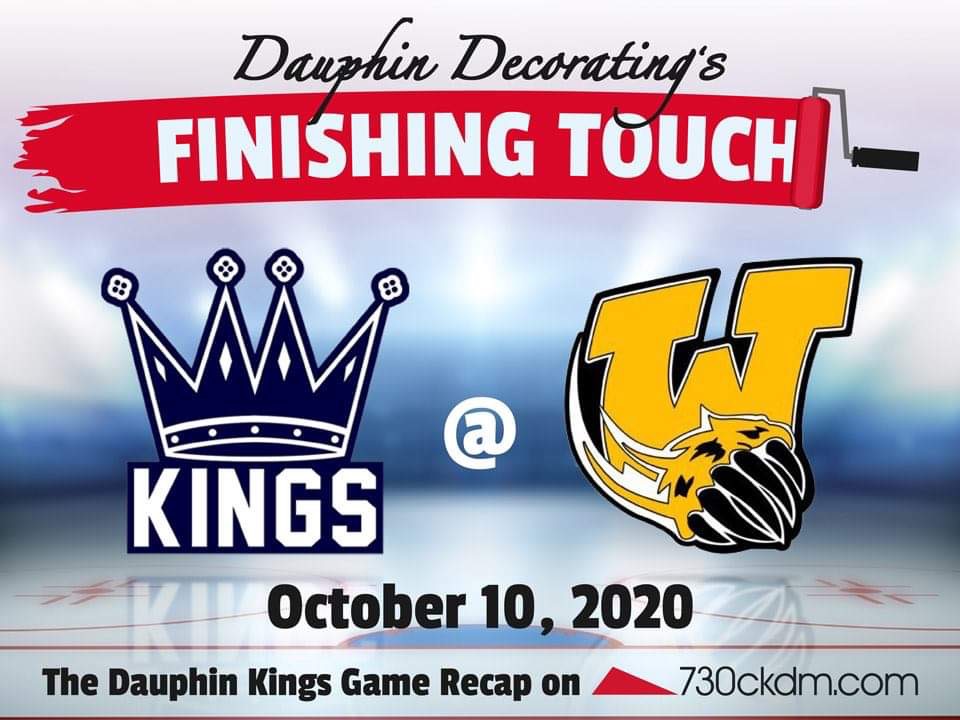 The Dauphin Kings completely flipped the script from their defeat on Friday night. Backed by a great goaltending performance from Matthias Smith, the Kings lit up the scoreboard in a 7-0 win against Wayway in the second of a home-and-home to open the season.
Smith made 30 saves to earn his first shutout of the season.
Austin Lamotte and Charles Massey led the way offensively for the Kings with two goals each while Koby Morrisseau and Grady Hobbs each had a goal and one assist.
Parker Malchuk also had two assists in the victory.
Dauphin moves to 1-1 as does Waywayseecappo. The teams will play another home-and-home next weekend with Friday's game being in Wayway. Darnell Duff will have the pregame show at 6:45.
Kings Tips:
Dauphin outshot Wayway, 42-30.
12 Dauphin skaters had at least one point.
Owen Wareham and Charles Massey scored their first career MJHL goals.
Brendan Forman went 29-for-35 in net for the Wolverines. Despite giving up six goals, he did make some big saves.
The season series between the two is now tied at one.
Game Summary:
Details

Contributed by

Darnell Duff
One night after dropping their first game of the season, the Dauphin Kings will look to earn a weekend split tonight.
The team heads to Waywayseecappo to play the Wolverines after a 7-3 defeat.
Dauphin struggled staying out of the box on Friday and WayWay capitalized on their opportunities going 2-for-4 on Friday.
Koby Morrisseau had one goal and one assist last night while Colby Jaquet had two assists.
Darnell Duff has the pregame show at 6:45.
Details

Contributed by

Darnell Duff
The Dauphin Kings suffered their first taste of defeat on Friday night as the curtain on the new MJHL season officially opened.
Playing from behind for nearly the entire game, the Waywayseecappo Wolverines left Credit Union Place with a 7-3 win over Dauphin.
After Jacob Charko scored just 2:57 into the game, the Wolverines scored five more goals to take a 6-0 lead into the third period.
Braeden Young, Grady Hobbs, and Koby Morrisseau would score in the third; however, it wasn't nearly enough as Wayway added one more for the four-goal victory to open up the season.
The victory moves Wayway to 1-0 on the season after they won 32 games last season in their second-most successful campaign in franchise history while the Kings drop to 0-1. Keep in mind, each team only plays 40 games this season. Earlier on Friday, the league announced its playoff format.
The highlight of the game was a save by Brendan Forman for Wayway.
Brendan Forman (01) with a large cross-crease stop 🛑 for the @mjhlWolverines in his first win.#MJHLOpeningWeekend pic.twitter.com/c97leU4ERD

— #MJHLHockey (@mjhlhockey) October 10, 2020
King Tips:
Dauphin outshot Wayway in the game, 33-29.
Brendan Forman was solid for the Wolverines as he finished 30-for-33 while Matthias Smith was pulled after 40 minutes -- he gave up six goals on 20 shots -- while Mathias Savoie went 8-for-9 in relief in the third period.
Koby Morrisseau led Dauphin with one goal and one assist while Colby Jaquet had two assists.
Six different Waywayseecappo players had at least two points led by Gerrik Ripley and Conrad Phillips who both scored once and added two assists. Kieran Thiessen, Reagan Rabbit, Rayman Bassi, Jaymes Knee, and Leyton Smith all scored once and added one assist.
Game Summary:
Darnell Duff begins Saturday's broadcast with the Parkland Source for Sports pregame show at 7:15.
Details

Contributed by

Darnell Duff
Many were wondering how the playoffs would work this year in the Manitoba Junior Hockey League and your questions are now answered.
The MJHL playoff standings will be based on winning percentage (three decimal points) for the upcoming season instead of overall points. This will allow for consistency throughout the season in the realistic event that all teams are not able to play an equal amount of games this season due to COVID-19 or weather-related scheduling implications.
Tiebreakers
1) Overall Winning Percentage based on games played
2) Head to Head Winning Percentage
3) Head to Head Goal Differential
4) Most games played
2020-21 MJHL Playoffs
The playoff format will follow closely to the divisional structure that has been implemented for the Regular Season as expected by Sport Manitoba, Hockey Manitoba, and Public Health to allow for significantly reduced travel, risk of spread, and/or potential exposure between teams as much as reasonably possible.
The series length will be determined prior to the start of the playoffs to allow for flexibility to adapt and for teams/league to have a better understanding of the COVID-19 situation closer to that time. Buffer time will be applied between each round during the Playoffs as has been implemented during the upcoming regular season.
Playoff Format
All Teams Make 2020-21 Playoffs
First Two Rounds Divisional Format
Seedings based on Divisional and Regular Season Standings (W%)
Playoffs Begin Friday, March 19th
Round 1 (Divisional Semi-Finals) – Friday, March 19th
#1 Seed vs #4 Seed
#2 Seed vs #3 Seed
Round 2 (Divisional Finals)
Winner of 1v4 VS Winner of 2vs3
Wild Card Play-In
Three Divisional Finalists
Seeding based on Regular Season Standings (W%)
Wild Card Game 1
#2 seed vs #3 seed
One game – Winner moves on – Game is played at the Home arena of #2 seed
Wild Card Game 2
Winner GAME 1 vs #1 seed
One game – Winner moves on to MJHL Semi-Finals (Round 3) – Game is played at the Home arena of #1 seed
MJHL Semi-Finals (Round 3)
Matchups based on Regular Season Standings (W%)
#1 Seed vs Wild Card (If Wild Card is from the same division as #1 seed, then #1 would play #3 Seed and #2 Seed would play Wild Card)
#2 vs #3 Seed
Details

Contributed by

Darnell Duff
Vincent Nardone was playing with the Nord Sélects Midget Espoir in the QMEAA in the 2015-2016 season. He scored four goals and had 13 assists that season and he did so being just five-foot-four.
He was always the underdog, he was a guy that did his business and did so under the radar, but it was always a goal of his to prove his doubters wrong. In just the third game of the season the following year, Nardone broke his leg. After months of hard work, the Montreal native returned to action in January of 2017 and he was very productive. He had 18 points in 17 regular-season games and he added another three assists in the postseason.
Two seasons in the QMEAA were all that Nardone would play as he joined the Saint-Eustache Vikings who play in the Quebec Midget AAA Hockey League, Quebec's top U18 league. Apparently, a new team also brought on some height for the new King as he grew more than six inches and was now five-foot-11.
With the Vikings, Nardone tickled the twine 13 times in 40 regular-season games and he also had 22 assists. In 11 playoff games, Vincent scored another two goals while adding five assists.
The team went 25-14-1 that season before they were eliminated by the Booms in the playoffs, a team that advanced to the league final. After that season he made the move to Manitoba to begin his junior days. Playing in the Saskatchewan Junior Hockey League, Vincent would join the Flin Flon Bombers and he immediately enjoyed success. In 65 games including the playoffs, he had 42 points, 19 of which were goals.
The Montreal native always had a dream of playing hockey collegiately, but he didn't have a scholarship to show for it... until he showed the scouts what he could really do during his time with the Bombers.
On Monday, September 24 playing against the Melville Millionaires in the SJHL Showcase, Nardone scored one goal in a 4-0 win. Nardone was held off the scoresheet one day later against Yorkton; however, he impressed several scouts, including ones from the University of Nebraska-Omaha.
Just two months later, Vincent signed on the dotted line as he will now join the Division 1 hockey team next season. A few years prior, Vincent was always seen as the underdog and he was just five-foot-four. Now, he knows where he is heading to play college hockey.
"Those two games at the showcase were honestly the best games I have ever played in my life," said Nardone. "I played with a ton of confidence and I was able to impress the scouts. It all just happened so fast, I never thought things would move as fast as they did. It's a pretty incredible feeling knowing where I'll be playing college hockey."
After the one season with Flin Flon, Nardone made the move to British Columbia as he joined the Penticton Vees, one of the best franchises in Canadian Junior Hockey League history. The Vees were stacked in the 2019-2020 season so Nardone only played 22 games with the team before he was dealt to the Victoria Grizzlies, another member of the BCHL.
In those 22 games, Nardone scored four goals and added four assists. The Vees went 44-12-1-1 last season and they won their first series before the playoffs were ended.
Victoria also advanced to the playoffs; however, they were eliminated in just four games. Nardone chalked up another seven goals and 14 assists with the Grizzlies.
"I didn't really get much playing time with Penticton because they were so good, but I played pretty well when I was given a chance," offered Nardone. "I played with confidence in Victoria and although we didn't have as strong of a team, I still enjoyed my time in the BCHL, it's a great league."
Dauphin bound:
Back in early June, Doug Hedley made a trade with Victoria that saw the team acquire the Montreal native in exchange for future considerations. Months after the trade, Nardone is here in Dauphin and he's very excited to get things going, but Nardone's journey over the past month or so has been very interesting.
He originally had a plan to play in the United States Hockey League (USHL) this season; however, those plans fell through. So he went back to his hometown where he had to quarantine for two weeks. Right after quarantining in Quebec, he came to Dauphin where he had to quarantine for another two weeks so, in a matter of 34 days, Nardone spent 28 days in quarantine.
He got out of quarantine last Wednesday and he skated at Credit Union Place for the first time with the rest of the team members that didn't travel to Portage that night to conclude the preseason.
"It's been fantastic here so far, everyone has treated me extremely well and this is a great organization," said Nardone. "I really believe coming to Dauphin was a great move for me and I can't wait to get things going on Friday night."
Dominant trio:
This year's Dauphin Kings roster is extremely deep from top to bottom and heading into the season, it looks like the Club could have the best first line in the league. Nardone is paired with Grady Hobbs and Koby Morrisseau. Hobbs was last year's most valuable player and he's also a Division 1 commit.
Morrisseau has played in the Western Hockey League and he has shown in the past that he can take over a game. The three combined for 149 points last season. They have been on a line together all week at practice as they look to get things going for real on Friday.
(Nardone who is defended by Owen Wareham cuts towards Mathias Savoie who will be Matthias Smith's backup this season)
"Both players are extremely talented. Morrisseau plays with a ton of confidence and he's extremely strong," offered Nardone. "Grady is really fast, he has a great shot, and he always works as hard as possible. Both of those players can make great things happen. It's a pretty great opportunity for me to play with them, I like to pass and I know they can both finish."
You can hear Darnell Duff's full interview with Vincent during the Dauphin Kings Power Play Show after the 4:00 p.m. news, weather, and sports. Also, don't forget to listen to tonight's broadcast with Darnell starting at 7:00 p.m. with the Parkland Source for Sports pregame show.
Details

Contributed by

Darnell Duff
The Westman High School Hockey League is coming back for the 2020-2021 season.
After months of uncertainty, Jason Alf joined the Al Morning Show on Friday morning to share the news.
"Our guys last year, in particular, lost a chance to compete for a championship so that's going to sit with some of these guys," said Alf. "Everything was up in the air for a long time so we're really pleased that we're going to get going."
As so many things are, this year's WHSHL season will be different as only eight teams are set to take part and the eight will be split up into two pods. The Clippers will be in a pod with McCreary, Crocus Plains, and Vincent Massey. The other pod features four more teams and all include different communities.
Boissevain and Souris have come together to put a team in as has Killarney and Wawanesa. Deloraine, Hartney, and Waskada have come together.
The final team that has come together is Reston, Elkhorn, Melita, and Pierson.
Each team will play 24 games. Dauphin will play each team in their pod four times while they will play three games each against teams in the other pod. The league is having a scheduling meeting later this month with the season beginning as early as November 1.
When it comes to coaching, the trio of Alf, Curtis Yaschyshyn, and Josh Yaschyshyn will join forces.
"I think the combination of Curtis, Josh, and I work quite well together," ended Alf. "Josh and Curtis did a great job last year and I'm really happy that they want to come back."
Stay tuned for a schedule as soon as it's available.
Details

Contributed by

Darnell Duff
It's been a long time since the Dauphin Kings played a meaningful game. You could say the preseason is meaningful in the sense that it gives Doug Hedley and the entire organization the opportunity to pick the best players to represent the crest.
The Kings went 2-1 in the preseason but tonight, things get going for real as the curtain on the 2020-2021 MJHL regular season will officially open. The Kings find themselves on home ice against the Waywayseecappo Wolverines.
"We had a really good week of practice. The energy level was high and the guys are ready to get going," said Hedley, who is entering his third year as the team's head coach and general manager. "We haven't played for more than a week so it's great to be back in game action and we're ready to get going."
The word all preseason long was how deep of a team Dauphin will ice and it all starts with a first line that could be one of the best trios in the league. It includes Grady Hobbs, Vincent Nardone, and Koby Morrisseau. Nardone and Hobbs are both Division 1 commits while Morrisseau has played in the Western Hockey League and has shown in the past that he can take over a game.
Dauphin has decided to go with the goaltending duo of Matthias Smith and Mathias Savoie as Ian Lee was released last weekend. Smith will get the start in this evening's game after playing as a back up last season.
"That's what happens very often for goalies, they back up for a year and get that experience," said Hedley. "We're expecting big things from Smith and he's going to get that opportunity beginning on Friday night."
The Waywayseecappo Wolverines; meanwhile, will also ice a very good team. Jaymes Knee who led the team in scoring last year with 58 points is back while the team also added all-star forward Mackenzie Belinski in the offseason. Rayman Bassi will also return to the black and gold for the season. The Wolverines are coming off their second-best season in franchise history after they won 32 games last season under Taylor Harnett who has turned this program around.
"They're a team that works hard and they battle every shift," offered Hedley. "They have speed throughout their lineup and of course, we have to always be aware where Knee, Bassi, and Belinski are. I'm expecting it to be an extremely competitive game. The team that executes the most will have success."
Friday's game is the first of 40 this season for both teams and it's also the first of four straight between the Northwest Division rivals. They will rematch on Saturday at the Wayway Arena Complex before returning to Dauphin next Friday with the fourth game being played next Saturday in Waywayseecappo.
2019-2020 by the numbers:
Dauphin
GF - 223 GA - 213
Finished in seventh place with a record of 31-24-3-2
Top returning players - Grady Hobbs, Austin Lamotte, Nakodan Greyeyes, Cole DeKoninck, Matthias Smith, Kadin Ilott, Kaden Bryant.
Key offseason acquisitions - Parker Malchuk, Koby Morrisseau, Vincent Nardone.
Wayway
GF - 206 GA - 199
Top returning players - Rayman Bassi, Jaymes Knee, Reagan Rabbit, Conrad Phillips.
Key offseason acquisition - Mackenzie Belinski.
Details

Contributed by

Darnell Duff
Bode Childs and Kayden Bodnar won big on Thursday night as the Clippers held their windup from last season.
Childs was named the team's top goaltender and playoff mvp.
Bodnar; meanwhile, was named overall mvp and top scorer.
Rookie of the year was Ashton Hlady while Brock Allard is the top defenceman of the year.
The coaches' choice award went to Cohen Smigelsky while Brady Dyck and Jesse Koshowski both won the hardest working player award.
The top defensive player was Craig Allard while Brady Dyck won the player's choice award.
The Clipper commitment award went to Austin and Logan Storey while Parker Boguski was the most improved player.
Details

Contributed by

Darnell Duff