Latest Sports
Almost a year ago, Mallard's Brigette Lacquette became the first ever First Nation's woman to make the Canadian women's Olympic hockey team. Brigette went on to win a silver medal at the Pyeongchang Games.
Now, the 26-year-old is playing in the Canadian Women's Hockey League, and, it was just announced that Brigette will play in the league's All-Star game.
"It means a ton to me and I'm super excited to play in this game," said Lacquette. "It's going to be a ton of fun playing against all of the best women in the league in one game. It's going to be a great weekend."
"I didn't really think I would make it, but I just got an email one day and it's a complete honour," she added. "I've seen the list of the girls selected and it feels absolutely amazing to be amongst the best ladies in the country."
The All-Star game goes on January 20 and it will be broadcasted on Sportsnet. The game is played at Scotiabank Arena in Toronto.
"I'm just really looking forward to the entire weekend," said Lacquette. "I've never been to an All-Star Weekend, and it's super exciting."
This season with the Calgary Inferno, the Mallard native has been a regular on the scoresheet. Lacquette has 11 points in 14 games (2G). Since playing her first CWHL game with the Inferno back in the 2015-16 season, the 26-year-old has been very steady. She's played in 43 games and has 35 points.
With this season being her first since playing in the Olympics, it's very easy for Brigette to look back at that experience in a positive way. She's well on her way to having a career year this campaign and it's playing on Team Canada that fuelled her to have this success.
"Yeah, absolutely playing on Team Canada helped me, I learned from so many great ladies," said Lacquette. "Now, it's just about working my butt off and giving it all I have every single day."
"I need to continue getting better every day and I think I'm pretty focused on that," she added. "The goal right now is to win a Championship with the Inferno."
It's been smooth sailing for Lacquette and the Inferno this season, for the most part. They're 12-1-0-1. That has them comfortably in first place by seven points. The team has 14 more regular season games. This weekend, they wrap up their pre-Christmas schedule against Toronto in Calgary.
"We definitely have a pretty good squad, and we have a few players that won a gold medal with the US at the Olympics," said Lacquette. "We're strong on the back end, up front, and in net. We're confident in our abilities for sure."
After this weekend, Brigette and the team resume their season on January 5-6 in Markham.
Details

Contributed by

Darnell Duff
The Dauphin Clippers hockey team are winners of nine straight. They kept it rolling earlier today as they returned to the Westman High School Hockey League after a weekend in Brandon. They defeated the Major Pratt Trojans, 7-6 in a shootout.
Riley Hammond scored three times including the game-tying goal with just over one minute left.
Logan Storey, Craig Allard, and Alex Iwanchysko also scored for the Clippers in regulation. Keanu Woodhouse, Wade Kopytko, and Hammond scored in the shootout in the win.
The Clippers are now 9-2 this season. They return to action on December 19. They're in Brandon to play Crocus Plains.
More:
The Parkland Midget Rangers struggled. They lost 7-0 to the Brandon Wheat Kings.
They're in Souris tomorrow to play the Southwest Cougars.
Details

Contributed by

Darnell Duff
The Dauphin Kings had a ton of chances this afternoon, but, they just couldn't find the back of the net in a 3-0 loss to the Waywayseecappo Wolverines.
The Kings had the first golden chance in the game when Riley Buller had a wide open net, but he couldn't put the puck in it. Buller would go on to have a few more glorious chances, but Isaac Labelle came up clutch for Wayway.
Despite the loss, the Kings really did play well at times. They outshot the Wolverines 35-25. Dauphin did struggle on the power play, going 0-8. They were very good on the penalty kill, going 6-6.
Wayway scored one goal 5:00 minutes into the game, and the next two in the third period. The final goal was an empty-netter while the second was on a breakaway.
Dauphin wraps up their MJHL Showcase tomorrow afternoon. They take on the Portage Terriers at 4:00 p.m.
Details

Contributed by

Darnell Duff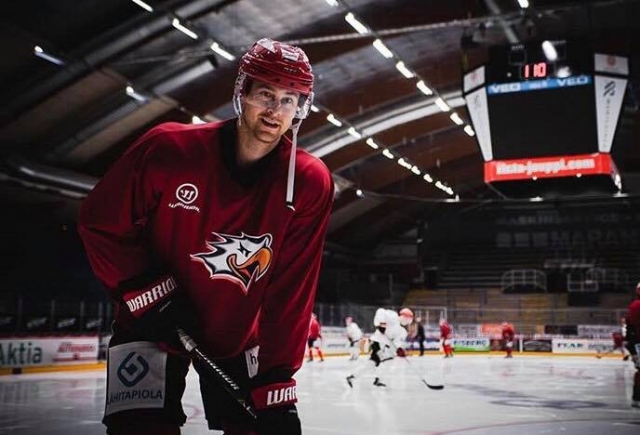 It was new to him a few weeks ago, but now, playing in Finland is just a part of his routine. Gilbert Plains Colby Robak is fitting in nicely in his first season in the Finnish Liiga with Vassan Sport.
Since signing his contract in mid-October, Robak has played in 20 games with the club. He's been productive offensively as well, doing what he needs to from the backend. Robak has nine assists.
"You know, things are really good and I'm starting to feel more settled as the weeks go on," said Robak. "The team is doing pretty well; we're sort of in the middle of the pack. I'm feeling better every day out here."
One of the biggest adjustments Colby has had to get used to is the bigger ice surface. Rinks in North America are 200 feet long and 85 feet wide. Overseas, the surface is 197 feet long and 94.8 feet wide. Colby's had the chance to play 20 games on it already and practice a ton, but, it's something that's still a work in progress.
"I feel like it's going to be an adjustment here for a while, I mean I played eight years of pro hockey in North America," added Robak. "I'm still adjusting for sure. But, at the end of the day, it's still just hockey. It's just about going out there, doing your thing and I think things just work themselves out."
Something that Colby has been able to use to his advantage wherever he's played is his size. Standing in at over 6'3", Colby can use his size to have success, and he's also got speed. Those are two big reasons why the GP native is in his ninth season of professional hockey.
Now that he's playing on a bigger ice surface, Colby knows the way to succeed out there is using his size and speed to transition his team to offence.
"Playing on the bigger surface, I think I've been able to take advantage of the few extra feet that I have out there," added Robak. "I think having size and speed out here has helped me transition to playing in this league."
Off the ice, the Robak's are expecting baby #2 shortly. So if you add up the fact that Colby signed his first overseas contract, recorded his first point, and his second baby is on the way... it's safe to say that it's been a memorable time in Finland for Colby and his family.
"Things have been great in general. My wife isn't really comfortable with moving right now, so we're just going to spend Christmas here and go with the flow," added Robak. "It's been a great experience going through this whole thing with my family. I'm looking forward to the rest of the season, and we'll see how it all goes."
Robak and the team have won four of their last five games. They're back on the ice in a couple days in game action.
Details

Contributed by

Darnell Duff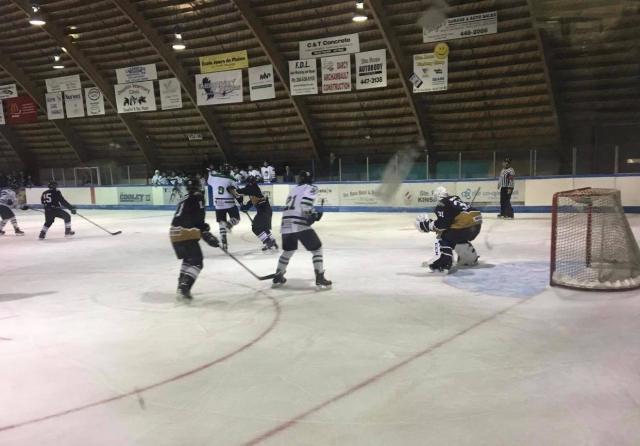 The Dauphin Clippers hockey team is coming off a fantastic weekend. They won a bronze medal at the Vic Inn tournament at Brandon which featured 24 of the best teams from around the province.
The bronze medal winning game came against Dryden, 4-1.
"The boys really competed well all weekend, from the top to the bottom of the lineup, everyone worked extremely hard," said Trevor Robak. "Because of it, we were able to just roll our lines and keep everyone fresh."
"We made a step in the right direction and definitely got better," added Robak. "I think when you're competing, you're getting better and that's what we did."
Despite the success, there are still a few things the Clippers need to improve on going forward. With it only being December 11, the Clipper ship has tons of time to do so.
"I think just puck awareness in our zone is a big thing for us," said Robak. "At times, we need to do a better job of knowing where the puck is and what the other guys are doing."
Now that the weekend is over, the Clippers return to Westman High School Hockey League action. They welcome the Major Pratt Trojans to town this evening. It's the second meeting of the season between the two clubs. Back in Dauphin's second game, Major Pratt won 5-2. Since that, the Clippers have won eight straight league games.
"We just need to play as we did in Brandon, all four lines working hard," said Robak. "We need to keep their shots to the outside and win races to pucks. If we do that, we'll have success."
Just five points separate the Clippers and Trojans in the standings. Dauphin is at 16 points through 10 games. The Trojans have 11 points through seven games.
The puck drops at 7:30 tonight at Credit Union Place.
Details

Contributed by

Darnell Duff
Swan River's Josh Tripp has been named the Recycle Everywhere MJHL Player of the Week. The 20-year-old is having an amazing season and he was unreal last week as well.
He had seven points (2G) in just two games for the Stampeders who are also having a great season. Overall this campaign, Tripp leads the MJHL with 50 points.
Swan Valley is back on the ice tomorrow as they play in the MJHL Showcase.
The runner-ups are Jack Einarson from Virden and Troy Williams of the Steinbach Pistons.
Details

Contributed by

Darnell Duff
The McCreary Peewee Mustangs made the trip back home from Killarney with some hardware yesterday.
They won the B Division Championship at a tournament there... in a dramatic way.
Trailing 1-0 to Killarney in the third, Brody Fayant tied the contest up. The goal was a beautiful redirection off a shot from Jackson Buchanan. The game was then 3-on-3 overtime bound.
With under a minute left, Brady Turko of the Mustangs was hauled down by a Killarney defender. Turko was awarded a penalty shot in the extra frame.
The youngster had a sweet deke to give the Mustangs the Championship.
Details

Contributed by

Darnell Duff
Early in 2020, the top men's curling team from the Parkland will be Winnipeg bound. Curl Manitoba has announced that the Charleswood Curling Club will host the 2020 Viterra Championship from February 4-9.
It will be the first time that the club has hosted the event, but they did host the 2017 Scotties Tournament of Hearts, which ended up being very successful.
"They approached us and they were really interested in hosting this event," said Craig Baker, Executive Director with Curl Manitoba. "After a successful Scotties, we thought it would be a great opportunity for them to host the men's event."
"We had a couple different communities that were interested, but Charleswood really wanted to do it close to when they hosted the Scotties," added Baker. "They want to continue the momentum they built up from 2017. It's also about timing and it worked out, so we're all good."
The Charleswood Curling Club will host the event, but the games will be played at the Eric Coy Arena itself.
Last year's representative from the Parkland was Rob Fisher and his foursome. Members of that foursome included Jason Yates, Mike Csversko, and Lawson Yates.
"The rural communities really always do support these types of events in Winnipeg," said Baker. "Charleswood really does seem to have that community feel to it, and that's exactly what we were looking for."
"For all the rural teams, they want to be the biggest show in town, so it's always exciting for them," he added."It's going to be a great event and we're really looking forward to it."
This year's Viterra Championship will be at Tundra Oil & Gas Place which is the home of the Virden Oil Capitals. Reid Carruthers will be the defending Champion when the event kicks off on February 5.
Details

Contributed by

Darnell Duff
The Atom A1/AA tournament wrapped up earlier today in town.
Here are the playoff results:
Souris AA beat Lorette, 4-3 in overtime in C-side final.
Thompson AA beat Swan Valley, 3-0 in B-side final.
Brandon AA beat Dauphin, 6-4 in A-side final.
The Pas A1 beat Swan Valley, 7-1 in C-side final.
Dauphin A1 beat Roblin, 7-2 in B-side final.
McCreary A1 beat Thompson, 8-4 in A-side final.
Midget Rangers:
Failed to hit the scoreboard in a 6-0 loss to Central Plains. The team has lost nine straight.
Bantam Rangers:
Went up against the Winnipeg Monarchs. They're the top team in the city.
Depsite holding a lead twice, the Monarchs battled back to win 5-3.
Details

Contributed by

Darnell Duff
The Dauphin Kings earned a point in their eighth straight game tonight, in a 5-4 overtime loss against Swan Valley.
Roblin's Jaden Townsend opened the scoring for the Stamps in the first as they led 1-0 after 20.
The Kings pretty much took over the game in the second.
Bryon Fobair tied the game up just over five minutes into the frame. He capped off a gorgeous passing play from Riley Buller and Grady Hobbs by chipping Buller's pass into the back of the net.
Just over two minutes later, Avery Smith made it 2-1 for Dauphin.
Josh Tripp then tied it up for Swan.
Quickly came back Dauphin, though. Carter Sawchuk went hard to the net and fired a backhand past Merek Pipes to give Dauphin a 3-2 lead. Dauphin ended up outshooting Swan in the second, 22-5.
Just over 7:00 into the third, Wayde Johannesson made it 4-2 for Dauphin.
The Kings held onto that lead for a good chunk of the period. But, Swan fired back in a huge way. Brian Harris scored off a faceoff win that cut the deficit to 4-3.
Then with just 50 seconds left, Ethan Slobodzian made a big mistake and turned over the puck deep in Dauphin's zone and it came back to haunt the Kings. Bradly Goethals tied it.
The Stamps eventually went on to score the game winner in overtime.
Dauphin heads to the MJHL Showcase on Tuesday.
Photo Credit - Dauphin Kings/Pederson Photographic.
Details

Contributed by

Darnell Duff
The Grand Plains Atom Hawks are heading back home as Champions.
In the final of the Yorkton A tournament earlier today against Virden, the Atom Hawks played a great game in a 5-1 win.
Novice call-ups, Kenai Mouck and Rossi Puchailo both scored one each.
Landyn Garton, Tevin Code, and Zak Fillion also added one each.
In the team's semifinal, they easily got past Hudson Bay, 9-1.
Owen Sigvaldason had three goals in the game to steady the offence. Kenai Mouck had a great game with two goals while Kingston Stirling also had two.
Landyn Garton and Rossi Puchailo also scored for the team.
Details

Contributed by

Darnell Duff