Latest Sports
The Parkland U18 Rangers strung together their longest win streak of the season from February 4 to February 11 as they won four straight games. Mix in another seven wins throughout the season and the club showed signs of brilliance at times throughout the campaign.
They will look to do just that once more on Saturday evening as the team welcomes the Norman Northstars to the Centennial Arena in Swan River to end the season. While Parkland won't be advancing to the playoffs, the team is playing some of their best hockey right now. They have also been in many other games this season, they have just come up short. Of their 25 losses, 16 of them have been by just a single goal and the team has lost six games that have gone past 60 minutes.
"When we look back at the year and reflect, I would say everyone got bigger, stronger, and improved," said Tyler Carefoot.
As is the case every year, players come in and players leave the program because of eligibility or opportunities to advance to the next level the next year and that is once again the case for Parkland. Bo Eisner, Kyler Swanton, Skyler Carriere, Wesley Gryba-Smith, and Madden Murray will all be playing their final games with Parkland on Saturday evening. Murray finished third in team scoring while each and every player made great contributions throughout this season and their careers with the program.
"These players have put their heart and soul into playing with this program," said Carefoot. "Some will go on to play at the next level and some won't. Every single player should be proud of the sacrifices and hard work they have put in over the past years, they are all Rangers for life."
For Tyler, Saturday's season finale is an emotional one as it draws the close to the season for the team, but the game also provides Parkland with a chance to win five of their final seven games of the season.
"It will feel really good if we can win our last game of the season, that's always the goal," ended Carefoot. "When the guys on this team look back, they will always get to say that they played at the highest level of hockey possible in their age group and that can never be taken away from them."
Carefoot also wants to say thank you to all of the players and parents for their sacrifice and the great support from Ranger fans. This year's coaching staff included Carefoot, Colton Robak, and Chris Belhumeur. Jason Gibbs served as the team's manager and a tremendous group of parents helped make sure home games were enjoyable for all. Alex Lytwyn served as the team's video coach.
Details

Contributed by

Darnell Duff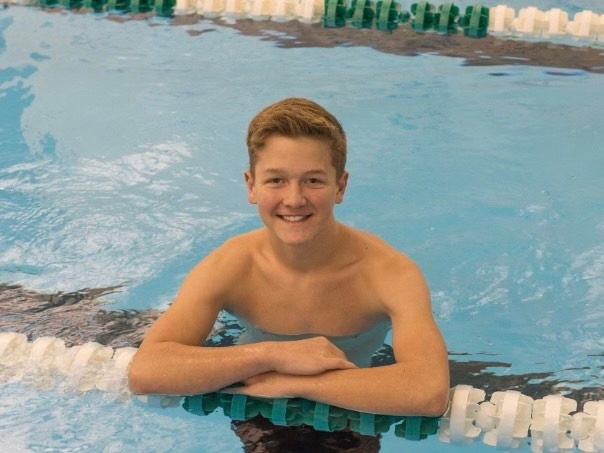 Chayne Paziuk joined the Parkland Gators Swim Club in 2019 as a beginner and just three years later, Paziuk is now swimming in the competitive group and he's loving every second.
Chayne has loved being in the pool ever since he was a child and he came across the Gators when he was looking for an after-school activity to take part in. Paziuk's favourite event is the 50m freestyle and as Paziuk says, being in the pool has done a lot for the young man from Dauphin.
"The past three years with COVID and all have been very tough," said Paziuk. "Being a part of the Gators has got me through a lot. Swimming with the group is amazing, it feels really good."
Paziuk and the rest of the Gators recently took part in the provincial championships and Chayne has added to his trophy case in a big way. Paziuk won six medals in all, two of which were gold medals as he won first place in the 50m freestyle and 200m backstroke. Chayne also won a silver medal in the 100m backstroke and he won three bronze medals, in the 50m backstroke, 100m freestyle, and the 100m individual medley.
Paziuk has spent countless hours in the pool doing what he loves and that hard work is certainly paying off.
"It means a lot to me and it makes me really happy," said Paziuk. "To know I have come this far means a lot and I truly believe I can go even further."
With great dedication and committment to improving, Paziuk is looking forward to training more on land and improving his endurance swims. One of Chayne's driving forces is his six-year-old younger brother who Chayne says has always been there for him.
"I really like to make him happy," ended Paziuk. "His support means a lot to me. I love that he watches me race and I love spending time with him around the pool."
At the provincials, he also received his AA time during his 50m freestyle and he was very pleased with his performance, finishing the race in less than 29 seconds.
Details

Contributed by

Darnell Duff
The Dauphin Clippers earned their 25th win of the season on Wednesday night as they rolled all over the Glenboro Wildcats.
Braydyn Paskaruk and Boston Karlson scored in the first period and that was all Dauphin needed in a 7-1 thumping. Following a solid opening 20, the Clippers kept rolling and they now hold a firm grip on second place in the league by five points over Swan Valley and Dauphin is just two points back of Killarney for first.
Trayden Guiboche scored a pair of goals for Dauphin while Jake Kuzmiak also scored. Joining Karlson and Paskaruk with singles was Oliver Dandeneau.
Details

Contributed by

Darnell Duff
When the PGA Tour makes a stop at TPC Scottsdale every year and players get set to approach number 16, they know they are about to play on what is known as the loudest hole in golf.
The famous hole that features thousands of avid fans having a good time is about as unique as it gets when it comes to the atmosphere at a professional event. For Cary Fillion, he got the chance first-hand to see exactly what all of the buzz was about. Fillion, alongside some friends, made their way to the WM Phoenix Open that took place over the weekend. Wearing his Canadian hockey jersey on the course, it was a great week for Canadians as Nick Taylor finished second while Adam Hadwin finished in a tie for 10th.
Cary has been to the Masters in the past, but his trip to Phoenix could very well go down as his best golf trip to date.
"As far as the full package, this was it, it was just incredible," said Fillion. "It was stadium golf on a bunch of holes, not just number 16. It was really cool and amazing, such a great week."
The PGA Tour announced last year that they would be increasing some purses of marquee events with the WM Phoenix Open being the first to see an increase as the purse was $ 20 million dollars. Scottie Scheffler won 3.6 million after he finished the event with a 65 on the final day to beat Taylor by a pair of strokes. The field included the best of the best on the PGA Tour as Jon Rahm, Justin Thomas, Sam Burns, Jordan Spieth, and Xander Schauffele, to name a few, all finished in the top 10.
An avid and very good golfer himself, Cary says there is something extra special about watching the best duel it out on the links.
"It was unbelievable. I don't know if we were just lucky or what, but we would watch a shot, move ahead and continue to see the top guys," offered Fillion. "I was 10 feet away from Rory McIlroy which was surreal. Just watching those guys play was unbelievable."
Wearing his Canadian jersey, Cary also made it to the CBS broadcast.
All eyes are on the Super Bowl, but we're focused on the PGA tour (and specifically this guy) ✈️

🎥: @TSN_Sports/@CBSSports pic.twitter.com/UZUcRNxeH9

— Winnipeg Jets (@NHLJets) February 12, 2023
Fillion says one of his favourite moments of being at the event was walking up to number 16 for the first time. He also loved watching the group of Canadians that were competing for a title.
"To see the Canadian guys hit the ball onto number 16 and hear everyone go crazy, that was great," said Fillion. "It's honestly hard to even think it is a golf tournament. There are DJs everywhere and everyone is just having so much fun. It's an atmosphere like no other, without a doubt."
Details

Contributed by

Darnell Duff
At a time when earning points is more important than ever, the Swan Valley Stampeders are having a hard time doing so.
The Stampeders have earned just two of a possible eight points over their last four games as they were downed by Steinbach on January 29 and then they lost a pair of games against Waywayseecappo. Over their three-game losing streak, Swan Valley gave up 14 goals.
A long Christmas break is given to most teams in the league, including the Stampeders. With that said, Wolff wasn't a big fan of the length of time in between game action from that loss against Steinbach to their next game. The total break was 11 days before losing both against the Wolverines.
"We just haven't been the same team, everyone goes through it," said Barry Wolff, the team's head coach and general manager. "We were just a little too rusty, we were making mistakes that we generally weren't making and they seemed to cost us most of the time."
Swan Valley would; however, get back in the win column on Wednesday night and they did so in a big way by putting up nine goals on home ice in a huge seven-goal win against the Neepawa Titans. The tremendous trio of Trey Sauder, Jakob Jones, and Justin Keck led the way for the Stampeders as they combined for seven points.
Sauder had one goal and two assists while Keck scored a pair and added one assist. The win has cramped up the West Division standings even more than they were entering Wednesday as just three points separate the first-place Wolverines from the fifth-place Stampeders.
One point ahead of the Stampeders are the Virden Oil Capitals -- who play Thursday night against Portage - as well as Dauphin and OCN. The Kings play a home and home with the Steinbach Pistons this weekend while OCN is on the road for a three-pack of games against Niverville, Selkirk, and the Freeze. The Neepawa Titans; meanwhile, have not been eliminated from playoff contention, but they face a daunting task. Traling the final playoff spot by 10 points with just 10 games left, the Titans will likely have to win eight or nine of their next 10 games to qualify for the playoffs.
The Stampeders play in Niverville on Saturday night before playing a matinee against the Flyers at the Centennial Arena in Winkler on Sunday afternoon. Then the team embarks on a four-game homestand which concludes with an afternoon game against Dauphin on March 1 at 12:30. The Stampeders season wraps up on March 17 against Virden which will be the back half of a home and home.
Stampeder Notes:
Trey Sauder is third in team scoring with 47 points which is just two less than Keck and Jones. Sauder -- from Swan River -- is just a few years removed from winning the scoring title in the Westman High School Hockey League
Steven Arp, also of Swan River, has chalked up 20 points in 38 games with his hometown team
Kobe Grant has struggled at times this season, but if he starts playing like everyone knows he can, the Stampeders will be one of the toughest teams to beat when it comes to the playoffs if they are to qualify. Grant has 17 wins this season with a 2.87 goals-against average to go along with a .929 save percentage
Details

Contributed by

Darnell Duff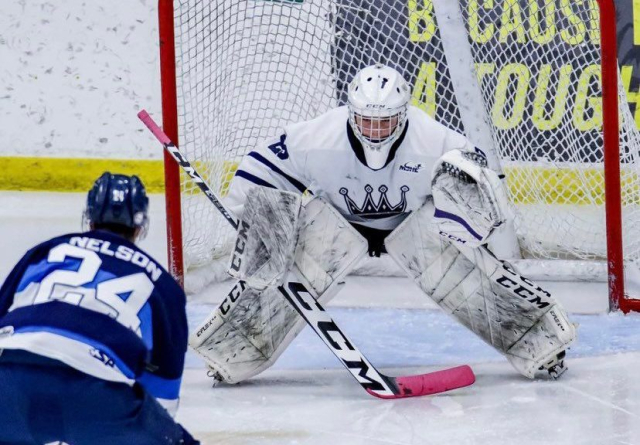 Starting their season way back in September, the Dauphin Kings play just 12 more games this season and that tally will decrease to 11 after tonight.
For the third time this season, the Kings and Steinbach Pistons will meet. Dauphin opened the season series with a 5-3 win after Cole Sheffield turned away 49 shots. Then two days later, Keaton Woolsey — who is no longer with the team — struggled as the Pistons put up an eight spot in an 8-1 win. Steinbach has already clinched their playoff berth while Dauphin is looking to do the same, but that won't happen tonight, regardless of the result.
Dauphin is tangled in a heated battle in the MGEU West Division. Currently sitting in a tie for second place with Virden and OCN, Dauphin is just one point clear of Swan Valley who is in fifth and they are two back of Waywayseecappo for first.
The Kings will be looking to string together some consistent efforts moving ahead as the race to the playoffs intensifies. The club is coming off a 2-1 loss against the OCN Blizzard, in which the team struggled to get anything going. A hard week at practice; however, has the team feeling positive heading into the third Turnbull Cup rematch of the season.
Jayden Harris will not play this weekend as he's out with an upper-body injury which is certainly a blow to Dauphin's roster.
Details

Contributed by

Darnell Duff
It has been quite the few-day stretch for the Gilbert Plains/Grandview Co-op Spartans varsity boys basketball team.
Over the weekend, the team went into cruise mode as they won the Dauphin Clippers tournament. They opened that tournament with a 50-point win against Ste. Rose before beating Swan Valley by 11. Then in the championship final, the Spartans beat the Clippers, 83-76, to win the title.
Then at the Zone 8 championships that began on Tuesday, the Spartans scored another 50-point win against Ste. Rose. The Spartans will now play in the Zone 8 final on Thursday night against Minegoziibe Anishinabe Talons, a team that beat Rorketon by 15 to earn their berth in the finals.
Details

Contributed by

Darnell Duff
Easton Odut was instrumental in the Brandon Wheat Kings U15 team's success last season.
He recorded 75 points last year in the regular season and another 14 in the playoffs as the Wheat Kings won the league title. Now that Odut has moved up to the U18 level, he's back to much of the same thing with his new team. Odut has once again been instrumental in the U18 club's success this season as they lead the league with 67 points ahead of their game on Wednesday against the Parkland Rangers. Brandon has won 32 of their 41 games this season as they are poised to make a run at a league title.
"We're playing very well and the playoffs are right around the corner," said Odut. "We just have to continue working hard and playing to our strengths and if we do that, we give ourselves the best chance to succeed."
While Odut hasn't produced quite as much as last season, the 15-year-old has been a regular on the score sheet with 19 goals and 14 assists. Averaging nearly a point per game, Odut is enjoying the opportunities he is getting with the Wheat Kings.
"It's been a pretty big step compared to last year, sure I would have liked to put up a few more points," offered Odut. "With that said, I'm pretty proud of what I have been able to produce with this team."
Having a great passion for the game, Odut also made his Western Hockey League debut with the Wheat Kings this season, a team that he has already signed his Standard Player Agreement with as Odut suited up in two games with the big club. Easton learned first-hand how quick the game becomes and how quickly decisions must be made.
"It was neat, it was awesome, it was nerve-racking, especially that first game," said Odut. "All the boys were really welcoming and my rookie lap was very special, it makes me feel that all my hard work is paying off."
Odut will be on the ice for Wednesday's game when Brandon welcomes the Rangers to town; however, that will be his last regular-season contest with the team as he is set to board a flight with the destination being Prince Edward Island.
After a rigorous selection process, Easton made the Manitoba U16 male hockey team as he will represent the province at the Canada Winter Games and the Manitoba men play their first game on Sunday against Team Quebec. They will also play Team Saskatchewan on February 20 before wrapping up their round-robin the following day against Team New Brunswick.
Manitoba has never won a gold medal at the men's hockey event. The Canada Winter Games, in all, welcomes more than 3500 athletes from across Canada.
"I never really thought I would get this chance, but I am so excited about this," ended Odut. "The Canada Winter Games are widely known as the 'Mini Olympics' and I can't wait to represent my province."
Details

Contributed by

Darnell Duff
The McCreary U13 Mustangs have another banner to raise to the rafters at their home arena.
Playing in the Grand Plains Invitational Tournament, the Mustangs put together a perfect weekend and they looked dominant in doing so. In the finals, they downed the host team, 7-2, to claim the gold medal.
Hayden Billet had the hot stick for McCreary as he scored four times. Nathan Peeler, Nathaniel Gurke, and Weston Rank also scored for McCreary in the game. Rhett Legaarden and Dominik Chartrand responded for Grand Plains.
In their previous two games, McCreary won both by a combined score of 27-4. Langenburg won the B-side in a 6-5 win against Roblin while The Pas won the C-side final over Cross Lake.
Details

Contributed by

Darnell Duff
The Parkland U15 Rangers regular season has come to an end and it was one that featured great development and growth.
Many players on the team were entering their first season of AAA hockey and the team got on a roll to end the campaign. Over the weekend, they won a game in Winnipeg and played a tight game against Pembina Valley which resulted in an overtime loss. Then the weekend prior, the Rangers earned a point in a hard-fought overtime loss against the Thrashers Gold and they beat the Thrashers Blue. The team earned at least a point in their last six games of the season.
The Rangers ended the season at 12-19-1-2 and a major strength of the teams was their power play as they were 23% on the year. Rick Freese is the team's head coach and he had this to say about how the campaign went.
"I think the buy-in is happening and guys are starting to figure out that unselfishness is the way to play," said Freese. "It's not about what we did in September, it's what we are doing now. The guys on our team deserve a lot of credit, we were hard on them all season."
The Rangers will now hit the ice for practice twice this upcoming weekend before opening the playoffs next weekend against Pembina Valley. Losing to them 3-2 in overtime in the regular season finale, a great and tight series is expected. It won't begin until next weekend as the survivor series will take place this weekend.
"They want to skate and they try to use their speed as an advantage," said Freese. "We need to come out and play physically from the start of the game. Physicality and using our speed will be key."
Featuring a roster of players from all around the Parkland region, every player contributed to the team's success this year. You can hear Rick Freese's full chat with Darnell Duff during the second intermission of Saturday's Kings broadcast.
Details

Contributed by

Darnell Duff
The Dauphin U15 Silver Kings have extended their streak to 16 games without a regulation loss.
Playing in a one-day tournament over the weekend, the team faced off against Deloraine in their first game and came out with a 9-2 win. Josh Beyette filled the net with three goals. Then in the second game, Noah Shiner scored both goals for Dauphin in a 2-2 tie against Hamiota.
Dauphin then scored four times in the first period and ended up skating past Brandon, 8-2. Tylor Guiboche had a goal and three assists while Cohen Lambie -- who returned from injury -- scored his first two goals of the season and Xander Perih earned his 20th win of the season.
The Kings will now roll into the provincial championships next month.
Details

Contributed by

Darnell Duff