Latest Sports
The Parkland U15 women`s Rangers are preparing for the playoffs.
Opening them up on Thursday, the Rangers will look to pull off a big upset. The team takes on the top-ranked team in the league, the Brandon Wheat Kings. Brandon went 19-9 on the year and they scored 104 goals while giving up just 68.
Parkland is coming off their showcase in which they dropped three of their games as they played three of the best teams in the province. Following Thursday's game one in Brandon, the Rangers host game two on Saturday in Grandview at 5:00 p.m. If need be, game three will be played on Sunday at 1:30.
Details

Contributed by

Darnell Duff
While the rest of his teammates were on the ice practicing, Trace Langan was making his debut with the U18 Parkland Rangers in front of his friends and family.
Ahead of the team's final game against the Norman Northstars, Langan looked at his phone and noticed that Tyler Carefoot -- the head coach of the team -- was on the other end waiting for Langan to pick up. When he did, Trace was asked if he was able to suit up for the game and without hesitation, Langan accepted and hours later, he was making his debut with the U18 club.
The game also happened to be played at the Swan River Centennial Arena. Langan lives in Swan River and he skates daily at the arena so making his debut was that much more special.
"It was really fun, the rookie lap just topped it," said Langan. "My mom watched me go on the ice for that lap and that meant a lot. It was awesome, I am so happy that I was given the chance to play that game."
Some nerves were tied into making his debut, but when it came down to business, it was just another game for Trace and he certainly made the most of it. In the team's dominating 12-4 win, Langan found the back of the net two times and he also added one assist. Langan scored Parkland's seventh goal in the second period and he notched the team's 10th early in the third period. It was an impressive debut, to say the least, and Trace says he's very excited to join the U18 team full-time next season.
With the U15 club this season, it was a tremendous season for the Swan River native as he scored 28 goals while adding 21 assists to finish second in team scoring. The younger brother of Tristan Langan -- who is currently playing professionally with the Orlando Solar Bears -- Trace knows how hard his brother worked to get where he is and he loves giving everything he has to excel at the game he loves.
"I'm just trying to get better every time I step on the ice, that's what it's all about," said Langan. "I have some amazing teammates that push me and that helps me a lot."
Langan's focus is now back on playing with the U15 Rangers as they get set to open their playoffs on Thursday night against the Pembina Valley Hawks. The Hawks will host the first two games in the best-of-five with game two set for Saturday in Carman. Then the Rangers play their first home playoff game on Sunday afternoon in McCreary at 2:00 p.m. If necessary, game four will be in McCreary next Tuesday at 7:30 p.m. and game five, if needed is set for next Thursday in Carman. The series is expected to be an excellent one after Pembina Valley downed the Rangers in overtime in the final game of the regular season.
"Coming up short against them in overtime that game, I think that really set the tone, we don't want that feeling again," ended Langan. "Everyone on our team is getting better and we're playing more as a team every game. We are confident in ourselves and we're looking forward to getting down to business on Thursday."
Full schedule vs Pembina Valley
DATE
OPPONENT
LOCATION
STATUS
Thu Feb 23
-@ Hawks

(0-0-0)

Winkler

Sat Feb 25
-@ Hawks

(0-0-0)

Carman

Sun Feb 26
-Hawks

(0-0-0)

McCreary

Tue Feb 28
-Hawks

(0-0-0)

McCreary

Thu Mar 2
-@ Hawks

(0-0-0)

Carman
Details

Contributed by

Darnell Duff
The West Division in the Manitoba Junior Hockey League is as tight as it has ever been.
Just four points separate first and fifth place with the OCN Blizzard leading the way with 61 points. Here is a detailed look at each team's remaining schedule, with the exception of Neepawa, who appear like they will fall short as they are eight points behind the final playoff spot and everyone -- except OCN -- has games in hand. The top four teams will advance to the playoffs.
Dauphin Kings - 27-18-2-1 (tied fourth)
vs Virden
@ Virden
@ Swan Valley
vs Niverville
@ Niverville
@ Waywayseecappo
vs Portage
@ Portage
@ Winnipeg Freeze
@ Winkler
OCN Blizzard - 28-17-2-3 (currently in first)
@ Swan Valley
vs Winkler
vs Winnipeg Freeze
vs Waywayseecappo
vs Niverville
vs Steinbach
vs Waywayseecappo
@ Waywayseecappo
Swan Valley Stampeders - 26-15-5-1 (currently in third place)
vs OCN
vs Winnipeg Freeze
vs Winkler
vs Dauphin
@ Winnipeg Freeze
@ Selkirk
vs Neepawa
vs Steinbach
vs Niverville
@ Virden
vs Virden
Virden Oil Capitals - 28-20-1 (currently tied fourth with Dauphin)
@ Dauphin
vs Dauphin
vs Winnipeg Blues
@ Winnipeg Blues
@ Selkirk
vs Selkirk
@ Waywayseecappo
vs Swan Valley
@ Swan Valley
Waywayseecappo Wolverines - 27-16-3-2 (currently in second place)
vs Steinbach
@ Steinbach
@ OCN
@ Steinbach
vs Dauphin
vs Winnipeg Blues
vs Winnipeg Blues
vs Virden
@ OCN
vs OCN
The West Division wraps up its regular season schedule on March 18. Winkler and Niverville wrap up the league schedule the following day.
Details

Contributed by

Darnell Duff
If there were any goaltender in the Manitoba Junior Hockey League that can certainly steal a game and perhaps a playoff series or more, you could stare right at Kobe Grant.
The Swan Valley Stampeder netminder is one of the best in the league and he continues to play stellar between the pipes. Last week, Grant stopped 37-of-39 shots in a win against the Neepawa Titans and then on Sunday afternoon, the 20-year-old made 47 saves in a 3-0 win against the Winkler Flyers. Those efforts have earned him one of the Stars of the Week in the league.
Grant has played more minutes (2213) than anyone else in the MJHL to this point and when he's on, it's extremely tough to beat him. Grant has won 18 games this year and he has a 2.79 goals-against average to go along with a .931 save percentage. Swan Valley is currently in third place in the highly contested MGEU West Division with 11 games left, their next game is Wednesday against OCN in a critical divisional matchup.
Details

Contributed by

Darnell Duff
A young superstar from McCreary has given the Manitoba U16 hockey team their first win at the Canada Winter Games in Prince Edward Island.
After dropping their first two games against Quebec and Saskatchewan, Manitoba downed New Brunswick, 3-1, on Tuesday afternoon. Scoring the game-winning goal in the game was Ryan Gower.
Gower is coming off a great season with the Parkland U18 Rangers where he recorded a pair of goals and 23 assists in 42 games. Manitoba will now get the day off on Wednesday before the playoff round begins on Thursday.
Details

Contributed by

Darnell Duff
Brayden Pawluk's junior career began with the Virden Oil Capitals where he played -- including the playoffs -- 91 games. The Dauphin Kings then acquired him to finish off the 2018-19 season as he played 23 games.
Pawluk then ended his junior career in Dauphin the following season when he posted 37 points in 57 games. Picking up the game of hockey when he was just a young kid, Pawluk quickly fell in love and his journey now has him south of the border playing with the Minot State Beavers ACHA Division 1 team. The former King is in his third season with the club and it has been a dominating one to date. Following a pair of wins over the weekend, Minot State is now 28-2 on the season and they're the number-one ranked team in the nation.
With four regular-season games left, Pawluk will look to help the Beavers roll into the post-season. In 29 games this year, Pawluk has six goals and 10 assists. He scored the game-winning goal on February 18 in a 5-4 overtime victory against the University of Mary.
"There has been a lot of pressure on us this year, but it's a good pressure to have," said Pawluk. "We can't ever take a day off and that helps us keep rolling. We lost in the first round of the nationals last year which was a big disappointment, so we know everyone is gunning for us this year, we have to give our best every night."
The national championships this year will take place in Boston from March 16 to 21 and with how solid the team has been this year, there is no surprise that Pawluk believes something special could happen, with that said, he knows there is a long way to go.
"There are many really good teams in this nation, it's not just us," offered Pawluk. "We need to keep moving ahead and playing as we know we can and we'll see where the chips fall."
Alongside Brayden, there are several MJHL alumni on the team including Carter Barley who leads the team with 53 points. In fact, the team's top five scorers all played their junior careers in the MJHL.
While Brayden's eyes are on the prize with his Beavers team right now, his focus will quickly shift to representing the country after Minot's season does come to an end. The American Collegiate Hockey Association (ACHA) announced the 23-player roster for ACHA Team Canada which is set to compete at the 2023 World Cup of University Hockey in Cârța, Romania, from April 14-19.
The event will be Brayden's first wearing the Canadian crest on a team that includes plenty of fire power. The team's roster features freshman phenomenon Luc Reeve, the nation's leading scorer with 32 goals, 40 assists, and 72 total points in 31 games played. Pawluk will also be joined by four of his teammates at Minot State. ACHA Team Canada will be in Group B alongside the host nation, Poland, and the Czech Republic.
"It's a great opportunity, I have never represented Team Canada, so I'm honoured to have been given the chance," ended Pawluk. "To get the chance to represent the country and see some of the world, it's really exciting. I'm looking forward and the end goal is winning that gold medal for Canada."
Details

Contributed by

Darnell Duff
It was a solid start to the season for the Vipers U17 volleyball club over the weekend.
In their two round-robin wins, the team won all four sets as they downed the Winnipeg Wild and Predators. They came up short against ACC U18.
The club would come up short in their first two playoff games after qualifying for the top playoff bracket as they finished second in their pool.
Then they beat the Winnipeg Dynamo in a thrilling three-set match with the final set coming down to the wire. Ultimately, the Vipers closed it out with a 15-13 win as they finished in seventh.
Details

Contributed by

Darnell Duff
The Grandview Comets season came to a close on Saturday night as they were downed by Theodore and swept in the best-of-three as a result.
Despite the loss, it was still a very strong season for a team that took two years off because of the pandemic. Hitting the ice for the first time since the 2019-2020 season, Grandview won eight regular season games and qualified for playoff play.
"It was a rollercoaster season, I would say," said Branden Storey. "In general, I'm happy with how things went. To win eight games in a very strong league in our first season back, I'm pretty proud of the guys."
Brett Ewanyshyn led things offensively for Grandview with 19 points throughout the season while Dylan Ushkowski was just behind with 18. Overall, it was a very well balanced approach for the Comets as six players recorded at least 10 points and another nine finished the season with at least six.
Brett Evans led the way between the pipes as he recorded five wins while Andy Puchailo and Keenan Pasternak both saw action in net. Storey ended the season by saying just being on the ice was a highlight.
"That first game against Whitewood meant a lot for everyone on our team," ended Storey. "It was the first Comets game back in a few years, so it was special. We also want to thank our fans for their support, they were unbelievable."
Sask East Notes:
Around the league, the Swan Valley Axemen find themselves on the brink of elimination. After winning their opening game against Canora, the Cobras responded with a thrilling 9-8 overtime win in game two of their series. Game three is set for Sunday night in Minitonas.
The Axemen finished the season at 15-3 and were led by former Stampeder, Carter Cockburn, who finished with 54 points while Josh Tripp was just behind with 46.
In the South Division, both the Rocanville Tigers and Langenburg Warriors cruised to series sweeps against Ituna and Wapella, respectively. Both were upsets as Ituna was the top-ranked team in their division while Wapella was ranked second entering the playoffs in the South.
Details

Contributed by

Darnell Duff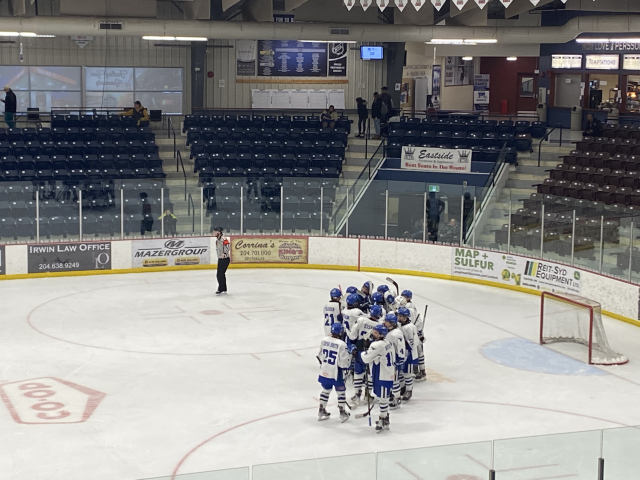 The Parkland U18 Rangers wrapped up their season by putting up a dozen goals.
In their season finale, Parkland downed the Norman Northstars, 12-4. Cash Clarkson led the way with a hat-trick and two assists.
Trace Langan -- who was a call-up for the game -- enjoyed his rookie lap and then scored two goals while adding one assist.
Havyril Simchuk, Conner McKay, Wesley Gryba-Smith, Andrew Pidskalny, Dru Mushumanski, Hayden Seib, and Tavyn Boychuk also scored.
In his final game as a Ranger, Kyler Swanton was solid as he made 31 saves.
Details

Contributed by

Darnell Duff
The Dauphin Kings led the game 3-1 on Saturday night in the third period; however, they couldn't hold on.
Steinbach scored three goals in less than two minutes early in the third and they scored the game-winner with less than eight minutes left as they downed Dauphin, 5-4, in a game that will go down as one of the best of the season.
Matthew Gough opened up the scoring in the game in the first period off a beautiful pass from Jakob Brook as Dauphin took a 1-0 lead, but Steinbach responded about five minutes later as Davin Griffin scored his seventh.
Only one goal was scored in the second as Alex Senf found the back of the net with just 15 seconds left in the period as Dauphin led 2-1 after 40 minutes. In the third and on the power play early in the frame, Nolan Wickham would score his seventh to give Dauphin a 3-1 lead.
Then Steinbach went to work as Ian Amsbaugh, Brett Kaiser, and Warren Clark found the back of the net to give Steinbach their first lead of the game at 4-3. Marco Bodnarski would then score his second of the season as the game was tied at four. Then just 24 seconds later, Hensrud would score his 30th of the season for Steinbach and it was the game-winner as the Pistons skated off with a thrilling 5-4 win.
Dauphin drops to 27-18-2-1 with the loss and they are now two points back of OCN for first place in the West Division. Next up for them is a home-and-home next weekend against Virden.
Details

Contributed by

Darnell Duff
Owen Wareham scored into an empty-net with just less than a minute left in the game as the Dauphin Kings held on to secure a huge win on Friday night.
In front of a great crowd, the Kings opened up a 5-2 lead after 40 minutes of play and they held on in the end to pick up a 6-4 win over Steinbach.
It was a wild first period as Wareham, Myles Yearwood, and Blake Boudreau scored for Dauphin as they held a 3-2 lead after 20 minutes. Hunter Degelman and Landon Roberts scored for Steinbach.
Dauphin played an excellent second period as Jakob Brook and Deepkaran Hans scored to give the club a 5-2 lead after 40 minutes. Steinbach pushed hard to begin the third as Travis Hensrud and Dawson Milliken scored in the first 5:30 of the third to bring their deficit to one.
That was; however, as close as Steinbach would get as Wareham sealed the game with 55 seconds left.
Dauphin has now won 18 of their 26 games on home ice this season and they will look to earn a weekend sweep on Saturday when they head to the Automobile City to play the Pistons.
Details

Contributed by

Darnell Duff