Latest Sports
If you weren't at the arena in McCreary this afternoon, you missed out.
Trace Langan scored in overtime as the Parkland U15 Rangers won a thriller against the Pembina Valley Hawks, 8-7.
Hayden Shtykalo had another big game for Parkland as he scored four times in the win. Langan also scored one other goal while Ryzlie Nepinak and Cash McCallum also scored.
It was Parkland's second straight win in the series and they can now advance to the next round on home ice in game four on Tuesday night when they once again play in McCreary at 7:30.
Details

Contributed by

Darnell Duff
Winnipeg Jets fans were hoping that Barry Trotz would become the team's new head coach. Ultimately he didn't as Rick Bowness has taken over head coaching duties.
Months later, Barry is back in the game; however. Trotz is set to become the new General Manager of the Nashville Predators. The organization announced that David Poile will step down from the position effective on June 30 after 26 years.
Trotz will then take over. As a head coach, Barry has the third most wins by a head coach with 914 between the Predators, Capitals, and Islanders. Barry is also the winningest coach in Predators history with 557 wins. He is a two-time Jack Adams award winner and he led the Capitals to a Stanley Cup victory in 2019. He also led Team Canada to a gold-medal at the IIHF World Hockey Championships in 2003 and a silver-medal in 2009.
Details

Contributed by

Darnell Duff
The race to the playoffs in the MGEU West Division is as tight as it has ever been in the Manitoba Junior Hockey League.
Just six points seperate the first-place OCN Blizzard from the fifth-place Dauphin Kings. If the season were to end today, OCN would open up the Turnbull Cup playoffs on home ice against Waywayseecappo while Swan Valley would welcome the Virden Oil Capitals to the Centennial Arena for game one with the Dauphin Kings and Neepawa Titans missing the playoffs.
Ultimately, the season isn't done as there is just more than three weeks left in the regular season.
1st Place - OCN Blizzard - 63 points
At 63 points, OCN has a one-point cushion over Swan Valley after a win 6-3 win over the Winnipeg Freeze on Saturday. The win followed a loss on Friday to Winkler.
Many are wondering if the team can continue to win without Chase Hamm. He recently suffered a lower-body injury and did not dress for either game this weekend. While Ethan Farrow earned a win on Saturday, there is no doubt that Hamm is their number one goaltender and if he misses an extended period of time, things could get tough for the Blizzard.
None the less, there is a renewed buzz in the community as the Blizzard look to make it back to the playoffs and while they have played more than games than anyone in the division, they have an excellent chance of finishing in the top four in the West.
NEXT: They host the Waywayseecappo Wolverines on Tuesday night as they look to create some space atop the division.
2nd Place - Swan Valley Stampeders - 62 points
Friday night was a shock and perhaps a wake up call. A loss against the Winnipeg Freeze -- who won just their fourth game of the season -- was a heartbreaker for the Stampeders squad. They started slow and could never regain any momentum.
Good teams respond from poor performances and that's exactly what the Stampeders did on Saturday. Noah Wilson scored with just 33 seconds left on Saturday and Collin Jennings scored 41 seconds into overtime as the Stampeders came from behind to down the Winkler Flyers in overtime, 4-3.
When he's at his best, Kobe Grant is one of if not the best goalies in the league and he will be a busy man moving forward. After Loic Mainguy-Crepault started on Friday, Grant will likely start the remainder of the games.
NEXT: A huge game on Wednesday afternoon against the Kings. Darnell Duff has the broadcast starting at 12:20.
3rd Place - Virden Oil Capitals - 61 points
The Virden Oil Capitals limped into the Christmas break. The Virden Oil Capitals are now the hottest team in the MJHL. Completing a weekend sweep against the Kings on Saturday night, Virden has won 16 of their 20 games in 2023.
Colten Miller scored the game-winner on Saturday with just 71 seconds left in the game. Virden is playing tremendously defensively and they are getting excellent goaltending from hometown product, Eric Reid. With some timely scoring, the Oil Capitals are dangerous. While they may not be the most skilled team in the league, they are extremely well coached and they can roll their lines with anyone having the ability to chip in offensively.
Before Christmas, it looked like Virden may be sellers... now as we approach March, the Oil Capitals appear to be championship contenders and there is a lot of buzz in Oil Country.
NEXT: They now play a home-and-home with the Winnipeg Blues next weekend, a team that is not in playoff contention in the East Division.
4th Place - Waywayseecappo Wolverines - 59 points
They have one of the toughest schedules the rest of the season and they are trending in the wrong direction. Tresor Wotton nearly stole two points for Waywayseecappo on Friday night, but they lost 2-1 against Steinbach.
Then on Saturday, the Wolverines couldn't find the back of the net in a 3-0 loss against last year's finalists. The Wolverines have now lost four of their last five games and they have let Dauphin stick right with them in the division. Dauphin and the Wolverines play eachother in nine days at the Arena Complex in a game that will be massive.
The Wolverines are still playing without their captain as Andrew Boucher remains out with an upper-body injury which has certainly plagued the team. None the less, the team is still very solid.
NEXT: Things don't get easier as they head to OCN to play the Blizzard on Tuesday evening.
5th Place - Dauphin Kings - 57 points
The team had a 3-1 lead against the Pistons last Saturday before they saw it disappear in a 5-4 loss. Then they were swept this weekend as they lost a pair of games against Virden. Dauphin has lost three straight games in regulation.
Is it time to hit the panic button? Not really. With several games left against divisional opponents, Dauphin holds their fate in their own hands which is what you want. Win and the team will qualify for the playoffs. However, they need to turn things around right away.
Failing to get a key save at the right time, Dauphin is finding themselves on the wrong end of the scoreboard more often than not as of late. While the team isn't as skilled as last year, it's still a team that has proven they can compete with anyone in the league when they are playing at their best.
NEXT: It's nearly a must-win game for Dauphin on Wednesday as they head to Swan River to play the Stampeders. It's a special afternoon game as Darnell Duff will have the call starting with the pre-game show at about 12:20. Dauphin needs to play desperate and they will have to be good to beat Kobe Grant.
Who will be the top four?
Nothing is settled. There are five teams in the West that deserve to make the playoffs but only four of them will. There is some great hockey ahead and the four teams that do qualify will have been playing playoff like hockey for more than a month when game one of the Turnbull Cup playoffs begin, so the four teams will be ready.
Details

Contributed by

Darnell Duff
It was a regular season to remember for the Dauphin Clippers. The team has won 26 of their 31 games so far and they have looked extremely dominant for most of the season.
With one more regular season to go, Dauphin will look to make it 27 of 32, but regardless of Sunday's result against the Neepawa Tigers, Dauphin will open up the Westman High School Hockey League playoffs on Tuesday on home ice.
Finishing second in the stnadings, Dauphin will match up with the Glenboro Wildcats in the first-round best of three series. Game two will be played in Glenboro on March 1 and if need be, Dauphin will host game three on March 4.
In their most recent meeting 12 days ago, Dauphin put up seven goals in a six-goal victory against the Wildcats and previous to that on February 4, Dauphin downed the Wildcats, 6-3. The Swan Valley Tigers; meanwhile, who finish their regular season on Sunday afternoon against Boissevain, will play the Vincent Massey Vikings in the first round.
Details

Contributed by

Darnell Duff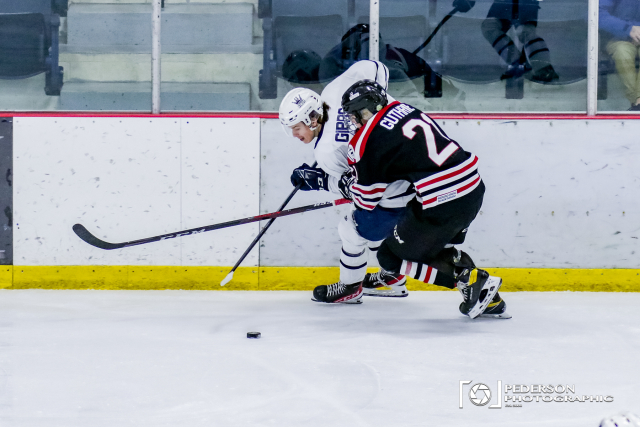 The Dauphin Kings scored two goals in less than a minute late in the third period to tie it; however, they came out with no points for the third straight night.
Wrapping up a key home-and-home with Virden on Saturday, the Oil Capitals scored the winner with 71 seconds left and they also scored an empty-net marker to earn two points in a 4-2 double up of the Kings.
Virden was the only team that scored in the first as Roux Bazin and Joey Bielek gave Virden a 2-0 lead. No goals were scored in the second which set up quite a finish in Oil Country.
Owen Wareham and Mason Smith would score within 59 seconds late in the third to tie the game up after no goals were scored in the second. It did not stay tied long as Virden scored the game-winner with 71 seconds left before Josh Lehto sealed the game into an empty-net.
With the loss, Dauphin remains at 57 points and they are now six points back of OCN for first place in the West Division. Dauphin does; however, remain just a pair of points back of the Wolverines for fourth as they were swept this weekend by Steinbach.
Details

Contributed by

Darnell Duff
The Parkland U15 Rangers responded in a big way on Saturday afternoon.
In game two of their first-round series against Pembina Valley, Parkland blew the game open with five goals in the second period as they cruised past the Hawks, 7-1. It was a respone after the club dropped their game on Friday night.
Just a week after he made his debut with the U18 club, Trace Langan had the hot stick as he recorded a hat-trick. Hayden Shtykalo found the back of the net twice in the big win.
Nathan Miller and Quinten Fisk also scored for the Rangers and Scott Tibbet was outstanding in net as he made 39 saves. The Rangers will now look to take a series lead on Sunday afternoon as they host game three in McCreary at 2:00 p.m.
Details

Contributed by

Darnell Duff
Opening up a massive West Division weekend, Friday wasn't Dauphin's night.
The club never led as they found themselves in a 2-0 hole and they could never find a way to get back in the game as they lost a 4-1 game to the Virden Oil Capitals.
Dauphin did find some life when Alex Senf scored in the second period shorthanded; however, that was it for Dauphin as they wouldn't score again.
Roux Bazin's 12th goal of the game was the only marker in the first period as the Oil Capitals took a 1-0 lead after 20. Then on the second while on a 5-on-4, Joey Bielik tipped in a shot past Cole Sheffield as Virden took a 2-0 lead.
Senf would then get himself on a breakway while down a man and while his first shot hit the post, he batted in the rebound to trim the deficit to one, but Dean Gorchynski regained Virden's two-goal lead with his ninth of the season a short time later.
Andrew Blocker sealed the game late with an empty-net as the Oil Capitals won their 29th of the season as they joined Waywayseecappo in a tie for third place in the West Division.
Dauphin; meanwhile, is now in fifth place, but they are only four points back of first after OCN and Swan Valley lost on Friday night. Dauphin and Virden will now meet on Saturday night at Tundra Oil and Gas Place.
Details

Contributed by

Darnell Duff
The Dauphin Clippers hockey team will enter the Westman High School Hockey League playoffs as the second seed. With one more game left in the regular season, the team can't catch Killarney and the Swan Valley Tigers can't catch Dauphin.
Jake Kuzmiak scored four times in Dauphin's 10-2 win on Wednesday as they now prepare to end their season on Sunday evening as they play the Neepawa Tigers. It's been a dominating season for Dauphin as they have won 26 of their 31 games, scoring 178 goals in the process and giving up just 80. In comparison to last year, Dauphin scored 140 goals, 38 fewer than this year while they also allowed 89 goals last year.
With Wednesday's win, Dauphin has also earned a spot in the provincial championships. Owen Chubka was fantastic in net all season for Dauphin while Cody Coombs also put together some great performances. Heading into their final game of the regular season, William Miner has led the team offensively with 19 goals and 32 assists while Logan Chapman has chipped in with a team-high 23 goals and 26 assists. In his rookie season with the team, Ethan Carnegie has been very efficient with 20 goals and 19 assists.
In all, it's been a very balanced approach for Dauphin. 15 players have recorded at least 10 points and four have 37 or more, including Tyron Sweetman. Dauphin will play either the Glenboro Wildcats or H/R/E/S Huskies in the first round, two teams that Dauphin played very well against in the regular season. The playoffs will begin next week.
Details

Contributed by

Darnell Duff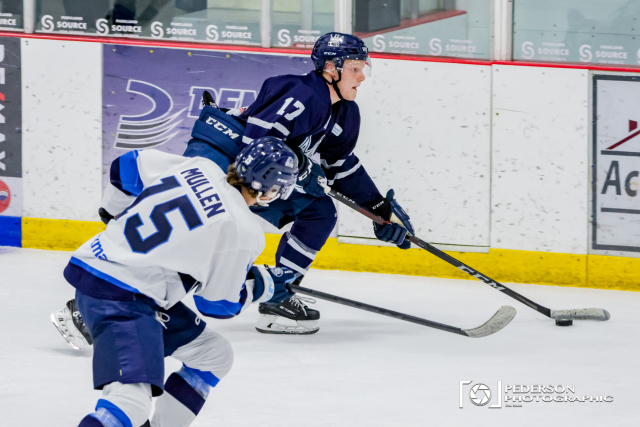 The Dauphin Kings knew they were getting a proven leader when Nick Hatton, of Bloomington, Minnesota, committed to the program. Hatton was the captain of his hometown high school team last year when he scored five times and added seven assists.
Moving north of the border for the first time back in September to join the Kings, Hatton has now suited up in 45 games with the Kings and he's put together a very solid rookie season offensively and defensively. In the offensive zone, Hatton has one goal paired with 16 assists and on the back end, Nick continues to grow as a top-end defenseman and he will only continue to improve with the great work ethic and dedication he possesses.
Living out his junior dream about 10 hours away from where he grew up, Hatton has grown to love Dauphin and everything the organization has to offer.
"It's been a great experience and the play has certainly been more physical than what I was used to," said Hatton. "Overall, it's been a great transition and my billets have made it extremely easy. It's been awesome and I'm looking forward to moving forward with the team."
Dauphin continues to prepare for their biggest weekend of the season as they play the Virden Oil Capitals in a home-and-home. Friday's game is at Credit Union Place before the teams lock horns on Saturday at Tundra Oil and Gas Place. With OCN losing on Wednesday to Swan Valley, the Kings are just four points back of first place in the West Division as are the Oil Capitals as Dauphin and Virden are tied in the standings with 57 points. One team will be on the outside looking in after Friday's game. Virden downed the Kings in their most recent meeting, 2-1.
"I don't think anyone has seen anything quite like this, it's crazy," said Hatton. "We just know that we have to come to the rink every day ready to battle, we can't afford to take any days or nights off. As long as we play our game, we know that we can beat anyone in this league."
Hatton gives a lot of credit for his development to the coaching staff in Bloomington and now in Dauphin. Doug Hedley, Chad Facey, Brad Dupasquier, and Dan Keeping round out this year's Kings' coaching staff.
"They are amazing, they are some of the best coaches I have ever had and I mean every single word of that," offered Hatton. "They take care of us so well, they make sure we have everything we need, and they stand up for us. I couldn't ask for a betting coaching staff."
Nick's parents also were in town earlier this year as they took in Ukrainian Night followed by a team brunch the following day and just like Nick, his parents are great people as well.
"That meant a lot to me that they came out to watch me play in person," offered Hatton. "It's not a short drive, so it was nice to see them."
Hatton also wants to thank Dauphin for the amazing support this season.
"Just to see all of our fans rally around this team, it's amazing," ended Hatton. "It makes me feel right at home."
Get to know Hatton:
When did you start playing hockey? I started skating when I was like three or four, but I got into it more when I was like five or six
Do you have a favourite childhood memory? I scored an overtime goal against a rival of ours back home when I was younger, so that was always really exciting
Do you have a favourite athlete? Mikhail Sergachev from the Tampa Bay Lightning, he's a simple defenseman that just makes the right play and he makes a big impact
Do you have a favourite musical artist? I'm an oldies guy, my favourite is the Rolling Stones
What are some of your hobbies? I like to read books, I enjoy trying to develop my mind. I also love to play golf in the summer and spend time with my friends
Details

Contributed by

Darnell Duff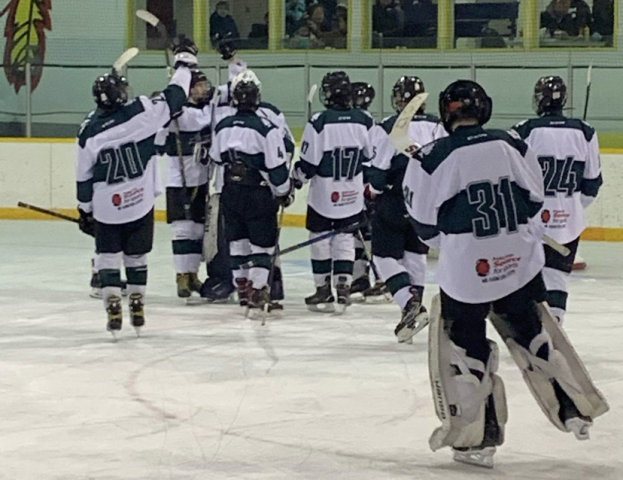 The Dauphin Clippers opened up a 6-0 lead after 40 minutes and they didn't stop in the third.
The team scored four more in the third to down Sandy Bay, 10-2. Jake Kuzmiak had a game that he won't soon forget as he scored four times in the game.
Logan Chapman scored two goals in the game while Ethan Carnegie also scored a pair. Tyron Sweetman and Norman Lacquette also scored for Dauphin.
Owen Chubka earned the win in net.
Details

Contributed by

Darnell Duff
The golf season is just a few short months away and you can ring in the new season by playing in the Country Club Classic.
Hosted at the Gilbert Plains Country Club, the 1st annual tournament takes place from May 20 to 22. The three-day event is just $240 for non-members and $200 for members. That includes three rounds, live entertainment, a chance to win prizes, and a Sunday night meal.
Golfers of all skill levels are welcome to take part as the event will be flighted with cash prizes in each flight. There is also a ladies' division and a junior division. If you would like to register, you can text Darnell Duff at 648-6578.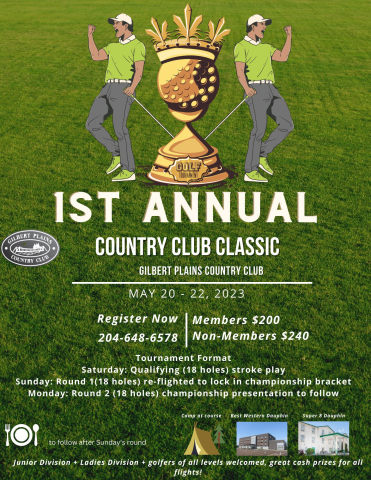 Details

Contributed by

Darnell Duff