Latest Sports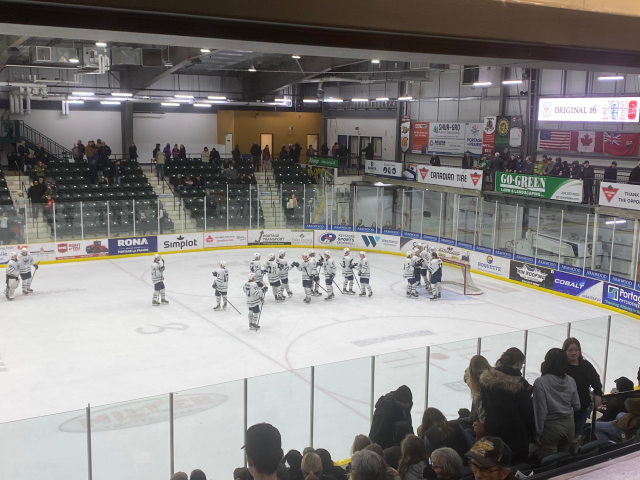 The Dauphin Kings have now downed the Centennial-Cup hosting Portage Terriers three times this season.
Dauphin's offense showed up in a huge way on Friday night as the team put up another seven goals and they held on to down Portage, 7-5, in front of a great crowd at Stride Place.
In a back-and-forth game, Nolan Wickham would seal the game late with an empty-net marker as he scored his ninth of the season.
Dauphin jumped out to a tremendous start as goals from Mason Smith and Myles Yearwood gave Dauphin a 2-0 lead less than three minutes into the game. Ryan Botterill would score his first of the game on the power play later in the period, but Dauphin was still up 2-1 after 20.
Slade Stanick opened up the scoring in the second period before Alex Senf scored to regain Dauphin's 3-2 lead. Botterill then scored his second of the game as it was 3-3 after 40 minutes.
That set us up for a wild third period, one in which six goals were scored. Kaden Kohle gave Portage their first lead of the game early in the third as it was 4-3 for the Terriers. Then Dauphin responded as Senf scored his second of the game and Myles Yearwood scored his second of the game as Dauphin was up 5-4. Then Kian Calder would tie the game up with just more than five minutes left.
Then with just less than three minutes left, Mason Smith led a rush to the bottom of the left circle and he fired a perfect shot past Bailey Monteith to give Dauphin a 6-5 lead and Wickham then capped off the game.
With the win, Dauphin now has 30 wins on the season and they remain three points ahead of Waywayseecappo for fourth place in the West Division. Dauphin and Portage will go head to head on Saturday night at Credit Union Place on 'Country' Night.
Details

Contributed by

Darnell Duff
The Dauphin U13 Kings played to a tie in their first game of the provincials at Credit Union Place on Friday afternoon.
In front of a tremendous crowd, three different Kings scored in a 3-3 tie against Rivers. Chayce Stoski, Kenai Mouck, and Parks Gardner did the scoring for Dauphin.
Swan Valley opened their tournament with a huge win as they put up 24 goals in a win against Peguis. Dauphin plays Mitchell on Saturday morning in the Rotary Arena at 9 while Swan Valley plays the game after that.
Details

Contributed by

Darnell Duff
Ethan Williment is exactly where he wants to be.
He has family in Dauphin and his family that doesn't live in Dauphin travels across the province to watch him play and for Williment, he wouldn't change a thing. Dauphin drafted the now 18-year-old in the first round, fifth-overall in 2019 and he is now in his second season with the club. Ethan suited up in 21 games last year as the team won the Turnbull Cup and advanced to the national semi-final in Estevan.
Back this year and with a significantly elevated role, Williment has played in 50 of the team's 54 games and he only missed a few games because of an injury. As Dauphin now embarks on crunch time, Williment enjoys every second of being with one of the most storied franchises in Junior A hockey.
"It's a huge honour to be with this organiztion, it's a priviledge," offered Williment. "I'm proud that I get to be a part of it each and every day, I never take a day for granted."
Possessing some fantastic speed, Willment has five goals and 13 assists this season. His most recent goal was a dandy last Sunday in the team's big victory against the Niverville Nighthawks.
"I'm happy with what I have done this year," said Williment. "I've worked really hard and a big job of mine is getting my teammates the puck."
It's very rare that you will see Ethan without a smile on his face as the young man from Winnipeg is certainly a ray of sunshine and he, without a doubt, has a long junior journey ahead of him and plenty of success will follow.
Sitting in fourth place in the MGEU West Division as of this posting, Dauphin finds themselves in a heated playoff race as they look to lock down a top-four spot. Their next game is on Friday evening as they open up a weekend home-and-home with the Portage Terriers with Friday's game coming at Stride Place and the puck is set to drop at 7:30.
Dauphin is coming off one of their best performances of the season on Tuesday and Williment looked excellent playing on the first line alongside Mathew Gough and Jamie Valentino. Williment and Valentino won a championship back in the day playing alongside each other and Ethan is happy that he gets the chance to play once again with the 21-year-old from Thompson.
While at this point last year Dauphin had already long locked up first in the West, Williment is enjoying being in a heated playoff race.
"We have something to look forward to every day and every guy on this team is pushing themselves to the limits," ended Williment. "We all want to play in the playoffs and that's what we're pushing for, one common goal."
Get to know Williment:
Who is your favourite hockey player? I would say, Kyle Connor of the Jets, he plays with a lot of speed and he has a great shot, he's a guy I try and model my game around
If you could live anywhere in the world, where would it be? I would say the Bahamas, I love hot weather
What is your favourite vacation? I went to Jamaica a few years ago for Christmas, that was a really cool experience
What is your favourite part about Dauphin? Just the people and the town. Everyone loves walking around town, people are so friendly
You can hear Ethan's full conversation with Darnell Duff on the team's power play show after the 4:00 p.m. news, weather, business, and sports on Friday afternoon.
Details

Contributed by

Darnell Duff
Riese Gaber has once again been recognized as an all-star.
Heading into their National Collegiate Hockey Conference quarter-final, Gaber was named to the NCHC Second All-Star Team. Gaber has once again been an elite producer with the Fighting Hawks this season with 19 goals and 15 assists. His 34 points were just shy of the 37 he recorded last year. Gaber was also named to the conference's All-Academic Team and this is the second straight year being named to a conference all-star team for Gaber.
North Dakota embarks on a best-of-three quarter-final series against the University of Omaha this weekend. North Dakota downed them in a pair of games last weekend and the Fighting Hawks ended the season with no regulation defeats in their final six games and four of the six were regulation wins.
Details

Contributed by

Darnell Duff
The Portage Terriers, Steinbach Pistons, and Winkler Flyers have all had playoff berths locked up for quite some time. Sitting in the top three in the MGEU East Division, the trio continues to play for positioning, but as of this posting, the Terriers are on top while Steinbach is in second and Winkler is in third. The Niverville Nighthawks have a four-point lead over Selkirk for the final playoff spot in the East.
In the West; meanwhile, the picture isn't quite as clear. The Oil Capitals and OCN both have 65 points, Dauphin is in fourth with 62, and Waywayseecappo comes in fifth place with 59 points. The Neepawa Titans have been eliminated from playoff contention. On Wednesday night, Justin Keck and Steven Arp both scored a pair of goals as the Stampeders won their 32nd game of the year, and as a result, the Stampeders are the first team in the West to clinch a berth in the playoffs. With a record of 32-16-5-1, the Stampeders are sitting at 70 points and they are certainly in the driver's seat to finish atop the division.
Barry Wolff had this to say on the team qualifying for the Elite 8.
"It's huge for our guys, they have worked extremely hard, and battled," said Wolff. "It seems like we have been playing playoff hockey since November because things have been so tight. Two good teams in our division won't make the playoffs which is a shame. For us, it's huge and our community has certainly rallied around us."
After losing to the lowly Winnipeg Freeze on February 24, the Stampeders have caught fire to become one of the hottest teams in the league as they have won five straight games. The team also has 25 goals over their past five games as they prepare for a pair of home games against Steinbach and Niverville this weekend. The Stampeders then embark on a home-and-home next week with Virden to wrap up their regular season.
While they were eliminated in the first round of the playoffs last year against Dauphin, it was, at times, the Kobe Grant show between the pipes. He made 47 saves in a Stampeders win in game four, he turned away 52 shots in a game five Stampeders overtime win, and in a game six loss -- that ended the Stampeders season -- Grant made another 47 saves.
This year, Grant is back to dominating games as he is tied with Dominik Wasik as both goaltenders have 24 wins. Grant is also second in save percentage with a .932 mark. He has; however, played 21 more games than Aidan Comeau of the Winkler Flyers who leads the league with a .935 save percentage. Kobe was outstanding last Wednesday when he turned away 39 shots in a win against Dauphin, he had a 28-save shutout a few days later against the Selkirk Steelers and he made 34 more saves on Wednesday to book the Stampeders' playoff berth.
"I can't say enough about how good he has been, he gives us a chance to win every single game," offered Wolff. "He has the ability to steal games which we saw in the playoffs against Dauphin last year and that's where he really showed us what he was made of and what he can do."
Kobe was also recently named the MJHL's Top Goaltender as he won the Ed Belfour Award and he was also named to the league's first all-star team. So the Stampeders are unbelievable in net, but they have paired their great goaltending with solid offense. The team has scored 203 goals this year -- the most in the West Division -- and the third-most in the league, only behind Steinbach and Portage.
Jakob Jones leads the way with his 29 goals and 39 assists while Justin Keck has scored 30 times and has 62 points. Then Trey Sauder comes in at third with his 23 goals and 34 assists. Just a few years ago, Sauder won the scoring title in the Westman High School Hockey League and now this year, he leads the team with 10 power-play goals and he also has four game-winning goals, the second most on the team. Sauder has always said playing with his hometown junior team is a dream come true.
"You talk about a guy that comes to work every day and he improves every day," offered Wolff. "To score 10 power-play goals, that shows what kind of player he is. He continues to get the job done with us and his chemistry with Keck and Jones is amazing to watch."
Playoff hockey will return to the Centennial Arena later this month and the Stampeders will be a lot to handle, regardless of what team they go up against.
Details

Contributed by

Darnell Duff
The Fusion Credit Union U13 Silver Kings are ready for the provincial championships after a great season playing in the Brandon House League.
The team earned silver medals after a 7-4 loss against the Brandon Penguins in the final. Dauphin didn't lose a game in regulation in the regular season with a record of 14-0-2 and they won games against the Brandon Wild, Hurricanes, and Oilers in the playoffs.
This year's roster includes:
#29 John Riehl (Goalie)
#1 Taylor Lavallee (Goalie)
#4 Wyatt Lambie
#5 Christopher Bilay Jr
#7 Izak DuPlessis
#8 Ethan Chief (A)
#9 Ivan Brazhko
#10 Easton Carr
#11 Kingston Catcheway
#12 Josh Prokopchuk
#13 James Chief
#14 Samson Bourgouin (C)
#15 Drayson Demeria (A)
#16 Scotia Smith
#17 Connor Brown
#18 Zach Schwartz (A)
#20 Malachi Laquette
Jeremy Flett is the team's head coach while Scott Carr, Conrad Demeria, and Brett Smith are serving as the team's assistant coaches, Alison Bourgouin is the team's manager.
Details

Contributed by

Darnell Duff
The Manitoba Credit Unions Master Men's Provincial Curling Championships hosted by Curl Manitoba get underway on Thursday morning in Thompson and there will be some local representation.
Playing in the event for the first time, Ray Baker will skip a foursome. In fact, three-quarters of Baker's team competed at and won a national title at the Canada 55+ Games in Kamloops last year. This year's team includes Ray, Dwight Bottrell, Keith Pottle, and Glenn Rozak. Glenn of Dauphin was the lone player that was not on Team Baker at the Canada Games.
The team's seven-game round-robin opens against Len Loewen's rink at 9 on Thursday morning.
"We feel pretty good about the event heading in," said Baker. "It's obviously going to depend on how we're playing early on. It's a round-robin so it's really important to come out of the gates flying. We know we can, it's just about getting it done at the end of the day."
Team Baker's fifth game at the event will come against Randy Neufeld's rink, a foursome that is pencilled in as one of the favourites and the foursome then wraps up their round-robin against a team from the Parkland. At 12:30 on Sunday afternoon, it's Ray Baker's rink of Dauphin against Gilbert Plain's Butch Mouck and his foursome. Mouck's team includes Glenn Parrott, Dave Clark, and Bill Thiessen.
"Both of those teams are going to be difficult to say the least," ended Baker. "They're both very strong and know how to win. We'll hopefully put ourselves in a good position by that point in the week."
While the rest of Ray's team has played in this event before, it will be Baker's first.
Details

Contributed by

Darnell Duff
Sheldon Wettig was born in Iqaluit, which was known at the time as Frobisher Bay, N.W.T., but moved to Yellowknife when he was 11 months old.
He now lives in Brandon and he curls competitively at the Brandon Curling Club. While Sheldon is used to curling in front of a few fans at his home club in the Wheat City, he is playing in front of thousands of fans this week as he curls with Team Nunavut at the Canadian Men's Curling Championship, which is famously known as the Brier.
How does Sheldon get the chance to compete at the Brier with Nunavut you ask? It all started because of a conversation with Mike McEwen -- skip of Team Ontario at the event -- and he's also a good friend of Sheldon. Mike asked Wettig why he never took advantage of his birthright status.
Meaning he would be eligible to play for Nunavut because that's where he was born. After a few more steps along the way, Sheldon was contacted by the Nunavut players and he was asked if he wanted to give it a go. Months later, Wettig is living out his dream of playing in the Brier and he's enjoying every second of it.
"It's been absolutely amazing, the entire experience," said Wettig. "We always seem to have pretty good crowd support when we step on the ice, so that's really exciting for all of us."
As of publishing, Team Nunavut is 1-5 at the event after losses against Manitoba (Dunstone), Northern Ontario (Horgan), Nova Scotia (Manuel), Saskatchewan (Knapp), and Alberta (Koe). In the end, their losses aren't significant at all, it's the one win that they have. In their first game of the event, they stole a single point in the ninth and 10th end as they downed Newfoundland and Labrador, 7-4.
The win made history as it was Nunavut's first-ever win at the Brier after losing their first 38 games of the competition. Following the win, Sheldon said he received 135 text messages and dozens of phone calls.
"It's indescribable, the feeling of winning that first-ever game with Nunavut," offered Wettig. "I was lucky enough to have family in attendance and I also had five really good buddies from Brandon that showed up and surprised me. As we were getting closer to winning the game, the noise in the crowd just got louder and louder. When they were all on their feet and cheering for us after we shook hands and won, we really realized what we had just achieved, it was amazing."
While he is a competitive curler in Brandon, Sheldon doesn't play as often as some of the top teams do and he is amazed at how much skill they have.
"It's insane how good these guys are, it's crazy," offered Wettig. "You can play a rec league curling game, miss a shot and you can still score. If you miss here, you can't score and you could give up a big end. These guys make you pay for any mistake you make, they are so good."
With their five losses, Nunavut has been eliminated from the playoff round; however, Wettig will forever be in the history books as he helped the province win their first-ever game at the Brier. This was Sheldon's second appearance at the Brier after he served as Nunavut's fifth in 2020, but he is playing third this year.
Details

Contributed by

Darnell Duff
The Swan Valley Tigers are one win away from advancing to the Westman League final.
Bailey Hunt scored the winner in the third period on Tuesday as Swan downed Dauphin, 2-1, in game one of the semi-final series.
Eli Betcher also scored for Swan Valley while Jake Kuzmiak scored Dauphin's lone goal in the game.
Dauphin will face elimination on Sunday when game two goes at the Centennial Arena.
Details

Contributed by

Darnell Duff
The Dauphin Kings have now put two great road performances together in a row as they're starting to roll at the right time.
In Waywayseecappo for a key divisional game on Tuesday, Dauphin controlled the game from start to finish and they skated off with two points after an extremely solid 4-0 win.
Dominating in their defensive zone, Dauphin gave Cole Sheffield plenty of support offensively and it started just more than five minutes into the game when Jamie Valentino made a beautiful rink wide pass to Mathew Gough who snuck in across the line and went to the backhand just above the blue paint to beat Tresor Wotton as Dauphin led 1-0 after 20 minutes.
Then in the second, Dauphin completely took over as they scored three times in the midway period to lead 4-0 after 40. Mason Smith scored his 15th, Mathew Gough scored his second of the game and 24th of the season and Jakob Brook scored his eighth of the season as Dauphin went into cruise mode.
The Kings once again locked down defensively in the third as they allowed just five shots against as they earned two great points. Dauphin allowed just 24 shots as Sheffield earned his second shutout of the season at the Arena Complex.
With the win, Dauphin is now 29-21-2-2 on the season and they remain in fourth place, now with a three point lead over the Wolverines for the final playoff spot.
The Kings embark on a two-game weekend series with the Portage Terriers now. Friday's game can be heard on 730CKDM with Darnell Duff starting with the pregame show at 7:15. Dauphin then returns home on Saturday.
Details

Contributed by

Darnell Duff
The Minegoziibe Anishinabe Lady Talons basketball team is off to the provincial championships.
It has been five years since the Talons last had a women's basketball program and they're having a great season. In a provincial qualifier, the Lady Talons first downed Pinawa, 76-43, to advance to the finals.
Then up against the Elm Creek Cobras, the Lady Talons put together another great performance in a 62-43 win, a win that advances them to the provincials in Gilbert Plains from March 16 to 18. Maureen and Earl Thompson are the team's coaches this year.
Details

Contributed by

Darnell Duff