Latest Sports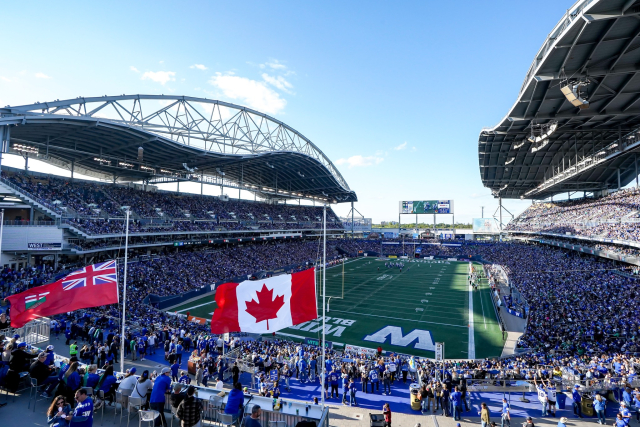 The Grey Cup game is heading to Manitoba's capital.
For the fifth time in the history of the Canadian Football League (CFL), the 112th edition of the CFL's championship game will be played at IG Field in Winnipeg, home of the Blue Bombers.
In a press conference, Randy Ambrosie said he was elated to announce the return of the Grey Cup to his hometown.
"I'm thrilled for the city, the entire province of Manitoba and, of course, for all of our incredible fans across the country," said Ambrosie. "Hosting the Grey Cup is a tremendous honour, and I was blown away by the Blue Bombers' plans to engage the community and put on an unforgettable celebration of our great game. I can't wait to see it all unfold."
Winnipeg hosted its first Grey Cup in 1991 and then in 1998, 2006, and in 2015. Hamilton will host next season's big game while Vancouver hosts in November of 2024.
Details

Contributed by

Darnell Duff
One of her highlights in the pool was when she earned a silver medal swimming the 50m backstroke event at the Man/Sask tournament in Saskatoon. It's an event that features the best age-eligible swimmers from Manitoba and Saskatchewan.
Kiara Wilson has now been swimming competitively with the Parkland Gators Swim Club for nine years and she has already qualified for an upcoming Man/Sask event.
"I love swimming with this team," said Wilson. "Being able to swim and having all of your teammates cheering for you, it's a pretty special feeling."
At one of the team's recent meets in Winnipeg, Wilson put together several impressive performances. She won a gold medal in the 50m fly and she finished with silver medals in the 50m backstroke, 100m breaststroke, 50m freestyle, 50m breaststroke, and 100m backstroke. Kiara admits to being frustrated at times when she isn't winning as many medals as she would like, but it was that event in Winnipeg that provided her with quite the spark.
"It was actually very exciting, I was starting to get kind of discouraged because COVID messed everything up," offered Wilson. "Then when I started recording personal bests and winning medals, I was very proud of myself."
Kiara will be competing in the 50m backstroke at Man/Sask after she earned her AA time and she's looking forward to the experience.
"I haven't gone to Man/Sask in a couple of years now," said Wilson. "I wasn't really expecting to get my AA time but once I did, I was really excited."
Details

Contributed by

Darnell Duff
The Dauphin Kings recorded a season-high 64 shots on Monday night as they cruised to their fifth win in a row.
Mathew Gough had the hot stick on the night as he scored three times for Dauphin in a 6-2 win over the Winnipeg Freeze as Dauphin swept the season series between the two teams.
Gough and Rylan Gibbs opened up the scoring in the first before Nathan Lenoski responded for Winnipeg; however, Dauphin fired right back as Blake Boudreau scored his 14th of the season as Dauphin was up 3-1 after 40 minutes.
Carter Zalischuk then found the back of the net as the hometown favourite scored his fourth of the season with Marco Bodnarski -- another hometown favourite -- picking up an assist on the goal. Dauphin led 4-1 after 40 minutes.
In the third, Gough completed his hat-trick with a pair of goals while Elliot Perrault scored for Winnipeg. Marko Belak made 22 saves to record his second straight win.
With the win, the Kings are now five points ahead of Waywayseecappo for the fourth and final playoff spot. They do have the same amount of points as OCN for third, but the Blizzard hold the tiebreaker between the teams.
Dauphin plays their regular season finale on Saturday in Winkler.
Details

Contributed by

Darnell Duff
The Parkland U18 Rangers officially put a close to the season as they handed out some season-end awards in Swan River on Friday evening.
Team Player Award - Sam Swanton
"He's a player that is very low maintenance and he comes to the rink every day wanting to get better," said Tyler Carefoot, the team's head coach. "He leads by example and he's just one of those natural leaders and that will remain the same moving forward."
Most Improved Player - Andrew Pidskalny
"His responsibility grew with the team this year and he was a player that we could rely on in every situation," offered Carefoot. "He's fearless and he's willing to play hurt. He very much deserves this award."
Rookie of the Year - Luke Myhre (was not able to make the event)
In his first year with the U18 program, Luke did not look out of place at all as he scored 16 times while adding 16 assists.
"He was matched up against our opposing team's best players," said Myhre. "He plays a complete 200-foot game and he produced offensively and defensively for us."
Skill and Sportsmanship - Hayden Seib
Seib was a regular contributor offensively in his second season with the team as he scored 16 times while adding 20 assists.
"He's a player that we used in all situations," said Carefoot. "He's a great guy off the ice and he had a great season on the ice as well. Much deserved."
Top Defensive Player and MVP - Bo Eisner
As the team's captain, Bo was a leader on and off the ice. He scored 10 times and added 22 assists.
"Every now and again, you come across a player like Bo," said Carefoot. "He has gotten better every season and he's putting the time in. He has no ego and he was a pleasure to coach, he had a special season."
Then to wrap up the evening, the Rangers thanked their five graduating players that aren't eligible to return next year. They include Wesley Gryba-Smith, Skyler Carriere, Kyler Swanton, Madden Murray -- who made his MJHL debut on Saturday night, and Bo Eisner.
With the off-season now here for the program, Carefoot is looking forward to getting back to business in the fall as the Rangers will look to return to the playoffs.
"I think we have done a great job in developing these Parkland athletes that put so many hours in to get better," ended Carefoot. "For some, their journey is just beginning and for some, there is lots of runway left. I am very excited and proud of the way things have gone for the most part."
In playoff action in the Manitoba U18 AAA Hockey League, the Winnipeg Bruins have a 2-0 series lead in their semi-final while the Brandon Wheat Kings and Winnipeg Wild are tied up at one game apiece.
Details

Contributed by

Darnell Duff
Team Jensen captured a championship over the weekend as the Dauphin Curling Club played host to the ladies' bonspiel.
Skipped by Emma Jensen, the team downed Tiffany Armstrong in the finals.
Theresa Payette's rink beat the Melissa MacQuarrie rink in the B-side finals.
Winning the C event was Team Norma Johnson as they beat Brandi Graham's rink in the final.
Details

Contributed by

Darnell Duff
The Fusion Credit Union U13 Kings finished their season with a bronze medal at the Provincial Championships.
At the event in St. Adolphe, the Kings earned the bronze after a 7-4 win against Springfield in the third-place game. Dauphin also won games against Stonewall and Morden.
The team also earned a top-two finish in the Brandon House League.
Details

Contributed by

Darnell Duff
The Swan Valley Tigers will play for a title in the Westman High School Hockey League.
The team completed a series sweep against the Dauphin Clippers on Sunday night in a 4-1 win. It was Dauphin that opened up the scoring as Jackson Buchanan scored just 13 seconds into the game.
Ultimately, the Tigers scored four straight in the victory. Bailey Hunt, Tucker Thompson, Kash Henkelman, and Trace Langan scored for the Tigers. Swan Valley will now play either Killarney or Neepawa after Neepawa evened their series with a 4-2 win in game two.
Details

Contributed by

Darnell Duff
The Grand Plains U13 Hawks are provincial champions.
Cole O'Connor and Kaleb Crowe both scored a pair of goals on Sunday afternoon in a thrilling 6-5 win against Manitou in the final. Grand Plains was down 5-2 entering the third period, but they caught fire as they scored four times in the third period to complete the comeback.
Dominik Chartrand and Brayden Abrams scored singles for Grand Plains in the victory. Grand Plains also won games against Souris, St. Eustache, and Holland.
Details

Contributed by

Darnell Duff
Rhett Genaille scored a pair of goals for Swan Valley on Sunday afternoon as the U13 team earned a bronze medal.
In a high-scoring affair, seven other Stampeders scored in a 9-6 win against Rivers.
Also scoring was Avery-Jae McKerchar, Emmett Grandfield, Ashton Dutkewich, Madden Atkinson, Carter Patterson, Dylan Anderson, and Jaxon Mykula.
Details

Contributed by

Darnell Duff
The Dauphin Kings battled back from a one-goal third period deficit on Saturday and they won a thriller.
Havyril Simchuk scored the lone goal in the shootout as Dauphin downed the Portage Terriers, 4-3, in a game that will go down as one of the best this season.
Dauphin's win gave them a season series sweep against the Centennial-Cup hosting Terriers as Dauphin won all four games against them this regular season.
It was Portage that opened up the scoring as Austin Peters scored his 20th of the season 1:44 into the game. Dauphin then took over for the remainder of the period as Ethan Williment and Owen Wareham both scored as the Kings took a 2-1 lead into the second.
On the power play in the midway frame, Ryan Botterill scored the lone goal of the period and it was his league-leading 44th of the season.
Kaden Kohle would then give Portage a 3-2 lead early in the third before Myles Yearwood responded by scoring his 12th goal with just nine minutes left in the game. No goals were scored the remainder of the third and despite some good chance in overtime, neither team was able to find the back of the net.
In the shootout, Simchuk outlasted Bailey Monteith and his goal was the only goal that was scored.
With the win, Dauphin is now 31-21-2-2 on the season as they have 66 points. Dauphin will look to keep rolling on Monday when they head to Manitoba's capital to play the Freeze. They then wrap up their regular season next Saturday against Winkler.
Details

Contributed by

Darnell Duff
Ray Baker and his team are on a roll in Thompson.
Playing in the Masters provincials, the foursome including Dwight Bottrell, Keith Pottle, and Glenn Rozak have won all four of their games so far.
The team has scored 31 goals so far while they have given up just 18. The team will play two more round-robin games on Saturday.
Details

Contributed by

Darnell Duff