Tarrington Wyonzek will be spending a lot of time studying the IIHF rules handbook over the next month. The Yorkton linesman knows the rules very well already, but he wants to refresh his memory ahead of the World Junior Hockey Championships that begin on Christmas day.
This year's official group will be all Canadian at the event which will be played in Edmonton without fans in the stands. We'll get to more about Tarrington's World Junior dream in just a bit.
Growing up in Yorkton, Wyonzek was a minor hockey official and he slowly moved up the ranks as does every young official. In the 2013-2014 season, Tarrington got his first big break as he was hired as a linesman in the Western Hockey League. He would line six seasons in the WHL and during his time, he also lined two league finals.
Wyonzek has also lined the past two Memorial Cups. The first of which was the 2018 event held in Regina. He was on the line for three games including the tournament's semifinal which was won by the Regina Pats, 4-2. The Yorkton-born linesman returned to the 2019 Memorial Cup in Halifax and he was on the line for another three games.
Fun fact:
Tarrington's first assignment at the 2018 Memorial Cup was on May 18. His first assignment at the 2019 Memorial Cup was also on May 18.
It was Sunday, May 26, 2019, and the host Halifax Mooseheads were up against the Rouyn-Noranda Huskies in the final of the national championship. Peter Abbandonato scored the game-winning goal for Rouyn-Noranda early in the third as the Huskies won the championship with a 4-2 win against the Mooseheads in the final.
Wyonzek who was on the lines for the semifinal one year prior was now on the ice when the lights were as bright as they could be as he was assigned to work the championship game, his first in what ended up being his final year as a linesman in the Canadian Hockey League.
"Regina was super cool with it being so close to my hometown," said Wyonzek. "Working that gold medal game in Halifax was extremely special to me. It was a sellout rink and I don't think I will ever forget that game."
Moving south:
During his final two seasons as an official in the WHL, Tarrington was also a linesman in the American Hockey League where he worked out of Winnipeg, the home city of the Manitoba Moose. Living in Canada was the only thing Tarrington knew. That until an opportunity came about that would see him move south of the border to South Carolina to continue his professional officiating days.
So he packed his bags and moved to South Carolina where he would work many Charlotte Checkers (AHL) games and he also lined games in the ECHL in the southeastern part of the United States.
"It was extremely nerve-racking, I had never lived anywhere besides Canada prior to this," said Wyonzek. "With that said, it gave me a great opportunity to see different states that I would have never seen otherwise. It was also great to get the chance to work professional hockey full-time, just to see the guys battling for jobs and a paycheque every night, it was fun to be a part of that."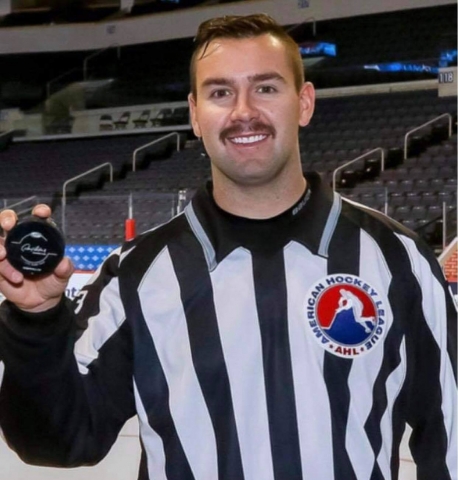 International assignments:
His first chance to line games on the international stage came at the 2019 U-18 World Championships that were played in Sweden. Team Canada lost in the bronze medal game against the United States, 5-2. Sweden ended up winning the gold medal and Tarrington was front and centre as the host country hoisted the title.
Tarrington joined Riley Bowles as the two linesmen for the gold medal game. He's now 1-for-1 in getting assigned to the gold medal game on the international stage.
"That was a ton of fun. Getting to travel to a different country to work hockey games, it's not something that a lot of people get to do," offered Wyonzek. "I had a really good tournament and I was really pleased with how I performed."
Wyonzek's new goal is working his second gold medal game. His journey to accomplishing that goal will begin either on Christmas Day or shortly after as he has been invited to line games at the World Junior Hockey Championships, as noted above.
Tarrington and the rest of the official group will arrive in Edmonton on December 13 and they will immediately enter the tournament's bubble where they will quarantine in their hotel rooms for a few days ahead of the pre-tournament beginning on December 20.
"I'm super excited for this opportunity to work at the World Juniors," he said. "As a young kid, you always dream of being able to take part in an event like this. It means a lot and I can't wait to get on the ice."
At events like these, all officials are judged on games they officiate. That means the pressure will be on when he laces up his skates as he aims to make it back to a gold medal game, something each official will be striving for. And at the end of the day, he's okay with any pressure he may feel.
"I'm a big believer that if you're not a bit nervous, you're not prepared for the game," ended Wyonzek. "Every little step I take during my officiating days, I believe there is more pressure on me to succeed. With that said, I'm a strong believer that I do extremely well under high-pressure situations."