Doris and Frank Talbot golf about once or twice a week at courses around Winnipeg and although they still frequent courses around the city, their golf story is so much more than that. 17 years ago, the two who have been married for 41 years went on a tour that they dubbed the "Westman Tour".
It was one that saw them play 16 courses in just nine days, a feat that many wouldn't be able to achieve. 17 years later, Frank and Doris have completed all of Manitoba's 142 courses. The tour across the province to play each and every course included them spending many nights in motels and hotels, including up north where the married couple said was likely the most enjoyable part about it all.
Along the road, Frank and Doris also played at the Dauphin Lake Golf Club and the Gilbert Plains Country Club. Although Frank couldn't remember a ton about the Dauphin Lake Golf Club, he did record his best-ever score on the golf course as he fired an 82. When it comes to the Gilbert Plains Country Club, Doris and Frank both agree that it's in their top 10 in all of Manitoba.
"It's a gorgeous course, we really love playing there," said Frank. "Especially when you go up that hill on number 11. We had such a wonderful view so we stopped and had a sandwich while looking at the field. It's certainly one of the best we have played at over the years."
Frank and Doris' tour included all courses up north and some significant travel. They went from Thompson to play Leaf Rapids which is about three-and-a-half hours.
The course was extremely quiet because of the rainfall the area had received so they were almost going to close the doors until the weather started to cooperate, but they remained open for Doris and Frank as they looked to get another round in. The grounds crew mowed the grass in spots that it wasn't and the pair had a blast.
At one point, Frank actually had to go in the bush to get some branches to put on the fairway so they could cross -- that's how wet the golf course was -- but that didn't stop Doris and Frank from checking it off their list.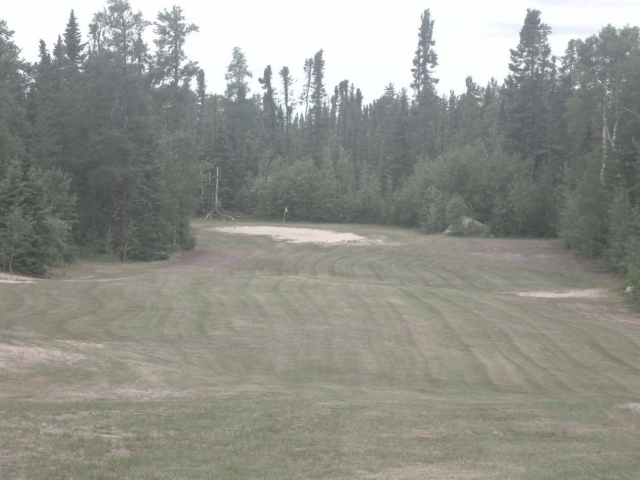 Leaf Rapids Golf Course
Over the first seven years, they were able to play most of the public courses; however, getting on the private courses was more of a challenge. There were some of the private courses where the pair knew members or had other connections so they were able to get on but for some others, it wasn't that easy.
In some instances they didn't have any connections, so they would call the course and explain their situation, and thankfully, they were able to check off all seven of the province's private courses. That includes the Pine Ridge Golf Club, Breezy Bend Country Club, and the Elmhurst Golf & Country Club, just to name a few.
"It was such a great way to see Manitoba, this province really has so much to offer that people don't realize," offered Frank. "There were some courses in towns that we didn't even know existed. I would highly recommend doing this for anyone that can. It's time-consuming but it was certainly an incredible journey."
Frank and Doris said they still need to come back to Swan River as they played it when it was only a nine-hole golf course. When it comes to playing across the country, Frank and Doris have also checked off many courses -- playing in all but three provinces -- with those being New Brunswick, Nova Scotia, and Prince Edward Island. Although they haven't planned anything to play in those provinces as of yet, they say they do plan on playing in all three as soon as they can.
Swan River Golf & Country Club
They have also played in nearly a dozen different states and in an ideal world if time permits, they hope to play in each and every state as well. Frank and Doris Talbot have driven thousands and thousands of kilometres over the province in the last 17 years with the goal of playing each course and they have achieved their goal. Now, the next goal is playing every province in Canada and we'll see how many they can get done south of the border.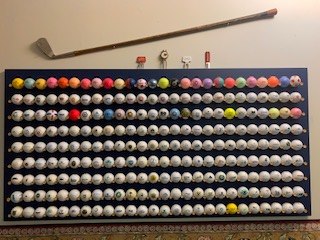 The couple's golf ball collection, with logos of courses they have played over the 17 years