The Dauphin Kings will host their home opener on Friday night inside of Credit Union Place.
As a part of the MJHL's Return-to-Play plan, the arena will be at 50% capacity for the 7:30 p.m. puck drop. There will be 100 walkup tickets that will go on sale at 6:30 on Friday at the Speedy Glass South Ticket Office. When you walk into the arena, there is a COVID-19 self-assessment tool. You must wear your mask while walking around; however, you can remove it once you sit in your seats.
"The Dauphin Kings and Dauphin Rec Services has done a great job of following all public health guidelines so we ask the same thing from the public," offered Christian Laughland, Director of Business Operations.
You will notice that many seats are tied up; however, people have been untying the ropes to use the seats throughout the preseason. Christian says the Club is asking the public to not untie any ropes at any games this season.
"Those ropes are there for a reason, we plan on following all guidelines set by the province," said Laughland. "We want to play hockey for as long as we possibly can."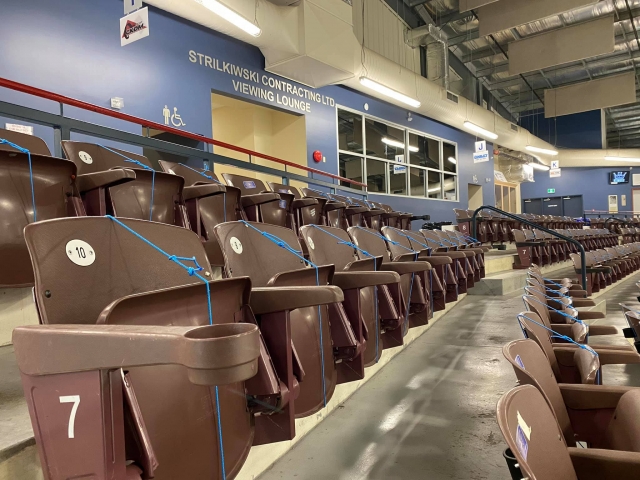 The Kings are also asking fans to keep the following in mind when attending games.
If you have an assigned seat, please remain in that seat. There is no standing at this time.
Fans on the concourse should be moving except when at the concessions, washrooms, or exiting the building.
Fans should remain in their seats during intermissions, except for moving directly to a washroom, concession, or when exiting the facility.
Fans are encouraged to socially distanced themselves from people outside their households.