Mitch Drysdale was born in Brandon and he was raised on a farm in Eddystone. Drysdale was always a big fan of sports growing up with hockey being one of his favourites.
When he turned 12, he became a hockey official as a way to make some extra money, and about a dozen of his friends were also taking that path. Once you become an official, there's an opportunity to climb up the ranks with some determination, dedication, and of course, knowledge.
Fast forward four years and Drysdale got a promotion as he was the head of the three-man system officiating in Grand Plains as a 16-year-old.
"It was a nice change to take control of the game. I was on the ice with younger players so I had a good opportunity to learn where I needed to be at all times," said Drysdale.
Then in the 2006-2007 season, Drysdale made another jump, one that he wasn't exactly expecting at that time. He joined Kerry Fidierchuk on a trip up north for a pair of OCN Blizzard games where Drysdale officially made his Manitoba Junior Hockey League debut at the Gordon Lathlin.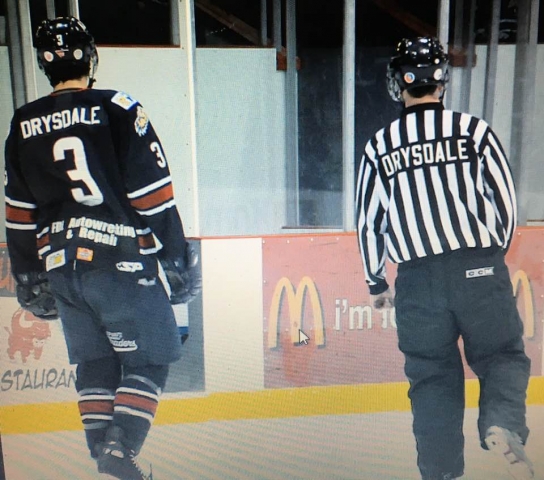 He was quickly front and centre as he broke up a couple of fights and if you've never been to a game at the Gordon Lathlin before, there isn't anything quite like it when that facility gets packed with people, something that it certainly has been in the past.
"The first thing that was going through my mind was like oh man, I'm actually going to line a game in the MJHL," said Drysdale. "It was a pretty great opportunity and it was an experience that I've cherished ever since."
So Drysdale got a taste of what it was like lining in the MJHL, but a taste wasn't enough for him. A former Dauphin Clipper hockey player himself, Drysdale became a full-time league official in the next season where he had the chance to line games inside of Credit Union Place.
Seven years ago, the string of promotions continued for Drysdale as he became a headman in the MJHL along with his duties of being a linesman.
Injury:
When Mitch was in high school, he played many different sports with one of them being hockey and another being football. Football is known as a sport that takes a big toll on a person's body and that was the case for Drysdale as he initially injured his right knee while on the field.
His knee continued to get worse over the years and two years ago, he completely tore his ACL in his right knee playing slo-pitch. He walked onto the diamond normally, but he was carried off and ended up on crutches.
Despite the injury, Mitch powered through and continued to ref games as it was something he really enjoyed, and over the years, he has become one of the best officials in the Parkland region.
Mitch's final game last year was on Sunday, December 22. Two days later on Christmas Eve, the Dauphinite was put under the knife as he underwent knee surgery years after initially hurting his knee in high school.
Drysdale didn't ref another game for the rest of the season as he regained strength and healed. He says not being on the ice was unfortunate, but he was still very much a part of the game.
"It was different not being on the ice with the guys. With that said, I was still able to head to the rink and talk to the guys," said Drysdale. "I also always sat in the booth with Al and he always makes the game entertaining, so that was fun. I didn't miss much hockey, that's for sure."
The Comeback:
Mitch didn't ref a game or spend any time on the ice for nine months. This past Sunday, Drysdale was back doing what he loves. He was the referee as the Kings held their JoFo Cup inside of Credit Union Place. He looked in midseason form and was able to keep up with the play, although he was sore after the game, but what ref isn't a bit sore after keeping up with elite junior hockey players.
"It felt pretty amazing, to be honest, just to be back at it," offered Drysdale. "I was kind of surprised with how good I was feeling and I'm feeling now. It was just nice to be back on the ice doing something I love."
Drysdale does plan on doing many more games throughout the winter months, they'll just have to line up with his busy work schedule, but you can certainly expect to see a ton of Mitch Drysdale inside of Credit Union Place this winter.