The Gilbert Plains Country Club is one of the finest courses across Manitoba and for Hayden Shtykalo, he gets the chance to hone his craft by playing on it nearly every day of the week.
If you ask the Dauphinite how many rounds he's played this season, he can't answer because the number is far too high.
Dating back to last season, Hayden also had the opportunity to travel across the province to play some of the other top courses as he competed on the Westman Junior Tour. On top of all his rounds in Gilbert this year, Shtykalo is back on the Tour, one that will finish on August 11 at the Oak Island Resort.
Four events have currently been played and there is nine total.
"I'm really comfortable playing in this because I've done it before," said Shtykalo. "It's a great experience playing on all these courses in a tournament format. It's also great to have friends playing that support me."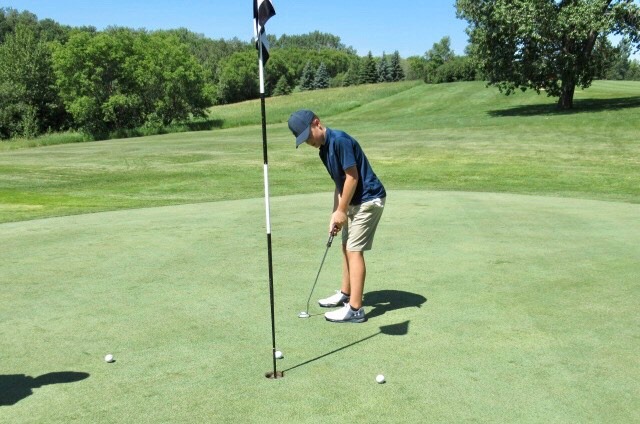 Shtykalo has played in all four events and now, he's joined the winner's circle. Backed by a solid back nine yesterday, Hayden edged Carson Craig to win the 12 & Under age group. He shot an 85 at the Glen Lea Golf Course, Craig was two behind with an 87.
In the last event that was played, Shtykalo finished in second, behind Craig.
"It felt really good, I've been working really hard," said Shtykalo. "I knew I was a couple of strokes back of Carson heading into the back 9, so I had to step it up and I did. I hit the ball pretty well and I'm really happy that I found a way to win."
Yesterday's win gave Shtykalo the full 10 points that are available for a first-place finish while Craig finished with 8. Through four events, Shtykalo is in second in the overall standings with 28.5 points with Craig coming in at 36. It's been a steady progression for the young man from Dauphin throughout the season.
After earning 4.5 points in the first event, he earned six in the second followed by eight with his second-place finish and as noted above, now he's racked up a perfect 10. With five tournaments left on the schedule, Shtykalo can continue to close the gap on Craig beginning next week when the Tour continues its schedule at the Shilo Country Club.
"I'm just trying to improve on my gameplay every week, that's the biggest thing for me," concluded Shtykalo. "I look back after every round and learn what I did wrong and I work on those areas and that's what's allowing me to play better."
In other action yesterday, Parkland golfers continued its dominance on top of the Shtykalo victory. Jackson Delaurier and Luke Myhre tied for first place in the 14 & Under age group. Delaurier continues to lead that group by seven points over Myhre with 39. McCreary's Brady Turko took home the closest to the hole prize in his age group. Landyn Garton also competed yesterday.