Erik Barrett ended his high school athletics days by being a captain of the volleyball team and co-captain of the soccer team. Now graduated from Minnedosa Collegiate, Erik played on the soccer team for all four of his high school years. He played three years on the volleyball team as well he played three years with the hockey team and he even ran cross-country in grade 12.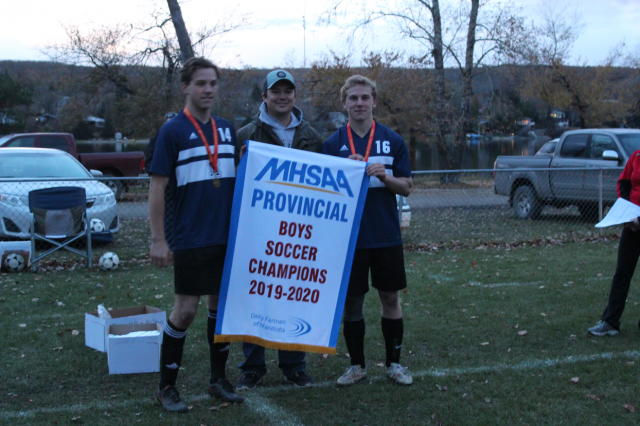 While being the co-captain of this past season's soccer team, Barrett helped the team advance to the AAA provincial championships. The team did; however, have an uphill battle ahead of them as they entered as the 7th seed, but that didn't stop them. In their first game, they beat Niverville, 2-1.
A dominating 5-0 win in the semi-finals against Swan Valley earned them a berth in the finals against the top-ranked Morden Thunder. Barrett and the rest of the Chancellors proved to be too much as they shutdown Morden, 1-0, to claim the provincial title on home soil as they hosted the event. Erik was also named a tournament all-star for his contributions.
"That was a pretty special moment, especially because we won it on our home field," said Barrett. "It was such a great way to end my high school soccer days."
Barrett's impressive resume didn't stop there. He placed 2nd at the Zone 6 Invitational Cross-Country meet and that earned him a spot in the provincials. He also helped the Chancellors advance to the Westman High School Hockey League's consolation side championship.
Every year, the Manitoba High School Athletic Association alongside Credit Unions of Manitoba award four, $1000 scholarships to worthy recipients. There were 55 nominated students this year, some of which are from the Parkland. In the end, only four students won the scholarship and the Minnedosa native who led his team to a provincial championship was one of them.
How did Erik find out? Well, that's a little bit of a funny story. While he was sitting on the couch and watching TV, he was scrolling on Twitter and he clicked on a Tweet made by the MHSAA and he saw his name as one of the recipients. Initially, he thought it was a typo.
"I can't believe that I'm along with these three other recipients of this scholarship. They have all done so much for their communities and I don't think I have," said Barrett. "It's a reality shock honestly. I guess it does prove that I am doing things and helping in any way I can."
Erik was the President of the Minnedosa Credit Union Youth Board, he assisted with a fundraiser called "Skate the Lake", an annual pond hockey tournament, and he assisted in coaching youth hockey in Minnedosa.
Another qualification for winning the scholarship is doing great things academically. The three other recipients all have averaged well over 90% and so does Barrett as he finished his grade 12 year with an average of 95.8%.
"I realized if I tried really hard in my schooling, that would open up some doors for me," added Barrett.
After living in Minnedosa for his entire life, Erik will now move to Calgary to study Engineering at the University of Calgary. Barrett is fortunate to have some family that currently calls Calgary their home.
"It's certainly going to take some getting used to, especially in the first couple of weeks," ended Barrett. "I know the family out there will help me as I learn my way."
Erik had also planned on coaching the U12 boy's soccer team this spring; however, the season was cancelled.